Airbnb Alternatives for Property Owners
For some property owners, Airbnb is a pot of gold. The platform offers tons of perks: exclusive property management tools, worldwide visibility for your property, flexible availability, very personal hosting experiences, to name a few.
But what do you do to make your property visible on more property management platforms/listing websites like Airbnb? Or do you probably want to completely ditch Airbnb?
Your reasons can be different: a need to diversify the booking channels to maximize your reach, to find better commission rates, frustrating experiences with Airbnb, Brexit…
No matter your reasons, there are alternatives to Airbnb.
In this article, we'll be looking exactly at the vacation rental platforms similar to Airbnb that can also give you a head start you need. And we're going to save you some time of reviewing and comparing some of them.
Although there are a lot of small websites like Airbnb, let's look at some popular Airbnb alternatives for property owners where you can gain similar property management tools and provide guests with the same top-notch, secure, and smooth reservation experience.
You might also like: OTAs or direct bookings?
The best Airbnb alternatives for property owners
All the listing sites we're going to look at in this collection will help you rent out any accommodation type ranging from a furnished rental, a shared room in the basement to motorhomes, RVs, and campsites.

Also note that some of the platforms listed below, unlike Airbnb, don't support shared accommodations, so some websites might not be an option for some of you.
Booking.com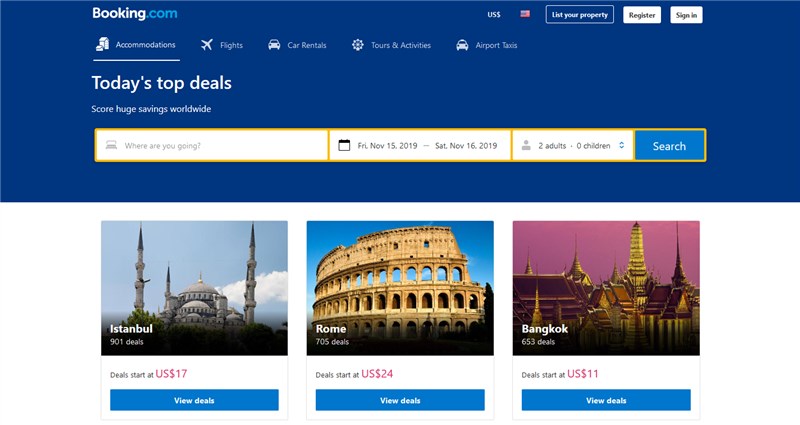 Booking.com is the first winner primarily because it's very popular with all types of budget and business travelers. People can find a place to stay anywhere in the world since there are more than a million properties available on Booking.com.
The website browsing, search and booking experiences are second to none since Booking.com is fully optimized for mobile reservations and has perfect performance. It also takes care of different search engines, including Bing and Yahoo, helping your property appear in front of a bigger target audience.
As a customer of their service, you get a good bunch of freedom and flexibility: remove the property when you want, don't impose extra platform fees on travelers, take advantage of their screening feature to identify problematic or threatening guests and many more tools.
Unlike Airbnb, Booking.com runs on instant bookings, which means guests don't need to wait for any approvals. That also implies you need to keep the availability calendar and inventory up-to-date (although it's really automatic).
Booking.com charges property owners per-booking fees (up to 15%). You are free to create per-night, per-guest, or per-stay pricing for your property. The platform also sets some specific requirements you need to meet: upload images, add at least a minimum number of amenities, state your cancellation policy, etc.
There are also lots of perks and bonuses for their loyal travelers (e.g. the Genius program), which means more loyal customers for you in the long run.
HomeAway (+Vrbo, VacationRentals.com, and others)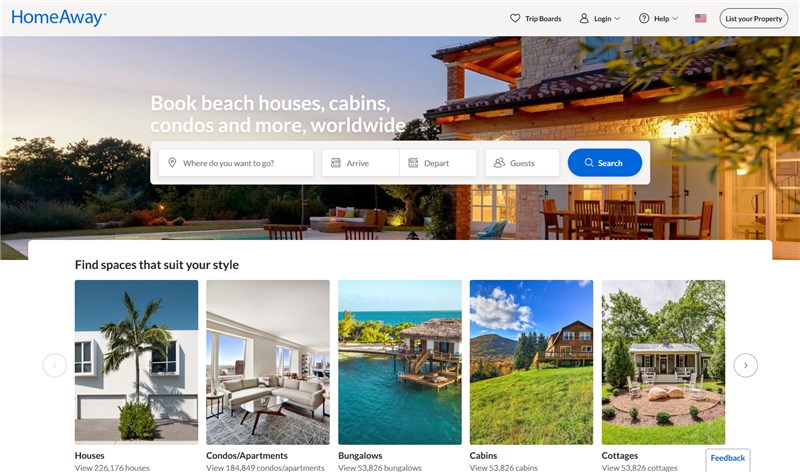 HomeAway provides almost equal (to Airbnb) tools, solutions, and requirements for renting out your property. For travelers, it's also one of the top reliable places to refer to where they can book accommodation having an awesome user experience.
It features over one million items in 190 countries making the OTA very attractive to travelers who want to have a good choice of properties. The marketplace focuses on self-containing rentals, such as vacation houses, villas, condos, etc. rather than shared accommodations.
To list your property here, you need to pay either a yearly or per-booking fee, which may vary depending on different components and taxation regulations in your country.
As for the base property rate you can set for your property, HomeAway offers a great tool to set tiered pricing rates per date or custom durations while staying in the calendar mode. The review process for guests and hosts is the same as the one performed with Airbnb.
Read our in-depth comparison of Airbnb vs HomeAway
Moreover, Vrbo and HomeAway also support the recently added "vacation rental" search in the Google Hotels, so cooperating with this platform gives your property access to one of the most powerful directories by Google: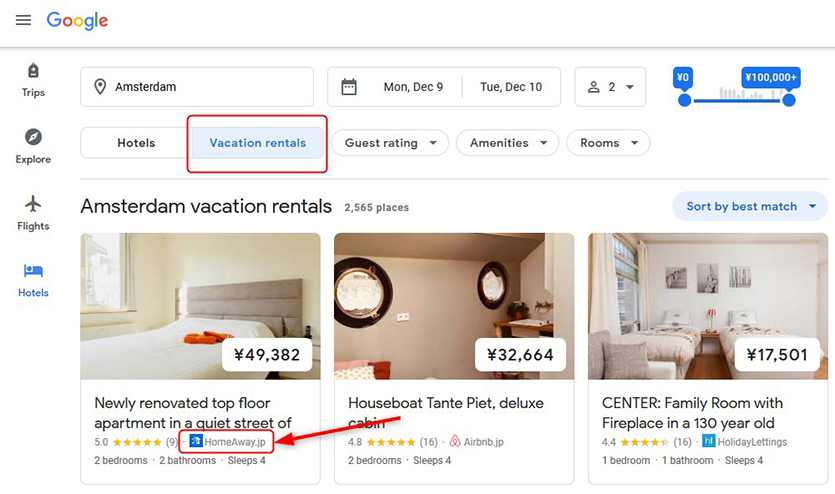 HomeAway encompasses more than 20 rental property marketplaces optimized for different locations and property types. Two of the most powerful and used sister marketplaces of HomeAway are Vrbo and VacationRentals.com.
Homestay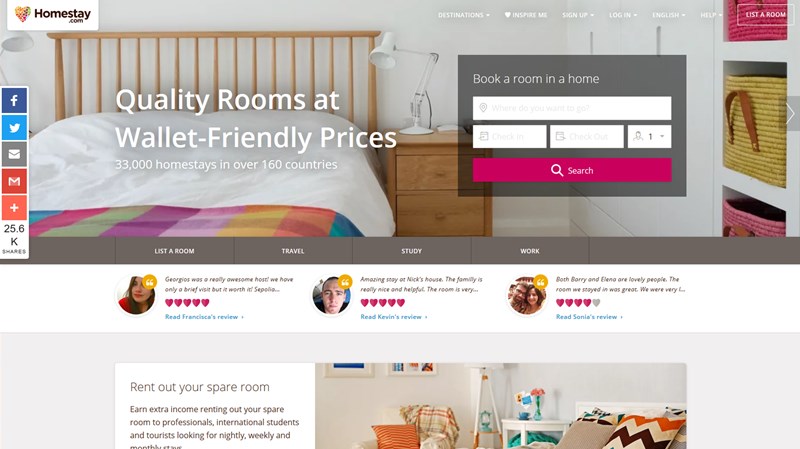 Homestay, unlike Booking.com for example, allows you to have a similar Airbnb-like personal hosting experience since you'll be required to share your own homestay. You can't list an entire accommodation here and need to share your home with travelers.
The most common guests are tourists, business travelers, students, interns, and volunteers.
Homestay also works very similarly to Airbnb in terms of the booking process – guests send you a booking request, which needs to be confirmed (or declined). Then, a guest has to pay a 15% booking fee to the platform. You are paid the entire price you set: a guest can pay upfront a deposit online or the full amount after arrival (or in advance using preferred payment methods).
As you can see, the platform fees are imposed on a guest, not you.
Also, you'll need to always communicate with your guests to negotiate the payment method (PayPal, Payoneer, direct bank transfer). Travelers can book nightly, weekly, or monthly stays.
Since the platform supports iCal, you can sync your bookings with Airbnb and other OTAs in order to list your property on several platforms yet avoid overbooking.
Expedia (+Hotels.com, Travelocity, and others)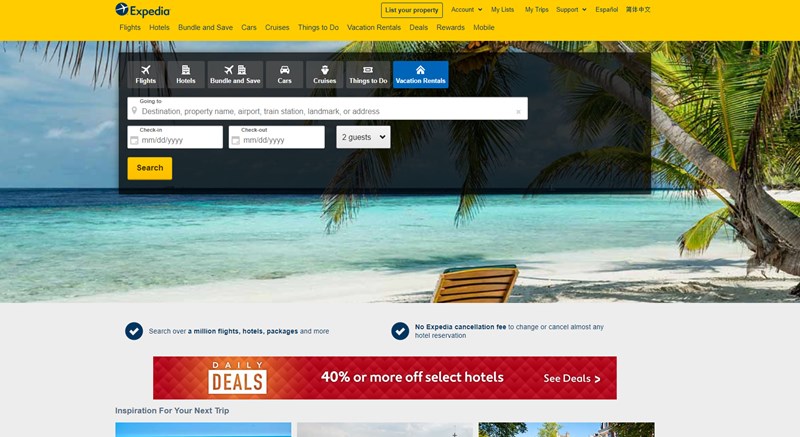 Although Expedia Group is the all-in-one travel platform and aggregator, you can still list your property there and get your accommodation listed in front of millions of people on different Expedia-associated distribution channels.
Overall, the platform includes more than 200 websites available in about 35 languages (they include such huge names as Hotels.com and Trivago). But you need just one account!
Luckily, Expedia works with properties of all types and sizes, so no matter whether it's a hotel or villa you possess, you can still get access to all the benefits Expedia has to offer. To start, you need to register with Expedia Partner Central, choose your contract type, and sign up for the lodging agreement.
The service comes with a great UX for property owners allowing you to list your short-term rentals quickly and manage properties, prices, and availability easily.
The flexible property management settings allow you to set up your property policy (cancellation, deposit, taxes, fees, etc.), amenities, room types and rate plans with ease. There are also tons of supporting tools dedicated to revenue management, analytics, connection with other platforms, etc.
There are different ways to accept reservation payments with Expedia: guests can pay at the time of reservation, after arrival or you can split the payment. You'll need to pay Expedia "the compensation percentage" each time you get a reservation.
SimplyOwners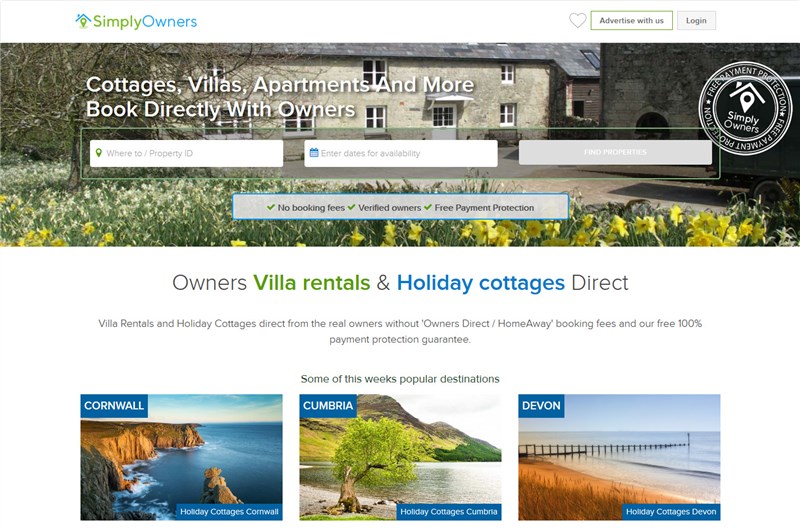 SimplyOwners is not that popular as other platforms in this collection but has a huge audience as well.
SimplyOwners is perfectly suitable for vacation rental owners. It runs on a bit different listing model: you as a holiday property owner need to submit your listing to their team. They will help you create a draft for your property and if you like it, your property will be listed there once you've paid a fee.
You are charged an annual listing fee per property (discounts are available for multiple listings); guests are charged the property price only, without extra service fees.
The main benefit of this platform is that you pay just once a year, always have a good support team and also get many prospects looking to rent a property directly from an owner.
A two-way iCal sync feature is also supported, so you may feel safe listing your property with multiple online travel agencies simultaneously. If you like this subscription-based concept, you may also give it a try to Owner Direct.
FlipKey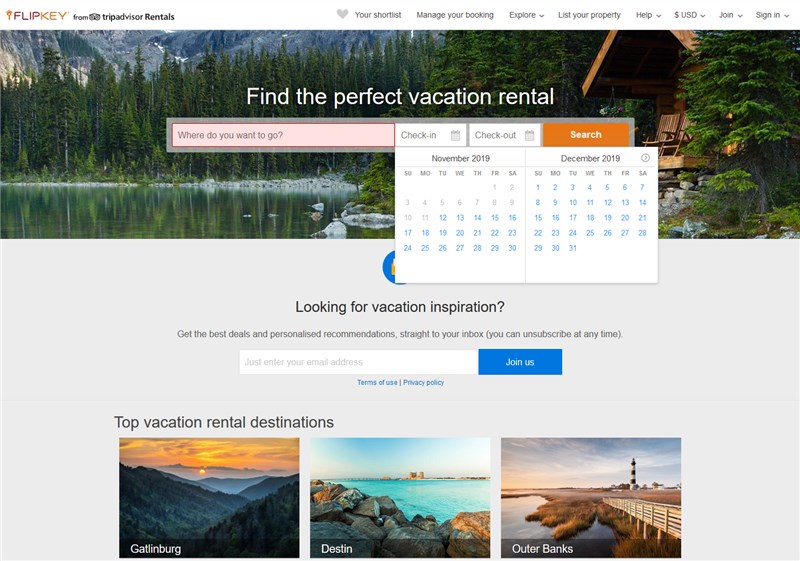 FlipKey is one of the most popular vacation rental platforms from the TripAdvisor family. This is one of those big players you can rely on in terms of maximizing your reach and, what is really important, you can rent out any type of accommodation (hotels, castles, villas, houseboats, etc.) with this service.
Getting listed is free, but the platform charges you only 3% from each successful booking.
Travelers can book instantly (if the dates are available) or send you a payment request. They pay for the property through the travel platform and the payment appears in your account in 24 hours after guests check-in. Payments are made via PayPal or bank transfer.
The property management tools are awesome: you can set up seasonal pricing, state booking policies and house rules, add booking windows (to state how far in advance people can book your property), including taxes and fees, and more. Furthermore, you can simplify management by using Google and Apple TripAdvisor property owner apps.
As with other major platforms, you can use different OTAs and still maintain accurate availability by setting up synchronization via iCal.
HolidayLettings is another popular alternative from the TripAdvisor group.
OneFineStay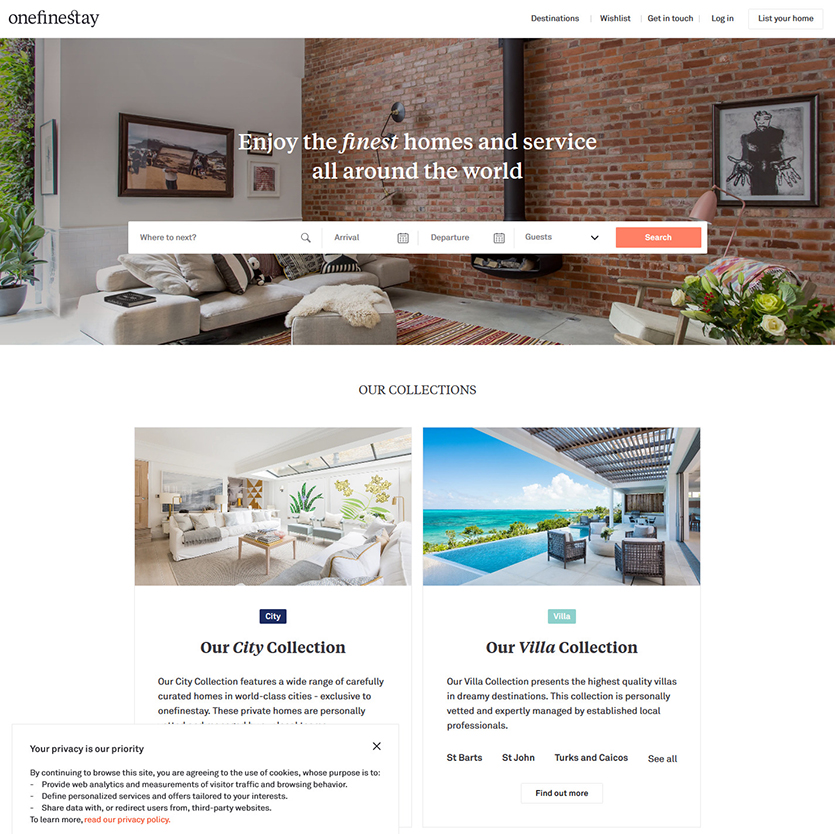 You might be interested in renting out your accommodation with One Fine Stay if you own a high-end property. Some people might call it an Airbnb for the rich, but many homeowners who have even an average apartment somewhere in the tourist hubs like London can easily get high-paying clients.
However, you can't just fill in the form and get listed here; the local team of the platform representatives must visit your home before accepting it on their platform (yes, they care about those high-paying clients as well as your earnings). It looks like the commissions are not stated publicly.
If your property is accepted, your account manager will also create and market your property to present it in the best light. One Fine Stay has been on the market for almost 10 years now, so you can be sure your high-end home is in good hands.
Outdoorsey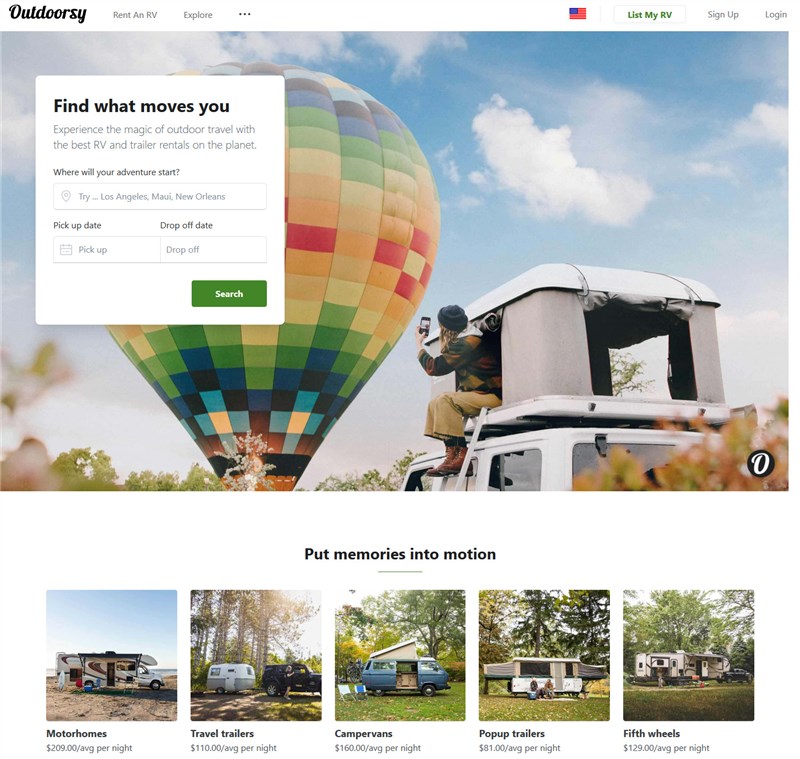 Outdoorsey is made for RV, motorhomes, campsite, and caravan rentals, so it's not your typical rental property website.
If you have a rental item dedicated to campgrounds or hiking accommodations, here you'll get the biggest exposure since Outdoorsey is one of the most trusted RV rental marketplaces.
Feel free to list and advertise your RV with Outdoorsey – it's free, but you'll need to pay a transaction fee on each booking. The platform offers you a $1 million liability insurance policy to protect your RV or trailer. Reservation payments are deposited into your bank account.
The service also takes care of you by checking the driving history of renters to help you cooperate only with trusted people.
Can we state that these websites are better than Airbnb? Only if they suit your particular business, property type, and concept.
Your own WordPress website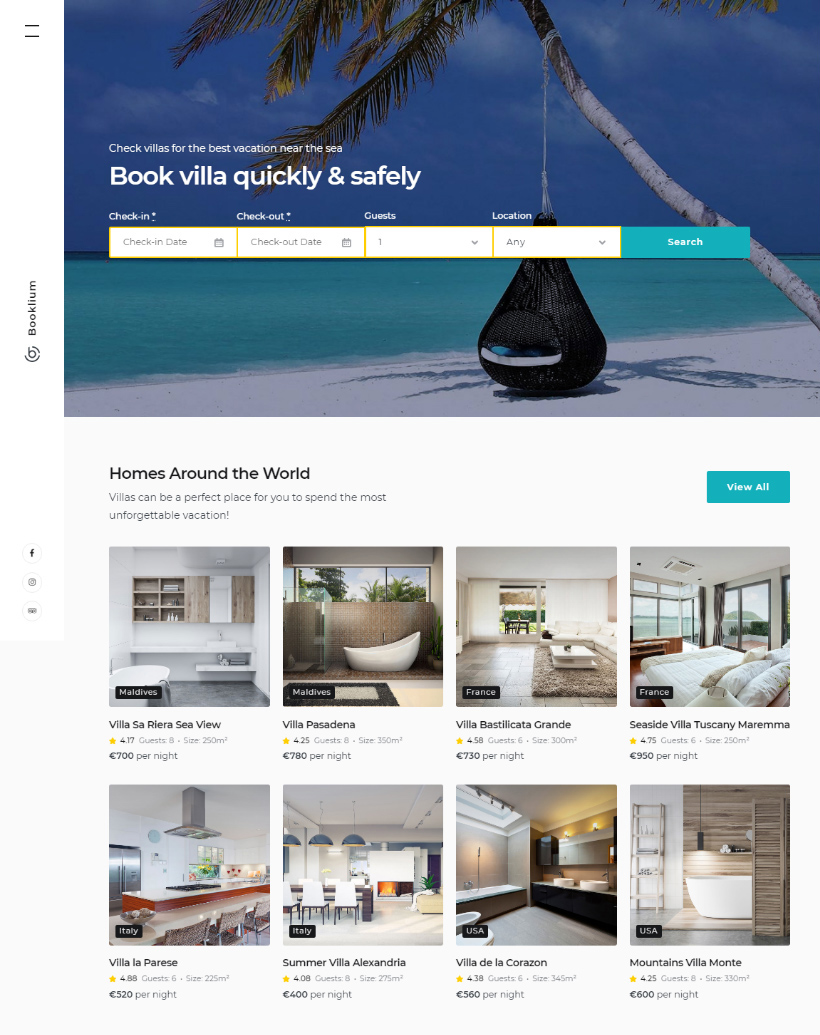 Creating your own independent website is one of those trusted ways to steal a march on your competitors and significantly cut down expenses. Why WordPress when there are tons of proprietary solutions?
Well, because we've been working with WordPress for many years already and managed to create the booking software that can handle direct bookings, the inventory management system, invoices, discounts, and all other industry tools under one roof. The solution is called the MotoPress Hotel Booking plugin for WordPress.
Two main reasons why you might want to give a try to this solution:
You are one step away from running a website with a completely independent booking engine, with no pre-booking or per-rental commissions, 100% of the money going straight to your bank account (seriously). To get constant plugin updates and support, you only pay $69 once a year.
You're not forced to leave OTAs behind, because you can use both at the same time by setting up the sync process via iCal. That means direct bookings can be easily connected with OTAs to ensure you are never overbooked.
You might also like:
Turnkey solutions of the MotoPress booking software bundled together with the industry-fueled design.
If you already use MotoPress solutions for your rental property website, don't hesitate to share your experience with fellow property owners in the comments section.
The final thoughts: what are the best Airbnb alternatives for hosts?
There are tons of alternatives to Airbnb, but in (almost) 2020, there is no need to choose just one.
By diversifying the channels of listing your property, you literally don't put all eggs into one basket.
By creating your dedicated property booking website in addition to submitting your property to external channels, you don't just create a game with your own rules for the long-run, you save a huge sum of money.
The iCal technology for automatic availability synchronization, which is available in almost every popular property management platform, makes it possible to list your property on multiple platforms and your own website without overbooking.
So probably the best way to advertise your property is to find the balance by using different channels. Any thoughts or ideas?

What is the best Airbnb alternative?
It all depends on the features you need and the commissions you are okay with. All the OTAs we list in this article are popular enough with different types of travelers to get high in the search engines.
Where can I list my property for free?
There are many OTAs that run in this way. For example, on Flipkey, getting listed is free, but the platform will charge 3% from each successful booking.
Is it cheaper to accept direct bookings on WordPress?
Indeed. In this case, neither you nor your guests pay any extra commissions. But creating an independent website and accepting direct bookings doesn't mean you are cutting yourself off the power of OTAs – you can optionally get listed on multiple platforms and still sync your direct bookings to those coming from the external aggregators.