Explore the Best WordPress YouTube Channels for 2023: Top Recommendations
The best WordPress YouTube channels are the source of knowledge for both beginners and experienced users of the platform. While the #1 CMS is constantly changing and developing, it is beneficial to stay in the loop of the latest features and solutions WordPress has to offer. No wonder that YouTube as one of the primary video hosting websites has a diverse selection of channels with tutorials and reviews for the leading open-source platform. In today's post, we'll take a look at the top 15 channels for WordPress beginners, enthusiasts, and developers.

But before we begin exploring the variety of video resources for WordPress enthusiasts, here are the top 5 channels that we recommend:
| Channel name | Views | Subscribers |
| --- | --- | --- |
| Darrel Wilson | 40,351,702 | 395,000 |
| WPLearningLab | 19,148,115 | 149,000 |
| MotoPress | 1,024,194 | 3,730 |
| Web Squadron | 3,742,222 | 31,800 |
| I Love WordPress | 180,555 | 1,150 |
How to Learn WordPress from YouTube
YouTube is a goldmine of content for WordPress users and developers. From educational videos and reviews to selections of the best themes and plugins, it is easy to find anything you need. The well-established channels on this video hosting service may even provide whole playlists of online courses for their subscribers and channel supporters.
But is it possible to learn how to work with the CMS by watching the best WordPress YouTube channels? Surprisingly, it is. While you may not be able to learn all the aspects of this platform straight away, most YouTube channels will provide valuable knowledge and easy-to-understand instructions for you to get started quickly.
5 Best WordPress Video Tutorials for Beginners
We start our review of popular YouTube channels for the #1 CMS with the best beginner-level tutorials. Such videos are highly popular among many users as they provide a better understanding of how certain tasks can be performed with WordPress. Additionally, the viewers often get feedback from video authors including extra explanations of certain tutorial aspects.
1. WPBeginner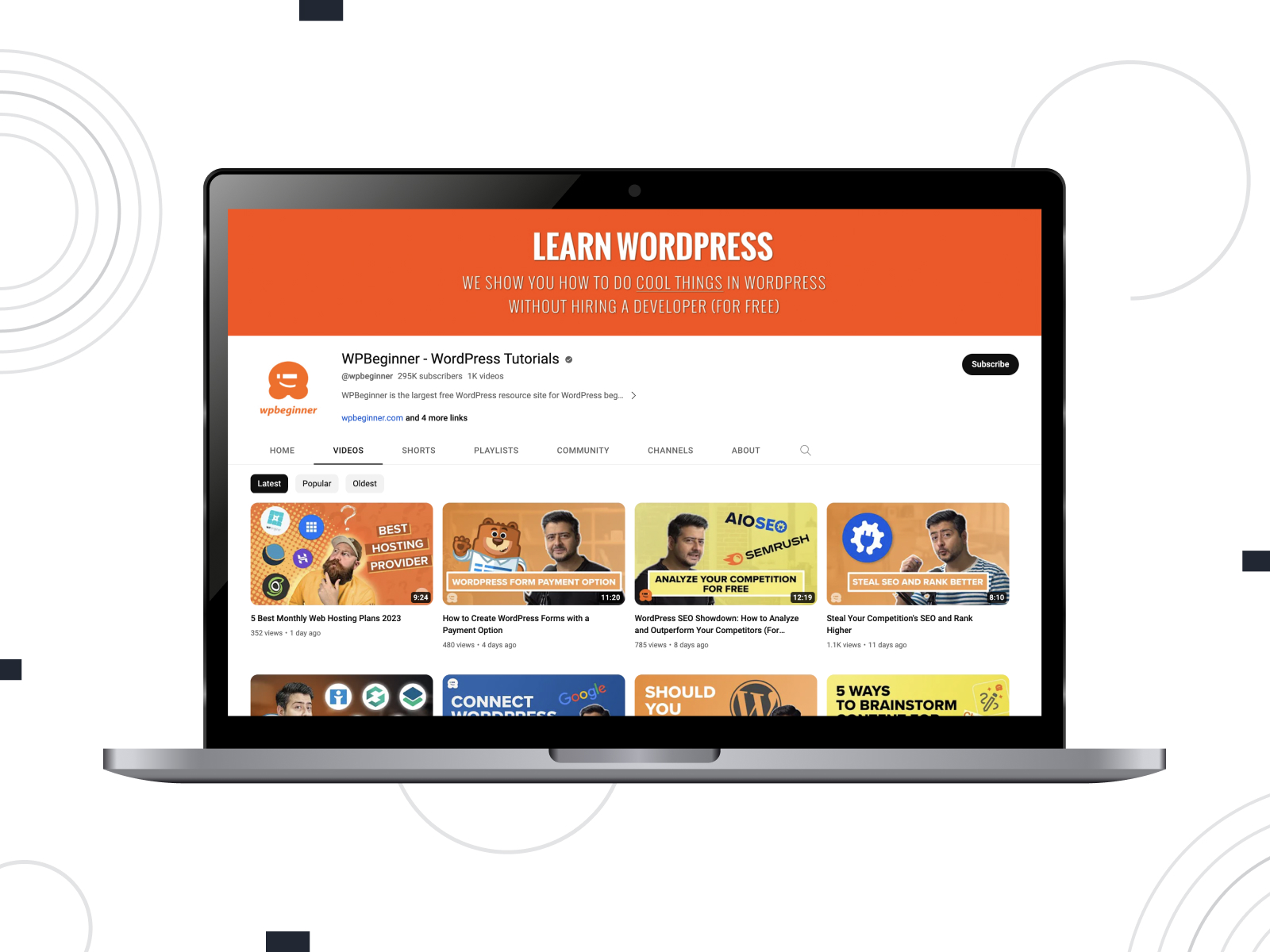 One of the first & best WordPress YouTube channels we'd like to talk about is WPBeginner. Founded by Syed Balkhi in 2009, it provides a wide variety of tutorials and guides for everyone interested in WordPress. The channel has 295k subscribers in total and provides weekly video guides about WordPress plugins, tools for better SEO ranking, customization tips, etc.
The hosts of the channel deliver detailed insights into various solutions for the platform while explaining everything in an easy-to-understand manner. Additionally, the channel's team offers more content on their socials that include Instagram, Facebook, and X (formerly known as Twitter) as well as more guides on their website.
Featured playlists:
Work with images like a pro;
WordPress SEO for beginners;
How to Use contact forms in WordPress.
| Channel name | Number of videos | Views | Subscribers |
| --- | --- | --- | --- |
| WPBeginner – WordPress Tutorials | 1,000 | 53,626,908 | 295,000 |
2. WPCrafter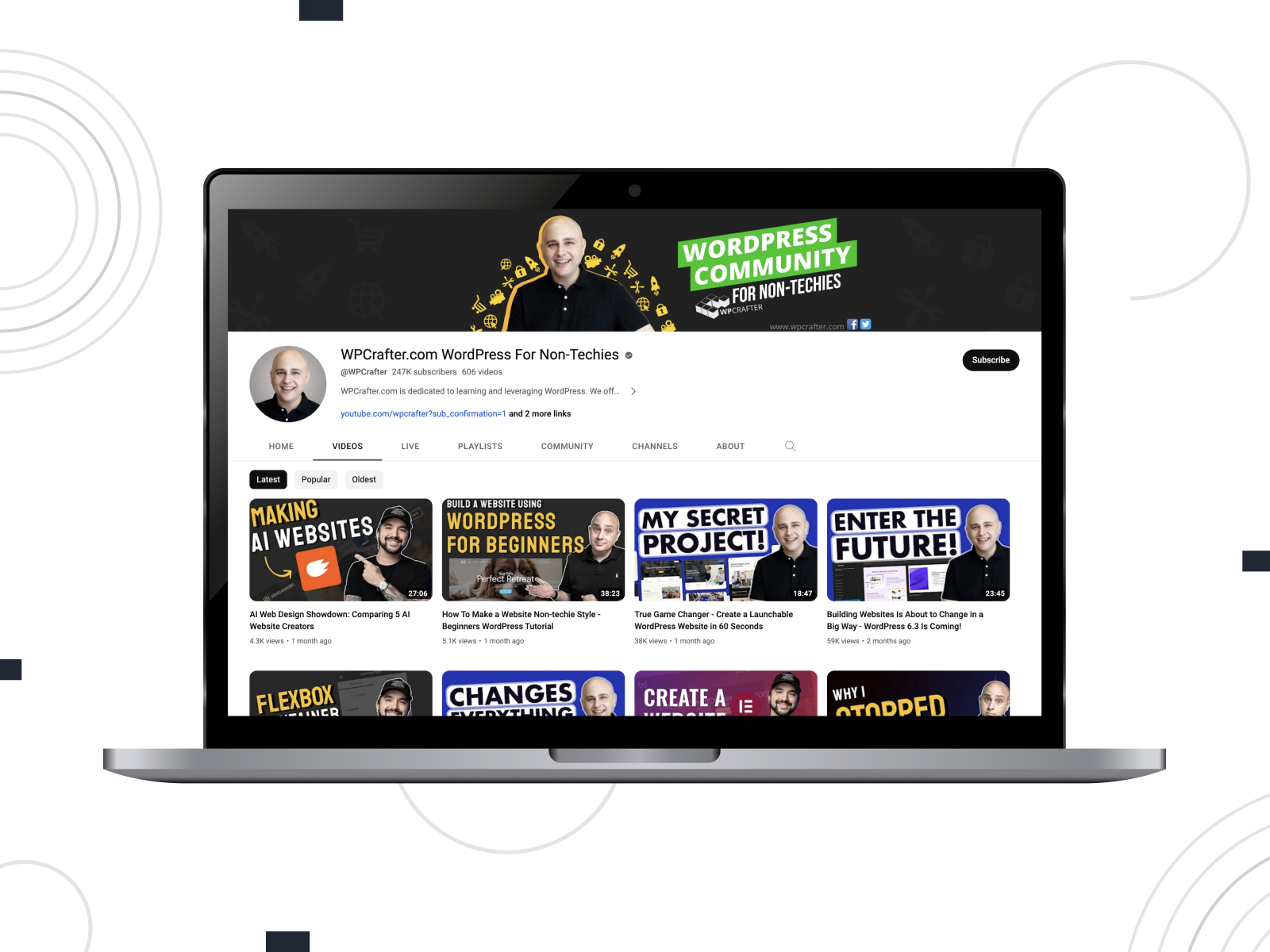 Another notable YouTube channel that provides tutorials for beginners in WordPress is WPCrafter which has 247k subscribers. Up until recently, it provided weekly videos that included diverse reviews of WordPress themes and plugins as well as guides about building websites explained in plain English. Adam Preiser, the channel's speaker, is also a successful businessman who has been working on alternative solutions for WordPress and WooCommerce, such as SureCart. He's also frequently sharing his guides and videos on X and Facebook.
Featured playlists:
Local SEO;
WordPress theme reviews;
Keyword research tutorials;
| Channel name | Number of videos | Views | Subscribers |
| --- | --- | --- | --- |
| WPCrafter.com WordPress For Non-Techies | 606 | 21,809,450 | 247,000 |
3. WPTuts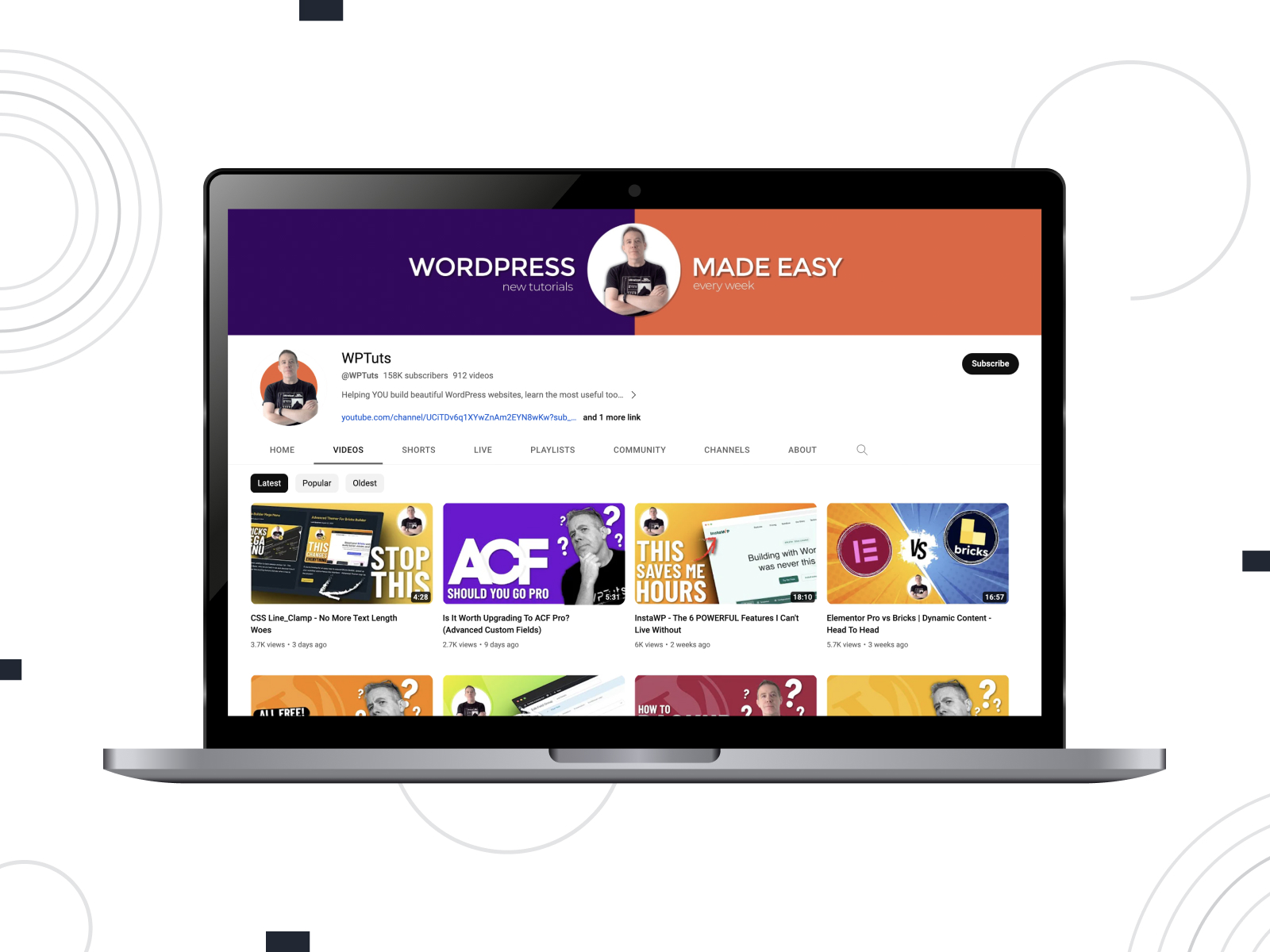 Next one of the WordPress YouTube channels we'd like to talk about is WPTuts. With 158k subscribers as of now, this channel provides new videos twice a week explaining all the pros and cons of using diverse WordPress solutions. The author of this channel, Paul Charlton, regularly shares his ideas and tips for beginners and pros via X and Instagram pages. He also offers detailed yet understandable tutorials for creating a website using WordPress with Elementor, JetEngine, and other plugins and solutions for this CMS.
Featured playlists:
WordPress speed optimization tutorials & tools;
Dynamic content in WordPress;
Slider Revolution tutorials;
| Channel name | Number of videos | Views | Subscribers |
| --- | --- | --- | --- |
| WPTuts | 912 | 21,839,255 | 158,000 |
4. WPLearningLab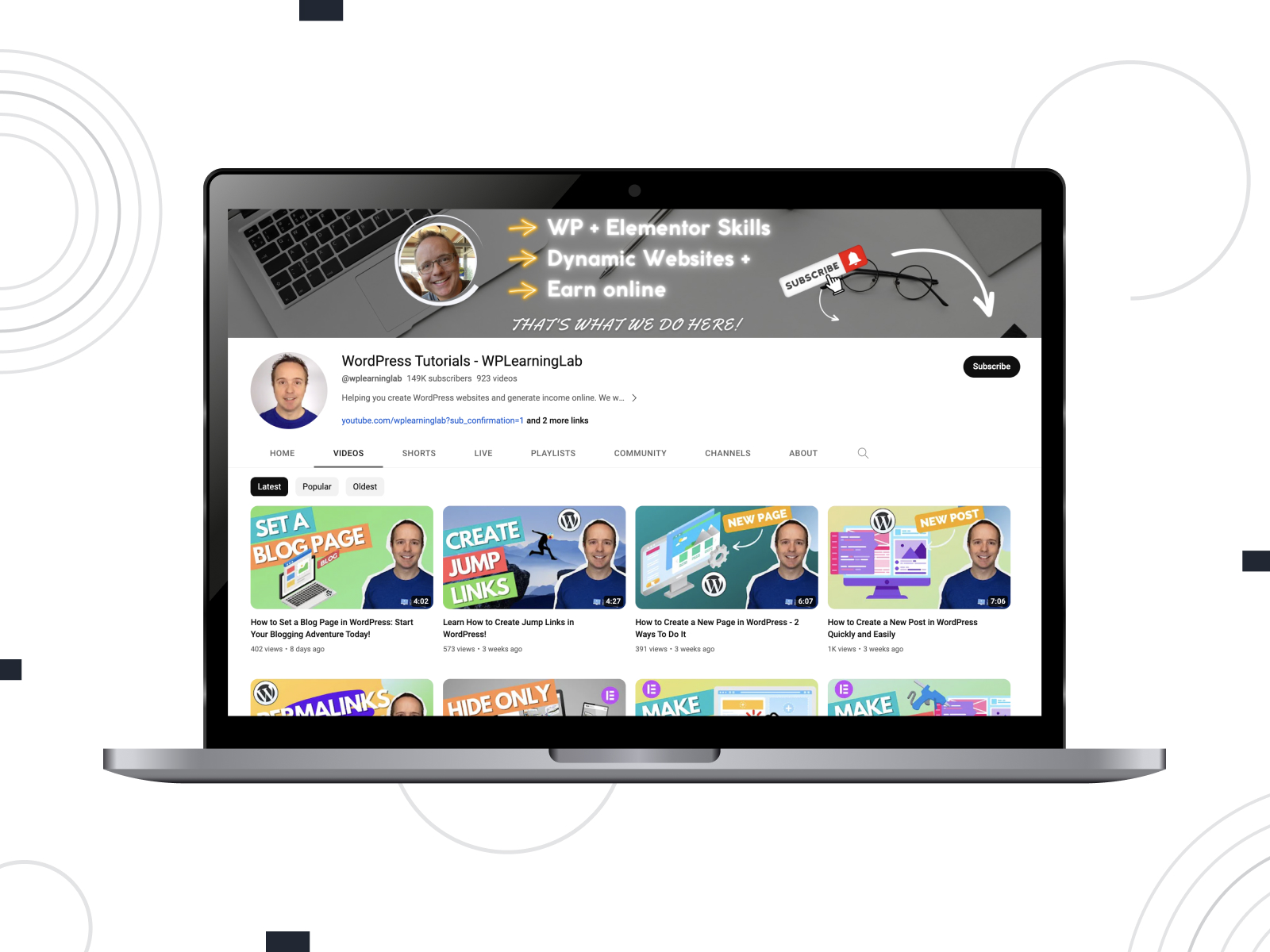 WPLearningLab, a channel hosted by Bjorn Alpas, delivers short and straightforward tutorials for those who want to learn something new about WordPress. From explaining complex terms in an easy-to-grasp way to providing guides for Elementor users, his channel has everything a beginner or an intermediate-level user may be looking for. Bjorn also has a Facebook group as well as an X page, where he shares new videos and provides feedback to his viewers and followers.
Featured playlists:
Plugin killer series;
Build your WordPress business;
WordPress Beginners playlist.
| Channel name | Number of videos | Views | Subscribers |
| --- | --- | --- | --- |
| WordPress Tutorials – WPLearningLab | 923 | 19,148,115 | 149,000 |
5. Let's Build WordPress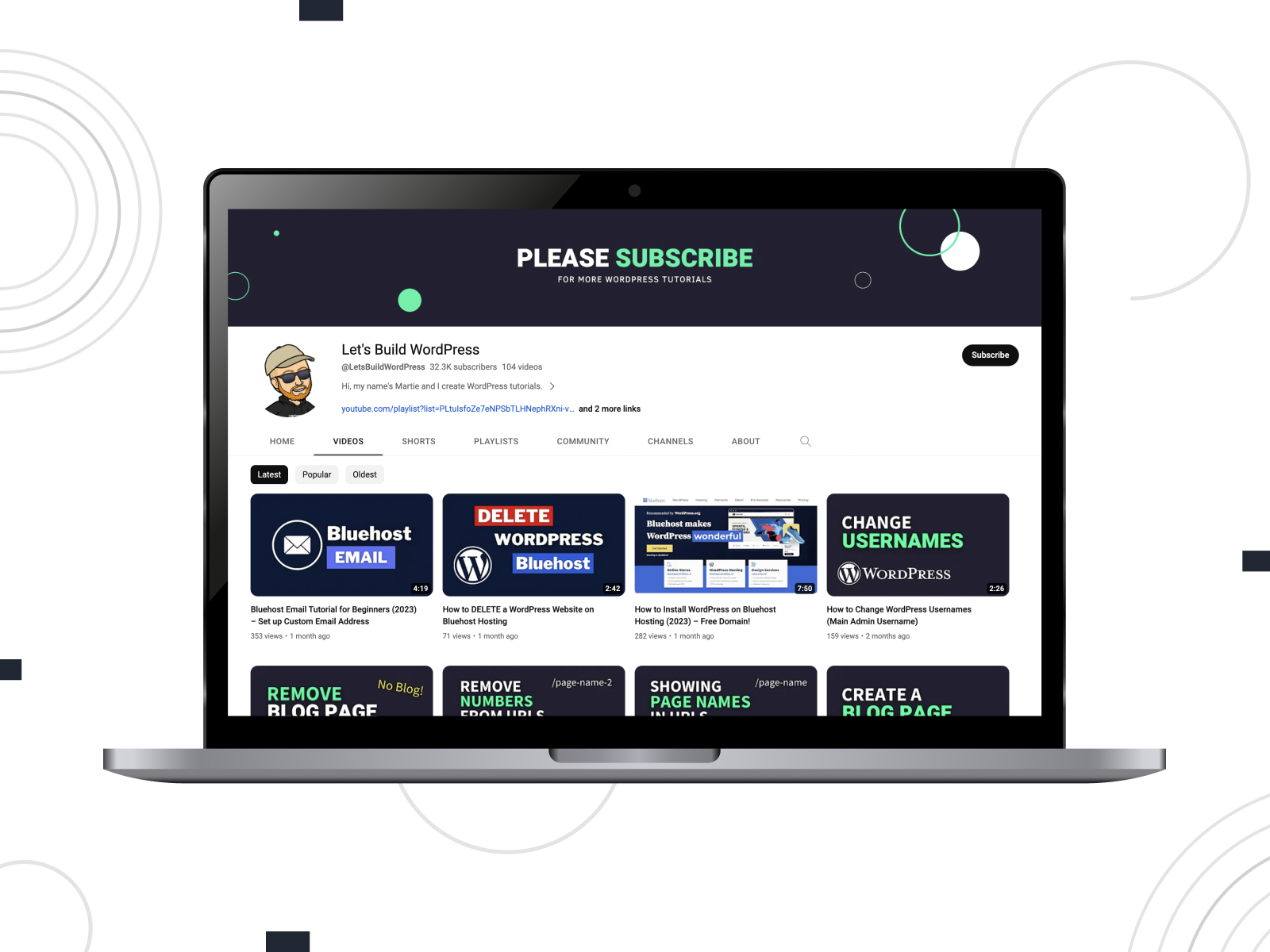 Let's Build WordPress is one of the best WordPress YouTube channels that offers informative tutorials and tips for users of this web development platform. Martie Dread, the author of this channel, talks about diverse ways of using WordPress and solving issues that beginner users may face. From adding embeds to your site to comparing popular plugins, there's lots of content published weekly on the channel for more than 32k subscribers.
Featured playlists:
Hosting tutorials;
Quick WordPress security tips;
How to Use WordPress in 2023;
WordPress menu tutorials for beginners.
| Channel name | Number of videos | Views | Subscribers |
| --- | --- | --- | --- |
| Let's Build WordPress | 104 | 3,237,760 | 32,300 |
5 Best YouTube Channels to Learn Web Development
A variety of the best WordPress channels often address web development. There are many hot topics when it comes to building websites and creating plugins and themes for the CMS. This results in a wide range of videos for experienced platform users. Just like with tutorials, such channels provide solutions to certain WordPress-related tasks. However, they usually answer more complex questions, such as choosing proper site backup solutions. Let's look at the top channels in this category.
6. WordPress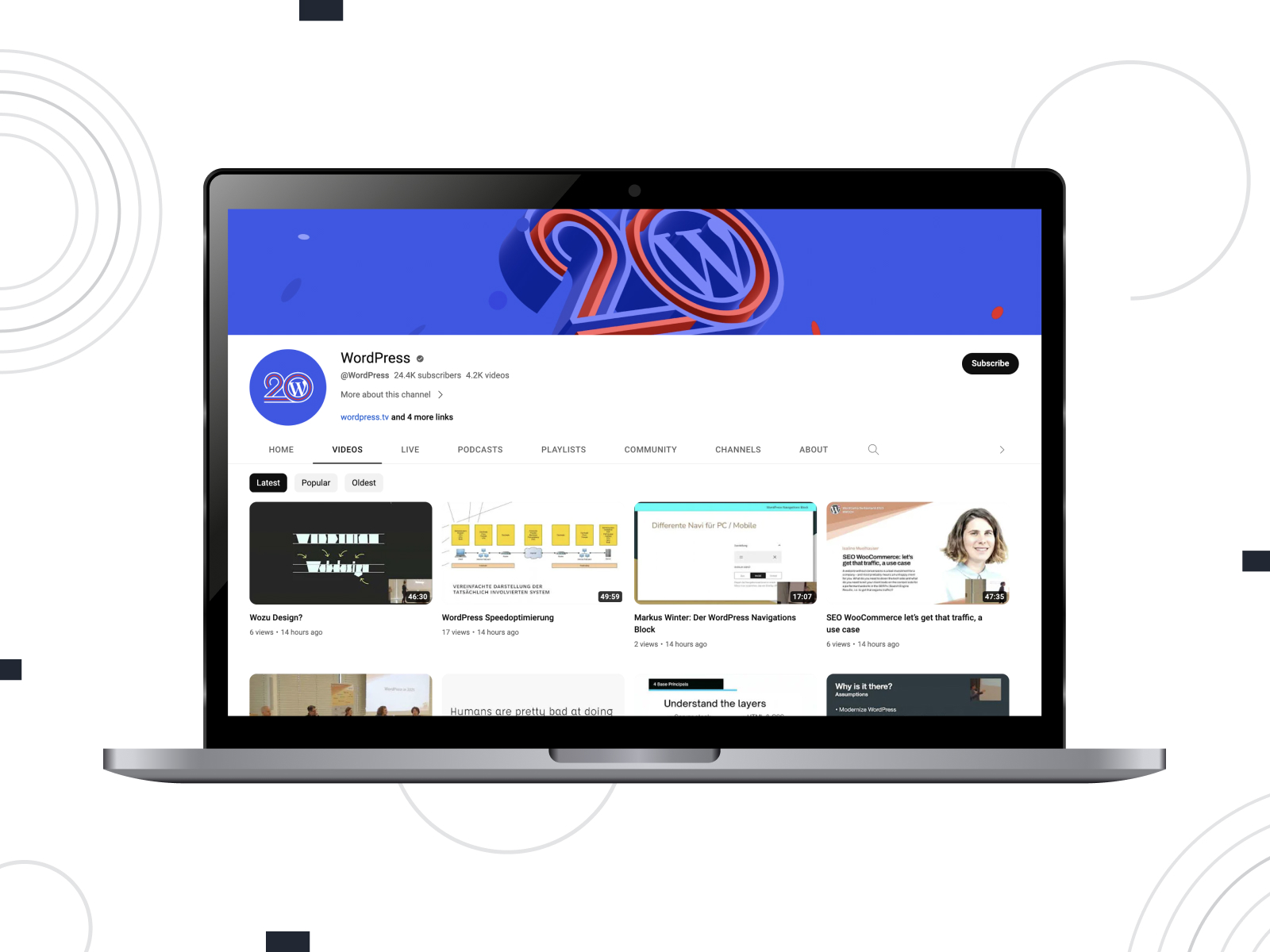 One of the main YouTube sources of information that any developer needs to follow is the WordPress channel. While it may be of little use to beginners, experienced users will find a lot of engaging videos on the platform's channels. Despite having only 24,4k subscribers the platform's channel provides a variety of content. From recordings of WordCamp presentations to introductions of new features in the major releases of the CMS, you can always discover something special there.
Featured playlists:
Learn WordPress Online Workshop;
WordPress Releases;
WordCamp;
| Channel name | Number of videos | Views | Subscribers |
| --- | --- | --- | --- |
| WordPress | 4,100 | 1,305,239 | 24,400 |
7. MotoPress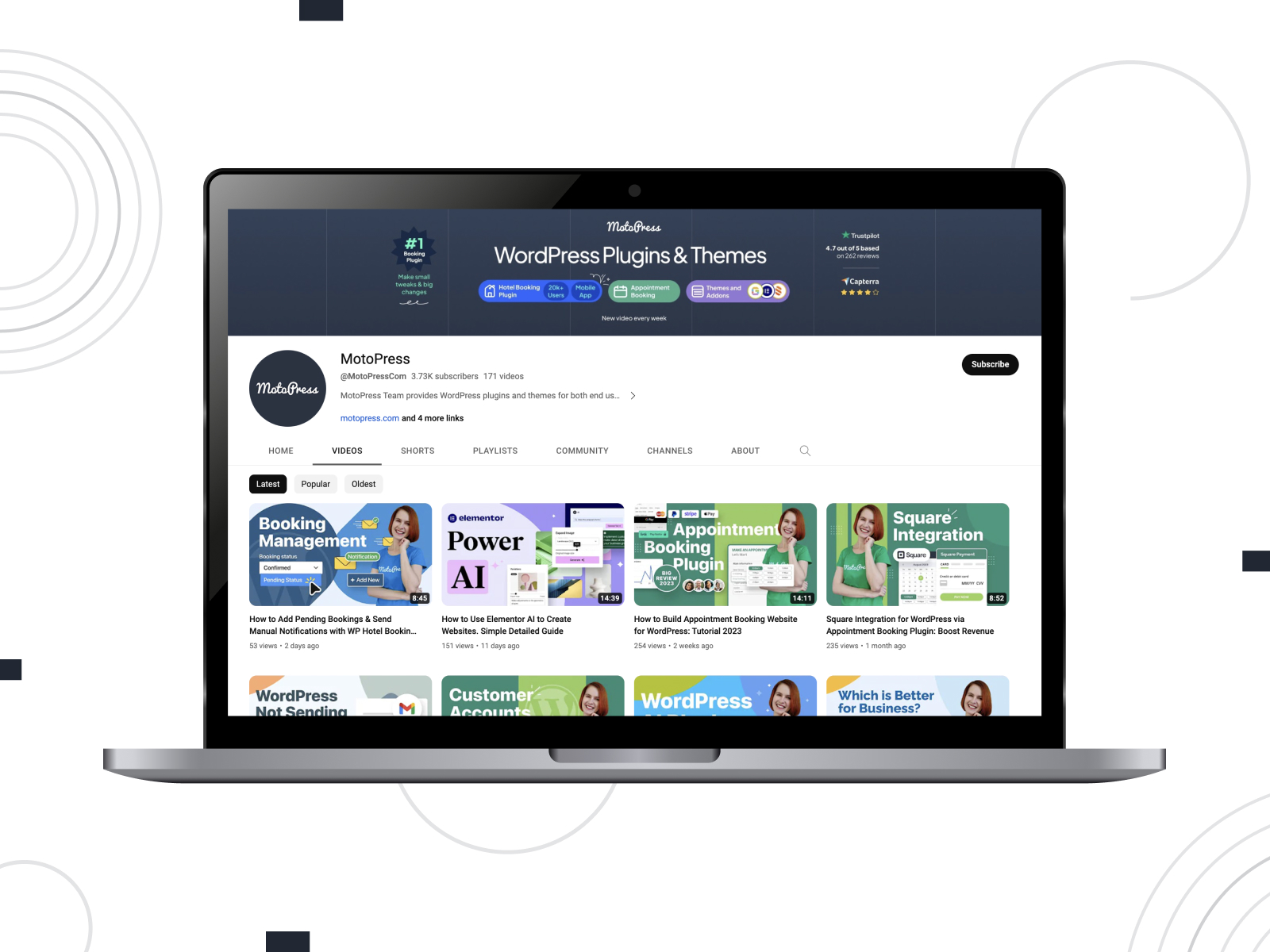 There are lots of the best WordPress YouTube channels established by teams that develop their solutions. This is also true for MotoPress. Our team also has a YouTube channel, where its host and content creator, Valerie, regularly posts videos with tips and step-by-step instructions about our plugins and themes. From describing plugins like WP Hotel Booking to providing recommendations on using analytical instruments for marketing, the MotoPress channel delivers informative videos for more than 3k subscribers weekly. In addition to that, our team also runs pages on X, Facebook, and Instagram with daily updates and new content for our readers and clients.
Featured playlists:
Appointment Booking Plugin;
Elementor Mega Menu;
MotoPress Products Reviewed by WordPress Experts.
| Channel name | Number of videos | Views | Subscribers |
| --- | --- | --- | --- |
| MotoPress | 170 | 1,024,194 | 3,730 |
8. Web Squadron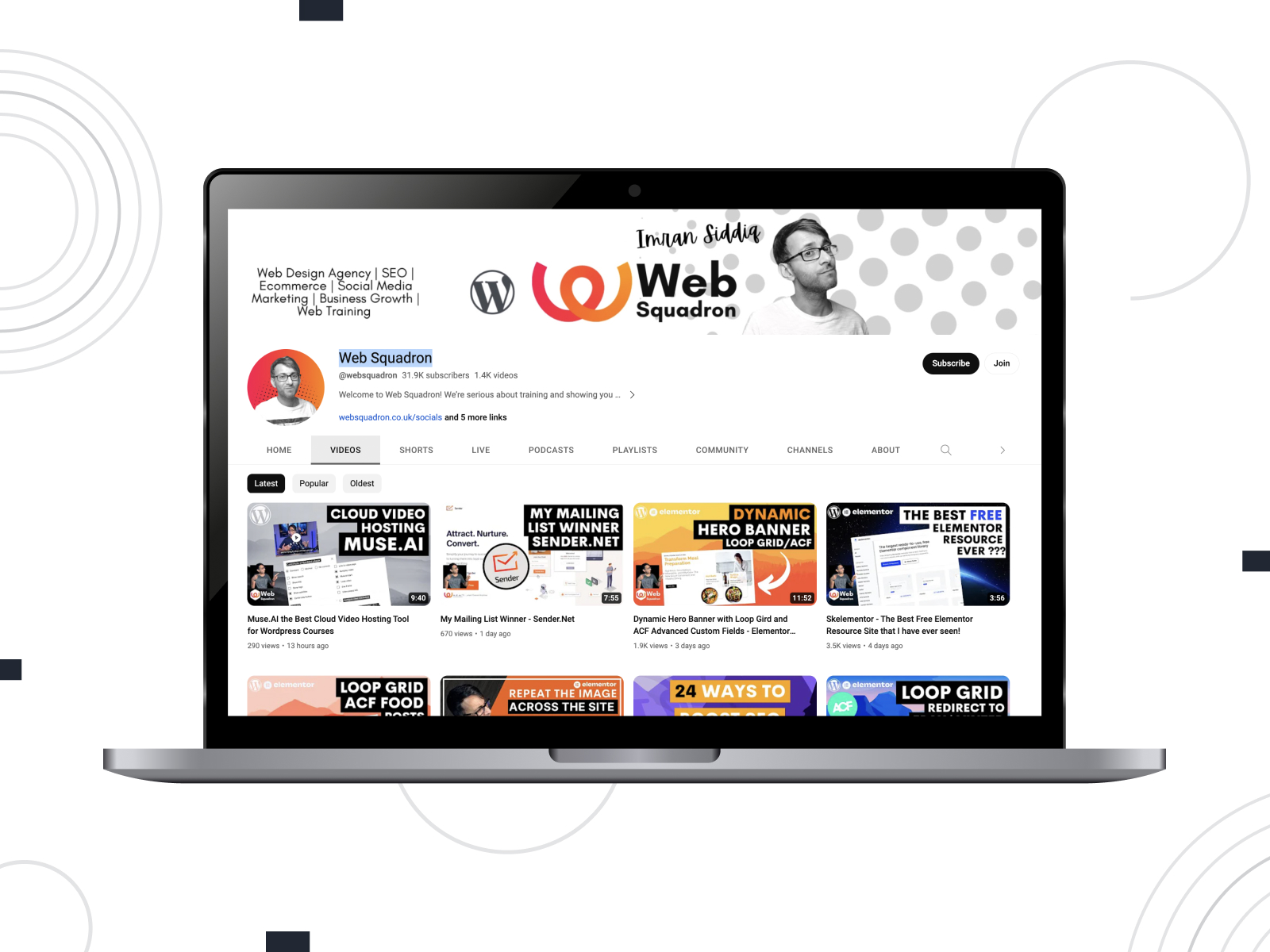 Web Squadron is the goldmine of informative and effective videos about everything that concerns WordPress. Hosted by Imran Siddiq and currently having 31k subscribers, this channel explains how to easily build a powerful and content-rich website and promote it effectively. If you are just getting started with web development, the videos of Imran and his simple solutions to various complex tasks that WordPress users may face will surely help you. Besides, you can always learn more from Web Squadron by visiting their Facebook and X pages.
Featured playlists:
Bricks Builder Tutorials;
SEO Site Engine Optimisation Websites;
WordPress Site Tutorials.
| Channel name | Number of videos | Views | Subscribers |
| --- | --- | --- | --- |
| Web Squadron | 1,400 | 3,742,222 | 31,800 |
9. Greg Narayan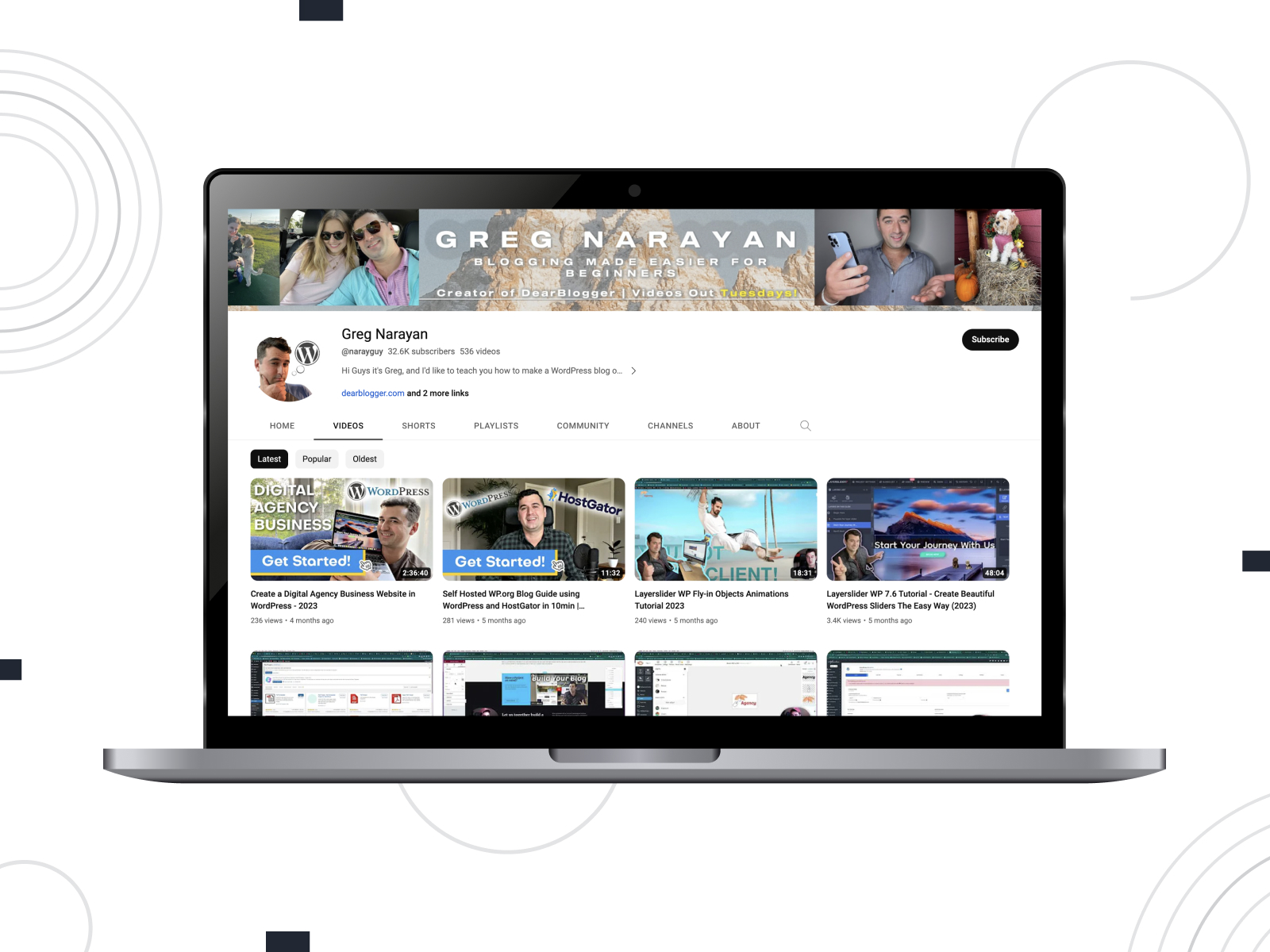 In case you use WordPress for blogging, Greg Narayan's YouTube channel may be the best pick if you are looking for efficient videos that will help you get better at using this CMS. It has 32k subscribers and is one of the best WordPress YouTube channels for those who enjoy eCommerce tutorials and comprehensive guides for bloggers worldwide. If you want to understand how to use the potential of this platform to create a unique online presence, visiting Greg's channel is a must.
Featured playlists:
| Channel name | Number of videos | Views | Subscribers |
| --- | --- | --- | --- |
| Greg Narayan | 536 | 6,511,715 | 32,600 |
10. I Love WordPress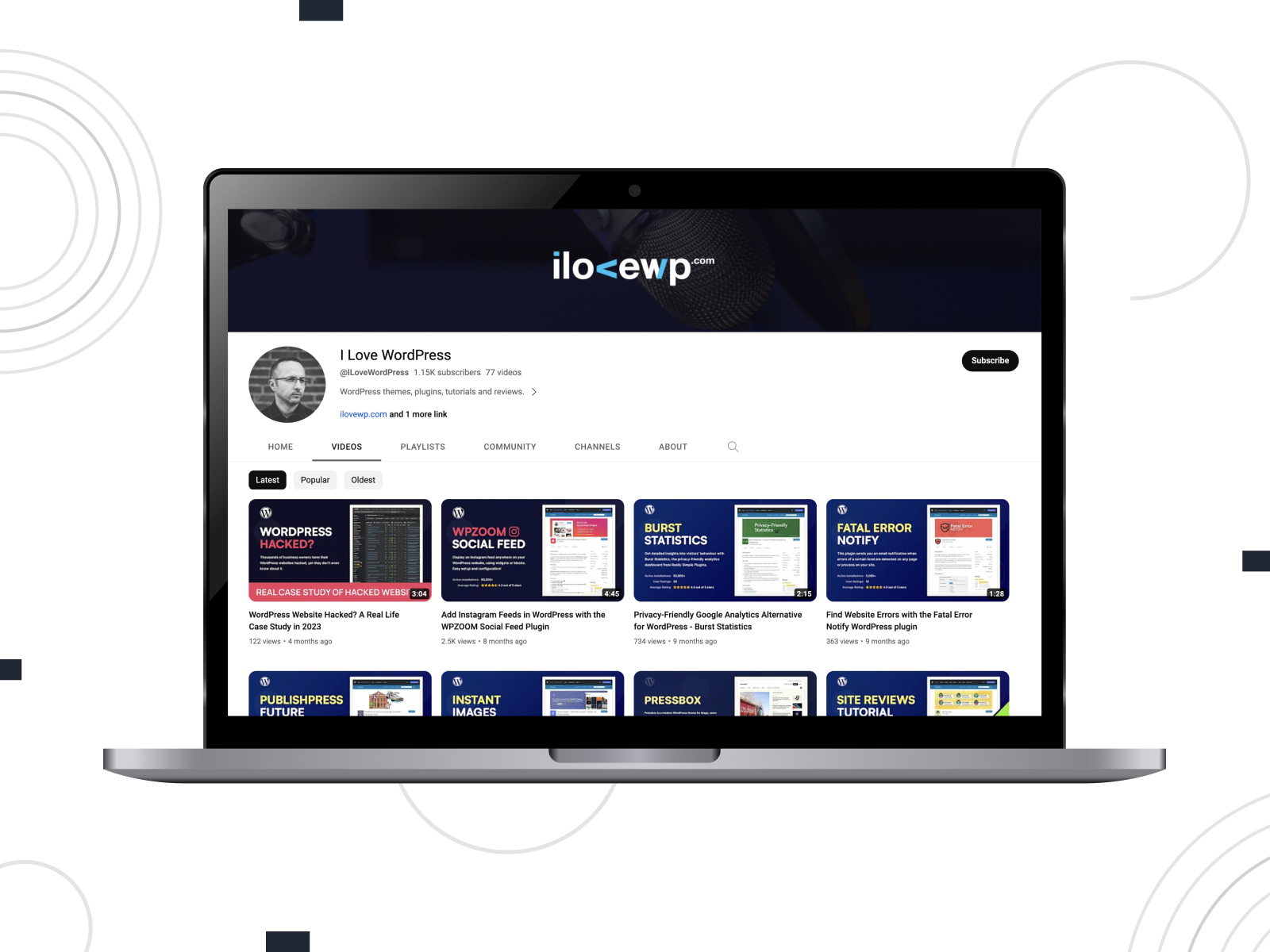 I Love WordPress is a small yet fast-growing channel with 1,15k subscribers. Its author, Dumitru Brinzan regularly delivers new content about diverse aspects and crucial WordPress elements. He also reviews various plugins that many developers would find useful. Whether you need to secure your website or just need something fresh and unique for it, I Love WordPress can help you quickly find what you're looking for.
Featured playlists:
Plugin Tutorials & Reviews;
Learn WordPress Basics;
Theme Collections.
| Channel name | Number of videos | Views | Subscribers |
| --- | --- | --- | --- |
| I Love WordPress | 77 | 180,555 | 1,150 |
5 Notable WordPress Influencers to Follow
Aside from the abovementioned channels that represent whole teams of developers & designers, there are also individual content creators that impact the global trends with their videos. The best WordPress YouTube channels not only educate people but also influence their choice of plugins, themes, and other web solutions, such as hosting services. Below we have gathered a selection of top 5 influencers that regularly publish videos for the users and enthusiasts of the world's leading CMS.
11. Tyler Moore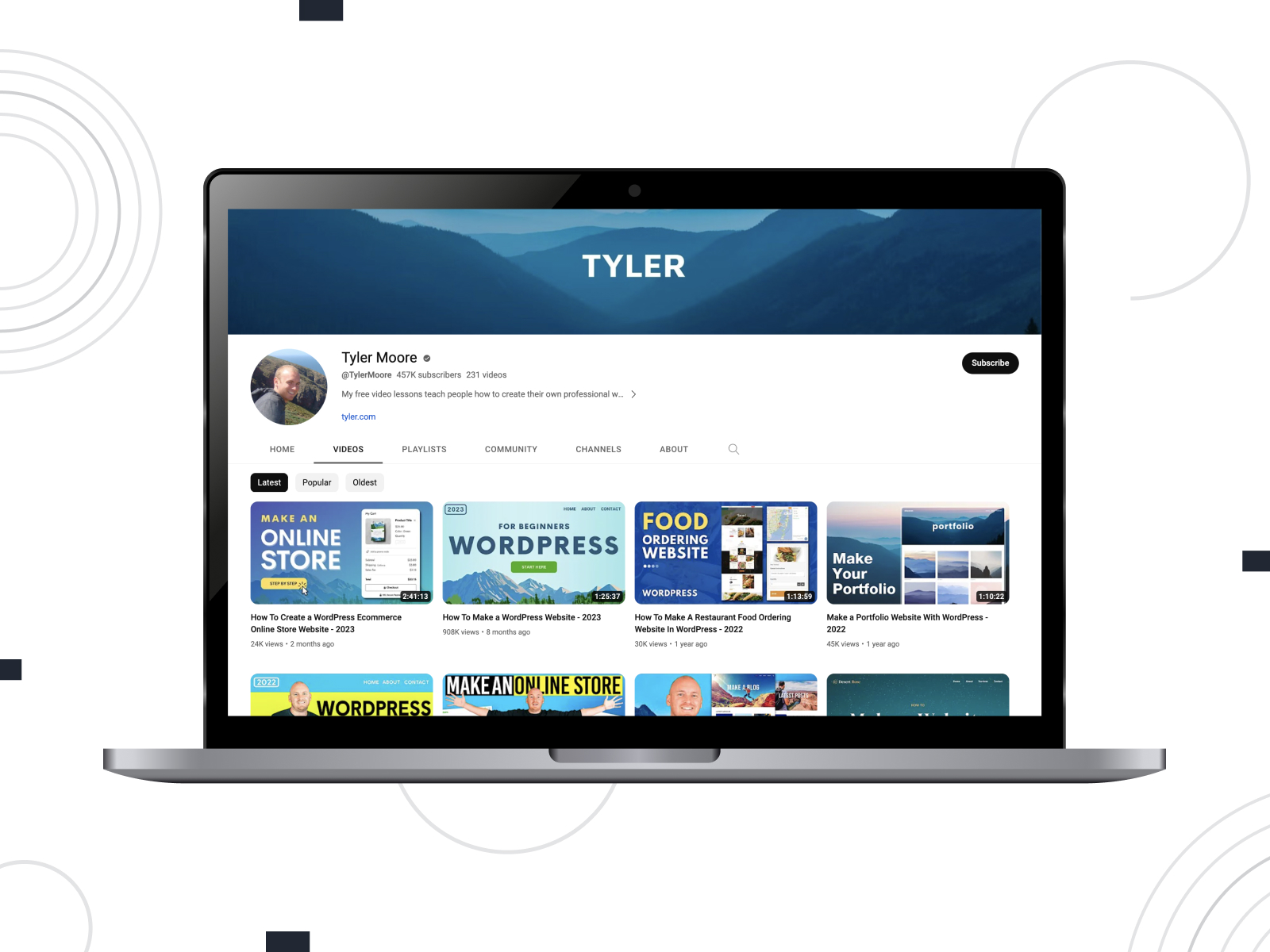 One of the influencers ranking among the top YouTube channels is Tyler Moore. With no less than 456k subscribers, he's been teaching people how to make awesome websites for over 10 years. From building online stores to establishing portfolios for your projects, Tyler simply explains every step of web development.
Featured playlists:
Create a WordPress Website Course;
Business Tutorials;
| Channel name | Number of videos | Views | Subscribers |
| --- | --- | --- | --- |
| Tyler Moore | 231 | 46,760,353 | 457,000 |
12. Ferdy Korpershoek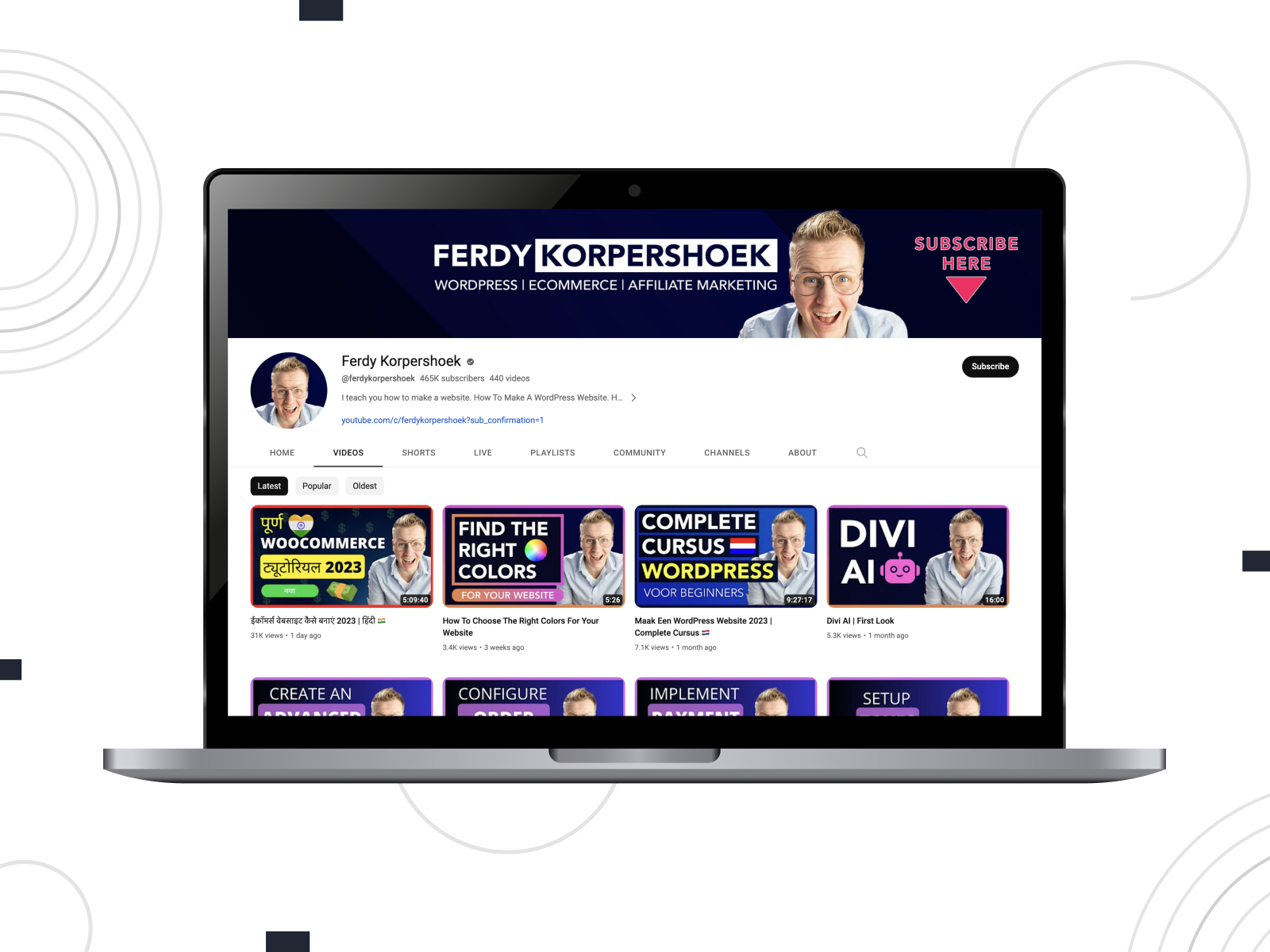 Another notable influencer and one of the best WordPress YouTube channels is Ferdy Korpershoek. He provides a variety of weekly tutorials and online courses for those who want to discover how to build a noticeable website with WordPress. From Elementor tutorials to eCommerce guides and extensive courses in several languages, Ferdy delivers highly informative content about AI technologies in web design as well as web development with the #1 CMS and its popular plugins, such as WooCommerce.
Featured playlists:
Complete Beginner Tutorials;
WordPress Plugin Tutorials;
| Channel name | Number of videos | Views | Subscribers |
| --- | --- | --- | --- |
| Ferdy Korpershoek | 440 | 30,749,004 | 448,000 |
13. Nayyar Shaikh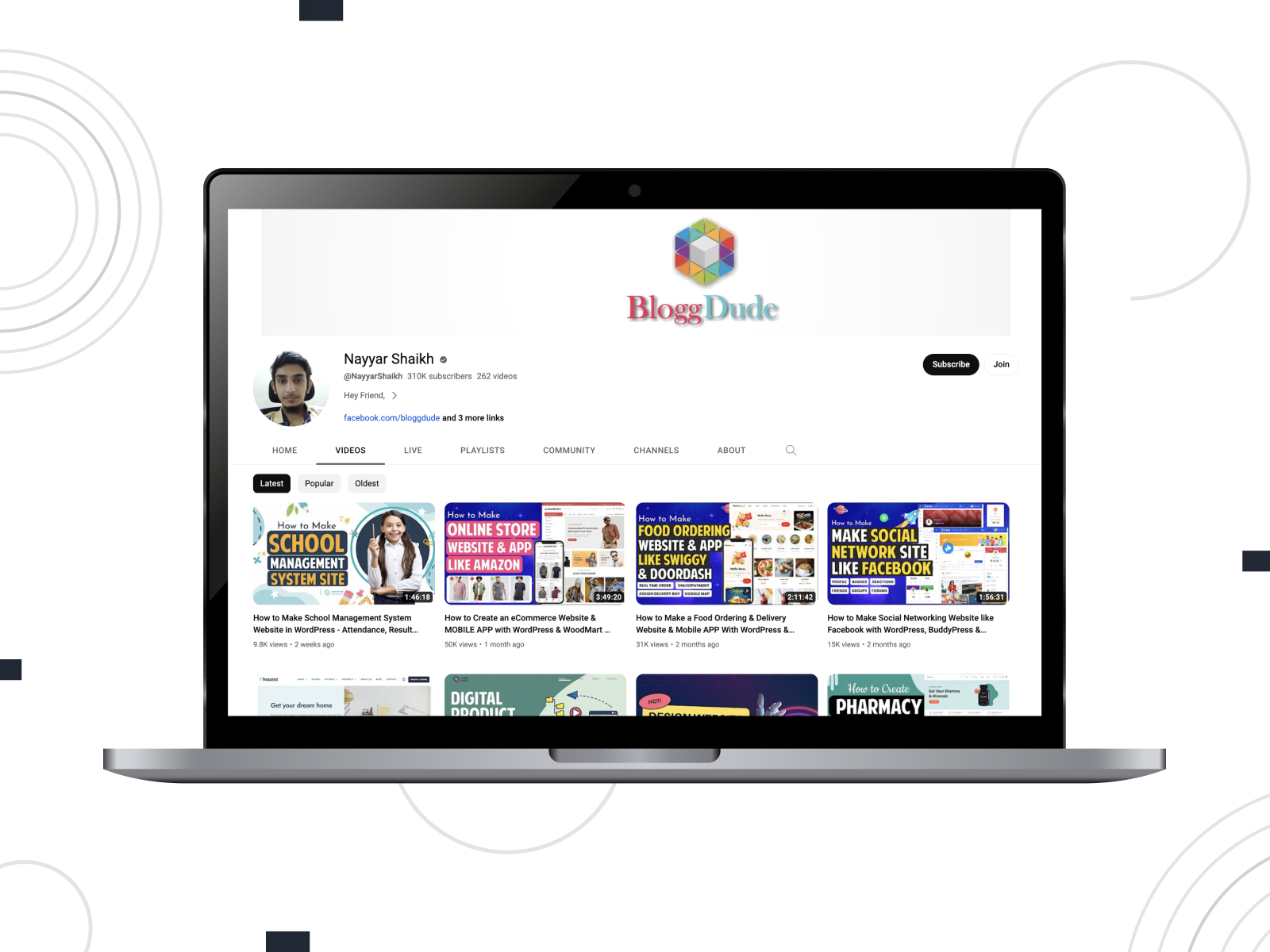 Next on our list of influencers is Nayyar Shaikh who currently has 310k subscribers. He is an Indian YouTuber with a main focus on comprehensive tutorials that help many beginning and experienced WordPress users enhance their online presence. From developing new sites for a variety of business spheres to adding new elements and features to existing websites, his videos cover a wide range of topics that any WordPress enthusiast or newbie may be interested in. Additionally, Nayyar shares his videos with helpful tips on his X and Facebook pages.
Featured playlists:
WordPress Elementor Pro Tutorials;
What to Do After Creating a WordPress Website;
| Channel name | Number of videos | Views | Subscribers |
| --- | --- | --- | --- |
| Nayyar Shaikh | 262 | 27,040,249 | 310,000 |
14. Darrel Wilson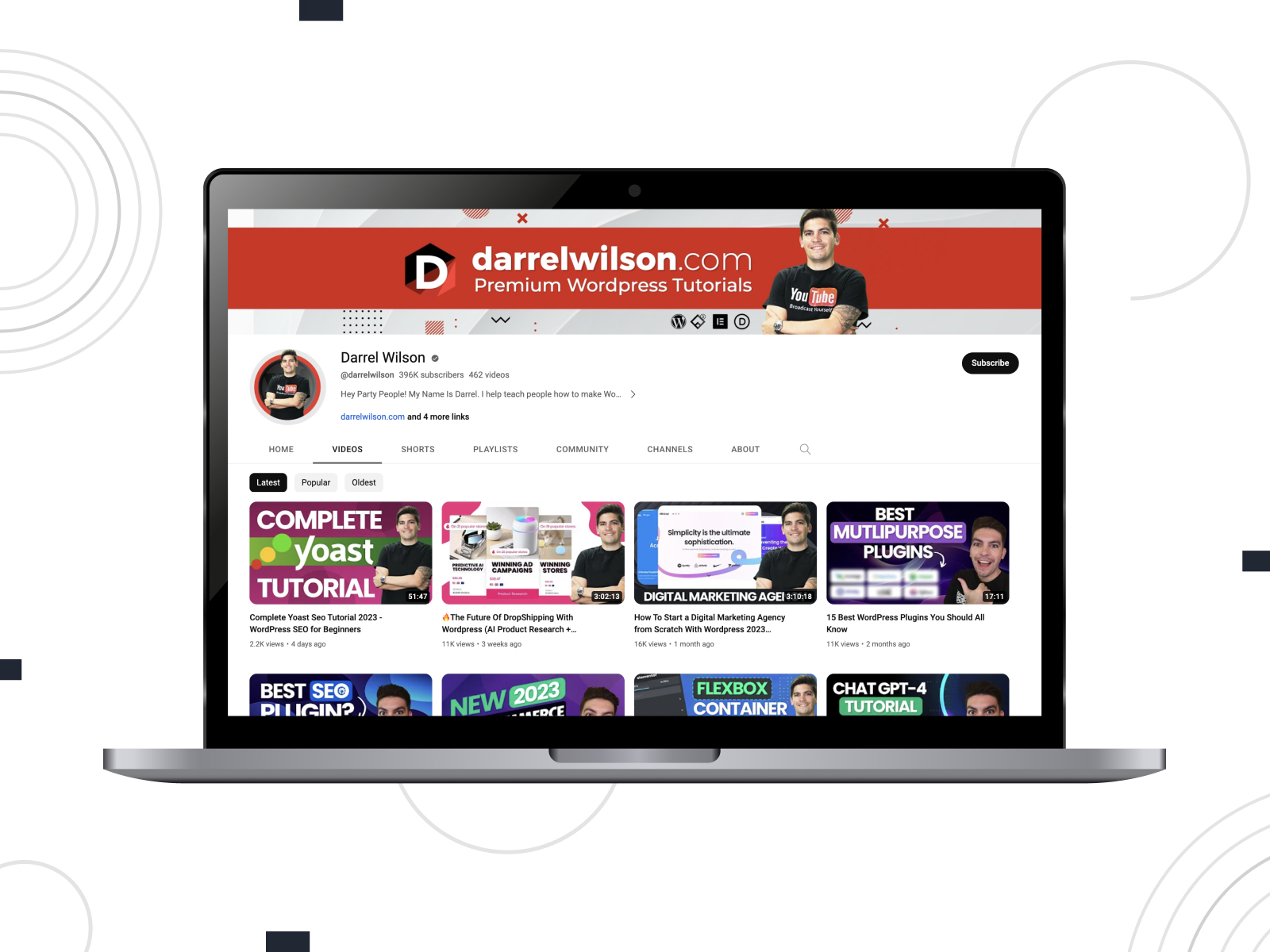 Darrel Wilson is also a notable influencer worth mentioning. He has one of the best WordPress YouTube channels with almost 400k subscribers. Darrel provides detailed tutorials and video guides for WordPress users of diverse experience levels. Moreover, he offers content monthly not only in English but in other languages, too. Whether you're interested in the top plugins for your WordPress site or need to learn more about eCommerce and AI in web development, visiting his channel is highly recommended. Feel free to visit his Facebook page for more content and tips for everything WordPress-related.
Featured playlists:
Complete WordPress Tutorials;
eCommerce Topics;
General WordPress Discussion and Topics.
| Channel name | Number of videos | Views | Subscribers |
| --- | --- | --- | --- |
| Darrel Wilson | 462 | 40,351,702 | 395,000 |
15. Kori Ashton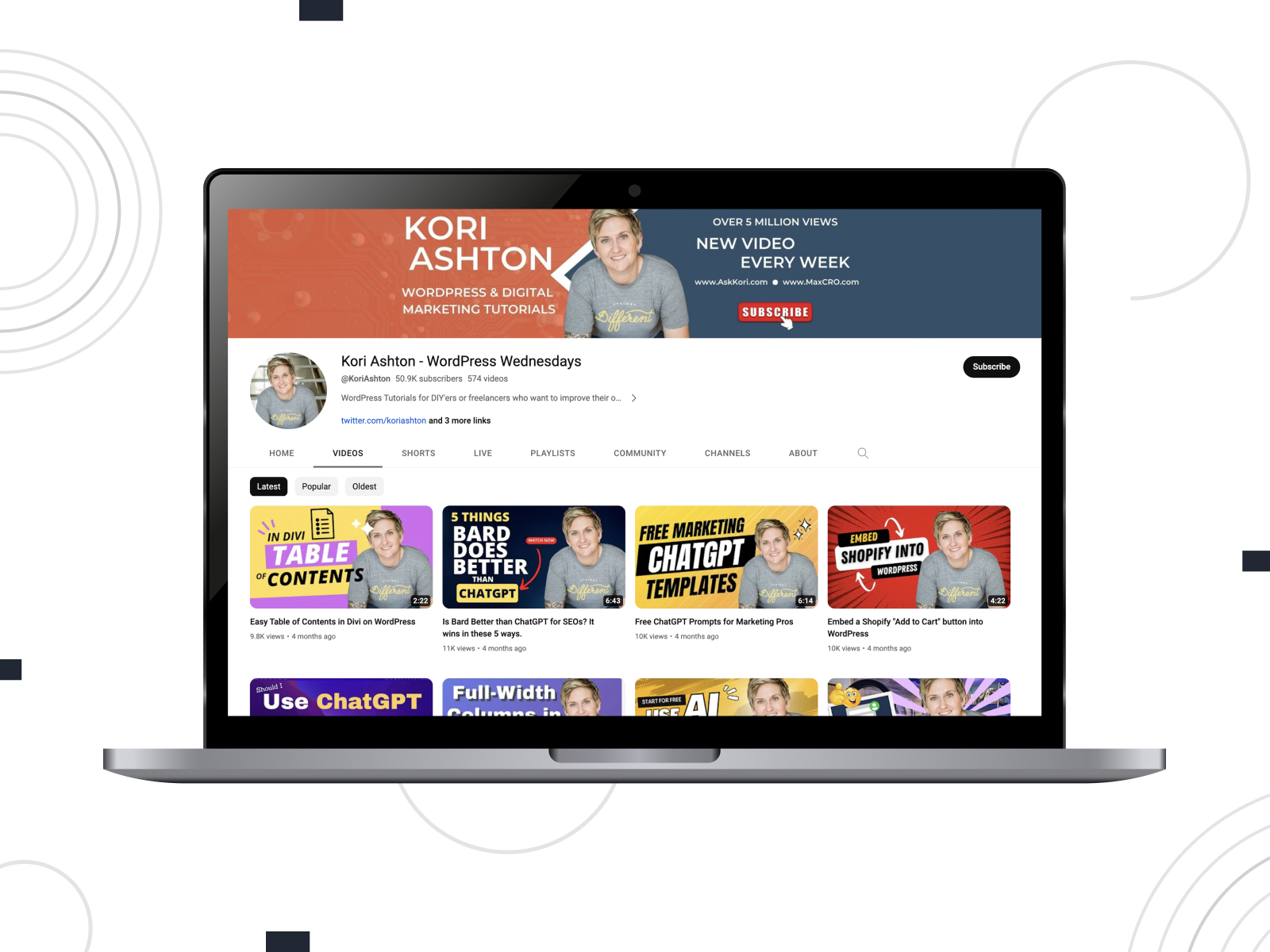 Some WordPress influencers publish content designed not just for WordPress users but also for those who want to know more about online marketing. If you are looking for such a YouTube channel, then Kori Ashton has just what you need. Her video tutorials are short and easy to understand, while also being highly informative and worth watching. Ranging from AI-related marketing guides to reviewing diverse plugins and other tools for WordPress, Kori's videos will help you to better understand how you can achieve success online without spending a fortune on your website's promotional campaign.
Featured playlists:
WordPress Freelancer Growth Tips;
Favorite Resources and Tools.
| Channel name | Number of videos | Views | Subscribers |
| --- | --- | --- | --- |
| Kori Ashton – WordPress Wednesdays | 574 | 5,835,914 | 50,900 |
Wrapping Up
WordPress can be learned through a wide range of different methods. Watching videos by industry professionals is one of the best ways to get started. You can also use these channels as a source of information about WordPress innovations and new solutions that the community has to offer. Blogs for users and developers remain one of the main spaces to share and receive information about WordPress, watching videos can save you a lot of time while still being educational. Here are the 5 reasons why the best WordPress YouTube channels are worth watching:
A practical way of understanding fundamentals: Tutorial videos offer a better way of learning the basics of WordPress without taking lots of time and money.
Discovering new trends & solutions: By watching your favorite WordPress YouTubers you can always learn something new and apply it to your website.
Step-based tutorials and simple explanations: Educational videos for WordPress help you solve any issues in just a few steps without being overly complicated.
Feedback from the channel authors: Any viewer can leave a comment and get quick advice from the author.
Informative reviews: Most WordPress channels provide not just useful tips but also reviews of various solutions for the platform.
These are just some reasons that might make you watch the best WordPress YouTube channels. However, their authors have a lot more to offer you. From unique style to incredible community, the abovementioned channels deliver a variety of content designed for their target audience. Whatever you seek in these videos, rest assured that both authors and their communities will be eager to help you answer any questions about WordPress.
FAQ
What is the best YouTube channel to learn WordPress?
Currently, one of the best YouTube channels for learning WordPress is
WPCrafter
. With 295k subscribers, this channel provides regular educational videos for beginners. If you want to learn how this CMS works and discover new tricks for yourself without hiring a developer, watching the tutorials available on this channel is highly recommended.
How do I find a list of YouTube channels?
To find a list of WordPress-related YouTube channels, you can use our selection presented above or just navigate to the YouTube search and enter what interests you. Then, in the search parameters switch to "Channels" and you'll see a variety of authors that provide relevant content about WordPress.

What is the most famous content on YouTube?
While there is a lot of content to watch on YouTube, tutorials are usually in high demand. There are usually lots of views and comments under each educational video about
WordPress themes
and plugins. Moreover, many creators also answer various questions their viewers have. Some of the submitted feedback also results in ideas for new videos explaining the basic concepts of WordPress in greater detail.
Who is the most popular content creator on YouTube?
One of the most popular content creators on YouTube is
Darrel Wilson
, who provides easy-to-understand videos with clear instructions on developing your website using WordPress. Additionally, Darrel provides content for 5 foreign languages using dedicated channels. Such an approach makes his content easy to discover even for those viewers who don't speak English.