26 Best Booking Forms Templates (Basically Free)
In this post, we'll share a few great places where you can get the best booking forms templates. They can be used in multiple ways – as hotel registration forms, surveys, appointment reservation templates, and other types of data submission forms that are easy to use both online and offline. Such forms can even be lead magnets, which are a perfect marketing tool for widening your clientele base.
To use these forms, you'll need to either work with a service such as an online template builder or get a customizable theme that you can edit with any platform or software you like. Here are the top 10 form-building solutions in both free and premium categories that caught our attention.

Top 7 Booking Form Online Services for Your Website (Free & Paid)
Since there's a variety of services or booking forms you may be looking for, we're going to list diverse booking form providers with their key features for you to choose the one that meets your business needs. Additionally, we'll add a selection of booking form templates that you can easily integrate into your website according to your goals.
Depending on what type of template or form builder you use, you might need to embed it as a code to your site, add it as a native form widget, or run it as a third-party script, etc. You'll find this out once you choose the right software. So let's help you narrow down your choice and see how you can use the best booking forms templates.

1. 123 Form Builder (FREE)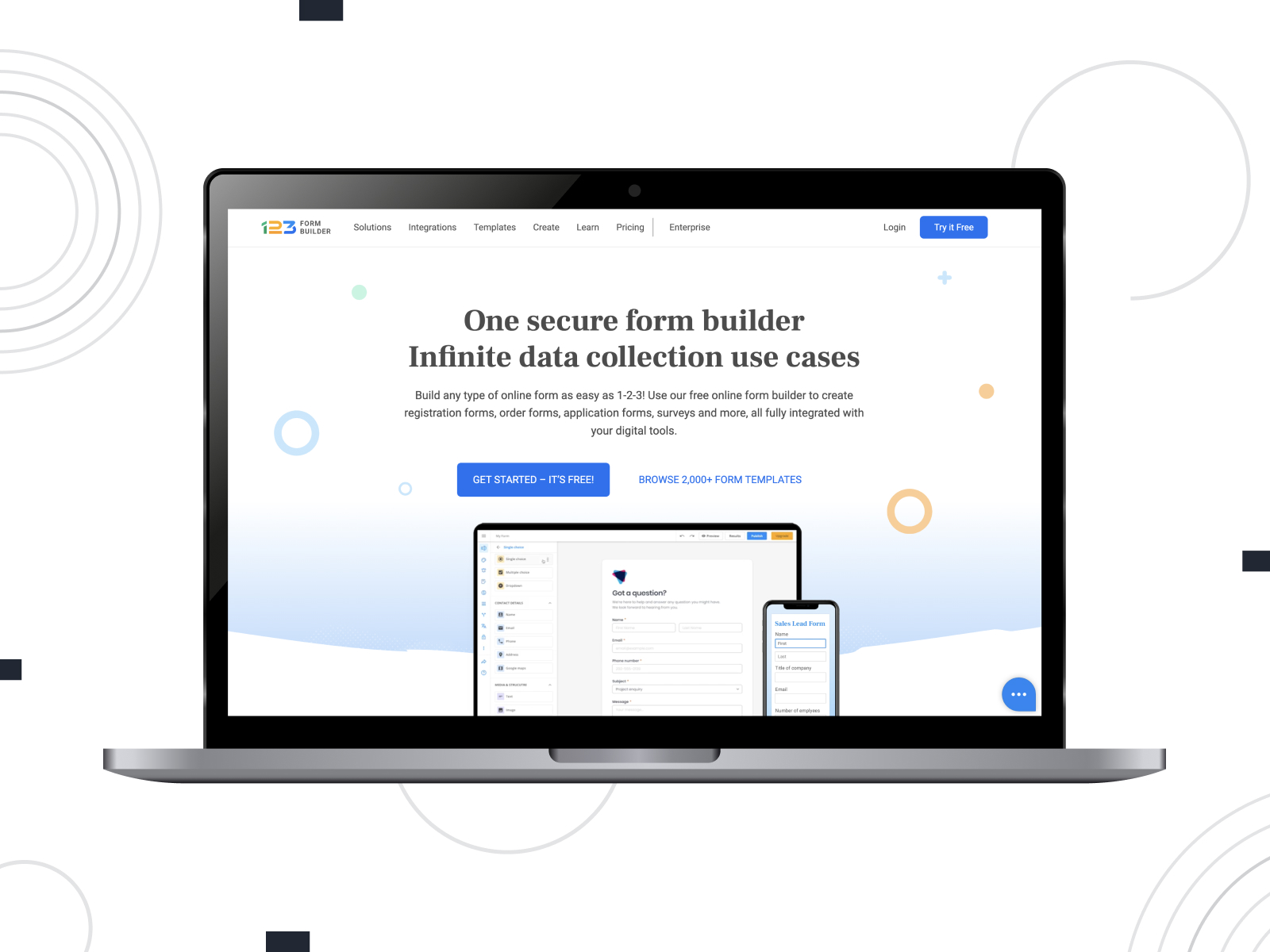 The 123 Form Builder service offers you tons of categorized templates for various needs, ranging from the travel form to the wedding photography booking template.
One of the advantages this tool provides is that you can edit its forms and publish them anywhere. The online booking form templates provided by 123 Form Builder are fully customizable with their platform editor.
Here you can find various categorized templates, including inquiry forms, order forms, quizzes, signup, registration, and other form types.
We'd say they are rather plain and simplified, without much decoration, but they vary in colors and some here and there have images.
Key features:
Customize the form and embed it into any website/website builder;
Free online booking form and paid templates (around 1,900+ unique form templates in total);
A handy form designer you can use even without any tech skills;
Customize paddings, styles, fonts, background, checkboxes, and more in your forms;
Good-looking customizable form buttons;
CSS and HTML styling options for those who want to add more tweaks;
Mobile-ready and responsive out of the box.
2. FormPlus (FREE)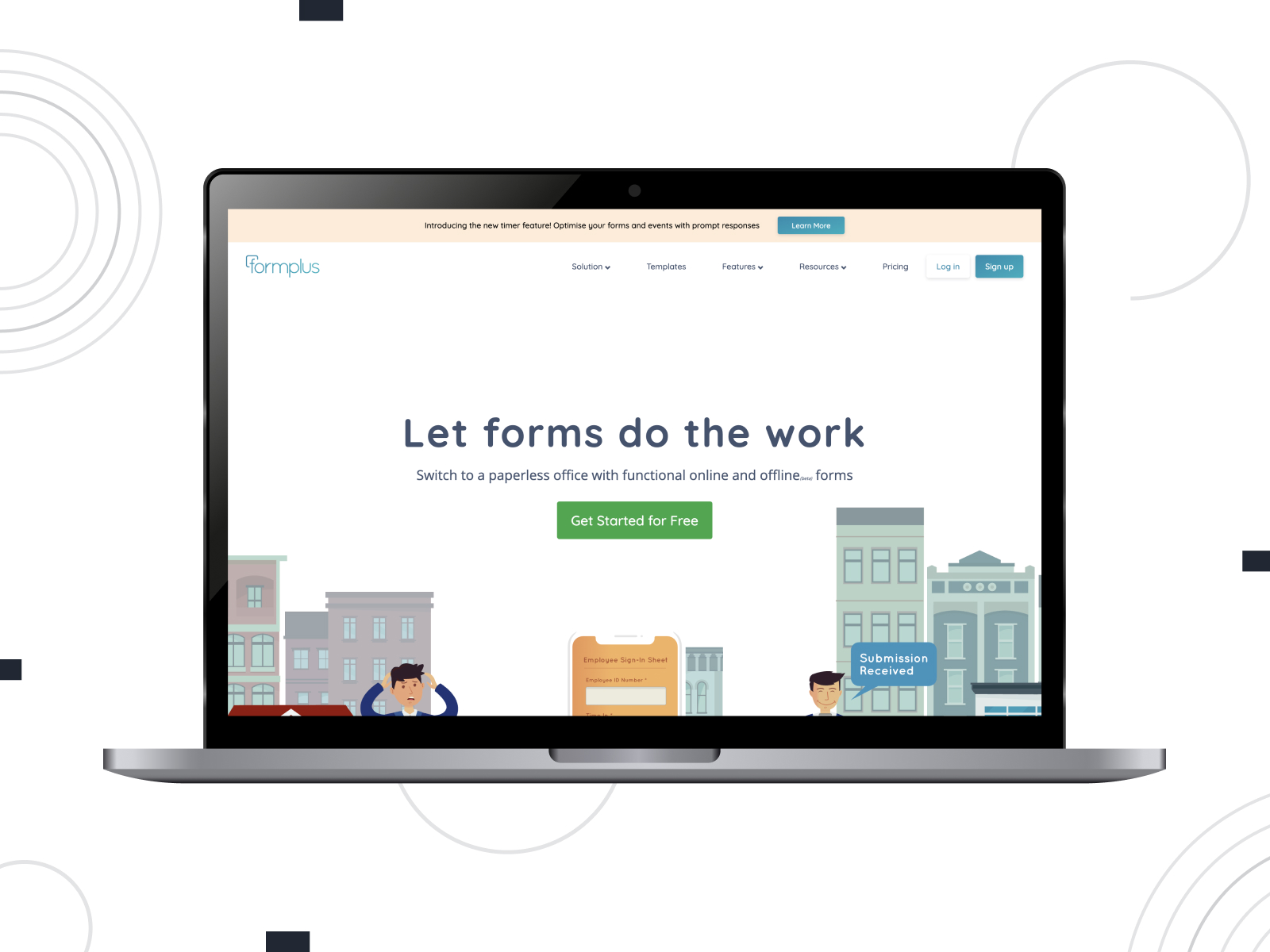 You can use the FormPlus 'no-code' builder to build the best booking forms templates with ease yourself.
It provides loads of unique form templates you can use on your site as well as can boast of tones of integration, productivity, and analytic tools to further work with your forms and the submitted data.
That means the service doesn't just allow you to build forms, but also offers opportunities to contact your clients further, organize collaborative work with your team, and present form data in multiple ways. The FormPlus service also works with payment processing tools allowing you to accept payments online.
Key features:
Hundreds of form templates that can be easily tailored (booking, application, survey and others);
20+ field types;
Quick and easy integration with Google Sheets, Google Drive, Microsoft OneDrive, and Dropbox;
Monitor and analyze traffic and submissions with the built-in analytics tools, including the ability to present your data in charts;
Possibilities for teams as to how to work with the forms;
Convert forms to PDF;
Receive instant booking payments and automate booking confirmation;
If you don't plan to get more than 50 Submissions/month and have just one form, you can stay on a free plan.
3. MotoPress Templates for WordPress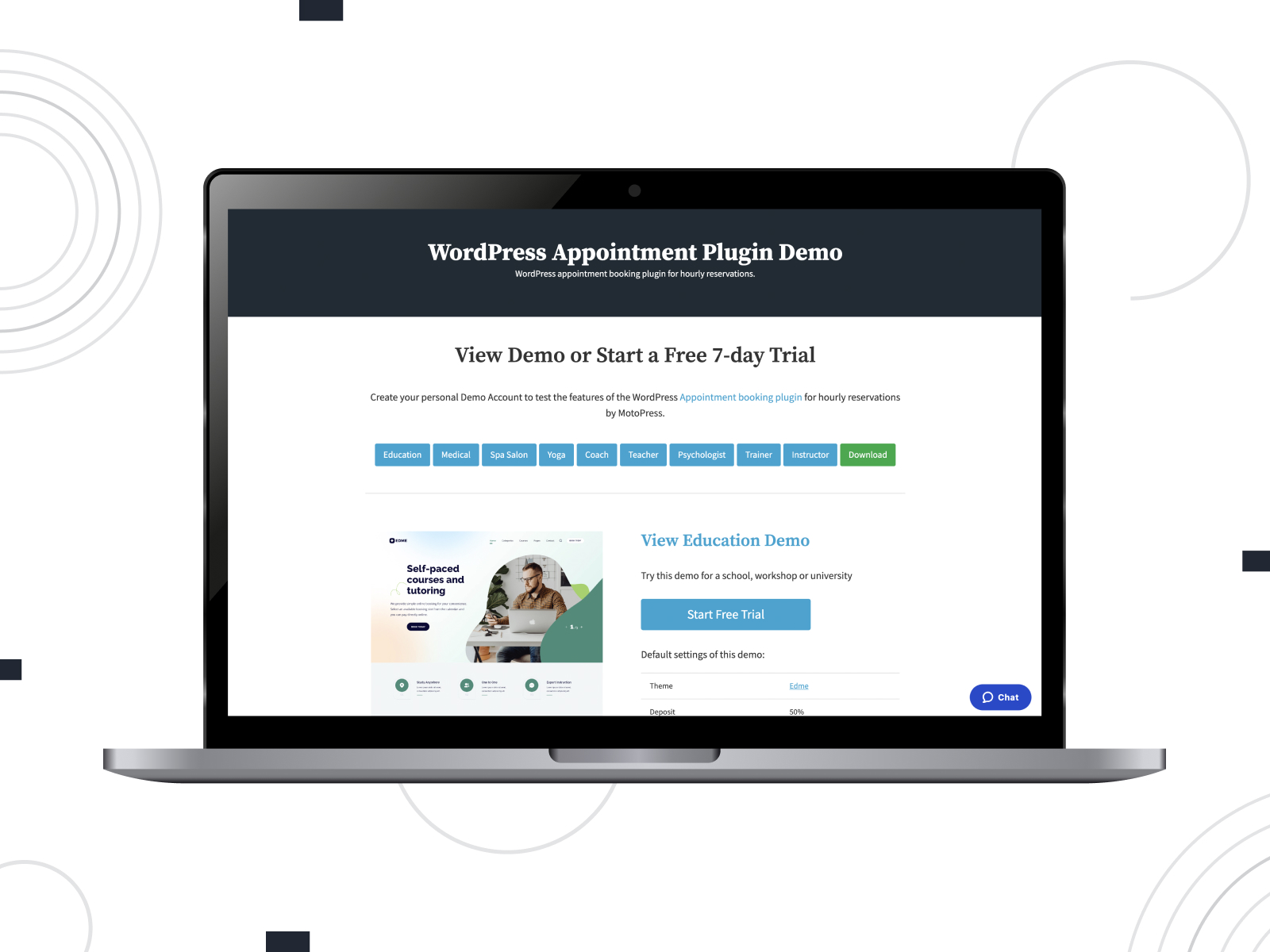 MotoPress offers two major types of booking template solutions: Service Appointment & Hotel Booking.
These are in essence WordPress booking themes, namely, you can use them only with the WordPress platform. You can't just add them to your WordPress site, they must be installed as core theme designs from the outset.
All online booking themes in these categories offer various designs, including bed and breakfast, inn, and hostel for the property booking needs as well as coach, teacher, therapist, clinic, and others for hourly appointment scheduling.
Key features:
Purpose-built designs of entire websites with the booking form widget integrated;
Automated bookings thanks to the built-in WordPress booking plugin;
Create an online booking form with payment via Stripe, PayPal, etc;
For one-to-one and group appointments;
Modern booking widget design for on-the-go reservations for phones and other devices;
Hotel booking templates can be set up to sync bookings with external travel agents.
4. Hotel Registration Forms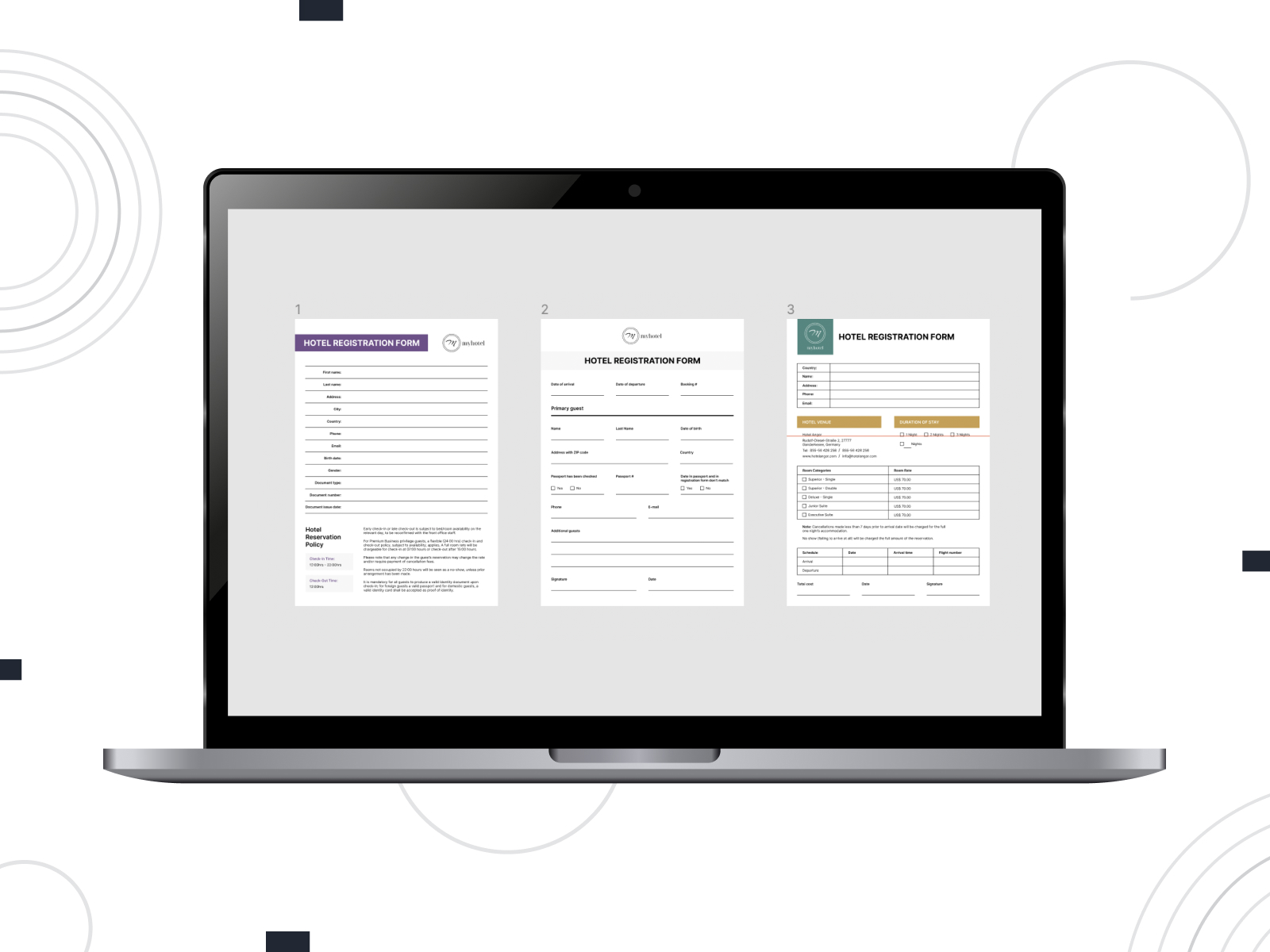 These designed hotel registration forms don't fall into the category of the best booking forms templates in the sense of 'online' since they are made as customizable templates for print, but at the same time, you can edit them online.
These hotel booking templates invariably have an appearance that at once recalls printed hotel templates people usually fill in at a desk when they check-in.
Until the advent of the booking websites and forms, all hotel templates were printed, but this tradition has not gone forever, so feel free to use them if needed.
Key features:
A few custom-designed templates for hotels, inns, and B&Bs;
A4 default format, edit in Figma, save as PDF, and print out;
Easily customizable in a free Figma account;
Different design approaches, with plain and multiple fields and checkboxes;
Upload your logo and change field labels with ease.
5. Paperform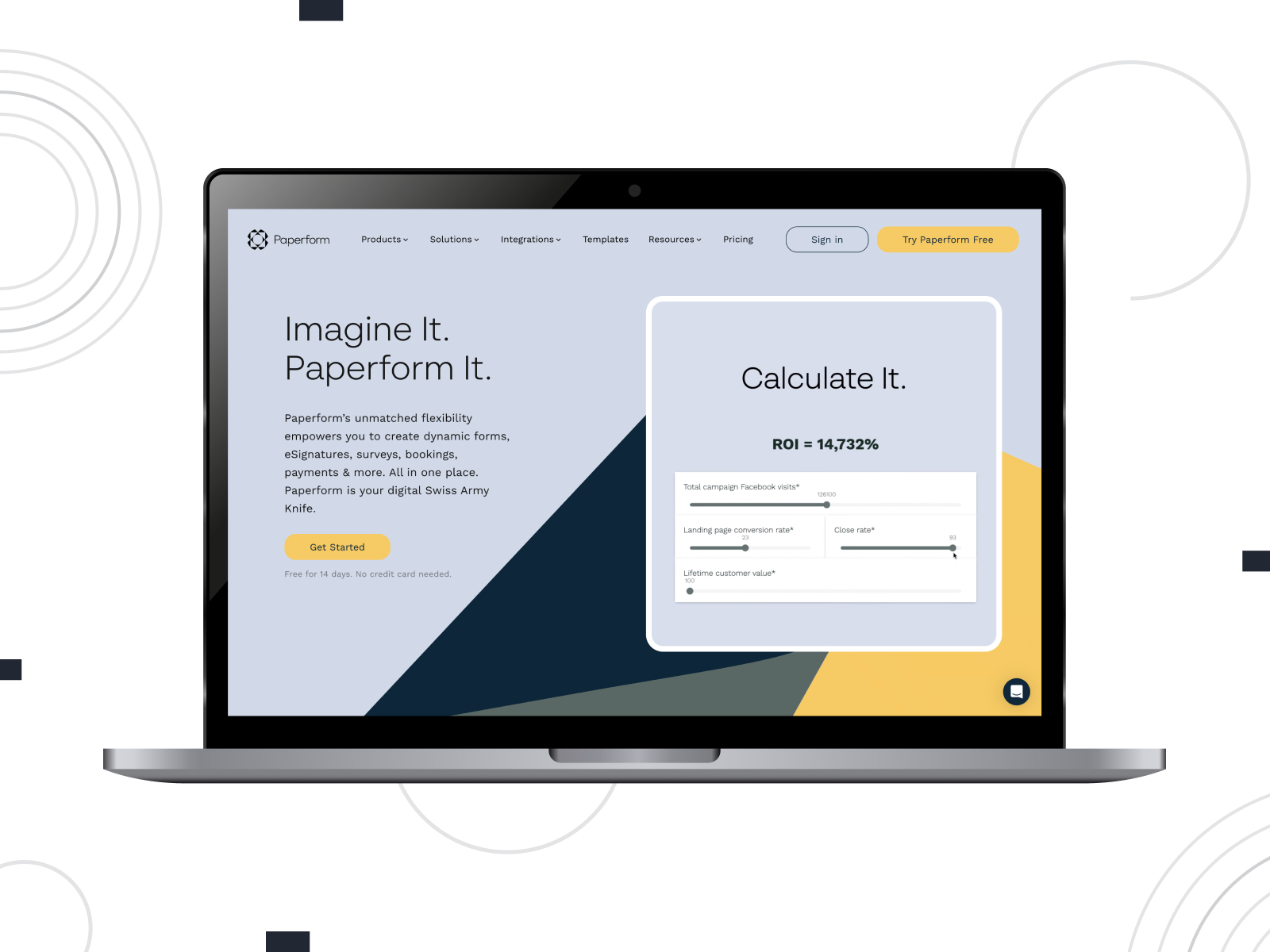 The Paperform service provides numerous online booking form templates that offer a great variety of designs, including images, image galleries, tables, and more. It's a powerful form builder for any need, with great support for all types of integrations and scaling.
You can use various pre-designed forms, including lead generation, medical, membership, payment, registration, booking, and more. Pricing plans for this service vary based on many things: form views, the number of submissions, human support provision, etc.
Some form templates have dedicated appointment scheduling fields for bookings and scheduling so that you can create an appointment booking form on your site easily.
Key features:
650+ pre-built form templates;
You can collect payments securely with these online booking form templates (Stripe, Google Pay, PayPal, Braintree, etc.);
Many conditional logic settings to personalize your forms;
24 field types;
Support for e-signature;
You can add custom HTML and CSS;
Export submission results to different formats;
Integrations with Google Analytics, Facebook Pixel;
Support for API and webhooks;
14-day free trial.
6. Formstack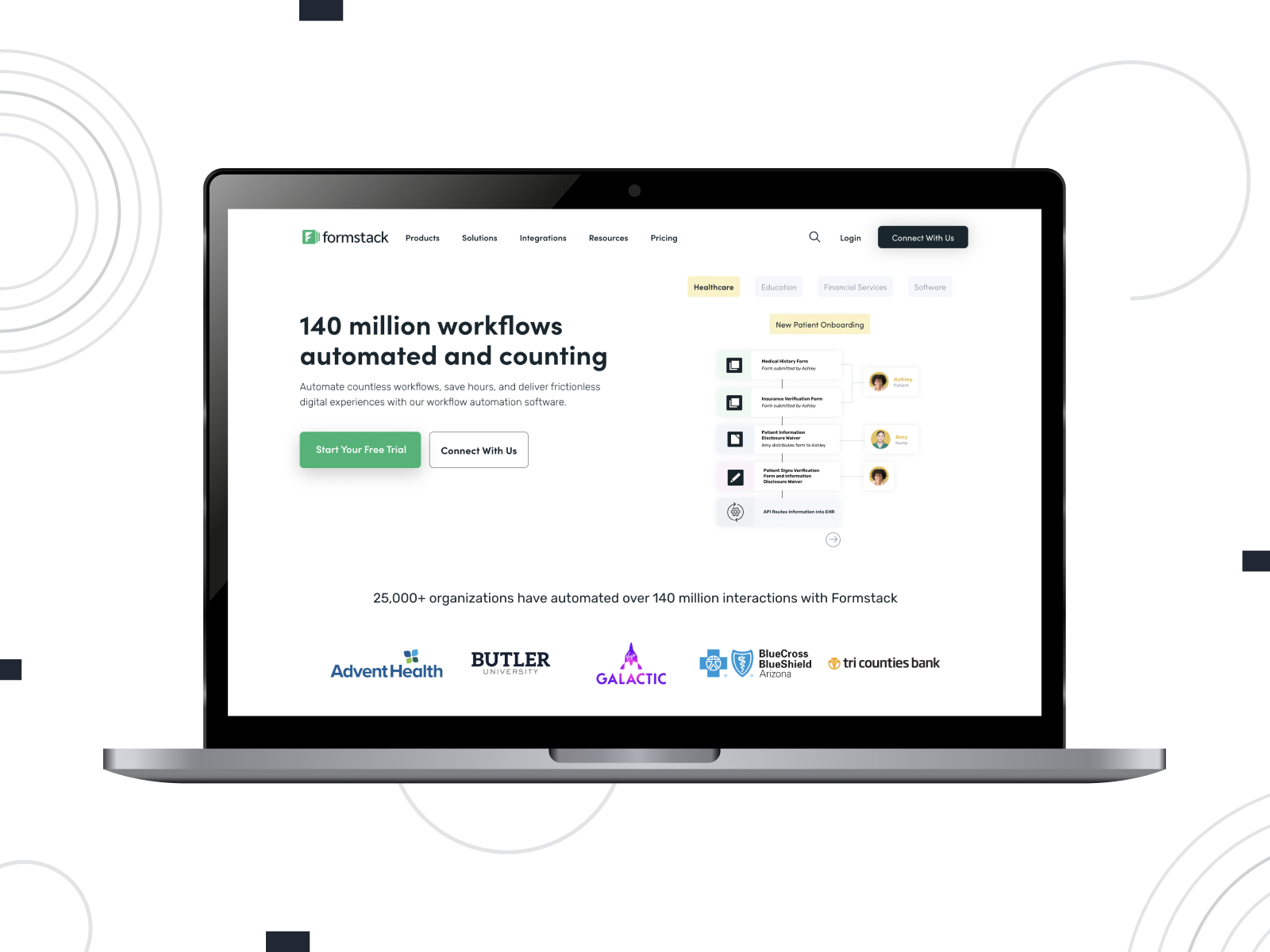 We find Formstack perfect in terms of well-balanced designs and functionality. First and foremost, it works as a form builder with all the industry-standard features and is used by many businesses and people.
It offers you a collection of the best booking forms templates and tons of extra tools to make the most out of your forms. The links with your online booking forms can be embedded on any website, sent via email, or shared via social networks.
In the collection, you can notice great sobriety of ornamentation in default forms and can add what you need in clicks in a visual form builder mode. You can check the video and demo to see it has many options to help you remix a design and make it your own.
Key features:
Drag-and-drop form builder;
Multiple conditional logic rules;
You can style and brand your booking forms using a theme editor and by adding custom CSS, too;
Support for e-signature;
Many productivity tools for saving your preferences and working faster with a large number of forms;
Built-in analytics tools to gather insights on the data you get from the forms;
Form importing from other providers;
Support for PDF format;
Support for file uploading to the form;
A great level of form security;
You can try the builder for free before you choose to buy it (for 14 days).
7. Cognito Forms (FREE)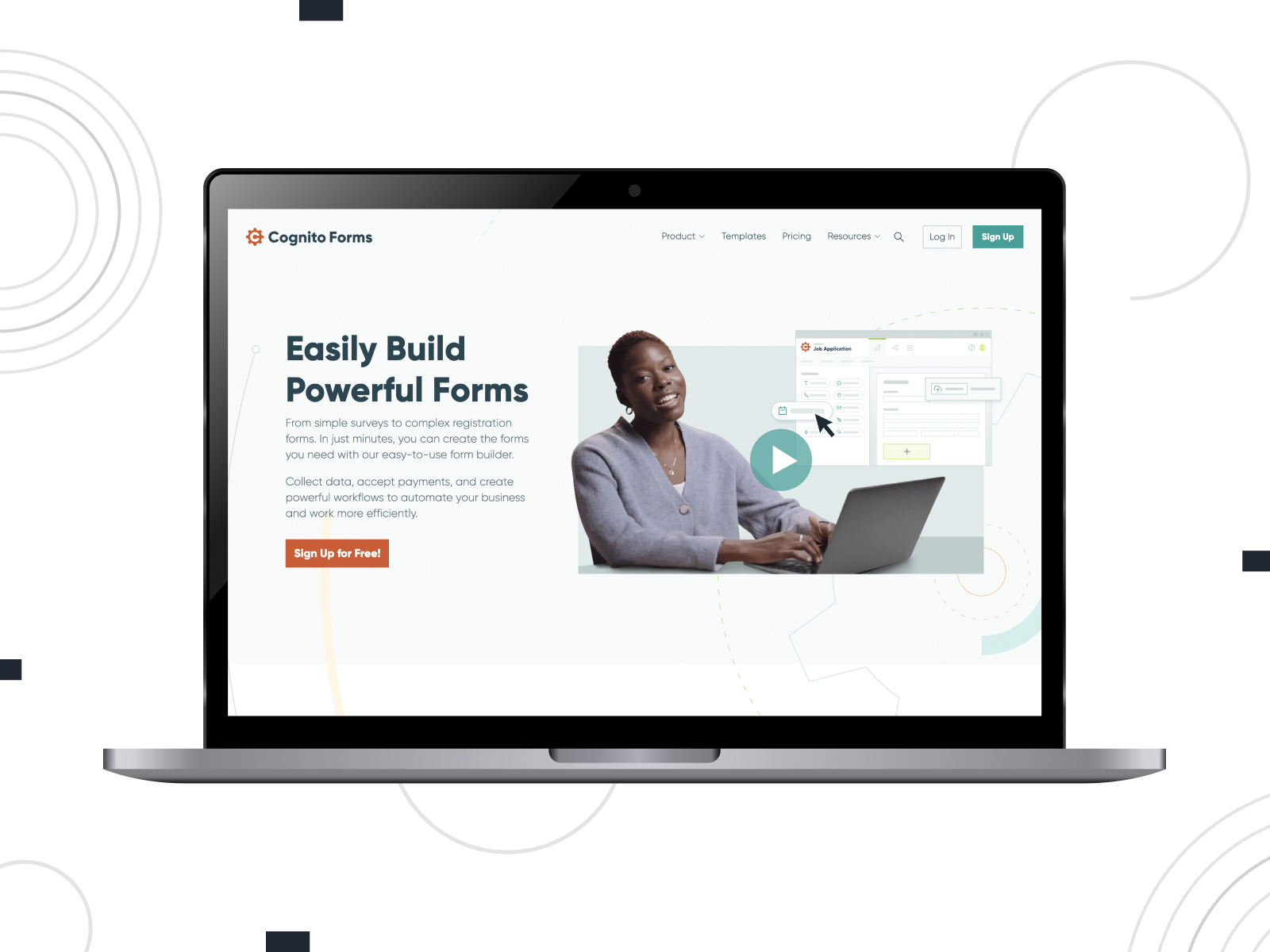 Cognito Forms offers a great collection of powerful forms you can brand in an easy-to-use editor. The library of online registration and order form templates is not that huge but visually well-balanced and informative. And after all, you can customize them to your liking!
Cognito Forms can be easily embedded into WordPress, Wix, or Weebly websites. The booking form templates CSS are categorized by industry and form types allowing you to quickly find the needed one.
Key features:
Online payments via PayPal, Square, or Stripe with support for invoices;
Integrations with Facebook Pixel, Google Tag Manager, Zapier, and other tools;
Conditional logic, notifications, document generation, calculations, and more automation tools;
Save entry data in Excel files;
Support for e-signature and file upload;
Free 14-day trial for testing premium features;
Unlimited forms and 500 entries/mo available in a free plan.
8 Free & Best Booking Forms Templates to Choose From
While the abovementioned services contain dozens of powerful forms from renowned providers, we have also prepared a selection of free ready-to-use form templates to help you easily integrate the booking functionality. Regardless of what features you're looking for, below you'll find a diverse choice of forms to meet any need of your business.
8. Hotel Accommodation Form Template (FREE)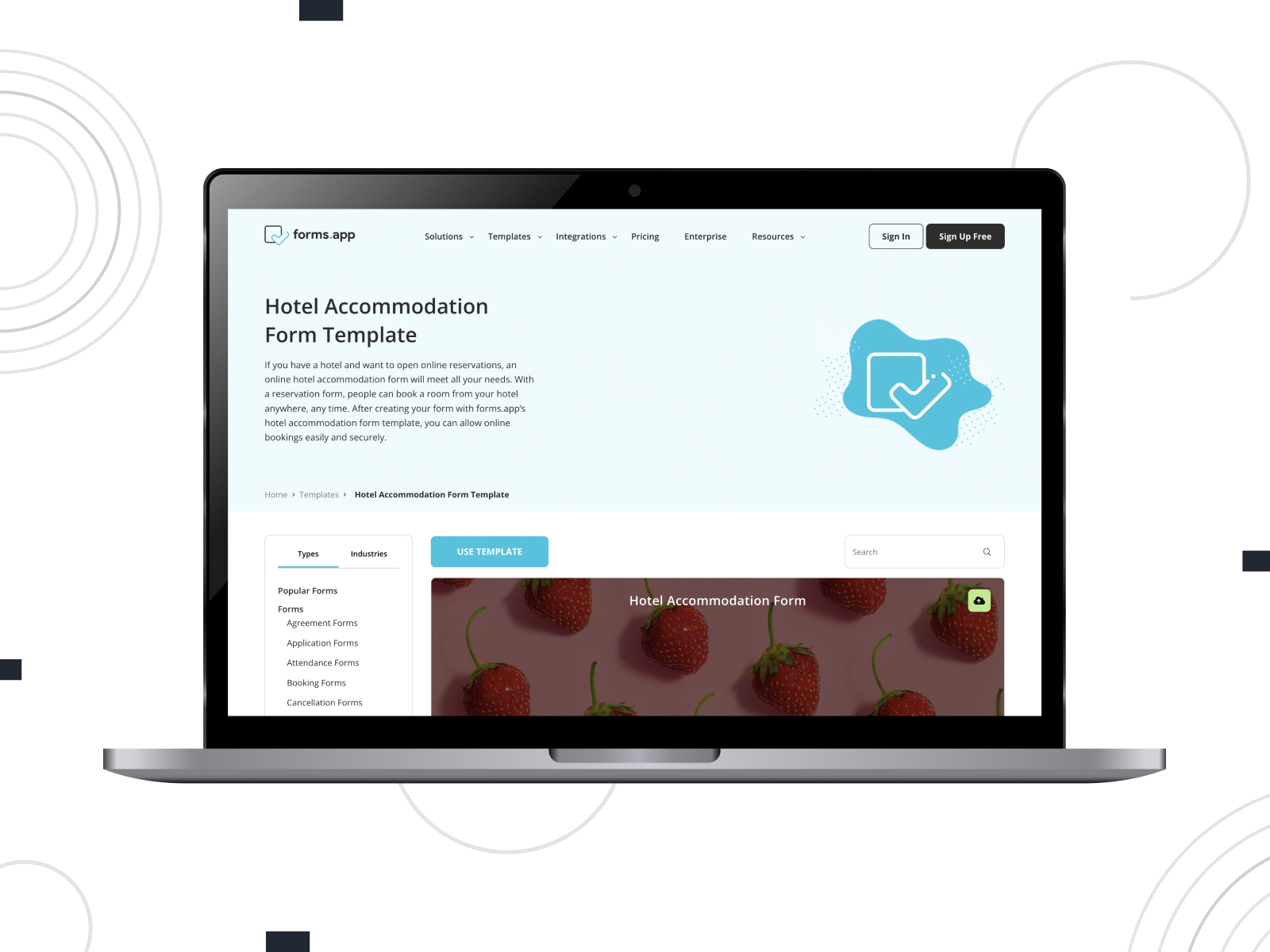 One of the most common spheres of using the best booking forms templates is the hospitality industry. From hotels to B&B and short-term rental businesses, many companies heavily rely on the functionality of booking forms. With this free form available from the Forms.App builder, you can easily create a customizable booking widget. It includes everything a modern hotel website requires.
Key features:
Step-based room reservation layout;
Custom CSS elements support;
Different fields for arrival and departure dates with calendar date selection;
Powerful visual form customization;
Form completion progress bar.
9. Railway Ticket Booking Form Template (FREE)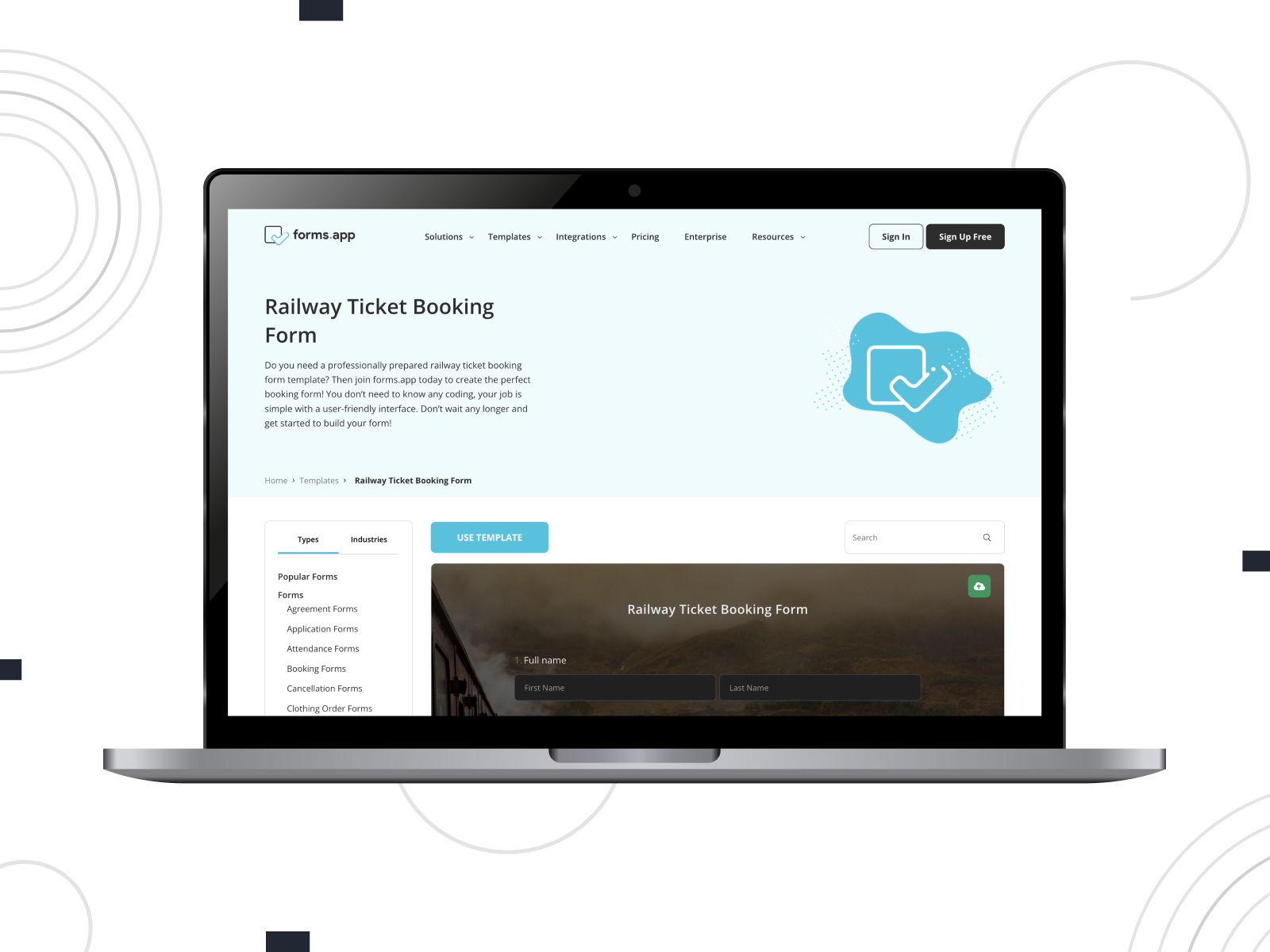 While using forms for accommodation businesses is a common occurrence, other industries also rely on similar functionality. For example, rail transportation companies may use the templates provided by the abovementioned Forms.App service to automate the booking process. Unlike the previous example, this booking form template displays all fields on a single page. This allows your client to choose the departure date and time alongside entering the destination and number of passengers.
Key features:
Easy-to-edit fields with support for both text and numbers;
Responsive form design;
Form sharing via a link or iFrame;
A variety of integrations with other platforms and services;
Customizable payment fields to enable online transactions.
10. Consultation Form Template (FREE)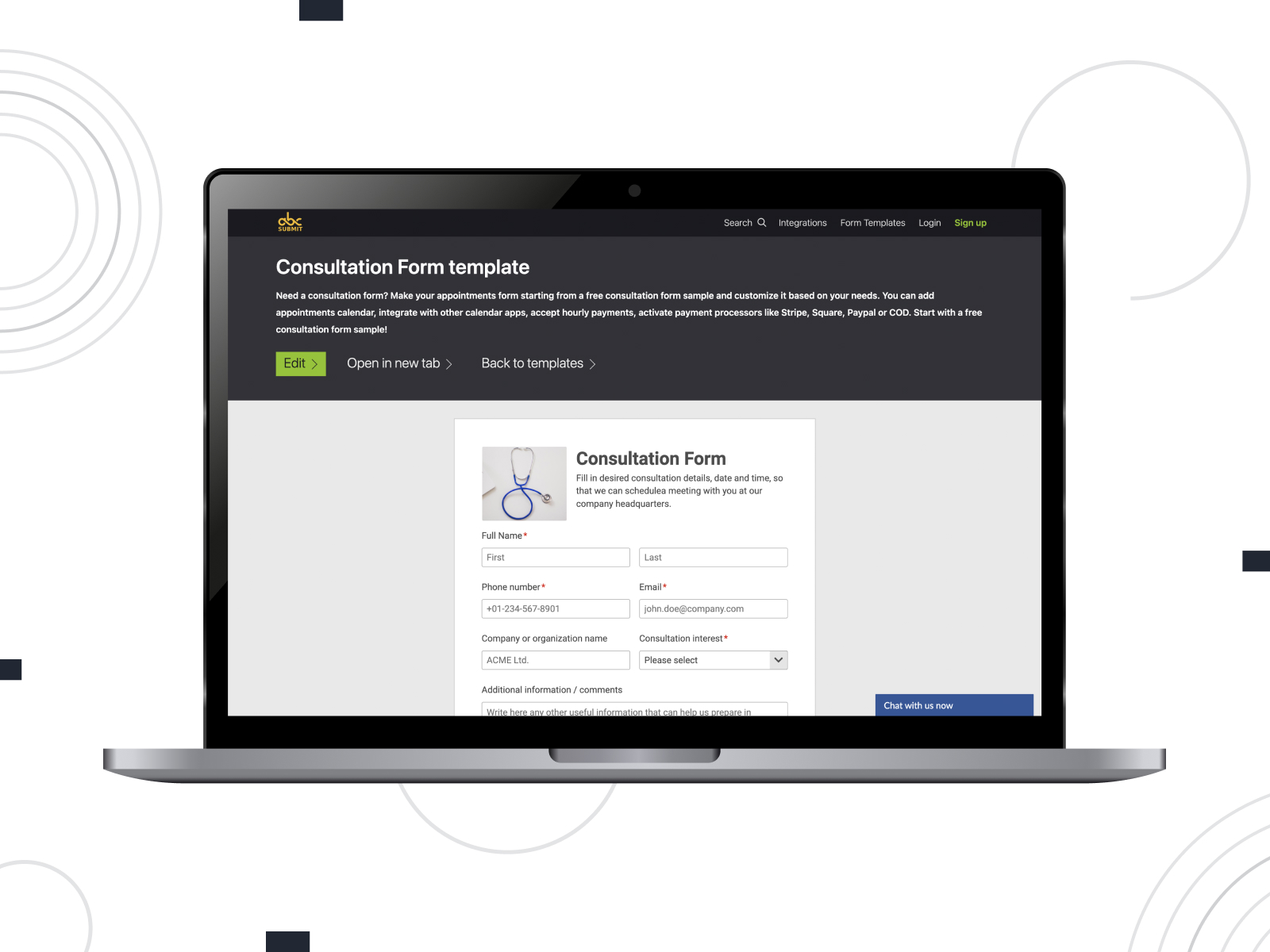 If you aim to go for something simple in terms of design but with a vast choice of form fields, the best booking forms templates provided by AbcSubmit can help you. A prime example is the solution suitable for a consulting website. It can be used by businesses as well as medical establishments to effectively integrate reservation functionality into their websites.
Key features:
Easy-to-edit form layout with clean design;
Dropdown lists for faster service selection;
A wide range of text fields to gather customer information;
Dedicated form section for choosing the date and time of the appointment.
11. Booking Form Template for Ad Campaigns (FREE)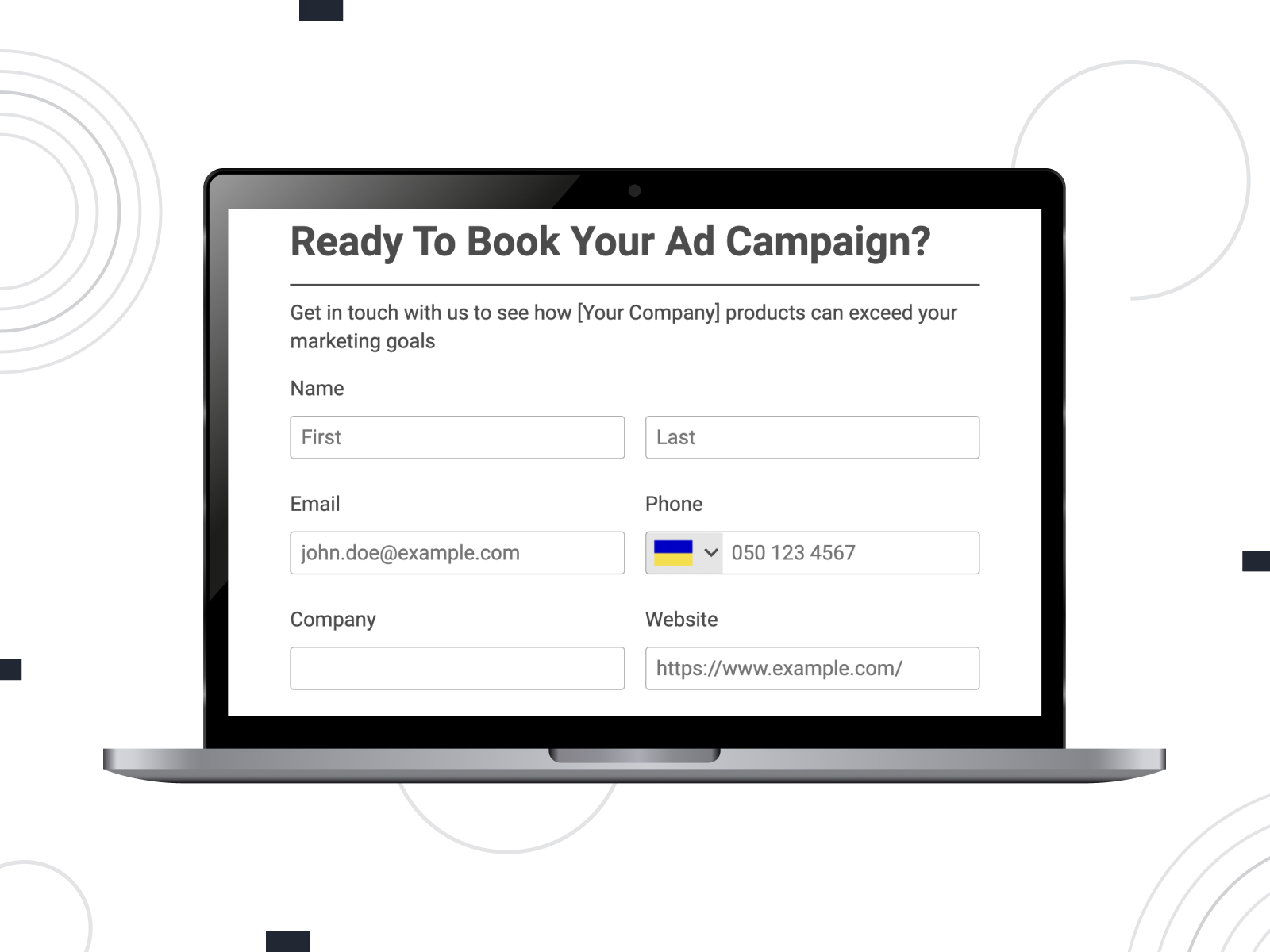 Most online marketing and advertising agencies use forms to simplify their communication with potential clients. They are also used to specify the details of ad campaigns. For that reason, the next mention on our list of booking form templates provides the perfect starting point for any advertising agency. From a catchy heading to a simple yet clean design, this solution by AbcSubmit has everything necessary to help you get the attention of your customers.
Key features:
10+ checkboxes for choosing the campaign budget and target audience;
A variety of text fields for personal data input;
Built-in country dropdown list;
A resizable field for additional notes.
12. Party Reservation Form Template (FREE)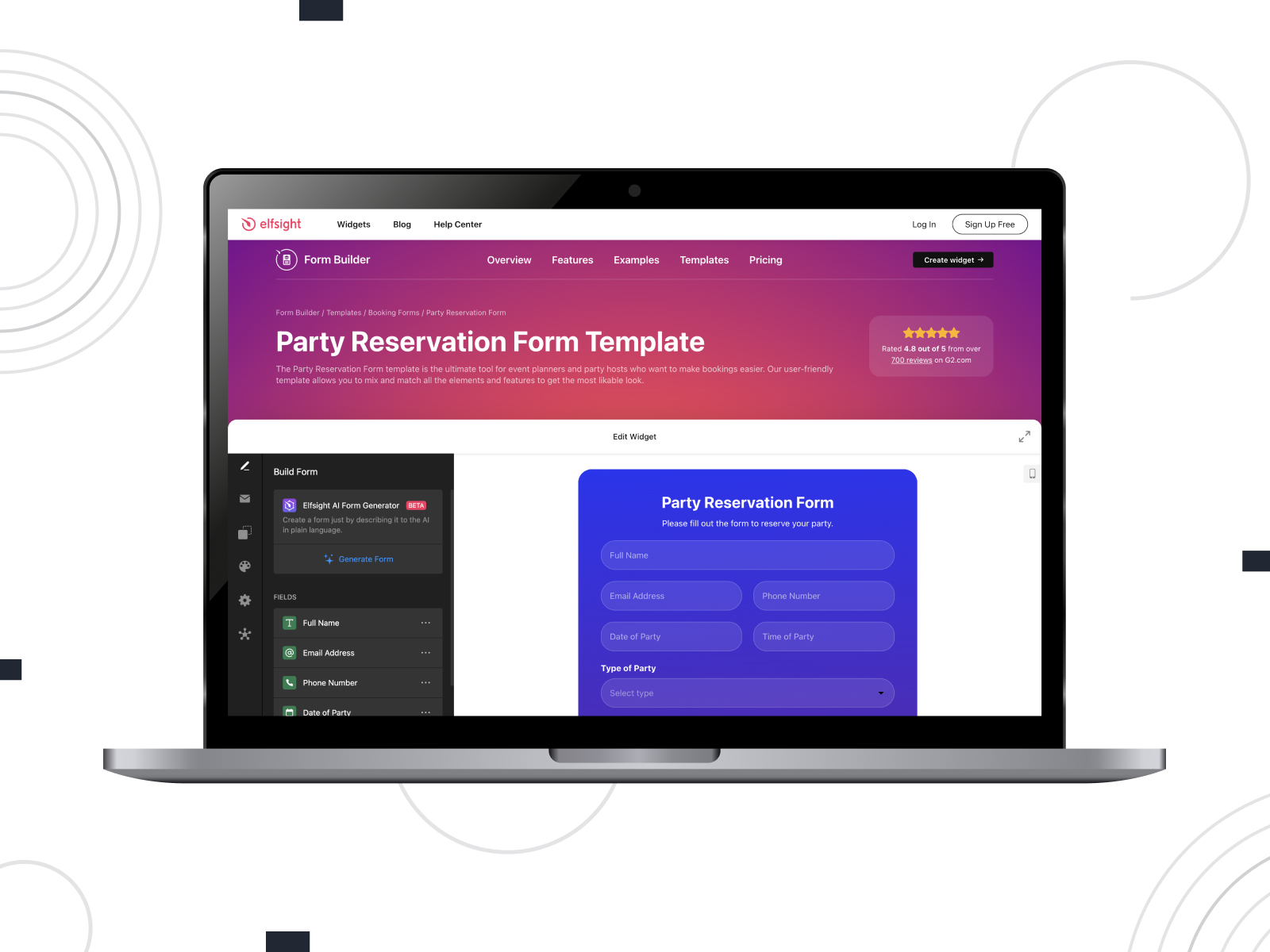 While some free forms have a simple look yet quite a detailed layout, others go for a variety of features provided at once. This is true for Elfsight, an online widget-building solution that provides everyone with the necessary tools for creating the best booking forms templates of any kind. One of the templates it provides is a party reservation form. With its layout, you can start organizing all kinds of parties and events without a hitch.
Key features:
Powerful visual form builder;
Vertical & multistep form layouts;
User-friendly event package selection;
Built-in Zapier integration;
reCAPTCHA spam protection.
13. Restaurant Reservation Form Template (FREE)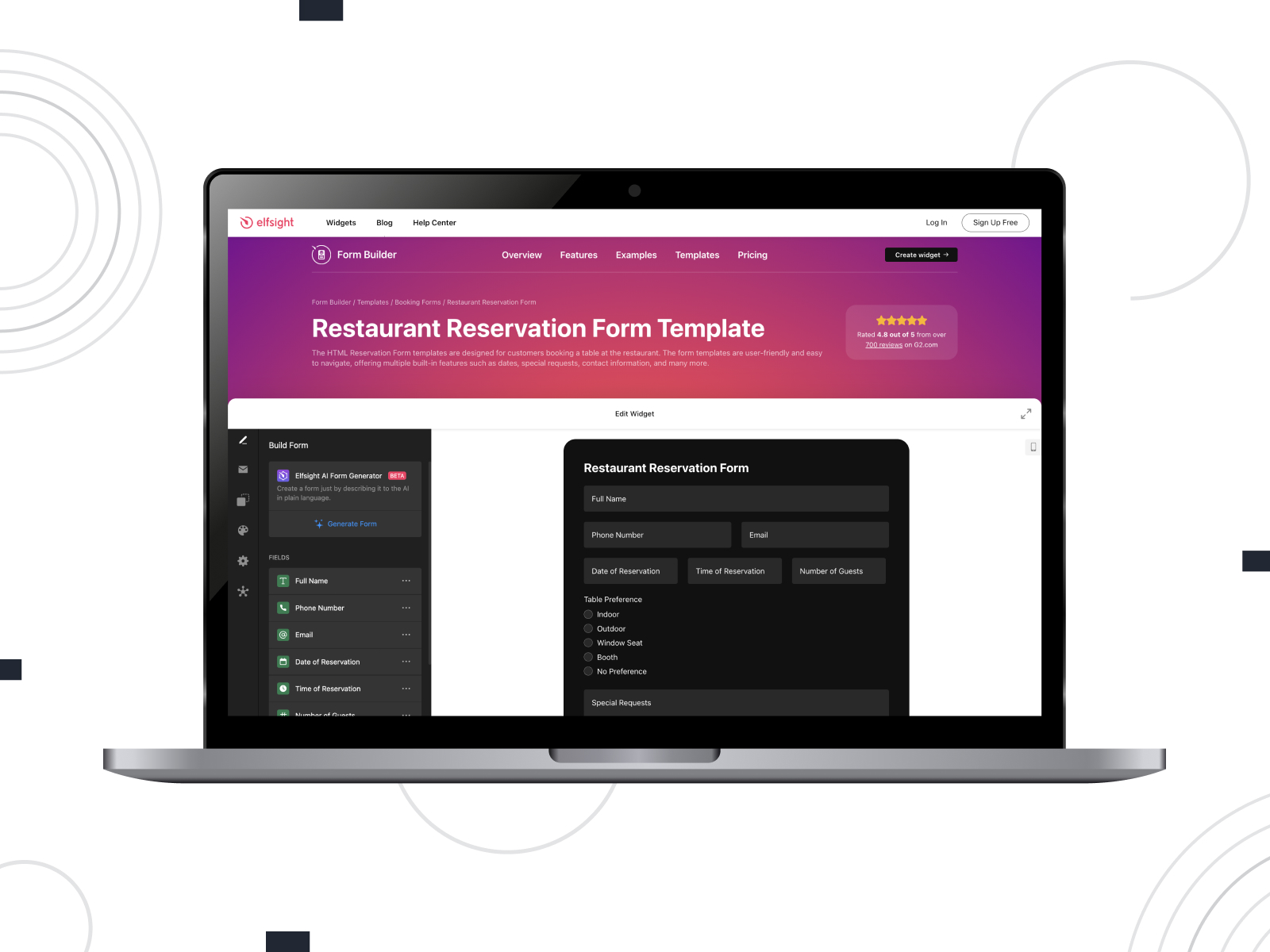 Similar to event organizers, restaurants also require the best booking form templates for easy appointment management. The abovementioned Elfsight has the right form for such businesses. You can freely edit this solution and use it online without additional coding. While the form is quite simple, it provides a wide selection of fields for information required to book a table at a restaurant.
Key features:
Responsive form designed in a dark color palette;
Table preference section with radio buttons;
Calendar form field for date selection;
Additional fields for special requests, allergies, and dietary restrictions;
Checkbox for consent of information processing.
14. Car Booking Form Template (FREE)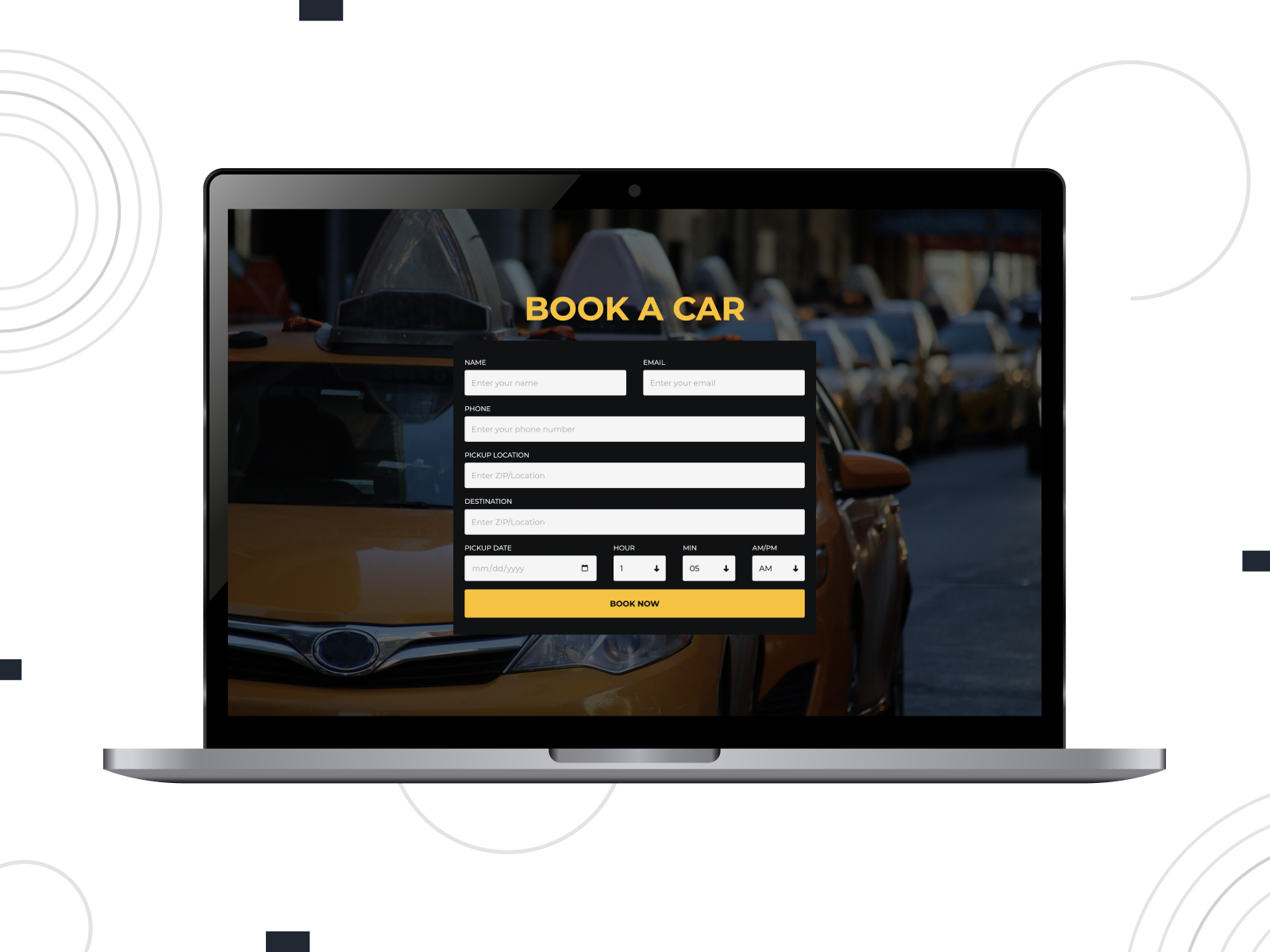 Are you looking for a detailed, responsive, and reliable car booking form to match your website? If so, we recommend taking a look at one of the best booking forms templates from Colorlib. It is perfectly suited for car rental service providers as well as taxi companies. This template comes with a variety of fields that can be customized.
Key features:
Four text fields to improve the collection of customer data;
Calendar view for choosing a pickup date;
Dropdown lists for easier time selection;
Built with HTML for more detailed integration and customization.
15. Flight Reservation Form Template (FREE)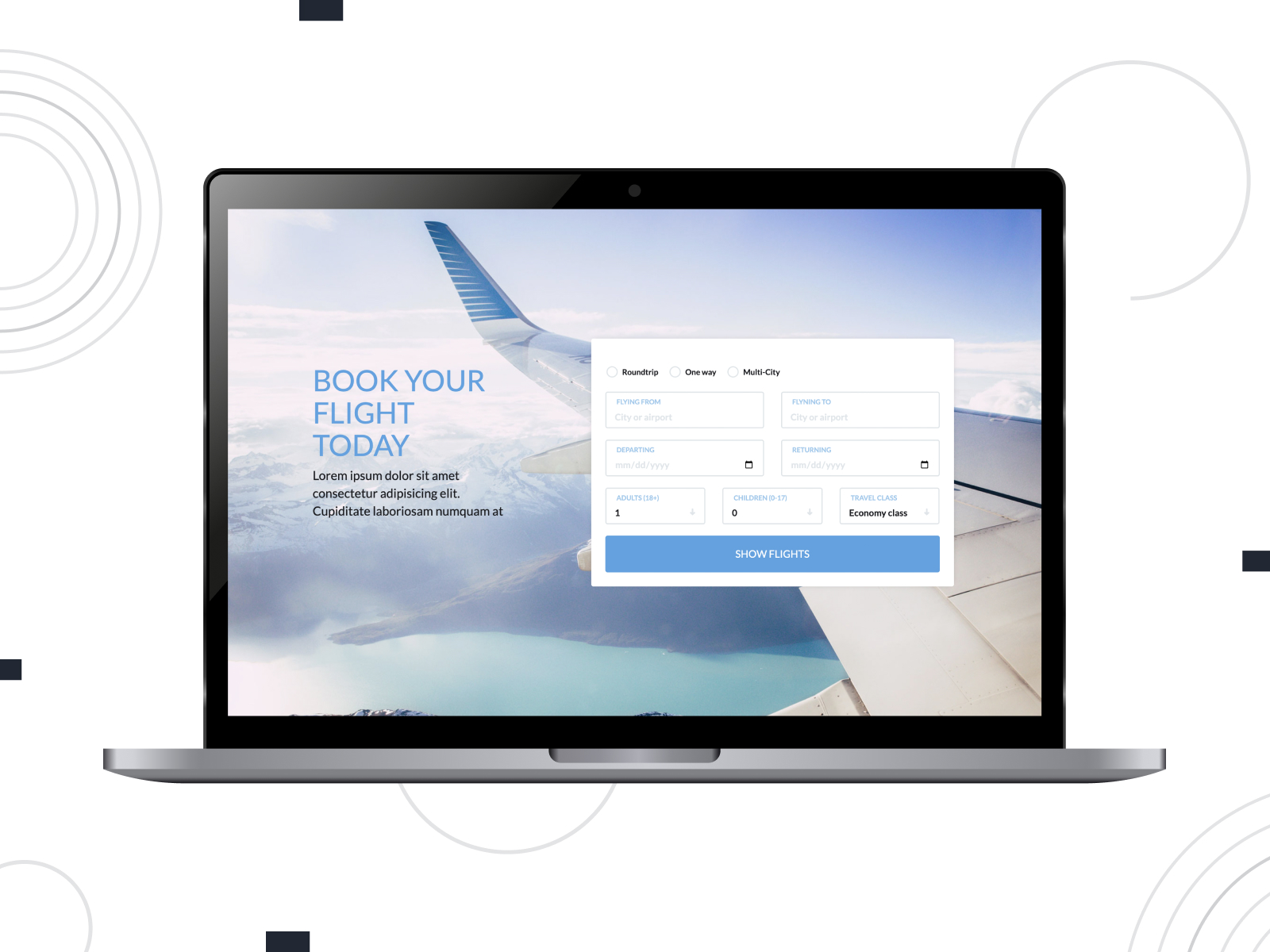 One more useful booking form template from the same provider is connected with flight reservations. Many travel agencies and airlines often use such templates to make online reservations of flights more accessible due to the responsiveness of such solutions. This is also true for similar templates built with Bootstrap 5 and HTML. Additionally, this form allows for creating a fully customizable booking page without any complexities.
Key features:
Flight type selection;
Delicate color scheme that can be edited using CSS;
Date selection fields for specifying departure and return dates;
A customizable text area for calls-to-action and descriptions;
Diverse choice of fields for defining a desired flight.
11 Best Booking Forms Templates for Premium-Level Websites
Using free solutions can be a great step towards better booking functionality if you're just getting started. However, if you need properly designed and reliable booking form templates, it is recommended to take a look at premium solutions. Below we have prepared a selection of 10 more forms you can use to enhance your site's appointment booking functionality. Most of them are available via monthly or annual subscription fees.
16. BNBForms Reservation Form for Vacation Rentals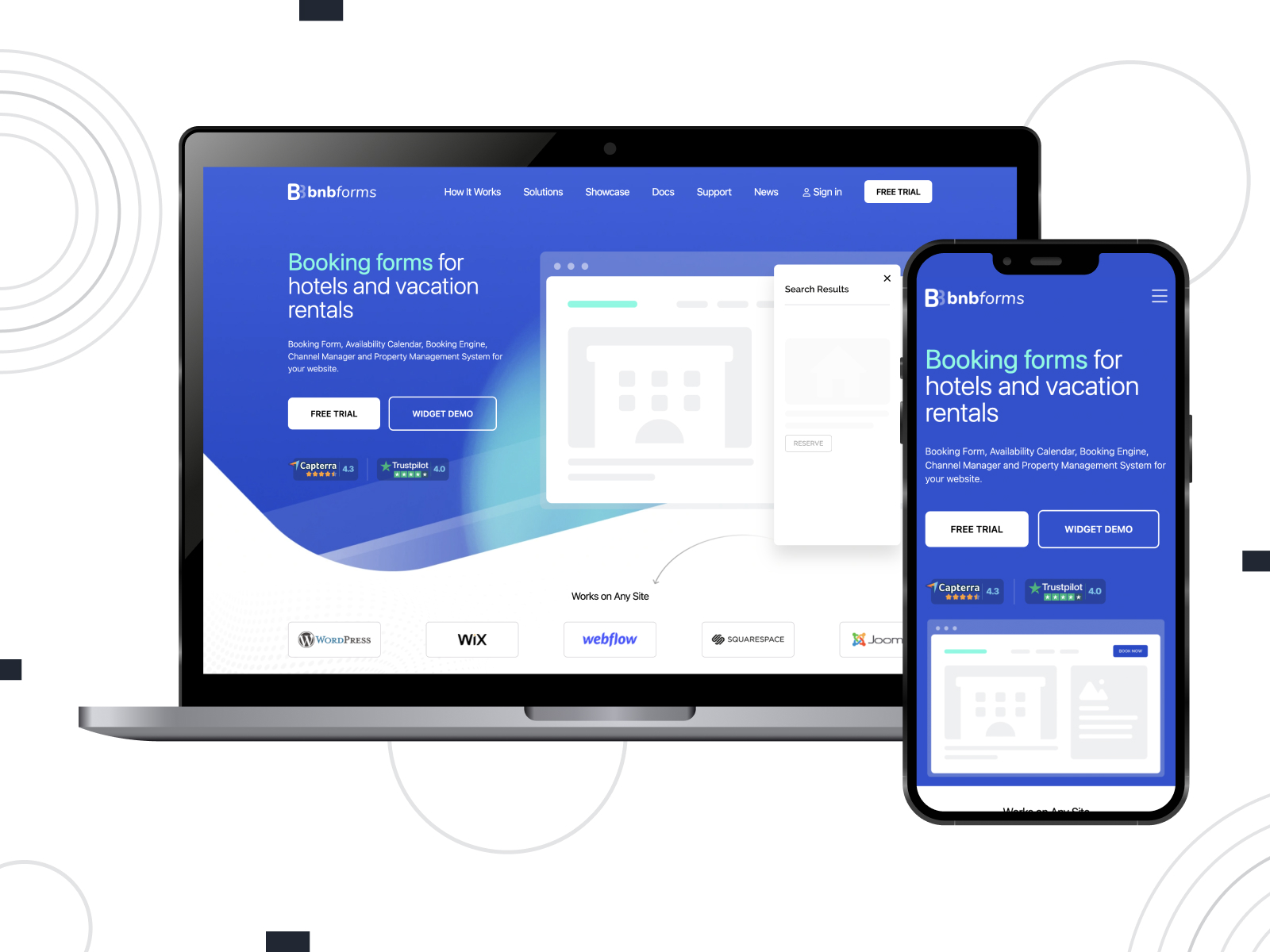 We start our overview of the best booking forms templates for premium-class websites with a reservation form by BNBForms. It is an online service offering ready-made and customizable booking form widgets that can be added to any platform, from HTML & WordPress to Joomla by embedding a script. This will enable the form with an animated wizard for bookings on your website and display all your new appointments & clients on the BNBForms account. For $16/month with a free trial of 1 month after registering your account, you can experience all the benefits this solution has to offer.
Key features:
Mobile-friendly and customizable booking form;
Real-time availability calendars;
Diversified pricing options for oyur clients with tiered rates;
A wide range of custom filters.
17. Scheduling Form Template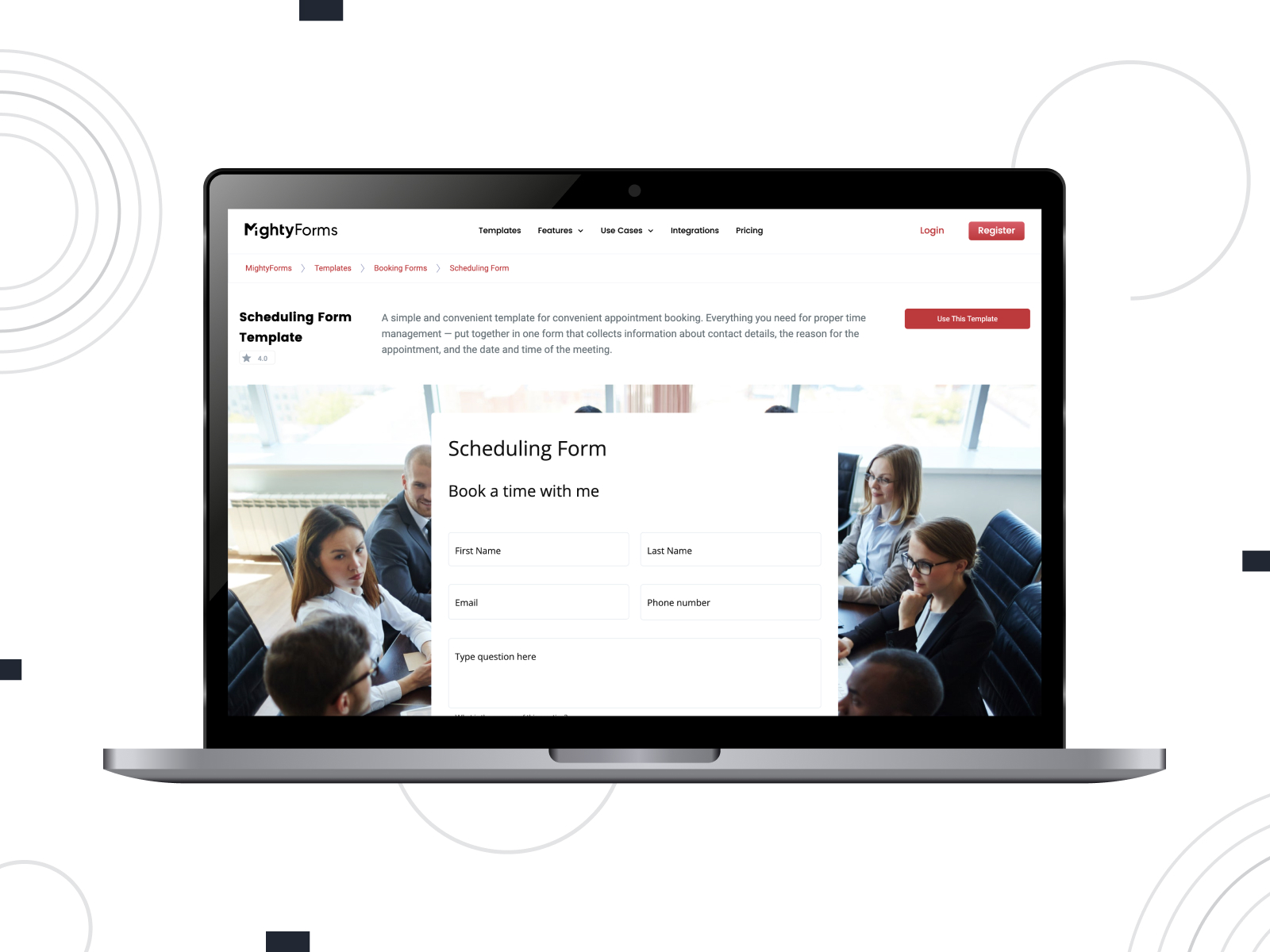 One of the best booking forms templates for premium-class websites is a solution by MightyForms. This service offers a wide selection of ready-made templates that can be customized to your needs. For example, this scheduling form provides everything you may need to get started with efficient appointment management. You can use this and any other forms the service provides for just $15/month.
Key features:
Responsive form UI suitable for any modern device;
A wide range of integrations (Stripe, Zoom, Dropbox);
Number & text fields for customer data;
Powerful date and time selector integrated within a single field;
Built-in visual customizer with drag & drop support.
18. Cleaning Quote Form Template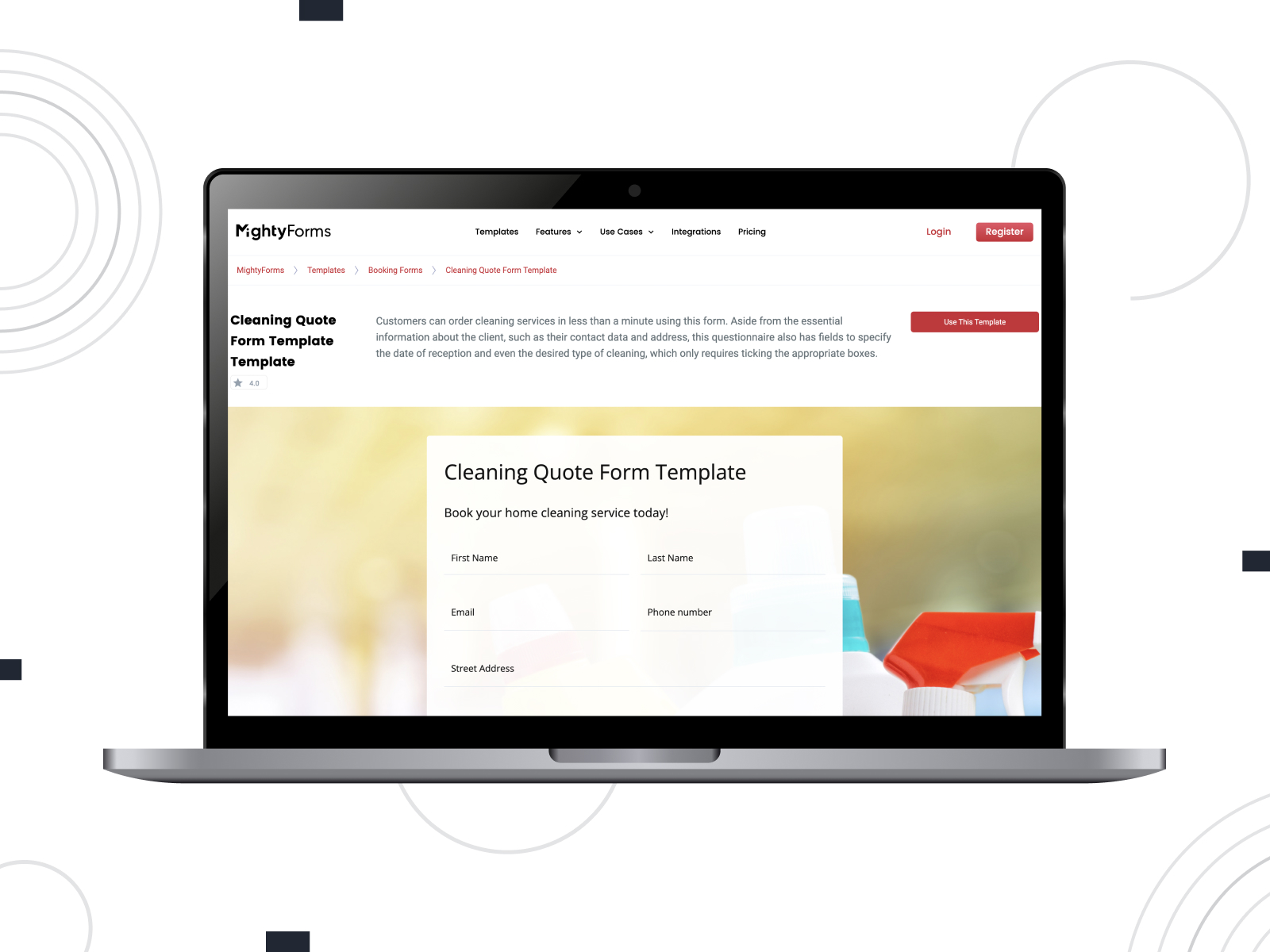 A wide range of cleaning companies rely on using online forms. This simplifies the process of receiving information from clients. The provided template offers a well-designed and extensive layout for booking forms to be used by cleaning businesses. From choosing a type of room to be cleaned to spacious fields for customer data, with this template you can easily schedule appointments and provide top-notch cleaning services.
Key features:
6 pre-designed room categories;
3 included room cleaning levels;
Phone number field with country selection;
Customizable background image;
Simple appointment date selection.
19. Car Service Booking Form Template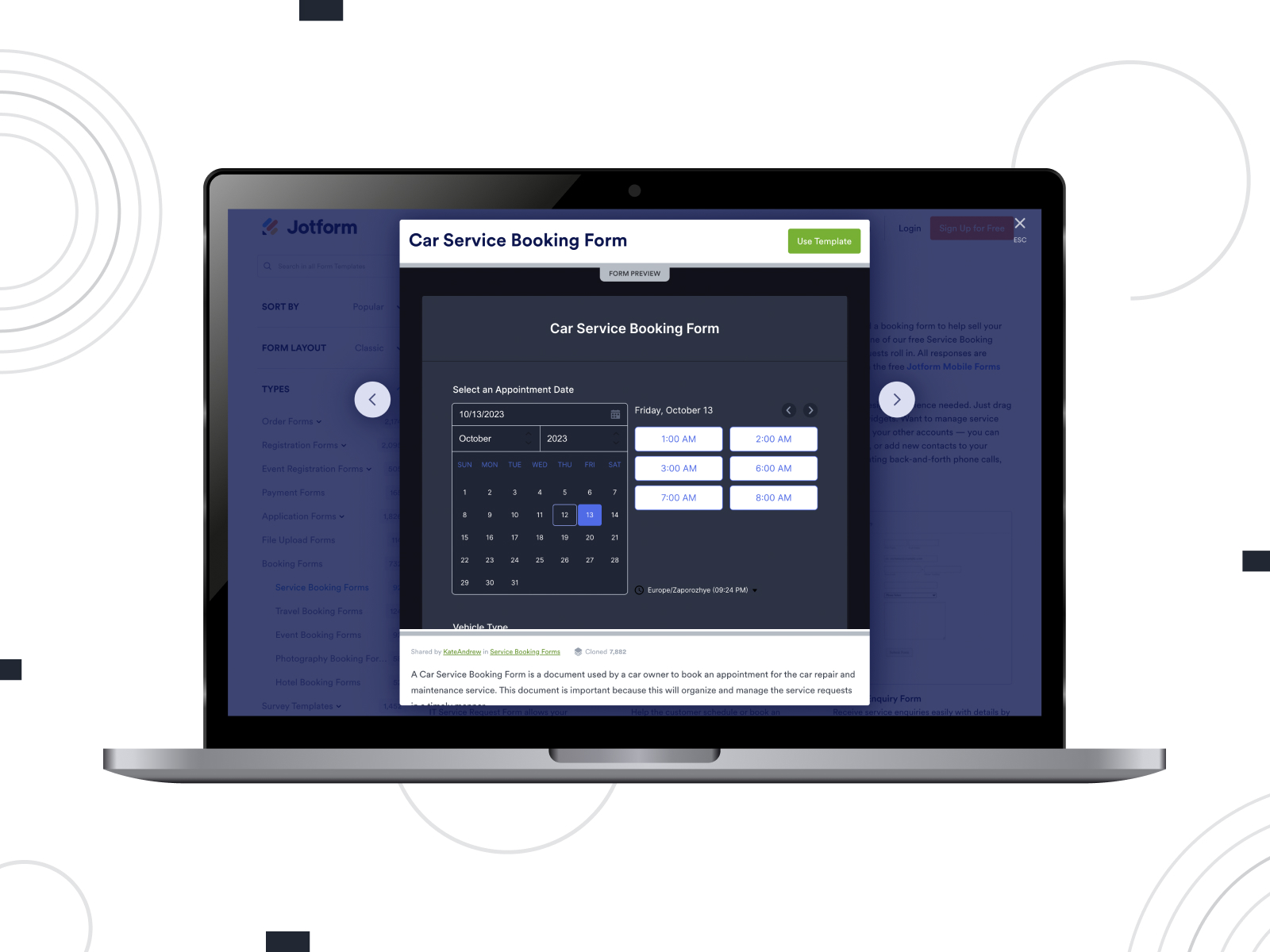 Many people consider the best booking forms templates to be detailed and extensive. This is also important for businesses connected with car repairs. The forms they use contain a diverse number of options and fields. That's exactly what the form for car service booking by JotForm provides. This platform allows for effective & quick form integration with your site and many notable platforms, such as Google Calendar and PayPal. As a result, you get an easy-to-edit and fully functional form that meets your expectations starting from $34 per month or with a feature-limited free plan.
Key features:
Well-developed date and time selector with 6 pre-defined time slots;
10+ vehicle type options;
12+ car repair & maintenance service variants;
Dedicated customer information section;
Widget with unique IDs for each appointment.
20. Tattoo Booking Form Template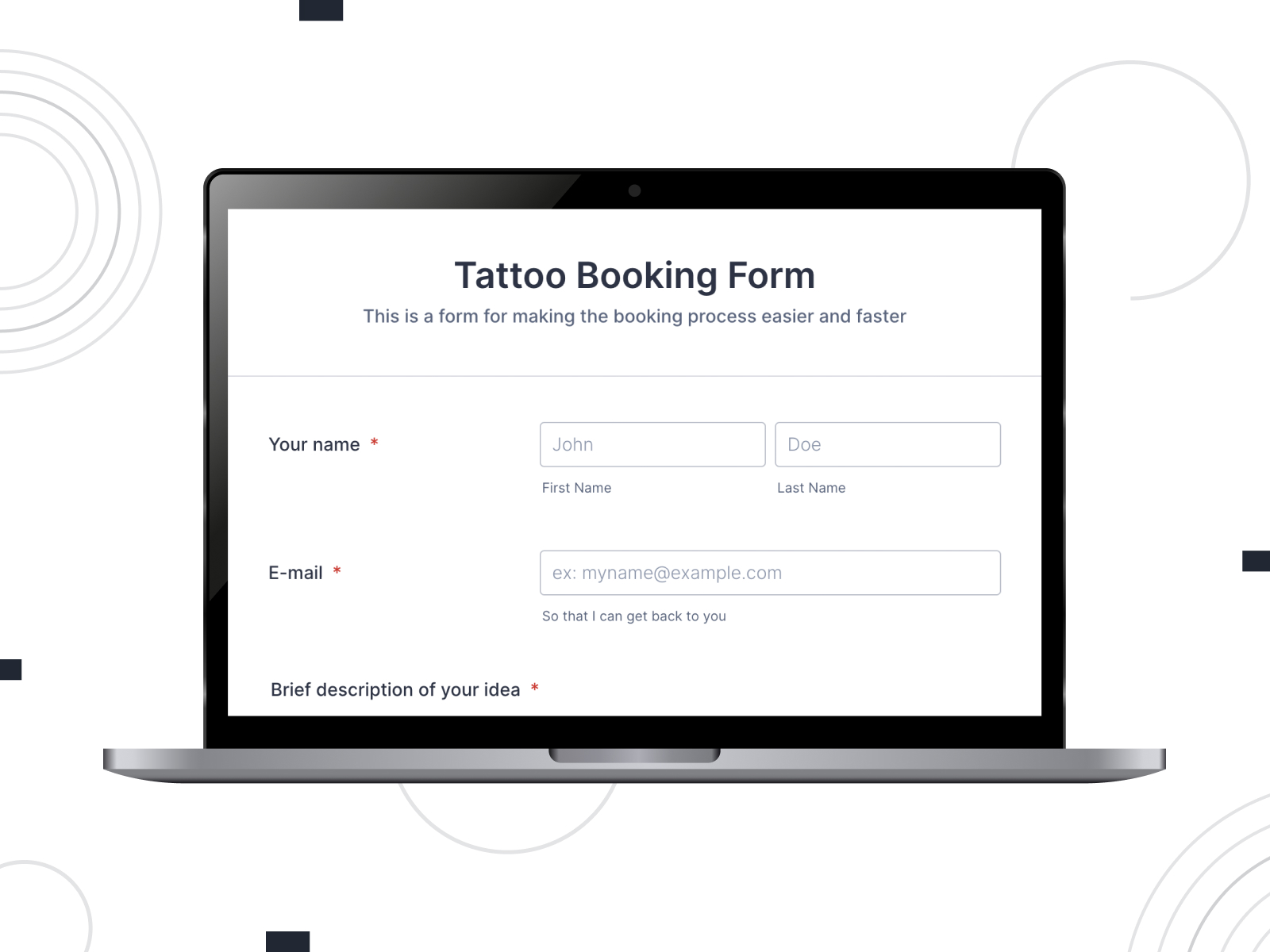 Modern beauty & tattoo salons use booking forms to connect with their potential clients quickly. Additionally, using customizable forms can help tattoo artists receive all the information required for providing a proper service. With this booking form available on JotForm, your customers will be able to provide various details about a desired tattoo and possible dates of getting it.
Key features:
Detailed time slot choice section;
Image upload feature for precise tattoo design;
Fields for size & placement of the tattoo;
Integrated reCAPTCHA bot protection;
Clean form layout with calendar date view.
21. Festival Registration Form Template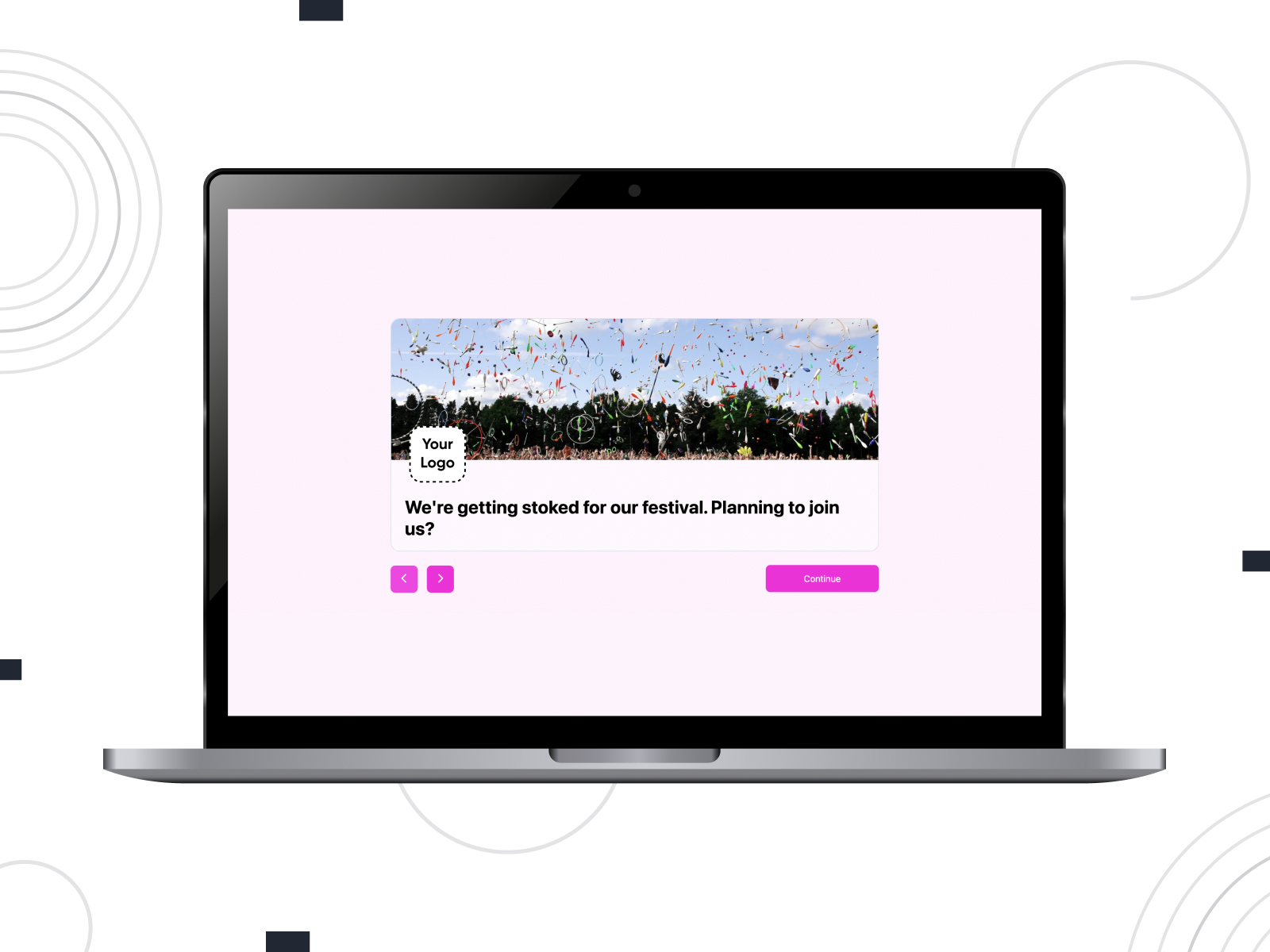 Booking forms for service-oriented industry is a common thing these days. But what if you need the best booking forms templates to improve the ticket ordering process for a music festival? In this case, a step-based form developed by Formaloo can help. This platform provides a variety of templates alongside a user-friendly form builder that is available free for editing but requires a minimum monthly payment of $18 for creating new forms.
Key features:
Customizable form logo & header image;
3 ready-made time slots;
Payment integration support;
Powerful form logic;
Easy-to-access form reports and analytics.
22. Event Booking Form Template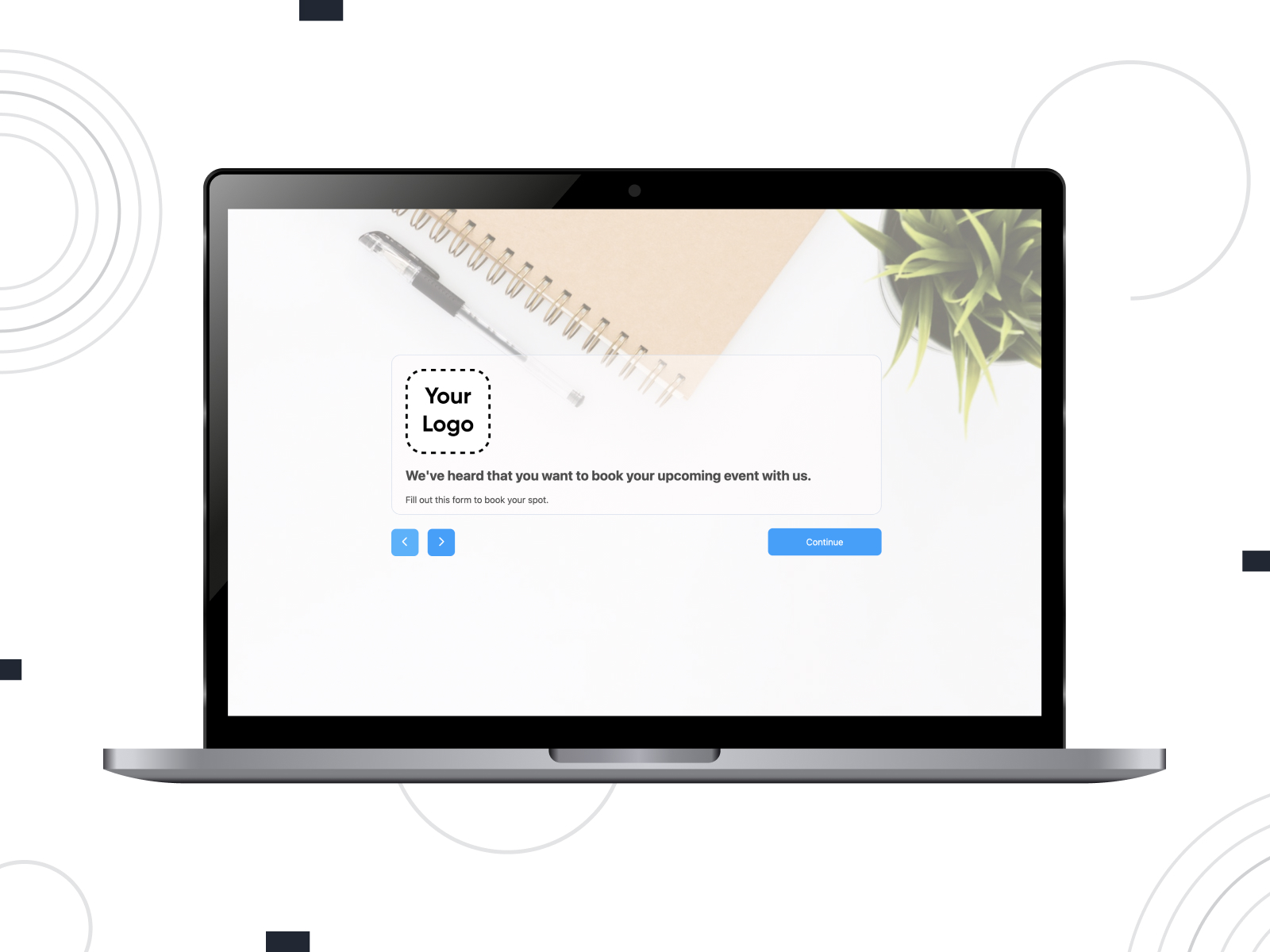 In case you need a form to match your event agency website, Formaloo also has something special to offer. Its catalog of templates includes a form that can help you organize the event booking process. Similar to the previous solution, this template offers a layout that displays fields in steps. From getting the customer's e-mail address to specifying the date and type of event, this layout is easy to edit and integrate on your website.
Key features:
Form completion progress bar;
Simple calendar for date selection;
Custom background image to match your website;
No coding is required for setup and customization.
23. Medical Appointment Request Form Template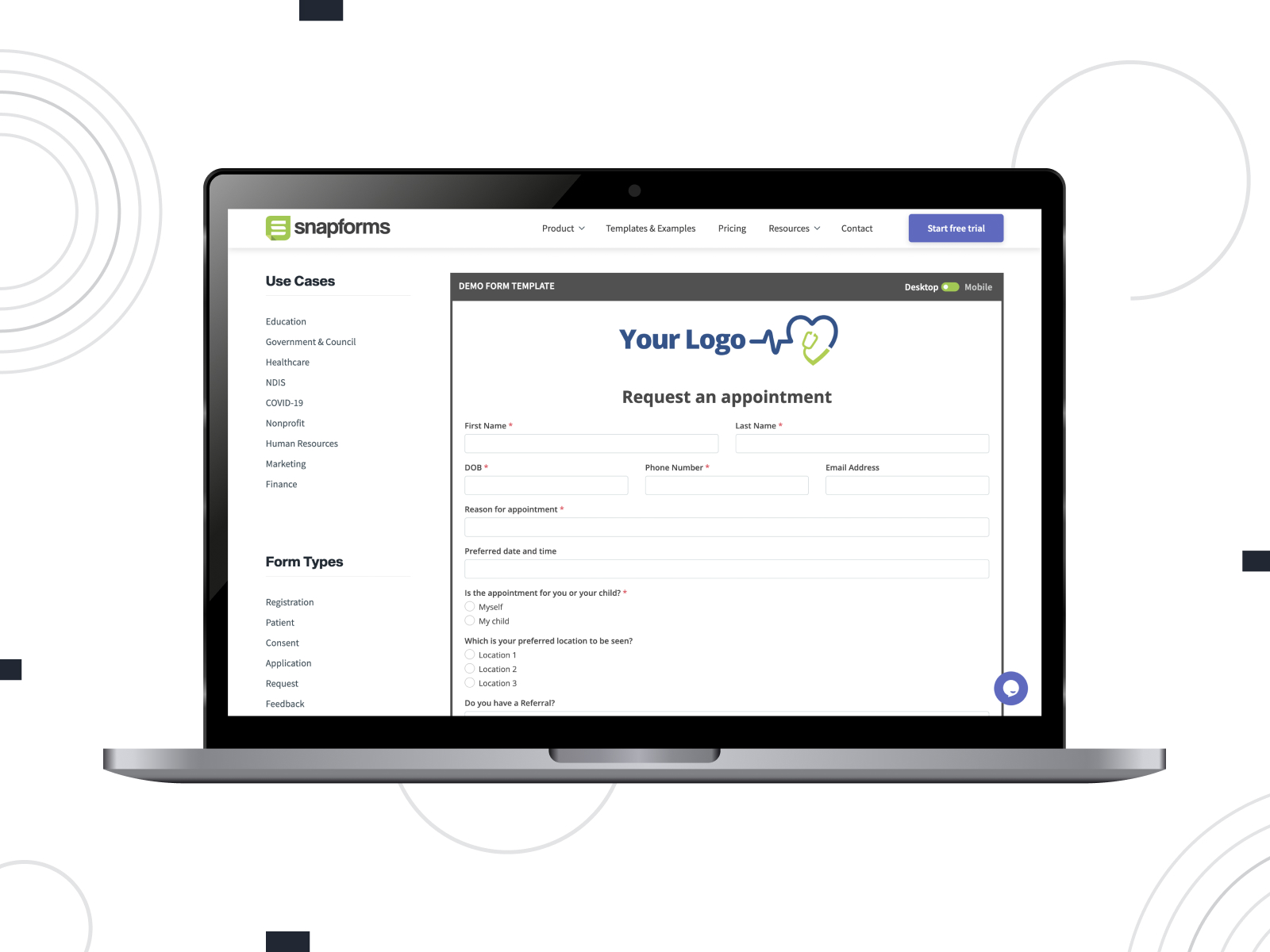 While simple form layouts are a great fit for minimalistic designs that fit entertainment websites, healthcare-oriented sites require more thought-out forms with diverse fields. This is where Snapforms can help. Starting at $39/month, the platform provides a drag-and-drop form builder suitable for layouts of any complexity. This solution is one of the best booking forms templates that can be used by medical institutions right away.
Key features:
Two responsive layouts for desktop and mobile devices;
Easy-to-use date selection field with a simple calendar view;
Support of referral request uploads;
Integrated spam protection;
Email & SMS notifications.
24. Personal Trainer Booking Form Template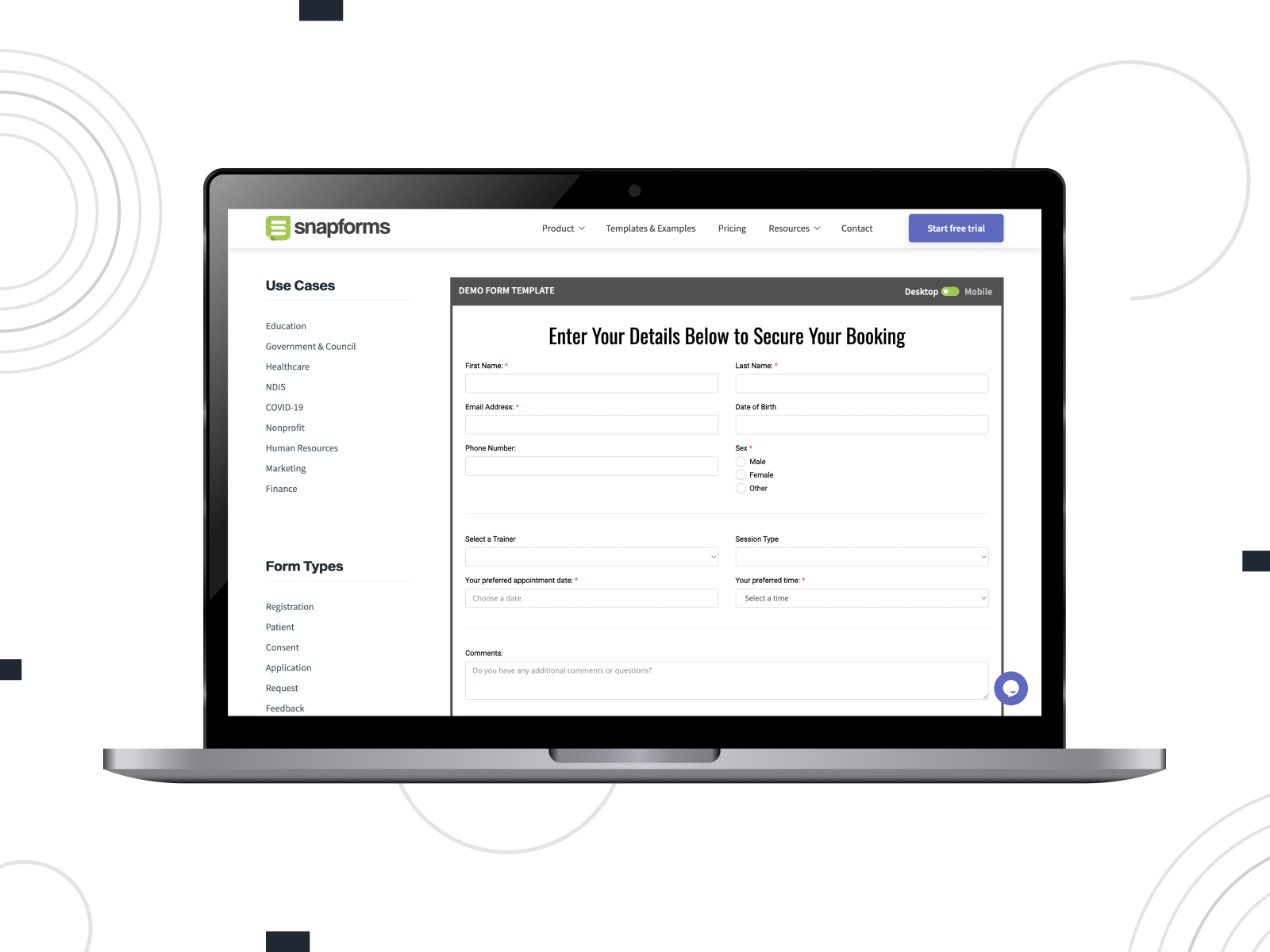 Appointment forms for personal trainers are often built to enhance workout management and scheduling. This is also true for the next form template by Snapforms designed to make the booking of workouts more accessible and simple. With a range of supplied fields and data input types, you can allow your clients to define various aspects of a workout.
Key features:
Diverse session types;
Several time slots available;
Easy-to-use calendar view field;
Field validation & conditional logic are supported.
25. Conference Room Reservation Form Template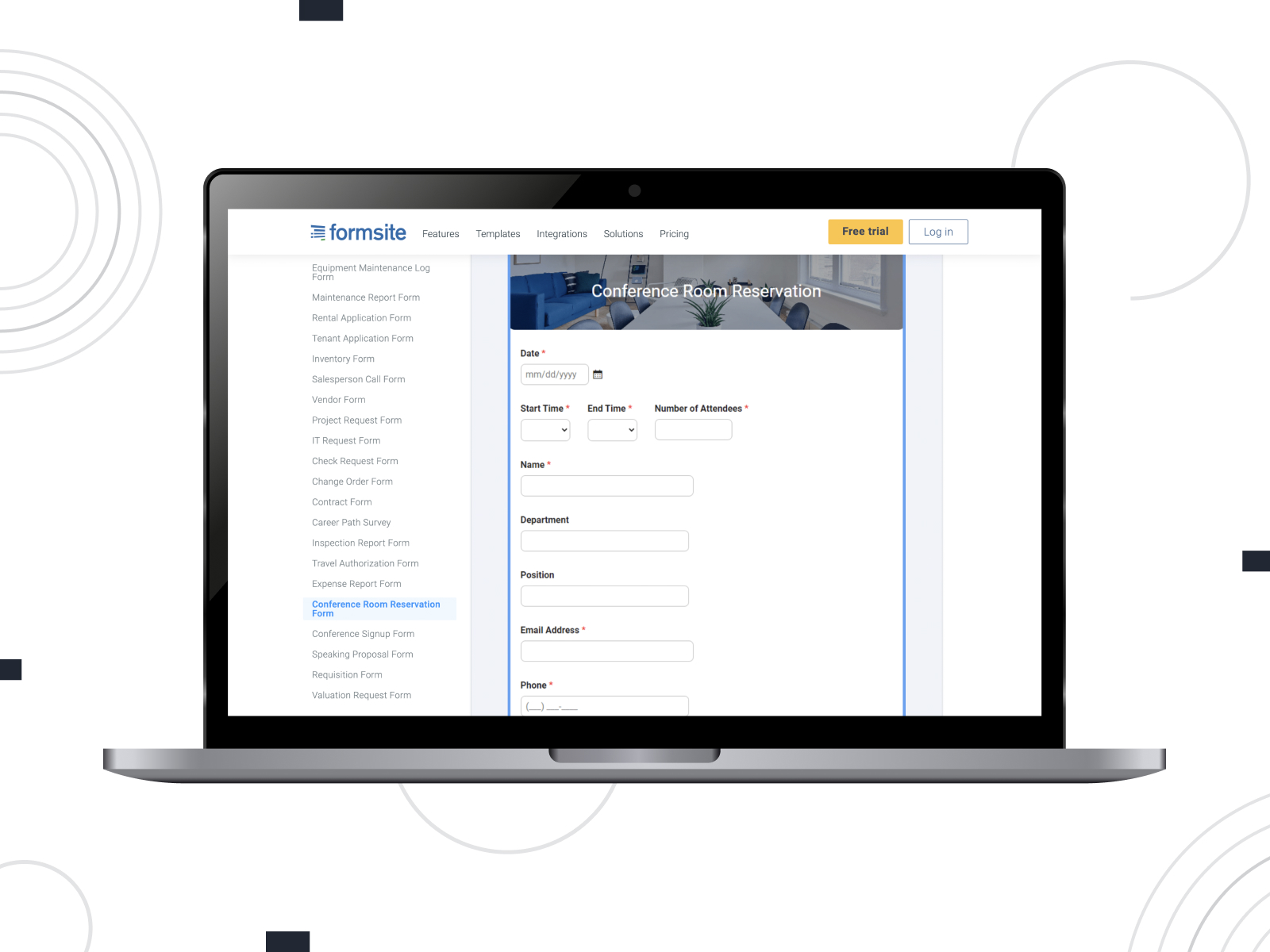 Booking conference rooms is a vital part of organizing business meetings, especially for international companies. One of the best booking forms templates by Formsite can greatly help with that matter. This feature-rich online form-building tool is designed for quick and effective development of forms that fit your website. Starting with $21 monthly, you can create any type of form within the provided result limit and disk space.
Key features:
Simple yet practical date and time selectors;
Fields for specifying the attendee position;
Space for adding personal data;
Text field for adding special instructions (up to 100 characters).
26. Online Scheduling & Reservation Form Template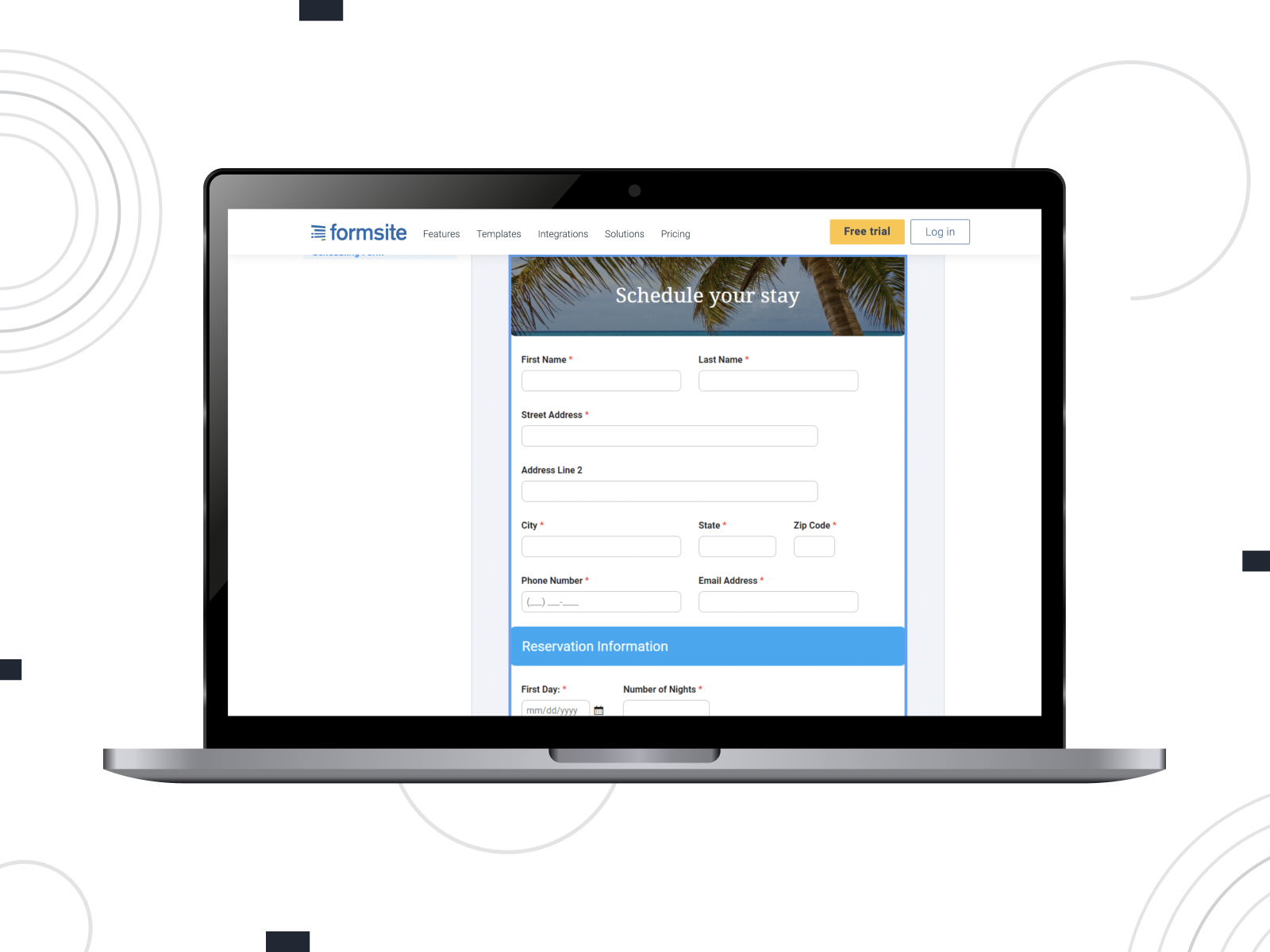 Lastly, we'll take a look at a form by the same developer designed for scheduling a stay at a hotel or any other hospitality establishment. This booking form template provides two main sections built for different goals – information gathering and room reservation. The first allows specifying all kinds of personal information your customer needs to provide. The second one includes fields and radio buttons for choosing the right accommodation option.
Key features:
8+ fields for personal data;
Separate reservation section;
5 included room type options;
Built-in price calculator.
Conclusion
The immense majority of the best booking form templates are interchangeable but at the same time, you can find differences in automation, conditional logic, and integration abilities. For sure, there are differences in design, industry, and the way of adding online booking forms to your site, so we're sure you'll find something that will meet your needs. Here is how using ready-made forms can help you:
Accessible online interaction with your clients: Booking forms offer a user-friendly way of interacting with your staff on any device, from smartphone to PC.
Decreased workload: Using reservation forms, you can decrease the amount of work your team does by transferring some of the clientele to online means of interaction.
Customizable design and functionality: Every modern form builder provides tools for extensive customization and layout editing helping you create a unique experience for your users.
Lots of integrations and extensions: Finally, with almost any tool designed for creating and editing the best booking form templates, you can use numerous integrations that will help you get more done in less time.
Are you still unsure about the use of booking form templates or just need something extra? Fret not, as below we have prepared a short comparison of additional options provided by the products mentioned above alongside booking forms.
FAQ