10 Most Used Google Analytics WordPress Plugins
Thanks to a Google Analytics WordPress plugin, you can get and manage metrics from the official Google Analytics tool directly on your WordPress dashboard.
Why would you even need a Google Analytics WordPress plugin? Here are just a few reasons why people opt for this sort of functionality:
Easy Google Analytics setup without having to edit the template files/source code of your site manually.
You don't need to sacrifice your time on going to a different dashboard.
Official insights and metrics from Google Analytics are displayed natively in your WP dashboard so that you can provide easier stats access for your team members or clients.
Entire and per-page insights.
More flexibility and tools (the ability to track custom events in Google Analytics, the ability to integrate Google Tag Manager to improve your productivity and identify the highest performing campaigns, etc.).
To help you start with a tried-and-trusted solution, we'll focus on the most used Google Analytics plugins in this post.
Most of these Google Analytics plugins will do the authentication job automatically. That is, you won't need to get the tracking code in your Google account and insert in manually in WordPress, but some plugins will offer you this method of manual inserting as an alternative. These plugins will work for new and already established websites.
Google Analytics Dashboard for WP by ExactMetrics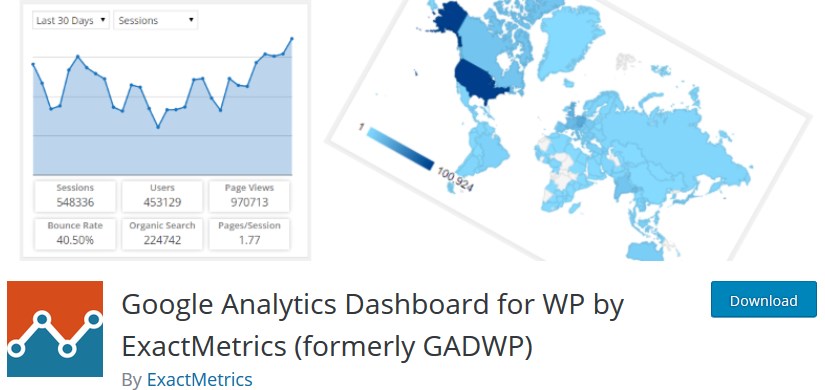 Google Analytics Dashboard for WP by ExactMetrics allows you to add the Google Analytics tracking code to WordPress without tinkering with any tech staff and start viewing all the statistics on how your website is performing right in the dashboard.
The Google Analytics for WordPress plugin collects all the common data provided by the Google Analytics service and displays it in all sorts of charts and lists: page sessions, traffic sources, bounce rates, geodata, operating systems and other crucial for running your online business.
Apart from the common stats, the plugin allows you to measure events (different types of user interaction with content) specific to your website. Suppose you have files to download, affiliate links, form submissions, etc. – all of these actions can also be tracked. You have to firstly set up and categorize your events in order to track actions. Unlike some other free competitors, this plugin provides you with different real-time stats.

By the way, some other free plugin, such as WP Google Analytics Events, can help you customize and track events deeper.
Let's list more main features to help you decide whether this is your guy:
In-depth GA reports
WordPress AMP and e-commerce support for Google Analytics
Multiple trackable events: downloads, telephone, page scrolling depth, custom events
The ability to track user interaction with your website through additional reporting dimensions, such as authors or tags
Works with the Google Tag Manager (for a deeper understanding of conversions and analytics)
Compatible with WP Multisite
GDPR-friendly WordPress Google Analytics plugin.
Google Analytics Dashboard Plugin for WordPress by Analytify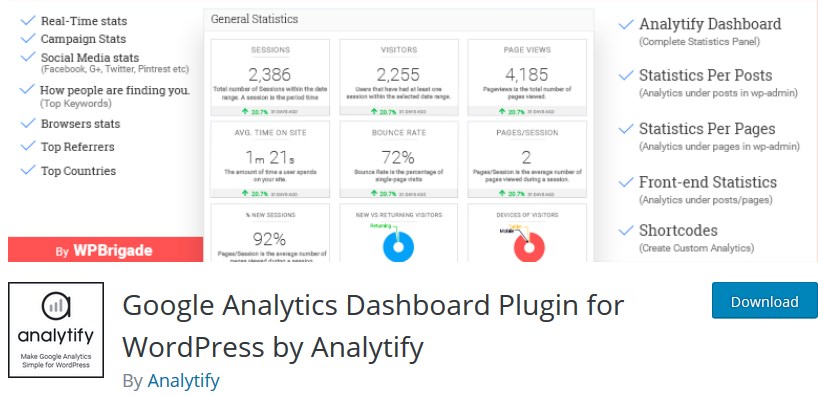 Google Analytics Dashboard Plugin for WordPress by Analytify will help you easily insert the Google Analytics code, without a need to edit template files, making the process less error-prone for non-tech users. After the implementation, you'll be able to access stats from Google Analytics in your WP dashboard or on the frontend.
The plugin is used by thousands of people and is actively maintained. It's also super easy to navigate and configure on the admin side so you'll never feel overwhelmed with the settings. The Google Analytics plugin WordPress by Analytify is also pretty lightweight so you can rest assured it won't slow down your website.
Compared to other solutions, the free version of this plugin is a bit limited in terms of fetching real-time statistics, gives limited access to page stats and no data for custom post types – these and some others are paid features.
This plugin is very powerful and flexible so you can benefit from the following toolkit and options:
Exclude individual user roles from having access to stats
Selectively set which data you want to get from Google Analytics: demographics, user IDs, visitor devices, new vs. returning users, etc.
Easy-to-read dashboard data reports and charts: top pages, a map with top countries, social media reports, etc.
Keywords people find you by
The pro version of the plugin gives you a lot more tools and access to more in-depth stats, WooCommerce and EDD tracking, etc.
Tons of add-ons for marketing goals, ecommerce, campaign tracking and even automatically generated email notifications with reports.
MonsterInsights Google Analytics WordPress plugin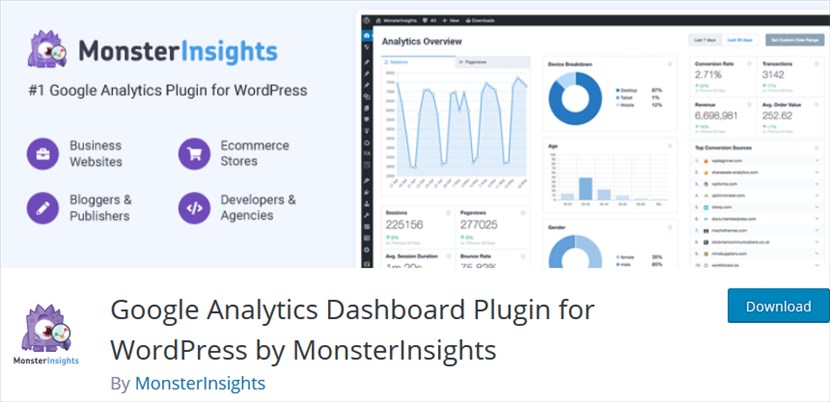 MonsterInsights is one of the most used WordPress plugins for adding Google Analytics to WordPress. Just as the rest of the plugins in this collection, this solution will establish the connection between your WordPress website and Google Analytics without effort so you can start measuring your performance right away (however, you may skip the automatic authentication and insert the tracking code manually).
Why is this the most popular Google Analytics WordPress plugin? First, it's a really good product with a good reputation. Second, since it's widely promoted by the sister site of its creators, WPBeginner (the most popular site for beginners), WordPress newbies oftentimes stumble upon it first, sometimes even mistaking it for a standalone analytics tool while in reality, it's a middleman between WordPress and Google Analytics.
So what most critical marketing metrics can you see through the WP dashboard with MonsterInsights? You can access numerous GA reports, see statistics in real time, analyze traffic sources, check detailed behavior reports and more.
However, such advanced functionalities like events tracking (measuring user interaction with custom website objects), ecommerce and dimensions tracking, reports on contact form submissions, affiliate links tracking, popular articles and more are part of the Pro version (the wp.org listing is a bit confusing as to what features are free).
So the true power of this plugin rather comes with a premium package – it really offers an unparalleled toolkit for understanding how your website is performing.
Let's go through the main things you'll be able to work with in MonsterInsights (free version):
Hassle-free setup (the plugin does everything for you)
Easily adjust tracking preferences: engagement, demographics, permissions and more
General stats: devices, user gender, user interests, detailed content reports
Top referral sources
Google ranking and overall SEO report.
10WebAnalytics Google Analytics WordPress plugin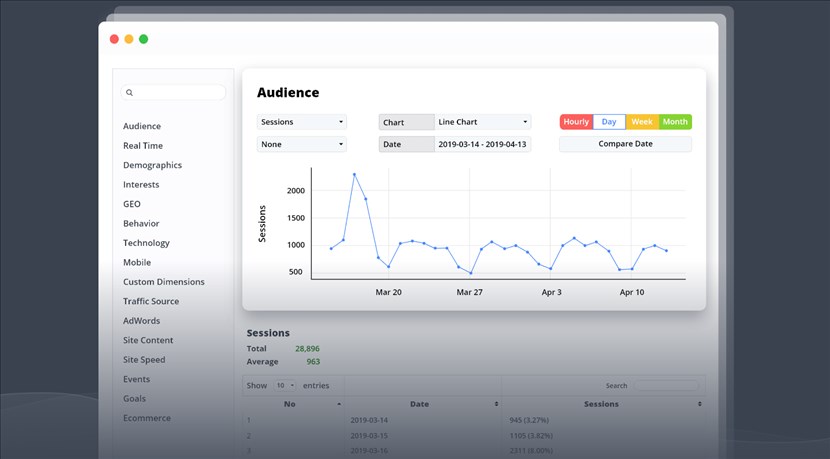 10WebAnalytics is a premium Google Analytics WordPress plugin that integrates almost all the power of Google Analytics into your website. In some way, it makes your work with Google Analytics more user-friendly since it can help you shape the view of reports and lets you find the needed metrics in a matter of minutes.
You can also preview page-specific reports on the frontend, track ecommerce actions, customize reports according to your WordPress content types, set custom tracking codes and more. The plugin is quite popular with WordPress users thanks to its ease of use, flexibility and unique customization features. Among premium tools, it's one of the best Google analytics plugins for WordPress.
Let's organize more features in a list to see why this plugin is so popular:
Quick and easy authentication (automatic WP+GA connection)
A great user-centered design
Complete frontend and backend reports on the audience (users, sessions, bounce rates), visitors, browsers, locations, etc.
Set and manage goals right from your WordPress dashboard
Automated email notifications with detailed CSV reports
Read your reports easier by customizing their view
Track sales and conversions through ecommerce tools (revenue, transactions, products, etc.)
If you are using Google Ads, you can also measure your ads campaign performance with this plugin
The ability to place a statistics widget of the current website into the widget zone of your WordPress site (e.g. to display stats on how many visitors were on the site during a specific period of time).
GA Google Analytics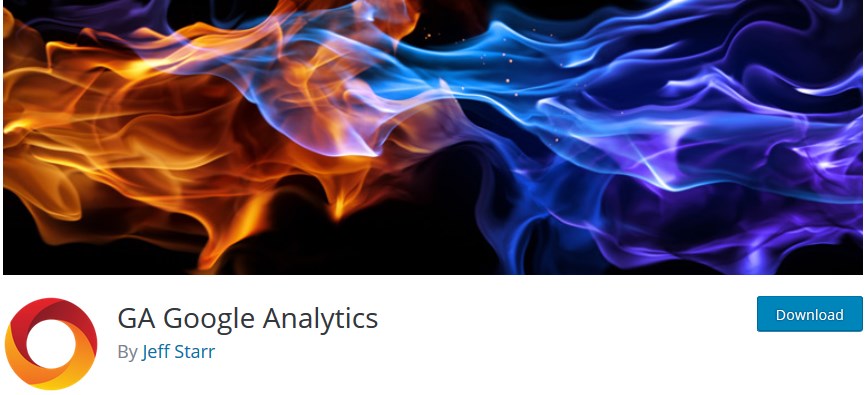 Need a plugin that will integrate Google Analytics and Global Site Tag from Google into your website? The GA Google Analytics WordPress plugin, a lightweight solution developed by a ten-year WP expert, will do the trick. It comes as a freemium solution (in both free and paid versions).
The most prominent features of the free version include the ability to add a tracking code to all pages, header or footer as well as the ability to add your custom markup. Moreover, the plugin managed to gain the best reputation by getting only positive reviews.
It doesn't require a lot of tweaking so you can run reports quite quickly by configuring the views with handy toggled panels. The plugin doesn't just connect GA to WordPress, it allows you to extend and optimize the tracking tools for your specific website locally. Here are more tools of GA:
Bundled with support for universal Analytics and Global Site Tag
Support for ads and enhanced link attribution
Customizable permissions
The Pro version comes with support for all major Google Analytics measurement and personalization tools (User Opt-out, Optimize, etc.), custom code, and more things.
Independent Analytics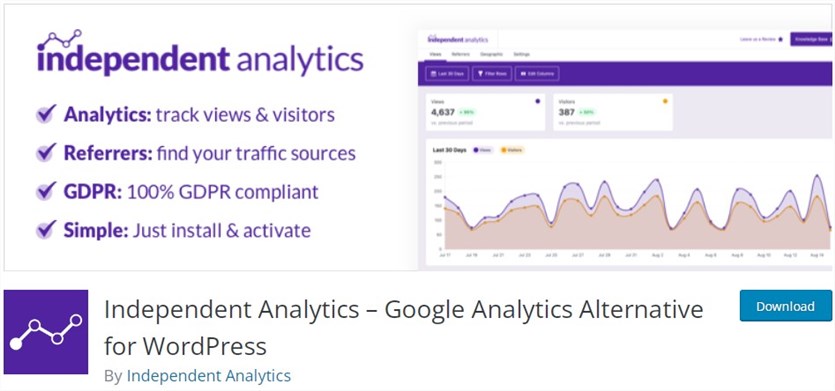 Independent Analytics is different from the other plugins in this collection in that it's an alternative to Google Analytics rather than a plugin that adds GA to WordPress.
Like GA, the Independent Analytics plugin will track all the visitors and views your site gets. You can find familiar metrics like bounce rate, session duration, and views per session at the top of the dashboard. You'll also find data on your site's top pages, traffic sources, geolocations, and devices.
Here are a few additional features that make Independent Analytics unique:
GDPR-friendly cookieless tracking
Reporting for authors and post types
Minimal performance impact
Sorting and filtering system
Pro version with WooCommerce integration, real-time analytics, and campaign tracking
Site Kit by Google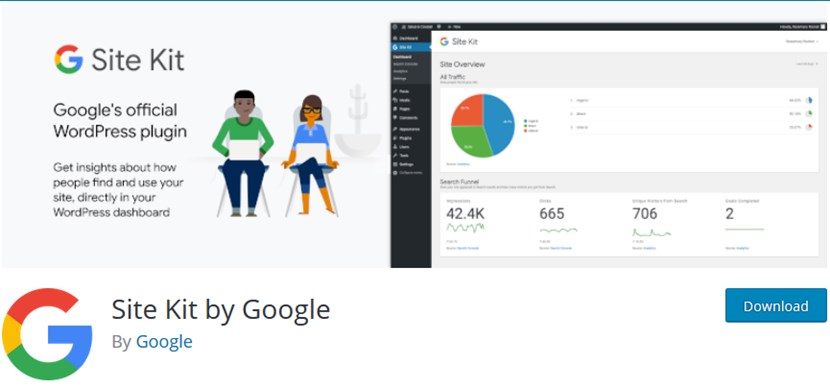 The Site Kit by Google is the official toolkit by Google bundled with the most popular Google services: Analytics, AdSense, Optimize, Tag Manager and more. So the plugin is ready to bring all sorts of stats directly to your WP dashboard – aggregated and sorted. In terms of connecting Google Analytics, it's obviously not inferior to any other plugin in this collection.
The plugin might be really useful for marketers, developers and business owners of all types but not that suitable when you need the Google Analytics integration alone.
Learn more about this plugin:
Seamless integration with Google products and services for the most detailed metrics and insights on how your website is performing, who is visiting it and how it can be improved
Metrics for the entire website and individual posts
Configurable permission levels.
CAOS | Host Google Analytics Locally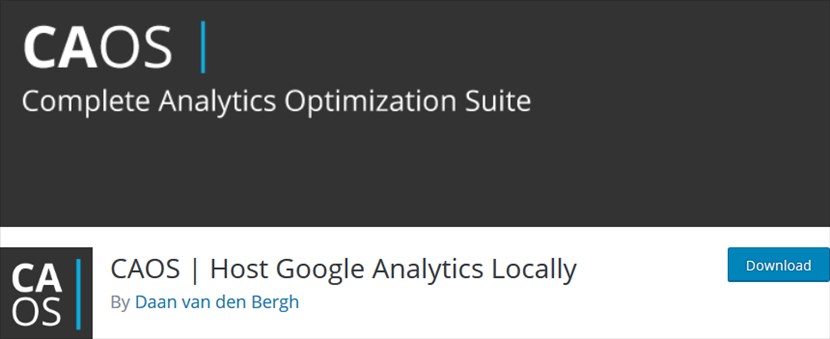 CAOS is not your simple Google Analytics connection plugin. The main purpose of this awesome plugin is to help you optimize the work of Google Analytics by hosting it locally on your WordPress installation.
By doing so, you'll help leverage browser caching to get a better score on Google Pagespeed Insights, Pingdom or GTMetrix. This means this plugin can help you eliminate performance issues that Google Analytics can bring to your website due to the number of external requests it creates.
You can still have all the benefits of the Universal Analytics, host it locally and use this nifty plugin to automate the process of Google Analytics updates – the plugin will download the file automatically to keep it updated using WordPress cron-schedule. Here are more features to help you understand how this plugin works:
All Google Analytics features without loss of performance
Engagement and affiliate links tracking
Perfect for WooCommerce websites
Customizable tracking and cookies
Anonymize IP addresses and track logged-in administrators
The plugin is compatible with three top used GA plugins we mentioned in this post: MonsterInsights, Google Analytics Dashboard Plugin for WP by Analytify and Google Analytics Dashboard for WP by ExactMetrics.
Better Google Analytics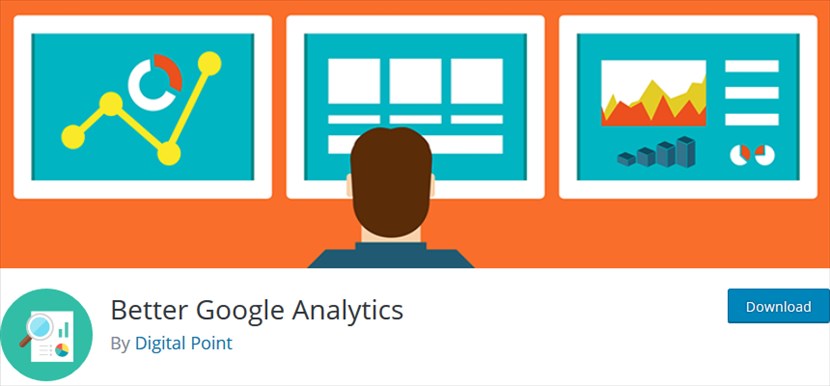 Better Google Analytics is actually doing the same thing as the other WordPress Google Analytics plugins: it seamlessly connects your website to GA. So is it any "better"? At some points – yes. We think it's a bit better in terms of free features accessible in the free version (it gives you more freedom and tools of Google Analytics in the free version than competitors). Let's list some opportunities of the free plugin version:
The ability to set up and manage custom dimensions
Numerous features of GA: engagement tracking, remarketing, event tracking and more
Track links, videos, file downloads, time on page and other engagement stats
The ability to run A/B split tests
The option to run an auto-configure system for GA properties
Goal management within your site dashboard
Support for AMP pages.
Google Analycator – WordPress Google Analytics plugin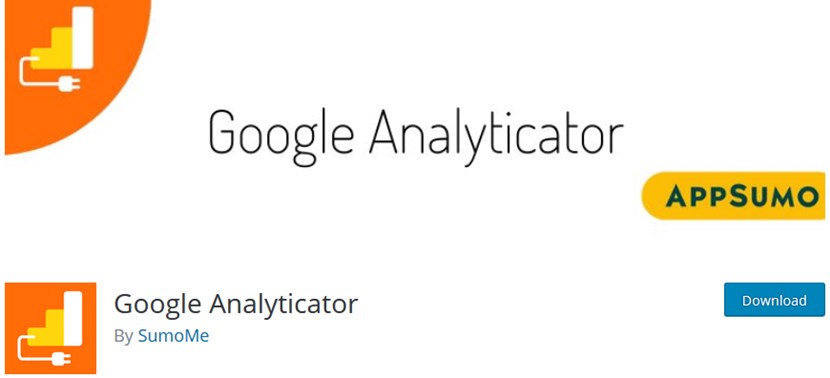 Google Analycator is another actively maintained and supported plugin for setting up the connection between your WP site and Google Analytics. Its free version is pretty feature-rich allowing you to get almost all crucial stats without leaving your dashboard:
Deep engagement tracking: link and download link tracking, outbound links, advanced tracking code, etc.
Site speed tracking
Shortcodes to display some chosen stats on your WP site publicly
Regular summaries on the top pages, the top referrers, and the top searches
Polish, Turkish, Dutch and Spanish translations.
WordPress Elementor Tracker – Track Analytics Events using Elementor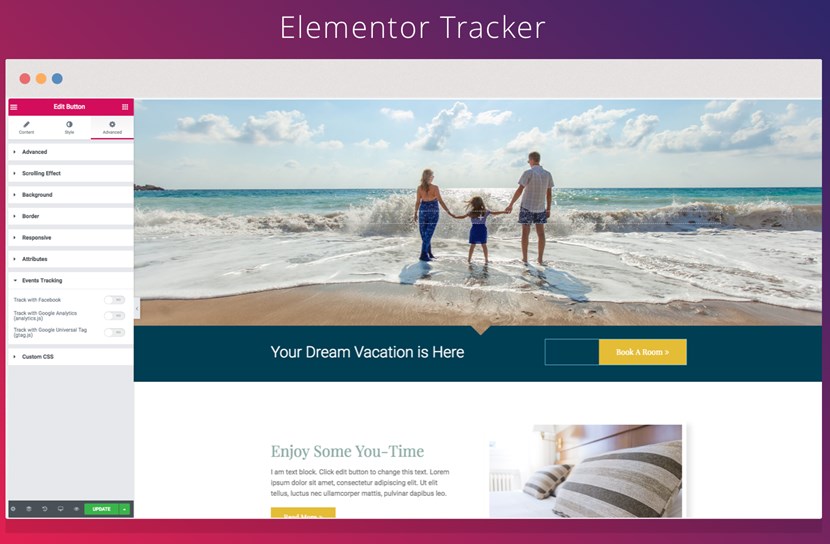 WordPress Elementor Tracker is a useful tool for those of you who're building and customizing a website with Elementor.
The plugin supports multiple tracking methods, including Google Analytics and Tag Manager. It will help you add tracking on all Elementor Elements much quicker and easier. It also requires the Analytics tag plugin of your choosing to insert the tracking code into your WordPress pages.
Final word: What is the best Google Analytics WordPress plugin?
You can't get by without Google Analytics if you want to maintain and grow your online presence. If you want to improve your productivity by working with data-driven solutions, these plugins will pull the Google Analytics stats and reports directly into your WordPress dashboard, but which one is better depends on your needs.
For the full-fledged toolkits, you can go with the Google Analytics Dashboard for WP by ExactMetrics, Google Analytics Dashboard Plugin for WordPress by Analytify, 10WebAnalytics or MonsterInsights.
The premium versions of 10WebAnalytics and MonsterInsights are almost unbeatable.
For the powerful free version, Better Google Analytics and GA Google Analytics sound like suitable solutions.
For the whole suite of Google services in one bundle, you definitely need Site Kit by Google. WordPress Elementor Tracker and CAOS are perfect complementary plugins. So which one would you go with?

Why do I need Google Analytics WordPress plugins?
First and foremost, it's made to help you keep all the stats and analytics centralized in one dashboard so that the site analytics is accessible right from your WP site. Furthermore, it'll help collaborate on the site with other team members and get even more GA tools implemented easier.
What is the best Google Analytics plugin for WordPress?
It depends on what features you are looking to use and your budget, of course. The premium versions of 10WebAnalytics and MonsterInsights are very feature-rich and almost unbeatable.
Which Google Analytics free plugin is the best?
Among free Google Analytics plugins, Better Google Analytics and GA Google Analytics are our best recommendations.