Best AMP WordPress Plugins Compared 2023
Vox, Myntra, Magebit. These renowned publishers and agencies intensively use AMP on their websites to serve up mobile users the best speed and performance. Many popular websites, such as Tasty.co, built their entire websites with AMP.
Accelerated Mobile Pages, or simply AMP, is an open-source project for mobile-first web initiated and supported by Google. If you are on this page, I'm sure you already know about all the perks this WordPress AMP technology can yield.
In short, the goal of this project is to deliver content to mobile readers incredibly fast by offering lightweight versions of your pages, increase overall engagement and, eventually, help you get impressive results with traffic and conversions. WP AMP makes it all possible. Proof.
Tapping into AMP means you can create valuable cooperation with Google's top-notch mobile technology, which is evolving year after year, as well as usage of mobile devices for surfing the net.
To accomplish WordPress AMP integration, you need a good plugin that will add AMP support to your pages. But what is the best WordPress AMP plugin? I hope you'll find the answer in this article: we've chosen the best AMP WordPress plugins and compared some keystone features of these plugins.
If you are not ready to dive into the longread, jump to the comparison table at the end of the post.
Roundup of Best AMP Plugins For WordPress
Now, let's check out the collection of the best AMP WordPress plugins that will help you leverage your website content on mobile devices.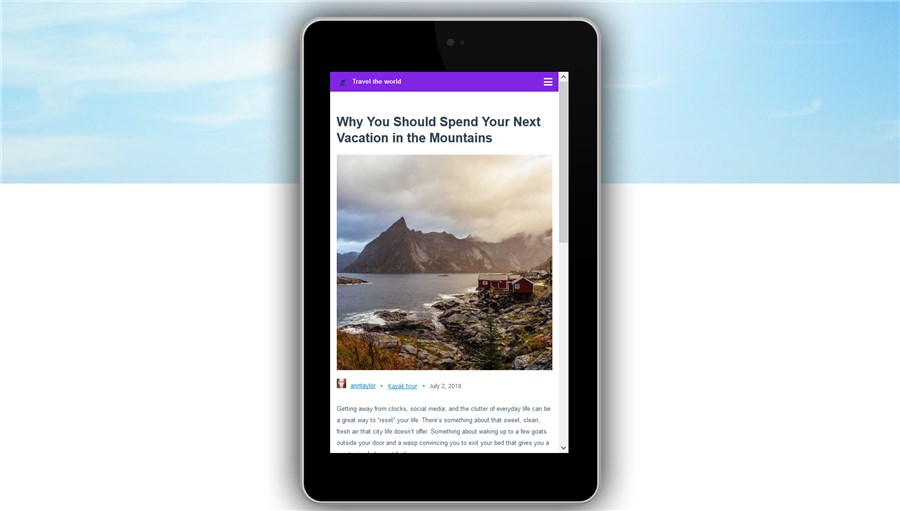 This accelerated mobile pages WordPress plugin will help put your blog content and WooCommerce products on AMP relatively fast. It's meant for publishers, e-commerce websites, advertisers, small businesses, and everyone who wants to generate more eyeballs for their pages.
It should be mentioned that the biggest strengths of this WP AMP plugin are full WooCommerce support, easy-to-handle plugin settings built with the native WordPress functionality in mind, and frictionless integration with multiple third-party tools.
One of the unique features of MotoPress AMP is that you can literally override AMP content for posts and pages individually displaying unique content for chosen posts.
Even non-tech people will be able to tackle AMP with the minimum effort since the MotoPress AMP plugin provides a perfect drag-and-drop AMP-valid page construction experience and intuitively categorized settings.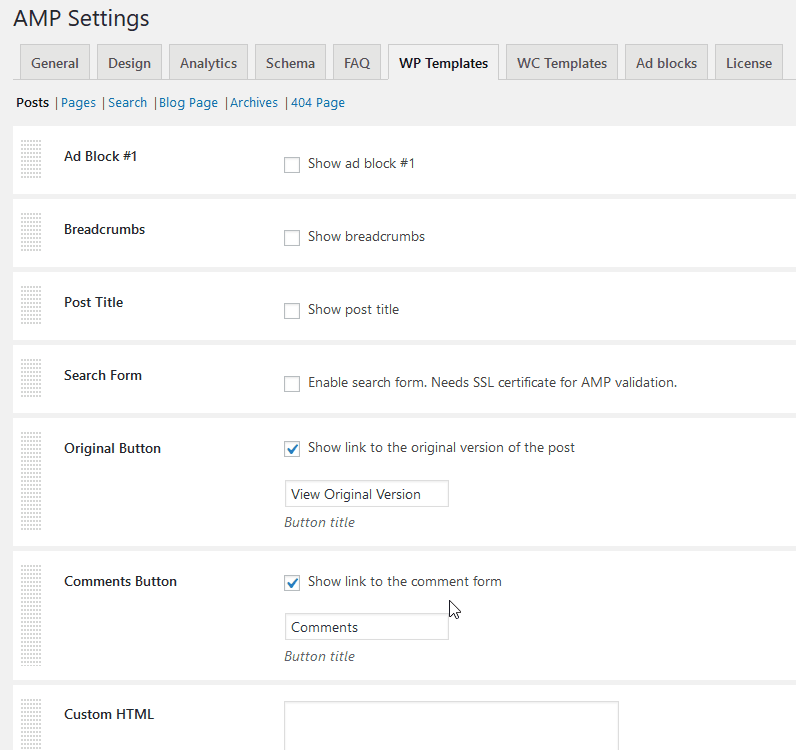 Another huge plus of this accelerated mobile pages plugin is support for all manner of styling. You may go deeper in design customization and totally change default AMP styling at the clicks of buttons. There are tons of settings for the menu, colors, buttons, and more that will let you create an experience when an average user will unlikely be able to see the difference between AMP and the page of a mobile version.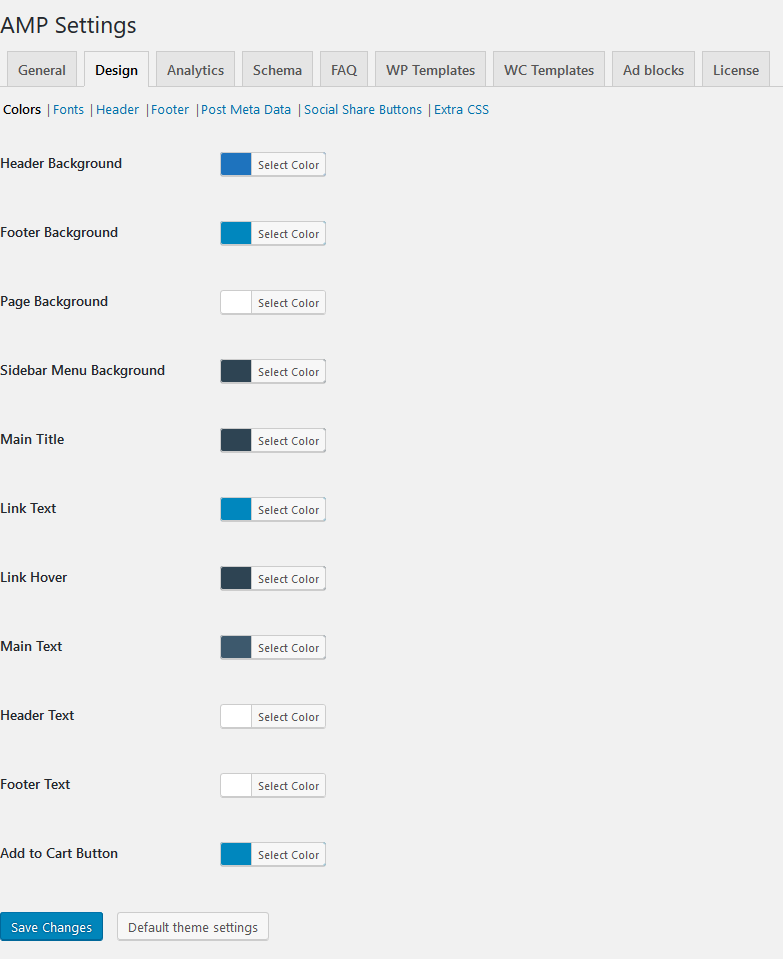 MotoPress WordPress AMP plugin supports posts, custom post types, taxonomies, and more. This enables you to create AMP page versions for literally any website page: home page, blog pages, single posts, static pages, categories, tags, archives, custom post types, taxonomies, and WooCommerce shop components.
As for WooCommerce, the plugin allows you to create an AMP-valid shop page, product archives, tags, categories, and set behavior for the "add to cart" button – out of the box. This will let you reward mobile shoppers with a smooth, app-like shopping experience, significantly increasing the speed of choosing and buying a product.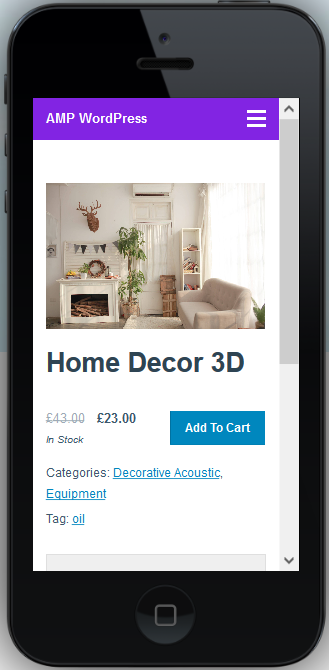 For your WooCommerce AMP-enabled store you may also display related products, ratings, social share buttons, breadcrumbs, etc. You may also restructure the content components for the WooCommerce product pages with a WordPress-native drag-and-drop instrument.
Technically, you may or may not create separate AMP versions – if AMP is enabled, the pages will be converted automatically and you'll just to put some preferences in place. Moreover, you may easily opt out of AMP for the selected pages and convert only those ones that drive the most traffic.
If revenue-critical elements like AdSense banners are of the essence for you, this plugin got you covered as well; you are free to continue using your ads with an AMP website version. You just need to choose the advertising programs you are working with and make some design tweaks via a handy plugin interface – there can be as many ad blocks as you need.
To measure your performance on AMP and track whether it yields more organic traffic and generates more revenue, you can connect the favorite analytics tools you already use with a separate analytics snippet. Google Analytics, Facebook Pixel, Google Tag Manager, and Yandex. Metrika works out of the box.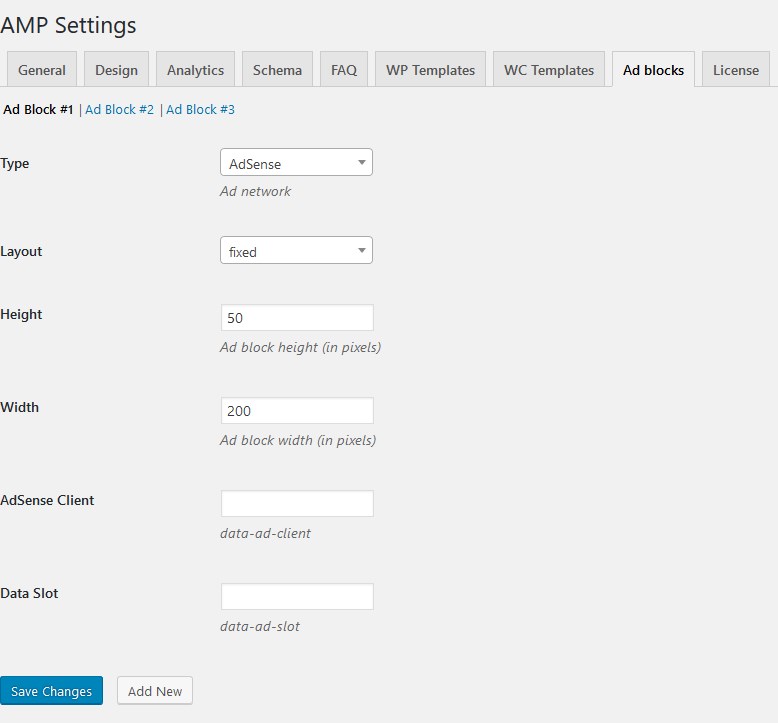 It's worth mentioning that the plugin works perfectly with such popular SEO plugins like Yoast SEO, All in One SEO Pack, The SEO Framework, and SEO Ultimate.
Overall, this AMP WordPress plugin provides the full breadth of functionality that AMP yields. It lets you architect a proper AMP WordPress website, create AMP pages and get a chance to improve your key website performance metrics. What I'd also like to highlight as a huge advantage is that it doesn't nickel and dime for every feature – all on-demand features are included in one base plugin.
Core Features:
full WooCommerce support;
simple plugin settings;
display display unique AMP content for chosen posts;
smooth integration with third-party tools;
supports posts, custom post types, taxonomies and more.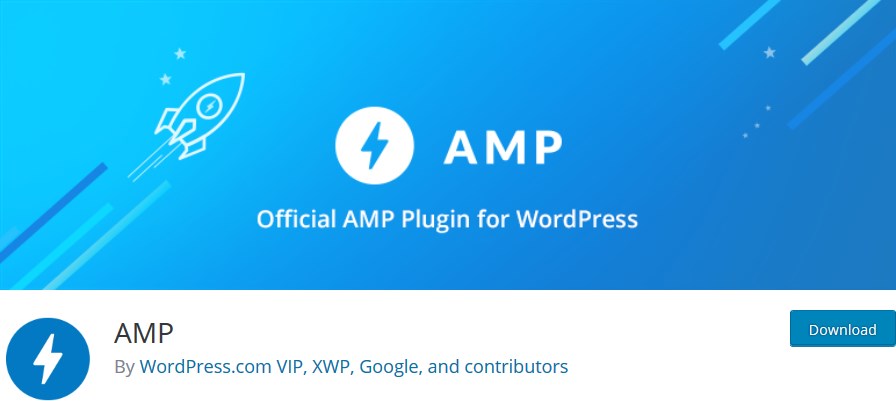 This is a pioneer WordPress AMP plugin, which is available for free download. WordPress was the first CMS platform that introduced AMP integration – and this particular plugin is that early adopter of AMP.
Google, Automattic (WordPress creators), XMP and contributors were working closely together on this tool to enable any WordPress website to go AMP without luxury efforts. Now, it stands to reason that it's called an official AMP plugin for WordPress.
So the benefit of this plugin is clear outright: it's a properly-coded free solution that keeps up with the AMP evolution.
Moreover, as of writing this, the plugin creators have launched the newest version 1.0.0, which is extremely innovative and for real shows what is AMP on WordPress. This is a fruit of a massive development work, where the main outcome is native AMP integration (reusing markup and styles of your active theme for AMP automatically), which will allow you to have full visual parity between your non-AMP and AMP responses, at the touch of the button.
So now users have a choice of AMP modes: "Classic" (this was the only one available in a previous version), "Paired" and "Native". You can now reuse your theme's templates and styles in "Paired" and "Native" modes.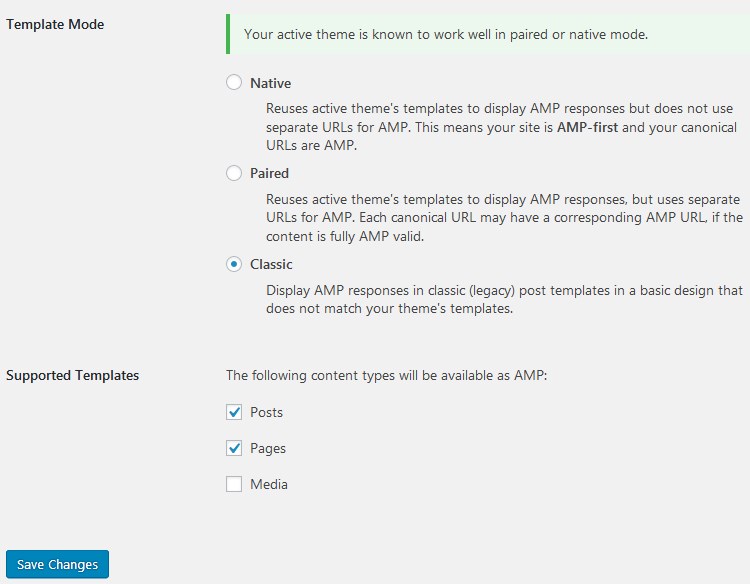 The "Native" mode addresses multiple concerns that had been arising around AMP over years, such as removes the headache of tinkering with default styling configuration and eliminates the need to use a separate /amp URL since you are able to use a canonical URL for an AMP version.
The "Paired" mode also enables you to use native theme templates and styles. It allows AMP validation handling using automatic sanitization acceptance for any new validation error and also gives you an option to disable the admin bar on AMP pages. When this mode is enabled, it adds two new menus for storing validated URLs and validation errors (that can actually be automatically handled). This mode still generates corresponding AMP URLs.
Similar to all best AMP plugins WordPress, you can enable AMP selectively for any page, post, or custom post type.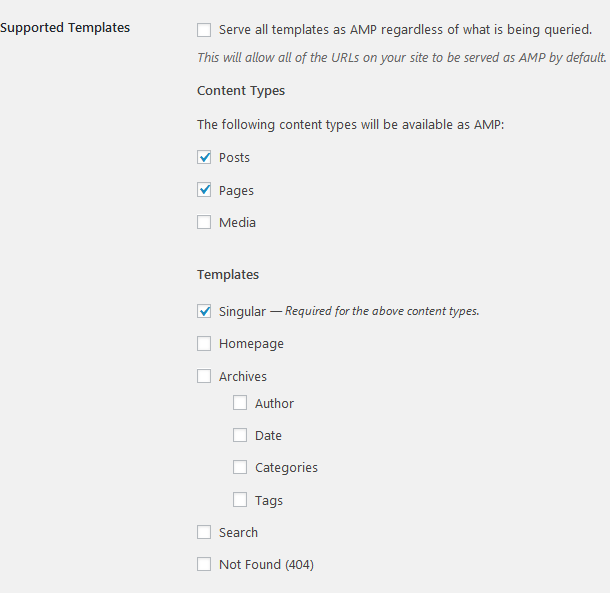 The "Classic" mode (where you need to use or customize default styling manually) comes with just a bare minimum without a variety of tools premium solutions generally provide but this is enough for you to set up AMP and the question "how to make AMP pages" won't bother you with this tool kit. You can choose from a dark or light color scheme, change the header text color, header background, and link color. And that's it.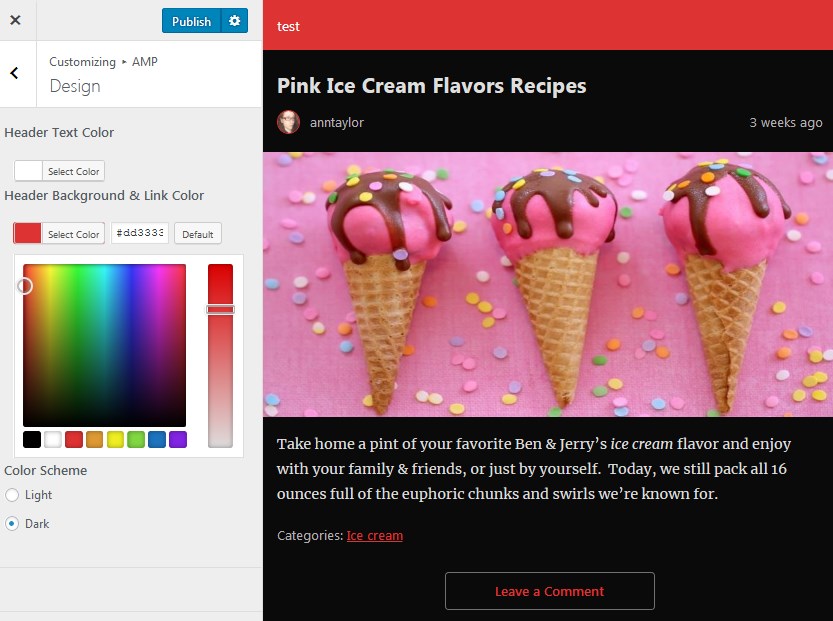 Classic mode in AMP plugin
If you don't want your website to appear on the screens of your prospects with the default copycat styling like across thousands of other AMP pages, it's required some tech expertise to put your custom settings to work (if you are not satisfied with default "Classic" mode settings and for some reason don't want to go with the Native mode).
AMP plugin is also integrated into the classic editor allowing you to enable/disable AMP for selected pages and preview an AMP page version at the click of the button. There is also a good support for Gutenberg and the Twenty Nineteen theme in the latest plugin version.
To measure traffic and conversions sent via AMP pages, you can set up a separate Google Analytics snippet and keep track of the major performance points.
Overall, this plugin is a great choice for those who need a very simple, quality AMP integration (now with support for native theme styles) – for free.
If you are curious, there is also a freemium weeblrAMP plugin that positions itself as a better version of this official AMP WordPress plugin (it comes with more premium options).
Core Features:
free solution with clean code;
native AMP integration;
Several AMP modes: classic, native, paired;
Gutenberg support.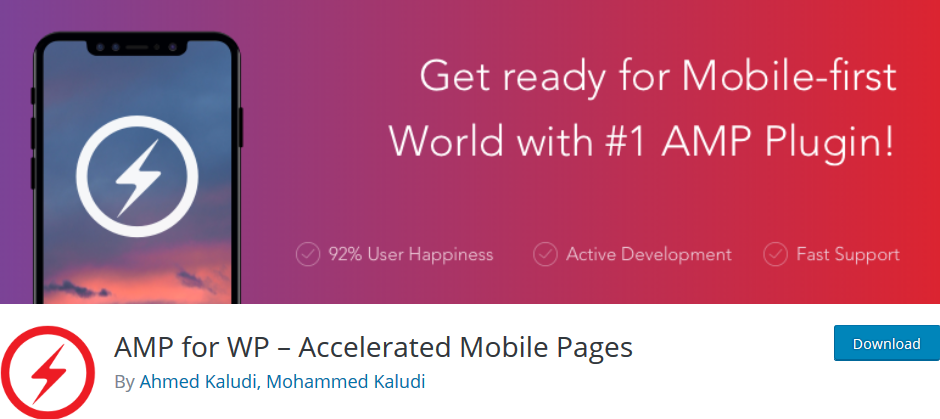 This is one of the most popular WordPress AMP plugins since its creators are actively improving it to provide you with all possible features of AMP.
Right after the installation, the plugin prompts the starting point alternatives – experienced users can go through the preferable settings, while novices can opt for a handy setup wizard. It's actually a signature move of this plugin – you feel like you are always guided by an invisible support team.
So what's available within a free version of AMP plugins WordPress like this one?
A lot! You can reproduce your branding authenticity and make it shine even on so simplified AMP layouts – a great level of customization is actually the key feature of this plugin.
You can upload your logo, customize the content components and a page structure for each post type by means of a handy drag-and-drop editor (you may even use columns), and go through each design part either with global settings or individually.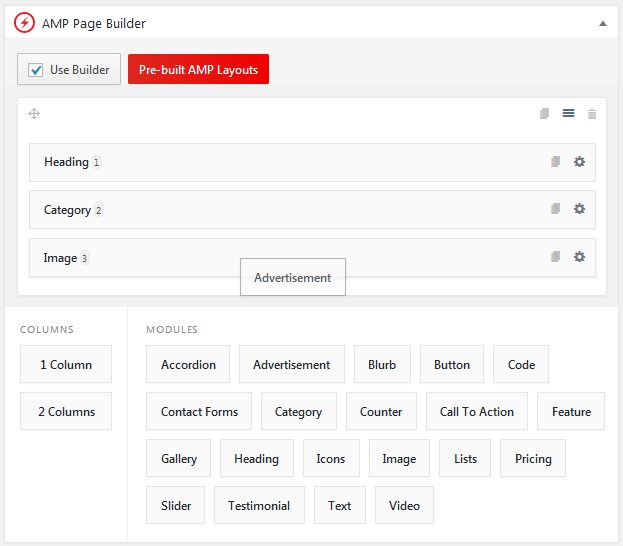 You can customize a global color scheme, connect Google fonts, enable a sidebar, add your custom CSS, etc. For example, to set up the header, you are free to choose a pre-built header type (containing different elements in various locations), select a navigation menu design, adjust menu position, enable sticky header, and a whole array of other wonders. You may even include sticky social icons, enable dropcap, breadcrumbs, and in-content-related posts.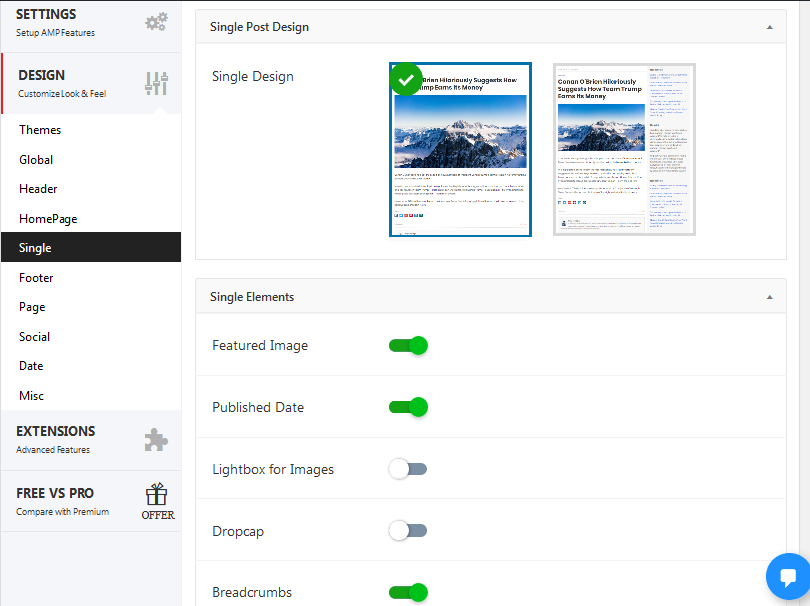 The plugin also gives you control over error fixing, data import, and export, etc.
It's worth mentioning that AMP for WP plugin sets you up with such an extra-mile feature like pre-made design templates that will help you look professional and polished without too much work – but they are available in a Pro version only.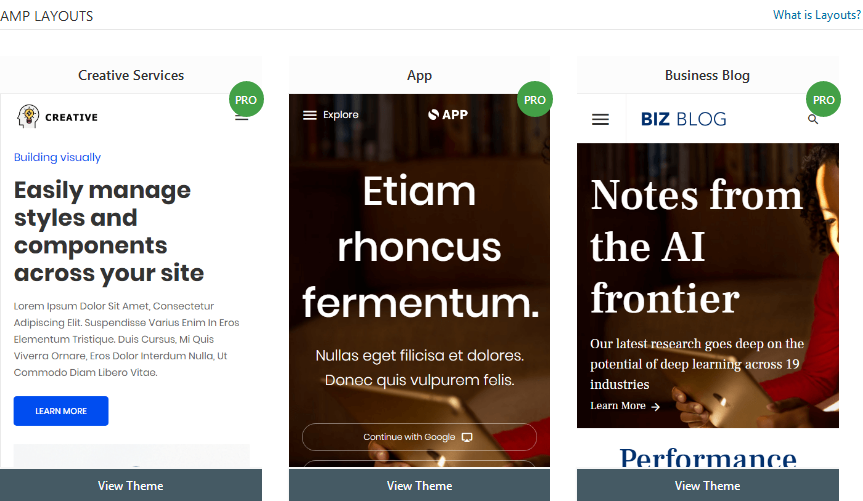 Any extra feature and third-party integrations you might think of are accessible via paid extensions: ACF integration, native comments, to name a few: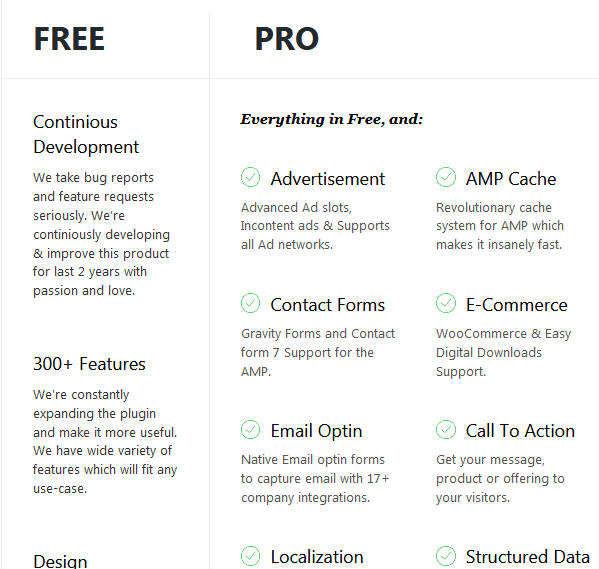 The only downside of such WordPress AMP plugins like this one is that it's not that straightforward, even despite all those helpers. You need to take care of each of dozens of settings and settings sections so it's easy to break the focus. However, once you get familiar with the interface, you can start plain sailing.
In general, the plugin is widely used by thousands of WordPress users and so far one of the most flexible and mature solutions on the market.
Core Features:
simplified AMP layouts;
handy drag-and-drop editor;
pre-made design templates (PRO version only);
control over error fixing, data import and export, etc.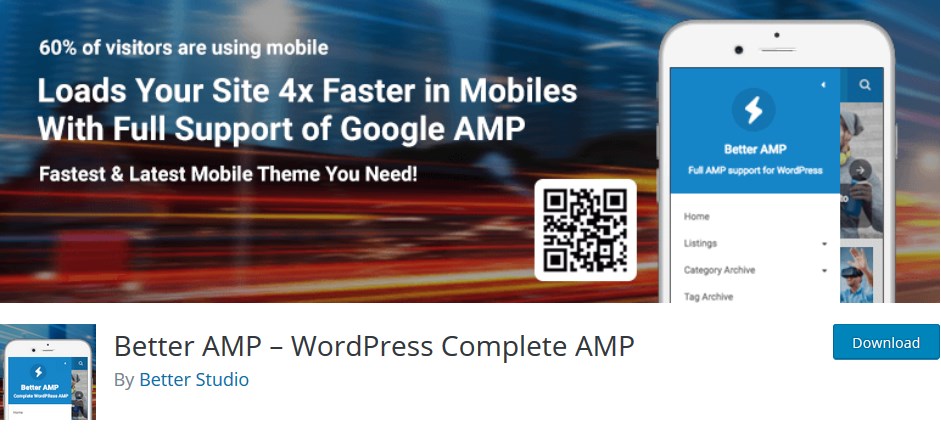 The free version of the better AMP – WordPress complete amp plugin is probably the most ''generous'' among free alternatives.
It provides a more intuitive AMP construction experience letting you construct and customize the content and styles in a real-time editor via WordPress Customizer making it super handy for beginners. You may display a text logo or upload an image instead, show/hide a website search bar in a click and even enable or disable a sticky header.
The AMP version of the sidebar, which is also optional, has settings of its own – you may architect a different website look, include social icons and more.
There are also several layouts for an archive listing, rich post settings (thumbnail, comments, related posts that can be featured according to the preferable algorithm, etc.), and more tools. It won't be a problem to recreate an authentic look of your desktop version thanks to the variety of available colors: you can update the theme color, the background color, text color to provide the same visual experience for your visitors.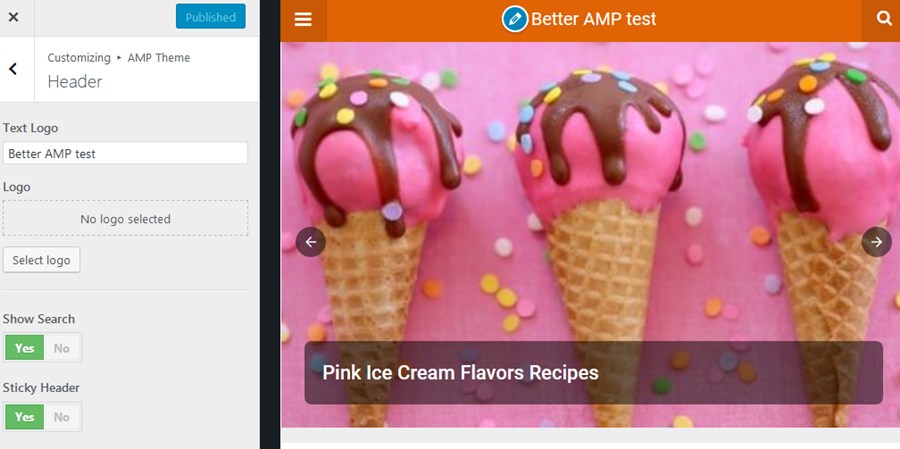 Google Analytics for AMP is also fully supported. If needed, you may add custom CSS and HTML code to make your pages even more beautiful on mobile (but don't overdo those since the main aim of AMP is to simplify the source code of your website). You may disable AMP for the selected post types and taxonomies globally or selectively for each post. I've checked all mentioned features in a free plugin and am simply curious – how can all this be free?
Like all WordPress plugins AMP, this solution also supports sliders, Youtube embeds, RTL, and an out-of-the-box translation system.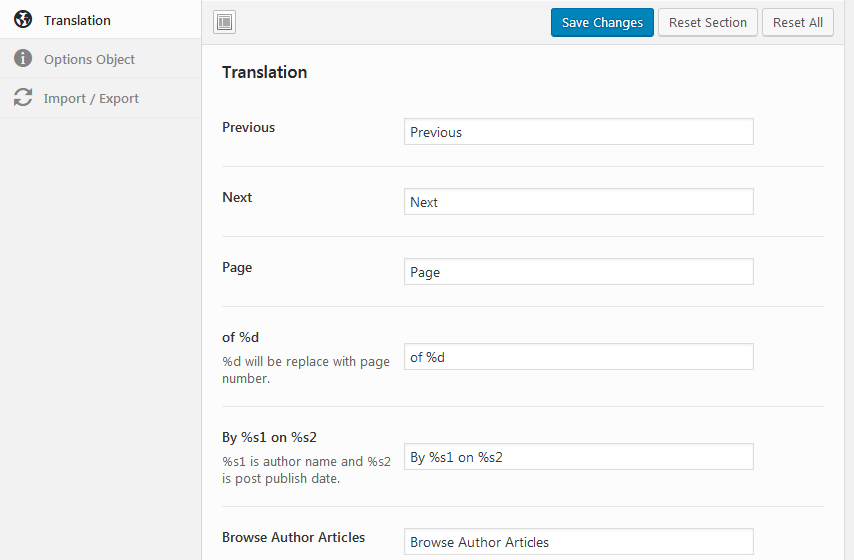 WooCommerce support is also advertised, but since the plugin creators don't provide details, it's not entirely clear whether it will fulfill the AMP WooCommerce integration properly. Probably they should elaborate on this matter a bit?
To sum up, thanks to such a variety of tools, you are free to create professional, clean, and maximum unique AMP pages in WordPress. This is a sweet-spot AMP plugin for those on budget with a longer list of customization requirements. If you need human support, you'll need to get a Pro version of this plugin.
Core Features:
WordPress Customizer;
rich post settings;
Google Analytics support;
custom CSS and HTML code available;
supports sliders, Youtube embeds, RTL & WooCommerce.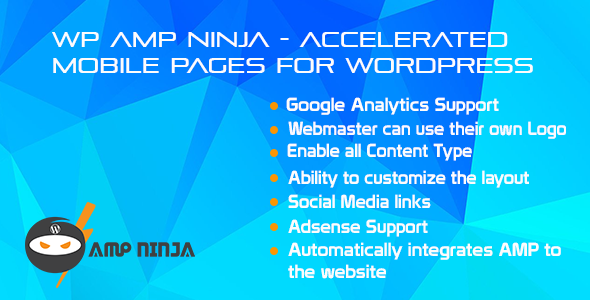 This is another great AMP WordPress plugin alternative that comes with an array of tools for creating, optimizing, and customizing WordPress AMP websites, without any coding knowledge.
Just like the rest of the quality plugins in this collection, WP AMP Ninja supports various post types: pages, posts, custom post types, taxonomy, and archive pages. You may optionally disable AMP for chosen pages or post types. The UI of the plugin is quite self-explanatory – it's easy to navigate through and set up the custom, dynamic AMP for all or selected website pages.
From the design perspective, you can easily add your brand look with a custom logo and a brand name, customize the AMP header menu, change colors and typography, add your custom CSS to change a default look, change footer copyright, integrate social media icons and many more tools.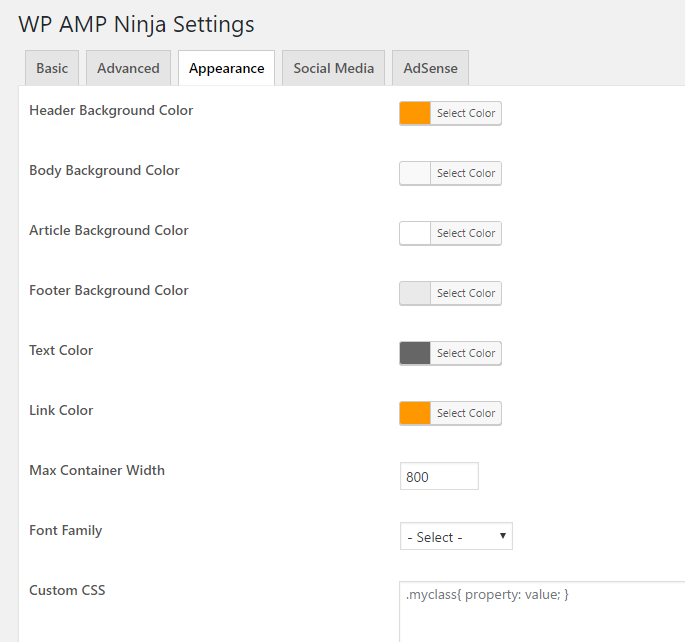 As for more fancy elements, this plugin supports GIF images, videos, audios, and Iframe tags, which are all components validated by AMP Project.
If you are a publisher, the plugin offers an easy way to integrate AdSense ad blocks and customize their size and location with a set of handy tools. There is also an easy way to track the performance of your AMP pages via Google Analytics.
The plugin basically delivers the most needed set of features, pure and simple – pretty much all you would expect from a Google AMP WordPress tool.
It's worth mentioning that there is a free version of the WP AMP Ninja that unlocks only the bare minimum of options: metadata image setup, favicon image, AMP title settings, and a few other features.
Core Features:
supports various post types;
easy navigation;
Google Analytics & AdSense support;
the ability to use your own logo.
Comparison Table: AMP vs AMP for WP vs WP AMP Ninja
Feature
MotoPress AMP
AMP
Better AMP
AMP for WP
WP AMP Ninja
Content types and taxonomies supported
Posts, pages, custom post types, tags, categories, archives, WooCommerce components, search, 404 page, etc.
Posts, pages, custom post types, tags, categories, archives, search, 404 page, etc
Posts, pages, custom post types, tags, categories, archives, search, 404 page, etc
Pages, posts, custom post types, tags, categories, archive pages, search, 404 page, etc
Pages, posts, custom post types, tags, categories, archive pages, search, 404 page, etc
Design flexibility
Completely customizable

+++

Limited (+native AMP)

+

Completely customizable

+++

Completely customizable

++++

Completely customizable

+++

WooCommerce support
Out of the box
No direct support
Yes
Yes
No
Ads-compatible AMP pages
Yes
No direct support
Via paid add-on
Free and Pro features available
Yes
SEO plugins support
Yoast SEO, All in One SEO Pack, The SEO Framework and SEO Ultimate
Yoast SEO via Glue for Yoast & AMP plugin
Not specified
Yoast SEO, All in One SEO Pack
Not specified
Measuring AMP performance
Google Analytics, Facebook Pixel, Google Tag Manager and Yandex.Metrika
Google Analytics
Google Analytics
Google Analytics,

Chartbeat Analytics,

Facebook Pixel,

Google Tag Manager,

Adobe Analytics,

Livefyre,

Segment Analytics,

Piwik Analytics,

Quantcast Measurement

and more

Google Analytics
AMP-ready templates and components
No
No
No
Yes (Pro)
No
AMP opt-out for chosen post types
Yes
Yes
Yes
Yes
Yes
Pricing
$39
Free
Free with paid plugins
Free with paid add-ons
$30
Hopefully, we've helped you choose the most suitable plugin to deploy AMP on your WordPress website. If you have any experience to share or want to recommend any AMP plugin to our readers, feel free to have your say in the comments section below!
---
Disclosure: this article may contain affiliate links for third-party products. If you click a link and later make a purchase, we may earn an affiliate commission that doesn't result in additional charges to you.