Best WordPress Plugins for SEO
Have you ever wondered why the results that land on the first page of Google do so? Why not the second-page results come first or the third-page results? The reason that stands behind this is Search Engine Optimization.
Google SEO policies have been strengthened significantly lately so that the users get the exact results they are looking for.
So, it is safe to say that it is not easy to be in the top SERPs of Google. You need to focus on various elements of your content to rank on the top. And as there are many like you who are competing for that top spot, you need to have tools that can help you achieve the best SEO.
If you have a WordPress website, here are some great SEO plugins for WordPress. Check them out!
The List of Free and Premium Best Plugins for SEO WordPress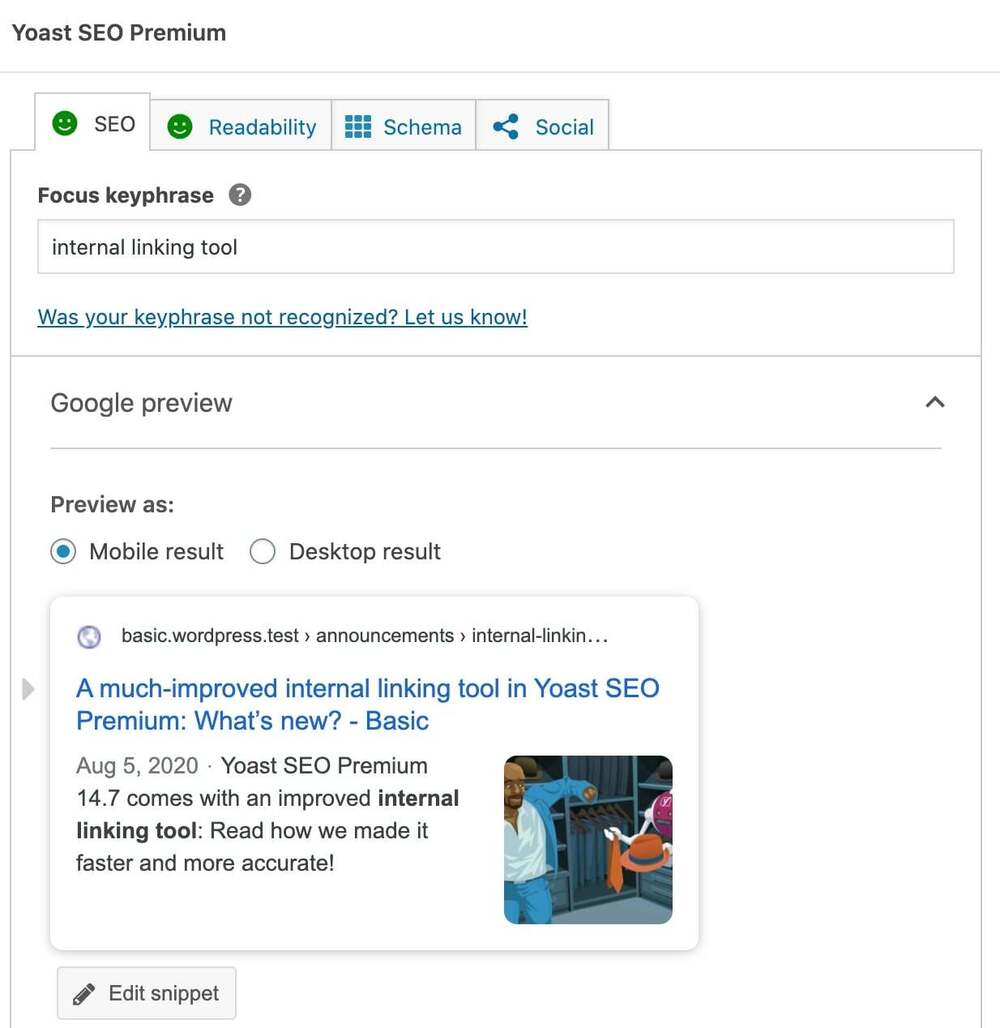 Many of you might have heard of Yoast SEO. It is one of the most popular WordPress plugins for SEO that has helped millions of websites rise up in the Google search results. Released in the year 2007, Yoast SEO came with some basic features but has significantly evolved with time.
If you want your website to be in the top results of Google, Yoast SEO is the plugin to bet on. Here are some of its core features:
SEO analysis: Just enter the keywords, and it will perform a detailed SEO analysis for you.
Readability: Yoast SEO makes sure that your content is optimized to be easily read by both Google crawlers and humans.
Preview: When you are done editing the content on Yoast SEO, you can use the preview feature to see how the content looks on the screen for both PC and mobile.
Schema blocks: These blocks for the WordPress block editor allow you to show sections like FAQs and HowTo in the search results along with breadcrumbs for easy navigation.
Support for plugins: You can integrate various state-of-the-art plugins with Yoast SEO that includes WordPress Block Editor, Google Web Stories, Elementor website builder, AMP, etc.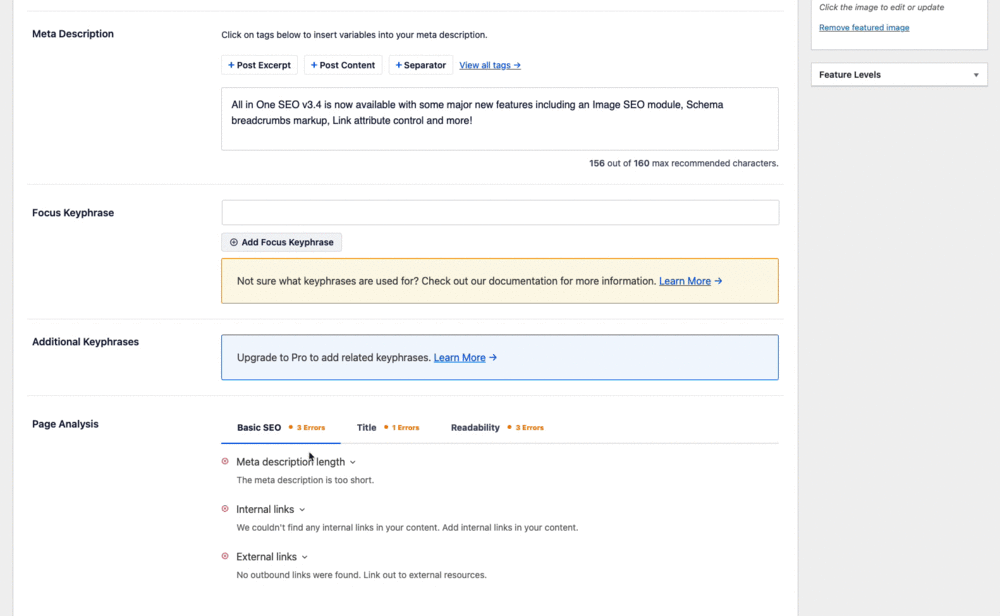 If you are thinking of recruiting an SEO expert to handle all your SEO optimization jobs, you should think one more time. The AIOSEO or All in One SEO plugin is the SEO plugin for WP that can act as an all-round solution for you.
You can not just manage the overall SEO of your website, but you can seamlessly control the local SEO ranking of your website. If you have an online shop, you can manage that too with WooCommerce SEO.
Here are some of the key features of AIOSEO:
TruSEO: This is the feature that helps you optimize the content of your website. This includes content as well as readability analysis.
Keywords: You can optimize your page content for a number of keywords.
On-page SEO: No need for a developer; you can optimize the SEO code markup by yourself.
User access control: Easily provide access to users who can manage the SEO settings.
Integrations: You can optimize the SEO of various types of sites with integrations like Elementor SEO, Facebook SEO, Pinterest SEO, Twitter SEO, and more!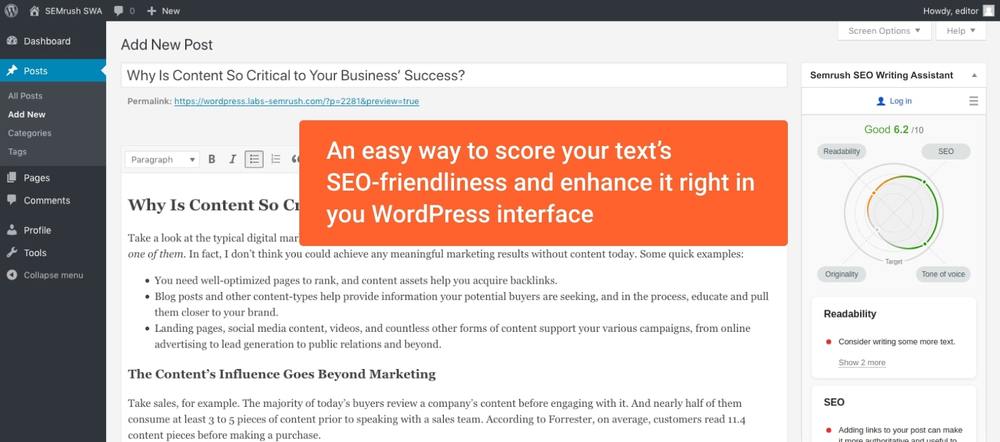 If you haven't tried this tool yet, you are missing out on a lot of things. There is not just one but numerous factors that make SEMRush a great tool for enhancing your overall Google ranking.
Here are some cool aspects of SEMRush SEO Writing Assistant:
Generates overall score: Unlike other tools, SEMRush provides you an overall article score based on the readability, KWs, and text length analysis.
Plagiarism analysis: This is a unique feature by which SEMRush ensures that your content is original.
Recommendations: Based on the entered keywords, the tool offers you suggestions regarding related keywords, sentences, and words that can be added for optimization. This, in turn, improves readability.
Consistency: The tool also offers help in maintaining the consistency of the content as per the required formality.
Link issues: Analyzes links for errors.
To make your way to the top of Google SERPs, SEMRush is the best SEO plugin for WordPress.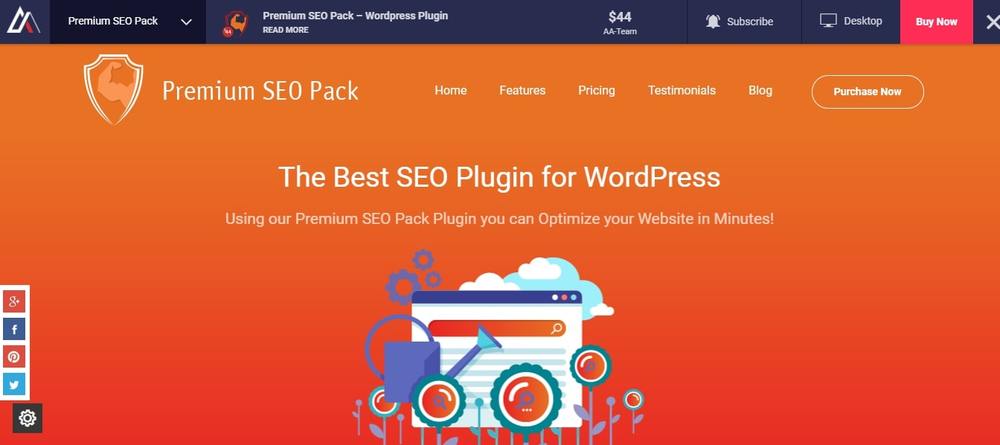 If you are looking for way more than just SEO, you can leverage the benefits of the Premium SEO Pack. How? Well, unlike other SEO plugins, it has some innovative tools that help you go way beyond your competitors. For instance, it has this feature of SERP tracking.
You can use the SERP dashboard provided by the tool to see where your competitors are with respect to you. The graphical representation and filtering option are what make it unique. Other than that, it provides,
Sitemaps: These maps are generated automatically to help you with website analysis.
Interlinking and keywords: The software can automatically add keywords and URLs in the articles for publishing, thus reducing your work for doing it manually for all the articles.
Local SEO: Enhance your position in local listings by configuring a custom location. You can do this by adding shortcodes to posts and pages.
Error pages: Easily spot 404 pages to maintain that top spot in the rankings.
All basic features are included in the package apart from these!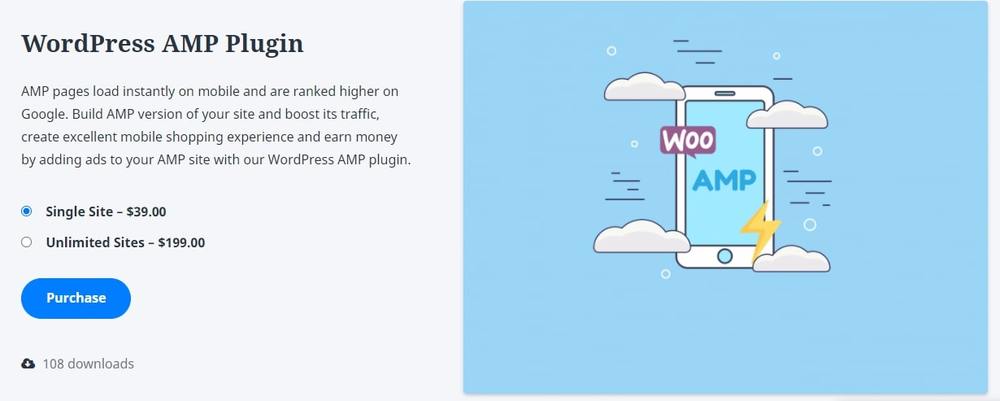 The key thing that makes this plugin stand out from the rest is its speed. No matter what type of device your website opens on, the speed will be remarkable with the AMP plugin. As speed is one of the key factors for enhancing website rank, AMP increases the website loading speed to push it up on the Google SERPs.
To make it better, the plugin is made compatible with:
Yoast SEO
AIOSEO
SEO ultimate
And others! Using these, you can get a better insight into the factors that affect your SEO rankings and improve upon them.
The AMP plugin is also made fit for eCommerce stores as you can let your users access your website at lightning speed. Moreover, it also allows you to track visitors with analytics tools like Google Analytics, Facebook Pixel, and more.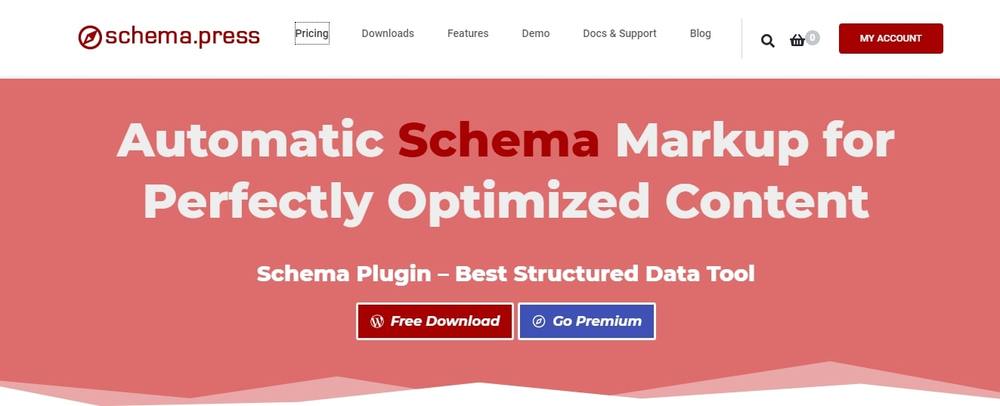 If you want your searcher to get the most appropriate content out of their research, you need to use Schema. The plugin has a schema markup code that, when you put on your website, helps the search engine return the best results to the users.
It is lightweight, and super fast that helps you provide enhanced presentation in the Google search results. Here are some awesome features of the plugin:
Easy to use: No need for constant monitoring; just set it up once and leave it. It does not have any complex settings.
Genuine: The schema plugin and the markup are valid. You can test it in Google Structured Data Testing Tool.
Extensible: To make it more utilitarian, you can use it with other plugins and extensions like Woocommerce, FAQ block, etc.
It is available in both free & premium versions.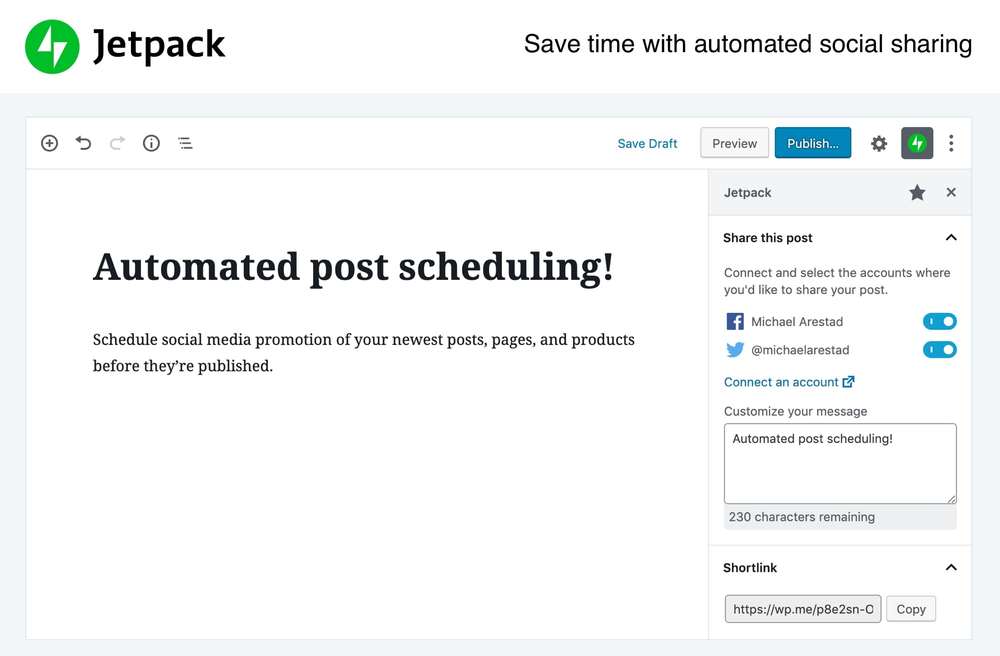 If you are hunting for one of the top SEO plugins for WordPress, then you will really appreciate Jetpack. In fact, you will love it more as it is not just for SEO but for other aspects to like:
Website Growth: No need to go manual for growing your website. Use state-of-the-art tools to streamline the workflow. Auto-publish blogs after enhancing readability and SEO score. Grow your website traffic with tools for Google and other search engines. Get site stats and analytics to understand what your audience wants.
Performance: Along with website growth, it also offers you performance boosting. For example, you can use the Google AMP to build efficient websites. Add lazy loading features for an optimized and superfast experience.
Other than this, Jetpack offers you various design tools, integrations, and expert support for keeping your websites among the top results of Google.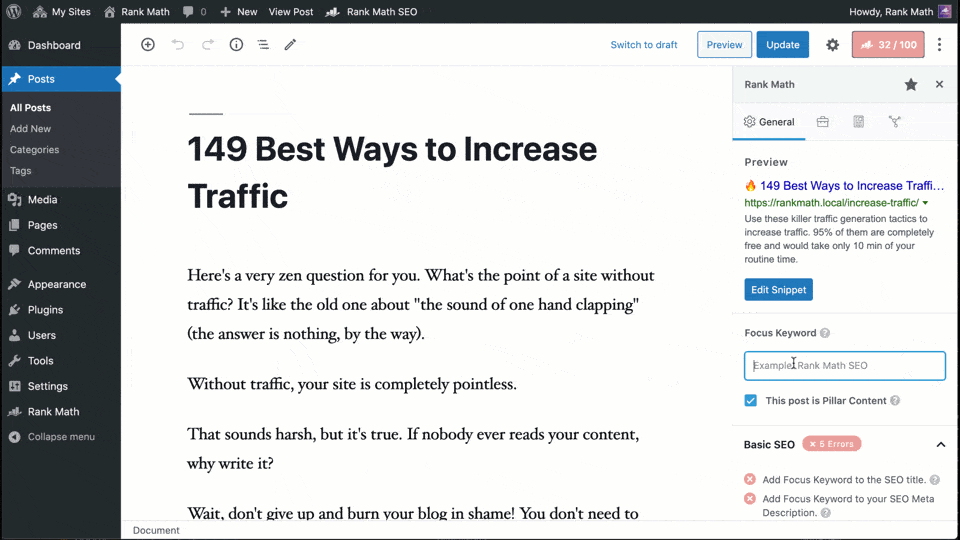 One of the game-changing SEO tools that you will get on the web is Rank Math SEO. The countless and diverse capabilities of the tool will surely rocket you to that top spot in the Google listings.
Here are some of the cool aspects of the tool:
Google schema markup: Easily configure Google schema markup with the help of over 16 schema markups and snippets.
Simple setup: The tool includes an easy-to-understand installation wizard that guides you through the installation process.
Keyword optimization and ranking: Unlike other tools, Rank Math SEO can help you optimize your post for unlimited keywords. Moreover, it also helps you track the rank of the keyword in Google.
SEO analysis: Get an SEO audit of your website in just one click. Moreover, the tool also features 30 SEO tests to jump-start your website SEO.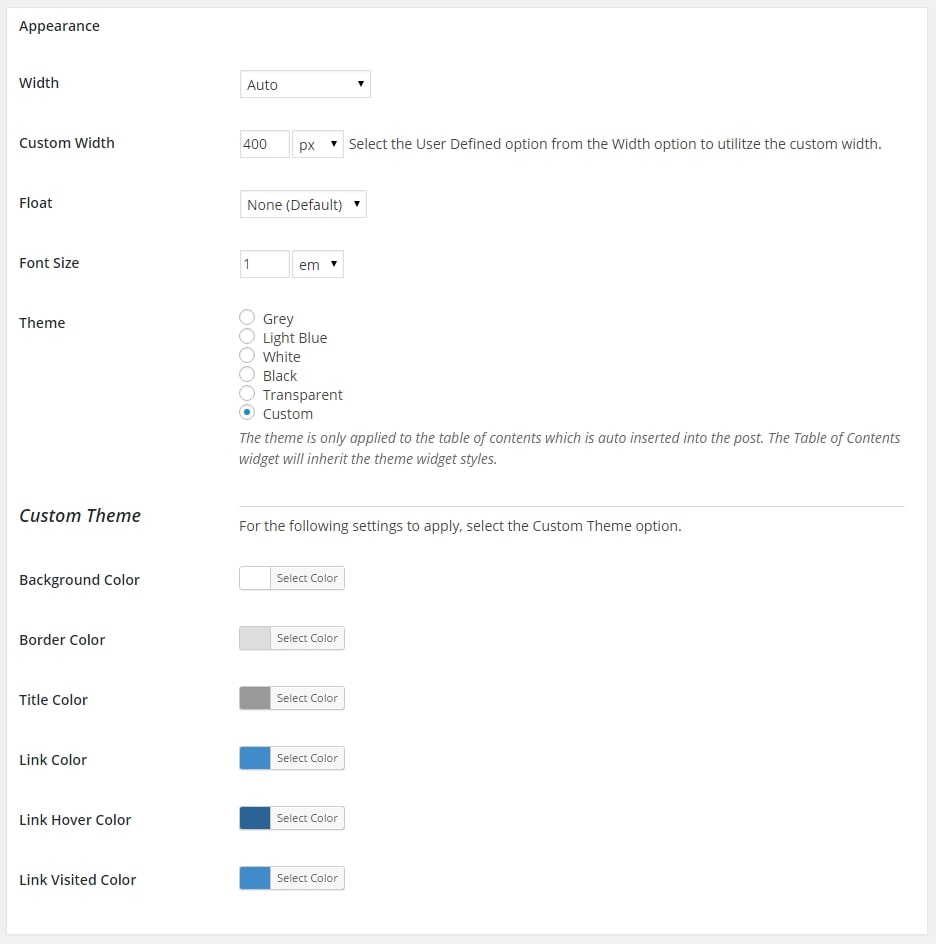 Adding tables to your website content can help the users in content navigation. Moreover, it also enhances the SEO of the post. Hence, here is a plugin that you can use. The Easy Table of Contents plugin offers you the following features:
Auto table generation: The plugin parses the content of the headers automatically and creates a table.
SEO: The plugin allows you to enhance the SEO of your website by enabling you to add no follow to the TOC link.
Theme options: Use various theme options to make the table of content more interactive. This will also improve the SEO of the post.
Bullet formats: Use various bullet formats to make the table more eye-catching. You can choose from none, roman, decimal or numeric.
The faster your website loads, the better is your SEO. And speed is what the A3 Lazy Load plugin helps you with. No matter how heavy your site page or post is, the A3 Lazy Load plugin can help you get the fastest loading speed. This is the reason it is one of the best SEO plugins for WordPress.
Here are some features of it:
Image lazy load
Horizontal scrolling
In-frame lazy load like added content from Facebook, embedded images, Google maps, etc.
Lazy loading effects like fade-in, spinner, and more!
Compatible with Woocommerce plugin.
Final Words
SEO is the most crucial element of your website. Hence, it is necessary to keep it up to mark. Doing it manually may consume a lot of your time. Therefore, to save you time, we have listed some of the best SEO WordPress plugins. Check out and use these plugins to ease your SEO process and rank higher on Google.