Best Appointment Scheduler for Small Businesses? Top Software and Online Tools
Modern service-based businesses and entrepreneurs like you search for the best appointment scheduler software to automate daily routines and find more clients on the internet.
Such business scheduling software became a must-have primarily because of the client's needs. Sad to say, you're going to be left behind if you don't adapt to the requirements of modern customers.
To be fair, there are tons of online appointment scheduler solutions for small businesses, such as clinics, solo practitioners, tutors, schools, sports and fitness institutions, coaches, consultants, law firms, and more.
We can't cover all of them and tell you which online appointment scheduling software can be the best for particular niches but we hope to at least narrow down your choice by listing some of the popular tools and highlighting their pros and cons.
On this blog, we usually write about WordPress-based solutions since we have been creating products for WordPress for 7+ years already so we'll try to describe some core specifics of our WordPress appointment scheduler plugin as well.
But for those of you looking for more diverse cloud solutions, we'll also list popular SAAS platforms that you can use together with WordPress or any other site.
As a rule, third-party appointment schedulers require you to have a separate account on their platform, no matter the CMS you use for powering your website.
Choosing the Best Appointment Scheduling Software for Small Business?
So where do you start when you need to choose an online scheduler for small business? I'd say you need to decide how you want to work with such business scheduler software and what your budget is.
In particular, you'll need to answer the next questions:
Do you want everything to be centralized in one website dashboard?
Do you want to keep the booking and appointment system separated?
What level of collaborative work is required?
What client interaction tools do you need in your business schedule software?
What level of automation are you looking for in the notification tools?
What integrations are required (payment gateways, Google and Apple calendars, mobile apps, email marketing automation, etc.)?
This is not a complete checklist, but at least, you can build an approximate list of requirements to find small the most suitable business scheduling software.
Now let's study a few key popular appointment scheduler software and online tools.
WordPress scheduler plugins and cloud booking software solutions have many things in common as to the functionalities and key elements of the system, but usually, they differ in pricing and some management tools.
WordPress plugins are usually much more affordable because WordPress, powering over 30% of all sites in the world, has a saturated market in terms of solutions available for all sorts of niches.
In simple terms, the competition between WordPress employee scheduling software for small business is so fierce that it keeps a pleasant cost. Compared to WP plugins, SAAS tools might cost a bomb. That's why we're also going to list the prices to help you compare all of them.
Best Appointment Scheduler for Small Businesses
Let's introduce you to the best appointment schedulers recognized in the WordPress and outer world 🙂
Prices are of November, 2021. Prices are subject to change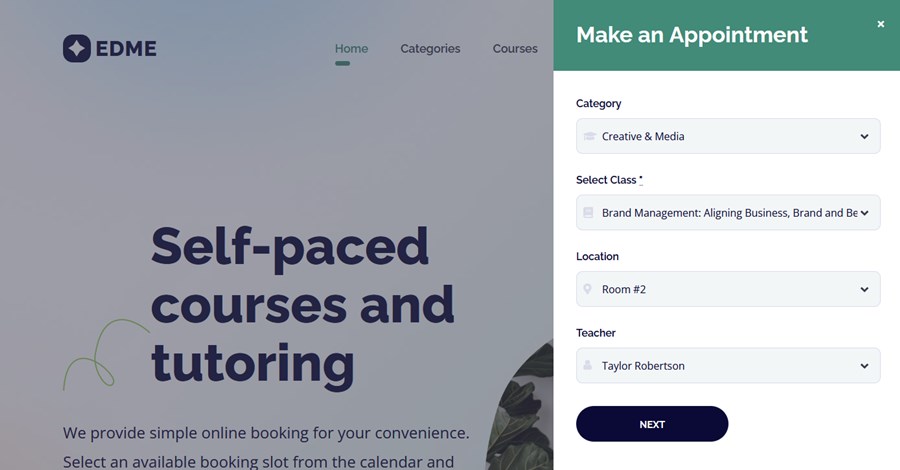 It's a comprehensive WordPress scheduler plugin for small businesses that run their websites, obviously, on WordPress. Since you can employ different locations and categories in this plugin, it's completely suitable for a solo and a chain of businesses.
No extra commissions for anything, a complete circle of staff-client management tools, a great level of flexibility as for employee schedules, any appointment durations, a mobile-friendly booking wizard for step-by-step online reservations – all these are prominent features of this scheduler. This booking software for small business also makes it easy to accept payments from your clients on the site via Stripe, PayPal, wire transfer, and pay-on-arrival.
This WordPress scheduler plugin has it all for accepting appointments online but if you are looking to test the features for free, give it a whirl here.
Suited to: small businesses looking for quick, simple, and affordable appointment bookings on WordPress
Pricing: $49 single website/per year; includes unlimited employees, locations, services and bookings

Also read: How to add an appointment widget to WordPress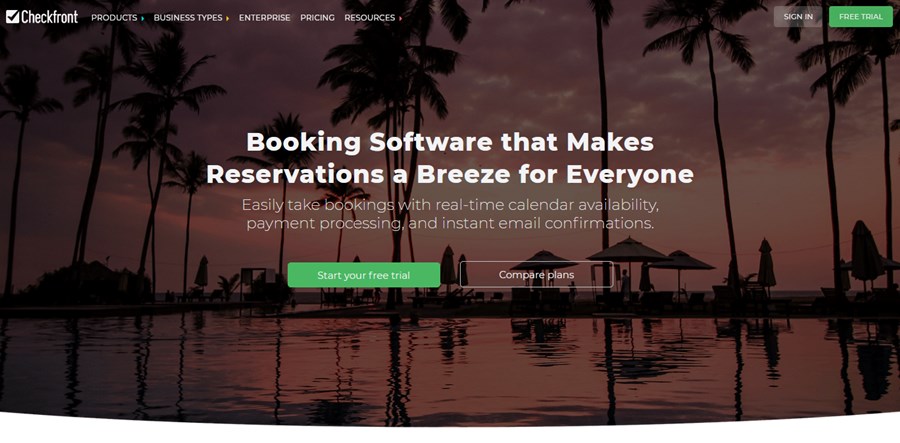 Checkfront is one of the most eminent solutions for appointment scheduling worldwide. It's hassle-free to use for the staff and customers, completely customer-oriented and delivers all the bundle of scheduling tools. It's also optimized for rentals, accommodations, tours and other niches.
In addition to the online booking tools, your Checkfront account will give you a set of extra instruments, including a website builder and a mobile app so it's an all-included package even for those who don't have a website.
It has an integration plugin for WordPress so if you are on a latter, the process of integration must be rather smooth.
On the plus side, you're unlikely to be limited in any tools you might need, it's a time-tested core that solves all the needs of the appointment-based businesses. On the cons side, it's quite expensive, but you can register a free trial account with any plan.
Checkfront's plans differ based on the number of staff members you have, partner accounts, free integrations, and advanced features, such as gift certificates, Google apps, multiple languages and a few more things that are not a must for each and every website.
Suited to: small and enterprise-grade businesses that don't have a website yet and want to launch a website with a booking system under one roof
Pricing: 42 per month/1 site, 2 staff accounts, 1,200 bookings per year, basic support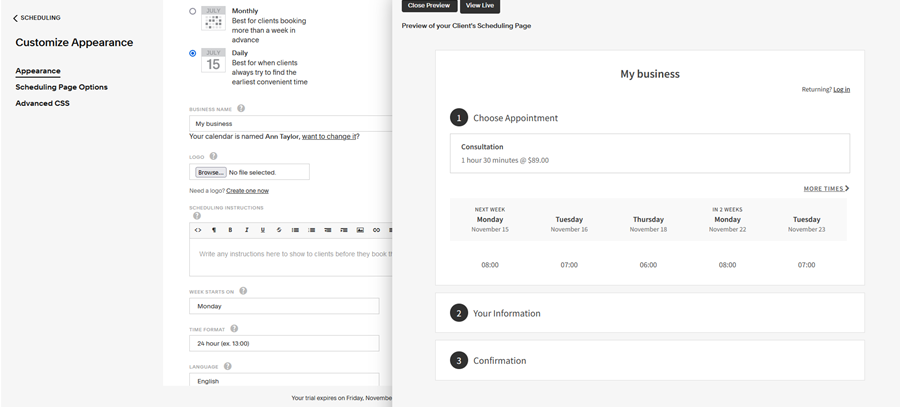 It's a simple yet powerful appointment scheduling tool from the popular Squarespace website builder. It allows you to get started with a truly intuitive step-by-step wizard and set up your appointment system in clicks. It's great for 1:1 services as well as group sessions.
Just like other SAAS', Acuity offers plans according to your workload, the number of staff members and other essentials. With the cheapest plan, you are free to have one staff and location, while other basic tools are also available: client self-scheduling, unlimited services and appointments, video conference tools integration, email notifications, and more.
One more great thing about this appointment scheduler software is that you can connect numerous important integrations, including synchronization to Google Calendar, popular email and accounting tools, addons for events and coupons, etc. It also takes a few clicks to test this tool.
Suited to: small businesses that provide one-to-one appointments or group bookings and need an affordable SAAS plan
Pricing: $14 per month/limited staff members and locations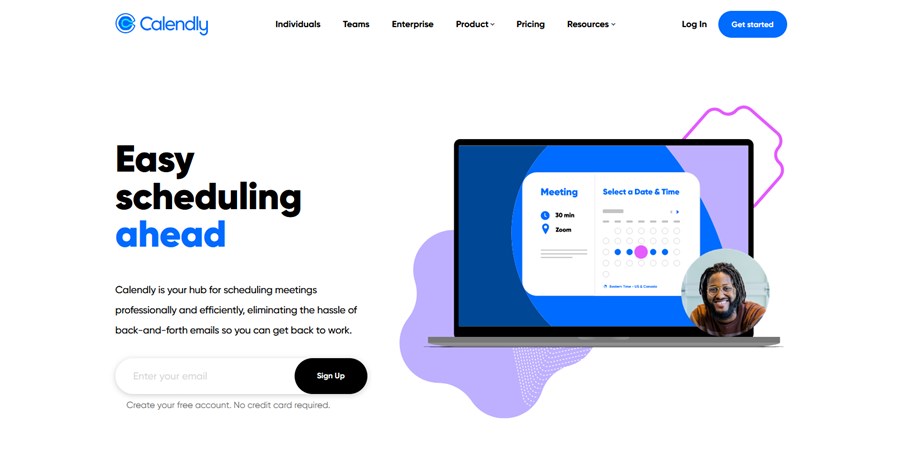 It's one of the most popular software providers for service businesses. It has anything you need, from individual and small businesses to enterprise-grade companies.
It provides a perfect smooth tool for scheduling events, classes and other appointments in the fully-fledged admin area. The basic plan is free but it's limited – although it's a nice way to see whether you enjoy the experience of working with the tool.
The cheapest plan includes up to 2 calendars, such as Google or iCloud, as many active event types as needed, meeting reminders via email, scheduling metrics, reporting and more essential tools.
Suited to: businesses of any size and type, completely multipurpose scheduling software
Pricing: $8/seat/mo
Engage Bay Scheduling System for Small Business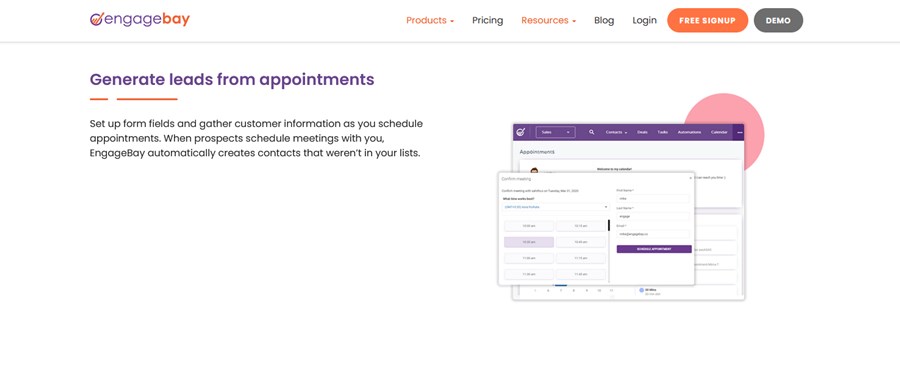 It's not that popular for online appointment scheduling for small businesses but quite lovely software with affordable pricing that is offered as a complete CRM with tons of tools. Appointment scheduling is just one of its features.
Just as other SAAS companies, Engage Bay offers you tiered pricing plans depending on the number of your clients, third-party integrations, and analytics tools.
As for their appointment software, you can customize scheduling, set up and brand automatic appointment reminders, create individual team member calendars and more. It's advertised as a tool that is primarily used to book/confirm meetings and appointments.
Suited to: companies that need an all-in-one marketing and sales CRM software with the appointment scheduling features included
Pricing: $ 11.99 for basic CRM features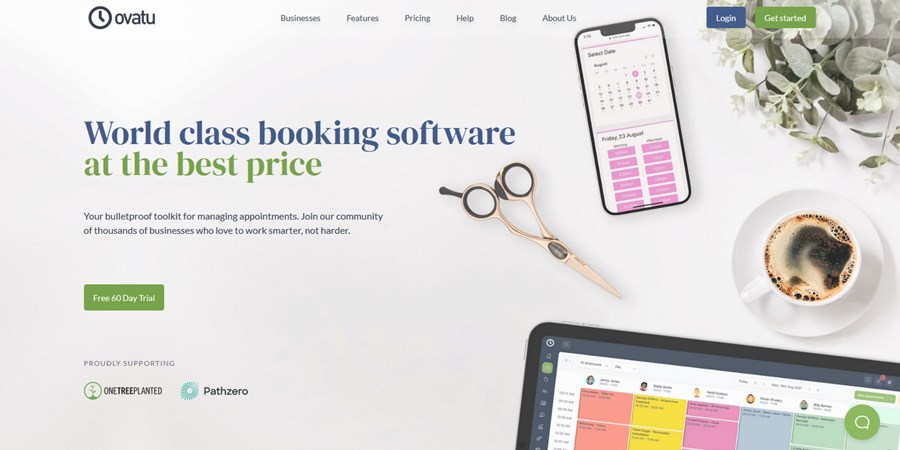 It's a popular scheduler software for events, classes, appointments and other types of meetings. In addition to the essential appointment and calendar features, Ovatu can boast of powerful payment and POS, reporting features, and even a booking bot.
The booking appointments tool by Ovatu is perfect for 1:1 meetings, classes, and any other appointments you can think of. It supports automated wishlists, great consultation forms, and extensive online payment features.
One of the most exclusive options offered by this appointment scheduler for small business is a customizable online booking site hosted by Ovatu, with your own personal branding and a book.app domain.
Suited to: all types of small appointment businesses
Pricing: $15 /mo included one employee, unlimited services, and SMS credits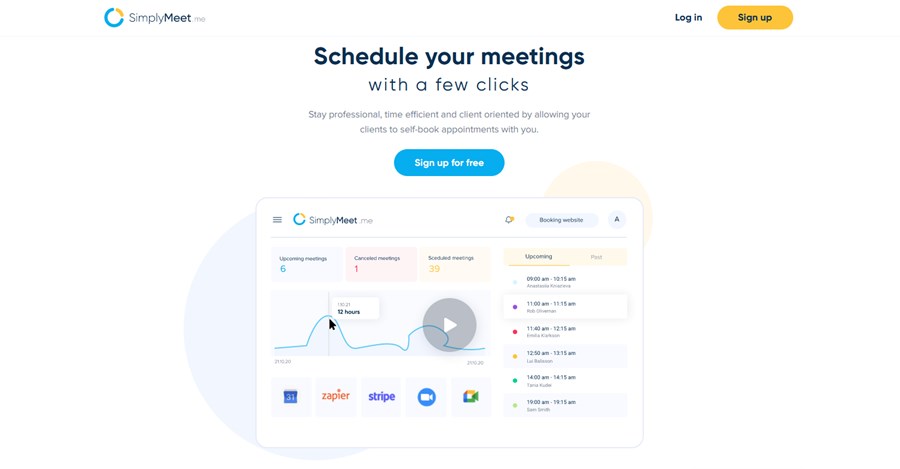 You can use this professional online software for appointments no matter your industry. It supports all the basics, plus extra features such as time zones, buffer times, calendars sync and others.
The software provides you with a delicate user interface, polished clear designs for both admin and customer parts and is very powerful in terms of third-party integrations, Google, Outlook/Office 365, iCloud, Zimbra, are just a few of them.
It also works with marketing apps and other platforms, ensuring further smooth client interaction, communication, and marketing.
Suited to: businesses that look for appointment software with numerous integrations 
Pricing: $11.99 /user/month, up to 30 users, 8 calendars per user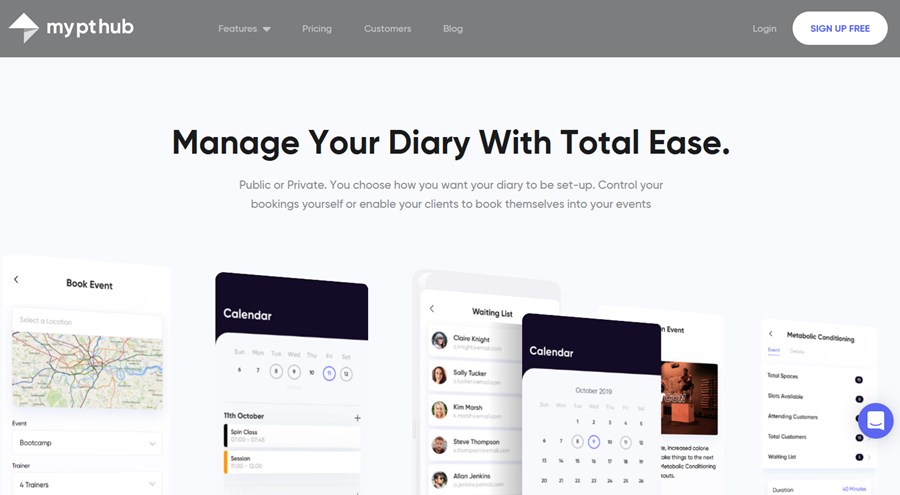 This appointment scheduler is targeted at coaches, nutritionists, gym businesses and similar niches that aim to create training schedules for their customers and track their achievements.
My PT Hub supports essential scheduling features, waiting lists, event booking, class and group bookings, recurring reservations, calendars sync and more.
This means, with this appointment software for small business, yyou can create and auto-schedule workouts for your clients, build nutrition plans, track an activity feed of your client and more. A 30-day free trial is available.
Suited to: all-in-one software for personal trainers, coaches, sports center owners
Pricing: €20/mo for 5 clients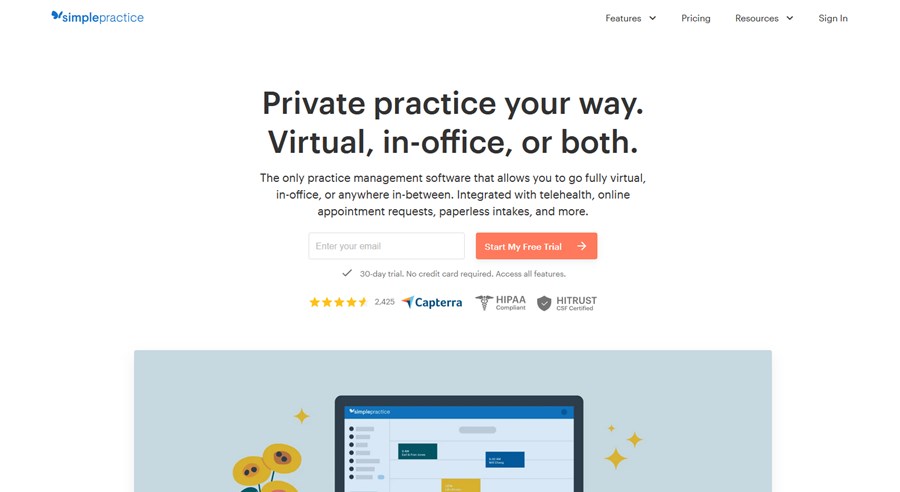 This is another perfect and simplistic tool to automate appointments and decrease no-shows, it has been widely used by healthcare and wellness practitioners.
SimplePractice doesn't just deliver awesome scheduling features. This scheduling software program can also help you create a custom site and personalize it visually with ease in the intuitive site builder.
It comes integrated with the clients portal, security and insurance features and a native mobile app to streamline smooth appointment booking on the go.
Suited to: therapists, social workers, teachers, practitioners 
Pricing: $39 /month for unlimited clients
Conclusion: What is the best WordPress scheduler plugin/third-party software?
There is no point in doing the repetitive task of registering appointment bookings manually when you can completely automate this task. All you need is to find the best scheduling software for small businesses.
The scheduling programs for small business we listed allow you to seamlessly automate appointments and task scheduling like a pro. Some of them are optimized for very narrow niches (My PT Hub), others are rather multipurpose (Calendly), and finally a specific WordPress scheduler plugin (MotoPress Appointment Booking) can do the job. So what appointment scheduling solution did you find the most suitable for your business?