13 Best Appointment Plugins for WordPress
When it comes to choosing the best appointment scheduling plugin for WordPress, our choice is huge. And if you need a short answer to one question – no, there is no one best WordPress calendar booking plugin! But there is good news, too – the vast majority of the appointment booking calendar plugins are pretty decent to help you build a self-sustainable WordPress website. So what appointment plugins WordPress can offer?
We'll be looking at some premium WP schedule plugins to discover the full potential of solutions dedicated to this sort of business (many of them have a free version as well so make sure to check them out if you are on a tight budget).
Also check our roundup of the best booking plugins for WordPress.
WordPress Appointment Plugins: Top 6 Essentials
Before we jump to the list that will help you choose the best WordPress booking appointment plugin, here are things to consider in the appointment booking plugins that will help you automate your booking-based business:
Deeply customizable (design and functionality)
Mobile-friendly (highly important since many clients will book appointments on the go)
Easy access to online payment gateways (some offer more built-in payment gateways, some charge extra fees for them)
Integrations (iCal, WooCommerce, etc.).
Regularly updated.
The ability to try before you buy.
These are of course just essentials so you might want to add your features to any schedule plugin WordPress.
Top 13 Appointment Plugins WordPress Can Offer in 2021
Let's get going.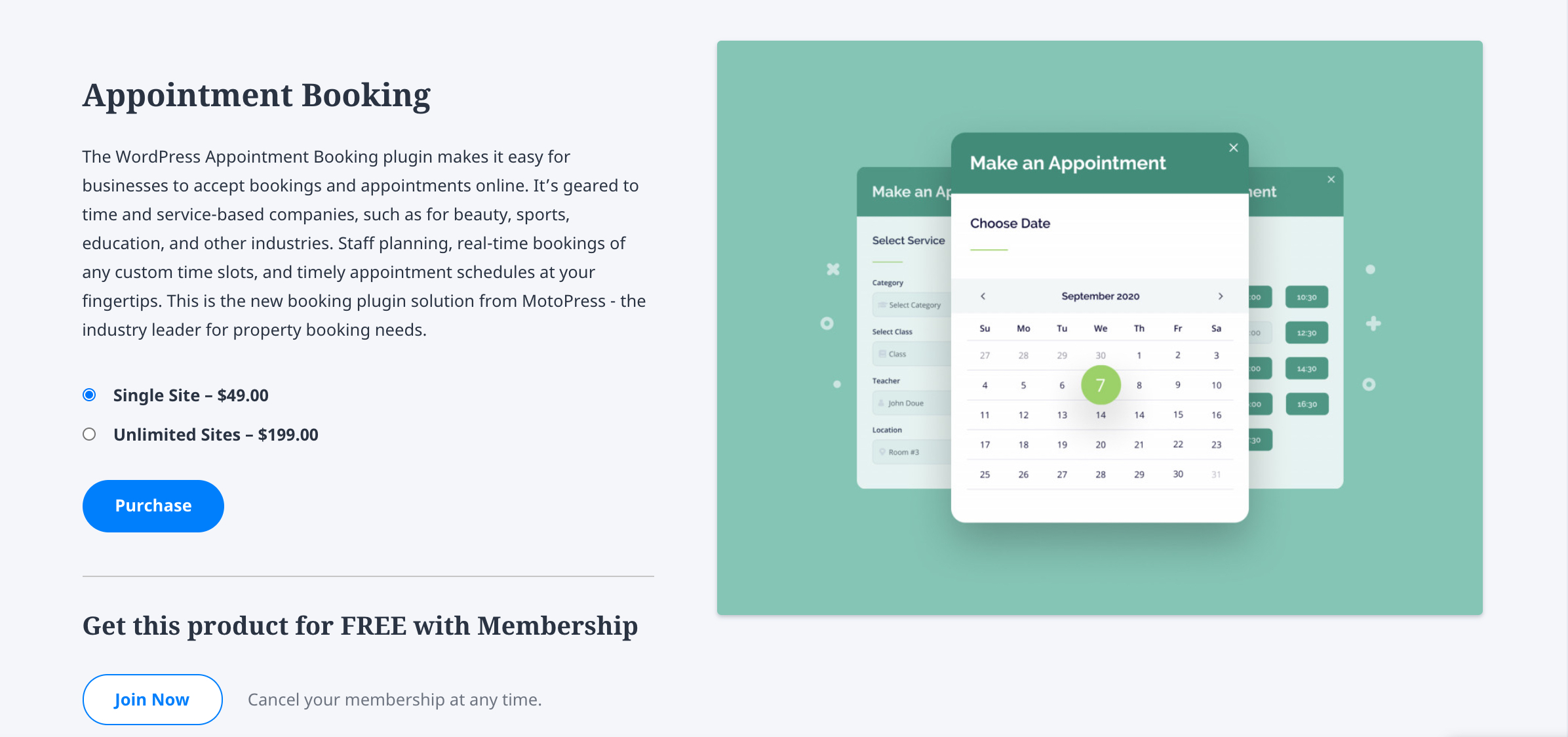 Starting our list with the MotoPress WordPress appointment plugin. The key feature that defines this WordPress scheduling plugin is the booking slot, which lets users set bookings of any custom bookable time frame (an hour, 30 minutes, etc.). The following feature is the main reason why the scheduling plugin for WordPress works best if you have an appointment-based business. In particular, it concerns such industries, as health, beauty, sport, consulting, or education, whether a multi-shop store or an individual specialist portfolio.
Using a WordPress plugin for booking appointments and managing bookings has never been easier thanks to staff planning, real-time bookings of any custom time slots, and timely appointment schedules. WordPress booking calendar plugin allows you to add an unlimited number of staff members & services & locations, build individual schedules for each employee and run online booking submissions. Another feature worth being mentioned is the one-page booking wizard allowing clients to reserve spots from any device.
This booking calendar WordPress plugin is a work in progress, so many features are being added on a regular basis.
The WordPress appointments software was the next logical addition to the family of MotoPress booking plugins (after our best-selling Hotel Booking plugin + HB addons line-up). From now on, our booking software is not limited to the accommodation booking & management system but extends to the WordPress scheduling calendar. It's the best WordPress scheduling plugin if you are looking for qucik and easy appointments.
Key features:
Unlimited staff members, locations and bookings.
PayPal, Stripe (including Bancontact, iDEAL, Giropay, SEPA Direct Debit, and SOFORT), turn on Direct Bank Transfer, upon arrival.
Create discount coupons.
Intuitive booking wizard for client.
Sync employee's availability to their Google Calendar
Bookings calendar and timeline viewing all the bookings.
Manage payments, transactions and clients.
Pricing: $59 per year
It's worth noting that our WordPress scheduler plugin is included for free in our appointment-based WordPress themes: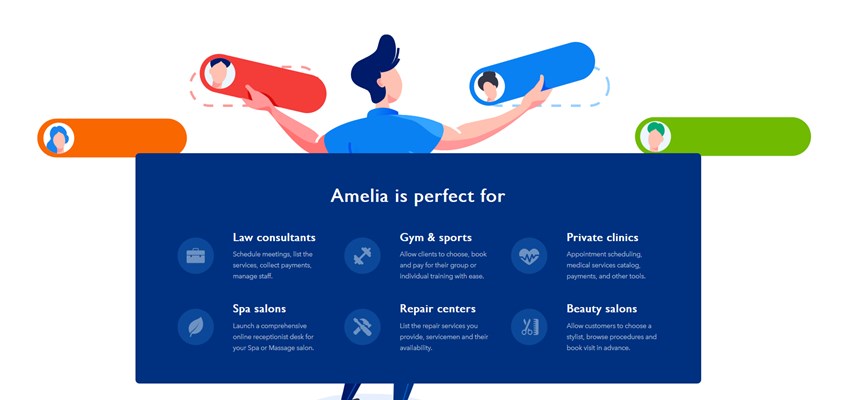 Compared to other WordPress plugin book standbys, Amelia is a relatively new WordPress booking calendar plugin, but it's getting more and more popular for time-based businesses that need a booking solution. I can't think of any major appointment scheduling needs that it will not cover. Amelia is perfectly suitable to deal with unlimited services, employees (with individual working hours), and locations. Its main benefit is that it takes equal care of each part of a circle: clients, employees, and the admin, giving them numerous tools.
Employees may have their own accounts and manage their bookings by themselves (the appointments WordPress plugin supports SMS notifications and the ability to sync appointments with employees' Google calendars). So the scheduled plugin is perfect for a multi-chain appointment business that needs a comprehensive website.
Clients will be able to access their appointments via a front-end customer panel. PayPal and Stripe are available by default; for more, WooCommerce integration is available. Now you see why they're positioning themselves as "enterprise-level", right?
Many WordPress plugin reviewers and Amelia users have come to an agreement that this WordPress appointment scheduler plugin is foremost perfect in terms of design and usability. That means both site admins and clients are guaranteed a flawless booking experience. Unless you need something very region-specific, Amelia is a perfect WordPress calendar booking plugin at the functionality and design aspects.
The price of Amelia might scare budget-minded people away from it. However, on closer inspection, you'll notice that there are no pricey addons like in the rest of the competitors, which makes Amelia more affordable for many serious businesses.
Key features:
Recurring appointments.
Multiple native integrations: Zoom, Google Calendar, WooCommerce.
Tools to analyze your business performance.
Flexible schedule planning.
PayPal and Stripe for online payments.
Multiple services, categories, employees and clients.
Pricing: $299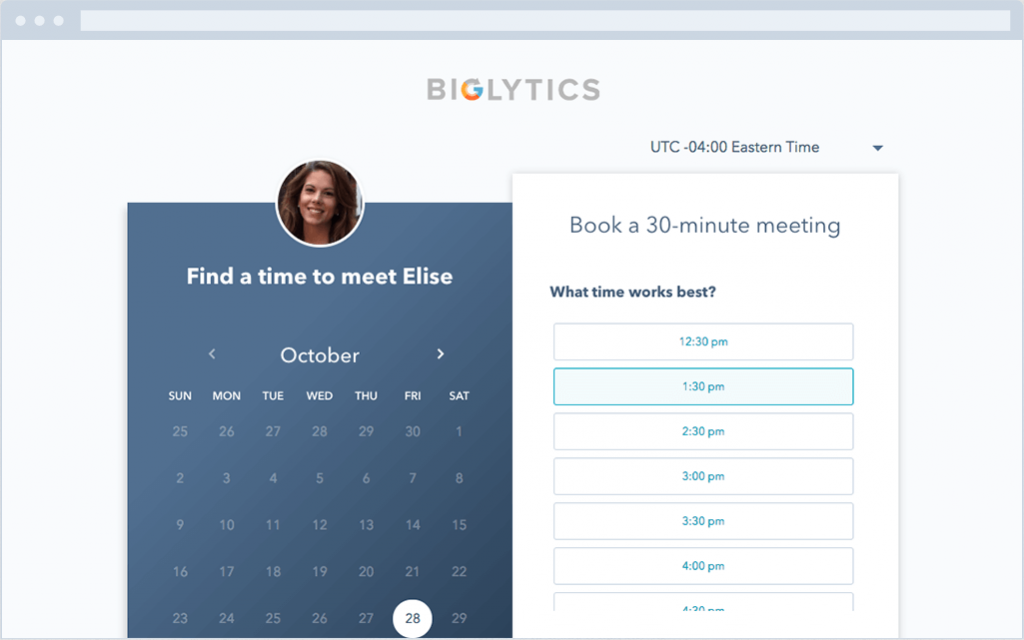 Looking for a solution to collect high-quality leads through your WordPress rental plugin booking forms? This solution accompanied with the Meetings app by Hubspot will do the job. The WordPress plugin appointment booking is rather focused on the marketing features, meaning it helps you collect client data via various banners, scroll boxes, contact/signup forms, and different pop-ups, but it's really easy to use it with the free meeting scheduling app to run online bookings.
The client data is collected via the Hubspot CRM giving you the ability to see all the website behaviors in detail – that is, you'll see all the hints on how the clients interact with your site content and what actions may actually lead to the best results (in other words, what drives conversions).
Giving a try to the Meetings app, you'll be able to schedule appointments and sync your appointments to your Google or Office 365 calendar allowing clients to see your availability in real-time. You'll be able to easily integrate WordPress scheduling calendars on your website giving your prospects an easy way to schedule meetings with you directly on your site.
Also, you can use the Hubspot WordPress scheduler plugin with any other WordPress booking plugin you choose for implementing appointment reservations.
Key features:
Take advantage of all Hubspot tools in one plugin: multiple tools in one plugin, including CRM, email marketing and more.
Built-in analytics tools.
Multiple integrations with third-party services.
Easy appointment booking with the dedicated Meetings map.
Forms and popups.
Pricing: Starter plan is 41 per month.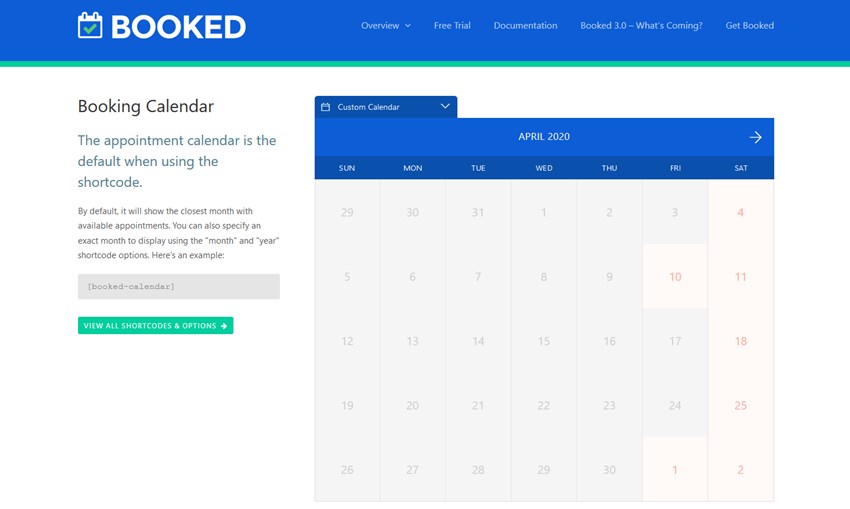 Booked has been around for a long time and has gained the reputation of a high-quality WordPress appointment booking plugin. It's suitable for almost all types of businesses that need to accept bookings online, including coaches, beauty salons, doctors, and more.
It comes with the frontend booking calendar (created for each service and placed anywhere on your site), wherein people can place a booking in a few steps. The calendar booking WordPress plugin comes with familiar to all modern users functionality, flawless reservation experience, and numerous helping tools.
Clients are able to manage their appointments in their own (customizable) accounts which means there is a great chance to retain customers simply thanks to a user-friendly online solution! Online payments with this WordPress bookings calendar plugin can be set via WooCommerce.
The scheduling WordPress plugin will surely work for a small or midsize appointment booking business, with all the critical business tools and without bells and whistles. It's the right choice for those who want to implement quick and simple bookings.
For example, we chose this plugin to accompany the Entrepreneur Appointment Booking WordPress theme. For one thing, because the plugin is very lightweight, has a clean code and offers all the range of tools for both employees and clients.
Key features:
Fully customizable booking widget with the ability to add custom fields.
Fast and easy checkout even for non-registered users.
Accounts for employees.
Powerful admin bookings calendar.
Customer profiles for managing bookings.
Automated email notifications.
Pricing: $49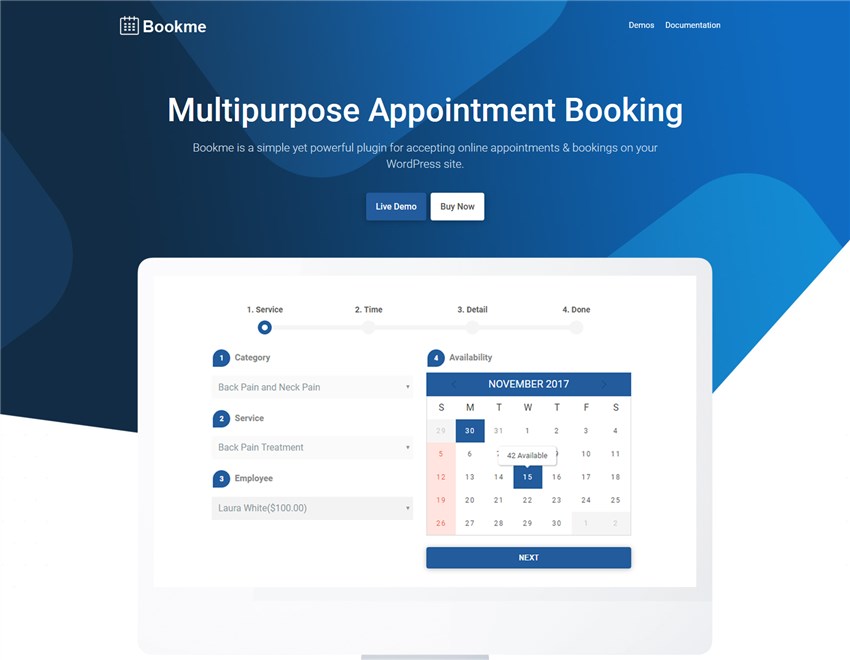 You want to go with a particular WP appointment booking plugin if you need a high-quality but very affordable solution. Bookme is somewhat similar to the Booked – scheduling plugin WordPress users like – in design and configuration. It's that powerful.
The plugin offers the whole set of essentials for any WordPress appointment scheduling website: group booking, educational services, patient scheduling and more. You may offer multiple services with different staff members at different times. Clients can book right from the availability calendars on your website. SMS notifications work for both clients and employees.
As for the user experience, Bookme offers an intuitive booking wizard as a neat one-page app, which guarantees the whole booking procedure is done without refreshing a page (works great on mobiles as well).
For design consistency, the plugin is packed with a dedicated appearance customizer to help you find a perfect match for your WordPress theme.
With all of it in mind, we can safely say that this scheduler plugin WordPress measures up to all premium counterparts in our list on multiple levels.
Key features:
Payment gateways already integrated: PayPal, Stripe, Mollie, 2Checkout, Authorize.Net, plus support for WooCommerce for even more gateways.
Any number of services, employees, and bookings.
Personalized employee booking schedule.
Bookings email reminders and SMS notifications.
Create custom fields for specific services.
Group bookings, plus, the ability to limit the number of bookings.
Fully translatable.
Pricing: $39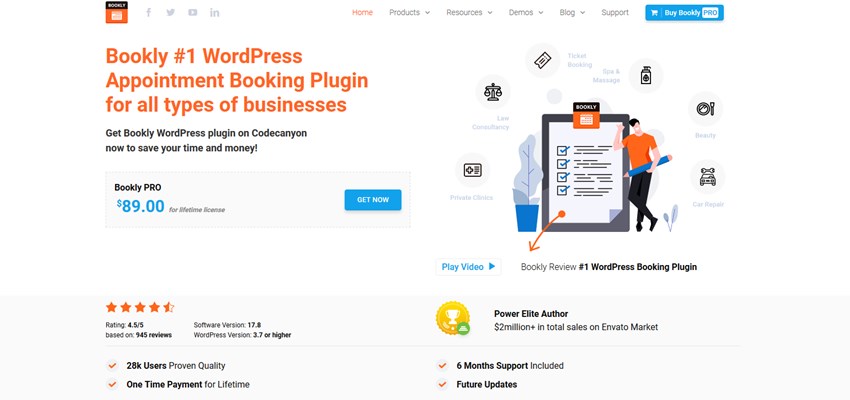 When they say they are the #1 appointment booking plugin, they mean it. Almost 30K sales? That's unbeatable. It's definitely popular with customers who need the same tool as you do.
The plugin has been around for a long time so they definitely know their business and how to cover the maximum number of scenarios, new updates being rolled out throughout the years. This WP booking system is widely used by WordPress developers as well as appointment and scheduling business owners, ease of use and design quality being one of the top highly-rated criteria.
As for details, the list can get really long. It surpasses others in terms of the clean and neat frontend and backend design, supports unlimited services and staff members, adds SMS and email notifications, and more. It's deeply flexible for setting up booking slots and creating individual calendars and working hours for members; Google calendars can be linked.
It's easy to connect online payment processing with available add-ons (extra cost) or WooCommerce; cash on delivery is also available. On the cons side, the list of premium extensions (you need to pay for a piece of dedicated functionality) is really long, so if you, for example, need group booking, a staff member online cabinet, include taxes into the service price, etc., you'll need to purchase extras (it's quite often works the same in other appointment plugins WordPress hosts).
Key features:
Unlimited staff members, schedules and services.
Zoom, Google Meet, Zapier and Google Calendar integrations.
Email and SMS notification templates.
12 languages included.
Support for WooCommerce.
Multiple addons you can test in a sandbox.
Pricing: $89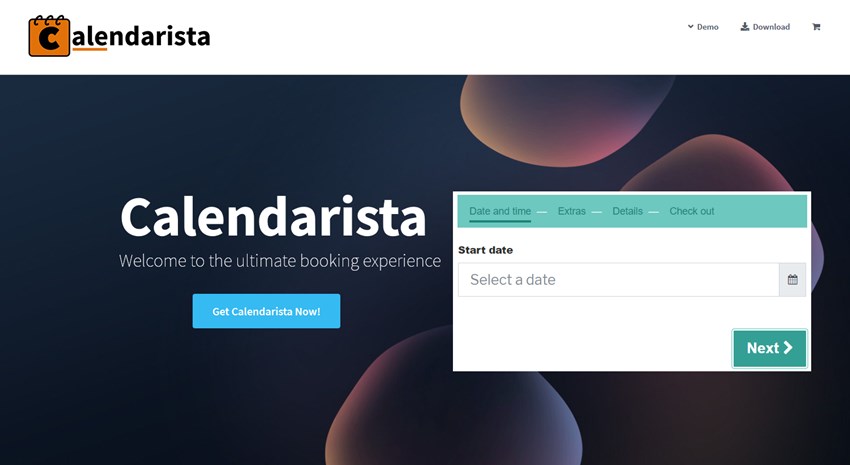 Calendarista is a quite comprehensive appointment plugin WordPress users choose because of the number of features available in the core system.
It handles everything from unlimited bookable services and staff members to group booking, holiday pricing, and payment gateways (including PayPal, Stripe, 2Checkout, and WooCommerce integration for more).
As you see, this scheduling plugin WordPress provides many tools that are very often sold as extra extensions. The Calendarista appointment scheduling plugin for WordPress offers 20 booking modes, including a single day, single day and time, single day with a time range, booking a round trip, and more.
It looks like so far they don't provide SMS notifications like in some other appointment plugins WordPress offers, but automated email notifications are integrated.
Backend design of this WordPress rental booking plugin is neat, you may quickly and intuitively set up the system from A to Z; the frontend design is also very modern and slick, your clients should definitely enjoy it. The plugin is the work of the developer who created the Booki WordPress booking calendar plugin (we believe aiming to make Calendarista a more modern and comprehensive version) so he definitely knows this area inside out!
Key features:
Integrations: Zapier, iCal, Google Calendar, Apple Calendar, and more.
The ability to add custom bookings fields.
Stripe, PayPal and WooCommerce integrations.
Support for the seats availability.
Support for WPML and Polylang to translate the plugin texts to other languages.
Support for discount coupons and deposits.
Fully customizable employee schedule (holidays, days off).
Pricing: $79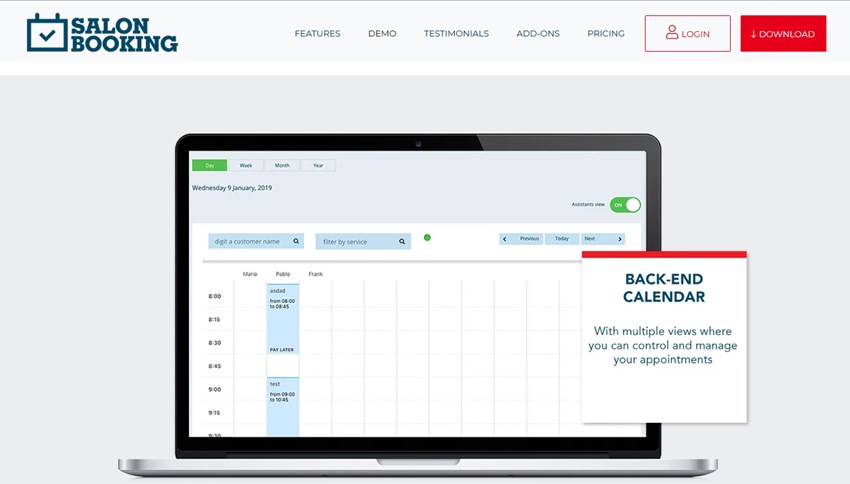 The given appointment booking WordPress plugin from an Italian developer has all the industry-standard features you need to build a self-sustainable appointment business.
It seems that this reservation plugin WordPress is dropping behind a little just because it's advertised as a very niche-specific solution (salon booking) but people usually type in "appointment plugin WordPress" when they need to find something like Salon Booking. However, its functionality seems to be of high quality and diversity meaning it fits all business industries – from beauty salons & hairdressers to home-service appointments, tutors, etc.
The plugin suits both small establishments with several service providers and enterprise-grade multi-salon chains, where the latter can have their setting with a separate manager and assistants. Of course, multi-location is available to support this feature.
This WordPress booking plugin with payment offers PayPal and Stripe built-in, but you'll need to pay for other payment gateway extensions. The Google Calendar hook-up and SMS notifications are available.
I think the most prominent benefit of such best WordPress appointment scheduler plugin is that it doesn't charge for every feature, almost all essentials for an appointment plugin WordPress is available in the core functionality.
It comes with numerous translations so it's going to be easier to adapt the plugin to your needs despite your location.
Key features:
Google Calendar sync and SMS notifications.
Fully-featured backend calendar for bookings.
Multiple advanced booking rules to run bookings the way you want.
Advanced service customization.
PayPal, Stripe, Pay on site.
Advanced discounting system.
Booking reports.
Support for multiple languages.
Pricing: $69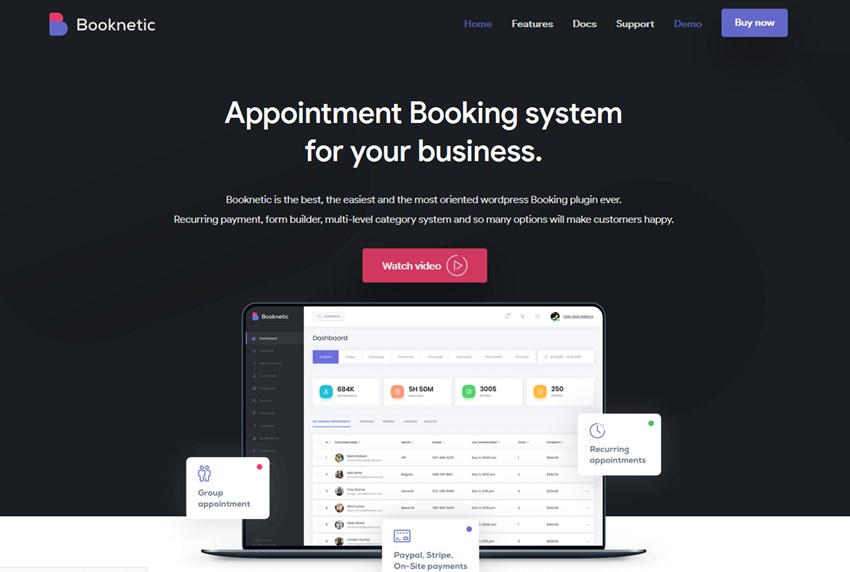 Booknetic is another awesome WordPress booking plugin with payment, which is relatively new on the market but it's surely gaining traction. The pack of features that comes with this plugin is quite standard, but the plugin differs by an ultra-modern design, which is perfect for mobile bookings in the first place. It also supports multiple locations, services, staff members, and categories.
It's capable of centralizing all the data in one place; it also supports SMS and email reminders, PayPal, Stripe, WooCommerce, and Google Calendar integration.
The design is fully customizable letting you reach an awesome brand look with any WordPress theme. The plugin so far has five out of 5 stars based on 9 ratings. And yes, it's very affordable among other appointment plugins WordPress has to offer.
Key features:
Multiple integrations: Amazon SNS, Mailchimp, Telegram, Razorpay and more.
Numerous addons for adding specific features (taxes, coupons, invoices, SMS, etc.).
Support for group and recurring appointments.
Gift cards.
Reminders.
Booking form builder, plus multiple widget appearance customization tools.
Customer accounts.
Pricing: $79

Such a WordPress appointment scheduling plugin is initially tied to WooCommerce, which means you get a trustworthy and powerful eCommerce and booking base with this plugin. But it's a bit broader than its counterparts since you may also sell products and services in addition to time-based appointments. It also applies to more niches, such as hotel bookings or car rentals.
The WordPress reservation plugin comes with numerous booking modes, allowing you to sell single-day bookings, multiple-day bookings, flexible ones with a fixed start and end date, recurring bookings (requires a separate add-on), and more. As you can see, it's deeply flexible in terms of time slots and reservations, also allowing you to add buffer time between bookings.
Customize the availability by blocking dates and times, weekends, months, and seasons. SMS notifications are not supported but automated email reminders can be fully configured. WooCommerce lets you set up partial and full online payments with any payment gateway.
The features like Google Calendar sync, individual and group bookings, extra services, etc. are packed as well. You might also adjust the plugin to the needs of the hotel booking and rental property.
If you, however, need a dedicated WordPress booking plugin for hotels or vacation rentals, you should definitely give it a try to MotoPress Hotel Booking. It's one of the top-chosen solutions for property owners to automate reservations.
Key features:
Traditional booking and availability calendars.
Single-day and multiple-day bookings, etc.
Dynamic booking cost calculation.
Flexible booking cost management.
Fully customizable availability.
Email reminders.
Add custom booking fields.
Individual and group bookings.
Pricing: $99 for a single site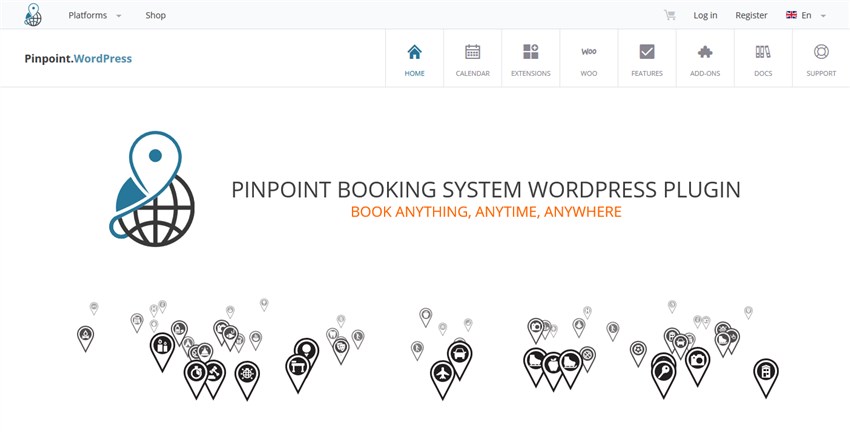 PinPoint is a popular WordPress appointment booking plugin that fits different businesses ranging from small salons and event planners to resorts. Days and hours can be booked through handy categorized availability calendars with this reservation plugin WordPress users employ on many types of websites.
I believe this plugin is one of the most used appointment plugins for WordPress utilized by thousands of users. It also offers one of the most flexible and feature-rich systems for appointment reservations and scheduling. It's currently being optimized for platforms other than WordPress, which is a sign of a time-tested and reputable solution.
It supports some business-specific features as morning check-outs, multi-currency, discounts and vouchers, built-in 2Checkout, Authorize.Net, Braintree, Icepay, Mollie, Stripe, Wepay, and WooCommerce integration for any payment gateways, searches availability through all calendars at a time, SMS and email notifications, iCalendar and Google Calendar sync, etc.
You have control over your reservations through a handy admin panel, which is also possible for WordPress multisite.
Key features:
Hourly as well as daily bookings.
Powerful administration area.
Multiple extensions (discounts, taxes and fees, coupons).
iCal synchronization with different calendars (e.g. Google Calendar).
SMS and email notifications.
8 payment gateways to choose from – 2Checkout, Authorize.Net, Braintree, Icepay, Mollie, Redsys, Stripe or Wepay.
Pricing: 1 site is $70 per year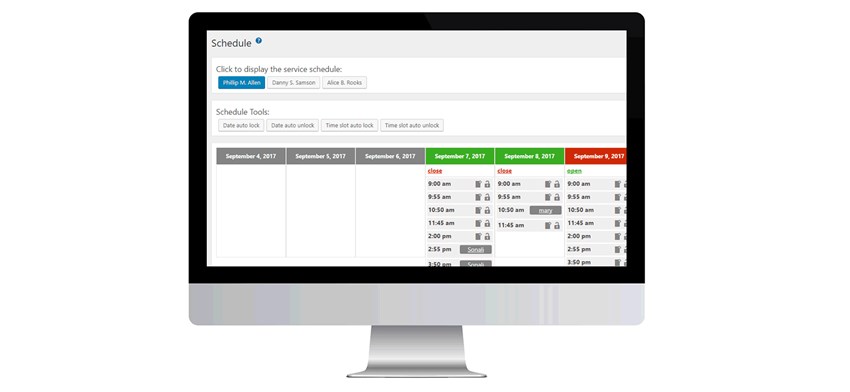 Webba Booking is another robust plugin for appointment scheduling on WordPress that offers a great range of integration options (Google Calendar, iCalendar, WooCommerce, Contact form 7).
It's fully equipped with necessary tools, such as numerous design presets, group booking, CSV export of bookings, unlimited services and calendars, and more (they did a great job of a semantic division of features so make sure to check it out).
You can collect tax-enabled payments through PayPal and Stripe without extra charges (and also WooCommerce).
Webba becomes your go-to best WordPress appointment plugin solution if you need to build a fully-fledged booking website with deeply customizable design, integrations, and functionality.
Key features:
Multiple options to customize the widget design.
PayPal, Stripe and WooCommerce for online payments.
Multiple time slot selection.
Email notifications.
Group bookings.
Pricing: $89 per year/per site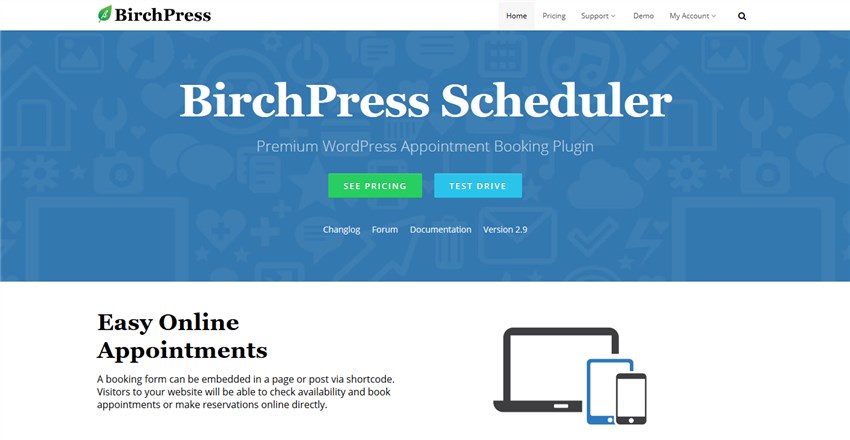 The BirchPress appointment booking system also ensures the must-haves when it comes to creating a fully running WordPress appointment calendar and a booking system for WordPress.
The BirchPress WP booking calendar may be used as a doctor appointment plugin for WordPress, in education, auto, and home services, and more cases where you need hours or dates to be booked. It covers unlimited locations, providers, and services. The work schedule of each employee can contain exceptions.
Just like other appointment plugins WordPress, BirchPress offers a quick and hassle-free way of setting up the WordPress reservation system.
The reservation WordPress plugin supports iCal-based calendars to sync your appointments with personal calendars and stay up-to-date with the upcoming schedule. PayPal is integrated at no extra cost but for more tools, you'll need to hook up WooCommerce.
Additionally, the WordPress calendar schedule plugin has a specific developer's scale giving developers a range of functions, hooks, and filters to tailor the plugin to meet specific client's needs.
Key features:
Integrations with iCalendar sync (Google, iCal, iPhone, Android, or Outlook).
Email notifications and reminders.
Handy form editor.
PayPal and WooCommerce for payments.
Tools for developers.
Pricing: $99
Over to you: There is no one-size-fits-all appointment plugin WordPress can offer
All these great appointment calendar WordPress plugins allow you to build a booking system for easy appointments, no matter you are a small salon or a multi-chain service provider. But you are the one to make up your mind, so make sure to create your own checklist and go through all the needed features you are interested in.
It would be unfair to call the MotoPress Appointments plugin "the best WordPress scheduling plugin" out of all options on the list. But what we can surely say is that the created software corresponds to its value 100% solid.
Amelia, Bookly PRO, and Pinpoint are the most feature-rich tools when it comes to flexibility and design, although their pricing policies and features available in the core plugin are different.
Booked is a great WordPress booking system that ensures quick and simple appointment booking.
Bookme is the most affordable premium WP booking calendar that at the same time doesn't significantly fall short of others.
Salon Booking is a very straightforward plugin with numerous dedicated tools for appointment bookings of all sorts, including multi-chain and enterprise-grade features.
Calendarista Premium allows users to run a WordPress appointments business, including a good range of payment gateways and integrations.
Booknetic is a fresh plugin with a very modern design and all the required functionality in place (doesn't seem to have any bad rating so far!).
The Webba Booking WordPress booking system offers one of the biggest numbers of integrations.
WooCommerce Bookings and Appointments are the best choices for those who need more tools than just time-based appointments (e.g. sell products with WooCommerce).
BirchPress is one of the old standbys you can rely on for the vast majority of bookings.
Hubspot WordPress Plugin is a great way to go if you want to use a combo of a meetings scheduling plugin and a powerful marketing platform.
So which one of the appointment plugins WordPress may offer would you go with? Don't forget to tell us in the comments.