10 Free Booking Activities WordPress Plugins: Best Options
The variety of booking activities WordPress plugins provided for the world's leading CMS allows the creation of exceptionally multifunctional websites for hotels, restaurants, beauty salons, and any businesses that require appointment scheduling. In today's post, we have prepared a selection of 10 free booking plugins for the popular platform to help you choose one that fits you the most, especially when it comes to tour and activity bookings.

Below we have gathered our top 5 picks of the solutions listed in this guide:
| Plugin | Author | Rating |
| --- | --- | --- |
| MotoPress Appointment Booking Lite | MotoPress | Not Rated |
| Bookly | Bookly | 4.5 |
| Booking Activities | Booking Activities Team | 5 |
| Yatra | MantraBrain | 5 |
| BookingPress | Repute Infosystems | 4.5 |
Top 10 Free Booking Activities Plugins for WordPress
Many WordPress plugins for booking activities can positively transform your website and make it more appropriate for scheduling appointments.
Moreover, any successful plugin, such as an online booking system for tours and activities, needs to provide effective reservation management functionality for customers and website owners. They allow for easy integration of booking features even into already developed or just launched WordPress websites. Let's take a look at these plugins and what benefits they have to offer.
1. MotoPress Appointment Booking Lite

One of the first mentions on today's list is MotoPress Appointment Lite. This is one of the free booking activities WordPress plugins designed for easier scheduling of appointments with your clients.
It comes with a wide selection of features that would fit barbershops, business consultants, teachers, therapists, and many other business spheres, including activities, such as boat or walking tours. For example, this solution is perfectly integrated into the Touriny theme for travel agencies, built by the same developer.
Thanks to easy-to-use widget and block editor support, you can add booking functionality to any modern WordPress theme. Here are some of the advantages included with it:
Easy & powerful booking management;
Color-coded bookings calendar;
Payment records and coupon codes;
Automated appointment reminders with customizable triggers;
Individual schedules for your employees;
In the PRO version of the plugin, you get much more instruments, such as payment & calendar integrations, and powerful management tools.
| Name | Author | Price | Installations |
| --- | --- | --- | --- |
| MotoPress Appointment Booking Lite | MotoPress | Free | 300+ |
2. Booking Activities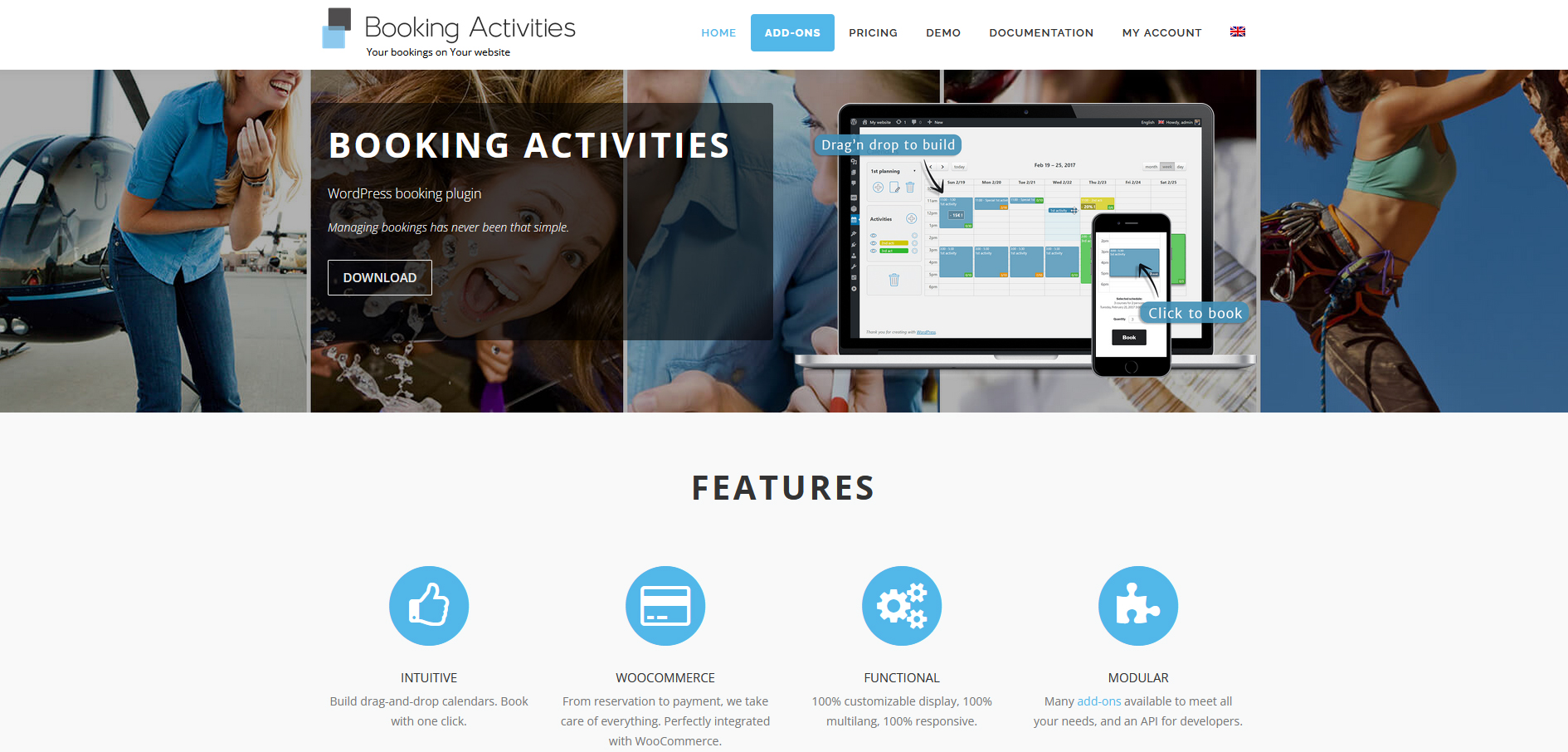 The next plugin on our list is Booking Activities. It is an intuitive solution for scheduling and booking on your WordPress website. This activities booking software comes with a bunch of great features that allow it to be used not only for reservations but also for receiving payments on your website. Additionally, it is a ready-made solution that offers numerous benefits:
Drag & drop schedule with customizable activities;
WooCommerce support;
A variety of shortcodes included;
Event grouping;
Permission management system.
| Name | Author | Price | Installations |
| --- | --- | --- | --- |
| Booking Activities | Booking Activities Team | Free | 5,000+ |
3. Yatra

Yatra is an online booking system for tours and activities that can be used by travel agencies for easier reservations.
It is a scalable and SEO-ready solution that supports diverse payment gateways and allows you to modify pricing for every tour that you sell online. It is one of the flexible booking activities WordPress plugins that have the following features:
Booking calendar & inquiry form;
Dynamic frontend tabs and pricing tables;
PayPal payment gateway;
Diverse tour categories;
Discount coupons & tax options;
Unlimited itineraries.
| Name | Author | Price | Installations |
| --- | --- | --- | --- |
| Yatra | MantraBrain | Free | 1,000+ |
4. WP Travel Engine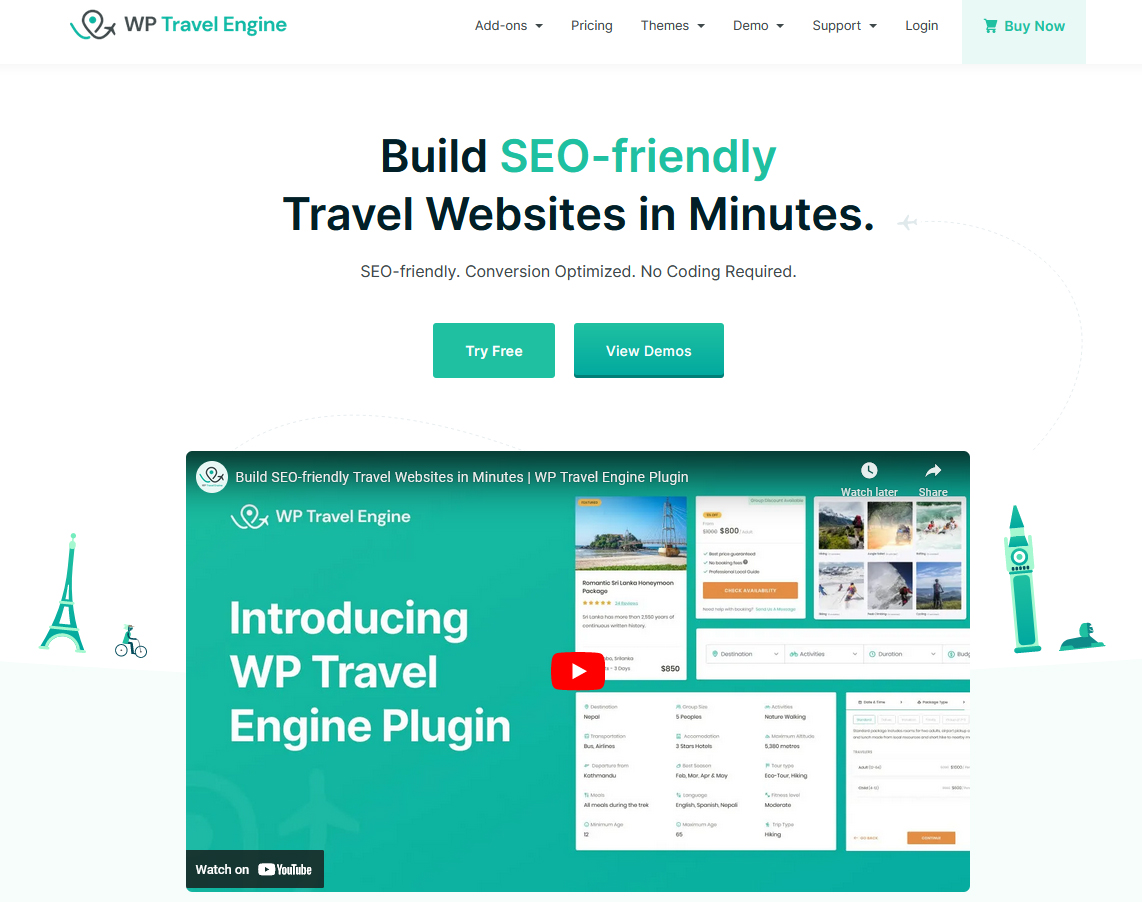 Another WordPress plugin built specifically for tour agencies is WP Travel Engine. According to its developers, this solution was built to create travel booking websites quickly. Indeed, this activities booking software has everything necessary to allow you to create a full-fledged travel website. For example, here are some of the features offered with this WordPress booking activities plugin:
A powerful itinerary builder;
Advanced search system;
Progressive booking process;
Dashboard for guests and travelers;
Schema integration;
Wide range of supported payment methods.
| Name | Author | Price | Installations |
| --- | --- | --- | --- |
| WP Travel Engine | WP Travel Engine | Free | 10,000+ |
5. BookingPress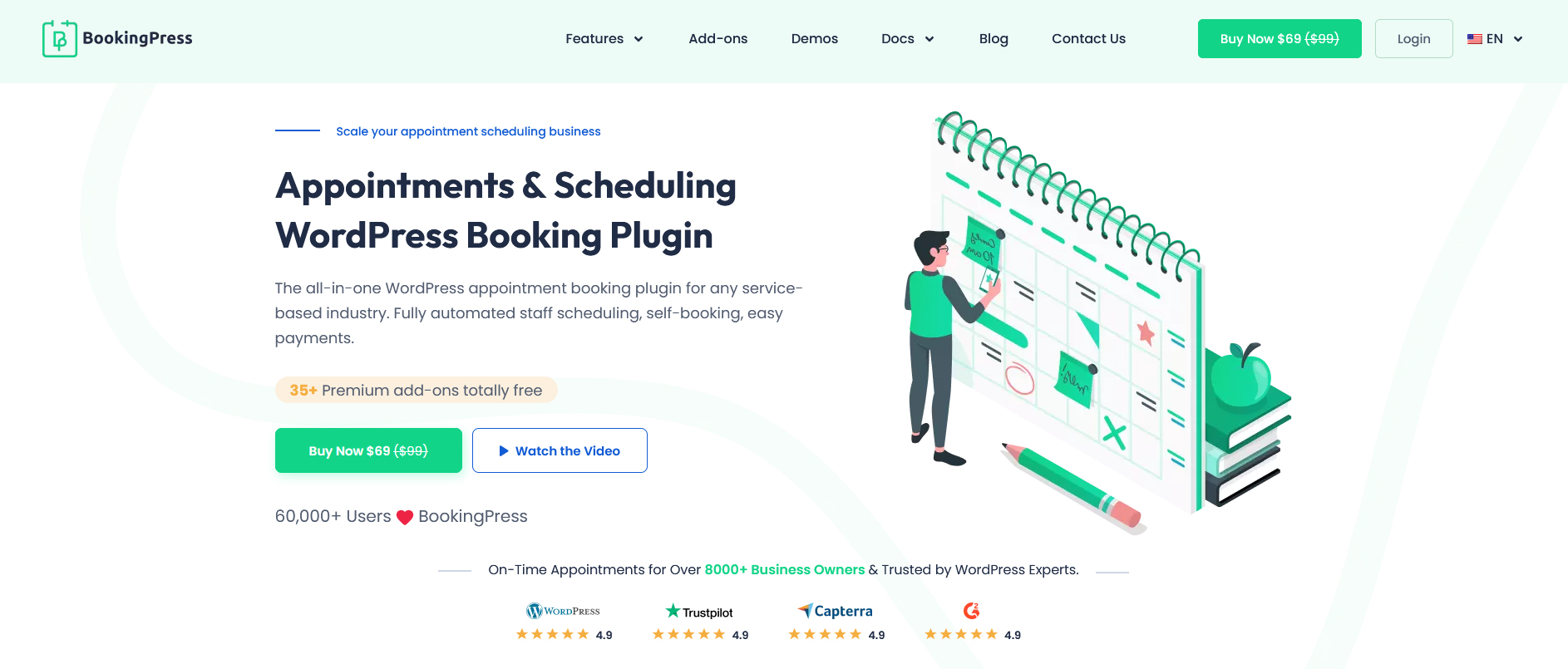 If you are looking for a complete system for booking activities, the BookingPress plugin may be a suitable choice. It is a fitting solution for many organizations. From real estate agencies to driving schools, any business can benefit from using it. Due to the well-developed notification system, your clients will never miss an appointment again. Besides, this plugin is filled with awesome features, such as:
Smooth UI and UX design created specifically for appointment booking;
Interactive wizard to help you customize the activity booking experience;
Easy appointment management with Calendar View;
Email notifications;
Online and offline payments with PayPal support;
Suited for Elementor and Gutenberg editors.
| Name | Author | Price | Installations |
| --- | --- | --- | --- |
| BookingPress | Repute Infosystems | Free | 8,000+ |
6. Booking Calendar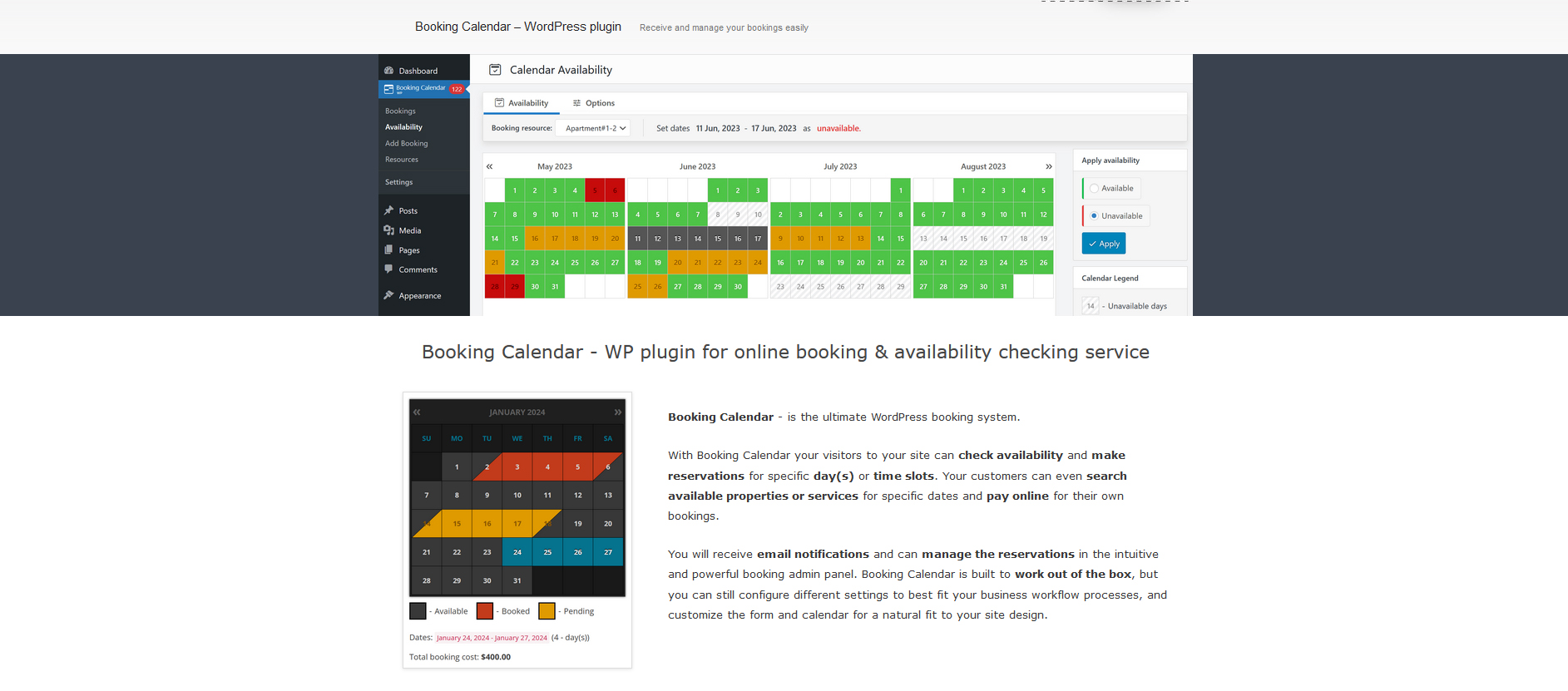 If you are looking for a simple but effective solution for your booking activities WordPress website, the Booking Calendar plugin may be a fitting option. This solution provides an easy-to-use listing interface that allows you to manage bookings with a few clicks. It also includes a calendar view that offers a simple display of current appointments. Moreover, it comes with a set of additional advantages:
Configurable booking form;
Effective booking management system;
ICS feed support (Google Calendar, Airbnb, VRBO, etc.);
Customizable email templates for tailor-made notifications;
Modern interface with widget support.
| Name | Author | Price | Installations |
| --- | --- | --- | --- |
| Booking Calendar | wpdevelop, oplugins | Free | 60,000+ |
7. Appointment Hour Booking

The Appointment Hour Booking WordPress plugin is an online booking system for activities with a user-friendly visual representation of events and appointments. It can be used to help your customers order your services in just a few simple steps. Moreover, this solution is a suitable choice for event reservations, medical service providers, resource booking, etc. Due to the wide variety of included functional advantages, this WordPress plugin can be your key to solving any issues with scheduling and appointments. For example, here are some of the included features:
Easy & powerful visual configuration in the booking activities software;
Individual prices and durations for each service;
Automatic price calculation;
Ready-made blocks for popular website editors;
Form validation & email notifications.
| Name | Author | Price | Installations |
| --- | --- | --- | --- |
| Appointment Hour Booking | CodePeople | Free | 20,000+ |
8. Bookly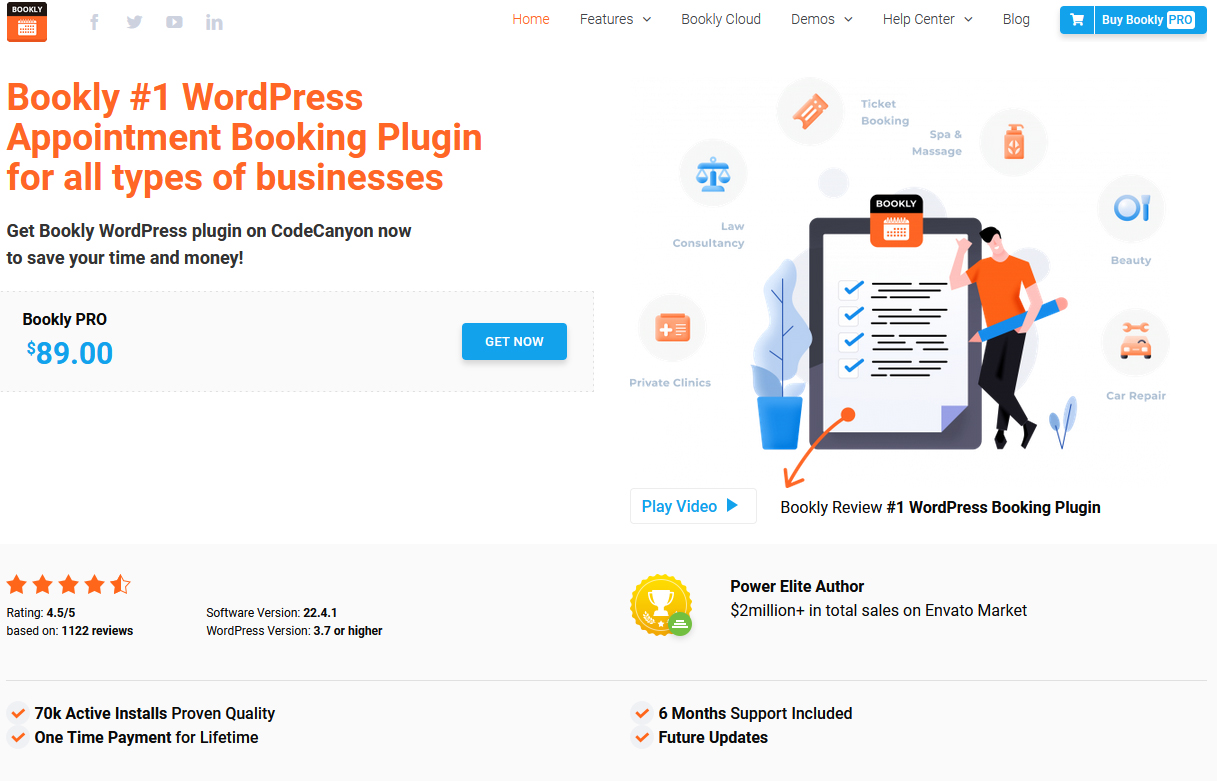 The next plugin is also a great option for your booking activities WordPress website if you want to get started with free yet multifunctional activities booking software.
Bookly provides a variety of options for website owners who need a practical solution for appointment scheduling. It works in a slightly different way – you create tour or activity pages and then place an individual availability calendar created with Bookly onto them. That is, there is no activity selection as in other plugins.
Due to its friendly user interface, you'll be able to set up every part of your booking system in a few minutes. Additionally, Bookly contains the following benefits:
Detailed and user-friendly appointment calendar for easier scheduling;
WPML-ready interface and notifications;
Pre-defined values for Category, Service, and Employee form fields;
Automated SMS mailing campaigns;
Time zone support & search filters for the calendar.
| Name | Author | Price | Installations |
| --- | --- | --- | --- |
| Bookly | Bookly | Free | 70,000+ |
9. Booking Calendar Appointment Booking System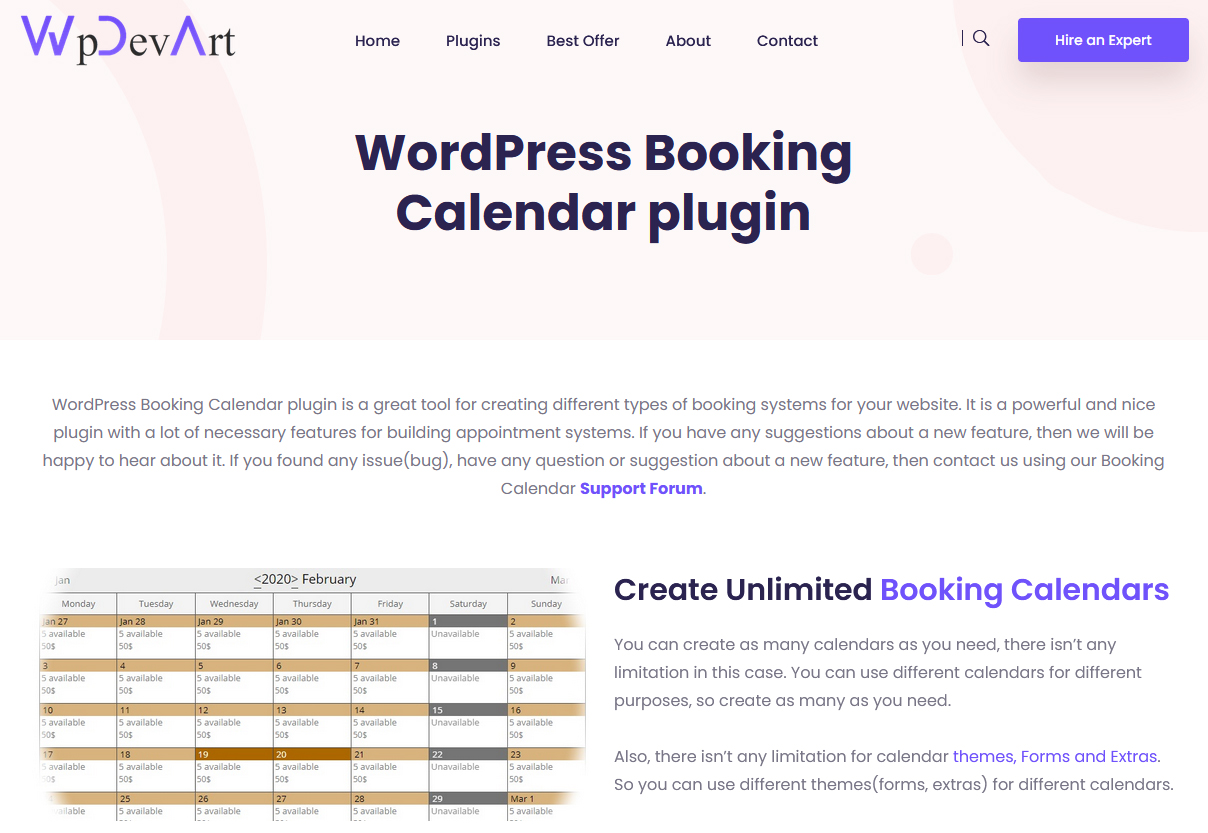 Another simple and user-friendly tool for effective booking activities is the Booking Calendar WordPress plugin.
Despite having a similar name to one of the previously mentioned activities booking software solutions, its functionality is slightly different. It provides all the essential features required for any modern site with appointment functionality.
Moreover, it is a great fit for a hotel website. For example, the plugin has a dedicated booking admin panel to help you effectively work with any amount of customer requests. Furthermore, it allows you to display the reservation calendar as a widget alongside other awesome benefits, such as:
Responsive forms and UI;
Diverse themes for your reservation forms;
Unlimited text, checkbox, and text area fields;
Price and availability options;
Filters for reservation search.
| Name | Author | Price | Installations |
| --- | --- | --- | --- |
| Booking Calendar | WpDevArt | Free | 4,000+ |
10. Webba Booking Lite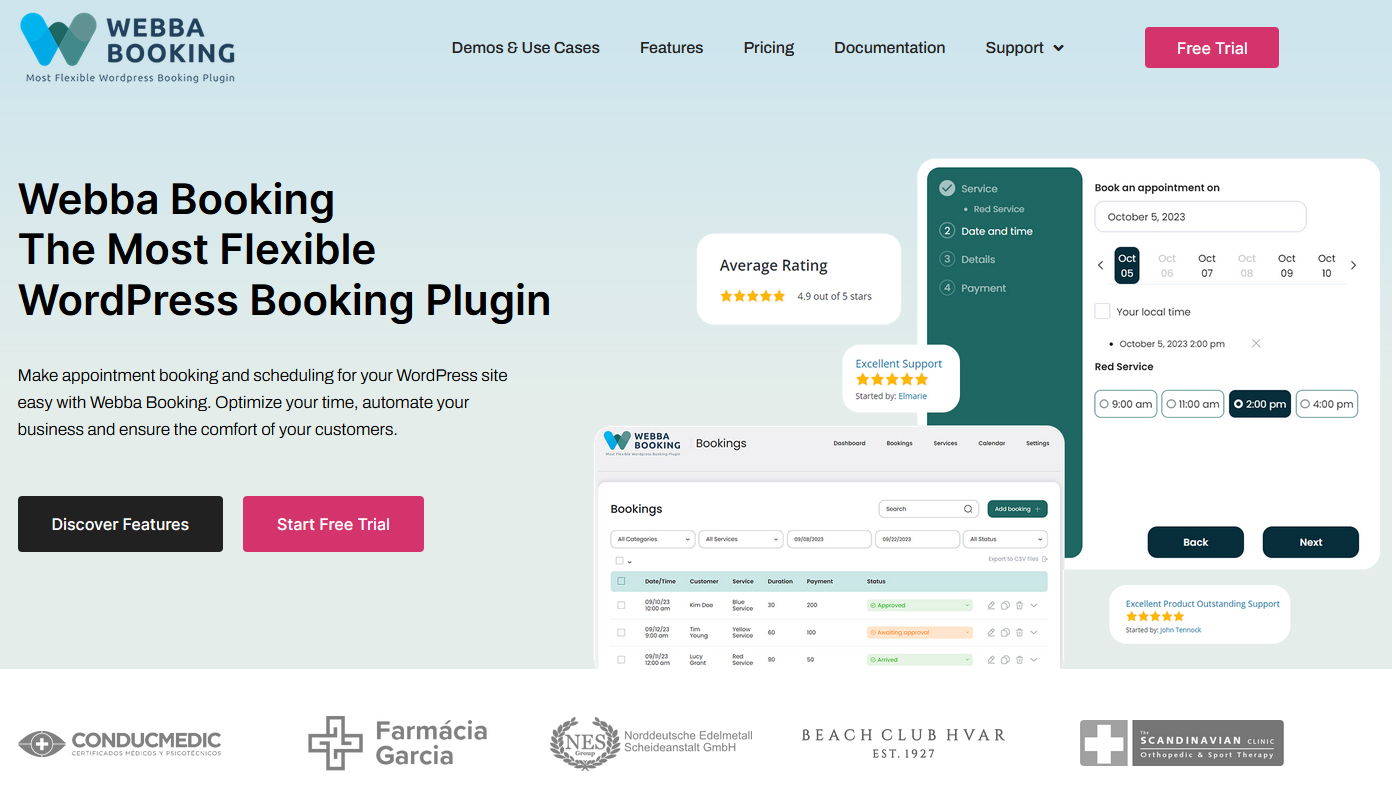 The last mention on today's list of booking activities WordPress plugins is Webba Booking Lite. This plugin is designed for easier management of appointments and event booking. According to its developers, the solution is the best pick for wedding coordinators, hotels, and small businesses – but since it supports group bookings, it's also suitable for activity and tour reservations on WordPress.
It allows for simple backend administration of your booking system without any unnecessary coding. Moreover, it comes with a wide set of useful advantages, for example:
Group & chain booking;
Pricing rules;
Editable booking forms;
Support of WooCommerce, PayPal, and Stripe payment gateways;
Google Calendar integration;
A variety of UI design presets.
| Name | Author | Price | Installations |
| --- | --- | --- | --- |
| Webba Booking | WebbaPlugins | Free | 2,000+ |
Conclusion
With such a variety of activities booking software for WordPress, it may be hard to choose something right away.
Whether you need to get a fully functional appointment management system or just need an effective way to accept bookings, any of the abovementioned plugins can be a great choice for your business. Still, there are some notable features to look for when choosing a WordPress booking activities plugin:
Customizable calendar with a widget to place it anywhere on your website;
A user dashboard for your clients to edit their bookings;
Group bookings for activities with multiple participants.
Email and SMS notifications to keep your clients updated;
Separate schedules for your employees with a user-friendly calendar display;
Payment gateway support for easy and fast transaction processing.
While this list has only the most essential features, they surely are necessary if you want your customers to get a top-notch user experience when booking an appointment. And with booking activities WordPress plugins listed in this post, you'll surely find the solution that fits your website the best.