Tour and Travel WordPress Theme for City Tour Bookings: Meet Touriny
How do you create a city tour booking website on WordPress? A dedicated design and a few powerful functionality utilities are what you need. The Touriny travel tour WordPress theme we've recently released is specifically optimized for city tour bookings, so let's review it and see if this is the right launchpad for your business!
What travel industries is it optimized for?
City tours. The theme by default features a list of tours that clients can view and book online. You can set the starting and ending time of each tour in the demo to allow your clients to instantly see the duration of the tours.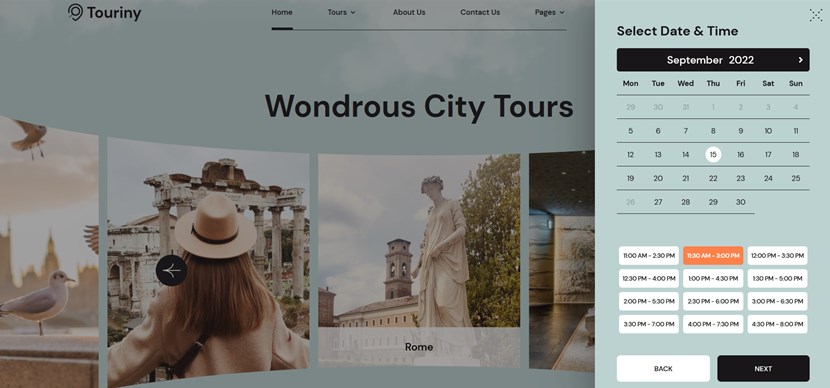 Tourism consultation. Since the theme is based on the service booking solution, you can sell your time for whatever consultations, workshops or meetings you provide.
General travel website. Touriny is also perfect for any type of tourism-related niche, be it ecotourism, cultural tourism, or any other field where you want to present your business, project or hobby.
What can you feature in this template for travel website?
Our tour and travel WordPress theme has many purpose-built blocks for promoting your key services, tours, messages, solutions, and offerings.
Full-screen slider for awe-inspiring images (speed up the next tour booking!)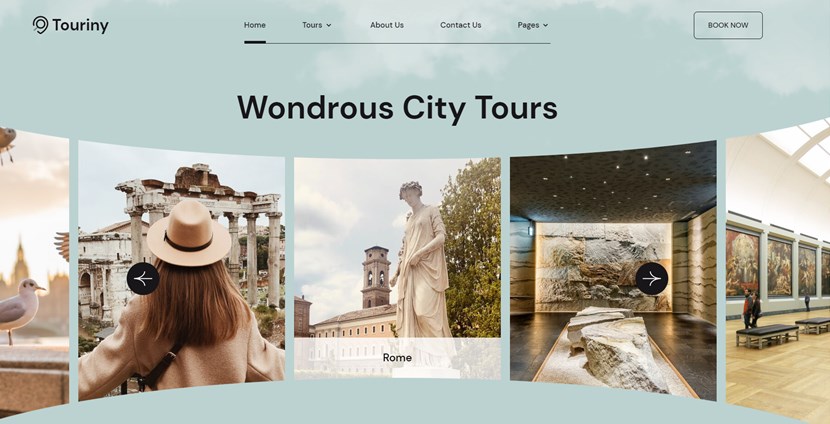 Intro section with the video playing button to help you feature more media content, which is usually loved by customers.
The directory of tours, you can choose which ones to display on the front page.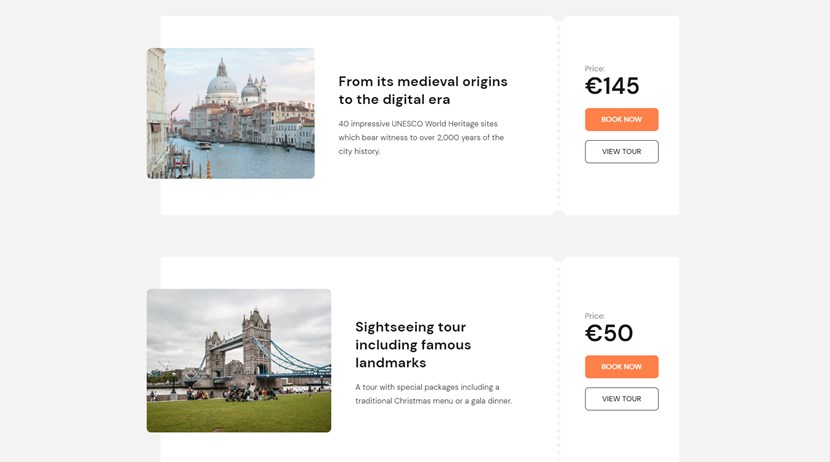 The booking widget for instant tour bookings (the theme has many dedicated places for it, though, including the navigation menus). On the front page, the booking widget section is also supplied with the extra intro section, which means you can use it for the bio section or any other need.

Key features in an instant preview.

Testimonials section to win the trust of your customers. It's built as a testimonial slider so that travelers can go through them.

Create a call-to-action section with images and buttons.

Embed an Instagram widget to showcase some of your media presence in real time and make an even more trustworthy impression on your prospects

For some essential pages, such as Contact us or About, there are also pre-built sections you can completely alter or use in the default format.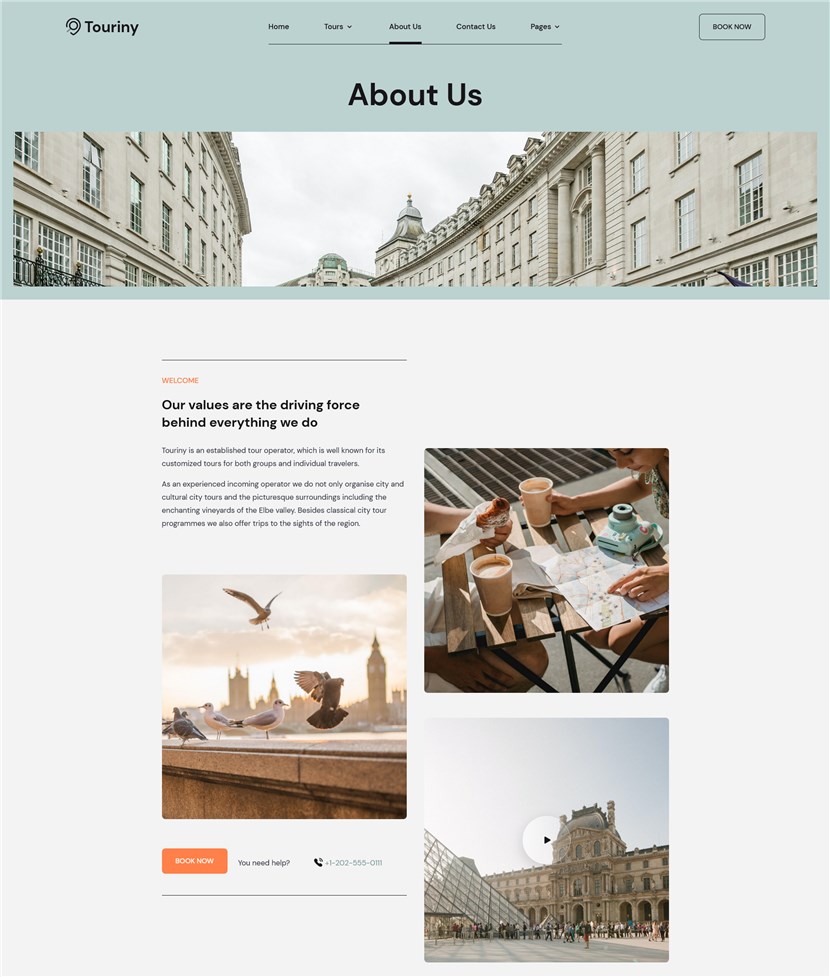 Even more so, there are pre-designed page sections with call-to-action buttons, image galleries and other common content elements that can be used on pretty much every page, i.e., you can move them to the page you need and customize further!
I'm sure you'll need to do a lot of SEO copywriting to push more deals via your website and promote each location for your tours, so we've packed the theme with a wonderful blog, too! We also offer a few designs, grid and list, for it.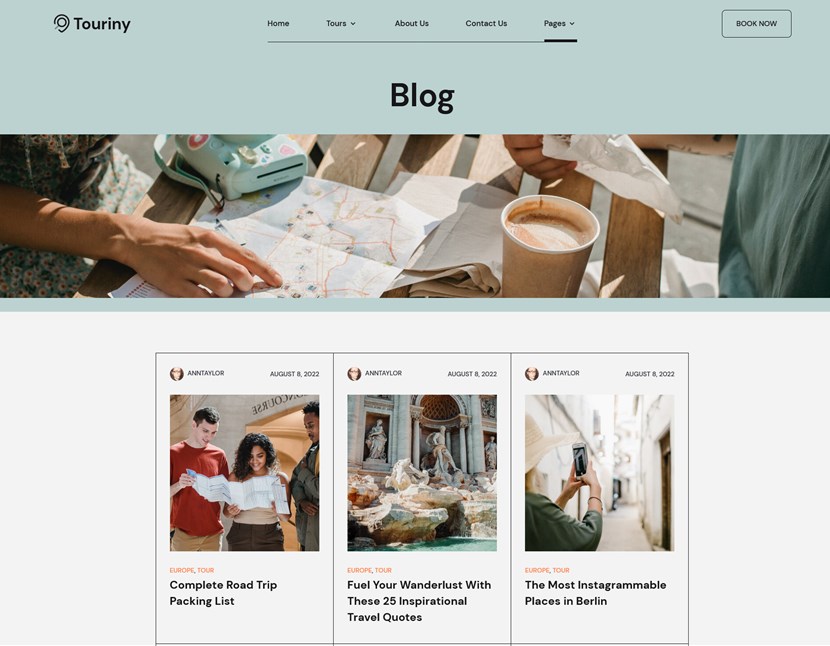 In the WordPress block editor, it's really easy to create a directory of chosen tours on any page: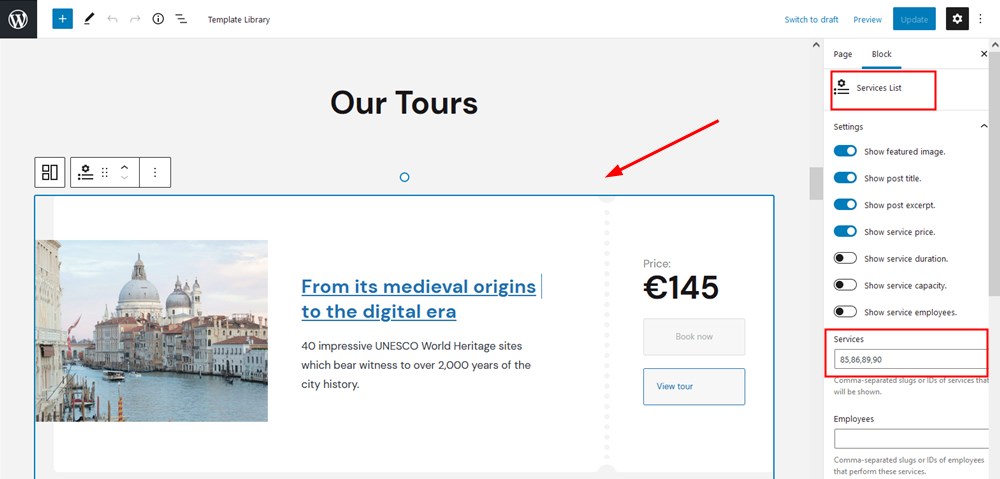 And of course, for all individual tours you can give more details and allow customers to preview tour details: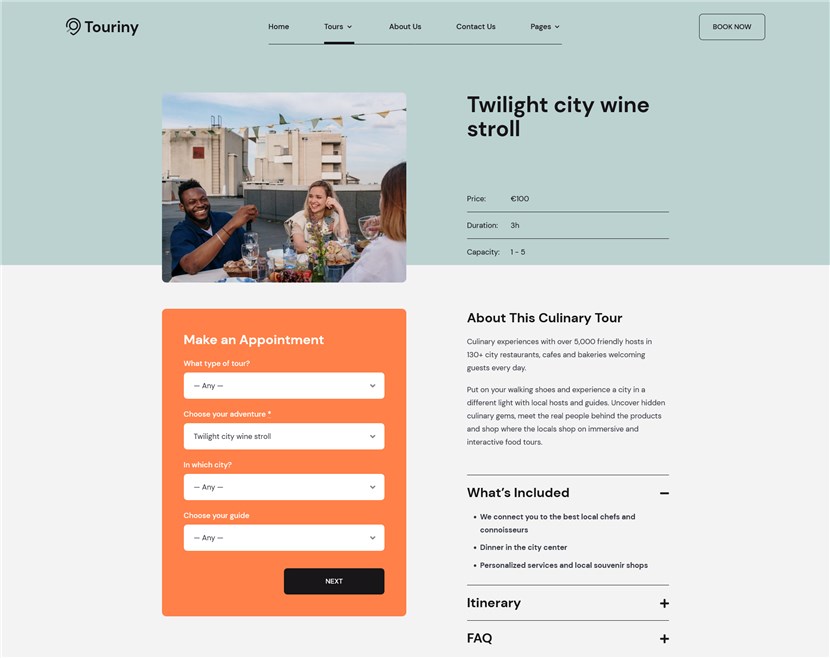 For multiple tours, we've also packed a grid layout that allows you to present multiple tours in a compact way.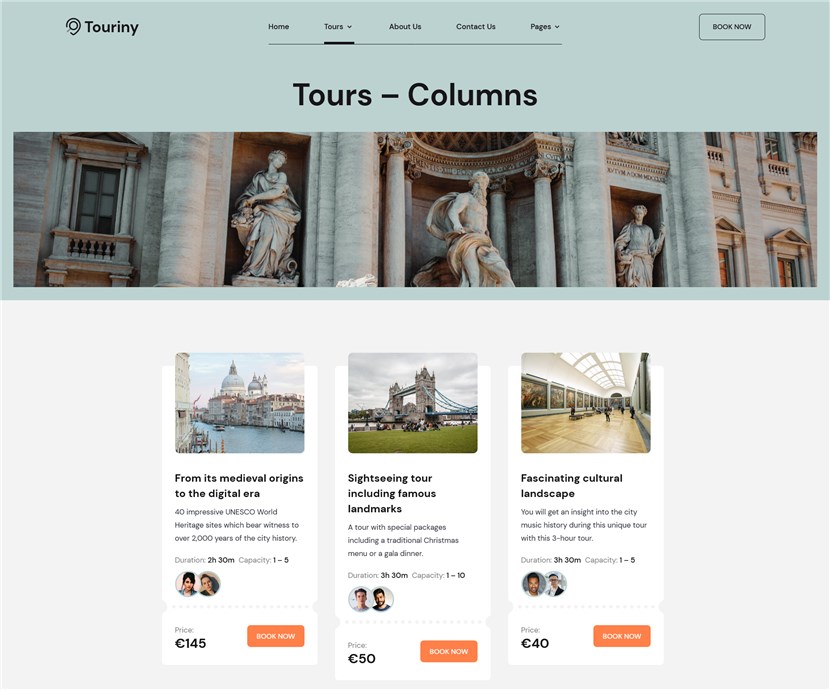 Go to the Touriny demo to take a walk through the rest of the pages.

Touriny under the hood: WordPress plugins pre-integrated
How did we make it all possible you might ask? The Tourinty tour booking WordPress theme is really lightweight, still delivering a few powerhouses.
We have a few tried-and-trusted WordPress plugins we rely on, and, needless to say, these are plugins all built by our team! This means we can always provide the best support for them, updates and improvements.
These include:
The MotoPress Appointment Booking plugin for automating tour bookings with online payments (you can optionally disable the ability to pay online).
Getwid for the website building needs with the native WordPress experiences. It will help you style up your website with tons of extra blocks and design patterns. No haphazard and sloppy looks for your website, tons of blocks are well-organized and pre-styled!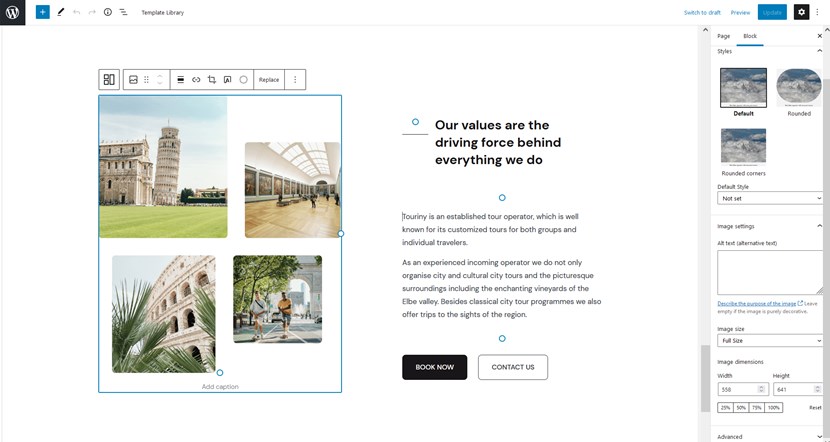 What operations can you automate with Touriny?
Since the Touriny tour and travel WordPress theme is foremost for online tour booking needs, its automatic operations focus on the booking and payment needs.
So it goes in a list format:
Quick tour search via the booking widget filters.
Online tour booking.
Online payment processing via popular gateways, such as Stripe, PayPal or wire transfer.
Payment and booking records in the dashboard.
Email notifications.
Individual account and booking management by your employees.
Adding bookings to the Google Calendar of your guides automatically (if they choose to connect their calendars).
As you see, with a single WordPress theme you also get a full-scale tour and travel management system that sets tons of operational routines on autopilot.
These are just the key ones, you'll surely work with a ton more instruments to optimize for your business needs.
Instant tour bookings in the first place
The Touriny theme is pre-packed with the MotoPress booking scheduling system for WordPress that you can easily optimize to your tour business.
The admin tools offered for it can be boiled down to a few categories:
Scheduler managementFor every tour guide, you can create an individual schedule to specify when and for what tours they are available. It's possible to set days off, vacations and other absence periods.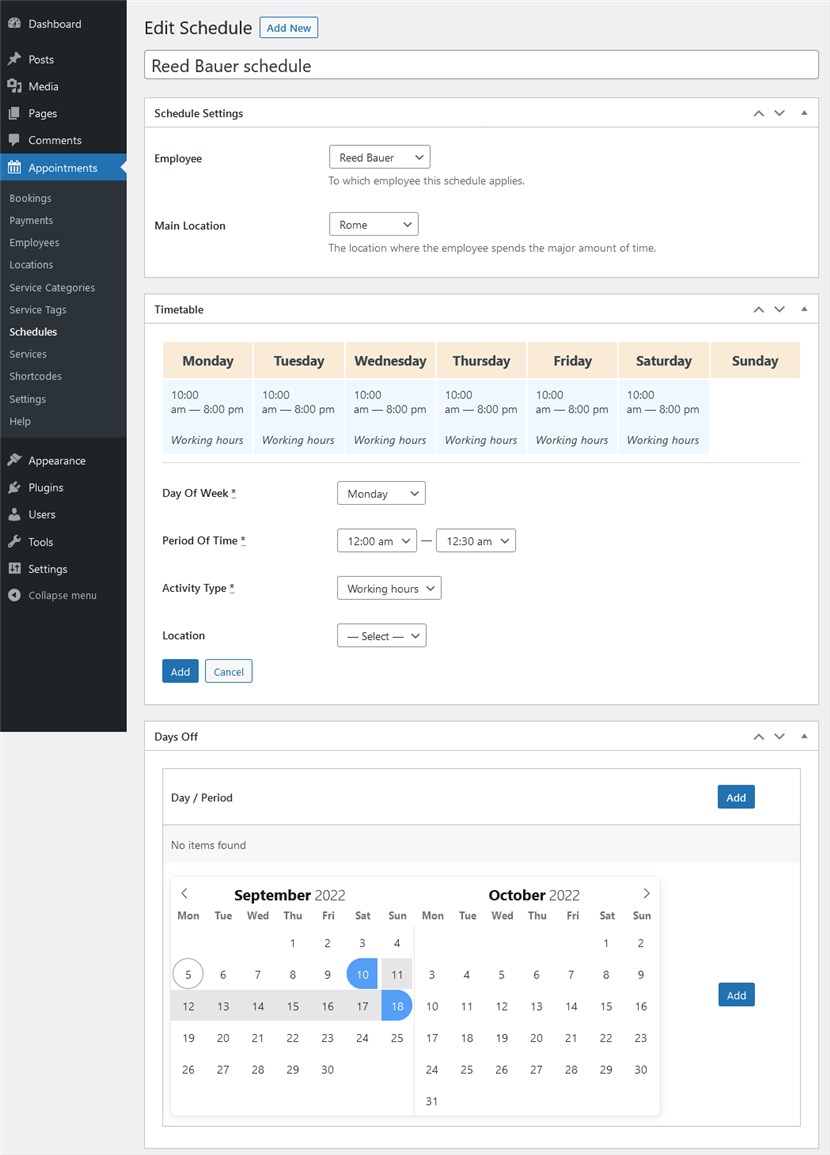 City guide management.Add all your team members, optionally allowing them to manage their own bookings and accounts on your WordPress site. There are sections wherein you can also state contact details about your guides, such as social network links, phone numbers, etc.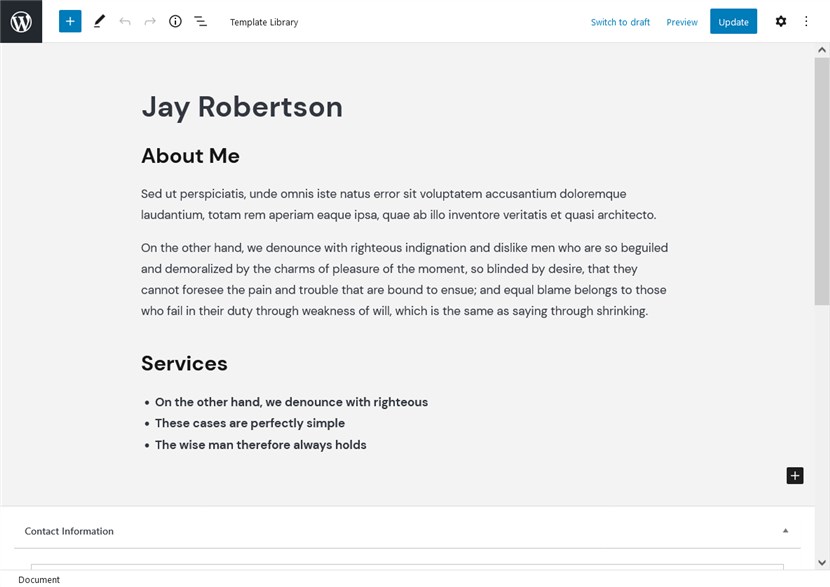 To display some information about your team, you can use the data added via the plugin and the dedicated widget.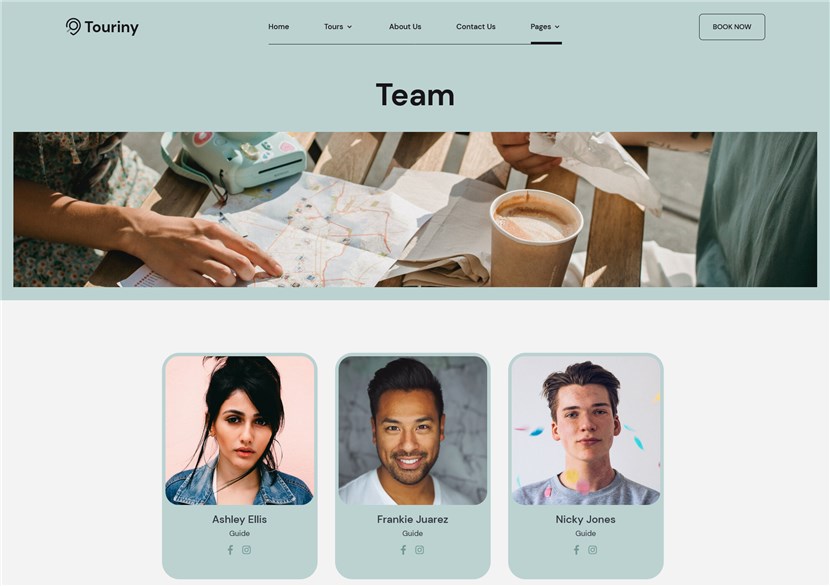 Location management.Add all the needed tour locations to your website, display them in the booking widget, and assign eligible city guides to the needed locations. And that's it!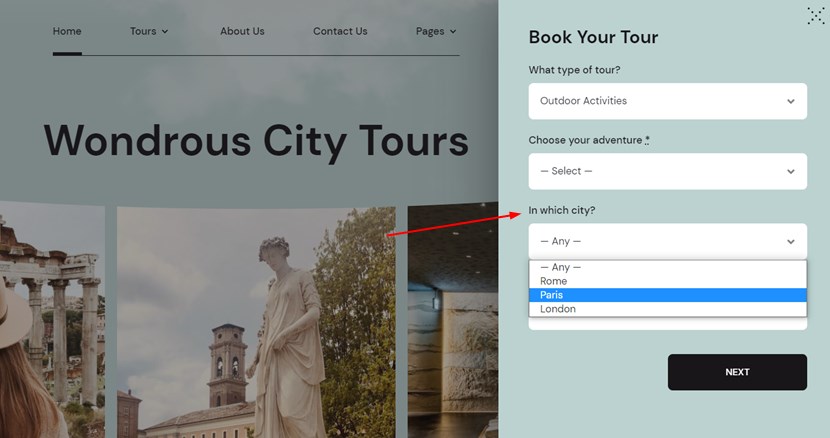 Payment collection for tours
So how does the tour booking widget in Touriny work? It's a pretty intuitive, step-by-step widget with smooth one-page operations.
From the traveler's perspective, the booking and payment process is as follows:
Using search filters in the booking widget, travelers choose the tour category, the actual tour, and optionally a guide (why not? Probably you already have loyal customers!)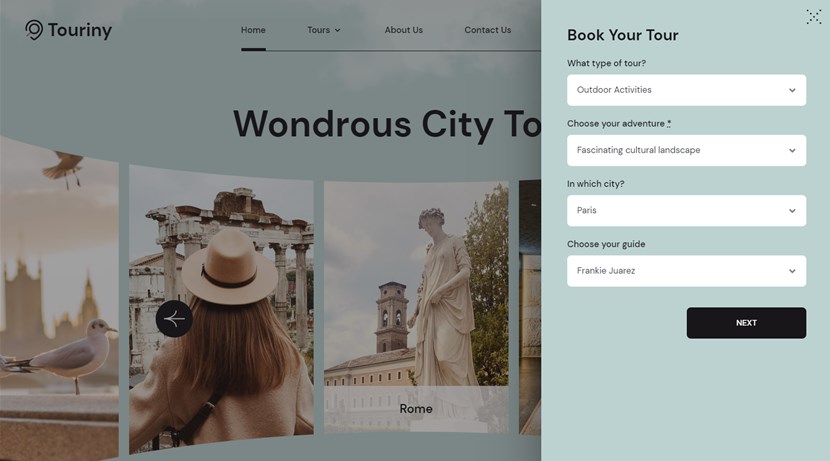 On the next step, it's required to select the preferable time and date among available ones that are left.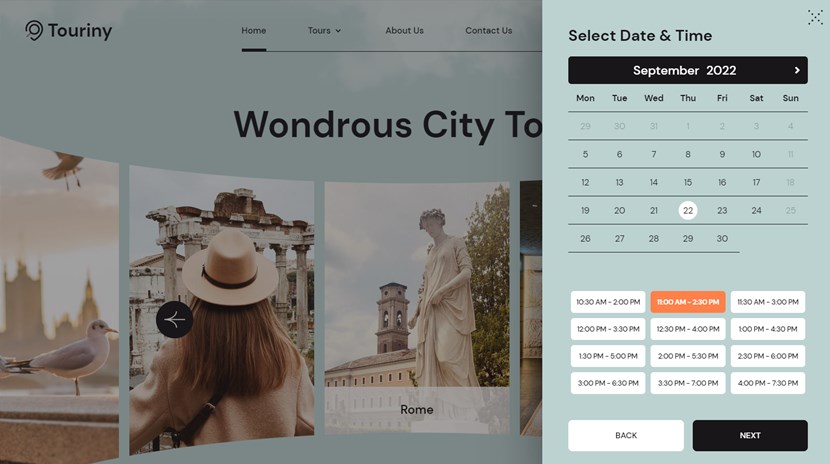 Next, if a customer wants to bring more people with them and if you offer this possibility, it's required to choose the number of attendees.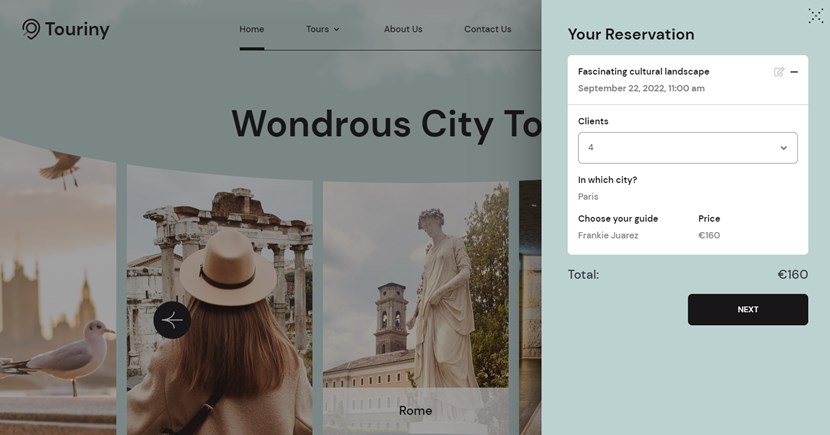 It's worth mentioning that in the plugin settings, you can set if the tour price must be multiplied by the number of people or it already includes the cost for the maximum number of people for one tour.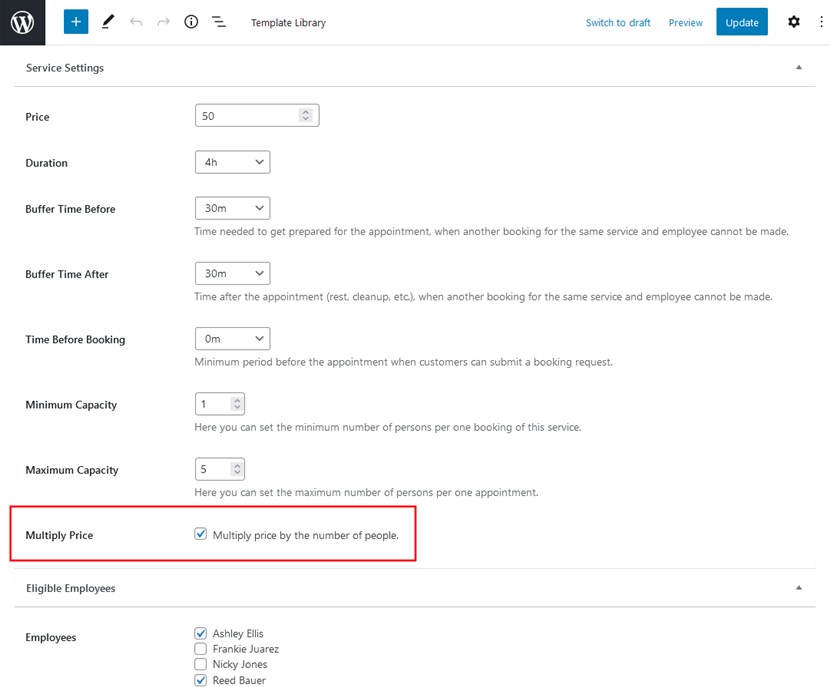 Customers provide their contact information.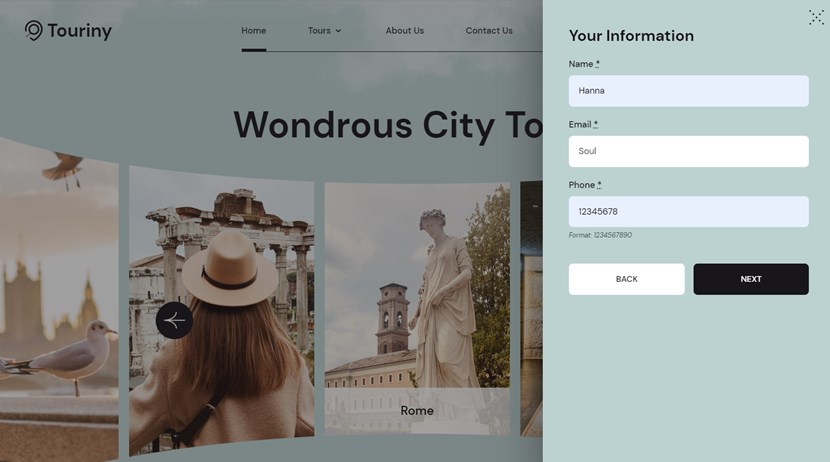 Remember that you can place the booking widget as a WordPress block to any section on your travel website, even into the widget areas, which are in the header & navigation menu sections.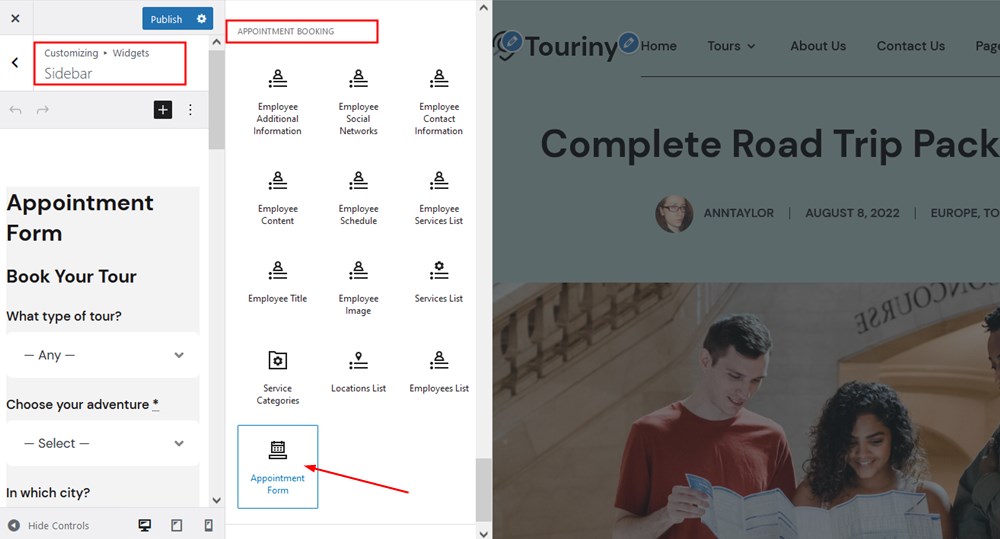 As a tour booking confirmation step, it's required for customers to either pay online (if you enabled any payment methods) or just click 'book' to submit it without a payment for further manual confirmation.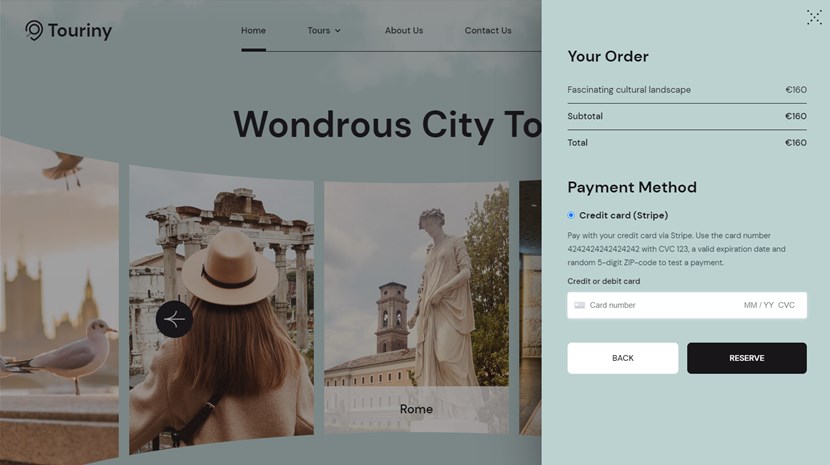 Booking confirmation
As a travel website administrator, you can choose how to approve bookings you receive through your tour booking WordPress theme online.
Automatically
By admin
By payment
As for payment options, once again, it's free of charge to connect Stripe or PayPal, as well as offer your clients the pay on arrival or direct bank transfer options.
For an extra fee, you can connect our dedicated WooCommerce Payments addon, which is built specifically for the Appointment Booking plugin. Almost all world popular gateways you can think of can be wired up via WooCommerce, in button clicks.
Booking statuses can be also controlled manually, that is, you can update each reservation with the 'Confirmed', 'Canceled', or 'Pending' status manually.
I forgot to mention you can add bookings by hand to the admin dashboard!
Final word: A one-stop solution for city tour operators and tour bookings
The Touriny tour and travel WordPress theme is a ready-made solution for travel business, particularly optimized for city tour bookings, which allows clients to filter tours by the category and tour guides.
Thanks to multiple payment gateway and booking confirmation details, you can choose your revenue model and the level of online convenience you want to provide to your clients. And after all, Touriny is a professional, highly customizable design for any hospitality or travel industry.
Get the Touriny travel tour WordPress theme
Touriny documentation
FAQ
Does this tour and travel WordPress theme support tour filters?
Yes, but at the moment, only the default ones in the booking widget, which are the tour category, tour itself, and tour guide search filters.
Is the tour booking plugin included into the theme cost?
Yes! You get the professional tour and travel WordPress theme design with the tour booking plugin included.
Are group tours supported in this travel WordPress theme?
Yes, you can set any number of people for every tour but at the same time only one person can book a tour for people he/she is going to come with. Independent people can't book the same time slot (a tour at the same date and time).