Lorenty: Review of the Innovative Equipment Rental WordPress Theme
Lorenty, the all-new equipment rental WordPress theme, has been released in fall, 2023.
It's made to help your business rent out anything with innovative and comprehensive software, from snow sports rentals to party tents and tables.
It's got all the bells and whistles: from 5 rental-inspired starter site designs to the bookings and rental management functionality & AI-powered WordPress writing block to help you craft rental descriptions. All are included for free with the chosen theme package.
We were working on Lorenty for a few months, thinking out all the details. And we nailed it! Today Lorenty ships for you with:
Lightweight and fast-loading rental design for any modern device.
A handy booking wizard for first-class rental experiences for clients.
Utmost customization with WordPress blocks – from the color schemes to menus and pages. DIY at its best.
What businesses can use Lorenty? Any rental equipment companies, a few examples below:
Outdoor gear rental: lawnmowers, snowblowers, chainsaws, bikes, campers, trailers, etc.
Construction equipment: excavators, bulldozers, loaders, cranes, etc.
Event equipment: tents, dishes, tables, chairs, sound systems, lighting, etc.
Recreation and transportation equipment: boats, kayaks, yachts, etc.
Browse all Lorenty Starter Sites to see examples. Note that the booking forms you see in demos are fully customizable!
Browse all our WordPress booking themes.
Lorenty's design: Ready-to-go rental store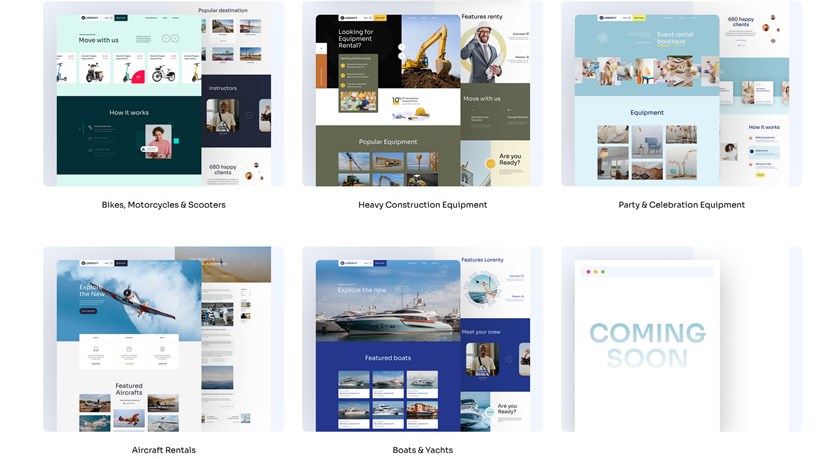 Lorenty has all demo content sections a rental site might need: from multipurpose photo galleries to call-to-actions, from inventory directories to individual booking pages.
Under the hood, Lorenty is a flexible design, with many widget zones (those areas that are always visible, like header, footer, or sidebar), purpose-built widgets (e.g. the rental booking interactive form), and pre-designed portfolio pages.
Front pages of starter sites offer different design solutions, but you can use any starter site you like most, regardless of your type of business. For example:
The Lorenty bike demo has a custom-made slider of featured rentals, where every detail is under your control.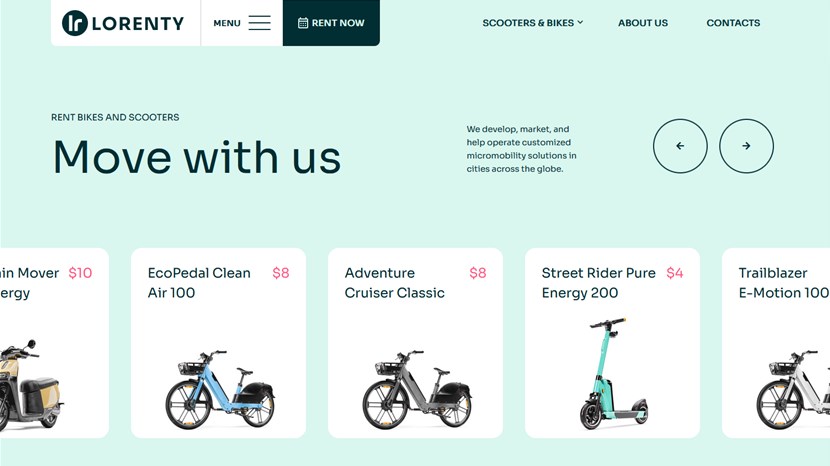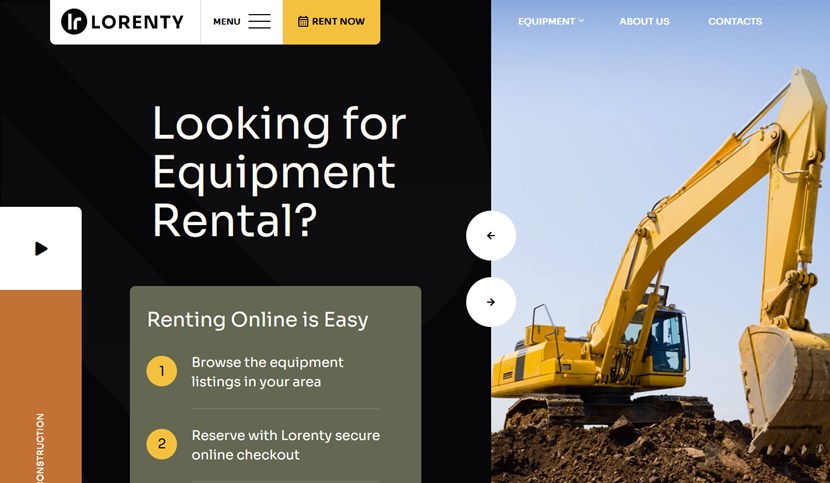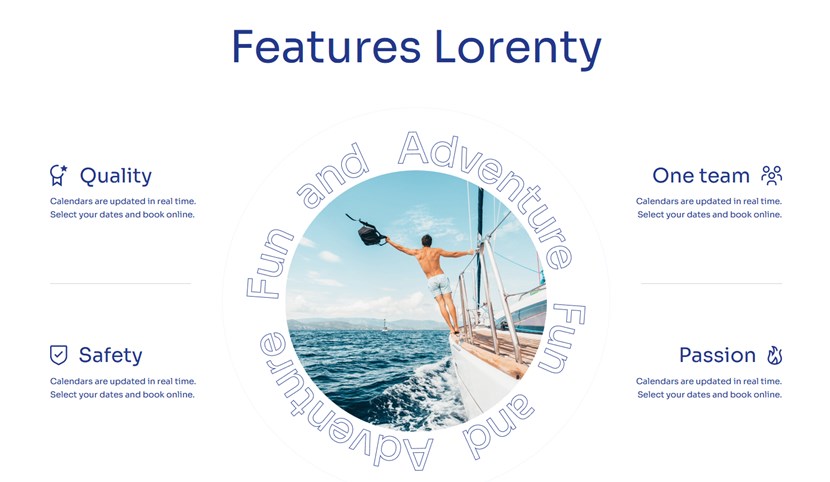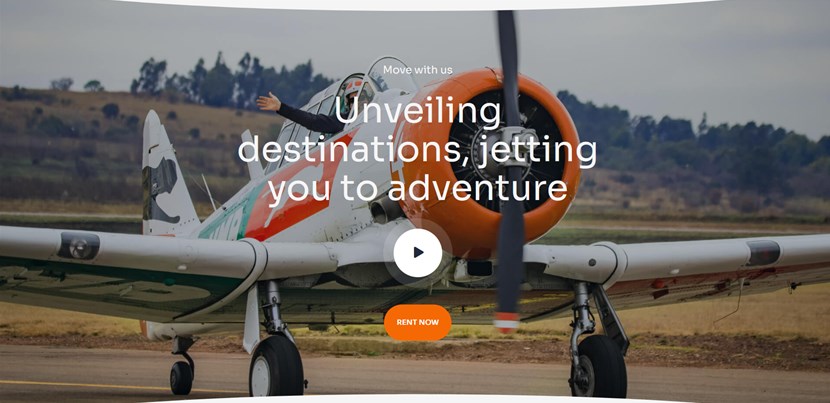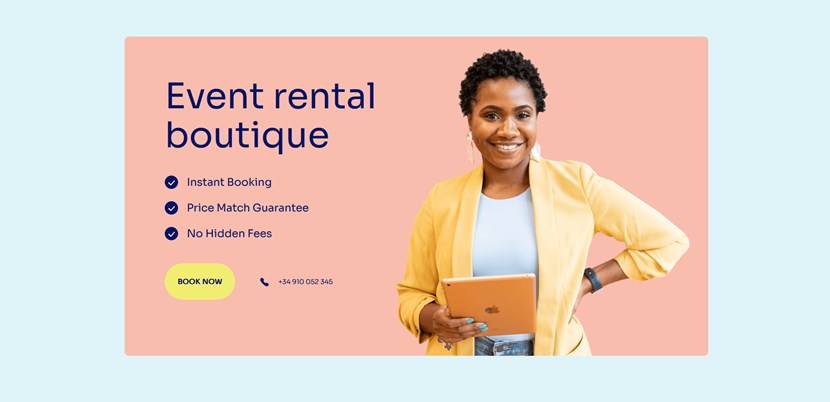 Most importantly, it has a few styles you can choose from for your directory of rental properties. And these styles are supported in all Lorenty starter sites. Here are examples of the directory:
Rental directory style 1.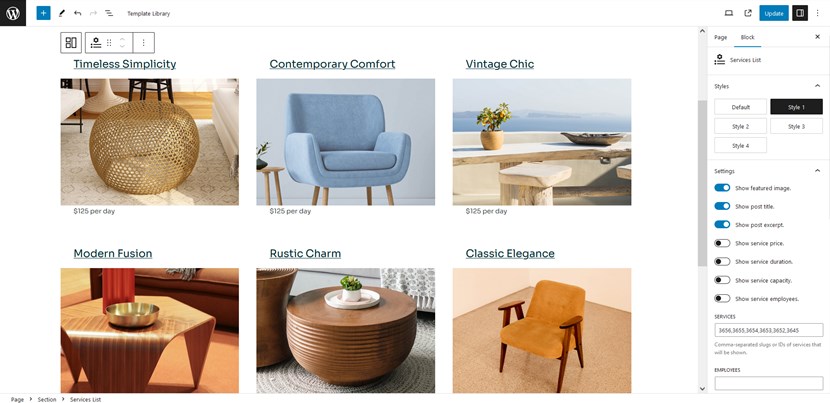 Rental directory style 2.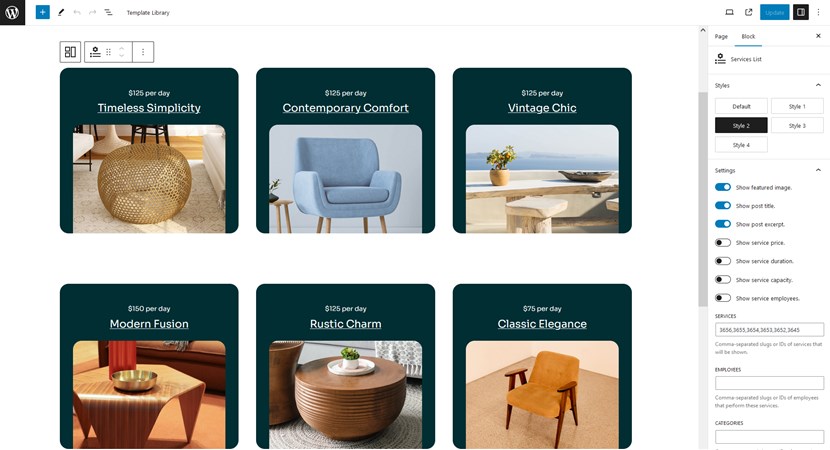 Rental directory style 3.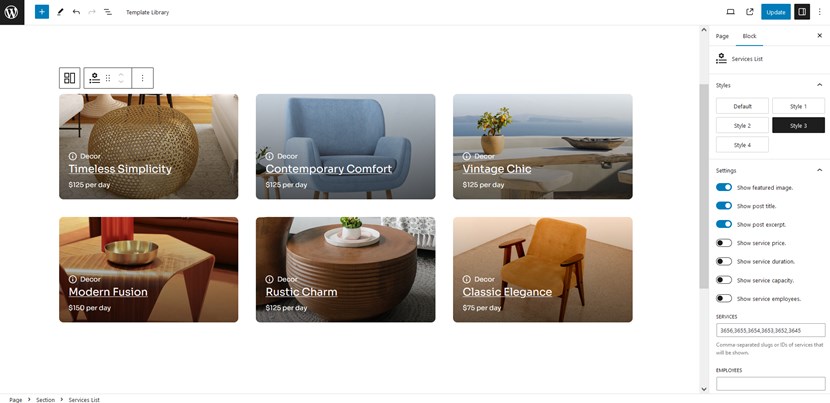 Rental directory style 4.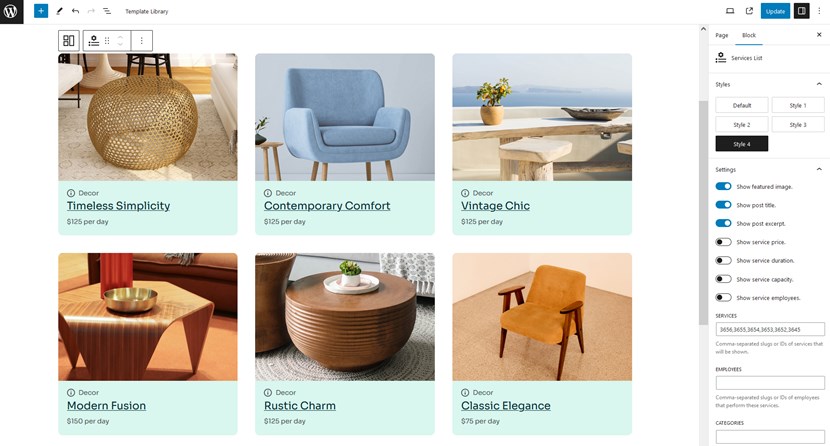 In Lorenty, individual rental items are also very feature-rich and informative, you can showcase a rental terms and conditions, FAQ section, additional services, photos, reviews, and availability (with the booking widget, you can customize the widget to show availability of an individual rental).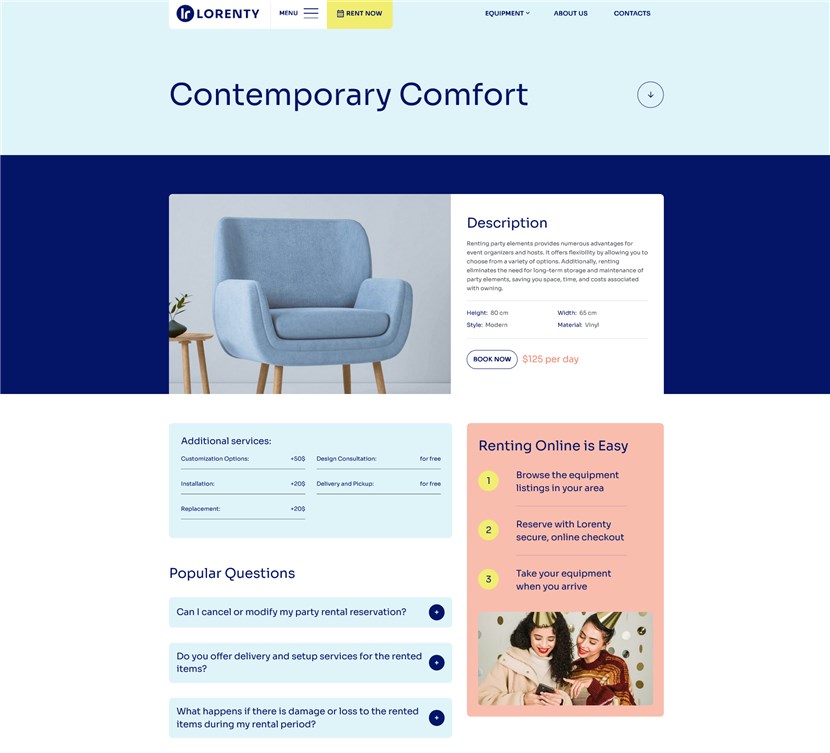 Customize a header menu
You have different style variations of the header area (navigation menu/widget zone), where you can enable the Rent now button that opens the booking widget.
Option 1.

Option 2.

Customize a footer menu
With so many widget zones, you can create an informative and beautiful footer with the contacts info, special offers, availability and any additional information.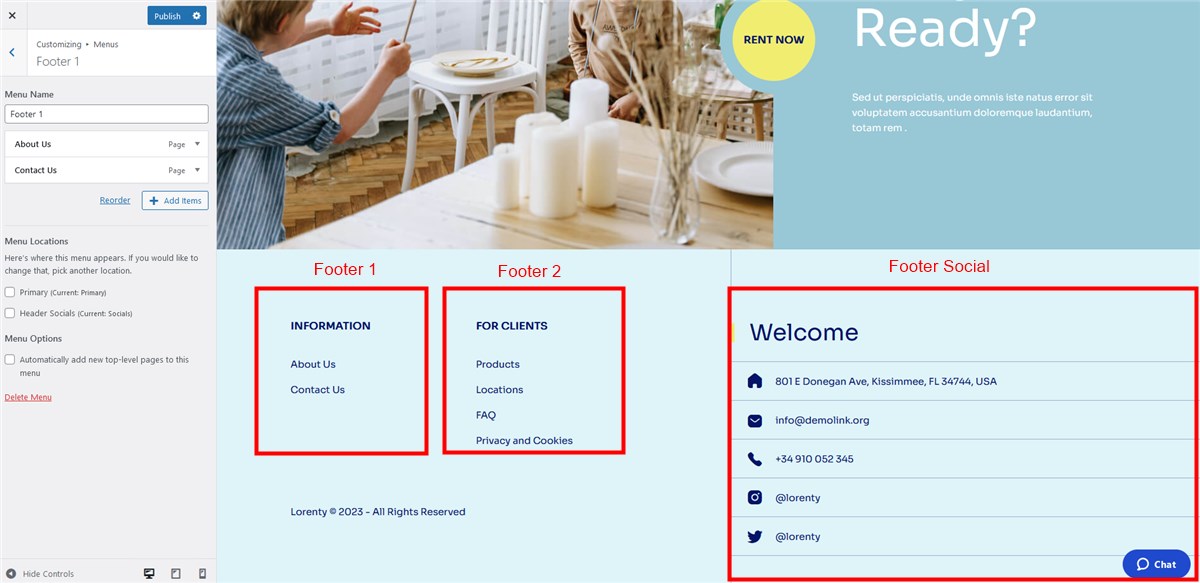 Color scheme
In the WordPress theme Customizer, a rich color palette will get you going if you want to alter the visual vibe of your website.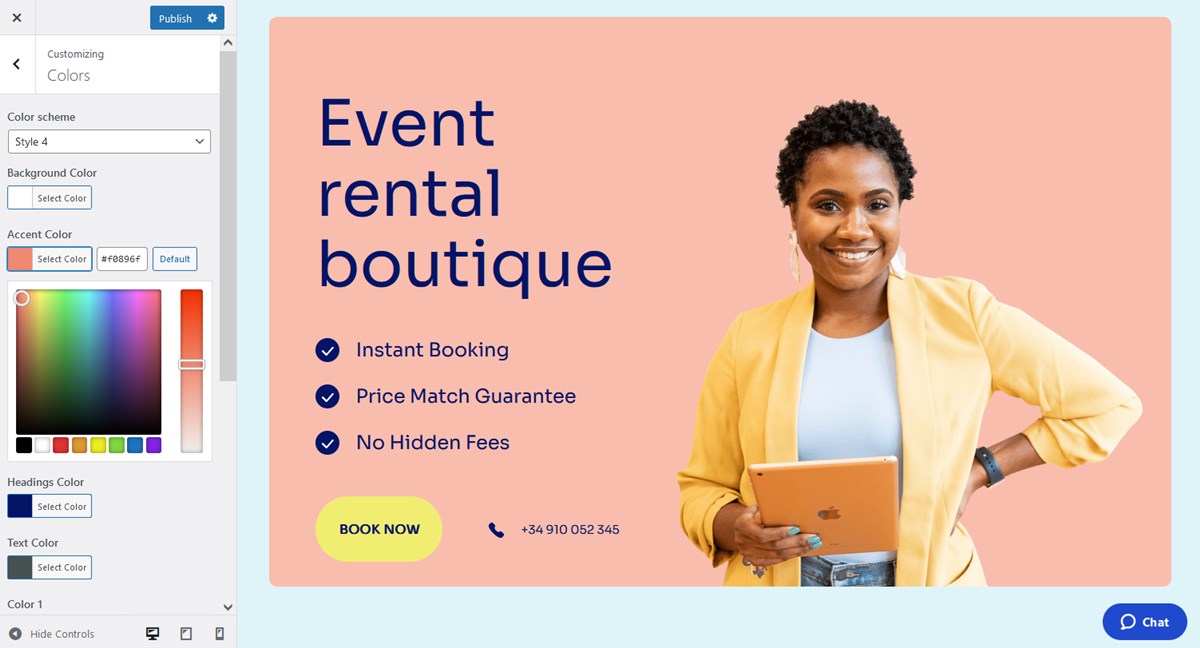 Even more so, since the theme is built with the native WordPress blocks, you can even add your own favorite colors to the global theme settings with a free Block Editor Colors plugin. It will allow you to seamlessly apply chosen colors to all blocks that support color selection.
As you might notice, the theme customization is performed via WordPress blocks, but not only default ones! You are additionally supported by the following:
the Getwid's extra library of blocks: add tones of content elements, such as a video pop-up or image slider. Getwid also comes with a fantastic AI writing assistant made to speed up your rental item descriptions with quality AI-generated texts.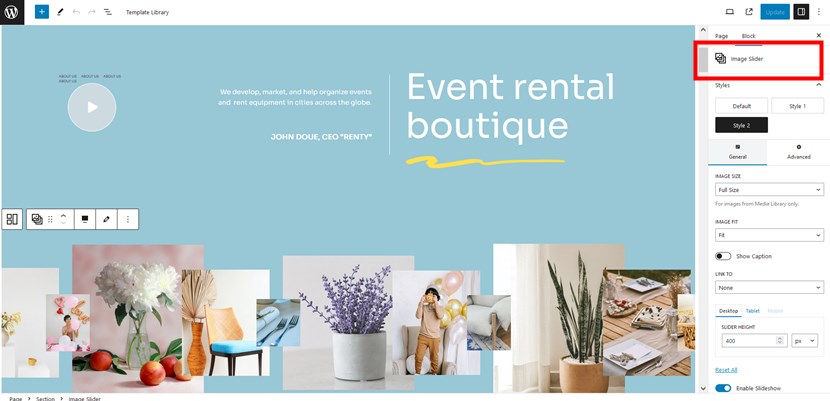 The Appointment Booking plugin blocks: to feature content related to your bookable rental items, team, locations, etc. If you have content added via the plugin, you simply need to drag and drop these dedicated blocks to the page and see it tie together.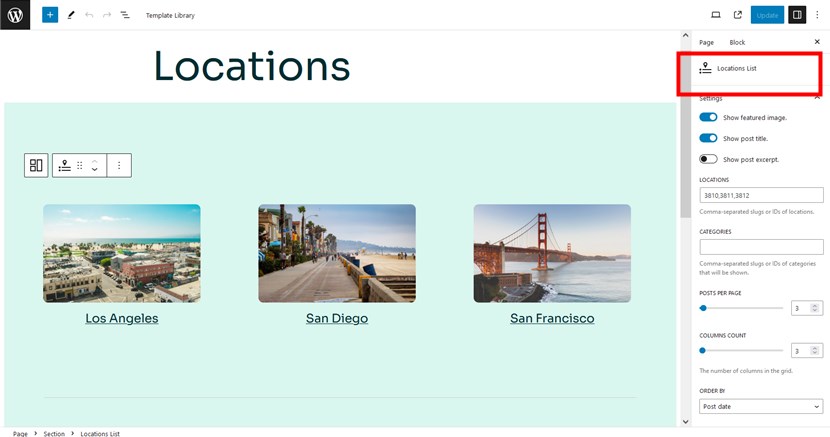 It's all drag-and-drop and truly awesome! There is a lot of fun in making theme edits.
At a glance: Rental equipment management software features
There are tons of features you get for free with the Lorenty equipment rental software, which is powered by the MotoPress Appointment Booking plugin.
But to give you a bird's-eye view and help you decide if it actually meets your needs, here are crucial details:
Maximum rental period: any up to 24 hours
If you need to rent out equipment for more than 24 hours, e.g., excavators or campervans, clients need to book available slots date by date – within one reservation though. Like in the example below, when a client needs to select all available dates and add them to cart: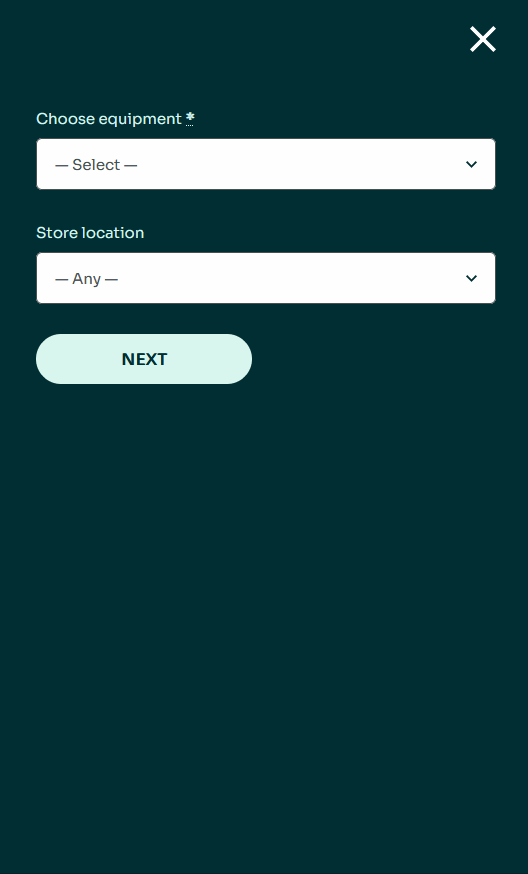 Minimum rental period: any up to 24 hours
# of Rental units/ Bookings: Unlimited
Locations/ Areas: Unlimited
Rental period cost: Per duration (can be multiplied by the number of people renting equipment)
Payment options: Full payment online, discount-based, partial payment (deposit), cash-on-pickup
Buffer times before pick-up and after return: Allow for the preparation and return of the equipment
Online payment processing options: PayPal, Stripe (Bancontact, iDEAL, Giropay, SEPA Direct Debit, SOFORT, Apple Pay, Google Pay and Link). For more, you can opt for our premium WooCommerce add-on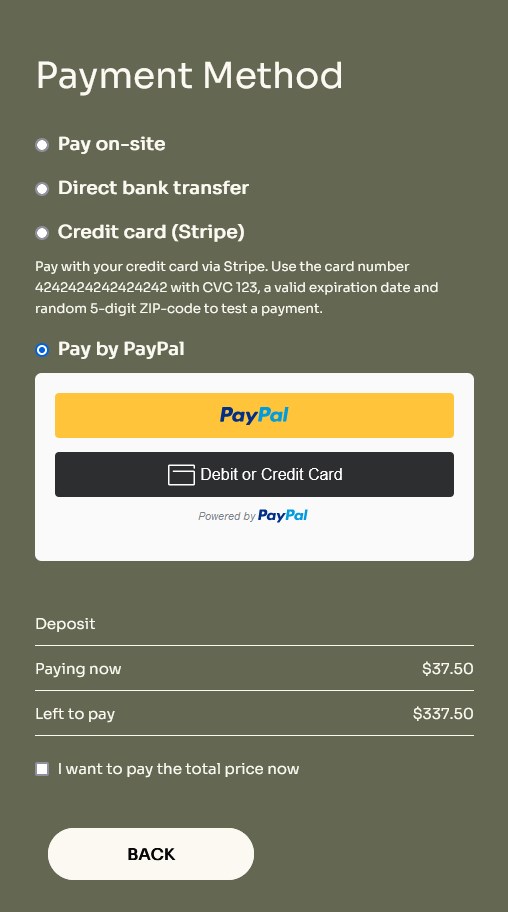 Communication: Emails and SMS
Commissions: no per-rental / per-reservation commissions for you or clients, one fixed yearly cost ($79 per year) for the Lorenty theme.
How to customize a rental period
The Appointment Booking plugin, as its name suggests, was initially built for appointment scheduling, but it can be adapted to meet the needs of rental businesses.
The only limitation, however, is that the language in the plugin's dashboard may not always be relevant to the rental industry. This means you will work with 'appointments' instead of orders and 'services' instead of rental units. But that's not something your clients can notice!
So how does it work then? The rental period is based on the interconnected 'Schedule', 'Employee', and 'Service' settings.
Adding rental units

To add equipment rental units, use the 'Services' menu. Each rental unit requires a specified 'duration', which is a minimum rental period for an individual unit. You also need to add a price for the set period and optionally make it multiplied by the number of individuals renting it (it will be calculated automatically in the booking form; 'Capacity' fields must be filled out).
Scheduling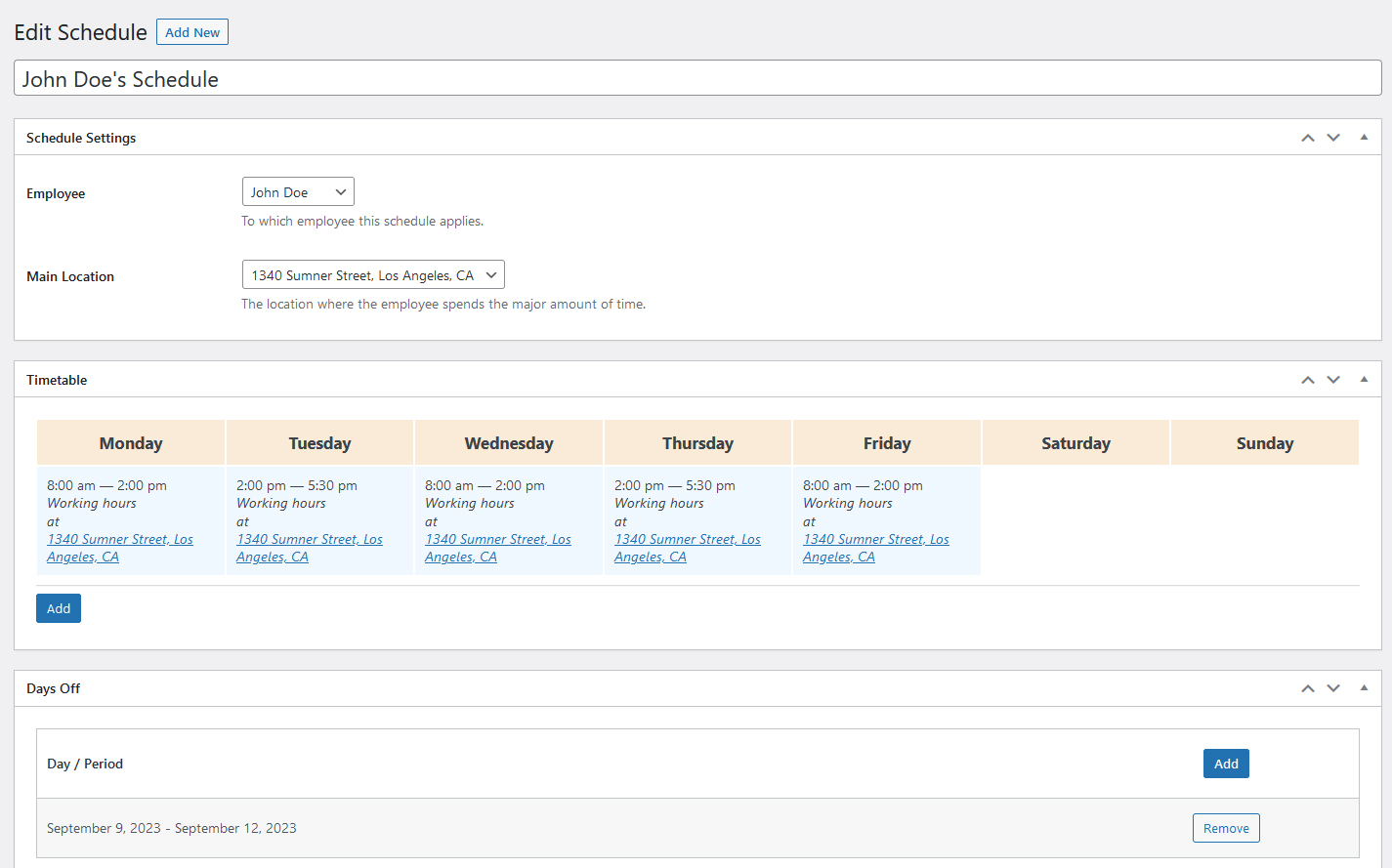 The 'Schedule' menu is a full period with available slots for bookings. This timeframe, which can vary from day to day, allows for up to 24 hours per day. It must be assigned to a designated employee – but this field in the booking form can be optionally concealed.
Multi-day rentals
For services or units available for rent more than 1 day, a schedule can be established from 12 AM to 11:59 PM  daily. For this, in the 'Settings' menu, activating 'Allow clients to book more than one service at a time' is essential. This feature enables clients to add multiple days or slots to their cart. For example, a client can book one kayak for 3 hours, and a jet boat for 3 days – all in one transaction if they want!
Tailor the rental search widget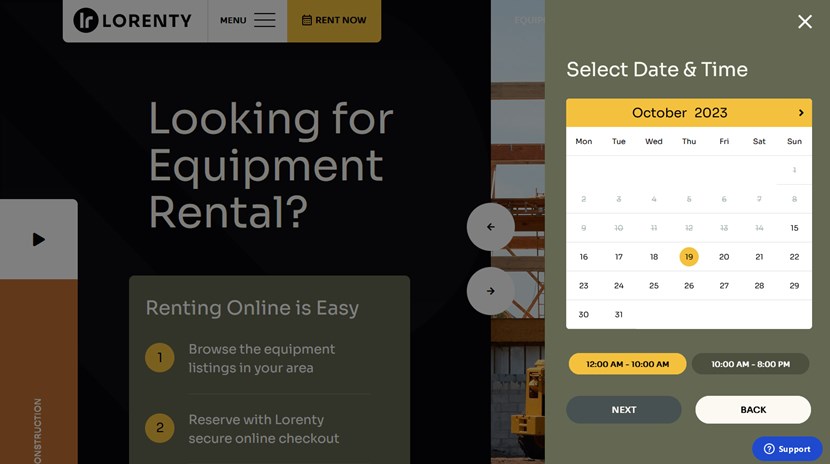 With the help of the booking widget, your clients are guided through the entire rental journey – from browsing a comprehensive list of available rentals in their area to submitting a rental application online, optionally with online payment.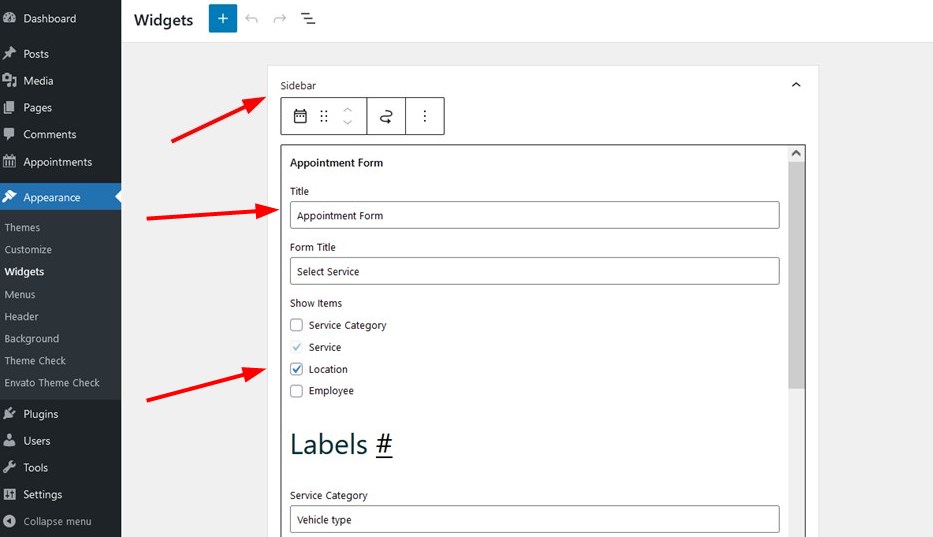 Using either the widget or block settings, you can customize the following things in the rental booking software WordPress form:
Rename booking form field labels. 'Choose your equipment', 'Our rentals', or whatever, up to you!

Show or hide fields. For example, you can leave only the 'Choose a rental' type of field!
Display pick-up & return times in the form.
Optionally show for how many people equipment is available.

Allow for booking of multiple equipment and multiple available slots in one go.
Create an individual availability calendar for every equipment unit. For example, you can have one 'general' booking form with traditional filters, and simultaneously place individual calendars without filters to single rental unit pages.
What are the other superpowers of the rental booking widget?
From payment options to the payment management, the rental software is ready to meet the needs of your daily operations. We have already covered the essentials, but here are a few more notable features:
Bookings, payments & client management on the backend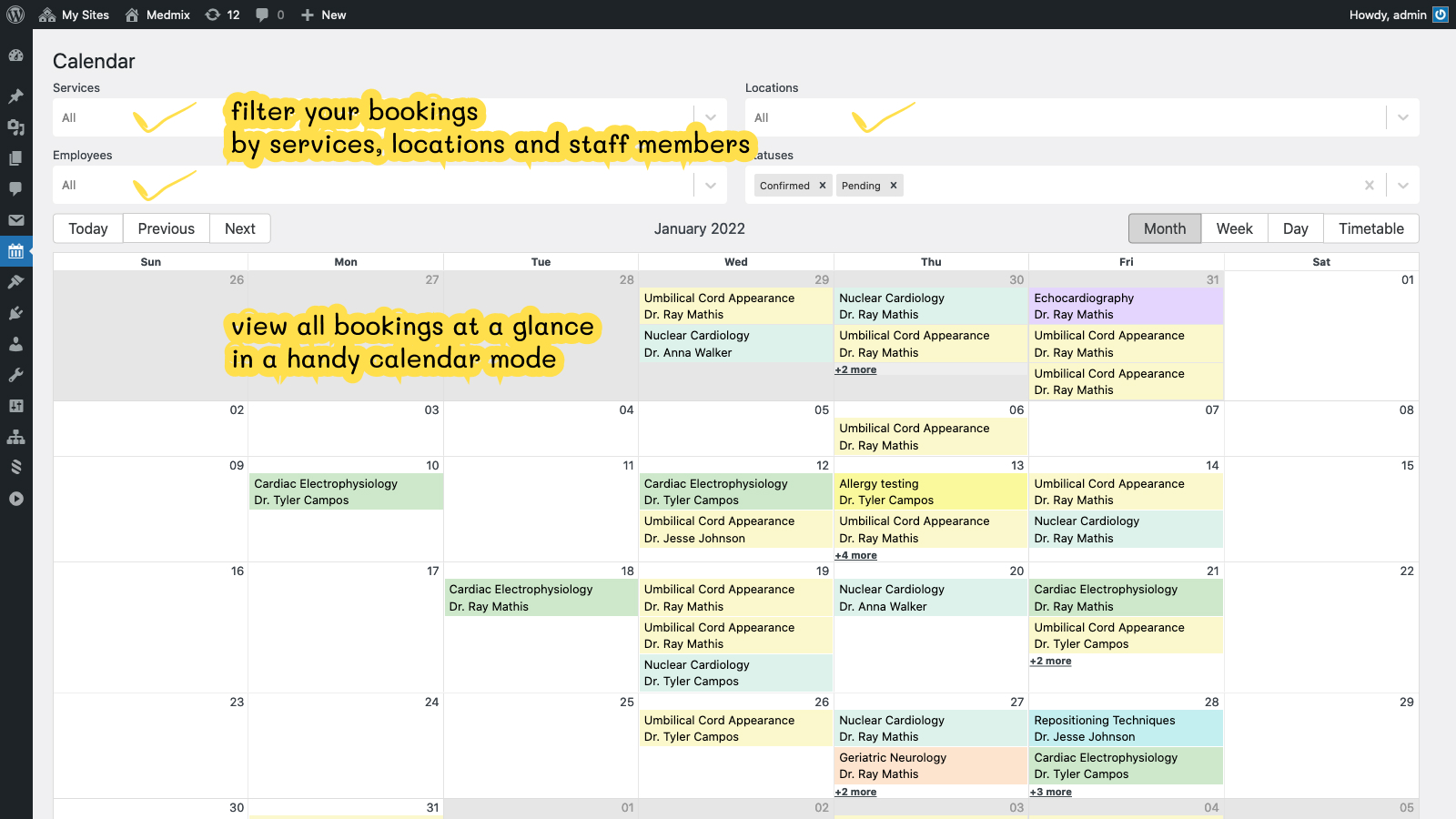 There are many tools in the back office that will help you manage rental bookings, client and payment information, such as view the sum paid, dates booked (in a calendar or list), and view the history of bookings.
Automated Reminders & Notifications
You can automate communication with clients by creating branded emails which are sent out without manual interaction to clients – always on time!
Client Accounts to View Their Reservations
The Appointment Booking plugin allows for creating client and staff accounts, where everyone can have an individual login page and view their bookings. Naturally, staff members have more tools to work with.

Lorenty purchase options
You might be wondering, what's the cost of this literally best equipment rental WordPress theme?
If you are a small business and what to have all under your control yourself: Single site plan ($79).
If you are a developer or a business planning to create a few websites with this theme: Unlimited sites plan ($199).
If you are a business or developer looking to get all possible integrations and boost-ups at a discounted price: Membership ($299).
Get a beautiful WordPress rental theme & all-in-one rental software
So what rental businesses can most benefit from the Lorenty WP rental theme?
We believe Lorenty is first and foremost optimized for small rental stores, including costume rental stores, kayak rental companies, studio space rentals, etc.
At the same time, the theme is super flexible to be adapted to many more needs and scenarios. With comprehensive booking forms, payment options, and decent back-office management tools, you get it all for everyday operations, for an affordable WordPress theme cost, with the booking software integrated.
FAQ
Do you need to integrate an equipment booking system with Lorenty?
You don't since Lorenty already comes with the
Appointment Booking plugin
pre-optimized for rental equipment. However, if you are already using another software or want to employ a different SaaS solution, it's absolutely fine, you can still integrate an external rental software with your existing site built with the Lorenty rental WordPress theme.
What rental period is supported by the WordPress equipment software?
The Lorenty WordPress theme equipment rental is tailored for hourly rentals, allowing clients to book any duration within a 24-hour slot. If you need to rent items for more than a day, you can configure a schedule from midnight to midnight daily and access the 'Settings' menu to enable 'Allow clients to book more than one service at a time'.

How to customize this rental WordPress theme?
The theme is customizable with the WordPress native block editor and the Getwid plugin.