WordPress Themes with Appointment Booking Calendars
If you are looking for WordPress themes with appointment booking calendars, or WordPress appointment book templates as many call them, this is the right place to find one.
The theme itself is just a mere design; what makes it an appointment booking solution is the plugin it's supplied with. And in this time and day, most themes that state a specific kind of functionality offer that plugin bundled for free or at least state the design compatibility with a specific plugin.
We at first researched the themes with the highest ratings and appropriate designs, only to find out that the vast majority of them are powered by the Booked plugin for appointment bookings on WordPress, with some exceptions.
And there are indeed many other booking plugins, but somehow, as a rule of thumb, the Booked appointment booking plugin is preferred by the theme creators (hopefully, users as well).
To make it clear which plugin for adding an appointment and booking calendar is used in a theme, we highlighted this information along with each item. To not repeat the features of the plugins, let's list some of them used with the themes we listed before you start reading the post:
Booked adds a booking calendar clients use to place a reservation request. It offers many industry-standard features and is really easy to use. Some key features include:
Customizable time slots for appointments
Multiple agents who can control their own bookings
Registered and guest bookings
Customizable colors
Customizable booking submission fields
Flexible appointment management calendar
Customer profiles with a history of bookings
Easy to integrate with payment gateways
This plugin adds a three-step booking wizard where clients can quickly and intuitively place a booking. In addition, it delivers:
Ultimate employees and locations
Customizable time slots for services
Customizable employee working hours and breaks
Guest booking
Easy appointment management on the backend
PayPal, Stripe, wire transfer and other gateways integrated.
This is a great tool for event and equipment booking. It has many areas of expertise and offers a lot of tools:
Booking calendar
Step-by-step widget for placing a booking
Customizable employee schedules
Customizable service price and duration
Easy to integrate with payment gateways.
RnB – WooCommerce Booking & Rental plugin
This plugin is also a great solution for selling time slots and renting out equipment or space using hourly bookings. Here are few great features of this plugin:
Inventory management and availability control
Multiple filters and categories for the event/equipment search form
Optional day-based bookings
Flexible service pricing system
External calendar integration
Payment gateways
Let's now take a closer look at the themes.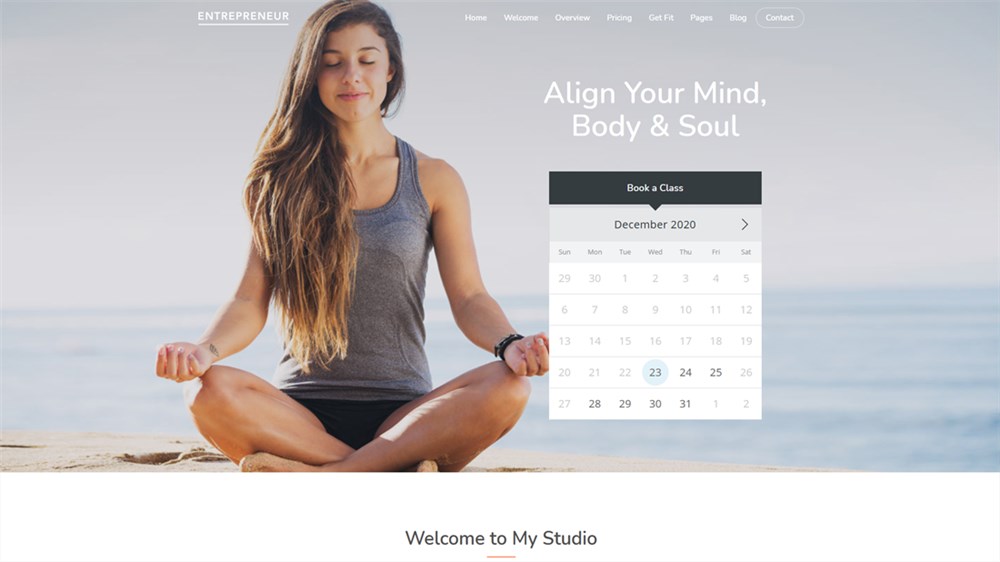 Optimized for business niches: yoga center, contractor, remote learning, consultant, coach, trainer, healthcare, barber, stylist
Appointment booking plugin: Booked
The Entrepreneur is probably one of the most popular appointment booking WordPress themes. I believe there are three main reasons for such popularity: a good choice of business-fueled designs, Elementor for customization, the Booked plugin for WordPress appointment booking, and smooth integration with WooCommerce.
The theme is literally backed by the most professional and niche-dedicated WordPress plugins you'd need to take care of every aspect of your site, from design to payment processing and appointment scheduling.
Judging by the collection of default design patterns offered by this appointments template, you'll find a solution to whatever time and event-based business you operate.

Optimized for business niches: boat rental, party rental, heavy construction rental, bike rental, and aircrafts.
Appointment booking plugin: MotoPress Appointment Booking
Powered by the MotoPress Appointment Booking plugin, Lorenty enables you to accept and manage rental bookings, clients, and payments via numerous gateways. For every business niche we mentioned, the theme offers a purpose-built modern design costructed with the native WordPress block editor.
The availability calendar is seamlessly integrated via the step-by-step booking wizard.
In addition to the standard pages, you'll be able to choose styles for the directory and individual listing designs to present your rental items in the best light.
Watch a video with the theme: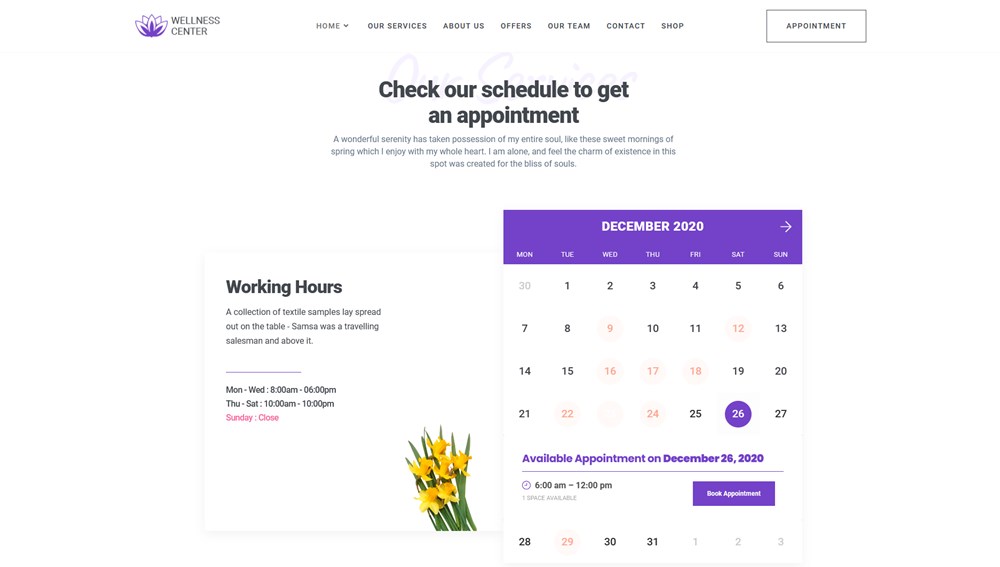 Optimized for business niches: wellness and spa
Appointment booking plugin: Booked + WooCommerce
This beautiful WordPress appointments theme is a perfect fit for the beauty industry – the demo designs literally shine, you can notice a lot of clutter-free white space and elegant typography.  All this will definitely add to building your brand online.
The theme offers several homepage variations and many addons and built-in features to tweak the theme. Since the Booked plugin is integrated with WooCommerce, you'll be able to offer your clients smooth online bookings via any payment gateway – check the demo to experience the process firsthand.
This WordPress booking theme also has ready functionality for integrating client reviews, connecting bookings to extra calendars, and setting your email marketing on autopilot with Mailchimp.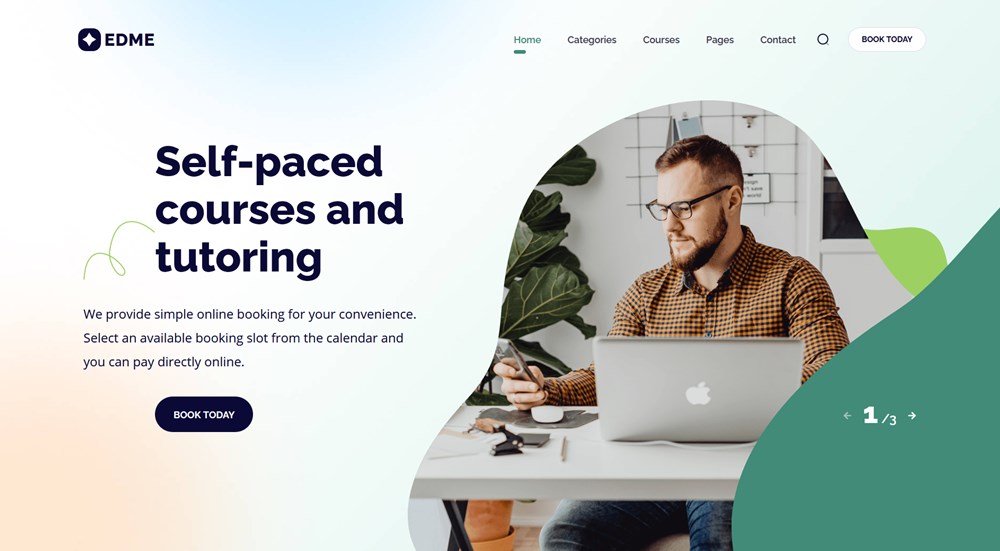 Optimized for business niches: lesson booking, tutor booking, remote learning, coaching and mentoring
Appointment booking plugin: MotoPress Appointment Booking
Crafted specifically for the educational projects, Edme makes it easy to feature your school or personal consultation/teaching project, list your tutors (if there are many), courses with their details and curriculum, state the lesson or course pricing, and enable online bookings via the dedicated appointment reservation wizard.
Video Overview of Edme:
You can tweak the theme from A to Z with Elementor and its popular extension – Stratum. The Stratum plugin is a freemium solution, but Edme gives you a chance to benefit from its awesome premium widgets for free!
In particular, the Stratum Elementor addons plugin powers the tabs widget for creating a course presentation, many visuals like sliders and flip boxes, student testimonials, and more.
View demo of Edme WordPress Education Theme.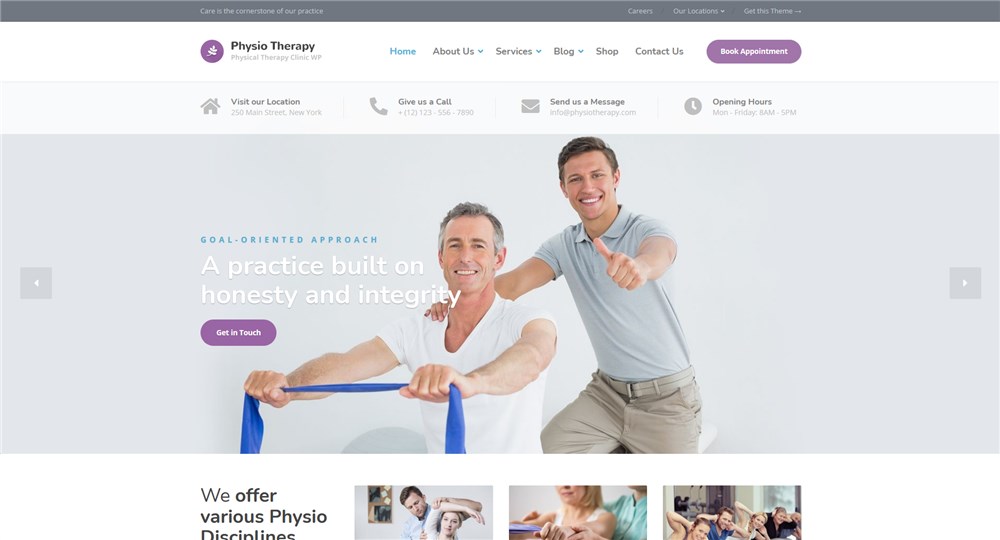 Optimized for business niches: medical clinic, chiropractor, sports, therapy clinic, massage therapist
Appointment booking plugin: Booked
The Physio appointments template for WordPress ships with one multipurpose healthcare-oriented design, which is, on the one hand, is the right way to do things because the theme is by default not overloaded with excessive features and CSS styles.
The pack of extra customization tools includes Google Fonts, many Customizer settings, one-click demo data import, custom page sidebars, multiple layouts, and more.
The Booked plugin can be easily extended with WooCommerce if you want to enable your clients to pay online in advance – the theme is optimized for WooCommerce bookings.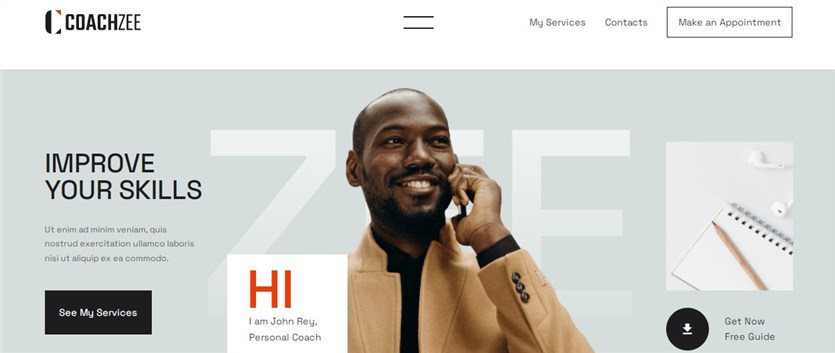 Optimized for business niches: driving schools and instructors, workout and fitness trainers, life and career coaches, teachers, and therapists
Appointment booking plugin: MotoPress Appointment Booking
Coachzee is a multipurpose template for WordPress equipped with 5 demos for a therapist, driving instructor, life coach, teacher, and health coach. They are crafted with Gutenberg WordPress blocks for a smooth site-building experience.
With Coachzee being one of the WordPress appointment book templates, you are allowed to showcase coaching sessions of individual instructors as well as firms. It is possible to employ appointment bookings through a mobile-friendly booking widget.
This theme features detailed service pages to highlight information about your courses and services. On top of that, there are unique well-designed website sections. Coachzee is powered up by Getwid addon for Gutenberg native editor. It provides 35+ free extra blocks and the Template Library for you to manage and edit the content on your website.
View demo of Coachzee Coach WordPress Theme.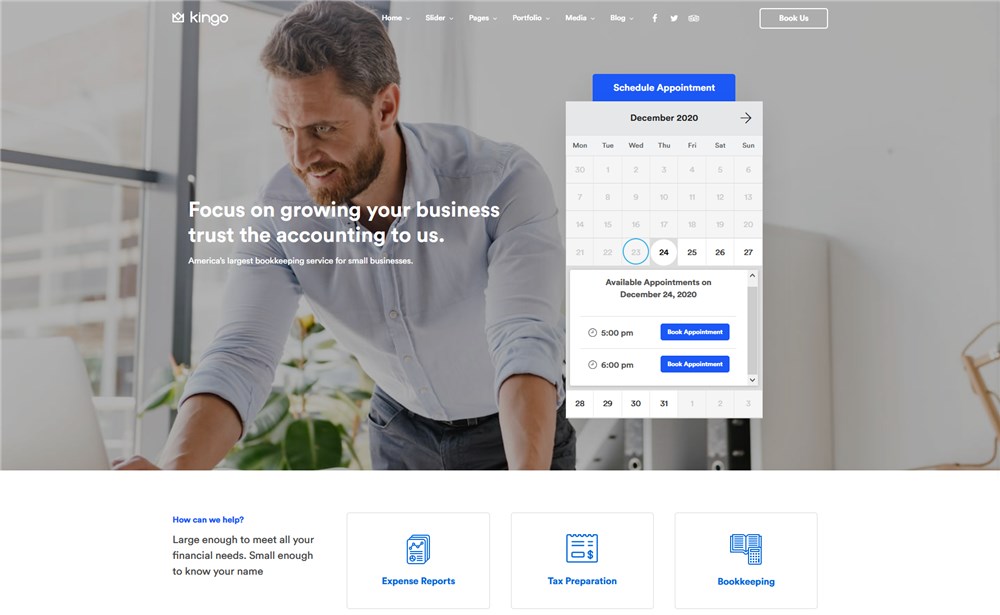 Optimized for business niches: accountant, lawyer, contractor, healthcare, life coach, yoga, fitness trainer, barber, restaurant, tourism, medical, financial advisor, technician
Appointment booking plugin: Booked
Kingo is a multipurpose WordPress booking theme that covers numerous niches, namely, it offers a ready-to-go design for the vast majority of businesses where time-service hourly bookings are used.
The theme will impress you with professional, eye-catching designs, many portfolio layouts you can customize with Elementor, sliders and video galleries, fantastic blog layouts, and pre-made WooCommerce shop pages. This is probably one of the most design-rich among the WordPress appointment book templates.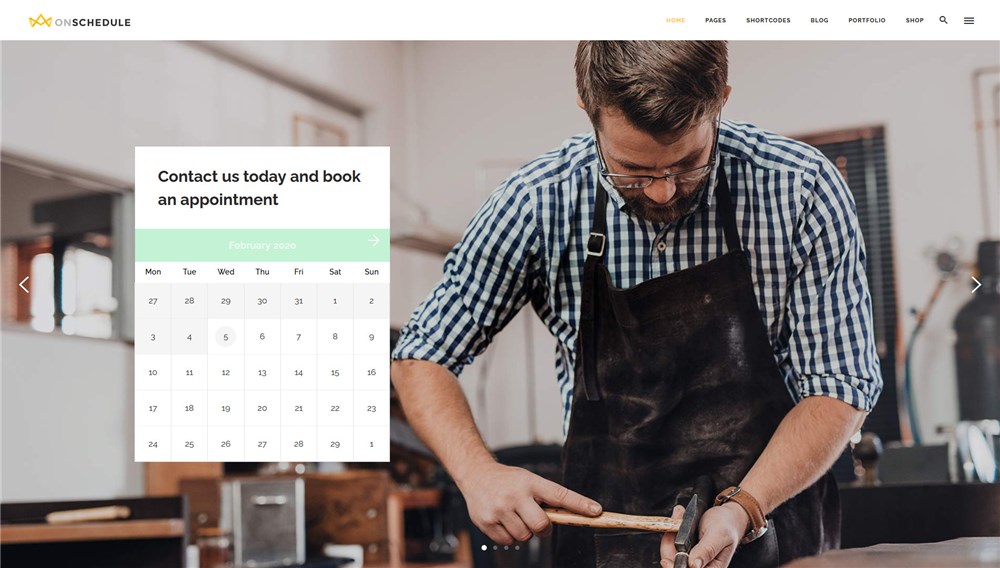 Optimized for business niches: teaching, craftsman, health and spa, therapist, business advisor, beauty salon, restaurant, tours agency, barbershop, consulting
Appointment booking plugin: Booked
The OnSchedule WordPress theme with the appointment booking calendar is a very diverse solution that offers not just designs but also a great range of purpose-oriented plugins packaged for free.
For example, in addition to the Booked plugin, the theme offers several addons for Booked – WooCommerce, Front-end Agents and Calendar Feeds. These addons will help you connect more payment gateways in clicks, allow for the frontend agent login and help you sync bookings with external calendars.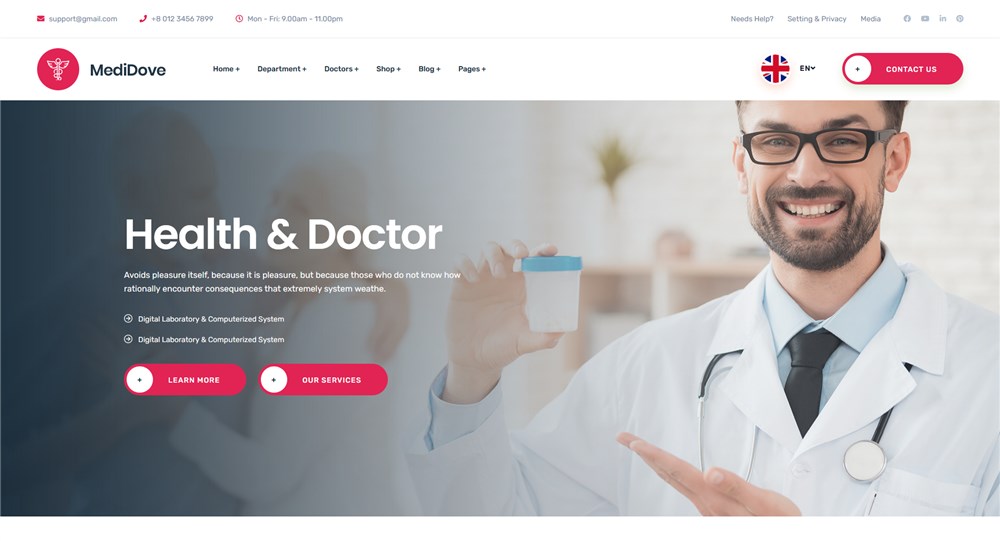 Optimized for business niches: healthcare industries 
Appointment booking plugin: no, the form for manually submitted bookings
This WordPress appointment template ships with many variations of the doctor and clinic sharpened designs – all are beautifully designed and clean-looking.
The main focus of this theme is on flexible customization options, online sales with WooCommerce bookings, and manually submitted appointment requests via a form similar to generic contact forms. That is, by default it doesn't provide dedicated bookings management.
However, since this medical appointment booking WordPress theme is optimized for and built with Elementor, you'll be able to connect any appointment Elementor plugin for driving automatic appointments.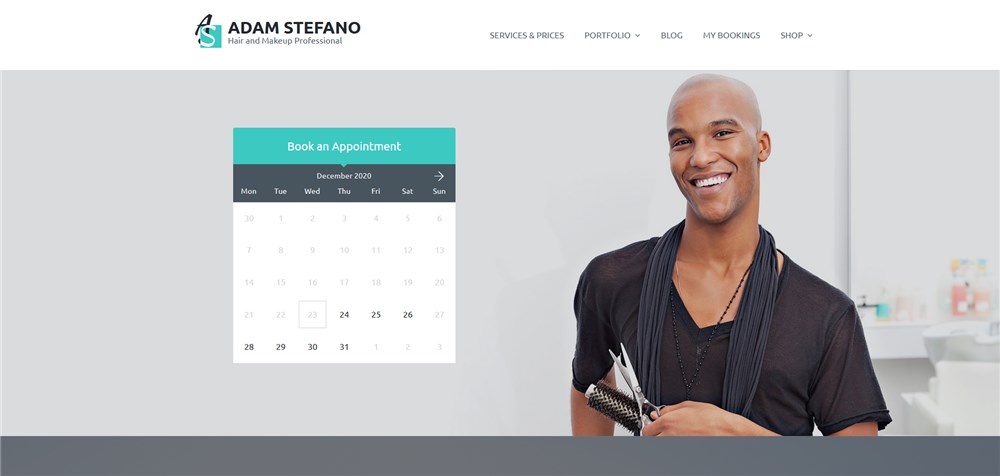 Optimized for business niches: barbershops, beauty salons 
Appointment booking plugin: Booked
This lightweight WordPress theme is optimized for barbershops and beauty salons – it's a solution for those looking for a very straightforward and clean appointment template. It gives you space to feature services with prices, a gallery of your work, testimonials, and news. No excessive features and content blocks.
The plugin is optimized for WordPress appointment bookings with Booked, which guarantees guest bookings as well as registered bookings and flexible schedule settings. The customization is performed via the Content Editor plugin.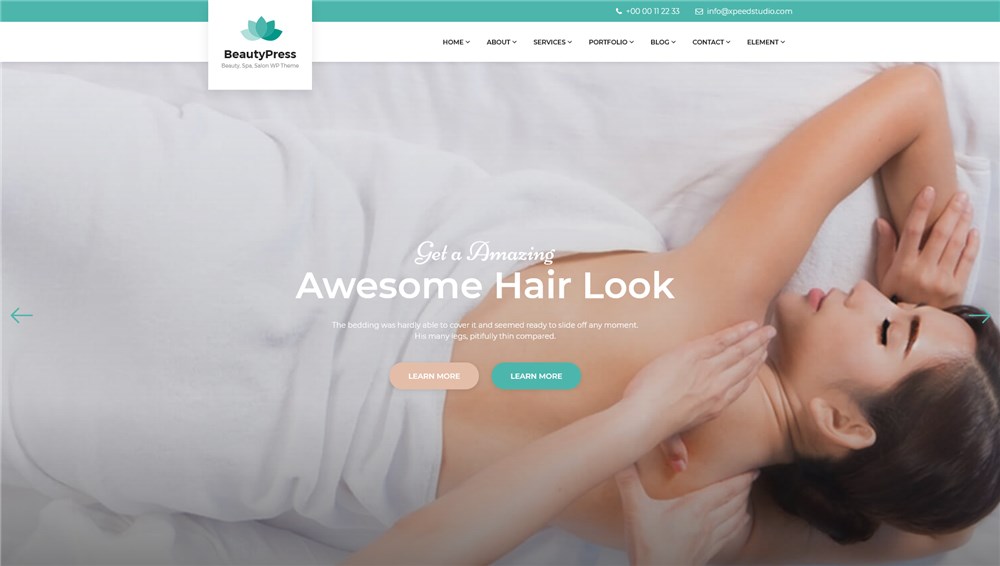 Optimized for business niches: beauty salons
Appointment booking plugin: Booked
This stunning appointment bookings theme is designed to work with Elementor and Booked – a perfect combination to power smooth automatic appointments and give you a super flexible tool to tweak the theme design.
The theme is peppered with lightweight animation effects, eye-catching sliders, and numerous demo variations for a salon website. There are many options to boost your brand identity and showcase your work with different footer and portfolio layouts.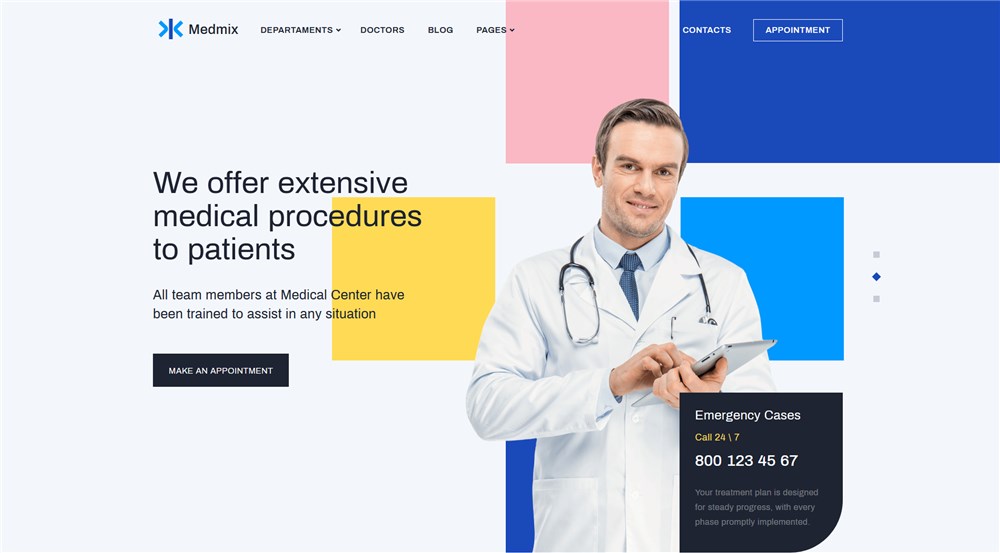 Optimized for niches: clinics, doctor scheduling
Appointment booking plugin: MotoPress Appointment Booking
The Medmix theme comes with the booking calendar and widget smoothly integrated. As for the theme design, it's created with Elementor and Stratum, which also means you can add and customize booking widgets directly in Elementor.
For example, you can drag and drop a list of services, build employee profiles, display their schedules, etc. The booking calendar guides clients through the easy steps of submitting a booking for a particular date and time.
If you want to add a booking widget to your clinic website and register all the clients and appointments automatically, Medmix is a super lightweight and niche-sharpened solution for this need.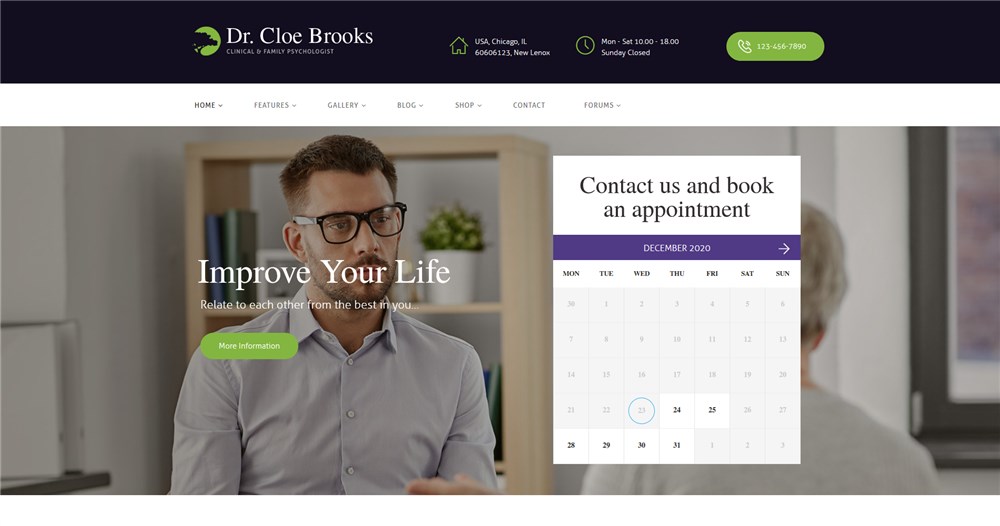 Optimized for business niches: psychology consulting, medical institutions
Appointment booking plugin: Booked
This appointment WordPress theme comes with a rather classic design and offers the customization tools driven by the WPBakery plugin – one of the Elementor competitors. Delivering all the needed tools, such as google fonts, colors choice, various layout styles, and compatibility with popular plugins, this consulting and medical WP theme makes it easy to build a powerful online presence.
The theme is optimized to work smoothly with the Booked plugin if you prefer to showcase a booking calendar and offer quick online bookings.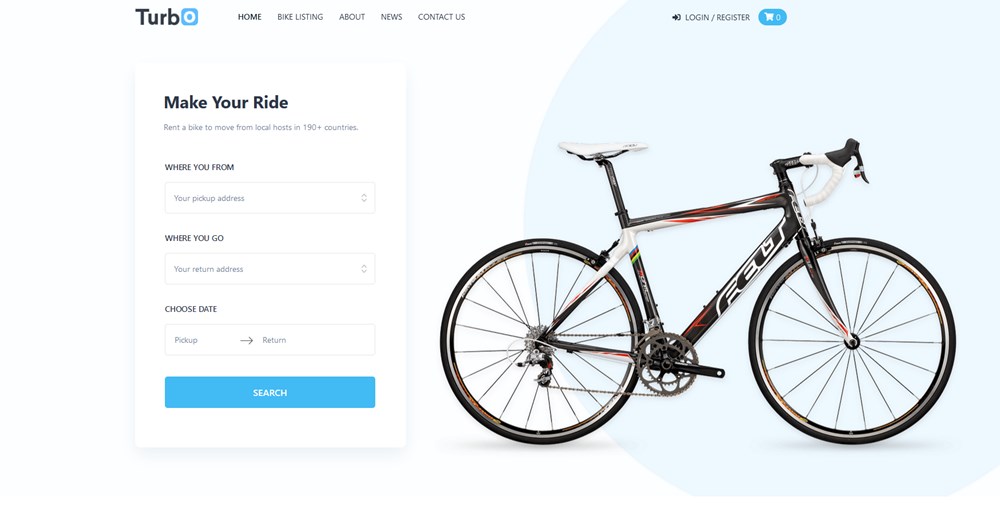 Optimized for business niches: equipment rental
Appointment booking plugin: RnB – WooCommerce Booking & Rental plugin
Turbo separates itself from the pack thanks to the more different business areas it serves and a more all-around booking plugin. Serving as a rather WordPress rental theme, with Turbo you can not just sell appointments but also rent out equipment, cars, bikes, and more.
Since the booking system in this theme delivers more tools, you can add more search filters, go deeper into inventory and availability management, customize pricing, etc. The theme is quite generous in other aspects as well – it comes packed with different plugins, such as Alike, Wishlist, and more.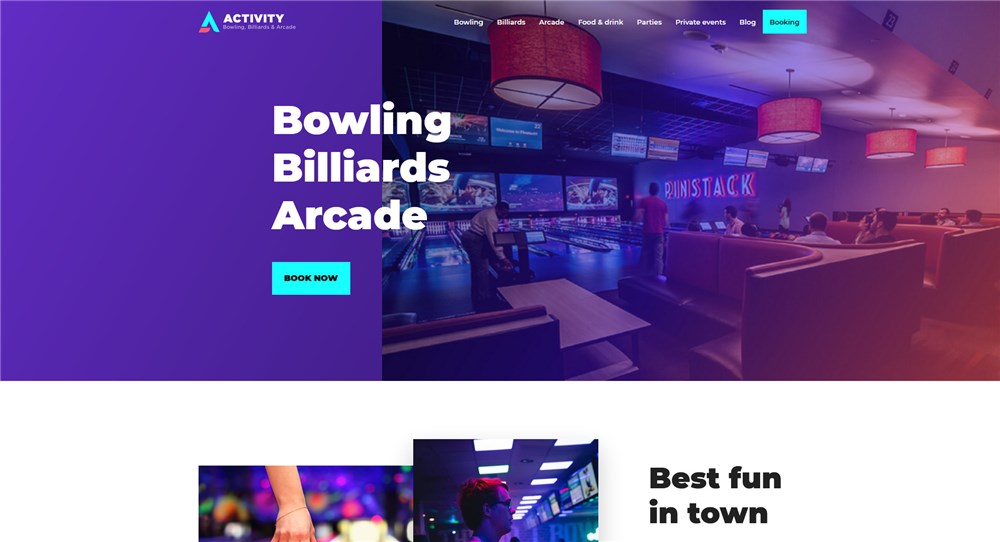 Optimized for business niches: events, art projects
Appointment booking plugin: Booked
Activity delivers stylish and bold visual concepts for whatever event or art project you operate. Since this is a relatively fresh theme among appointment book templates for WordPress, it delivers modern design looks and a polished, lightweight SEO structure.
It gives you a great choice of pre-made layouts, fantastic customization capabilities with Elementor, and many other integrations, including WooCommerce.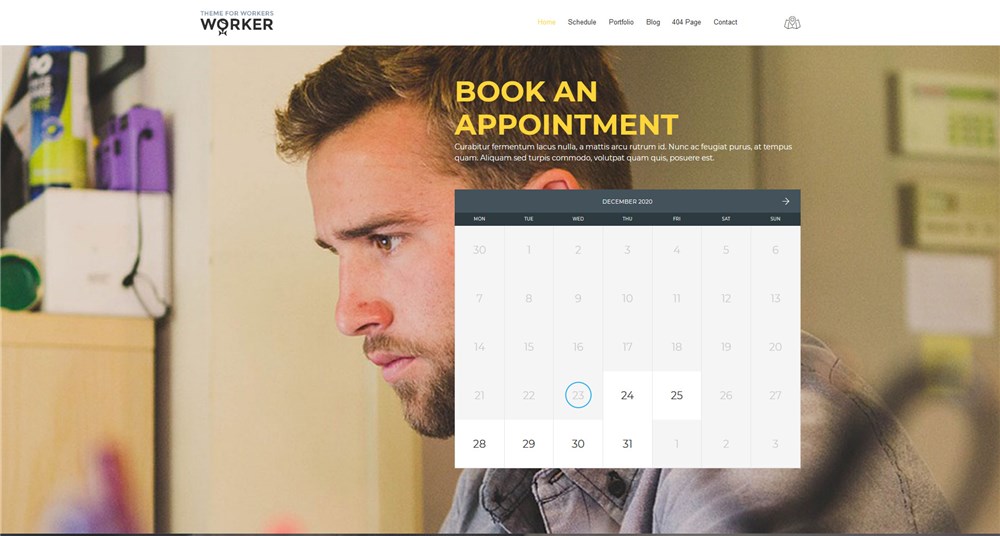 Optimized for business niches: small business, renovation companies
Appointment booking plugin: Booked
The Worker is a popular WordPress theme with an appointment calendar that will make the booking process easy and quick for your clients. It's aimed at contractors and companies that provide different renovation or similar services, so it's easy to book an offline meeting for a specific date and time with this theme.
The theme comes with many clean-looking layouts, including portfolios for showcasing your work and expertise, many widget areas, pricing tables, and many more blocks to establish your expertise online.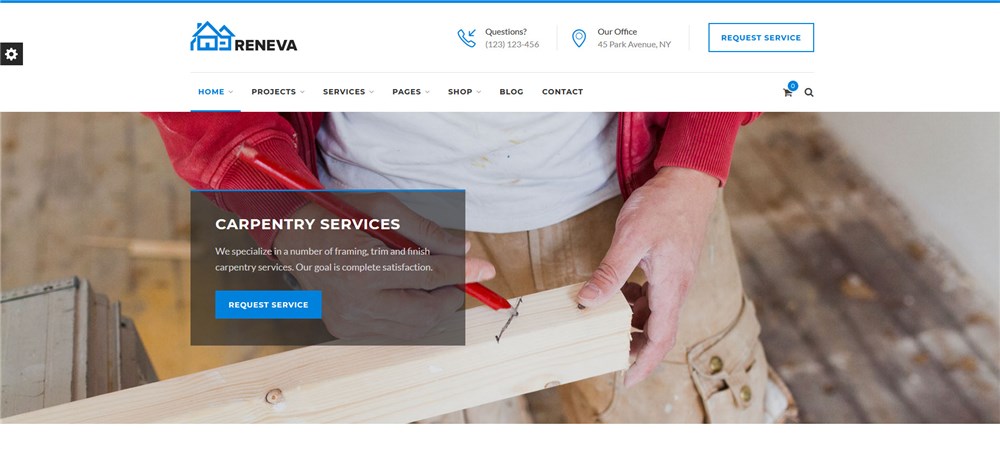 Optimized for business niches: small business, renovation companies 
Appointment booking plugin: Booked
The Reneva is powered by the Booked, WooCommerce bookings, and the WPBakery plugins, which is a great combination for building a simple portfolio + appointment booking website on WordPress.
Its default design is rather classic yet quite functional and lightweight. Among the appointment book templates, Reneva can boast of the ease of setup and customization, purpose-oriented appointment book templates, and a great combination of content layouts.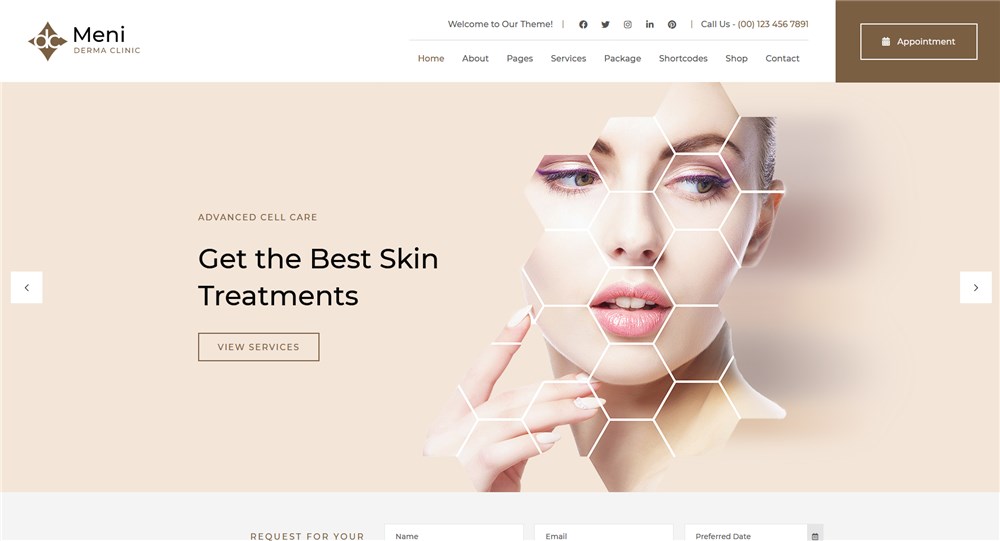 Optimized for business niches: healthcare and medical industries
Appointment booking plugin: Ultimate Booking Manager
Aimed at clinics and hospitals, this appointments template WordPress solution is a good fit for those who need a good choice of design variations, loves to work with the WPBakery plugin, and additionally want to create a shop with WooCommerce. I also have to admit it counts on the gold colors and elegant design concepts to create a sense of luxury and health.
Furthermore, this WordPress appointment form template is chock full of industry-standard plugins (which will save you a good chunk of money) and uses a free Ultimate Booking Manager plugin to power online bookings (quite a decent solution as for a free plugin).
Conclusion: Which WordPress Appointment theme to choose?
The vast majority of the WordPress appointment book templates in our collection are powered by the automatic appointment scheduling and reservation software, so your task is to rather choose the design concept you like and do the math on how much money you can save with premium extras included with some themes. Are there any appointment book templates we haven't mentioned in this roundup?  Which one do you think will suit your business? Do let us know in the comments.

Which appointment booking calendar theme is the most popular?
The Entrepreneur booking theme was purchased over 5K+ times. It also comes with many designs which makes it a really popular solution with WordPress users.
Which booking template is the most suitable for tutor bookings?
The Edme theme is made for education websites and it's also supplied with the booking widget for automatic class bookings. It also features dedicated tutor and course pages that you can fill in with your content and get perfectly designed pages without effort.

Do these WordPress booking themes integrate with WooCommerce?
Yes, the vast majority of the themes integrate with WooCommerce via the booking plugins (Booked, RnB and others). Thanks to this integration you can wire up any payment gateway supported in WooCommerce.