Meet Albatross: Free Elementor Hotel Theme for Hotels & Spa Resorts
On a tiny budget but still, want to create a cool site for your lodging business? The good news is that you can indeed do that with a free Elementor hotel theme!
I'm about to tell you how to build a fully functioning hotel site and even run online bookings on WordPress with a free yet powerful and beautiful design delivered by the Albatross WordPress hotel template.
The Albatross theme is a brand-new addition to our renowned collection of hotel and vacation rental WordPress designs that have already helped to build a professional online presence for hundreds of businesses.

The theme is suitable for hotels, apartment rentals, inns, holiday homes, chalets, spa resorts, and other similar short-term rentals that are rented out with specific per-night rates. The default design is optimized for a hotel, spa resort, or boutique hotel – but you can definitely tailor it to meet your needs.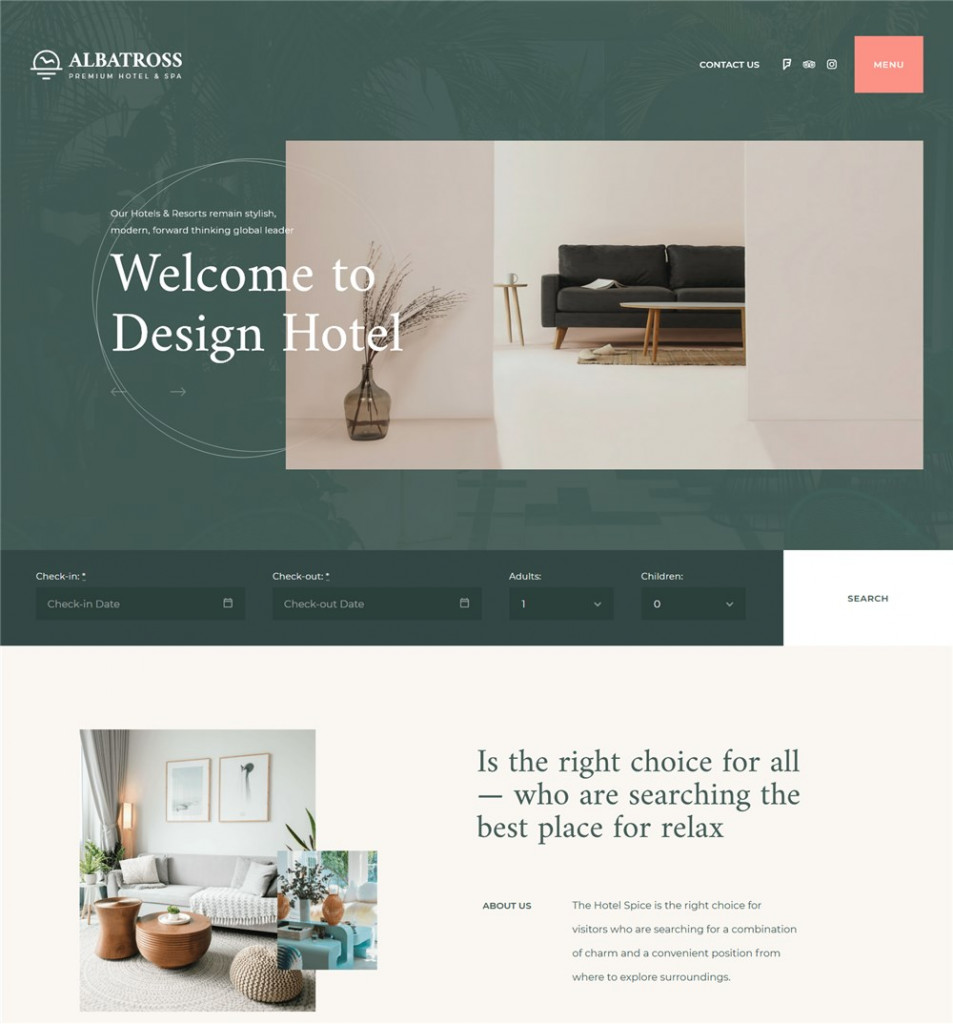 And as you have already probably guessed, its huge benefit is that you can get it at no cost – literally, just download and install right away without any obligations. 
The Albatross hotel booking WordPress theme ships with the visual awesomeness of the ultramodern design with accents on wide immersive layouts, soft colors and lightweight animation effects.
It'll bring an elegant and nifty look to your hotel site to impress your prospects and ensure straightforward booking processes. This theme is architected without many dependencies, allowing you to have fast-loading pages and provide flawless site browsing experiences to your guests.
Let's highlight some key points of the Albatross free Elementor hotel booking template:
The Albatross free hotel WordPress theme is powered by the Hotel Booking Lite plugin, a stripped-down version of the MotoPress Hotel Booking plugin. It gives you all the tools you need to create a directory of accommodations with their details. Compare the differences here.
The theme is built and customized with Elementor – the top used WordPress page and theme builder. You can easily update any part of the theme and add the content elements you need with this builder.
To enrich Elementor with more premium-like free widgets, we've also included Stratum – our hand-crafted collection of extras, including Lottie animations, flip boxes and more great stuff you'll love.
Easy demo data installation allows you to start with the exact design you see in the Albatross demo.
The theme is completely optimized for the Hotel Booking plugin to ensure perfect visual interplay with the code that comes with the plugin.
But that doesn't mean you must use the booking functionality – you can instead use the plugin as a property directory builder!
I mean, if you're looking to build a sort of brochure hotel site, namely, just showcase your properties, contact information, tell about your amenities, etc. – without all those automatic booking forms and guest interactions with the site – you'll just need to click one button to disable bookings on your site in the plugin settings.
And that's it. The rest of the things will look as you see in a demo design.
As you can see, the theme is almost entirely crafted with our plugins – we don't force you to install dozens of other ones. A hand-made product for you, don't you agree?
Let's also highlight major design specifics and the most favorable features of the Hotel Booking lite plugin and how it'll help build and manage a property booking WordPress website.
The intro/header section of the Albatross free hotel booking theme
The header gives you a lot of space to impress your potential guests. Albatross is doing this by combining a tradition (a slider) with rather modern elements (Lottie animation driven by Stratum).
It's easy to add your videos, images, and texts into the slider via WordPress Customizer: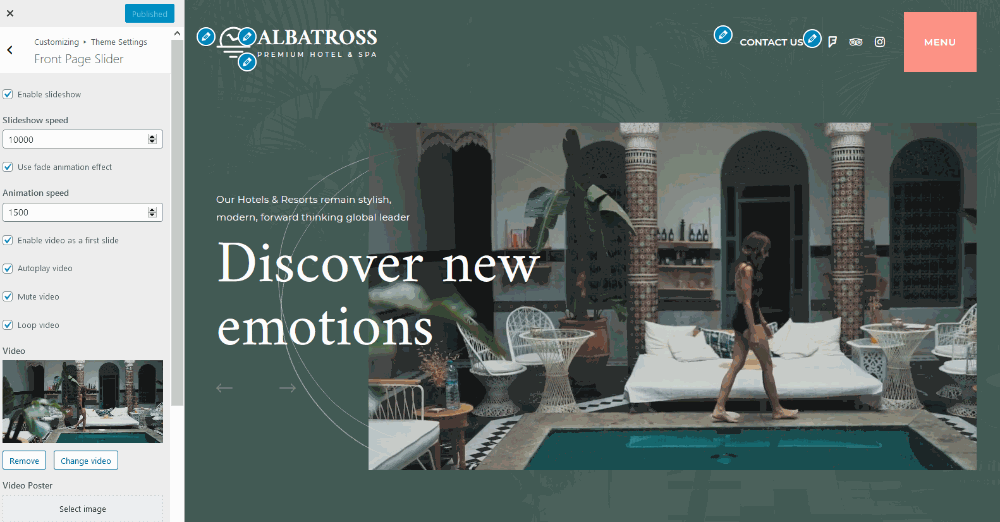 You can also use just images and also leave lightweight animation behind: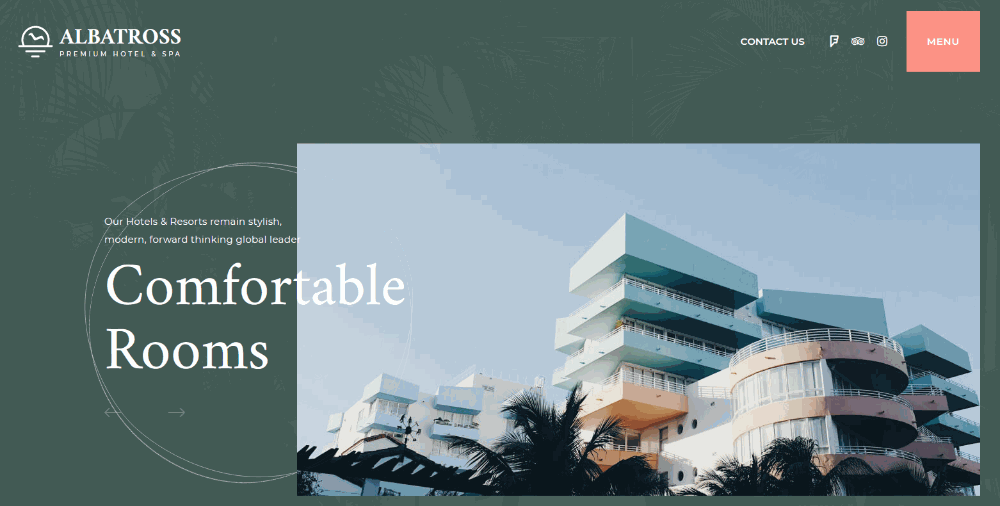 A distraction-free navigation menu makes it easy to concentrate only on the essential contact info button and social media links, which are instantly visible. For more pages, there is a huge Menu button that pops up: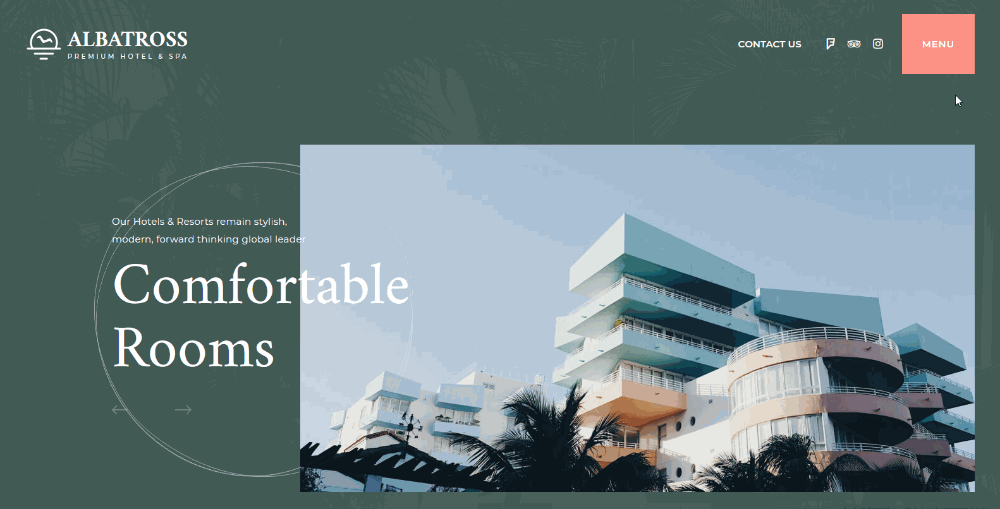 Guests will see all your contact details, a contact form and a Google Map on the contacts page.
The logotype and branding, background image and colors can also be updated in the visual WordPress Customizer – you should have no problems with it!

Adding rental units in Albatross: hotel rooms, cabins, villas and the like
So no matter whether you are going to use the online booking options, you still can create a perfect showcase for your property or a number of properties. Actually, the Hotel Booking site can handle unlimited properties of any kind.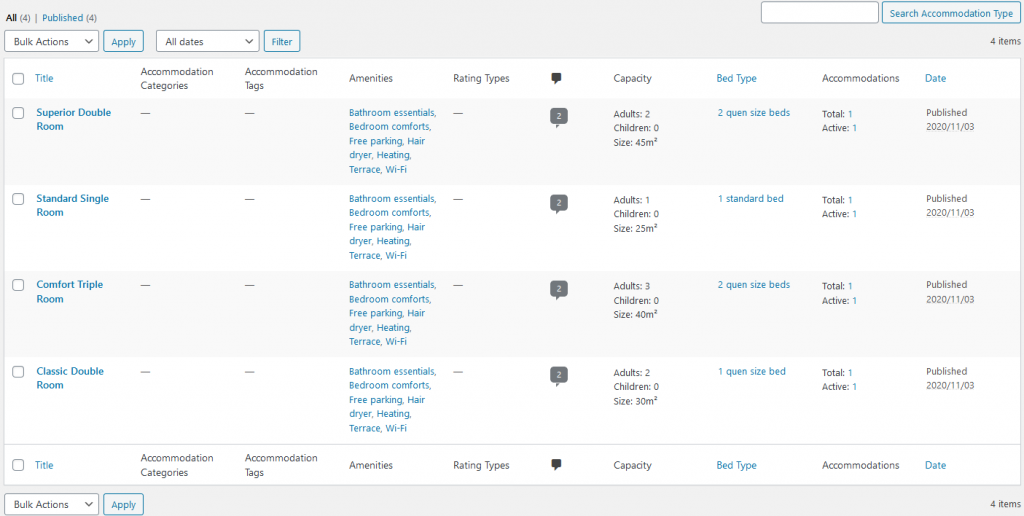 When adding a new property, you'll be able to include categorized amenities, a property description, upload property images, add bed types and a view, and optionally assign extras available for each property type.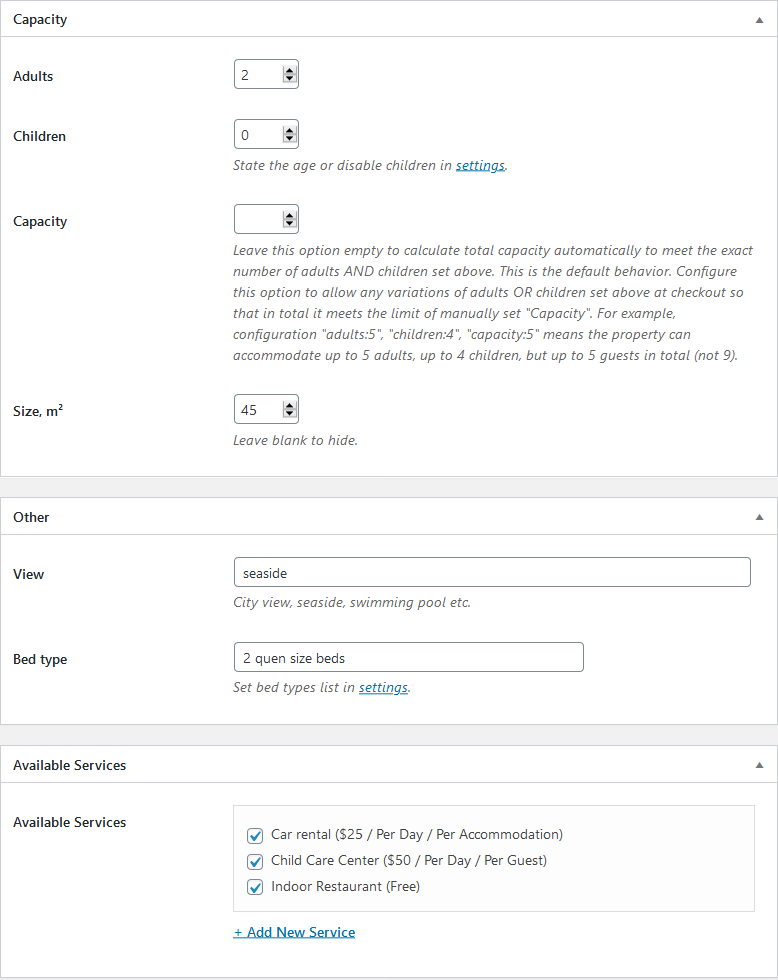 In Albatross, a guest can see all the rooms, suites, and villas in different ways:
You can use a default slider on the frontend, where guests can see major details, such as a rate, room capacity, view, and its size.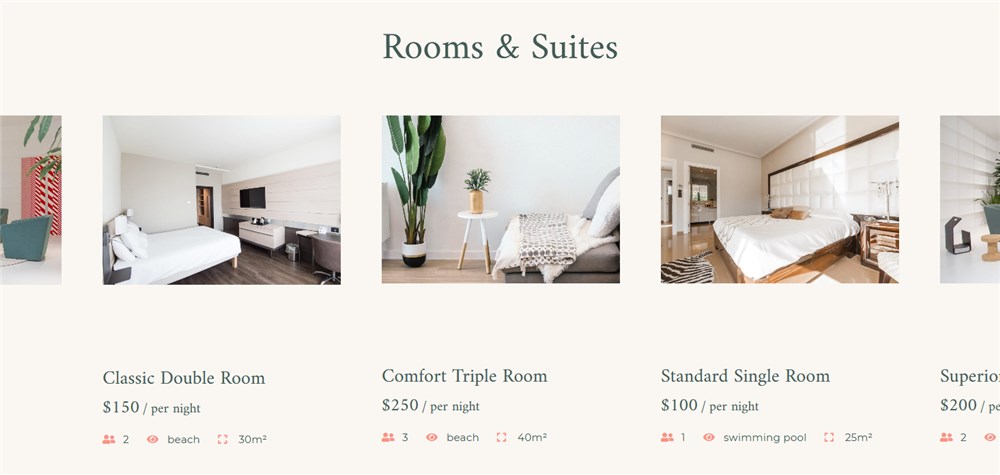 You can edit the presentation of these accommodations via Elementor via an extra helping Hotel Booking Elementor Integration addon that comes with the theme. For example, you can exclude featured images, or price, or the Book button.

As you see, you just need to click the buttons to customize the rooms directory! You can also add it to any page, not just the front page.
Guests can find the needed property using a real-time property search form on the front page: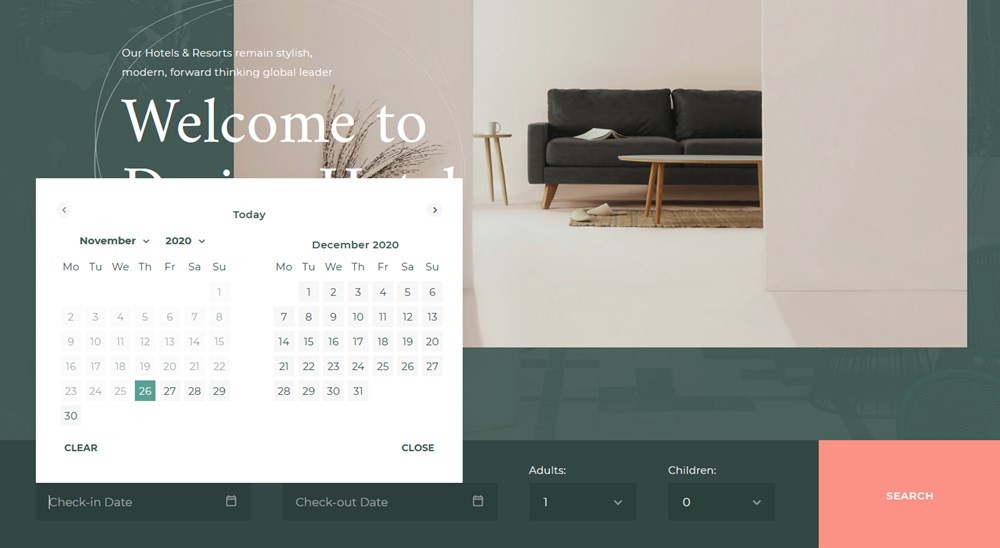 By the way, with the Pro version of the Hotel Booking plugin, you can add more custom filters to this form (any custom fields).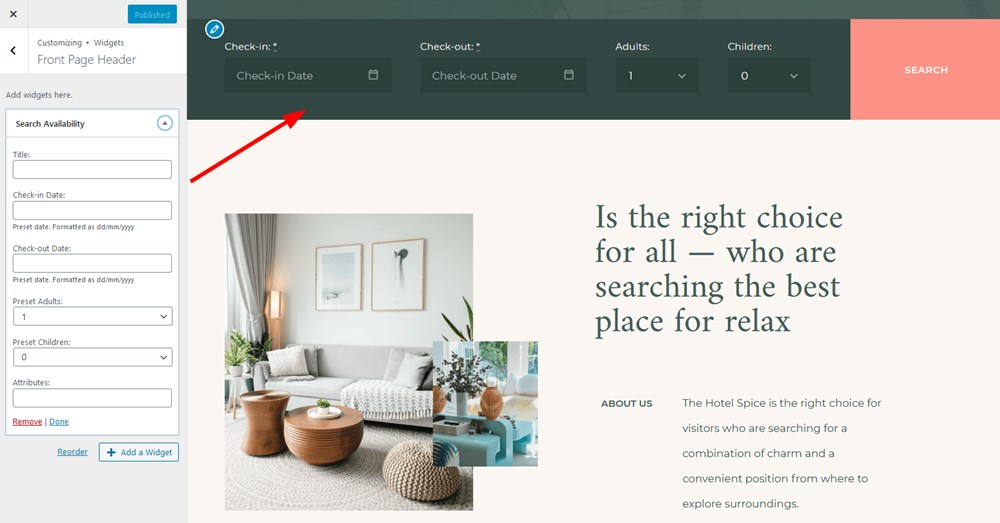 Room layouts in the WordPress hotel template
The Albatross theme offers several room layouts for a directory of properties:
A default view – a list of rooms with a widgetized sidebar: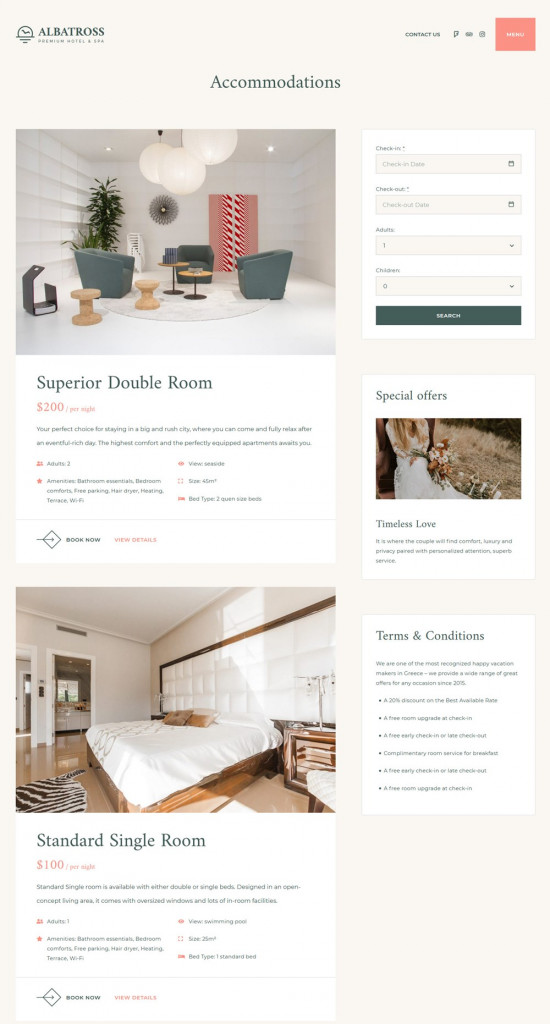 The sidebar gives you space to show more functioning widgets like the booking form, special offers, etc. so they can serve as extra calls-to-action. Additionally, you can simply add text, images, video, etc. to the sidebar to tell more about your hotel or vacation rental.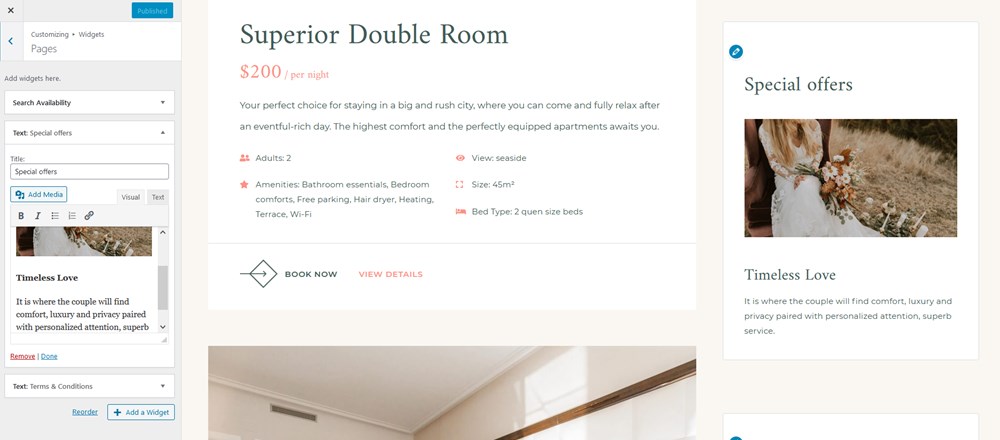 A fancy grid view without a sidebar: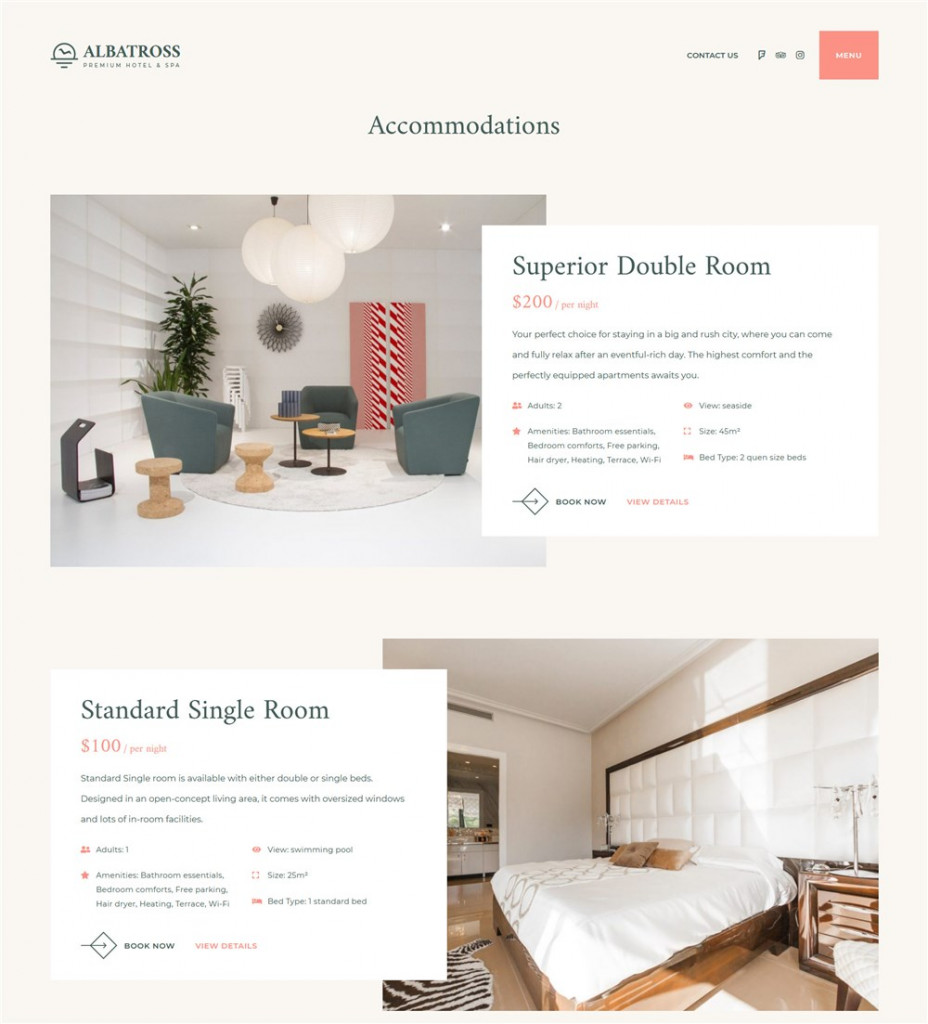 By going to dedicated accommodation pages, guests will see all the details you stated, including an image gallery and a real-time availability gallery: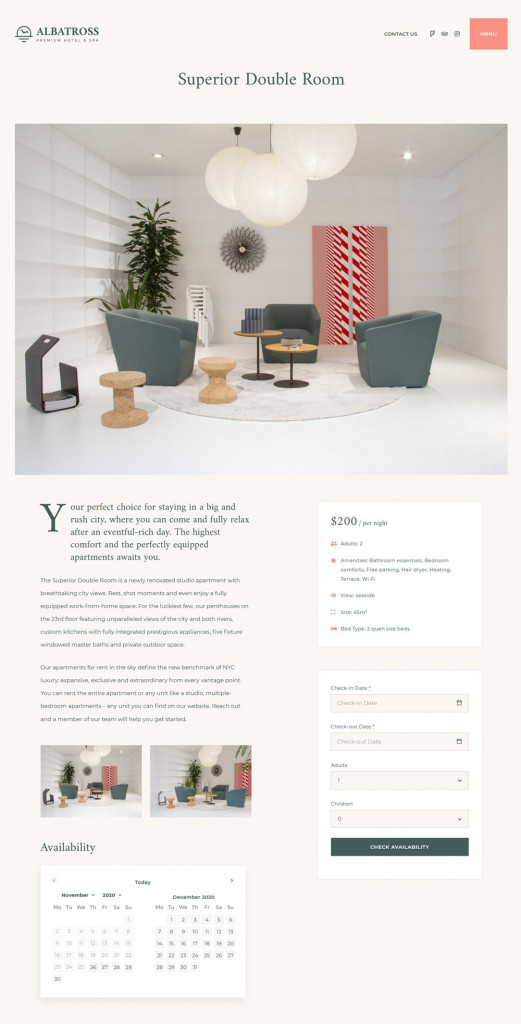 Newsletter, Google Maps, and other essential front page sections designed with Elementor
Elementor opens up fantastic customization opportunities – and we tried to use its best widgets in Albatross to create purpose-fueled and beautiful website sections.
Testimonials
No website, especially in the client-oriented industry, can survive without testimonials. With Albatross, you can show client reviews and testimonials in several ways:
Use a default dedicated slider section for admin-added testimonials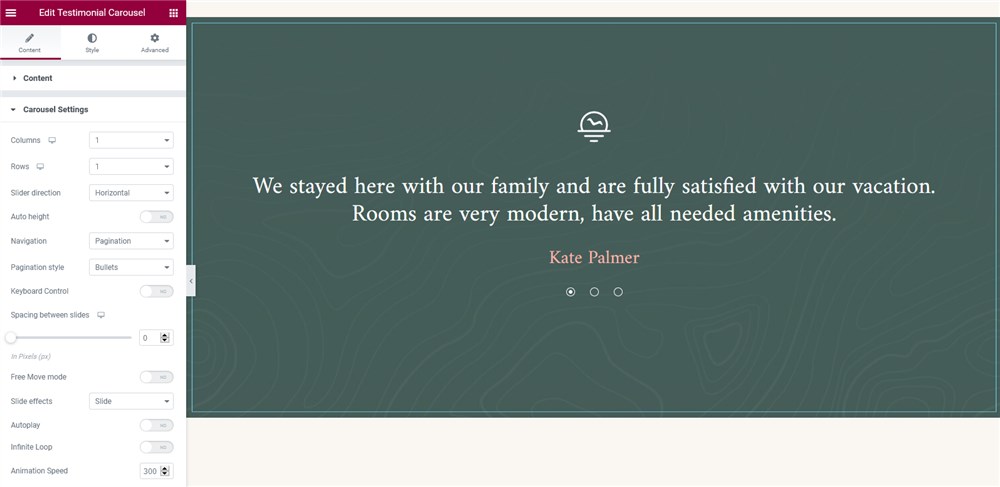 As you see, Elementor and Stratum allow you to tweak this section in any way – change the number of columns, set a different navigation button style, and more.
Optionally add real guest-generated reviews by connecting an extra Hotel Booking Reviews addon. It'll enable guests to evaluate your property by different criteria and leave written feedback.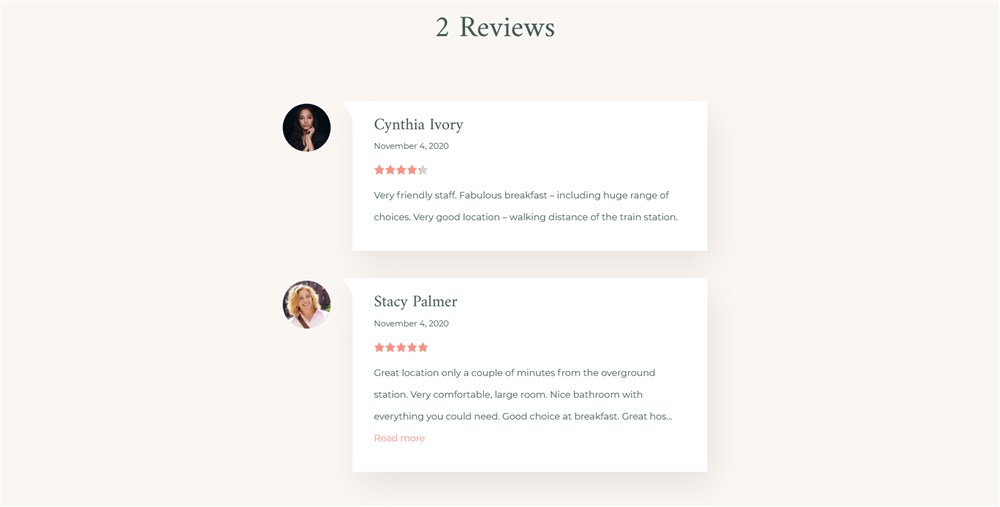 Restaurant
Showcase your restaurant in style with a dedicated section you can also edit in Elementor – it can be presented as a mere list with icons or a tabbed interactive widget: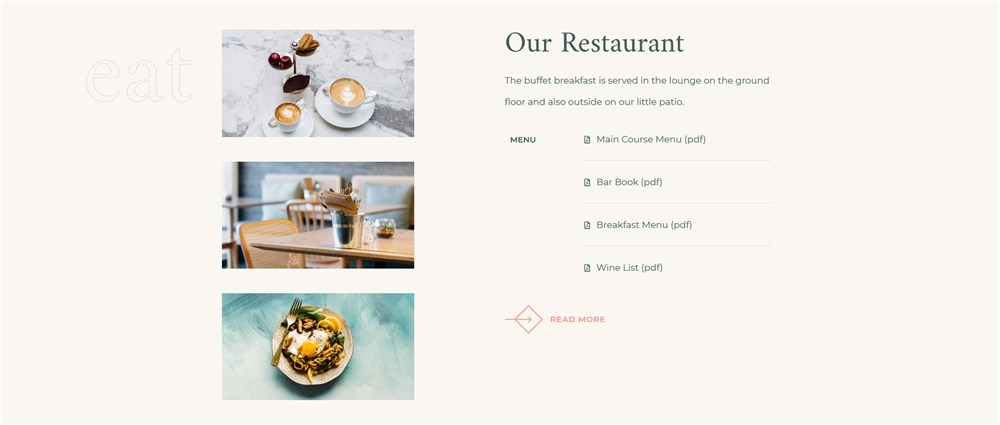 The inspiration section
Created with the Image carousel widget and simple paragraphs/titles, this section in the Albatross free Elementor hotel theme is really cool.
Smooth image zooming effects, seamless sliding, and a harmonic combination with inspiring messages add a lot of charm to the design. Feel free to change the typography, colors, background, styling, image order, etc.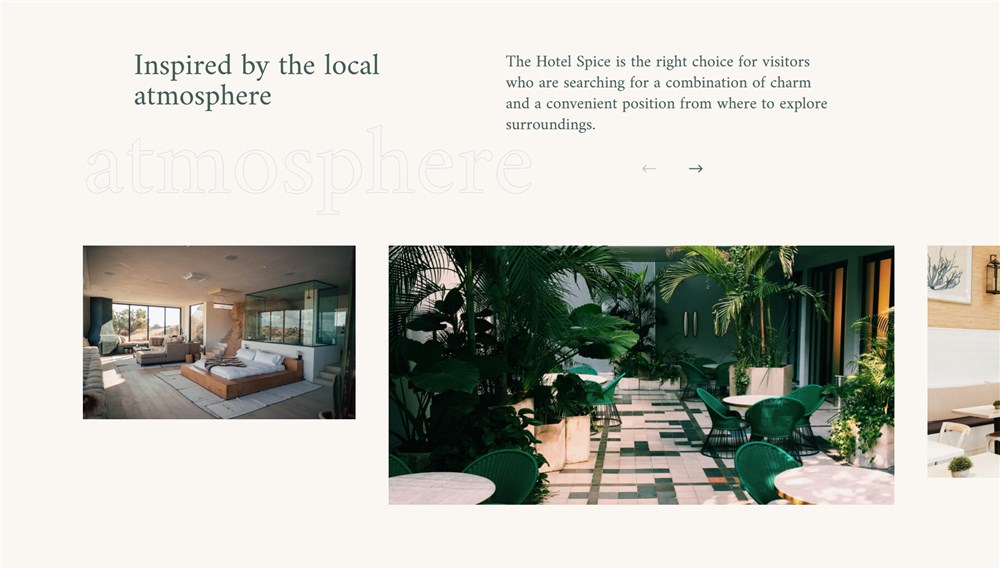 Newsletter
Boost your hotel email marketing – make your guests leave their email addresses by using the email newsletter section. Come up with a few enticing calls-to-action and get a contact of your prospect!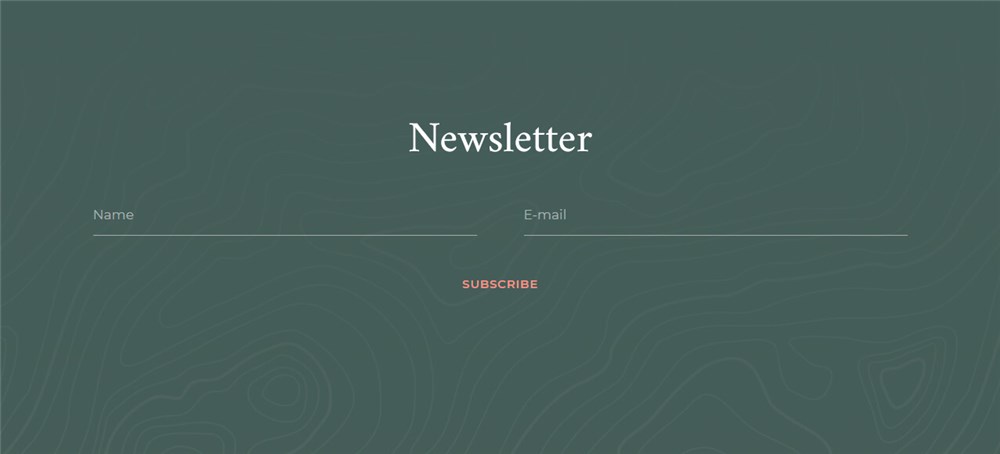 News and events
Highlight your blog stories on the front page with the dedicated sections.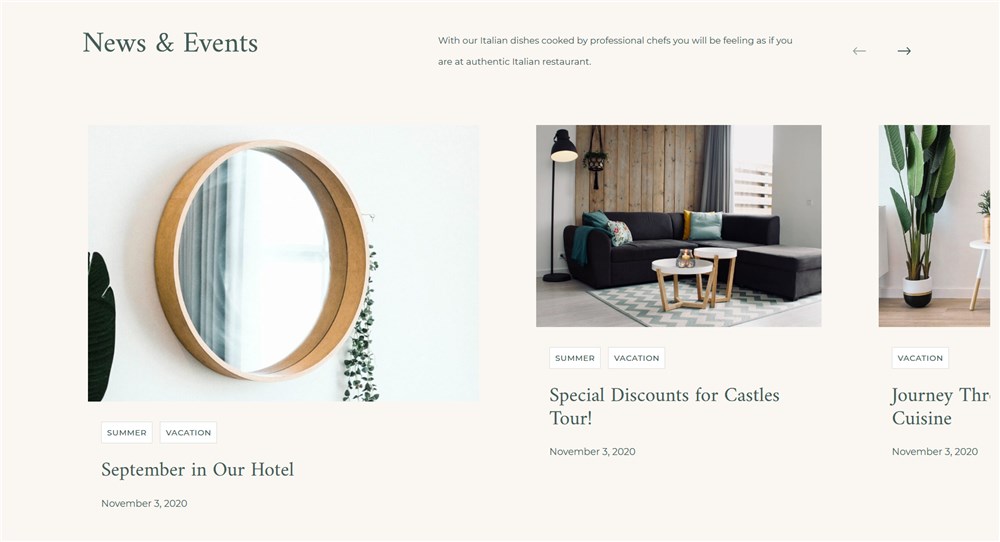 More tools of the Hotel Booking Lite plugin
We have numerous guides on our blog on how to work with the Hotel Booking plugin – you can check this step-by-step guide, for example, which clearly shows all the settings and tools of the plugin.
But if you are not about reading that much, we'll do you a favor by listing some of the most prominent features of the lite version of the Hotel Booking plugin:
Flexible pricing setup – set different pricing points based on a season and in-room amenities.
Optionally include obligatory taxes and fees into the rate.
Sell extra equipment or services in advance – offer bookable extras on the checkout page.
Customize a default calendar theme in the property search form.
Choose the currency, date format, language, and more options to suit your business needs.
Enable instant reservations via PayPal, or offer payment on arrival or wire transfer options to your guests (or go without online bookings). Charge full or deposit prices at checkout.
Take properties out of booking when needed.
Compare MotoPress Hotel Booking Lite vs PRO
Albatross WordPress hotel theme free download
Albatross is a simple and beautiful solution for building a rental property site on WordPress – it has all you need to get started. In particular, Elementor for the design customization needs online availability calendars and search forms, the property management and booking software, payment processing with PayPal, and more tools by Hotel Booking you'll unlikely find in other free Elementor templates.
This hotel booking WordPress theme is different from the league of the best free hotel templates simply because it gives you a lot of premium-like features for free, including those bundled in the Hotel Booking lite plugin and the Stratum Elementor widgets.
Albatross is free, so why not give it a try?
Can I use the Albatross theme for a bed and breakfast or vacation rental site?
Can I use the Albatross theme for a bed and breakfast or vacation rental site?
Sure! Although the default design is optimized for a hotel site, which means it features multiple rooms of different types, you can easily customize it for any other rental property, either single or multiple. For example, if you operate a single property, just delete unneeded rooms.
Can I upgrade the Hotel Booking plugin to the Pro version in Albatross?
Of course – if you lack some features in Hotel Booking lite Albatross is powered by, feel free to upgrade to Pro anytime. In this case, you'll still use a free design by Albatross but with all premium features of the booking engine for WordPress.
Which payment options for online bookings are available for free in Albatross?
You can accept online payments on your hotel site via PayPal for free. Clients can also pay on arrival or transfer their money via direct bank transfer methods. Full and deposit payments are also supported. You can also purchase the WooCommerce addon for Hotel Booking to integrate many more payment gateways.