Email Marketing for Hotels: Simple & Effective Tips
So you already have a hotel and probably even a website where guests can book a room online. Splendid!
But we're not hoteliers. We work with the software for rental properties and all the related stuff. Apart from coding and designing user-friendly things, we are into sharing experiences like this one:
How to drive more traffic to your hotel or vacation rental website
So if you are interested in the perspective from the opposite side of the barricades, welcome. A hotel booking website is like a supermarket with self-service checkout – people do everything themselves from choosing a suite to paying online. It's self-sustainable. The interaction is minimal if not absent. And there you have it.

That's a kind of hotel website email marketing will work the best for.
Compared to many outlandish marketing techniques the modern market has to offer, email marketing for hotels is still the most cost-effective, efficient, and no doubt vital way to increase bookings and improve communication with your guests.
Does email marketing for hotels differ from email marketing for other niches, by the way? Yes and no.
When it comes to software, it's unlikely a big difference. As for the email copy psychology, the customer journey, local newsletters, creative ideas, timing techniques – yes, there are specifics. Let's roughly call them automatic and non-automatic hospitality email marketing techniques for hotels.
We're going to talk about both.
Choose an email marketing automation solution
Your hospitality email marketing efforts should start with choosing the email marketing software. You need it for one simple reason – to remain competitive because most likely everybody else in your niche is already using it.

In terms of the software for the hotel email marketing automation, many websites use the same internationally recognized solutions, such as Pabbly Email Marketing, Mailchimp, Aweber, Keap (former Infusionsoft), ConvertKit, Drip, and others.
There are even more cloud-based email marketing platforms, but these are first-class, trusted choices by thousands and probably even millions of small and enterprise-grade businesses around the world. Of all types!
Thanks to their popularity, a lot of CMS platforms and website builders, including WordPress, provide smooth integration tools, i.e., allow you to make use of these services with a few button clicks, without a need to hire an expert.
We are not going to reinvent the wheel and can surely recommend that you start with any of them. If you are curious, we use Mailchimp for 5+ years (not affiliated). It has it pros and cons. Among the cons, we feel that the pricing is getting really higher as we grow.
Some of the listed email marketing companies even provide free accounts with basic features allowing you to start paying only when you start growing. If you are on WordPress, compare the most popular solutions.
It's very important to choose the most suitable email marketing automation solution for your particular hotel and website since you'll need to build a lot of traditional non-automatic hotel email marketing processes using those exact tools that go with the software.
For example, SureTriggers is a remarkable online tool developed by Brainstorm Force, the same company behind the famous Astra theme, designed to simplify and automate various workflows and app integrations without requiring any coding knowledge or technical expertise. There are extensive range of features and integrations that helps you in saving time, streamlining processes, and increasing productivity.
We'll be talking about some general tips on how to use the tools available in most of the email marketing automation solutions to maximum advantage.
To make some tips more illustrative, we'll use Mailchimp. We don't just use it ourselves, we also offer a fantastic Mailchimp integration add-on for our WordPress MotoPress Hotel Booking plugin for customers.
The main benefit of this add-on is that it connects all the online booking actions handled through the core WordPress Hotel Booking plugin with Mailchimp. That means adding Mailchimp to WordPress, you can automatically send your guests emails based on different Hotel Booking triggers (for example, a thank you email or booking details right after the reservation). So this WordPress Mailchimp integration add-on requires only a little effort to set up and use.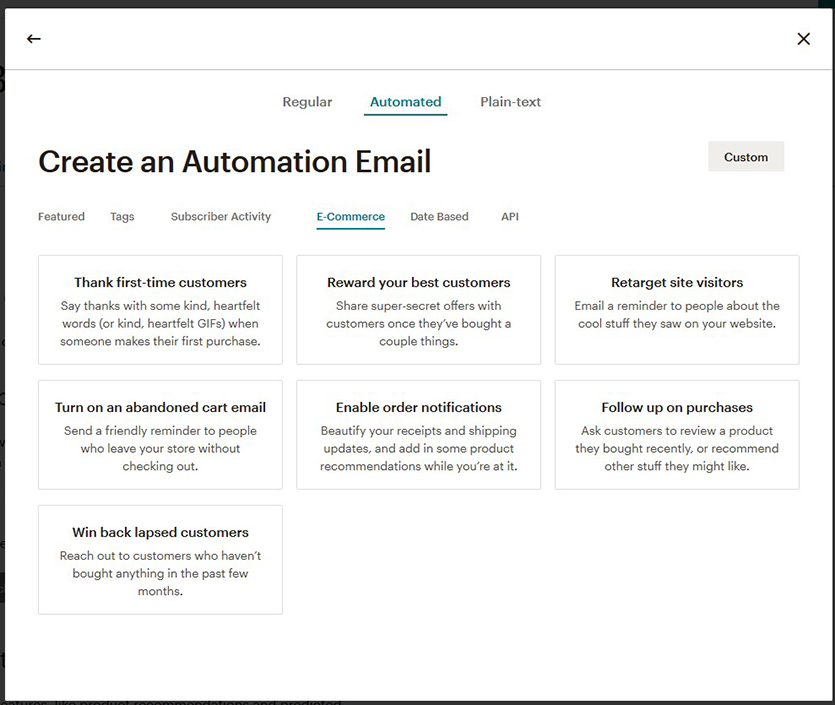 If you run your website on a different CMS or booking engine, there should be similar solutions to connect Mailchimp or the marketing service of your choosing.
Think about the customer journey
Email marketing can convert guests at multiple stages, so you should have a clear idea of what the customer journey in the hotel industry looks like and have at least one email draft for each step.
This is a raw example of the customer journey, which you can customize to your needs: inspiration, booking, pre-arrival experiences, check-in, on-property, and check-out. These steps will help you set a clear goal for each email and decide on which type of email is required.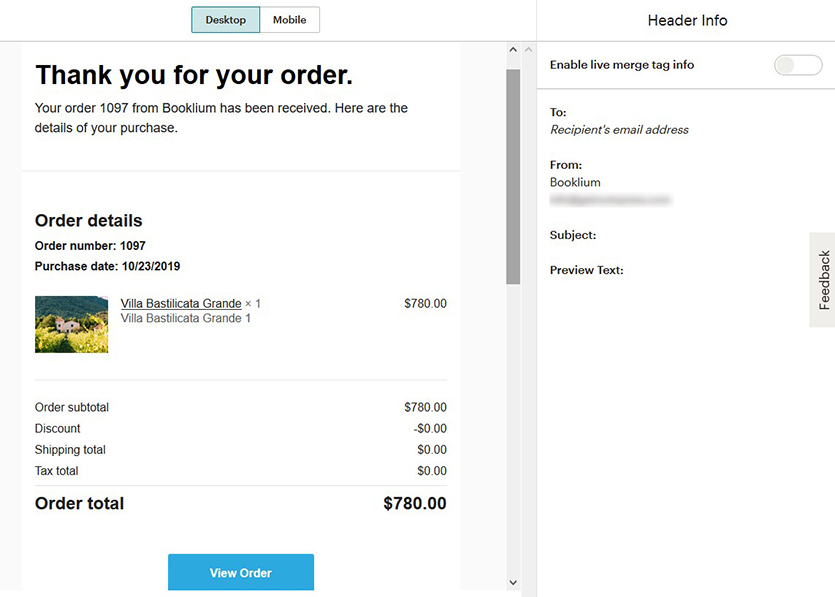 Strategic planning with segmentation
Even with email marketing, which is quite often associated with sending the same emails, you can deliver personalized experiences to your quests thanks to segmentation. Segmentation is breaking up your audience into subcategories based on the interests/actions of the former. It can be quite easily done through your favorite email marketing automation software.
Your segmentation list should reflect realities of your business, as well as include some basic event-driven actions, for example, your audience list can be divided by:
Guests who simply booked a room
Guests who travel with children
Guests who ordered extra services
Discounts and deals.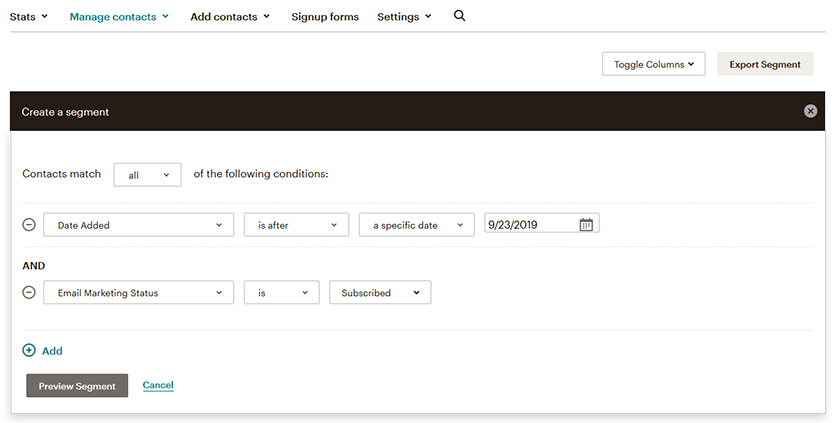 It depends on the marketing software you use how deep you can go into segmentation. But some basic actions like room booking/canceling actions should definitely be supported by many popular tools.
The better relevancy of your emails, the more odds your email will convert into a real guest or will upsell better.
Send a useful newsletter with locations, events, attractions, and more
Make sure to provide perfect pre-vacation experiences by sending your guests useful information that resonates with their trip.
Send a quality free newsletter highlighting the most popular attractions; also include events, region-specific holidays, tourist spots, and even specific tips only locals know.
If you manage to produce really high-quality, engaging content, you'll save a ton of time that guests would normally spend to discover, research, and decide which places and events to visit. They would appreciate it. Try to find and include a few things with free admission to make your email even more valuable. Put yourself in a client-facing role and think about what sort of email you would really appreciate from the hotel.
You never know how the guest is prepared for the trip so your tips and recommendations might just come in handy. Similarly to blog articles, it's very important to keep the newsletter fresh and up-to-date.
Already got a couple of great blog articles on this? That can save you time on creating a newsletter; moreover, if you include links to the website blog, the traffic boost is guaranteed.
Of course, such kind of newsletter would be the most beneficial for those who already booked a room, but it can help you promote your property and location even to past guests. This is not just a way to promote your partners but also a great way to influence the final guest's feedback.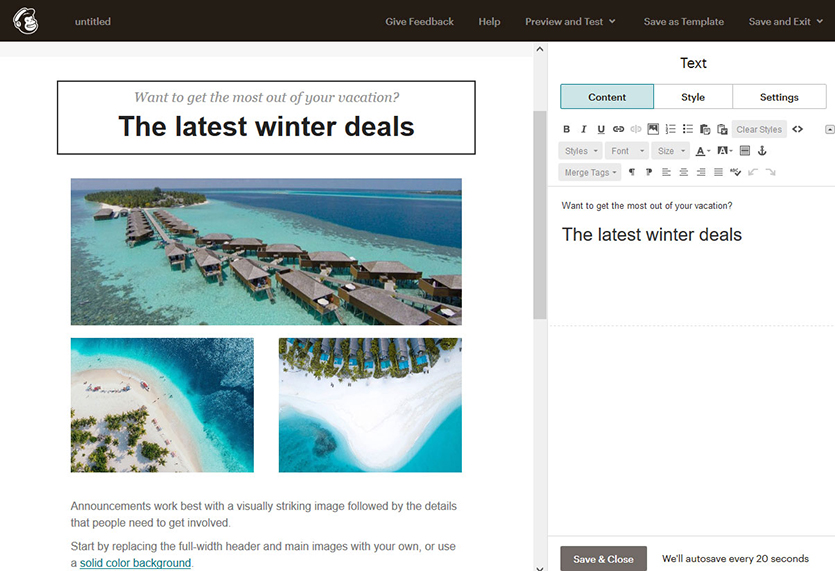 Create a culinary newsletter and promote your dining facilities
Put efforts into creating local food tips/a culinary roadmap newsletter for would-be guests.
Quite often hotels provide links to the dining facilities in the booking notification email, but if you really want to convert your hotel restaurant or catering services, this should be a separate email. To make the content sound more impartial, you can create a guide to local cafes and restaurants and also mention your services.
Put the dining facilities into the spotlight to increase chances for convincing guests to try out your food. Mouth-watering images are a must!
Ask for feedback to add social proof to your website
Property reviews from past guests are your chance to improve the overall credibility of your hotel, thus, speed up the decision-making process for prospects. So do ask for feedback after the most recent stays.
Of course, it's really hard to maintain 100% positive feedback, but without those real testimonials, your website doesn't get enough social proof, while the latter is crucial for the travel and hotel industry.
Such emails can also be automated. If you are ready to set up this kind of email, make sure that your website supports the reviews system in the way you need.
As a workaround, you can of course manually select feedback collected via email and publish it on your website, but usually 100% perfect reviews can be considered dishonest and scare away conscious tourists.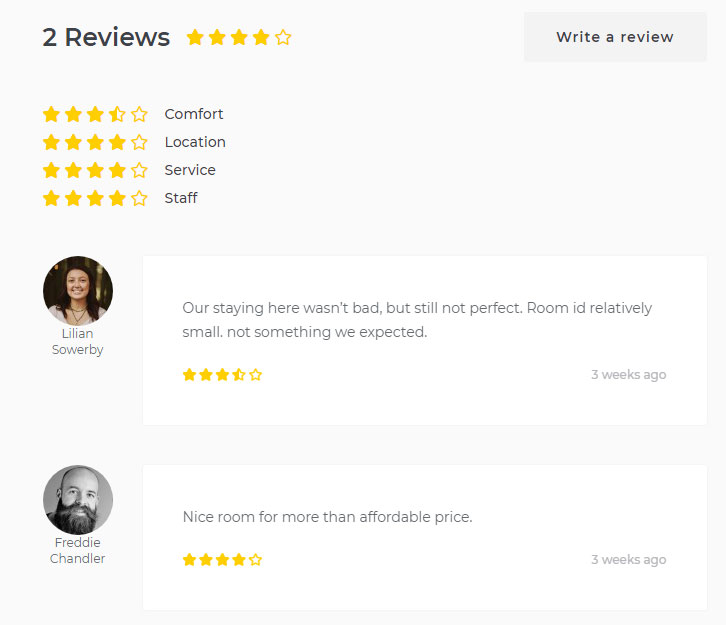 You can also use online surveys of different types to collect feedback to see where you can improve your service.
Set up abandoned cart emails and win back abonders
Results of different research quite often show bad news for OTAs: the shopping cart abandonment rates for the travel industry are at around 80%.
Luckily, you can make that number a bit more pleasant for your business. It's quite possible to recapture bookings by setting up abandoned cart emails within your favorite email marketing software.
For example, here is an email template for abandoned cart notifications in Mailchimp:
Whether you'll be able to recapture travelers pretty much depends on when you send that email and how clever it's written. There are two main things to keep in mind:
Since would-be guests have so many booking options at their fingertips, they won't "wait" too long for your email.
They are in a rush, even when they have time, so make sure to make your email concise and to the point.
VIP newsletters with special offers to retain the best customers
Many tools for email marketing for hotels offer you advanced automated solutions that can define so-called VIP clients. Generally speaking, those are people who booked the most expensive room or service, stay for a long time, or in any other way spent the above-average sum of money.
Why not make VIP clients loyal for the long run? There are many ways you can win their loyalty with an extra VIP email.
Offer free admission to some local events
Provide free services (e.g. airport shuttle)
Welcome with champagne
Send birthday or ''we miss you'' campaigns
Offer discounts for future bookings.
This email will help you retain the best customers and get their positive feedback. We'd also recommend including the discount or any special offer in the email subject line to improve the open rate.
Promote your social media profiles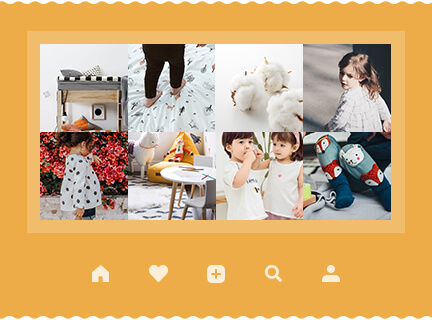 Don't have the time and resources to promote events and attractions? Try to promote your social media by featuring photos and videos from the already published posts in your newsletter. Instagram images are a good example. Try to show the realities of your hotel in a specific email and entice guests to follow your news. If you are lucky enough to cooperate with social media influencers, those posts/emails are going to be 10X more powerful.
If you have links to your social media accounts in each newsletter, great, they must be there. However, if you really want to get new subscribers, it's essential to put your preferable social accounts into the spotlight.
Measuring email marketing success
Track revenue from each email to define the things that work. You don't need any large-scale system to measure your success, the email marketing software of your choice should be able to support A/B testing for email marketing for hotels campaigns.
If your software supports e-commerce options, you might even be able to track revenue from each email.
More general tips for email marketing for hotels
Take care of the email design. Add professional visual content to your emails, create an attention-grabbing header, reduce long sentences to get your message across easier, etc.
Hotel Booking Checkout Fields addon is one of those tools for any hotel website owner that helps in getting more precise info about guests on the checkout (including their interests). With this addon, you can customize default fields, add your unique ones, and delete them in case you want to. Don't lose your chance to get to know your guests better, Checkout Fields addon is the right instrument for that.
Due to the GDPR, it's recommended to use a permission-based hotel email list of contacts to send emails (use opt-in checkboxes at checkout).
Any extra newsletter you consider promotional should feel like you are actually trying to educate and help your guests. And do try to send emails that are not about selling.
Don't overdo the email size – don't try to push each and everything into one newsletter. Modern people don't have time to read another newsletter, so try to stay focused only on a few major things.
Don't send all those types of emails at once; choose a few that you think can be the most profitable and suitable for your business/relevant to your audience.
Send personalized emails.
Polish your pre-arrival emails: offer room category upgrades (if available) and promote the most popular services (e.g. breakfast).
Bottom line: why email marketing for hotels can be really rewarding
The most precious thing you get with your independent hotel booking website is autonomy and direct bookings. Smart email marketing will help you take both to the next level and significantly increase your property's exposure. Here is a summary of tips to start your email marketing journey:
Make sure to find the email marketing solution that smoothly integrates with your property management system, website builder, or CMS (e.g. it's not just a "subscribe to our newsletter" box, it's an automated email that is sent when a booking is made).
Create a suitable customer journey for your website.
Capture email addresses, intelligently segment the audience, and send relevant emails.
Upsell and upgrade with relevant pre-arrival emails.
Promote extra services and your partners using an educational tone of your emails.
Don't leave money on the table – set up abandonment cart emails.
Improve your social proof with user-generated testimonials.
Test, experiment, and measure your success.
Your hotel marketing ideas for the next email?
Is email marketing for hotels still effective?
There are many modern marketing techniques for hotels, but email marketing is not dead – it's still the most cost-effective, efficient, and no doubt vital way to increase bookings and simplify communication with travelers.
What is the best email marketing automation solution for hotels?
You can use any that suits your budget and needs. There are many internationally recognized solutions suitable for any type of business: Mailchimp, Aweber, Keap (former Infusionsoft), ConvertKit, Drip, and others.
How to customize a hotel newsletter?
All marketing automation tools will help you brand your emails in different ways. We recommend sending a useful newsletter with locations, events, and attractions. VIP newsletters with special offers to retain the best customers are also appreciated by the latter.