Connect Mailchimp to WordPress Hotel Booking with Our New Integration Addon
We love Mailchimp. Here at MotoPress, we've been using Mailchimp for many years to send you all types of emails on product updates, discounts, surveys, and new releases (like this one!). The platform is all about improving communication with your clients, automating repetitive tasks, and eventually boosting your business. So how do you connect Mailchimp to WordPress?
If Mailchimp is your go-to tool to run email marketing campaigns on your rental property website built with MotoPress Hotel Booking, there is no need to move to a different platform to automate emails for your guests who interact with the reservation plugin. If you are new to Mailchimp, you won't look back once you try it.
Hotel Booking Mailchimp Integration Addon
Thanks to the new Hotel Booking Mailchimp Integration addon we're introducing in this article, you can set up a deep and intuitive connection with Mailchimp, one of the most popular email marketing platforms out there.
The whole process, as usual with our addons, doesn't require any technical background, which makes the setup and use of the addon straightforward and fun.
The core purpose of this addon is to help you automatically build a list of contacts in Mailchimp (collect a list of email addresses) associated with the booking actions on your website, i.e. create a Mailchimp "audience" (previously "list") to send different types of automated emails to past guests and prospects.
In simple terms, Mailchimp allows you to track each person who's left their email address during any booking actions, even without paying online and send the needed follow-up email. And this integration addon makes it easy to sync bookings data to Mailchimp.
Furthermore, Mailchimp allows you to target specific audiences, perform A/B tests on email campaigns to measure the performance of your messages, and even send e-commerce notifications.
So how can you power up your MotoPress property booking website with Mailchimp?
The addon requires almost zero setup and maintenance actions. Let's first take a look at the specific tools you can utilize in Mailchimp and then walk you through the addon settings and tools.
Once the addon is installed and activated, you can configure the main settings via Accommodation > Settings > Extensions > Mailchimp. 
To test the waters, you can even start with a free Mailchimp account, which allows you to have 2,000 subscribers within one audience/list.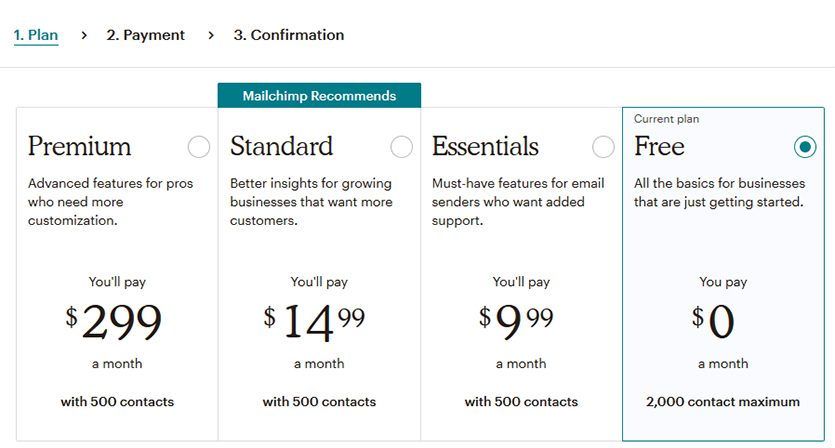 Automatically subscribe users
It's up to you whether a user needs to be aware that their contact information can be used for email marketing purposes.
You may leave this information backstage by enabling automatic subscriptions for confirmed bookings, i.e. a new subscriber is added to Mailchimp automatically only in case their booking has the status "Confirmed" (no matter whether it was confirmed by payment or manually).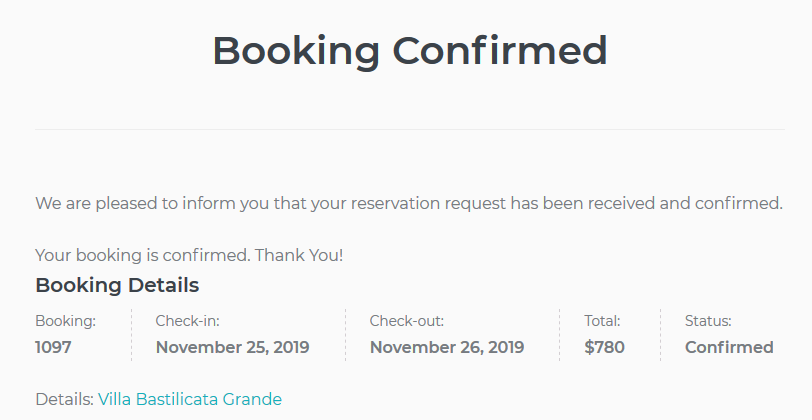 For example, if the booking confirmation mode is set to "Confirm by guest", the contact is added to your Mailchimp audience after the booking is placed, but it becomes a subscriber-only after their booking is confirmed via email.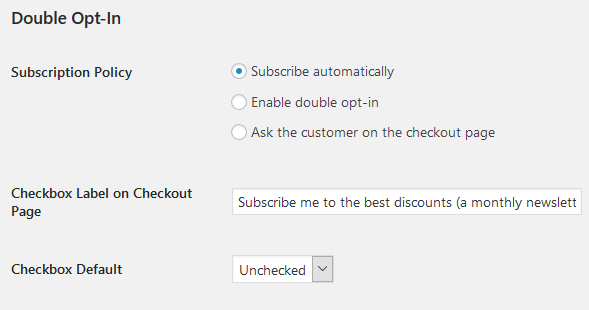 You can select the audience and the group of interests you want to subscribe users to.
It's better to be safe than sorry: enable opt-in consent checkboxes
However, if you take the GDPR and personal data protection seriously, you might want to enable the opt-in consent checkboxes at checkout for bookings: just tick the box to output the checkbox on the checkout page.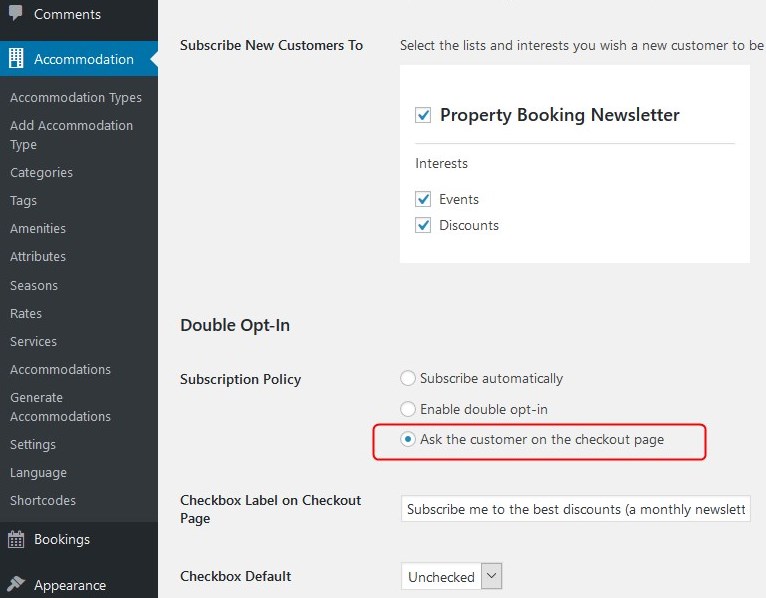 You may leave the checkbox checked or unchecked by default: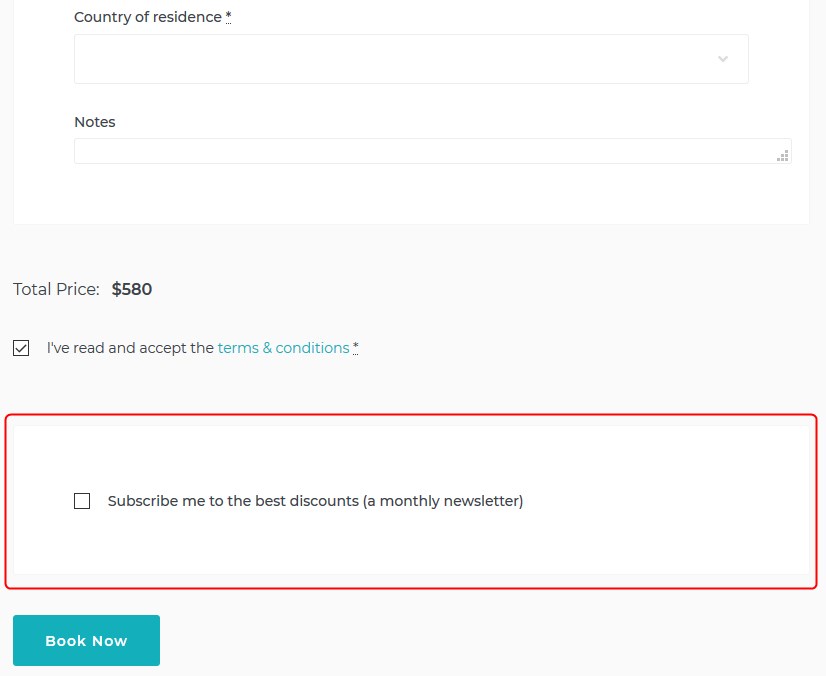 Or you can even go the overprotective way and enable double opt-in, which involves sending one more confirmation email to the user even after they checked the box on your website at checkout.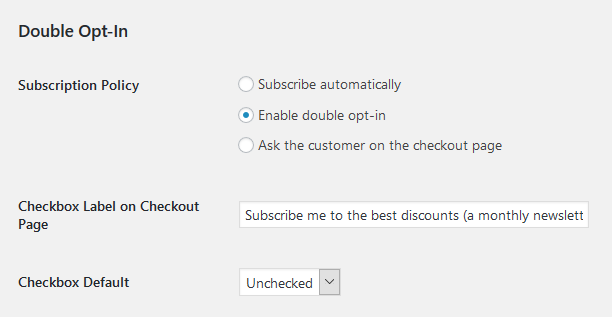 Create and send targeted automated emails
Mailchimp arms you with the whole range of technologies to segment the audience and send automated emails to the entire list or chosen contacts.
It's also possible to manage interest categories for a specific list/audience and group subscribers based on their preferences. Feel free to learn more about groups in Mailchimp.

Abandoned cart reminders, booking notifications, and other types of emails
Mailchimp enables you to craft and send automated messages for different scenarios.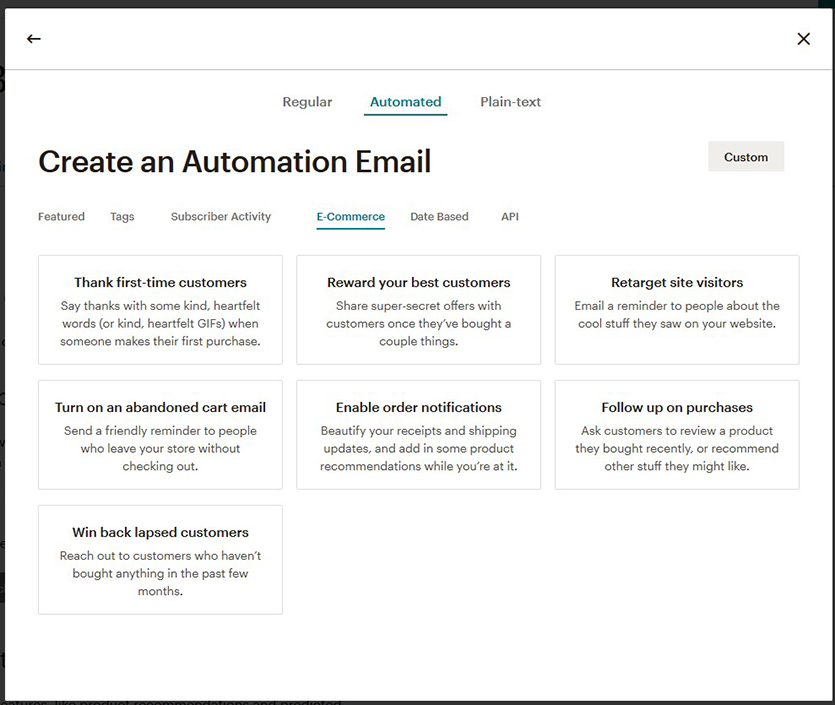 Here are a few types of emails you can design and send with Mailchimp:
Thank first-time subscribers.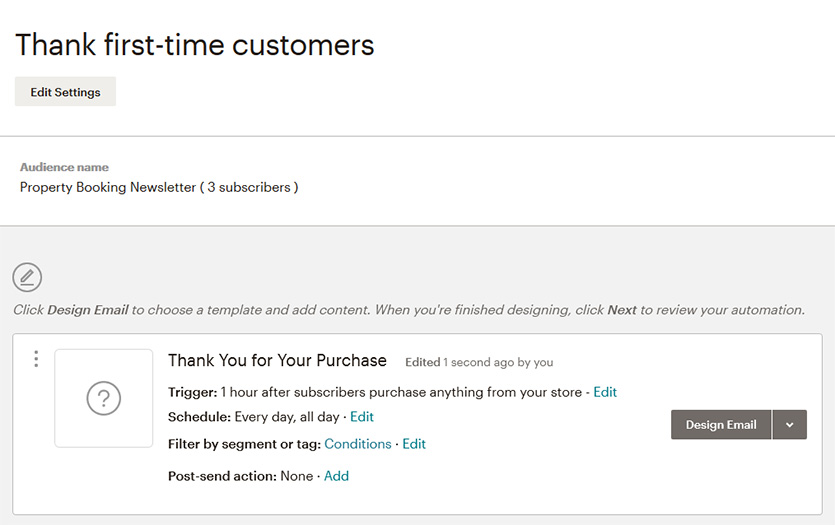 Turn on abandoned cart emails that will be sent to guests who left their email addresses but haven't finished the reservation (can be a single or a series of emails).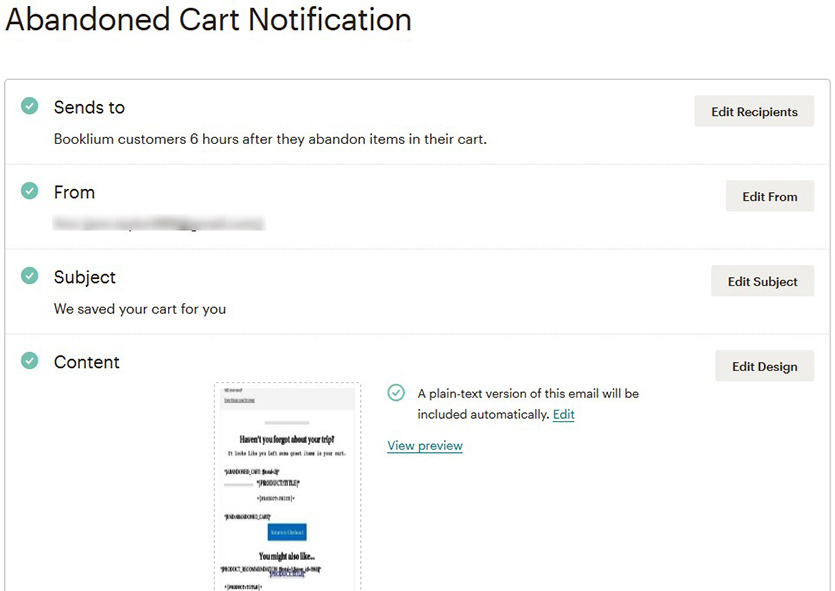 Send booking notifications either in addition to or instead of the email sent via the Hotel Booking plugin.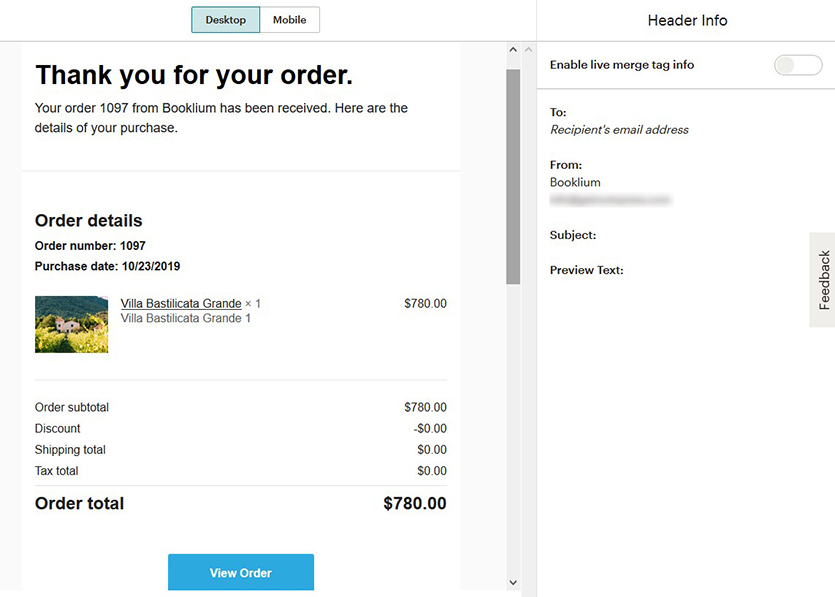 There are different types of notifications available, including cancellation and invoice templates.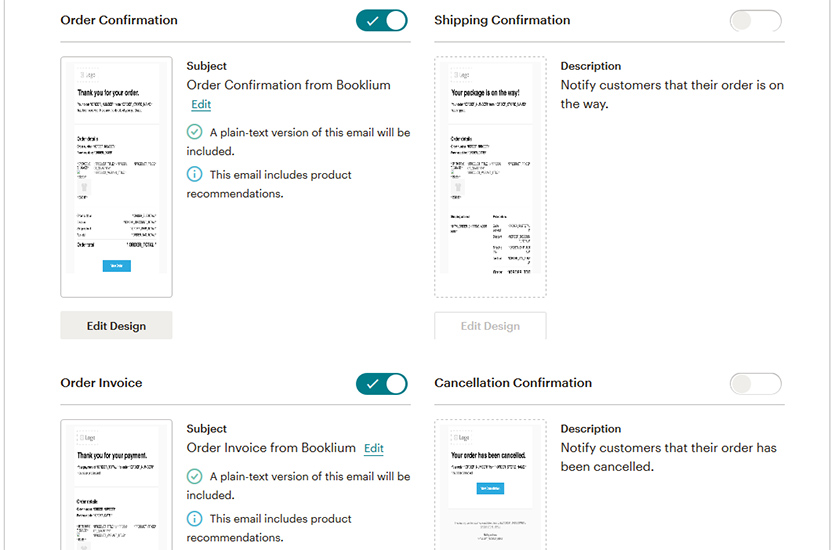 A handy template builder for emails
It's really easy to start crafting any type of email with Mailchimp since there are a lot of pre-designed templates, which can be customized visually with lots of content elements.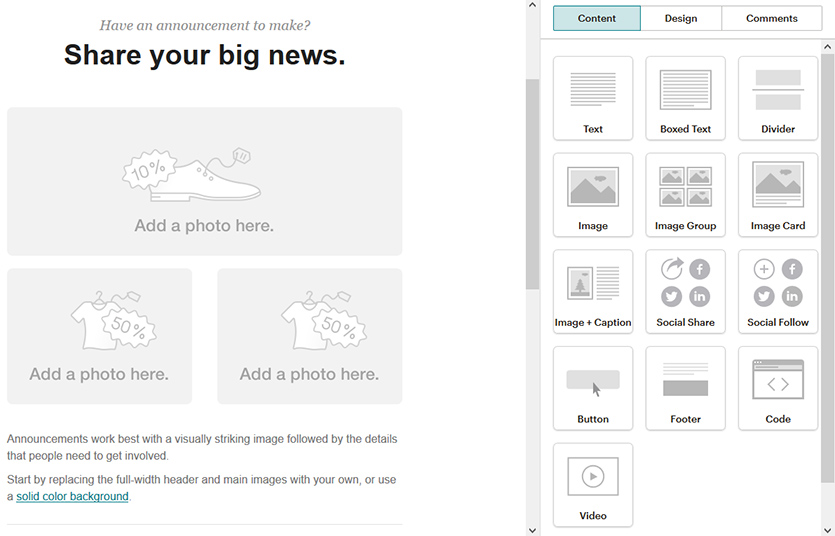 The template builder makes it easy to choose the preferable brand colors, add your logo, upload media content, select fonts and even reuse your custom templates for future email campaigns.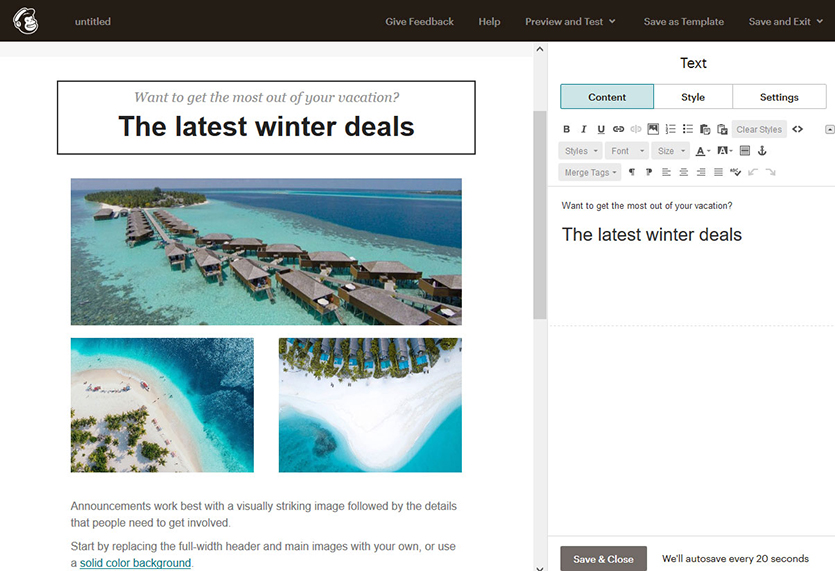 E-commerce settings in the Hotel Booking Mailchimp Integration addon
The e-commerce settings in the extension enable you to instantly add guests to your Mailchimp audience when any e-commerce actions take place on your website. It applies to different booking confirmation modes and different booking statuses, not only confirmed ones. You can enable or disable it at any time.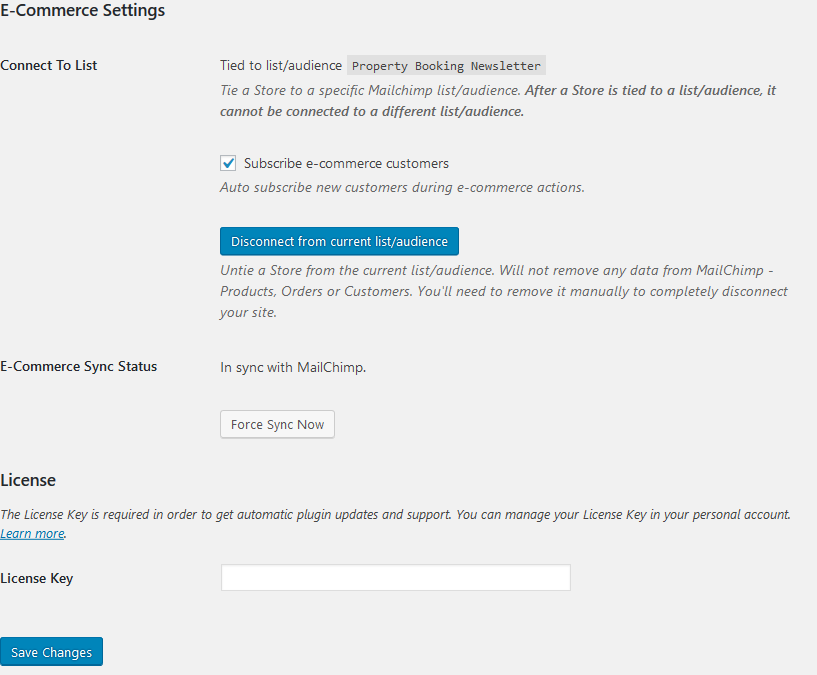 Connect Mailchimp to WordPress to import all previous email addresses to the audience
No matter how many confirmed bookings are stored in your MotoPress Hotel Booking database today, the client email addresses will be added to your Mailchimp automatically once the e-commerce synchronization is turned on. Magic! So take a break and forget about the monkey job.
More Mailchimp addon tools you can employ
While setting up Mailchimp, you'll see there are plenty of tools to tailor its capabilities for your business. Here are just some of them:
View the history of bookings and revenue for individual email addresses.
A/B test your email content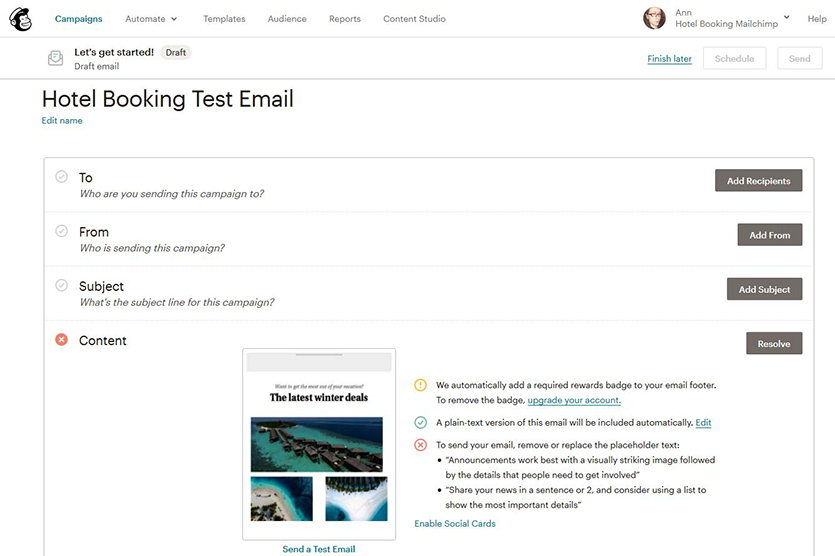 Select VIP clients through Mailchimp contacts to grant them custom discount coupons.
A brief overview of the steps to set up the Mailchimp for WP integration addon
Don't bury yourself in the docs, here is a quick and simple guide on how to start with the addon: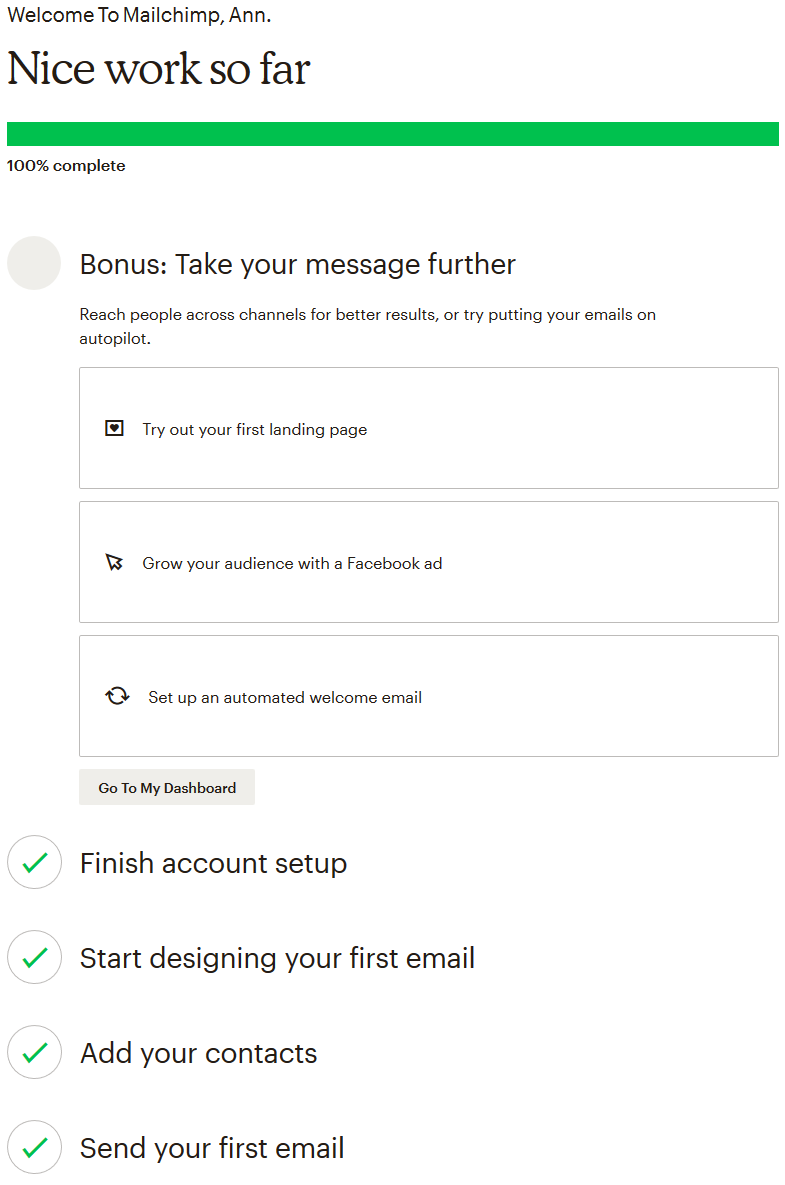 Sign up with Mailchimp for free.
Create an audience/list you want to subscribe your guests to.

3. Optionally create groups and interests for your audience.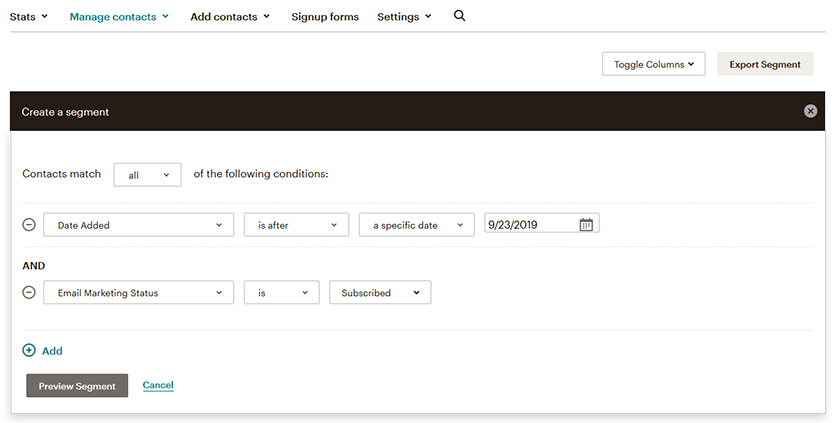 4. Generate your Mailchimp API key in the account.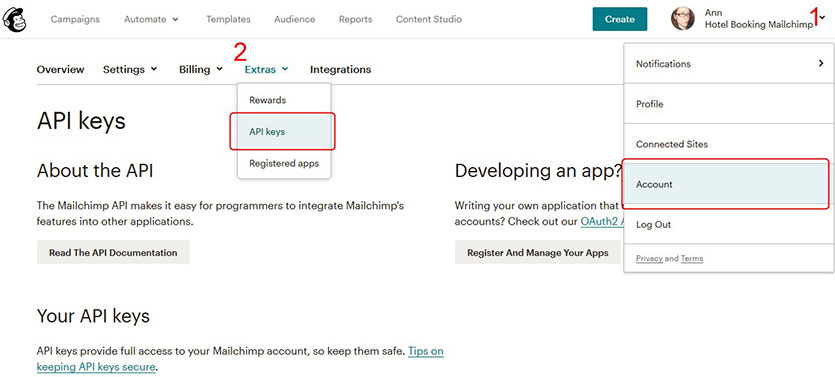 5. Install and activate the Hotel Booking Mailchimp Integration addon.
6. Insert and save the Mailchimp API key via the addon's interface.

Important: Make sure to save the API key first (hit "Save changes") before you try to sync the addon to your Mailchimp account.
7. Connect Mailchimp to WordPress Hotel Booking by clicking on the "Synchronize" button.
8. Decide on the subscription policy (whether the opt-in consent must be involved).
9. Decide on the interaction with e-commerce pages, i.e. automatically subscribe or don't subscribe users who perform e-commerce actions to Mailchimp.
10. Design multipurpose emails and set them on autopilot!
Bottom line: how to connect Mailchimp to WordPress Hotel Booking in a user-friendly way
This awesome Hotel Booking Mailchimp Integration extension gives you a hand in becoming more autonomous, intuitively synced to one of the best third-party platforms for email marketing automation.
Keep the Hotel Booking plugin in sync with your Mailchimp account through this addon and start turning your guests into loyal customers, improve pre-vacation experiences with useful newsletters, and eventually boost your email marketing without doing repetitive tasks.
This premium addon is free for all MotoPress Club members.