Getwid Blocks: Mailchimp Gutenberg Block
If your email marketing automation processes are performed through the medium of Mailchimp, this Mailchimp Gutenberg block by Getwid will help you smoothly integrate this popular service with your WordPress website.
By obtaining a Mailchimp API key associated with your project, you'll be able to create a Mailchimp-powered email subscription form in style with your website design to collect lead email addresses.
How to find and generate API keys for Mailchimp 
Like the rest of Getwid blocks, a Mailchimp subscription form should provide a nice blend with default theme colors, fonts, and overall styles helping you avoid customization workaround.
Purpose of the Mailchimp Gutenberg Block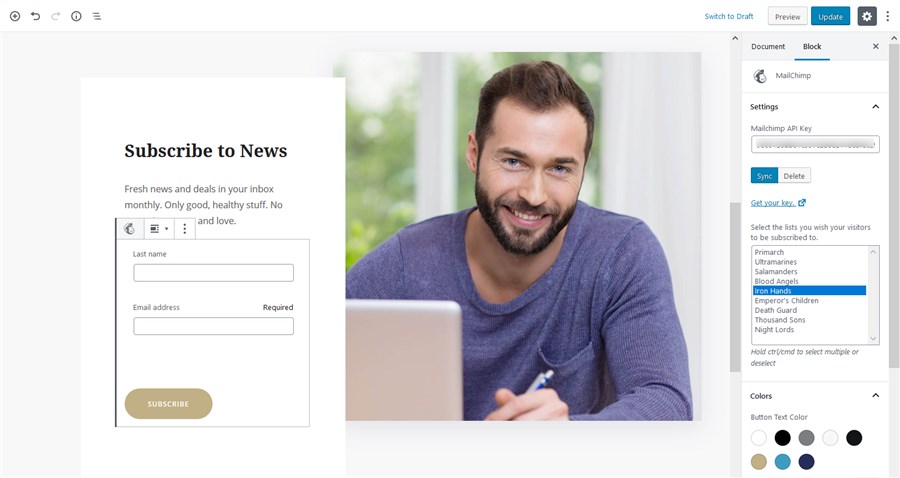 This block allows you to integrate Mailchimp with WordPress for free, without extra third-party dependencies.
Features of the Mailchimp Gutenberg Block
So let's get you through the sneak peek at what the block has to offer inside.
There are several default elements you can include in the subscription form: first name, last name, email address, and a paragraph. You can move the fields up and down to set a preferable order.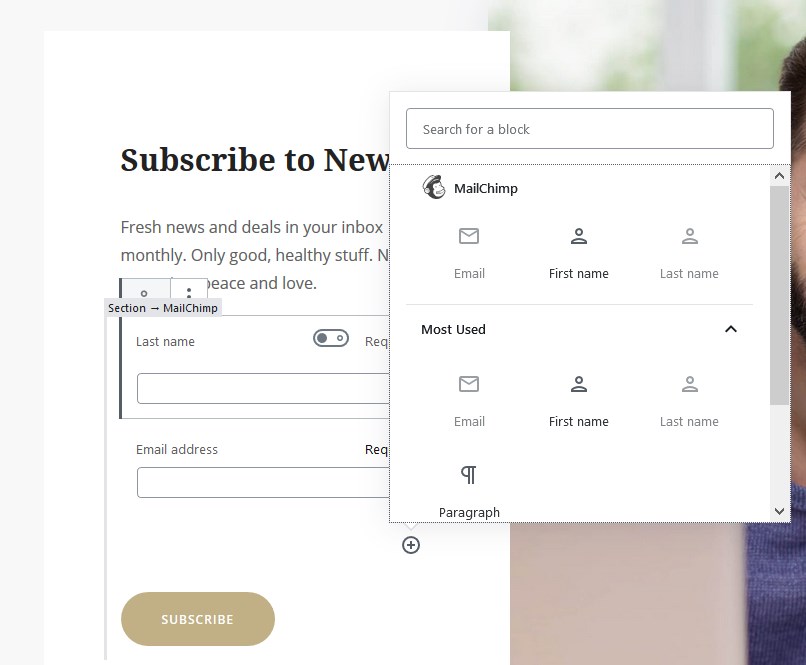 You can mark fields as not required.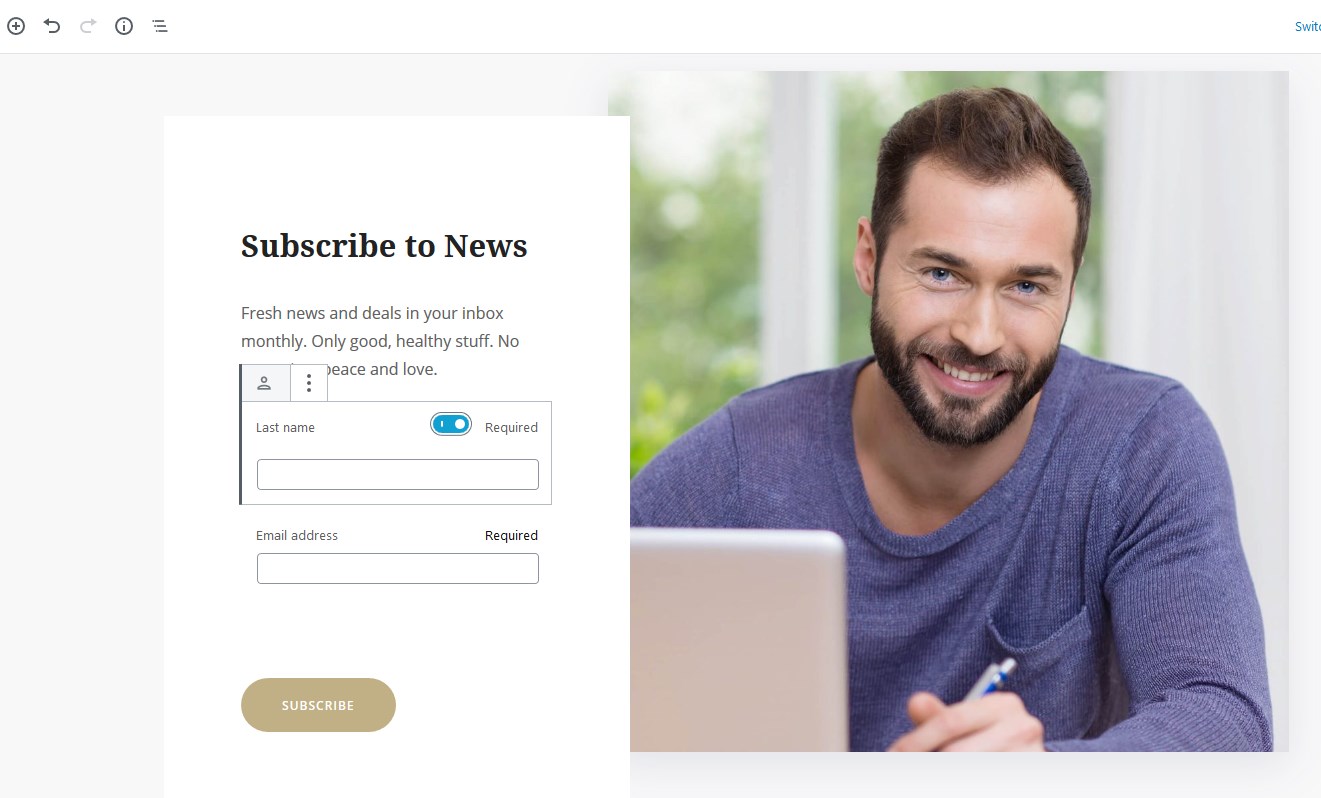 The block allows you to tie the form to only specific Mailchimp subscription lists. This data is automatically fetched from your Mailchimp account.
Customize the button text and background color for the "Subscribe" button.

So here is a final frontend example: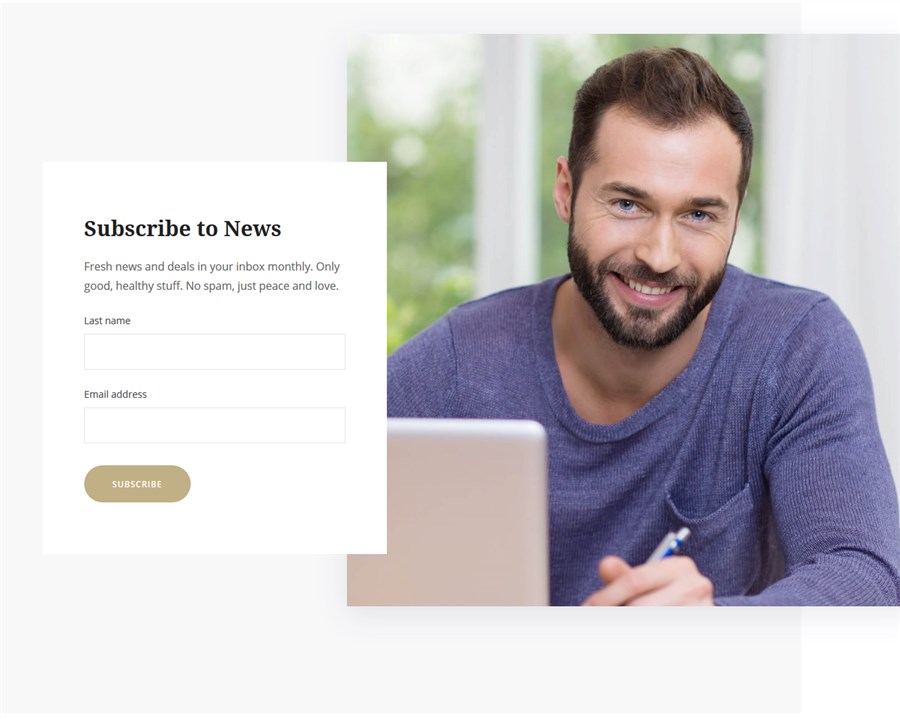 Design Tips
To separate the subscription form visually, use Gutenberg Columns to create a minimalist layout for the subscription form and place accompanying text/image next to it.
Use the Section Getwid block for custom backgrounds.

Download Getwid Base Theme for Out-of-the-box Design Interplay
Getwid Base is a custom-crafted WordPress Gutenberg theme created specifically for Getwid blocks – it provides utmost compatibility with the blocks and smooth design interplay without extra clicks. The theme ensures that headings, icons, and colors are in visual harmony. Getwid Base gets constant updates and new blocks each time fresh Getwid blocks appear. The theme is available for free download.
Useful links:
Check out Getwid WordPress Blocks Demo
Download Getwid Gutenberg Blocks Free
Install Getwid Base Starter Theme for Gutenberg