Booklium Property Management WordPress Theme: 5+ Pre-Made Layouts
We are honored to introduce our brand-new WordPress Property Management WordPress theme built with Gutenberg – Booklium.
Most likely you already know that we have a rather big collection of WordPress reservation templates for various accommodations. We put lots of dedicated work and strength into each template of ours and Booklium is the most vivid example of our work.
Booklium is an all-in-one rental WordPress theme that will be a universal solution for any property business owner regardless of accommodations they rent out – Booklium has 5+ pre-made website layouts for the main rental establishments: Villa, Single Property, Hotel, Hostel, Bed & Breakfast.
In this review you will learn:
theme main features
features of each website layout
customization options
theme powerful engine to manage bookings
Watch Booklium MotoPress booking theme video review
Property Management WordPress Theme Highlights
The first thing that attracts visitors' attention is the theme design.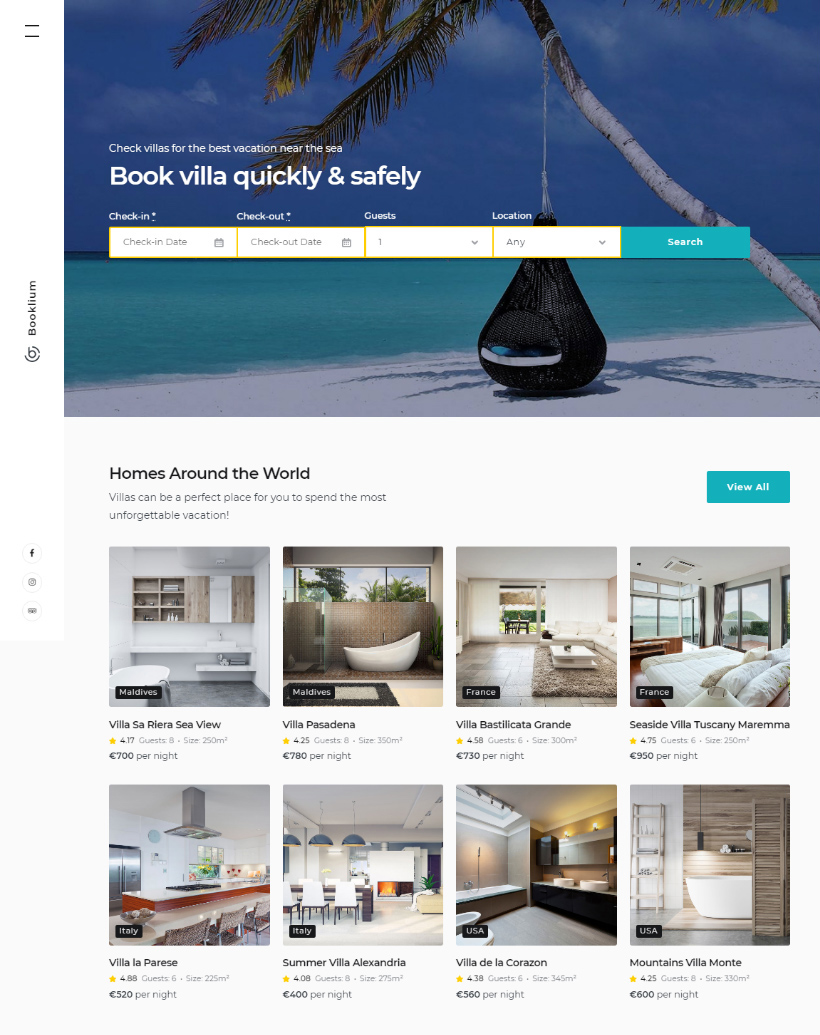 Booklium WP rental theme has an extremely neat, uncluttered, and fancy design. The main theme colors are white, turquoise, and yellow. Altogether they create a harmonious website look with accents on the buttons, search availability form, and headlines to encourage website visitors to perform some actions, for example, book an accommodation, service, or offer.
You are free to play with layouts, change their positions, and design settings. The Booklium WordPress theme property management is Gutenberg compatible, so your editing experience will be very intuitive, simple, and visual – there is no code required to set up a website on your own. You can do that without addressing coders and spending much money.
3+ Fabulous Header Styles
We have powered Booklium with various menu styles so that you can choose not only the standard option proposed in each template but something new and interesting.
Left Menu Layout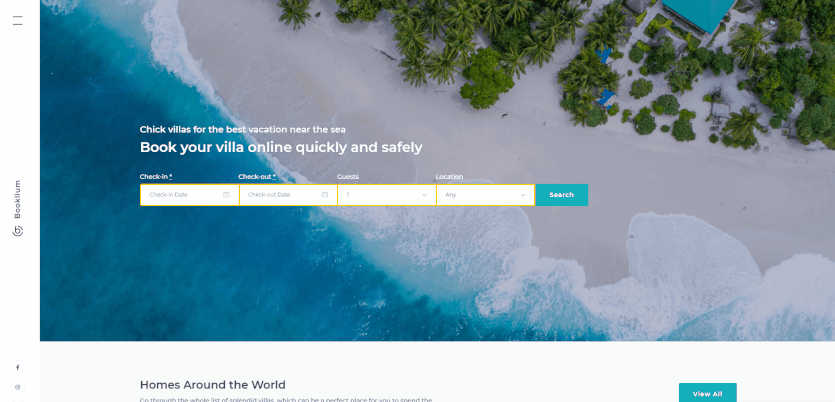 By clicking on the top-left button, you receive the whole list of pages that are displayed on your website. The menu will be featured on the whole screen which contributes to better navigation and your website visitors will be able to reach the desired page at once.
There is a featured image that is displayed on the menu as well, you can set it in the WordPress Customizer. Close the menu by clicking either on the image or the top-left button (two parallel lines which change into a cross, which is a simplified hamburger menu).
Top Menu Boxed Layout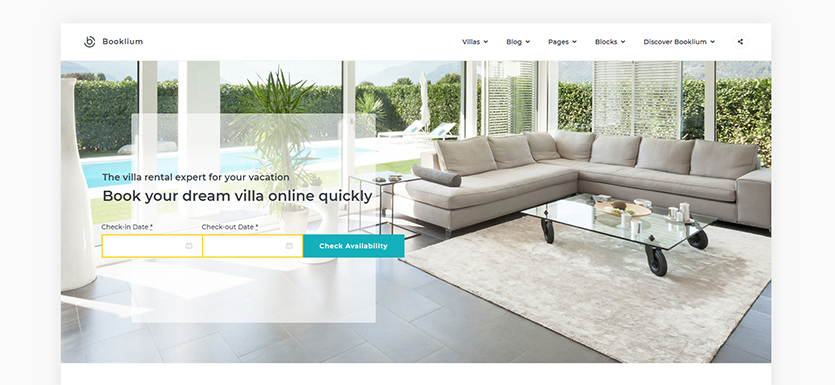 Top Menu Wide Layout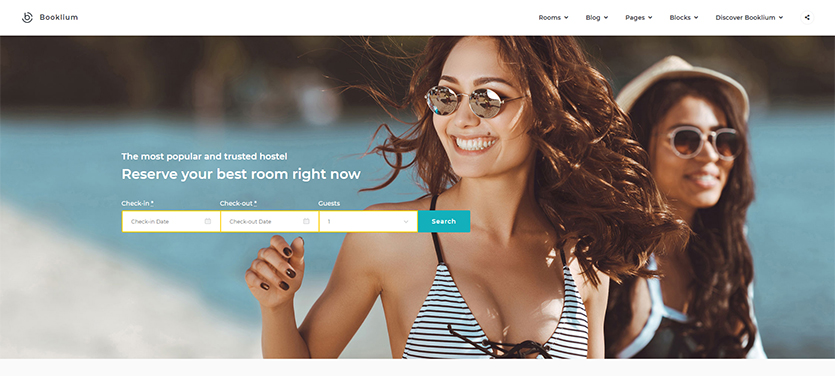 5+ Pre-Made Website Layouts for Diverse Accommodations in One Theme
Booklium WordPress property rental theme is an accumulation of templates for various accommodation types. Taking into account all comments and remarks from our customers, we created one powerful property management WordPress theme which excludes the usage of others, since it already comprises everything needed for any type of rental website.
Let's take a closer look at each template:
Multiple Villas Website Layout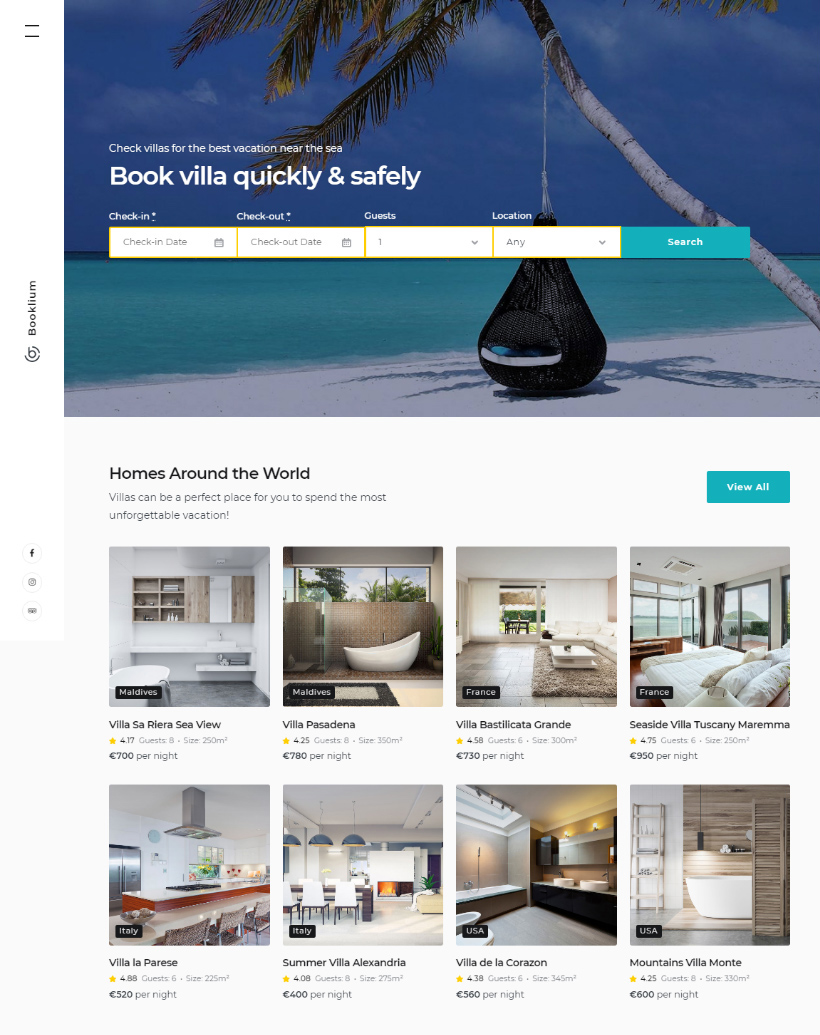 You can see an awesome homepage, where you feature villas with ratings (added via the Hotel Booking Reviews Addon) and key points of your hospitality business. There is also a nice blog section and one-of-a-kind block to feature countries where you have villas for rent.

Footer is simple and elegant at the same time – there are six widget zones, so you can add as many widgets as you wish in Settings.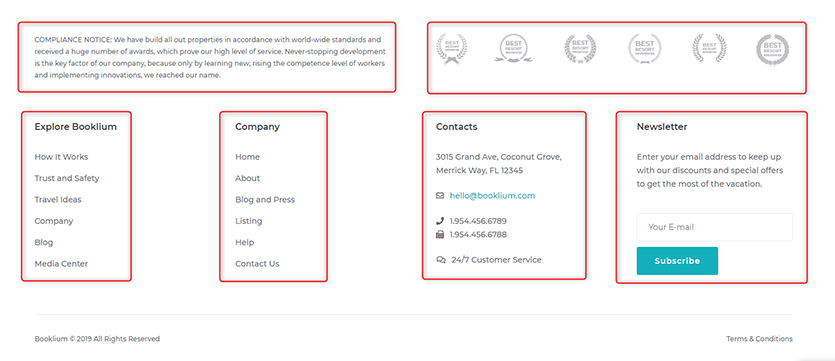 Footer in all templates is the same.
Single Vacation Rental Website Layout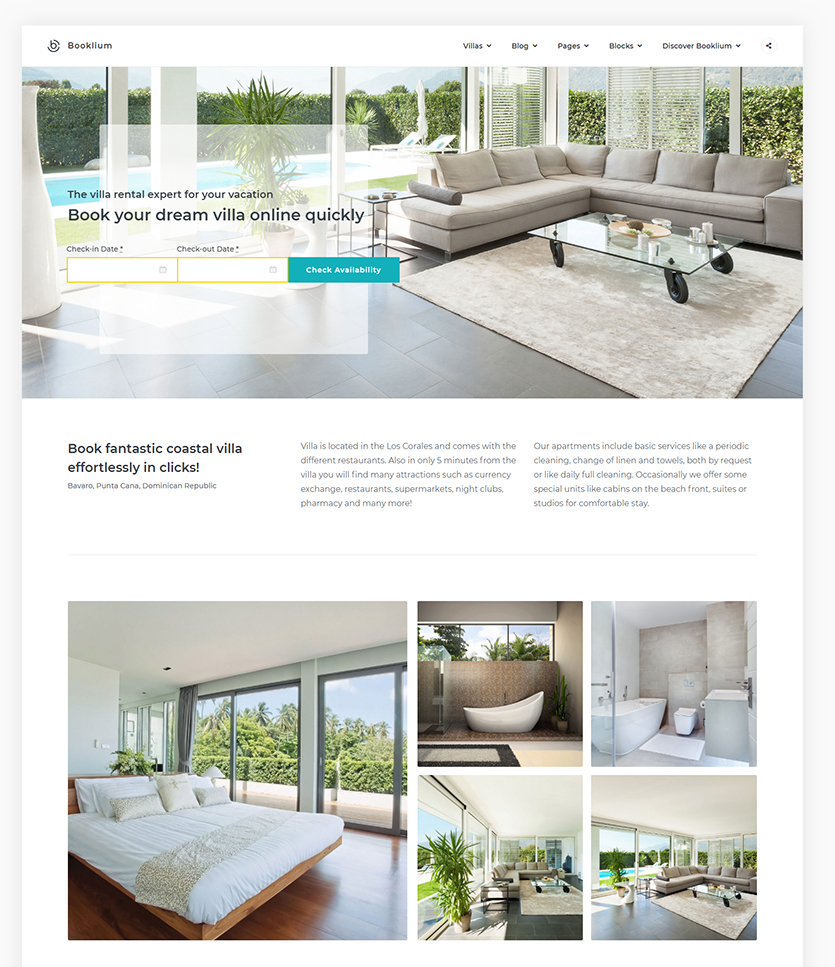 The next layout of our property management WordPress theme was crafted for renting single accommodation, in our example it is a villa. The home page features its rooms and amenities, recent news block, and testimonials.


With testimonials, you can display real feedback from your guests, and words of gratitude they wrote, and thereby increase the interest of your potential visitor to come and see everything with their own eyes.
Hostel Accommodation Rental Template Layout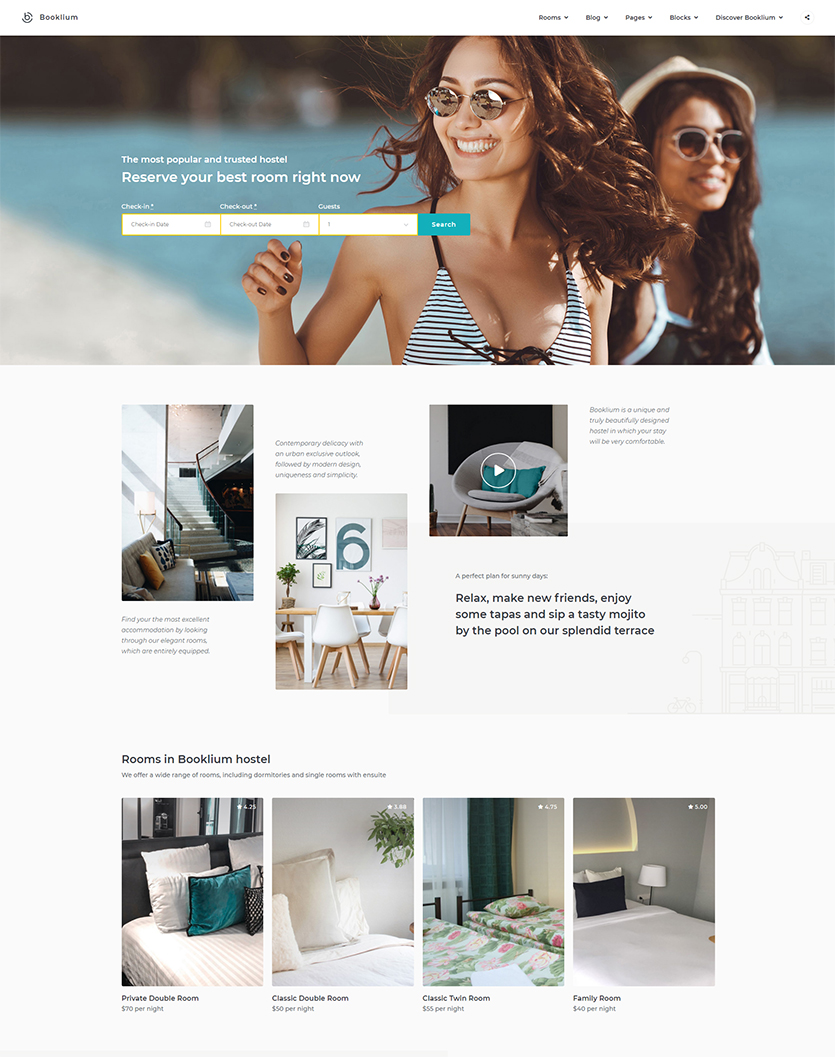 This template will perfectly list the rooms of your hostel, and you can back up your status by inserting videos and bright images with eloquent descriptions. The layout is well-structured but at the same time unusual and interesting. Right on the homepage visitors can search for the hostel on the Google Maps and contact you directly by sending an email. Another feature of this template is the Instagram feed inserted with the help of Getwid WordPress Blocks.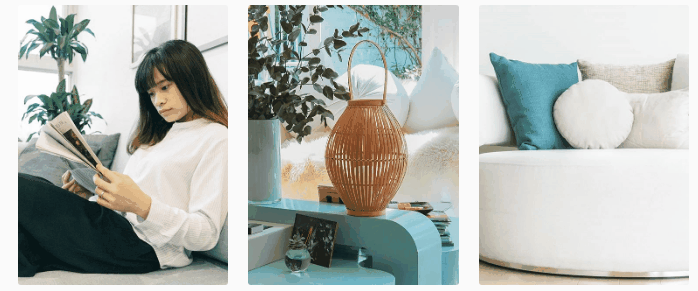 By hovering over a pic, the number of Instagram likes and comments appears. To activate these blocks, you have to fill in personal data and have API access.
Apartment Rental Website Template Layout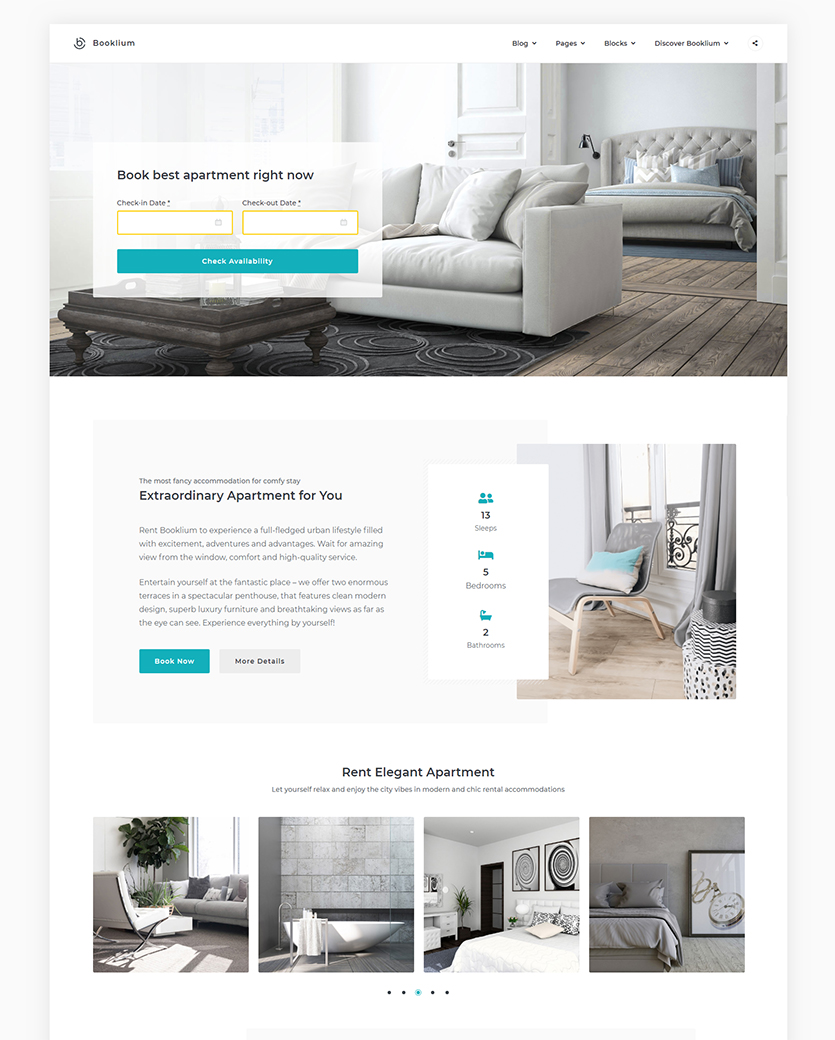 The Apartment template features a search availability form that differs from others since there are no guest and children search availability fields. But if this point is important and the number of guests to stay is limited, you can easily add more search fields on the dashboard panel. There are two beautiful sliders that feature room design and a list of amenities on the homepage, like a swimming pool, spa center, indoor restaurant, fitness studio, etc. The recommended attractions section features the best destination places that your visitors may go to. By clicking on the images, they will be redirected to the Activities page.
Bed and Breakfast Booking WordPress Template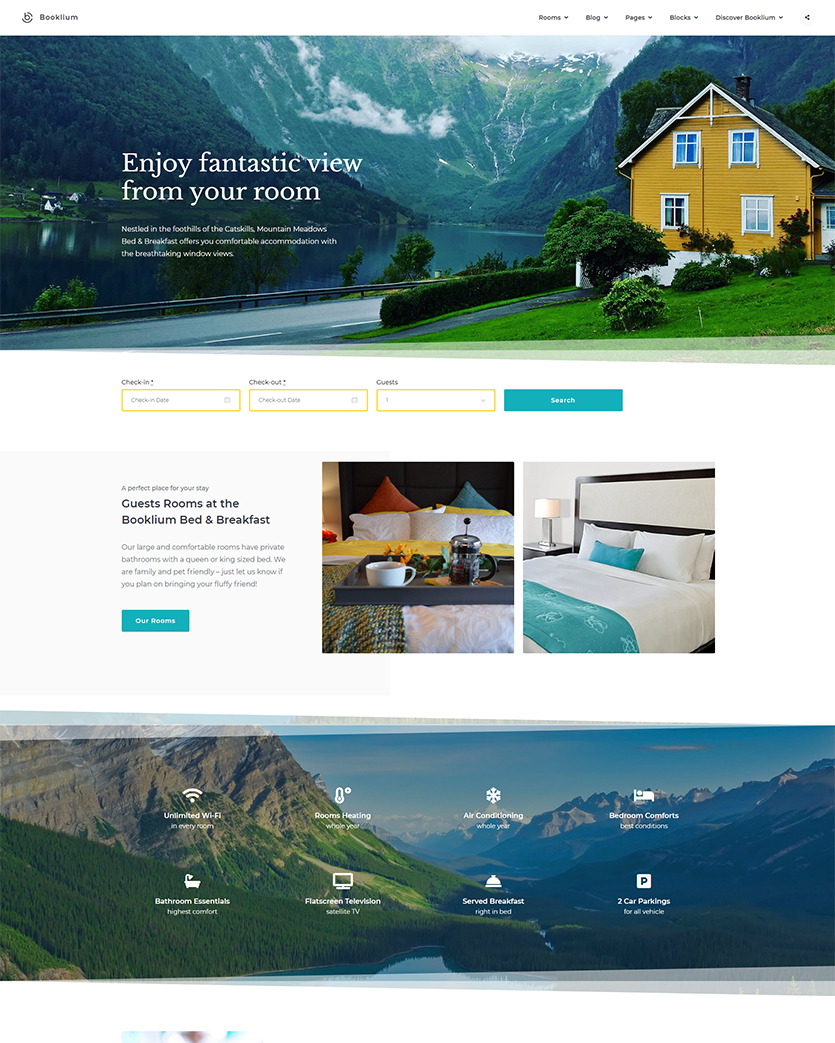 The design of this pre-made template is neat and accurate with featured search availability form, amenities, activities, and sections with CTA buttons, where the rooms list and restaurant menu are shown. This property management website template will be super handy for small B&B owners somewhere in the mountains since the layout design is perfectly suited for this.
We have observed the peculiarities of each property management website template WordPress. Now we can proceed to some general characteristics of which they comprise.
List, Grid, and Minimalist Accommodation Layouts
All rental accommodation can be arranged in quite a few ways:
List Accommodations Layout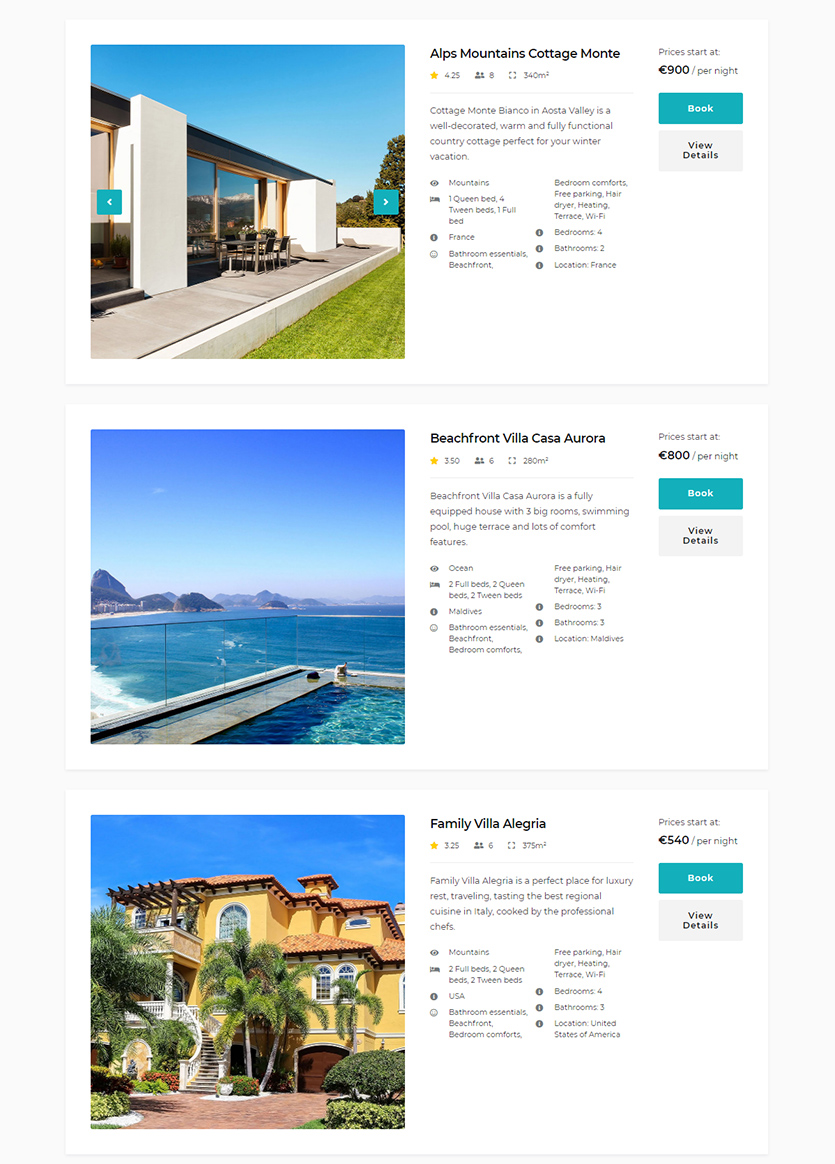 Grid Accommodations Layout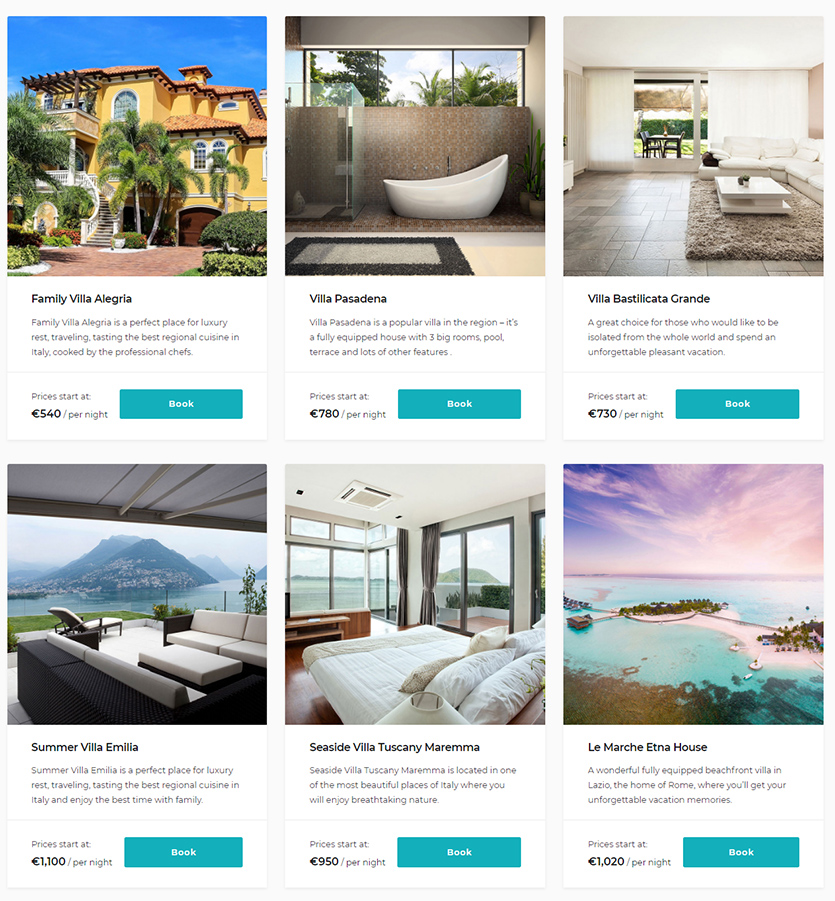 Compact Accommodations Layout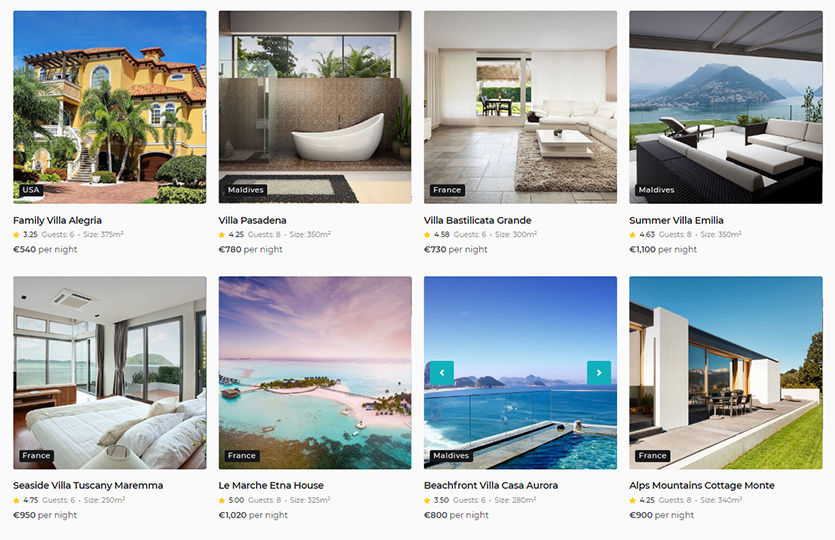 Each accommodation type has a description, details, availability calendar, and optionally reviews. You can enable the Reviews section to showcase feedback from your visitors; you can easily manage feedback in the comments setting on the WordPress panel from the back-end. To do the letter use the Hotel Booking Reviews Addon.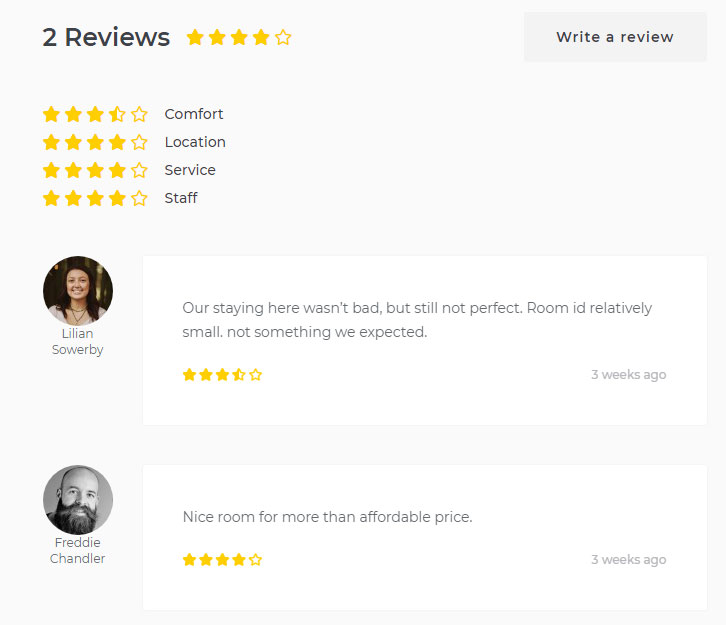 Choose Blog Layout for Your Website
Booklium goes with three blog layouts, they are pretty universal, and you will surely find the one to fit into your website. You may change it anytime with no loss to the content.
Classic – the featured image accompanied by a short excerpt, taxonomies, and some tags.
Featured – the featured post will be displayed with all details, meanwhile, other posts will be listed with the title and taxonomies. This layout is especially effective if you want to emphasize some events or important info about your accommodations. It will even work to promote some services you provide if you power post with CTAs.
Masonry – rather an unusual blog layout with variable sizes of featured images that contain the title and taxonomies information.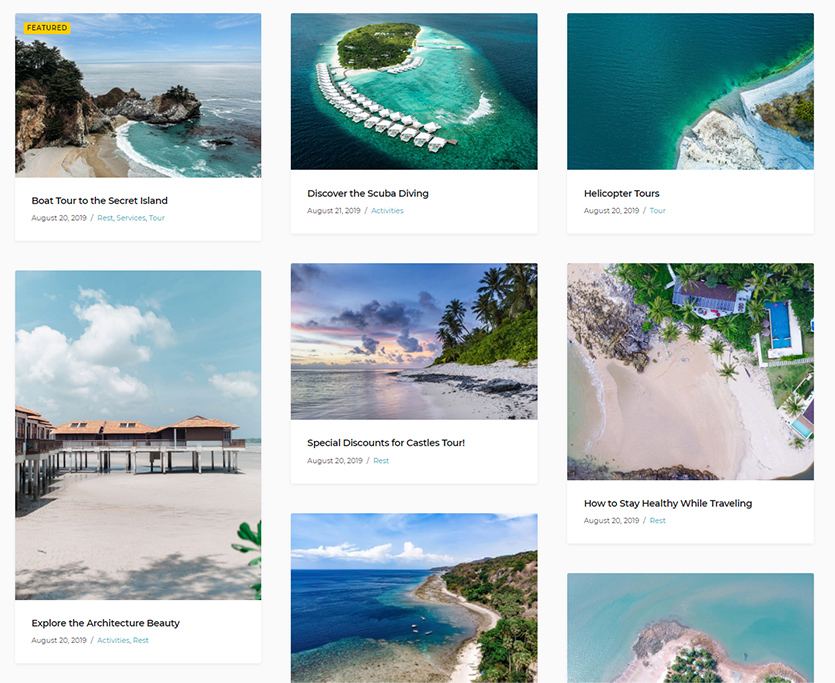 10+ Ready-To-Go Pages in Property Management WordPress Theme
We have foreseen all possible pages which any online rental business owner may need while managing a website. Use any of them to save a great deal of time, while customizing a website. If there is a page that you probably don't need, simply delete it manually in the Settings & Pages.
Here is the full list of perfectly pre-made pages you receive with the Booklium vacation rental websites template:
Home page (unique for each type of rental)
Rooms
Blog
About us
Activities
Amenities
Contacts
Offers
Restaurant
Services
Built with 34+ free Getwid Blocks for Gutenberg
We made sure that the Bookluim property management WordPress theme would flawlessly work with the revolutionary WordPress editor in 2019 – Gutenberg. We have powered it with our own custom blocks plugin called Getwid.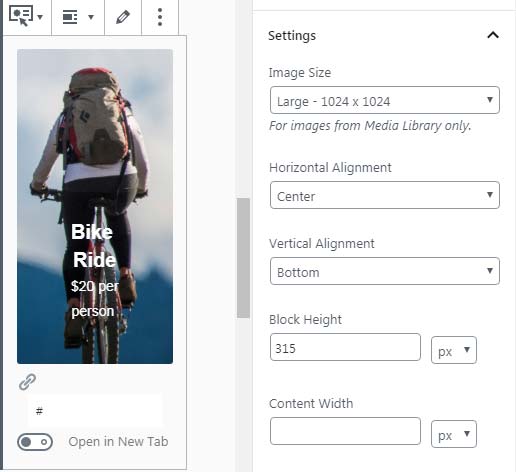 Editing your website with blocks has lots of advantages, which create better UX for any WordPress user. First of all, you don't have to know how to code and how to implement shortcodes into your website to see some content changes. Very simple and intuitive blocks require a minimum of your time and with the drag & drop system, you can add images in one click.
Hotel Booking Blocks for Gutenberg
We have mastered special hotel booking blocks for Gutenberg to simplify the procedure of website customization. With their help, you can display such blocks as a booking form, availability calendar, and accommodation types listing at any part of the website and set custom design parameters.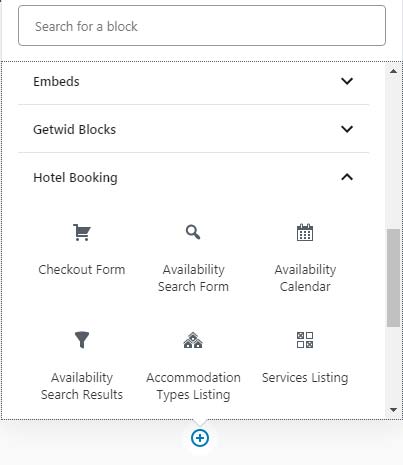 Simply choose Hotel Booking Blocks in the list of blocks or type the name of the needed one right in the search field.
One-click demo import
Download all dummy data quickly right after installing the Booklium property management WordPress theme. Start working with any pre-made design you choose out of the box. Go to Appearance -> Import Demo Data, choose the needed template, and click on Import. A window with import peculiarities will be shown. For example, to have the Booklium Hostel theme functioning efficiently, you need to configure Instagram and Google Maps API keys.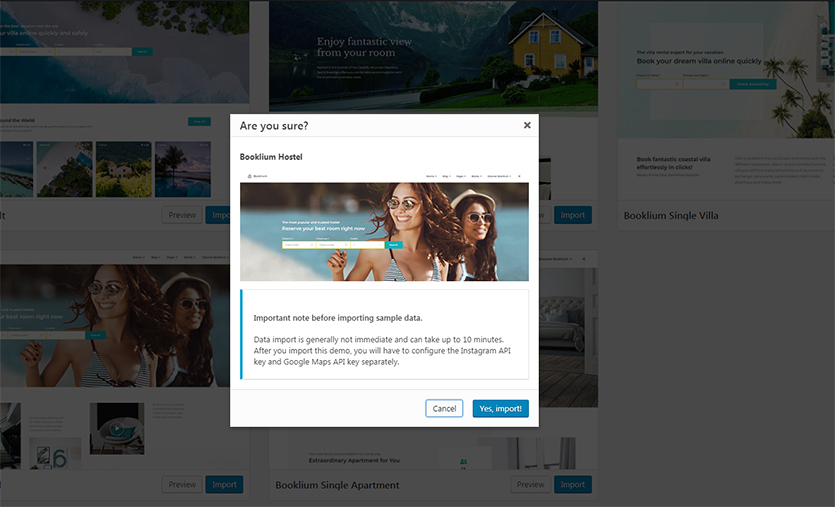 Wait till the demo data is installed, it may take up to ten minutes. Do not close the tab during the installation.
Note that once you install the demo data of one template and then change your mind to have another one, delete all the pages from the previous theme manually, or do this simple and quick step with any free WP reset plugin, otherwise your content will be duplicated.
Top-Rated Online Hotel Management System Integrated for Free
Booklium comes bundled with the best WordPress rental property plugin – Hotel Booking. You save at least $69 if you start your hospitality business with the Booklium property management WordPress theme since you receive the plugin at no extra cost.
Note that the plugin updates in the theme are not as quick as the plugin itself. It is connected with various tests and the determination of bugs. We want your experience to be as flawless as possible, hence the future plugin updates will be available in your property management WordPress theme after it is enhanced.
Hotel Booking Plugin Features
Real-time search availability form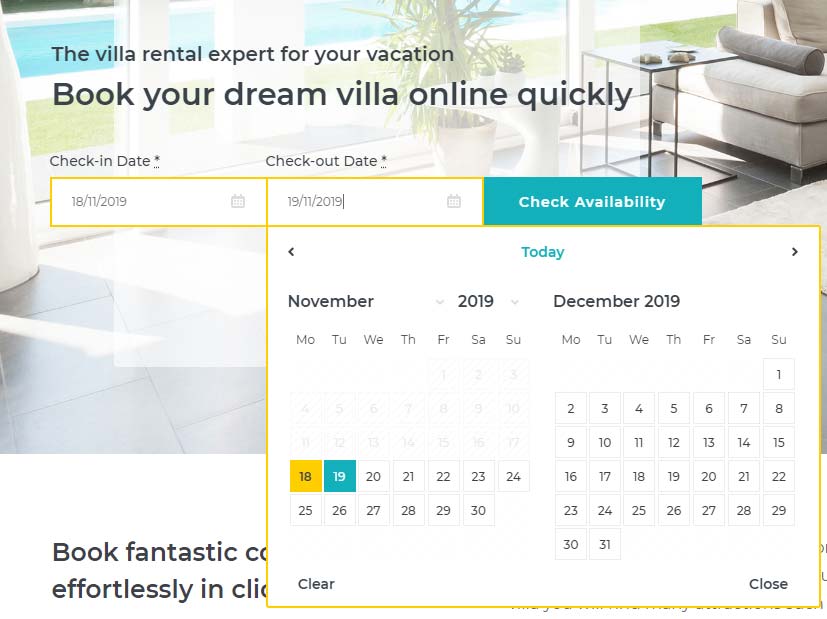 You guest can book accommodations by checking the availability in a stylish online calendar.
Custom search fields

Add as many custom search fields as you wish. This can be configured in Settings by following easy steps: Create an Attribute (Guests, Location, etc.) and add corresponding terms to it (France, New York, etc.). Go to each Accommodation type and add new attributes to it. After that, type the attribute's name in the custom attributes field and update the page.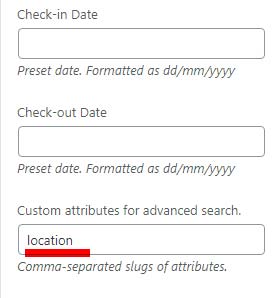 Flawless synchronization with external OTAs
With the WordPress Hotel Booking plugin, you can display accommodations not only on your website but on external platforms like Airbnb, Booking.com, TripAdvisor, etc.
Note: the third-party websites have to support iCal.
To discover how to synchronize booking watch our detailed video tutorial.
Bookings Confirmation
Set booking confirmation notification by different modes (via guest mail, by admin, upon payment). The booking status will be automatically updated as soon as the reservation is confirmed.
Take advantage of our new Hotel Booking and MailChimp integration addon with help of which you can easily track visitors' behavior on your website even if they haven't conducted a payment but left their email. Bookings data is easily synchronized with MailChimp and you may configure sending of follow-up letters triggered by specific actions.
Custom Rates
Set variable rates depending on the number of guests, days of stay, season, and any other custom criteria which you can manage in Accommodation & Rates.
Online and Offline Payments
Give freedom to your customers to pay for the reservation online via various gateways (PayPal, Stripe, Braintree, 2Checkout, Beanstream/Bambora). For more gateways, you may use the Hotel Booking WooCommerce addon.
Custom Checkout Page
If you are looking for unique checkout fields targeted specifically at your purposes, the Hotel Booking Checkout Fields addon will be the best solution for you. Edit default fields, add more customization to them, or create your own fields – all these activities will be a matter of the HB CHeckout Fields plugin.
Customization Options
If you go to Customizer, you will be able to change the basic settings of the header and footer look.


Within each Gutenberg block, there are plenty of design options that you can set in clicks (for example add a hover animation, change image alignment, etc.).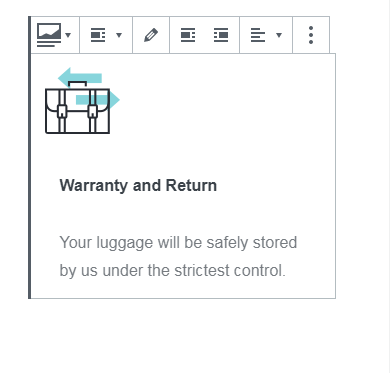 The main demo theme has a slider that can be easily set in the page settings. Click on the Section blocks and choose media to create a bright slider or even insert a video as a background.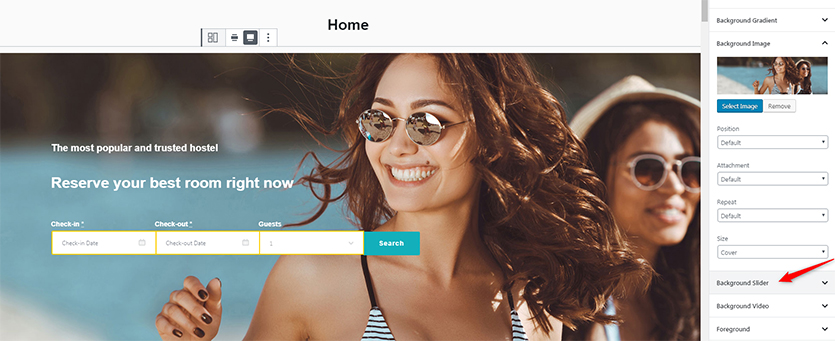 To feature in-room amenities, open each accommodation type and choose the ones you need.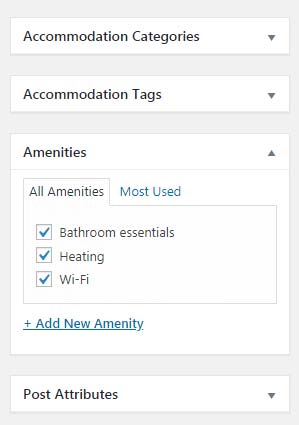 In the accommodation type settings, you can also define capacity, view, accommodation details, and available services.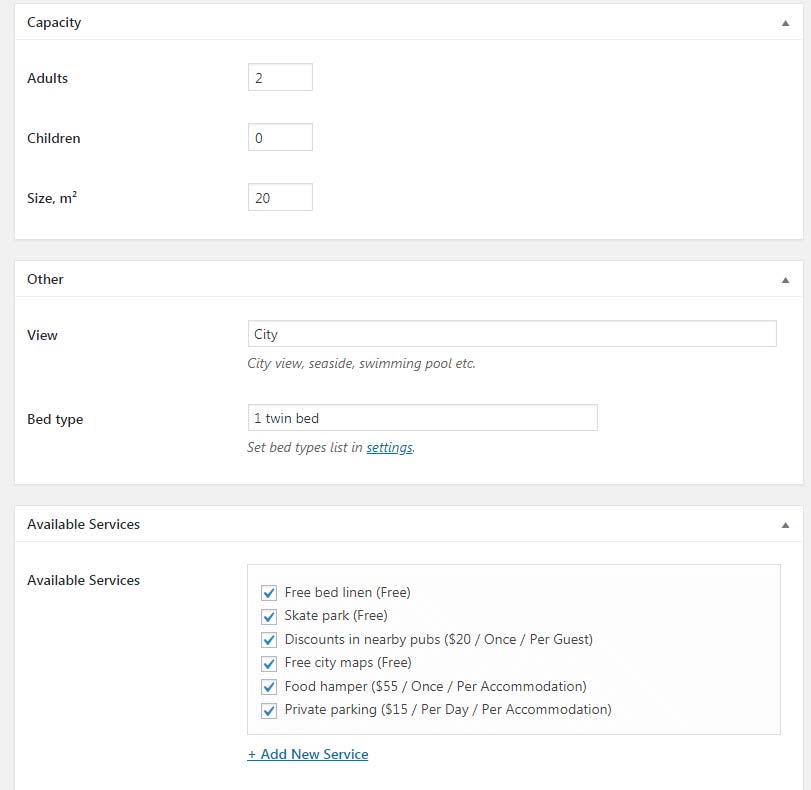 Easily manage comments of each accommodation type manually.



Edit your menu with Getwid blocks without long codes and programming.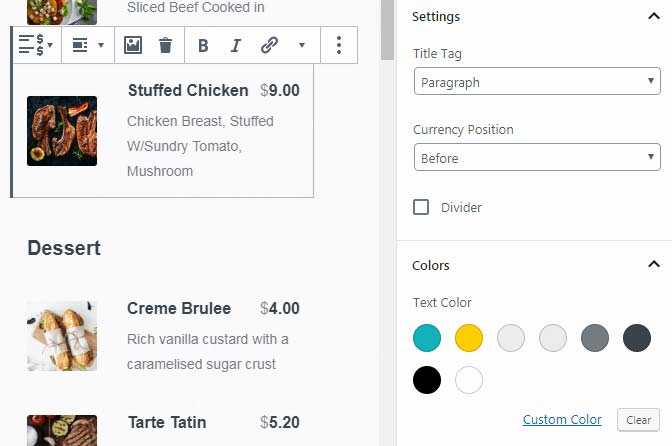 The Bottom Line
Booklium is a property management WordPress theme with 5+ turnkey website layouts, which are the result of our diligent work and many years of experience in crafting hotel booking themes. This collection includes themes for rental property of any type and size (Luviana, Ciestra, Villagio, etc.).
With Booklium, you are free to choose the most appropriate template for your website and customize it to your need.
Due to the powerful online management system, introduced by the premium WordPress property management plugin, the running of the online rental business stays easy and safe, and the bookings are synchronized with external OTAs and confirmed via emails.
We applied our best practices to Booklium to make it a universal solution for any needs and be a worthy competitor to other top-rated property management WordPress themes. All you have to do is to test it yourself!
Write your feedback in the comment sections, we are extremely curious to see it!
*Booklium premium WordPress theme is available for free for all MotoPress Membership club subscribers.

What is Booklium?
Booklium is a popular WordPress vacation rental theme that is packaged with five outstanding designs for the needs of hotels, bed and breakfast, hostel, apartment, and holiday home websites.
Is the MotoPress Hotel Booking plugin included with the package?
Yes, purchasing Booklium, you also get the premium MotoPress Hotel Booking plugin for free with the theme. This plugin will help you optimize the property listing on your own website, accept direct bookings and manage them – all within your WordPress dashboard.
Can I use Booklium with Elementor?
Like all modern WordPress property management themes, Booklium will work with any WordPress page builder, including Elementor. But since the theme is initially built with the block editor, all its polished and manually crafted design patterns are easier and smoother customizable in the block editor.