Build a Hotel Booking Website in WordPress: Essential Plugins
We've been helping thousands of hotel and vacation rental businesses build their sites on WordPress for 4+ years already.
The MotoPress Hotel Booking plugin for WordPress enables website owners & developers to:
create a professional directory of accommodations;
display real-time availability calendars
offer guests direct bookings via a handy property finder form.
On this blog, for those who are already our clients, we share numerous tips, insights, and solutions related to the hotel site SEO, availability data synchronization to external platforms like Booking.com, and many more things on how to create hotel booking website.
These are rather step-by-step hotel site tutorials that tell you more how to make a hotel booking website using settings of the MotoPress Hotel Booking plugin and specifics of the rental businesses and theme designs crafted for various industries.
Top WordPress Plugins For Hotel Websites
You may ask yourself: "What plugins do I need to use more extended functionality for my hotel site?" So today, we'd like to focus on specialist WordPress addons that aim to extend the default core functionality of the Hotel Booking plugin.
We'll systemize the list highlighting the main purpose of the listed extensions and their pricing – this should help you see the best and most cost-effective ways to obtain them for your site.
If you're already on Hotel Booking, this roundup will help you quickly look through the available functionalities that might significantly boost your bookings and simplify the daily routines.
If you are new to best WordPress plugins for hotels, this list will help you calculate the cost to create a hotel site on WordPress.
Now, let's proceed with the optional WordPress extensions. But before you learn new WordPress plugins, we'll start with the core plugin, Hotel Booking.
*Prices are subject to change
*Prices are per year/one website
*Membership price is per year/unlimited sites
Hotel Booking – Core Plugin, $99

The Hotel Booking plugin is the essential core plugin sometimes called WordPress plugin book that is a rental property management system, a booking engine, and a channel manager. You get all in one, with no extra property or booking commissions.
You can install it on any WordPress theme and use it for any number of properties and bookings. You can study all the features on the product page. It's also worth mentioning that there are many ready-made design solutions with the visual styling adjusted to the plugin.
P.S. There is a free Hotel Booking mobile app for you to manage bookings and guests in a few steps. You can download this app on App Store or Google Play and connect it to your WP website.
WooCommerce Payments – Local Payment Gateways, $99

This is a top popular WooCommerce extension to Hotel Booking among those who accept payments online. If PayPal, 2Checkout, Braintree, Stripe, or Beanstream/Bambora are not the option for you (they are free with the core plugin), this extension is great for bridging other methods without effort.
WooCommerce allows you to connect hundreds of other payment methods – and this addon ensures you can do it in clicks, without a need to code anything.
Payment Request – Automatic Payment Requests Before Arrival, $89

The Payment Request addon proved to be a super handy solution for those who accept partial/deposit payments and then want the system to request the rest of the payment automatically from guests. Or, you can also request the full payment later after the booking is confirmed without a payment at all.
This will allow your guests to secure their bookings before arrival and automate your workflow of sending requests and collecting payments before guest's arrival. Optionally you can send the payment links even manually upon a guest request – via WhatsApp, for example.
Mailchimp Integration – Connect Hotel Site Emails to Mailchimp, $59

The Mailchimp addon is one of the most popular WordPress integratons of all. It's made for automating user business emails associated with the site.
Mailchimp allows you to automatically subscribe guests who book accommodations through your website to the chosen audiences in Mailchimp. It makes it easy to send targeted emails via the email service you're already familiar with.
Notifier – Send Any Sort of Automated Emails, $59

The Hotel Booking Notifier addon allows you to set up and send emails about keys, lockboxes, house rules, dining facilities, etc. to the guest addresses associated with specific properties and actions. You can set the system to send emails before or after the arrival/departure dates.
It doesn't rely on any third-party service so you can basically create your own rules of sending emails tied specifically to actions possible with Hotel Booking. You are free to personalize automatic emails based on the accommodation types.
Checkout Fields – Customize Default Checkout Fields, $79

The Checkout Fields addon for Hotel Booking makes it easy to collect extra information about your guests on the checkout page, for example, give them space to request a time of arrival change.
You can edit labels of the current fields or add new custom ones using text, checkbox, email, or any other type of field. You may also change the order of the fields and customize the overall field styling.
PDF Invoices – Send Emails With PDF Invoices Attached, $89

The PDF Invoices addon allows you to automatically send invoices in pdfs containing property, service, tax, and fee charges to your guests. In addition to the generated data, you are free to further brand your emails, e.g, add a logo or company information.
As a website admin, you can also view or download a PDF invoice from the website dashboard.
Reviews – Allow Guests to Leave Reviews, $49

Reviews you can add with the Reviews addon is what adds trust to your hospitality business. The extension enables guests to evaluate the property they stayed in by different criteria.
The system of reviews easily integrates with the native WordPress commenting system empowering you to go through all submissions via a usual interface.
Elementor Integration – Edit the Plugin With Elementor, Free

It's a simple free Elementor addon that allows you to build a hotel booking website in WordPress with one of the best plugins WordPress in a much easier way than with shortcodes.
Thanks to this integration addon, you can add a booking form, calendars and accommodations to the needed pages via Elementor widgets.
Divi Integration – Build a Hotel Booking Website with Divi, Free

The Divi addon also simplifies your work of editing the plugin-generated content.
Hotel Booking shortcodes are transformed into Divi modules and you give much more tools to manipulate the content on the page.
Hotel Booking Styles – Edit the Form Styling, Free

The Hotel Booking styles addon solves such daily tasks of working with the Hotel Booking plugin content as making the property search form horizontal, customizing field labels, working on the form layout and more.
Usually, you might need this addon if you use third-party hotel WordPress themes with our plugin.

MotoPress Membership – Core Plugin + All Addons, $249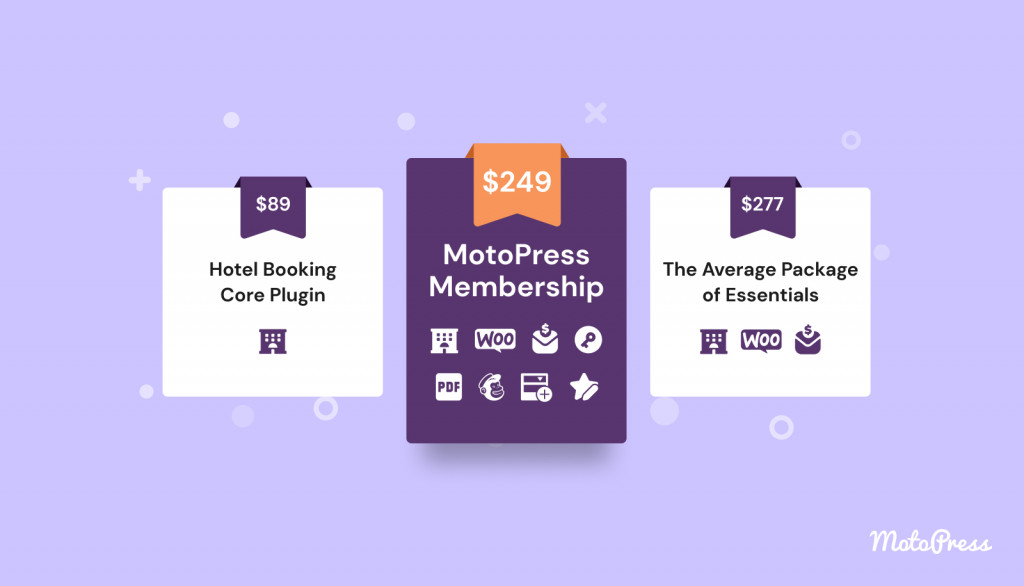 MotoPress Membership is not just about Hotel Booking and its addons. Any membership plan includes, but is not limited to this bundle of Hotel booking chained products: the core plugin + ALL addons.
The average package of must-have WordPress plugins for hotels consists of the Hotel Booking, WooCommerce and Payment Request addons. That is in total slightly more expansive than the membership package.
Both lifetime and annual plans allow you to download any MotoPress product for free (we've got plenty of WooCommerce designs, page builders, appointment booking, and loads of other niche products in the lineup). So opting for Membership, you get the entire package of Hotel Booking tools, themes + all other plugins for WordPress and themes you can find on the site. And as you can see, it's much more cost-effective to go with Membership if you plan to use extra addons for Hotel Booking.
Services to Build a Hotel Booking Website
Optional services are not part of the Membership package.
Here are some extra services you might find useful when you create a hotel booking WordPress website:
Hotel Booking Initial Configuration – if you want our team to set up the plugin for you.
Extended Support – you'll be our top priority of assistance.
How to Build a Hotel Booking Website in WordPress?
The WordPress plugins list to build a hotel booking website is not super long. From our experience, the most popular WordPress plugins for hotel sites are core Hotel Booking plugin, plus the WooCommerce and Payment Request addons. Looks like this is a commodity package for many business owners.
Depending on the needs, there are also variations of addons in a check. If you do need a plugin, a few addons, and even a theme, the Membership package is going to save you a good sum of money.
If you are a developer building a site for a client, a Membership package is definitely going to cover all your needs, plus, you'll get many more useful WordPress tools.