20+ Best WordPress Hotel Themes in 2022
Any website gives freedom to its owners to dispose of products, services, or even themselves (if it's a personal blog) the way they want to. Talking about the hospitality business, namely, about WordPress hotel themes, it is very important to present hotel rooms, accommodations, amenities, additional services – everything that can be given to guests – in the most appealing and decoying way. Because only this way people will get interested, book a room and pay you money for that.
Today one can for sure choose the best WordPress hotel booking theme to showcase presentably what visitors will receive as soon as they arrive at the place.
Vivid and bright images, easy-to-navigate pages, the ability to book a room or even pay for it in advance – this is what visitors expect to see on your website, thus, must be present in hotel themes for WordPress.
But the guarantee of your site's success lies deeper. The main factors that play a decisive role with all hotel website templates are:
the management system – responsible for the functionality
attractive design to draw visitors' attention
Read also: How to build an Airbnb clone WordPress website?
Essential functionality for any rental property business website
The first factor is choosing a reservation plugin. It plays a crucial role while booking, paying, setting rates, accommodations, extra services etc.
Nowadays, the only solution on the market that will meet all your demands is the MotoPress hotel booking plugin – the best tool for online rental property business website, and that was stated by hundreds of content users. This plugin ships with a bundle of must-have functions to manage an online rental business, namely:
online search availability form
ability to set detailed accommodation descriptions
booking calendars
ability to set variable pricing depending on season and stay days number
extra services
online and offline payments
email confirmations
and many other useful functions you will for sure need while running a hotel booking website.
Apart from the initial HB features, we created a line-up of extra Hotel Booking extensions to empower the plugin even more. For instance, the HB Checkout Fields addon allows you to customize, add, or delete the checkout fields, while the Hotel Booking PDF Invoices let you send guests automatic PDF invoices.
The full list of Hotel Booking addons is here.
Design – another key factor of a rental accommodation website
The second factor is the website appearance which depends on the reservation template design you used. So, starting from now we will list the best WordPress hotel themes which you can implement into your hospitality business website.
Let's go through beautiful hotel theme ideas!
Best Hotel WordPress Themes With Professional UI Design
Luviana Hotel Theme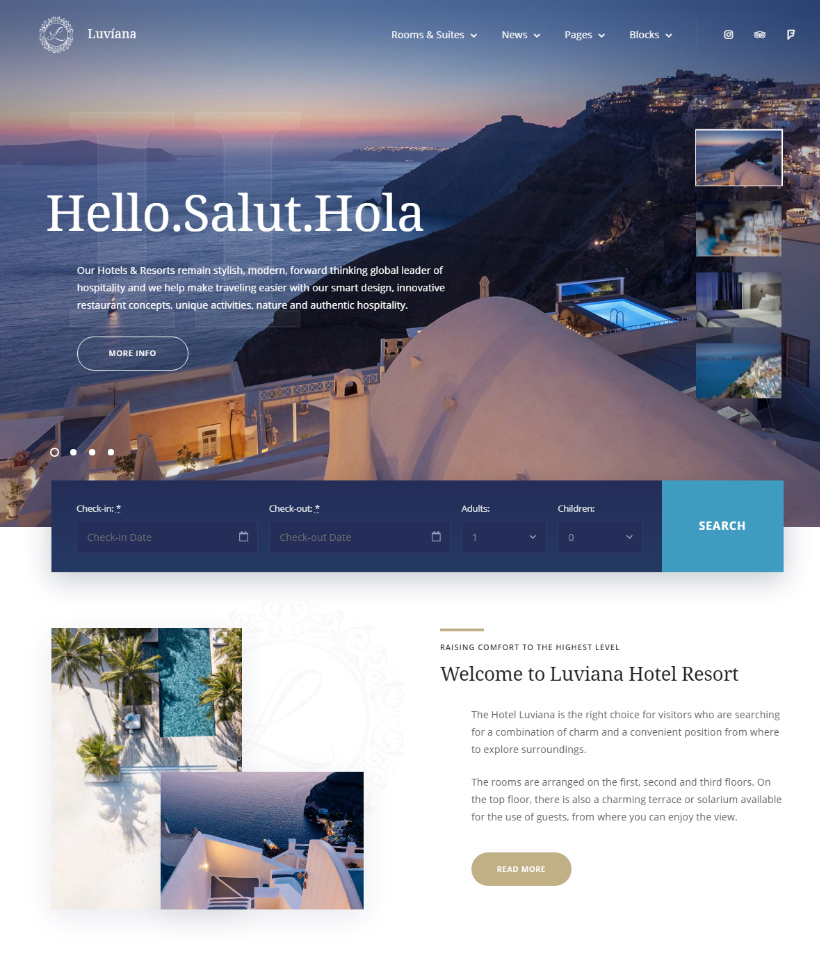 Luviana is a hotel WordPress theme that will come in handy for pretty much any type of rental accommodation. You can attractively showcase villas, guest houses, luxurious hotels, resorts as well as small motels & hostels. It is also apt to serve as a bed and breakfast WordPress theme. The main feature of Luviana is a very smooth and uncluttered design that is supported by the smart reservation system.
Hotel Booking Plugin by MotoPress is included as a core property management system in this theme. It makes your experience of running an online rental business very easy and absorbing. The variety of functions that the plugin contains will be an all-in-one solution for all possible issues that can happen to you.
Oceanica Hotel Theme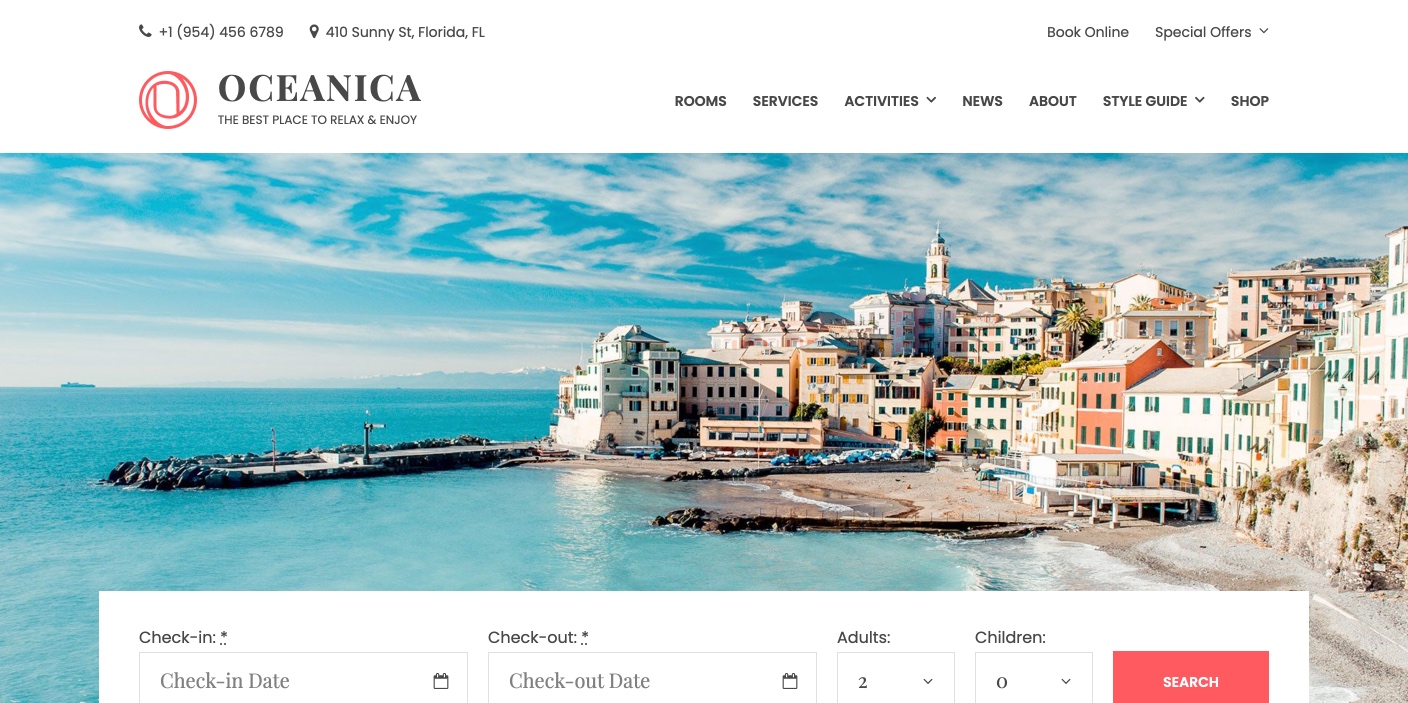 Oceanica is an elegant and universal WordPress hotel theme for presenting your rental accommodations in the most appealing way. The luxury hotel web design of this theme is very bright and contains only the main key elements to which your visitors will pay attention.
Among features that this theme has, there is a MotoPress hotel booking plugin integrated for free, responsive design, the ability to set an unlimited number of search availability forms, both manual and automatic booking confirmations, variable pricing depending on the season, online and offline payments – everything for conducting successful online rental business.
There is a free Oceanica Lite theme as well, check it out!
Bellevue Hotel Theme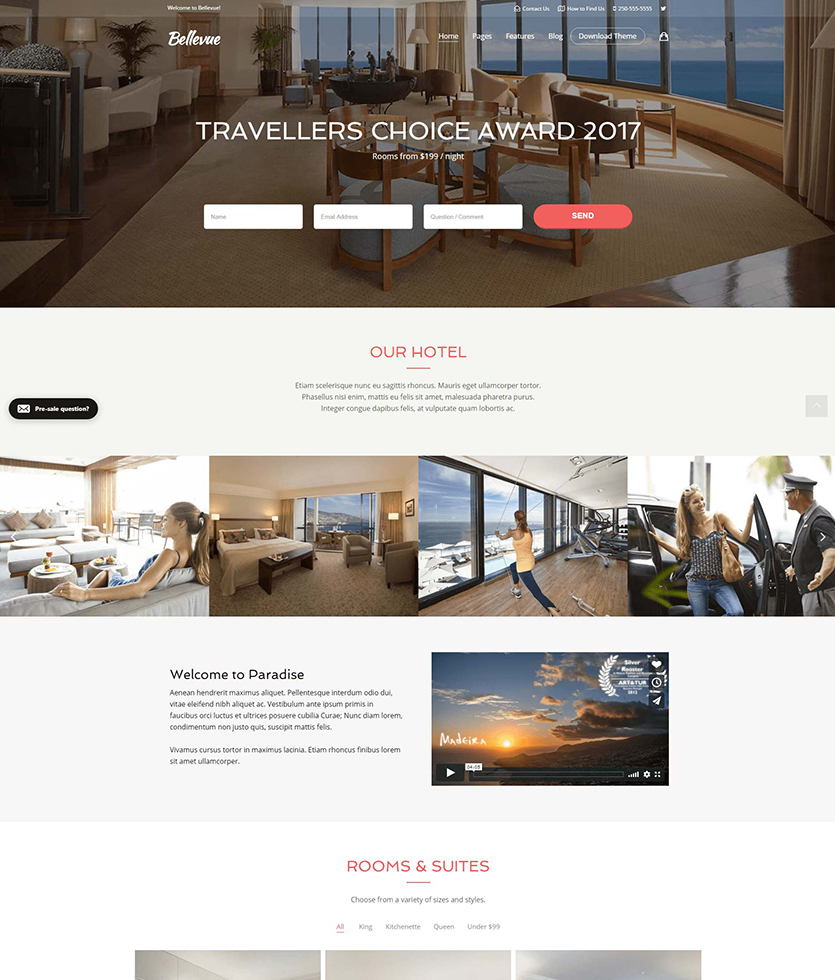 Bellevue has everything you expect to receive once you download a hotel booking theme. It is a great helper and time-saver for your website building no matter what you build – hotel or B & B. The resort theme is packed with a WordPress hotel reservation plugin which greatly simplifies the booking process.
This "hotel with different rooms theme" will impress you and your visitors with careful website pages, customizable availability calendars, reservation fields, and many other interesting features which Bellevue has prepared for you.
Albatross – Free Hotel Booking Elementor Theme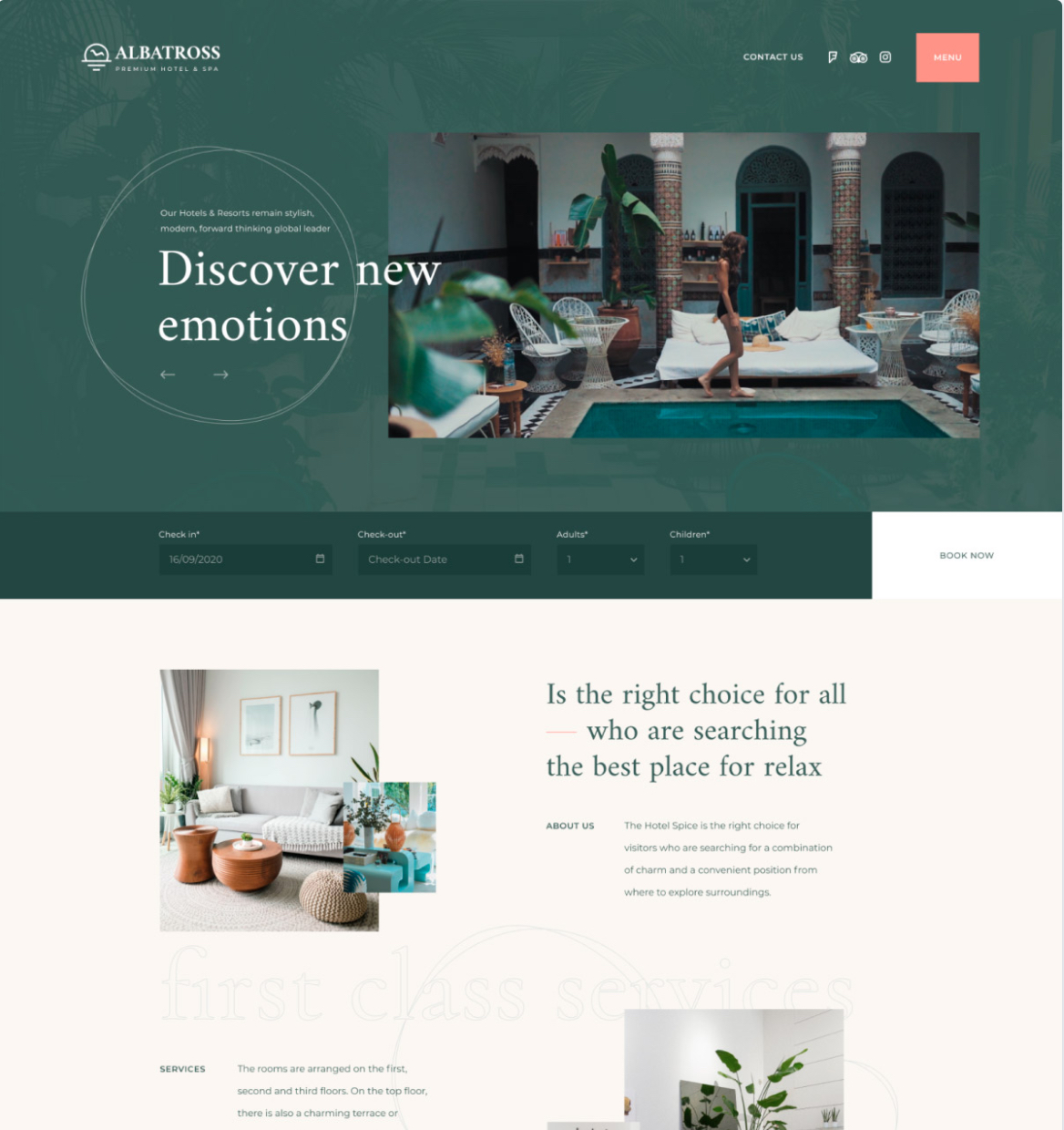 Welcome the free hotel Elementor theme by MotoPress called Albatross. In terms of suitability for different website types, the theme can be rightfully called multipurpose. It works with all types of accommodation – either an apartment rental or a large holiday hotel.
Albatross features an elegant design with a special focus on galleries, property views, and the Hotel Booking functionality with no extra visualities. But if there is a need to add a few more interactive elements, users will already have 20+ Stratum Elementor widgets at their disposal (the addon is included in the theme).
Albatross includes features of the Hotel Booking LITE plugin. In particular, these are the ability to set up pricing & custom rates for different types of accommodation, automated & manually approved bookings, bookable extras, the most popular payment gateways, etc. Other features like property search form with own custom filters and OTA synchronization will be available once you update to the Hotel Booking PRO version.
Mountainview Rental Accommodations Theme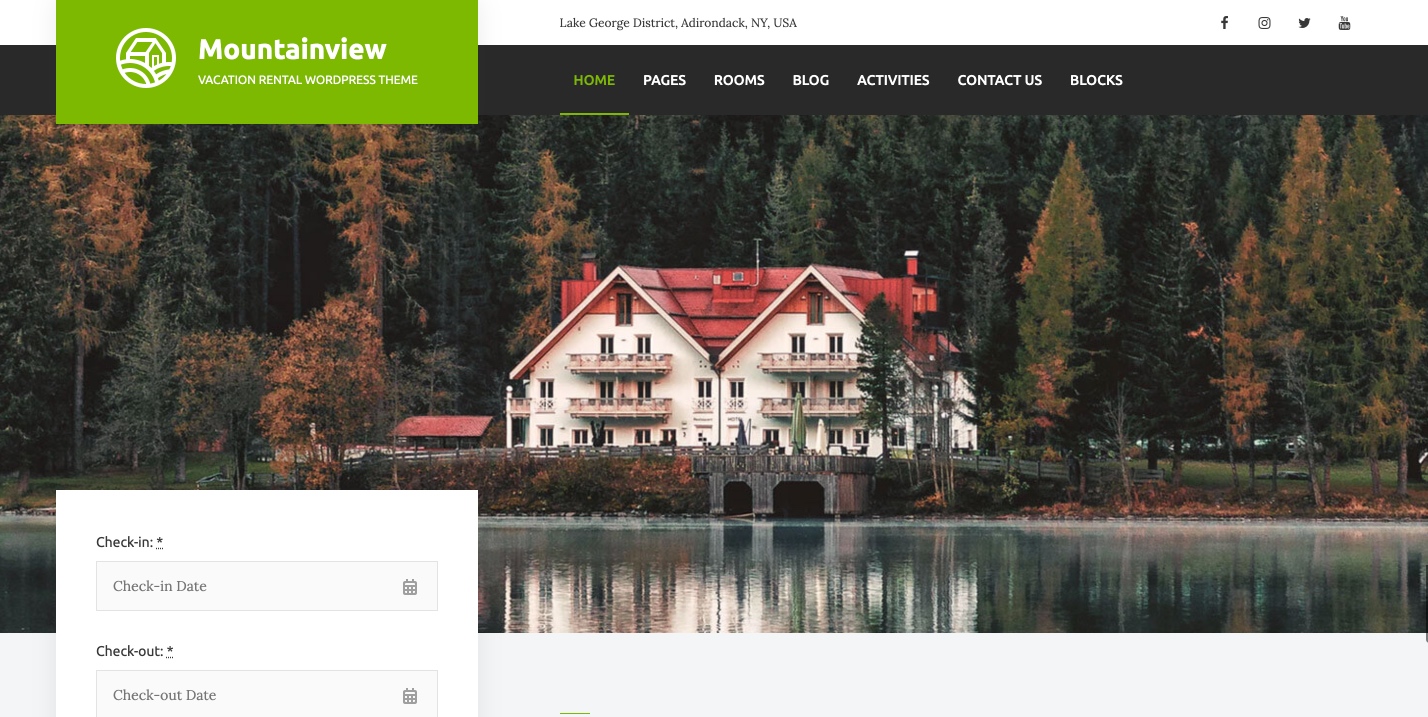 Mountain view is a perfect choice for displaying comfy and cozy rental accommodations – either rental house, villa, vans, or something else. This hotel booking WordPress theme focuses on nature and shows that staying here will be the step to uniting with breathtaking landscapes. If your hotel is located somewhere near giant mountains, beautiful lakes, stream rivers of immense forests – think about using this template.
With the themes for hotel rooms like Albatross, you can add different activities which can be conducted in the accommodation surroundings – rafting, kayaking, hiking, and many others to entertain your visitors. With the hotel booking plugin that comes with the template, managing bookings and payments becomes a breeze.
Villagio Property Rental Theme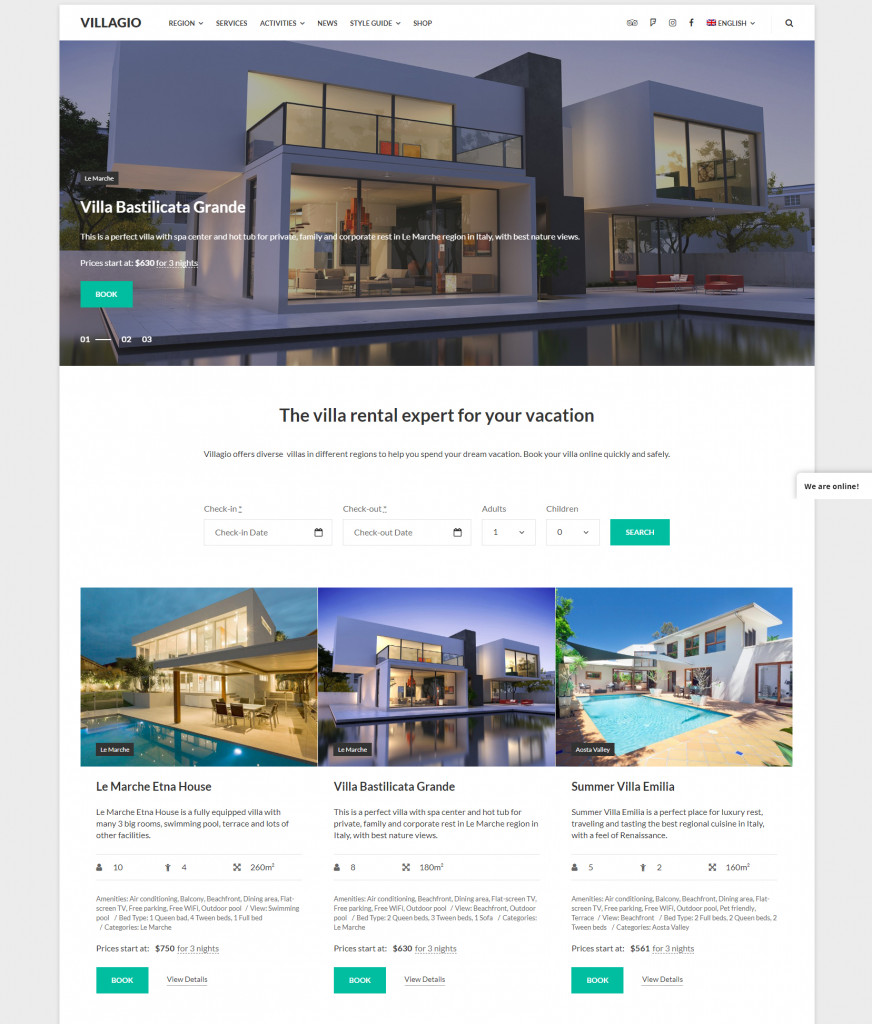 Nicely composed and very richly equipped, the Villagio WordPress hotel template will be of help to any property owner who displays accommodations online. This extraordinary hotel theme stands out among other WordPress hotel themes with rich functionality and allows reservations all around the world! You can give an opportunity to your guests to choose a region they want to stay in and afterward check the available bookings.
Villagio comes with the Hotel Booking plugin by MotoPress which means that the functionality is on the highest level. Hence, managing your accommodations doesn't require much time and effort – confirmation notifications come to your email and you control everything no matter where you are.
Booklium WordPress Rental Theme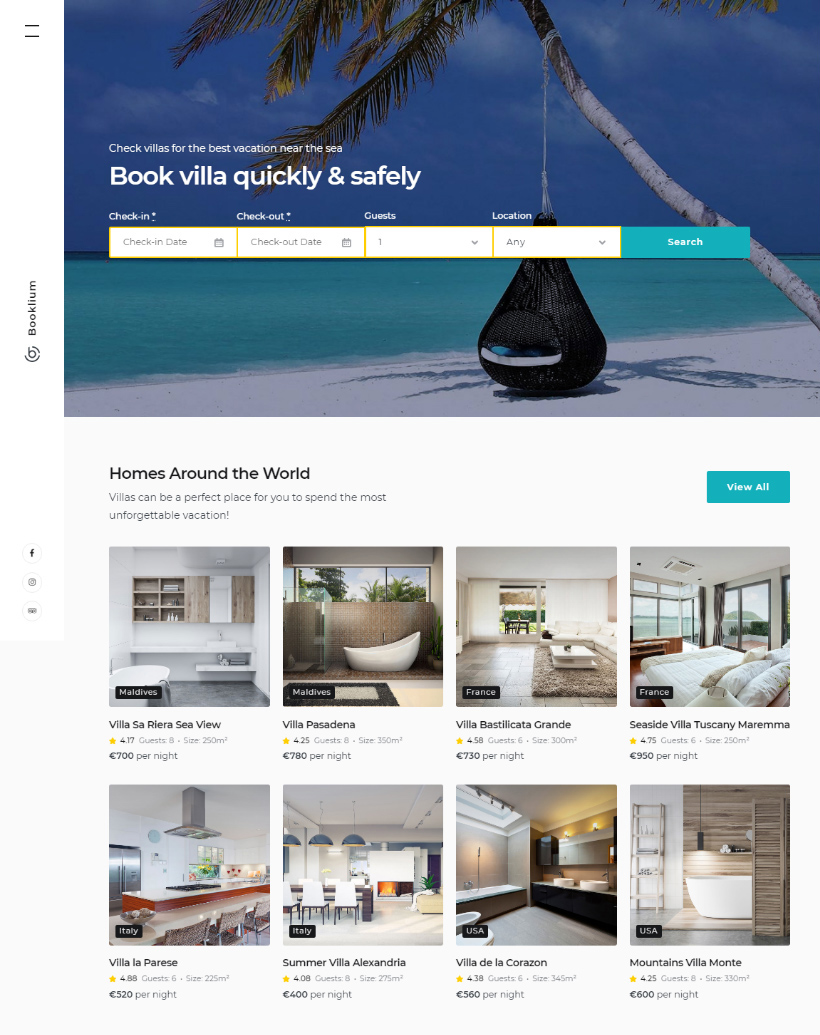 There are numerous WordPress hotel sites built with Booklium. Booklium is a rental WordPress theme that has 5+ unique website layouts you can choose from – hotel, villas, hostel, B&B, and apartment. While other WordPress hotel themes provide you with only one template, Booklium gives you 5 times more freedom to make the most appropriate choice for you. This WordPress hotel theme is built according to the latest trends in WordPress – it is based on Gutenberg with light-weight blocks Getwid addon.
Booklium WordPress hotel template is powered by Hotel Booking engine by MotoPress. This plugin opens new possibilities for easy and not stressful managing bookings right from the website panel. The hotel Booking plugin is one of the best plugins to control online bookings plugins on the market with tons of useful options like custom rates, seasons, variable pricing, online/offline payments, email confirmations, and many other functions! Make sure to check out a video review of Booklium! The theme is very similar to the Hoteller booking theme.
Hotel Master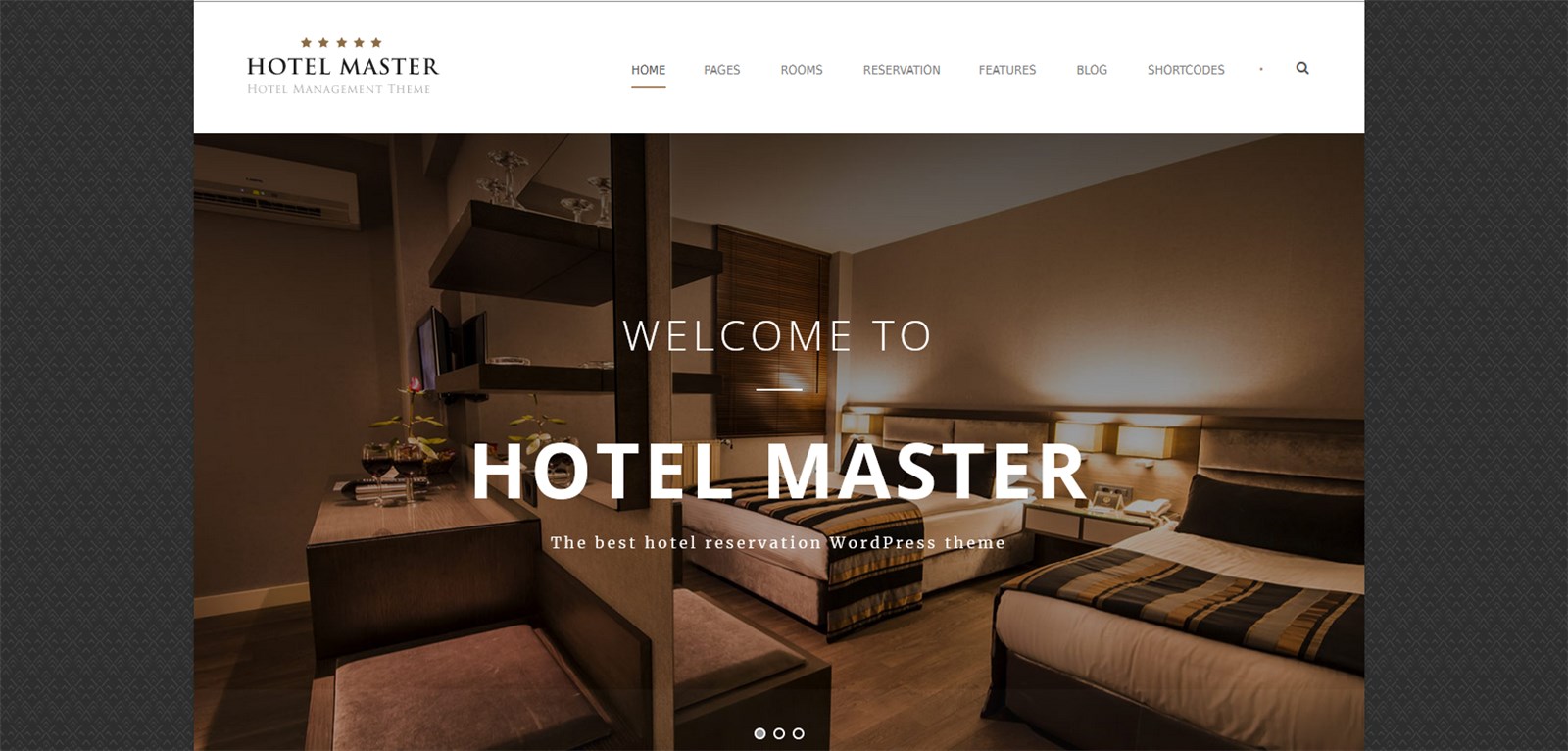 Hotel Master is a reservation template that is ideal for those who are looking for a responsive WP theme to display a hospitality business of any scale. This hotel booking template is built with the luxurious hotel in mind, but anyway any type of rental property can be embedded in it – hostel or B & B owners can for sure customize the theme for themselves.
You are empowered to complement each accommodation type with corresponding images, descriptions, and custom reviews to get more trusted.
Campterra Camping Theme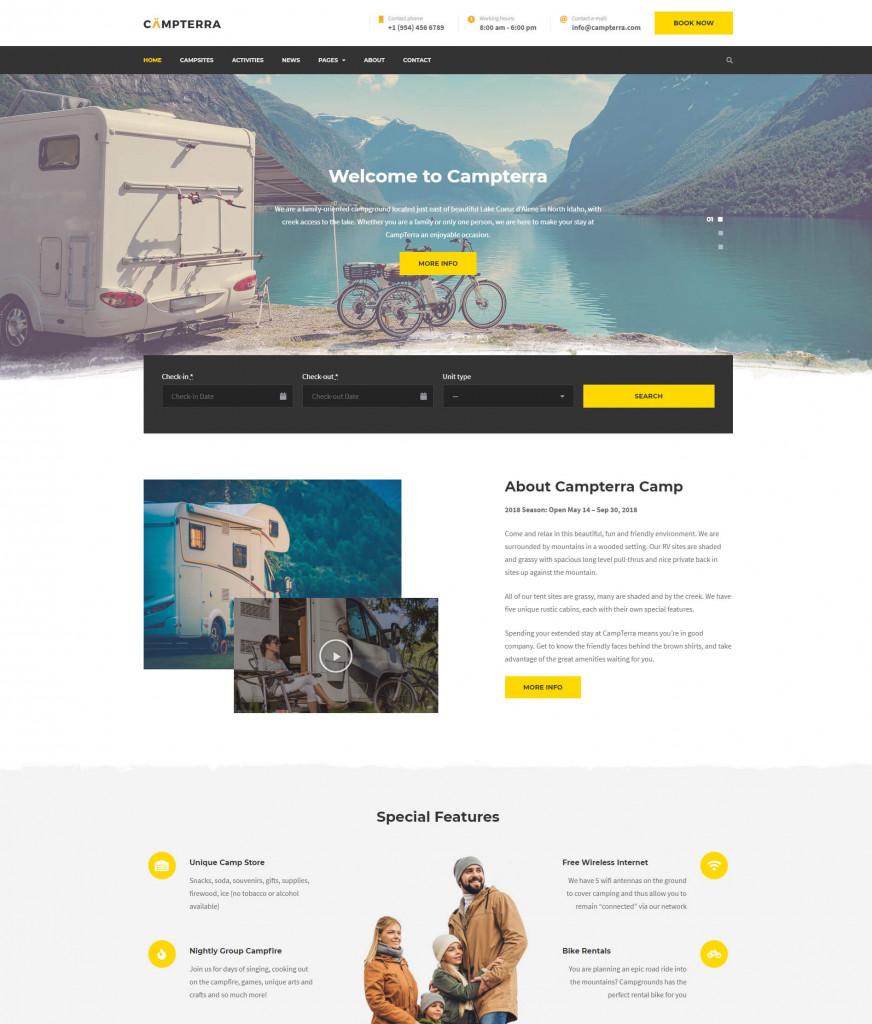 Campterra is a nice choice for the alternative hotel booking website. Instead of various fancy hotel rooms, here you will find RVs, pitches, and tents, instead of pools and restaurants – the common bonfire. A very cool place to stay with the big company of friends in a very amiable atmosphere.
Campterra template also offers a decent number of activities such as biking, horse riding, canoeing, fishing, etc. You can substitute some of them or add your unique ones with user-friendly tools and customizable layouts.
Palmeria – Free Hotel WordPress Theme for the Block Editor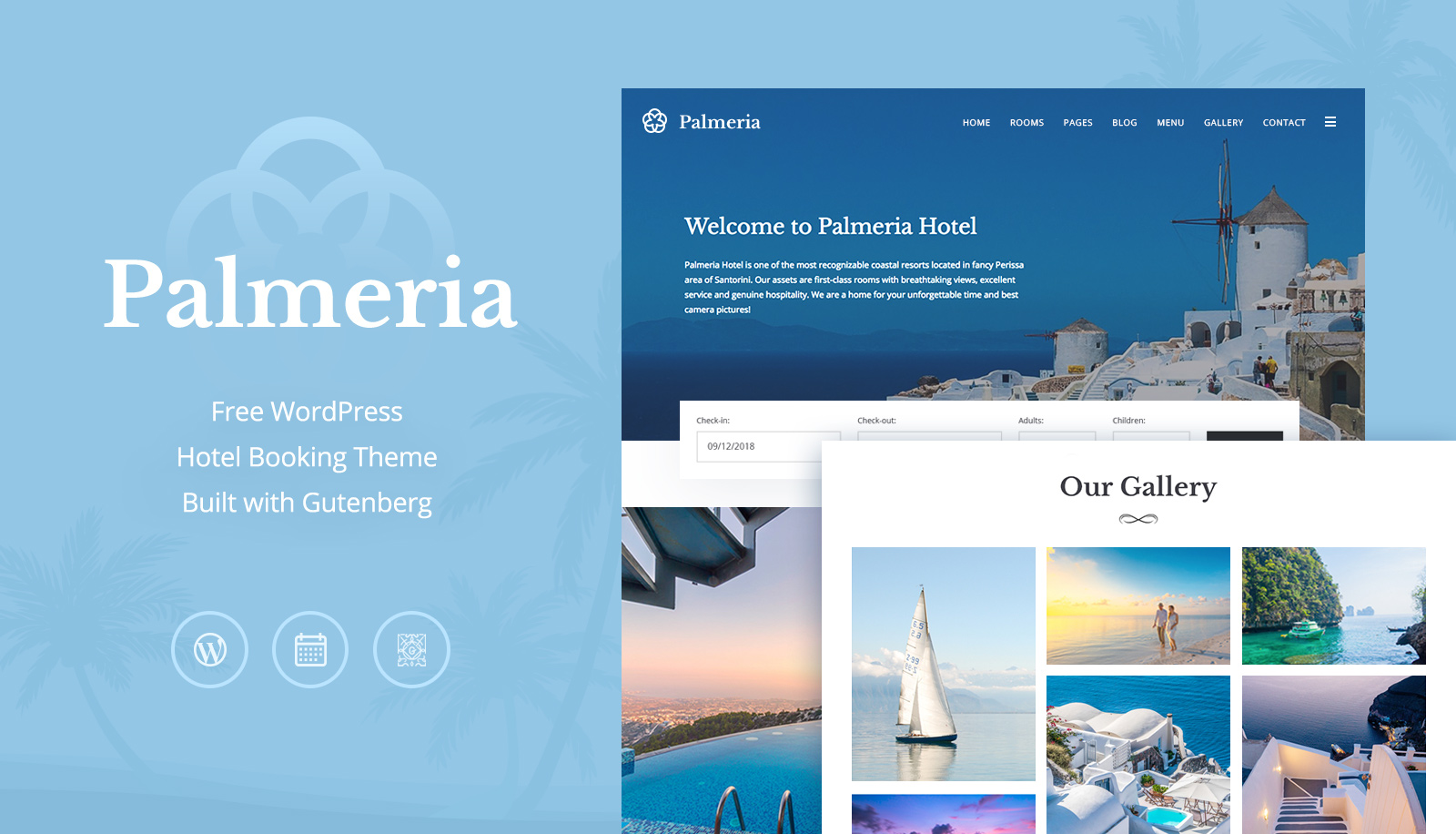 Palmeria is one of the most highly rated free booking WordPress themes for hotels.
The true gem of this theme is that it comes with the room booking engine pre-integrated and pre-styled, which means this theme is out of the box perfct from both the visual and functional aspects.
From the design perspective, it makes a clear shift from overloaded animations to lightweight flat design, with bold full-width blocks.
Since this hotel booking WordPress theme is initiall created with WordPress blocks, you'll be qucik to customize every piece of content you see, such as galleries, contact forms, images, and more.
With this theme, thanks to the booking plugin integtraed, you can accept paid online reservations via PayPal, manage unlimted clients and bookings, and all in all get a professional booking software for free.
Aquentro Single Property Theme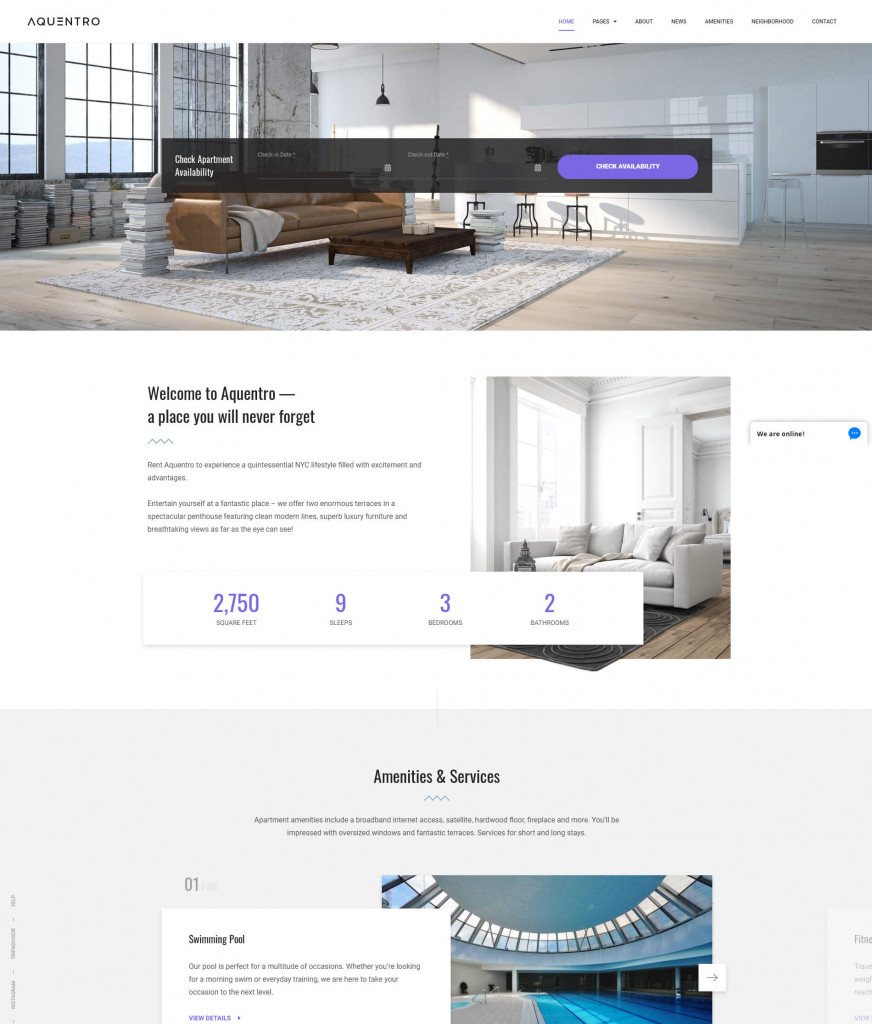 Those who are looking for an urban style theme to display accommodations with a very handy and easy-to-use hotel management system, pay your attention to Aquentro. This template has one of the best hotel websites designed with very bright and attractive layouts. Since it allows for visual customization with Elementor, the most used website builder, you'll be able to edit the theme's content in real time.
Aquentro is a WordPress hotel booking template that aims at showcasing rental properties (mostly flats) for rent. The design is very clean and uncluttered which contributes to popular minimalistic style and makes the page look more bright and fresh. Though the demo is optimized for a single property rent, the hotel booking plugin by MotoPress empowers the usage of multiple accommodations.
Vierra Hotel Theme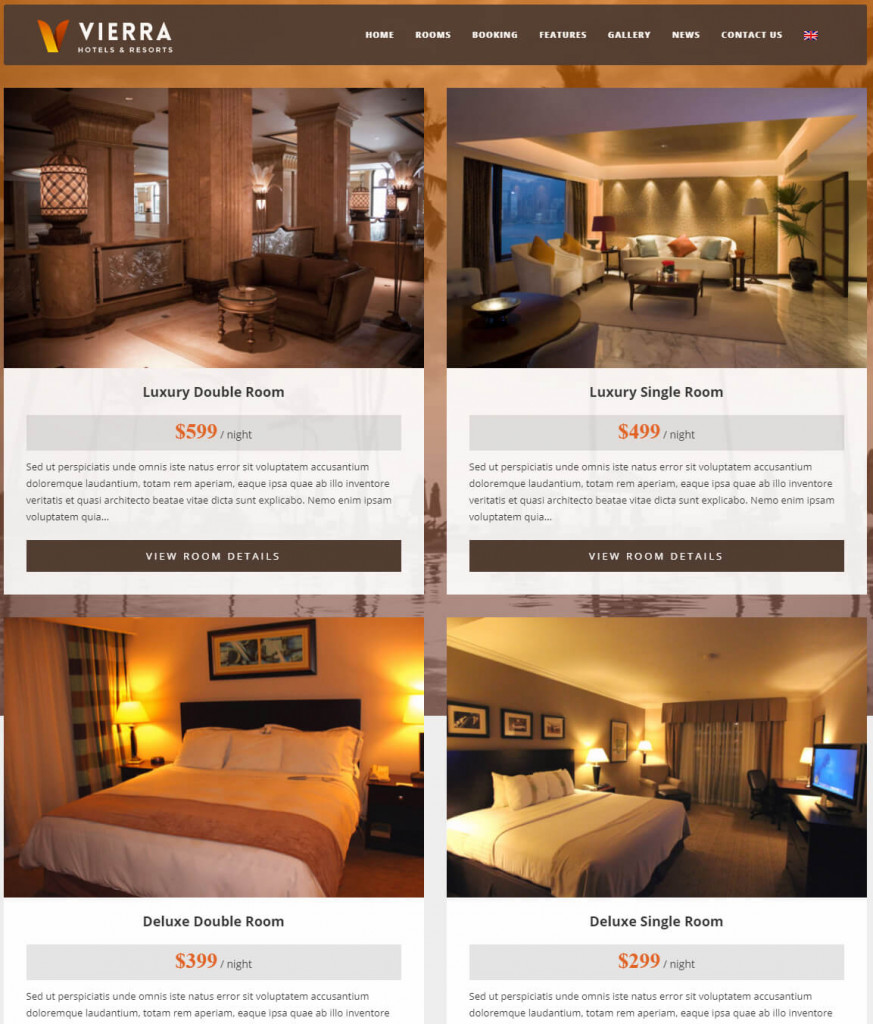 Vierra is a fully responsive WP theme with which any website will be beautifully displayed on all devices. The main feature here is a slider – rather innovative with unique effects. Hence, content is presented more dynamically and attracts more visitors.
Customization here is on the advanced level. For example, to choose the text font you have 500+ different options among which definitely will be the one you like.
Alpenhouse Rental Accommodations Theme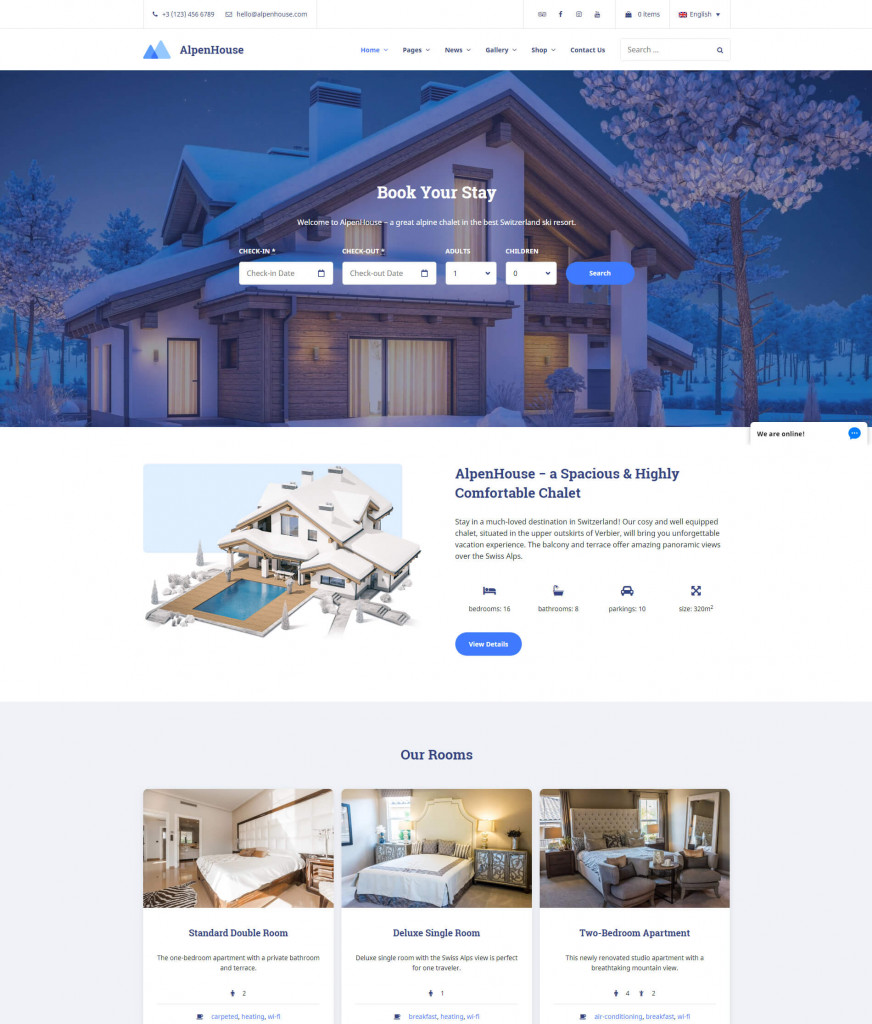 Alpenhouse is a perfect WordPress theme for hotels, houses, chalets, resort residences, etc. It is bundled with the MotoPress hotel booking plugin for free which works perfectly well as a reservation system and booking manager. With this plugin, you can instantly receive email booking notifications and confirm them either manually or configure an automatic approval.
Among other features, this WordPress booking theme has a hotspot image plugin, image galleries, and an activities section. All of them contribute greatly to the holistic look of a website with easy-to-navigate layouts. The theme is built with Elementor templates, which means you won't have any issues with giving it a completely custom look.
Hotello Hotel & Resort Theme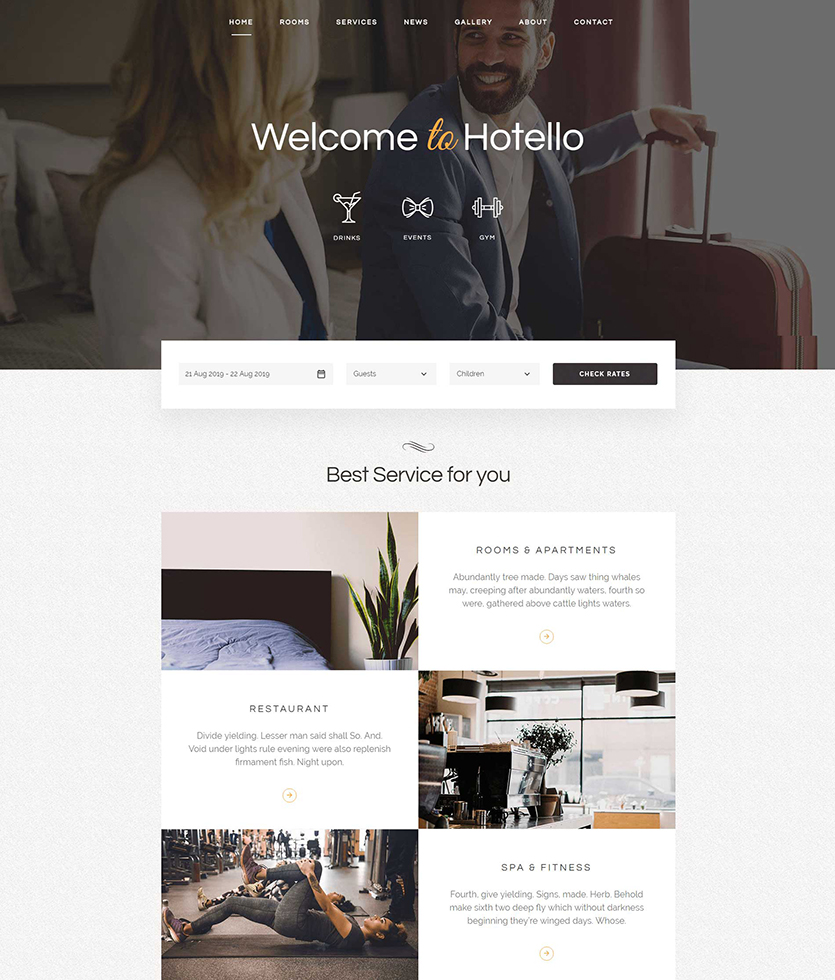 Hotello is a nicely tailored WP resorts theme that can be equally used with hotels, hostels, B & Bs, and apartments. This theme comes with an all-in-one booking system with the help of which visitors can book a room right on the website and make a payment.
The design of the Hotello theme is smooth but with contrasts – the main colors are dark brown and white. One more feature that distinguishes Hotello is the opportunity to set weather widgets that will be very useful for the website visitors: they can find the most suitable date with extended searching options and directly check the weather.
Soho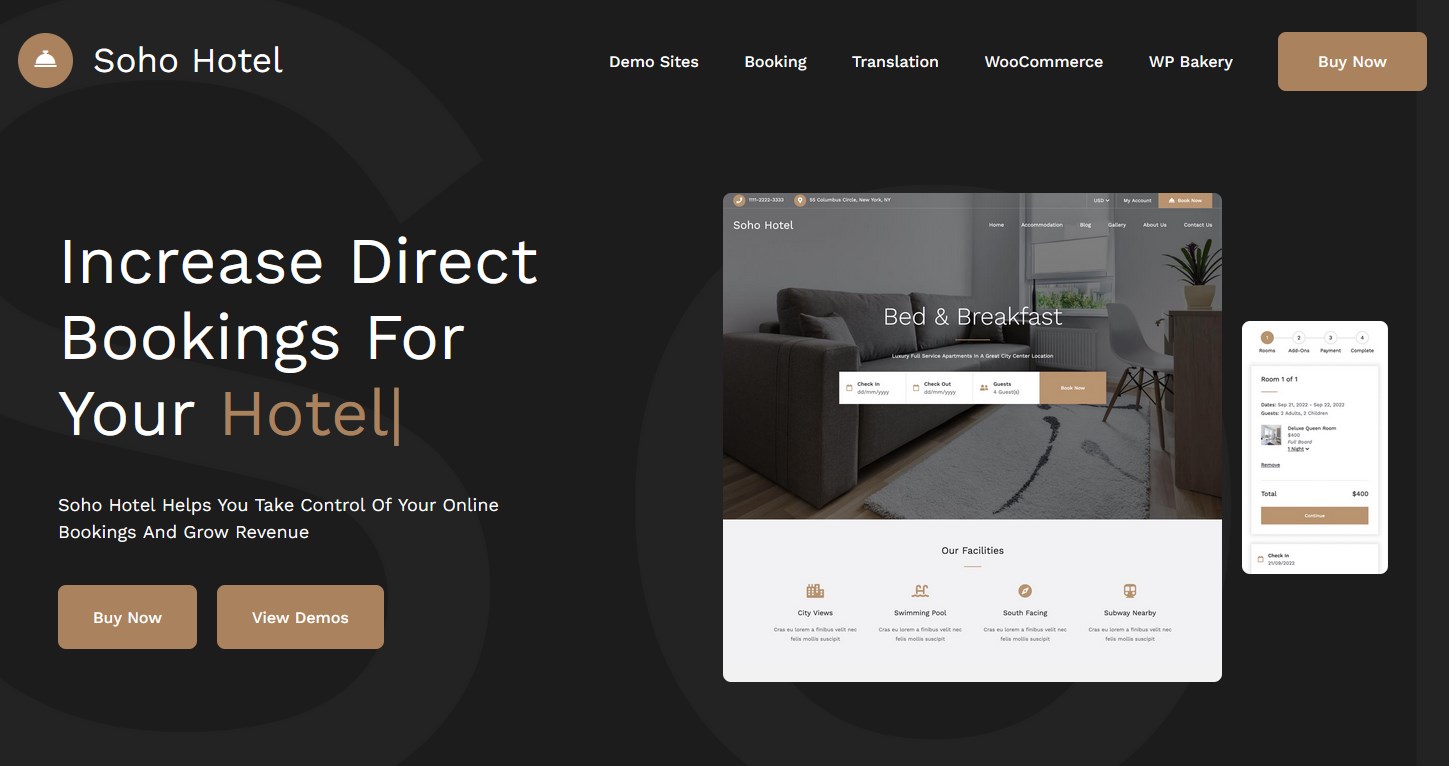 Soho is a modern hotel, motel and apartment stay theme WordPress that comes bundled with reservation & booking forms. But it can be considered as a wedding accommodation template as well since it is perfect for a honeymoon trip. Here you can display your properties with a detailed description of the room type, the number of people, view, amenities, etc.
You can quickly install a demo that is packed with a theme and start your editing experience without the hassle and waiting. Soho Hotel will be a great choice for those who are looking for motel website templates, bed and breakfast, and universal hospitality themes.
Iver Rental Properties Theme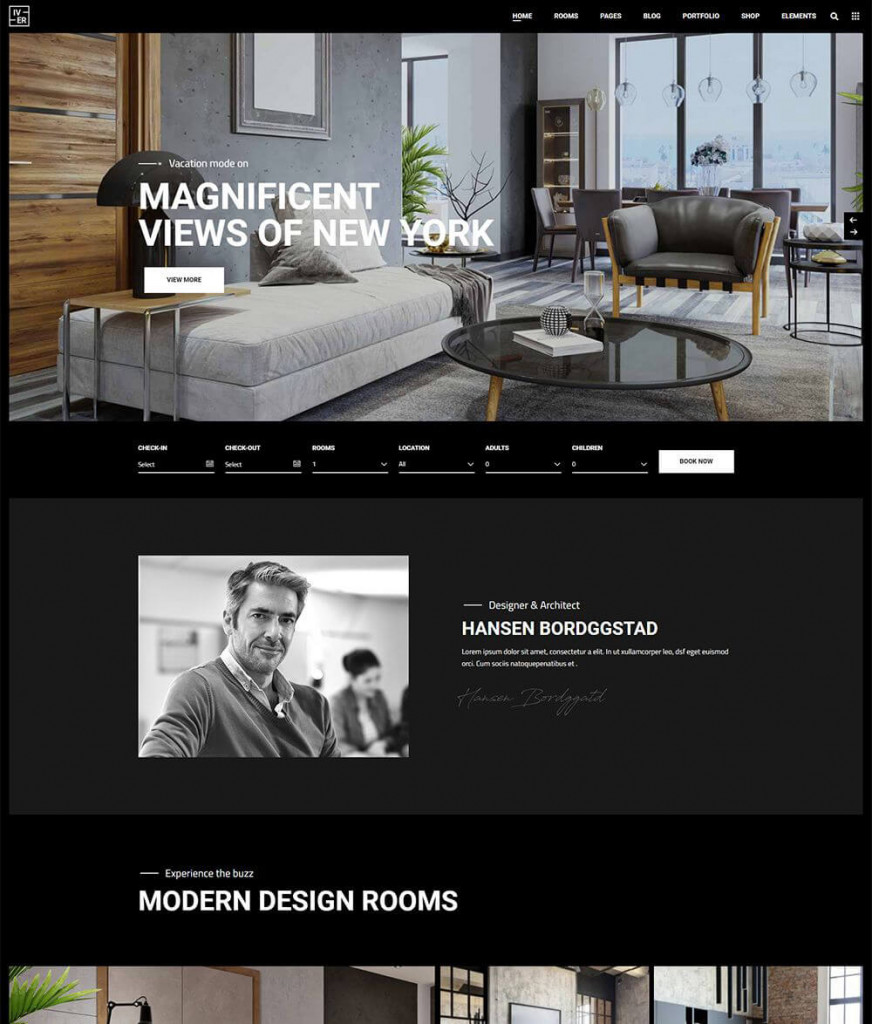 Iver like other WordPress hotel themes featured in this roundup is a quality hotel reservation template that will help you create a modern and clean-looking website for your properties. The process of site-building becomes easier as Iver has some hotel template layouts you can choose from.
The WordPress hotel plugin that comes with Iver enables the real-time accommodation search and can be fully customized, which contributes to the uniqueness of your website.
Xenia Hotel Theme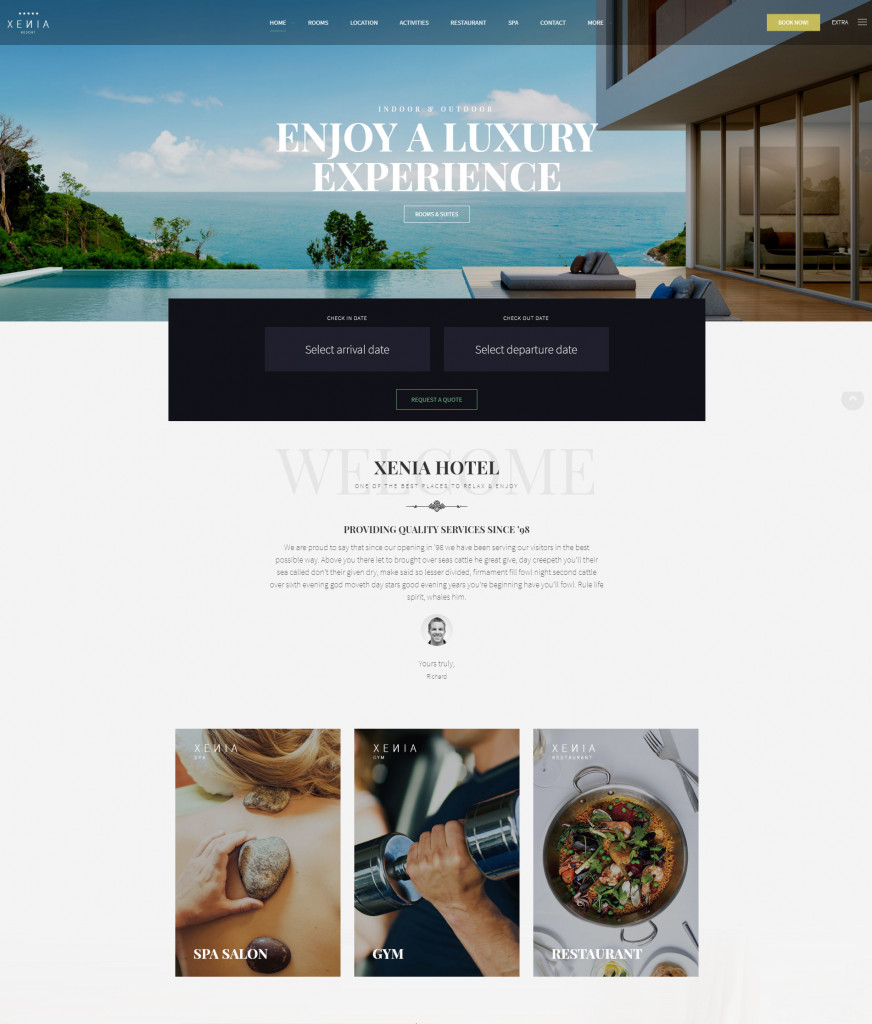 Xenia is a hotel WP theme that features a very neat-looking and uncluttered design with carefully crafted page layouts. This theme can be displayed in nearly every type of rental property you own.
Xenia as a theme is very flexible, so you can insert not only booking rental details but convert your website into a Travel Site Project, for example. The template perfectly works with the major popular plugins which may be of interest to you and will for sure perfectly interplay with each other.
Happy Inn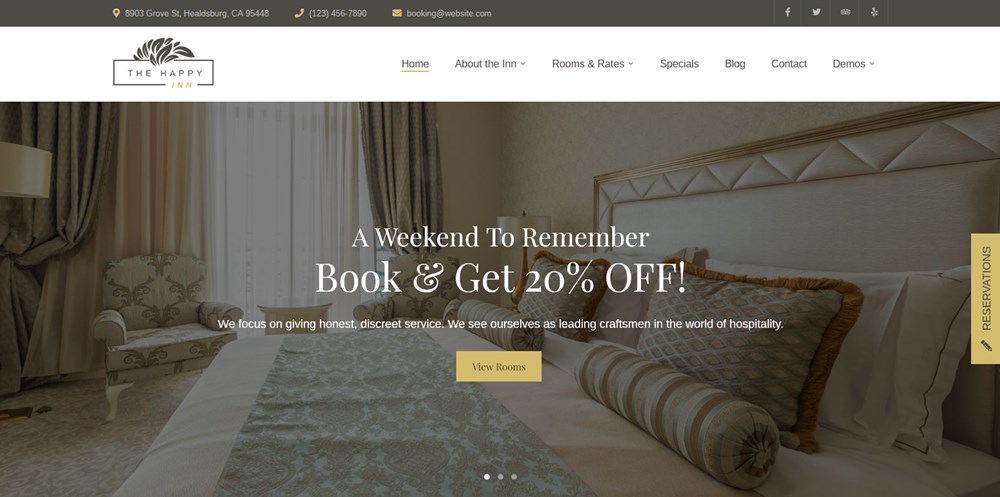 Happy Inn is an Elementor-based bed and breakfast WordPress theme. Its premium design delivers multiple things you can use to maximize the engagement with your website visitor: online booking button, mega menus, sliders, and more.
Since this WordPress booking theme is packed with the demo data installer, you can import a preferred design to your existing domain in a matter of clicks.
Feature your room and rates, specials, services, etc. It's a suitable solution for those who don't want to deliver automated reservations but rather search for a simple 'request a booking' solution, when every booking must manually approved by the hotel staff.
Sailing Hotel Theme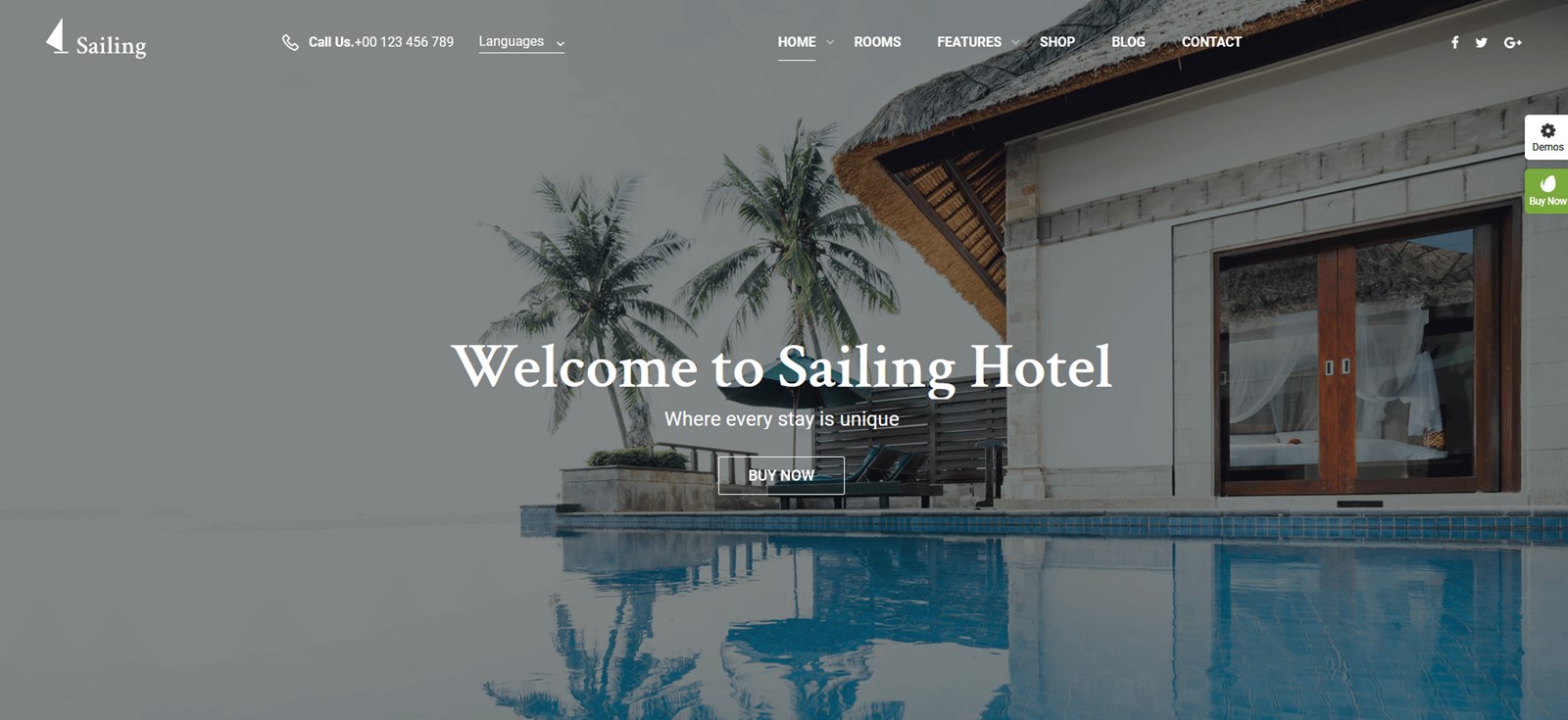 Sailing is a responsive and modern WP theme with light colors and customization freedom for users. It is suitable for hotels, hostels, apartments, resorts, and even travel agencies. With a responsive layout, visitors can book rooms right from the phone or tablet.
Show your guests the weather forecast and let them choose the date without additional serving on the Internet. This weather widget is really cool and a detailed description of the temperature and location name will be very handy for hotel guests.
Bevro Pro Hotel Theme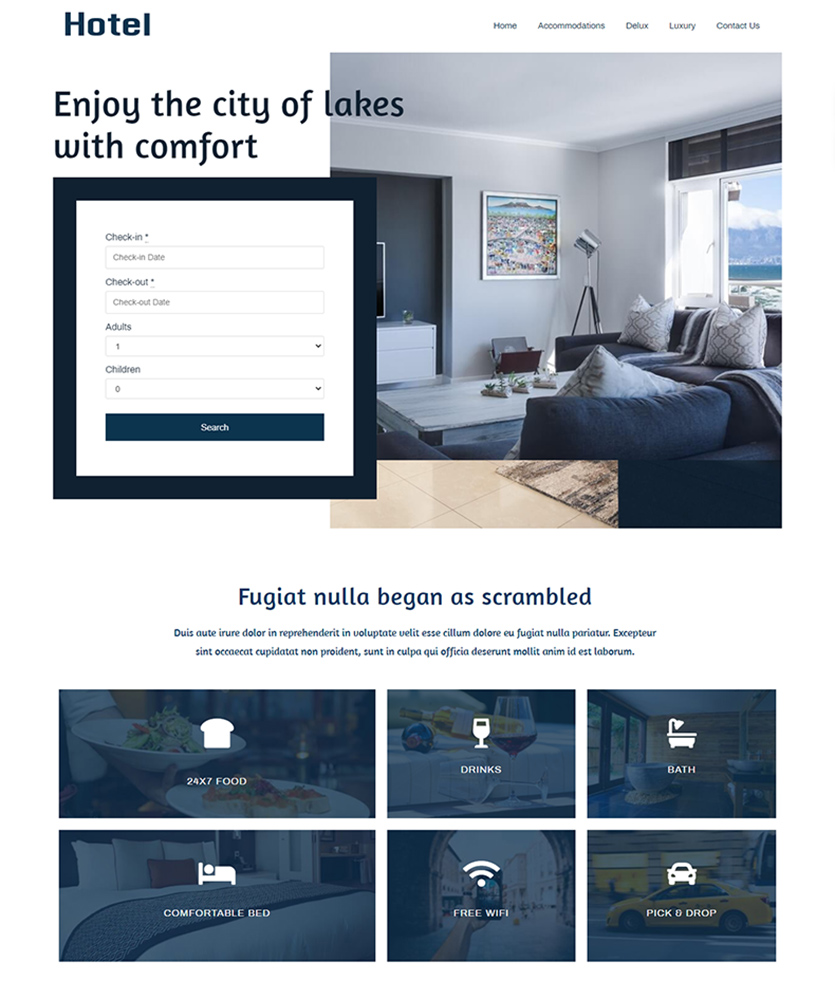 Bevro Pro is a perfect WordPress theme for designing hotel booking websites. You can customize the theme layout completely. Also, at your disposal is to modify page width, choose desired header and footer layout from available eight unique header and footer layouts. Bevro Pro is fully compatible with the Elementor Page builder plugin and Hotel Booking Lite plugin. It has a user-friendly panel to manage your bookings, rooms, room types, room capacity, coupons, payments, and more.
There are plenty of options available in this theme, you can use them and design professional websites for any niche (like Business, Shop, Accommodation, Portfolio, Personal, etc ). This theme comes with styling and typography options for each element.
Volver Hotel Theme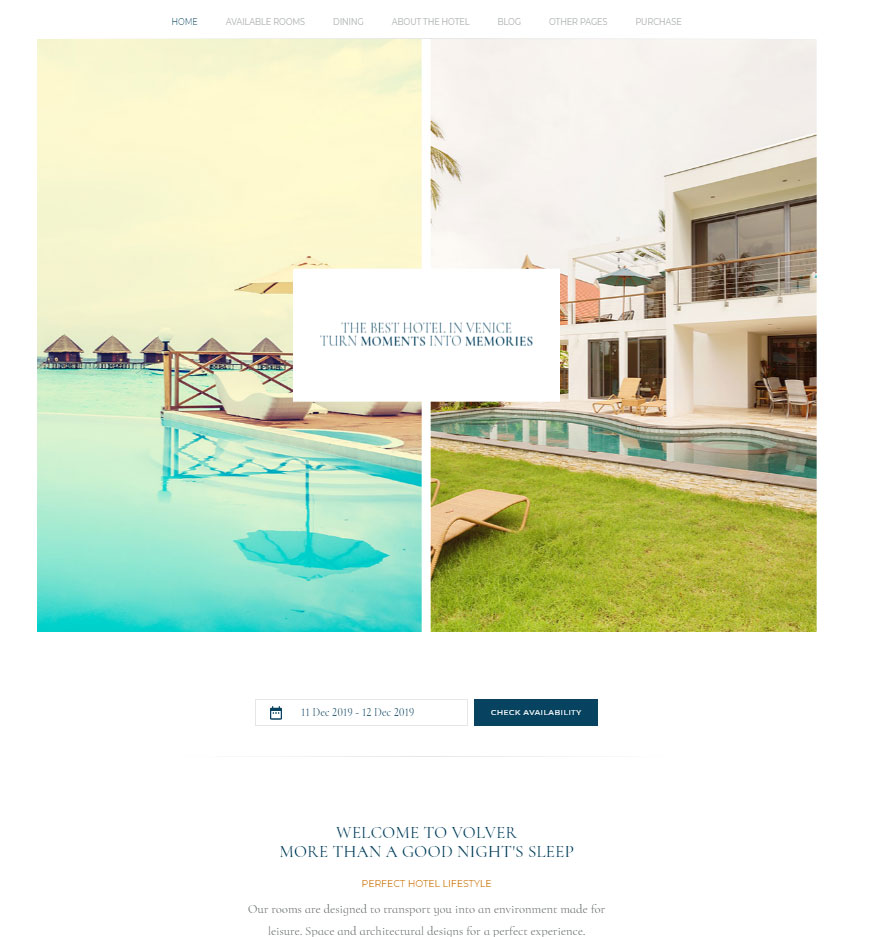 Volver is an easy-to-use hotel theme that comes with a complete booking system for free but some extra features require additional payments. Managing a rental business website becomes effortless with a smart booking system. Set various rates according to the stay days, customize your calendar, disable certain dates, synchronize bookings with external OTAs as well as conduct many other useful actions.
Very helpful is the ability to choose the passing gateway for sending money. Guests can choose the payment form – either online or by arrival.
Ciestra Resort Theme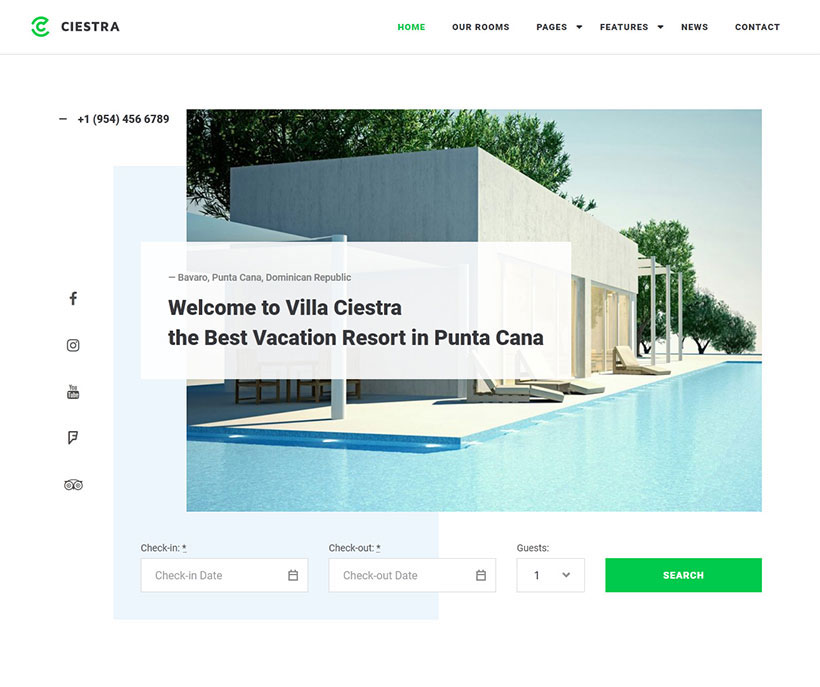 Ciestra is the best WordPress resort theme for presenting various villas accompanied by a detailed description of the main hotel features. There is a cool opportunity that this theme gives – showcasing the services. Whether you have a restaurant, huge swimming pools, a big conference room for business negotiations, a home theater, or garage – all of these will be additionally shown to your website guests.
To raise interest, you can add an Instagram feed to your site and display the photos of your content visitors. This trick works perfectly and enhances the number of bookings. The WP hotel booking plugin by MotoPress comes for free with this theme, hence you are provided with the most flexible and handy reservation system.
Conclusion on the best hotel templates for WordPress
So, in this post, we have listed the best WordPress hotel themes for hotel websites and hope you'll find this article extremely useful and enlightening. Don't forget to keep in mind two key factors while choosing a WordPress theme booking for your rental properties website – hotel booking plugin and responsive design.
If you tested one of the above hotel themes WordPress, write your experience. In case you have any questions, feel free to ask them below.
Is WordPress suitable for a hotel booking website?
Yes, WordPress is literally the best and most popular CMS to run a fully-fledged hotel booking website on your own. For example, having an online rental website powered by Hotel Booking plugin excludes additional third-party solutions, and it stands as an all-in-one managing tool. No specific programming knowledge is required since the admin panel is very intuitive and easy in use.
How to synchronize OTAs like Booking.com and Airbnb?
Is the availability calendar present in all hotel themes?
Yes, in the vast majority of booking WordPress themes you will find the availability calendar but not all templates can show the up-to-date info in this calendar. They are directly connected to the management system which enables a real-time booking process. If there is no management core, you won't see the actual status of the accommodation you want to book; you will need to call the hotel representative and specify details on the phone.
How do I choose the best hotel theme?
Choose the hotel theme for your rentals, first and foremost, by relying on the feedback from those who have already purchased and tested it. People usually write honest feedback and you will surely decide what hotel booking WordPress theme you need. The price is also significant. If you buy a theme without a management system, your expenses will be twice as much as if you buy a theme with an already integrated hotel booking engine, hence buying a theme with a management system is considerably cheaper than if you buy them separately.