Roundup of 10+ Best Booking Plugins for WordPress
I'm sure we can help you find the best reservation plugin for WordPress with the next roundup. Not a silver bullet, for sure, but the best booking plugin for your particular business – definitely.
We'll divide all of them into three main categories: accommodation booking, appointment booking, and event booking plugins since there is a fundamental difference between all these solutions but still they share the features within the category they belong to.
All of them are sharpened for different industries, e.g. property booking solutions handle reservations per night while appointment-related tools deal with hourly bookings and, finally, none of them ships with the event-related options like event booking plugins have to offer.
Let me share our checklist with you – it should also help you choose the solution step by step:
What business industry do you operate in?
From this standpoint, you might think about WP booking plugins that include, but are not limited to:
Appointments.
Accommodation / space booking.
Equipment / rental plugins.
Events.
What is your bookable item?
The software you choose must be by default maximum optimized to the realities of your business.
Events (online and offline concerts, lessons, tours) display the timetable and calendars of events.
Spaces (hotels, vacation rentals) deal with the property availability calendars.
Services (salons, lessons, hospitals) display the booking calendars that allow customers to pick and book available slots.
Which time slots do you sell or rent out?
It's that principal difference we've voiced out in the introduction.
Hourly bookings (up to 24 hours) are handled by the event and appointment WP plugins
Nights are usually the territory of the property and hotel booking plugins.
It's unlikely a good approach to choose plugins that handle both scenarios in one software – you don't need all that burden of extra features you'll never use, do you?
What specialist tools are you looking for?
It's hard to come up with a comprehensive list here since there is always a difference in nuance and detail in each business. But here is the list of the most common questions you need to address before choosing a plugin:
Payment gateways: do you need international or rather local payment gateway integration? Some plugins might offer just a few methods for free, while others charge extra for the functionality of such kind.
Third-party service integration: do you already have a tool you are happy to use that you want to integrate with your booking solution? For example, those can be Mailchimp for automated email marketing, Google or Apple calendar to sync bookings, Google Analytics to track website's performance, etc.
Multi-location and multi-vendor functionality: do you run several villas or salons? Do you need to manage them via different boards? Many plugins are not optimized for it, so search carefully.
Localization: do you need the multi language tools? Is there a non-English plugin version if you need one?
User area: do you need users to log in and see their reservations or provide any other sort of interaction?
Customization and setup: how flexible is the plugin and whether it requires you to pay for each extra feature? Can you get help from the plugin creators?
So what is our main criteria for narrowing down our list of the best booking plugins for WordPress with payment then? We've hand-picked time-tested solutions primarily basing our choice on:
Time-tested solutions with positive reviews
The most feature-rich plugins
Regularly updated
Integrations and extendability.
It's worth mentioning that we've included only premium solutions for the sake of showing the full potential of them. Free plugins are usually freemium ones namely a free version is just a cut-down one of a freemium plugin.
Note: as for the worth-being-mentioned MotoPress solutions , we're proud creators of the WordPress Booking plugins family for two niches: hotels and appointments. While the latter is rather young, the Hotel Booking plugin is the WordPress market leader for the hospitality, vacation rental and short-term rental businesses, serving around 20K+ websites worldwide. We'll include more exact details into the description.
Best Appointment Booking Plugins for WordPress
There is probably the biggest number of plugins from of the "best appointment booking plugin WordPress" category. They quite often share the same features, but differ in the pricing plans, design solutions, and other tools.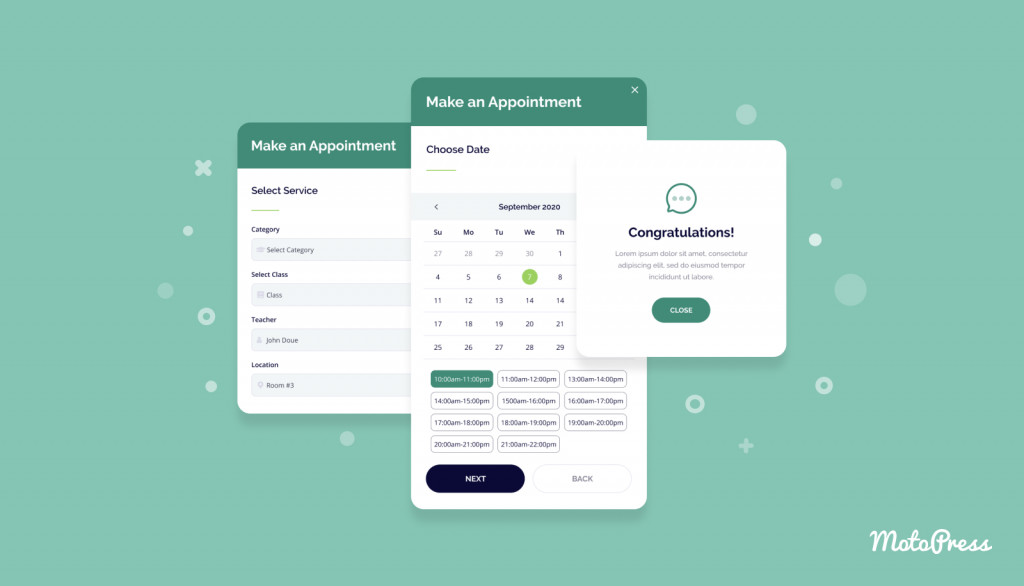 The MotoPress Appointments plugin is one of the best booking plugin WordPress can offer. It's optimized for hourly bookings and is suitable for any time-related business, such as barbershops, clinics, tutors, etc. This booking tool satisfies the needs of both large-scale appointment-based businesses and individual solopreneurs.
The one-page appointment booking form is fully responsive and can be placed anywhere on your WordPress website. It's very simple and features a step-by-step booking wizard.
Of course, the plugin features beautiful availability calendar allowing customers to choose a service & time and book it right away in just a few steps. Also, with our reservation plugin for WordPress, you can add any number of staff members, services, and locations, which makes it a good choice for multi-salon brands with a lot of staff members.
For admins (you), the MotoPress Appointment booking plugin ships with all the tools for creating flexible employee schedules and managing reservations (statuses, client details, etc.). You will be able to individually customize the profile details of each employee, and let them include individual lunchtimes, breaks and days-off.
You will be able to set flexible time slots for numerous services, and make customized service durations of any length. For group classes, sessions, and other types of appointments, you can make the time slot available for booking by multiple clients.
Main Features of the MotoPress Appointment WordPress Plugin
Easiest WordPress appointment scheduling on the backend;
Unlimited services & employees & locations;
Flexible employee schedules (with lunchtimes, breaks, and days off);
Custom time slots + buffer time before and after actual appointment;
PayPal, Stripe (which also allows payments via Bancontact, iDEAL, Giropay, SEPA Direct Debit, and SOFORT), Direct Bank Transfer, or pay upon arrival methods.
Google Calendar synchronization to sync bookings from your website with the staff's calendars;
Customers can book multiple services at one go;
Various levels of access to your website for employees;
Discount coupons;
Allow group bookings;
Automate email notifications;
Supports multiple page builders.
View all appointment WordPress themes with this plugin integrated.
Register a free trial
Read a more in-depth review here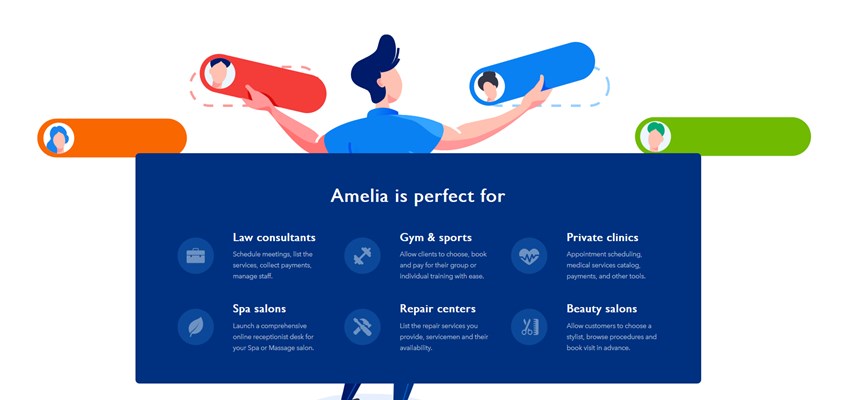 Amelia is one of the most holistic and comprehensive WordPress plugins for booking system. And it gained this status quite quickly, although it's rather a new solution among booking standbys. We've seen many people who love Amelia thanks to its unbeatable flexibility for both sides – clients and the staff.
Amelia is an all-around solution primarily thanks to the industry-standard features it includes: it's capable of dealing with unlimited services, employees, and locations.
Probably the most prominent feature of this plugin is that it takes care of the entire circle with incredible attention to detail: there are numerous tools to manage clients, employees and the management team.
The cool feature is that employees can be assigned individual accounts to manage their bookings; furthermore, they can receive SMS notifications and deal with bookings via their own calendar apps like Google or Apple.
Clients can also access log in and see their bookings. Online payments are handled via PayPal and Stripe; for more, you might need to use the WooCommerce integration.
Amelia is the best WordPress plugin for booking appointments for an enterprise-grade appointment business that is looking for a smooth business automating solution. Although it's relatively expansive, it doesn't follow the pricey addons model and gives you all at once.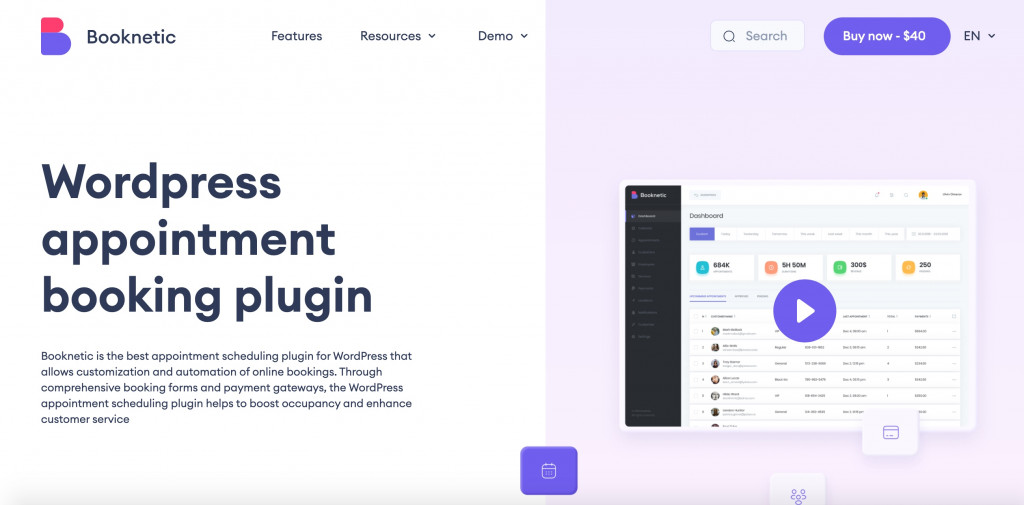 Booknetic is a powerful WordPress Appointment Booking Plugin for any appointment-based WordPress site. The plugin's sleek and modern user interface is both attractive and intuitive. Customers have the ability to book the appointment easily as they can filter results by staff, service, or location. The booking form is user-friendly on any device. And depending on enabled options, customers can also book one-time, recurring, and even group appointments. Admins in their turn will be able to monitor booking statistics of each employee conveniently from the WP dashboard.
Booknetic features a modern and responsive appointment calendar with editable booking forms. The interactive Form Builder lets you create the entire design from scratch, including color schemes, booking steps, tiered service categories, staff, location, and more. In addition, you can create comprehensive services with bookable extras.
Similar to Amelia, the plugin's Zoom integration allows holding virtual meetings with clients. Another integration with Google Calendar allows you to check approved appointments from your calendar both online and on your smartphone.
Booknetic also supports payments through PayPal, Stripe, Square, WooCommerce, or other local options. If you are looking for a lifetime license and 24/7 full customer support then Booknetic is absolutely for you at 79$ only.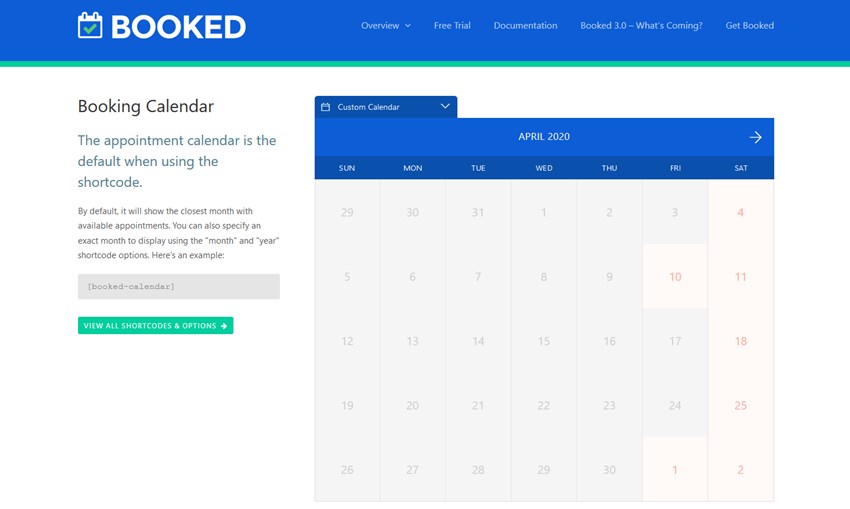 Here at MotoPress, we used Booked for some of our real projects and it worked just fine. It's been around for quite a long time now and through its development journey has released loads of cool features.
Booked definitely ships with all the online instruments you might be looking for in the best WordPress booking plugin, including the frontend booking calendar, guest bookings without registration, multiple employees, translations, but where does it differ from the others in the list?
I'd say it deals better than others when it comes to the customizable user area, the ease of use and setup.
This reservation plugin for WordPress is perfectly suitable for small or midsize appointment booking businesses, containing the critical features as well as many additional ones, like WooCommerce integration, custom fields and timeslots, customizable calendar views and more tools. It's also a great plugin if you are looking for a quick and easy tool to integrate into your website.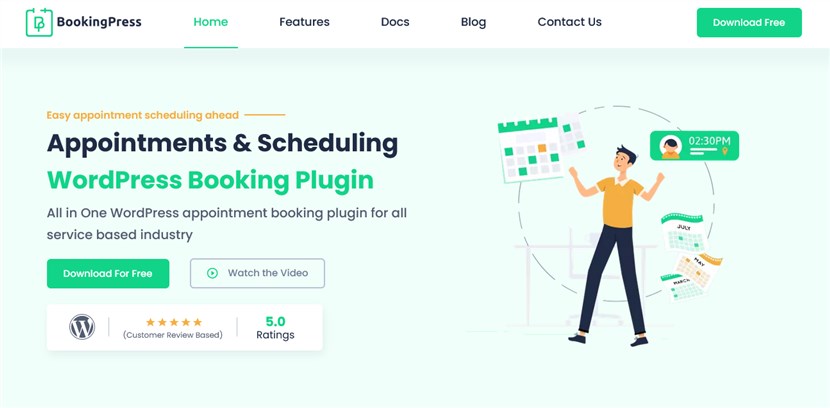 BookingPress is another cool WordPress booking plugin that deals with appointments, although compared to other plugins, it's rather a new, in-progress solution at the time of writing this.
From the design perspective, the plugin features a modern material design with a seemingly high level of customization; at least the booking widget colors, fonts, sizes and layouts are tweakable.
As for the tools, BookingPress allows you to manage assistants, services, and schedules through the centralized dashboard menu. Even on its free version, you can accept payments via PayPal, providing your customers with an easy way to pay and making the process of registering new bookings fully automated for you.
No matter which page builder you use to power your WordPress theme, BookingPress has blocks and widgets for all popular ones, Elementor and Gutenberg among them.
You'll also find it super handy to use pre-integrated tools for stats and reports that will give you instant insights into your online business operations.
Accommodation Booking Plugins for WordPress
Here we're listing a few most generous, trusted and unbeatable in terms of features plugins. They are perfect for short-term rentals, such as a hotel, apartment, house, vacation rentals, bed and breakfasts, hostels, etc. Please also note that they are not for real estate or property management companies that deal with long-term rentals or property sales.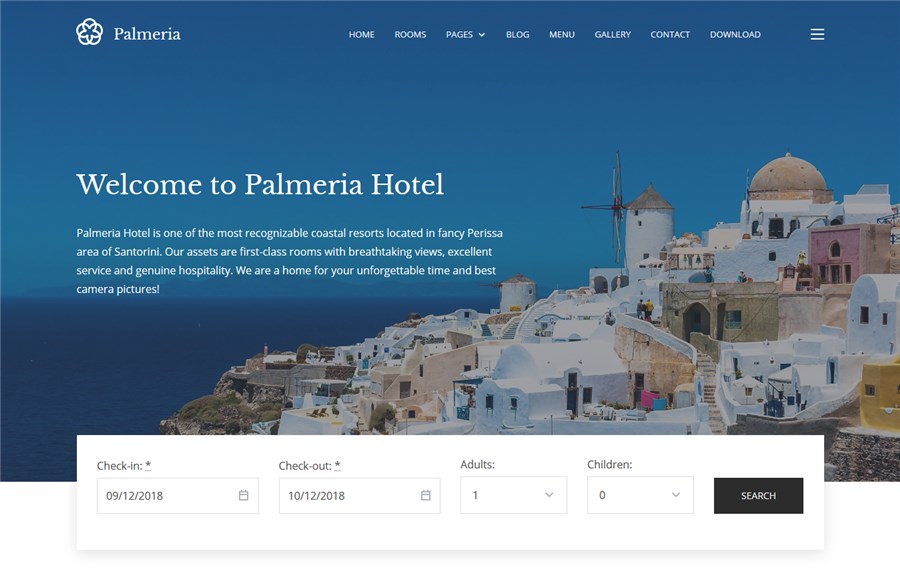 Meet one of the best WordPress hotel booking plugins that served the needs of hospitality and rental property businesses for more than 6 years now. At its core, the MotoPress Hotel Booking plugin encompasses a listing directory builder, a booking system for online reservations and the channel manager to sync and manage property bookings from all the external sources in one WordPress account.
It delivers all the tools and flexibility needed for an accommodation rental business all over the world. You can change the currency, add state/tourist taxes and fees to the property rate, connect local payment gateways, switch a language, and easily optimize the plugin to serve your local business.
Its role may vary among businesses: you can use it to just build an online presentation of your accommodations and still accept bookings in a rather traditional way via phone, email or contact form as well as you can connect the fully automated booking system and record reservations without direct interaction with clients.
Thanks to the integrated support for the iCal format, you can have your properties listed on the third-party travel platforms like Airbnb and still have all the bookings in sync with those you get from the WordPress site.
There are also a lot of pre-designed themes to help you launch your site even faster, for example, Booklium is one of the multipurpose rental themes that comes with five turnkey designs included to cover several hotel needs.
The plugin comes with extra hotel booking addons to add functionality you might need along the way, e.g. connect hotel reviews, request guest payments in advance, etc. So the most significant argument in favor of choosing this plugin is that it's a time-tested solution you can rely on and unlikely experience limitations. Test the plugin features for free.
With a MotoPress Hotel Booking mobile application, you can manage your hotel bookings and guests on the go. It's a free and leightweight tool that can be downloaded on App Store or Google Play.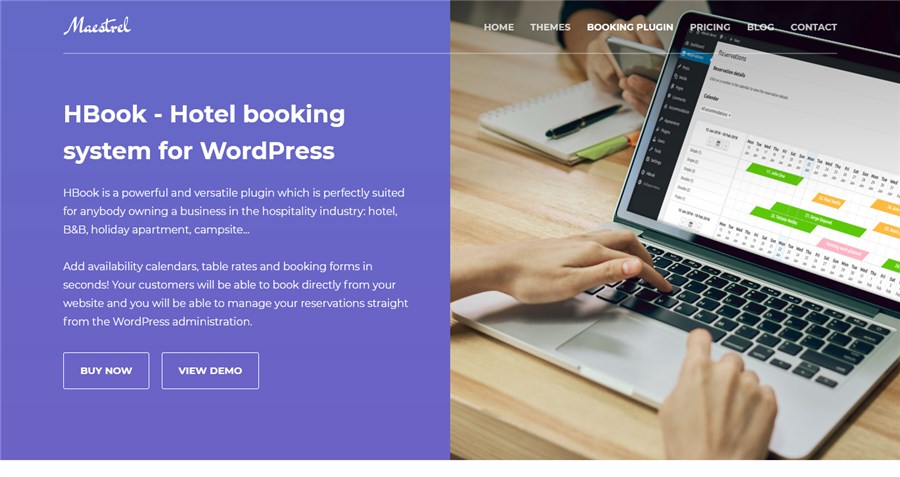 Hbook is another popular name among the best booking plugins for WordPress designed to work with hotels, apartments, and bed and breakfast sites. The Hbook plugin allows you to integrate the automated room booking system, connect it to OTAs and list & customize properties on your own WordPress site.
It's very similar to the MotoPress Hotel Booking plugin in terms of the basic features and functionalities but there are of course some differences, the major part of which are in the area of design customization. For example, HBook offers a smoother way to customize the appearance of the booking forms and widgets generated by the plugin.
Another unique benefit of the plugin is that it offers you an easy way to edit default texts, set more flexible booking rule conditions, apply bond pricing and allow guests to book a property in terms of one-night deposit payment. It's also very well structured for a smoother learning curve.
However, unlike MotoPress, Hbook doesn't offer as many pre-designed templates, you also can't test-drive its backend tools before you buy, and lastly you won't get instant chat help.
All in all, when choosing between the two, you must consider many things, including pricing, designs, extensions and differences in the basic functionality.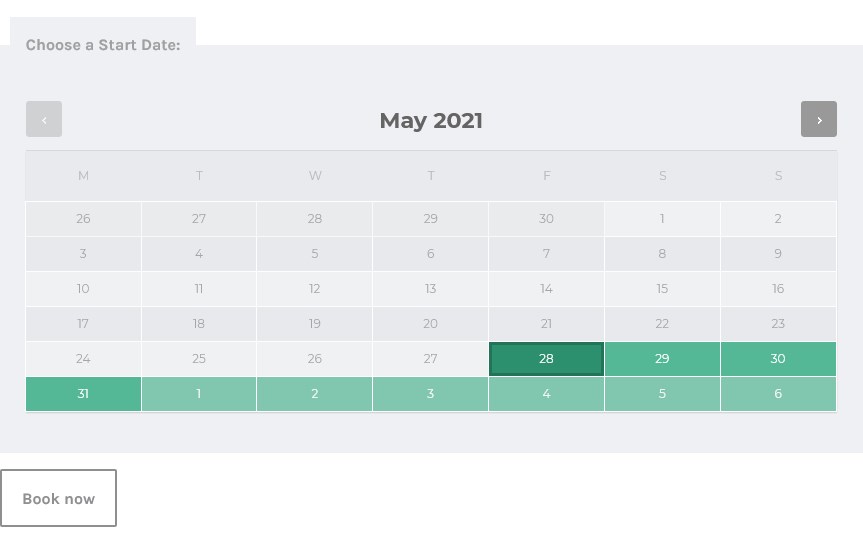 The WooCommerce booking plugin is a premium (paid) addon to the popular free WooCommerce plugin. Although it's not sharpened only for rental properties but can be rather optimized for almost all niches we've listed at the beginning of the post, we think it's a good idea to include it into our list. Why?
First, because WooCommerce is probably the most powerful selling system for WordPress ever, so you'll be always fine relying on this solution no matter the type of business you operate – and especially if you want to accept online payments for bookings. The plugin works for both rentals and services.
Second, it can deal with very complex configuration as for the number of guests, length of stay, pricing, online payments and more settings like probably no other plugin because with WooCommerce Bookings you kinda work with two powerful and feature-rich solutions in one.
As for the property booking needs, you can define the properties for the bookings, for example, set the minimum duration and available dates. You're also in full control over the pricing system, buffer times, availability calendars, etc.
Although this extension doesn't have that emphasis on property booking, you can still benefit from its flexibility for building a hotel or holiday home website on WordPress.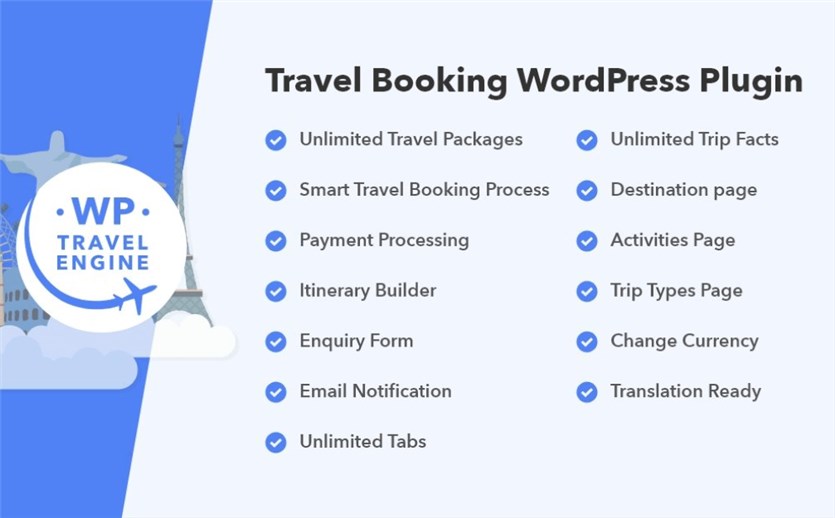 We've decided to mention the travel and tour booking WordPress plugin in this list as well. WP Travel Engine is a complete travel booking solution that ships with a wide range of features to help you get started with your full-fledged travel booking website. The plugin is free, but it comes with premium extensions for you to get a full package of advanced functionalities.
WP Travel Engine has everything you need to create and sell travel booking packages through your website, which helps in maximizing your Average Order Value (AOV). It is an easy-to-use plugin with an intuitive and user-friendly interface.
With the plugin, you can create unlimited itineraries with destinations and prices. You'll be able to attach downloadable files for customers that want more information before purchasing your products or services, as well as offer group discounts on certain days of the week if needed.
You can even track and store the customers' browsing history to better understand their needs and offer them personalized recommendations in the future. WP Travel Engine understands the value of SEO for travel agencies. That is why it is built using best SEO practices and includes Schema Markup to improve the ranking and visibility in the search engines.
WP Travel Engine is the perfect fit for any travel agency looking to offer their customers an amazing experience. With more than 7000 satisfied travel agencies on board, there's no better way of putting your business ahead in this competitive industry.
Event Booking Plugins for WordPress
Planning on the events management site? These plugins will perfectly deal with concerts, timetable schedules and similar needs. Here we are going to list the plugins that have already made their way to success and popularity with WordPress users like you.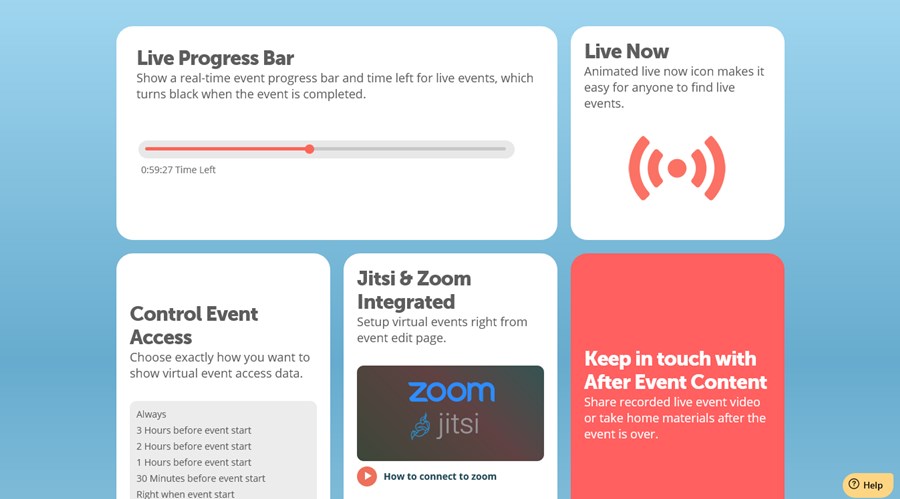 EventOn is a premium-only events scheduler and manager WordPress plugin, one of the bestsellers on the market. It will definitely catch your eye with the polished designs for different types of event-based websites.
The good thing about those designs is that you have enough structured space to organize event information without cluttering the page.
The EventOn plugin supports numerous types of content, including maps, images, buttons, social media buttons integration and more. We also like many fancy formats you can employ – event bubbles, event cards, event slideshows and more. You can also be more creative and create virtual cards free online by your own. A fantastic level of interaction with the clients is also provided – they can sync events to their iCals, view the real-time progress, etc.
The plugin also allows for further extendability with custom meta forms, which will help you add many pieces of custom event data fields. There are also many options for featuring virtual events (e.g. real-time live events calendar views). The custom meta fields are great for adding up to 10 pieces of custom event data fields.
It's also easy to build the needed event calendar view thanks to the visual shortcode generator, where you just need to tick the buttons and that's it. A great opportunity to try the plugin before you buy is by testing the backend features.
This events plugin is very affordable, but to enable event bookings, sell tickets and seats you, however, need to buy extra addons. A huge lineup of extensions also allows you to connect event wishlists, the frontend event submission option, dynamic pricing, ticket variation options, and more. It is probably one of the cons that you need to pay each time you need an essential feature.

The following events manager WordPress plugin is rather on an equal footing with EventOn – it also ships with a good number of tools for design variations and core management functionalities.
There is a huge list of demos that gives you an idea of what you can create – and there is no limit to the events calendar layouts you can achieve, you can build around 50 display layouts.
PayPal and Google calendar integrations are free. The booking engine functionality allows you to sell tickets via different payment gateways, but it also requires connecting a specific paid addon.
The reservation system supports individual settings for all the events, with the ability to create multiple tickets for every event. You can also integrate it with WooCommerce, enable email notifications, booking options for desired occurrences, set pre-date pricing, booking limitations and more.
Another great feature of this plugin is that you can transfer all the events from another events calendar plugin you might be using now, so if you feel any limitations with the current solution, you know where to look for something better.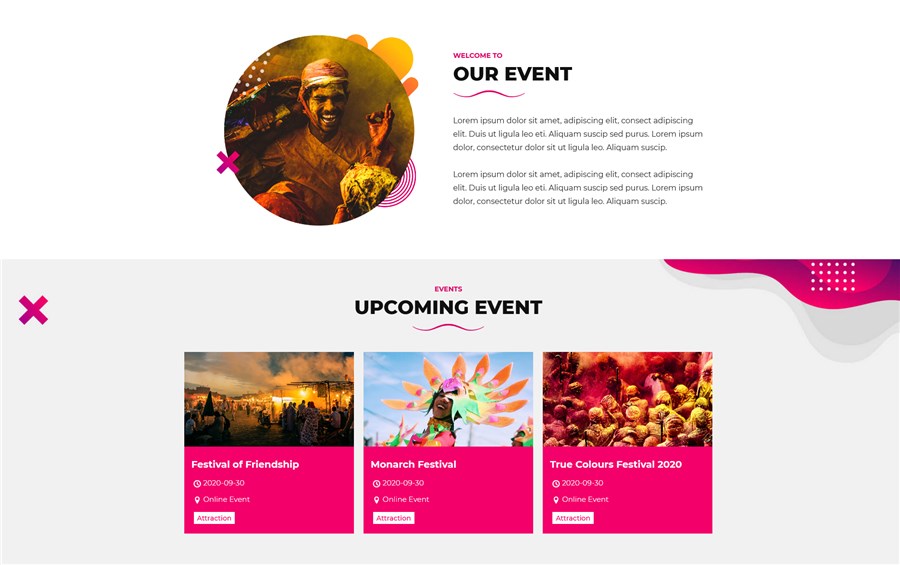 It's is one more popular online booking plugin for WordPress for selling events and tickets. It ships with many customizable templates with bold and creative designs and an effective field editor.
It's also a good solution if you are on Elementor since WP Event Manager provides smooth integration with the builder. You can also try this plugin for free first since there is a free version and then make up your mind.
The WP Event Manager booking plugin is well-optimized for different types of businesses and will look great in any website layout.
There is a huge lineup of addons for every need: Google Maps integration, attende information, email marketing automation tools, recurring events, alerts, bookmarks and more.
You can also enable event bookings via the Sell Tickets addon – the bookings work via WooCommerce; you can also customize pricing and track ticket sales via the admin dashboard.
Conclusion: Best Booking Plugins for WordPress
Hopefully, we've helped you a bit to narrow down your list of options, still we assume you might want to continue searching if you are looking for something very specific or custom. Appointment and property booking plugins usually come with the full set of features, while event booking plugins are rather offered with many addons that allow for the ticket booking integration so you should also consider the prices in deeper detail.
FAQ
How do booking plugins differ?
They are primarily different in terms of the timeslot duration and customization – and all the related tools. We draw a fine line between property, appointment and event booking plugins.
Are there free WP booking plugins?
Yes, but usually this reference concerns free versions of the freemium plugins. With free booking calendars you are usually limited to working with one or a few properties/events/appointments.
What is the best WordPress booking plugin for hotels: MotoPress or HBook?
MotoPress and HBook have many things in common (functionalities), but there are a few differences in the design customization approach, booking rules and pricing settings.