20+ Best Free Medium-Style WordPress Themes
One of the most popular blogging platforms, Medium.com, offers a simple black font on a white background style appearance, providing advanced formatting capabilities, and the opportunity to share, comment, and "like" the posts you enjoy. It was created by a former Twitter employee as a medium where the limitations on message length wouldn't be so strict. In this article, you will become acquainted with Medium-style WordPress themes that can help you create a blog that looks like the eponymous service.

Meet the top 7 templates that are worth paying attention to immediately:
Benefits of Medium-Style Themes
WordPress is a versatile CMS that allows for the creation of projects tailored to almost any niche and goal. From simple landing pages to advanced social networks and beyond, projects of almost any level of complexity can be implemented using this remarkable platform.
That being said, if the primary content of your online project is textual, and its core purpose is to showcase your thoughts, reflections, and insights, or to publish research results, then the most significant advantage of using Medium-style WordPress themes is the ability to present your content in a visually easily digestible form.
Unlike complicated projects, which might focus on advanced chatting functionalities or efficient video displays (like YouTube), for simple textual content, it's important to present it like old-school newspapers — in the form of columns of black text on a white background. And that's where the Medium-style blog appearance becomes the best possible solution.
20+ Best Free and Premium Medium-Style WordPress Themes
While many options are available on the wp.org repository of free WordPress templates — specifically, almost 6,000 — finding those similar to Medium in terms of appearance is not a trivial task. The majority of these themes focus on implementing intricate design elements, and it's no surprise; since everyone wants to stand out and be noticed. That's why we've also included some premium options that meet our criteria, providing you with a more comprehensive collection.
1. Getwid Base (Free)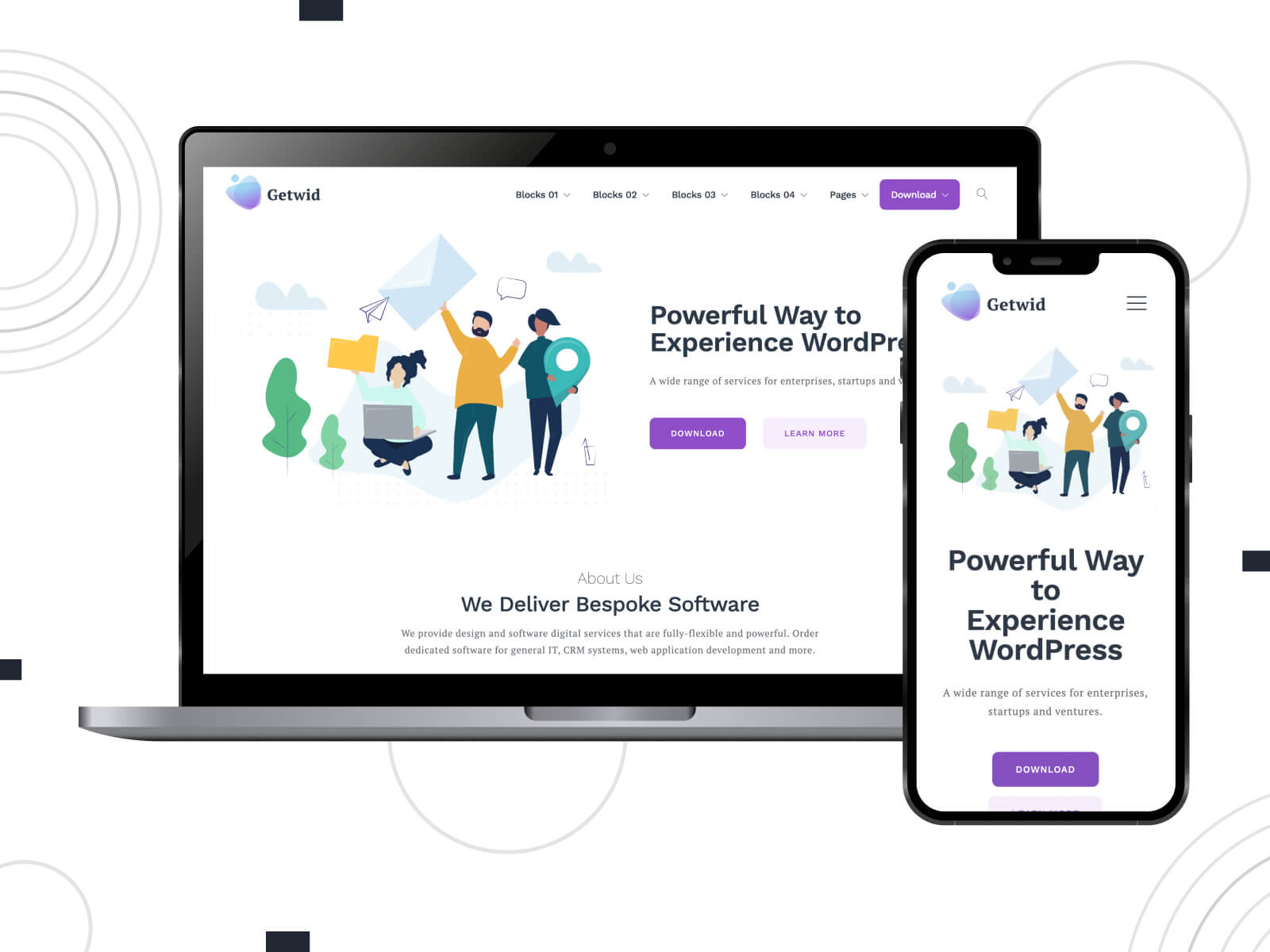 Author
Rating
Avg. Demo Speed Score
MotoPress
5
Mobile 48
Desktop 95
This template is designed from the outset to make full use of Gutenberg's blocks and features. The integrated Getwid extension provides access to an additional 40 blocks, including Gallery, Testimonials, Pricing Tables, and many others, ensuring highly adaptable layouts. At its core, the theme serves as an introductory template for this specific plugin. Furthermore, this skin, reminiscent of Medium's style, boasts a design library filled with expertly designed page templates and meets web accessibility standards.
To learn how to create appealing pages using Getwid, please watch this video:
What else does this offering include? Designed with a minimal, flat concept, the theme ensures quick loading times and an optimal user experience across various devices. Website owners can benefit from one-click demo content import and adjust default colors through the WordPress Customizer. With SEO optimization and GDPR compliance, Getwid Base stands as a reliable and comprehensive solution for anyone looking to build a website similar to the Medium platform.
2. Avior (Free)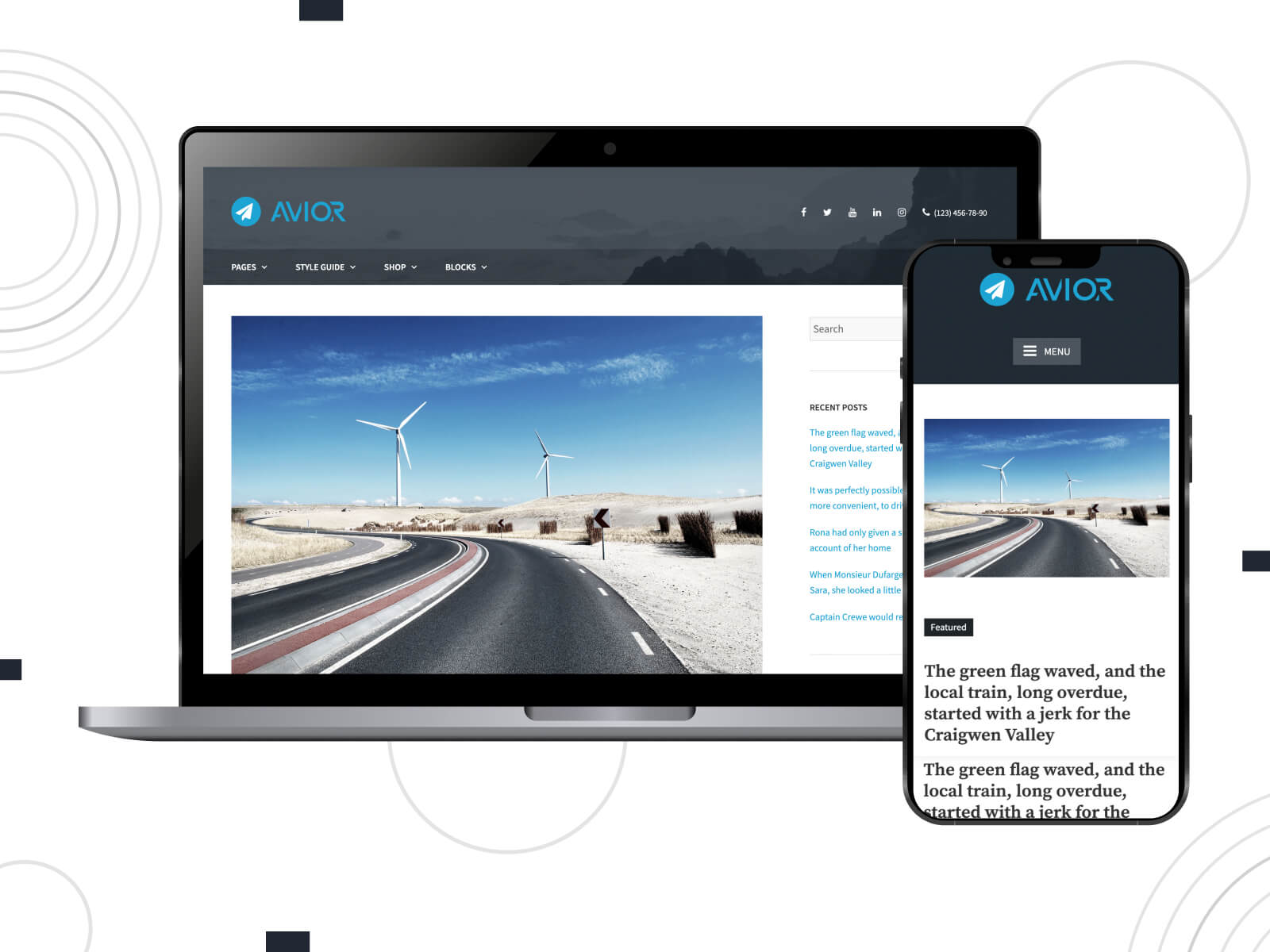 Author
Rating
Avg. Demo Speed Score
MotoPress
5
Mobile 61
Desktop 93
Special features tailored to creating Medium-style blogs in various niches are offered by Avior. The template distinguishes itself with a customizable header and footer that can seamlessly link to custom social network profiles, thanks to integrated social media icons. Three flexible menus are provided where text, links, images, and widgets can be added. Moreover, the theme supports real-time color customization. Avior also includes several inner page templates and is WooCommerce-compatible, facilitating a ready-made shop design.
Regarding general features commonly found in WordPress templates, this skin does not disappoint. It is fully responsive, ensuring optimal appearance on desktops, laptops, tablets, and mobile phones. Easy adjustment is possible without any coding skills, thanks to the user-friendly WordPress Customizer. The theme also comes with ongoing support and updates, adding to its longevity and reliability. Whether you're planning to launch a personal blog or a business website with a Medium-style appearance, Avior serves as a versatile and user-friendly option.
3. Emmet Lite (Free)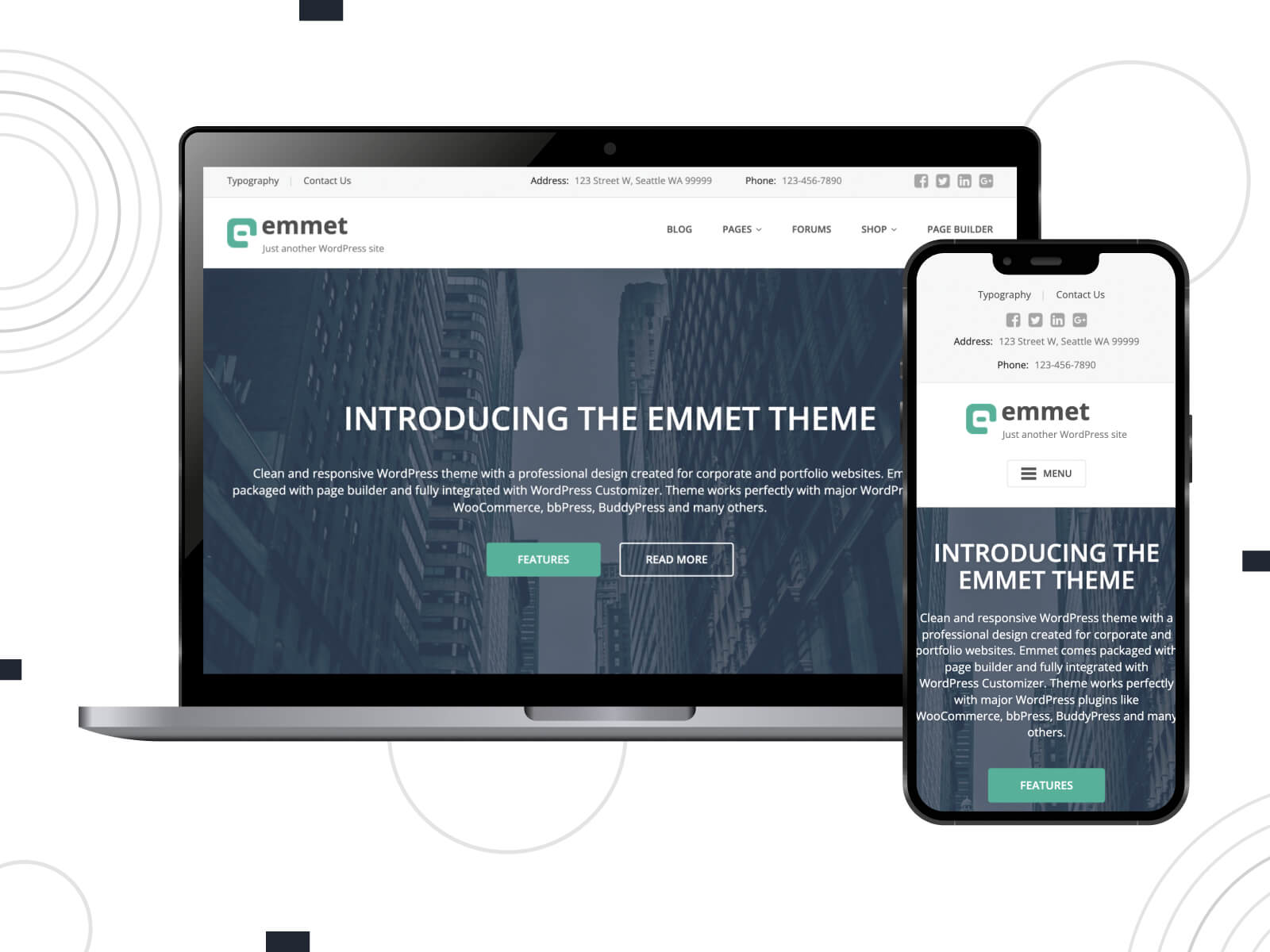 Author
Rating
Avg. Demo Speed Score
MotoPress
5
Mobile 89
Desktop 97
Meet a versatile free WordPress template tailored to the needs of all, who want to create a blog. It offers a Medium-style design that is both sleek and functional. It supports Parallax effects and brings a variety of specialized features like custom header images, hero content sections, and more. Emmet Lite also has an amazing portfolio section, a Call-to-Action area, a special section for listing services, a comparison table for pricing packages, a newsletter subscription form, Google Map integration, and a pre-built contact form with reCaptcha protection.
In addition to these specialized functionalities, Emmet Lite comes with a plethora of general capabilities that make it user-friendly and extendable. You can choose from different page templates, including full-width or landing pages. Moreover, the skin is fully compatible with WooCommerce, allowing for a seamless online shopping experience. You can easily customize menus, move or hide front page sections, and apply custom CSS. Also, the theme is compatible with bbPress and MailChimp, making it a comprehensive solution for various business needs.
The premium version, which is also available, can elevate your experience with a range of enhanced features. In contrast to Emmet Lite, this upgraded edition includes the option to add a video in the header, creating a more dynamic user interface. It also provides the flexibility of unlimited Feature sections, allowing you to customize your content display as you see fit. As an added bonus, the package includes Content Editor Pro, saving you an extra $29.
4. Astra (Free)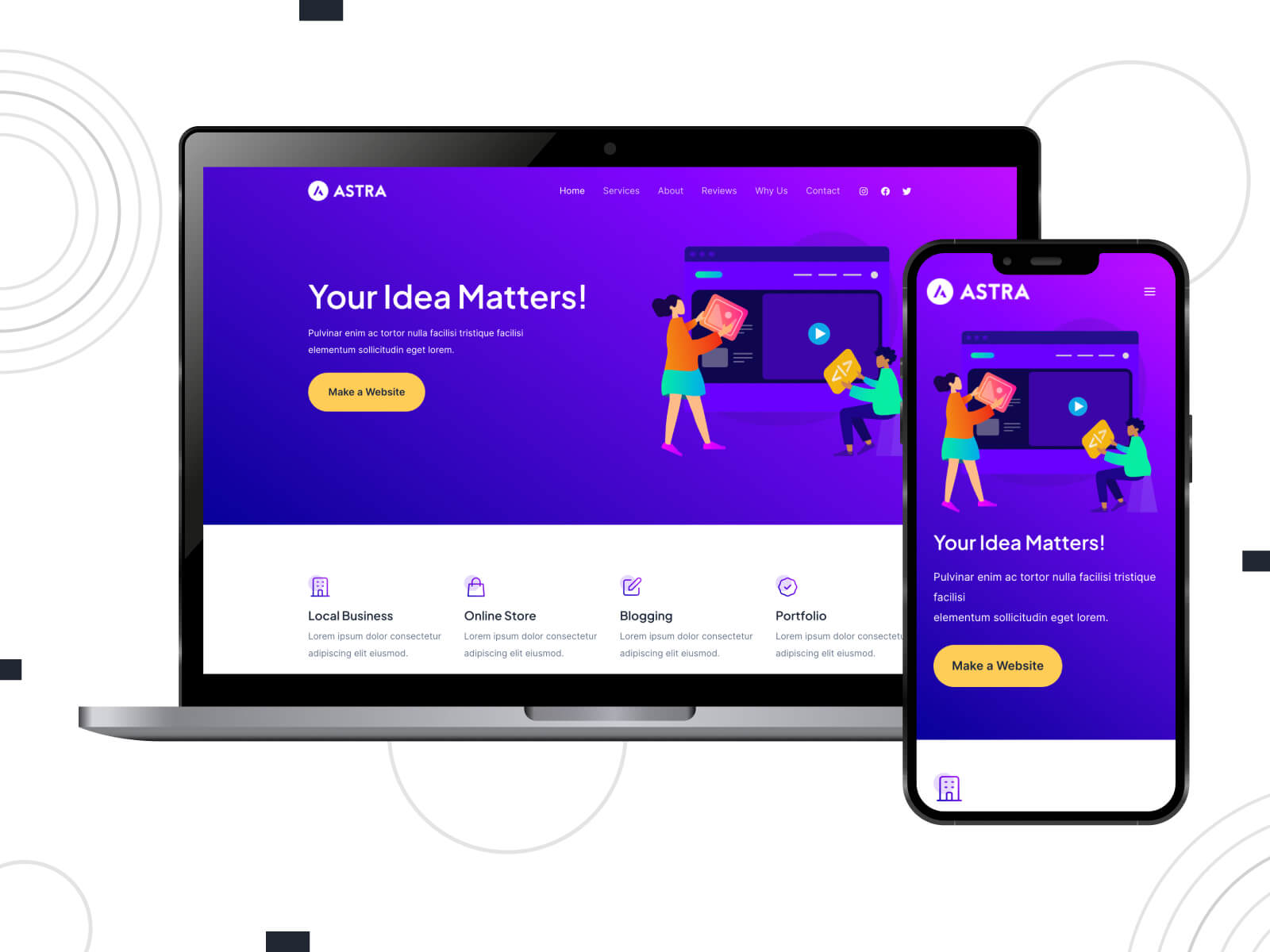 Author
Rating
Avg. Demo Speed Score
Brainstorm Force
5
Mobile 83
Desktop 97
Being one of the most popular templates in the WordPress realm with over a million downloads to its credit, Astra can serve as a robust foundation for your Medium-style blog. The theme is optimized for speed and efficiency, boasts a lightweight and simple front-end design, and offers remarkable SEO capabilities. One of Astra's most impressive features is that, unlike some other templates, it provides more than two hundred pre-designed layouts. This means that by downloading just this skin, you gain the opportunity to utilize one of the available starter demos that fit nearly any requirement.
And, of course, among this versatility, there are designs that resemble Medium with their simple black-and-white palette and reader-focused layout containing a minimum of distracting elements. Moreover, Astra's compatibility with page builders like Elementor, Beaver Builder, SiteOrigin, etc. allows you to adjust the chosen design from the tiniest details to global styles. If that weren't enough, this theme offers a standard set of features, including compatibility with both mobile and desktop devices, translation readiness, support for WooCommerce, and more.
5. Neve (Free)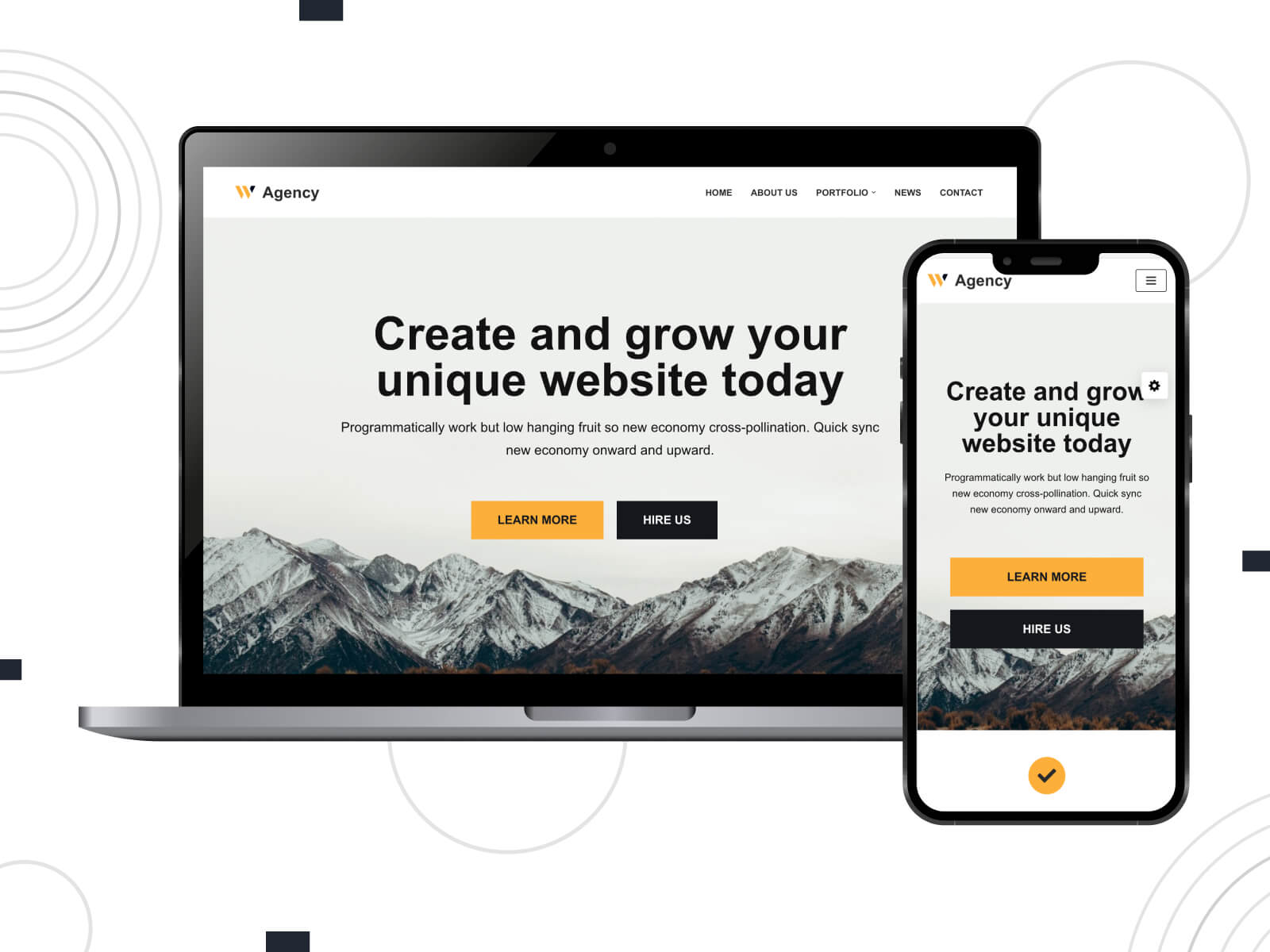 Author
Rating
Avg. Demo Speed Score
Themeisle
5
Mobile 98
Desktop 100
Another template, which is notably simple in terms of appearance, defies expectations by remaining incredibly popular, boasting over a hundred pre-designed demos. The vast array of starter kits makes it a great fit for any type of blog. Among them, you can also choose one that suits your Medium-style goals. Also, according to our recent research, Neve was ranked as the fastest among free alternatives based on GTmetrix measurements.
The theme's compatibility with page builders such as Divi, Brizy, Beaver Builder, and Elementor is sure to impress. Furthermore, its WooCommerce support, incredible responsiveness, robust search engine optimization, translation readiness, and many more relatively standard yet crucial features, all contribute to the overall positive impression of this Medium-style WordPress template.
6. OceanWP (Free)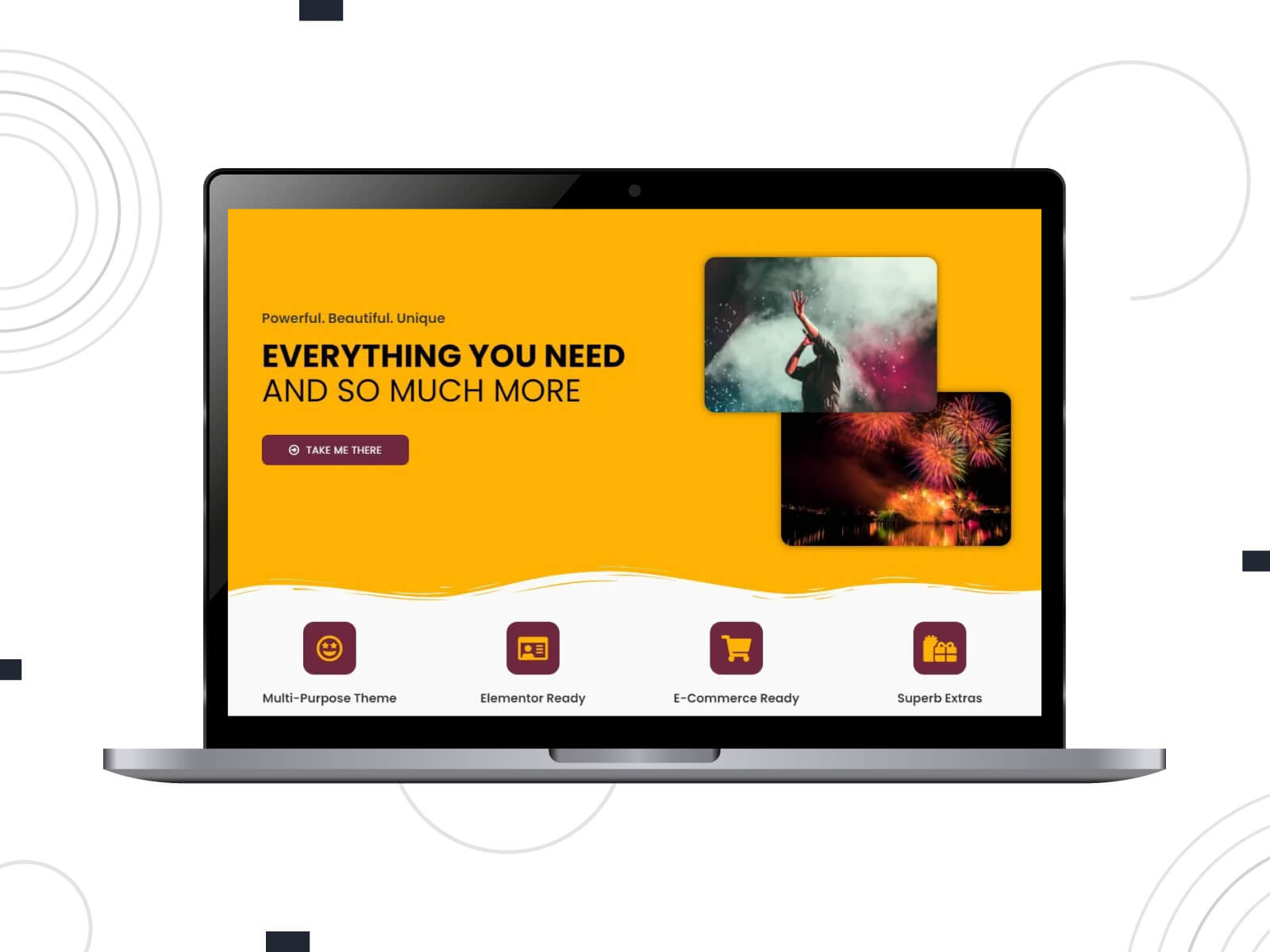 Author
Rating
Avg. Demo Speed Score
OceanWP
5
Mobile 98
Desktop 100
More than 700,000 active installations hint to us that this template lives up to its grandiose name. Destined for popularity, it offers over two hundred demos, among which you can find one that most closely resembles Medium. Compatibility with the popular page builders — Visual Composer, Elementor, Brizy, Beaver Builder, SiteOrigin, and others — might not be surprising, but it ensures tremendous customization opportunities.
Optimization for minimal size and high loading speed will ensure that your Medium-style blog, built on the foundation of OceanWP, is exceptionally fast and user-friendly. Moreover, responsiveness, support for languages written from right to left, and compatibility with the most popular search engines address all the critical quality demands of a modern website. As if that weren't enough, developers will find OceanWP's codebase attractive for tweaks and adjustments using coding.
7. Rams (Free)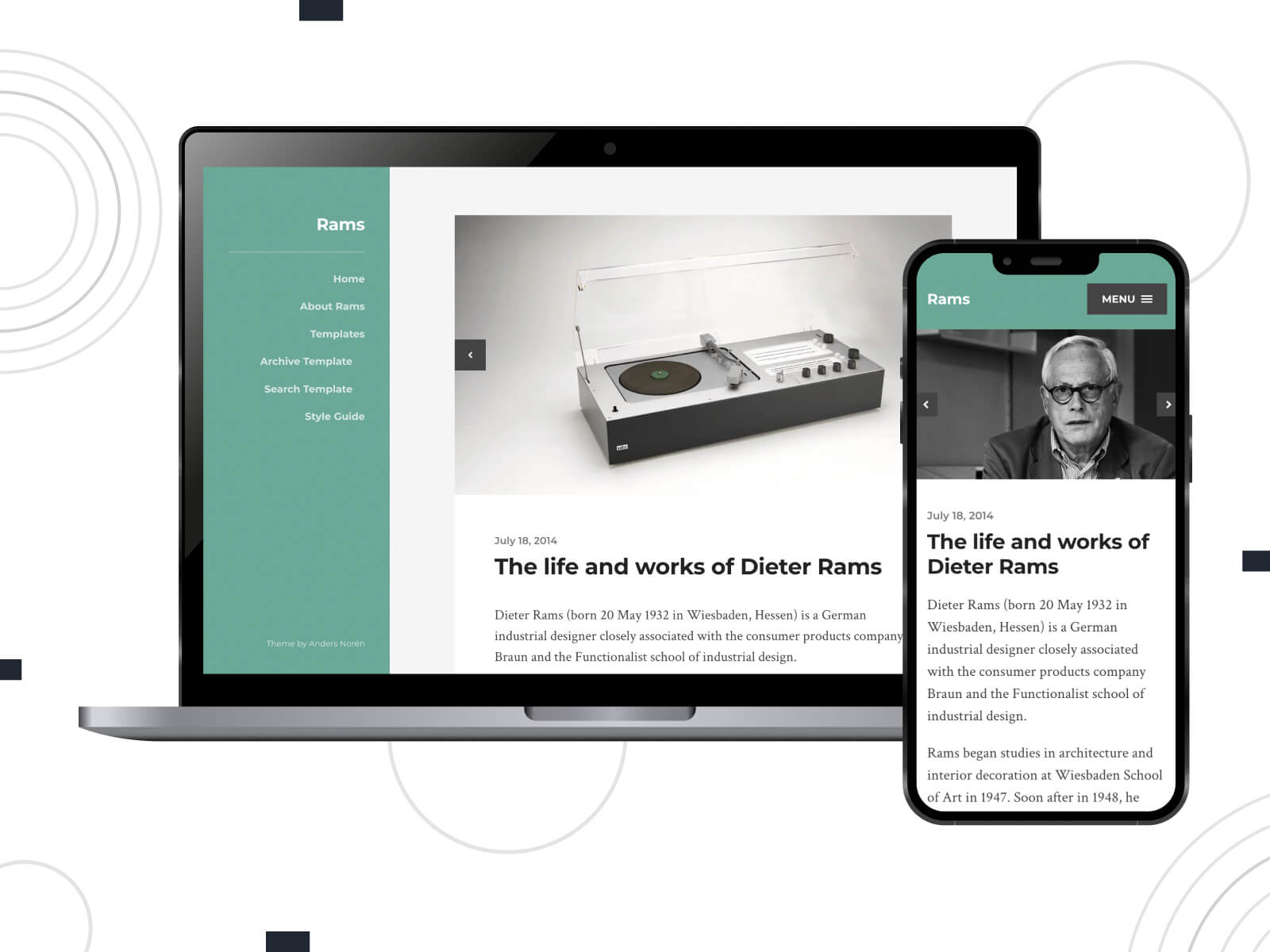 Author
Rating
Avg. Demo Speed Score
Anders Norén
4.5
Mobile 99
Desktop 100
While not as popular as the previously mentioned examples, this template still warrants our attention. It's tailored for impactful content sharing, offering a stark yet effective approach particularly suited for Medium-style blogs. It avoids unnecessary clutter, doing away with widget areas and sliders. Additionally, Rams gives website owners a touch of customization with a singular theme option that allows color control: you can alter the background color of the sidebar and the accent color of the content.
The template is meticulously designed for a wide range of devices, scaling gracefully from desktops to smartphones, ensuring an optimal reading experience on tablets too. It's equipped with built-in support for Jetpack's infinite scroll function and tiled gallery, requiring only the activation of the Jetpack plugin functions. Plus, with the shifting landscape of WordPress editing, the theme is ahead of the curve, offering full editor styles and block support for both the Gutenberg editor and the Classic Editor.
By the way, if you want to learn more about using Gutenberg effectively, here's a video:
8. Wilson (Free)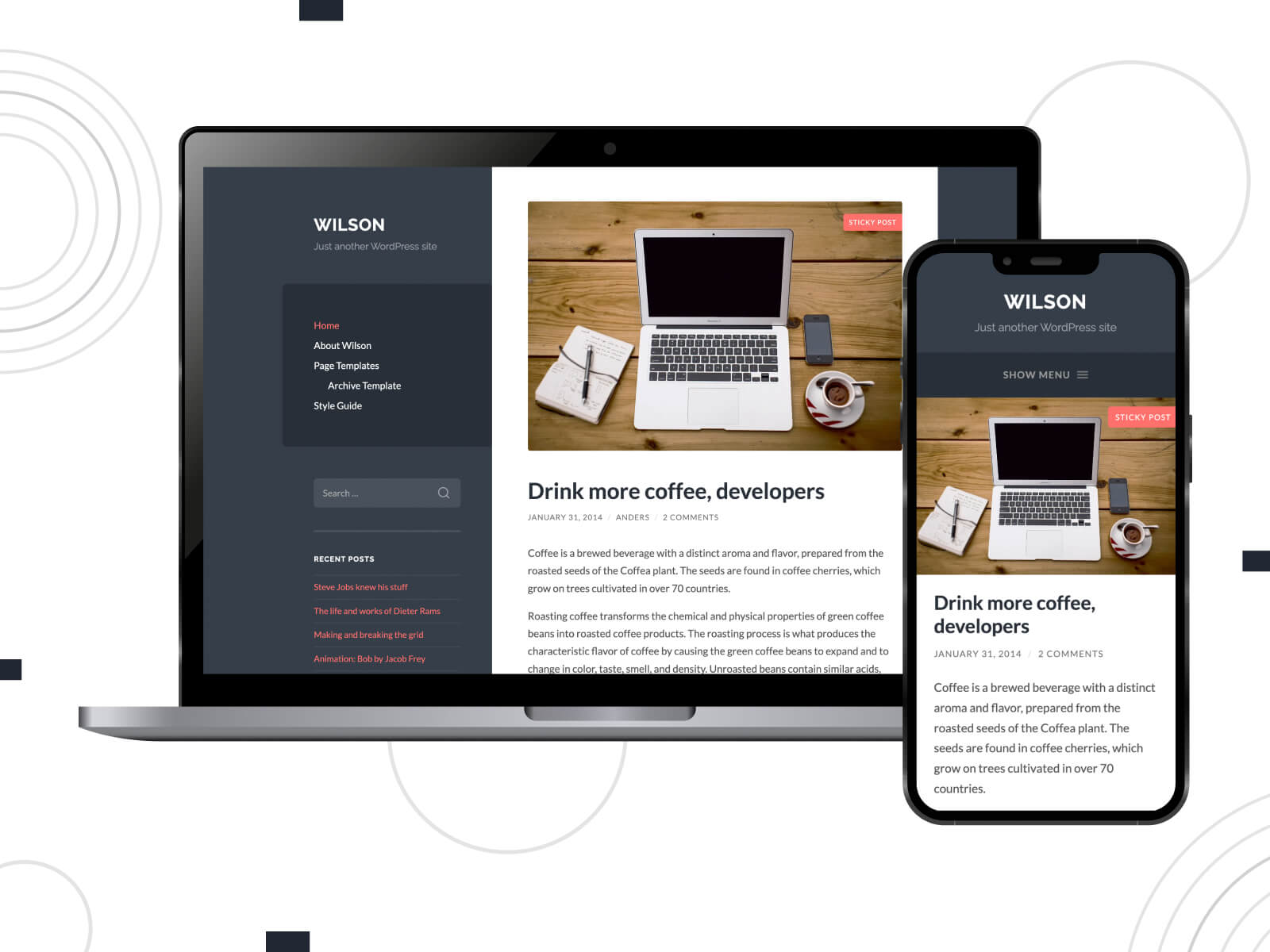 Author
Rating
Avg. Demo Speed Score
Anders Norén
5
Mobile 99
Desktop 100
Designed with a sharp emphasis on your content while retaining essential functionality, Wilson is especially apt for Medium-style blogs. Not only does it support a variety of post formats — including standard with a featured image, video format with a featured video, the aside format for brief updates, and the quote format — but it also offers customization in aesthetic preferences. If the default accent color doesn't resonate with you, you can modify it to your liking in the WordPress theme customizer.
In regard to more general features, seamless functioning and impeccable appearance across all devices, whether they be laptops or smartphones, are ensured by Wilson's responsive design combined with high-resolution assets. Additionally, custom logo support is provided by the theme, compatibility with both the Gutenberg and Classic Editors is ensured, special widgets for Flickr and Dribbble are included, and several default page templates are offered.
9. Aldo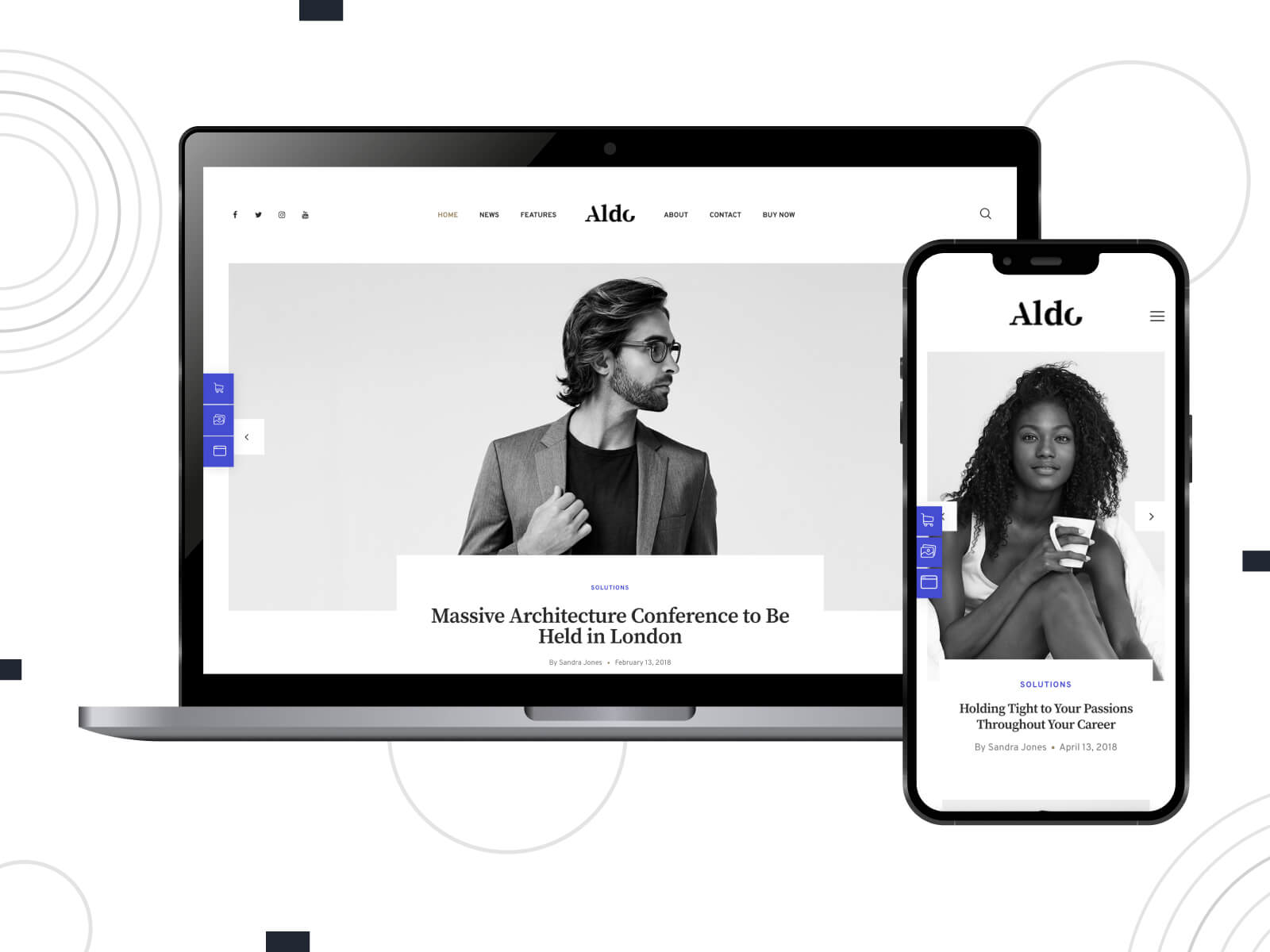 Author
Rating
Avg. Demo Speed Score
Themerex
5.00
Mobile 73
Desktop 95
A simple black-and-white style and a robust foundation in the form of a Gutenberg page editor are likely the minimal set of characteristics needed to start a Medium-style blog. Aldo is precisely the template that possesses these features. Any kind of online journal can be crafted using this theme. A complete list of available ideas can be found on Aldo's description page within the ThemeForest marketplace, but you're free to use your imagination. It all applies.
Focusing on Gutenberg, the main attributes include enhanced block styles, extra shortcodes, and demo content made for Gutenberg. In terms of general features, the template is compatible with plugins like Instagram Feed, MailChimp for WP, and Contact Form 7. It boasts a high level of SEO properties, supports Retina displays, and offers one-click demo installation. An interesting peculiarity is the inclusion of the GDPR Framework plugin. And, again, if you need to modify any colors or fonts, you have the freedom to do so.
10. Authentic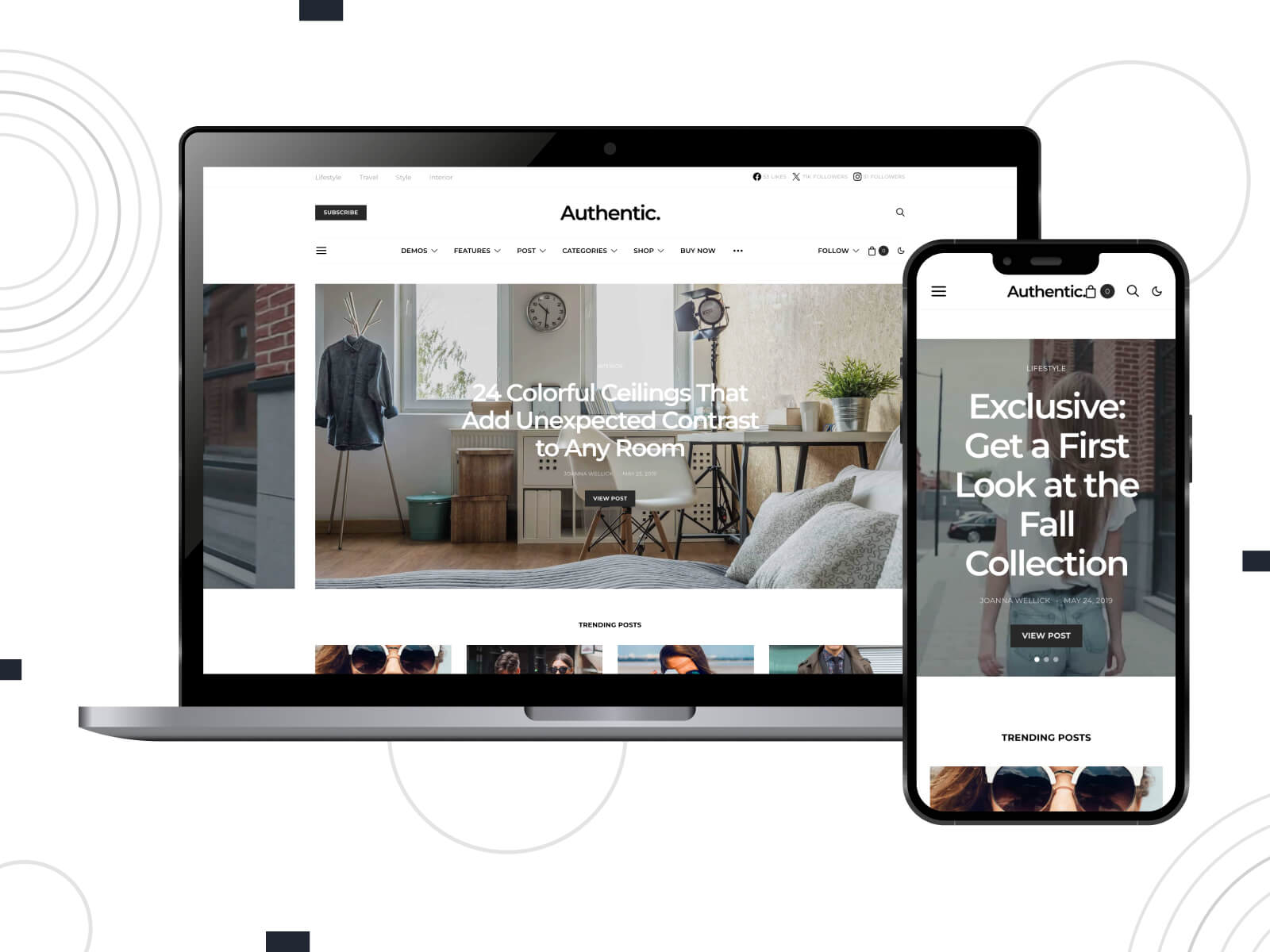 Author
Rating
Avg. Demo Speed Score
Codesupplyco
4.90
Mobile 46
Desktop 91
Another minimalistic template that can be deemed one of the best Medium-style WordPress themes. Its primary focus is on effectively showcasing text and media content. With only the essential options included, this skin offers fifty pre-built demos, a significant part of which are reminiscent of Medium. Also, there are forty post layouts, various gallery types, and custom Gutenberg blocks. An interesting fact: each publication and category can be styled individually.
Apart from this, the blog-focused template boasts impressive popularization capabilities, thanks to "Pin It" icons on all images (allowing visitors to easily add selected images to Pinterest), along with social sharing buttons. A relatively uncommon integration is the Canvas page builder, in contrast to the highly popular Elementor, but the operating principle remains the same. Regarding general features, the theme adapts seamlessly to any screen size, offers advanced popup functionality, has unlimited fonts, and more.
11. Avventure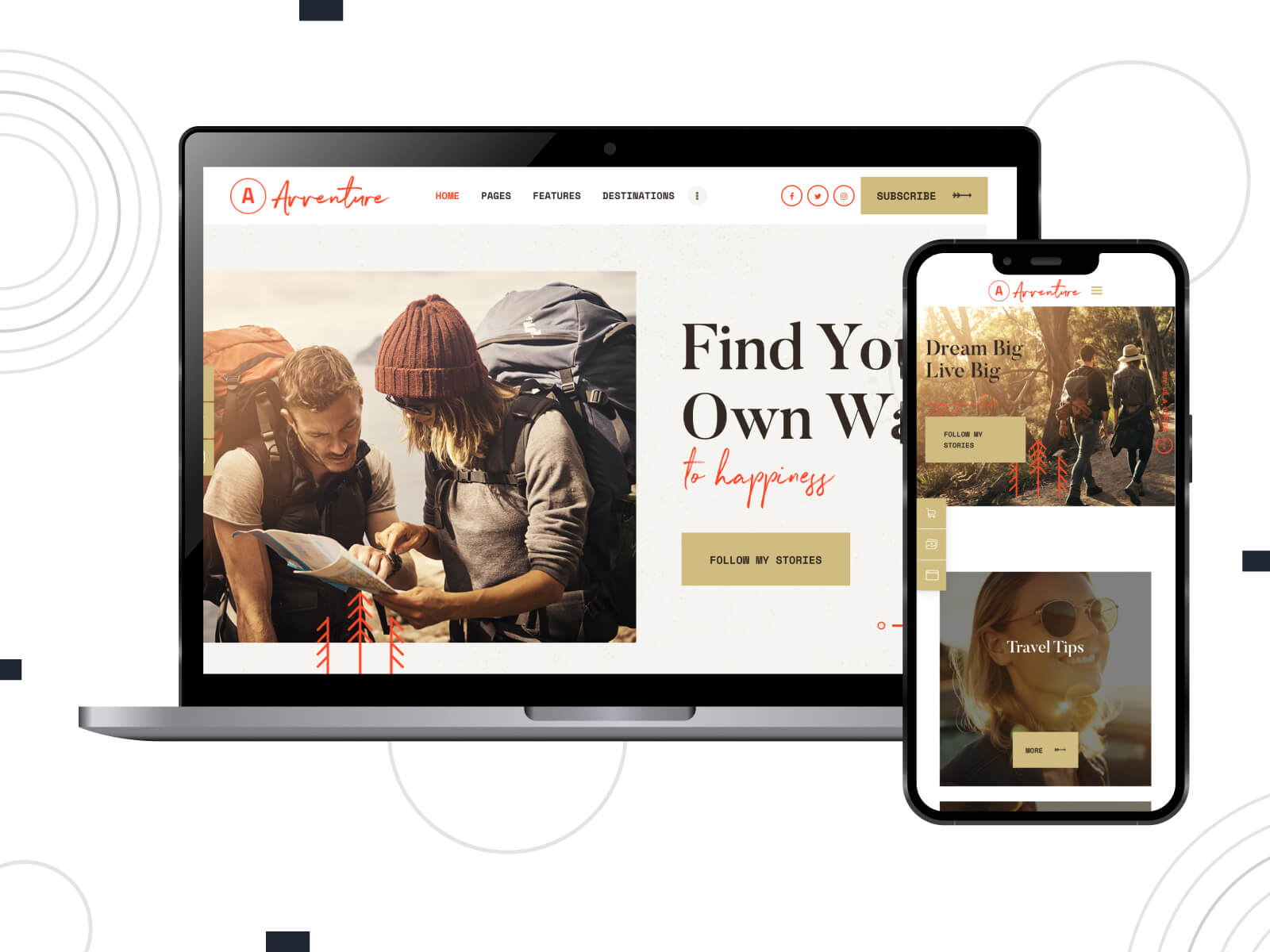 Author
Rating
Avg. Demo Speed Score
Themerex
4.83
Mobile 32
Desktop 75
Serving as another example of a Medium-style WordPress theme, Avventure is designed with a primary focus on travel blogs, while preserving the simple black-and-white style by default. The template offers diverse blog layouts and a variety of premade homepages, modules, and shortcodes. It also boasts an array of animations for your blog publications, and a related posts section to enhance user engagement.
This theme is equipped with Elementor for easy design, WooCommerce for eCommerce functionality, The Events Calendar for scheduling, and Give for donations. A one-click demo installation and a high level of customizability with over 750 options are to be expected in today's modern landscape. Additionally, the template includes powerful frameworks with setting inheritance and override systems, custom post types, and widget sets. Professional support and regular updates are provided to keep your site running smoothly.
12. Bazinga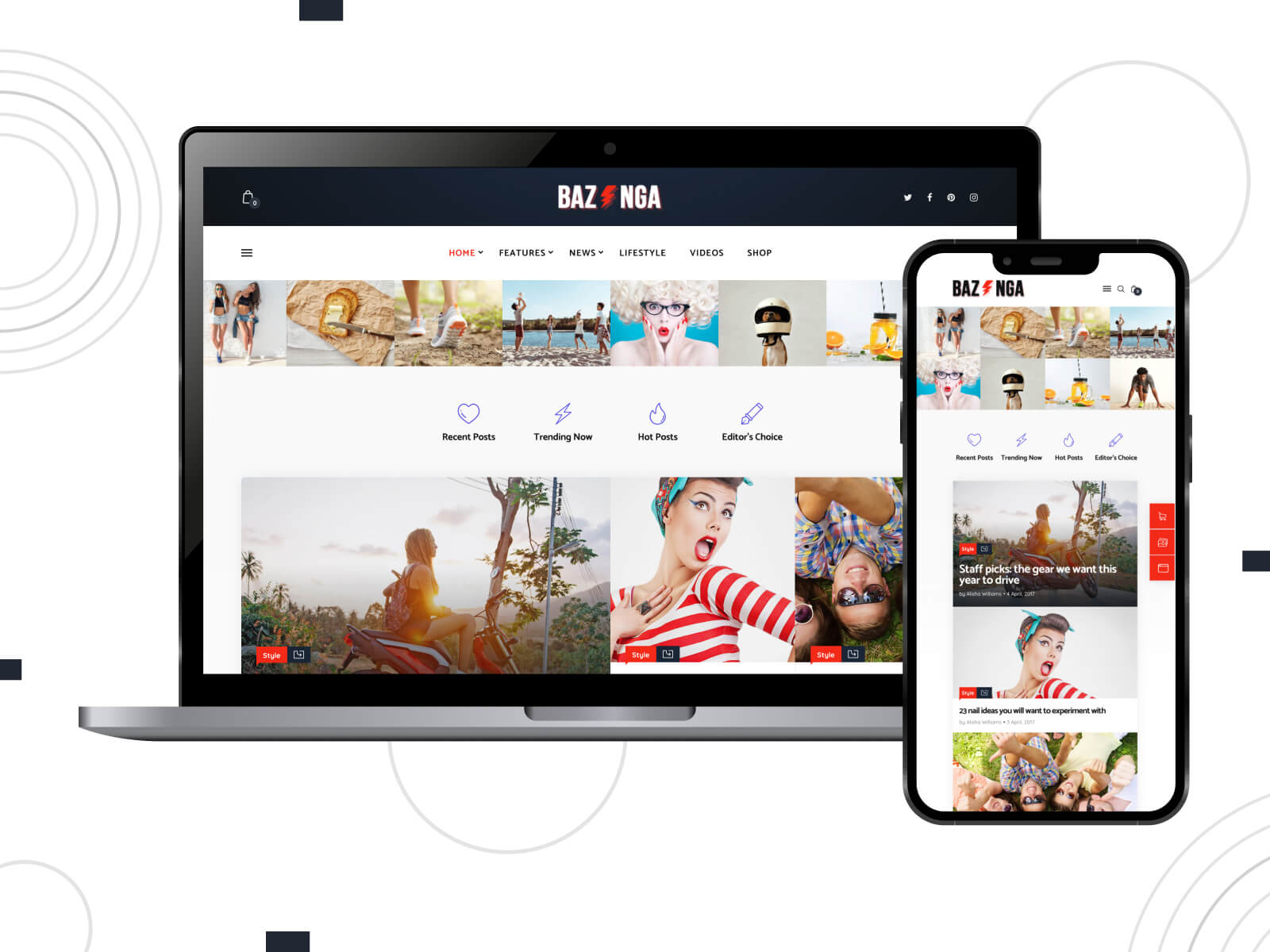 Author
Rating
Avg. Demo Speed Score
Themerex
5.00
Mobile 44
Desktop 93
Meet a trendy WordPress template specifically designed to cater to a range of blogging styles, including instructional content, world news, memes, and much more. It features three variants of homepages and a wide variety of blog post layouts such as Chess, Classic, and Portfolio, among others, providing immense flexibility for crafting Medium-style blogs. The theme also supports custom widgets and shortcodes, making it a robust choice for showcasing your textual content in the best possible light.
In addition, Bazinga encompasses essential elements standard to quality WordPress themes. It is built with HTML5 plus CSS3 and is cross-browser compatible. The template offers a one-click demo installation and supports WP Bakery Page Builder for easy content modification, along with full WooCommerce support for those looking to integrate an online shop. Interactive Ajax search, flexible colors, adjustable typography, along with professional support and regular updates, make this offering a comprehensive package for any blogger.
13. Blabber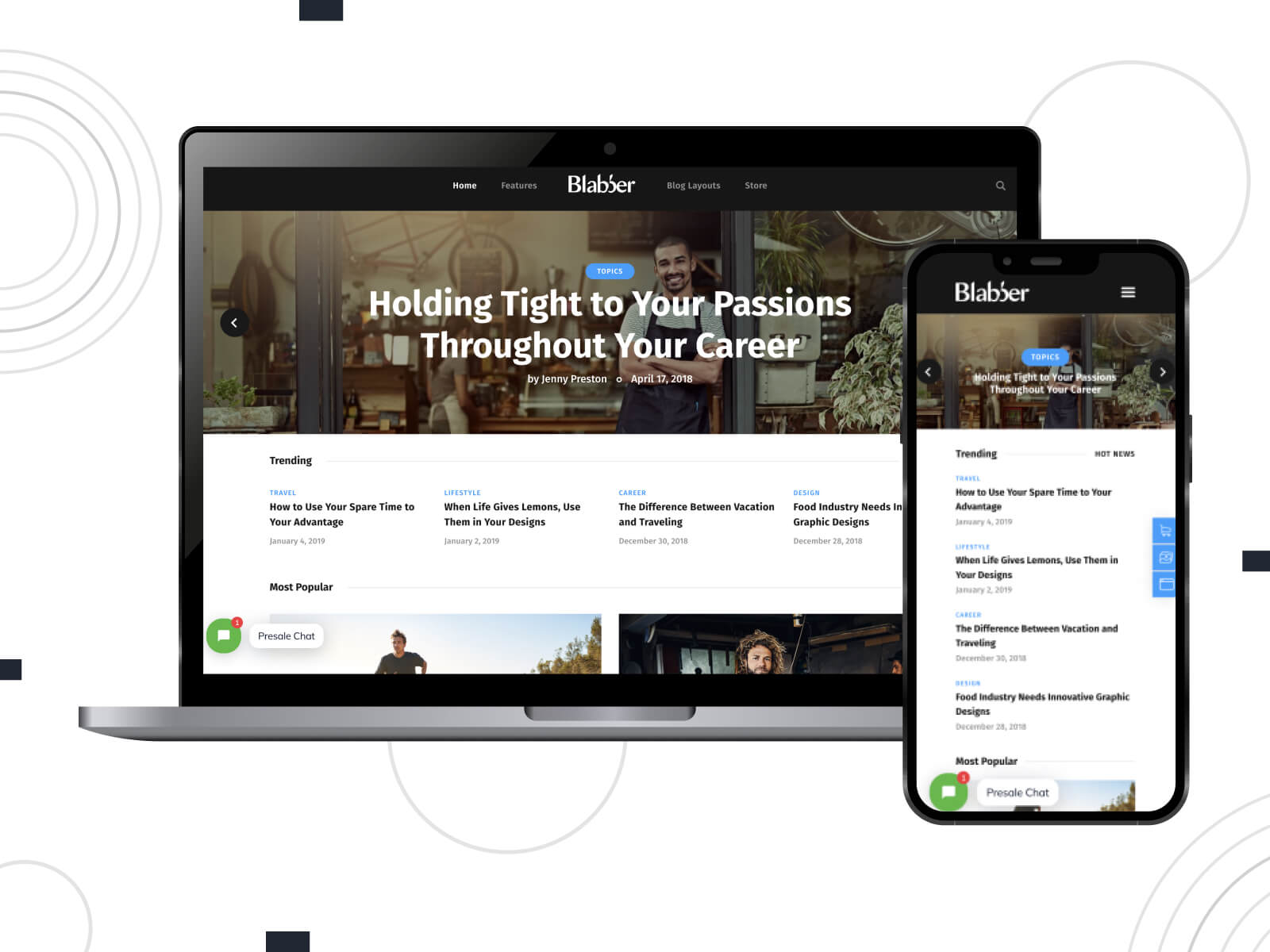 Author
Rating
Avg. Demo Speed Score
Ancorathemes
5.00
Mobile 50
Desktop 78
This entry from our list of the best Medium-style WordPress themes is designed to accommodate a wide range of blogging styles. The template boasts over 30 unique demo variations and numerous blog post layouts. It also offers custom widgets, shortcodes, and Elementor support, enabling website owners to easily customize and extend their site with new blocks and layouts. Additionally, it comes with features tailored for viral content, including support for quizzes, polls, and surveys, making it ideal for engaging audiences.
On the technical side, Blabber was built with HTML5 and CSS3, offering full responsiveness, cross-browser compatibility, and Retina image support. Also, it is equipped with a host of general WordPress features such as one-click demo installation, Interactive Ajax Search, and flexibility in terms of color and typography adjustment. Moreover, it is well-suited with WooCommerce, as well as popular plugins like Instagram Feed, MailChimp for WP, and multiple others.
14. Gutentype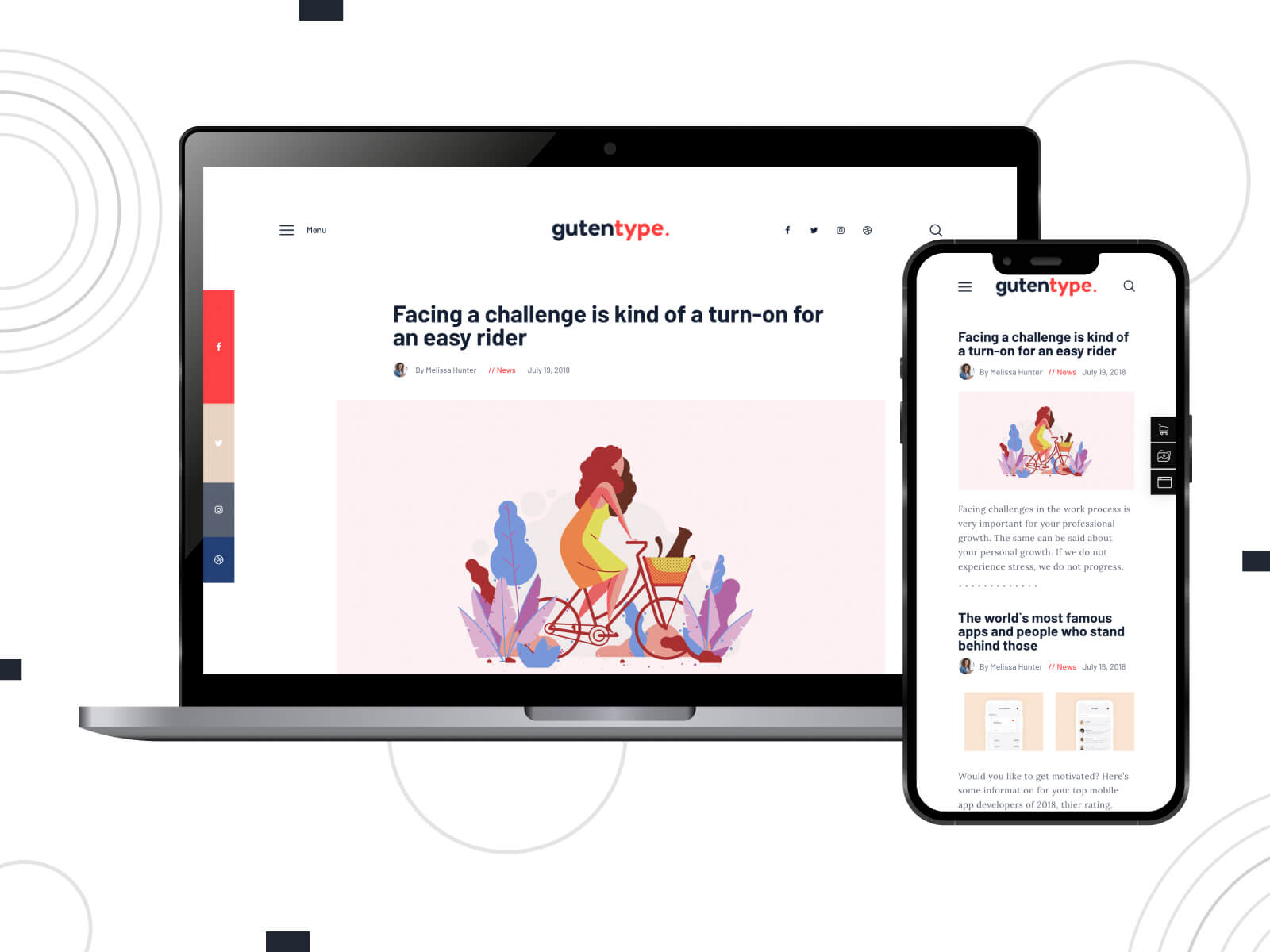 Author
Rating
Avg. Demo Speed Score
Ancorathemes
4.91
Mobile 59
Desktop 96
As its name implies, this template is a WordPress blog theme based on the Gutenberg page builder. It is ideal for various types of content-focused projects looking to establish a Medium-style presence. One of its distinguishing features is the offering of enhanced block styles and extra theme shortcodes. Also, as of the time of writing, there are 18 starter demos available. Gutentype supports WooCommerce, Instagram Feed, and Contact Form 7, making it a versatile choice for bloggers seeking a fully integrated, modern template.
The theme maintains high standards in features commonly found in the majority of WordPress themes. It is fully responsive, ensuring that your website looks perfect on all devices. It comes with SEO readiness for better search engine ranking, GDPR compliance, and a one-click demo install feature. Moreover, Gutentype offers advanced blog settings, 20+ post animations, and a customizable blog feed. The template also provides over 750 customizer options and is built with HTML5 and CSS3 for optimal performance.
15. Katelyn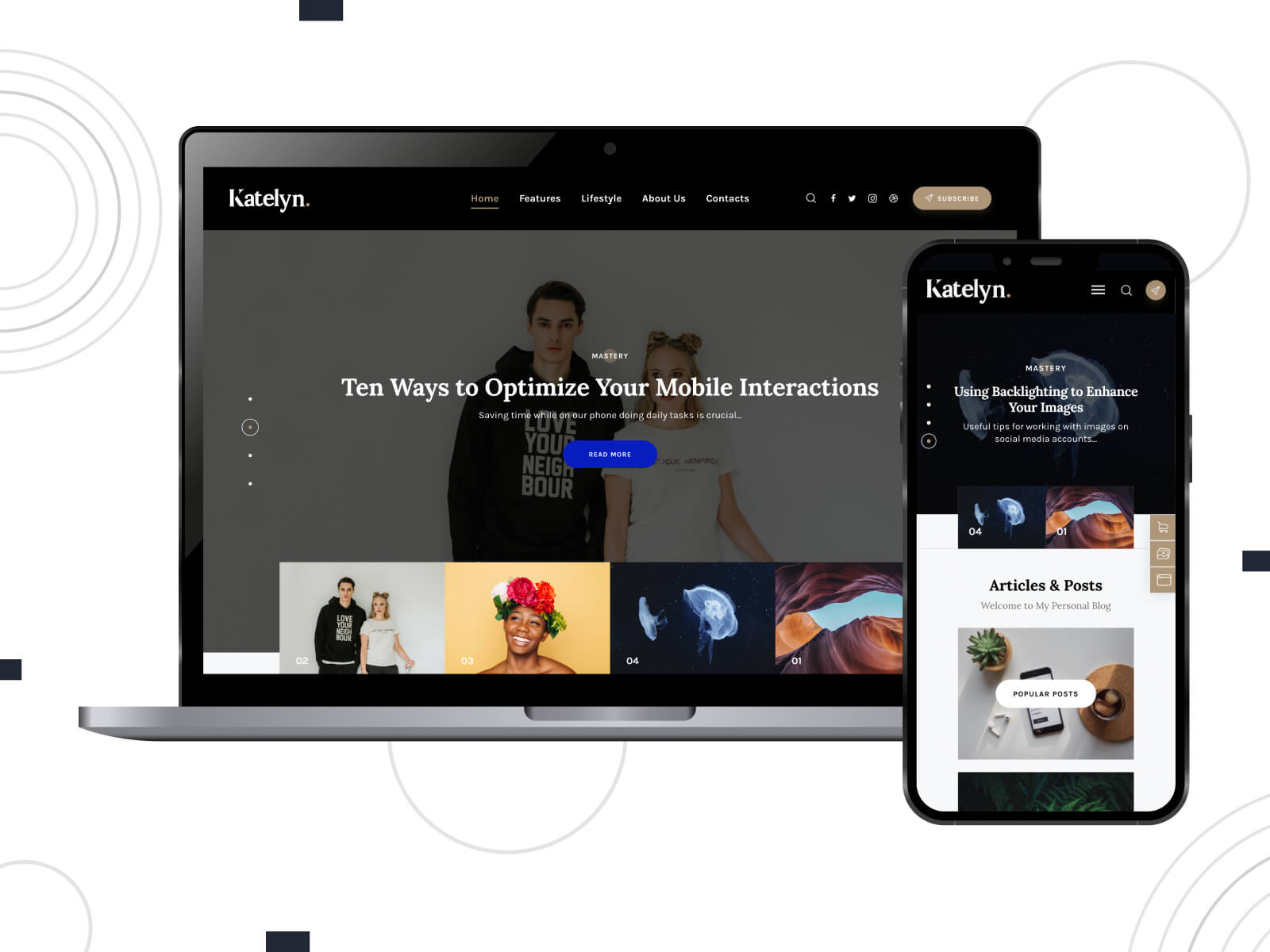 Author
Rating
Avg. Demo Speed Score
Axiomthemes
5.00
Mobile 62
Desktop 95
This is another template created with the Gutenberg page builder in mind. Serving as an excellent example of the best Medium-style WordPress themes, it is ideal for a wide range of blog types — from how-to guide collections to personal portfolios and more. It offers enhanced block styles and additional theme shortcodes, thereby ensuring complete compatibility with the built-in WordPress editor. Additionally, Katelyn incorporates plugins like Instagram Feed, MailChimp for WP, and Contact Form 7, adding further to its adaptability.
The template adheres to high standards that are common across many WP themes. It is fully responsive, scaling effortlessly across different devices, while SEO readiness ensures better search engine rankings. Further features include GDPR compliance, a one-click demo installation, and compatibility with WordPress 4.0 and above. The theme is optimized for performance and cross-browser compatibility, offering more than 750 customizer options, multiple blog styles, and post animations for a tailored blogging experience.
16. Kicker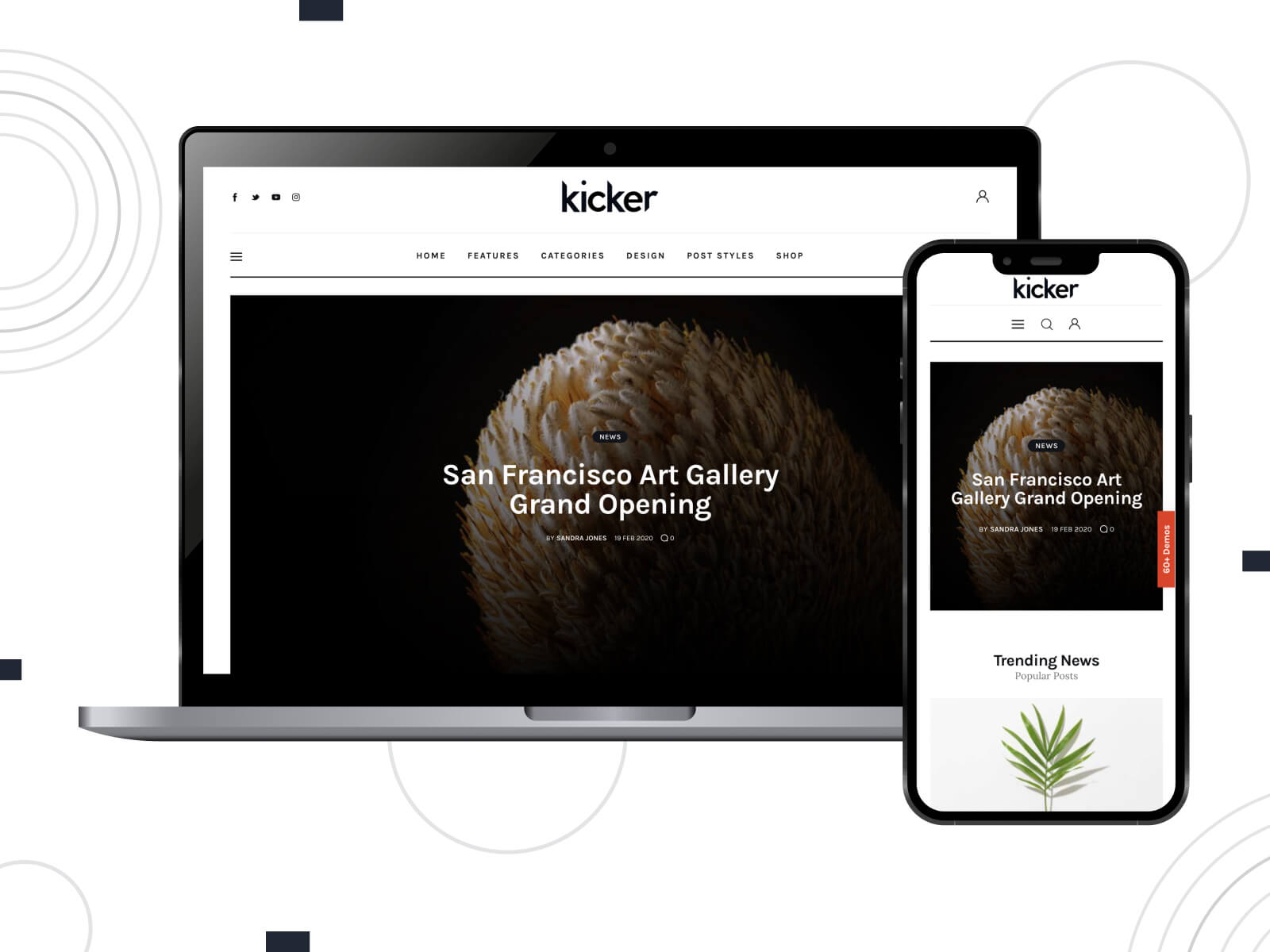 Author
Rating
Avg. Demo Speed Score
Axiomthemes
4.73
Mobile 51
Desktop 95
Meet another multipurpose blog and magazine template with unique features tailored for creating Medium-style WordPress sites. The most impressive peculiarity is the presence of over 1,000 unique blog layout variations, ensuring that you'll find the best option for your needs. Additionally, this template features a preferable black-and-white color scheme and a relatively simple appearance, which are well-suited for creating your content-focused online project. Other specific functionalities include multi-functional Gutenberg blocks and compatibility with Elementor.
In addition, Kicker offers a range of general functionalities commonly found in almost all WordPress themes. It includes Slider Revolution, which usually costs extra, but is included for free as part of this package. The template features an interactive Ajax search, customizable header and footer layouts, and offers a flexible approach to colors and typography. Its framework comprises a range of custom post types, widget sets, and shortcodes, and is optimized for peak performance. Advanced pop-ups are also supported by the theme, and compatibility with various plugins such as Contact Form 7 and Easy Forms for Mailchimp is provided.
17. MagPlus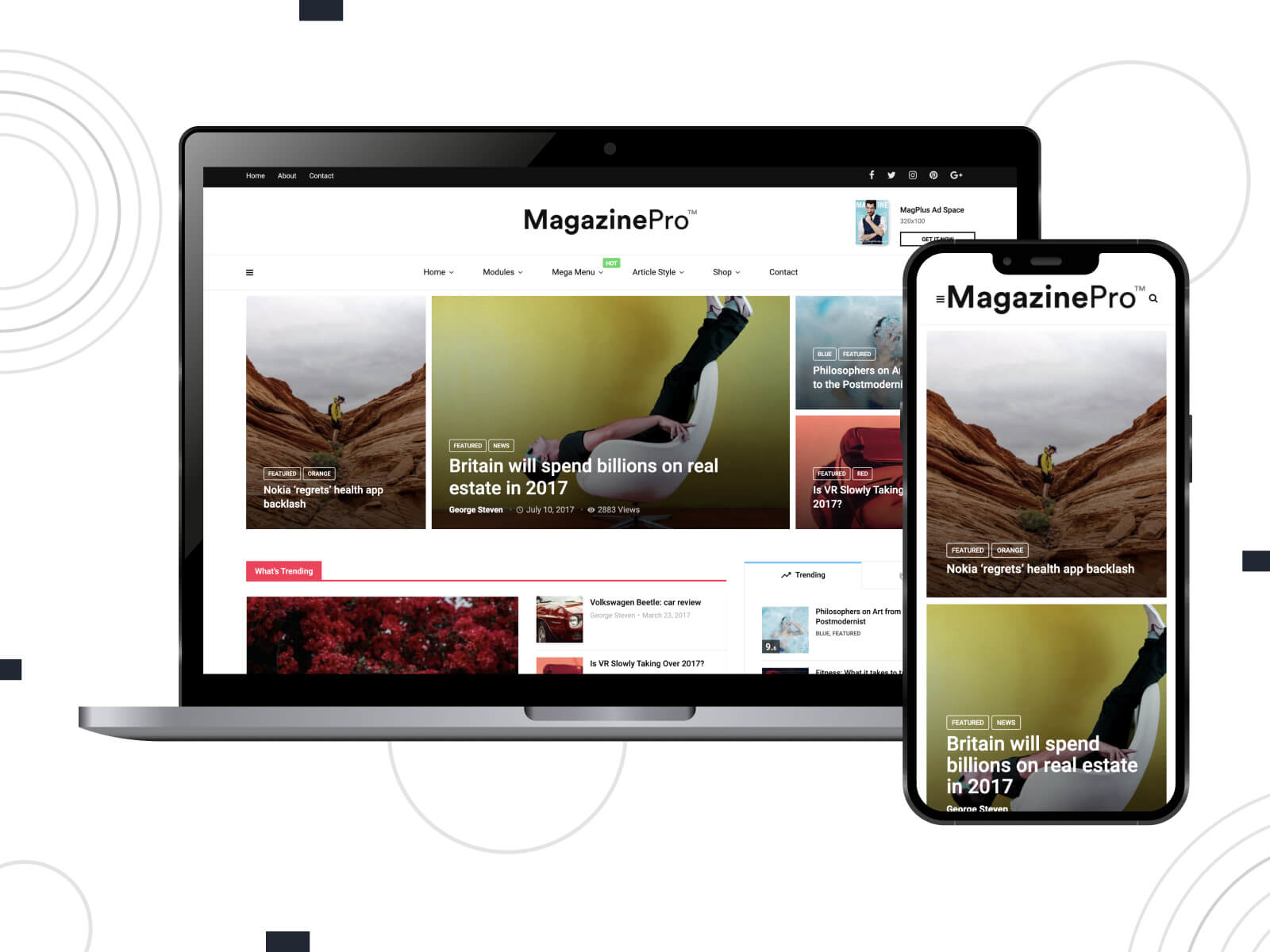 Author
Rating
Avg. Demo Speed Score
Theme_Bubble
4.85
Mobile 33
Desktop 73
With a specialized set of features tailored for creating Medium-style WordPress blogs, you have the option to choose from over 40 pre-built demos. AMP optimization and a custom cache system ensure fast loading times for both mobile and desktop users. Additionally, MagPlus offers a set of block shortcodes that empower you to design layouts exactly how you want. The template includes 160+ elements and modules and seven premium plugins at no extra cost.
In addition to these specialized features, all the general functionalities you'd expect from a high-quality WordPress theme are included. The template is 100% responsive, WooCommerce-compatible, and Gutenberg-optimized. It is also SEO-optimized, fully translation-ready, and perfectly compatible with WPML, making it suitable for a global audience. To top it all off, integration with the WordPress Customizer allows for live previews of any changes, making it easy for website owners to fine-tune their online projects.
18. Modern Housewife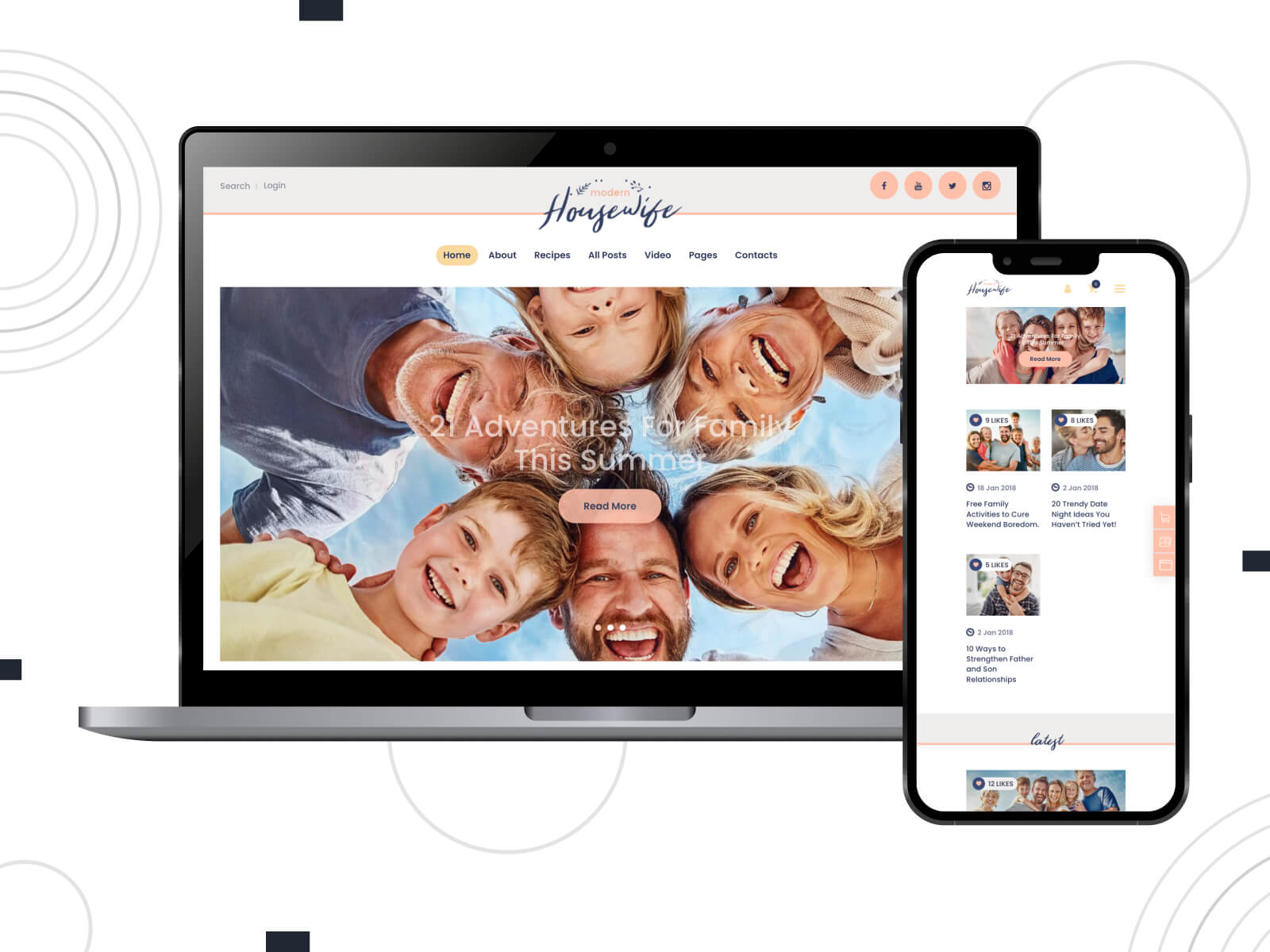 Author
Rating
Avg. Demo Speed Score
Ancorathemes
N/A
Mobile 39
Desktop 84
Despite its name suggesting that this template is designed for family blogs or sharing housewife experiences, here we actually have another example of a Medium-style WordPress theme. It features a minimalist, warm pastel color scheme, with all elements designed to highlight the textual content. Website owners have two homepage variants to choose from, as well as a variety of blog layouts. The theme supports WPBakery for straightforward text and layout editing and includes Slider Revolution along with Essential Grid to further enhance your blog's appeal.
What about more general features? As always, this theme also offers compatibility with Mailchimp to assist in managing your email list, one-click demo installation, and support for Retina Images. It features Interactive Ajax Search and the capability to change colors and fonts across an extremely wide range. The theme is naturally responsive and comes with over 20 post animations, "like"-collecting features, and sharing buttons. Additionally, it comes with custom widget sets and is compatible with popular plugins including WooCommerce, ThemeREX Addons, and many others.
19. Qwery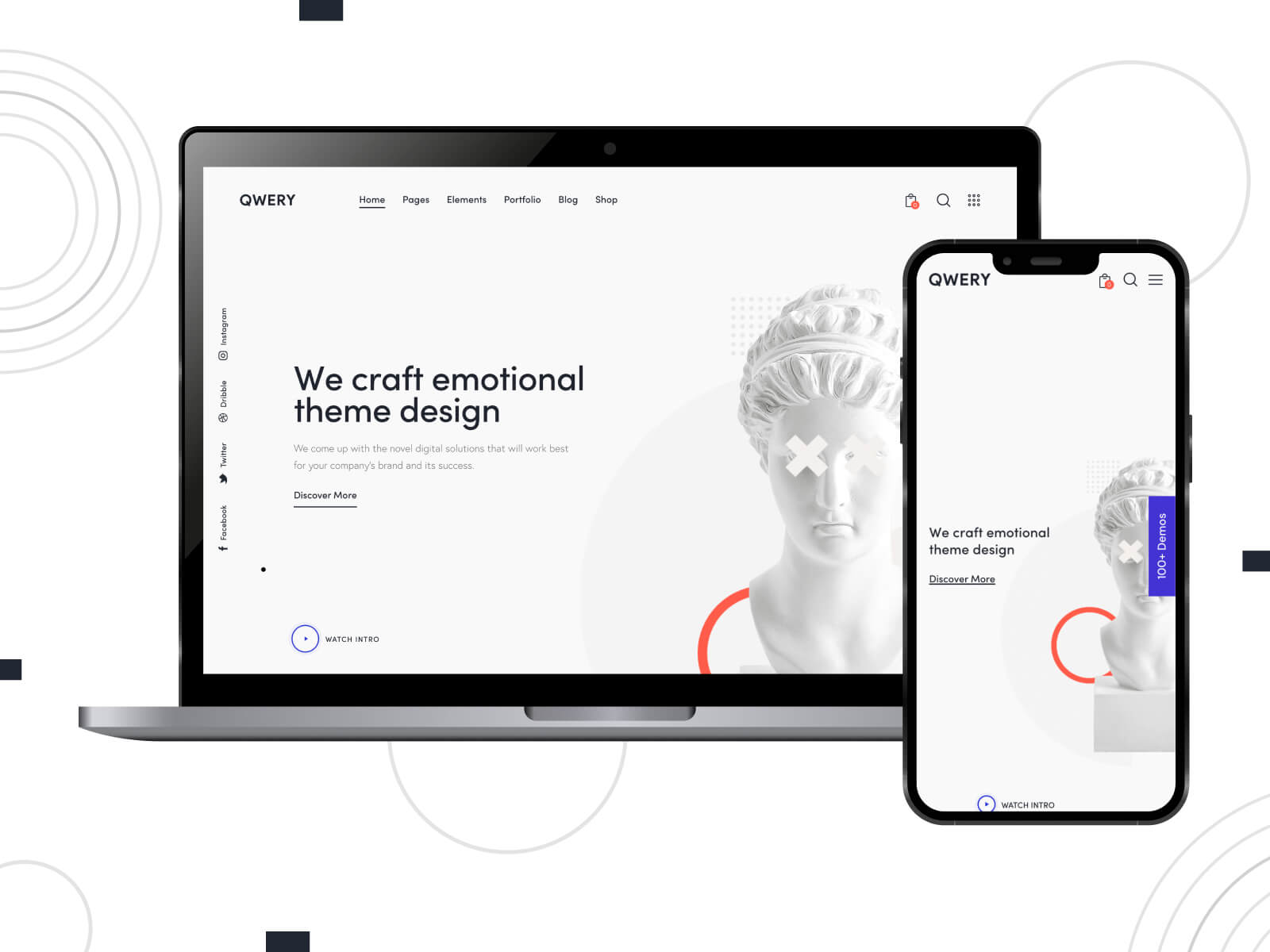 Author
Rating
Avg. Demo Speed Score
Ancorathemes
4.88
Mobile 32
Desktop 85
Probably with one of the widest choices of pre-made starter sites — namely, over one hundred — along with more than a thousand elements available for every demo, this is one of the most impressive WordPress templates on our list. Moreover, with its focus on the trendy topic of AI, it offers several designs specifically targeted to this niche. As for our Medium-style needs, the theme offers a modern, clean design and is bundled with the Elementor Page Builder, allowing for easy content modification.
Regarding general features, the theme offers the convenience of one-click demo installations, interactive Ajax-based search, enhanced blog configurations, and customization options such as adjustable colors and typography. Additionally, it is compatible with Retina displays and includes specialized extensions like Slider Revolution, Swiper Slider, and LatePoint. On the technical side, Qwery is crafted using HTML5 and CSS3, ensuring cross-browser compatibility with Firefox, Safari, and Chrome.
The template promises complete responsiveness and mobile compatibility, providing the choice between boxed and full-width page layouts. Its robust framework offers over 750 customization options, along with specialized post types and widget sets. Additionally, the theme is compatible with widely-used plugins such as WooCommerce for e-commerce activities, Contact Form 7 to communicate with your audience, MailChimp for email marketing, and WPML to share your writings with a broader worldwide community.
20. Soledad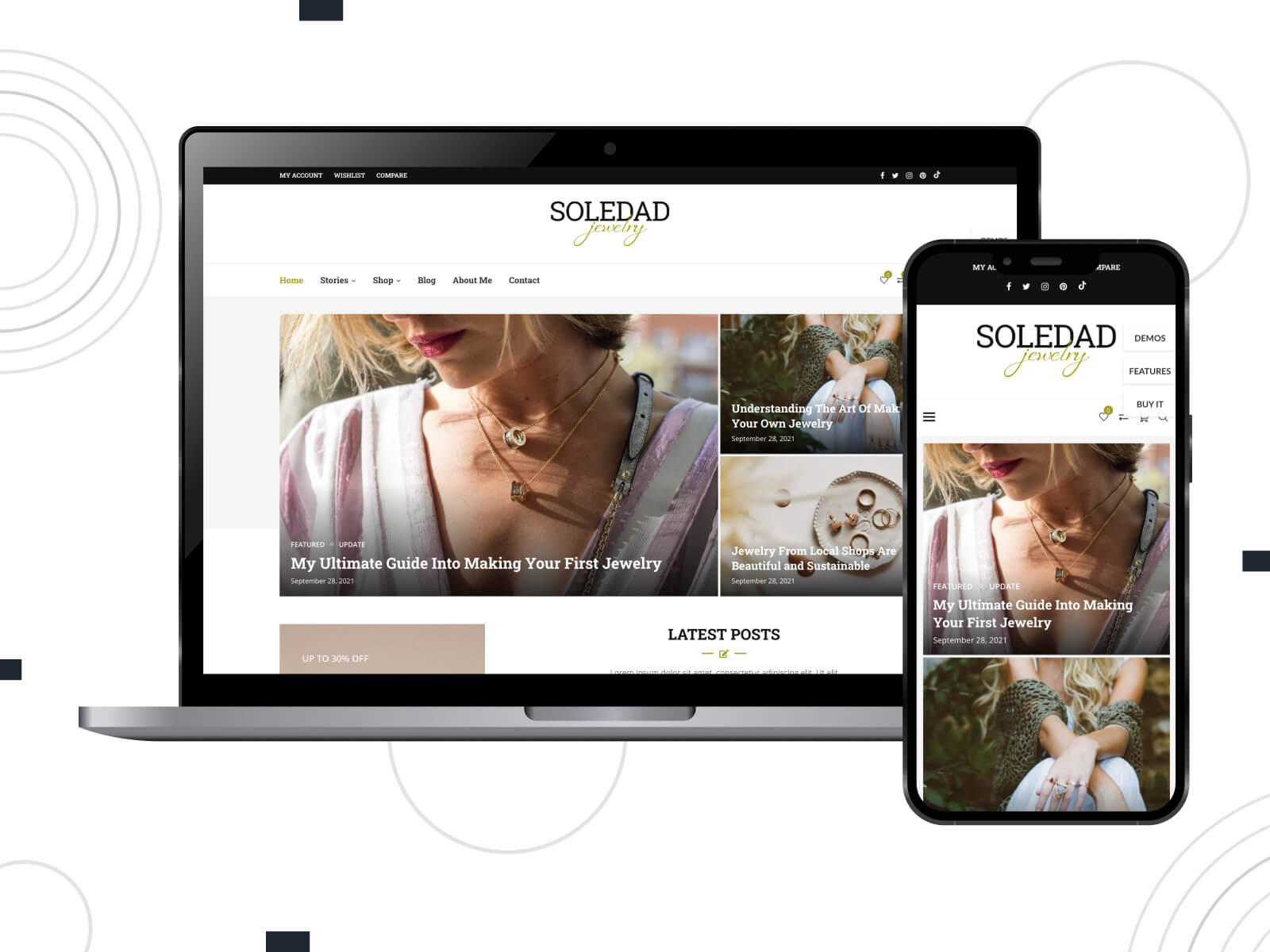 Author
Rating
Avg. Demo Speed Score
Pencidesign
4.87
Mobile 61
Desktop 77
As one of the most popular WordPress templates, Soledad serves as a robust foundation for your Medium-style blog. It boasts over two hundred pre-built websites and more than 6,000 homepage demos. As if that weren't enough, the theme also includes several unique plugins developed by its authors, right out of the box. One such extension is the AI SmartContent Creator, which enables automatic post title and content generation, as well as AI-powered featured image creation. Additionally, a text-to-speech tool is available, allowing for the creation of an audio player that narrates the text of your article.
This comprehensive theme is compatible with both Elementor and WPBakery, offering over 40 custom elements for enhanced customization. It provides multiple options for building headers, footers, and single post pages, as well as tools for designing category, tag, search, and archive pages. The template also boasts exclusive features such as a Pay Writer System, Frontend Post Submission with pay-to-submit options, and functionalities for bookmarking and following authors.
Additionally, the skin is optimized for speed, includes AMP support, and offers a dark layout option. User engagement is further enhanced through multiple ad spaces, in-feed ads, and compatibility with BBPress & BuddyPress. Finally, the theme provides WordPress Live Customization with over 1,500 options and a 100% responsive design, accommodating a wide variety of gallery styles ranging from Justified and Single Slider to various Masonry and Grid layouts.
21. Top Dog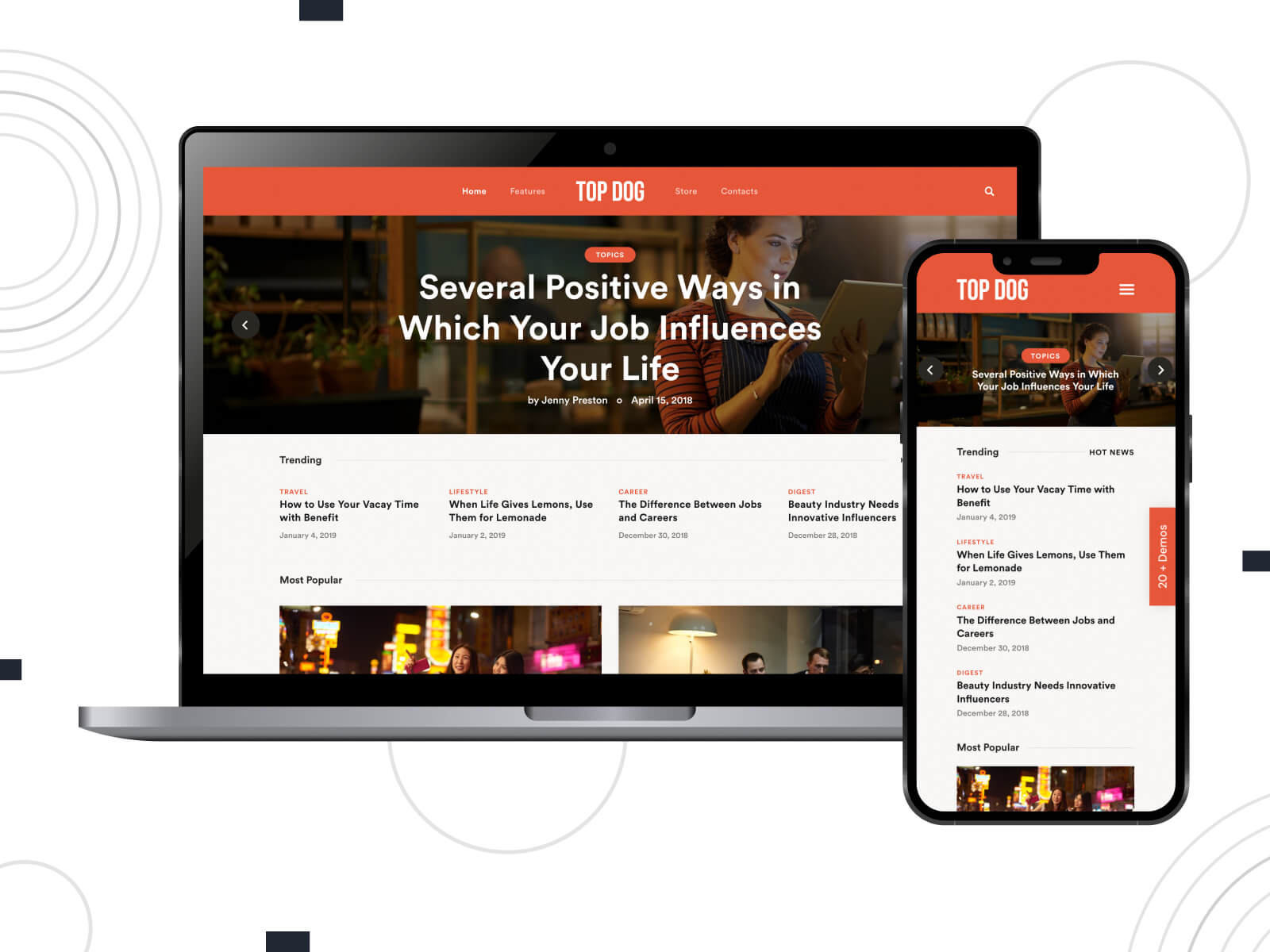 Author
Rating
Avg. Demo Speed Score
Themerex
N/A
Mobile 62
Desktop 80
This is another template that comes with advanced AI text and image generation tools out of the box. It has more than twenty default design variations, which suit the creation of a Medium-style blog well. The theme goes beyond the conventional to support various types of content, including case studies, quizzes, screencasts, and live-streaming, making it ideal for a myriad of blogging niches from lifestyle and finance to sports and politics. Compatibility with Elementor allows you to effortlessly add new blocks and layouts, while integrated custom widgets and shortcodes further elevate customization possibilities.
Regarding general WordPress functionalities, Top Dog excels with features like one-click demo installation and cross-browser compatibility. It's built with HTML5 and CSS3 and has been tested and approved for WordPress 4.5 and above. The template supports Retina images and various sliders, including Slider Revolution and Swiper Slider. Interactivity is enhanced through Ajax Search, while the layout settings are fully responsive and mobile-friendly. The skin also offers an extensive number of over 750 Customizer options, various post types, and optimized performance.
22. Typology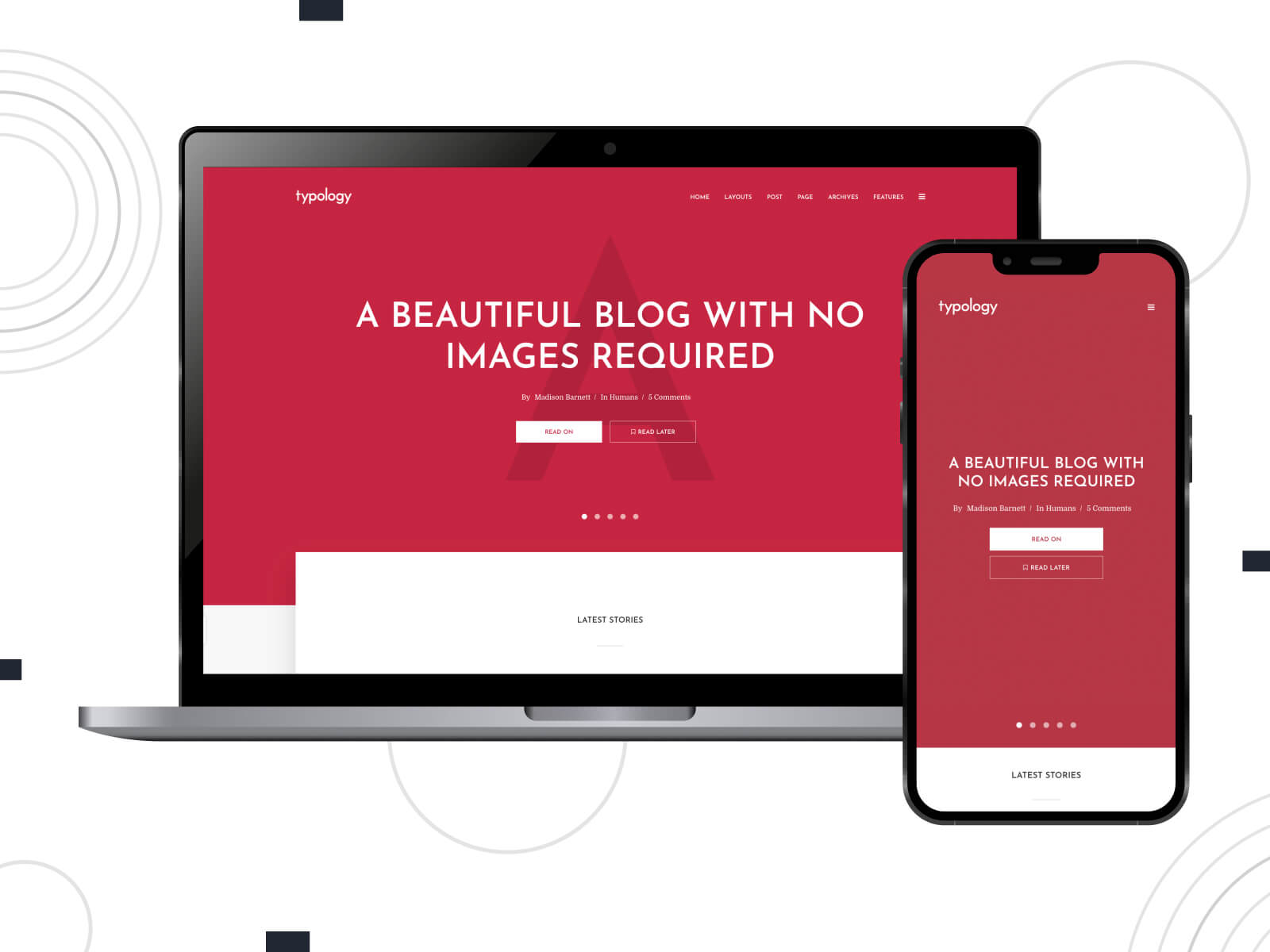 Author
Rating
Avg. Demo Speed Score
Meks
4.96
Mobile 69
Desktop 89
Meet a specialized WordPress theme designed for writers, book authors, and bloggers who want to focus primarily on text-heavy content. And this is exactly the case of Medium-style websites. Multiple textual post layouts are provided by the template to suit different content styles, along with a highly customizable homepage. Extensive typography options for fine-tuning the appearance of text and headings are also offered. Unlimited fonts and color combinations are supported, enabling effective site branding.
As for commonly encountered WordPress features, Typology offers a responsive design to ensure that your content looks great on all modern devices. Its advanced theme options panel simplifies website setup and offers various pagination types, such as Numeric Pagination, Load More buttons, and Infinite Scroll. Additional features include custom widgets that extend its functionality and 12 flexible shortcodes for easily adding complex elements to your pages. Overall, it's an easy-to-use theme that can get your blog up and running in just a few clicks.
23. Median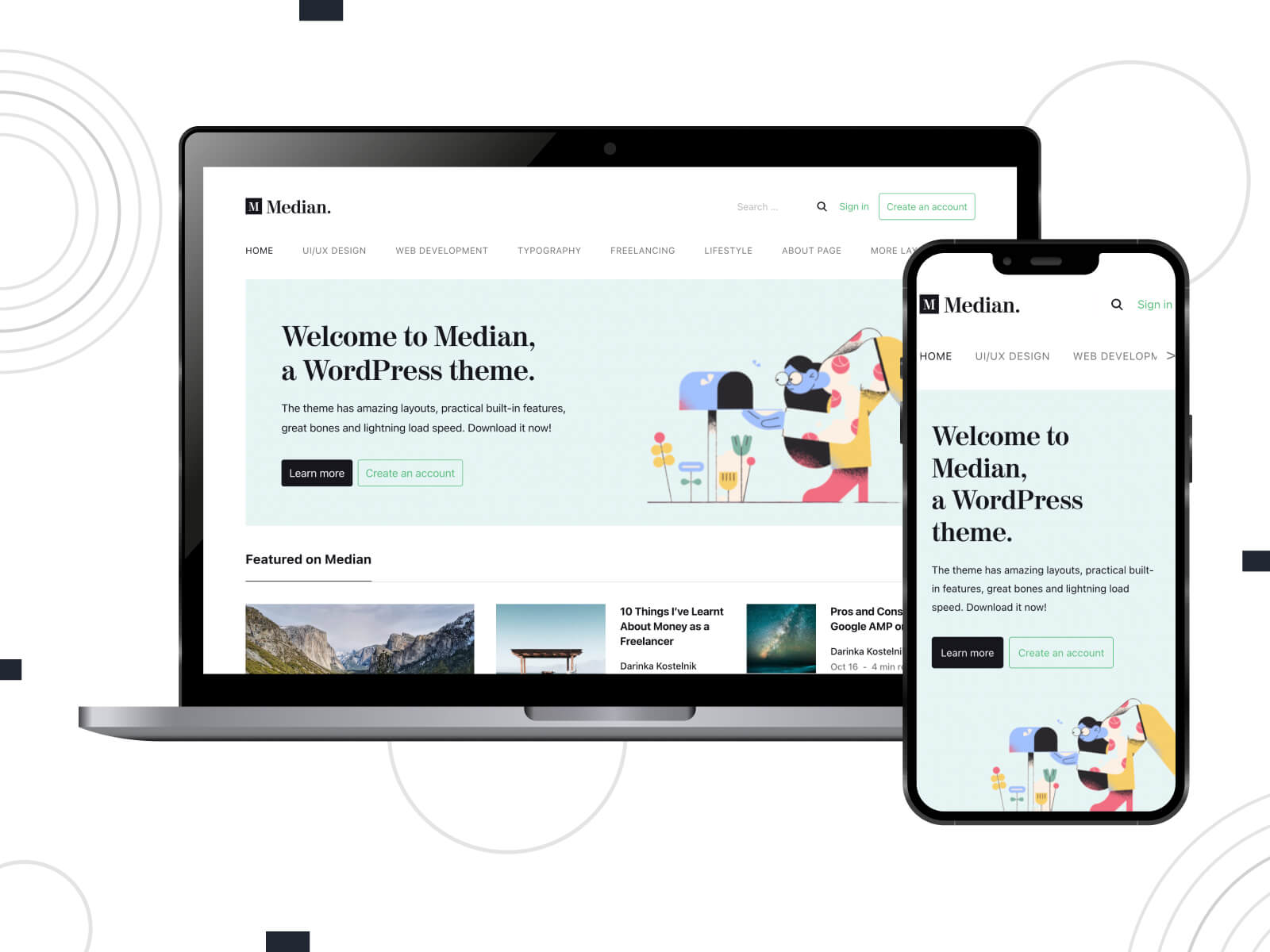 Author
Rating
Avg. Demo Speed Score
Darinka
N/A
Mobile 79
Desktop 91
This template replicates Medium's style one-to-one, offering features that perfectly suit modern blogs and magazines across various niches. Apart from embodying a clean and timeless aesthetic, Median provides specialized features such as allowing your visitors to sign in and write articles directly on your site. The theme also includes engaging micro-interactions that enable readers to "like" posts, showcase a list of the most popular publications, and offer various homepage layout options.
Additional features include a sticky header and sidebar that scrolls with the user, as well as built-in social sharing options for Facebook and Twitter. Installation and activation are straightforward; the theme works "out of the box" without additional plugins. Professionals will appreciate Median's foundation on the reliable Hybrid Framework and its optimization for the Gutenberg editor. This ensures quick loading times and a clean code structure, making it an excellent platform for further customization and scalability.
Installation and Customization: How to Create Your Medium-Style WordPress Site in No Time
To assist you in the installation of your chosen Medium-style WordPress theme, we've provided some tips and advice on the process. Please follow these recommendations if you are new to the WordPress world or want to ensure that you are doing everything correctly.
Step 1: Choose a Medium-Style WordPress Theme
It's all simple — follow the information provided in this article regarding each of the presented templates, and choose the one that fits your heart's desires and budget. We've collected only recently updated alternatives that meet the criteria for a "Medium-like" style and offer interesting additional features that can significantly simplify the process of managing your blog, so pay attention to our recommendations.
After choosing, purchase the template if it's from the premium category, and download it to your PC. In the case of a free theme, simply download it.
Step 2: Install the Theme
Assuming that you have already set up the WordPress CMS on your hosting account, follow these points:
Go to your WordPress admin panel.
Navigate to "Appearance" > "Themes" > "Add New".
If your WP template is packed in a zip file, click on "Upload Theme" and then "Choose File". Locate your zip archive and click "Install Now".
Alternatively, you can use the WordPress theme search feature to find and install free templates.
Once installed, hover your mouse over the top of the added skin, locate the "Activate" button, and click it.
Step 3: Customize the Layout, Color Palette, and Typography
Right where the "Activate" button was located, you can find the "Customize" button in that same area and press it.
In case you have navigated away from the page where all the templates are showcased, you can go to "Appearance" > "Customize".
When in the Customizer section, you can browse through the various layout options available. Most themes offer a multitude of header and footer options, as well as choices for sidebar placement. Global fonts, colors, and background settings can also be adjusted here. Note that each template has its own set of customizable options, so it's difficult to cover all possible parameters that can be changed within the scope of this list.
If you change some settings, you can immediately preview them on the right side of the screen, where a "simulation" of your blog is presented. When satisfied with the modifications, save your settings by pressing the "Publish" button at the top of the Customizer.
Tips
Medium blogs usually have a clean and uncluttered layout similar to old-school newspapers. When adjusting your chosen template, stick to a simple layout, black-and-white color palette, and easy-to-read, elegant fonts for a more Medium-like appearance.
Step 4: Add Essential Plugins
Multiple templates presented in this overview already offer some pre-built extensions that can significantly enhance the administrator experience. However, there is also a set of necessary tools that need to be installed separately, as they are not usually bundled within the theme packages.
Go to "Plugins" > "Add New".
Search for and install these:

All in One WP Security, or a similar alternative to enhance the security of your blog;
UpdraftPlus, or others with the same features to set up the creation and saving of the backups;
WP Statistics to collect all essential info about your visitors. Or use a similar alternative;
WP-Optimize will help make your website as quick as a lightning bolt. It allows you to enable caching and minify the JS and CSS files.
Yoast SEO — last, but not least, this tool is intended to adjust and track your SEO parameters.
For quick and easy content editing: if you use Elementor, there is a special free extension that amplifies its capabilities — Stratum. If you prefer the block editor, Getwid is a great tool to add even more blocks.
Any other plugins that are necessary according to your specific needs.
Tips
Avoid cluttering your website with unnecessary plugins: install only those you will definitely use. Uninstall any default extensions that are automatically included with your WordPress setup. Additionally, consider activating the "Auto-update" option for plugins you find reliable. You can turn on this feature by clicking the "Enable auto-updates" link next to each of the installed extensions on the "Plugins" page.
By adhering to these guidelines and suggestions, you'll achieve a Medium-style WordPress blog that's not just visually appealing but also fast, secure, backed up, and tailored to meet your unique requirements.
The Importance of User Experience and Performance in Medium-Style WordPress Themes
User Experience
The Medium platform is lauded for its user-friendly, minimalist interface that prioritizes content. When emulating a Medium-style blog, it's essential to ensure that the user experience is intuitive and uncluttered. This involves clean layouts, streamlined navigation, and readable typography.
A key aspect of user experience on websites styled like Medium is readability. Since the templates used to create this type of online resource often specifically target long-form content, typography and layout must be carefully selected to minimize eye strain and facilitate reading on desktop screens.
Performance Optimization
A slow-loading site can lead to high bounce rates and poor SEO performance. Themes with unnecessary features, extensions, and large media files can drastically reduce page loading speed. Hence, performance optimization through code minification, image optimization, and lazy loading should be a priority, if you want to create a reliable and quick Medium-style blog.
Another aspect worth noting is that, with a growing number of users accessing websites via mobile devices, responsiveness is essential. A Medium-style WordPress theme should be optimized for various screen sizes to ensure a consistent user experience across all devices.
Also, search engine optimization is crucial for any website's visibility. Well-coded Medium-style WordPress themes should adhere to best practices in SEO, such as proper use of meta tags, headings, and sitemaps. SEO also benefits from fast page load times and mobile responsiveness.
These aspects of user experience and performance optimization may seem obvious, but we mention them specifically to highlight their critical importance for online projects styled after Medium. In this particular context, the significance of these aspects cannot be overstated.
Where To Look for Support and Documentation?
No matter which WordPress template you choose, it's essential to have access to reliable support and comprehensive documentation. Here are some places where you can find the help you need:
Developer Websites: The first evident place to look for support and documentation is the site of the template developers team. Most reputable theme creators offer detailed guides, FAQs, and tutorials on how to install and customize their products.
Support Forums: Another place to look for help is also quite accessible — discussion boards where you can ask questions and receive assistance from the development team or from other community members who use the same template.
WordPress.org: If you downloaded your theme from wp.org, you can find a "View support forum" button on the download page of the template. By clicking on this button, you will be directed to a discussion board where users and developers discuss issues and solutions.
YouTube: Video tutorials can be incredibly helpful and are often easier to follow than written guides. A quick search on YouTube might yield tutorials for your specific template or for Medium-style WordPress themes in general. Of course, we recommend our channel, where you can dive into almost any nook and cranny of WordPress.
Third-Party Blogs: Sometimes independent WordPress experts and bloggers publish detailed guides and reviews on specific templates, which can be an excellent supplement to the official documentation. And our blog is exactly an example of this case. Use the search form in the top right corner of the MotoPress blog to acquaint yourself with a multitude of reviews and tutorials.
Summing Up
Although selecting a Medium-style WordPress theme is largely a matter of aesthetics, it's also about providing your website with a flexible and reliable framework. In this article, we've explored a wide range of options that offer not just the minimalist, content-focused style typical of Medium, but also various additional crucial peculiarities — from SEO optimization to one-click demo installations and e-commerce capabilities.
Themes like Aldo and Authentic prioritize streamlined design, while Avventure and Bazinga offer unique features to cater to specific blogging niches. Whether you're looking for a high level of customizability with templates like Kicker or Soledad, or whether you prioritize SEO and speed like in MagPlus, there's something for every type of blogger or website owner.
Remember, the best WordPress skin for you will depend on your specific requirements — whether it's high-speed performance, a seamless mobile experience, or a variety of layout options. Familiarize yourself with the demos of the provided templates, and take note of the features each theme offers. This will help you make the right choice.
We hope that this curated collection will save you time in choosing a Medium-style WordPress theme that best suits both your project's unique needs and your own personal style. Please let us know in the comments section below which template you liked the most and have chosen for your project.
Disclaimer: This article may include affiliate links to third-party products. If you choose to click on a link and make a purchase, we might receive an affiliate commission without any extra cost to you.
FAQ
What is the Median theme of WordPress?
This template is 100% inspired by Medium's style and is tailored for modern blogs and magazines. Notable features include:
The ability for visitors to log in and write articles directly;
Interactive elements for a post "likes";
Varied homepage layouts;
A sticky header;
Built-in social sharing functionalities for Facebook and Twitter;
A foundation on the Hybrid Framework optimized for Gutenberg.
The theme ensures fast performance and a streamlined structure suitable for customization.

What is the lightest WordPress theme?
The "lightest" WordPress template typically refers to a skin that has minimal bloat, loads quickly, and doesn't put a heavy load on server resources. Themes like
Neve
,
Getwid Base
, and
Astra
are often recommended for their lightweight design and fast loading times. These alternatives are optimized for performance and are ideal for website owners who want to organize a fast and efficient online project.
What is the best WordPress theme design?
The term "best" can be highly subjective. It all depends on the needs of the individual or business using the particular template. However, some widely recognized themes for their excellent design and functionality include
Getwid Base
,
Kicker
, and
OceanWP
.
These templates offer a range of customization options and come with a variety of pre-built elements, making it easier to create aesthetically pleasing websites. Always remember that the "best" theme for you will depend on your specific needs, including the type of website you are building, your level of expertise, and the specific functionalities you require.