20 Must-Have WordPress Plugins for Effective Bloggers
If you're serious about starting a successful blog, you are at the right place! You'll find tips and must-have WordPress plugins for blog websites to take the first steps and bring the posts to light.
The solutions we've handpicked are designed for you to keep your website from harm, make it load faster, grow your social media following, and reach a large audience. Here we go!
What is a Blog?
Before anything else, let's talk about blogging and its nuts and bolts. A blog is one of the most popular spaces to share the desired content about any topic. It can be a whole website or a dedicated section. The content usually includes text and images to grab readers' attention. It's posted as articles to make it easier for website visitors to find and read the information.
There are the top 5 reasons to start a blog:
To educate and post useful information: it takes a few clicks to google your question and find the relevant answer in one of the blog articles. Almost every subject you're interested in is covered on online blogs.
To promote a product or service by sharing updates, news, or tutorials: businesses use blogs to engage website visitors and convert them into customers. Companies devote much time and effort to creating content of high quality and thus, leading readers to their product pages via direct links or promotional banners.
To inspire the audience: bloggers often share motivational content to encourage people on changing their lives, gaining new skills, or helping other people.
To build an online community: a blog might be a great way to share your story and experience and find like-minded people all over the world.
To make money: these days, many bloggers monetize their blogs and use them as their bread and butter.
No matter what the reason is, blogging always means a lot of niche-specific content, planning, and work at self-improvement. In addition to the relevant and professional content, you should provide for a place where you will share posts and stay in touch with readers.
What hit upon first when you think of a blogging platform? Perhaps, it's Instagram, Facebook, or TikTok. They cover a bunch of topics and reach users from different countries. Yes, but… There are strict terms of use everyone must follow.
Despite the abundance of such blogging platforms, we'd cast our vote in favor of a standalone blog website. It brings the opportunity to be the published content owner and avoid bans. You'll be able to customize your site's appearance, integrate the necessary tools, and manage your posts.
If you're selecting the platform for it, we recommend you check out WordPress. It's one of the most popular CMS platforms. And it may be a great blogging platform, as its impressive repository includes all-around themes and plugins for WordPress blog owners that meet their main needs.
Usage statistics from W3Tech say that 63.9% of users choose WordPress as the content management system for their website.

How to Start a Blog: Hosting and Domain
Next, you need a domain name and a hosting platform to get your blog off the ground. While picking a web hosting provider, you should do some research and consider whether it provides you with:
Fast performance;
Affordable subcription cost that won't break your budget;
The type of hosting services you need;
A clear refund policy and terms of use;
A high level of support;
Security options.
When it comes to the domain, you can determine it via several-hour brainstorming or turning to a corresponding tool called a domain generator. Here are four steps to get a unique domain name for your blogging website:
Make it catchy and easy to remember: you may go with:
your first and last name;
keywords related to your blog's topic;
a company or branding name (if there is one);
or any creative name that you like.
Consider its TLD: .com is probably the best choice among top-level domains. However, you are free to use other extensions as well.
Check whether it's available: if you use a domain name generator, it will suggest available names to choose from. If you want to check your ideas, you can do it via a domain name registrar.
Register your blog's domain name: once the decision is made, you should buy the name. The way it works depends on the chosen hosting provider.
Top 20 WordPress Plugins for an Effective Blog
In this collection, we've listed the main plugins for WordPress blog sites and divided them into different categories. It consists of premium and free solutions. Some of them suggest both versions that differ in the number of features you get. Let's explore the plugins in more detail!
Blog Speed and Performance
Readers are likely to leave a page that loads more than 3 seconds. So, your blog speed is essential for ease of use and visitors' experience. Data caching is one of the first ways to speed up your blog.
How does it work?
In a nutshell, many visitors will open your website and its pages. When they do so, the request is sent to the server and processed by it. Only after that, the result (i.e. your website with all the content elements) appears on the user's browser. As the server processes many such requests, website loading might get more time-consuming.
And here, data caching comes in handy! It's a process of saving and storing the files from your web pages in a temporary location.
Why do you need caching on your blog?
When readers visit your blog next time, the cached data from the local storage will be used instead of that from the server. As a result, pages will load much faster. It's a great benefit, isn't it?
So, this category includes WordPress plugins for blog developers used to automate the caching process. Let's have a look at them!
WPRocket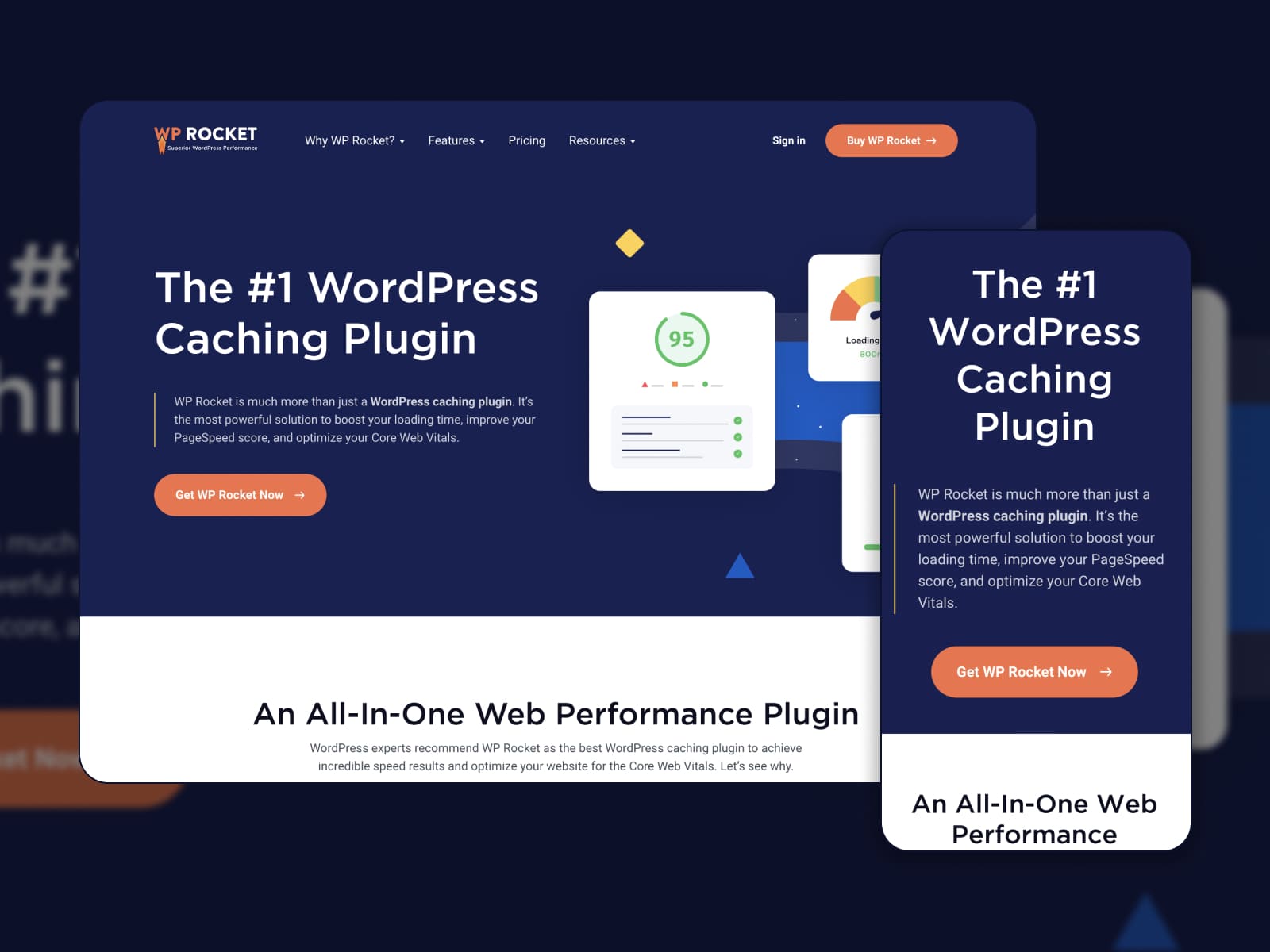 WPRocket is a WordPress caching solution to boost your blog website performance. Use it to improve page speed and Core Web Vitals scores. This plugin helps you apply web performance practices such as page caching, GZIP compression, browser caching, etc.
With WPRocket, you'll be able to set up options for cache preloading, smart media loading, and database. It is compatible with popular WordPress plugins and themes. The WPRocket plugin makes it easy to integrate CDN into your website.
CDN is a content delivery network that saves the cached version of the content in multiple locations. Thus, it "decreases the distance" between your server and your readers. This option improves page loading time for the international audience.
So, its main features include:
The best caching practices;
Used for bloggers, agencies, or eCommerce;
Smooth file optimization;
LazyLoad option for media files;
Database cleaning options;
WPRocket extensions set up in a few clicks.
W3 Total Cache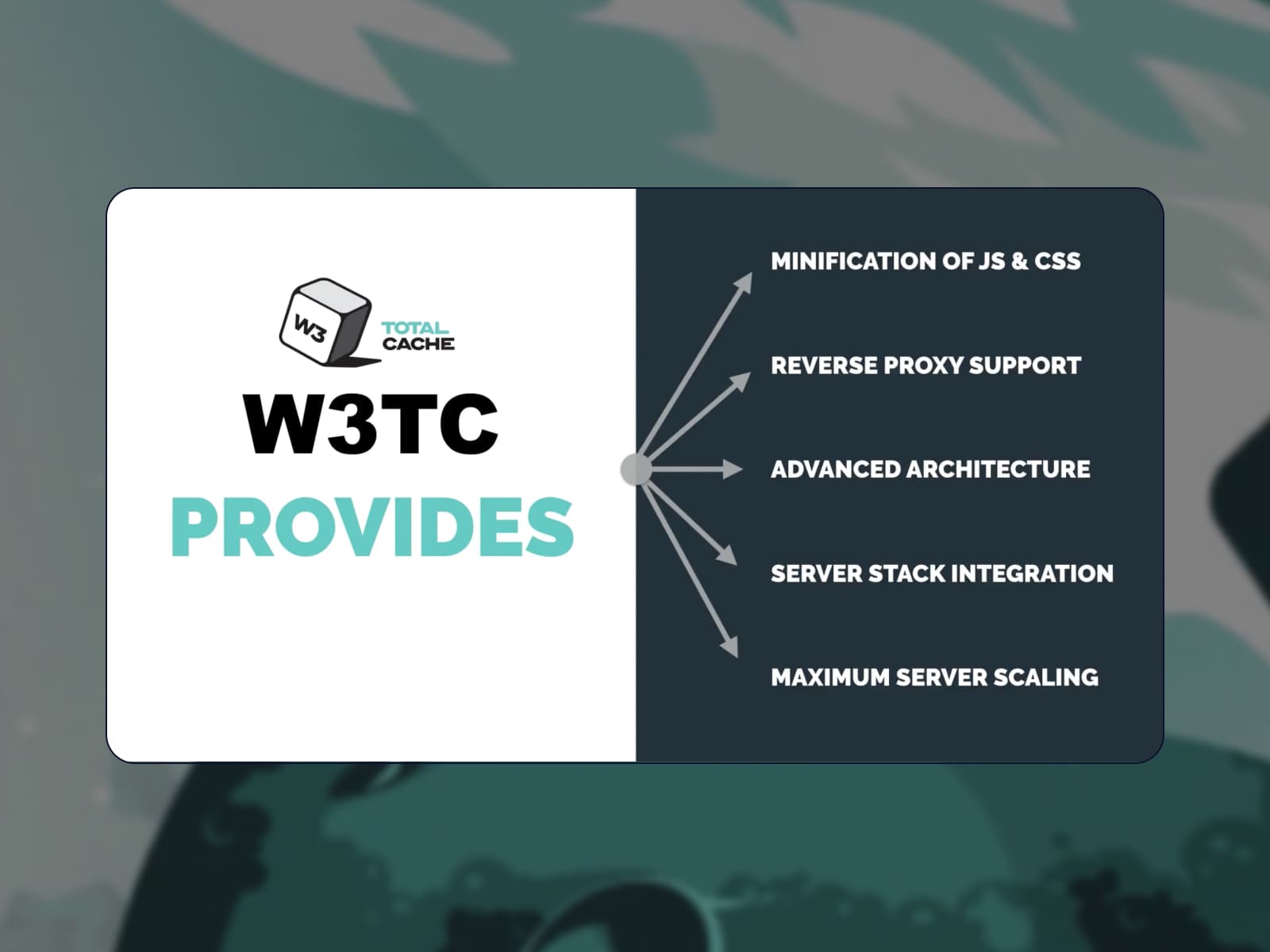 You can make your blog faster and keep visitors from bouncing the page with the W3 Total Cache plugin. It is another top WordPress caching plugin on our list. It provides your website with a web performance optimization framework. It's possible to manage the content delivery network, carry out caching methods, and minify different elements.
W3 Total Cache allows you to defer non-critical CSS, Javascript, and offscreen images. This option improves user experience. Also, there are security features to keep your website safe.
So, its main features include:
Caching via multiple methods;
CDN integration;
The ability to defer loading;
Minification options;
Caching statistic data available;
Reverse proxy integration via Nginx or Varnish;
Image Service API extension.
WP Fastest Cache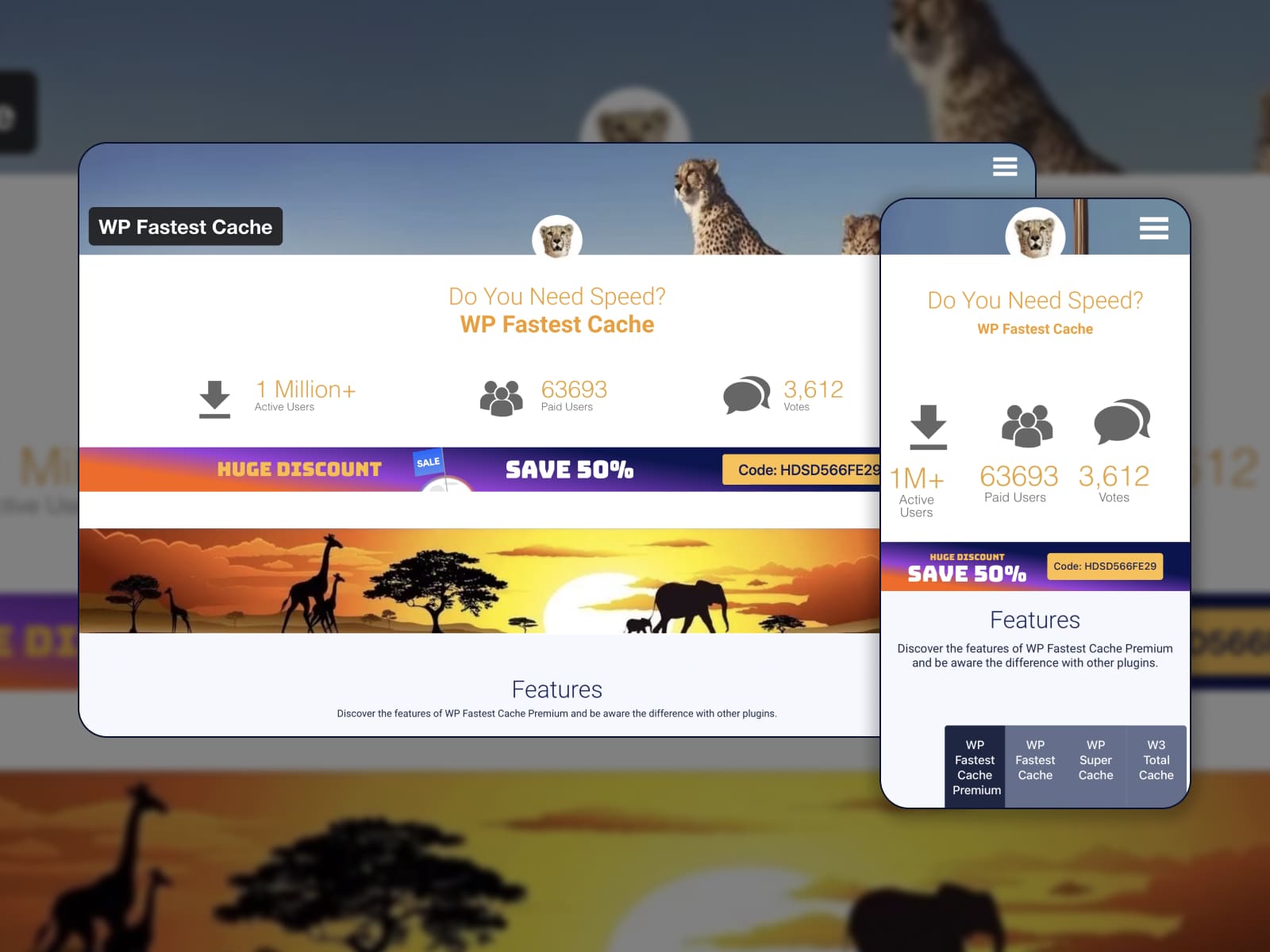 WP Fastest Cache is one of the powerful WordPress plugins for blog website caching to achieve better speed results. It is the one-in-all cache system to speed up your website via the Mod_Rewrite method. You can delete cache files and minify HTML, CSS, and js files from the options page. The free version has some limitations in comparison with the premium one.
WP Fastest Cache Premium involves caching for a desktop, mobile device, and widgets. It minifies and combines CSS, CSS Plus, and JS. This plugin lets you block caching for particular pages or at a certain period. Database cleanup is available too.
So, its main features include:
A well-established caching system;
Deleting, minification, and combination options;
CDN support;
Statistics on the cache;
The LazyLoad feature;
Cache block and timeout options;
Image optimization.
Marketing and Analytics
It's critical to understand your readers' behavior and analyze traffic sources. That's where plugins for WordPress blog websites from this group come into play! They enable you to access data, metrics, and insights. Also, you can use them while developing your marketing strategy and making data-driven decisions.
MonsterInsights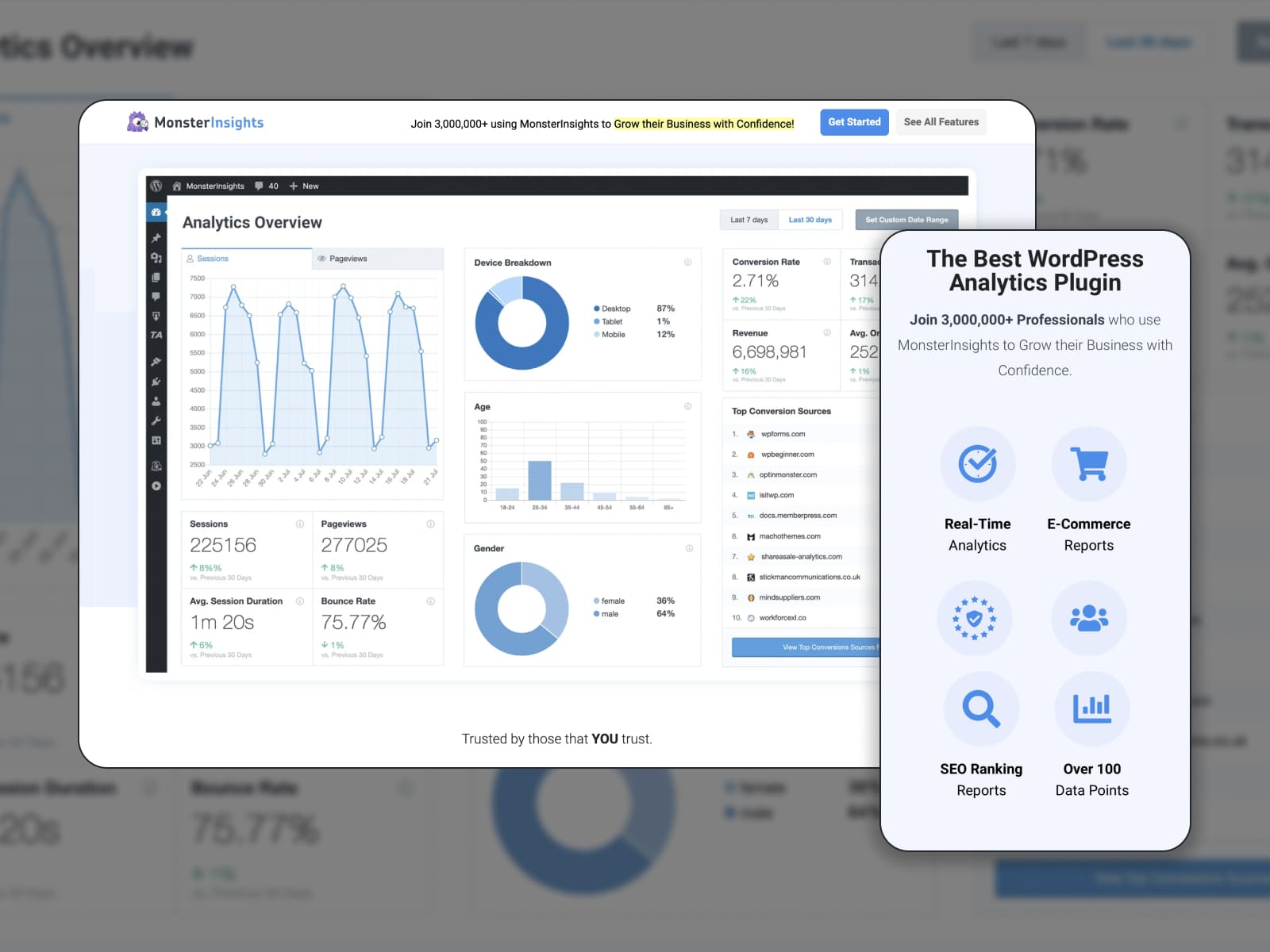 We recommend using MonsterInsights if you're looking for a WordPress analytics plugin. It's available in both free and premium versions. This plugin comes in handy to connect your website to Google Analytics and enable its tracking features across devices. They are set up in just a few clicks.
With Monsterinsights, you get access to the analytics dashboard to view real-time reports on pages or posts. There are different report types: audience, publishers, behavior, content, e-commerce, forms, search console, custom dimensions, and site speed.
You'll find the tools to track the click rates of your affiliate links, banner advertisements, and other outbound links. Moreover, this plugin seamlessly integrates with other popular WordPress plugins and services.
So, its main features include:
A Google Analytics dashboard;
Google Analytics tools;
Real-time stats;
Easy eCommerce tracking;
Universal tracking tools;
Affiliate and ad link tracking;
Compatible with GDPR.
OptinMonster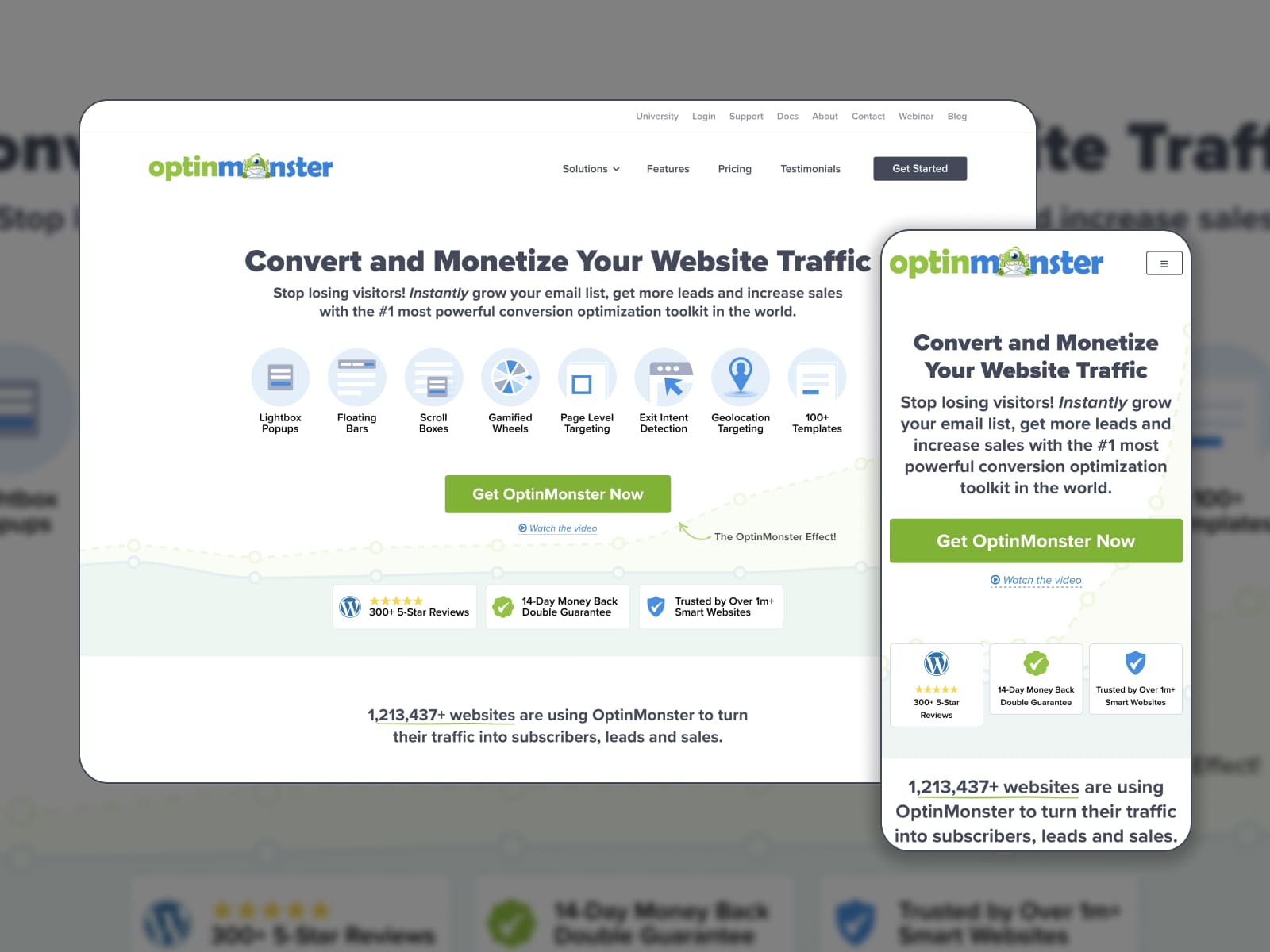 With the OptinMonster plugin, all the settings for conversion optimization are at your fingertips. After an easy setup, you get eye-catching lead capture forms, A/B Testing tools, and the power of exit intent technology. Feel free to create popups, floating bars, slide-ins, and more forms to maximize conversions.
OptinMonster users find it easy to target their offers, retrieve analytical reports, and employ different methods to boost visitors' engagement. Advanced traffic redirection options allow you to add a button, customize the action, and view visitors' behavior.
So, its main features include:
Multiple form types;
Exit intent technology;
Targeting rules;
The ability to target, retarget, and personalize offers;
Real-time insights and reports;
A/B testing tools;
Traffic redirection to the important pages.
Contact Form 7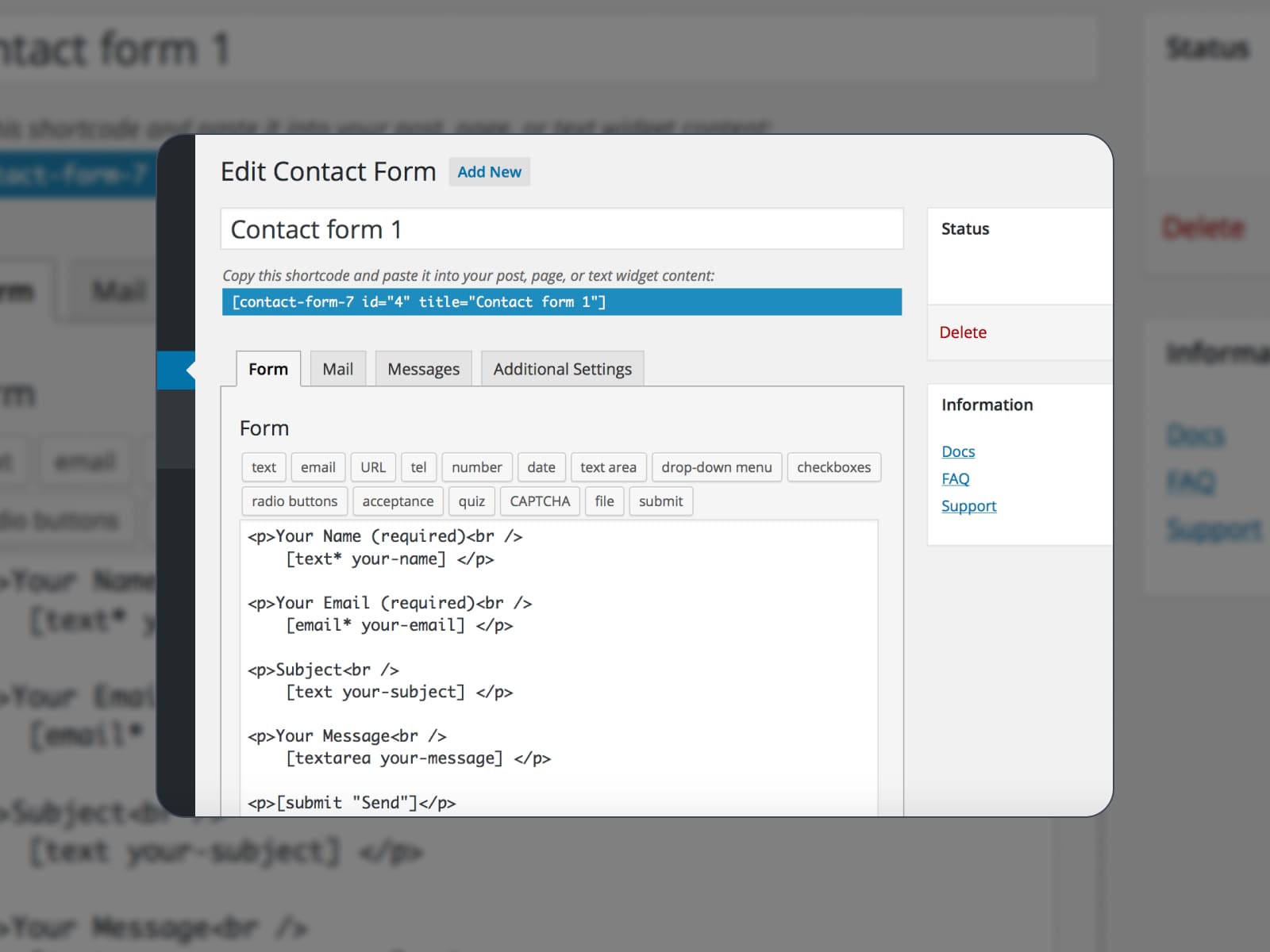 Contact Form 7 remains the top WordPress plugin among WordPress plugins dedicated to creating contact forms. Why is it listed in the "Marketing and Analytics" category? That's because forms can come useful to stay in touch with the audience via received contacts or collect necessary information applied for drawing up a content plan.
The Contact Form 7 plugin provides the required toolkit. It lets you handle multiple contact forms and add a simple markup to forms and emails. Once the plugin is installed and activated, a basic form should appear on your dashboard automatically. Or else, you can create a custom form. Then, basic form fields are added.
Additionally, this plugin empowers you to configure mail delivery settings. They cover information about the sender and receiver, subject, additional headers, message body, file attachments, and automated response options.
So, its main features include:
Multiple contact forms are accessible;
A flexible markup;
A customizable standard form;
Basic form fields;
Easy-to-set-up mail settings;
Stripe integration module.
TrustPulse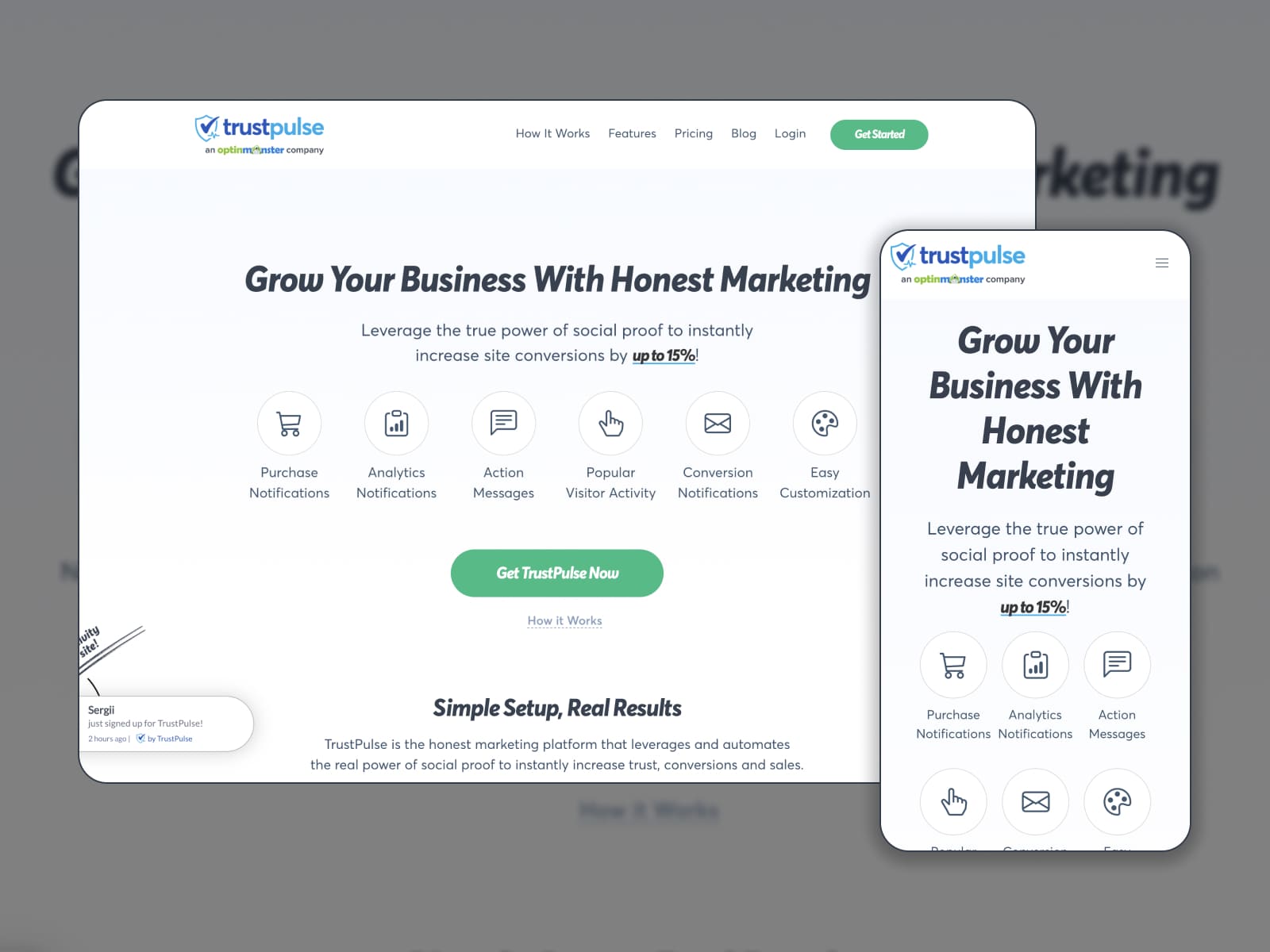 TrustPulse is one of the best ways to add social proof to your blog and increase trust. It's a flexible and reliable marketing platform that works with any CMS (including WordPress). Its design is deeply flexible. Thus, you can customize every detail. Besides that, customers' activity can be displayed on your website in real time.
It takes a few clicks to track signups (or even purchases) with TrustPulse. You need no coding skills to set up smart targeting. This option ensures that the social proof is shown to the relevant audience. "On-Fire" notifications display, for example, the number of people taking part in your blog post reading.
So, its main features include:
The smart targeting feature;
Customizable style options;
Real-time activities;
Stats available;
Support for any site-building platform.
Quiz and Survey Master


If you are looking for a free quiz maker plugin, that helps you to create amazing quizzes with tons of customization options, QSM is for you! Quiz and Survey Master is an all-in-one plugin to create optimized quizzes and survey forms. This plugin comes with an intuitive quiz interface that you can easily configure to match the look and feel of your WordPress website.
Unlike other quiz maker plugins, QSM is the most versatile and user-friendly because of its easy-to-understand profile. More than just quiz-making, QSM offers to analyze, share and profess the quiz results. With QSM addons you can add advanced functionality to your quizzes. These Addons help in making the most out of your quizzes. You can set up emails to be sent after every quiz, personalized quiz results, and a leaderboard to engage more traffic, offer certificates, etc for free.
And don't worry, the exclusive QSM themes also keep in check the attractiveness of quizzes/surveys. Whether you want a minimalistic theme with a robust questionnaire for your surveys or a colorful, fun, and easygoing theme for your brainy quizzes, QSM has got you covered.
So, its main features include:
Tons of customization options for your quizzes;
Analyze quizz results in details;
Send follow-ups.
Search Engine Optimization
You should not skip the SEO step if you want your blog to rank high in search engines. Different practices are used to get to the top of the page. There is no single-path SEO approach, but there are some algorithms plugins can work with. WordPress has many resources for you to optimize the content on your blog. This category involves WordPress plugins for launching the search engine optimization process.
Yoast SEO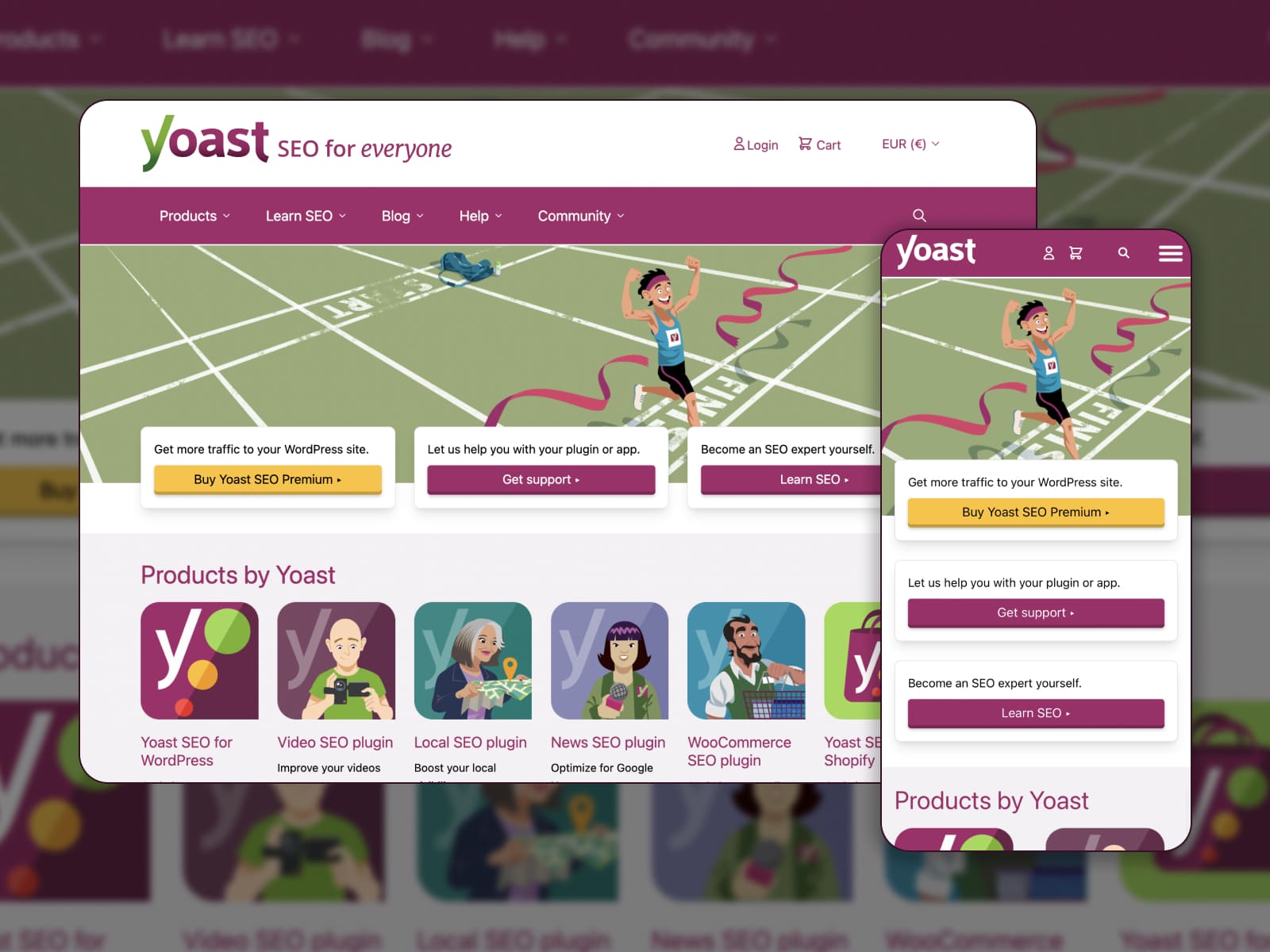 Let's start discussing this category from Yoast SEO! Millions of users stick to this WordPress SEO plugin. There is a free plan packed with basic features, but Yoast SEO Premium provides extended functionality. It helps you optimize keywords, recognize optimization prospects, and set up an internal linking structure. There are blocks and suggestions for internal linking.
Automatically added structured data makes it easier for search engines to identify your website. Yoast SEO equips you with SEO and readability analysis, optimization tools, social previews, and more options. A redirect manager prevents "404: page not found" errors. Noteworthy, this plugin works hassle-free with popular plugins and platforms.
If you check the WordPress plugins from the category 'popular', you'll see Yoast SEO on one of the top positions. That means that users keep choosing it for their websites.
So, its main features include:
Automated SEO improvements;
Internal linking tools;
Google and social preview options;
Detailed analyses based on keywords;
Support for different languages.
All In One SEO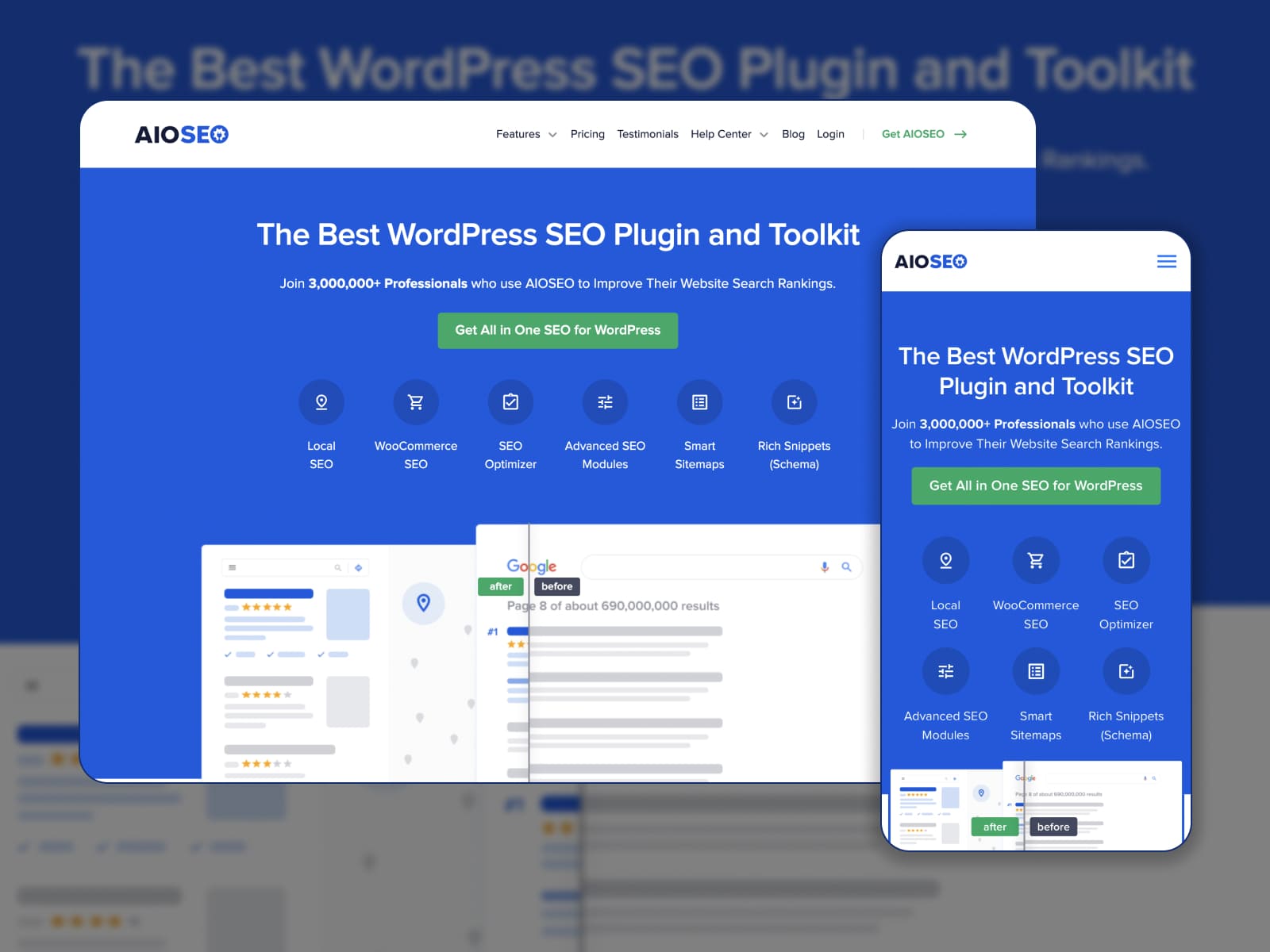 All In One SEO is fully packed with features designed to help visitors and search engines find and identify your website. Similarly to the Yoast SEO plugin, you download a free version or purchase a premium one. The latter delivers an advanced toolkit consisting of schema markup, local SEO options, smart XML sitemaps, a video sitemap generator, and more features.
The plugin ensures a proper on-page SEO analysis. Also, it supports WooCommerce SEO and redirection manager. All In One SEO allows you to check how your content looks on your social media accounts. Link assistant suggests internal link opportunities. Users choose this plugin for their websites because of its easy setup, smooth integration with other tools, and high-rated support.
So, its main features include:
On-page analysis with TruSEO score;
Support for Local and WooCommerce SEO;
Internal linking tool;
Social media integration;
XML and video sitemaps;
Redirection manager;
Insights on critical errors.
Rank Math SEO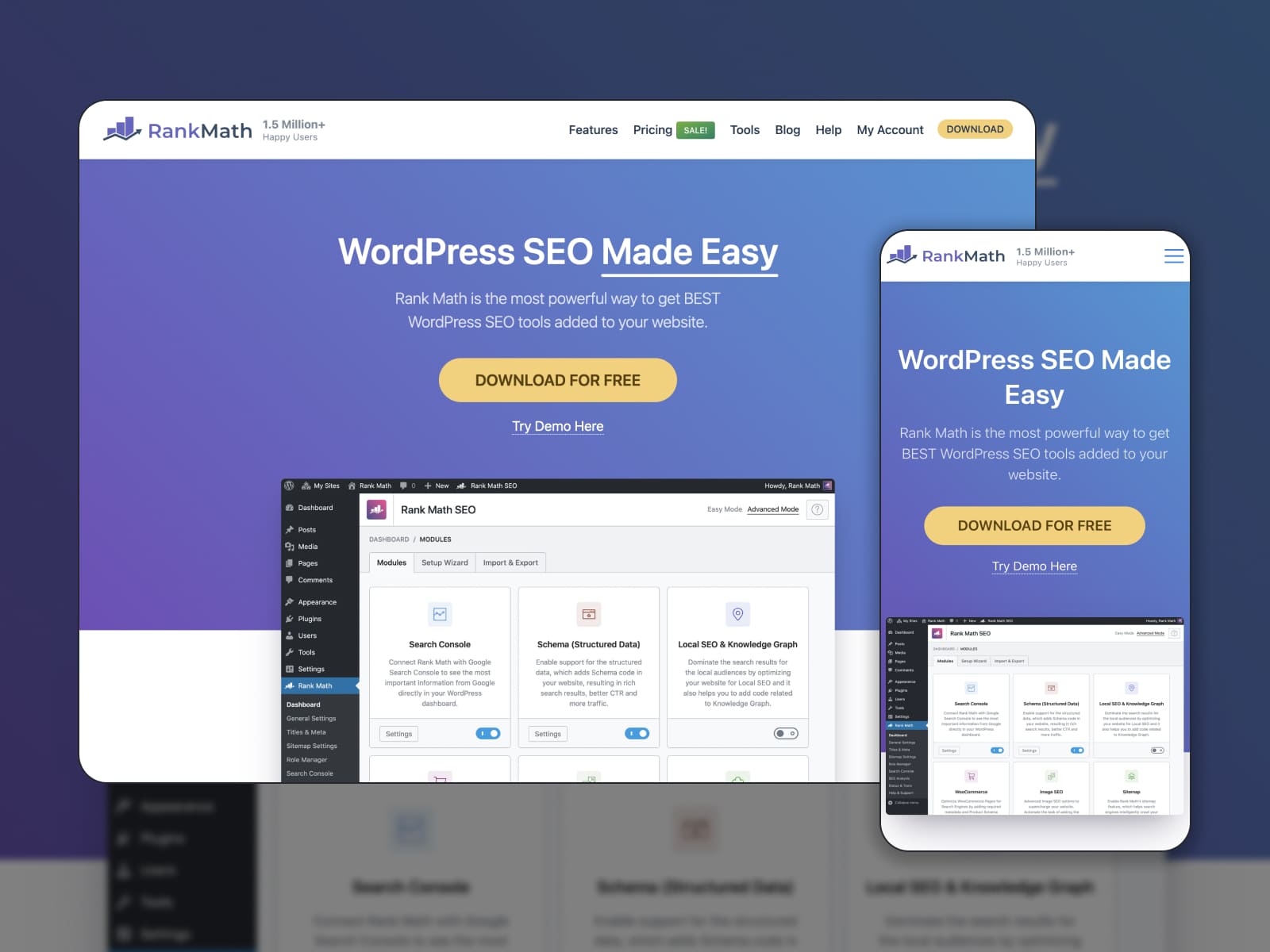 You may choose the Rank Math SEO plugin to improve your blog's SEO rankings. It is a versatile solution to perform SEO analysis, measure keyword ranking, and integrate schema markup. After an easy installation, you get recommendations on the settings you should configure.
The plugin features an easy-to-follow interface and snippet previews. What's more, you will be able to track core keyword rankings. Rank Math SEO makes it possible for you to set up 15 built-in modules and rich snippets. It supports 20+ Schema types. The SEO analysis is based on 30 factors. On top of that, the plugin seamlessly integrates with well-known platforms and plugins.
So, its main features include:
Keyword tracking tools;
A detailed analysis;
Schema markup;
Different schema types;
Easy-to-configure built-in modules.
Blog Security
You should make sure that your blog is protected from any kind of online threats. The WordPress plugins for blog security have features related to different security aspects: website scanning options, web application firewalls (WAFs), anti-spam tools, etc. The listed plugins are available for free. However, their premium versions maintain extended features.
Sucuri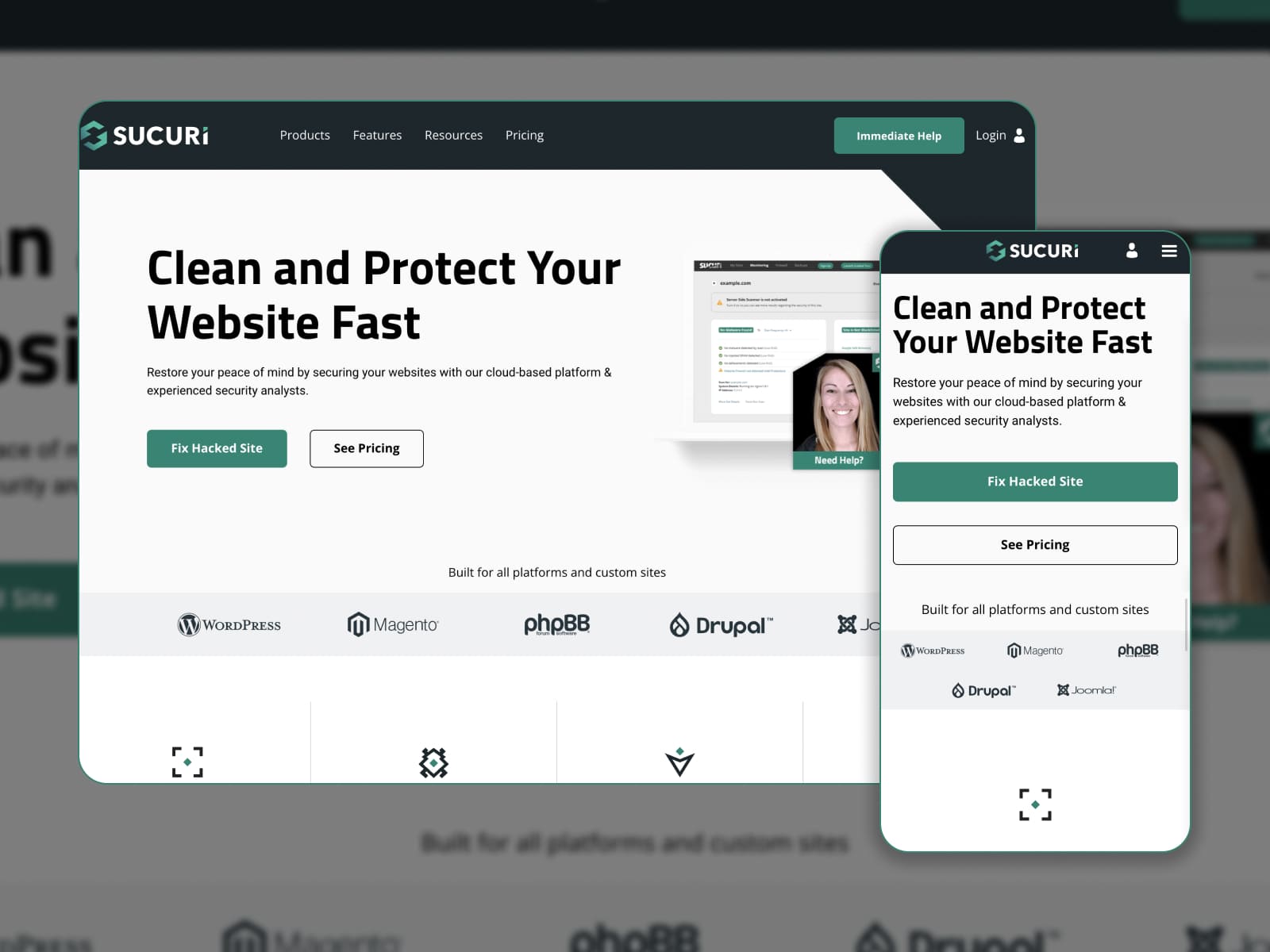 Do you need a unified solution to guard your site? Sucuri has got you covered! It's considered one of the most comprehensive security solutions built for any platform and website. With a free version, you will have your site scanned with the remote tool. The scanner recognizes any malicious code and blocklisting status.
If you are ready to pay for the website firewall service by Sucuri, you'll unlock such options as virtual patching and hardening, protected page, signature detection, and bot blocking. Email alerts and daily updates follow website monitoring.
So, its main features include:
Malware and hack protection;
DDoS attack prevention;
WAF services;
Email alerts;
Optimization of CDN performance;
IP Allowlisting.
Wordfence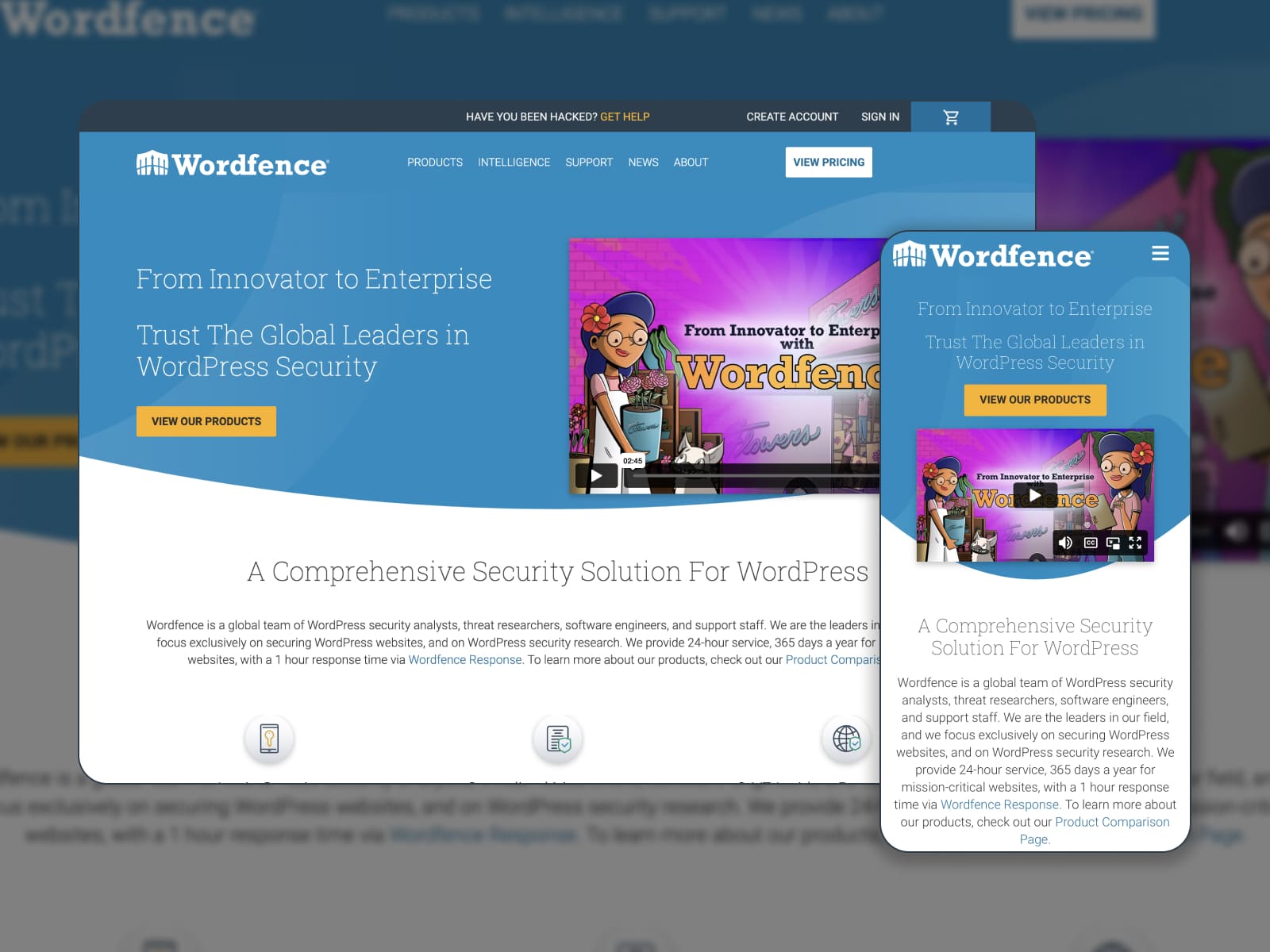 Wordfence uncovers such security opportunities as a firewall and malware scanner, the latest firewall rules, and a real-time IP Blocklist. In addition to core file checks, a malware scanner contains malware signature updates. Plus, it defines whether your files, themes, and plugins integrate with those in the WordPress directory.
You get alerts about possible vulnerabilities or security issues. The Wordfence scanner repairs the changed files and recognizes dangerous URLs in your content (posts and comments). If you upgrade the plugin to the premium version, this scanner will also identify blocklisting, spam, and more issues.
WordPress firewall detects malicious traffic and blocks it. Besides that, it limits login attempts to protect your site from brute-force attacks.
The Wordfence plugin enables a secure login process. It uses two-factor authentication, CAPTCHA stops bots on the login page, and login blocking options. Wordfence Central feature lets you manage multiple sites' security from one dashboard.
So, its main features include:
A malware and firewall scanner with a freemium toolkit;
Login security options;
Advanced security tools;
Wordfence Central for multiple sites;
Country blocking.
Akismet Spam Protection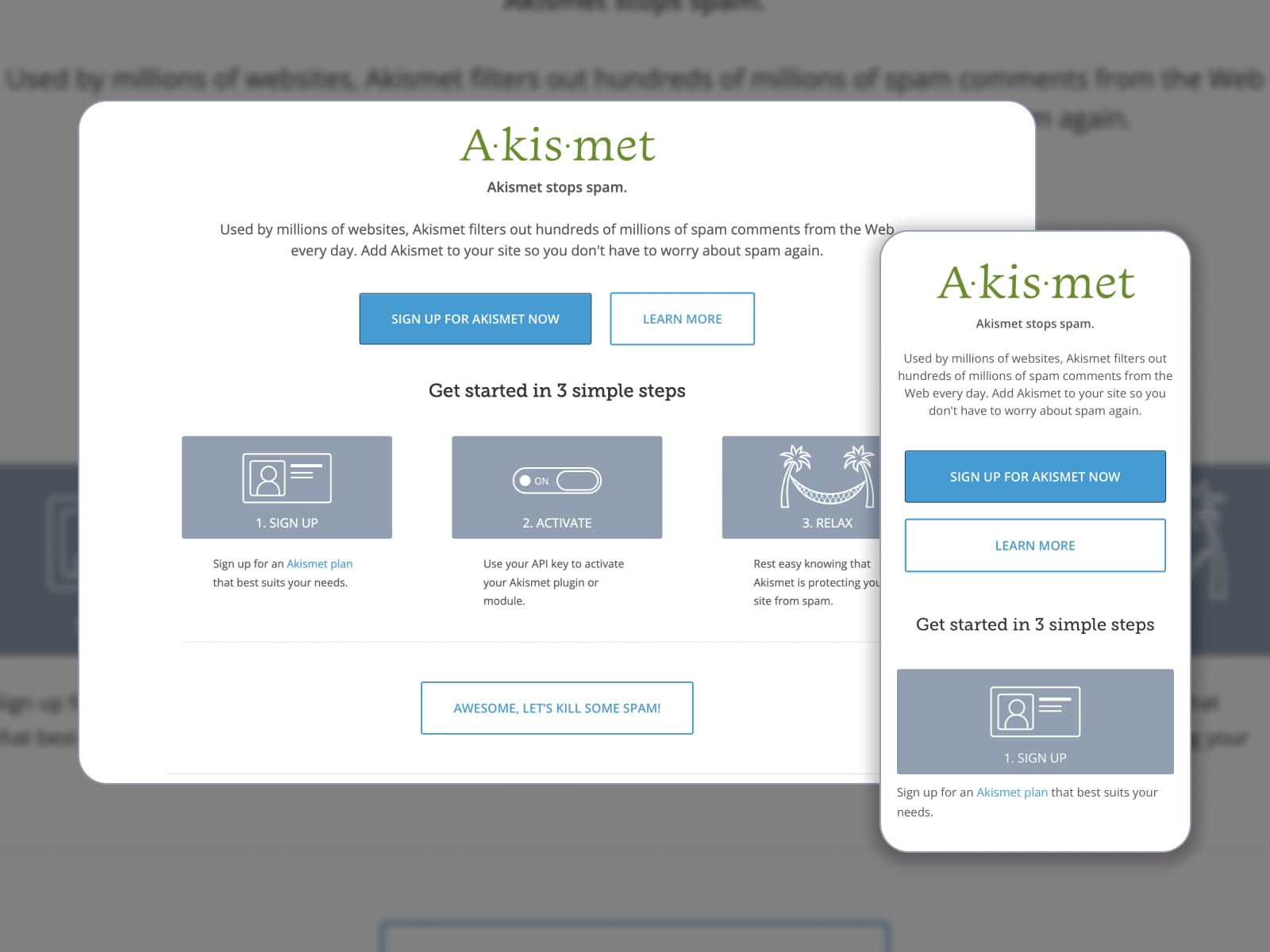 Have you heard anything about spam? It deals with unsolicited messages sent in bulk. They mostly appear in the email inbox. But the comments and contact from sections on blog pages are also a "great" space for these commercial messages. And Akismet Spam Protection is a free WordPress plugin that offers its users to clean and protect their websites from spam.
All the comments are checked automatically. It's easy to view the comment history showing how its status has changed. Spam comments usually contain malicious or misleading links. And Akismet marks this issue too. Admins are allowed to view the number of approved comments for each user. The data is displayed in the 'Comments' tab.
So, its main features include:
A history of comment status available;
A discard feature;
Link control;
Automated filtering of spam comments.
Working with Images
Images have an impact on different aspects of your blog. Especially if you'd like to share many high-quality pictures. Since visual elements greatly affect page loading time, image size is crucial for your blog performance. So, images should be not only beautiful but also optimized. In this case, they won't slow down your website and will look appealing in the articles. Let's discuss the top-notch plugins for WordPress blog images!
Smush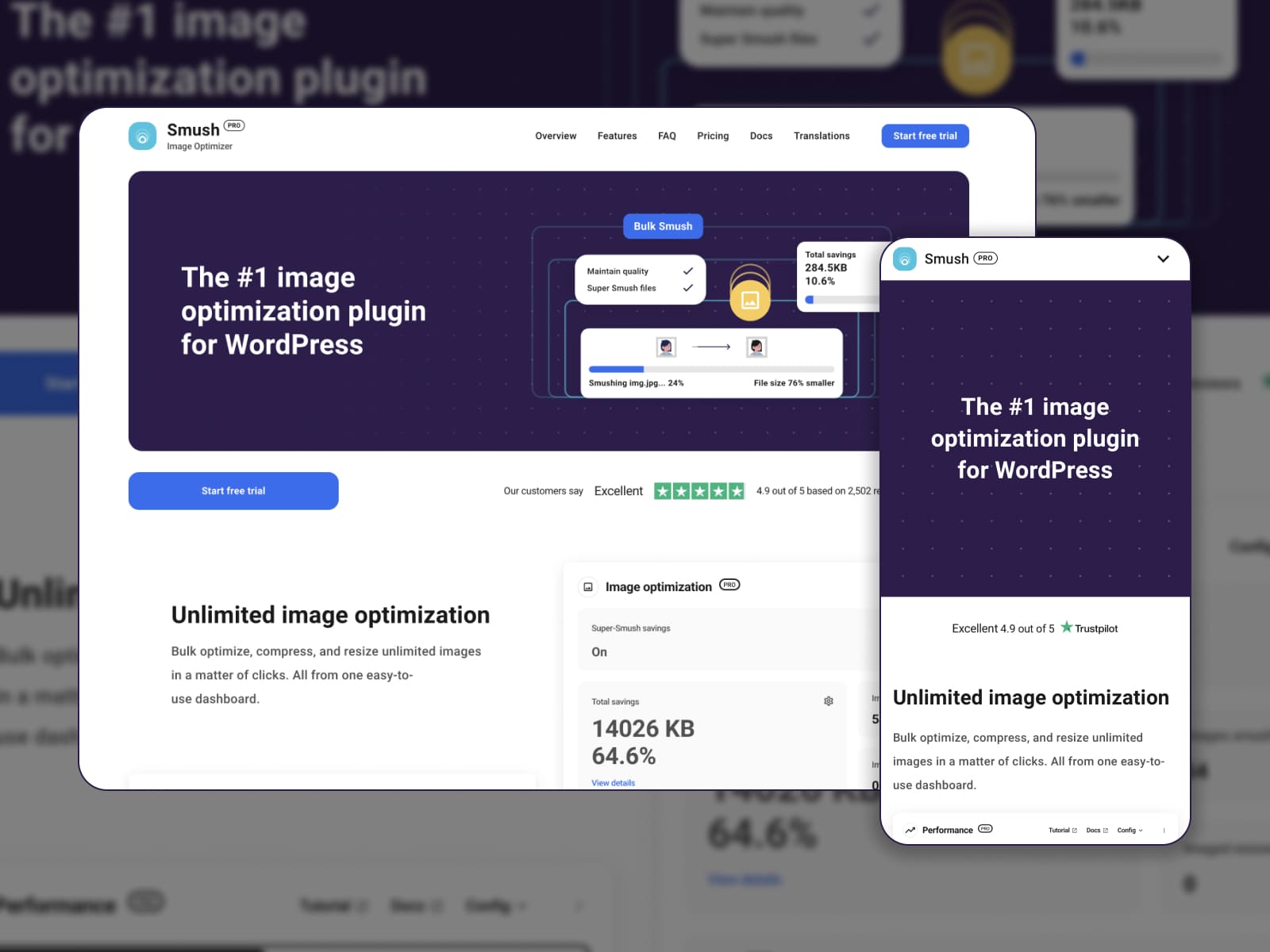 Smush is designed to have a positive effect on your blog images. Namely, it works for effortless image optimization to make them load at a blinking speed. This process implies their compressing, resizing, and lazy load functions. What's important is that optimization is carried out without visibly affecting quality.
Lazy loading suggests that offscreen images are displayed with a delay. The Smush plugin recognizes the wrong sizing. This plugin is available without limits for all file formats. You can see the stats in the Gutenberg image blocks. If you close the plugin, it will keep working in the back.
So, its main features include:
Award-winning optimization toolkit;
Support for any number of images;
Compatible with multiple sites;
Automated optimization;
All files maintained;
Image resizing tools.
Easy Watermark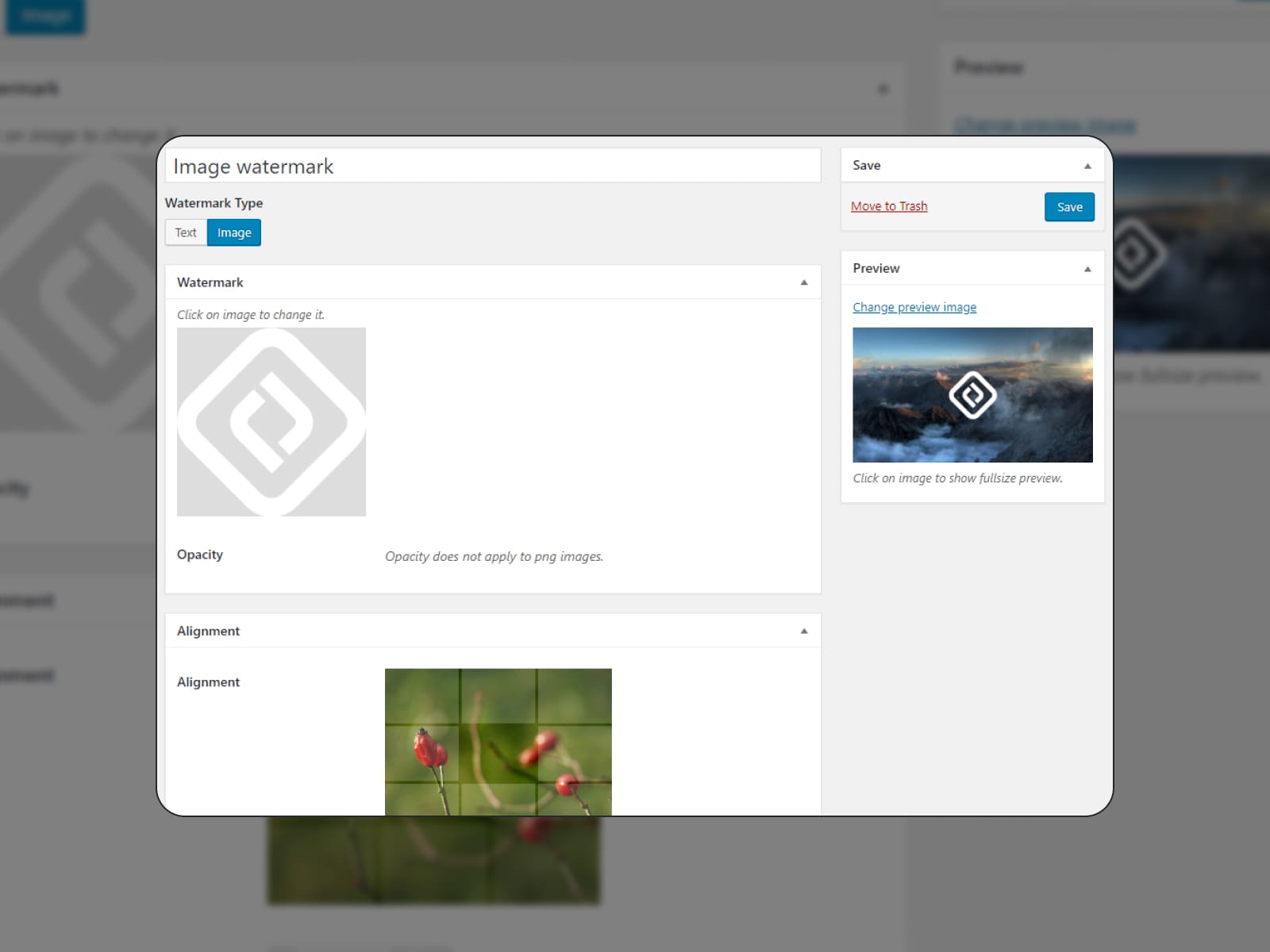 Would you like to add your identifier to the images to prevent them from being loaded to another website under someone else's name? Apply watermarks with the Easy Watermark plugin! It's one of the popular plugins for WordPress blog creators. Once you upload images to a WordPress media library, watermarks will be embedded automatically. If needed, it's possible to add them manually – in bulk or to each image. This plugin supports both text and image watermarks.
You can manage their size, position, and rotation. The plugin allows you to upload images in JPG, PNG, or GIF formats. Easy Watermark can be applied for built-in image sizes. The ability to create backups enables you to restore the images.
Use the placeholder feature packed with the text watermark to put the name of the user who uploaded the image and the upload date. You'll choose from 9 fonts.
So, its main features include:
Text and image watermarks;
Easy-to-fit format, size, and location;
Works with popular formats;
Image backup functionality;
Placeholder option for text watermarks;
A set of fonts.
Regenerate Thumbnails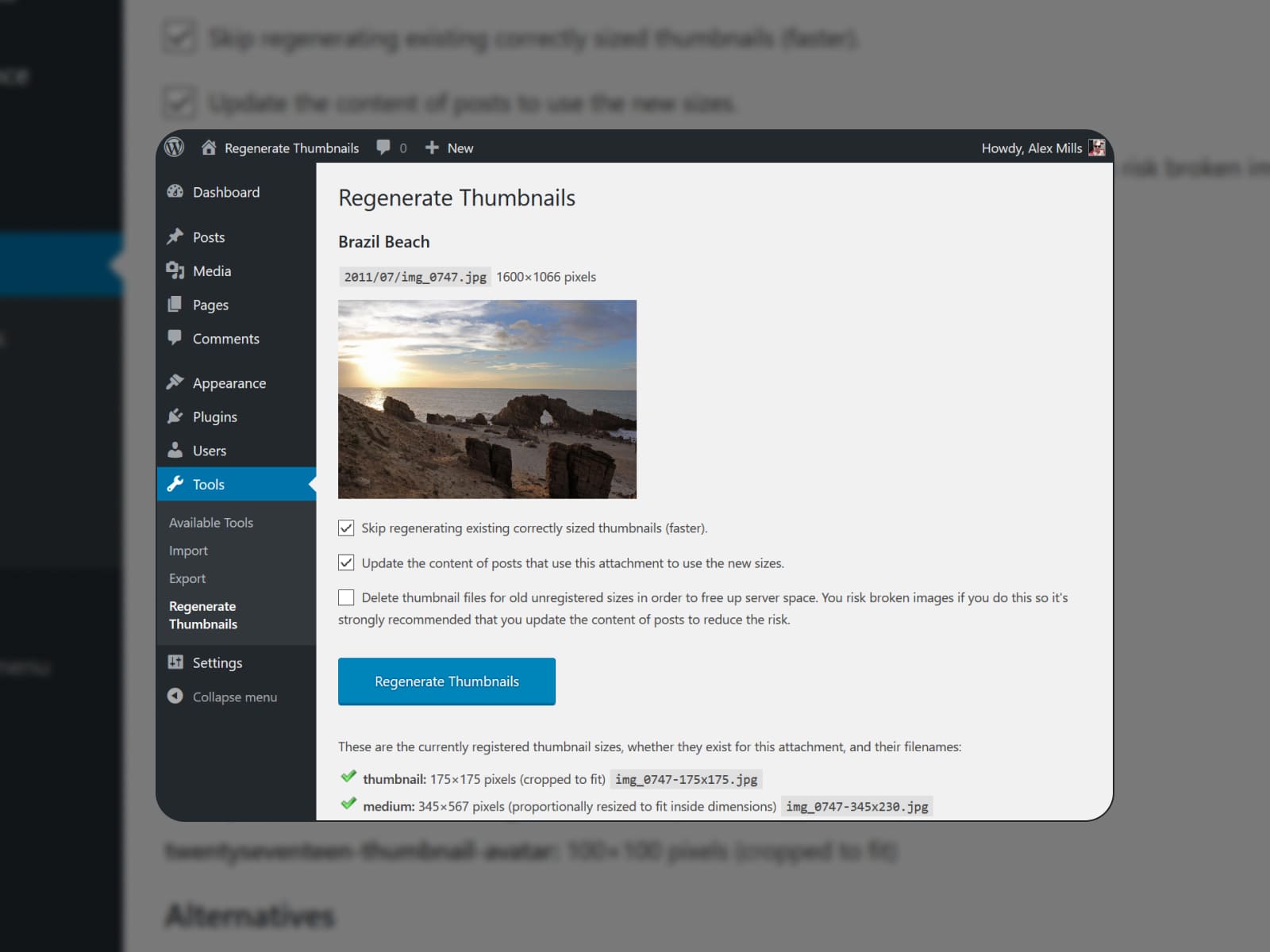 It would be hard enough to find a free WordPress plugin for regenerating image thumbnails in your blog other than Regenerate Thumbnails.
Its name hints that it provides the means for cases when you want to adjust the uploaded files to a new thumbnail size. Or else, you might need this plugin if you've modified the existing dimensions. When a featured image of your new WordPress theme requires a different size, you can resort to Regenerate Thumbnails. If you delete old thumbnails, you'll clean up space on a server.
So, its main features include:
Adjusting to a new thumbnail size;
Deleting options;
Applied for one or multiple images.
Social Media
WordPress plugins for blog websites list won't be complete without solutions to bridge your blog with social network accounts. Here, we'd like to pitch an idea to achieve new followers and traffic. And it's up to you to decide whether you want to highlight your social media in the blog. It's easy to add these plugins to your admin dashboard. Let's go further into the blurbs!
Smash Balloon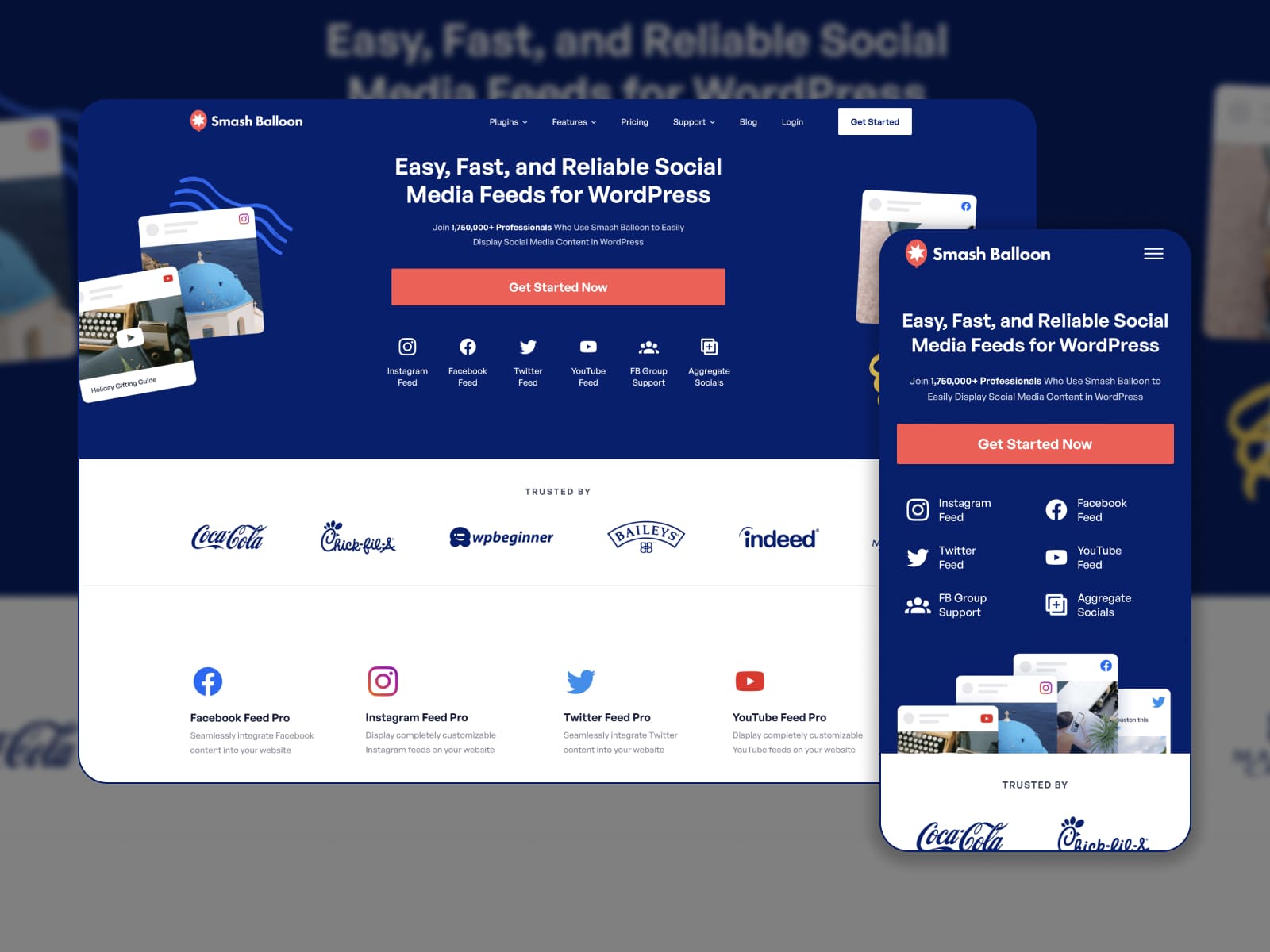 Actually, Smash Balloon is a combination of plugins to connect your WordPress website to social networks: Instagram, Twitter, Facebook, and YouTube. You can build a so-called 'social wall' composed of your social feeds. Accordingly, we'll divide its description into the corresponding paragraphs.
You need to take just a few steps to embed your Instagram feed with beautiful images and inspiring posts. It will inherit the style of your WordPress theme. You can also use in-built styling options to customize the feed.
When we talk about Twitter, you get the opportunity to show Twitter cards and posts where you're mentioned. You are allowed to set up columns, a feed layout, and post styles.
Seamlessly integrate the content from your Facebook feed into your blog with Smash Balloon! Show your posts, photos, videos, etc. in a flexible columns layout.
Are you going to insert a YouTube playlist or linked thumbnails to the videos from your YouTube channel? Smash Balloon has all the necessary tools!
So, its main features include:
Access to all social feeds in a bundle;
Easy-to-come-through customization options;
Feed backups and issue alerts;
Support for unlimited feeds.
Revive Old Posts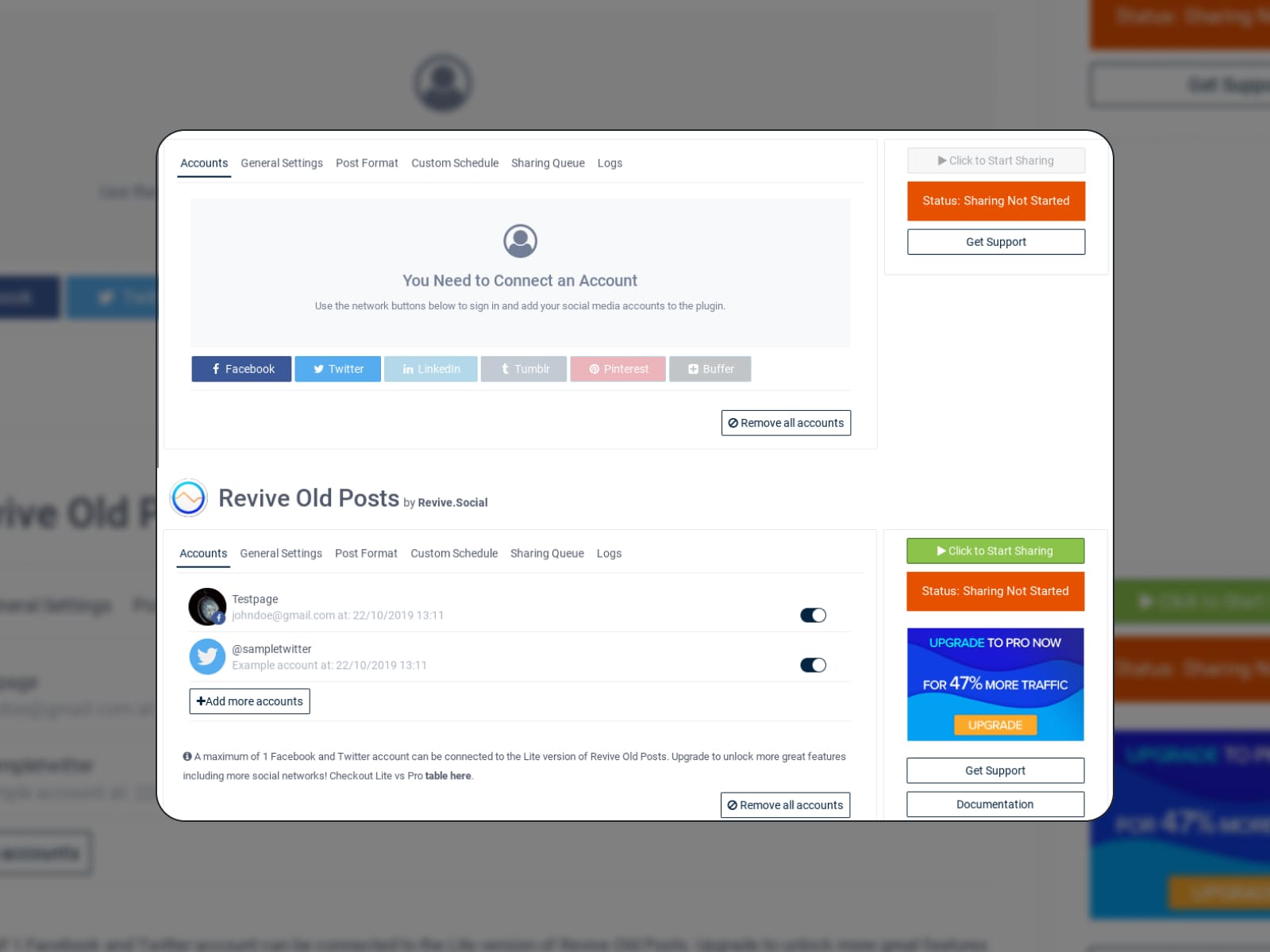 What about automated sharing of the blog content to your social media? Then, you won't need to log into each of the accounts and link your blog posts there. Revive Old Posts is an out-of-the-box solution to do it automatically!
It is one of the most well-known WordPress plugins for blog post sharing. This plugin works with all popular social media networks, including Facebook, Twitter, Google My Business, LinkedIn, and Tumblr. It perfectly suits blogs, eCommerce websites, or SMM specialists.
We'd like to spotlight the scheduling feature Revive Old Posts is prominent for. In some sources, it's even called a social media WordPress scheduling plugin. The reason is that you can set up a schedule for posts to be shared.
Urchin Tracking Modules added to the shared posts let you know the main traffic sources. You don't need to add UTM tags, as Revive Old Posts does it automatically.
If you want to exclude some of the posts from being shared, go to the dedicated settings. Auto republish feature is implemented when you update posts in your blog.
So, its main features include:
Automated sharing of the WordPress site's content;
Options to schedule sharing;
Included UTM tags to track traffic;
Content curation settings;
Revive Network addon;
Post updates.
Content Editing
In any case, you need tools to manage and edit the content on your blog. We've chosen add-ons that work with 2 of the most popular page builders – Gutenberg and Elementor. They enhance your site editing powers. You can change the interface of your blog visually without touching a code. We'll focus on their blog-related blocks useful for creating immersive content.
Getwid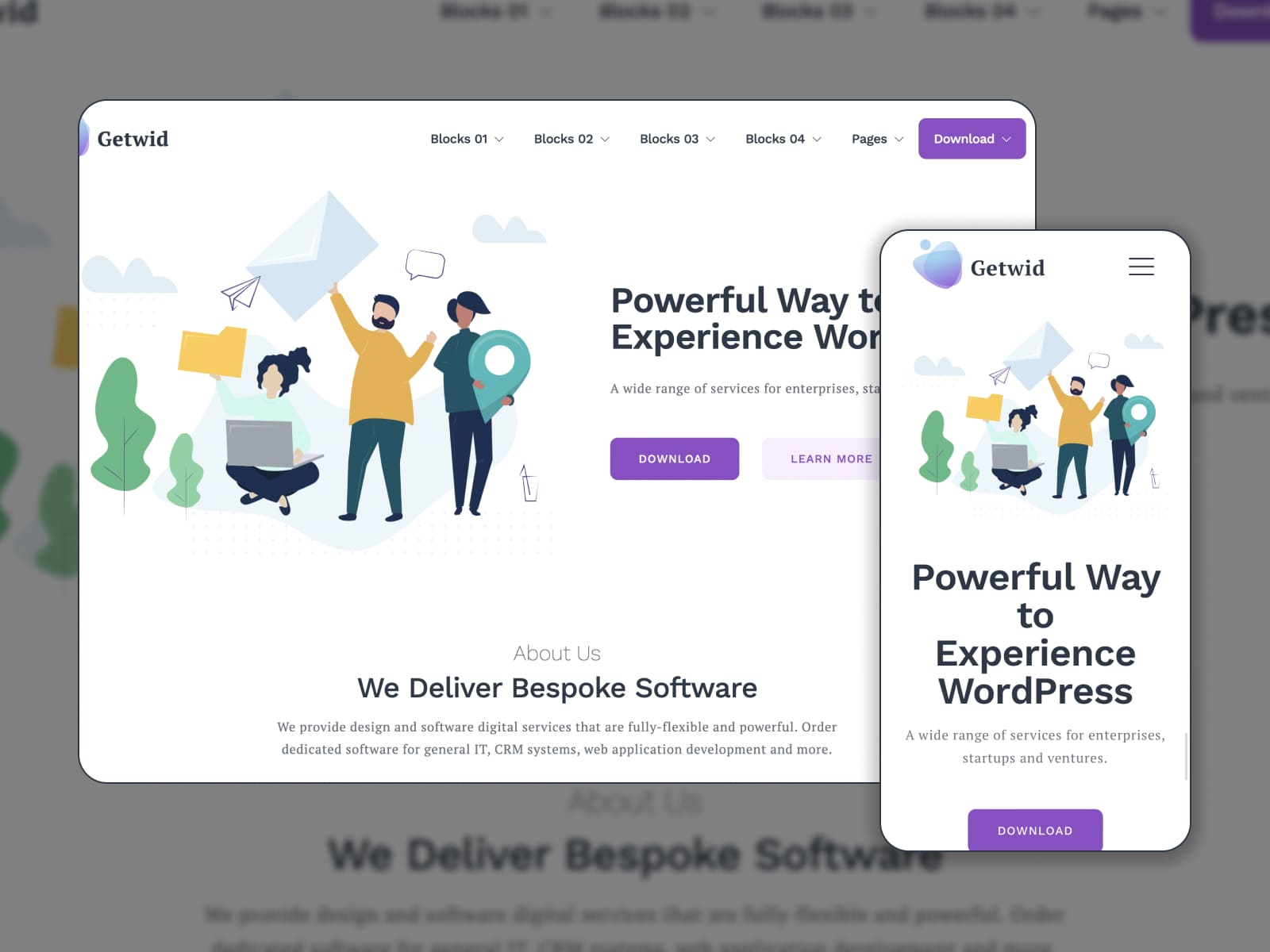 Getwid is a collection of 35+ free Gutenberg blocks that are helpful when you're working with WordPress. They cover different purposes. You'll find Recent Posts, Custom Post Type, Post Slider, and more blocks for your blog. Moreover, you go with a library of 40+ pre-crafted templates insertable in a matter of seconds.
Don't worry about your site's appearance – Getwid smoothly adjusts to your WordPress theme's style specialties. Blocks have a minimalistic design that you can style to your preferences. Use simple blocks that won't overload your site speed!
So, its main features include:
A set of free Gutenberg blocks used for multiple purposes;
A Template Library;
Blog-dedicated blocks;
Optimized for fast performance.
Stratum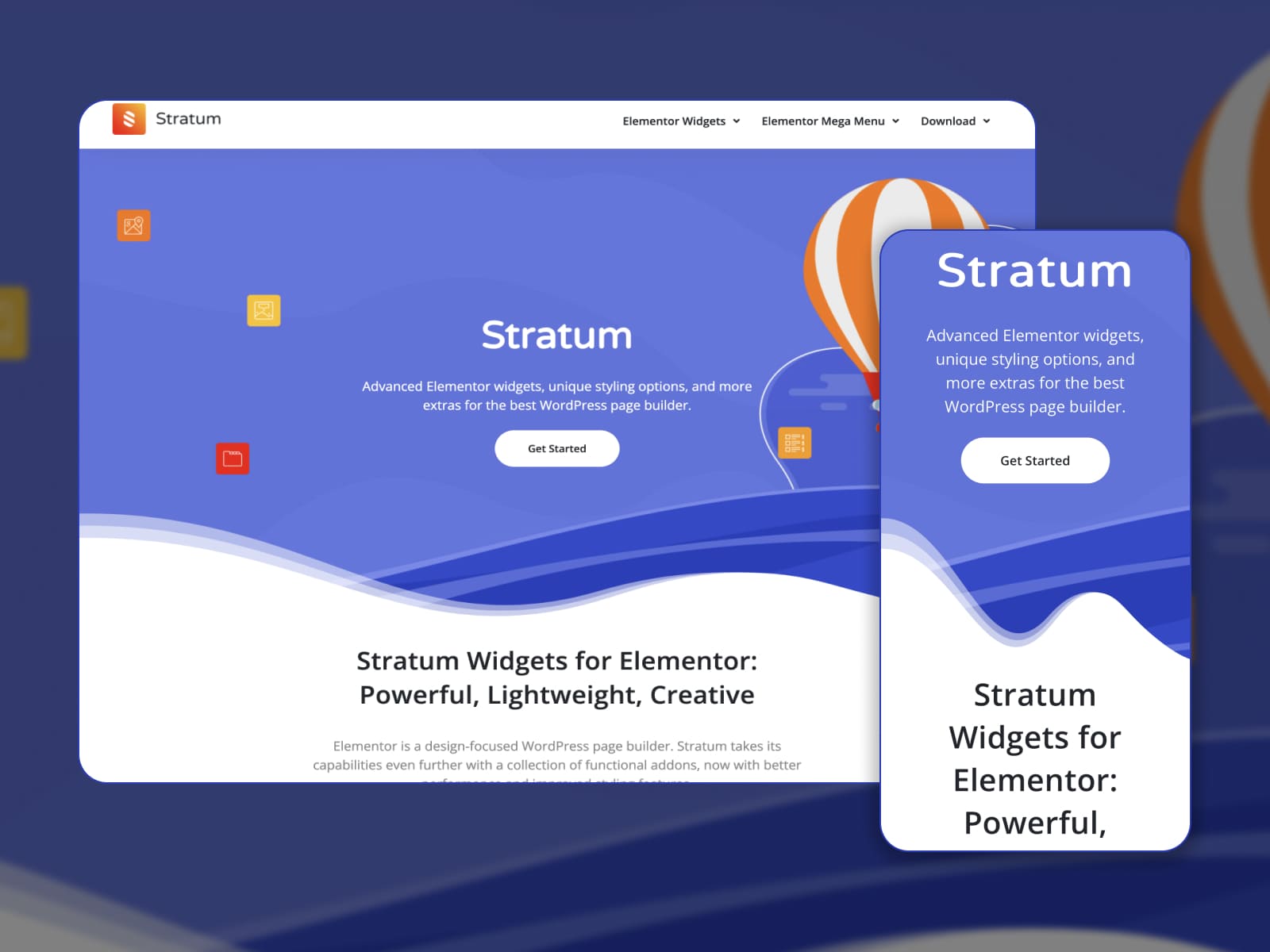 Elementor is one of the most popular page builders with a drag-and-drop feature. Many blog creators select it to manage content on their WordPress websites. However, its functionality that comes for free isn't always enough to get the most out of the site-building experience.
And Stratum introduces 20+ widgets for Elementor fitting different types of WordPress websites. They visually interplay with your WordPress blog theme. Such widgets as Advanced Posts, Instagram, Advanced Slider, Banner, and more can help you advance your blog pages.
It's worth mentioning that Stratum comes with at 6 least widgets that are free alternatives to the Elementor Pro ones: Advanced Slider, Advanced Posts, Testimonial Carousel, Masonry Gallery, Flip Box, and Price List.
Leverage the capabilities of the Stratum addon by purchasing its premium version – Stratum Pro! At an affordable price, you get extended customization options for some of the widgets and priority support.
So, its main features include:
A collection of free Elementor widgets;
Inherits WP theme style;
Meets every business needs;
Error-free integration with Elementor Templates;
Extended settings in Stratum Pro.
Conclusion
To conclude, a blog is a great place to share the desired content. However, the blogging niche requires a multi-concept approach. You should make sure that it is visible to readers and protected from any kind of common threats. It's also important to take care of performance metrics and blog design.
Our goal was to figure out which plugins are essential for effective blogging based on the WordPress website. It's difficult to find a one-size-fits-all solution as you should take into account different aspects. You can try out their functionality for free by visiting their demo pages. Now, let's wrap up the raised points!
We've considered the basic steps to get started with a blog. First off, you should take care of reliable hosting and a suitable domain name. Since these are long-term decisions, take your time and explore all the possible options. Many users opt for WordPress as a building platform for their websites.
When you choose the essential WordPress plugins for blog websites, you can't do without plugins for increasing website performance and reducing load times. Both readers and search engines won't like it if it takes too long for your blog content to appear on the screen.

According to some statistics, fast-loading websites tend to have lower bounce rates. Caching plugins help with performance optimization. We've outlined in short how it works and what are the pros of a good WordPress caching plugin.

Use dedicated plugins to retrieve stats and analytics that matter. Numbers can say a lot. Thus, you'll be able to prepare the content, send your marketing strategy in the right direction, and increase traffic to your blog.
WordPress SEO plugins – how can they help you in blog creation? They run checks to recognize factors that may block your content from being visible to search engines. You receive recommendations regarding keyword usage, post structure, internal links, and more. In the meantime, a WordPress security plugin reports when there is malware content or vulnerability issues.
Manual image optimization may take much time and effort. Especially, if your blog is devoted to travel, photography, or other image-focused niches. Entrust this work to the WordPress plugins that are in charge of image compressing, resizing, and optimization.
If you add social media automation to the workflow of your WordPress blog website, you will fill two needs with one deed. Your content will be shared on different platforms at once.
At this point, we've singled out the top 5 plugins for WordPress blog creators to intensively promote their websites:
*Please Note: prices may be subject to change.
---
Disclosure: this article may contain affiliate links for third-party products. If you click a link and later make a purchase, we may earn an affiliate commission that doesn't result in additional charges to you.
FAQ on WordPress Plugins for Blog
What plugins should I use for WordPress blogs?
First, you need plugins to protect your website from spam and attacks, improve its loading speed, backup the content and manage blog design. Other plugins are optional.

Is there a blog plugin for WordPress?
There is not a single plugin to create a blog in WordPress. Since the WordPress default functionality might be not enough, you should install and activate plugins with the functionality required for your website.

What are plugins on a blog?
Plugins for WordPress blog websites can be divided into different categories: plugins to optimize blog performance, rank high in search engines, integrate social media, receive analytical reports, etc.

Can I add plugins to a free WordPress blog?
If you use the Free Plan by WordPress.com, you can't install plugins. You need a Business plan for that.
WordPress.org is free, so, you can install plugins for free there.