10 WordPress Appointment Scheduling Plugins
It's not that hard to find a suitable WP schedule plugin if you know the key features you are looking for in the scheduling solution.
From our experience, the big things are:
the schedule flexibility, which implies whether you can or can't have an individual schedule for every staff member; the staff scheduling, in other words.
online payment processing, which is obviously the only way to automate appointment bookings on your site and monetize your web presence.
smooth and smart bookings management that will help you deal with all the data you receive through the site and also customize the booking forms to receive this data from customers.
customization of the software to see whether you can change field labels, hide form fields, or edit the look and styling of the WordPress appointment booking plugin widget; as well as how easily clients interact with the appointment booking widget on your site, how you can add translations to your language, and more.
communication and notifications for customers to automate the way you get bookings and let customers track their booking and payment data.
As for the prices for the WordPress schedule plugin alternatives, you might notice several pricing modes:
Free WP schedule plugins usually provide a limited range of tools, such as just one schedule or a limited number of bookings
Premium plugins usually give you all the needed tools, but the differences might lay in the provision of addons, e.g. some key tools might be sold separately as addons, so make sure to check this out too if the cost is of concern. Premium WordPress schedule plugins usually show you the full potential of their features.
As for the types of WP plugins for schedule, there are a few based on how they function, so the functionality difference might be in events, appointments, and rental scheduler WordPress plugins.
You might the following tutorials on our blog useful as well since they cover different scenarios:
Three Ways to Add an Online Booking Calendar to WordPress
WordPress Themes with Appointment Booking Calendars
Create a Life Coach WordPress Site with Online Appointments
We've narrowed down the selection of service booking WordPress plugins to the following roundup so that you don't need to search high and low across the net.
Let's now introduce you to a few best scheduling plugin alternatives for WordPress we love and would vouch for.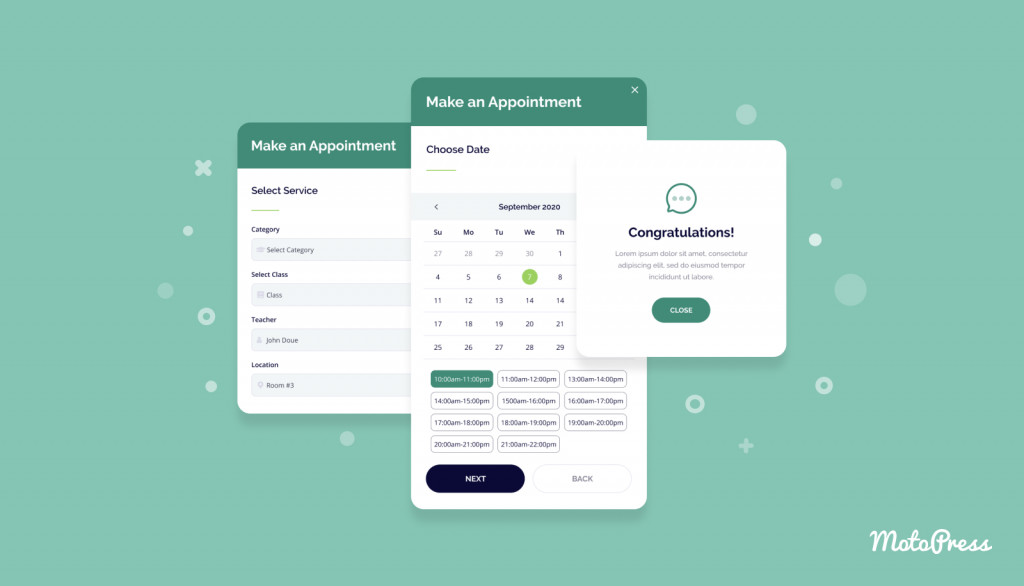 You don't want to give this solution a miss if you need something with a clear strive for simplicity and flexibility. The WordPress scheduling plugin by MotoPress provides you with a range of essential tools for selling time if you are in the beauty, coaching, tutoring, or other service industry.
Since it's capable of running for unlimited locations, employees and services, you have no constraints as to the scale of your business, be it a chain of departments or just an individual practice.
The rather affordable price of this WP schedule plugin includes online payments via PayPal and Stripe, as well as after arrival payments or wire transfers in advance.
The online mobile-friendly appointment scheduling widget is super intuitive for clients and is deeply customizable – you can hide fields or change field labels, play with pricing based on the number of people and more. Setting up the plugin is not taxing at all – you just need to add your content and then add it as a booking widget to any site page.
The reservation WordPress plugin provides native widgets for the top WordPress builders, such as for Elementor and the block editor, which means it'll satisfy the need for intuitive editing of a bigger number of themes and customers.
We'd encourage you to register a free test-drive account with this plugin and get first-hand experience without paying a dime.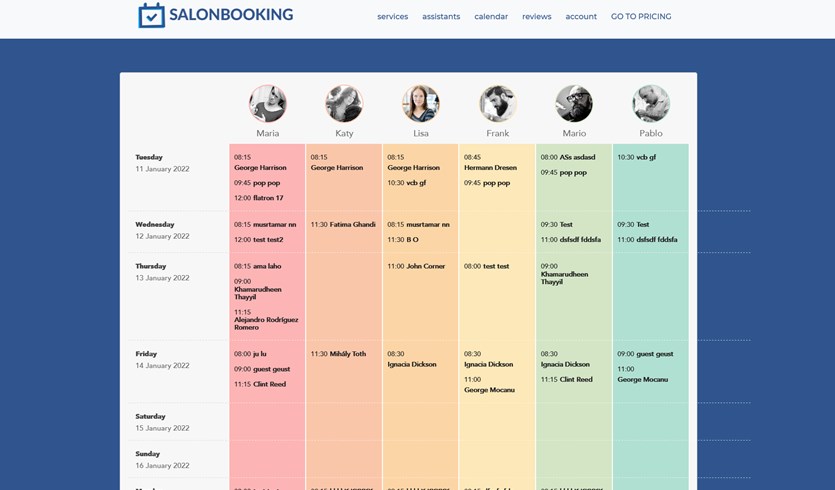 This schedule plugin for WP is one of the regularly updated, top chosen solution for the appointment scheduling needs. Despite the "salon" in the name, you can use this plugin for a variety of niches, including equipment rental, medical institutions, therapists and more.
Just like the MotoPress Appointment Booking, the Salon Booking WordPress plugin fulfills a hand pack of functions, including selling bookable services of any duration, accepting payments in advance on your site, managing multiple schedules, assistants and salons.
As for the truly unique features of this WordPress appointment scheduling plugin, it ships with the integrated SMS notifications, reminders and follow-ups for both staff members and customers. On top of that, there is a WordPress scheduling plugin Google Calendar sync, flexible customization tools for the site booking widget, and a great range of appointment booking settings.
To impress you even more, the plugin allows for conditional display for secondary services, limiting bookings to selected services, an advanced discounting system, and many more great features you won't necessarily find in other plugins.
Developers should also pay special attention to this plugin since it provides a dedicated REST API solution.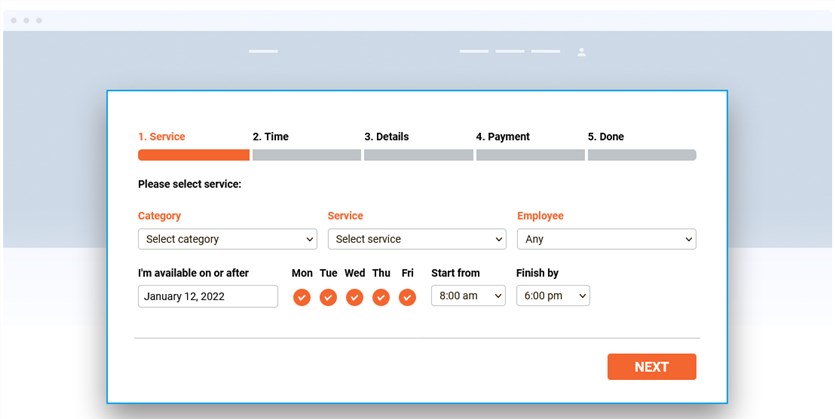 It won't be exaggerating saying it's the best selling WordPress scheduler plugin, at least on CodeCanyon, the data speaks for itself. It's being purchased with the speed of life, reaching around 10K sales in 2021 only and boasting of primarily positive reviews.
There is no need to list all the features of this plugin since it most likely has all you might be looking for in this kind of toolchain. The plugin makes it easy to set up booking slots, create individual calendars and working hours for the staff.
You can link Google calendars, video conference services for online appointments, PayPal, SMS and email notifications, ready-to-go translations, and much more great things.
But it can probably get too expensive when you need some extras that come as additional addons, such as Discounts, Group bookings, Multiple appointments booking, Mailchimp integration, Custom Statuses, Tasks and others.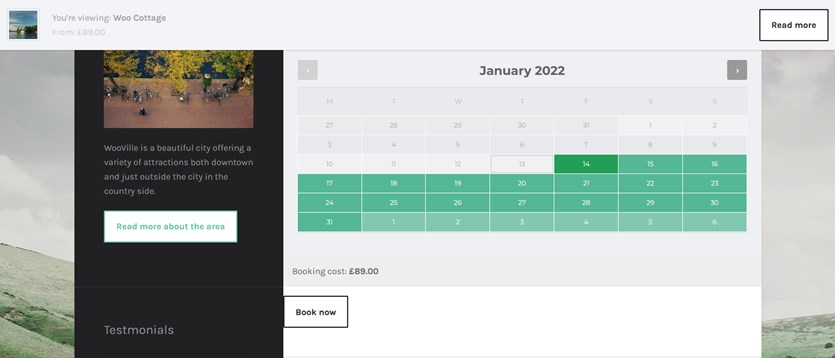 Of course, you're going to love this plugin if you want to set on the empirically-trusted ecommerce solution for WordPress. The plugin is a paid extension to the popular free WooCommerce plugin.
This particular plugin with the focus on appointment bookings gives you all you need to sell services assigned to different staff members, use WooCommerce for online payments and easily manage payments, bookings and clients.
It's a perfect solution for both one-to-one and multi-person appointments and events, with the customizable pricing for each of these scenarios. The plugin is equipped with great service and schedule flexibility that will help you work at your own pace.
It goes even further by giving you, in addition to the standard pack of features, the ability to show availability in the customer's zone, sync bookings with Google Calendar, to name just a few.
This plugin pretty much relies on the relevant addons, including Deposits, automated upselling and booking cancellation experiences, real-time service availability, options for vendors and more tools. Connecting these addons, you can make it a more holistic WordPress appointment scheduler plugin for any business.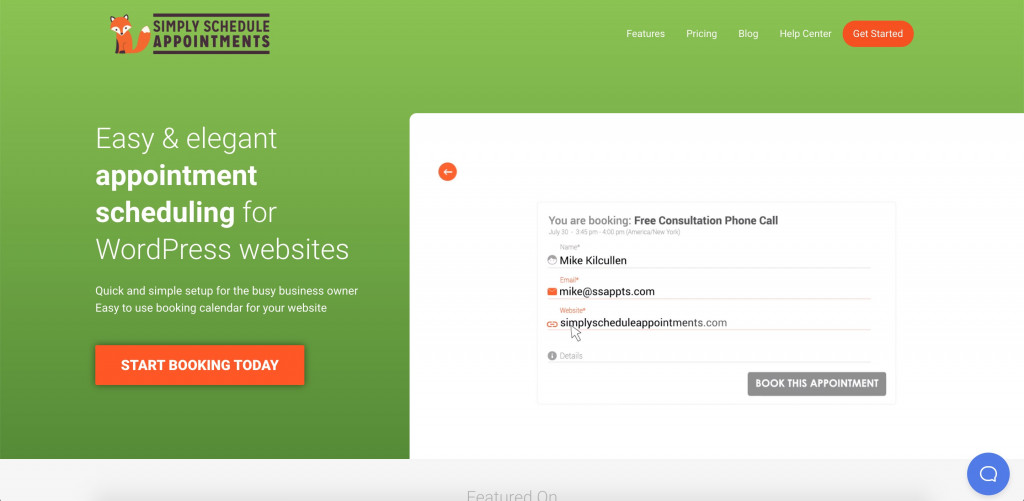 The Simply Schedule Appointments plugin is equipped with a refined and clean interface, fantastic industry-sharpened tools, and smooth integration with popular page builders for WordPress. It managed to get positive reviews only so that you already have social proof to rely on.
The plugin to schedule appointments with clients is free and allows you to integrate a working powerful booking widget in just a few steps. It also says you get a great kit to manage multiple services, staff, and locations, allowing you to scale your business smoothly in the long-term perspective.
Some advanced features, including Google calendar sync, Mailchimp integration, Stripe and PayPal for payments, Twilio for SMS notifications and other specific integrations are included only in a PRO version.
The basic version of the plugin is free, trusted, and feature-packed, so we believe it's worth giving a try, you have nothing to lose.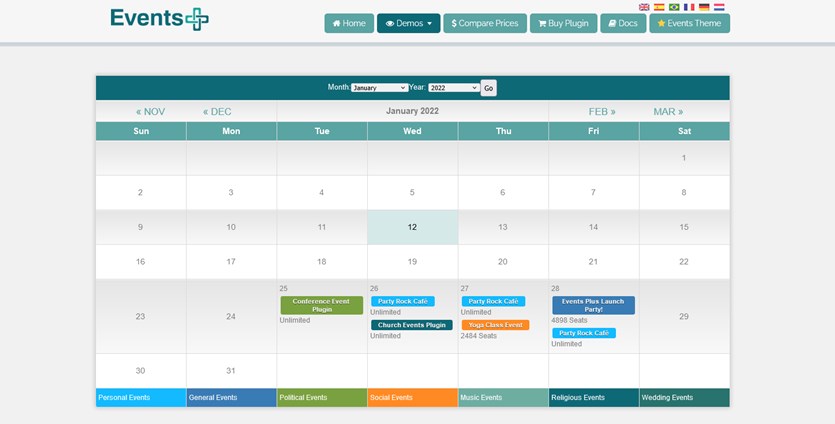 This old stand-by tries to cover multiple niches, offering tools to meet the needs of businesses that deal with seminars, events, lessons, consulting, workshops, and different venues, thus helping you integrate tickets and event registration as well if needed.
The EventsPlus events schedule WP plugin is a great tool if you need to get the all-inclusive premium plugin with extra addons in one pack for quite a moderate price.
This WordPress calendar booking plugin allows you to add a simple booking calendar where clients choose free slots and book a time or ticket right away. A selection of designs for events is sufficient, the dashboard for managing bookings and clients is powerful, all the tracking and third-party integration services are packed.
The plugin can boast of the recurring events, wait list, limited seats number per venue, and more tools for event-focused businesses. Some of you will also find a language pack, Google Maps integration, a countdown timer, and smooth online payments pretty useful.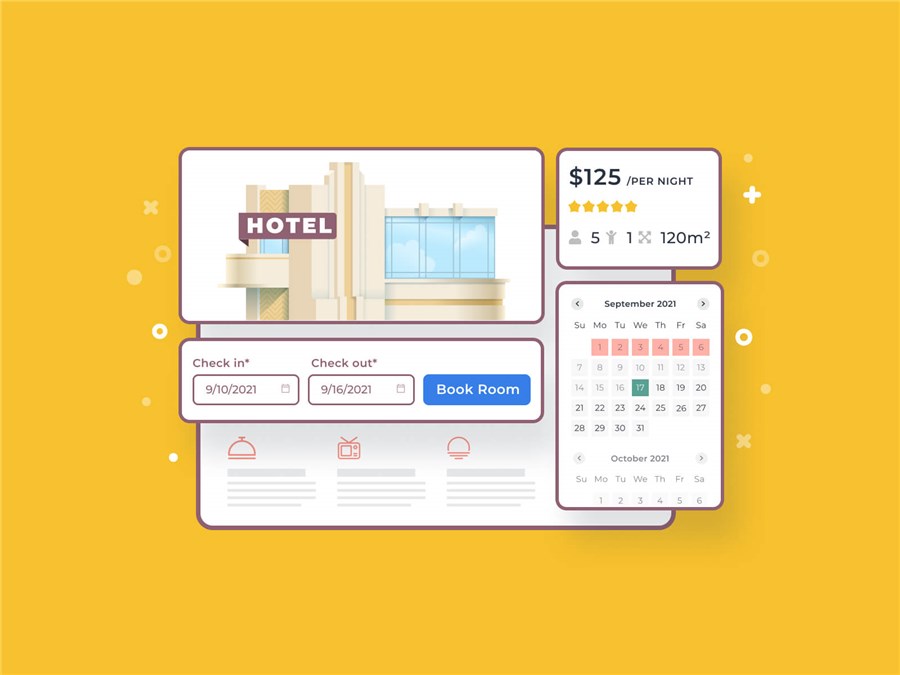 To diversify this roundup of the best WordPress appointment plugin alternatives, we thought you'd find this hotel booking plugin qualified as well in some cases.
As its name suggests, it'll help you if you need a fully-fledged solution for building a directory of hotel rooms or vacation rentals with their real-life availability and renting them out online without an instant or later payment.
To make it clear, it's not for traditional hourly appointments but rather for holiday daily rentals and related things. The WordPress calendar scheduling plugin comes with availability calendars, a property search form, and tons of settings for the booking, guest and property management.
It can be easily synced to external calendars, such as Google or Apple, as well as OTAs to allow you receive bookings from different channels avoiding double bookings. Taxes, fees, discount coupons, variability of rates, integrated payment gateways, statistics, reports, bookings calendar, payment history, managing reservations and more tools are there to help your lodging business prosper.
Its huge benefit is that you can start with a design that uses this plugin integrated and visually optimized for different WordPress hotel themes.
You can handle bookings on the phone or any other device via a Hotel Booking mobile app. It's available for free on App Store and Google Play.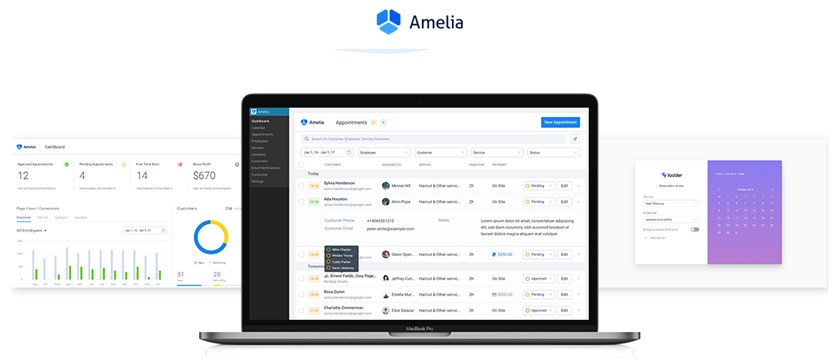 We're quite optimistic about the Amelia WP Schedule plugin, as it's is growing steadily, while constantly releasing new features, and clearly earning more trust from people.
The appointment scheduler WordPress engine helps you holistically manage employees, services, and salons and potentially take it to an enterprise-grade system.
Above that, Amelia wins your attention with awe-striking design solutions, which are no doubt important to look professional online. The kit for processing orders, managing employee schedules, and setting online payments on autopilot are there for you.
The scheduling WordPress plugin makes it easy for your clients to access their appointments via a front-end customer area. PayPal and Stripe are available by default; if you need more gateways, they also offer WooCommerce integration in clicks.
By the WordPress market standards, you'd call Amelia expensive but at the end of the day, the plugin gives you all tools without charging you for pricey extensions. All in all, they make design and usability their top priority.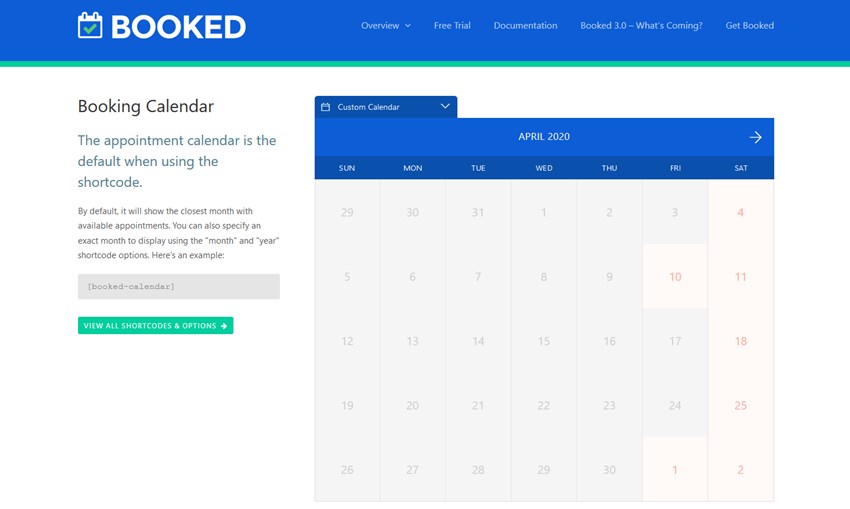 It's a nice little WP schedule plugin that allows you to manage your own site and launch easy online reservations in hours. Although it looks compact and clean, it's a killer solution under the hood when it comes to features.
We can't name an essential thing you won't find in Booked. Its developers are taking regular care of the plugin, releasing new features, and polishing the core ones for 7+ years already.
Online payment integration (including WooCommerce support), registered or guest bookings, numerous calendars and staff members, email notifications, customizable calendar view, and the ability to add custom fields are supported in Booked. Needless to say, it looks fantastic on mobile devices.
If you need a no-frills tool, Booked has proved to be a quality solution for quick and simple appointment scheduling needs on WordPress.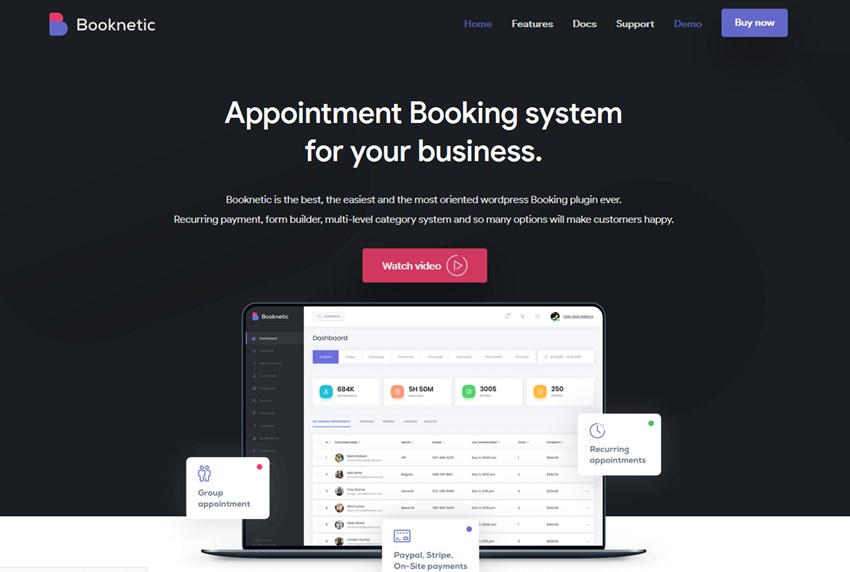 Booknetic continues to gain traction, releasing new features and polishing its great designs.
Shipping with support for multiple locations, services, staff members, and categories, you can scale it for different needs.
The WP appointment scheduler plugin positions themselves as a very user-oriented, design-focused tool that can bring value to appointment businesses that prioritize these concepts; they also give a lot of attention to their SAAS version that allows you to get some independence from WordPress.
Just like some other competitors, Booknetic supports SMS and email reminders, PayPal, Stripe, WooCommerce, and Google Calendar, also evidently offering multiple tools for every role in the process (customers and employees) and insightful dashboards. Gift cards, coupons and exportable data are shipped too.
Bottom line: Get the WP schedule plugin to automate online appointments
Use the best WordPress appointment scheduler plugins to build a self-sustainable WordPress website with a focus on appointment scheduling, online payments, and numerous integrations. Let your WordPress plugin schedule appointments automatically without human interaction.
Since the vast majority of the plugins below are competitors and as a rule provide many similar features, you'll quite often need to choose between design solutions you like more, customization flexibility and, of course, the cost.
The best appointment scheduling plugin for WordPress will certainly have different names for different use case scenarios. Probably you can share a word on whether we helped you make up your mind?