6 Free Mindbody Alternatives for Wellness Business Appointments Compared
There are diverse Mindbody alternatives that are multifunctional club management solutions designed to simplify appointment scheduling and workout planning for gyms and wellness centers. With Mindbody being available as a paid service, it is only natural for gym club owners to search for something more affordable. That's why in this post we have prepared an overview and comparison of 6 free solutions that simplify the management and planning of appointments for your sports club.

Below we have prepared a short list of the SaaS products and WordPress plugins that we are going to look at today:
Top 3 Free SaaS Solutions for Your Wellness Business
Many modern gyms rely on management software provided on a software-as-a-service model (SaaS). Such solutions are mostly provided as cloud-based or locally installed software available as a subscription. Mindbody is one of the most widely known products in this sphere.
However, most of the Mindbody alternatives for wellness centers only provide time-limited free trials to help you decide whether it is the right pick for your business. That's why in today's overview we gathered solutions that offer a free plan without any payments.
SimplyBook.me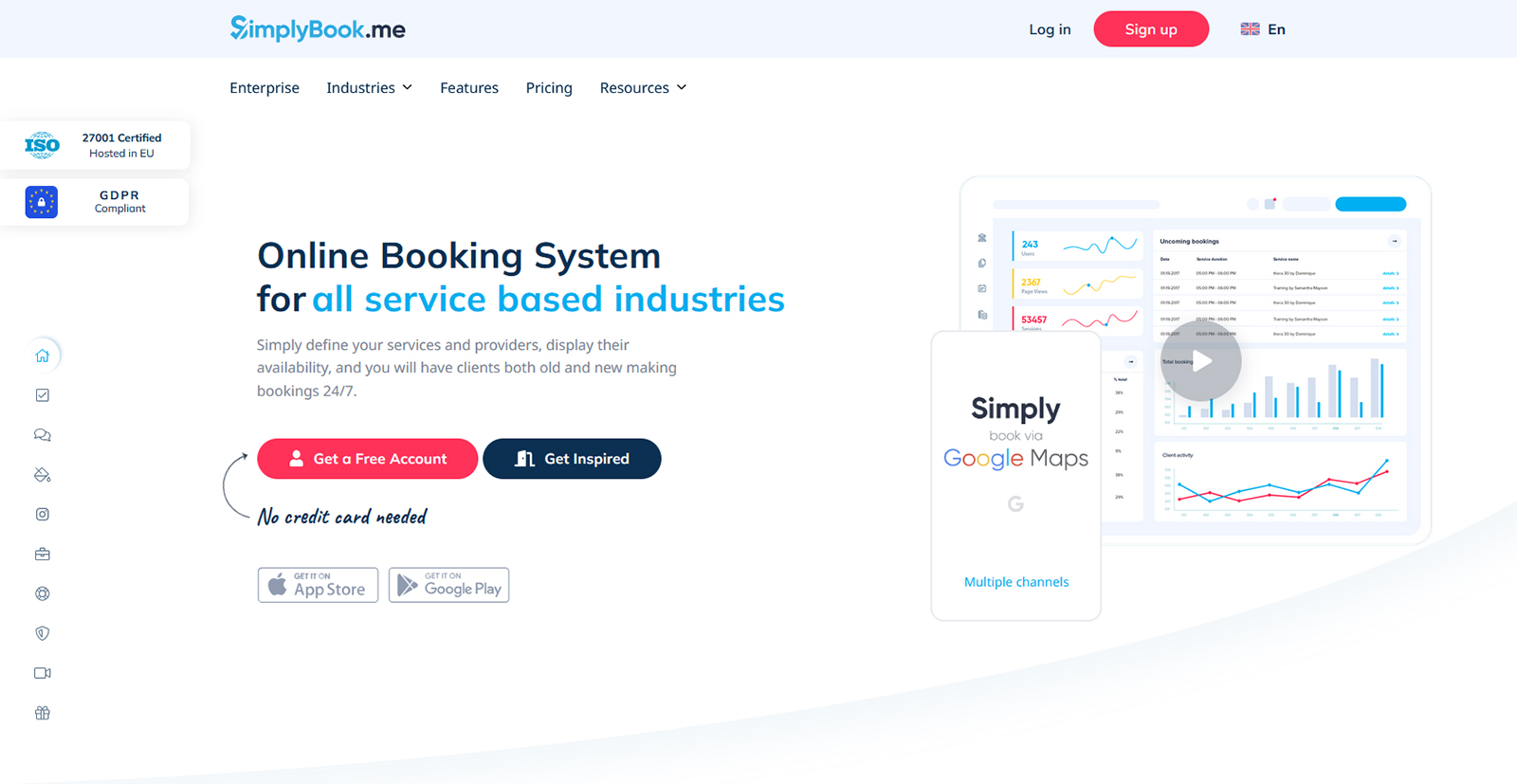 The first SaaS solution we want to talk about is SimplyBook.me. This is one of the Mindbody alternatives that is oriented towards scheduling and appointment booking unlike other fully-fledged solutions built solely for gyms. This piece of software is flexible and can be used by any business that requires booking functionality.
With its free plan, SimplyBook.me provides up to 50 bookings per month and 1 user/provider account for you and your employees. This helps small wellness centers, beauty salons, and gyms to efficiently manage the core processes. It is especially useful if you're just starting your business. Alongside these features, the free plan is packed with:
Appointment landing page with dedicated hosting;
Widget to integrate booking functionality into your existing website;
Advanced schedule management;
Payments, deposits, and tips;
Easy canceling and rescheduling;
| Name | Developer | Rating |
| --- | --- | --- |
| SimplyBook.me | SimplyBook.me Ltd | 4.4 |
Smart Scheduling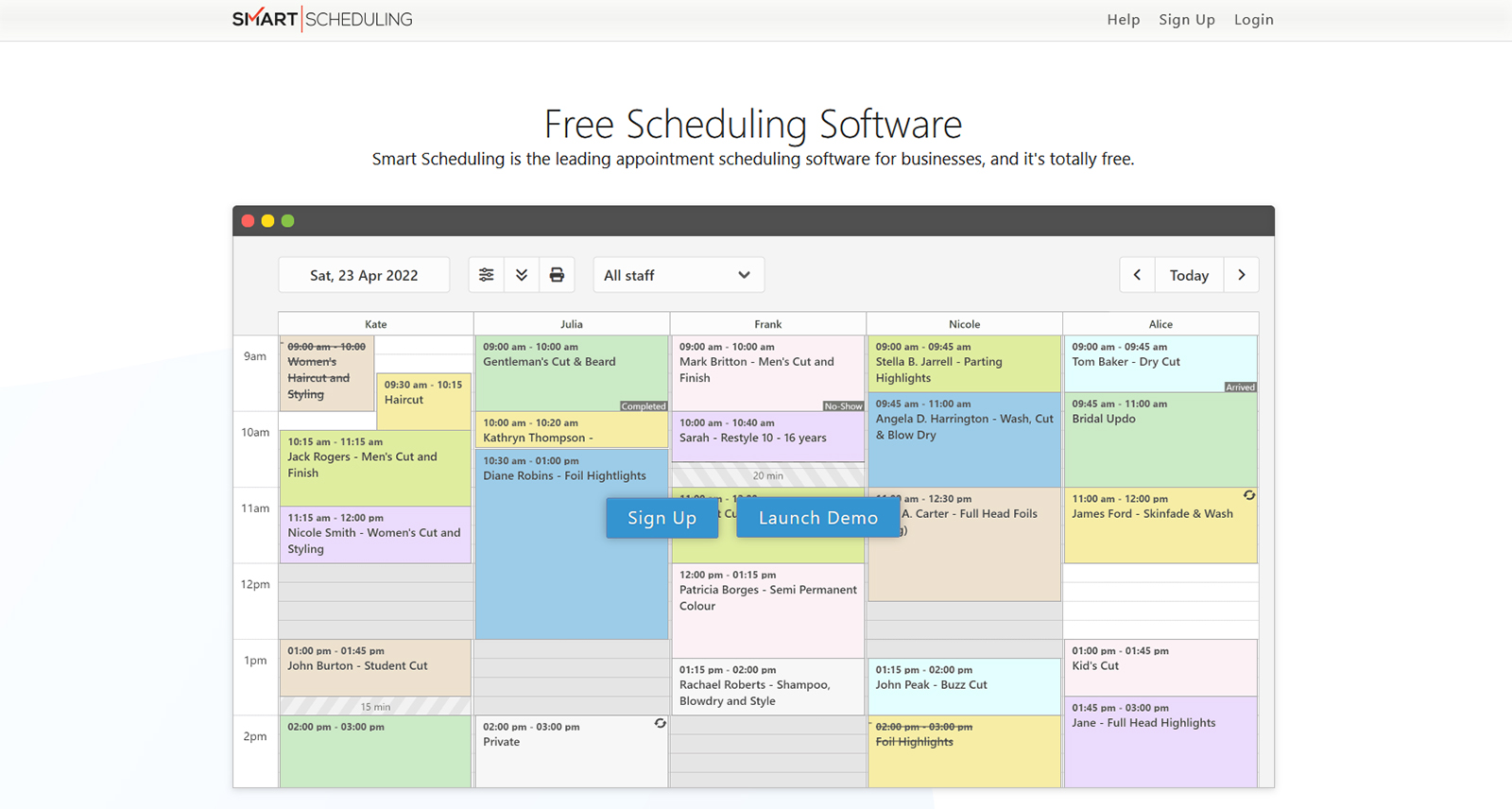 If you are looking for a 100% free solution offering customizable scheduling & booking functionality, Smart Scheduling can help you. This is one of the free alternatives to Mindbody that provides the mentioned functionality free of charge. Some optional fees are available only for SMS notifications. According to its developers, their software provides a ready-to-use online booking system that helps you to eliminate routine tasks.
Unfortunately, Smart Scheduling doesn't provide a business-wide integration into your gym's workflow. However, it is a well-developed solution that allows you to manage nearly everything that concerns your services, employees, appointments, and clients. Moreover, it is suitable for any small and medium business owners who don't want to pay extra for any unnecessary and complex Mindbody software alternatives. It also comes with a wide variety of options, such as:
Responsive booking management system accessible from anywhere;
Customizable notifications sent via email and SMS;
Different accounts for administrators, instructors, and other employees;
Daily backups of client and appointment data;
Easy-to-edit service section with custom field support;
Simple schedule synchronization with popular calendar apps;
Client base import & export.
| Name | Developer | Rating |
| --- | --- | --- |
| Smart Scheduling | Smart Scheduling | 5.0 |
PushPress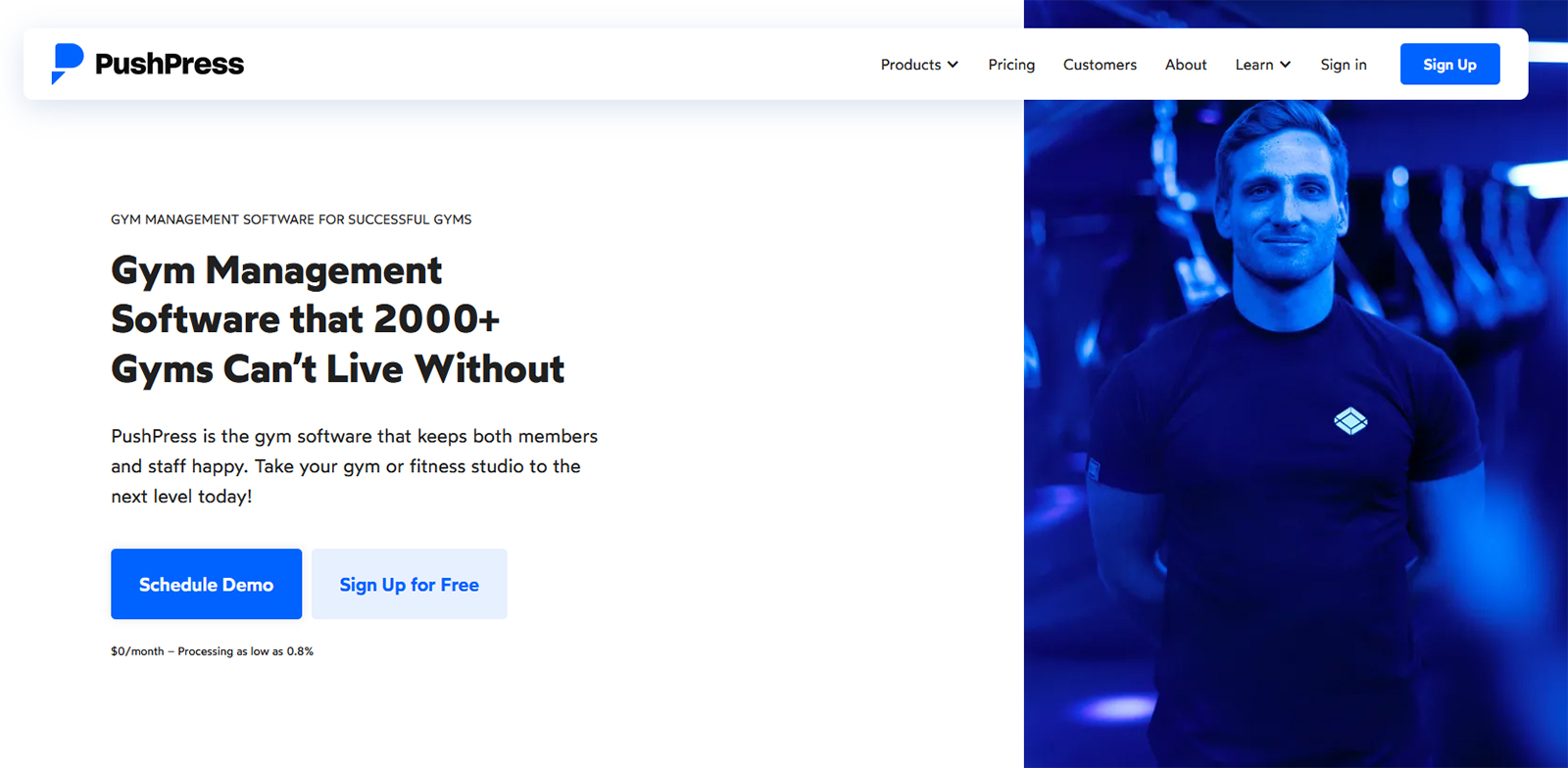 PushPress is a comprehensive SaaS solution and one of the free Mindbody alternatives designed for gyms.
It provides a variety of options for modern gym owners and employees. From managing appointments to improving your workflow, this software simplifies running a wellness business.
Whether you manage a spa or a fitness center, it can take care of your potential leads as well as make the work of your gym's instructors hassle-free. With its free plan, this product provides a limited set of features that are suitable for smaller gyms and fitness studios. The provided functionality includes:
Unlimited administrator accounts;
Up to 100 members per gym;
2 staff accounts;
Appointment management and scheduling for personal coaches;
Workout tracking;
Dedicated apps for check-ins, online stores, and gym members;
Easy data migration from any gym management system;
Support of Google Analytics, Facebook Marketing, and other online services.
| Name | Developer | Rating |
| --- | --- | --- |
| PushPress | PushPress, Inc. | 4.9 |
Best Mindbody Alternative: Comparing SaaS Solutions
With a diverse variety of options, it may be hard to decide what SaaS solution to pick for your wellness business. That's why we have prepared a detailed comparison table with the major features of all alternatives to Mindbody that we mentioned above.
From integrations to appointment scheduling and booking functionality, here you can find out what exactly to expect from every free plan.
| Features | SimplyBook.me | SmartScheduling | PushPress |
| --- | --- | --- | --- |
| Online booking | 50 per month | Unlimited | Unlimited |
| Calendar view | Daily/Weekly/Monthly | Daily | Daily/Weekly/Monthly |
| Event management | Yes | No | Yes |
| Member accounts/roles | Yes | Yes | Yes |
| Payment gateway | Yes | No | Yes |
| Custom fields and service categories | No | Yes | Yes |
| Email/SMS notifications | Yes | Yes | Yes |
| Appointment canceling/rescheduling | Yes | Yes | Yes |
| Waitlist | No | No | Yes |
| Employee accounts | Yes | Yes | Yes |
| Admin accounts | Yes | Yes | Yes |
| Mobile apps | Yes | No | Yes |
| Data backup | No | Yes | No |
| Multiple language support | Yes | No | Yes |
| Third-party integrations | Zapier, Google Calendar | Google Calendar | None |
3 Best WordPress Plugins for Appointment Booking
Modern appointment software for gyms and wellness businesses is a great pick if you want to have it as a ready-made system for your employees. But what about your customers? What if you already have a well-established gym website and need to add the booking and scheduling features to it?
In this case, it is highly recommended to pick WordPress plugins that offer similar functionality. With this CMS being the most popular platform for website development, integrating such solutions can be done quickly. Here are the top Mindbody alternatives that can be used to build a sitewide appointment booking system without costing you anything.
Appointment Booking Lite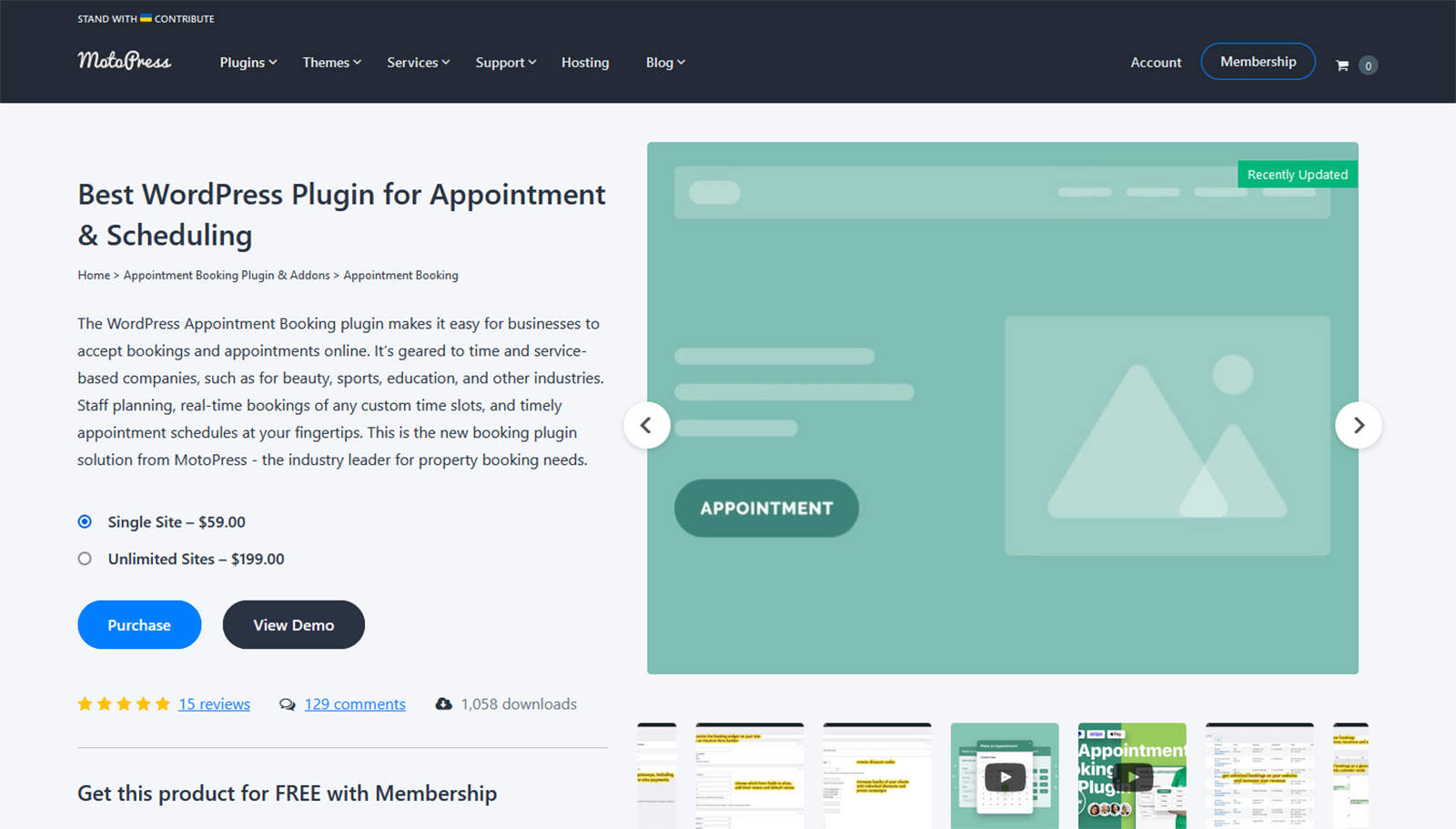 If you run a gym or a beauty salon and want to effectively manage all your appointments and schedules of your employees, choosing the Appointment Booking Lite plugin can help you solve many routine tasks. From automating appointment notifications to making workout bookings easy for any website visitor, this solution will match your business needs at any stage.
It is fully customizable and can be integrated anywhere on your site using the included online booking form widget. Here are the features that you can freely use after adding this plugin to your club's website:
| Name | Developer | Rating |
| --- | --- | --- |
| Appointment Booking Lite | MotoPress | 4.5 |
Amelia Lite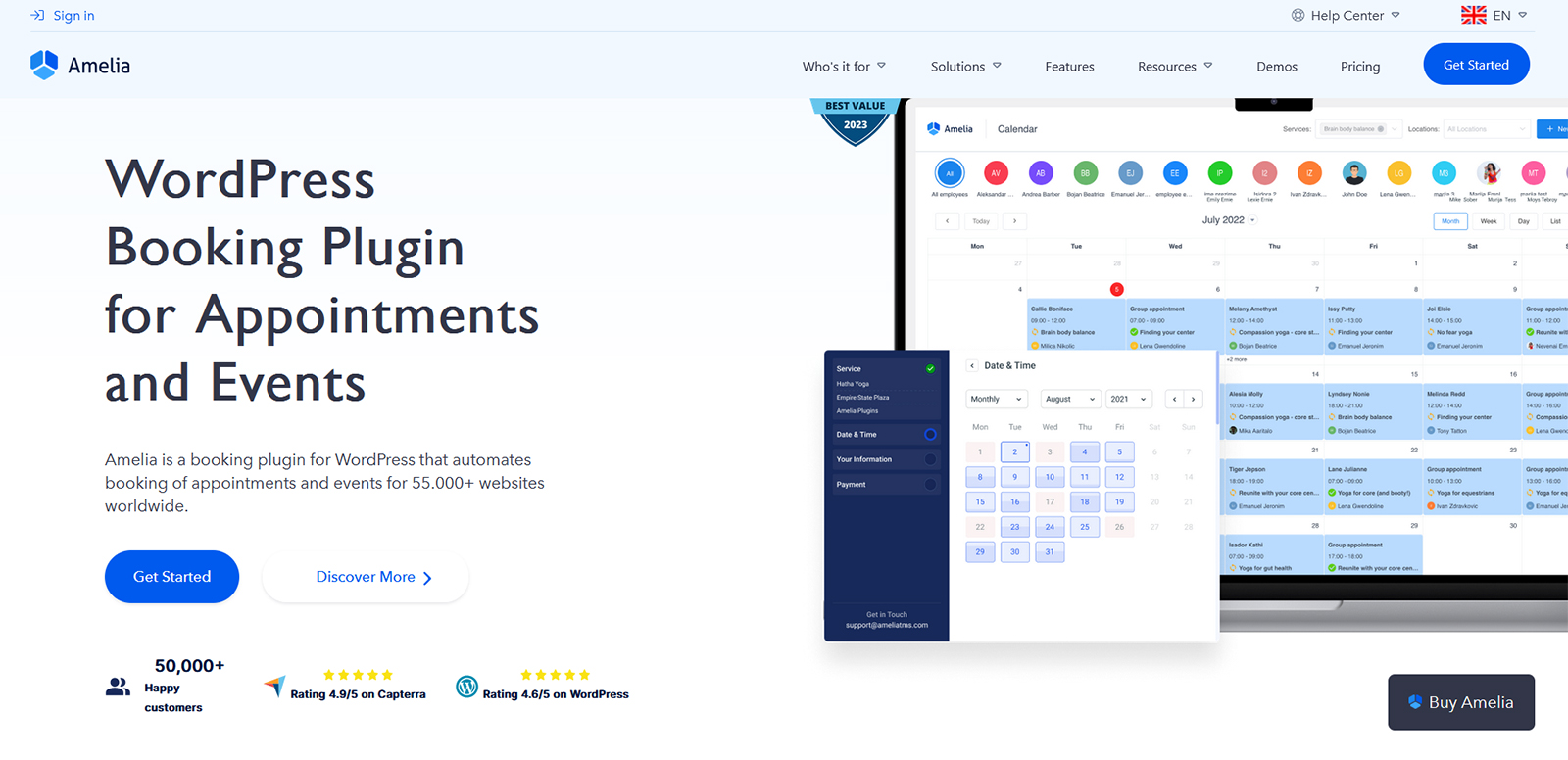 Amelia Lite, the next free WordPress plugin on our list, provides essential booking capabilities for websites within any business sphere. This solution is a fitting choice if you need something simple yet fully functional when it comes to appointment booking and planning your schedule. With a built-in Calendar view, you can conveniently view all your upcoming classes and workouts, just like in other Mindbody alternatives. Editing your schedule and available time slots is also possible thanks to the well-developed backend interface of the plugin.
While most of the Amelia WP plugin's functionality is available via subscription, the mentioned features can be integrated just by downloading and activating the free version. For example, you can use the supplied shortcodes to add the booking form to any page. Moreover, there are additional benefits of using this solution for your wellness business website:
Quick configuration of service providers and their working schedules;
Tracking of your business KPIs in the Dashboard;
Double-booking prevention;
Customizable services, categories, and events;
Over 20 supported UI languages;
Simple customer base import.
| Name | Developer | Rating |
| --- | --- | --- |
| Amelia Lite | TMS | 4.5 |
Salon Booking System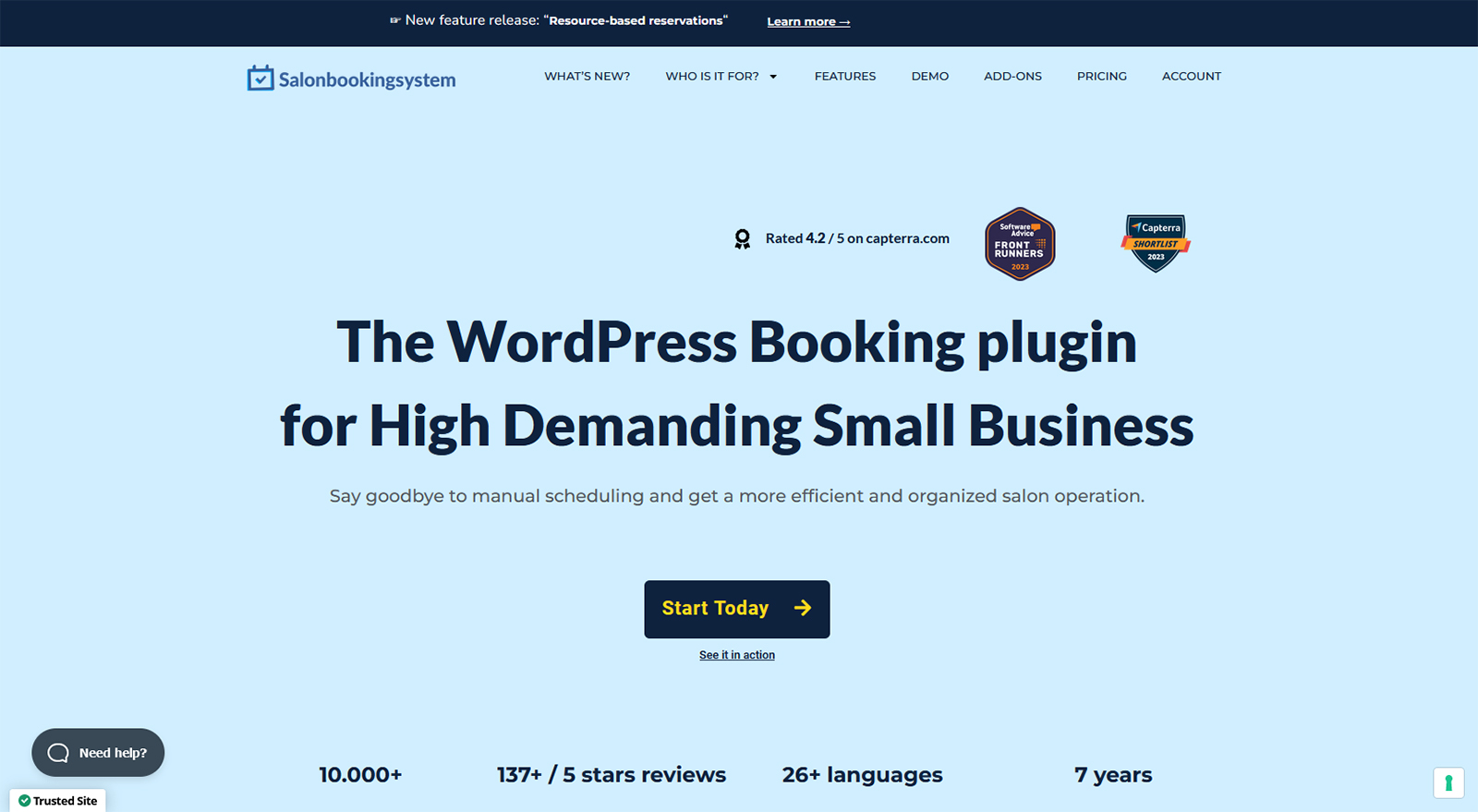 Salon Booking System is a free WordPress plugin that helps with managing reservations and appointments. As one of the ready-made Mindbody software alternatives for gyms, spas, hairdressers, and almost any business that relies on scheduling, this solution can help you integrate booking automation right after installation.
The plugin comes with varied features. They range from the back-end calendar and its diverse view options to flexible availability settings. Moreover, the plugin allows for effective synchronization with Google Calendar. It provides a customizable booking form, which is a must for any appointment plugin. For example, the form can be displayed in one of three layouts. Moreover, there are additional features available, such as:
Easy-to-configure schedule with custom rules;
Customizable service section with prices & durations;
Email & SMS reminders;
Advanced discount system with coupons;
Generator of custom color palettes for the booking forms;
Booking reports;
Add-ons for custom payment methods.
| Name | Developer | Rating |
| --- | --- | --- |
| Salon Booking System | Salonbookingsystem OÜ | 4.5 |
Wellness Business Scheduling Solutions: WordPress Plugins Comparison
These are just some of the free booking and appointment Mindbody alternatives available for WordPress that your wellness business can use.
However, even with a few of them, it is necessary to understand each of their benefits before choosing one for your website. In the table below we have gathered and compared all useful features of the three abovementioned WordPress plugins that can boost your website's functionality.
| Features | Appointment Booking Lite | Amelia Lite | Salon Booking System |
| --- | --- | --- | --- |
| Calendar view | Daily/Weekly/Monthly | Daily | Daily/Weekly/Monthly |
| On-site payment | Yes | Yes | No |
| Custom services and categories | Yes | Yes | Yes |
| Group scheduling | Yes | No | No |
| Booking cancellations | Yes | No | Yes |
| Multiple locations | Yes | No | No |
| Employee schedules | Yes | No | Yes |
| Buffer times | Yes | No | Yes |
| Coupons | Yes | No | Yes |
| Notifications | Yes | No | Yes |
| Shortcodes | Yes | Yes | Yes |
| Widgets | Yes | No | No |
| Multilanguage support | Yes | Yes | Yes |
| CSV file import | No | Yes | Yes |
| Third-party integrations | None | None | Zapier |
Conclusion: How to Choose the Best Solution among Free Mindbody Alternatives
Modern SaaS solutions and WordPress plugins provide a wide range of unique benefits. No wonder choosing one of the free alternatives to Mindbody that fits your business the most may be complicated. We hope that our comparison of their features will help you get a better understanding of what to expect from each free solution. To conclude, here are several factors that define the choice of a platform for your wellness business booking functionality:
Responsiveness and cross-platform availability: Having a responsive form or a cross-platform app for appointments can easily make your booking website more suitable for customers who prefer using mobile devices for web browsing and online purchases.
Customization: The solution you pick has to allow full customization of a booking widget. From adding services, employees, and time slots to providing multiple locations of your wellness center, the more configurable the front end of your booking system is, the better impression it will have on your potential clients.
Payment gateway: Many gyms and beauty centers rely on diverse payment methods. Using specific gateways for this functionality will make dealing with payments a simple and trouble-free experience for you and your customers.
Booking management: Lastly, it is necessary to have a powerful booking management system that allows you to not just accept appointments but also to edit and configure them easily. This also includes creating profiles for your employees and creating statistical reports for more transparent analytics.
While there are more principles to consider depending on your business niche, choosing Mindbody alternatives for your gym or beauty salon will be effortless if you follow the above-listed guides. With the right booking solution, you'll be able to quickly boost your business reputation, while also creating a comfortable online space for your clients.
Disclosure: This article may contain affiliate links for third-party products. If you click a link and later make a purchase, we may earn an affiliate commission that doesn't result in additional charges to you.