20+ WordPress Social Media Plugins to Boost Engagement in 2022
Looking for the best social media WordPress plugins? Just the right time. The era of social media has created an environment that constantly nudges us into referring to social media platforms to boost engagement and traffic. If you want to stay competitive in your niche, you need to adapt.
Let's get to the point and give a brief idea into what kinds of WordPress social media plugins we'll be looking at:
Displaying social media icons linked to your accounts
Social sharing buttons
Building your following with extra marketing features
Social media analytics
WordPress social media widgets
Commenting through social media accounts, etc.
Things to consider when choosing a follow/social sharing plugins for WordPress:
How deep you want to go into customization – some plugins offer just basic icons while others allow you to tailor the colors, design, shape, size, location and more.
Support for custom post types (for example, you need your WooCommerce products to be sharable just like the regular WordPress posts).
AMP support/mobile targeting features to make the user experience on mobiles as seamless as on desktops (for example, if you are into a floating icons sidebar, make sure it doesn't overlap page content on mobile).
Auto-posting and social media scheduling features.
Support for pop-ups in WordPress sharing plugins.
Analytics tools to measure performance.
Performance optimization (if it's a bloated plugin, it might influence your performance).
Gutenberg adaptation.
So what are the best social media WordPress plugins?
Without any further ado, let's check the best social media plugins for WordPress.
Social Icons Gutenberg Block by Getwid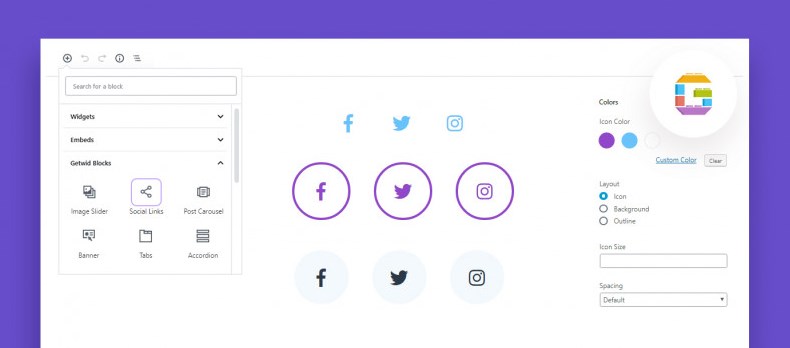 If you are on Gutenberg, it might be the best way to showcase social media links with a native WordPress blocks plugin by Getwid. It's not just one block, it's a collection of purpose-built lightweight blocks for any business or a creative website, with one block dedicated to social media icons.
It takes almost no time to set up the block so once you input the links and select the button style (there are three icon themes you can select from – plain, with background, and outlined), you are ready to go. Since the icons are available through Font Awesome, you'll be able to display absolutely any social media profile.
Getwid comes with a superpower of inheriting visual styles from your activated WordPress theme so the buttons will look pretty much native to the theme's design, without any tinkering.
It's not the only social media-focused block offered by Getwid; there is also the Instagram Gutenberg block that allows you to display a live feed of Instagram images on your WordPress website.
Social Media Share Buttons & Social Sharing Icons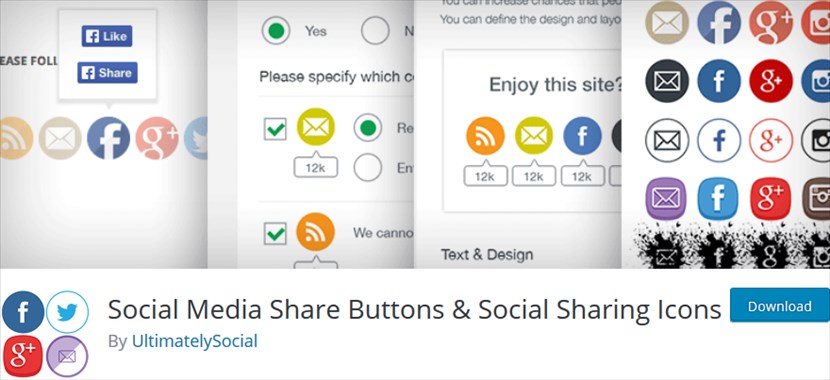 Social Media Share Buttons & Social Sharing Icons is an actively maintained plugin for adding icons and sharing buttons to WordPress. It allows you to use either default icons or upload custom ones. The real benefit of this plugin is that it offers numerous designs you can select from so it's going to be really easy to find the right fit for your WordPress theme. In addition to that, you can customize the size, color, spacing, and alignment of your icons.
You are free to add some animation effects to the icons – make them floating or sticky or even create a pop-up asking people to follow you. You may also add social media counters to your buttons.
The true power comes with the Pro version of this plugin that offers more theme design styles, enables people to follow you even without leaving your site, restricts pages for placing social icons, offers better mobile optimization and more smart behaviors for pop-ups.
FS Poster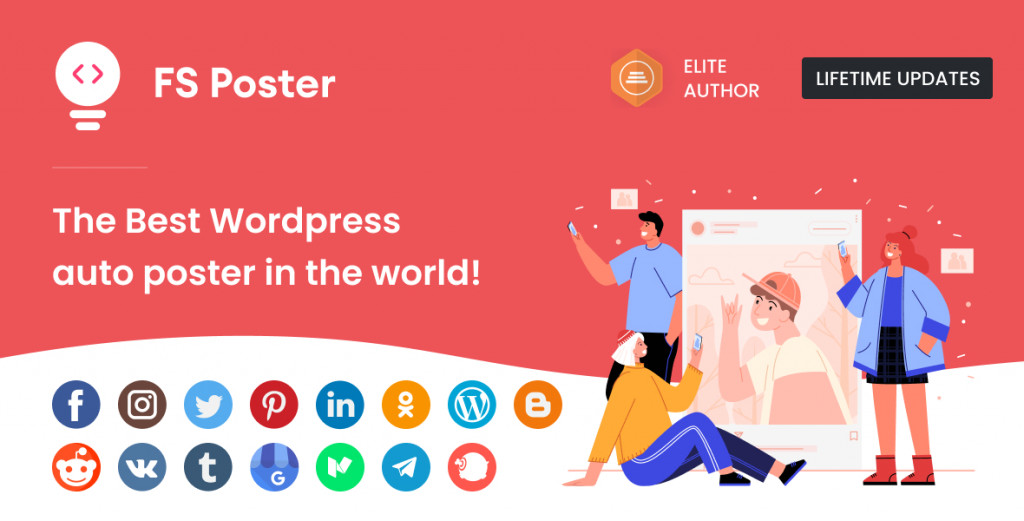 FS Poster is the best-rated and best-selling WordPress Social Sharing Plugin that automates your social media in one click. Integrated with 15 well-known social media networks users can auto-post to social media from WordPress automatically with unlimited accounts. There is also an option of post scheduling if you don't want to post simultaneously. Post-interval is the assistant feature to organize the scheduling process.
The images, videos, blog posts, custom posts, and WooCommerce products can be published on social media from WordPress by using FS Poster. With the Customizable URLs feature provided by FS Poster, users can assign a separate URL for each post to avoid canonical issues in terms of site SEO and also shorten the URL. If you want to select and schedule multiple WordPress posts to publish then Bulk Schedule will definitely come to your help. Along with all these features listed, there is also an emoji, hashtags, translation, and proxy support inside of the plugin. When it comes to getting insights about your business on social media, the dashboards will show you an engagement of your posts and also link clicks to track the efficiency of social media efforts.
If you are looking for a lifetime WordPress Social Auto Poster which is affordable and provides 24/7 full customer support then getting FS Poster for 45$ will be the recommended choice.
WordPress Social Sharing Plugin – Sassy Social Share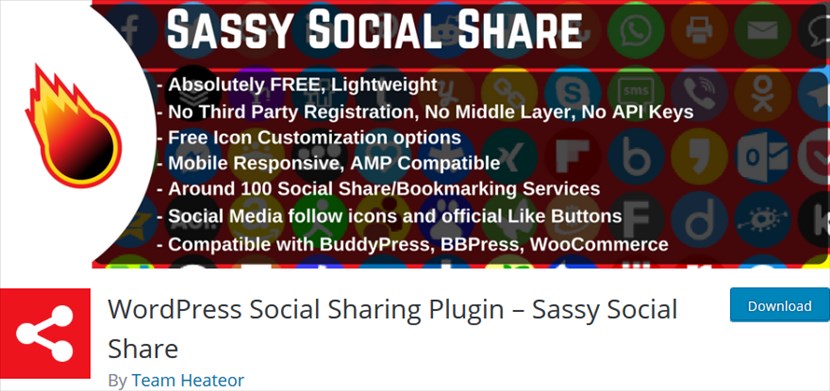 Sassy Social Share is a very popular WordPress social media plugin that adds sharing buttons and social media follow icons to your WordPress website (100+ vector icons and bookmarking services) and allows you to organize them the way you want.
The plugin supports Gutenberg and allows for a manual rearranging of social icons that by default can be placed either at the top or bottom of the page/post as well as custom post types (BuddyPress, bbPress, and WooCommerce are supported).

As for design, square, round, and rectangular icon shapes are available by default. You may also play with the button size, color, including background color, and even a share counter in this social plugin WP.
To optimize the buttons for mobile devices, the plugin allows you to enable/disable vertical and floating sharing buttons. Sassy Social Share supports URL shortening so you can customize URLs for social sharing.
AddToAny Share Buttons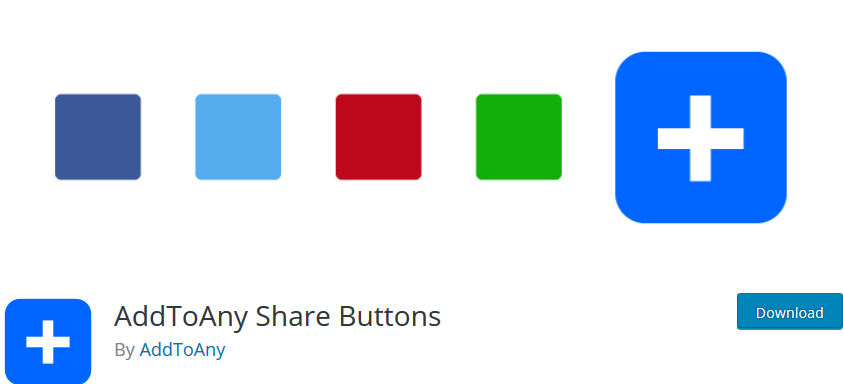 The AddToAny social share buttons for WordPress plugin comes with a whole bunch of tools to add and customize slick and polished social icons. It also features all major social media icons like Facebook, Twitter, Pinterest, LinkedIn, Tumblr, Reddit, and many others. The plugin is the result of almost 10 years of development so opting for it you must not worry that it will die away any time soon.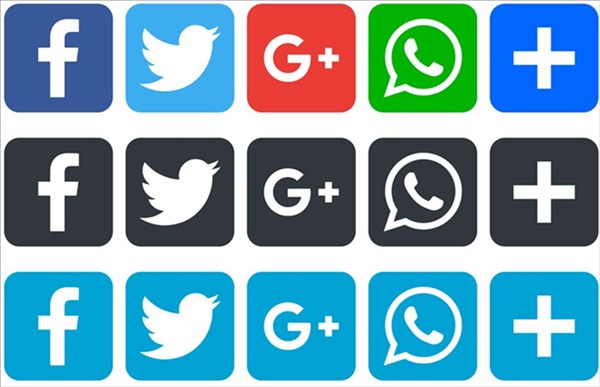 The unique feature of the plugin is that it supports so-called "universal sharing" allowing users to share your content across multiple networks just by clicking one button.
Among other great features, the AddToAny plugin supports image sharing (adds sharing buttons upon the image), integration with Google Analytics to track how people interact with your website, Automatic AMP support for better mobile devices optimization, the ability to choose the exact place for social buttons, easy sharing via Gmail, Yahoo Mail and other platforms, URL shorteners, and many more useful things.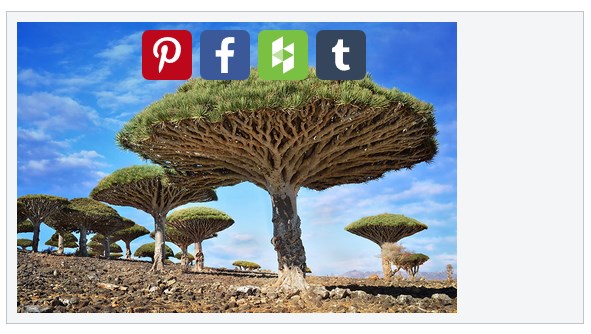 This WordPress social media plugin allows you to display standard buttons as well as floating ones in a vertical or horizontal position. AddToAny is ready to get public share counts directly from services that provide share count APIs (API availability is supported by Facebook, Pinterest, and some others). The universal (aggregated) count is also supported. On top of that, the plugin is very lightweight, which means your website loads times won't be affected.
Social Media Feeds Plugin by Tagembed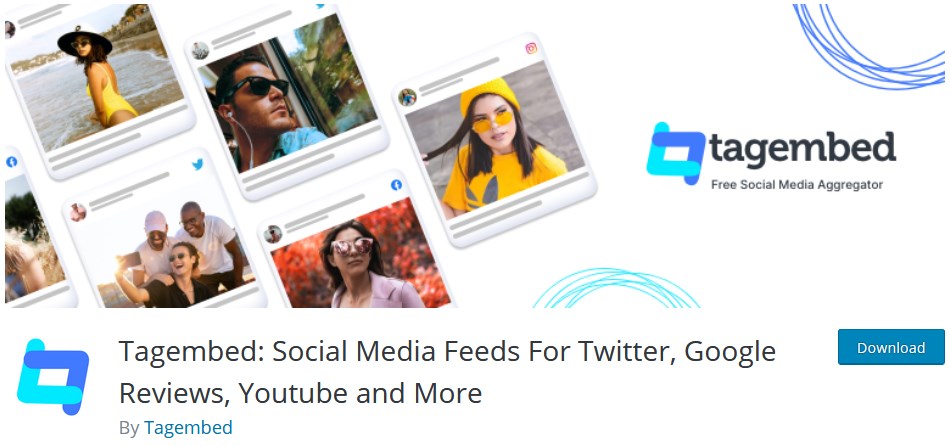 Tagembed is a well-renowned social media aggregator that provides a dedicated WordPress plugin that eases your process of embedding social media feeds on the website. The plugin's name is Social Media Feeds, and you can easily install it from the WordPress directory. The tool is compatible with 15+ social media platforms, including major platforms such as Facebook, Twitter, TikTok, Instagram, YouTube, Google Review and streams all types of media. Whether text or visual, it displays all without any hassle.
It is compatible with WordPress themes, which include themes from version 5.1 or higher, and works smoothly without affecting the website's speed.
The premium version of the Tagembed Social Media Feeds plugin provides various features at minimum cost. It provides a free forever plan, where you can personalize your feed by changing its font size, font style, background, theme, and more. Using the customization feature, remove all unwanted and spam content from the feed using the moderation feature. You can even run this tool without having coding knowledge, as it is coding-free. Moreover, it reduces the human effort of refreshing the feed as it automatically updates the feed.
MashShare WordPress Social Media plugin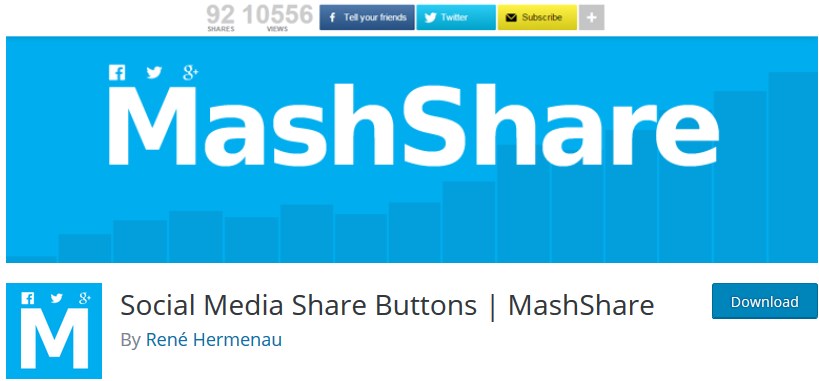 The MashShare social media WordPress plugin is the product of Mashable, a popular multi-platform media company with a focus on social interactions. The plugin runs on a freemium model so free features are limited to all your most popular social networks, AMP support via the WordPress AMP plugin, async share count aggregation, and some other essential features. It also claims to provide the icons with improved performance, data collection protection, and very lightweight code.
For more premium tools, you can purchase extra add-ons (sticky and floating sidebars, Google Analytics support, URL shortener, PageViews, and OpenFraph analytics). As you can see, some tools that are commonly free in other competitors are paid in MashShare. However, there are also tons of unique features that might help you get insights into the most shared posts.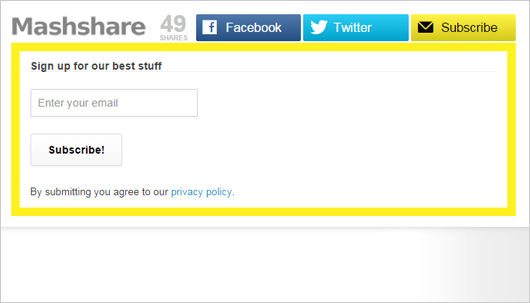 The plugin is quite flexible allowing you to put familiar sharing and link icons anywhere on your WordPress website, essential icon customization settings, a drag-and-drop tool to sort the order of icons, etc. Overall, MashShare is a product of a reputable company so you can entrust any serious project to them and get outstanding results.
Shareaholic Social Media WordPress Plugin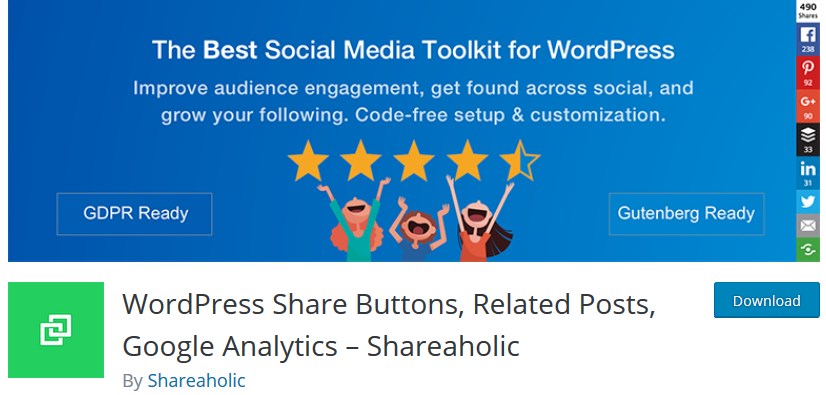 Shareaholic has it all to give your website visitors a real feeling of social interaction. This social plugin WP is more than just a social sharing tool, it's an all-in-one social media toolkit to grow the reader's engagement. In order to use this service, you'll need to create a free Shareaholic account and connect it to your WordPress website.
In addition to adding floating and in-content sharing buttons, with Shareaholic, you can output related content suggestions, integrate tracking with Google Analytics, and even access it via your WordPress dashboard, make prettier URLs by shortening links with the built-in tool, add sharing buttons to images and more.
The plugin can also help you generate post-share prompts to display a custom message to a visitor who shared the content of your website via Shareaholic social sharing buttons. Among other useful tools are a flexible customization panel, individual and total share counters, better control over the mobile design, and the ability to customize a shared message for Twitter.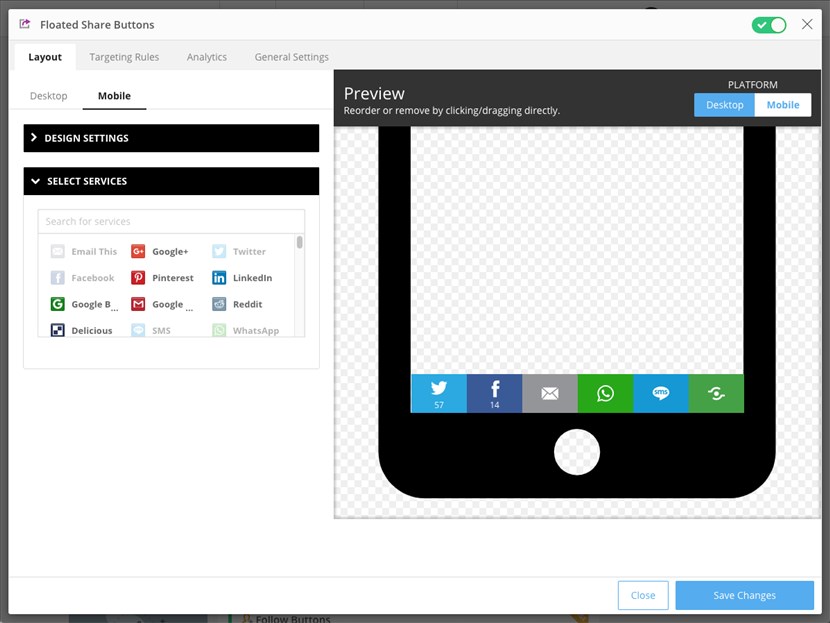 If you're looking to monetize your content, you don't need to go to great lengths. The Shareaholic plugin also comes with a suite of monetization solutions that include automatic affiliate links inserting, banners ads, promotion of sponsored content and more.
Jetpack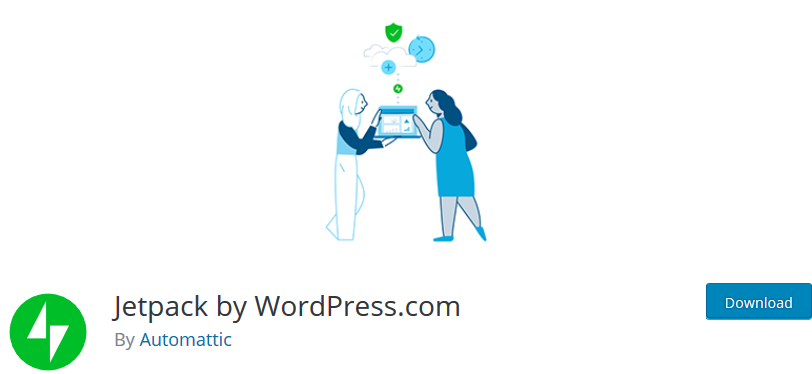 Jetpack by WordPress.com, a multipurpose free WordPress plugin, also supports social share buttons and well as social media auto posting. If you are already on Jetpack, you can easily turn on these functionalities, no need to connect extra dependencies.
Through the modules panel, simply turn on sharing that will add social media sharing buttons with a "universal" design. Automatic social media sharing is supported by Jetpack Publicize: you are free to manually configure the settings, choose the blog posts that must be automatically shared on social media platforms, turn on publicizing for scheduled posts, and more. Moreover, Publicize allows you to re-share your previously published and shared content on social media sites.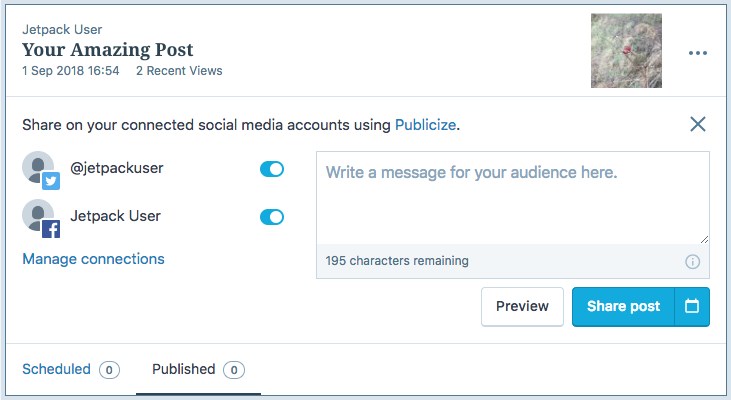 WordPress Social Share Buttons & Analytics Plugin – GetSocial.io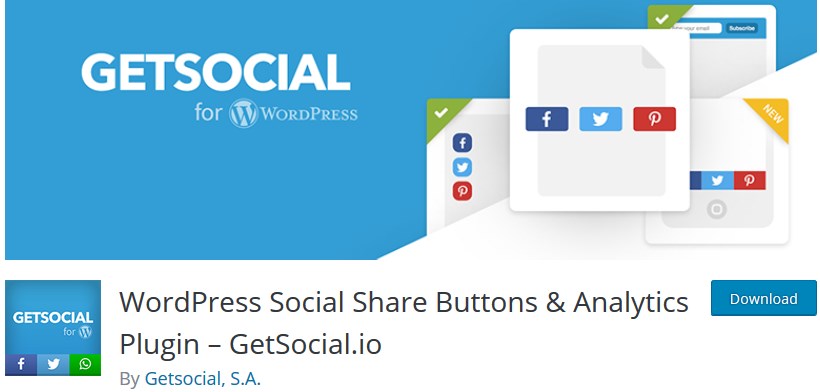 This awesome WordPress plugin by GetSocial.io won't just help you place over 30 social sharing buttons anywhere on your WordPress website but will also take care of your traffic and interaction.
The plugin supports both types of popular design solutions, horizontal and floating sharing and follows buttons, which can be customized to suit your website.
If you want to engage with your readership even further, you may optionally output familiar reaction buttons to help people better express themselves. To put some top posts in the limelight, you may give a try to the Welcome Bar offered by this social plugin WP. Also, to get your message in front of people (and to make sure they are noticed), create smart pop-ups with a few helpful triggers (on exit intent, page scroll, etc.).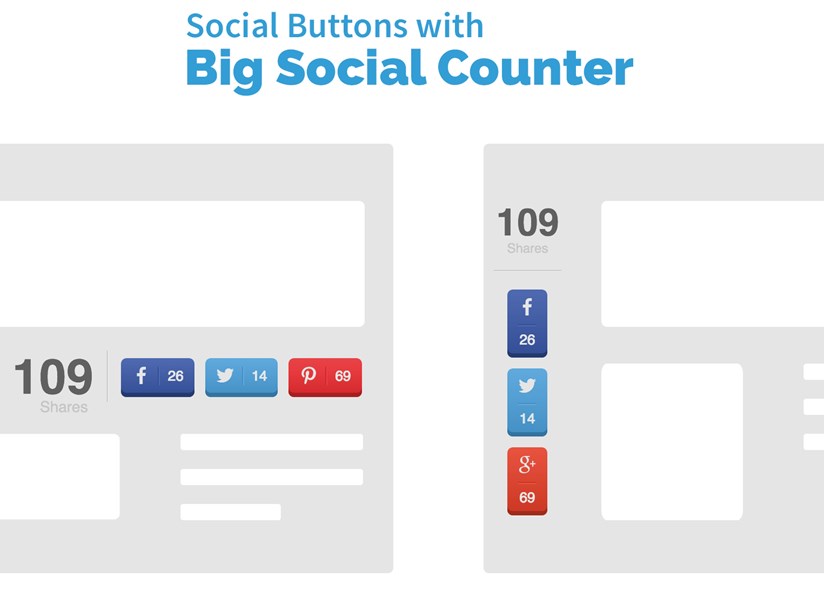 If you love how the free version works and need the whole arsenal of engagement tools, the plugin comes with a pretty affordable "Tools version".
Easy Social Share Buttons for WordPress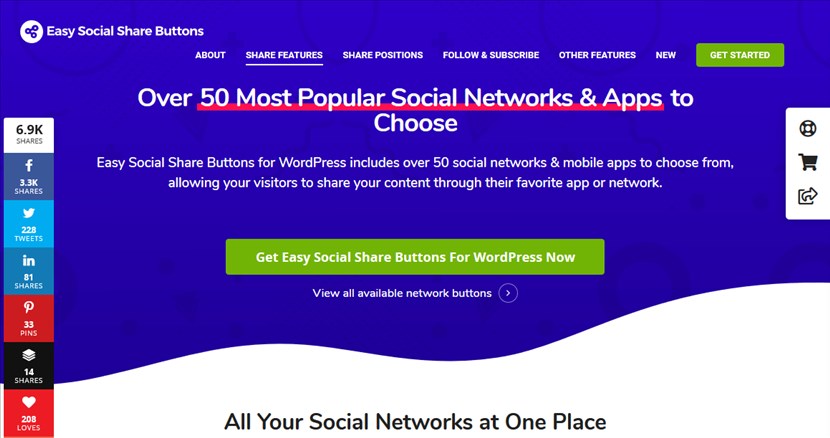 Easy Social Share Buttons for WordPress makes it easy to add any type of social share button, without a fear to bloat your performance (it's reported to be one of the most lightweight plugins). Since it's a premium solution among WordPress share plugins, the plugin comes with the full arsenal of tools you'll need for full-fledged social media integration, making it one of the best WordPress social media plugins out there.
In addition to 50+ major social sharing buttons, the plugin offers follower counters, beautiful templates for tailoring the look of icons, built-in Analytics tools, A/B testing, 30+ display positions, email subscription tools, etc. The buttons can be displayed as floating bars, top or bottom bars; in a sidebar, pop-up or as a fly-in.
Since the plugin is used by thousands of people, it was adapted to Gutenberg still keeping its ease of use and a user-friendly toolkit. The plugin also allows you to reveal social share counters and the number of people following you on social media (you might need this when you change URLs). The plugin also supports multiple page builders and translation plugins.
Social Sharing Plugin – Kiwi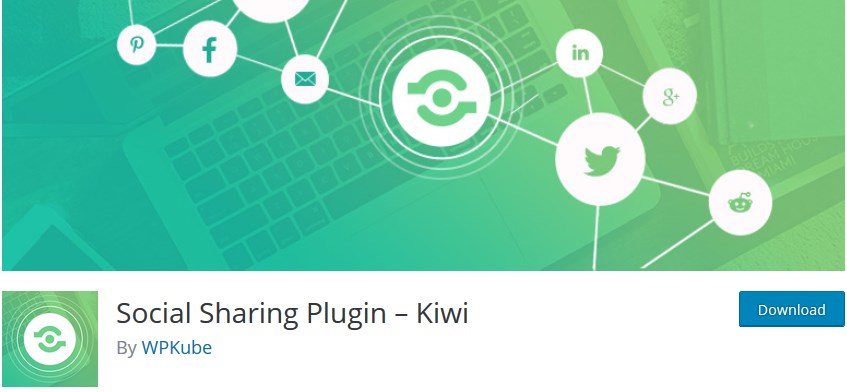 Although Kiwi is quite a simple and straightforward plugin, it brings a good bunch of essentials to your WordPress website. If you are foremost interested in the social share WordPress plugin with the perfect performance, Kiwi should come among the leaders on your list.
Since it's not packed with tons of unnecessary tools, it's a lightning-fast solution that offers only the most common social media networks. You can also showcase social media counters, use floating or on-site buttons, add click-to-tweet buttons, integrate Google Analytics tracking, and more.
In terms of design, they stick to the "futuristic approach, shift style" for default and square buttons, which also adds to their lightweight nature. You may also go with rounded corners or a leaf style for buttons.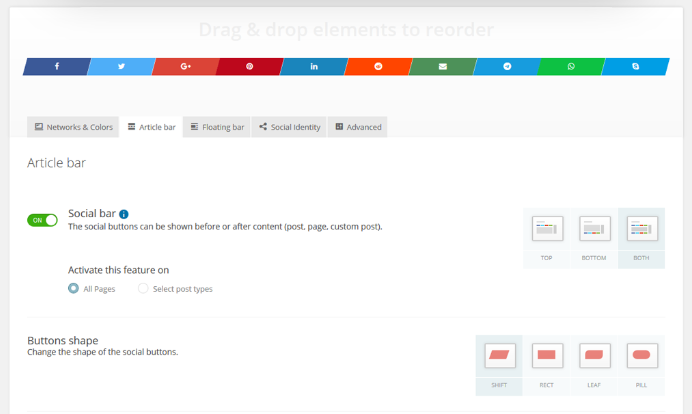 When it comes to ease of use, Kiwi is probably the best social media plugin for WordPress.
Social Media Widget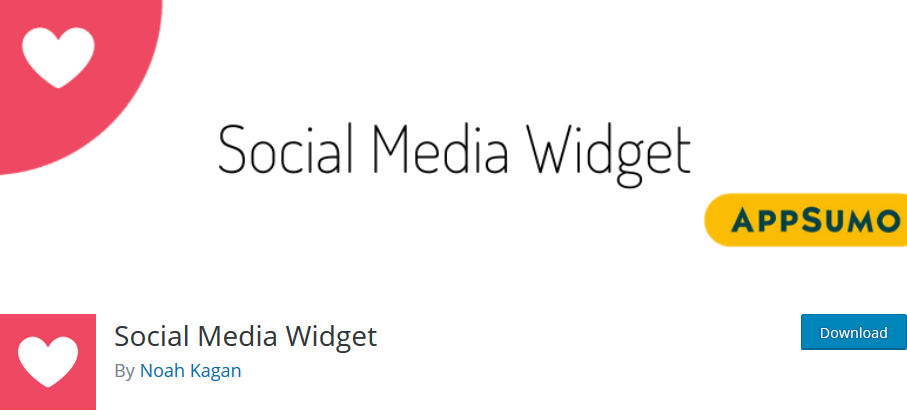 Social Media Widget is a social media plugin WordPress users love. It will add a simple social media widget to your WordPress website, supporting all major networks. So if you need a plain simple solution with an awesome design that can be implemented in several clicks, this is a way to go.
Customizing your icons, you can choose the size for your icons, a preferable icon package, optionally add animation effects (scale, bounce, combo, etc.) and do more customization job. The plugin also allows you to go deeper into the link customization by providing options to add a nofollow tag to links and some other things.
Fuse Social Floating Sidebar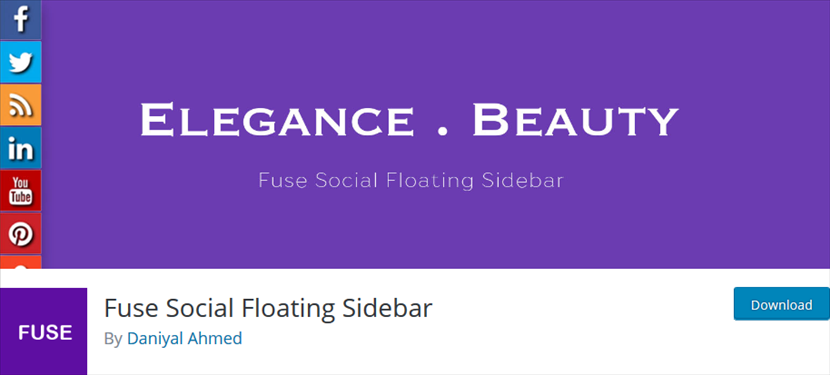 This Fuse Social Floating Sidebar plugin comes with the essentials to help you add floating share buttons. The plugin offers rounded and square icons, the ability to add animation effects on hover, apply shadows and configure a few more settings to help you build a custom look.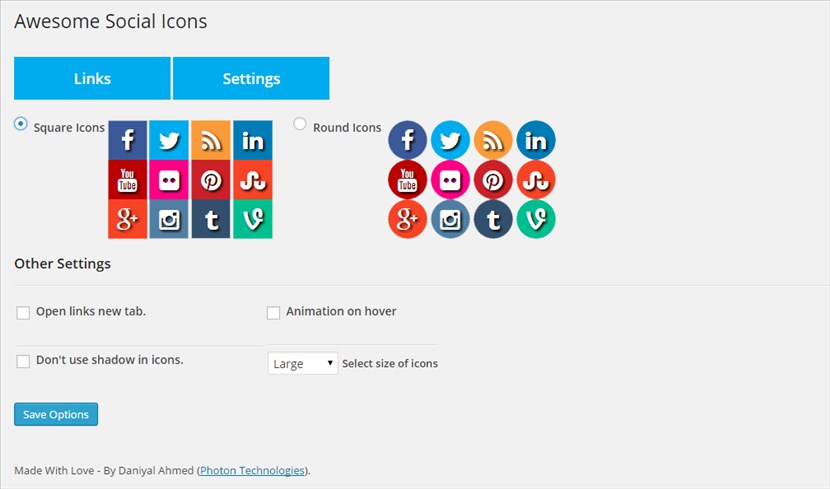 The main privilege of this plugin is that it's devoted to one specific type of floating icon and allows you to customize them in a few simple clicks. It's a straightforward and lightweight solution for those who want to easily add WordPress social icons in a floating sidebar.
Blog2Post Social Media Automate and Schedule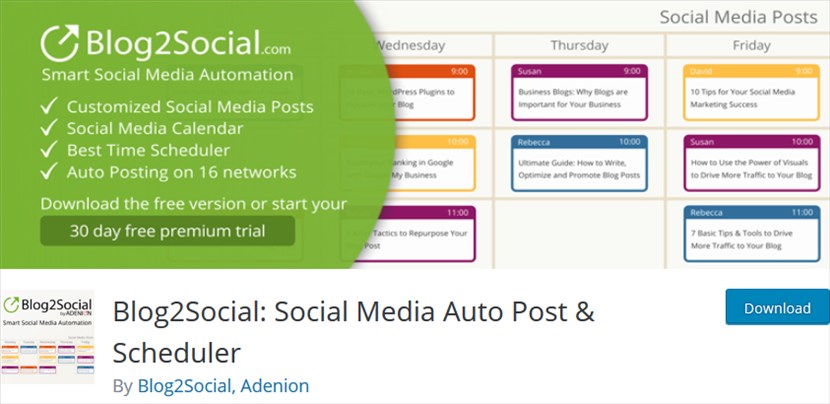 The Blog2Post Social Media Automate and Schedule plugin comes with a multitude of tools that can help you optimize your workflow of working with social media posts. It has a rather marketing purpose allowing you to promote and schedule your posts for sharing across social media. It so far supports such networks as Facebook, Twitter, Google My Business, LinkedIn, Instagram, Pinterest, and some other major platforms.
The free version of this plugin includes the ability to customize your scheduled posts (add hashtags, emoji, images), share users' posts, republish old posts, etc.
Blog2Post also offers great automation tools for the pre-publishing stage: automatically generate hashtags for social media posts from post tags, preview all social media posts through one screen, and edit metadata. The admin dashboard is well categorized allowing you to easily navigate through the needed tools: edit or change scheduled posts, share third-party content via Content Curation, and others.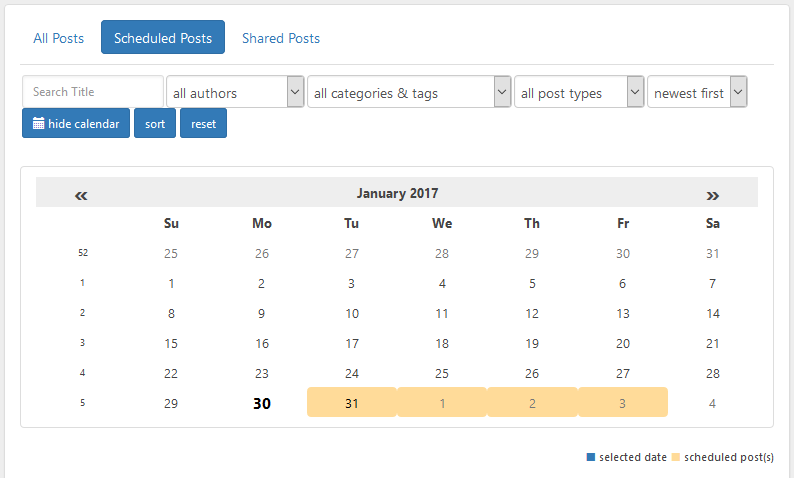 If you publish posts on Tumblr, Torial, and Medium, you can even completely alter the HTML structure of the post for these platforms. The plugin works smoothly with WooCommerce, Gutenberg Editor, Hummingbird and Bitly. Quite a nice list of benefits for a free version, agree?
Swifty Bar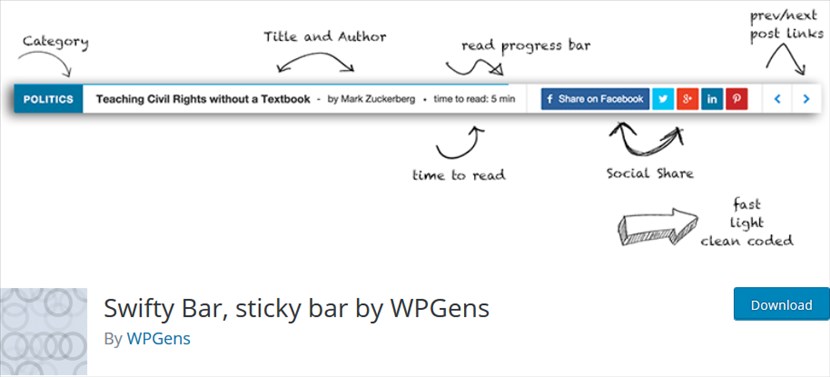 The Swifty Bar sharing plugin was crafted to help you promote your content by means of social media as well as putting major posts in the spotlight in the sticky sidebar. You may want to use it as a complementary tool for building your social media engagement or even completely replace traditional share buttons WordPress.
The sticky bar can feature the post title, post author, post category, the estimated time of reading an article, share button and counts, as well as the navigation bar to list through posts. The plugin supports custom post types and allows you to give the bar a few customization tweaks (e.g. update colors). You may disable the bar itself or just the needed individual components.
Social Snap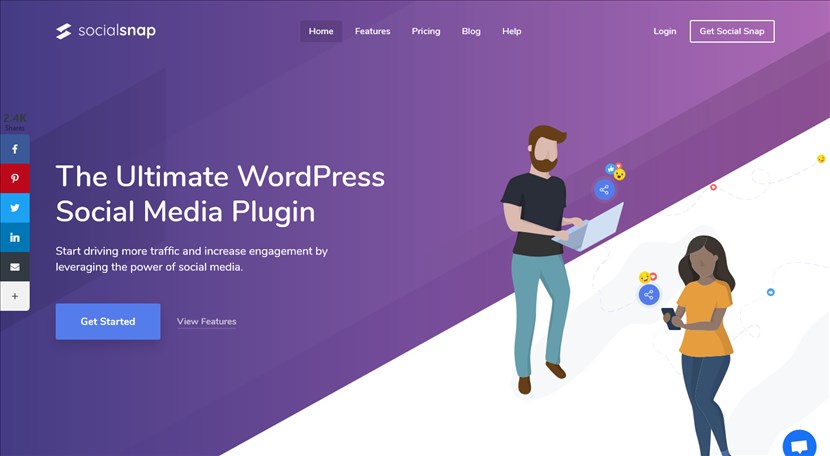 Social Snap is one of the most feature-rich social media WordPress plugins for those who need the full management toolkit in one solution. It has it all for the new generation of the web: an intelligent interface with a great design, slick share buttons, and tons of tools to manage your performance. For example, thanks to the integrated analytics panel, you can preview how many times the posts were shared to identify the best tactics for curating your content.
The plugin supports 30+ major social media platforms out of the box, letting WordPress users set either traditional inline or floating buttons as well as employ "share hub" or "sticky bar" widgets. Any of them comes with an extremely flexible customization panel allowing you to update colors, shapes, counters, and other things. A very rare feature, you can even customize which icons must be displayed/hidden/replaced on mobile devices.
One more attractive thing of this premium solution is that it gives you access to such tools that normally come as extra plugins or paid add-ons, for example, click-to-tweet boxes, auto-poster and post scheduler, the ability to reshare and boost old posts, social network login for multi-user sites and more.
Nelio Content – Social Media Marketing Automation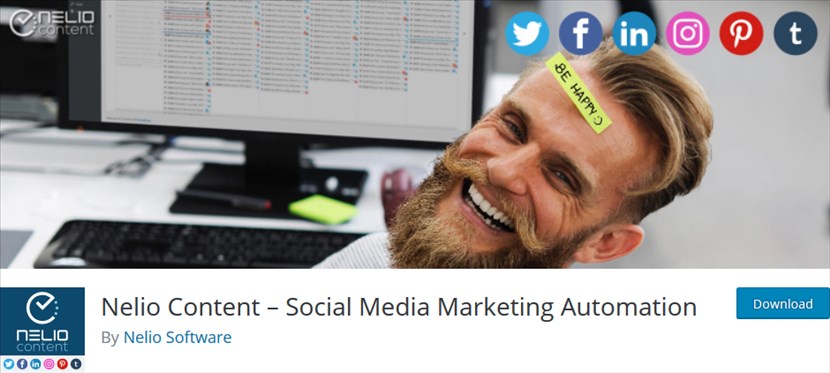 Nelio Content is another great tool designed to help you automatically share and promote posts across social networks thanks to the editorial calendar and calendar assistant. The plugin works for Twitter, Facebook, LinkedIn, Pinterest, and Instagram through Buffer.
Moreover, if you are working as a team, Nelio has tools for multi-user management that are going to significantly improve your work. To help you measure your performance, Nelio offers users the built-in content analytics tool and content assistant. More flexibility is available in the paid version. The plugin comes bundled with the ability to add external featured images, promotion of posts upon publication, content quality control, and more.
Social Sharing Buttons – Grow by Mediavine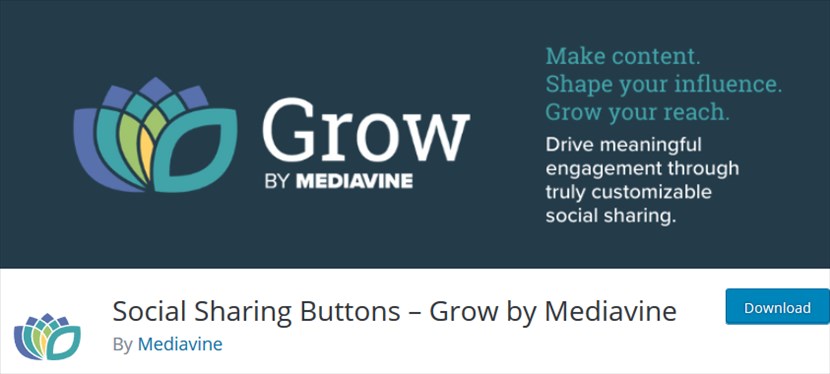 Social Sharing Buttons, previously Social Pug, is a trusted WordPress plugin for adding and personalizing social share buttons and counts. The plugin gives you access to Facebook, Twitter, Pinterest, and LinkedIn within the free version. People highly rate this plugin primarily because it's super lightweight and comes with well-designed engagement tools.
You may place the plugin anywhere you want (before/after content, in a floating sidebar) and setup the behavior the way you need. The premium version is packed with plenty of more industry-standard features (e.g. Google Analytics tracking).
Revive Social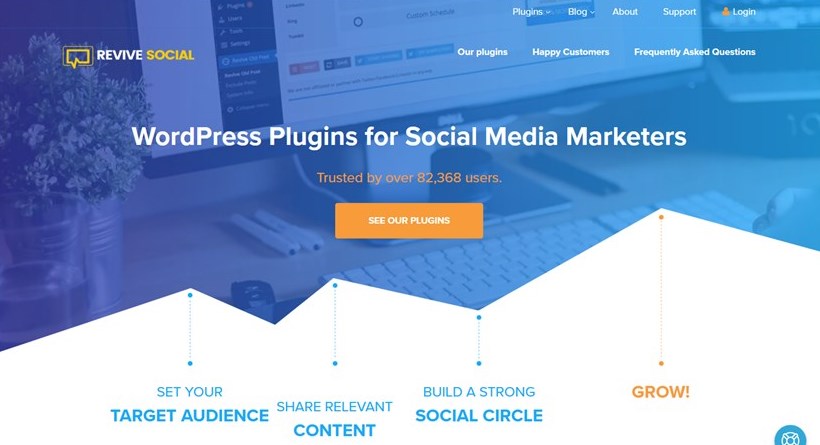 Revive Social is a hub of WordPress social plugins for reviving your old posts and boosting your social media engagement. There are two complementary plugins for these purposes as well as a ton of useful expert articles to help you in your social media marketing efforts.
Revive Old Posts is a great auto-posting plugin for WordPress that allows you to effortlessly schedule and republish any old post or custom post type to bring your best-performing content back to life. It works for Facebook, Twitter, LinkedIn, Tumblr, Pinterest, and Instagram.
Revive Network is one more solution for Twitter and Facebook aimed at helping you connect with people via social networks by sharing relevant content from third-party websites. This will surely boost your social media presence with minimum efforts.
Monarch Social Plugin WP for Divi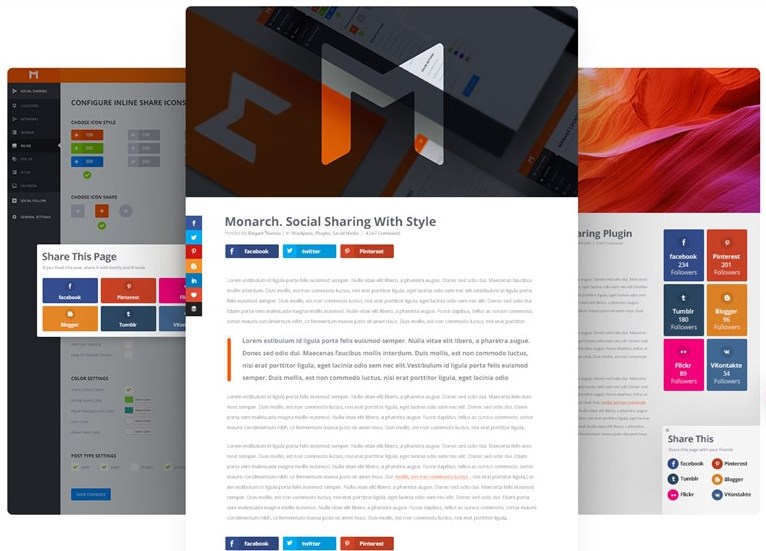 Monarch is a dedicated social media sharing and management plugin from the Divi team (part of their membership plan). So if you are already with Divi, check out how it works.
Divi has its pros and cons, but the plugin comes with industry-standard features allowing you to completely personalize the look and behavior of the social sharing and follow buttons. Monarch supports numerous social networks and different website locations for placing the buttons (including pop-ups and fly-ins).
Conclusion: what are the best social media WordPress plugins?
What is the best WordPress social media plugin? As you can conclude, setting up the interaction of your WordPress website with social media is not a hard task. Even this huge list of plugins still can be extended with more tools. Some plugins are rather dedicated to one specific purpose while others are powerful machines that will fast-track your social media engagement capabilities in multiple ways. Try to focus on a highly-rated, lightweight solution that mostly does only those things you need. So what plugin can you recommend?
Which plugin do I need for automatic social publishing?
There are many plugins that can help you automatically share your blog posts to social networks. If you are on Jetpack, there is a built-in feature for this and you don't need to install extra plugins. Social media auto-posting is also supported by Blog2Post Social Media, Nelio Content, and NextScripts.
Is there a plugin to boost social media engagement of the old posts?
Yes, the Revive Social plugin is a great tool for this. This plugin allows you to effortlessly schedule and republish any old post or custom post type to bring your best-performing content back to life.

How to share a post to all social networking sites at once?
Yes, the plugin allows you to not just add and change colors, you can also rename them for easier access.