A Closer Look at WordPress Scheduling Plugins
Online presence is one of the key factors of business success in today's digital era. Moreover, the majority of customers often check online reputation of the business before making an actual purchase or visiting the company's office. Enabling your website users not only to gain general info on your company but to also obtain a detailed list of your services or timetable of the events you hold online would be a solid argument in your favor, consequently, you definitely need a good WordPress Scheduling Plugin.
That is why today we picked for you a collection of the top-rated and the most well-referenced WordPress timetable plugins for any taste and budget: some of them are universally applicable tools with a huge variety of features, others are designed for specific tasks and purposes; some of the plugins offer freemium model, while others are available for free download.
If you would like to get concise grab-and-go report on each plugin's main characteristics — our brief features and functions checklists at the top of each plugin description are at your disposal.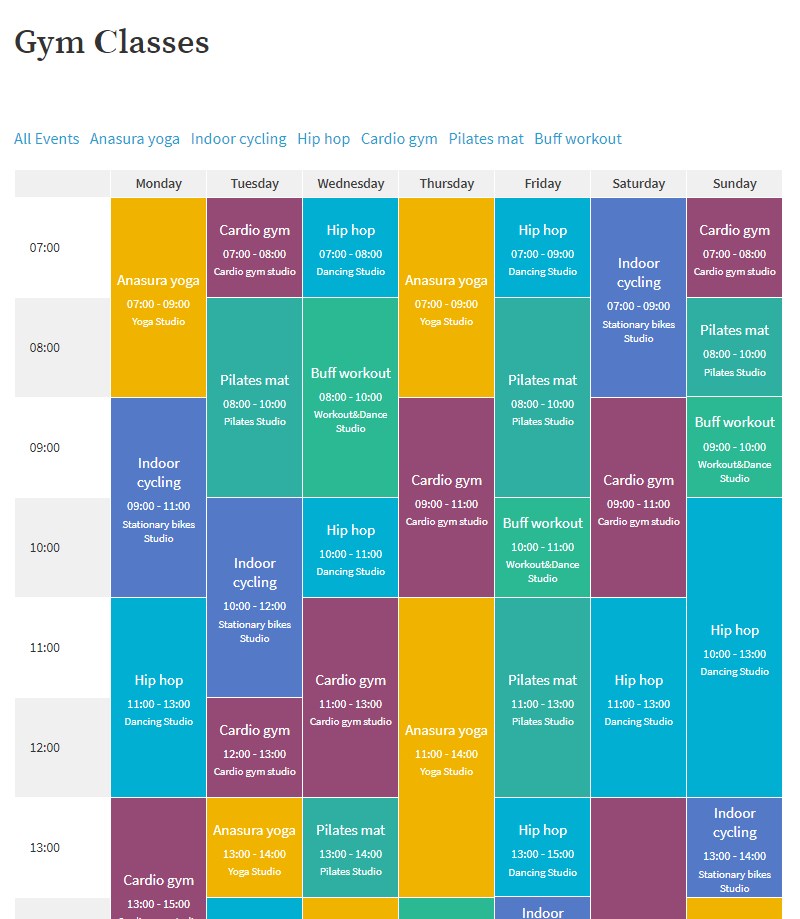 Free version essential features check: color-marked event filtering, fully responsive layout, upcoming events widget, event search filter, tag/category events differentiation, XML data export/import.
Timetable and Event Schedule plugin by MotoPress allows you to obtain all the essential scheduling features. While adding your event lists to a page you will be able to adjust all the necessary shortcode settings such as fields to be displayed in the event descriptions, set time frames for the events (up to 15 mins possible), manually enter desirable row height of your chart, decide if you would like empty rows to be shown and tailor many more other setups in this timetable WordPress plugin.
As a schedule plugin wordpress,the plugin guarantees proper exposure of your timetables on any device, and, moreover, gives you a chance to define their mobile behaviour: showcase your events as a chart or let your mobile users see them as clean-designed list.
Timetable & Event plugin allows fitting the look of your event lists to the design of any theme: fell free to choose background and font colors for every single cell of your timetable and define hover shades for its elements.
If you use MotoPress Content Editor to build your website pages, you can as well complement the scheduling functionality with a premium Countdown add-on to keep your users informed of the timing of your important events.
Price: $0.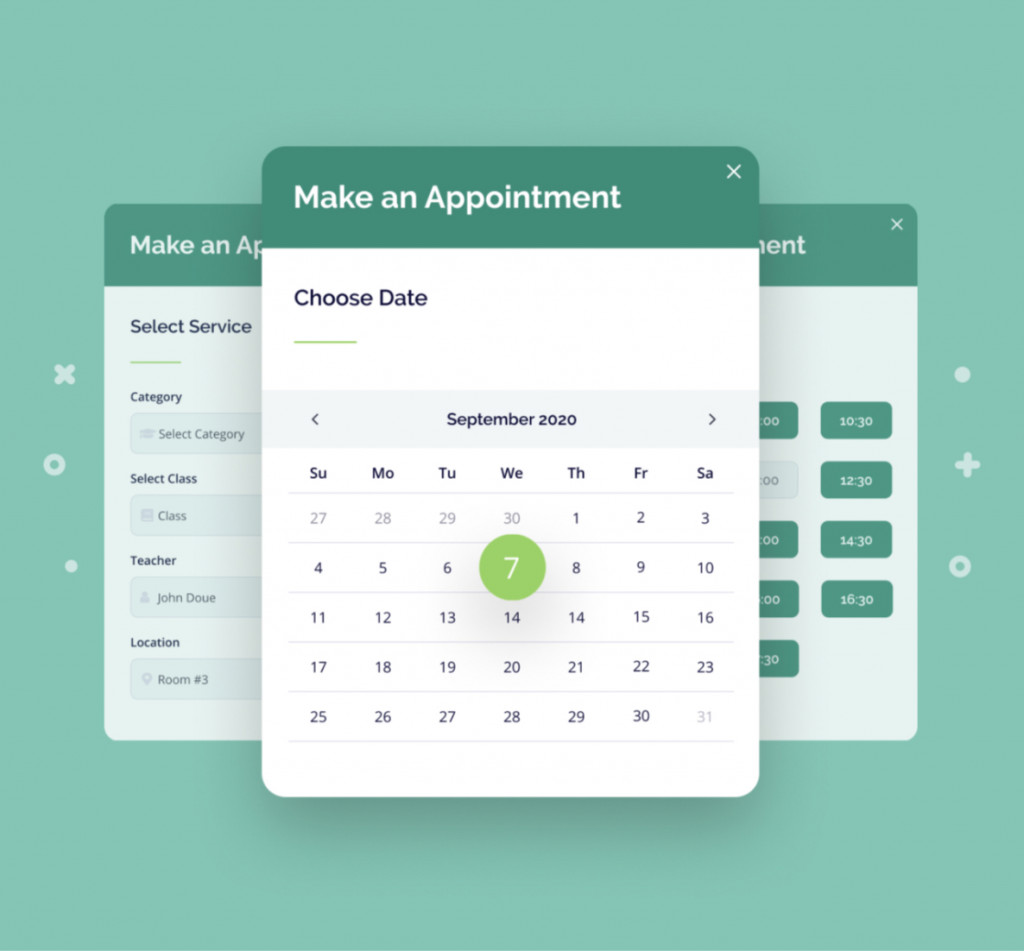 While staying a big leader among hotel booking solutions, MotoPress decided to continue the booking software development and supplement their plugins list with one more powerful reservation tool.
The WordPress appointment plugin is suitable for every service related to appointments, whether it goes for the individual needs of one employee or the entire team of one organization/company. If your industry has to do with beauty, sports, education, healthcare, etc, implementing an online WordPress scheduler will give you a few handy advantages.
First of all, the plugin provides you with a visually-appealing WordPress booking calendar. A table-like calendar makes it easier for users to perceive the timing.
More importantly, users will be able to make a WordPress online booking directly from the website without any other confirmation steps (no phone calls, chats, or emails). 
For website owners, a WordPress appointment scheduler helps to accept booking and control reservations using just one tool.
Main Features of the Appointment WordPress Plugin:
Easiest WordPress appointment scheduling on the backend;
Unlimited services & employees & locations;
Flexible employee schedules (with lunchtimes, breaks, and days off);
Custom time slots (15 or 30 minutes) + buffer time before and after actual appointment;
The ability to add one time or recurring services;

Price: starts from $49.00 for a single site.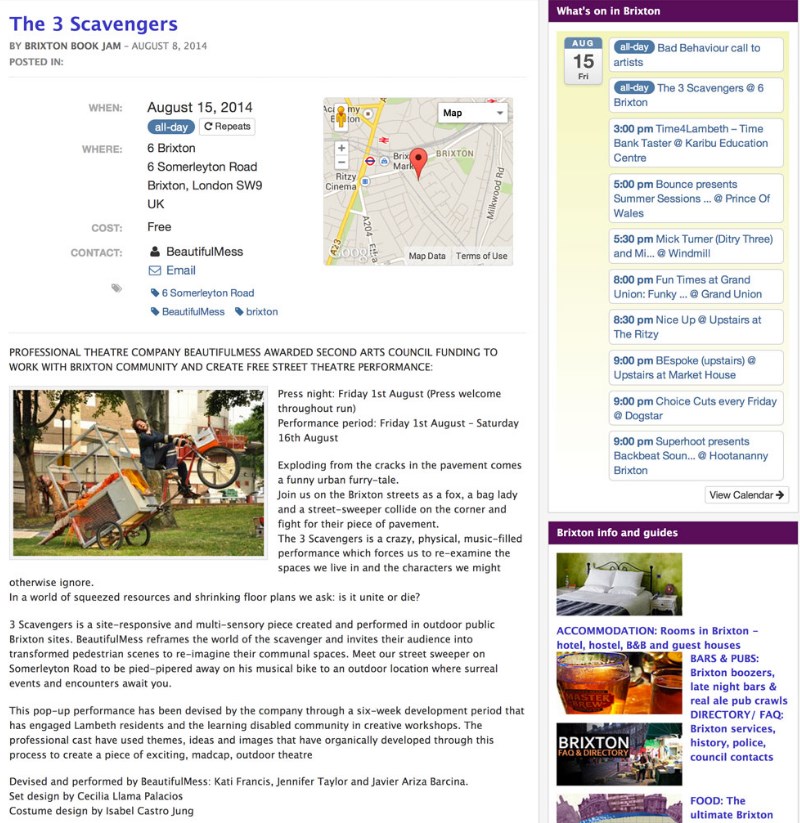 Free version essential features check: upcoming events widget, color-marked event filtering, Google maps.
Among the most notable features of the plugin's free version is, first of all, data exchanging with outer iCal calendars. You will as well get a chance to furnish out your events info with featured images: add images both to any single event or to the whole category.
Developers team provides the users with MO and PO files for the plugin to be further translated into any language and offers 6 already translated locales as well.
Free version functionality can be extended by purchasing premium edition or separate add-ons.
Free add-ons for the pro version include:
Extended Views add-on (provides wide choice of event view modes: from regular day/week/month view to the custom Agenda or detailed Postboard displaying ways.)
Paid add-ons are:
Twitter automatic cross-posting
Tickets selling
Venue lists creation
Front-end event submission.
Price: starts from $29.00 per add-on.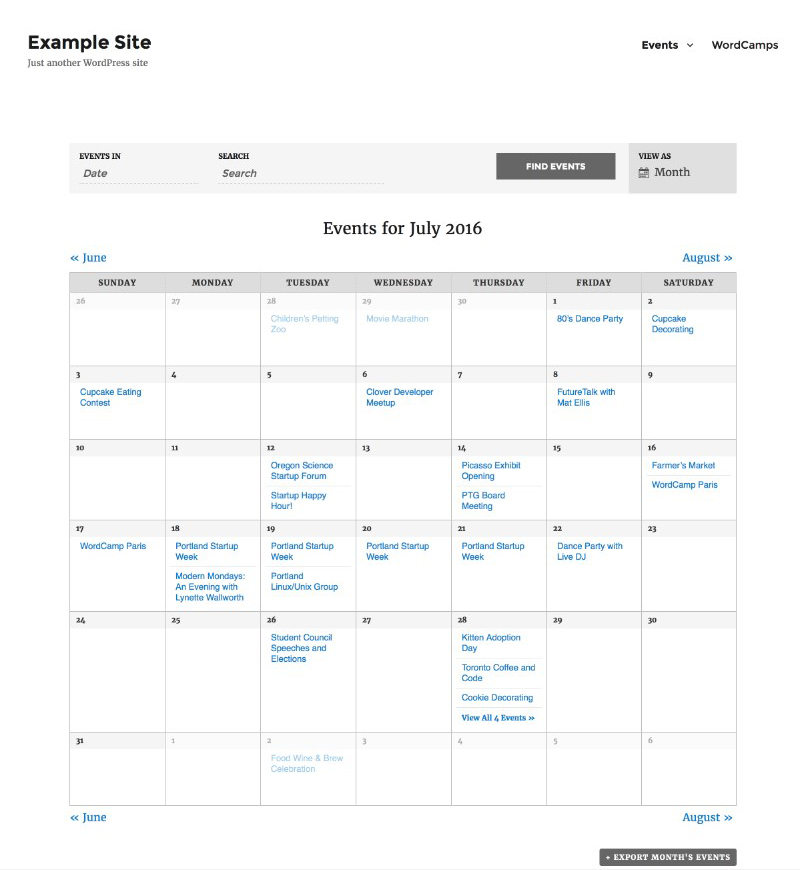 Free version essential features check: tag/category events differentiation, upcoming events widget, color-marked event filtering, Google maps, fully responsive.
The whole concept of this WordPress schedule plugin can be for clarity split into several components: the free core plugin itself, its pro version and free or paid add-ons and extensions.
The core events schedule WordPress plugin functionality enables you to define modes of event demonstration by choosing among the standard calendar, list, day, or week views. Your website visitors will get a chance to navigate through the events via keyword search.
Basic iCalendar and Google Calendar import/export options are available as well. The events exchanging process can be automated through the free Advanced iCal Export extension (may be of use for bulk exchanging of events feed) or by means of the paid Event Aggregator add-on (easy event import from Meetup, Eventbrite, GCal and iCal.)
As for the premium version of the WordPress appointment booking plugin, it, first and foremost, widens the event categorizing modes. List your events grouped by venues they are held in (Venue View) or by the person hosting them (Organizer View). This plugin will be the best WordPress calendar solution which lets your users enjoy a "near me" event search by choosing Map View option: your website visitors will be able to see nearby events on Google map.
Having purchased the premium version, you will also get a chance to manage recurring events and add custom fields to your event descriptions.
Price: starts from $89.00.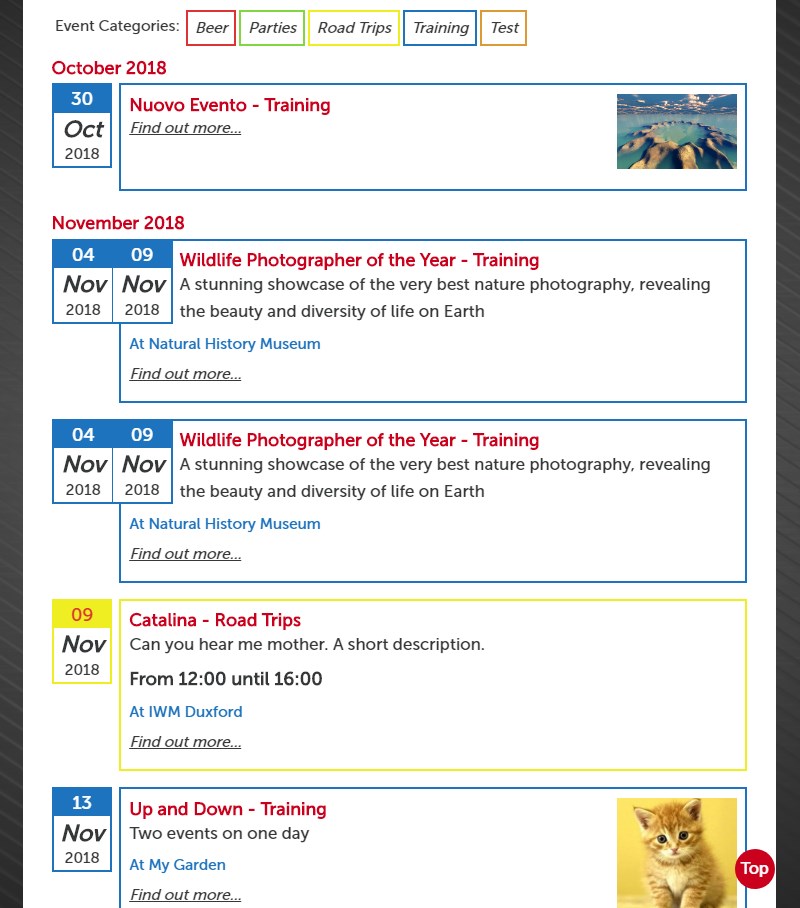 Free version essential features check: tag/category events differentiation, color-marked event filtering, Google maps, event registration form.
Create events and specify their title, start/end dates, location and cost; add a short description, link or featured image to the event info and generate a shortcode for adding the list of created events to any page you wish.
In case of choosing the list mode of your events displaying, you are getting an opportunity to specify how would you like the listed items to be arranged and styled. The WP schedule plugin offers 7 pre-designed displaying variations. Some of the examples are: basic event list, a list with start and end dates indicated, an event with a map, event with an image and so on.
This WP schedule plugin can as well create a simple registration form to let you keep account of the number of people, intending to visit your events. You will be able to define the maximum amount of guests for any event and (optionally) set the registration form to be hidden after the event has become fully booked.
Authors of Quick Event Manager, one of the best WordPress calendar plugin, had the foresight of implementing primary payment functionality to the plugin, so feel free to make the best use of the basic PayPal payment form.
Upgrading to the pro version of Quick Event Manager opens up extended functionality for the event registration, enables Guest Events, MailChimp integration and In-Context Payments option.
Price: $20.00.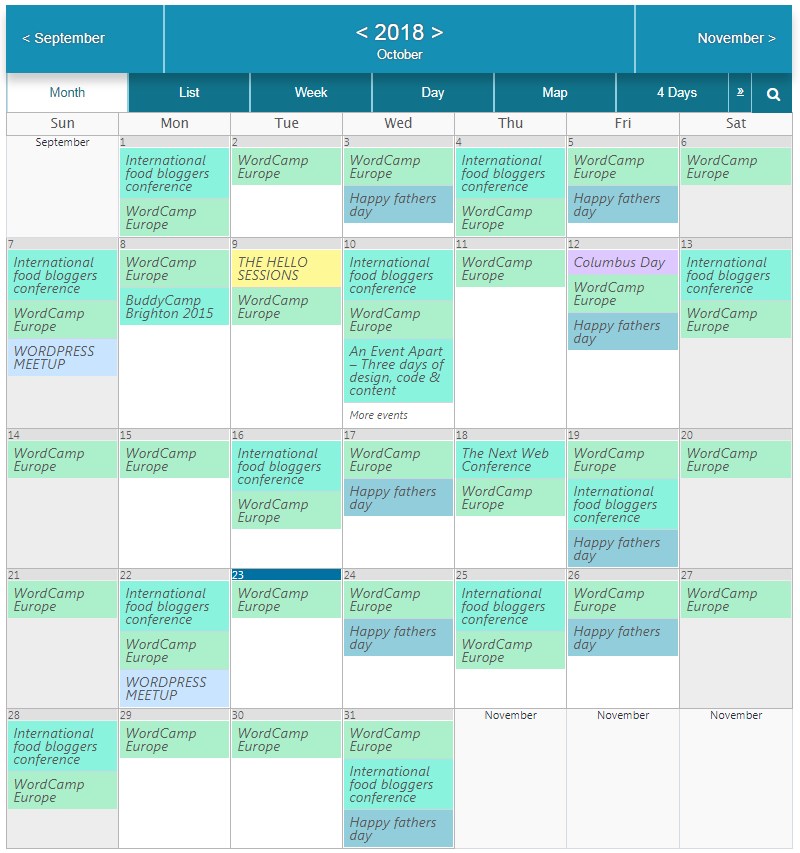 Free version essential features check: tag/category events differentiation, color-marked event filtering, Google maps, fully responsive layout, SEO-friendly.
Event Calendar WD was designed to be easy to use even for the first-time WordPress users. Aside from taking care of the well-written documentation, the developers' team has posted a detailed step-by-step video guide on the plugin's page in the official WP.org plugin directory.
With Event Calendar WD you will be enjoying the fully responsive layout of your event lists, get a chance to create an unlimited number of events and display them in any of the four available ways: Month, Week, Day and List.
Let's now pass on to the advanced capabilities of this WordPress event schedule plugin.
You can expand the potential of the WordPress schedule plugin by purchasing extra add-ons, some of which are:
Front-end event adding
Upcoming events widget
Event tickets add-on
iCal/GCal integration.
Please keep in mind that the add-ons in question are only applicable to the premium edition of the plugin. You will be able to purchase each of the add-ons separately or buy a premium software plan to get all the pro add-ons at once.
Price: starts from $25.00.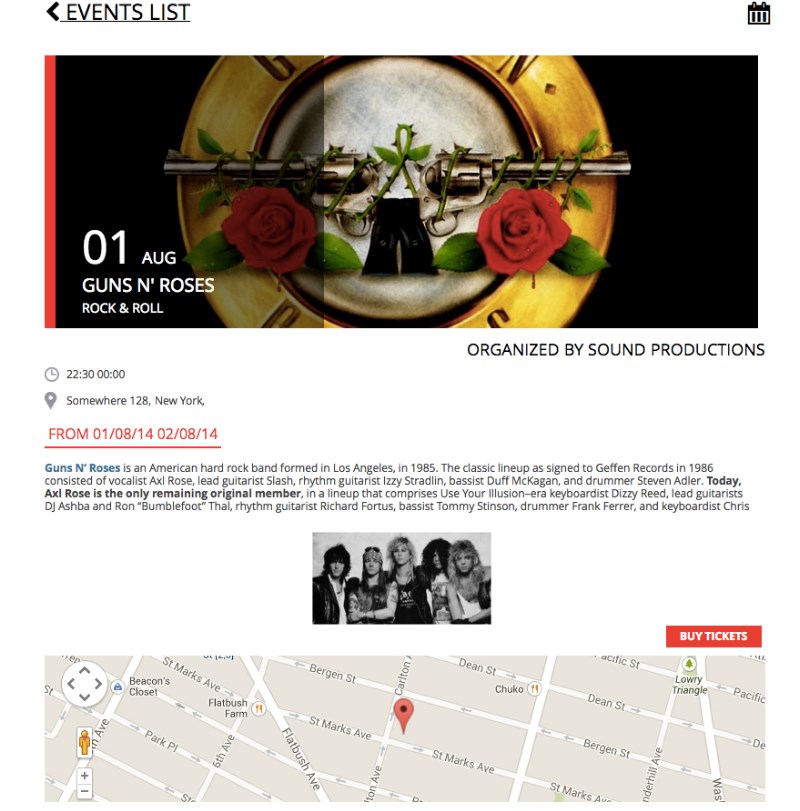 Free version essential features check: tag/category events differentiation, color-marked event filtering, fully responsive layout.
Chronosly Events Calendar is one more WordPress Scheduling Plugin that offers both essential functionality for the basic event listing and sophisticated customization options for advanced purposes.
Lite version of Chronosly Calendar brings fully responsive design, plenty of event showcasing types (lists, single events, calendars, categories) and can be flawlessly translated with any localization software like Loco Translate, WPML, Poedit and so on.
However, the main area of strength of the plugin is the freedom of design-related tailorings. Lite version comes with the Default layout template, which can be replaced with the paid Dark, Grid or Ticketing ones. The templates offer pre-designed styles for your event calendars, defining their color scheme and events listing mode. All the extended templates can be purchased and added both to free and pro plugin versions.
Apart from this, you will be able to receive a significant functionality boost from the paid add-ons, among which are:
Recurring Events
Filter & Sort add-on (grouping and displaying events according to the certain criterion)
Field Builder add-on (custom fields creation)
Import/Export of the calendar data.
If you, however, would like to get a fully-featured potential of the plugin at once, you are free to purchase its premium edition.
Price: starts from $25.00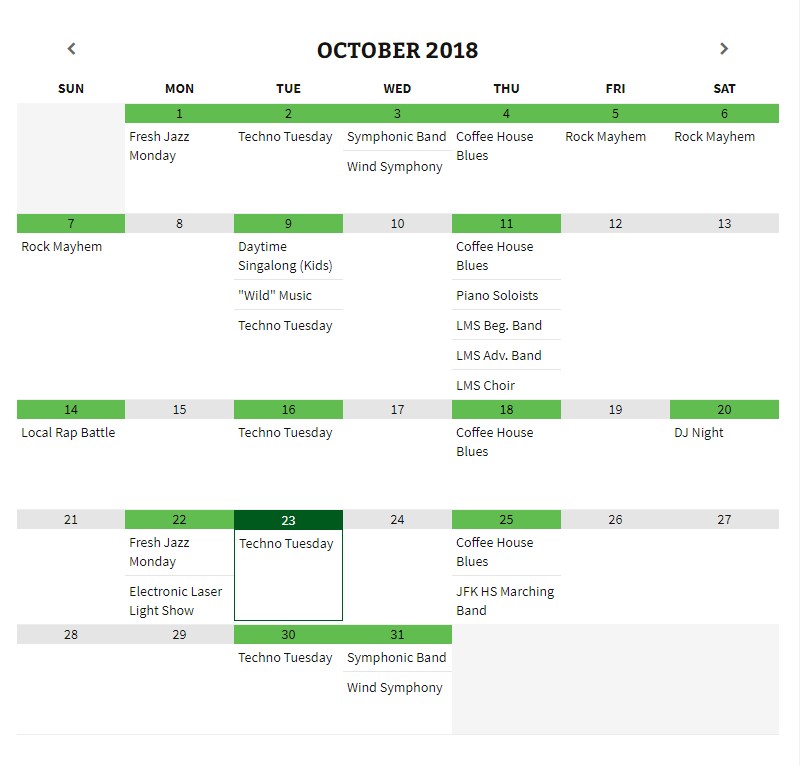 Free version essential features check: fully responsive, setting the max number of events to be shown in a cell.
This plugin stands out from all the other ones in our collection by being a highly specialized tool — it is an ultimate solution for importing events from any Google Calendar to your WordPress website.
The free event calendar version permits you to add info from public Google Calendars only. At the same time, you won't have to make any question about the imported data fitting your WordPress theme design: feel free to pick a color scheme for your event calendar. The lite version brings two modes of event displaying (calendar or list) and enables you to tune regional settings of your timetables: set time zone, date format and starting day of the week for them. For some purposes, Simple Calendar can be used as a WordPress class schedule plugin with the perfectly structured tables and pleasant design.
Meanwhile, the extended functionality add-ons concept is very straightforward: there are two powerful pro extensions available.
The first one, FullCalendar Add-on, enables day and week event displaying modes and allows column height customization in accordance with the number of events it contains.
The second Google Calendar Pro Add-on lets you import events from both public and private GCals and mark each event with exactly the same color that was used in the Google Calendar the events were imported from. You will be as well allowed to display event extended data (organizers, participants info and their gravatars) or add attachments to the event descriptions.
Price: starts from $29.00 per add-on.
My Calendar WordPress Scheduling Plugin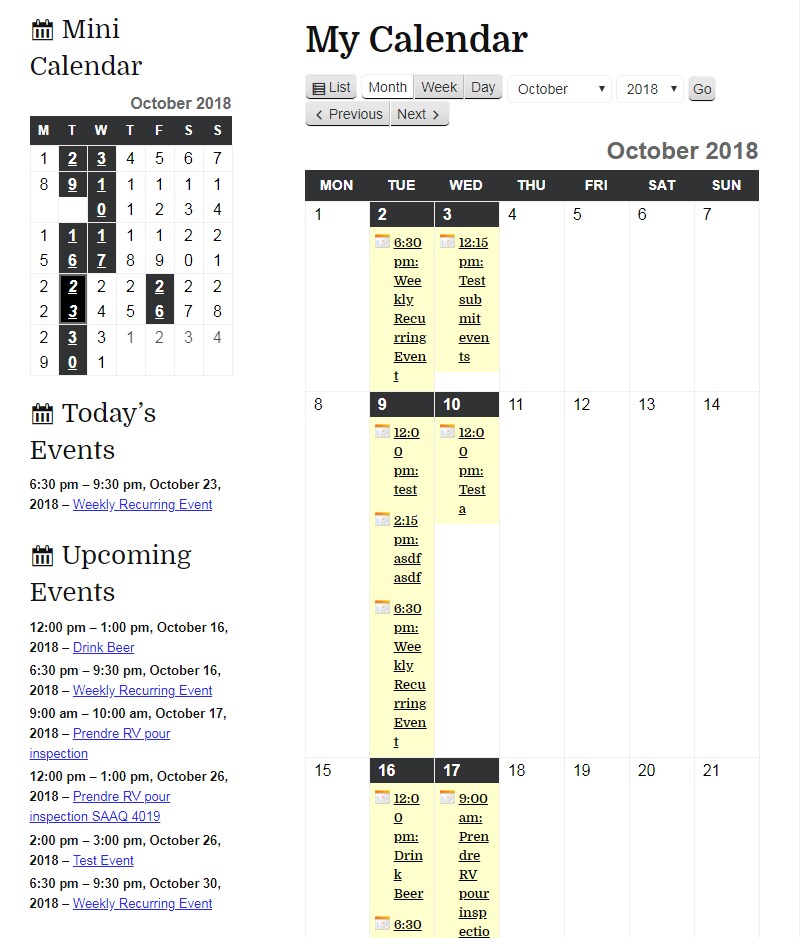 Free version essential features check: category/location/author/host event filtering, upcoming and today's events widget, recurring events management.
Other useful features of the plugin's free version are: various event displaying modes (calendar or list/month, week or day) and a widget for creating mini-sized versions of your calendar. Developers of the appointment scheduling plugin for WordPress recommend the usage of mini calendars for taking care of a better mobile experience. The free version doesn't offer a responsive layout option, so the mini-cal will fit the bill for small screens.
If you prefer having a responsive design on default, the premium version is here for you to lend a helping hand. In addition to offering a fully adaptive design, My Calendar Pro allows posting events by visitors and generating events from already created posts or vice versa.
Price: $49.00 for the one-year license.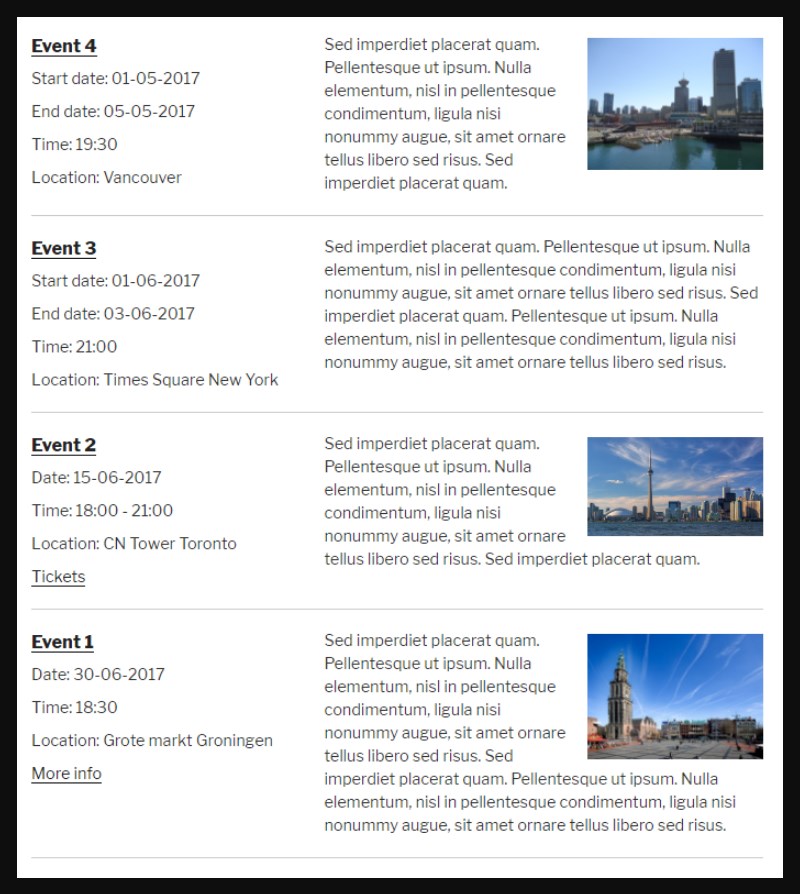 Free version essential features check: specifying event location and time, adding featured images and links to the event descriptions.
This plugin is a smooth solution for the users who would like to straightforwardly enjoy the creation of event calendars without digging into the knotty coding and customization issues. We consider this tool to be an example of the most straightforward plugin WordPress has ever had.
The events listing process is held by means of various shortcodes.
Create your events and come up with the page you would like them to be displayed on. You will be able to showcase your events as a standalone list on a separate page or use a widget to add your events list to any of the already existing pages.
There are still some more extended settings that can be fine-tuned by going to Settings → VSEL menu on your admin dashboard (e.g., hide or show event title, category or featured image; delete or keep created events after the plugin deinstallation; choose the size of event featured image, etc.)
The plugin provides for the basic Gutenberg support, so the events can be created and added to the lists through the new WordPress editor as well.
Price: $0
EasyTimetable WordPress Scheduling Plugin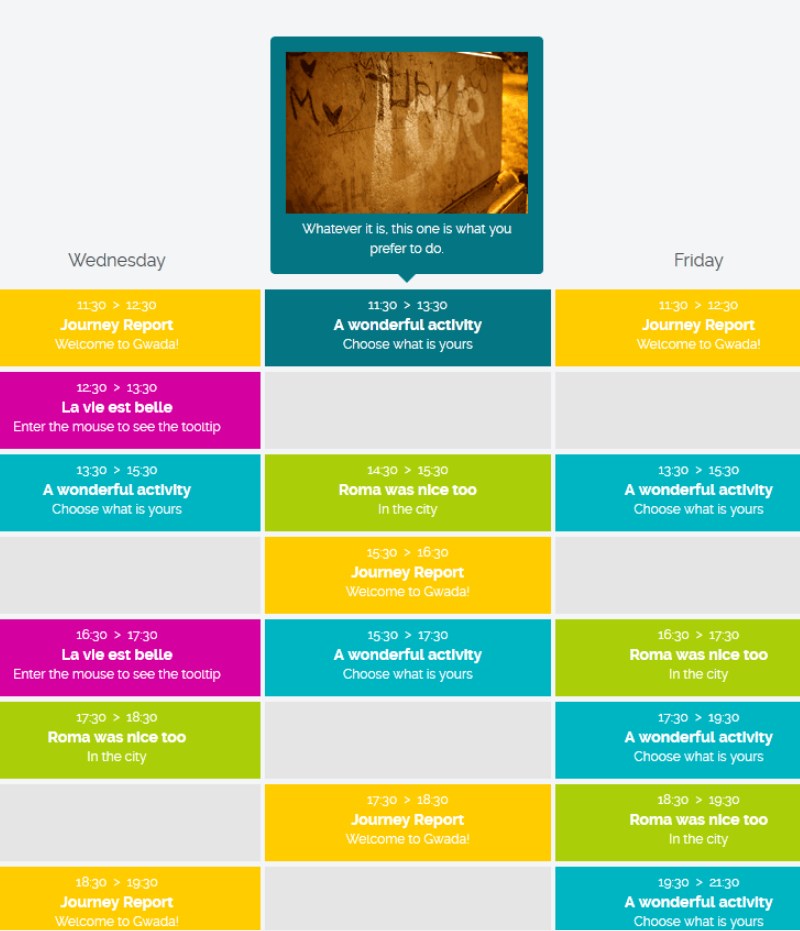 Free version essential features check: category events differentiation, color-marked event filtering.
Among the convenient benefits of EasyTimetable plugin is editing event calendar from one single spot — create new items, manage them and tailor the overall style of your timetable at the same time. This plugin is one more hassle-free tool, intended solely for quick schedule and calendar creation, the basic functionality of which can be extended by installing the premium version.
The pro edition provides the unlimited number of events and unlimited event duration (there are limits for these properties in the free version.) Along with that, you will be able to add as many timetables to one page as you wish.
EasyTimetable pro also allows its users to embed two activities into one cell and display different timetables for specified periods of time (weeks, days, etc.)
Price: €19.00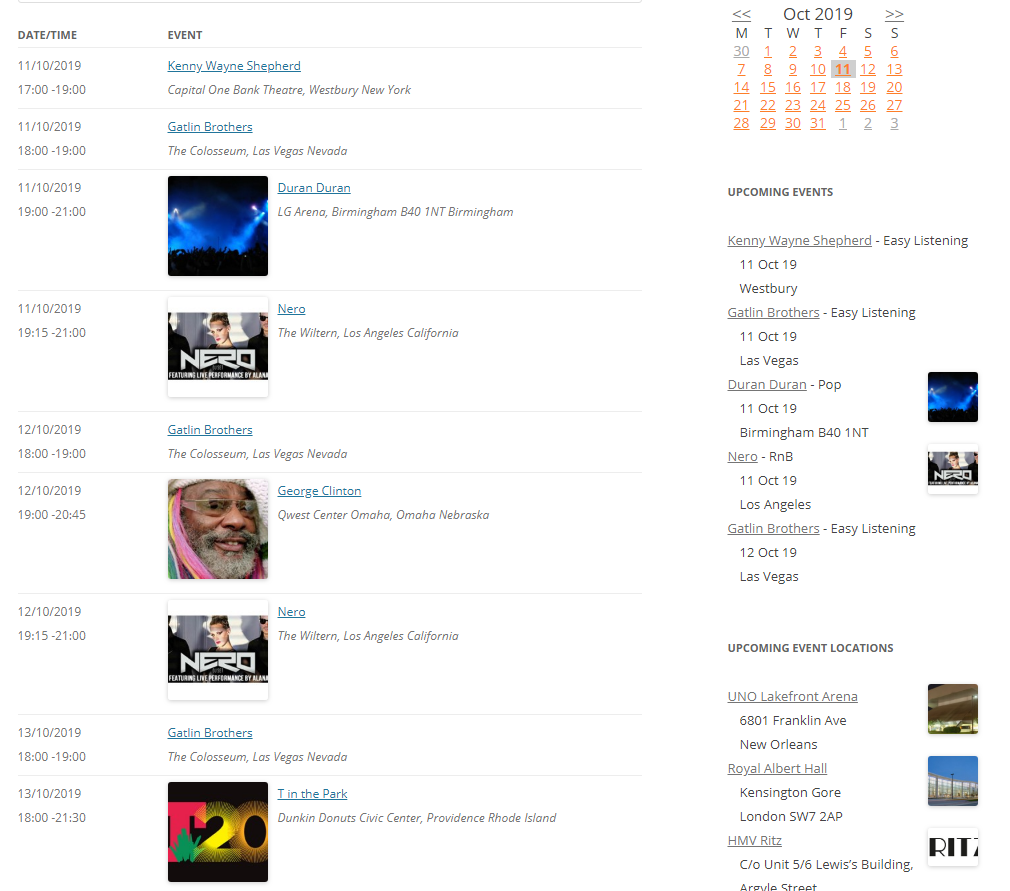 Event Manager is a fully-fledged WordPress events tool with the help of which you can effortlessly manage and create multiple occasions. The plugin is very flexible, which allows you to arrange events by days, weeks etc., export data in CVS and many more!
This WordPress event and WordPress booking plugins is available on wp.org, which means it is fully free and you won't spend even a cent to get a feature-rich functionality.
Some of the main features:
Easy bookings management
Event submission by guests
Ability to assign an event to the location
iCal feed with single or all events
Categories for events
Ability to create events for different time zones
and many others.
There is a premium version of this WordPress calendar plugin as well, having installed which PayPal, offline payments, coupon codes and custom booking emails become possible.
EventOn WordPress Scheduling Plugin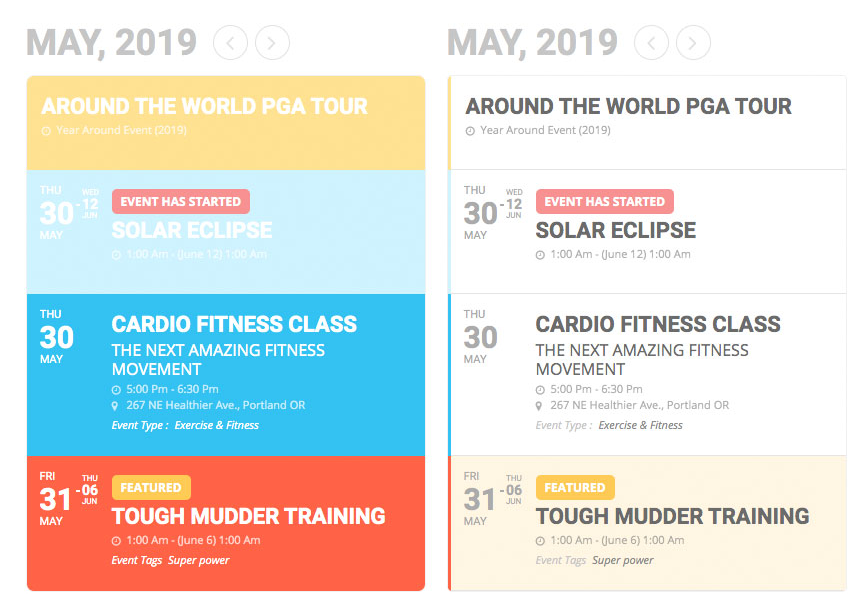 EventOn is a WordPress event calendar perfectly apt for displaying multiple events in a non-standard and bright way.
The main distinguishing feature of this WordPress calendar is event bubbles: all events will be scheduled in a unique beautiful way, with stylish colors and nice hover effects. They will be neatly arranged according to the month and year when they are planned.
Some other powerful features:
Two-color modes of the calendar (multicolored or simple black and white)
Insert the detailed information to the description box and accompany it with images
Add Google maps to each event type
Filtering events option
Use the FontAwesome icons
Delete the prior events
Set the event duration to the month or even the whole year
Different events layouts (list, grid, bubbles)
To achieve the highest level of customization, there can be added a custom image as a background of each event – you may pick some stylish images and use them to emphasize the uniqueness.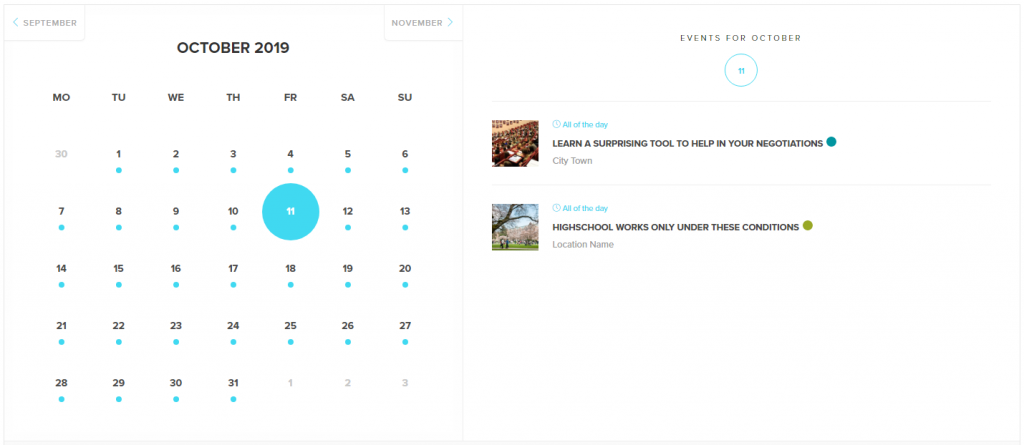 Modern Events Calendar WordPress Scheduling Plugin is an all-in-one solution for those who are looking for both multifunctional and feature-rich events calendar plugin. Keep your eye on a design that is elegantly crafted and comprises modern elements that will make your website look holistic.
Don't be afraid that this WP calendar won't interplay with your theme – on the contrary, the design of Modern Events Calendar was crafted so that it looks and works perfectly with any theme. However, you are free to customize it yourself since the settings are rather advanced.
The main features:
Mobile responsive
Google Maps integration for each event
Image background
Sharing events via different platforms (Google Calendar)
PayPal and WooCommerce integrations
Events created by customers
Modern Events plugin WordPress is also compatible with the compelling Visual Builder which may help you present calendars and events in the most appealing and beautiful way.
To achieve the highest level of customization, there can be added a custom image as a background of each event – you may pick some stylish images and use them to emphasize the uniqueness.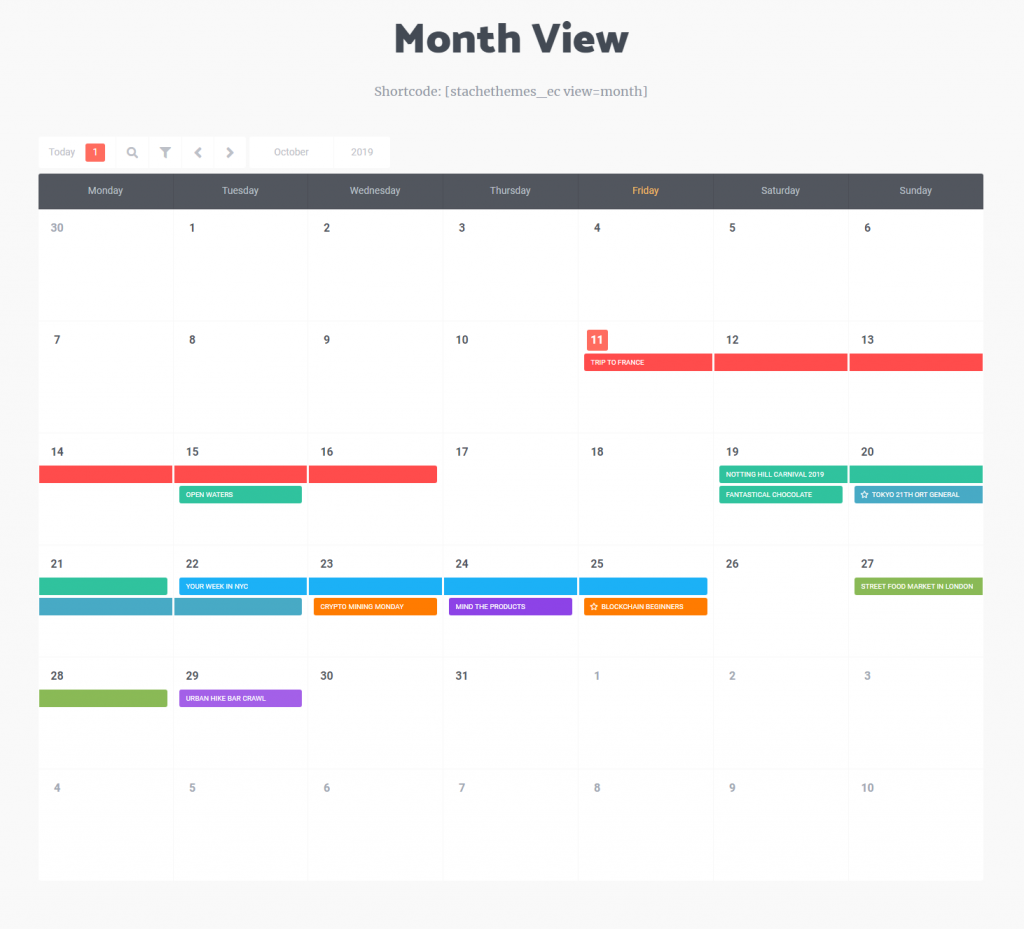 One more great calendar plugin WordPress was produced by Stachethemes and it will surely comply with all demands you may expect from the best WordPress events plugin.
In the latest versions of the Event Calendar now it is possible to play with the Visual Drag & Drop Content Builder, with which you can build your own custom Email Submissions Forms. More other features are on the way!
The main features:
Users can create paid events from the front-end
Different view layouts (grid, boxed, full)
Ability to conduct payment transactions
Socials icons to share events with friends on social networks
Event filter
Reminder of the events
System of the events repetition
and more!
There are a few more features which can make this WP calendar plugin greater, one of which is custom image installation as a background. This may tell more information about the event to a visitor, so that they can easily navigate through the multiple events displayed at your calendar.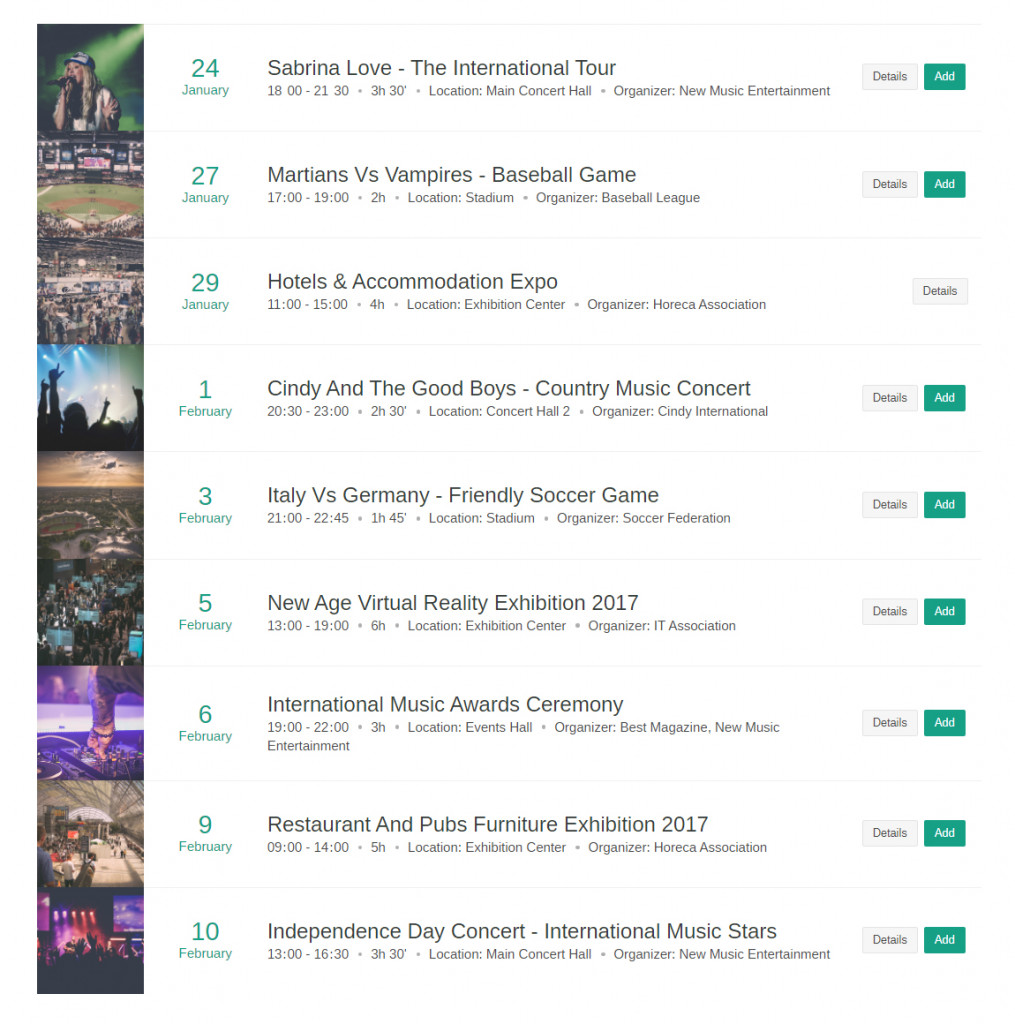 Events Schedule is one of those WordPress calendar plugins which are easy to work with, have no complicated structures and advanced code lines. People who are new to WP or have already gained experience can effortlessly and pleasantly work with this WordPress events calendar.
There are some already pre-made designs that come with the events WordPress plugin, but if you want to create your own one or customize already existing ones, you can accomplish these wishes as well.
The design itself is accurate, modern and universal, which means it will perfectly look on any website.
The main features:
WooCommerce booking system
Visual schedule builder
Many schedule styles
Advanced coloring options
Light-weight WordPress Scheduling Plugin
SEO friendly
Advanced support comes together with this WordPress calendar widget and you may always be sure that with any issues occurred there will be a solution from the support team.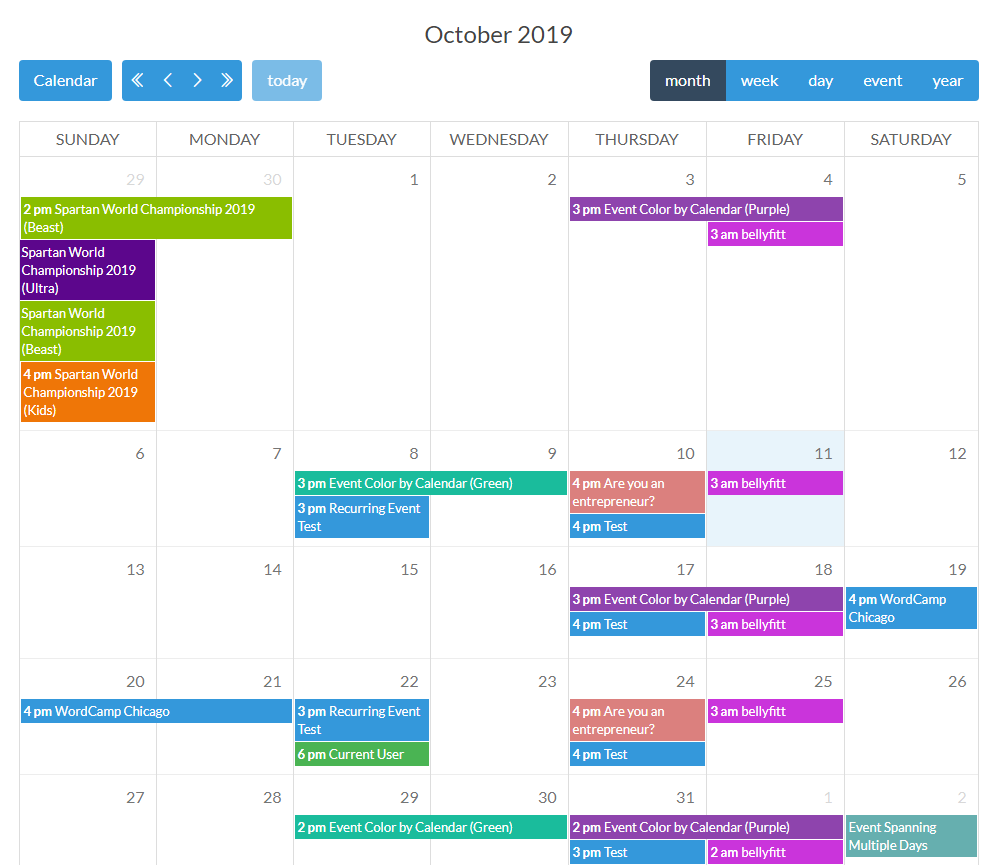 Calendarize it! can be named without exaggeration the best WordPress event calendar since it comes with a bunch of useful and unique features that you can easily implement to your own website in clicks.
Not all calendar plugins for WordPress will allow you to display schedules in month or week view, but Calendarize it! goes even further: there are so many view types available for you, namely month, week, day, year, even event map view.
The main features:
WordPress Gutenberg optimized
WPbakery compatible
Free addons
Filtering option
WordPress Scheduling Plugin Event countdown
Social sharing panel
Each event displayed in the event calendar WordPress can be powered by ratings and review so that people get more precise information as for given occasions.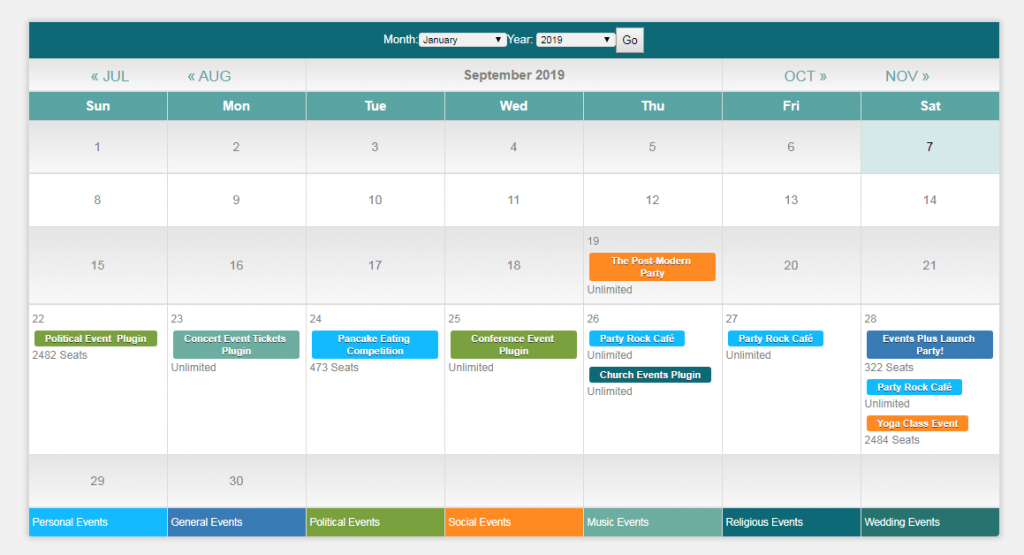 Can't choose from multiple WordPress event calendar plugins? EventPlus will be a universal solution for you to integrate into the website of any scale and specification.
Though this is a premium addon, it comes with a decent bunch of free addons and you don't have to pay multiple times to get one more addon and later more and more.
The main features:
Responsive design of WordPress Scheduling Plugin
Unlimited custom colors
Full-width layouts
Event thumbnails
Grid list of events
Google Maps integration
In case you want the event plugin WordPress to be translated into multiple languages, you can calmly use any translation plugin and get the content of the high-quality that will be comprehended by all people.
It is up to you which one from these WordPress events plugin to choose and implement into your website.
WordPress Scheduling Plugins Closing Remark
Every WordPress event schedule plugin is, beyond argument, a boon for your website both in terms of providing your users with necessary info (e.g., any gym visitor would be grateful for having a schedule of all the sport classes available online on the gym website) and in terms of making the process of timetable creation more convenient and automated for you. As long as you are using scheduling software, everything you need to do is, globally speaking, add your custom event data and get the time-bill or agenda generated on your site.
We consider event plugins to be apt for unlimited types of needs and purposes. And what about you?
P.S. I also know the way how to go further with the scheduling software for your WP site. If you own appointment-based services, the best idea would be to implement your own online booking form, namely the WordPress Appointments engine by MotoPress. This plugin allows users to reserve an appointment directly on the website using any custom time slots. Use it to facilitate the booking procedure for both you and your clients!
Feel free to have a say in the comments section!