Free WordPress Food & Restaurant Menu Plugins
It's not a standard in the WordPress space to provide full-blown or bespoke WordPress food menu plugin solutions for small-to-middle size businesses like restaurants or hotels, but the number of such solutions is growing.
Moreover, even without ready-made tools, it's still possible to find a great combo of different plugins! Extensibility is one of the biggest advantages of WordPress and you can benefit from it when building a WordPress restaurant ordering system or just an interactive restaurant menu.
So, we are going to talk about some cool WordPress plugins for restaurants and cafes – WordPress menu plugins, a table reservation system and more. Some are more or less ultimate solutions and others perform individual tasks. Let's dive in!
Pricing: free with premium addons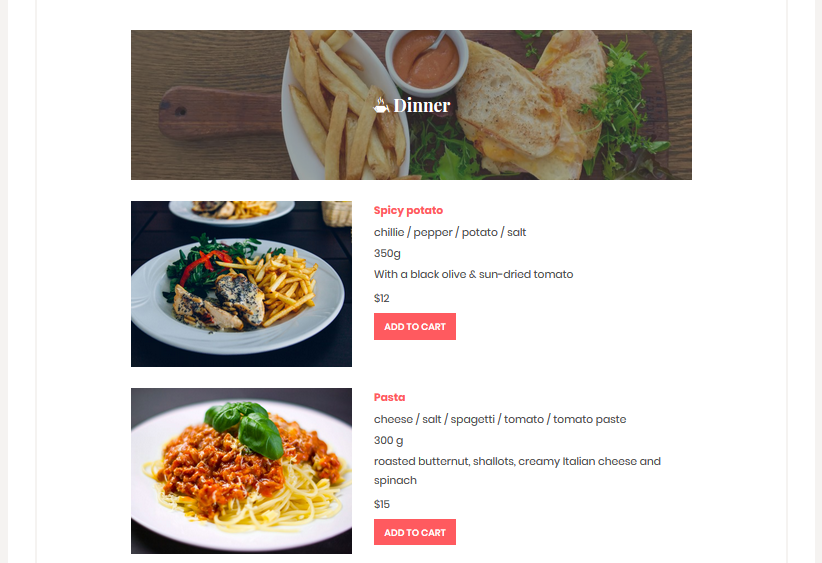 Demo powered by Oceanica Lite theme
A great WordPress food menu plugin for creating an interactive restaurant or cafe menu on WordPress.  It's a free plugin that apart from helping you in building the menu, supports PayPal and Cash on delivery payment methods for selling food and beverages online (all free of charge.)
Its main advantages are in the variety of stylish layouts (grid, list and simple list, multiple columns), responsive design and lots of other great features. The menu items can be also properly categorized and displayed with different tags.
One of the growing food trends is ''obsession with health" so the prospects may find the "Nutrition info" section really useful – it can be easily added with this plugin. If you are building a site for a client, they will definitely like this feature.
The plugin is based on shortcodes, but a user-friendly shortcode generator is also there to ease your work – so you'll simply need to tick the buttons like 'how many columns to display', 'grid or list', 'categories to display', etc. The plugin is integrated with the MotoPress Content Editor – WordPress Page Builder if you want to edit and customize the menu items visually.
The plugin is free, but if you need some specific sort of functionality like WordPress Food ordering system with a delivery service or Toppings option (allows clients to customize the orders by adding ingredients or side dishes to the meal), you may optionally get these premium extensions for this Restaurant Menu plugin.
Download free WordPress Restaurant Menu plugin
Pricing: free with paid addons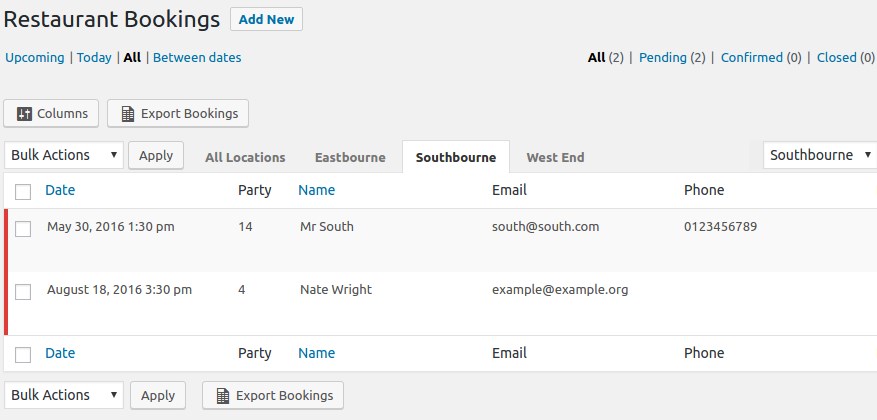 If you go with any free WordPress restaurant dedicated plugin for creating a restaurant menu, this free reservation plugin can be a good complementary tool to add important piece of functionality to your website and at the same time not to lose a dime.
This WordPress food menu plugin is very advanced in functionality – you may use for basic operations like approving or rejecting reservations, sending email notifications and restricting booking time on your theme restaurant menu. For example, you may set the system to automatically block reservation option when you are closed or during holiday periods.
This WordPress reservation plugin also allows to set custom user roles for managing bookings, accept bookings at multiple locations and even ban abusive customers.
As for paid extensions, you might get any of the following ones: Custom fields for Restaurant Reservations, Email Templates for Restaurant Reservations, Bookings Export to PDF and Excel/CSV files and more within only one WordPress restaurant plugin.
Download free Restaurant Reservations WordPress plugin
Pricing: free with premium addons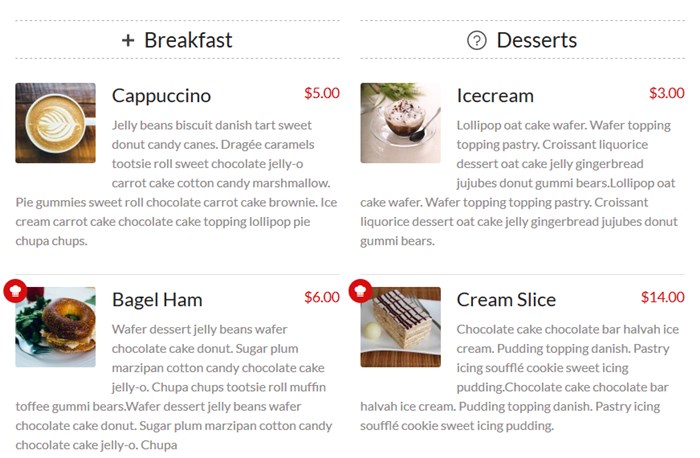 RestaurantPress is a nice WordPress plugin for restaurant and cafe menus, it comes with responsive design and many simple layouts. You'll be able to show your menu in a single-column, two-column or grid layout. The plugin is widgets ready, so you may display your menu even in a sidebar.
If you want to display each menu items with multiple images, you may use a built-in image gallery to showcase the menu items in the best light.
The plugin also allows to categorize the menus by their types (for example, courses or holiday menus.) It's pretty handy in setting up and customizing, so even non-techs should deal with the task well.
If you want to sell your menu items online, you'll need to purchase additional WooCommerce integration addon ($39 for one site) that will allow you to enable any payment gateway.
Download free RestaurantPress plugin
Pricing: free with paid subscription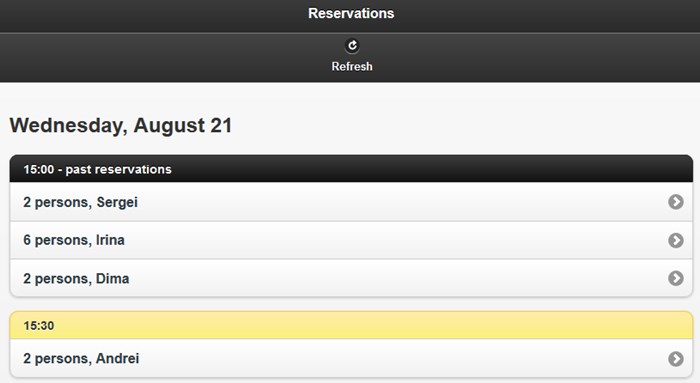 Another restaurant reservations plugin alternative, which is free. It's not that popular as the one by Theme of the Crop we mentioned above, but also offers a good bunch of useful options.
In addition to accepting online reservations, this reservation system shows free available space at the specific time, so you can make the whole bookings managements process more automated.
If you need more features like maximum available seats for online reservations by weekday, setting open times, support for multiple places, customizable notification emails, you can proceed with a paid subscription.
Download Free Redi Restaurant Reservations for WordPress
Pricing: free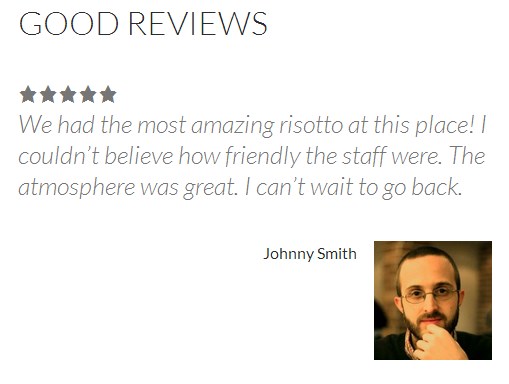 There is nothing more powerful than 'crowd wisdom' when it comes to evaluating the product or service before paying for it. So you'll most likely need to use a review system, which will help you keep transparent relationship with your prospects.
One of great free solutions is Good Reviews for WordPress. It adds reviews and testimonials to the posts, pages and widgets using Schema markup, which is great for proper search engine rankings.
You can customize the reviews and make them more personalized by adding reviewer's photos, numbered ratings, customize the appearance of reviews.
But bear in mind that this WordPress food menu plugin doesn't allow guests to submit reviews. If you need to post reviews submitted by guests, consider a free WP Customers Review plugin.
Download Free Good Reviews WordPress plugin
Pricing: free with paid features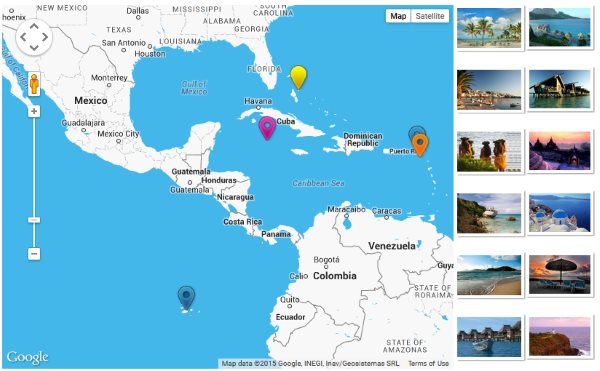 All types of various restaurant establishments should provide website visitors with proper and instant contact information. That's why so many restaurant and cafe websites feature not only basic contact info, but also indicate their location on the map.
The plugins like Google Maps Easy makes the process of displaying your info on the map even easier, in a more beautiful way.
The plugin allows to use map markers with media descriptions, add locations by searching or coordination. Import and Export features for your markers and locations are also available.
If you need more customization freedom and features, check out the following paid options of the plugin: heatmap layer, front-end and maps markers editing, slider mode for Google map markers, and more.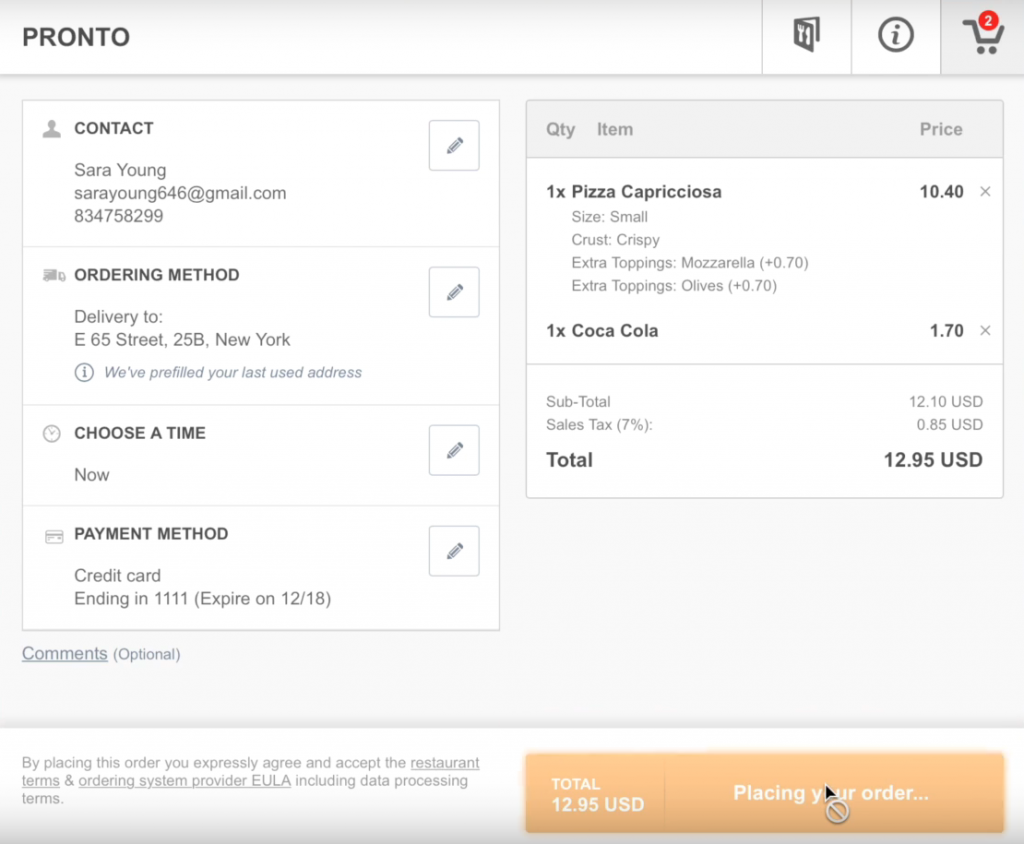 Trusted WordPress restaurant menu plugin implies that it has a simple restaurant menu list, easy navigation, user-friendly interface and rich functionality. With Restaurant Menu WordPress plugin you are to achieve all of the above in a matter of seconds.
The Restaurant Menu is pretty easy to install and use right out of the box: simple drag & drop editor enables you to create a customizable menu list with the CTA button (for example, Order), where any of the menu items will be nicely showcased.
Among the main features, there are multiple free images, universal design for any theme and any cuisine type, responsive design on all devices, ability to order the food before the dinner.
Reservation options in this WordPress restaurant menu plugin are of a high level, i.e. it has a real-time confirmation, order beforehand, variable timing for delivery, payments either online with tips option (in premium version) or in cash.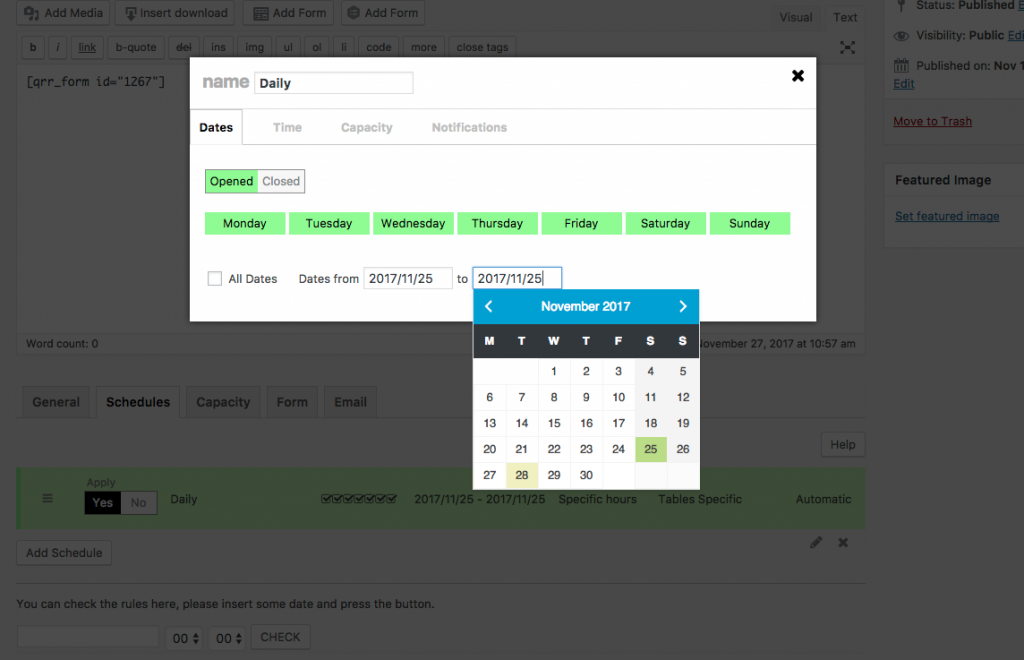 As it comes from the name, plugin manages WP restaurant menu and make reservation possible for efforts experience of website visitors and restaurant owners.
In the admin panel, you are to set email notifications which your future customers will receive as soon as their quick restaurant menu reservation is confirmed. There are also all control settings concerning timing, dates and available timetable.
Each reservation has four modes: pending, confirm, cancel, reject which help website visitors understand what stage their reservation is. Also, there is an option to create multiple schedules and define their interval. Clients may leave their personal data (phone number, email, message etc.) in the corresponding fields.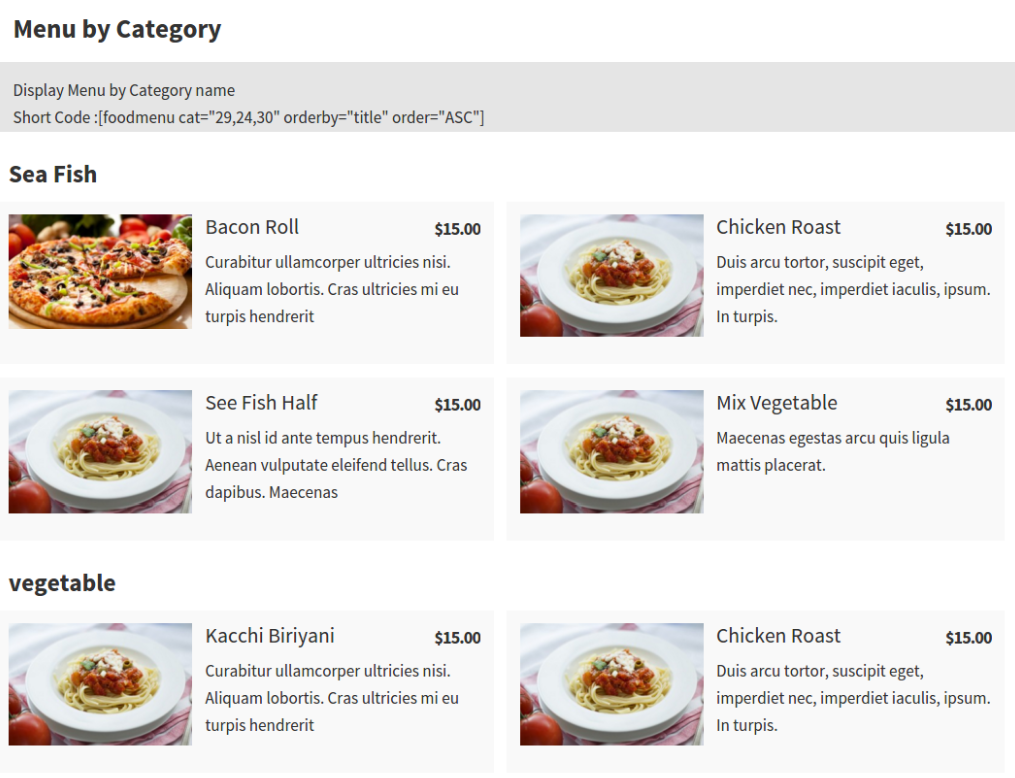 Super light-weight restaurant menu plugin WordPress is perfectly suitable for offhand displaying of the menu items and creating your own unique menu layouts.
This WordPress restaurant menu tool is handy for quick adding of your menu into the website and straight forward using it. The plugin is multi-purpose, which makes it universal to use on website of any catering establishment: cafe, restaurant, bar, fast food etc.
There are many shortcodes that you can insert into a page, instead of HTML5 and CSS3 code lines, which are also supported by plugin.
It is a fully responsive restaurant menu WordPress plugin that will beautifully feature menu items on any device. To make UX, even more, easier, there is a currency choice option for quick and effortless reservation and order payment.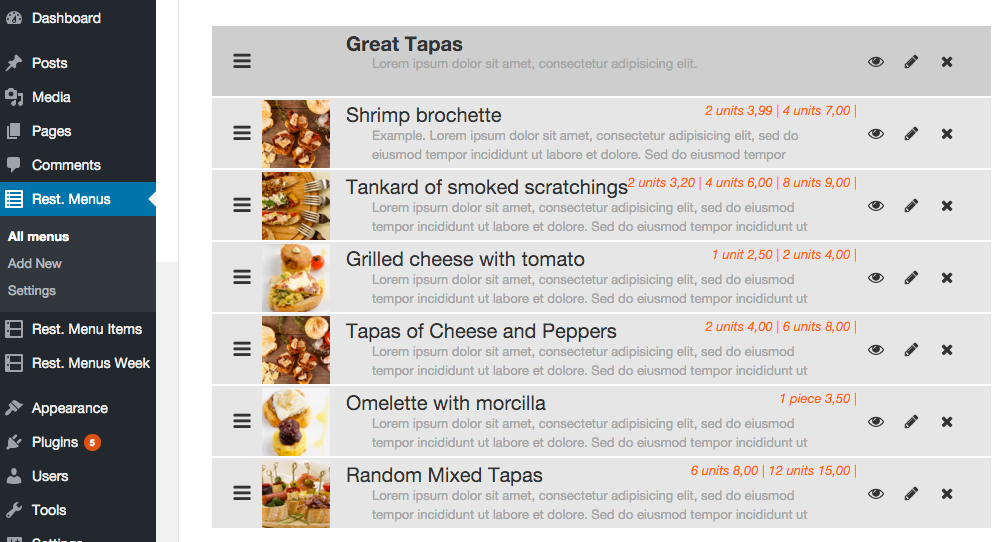 Great plugin for displaying food items on a neat image restaurant menu list. Take an advantage of variable menus for different days and even hours, depending on your establishment type and foods you serve for breakfast, dinner and supper.
The menu is constructed in the native WordPress editor by two post types – menu and menu items. Customize it as you wish, change columns, add spacing, sections etc. Then, by using a shortcode, transform it into a post or page.
Each menu may have a unique header and footer, menu items may be accompanied by images, descriptions and price tags; you are free to add custom CSS if you are willing to. Quick restaurant menu is responsive on all devices as well, which greatly contributes to the pleasant UX.
Bottom line
All the WordPress food menu plugins listed can work great as standalone solutions with any WordPress theme. To build a menu, you can safely use the FoodPress plugin. If you need to create a menu and also sell food and beverages online, MotoPress Restaurant Menu plugin is a great choice (no extra cost for accepting online payments). Restaurant Reservations can be a better solution if you're on budget, but want to enable a table reservation service. If you want to collect authentic reviews, WP Customers review is a great solution. But you need to add reviews yourself, Good Reviews for WordPress is a nice and neat plugin.
By the way, do you use any of these or WordPress food menu plugins on your or your client's website? Have you found a perfect combo for your needs in this post? Share your knowledge and experience.