MotoPress Restaurant Menu Review: Free WordPress Menu Plugin
The use of technology in a restaurant operation provides a competitive advantage and can help you maintain better profitability. If you've already successfully invested in gizmos and apps like mobile ordering systems for waiters, KDS, or the like, you should not forget about the online presence of your restaurant website. Customer expectations continue to rise on the pre-purchase stage and your business should adopt. Why?
Do modern consumers look up restaurant locations and directions on the web? Yes, predominantly using smartphones and tablets.
Do they view menus online? Of course, some people will never walk into a restaurant without digging into menu details first.
Do they order food online? Undoubtedly, takeaway and delivery service are a commodity in the foodservice industry.
And these are just the most evident answers to our "why".
If you use/plan to use WordPress for your restaurant website and are looking to feature your menu, we are going to tell you about a better way to start.
First, forget about restaurant menu makers that can design a PDF template of your menu items. This is far from an "interactive" menu path. Neither you nor your customers are going to be fully satisfied with it.
Alternatively, install a free WordPress menu plugin for your restaurant by MotoPress. Whether it's mature enough to fully meet your needs, you are about to discover in the following review.
What can you achieve with this WordPress menu plugin?
The aim of this WordPress food menu plugin is to help you create a modern online WordPress restaurant menu and optionally enable the food ordering system. For more functionality, you can get extra addons to enable the needed services like "toppings".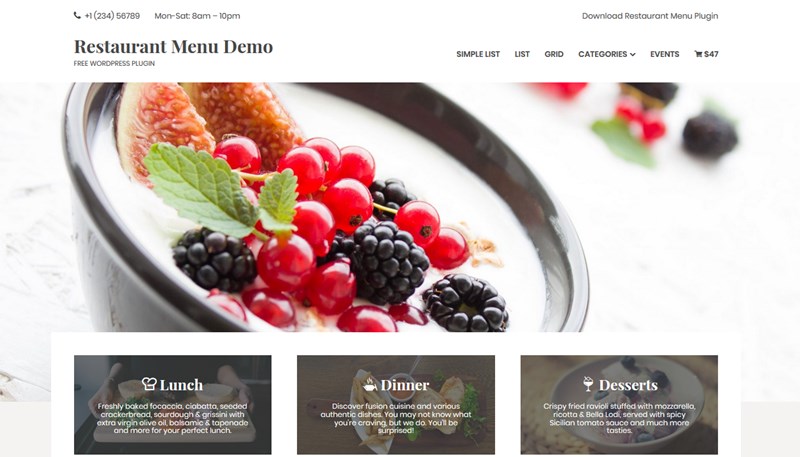 Who is this plugin for?
Owners of restaurants of different types and styles: bars, bistros, cafes, drive-ins, pubs, trattorias, etc. that are looking to present the menu items in an interactive way and optionally sell food and drinks online.
Culinary enthusiasts who want to create a food blog with a well-structured recipe system. As a solo writer, you'll unlikely require any extra plugins, so your odds to start an online business with a free WordPress plugin are high!
WordPress developers who build restaurant websites for clients.
The main features of the MotoPress Restaurant Menu plugin
Responsive, clutter-free website layouts for presenting your offerings. This involves proper menu items categorizing and balanced layouts to improve the user experience for your customers.
Unlimited custom menus and menu items.
Ability to display your menu in the post, page or sidebar.
A proper taxonomy for your menu items based on categories and tags.
An easy shortcode customization or visual menu page editing with MotoPress Content Editor plugin.
A set of beautiful icons for the menu categories.
Export and import of the Restaurant menu data.
Optionally extendable with useful free and premium addons.
Let's now have a look at the details.
Adding a menu item
As I've already mentioned, you are no limited to the number of menu items you can add. In addition to a standard menu item description, you can make your menu items more appealing thanks to:
Ingredients. A taxonomized list, which is easy to apply to any menu item without a need to create a list anew each time. Basically, you may firstly add a whole list of ingredients under the respective menu and, on the next step, simply tick the needed ones depending on the menu item.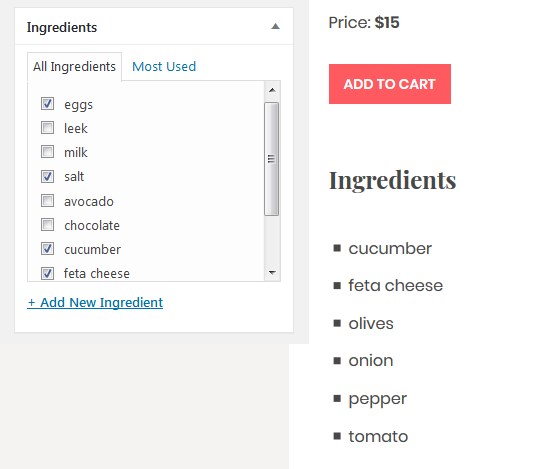 Tags and categories. You are free to organize your menu items under various categories to make the search through them faster and easier for your customers. These may be standard ones like "appetizers" or "desserts" or/and you may include categories like "holiday menu", "breakfast on the go", etc.
Adding categories, you can place any relative icon or upload your custom image for the thumbnail.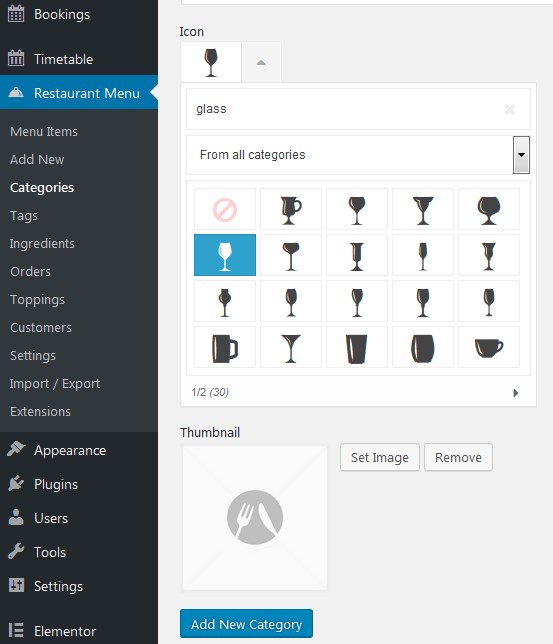 For example, all items under the Beverages category.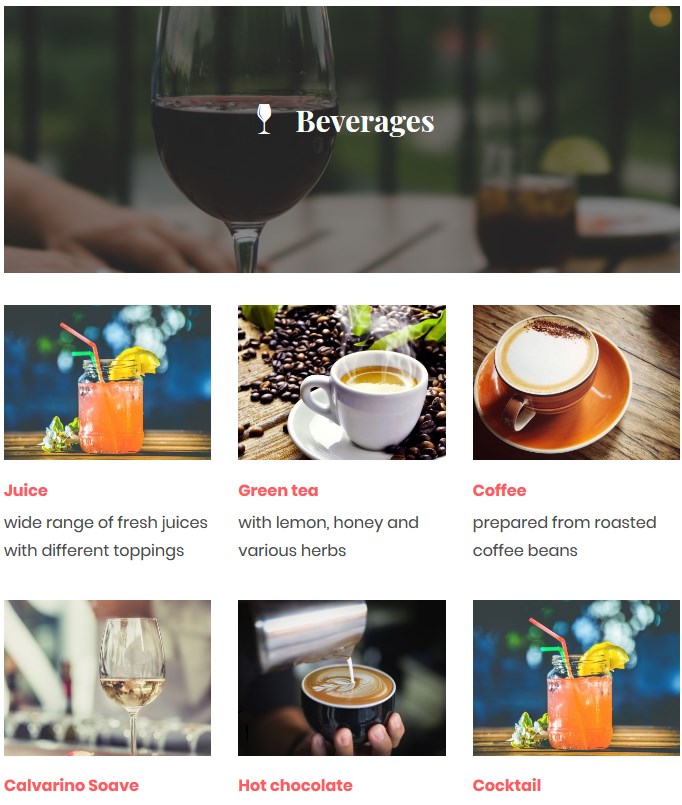 With tags, you can also pay visitor's attention to the items you want to highlight: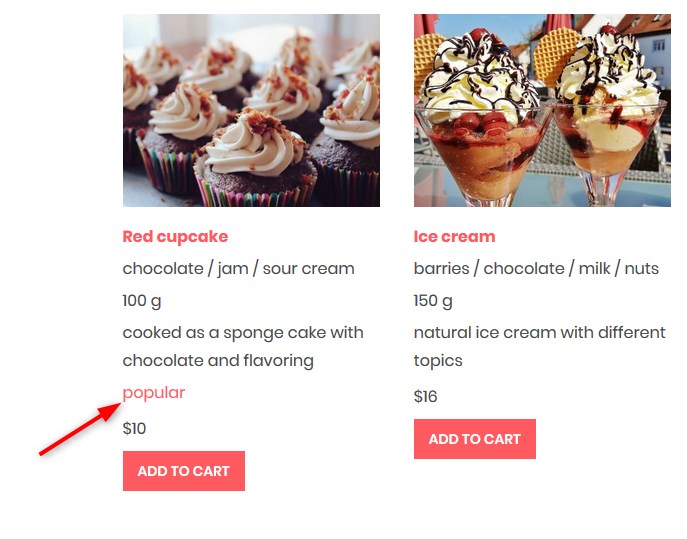 Of course, Price. On the menu item screen, you set the price without any currency symbols as the latter needs to be configured in settings. You can display the price no matter whether you are going to sell the items online or not.
Nutritional info. You can make a favor for health-conscious consumers by providing a detailed nutritional information for each menu item. It's a great way to increase the audience of your fans. Also, this may be a really helpful feature for food blog owners!
Portion size. Specify the size parameters of your menu item.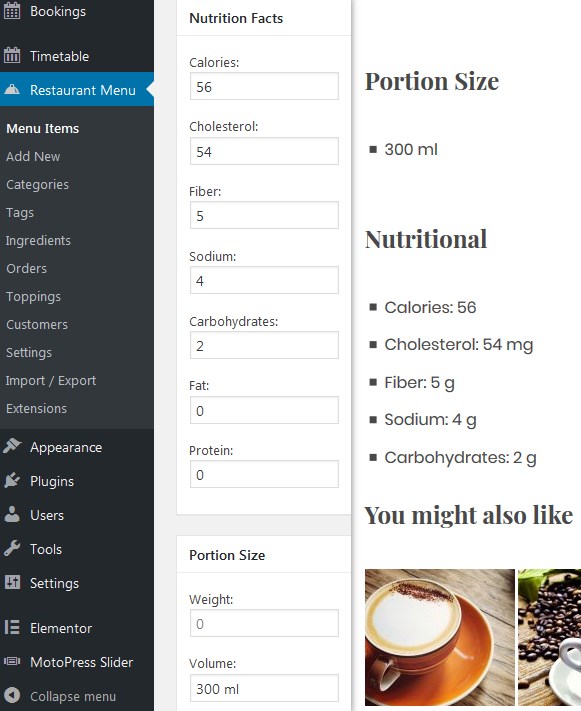 Featured image and an image gallery. Present your yummy images and let your restaurant thrive on the strength of the food photography. Being able to add a bunch of images to each menu element, you have space for playing with plating, lightning and composition of food photography to lure your prospects.

If you connect extra addons or WooCommerce, there may appear new settings you'll need to configure.
Overall, the plugin interface is very easy to grasp. It won't create any problems even for not tech-inclined people.
Customizable layouts
Depending on the WordPress theme you use and your personal preferences, you can set the most clutter-free and appealing layout for your online restaurant menu.
You can tweak it easily with a shortcode generator. This plugin uses a better way for generating a shortcode – instead of writing the parameters manually, glancing through the documentation, you'll be working with a user-friendly interface.
The shortcut of the generator can be found in any post or page if the plugin is activated – so simply jump to it to start customizing your future menu!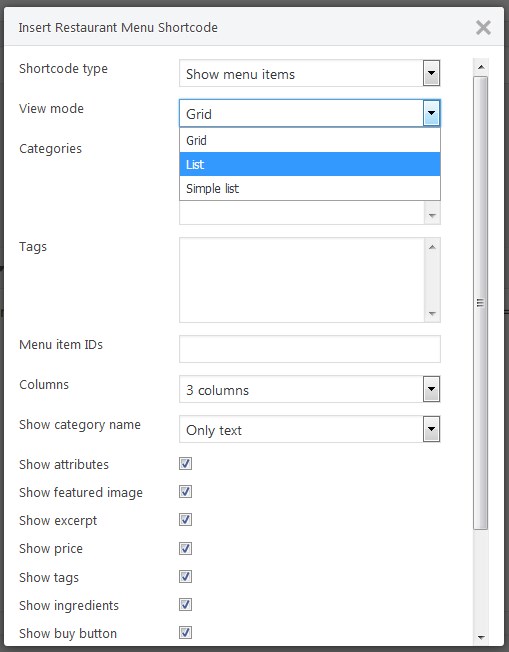 Let's highlight the main options of the menu layout customization. Depending on how you want the menu to be presented, menu items or categories, there will be different options:
Menu categories
Menu items

Grid or list menu layout
Ability to show items by specific categories
Up to 6-column layout
Ability to display a category name, featured image, icon and a category description
Ability to set up a description length (helps you create a better visual hierarchy)

Grid, list or simple list menu layout
Ability to show items by specific categories and tags
Ability to display only specific menu items by IDs
Up to 6-column layout
Different ways to present a category name: only text, text with an image or hidden
Ability to display a category name, featured image, icon, excerpt, price, tags, ingredients, "Buy" button, a link
Ability to set up a description length (helps you create a better visual hierarchy)
You can use both on different pages by generating different shortcodes.
Here are some layout examples:
A grid view of menu items – looks really bold and stunning if you wish to make the main focus on images of each element: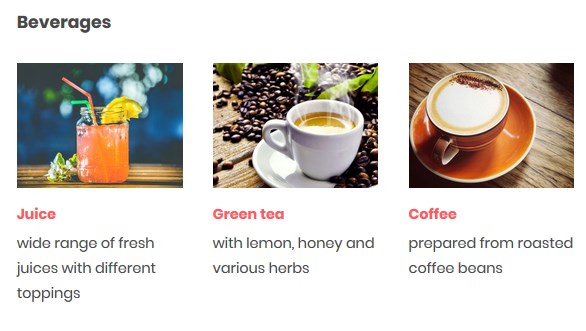 A grid view of categories also serve a better visual guide to a detailed list of items: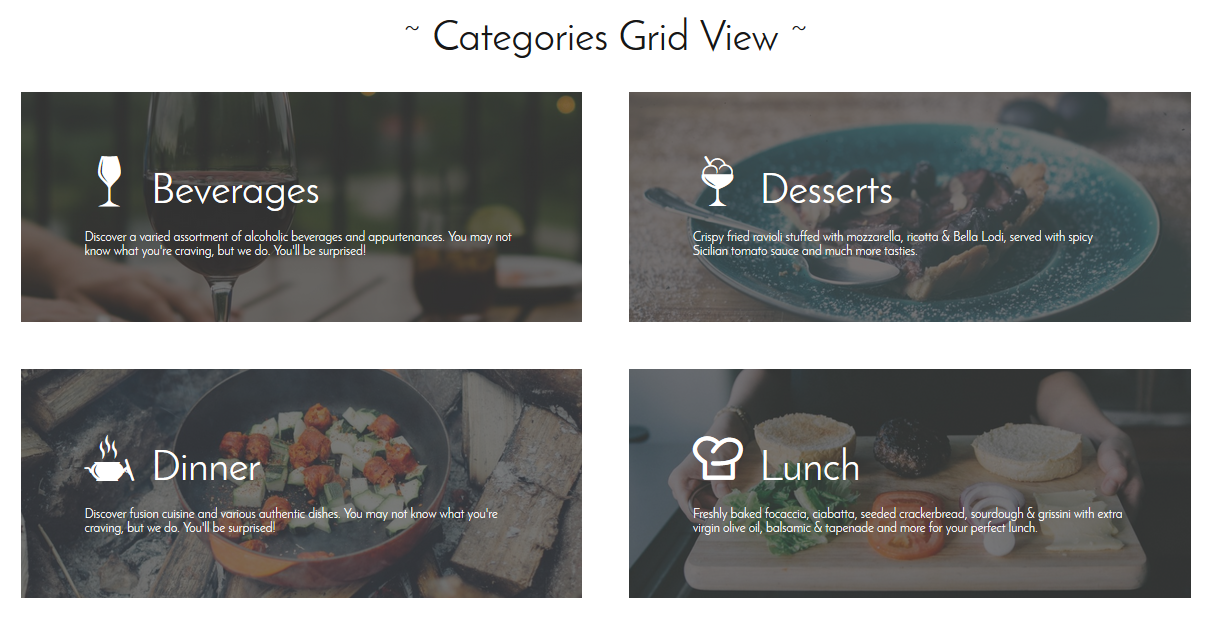 You may also choose a simple list menu to help customers skim your menu and prices, without going into details: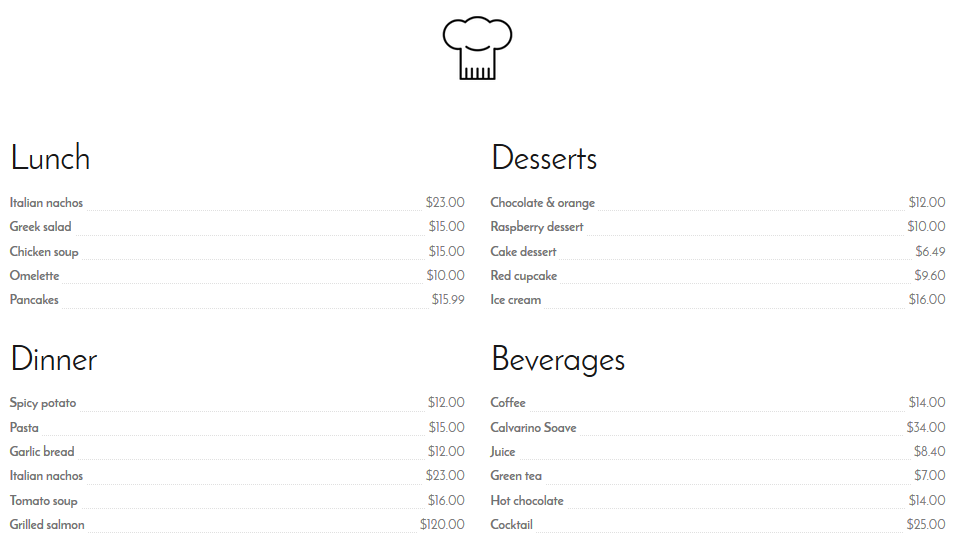 Optionally add a category image to a simple list: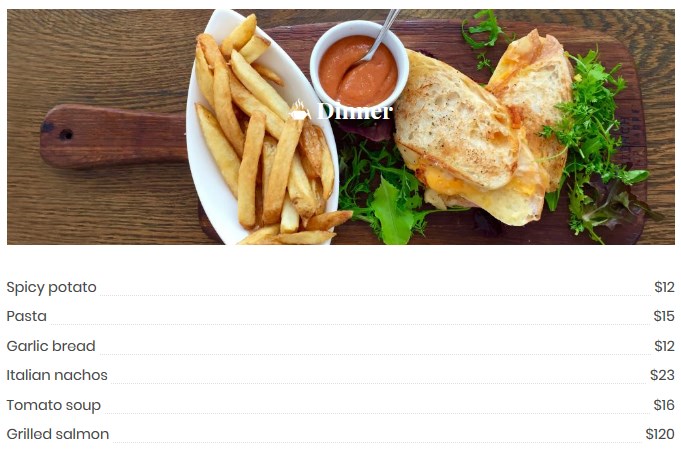 To put each menu element in the spotlight, you can supply all of them with the needed details and make it really informative (and mouth-watering!) for your customers.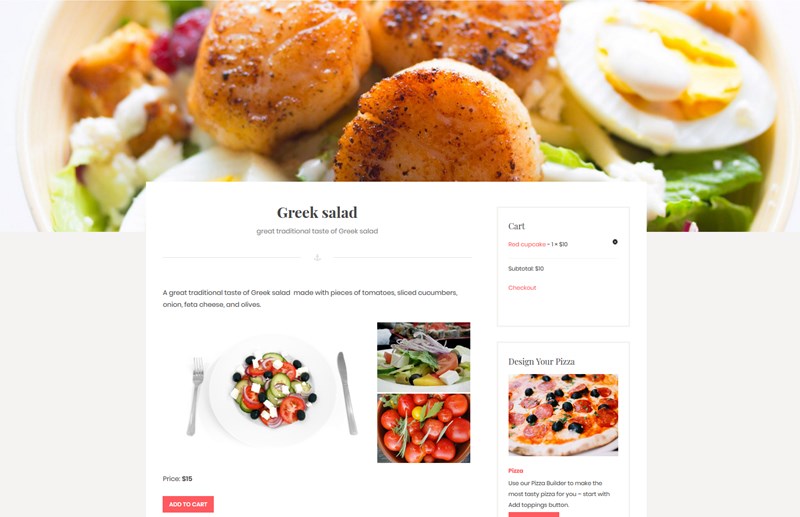 As you may sum up, the MotoPress Restaurant Menu plugin is pretty flexible at the layout customization aspect. It gives you lots of easy tools to achieve a needed aesthetic arrangement of your restaurant menu items with any WordPress theme.
Enable eCommerce
Another cool strength of this WordPress food menu plugin is eCommerce opportunities. The data says, the average online ordering check size is 23% larger than in-store checks.
If you want to sell food and beverages online, allow customers to make orders directly on your website, you should simply enable eCommerce in General settings. No need to connect to any third-party eCommerce WordPress plugins!
The process will involve setting up the needed checkout endpoints, configuring currency settings and choosing a payment method:
PayPal Standard
Test Payment (for payment test-runs)
Cash on delivery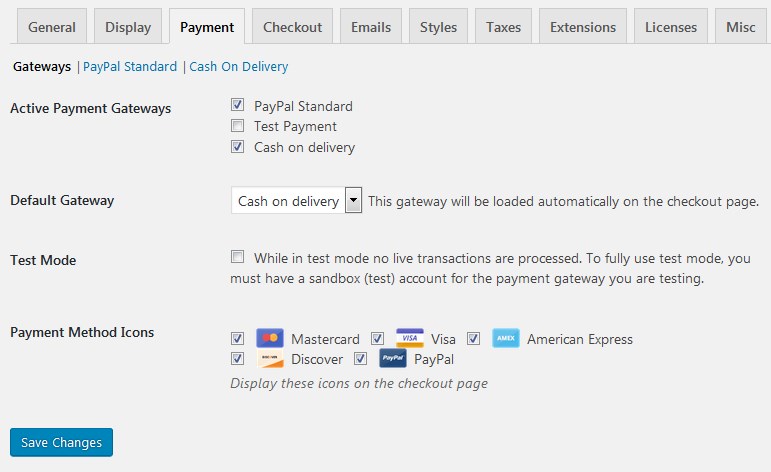 You can tick as many methods as needed. If the shoppers want to switch the gateway, they will do it in one click (of course, you can disable a test payment for the live website):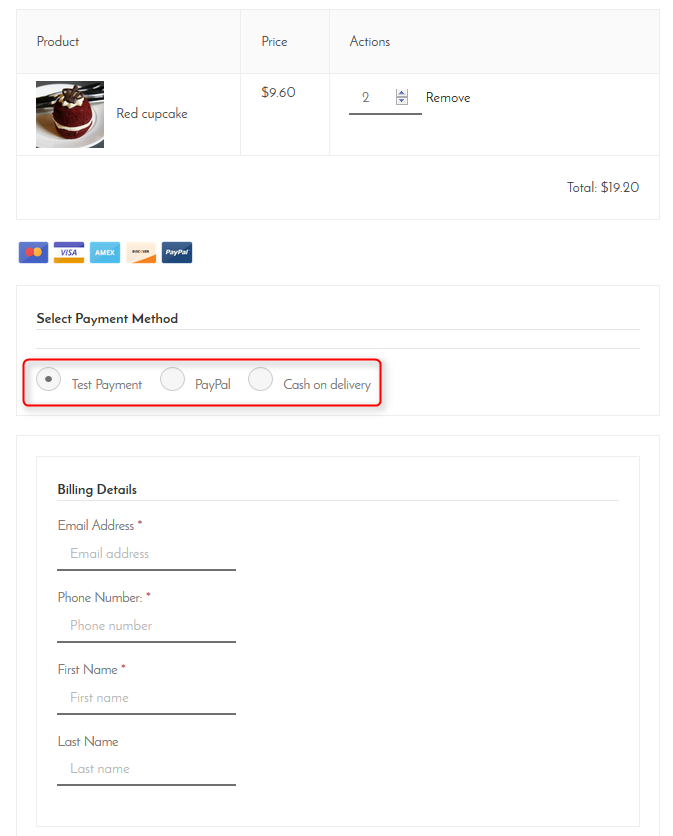 Among other useful options that you can adjust for online sales are guest checkout or only for logged-in users, the ability to change the number of items on the checkout page for users, Ajax for the shopping cart procedure (adding products to cart without reloading the page) and several more.
As for the taxes, the system currently doesn't offer any advanced system. However, you can enable taxes manually and add a tax rate percentage. This information will be displayed on the checkout page for the shoppers.
As a bonus, you can easily update the "Add to cart" and "Purchase" button labels right in the admin settings.
Email notifications
You can customize the purchase receipts of your restaurant and notifications about a new sale in the General settings > Emails. There you'll find several pre-made templates that you can customize using macros to automatically embed essential purchase info.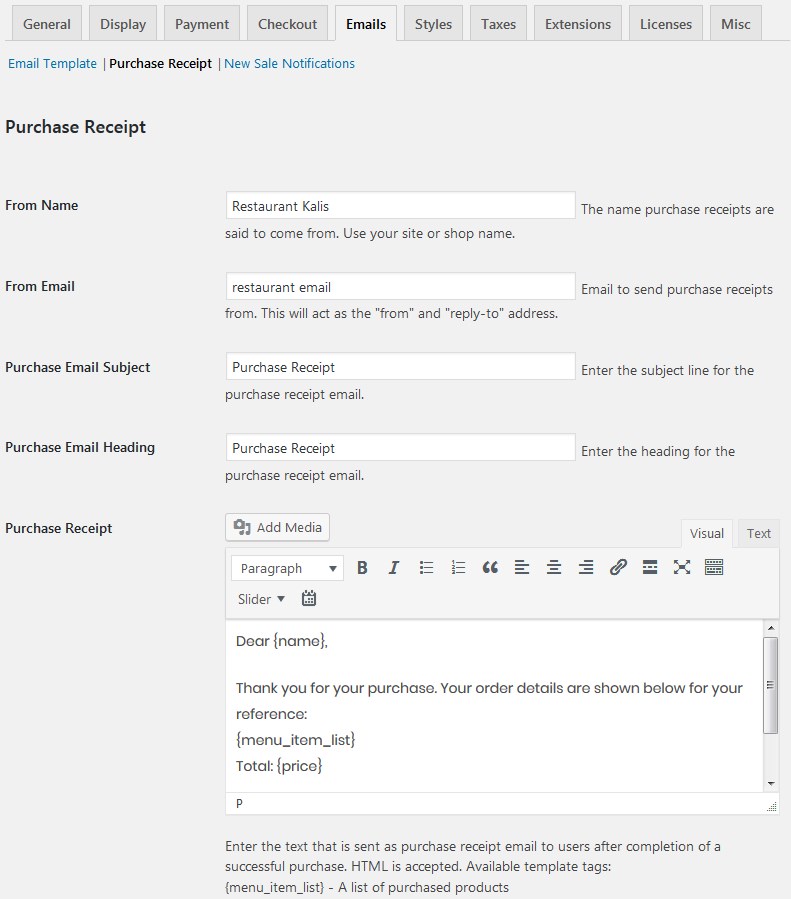 Managing customers and orders
You can manage either order made online by your customers or add them manually. If extra addons are activated, you'll also be able to add or customize these details by client's request (over the phone, for example).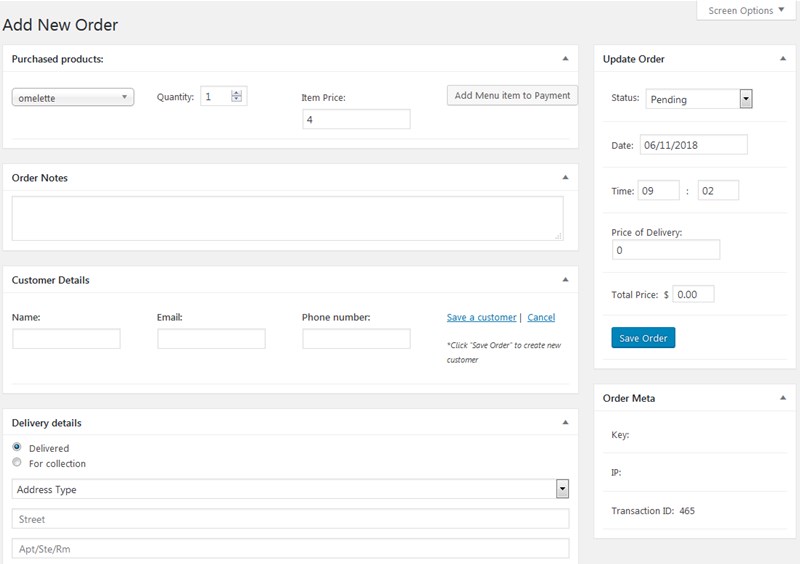 The plugin also comes with a free extension to help you add a shopping cart directly into the navigation menu. When the shoppers add any menu item to the cart, it automatically appears in the menu.
There are several settings to help you optimize the cart: whether to display the cart icon or only the number of items and the total price, whether to display the icon always or only when the items are added, etc.
Overall, using this free addon, you can provide your customers with a very familiar and easy-to-follow shopping interface.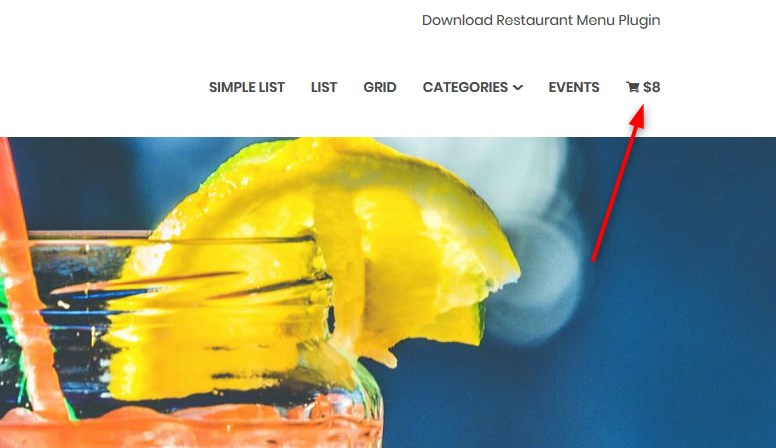 Just to make it clear – every piece of functionality we've just revised is free as in beer!
Make it yours until MotoPress guys have not decided to change its pricing model 🙂 Because, I can tell you from experience of playing up with different WordPress restaurant plugins, it's currently the most generous plugin in terms of free features.
Now, if your restaurant website requires more functionality, let's cross the line of a free WordPress restaurant software by MotoPress and take a closer look at its premium addons.
Premium addons for Restaurant menu plugin
If you need it full-blown, suitable for a full-cycle approach of a restaurant business (a menu presentation, ordering, and delivery), you can get all premium plugins along with a free core plugin. Or, you can even go with just a specific plugin to add a required piece of functionality.
We'll just briefly mention them in this post:
WordPress Food delivery plugin: this addon for the MotoPress Restaurant Menu plugin allows you to enable delivery and pickup services for your restaurant.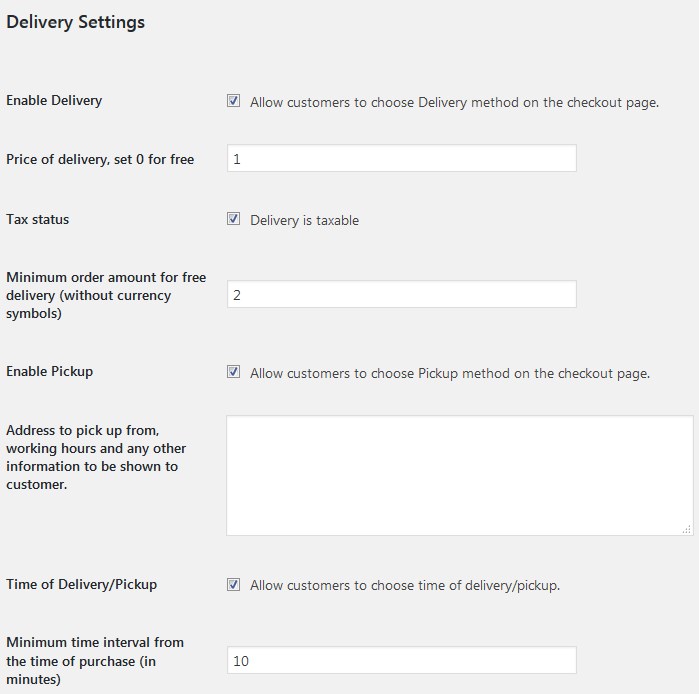 It's pretty flexible thanks to the following features:
Ability for the shoppers to choose the delivery time
An advanced order submission form
Free or paid delivery (let customers access a free delivery option when they spend a certain amount of money)
Taxable bills
Customizable order details and more.
Toppings addon: this awesome addon sets you up with the toolkit to sell extra menu items suitable for the main item ordered. With this plugin, you can:
Sell extra ingredients or side dishes
Set an optimal topping selection control
Add images to all toppings
Easily manage toppings on the backend
Once the list of available toppings is added, it's also taxonomized for each menu item.
For example, with this addon, you can create such a cool thing lik a pizza builder (replace pizza with the needed item) and let food lovers create their own order. For example, they can choose the size of pizza and select from the available ingredients.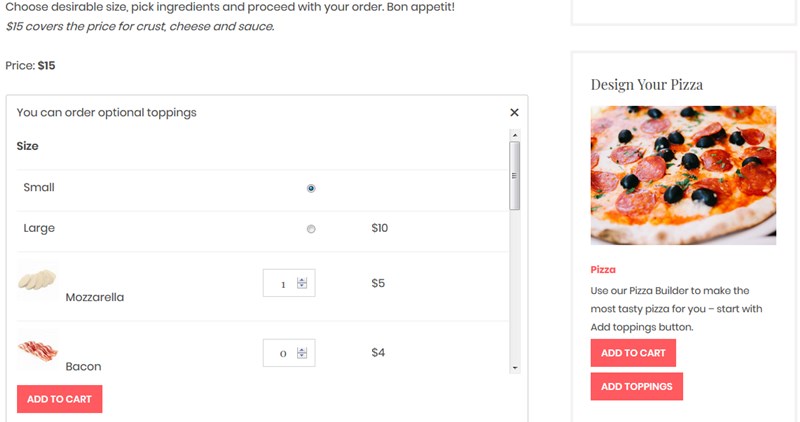 Remember, the look of your menu is pretty much the work of your WordPress theme styles.
For example, the WordPress themes used in this post for demo are Oceanica and Artwork, though they are not restaurant business dedicated solutions. However, they were able to deliver a unique taste and atmosphere for our menu items!
Long story short, you might want to experiment with different WordPress themes to achieve the desired style that will reflect your brand reality.
Final thoughts
No busy phone lines, no commission for third-party services, more organic ways to increase your revenue – all this can be achieved with a WordPress menu plugin by MotoPress.
It's also great that with this plugin you are offered a taxonomic tool for ingredients, tags, and categories. This will bring more restaurant menu management automation to the table, which is especially helpful for multiple-item menus. You'll also be able to create a clean and intuitive food ordering interface to serve the needs of modern people who often make orders on the go.
Among other lucrative features are easily accessible nutrition information for health-conscious customers, an optional online food ordering system, and toppings technology. As the plugin is absolutely free, it will cost you nothing to give it a try and get a better sense of whether it's suitable for your needs.
If you love the review, let me know. If you have any additional questions – fire away!