How to Build a WordPress Restaurant Website
Building a restaurant website with WordPress is not a piece of cake. However, the variety of ready-made restaurant designs and absolutely user-friendly plugins for specific functionality continue simplifying this task more and more. In this post, we're going to talk about the basics of how to create a restaurant menu in WordPress.
A brand restaurant or cafe website will help you share the most crucial information about your restaurant – your menu, opening hours, locations and more. Optionally, you may enable a table reservation service for dine-in restaurants, create an online food ordering system, provide take-out services, etc. All this is absolutely doable with a set of WordPress plugins.
Taking multiple restaurant operations into the cloud, automating communication with clients, you basically spend less time doing business, at the same time increasing your revenue.
So, time to talk about those crucial things needed for making a restaurant, cafe, pub or a similar website using WordPress.
What it takes to build a WordPress restaurant website
There are three pillars: hosting, domain and plugins (a website builder for restaurants). Let's go through them one by one.
1. Hosting & domain
Hosting – if you don't want to spend another day on research, take a look at the officially WordPress recommended hosting providers or take our advice on the most reliable WordPress hosting providers.
Domain name – if you have a hard time choosing a domain name, give a try to a cool domain name generator service like DomainWheel. You can easily start from here with all the process of sorting out hosting/domain/WordPress installation things.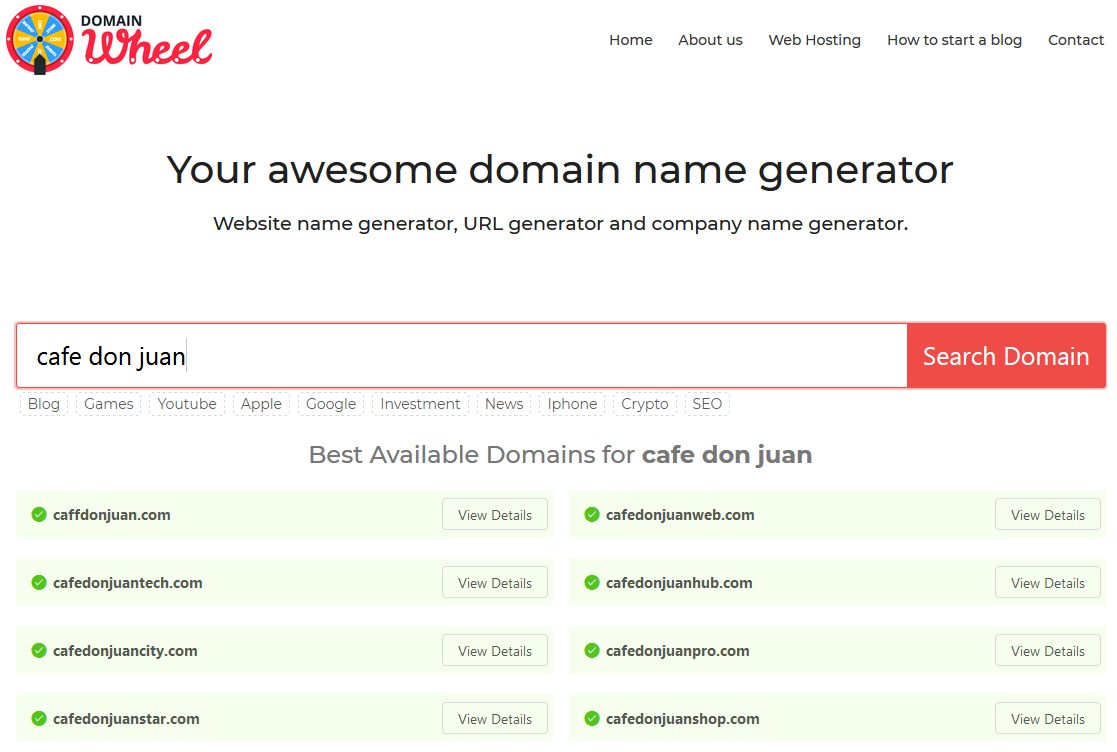 3. Free WordPress software, of course.
2. Foods website templates for WordPress
You also need a WordPress theme, preferably with a niche focused design. There are several free and premium WordPress themes for restaurants we recommend:
Kale WordPress theme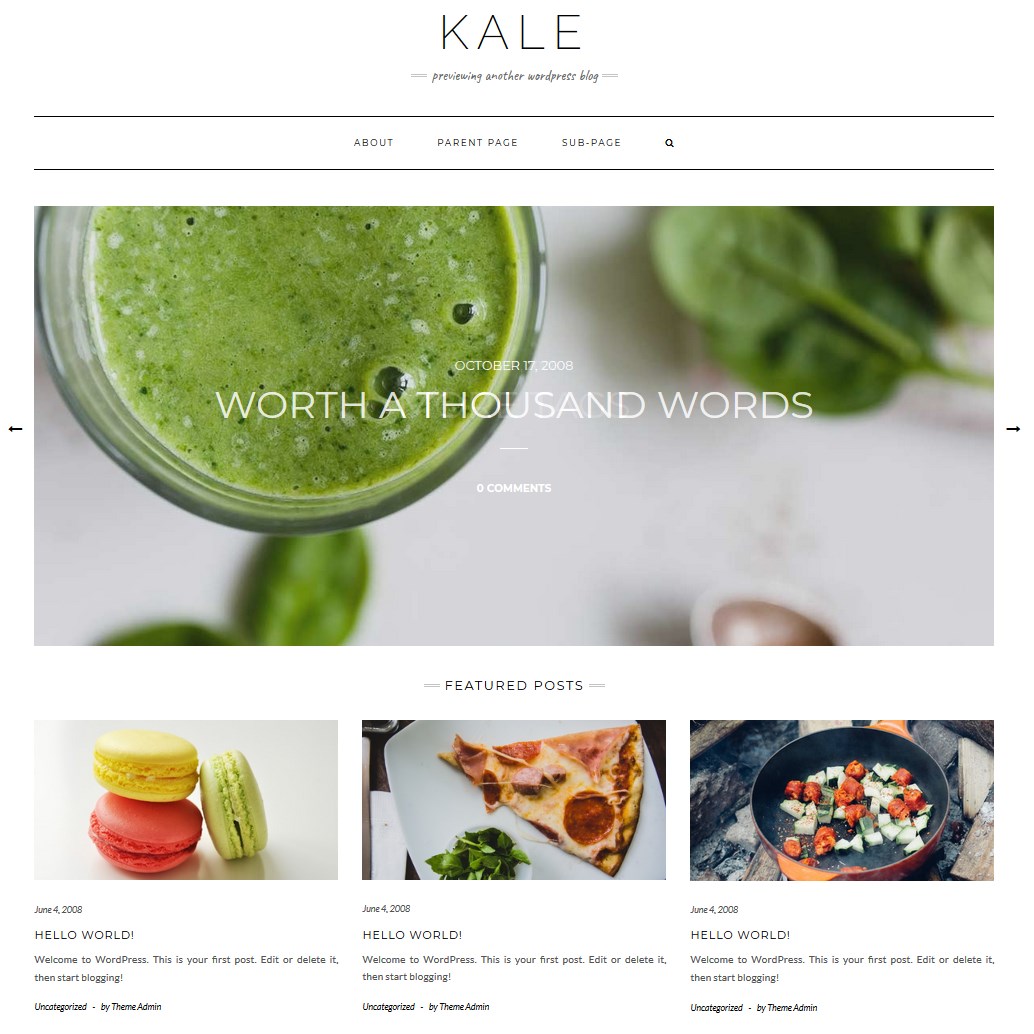 Kale is a free WordPress theme with a clutter-free design, it's super elegant and lightweight. It did not receive any low rate from users, so you can be sure it's a reputable solution. Kale is ideal for a food blog, but thanks to WooCommerce integration you can turn it into a fully functional restaurant website with an online food ordering system.
There are also tons of customization options and on-demand features to help you make a food menu on your WordPress website.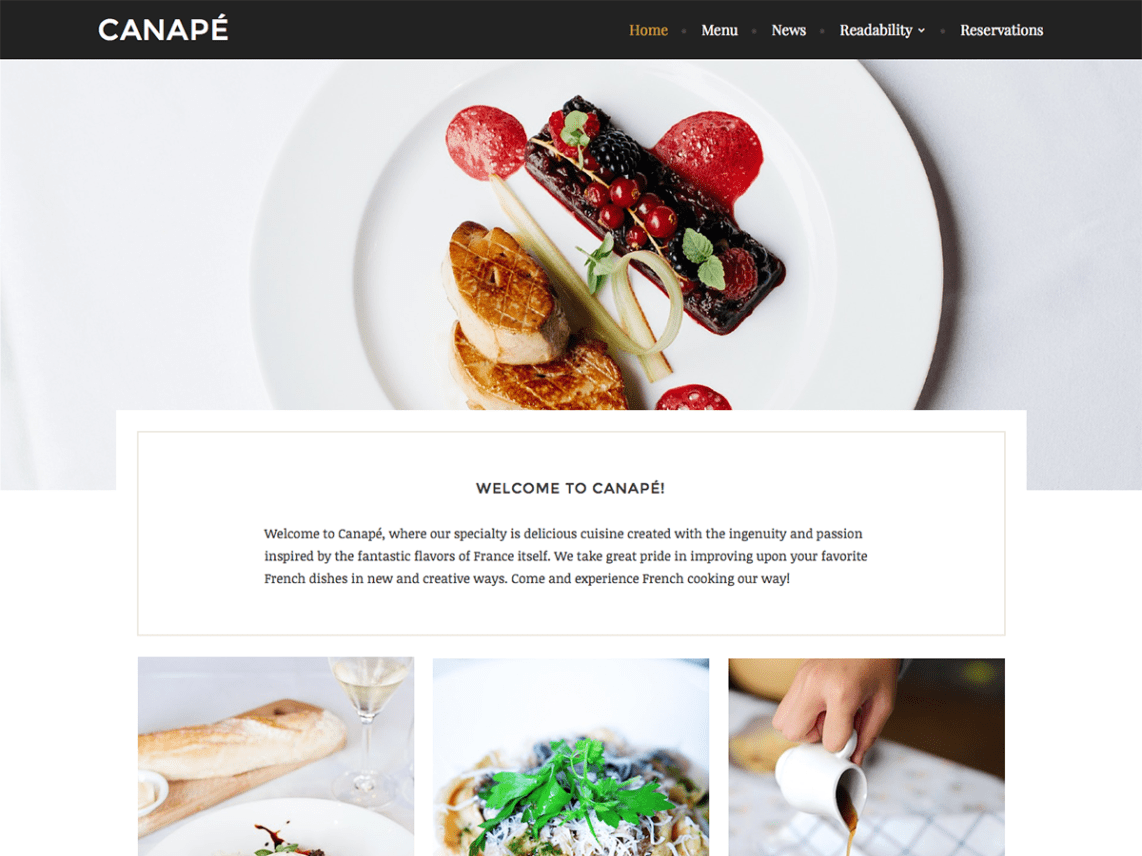 Canape is another awesome, minimalist free WordPress theme built by wp.com professionals, who have a unique taste and expertise in creating a good-looking and functional design. Canape features a classic, on-balance design for displaying your menu items. If you need to enable an online table reservation option, integration with the Open Table widget will help you do the job easily.
3. WordPress plugins for building a restaurant or cafe menu
Creating a perfect menu items listing is a must. People want to know the prices, the real look of your offerings, etc.
If you use any base theme that doesn't offer an option for building an online restaurant or cafe menu to your liking, a smart solution is to build a menu with a plugin. In this case, you can even switch a theme design at any time and keep your menu content intact.
To build a menu, give a try to a free WordPress Restaurant Menu plugin by MotoPress. It helps you add detailed info about the dishes, mouth-watering images, ingredients, and even a detailed nutrition info list.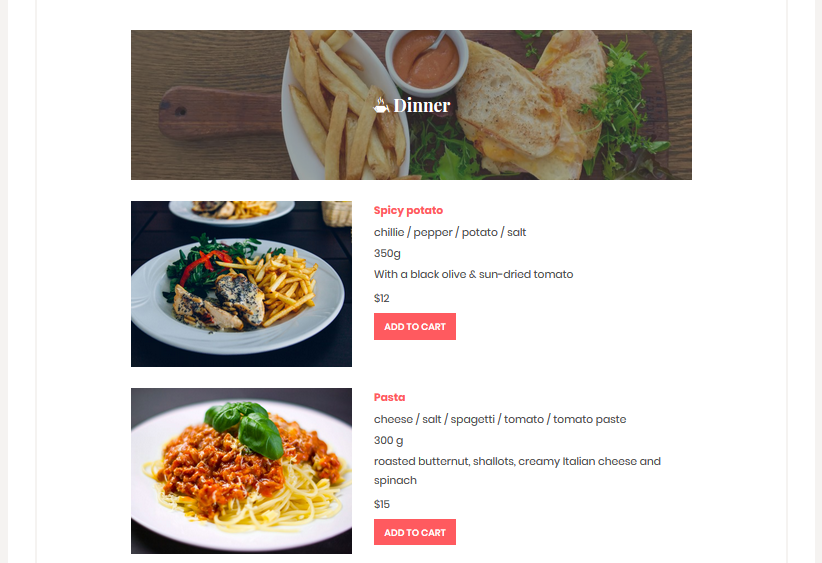 Thanks to WooCommerce integration, you can also sell your offerings online (cash on delivery or PayPal options are available). All this functionality is available within a base plugin, with no extra charges.
However, there are several premium addons to help you integrate advanced services:
WordPress food delivery plugin – this addon will help you offer delivery and pick-up services for the menu items you present on the site.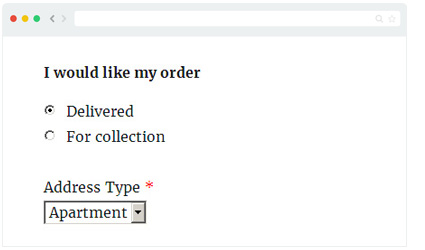 Toppings addon – it helps clients customize their meals by adding chosen ingredients or side dishes to their orders. It can be especially handy for pizza parlors.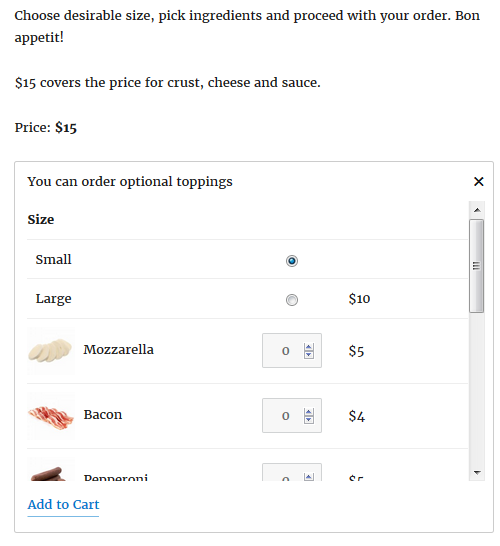 4. Table reservation services
You might also want to offer online table reservation service. It can be easily implemented with a free WordPress plugin like Restaurant Reservations. This plugin lets you add a booking system, confirm or reject bookings, send custom email notifications, and more.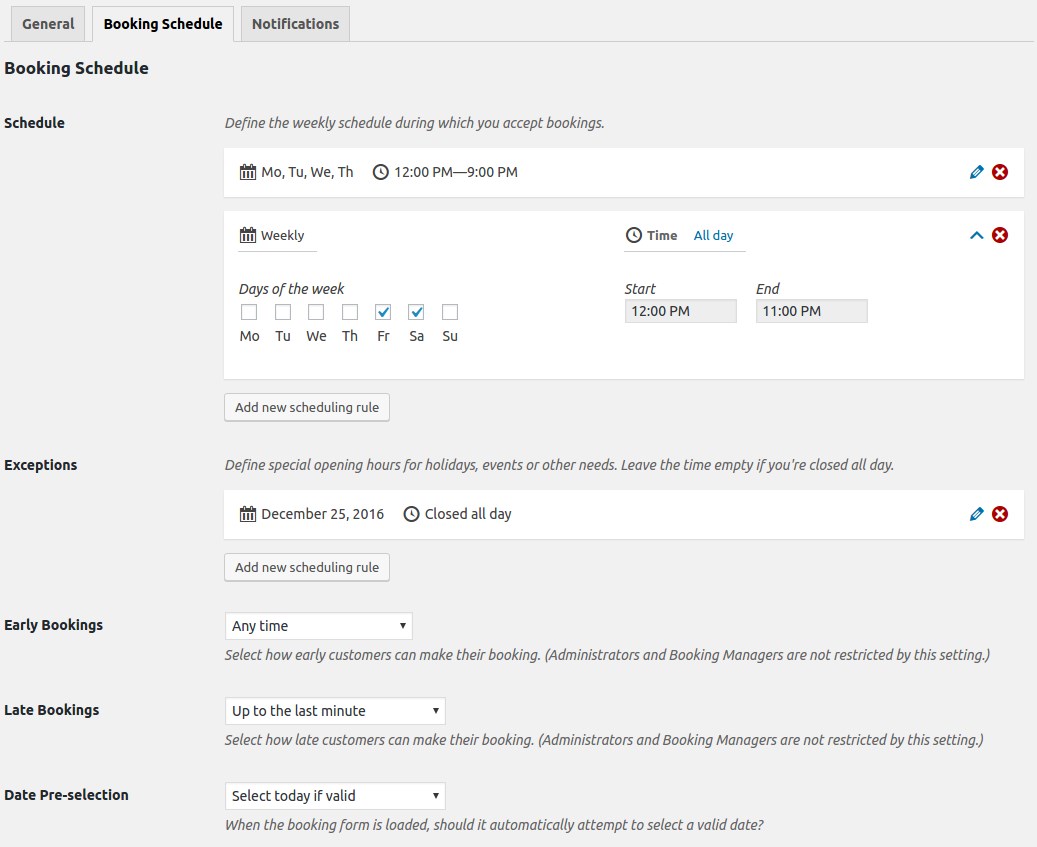 Optionally include a WordPress nutrition calculator plugin, which will automate your work in presenting nutrition information of all ingredients to health-conscious customers.
5. Further restaurant menu development
If you are looking for a more advanced food ordering system for WordPress website, consider taking a look at WooCommerce Product Table plugin. As it's integrated with the WooCommerce plugin, you can build a menu with multiple attributes: check out the flexibility of this plugin in the Online restaurant ordering system demo.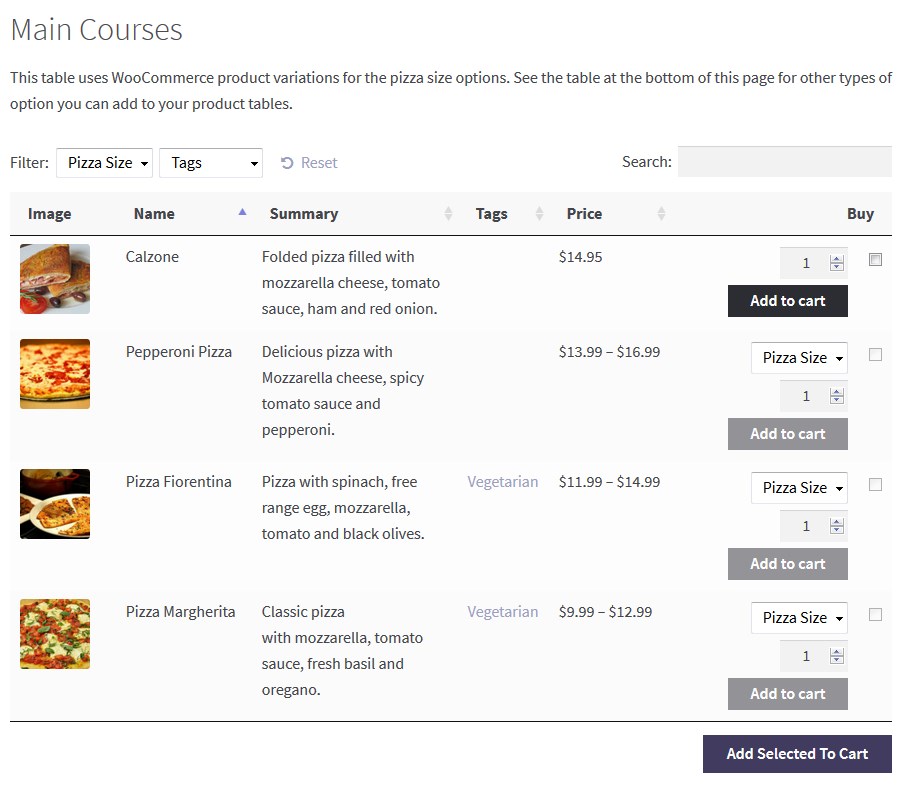 Some restaurants engage their audience by posting exclusive recipes by their chiefs. If you also want to occasionally post the recipes, you can use the Restaurant Menu plugin plugin or WP Ultimate Recipe plugin.
Example Recipe by Cheffesthualalai
Core features of a good WordPress restaurant menu website:
Make sure your restaurant website contains all the info that is crucial for modern customers:
Menu and services – these are the things the visitors want to get more details about.

Example - Jevelin Restaurant theme

Opening hours and address. You can integrate a Google map with custom markers to let people know about your restaurant.
Example - Tavern theme
3. Professional images: the menu, the restaurant interior and exterior, etc. Give users a full taste of your restaurant before they walk into it.
Example Grand Restaurant theme
4. Social media. Let people see that you regularly update the news on your site and are open to the dialogue. You may take a look at a popular free WordPress Instagram gallery plugin or Custom Facebook feed that will help you integrate your social media account with the website. As a rule of thumb, post more (professional) meal photos!
5. In the SEO aspect, local business websites require a rich schema markup integrated. Schema markup basically helps search engines like Google understand the information on your website better and present the needed info to users properly.
You can either get a WordPress theme with the schema markup included or use WordPress plugins like WP Schema to implement it on your website. The plugin will automatically mark up your website data. Schema markup doesn't only structure your data but also increases the odds of getting your website displayed as a "rich" result like a rich snippet or a knowledge graph.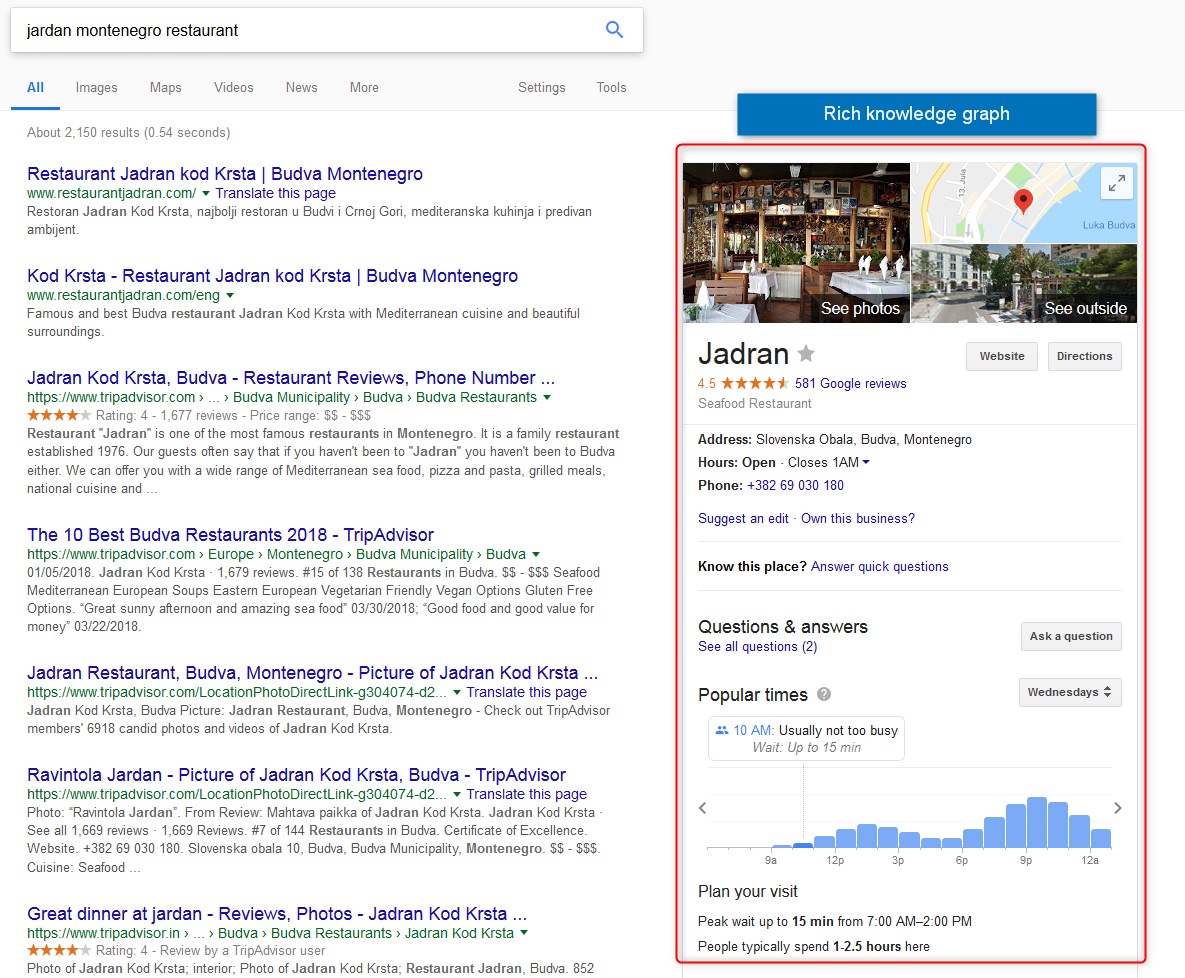 6. Customer reviews. No need to explain that only positive customer reviews are going to turn your website visitor into a customer. There are several ways you can add restaurant or cafe reviews to your website built with WordPress:
Admin added reviews – you choose the reviews and add them via a WordPress dashboard. There are lots of plugins to perform this task. For example, you can add them with a top popular free multipurpose WordPress plugin like Jetpack.
Customer submitted reviews – all sorts of reviews will of course look more trustworthy on your website. However, you may just add a widely recognized logo with your rating (e.g. Google Reviews, TripAdvisor), and will be okay.
These are the most important features customers are looking for on your website in the first place.
Also, one more handy thing that you can do to expose your restaurant is creating a virtual tour on your website. The people who'll come to your site will have a tour of your restaurant online and if they like your place, they'll definitely book a reservation.
You can place a hotspot on every table of your restaurant which will take the visitor to the reservation page. So, your visitors can easily book the table they liked most.
For this purpose you can use a WordPress WPVR – the virtual tour creator plugin, with a help of which your restaurant will be visualized and better presented to users. This feature surely contributes a lot to the end profit of any restaurant, since people want to know the place and conditions, which can be shown with the virtual tour creator plugin.
Bottom line: how to make a restaurant menu on WordPress
It's hard to build your own restaurant, but it's much easier to build a website. As you see, there are loads of professional, very often inexpensive WordPress tools for creating a beautiful and functional restaurant or cafe website. No need to integrate hefty-cost proprietary software to implement a table reservation service or a food ordering system when you create a restaurant website. Hundreds of sophisticated and plain simple designs, free and premium plugins – all this is several clicks away. Are you already a fan of any of the solutions? Share your experience in the comments.