How to Choose The WordPress Accommodation Booking Plugin?
Many rental property owners seek tools to automate bookings on their rental accommodation sites without turning to third-party platforms. And the WordPress CMS platform provides a wide range of plugins to do that. Do you need a fully-featured WordPress accommodation booking plugin to build the online presence of your rental business?
In this article, we're keen to discuss what features you should look for in its toolkit and how to find the best one!
Why Should You Use a WordPress Accommodation Booking Plugin?
When it comes to the advantages of incorporating an online accommodation booking system into the WordPress website, we can't help mentioning that:
It speeds up the booking process and drives direct bookings to the website.
You don't have to pay any per-booking or per-property commissions.
Guests have round-the-clock access and don't need to call the administrator to make a reservation.
It may be available in multiple languages, so guests from different countries can book the rentals.
Features To Look For In The Top Accommodation Booking Software
The choice of booking plugins in WordPress is wide. As a first point, let's consider the essential features of any good WordPress accommodation booking plugin. In particular, the list includes:
Efficient guest experience (rental accommodation details, amenities, etc.): it's essential for guests to find all the detailed information about a rental property to make a choice.
The system of flexible rates: you should have an opportunity to set dynamic prices regarding multiple factors.
Different payment gateways: guests might like the option to pay for booking in a preferred way.
Central channel management: there should be a solution to sync bookings from different channels.
Multiple ways for the admin to handle bookings: it should be easy for the admin to view and manage bookings, payments, and other details.
Area for customers: this feature enhances customer experience since they can register their account and access their bookings.
Automated communication with guests: for example, emails.
What Is The Best WordPress Accommodation Booking Plugin?
The WordPress Hotel Booking plugin by MotoPress is an all-in-one solution for any vacation rental business. It smoothly works for unlimited properties and bookings. Let's take a look at the features this WordPress accommodation booking plugin ships with!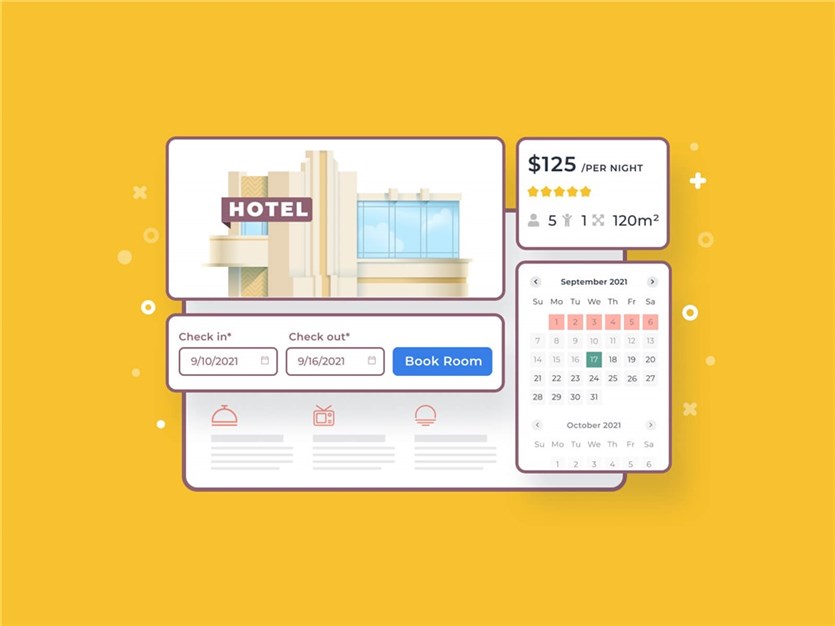 Synchronization with OTAs
The MotoPress Hotel Booking plugin lets you sync bookings across online travel platforms supporting iCal: Booking.com, Airbnb, TripAdvisor, and others. This feature helps avoid overbooking while renting out accommodation via different channels.
Detailed Property Presentation
It takes a few steps to add all the details about the rented accommodation: description, image, bed size, amenities, rates, etc. Add extra services (free and paid) for a particular accommodation type.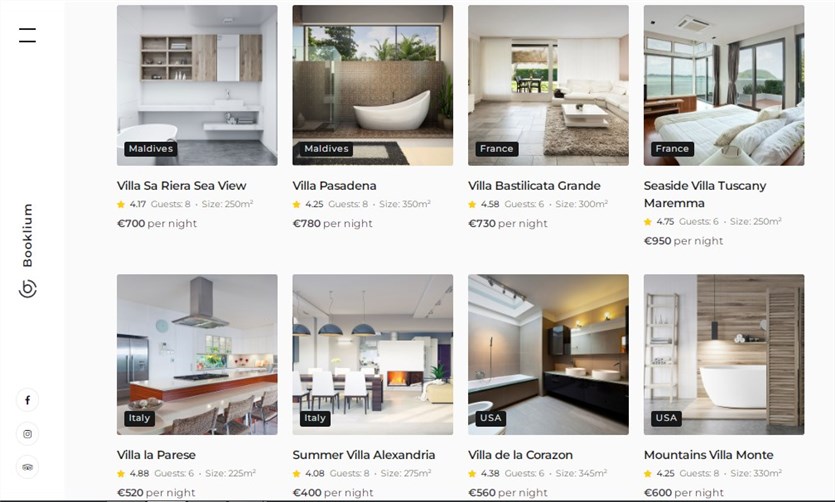 A Mobile-Friendly Search Property Form
This form makes it easy for guests to find available accommodations for the required arrival/ departure dates (these are compulsory fields). Also, you are free to add custom fields to the form displayed on any device to make the search faster and more convenient.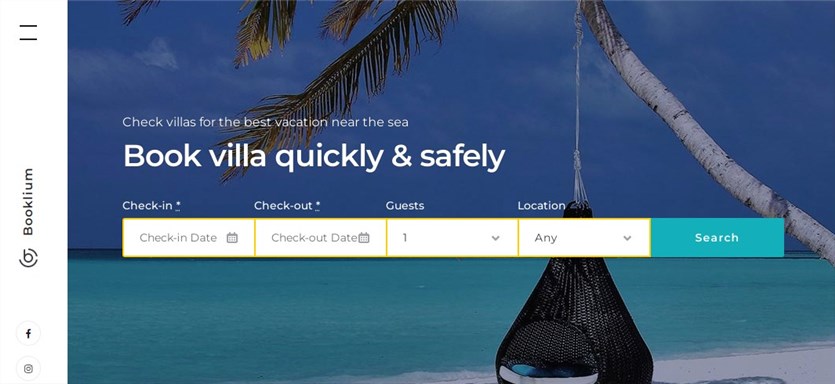 Multiple Properties In One Go
Make it possible for guests to book several accommodations during one submission with this WordPress accommodation booking plugin! In addition, you can set up the suggestion of the most suitable accommodations regarding the number of guests.
A Centralized Admin Bookings Calendar
The admin has the ability to view bookings and their statuses in a color-coded calendar view. Different filters (accommodation type, period of booking, and room status) can be applied.
Flexible Rates System
The MotoPress Hotel Booking plugin enables you to add custom seasons (main season, summer, Christmas, etc.). Set up dynamic rates depending on different parameters: property facilities, the number of guests, or length of stay.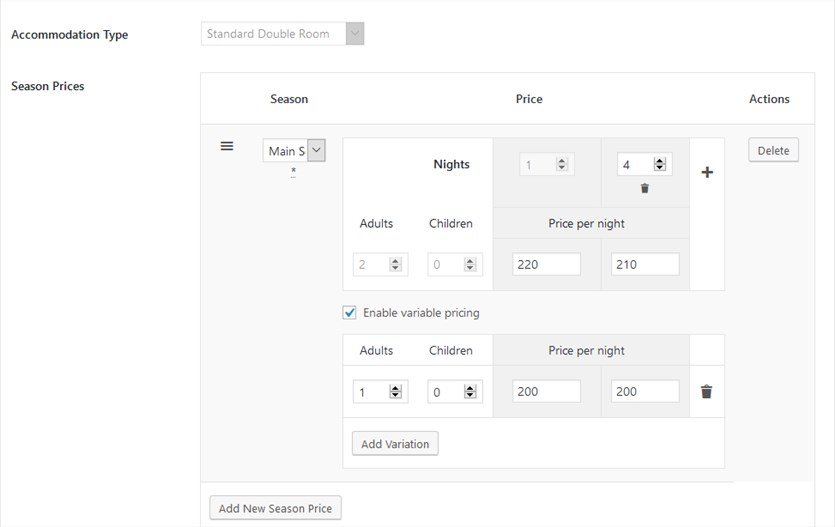 Note: The plugin also offers you to provide discounts for guests via coupon codes.
Taxes and Fees Visible at Checkout
If needed, add this information via the admin dashboard so customers will be able to view the pricing details in the final charge. It's hassle-free to customize their types and charges.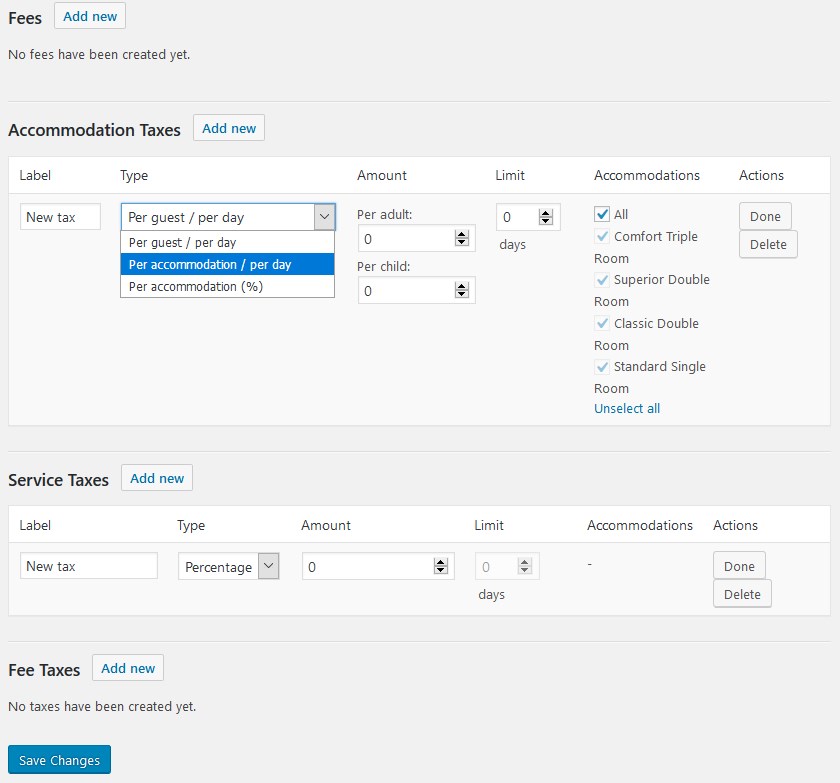 Different Payment Gateways
The Hotel Booking plugin has built-in PayPal, 2Checkout, Braintree, Stripe, or Beanstream/Bambora gateways. You can charge a full price or deposit (fixed or percentage). Additionally, guests can pay upon arrival or via a direct bank transfer.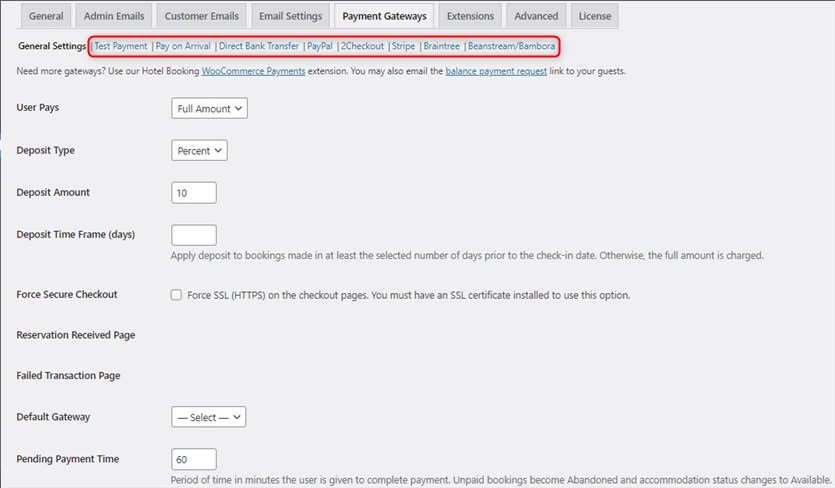 There is also a WooCommerce Payments add-on purchased separately to integrate more payment gateways.
Flexible Booking Rules
You'll be able to set minimum and maximum stay days, add available check-in and check-out dates or block the accommodation from being booked with the WordPress accommodation booking plugin by MotoPress.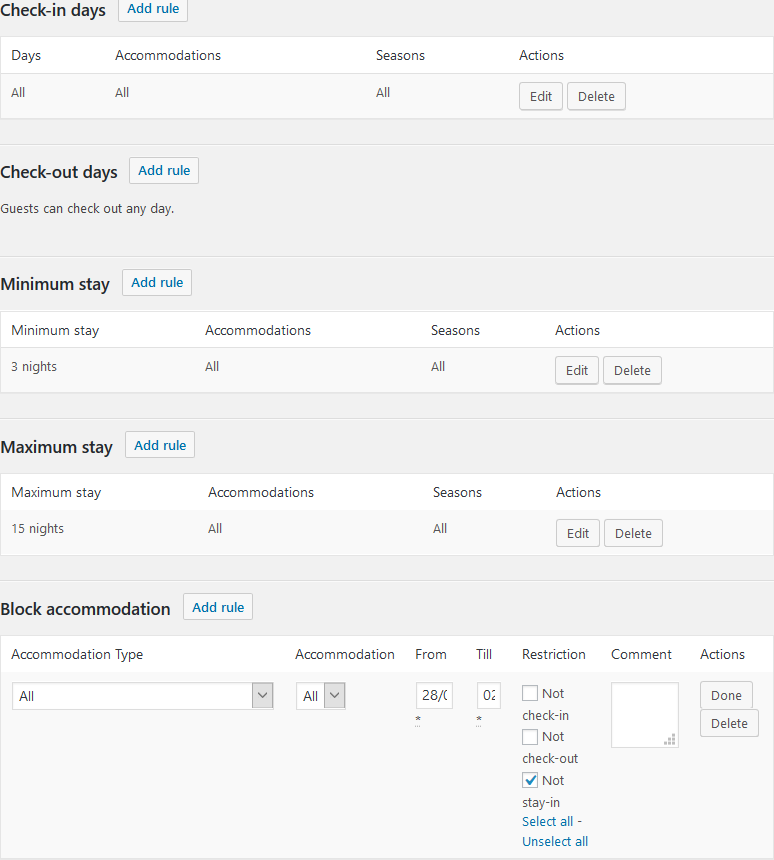 User Roles
The plugin allows you to define user roles restricting or granting access to the Hotel Booking plugin, including:
Hotel Manager;
Hotel Worker;
Hotel Customer.
User Dashboards
This option comes in handy to let guests create their personal accounts and view bookings there. Decide whether the account is created for everyone at checkout or only when the guest wants this.
Automated Email Notifications
There are admin and customer email templates (for confirmation, cancellation, etc.) to keep admin informed about bookings and arrange automated interaction with guests. You can customize their content and colors or upload a logo to make them branded.

Hotel Booking Rest API
You can use and manage the Hotel Booking plugin data from anywhere with the Hotel Booking REST API. It's built for you to use this product in any application.
Hotel Booking Mobile App
If you want to manage bookings on your phone or other mobile devices, a free Hotel Booking mobile application is available! Thus, you won't need to log into the WordPress site to access bookings. You can download the app on Google Play or App Store.
You need to have a WordPress website and the MotoPress Hotel Booking WordPress plugin version 4.1.0 or greater installed and activated to use the application.

Hotel Booking Addons
You can extend the plugin functionality by purchasing the Hotel Booking addons. For example, include custom checkout fields, add PDF invoices, set up multicurrency options, and do more via dedicated extensions.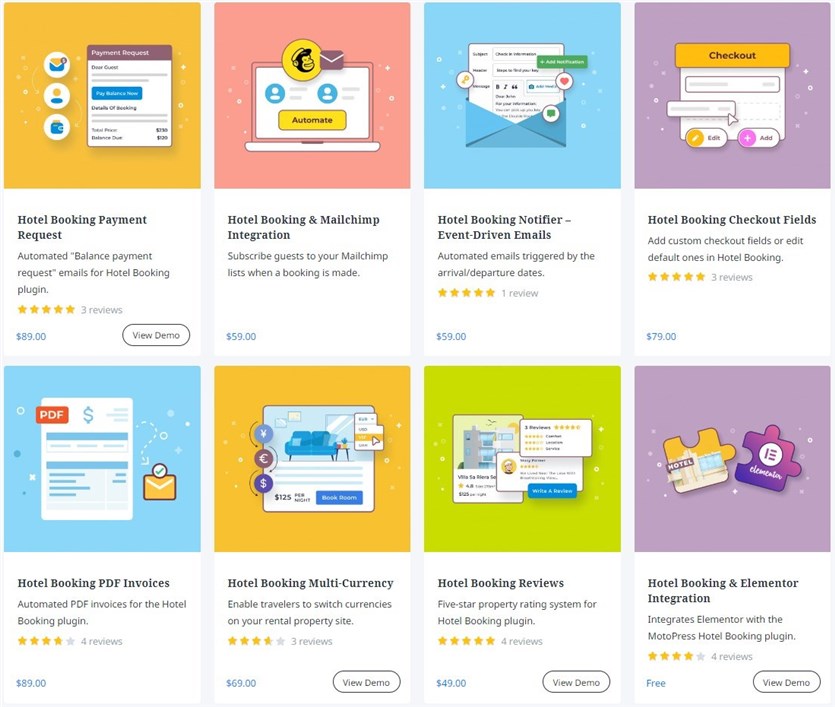 Hotel Booking Lite
The MotoPress Hotel Booking plugin has a free version called Hotel Booking Lite. You can add the free accommodation booking system to your website and use a limited toolkit or upgrade it to the pro version.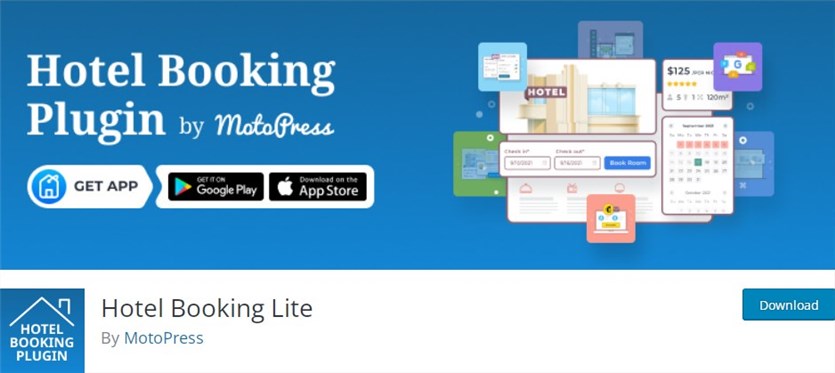 Conclusion
If you are eager to create a booking website for rental accommodation with WordPress, find a top-notch plugin meeting your needs!
A WordPress accommodation booking plugin is a tool that allows you to manage and book accommodations on your WordPress website. It can help you streamline your booking process, increase your online presence, and manage your reservations more efficiently.
In this article, we've covered the main features you should look for. Find a plugin that offers such features as easy booking management, synchronization with third-party platforms, availability calendars, payment integration, and a user-friendly interface.
Also, you'll find the highlights of the WordPress Hotel Booking plugin by MotoPress, as it's the best solution we vouch for. You can test drive how it works for free on its demo page.
It should be mentioned that there is a collection of WordPress hotel themes powered up by this plugin for free. In addition to the accommodation booking engine, you get ready-to-import designs tailored to the plugin.
P. S. Join the MotoPress Membership program to have access to all the plugins and themes by this company!

FAQ
How do I choose a plugin for WordPress?
Choosing a plugin for WordPress can seem overwhelming, but here are some steps you can take to help you choose the right one:
Determine the functionality you need: start by making a list of the features you require in a plugin to narrow down your options and choose a plugin that meets your specific needs.

For example, if you are about to start a vacation rental website, you might benefit from a WordPress booking plugin. It will help you arrange an online booking system, provide availability calendars, manage bookings, and more. The MotoPress Hotel Booking plugin is an all-around rental property management solution.

Read reviews and ratings: look for reviews and ratings from other users who have used the plugin. This can help you understand the strengths and weaknesses of the plugin and how it has performed for others.
Check that the plugin is compatible with your version of WordPress and any other plugins you are currently using.
Choose a plugin that is regularly updated and has good support options. This will ensure that it is secure and any issues you encounter can be resolved quickly.
Look for a plugin that is easy to use and has a user-friendly interface.
Consider a plugin that fits your budget and offers good value for money.
Try a demo or trial version to test the plugin before you commit to it.
How do I use WordPress to create a hotel booking?
To use WordPress to create a hotel booking website, you will need to follow these steps:
Choose a WordPress theme suitable for a hotel booking website. There are many WordPress hotel themes available that offer booking functionality or are specifically designed for hotel bookings.
Install a WordPress accommodation booking plugin that meets your needs. The WordPress Hotel Booking plugin by MotoPress enables you to manage any number of properties and bookings, sync bookings with OTAs, accept online and offline payments, set up dynamic rates, define user roles, and more.
Set up your booking system by adding your accommodations, availability, and pricing. You can also set up additional features.
Add booking forms to your website that allow guests to select their desired accommodations, dates, and any additional options. You can also add payment processing options to your booking forms.
Customize your website to match your branding and make it more attractive to potential guests.
Test your booking system to ensure that it is working properly and that guests are able to make bookings without any issues.
Once you have completed all the steps and tested your booking system, you can launch your website and start promoting your accommodations to potential guests.
Does WordPress have a booking plugin?
Yes, WordPress does have several booking plugins available, including free and paid options. These plugins are designed to help you manage and book accommodations on your WordPress website.
The MotoPress company develops WordPress booking solutions dedicated to hotel and appointment-based businesses.
The MotoPress Hotel Booking plugin allows you to manage all aspects of your hotel bookings, including pricing, availability, payment processing, etc.
The MotoPress Appointment Booking plugin lets you add unlimited services, create profiles for employees, set up schedules, configure payment gateways, and more.

How to integrate a WordPress booking plugin with a website?
To integrate a WordPress booking plugin with your website, you will need to follow these general steps:
Install the booking plugin that meets your needs from the WordPress plugin directory or a third-party provider.
Configure the plugin settings. This may include setting up your accommodations, pricing, availability, and other booking options.
Add the booking form to your website by inserting a shortcode or widget into the relevant page or post. This will allow guests to make bookings directly from your website.
Customize the booking form.
Test the booking system.
Launch your WordPress website.
Specific instructions for integrating a booking plugin with your website will depend on the plugin you choose and the specific features you require. Most plugins will include detailed instructions or documentation to help you get started.