MotoPress Demo Builder for WordPress Products – How to Make a Plugin or Theme Demo
As WordPress theme and plugin developers, we were once faced with the task of creating demos for our products here at MotoPress.
Luckily, inspired by the currently discontinued NinjaDemo solution, we solved that task by creating a dedicated plugin that makes the process really easy and helps set up any demo in button clicks, using the power of WordPress multisite, not hard-coding complex in-house solutions.
We later called it Demo Builder for WordPress products and made it available for purchase as a premium plugin for all of you in the same boat, who are looking to build demos for their WordPress products without sweating.
As strange as it sounds, we love to call it a user-friendly plugin for developers. That is, it's easy to set up and configure even by your marketing team!
Many WordPress developers have already integrated the Demo Builder for WordPress Products plugin.
For example, here is part of a demo page of our MotoPress Hotel Booking plugin, as you can see, it allows customers to view the frontend and press on the "Start free trial" button to test the plugin's functionalities.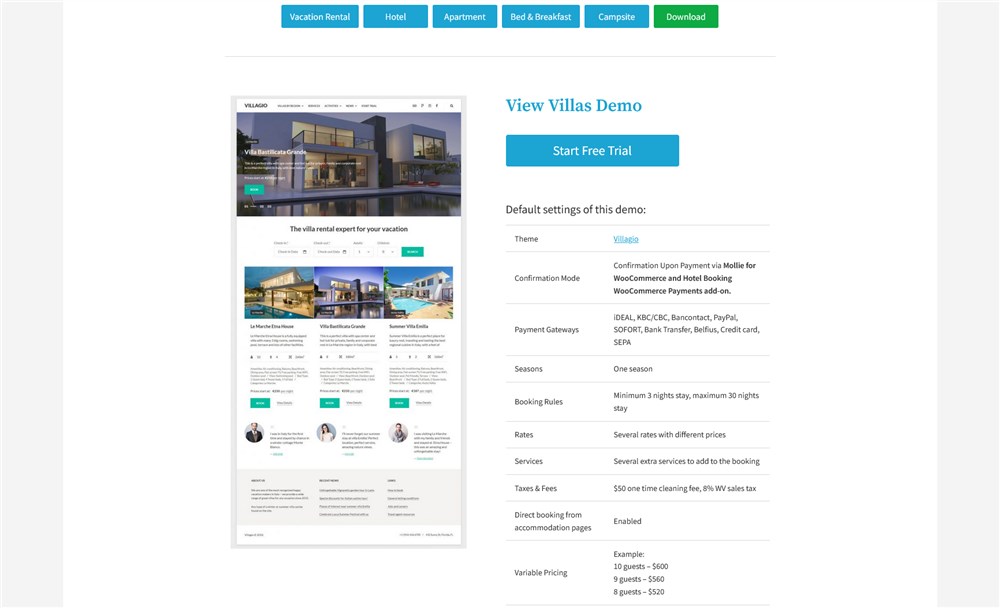 Creating an account, people are asked to provide their email address; this is a very common process of registration and confirming their account via email.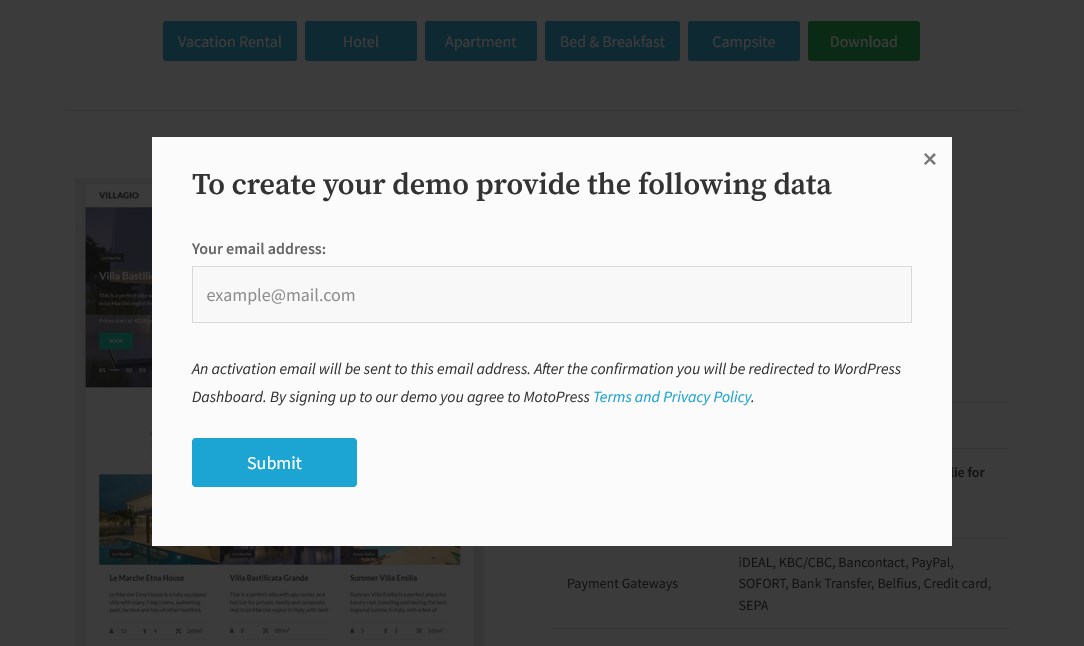 So what does this plugin actually do?
In short, it gives you the multi-tier architecture functionality to build frontend demos as well as backend trials with registration for your WordPress products.
The first will obviously give your prospects a chance to see how your theme or plugin looks and optionally to test-drive it, a try before you buy trend is still very hot even on the digital market since it's very convenient for buyers in the first place.
From our experience, providing trial accounts helps you build more transparent relationships with your customers in the pre-purchase stage.
What's more, a free trial feels genuinely risk-free for people, no credit card details asked, they can just click the buttons to get the first-hand experience of the product and decide whether it's good enough to meet their needs.
Nevertheless, the WP demo builder will help you give your customers a perfect guided tour of your product.
Surely, your support people may get more free time since using demos, clients start asking fewer questions.
What are the steps of creating a demo site with Demo Builder?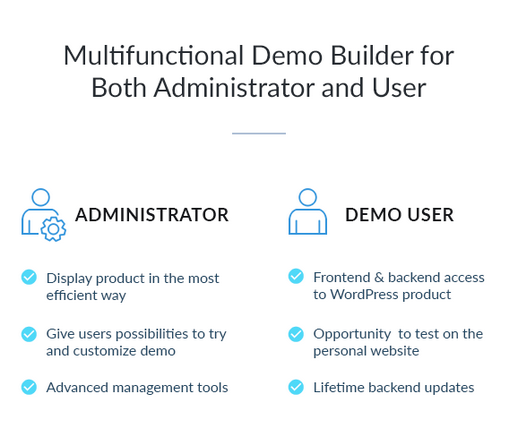 So let's try to tell you in more detail how it works.
First of all, if you want to dig into technical details and a step-by-step process of creating a demo with the demo builder for WordPress product, check out the Demo Builder documentation.
In a bird's-eye view, the process with the MotoPress demo builder for any WordPress product is as follows:
Enable Network Setup menu item to allow for multisite.
Install a network by creating a network of WordPress sites in the sub-directory and enable the network.
Install the Demo Builder for WordPress products plugin.
Using this plugin, create a demo for your future site/product.
Configure your demo website settings.
Add a user registration form to the website with the preferable shortcode parameters.
Go through the sandbox settings for users (for example, you can set for how long the user data and changes they applied must be kept in the sandbox; or select what must happen to the user's sandbox after their account is expired).
Set up email notifications.
Optionally customize the toolbar of the related products.
Optionally connect your Mailchimp account to integrate with the demo.
Restrict specific demo pages if needed.
Customize the general WordPress menu access in test-drive accounts.
The docs contain extra filters and actions for developers that will help you further tailor the functionalities of the plugin. The plugin allows you to tailor settings globally for all demo products and apply settings to individual subsites.
Want to feel yourself in a demo user's shoes? We also made it possible to test this plugin as a user.
In this post, however, we'll try to structure the main principles of how the plugin works and what it's capable of.
Users test your theme or plugin in their own sandbox
The Demo Builder allows customers to register their free accounts and test your product as if they were working on their own websites.
Many users can make changes at the same time without affecting each other's accounts.
The sandbox supports automatic clean-ups so that you won't need to keep an eye on it.
In the Sandboxes database, you'll see the total number of demo sites created, ID of each, the date of the registration and update.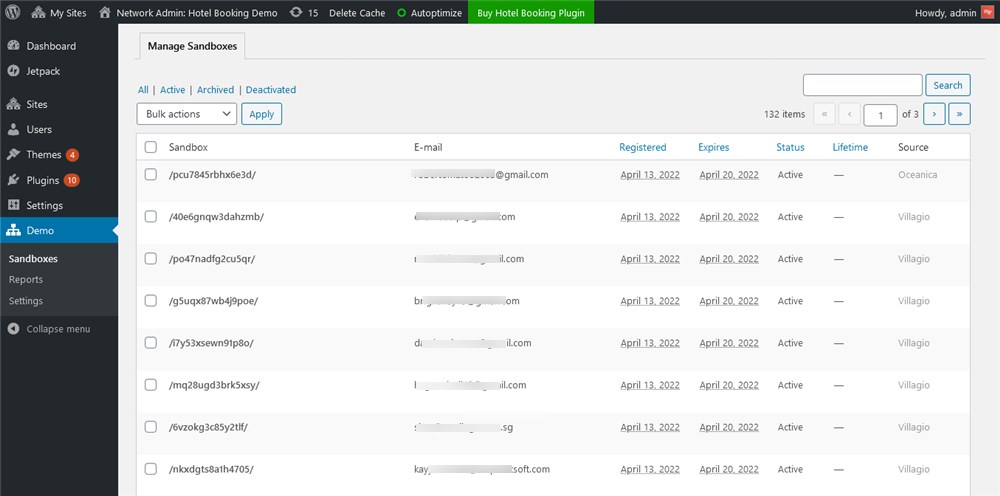 As a website admin, you can set up sandbox restrictions, that is, select pages, posts or URLs that must not be available to users. You can do that for individual demo subsites.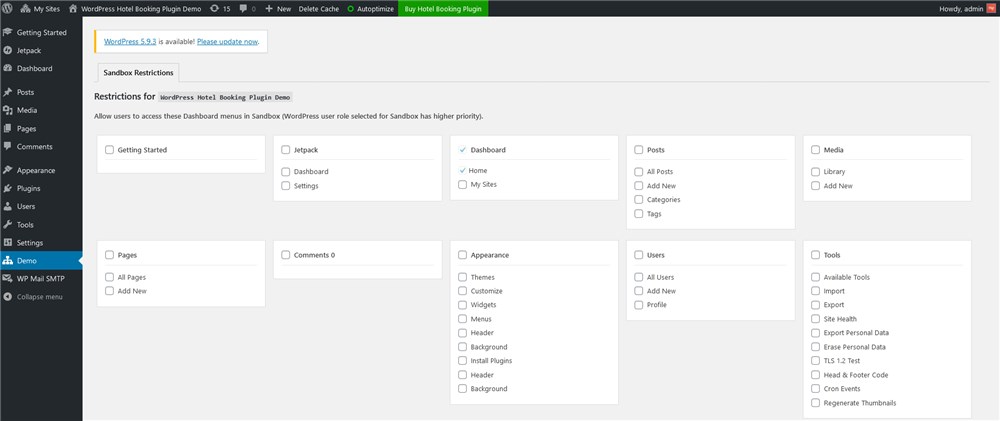 The Reports menu will give you some insightful info on the average activity of using your demo: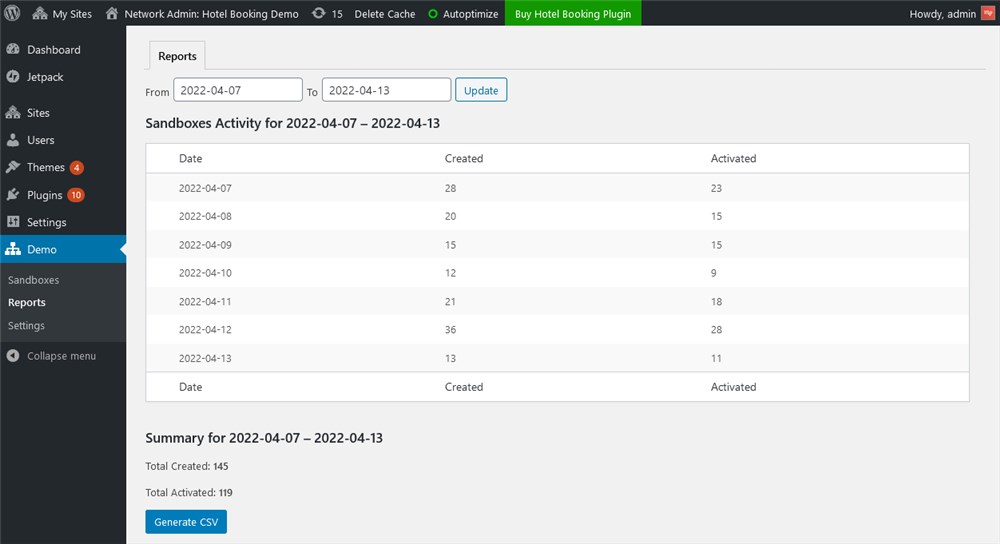 As for some other settings, you can:
Designate the initial user role with a specific set of privileges.
Optionally allow users to reset their demo content to default during the user's demo lifetime.
Set up a user sandbox expiration details (never or for a limited time).
Choose whether to delete, archive or deactivate the sandbox.
Set the redirect URL after the sandbox deactivation.
Activate Google reCaptcha to protect your demo site from spam.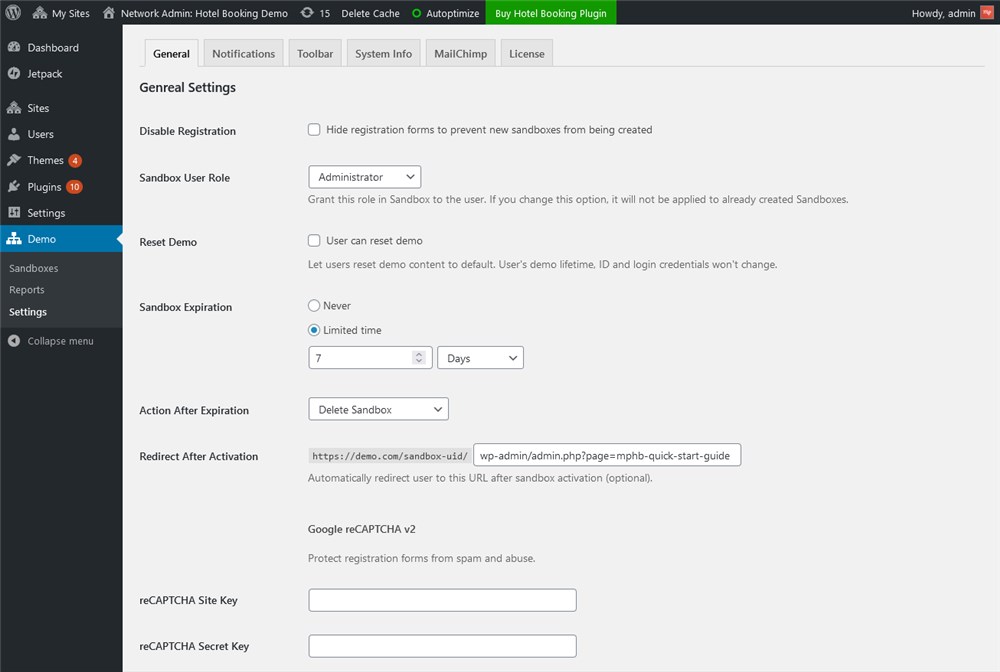 You can also set up a range of email notifications, e.g. edit an email template for both demo users and admins.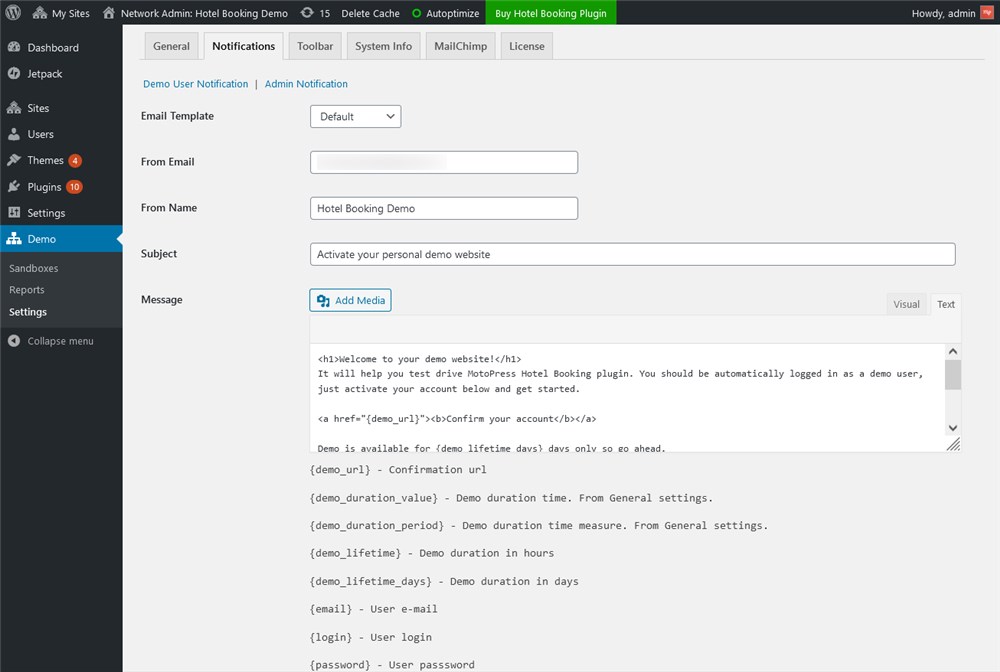 Navigate to the system info settings to see updates on how your multisite is functioning.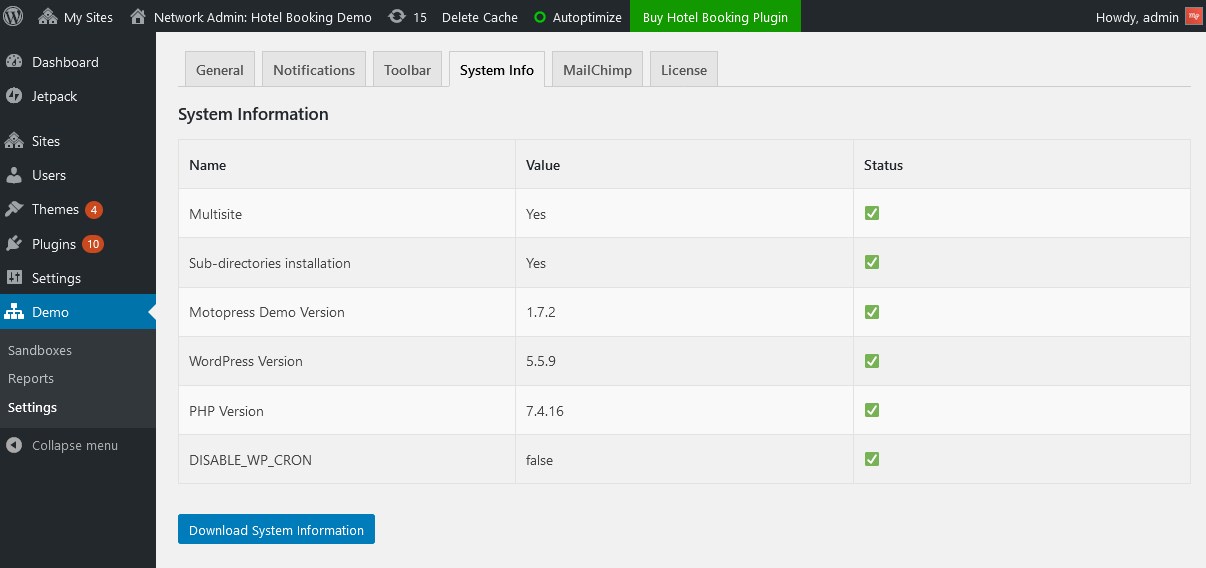 Also keep in mind that it's not necessarily to allow clients to create trial accounts, you can disable this option and simply leave the frontend demo presentation of your WordPress plugin or theme.
Feature related WordPress products with Demo Builder
The Demo Builder for WordPress products also comes shipped with the specialist toolbar that allows users to switch between your WordPress products on the frontend, for example, it's rather convenient for WordPress themes or plugins from the related categories.
Using this toolbar, you can specify which demo sites exactly to show, customize labels and thumbnails for these products. You can also change button texts, customize logos and even brand the toolbar's main color scheme.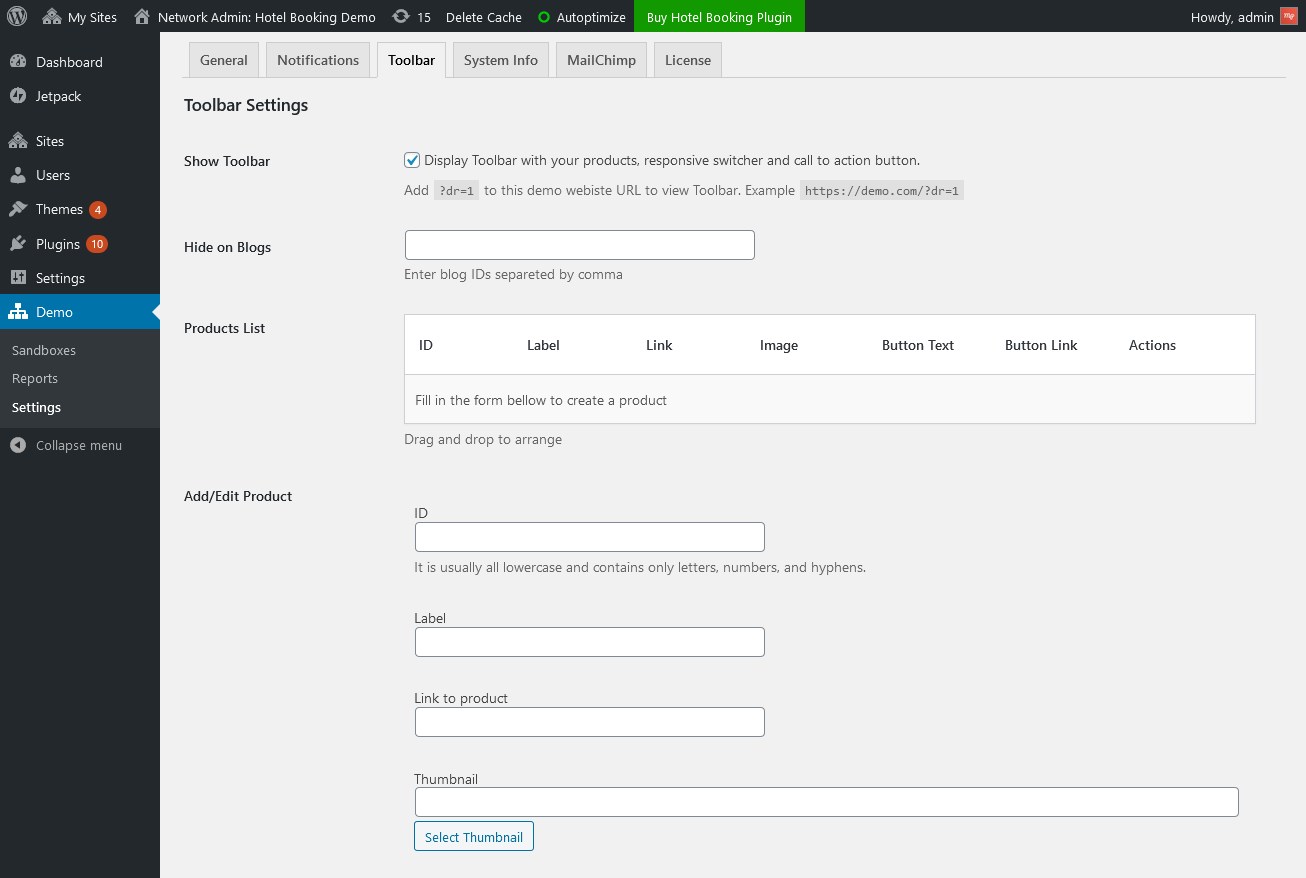 People can easily jump from one product preview to another.

Email marketing with Mailchimp is integrated
The registering process for a test-drive requires a prospect to use a valid email address, which is needed for confirming their account.
But thanks to the seamless Mailchimp integrations, you are also free to use collected email addresses for your further marketing advances.
Well, encouraging clients to register an account is a perfect lead magnet, which means you can further promote other products from your shop, even if a client didn't buy one they register to test.
At least you can try to get valuable feedback from your prospects or clients!
The plugin allows you to manage customer subscription lists via the dedicated Mailchimp menu.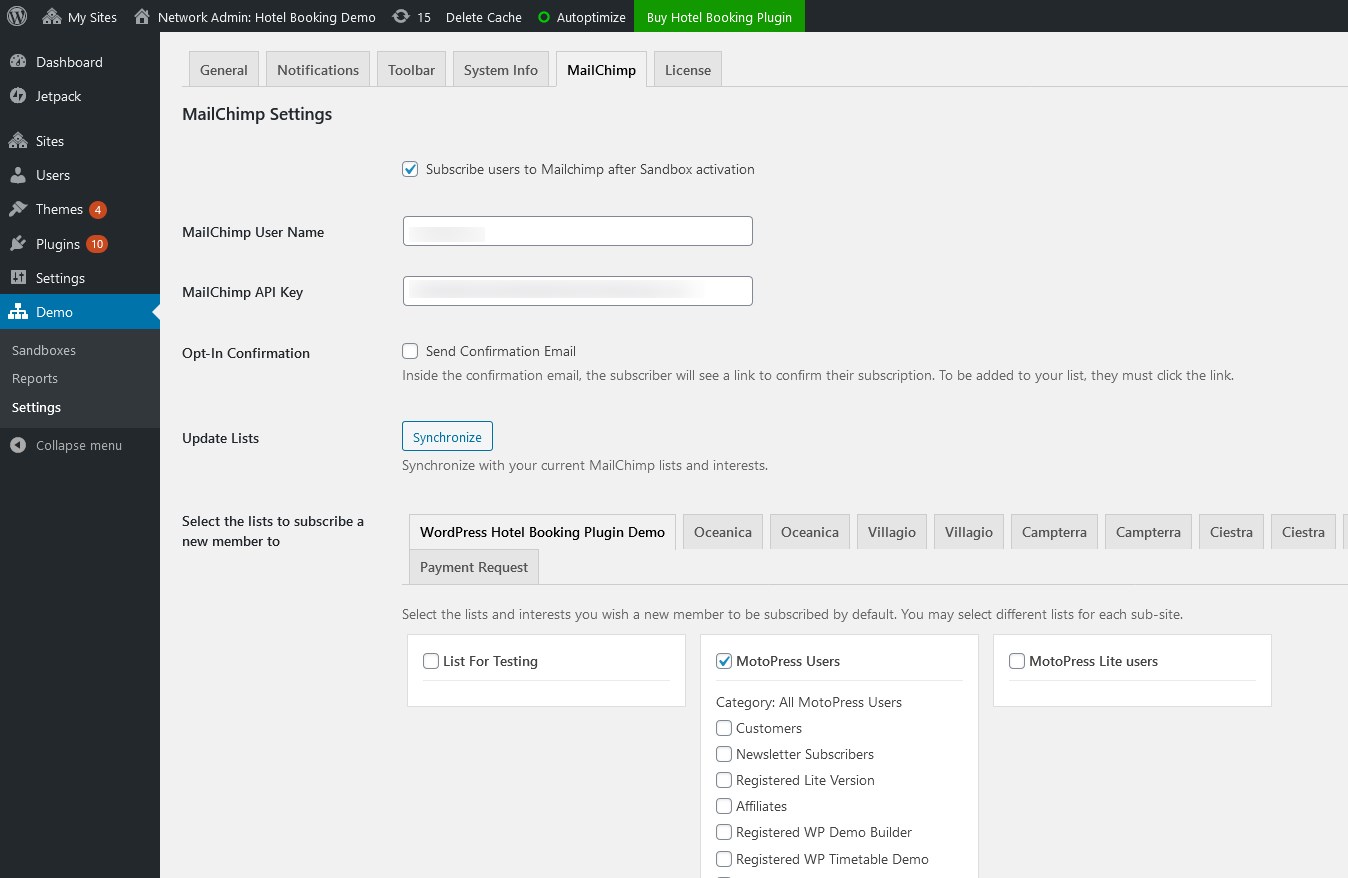 Create a guided tour of your WordPress product with MotoPress Demo Builder
With no doubt, building a demo for your WordPress products is vital for your digital business. Because as a rule more trust from a user, subsequently means more profit for you.
All popular marketplaces and small shops have demos so you definitely want to have this commodity as well.
The MotoPress Demo Builder for WordPress plugin makes it easy to create trials with automatically cleaned-up trial accounts, all users can test the same data at the same time, you can also collect data about your users and get feedback on specific product features.
Hopefully the question like 'how to make a WordPress theme demo site' no longer occurs daunting to you. We hope to see your chip-in, too!
Test WordPress Demonstration Builder