WordPress Twenty Nineteen Demo: Testing Beta Version
As you already know, WordPress 5.0 is due for release on November, 19th, 2018. The new block-based Gutenberg editor and the Twenty Nineteen WordPress default theme, which is fully based on Gutenberg, are just around the corner – they are planned to be included in the major release.
However, as Allan Cole stated recently, Twenty Nineteen remains a work in progress and it might not be ready to be rolled out along with WordPress 5.0.
WordPress Theme Twenty Nineteen Demo
We were eager to see it in the wild but failed to find a Twenty Nineteen demo. Though there are quite an illustrative Twenty Nineteen theme mockups and InVision prototypes, unfortunately, we can't so far get the feeling of how the theme operates in real-time.
So why not run it ourselves? This idea brought the WordPress 2019 theme demo to life and it is now accessible to everyone for preview purposes.
We welcome you to take a look at the default blog and a standard Gutenberg post and share your impressions:
NB: This is not an official default Twenty Nineteen WordPress theme release. Please don't jump to conclusions outright since the demo is a result of our personal testing experience based on the in-progress theme version.
We'll try to keep track of the theme updates to make sure the versions are synchronized until the theme is merged into the core. If you need to find exact answers related to the theme functionality, we'd encourage you to install a beta version and test it thoroughly yourself.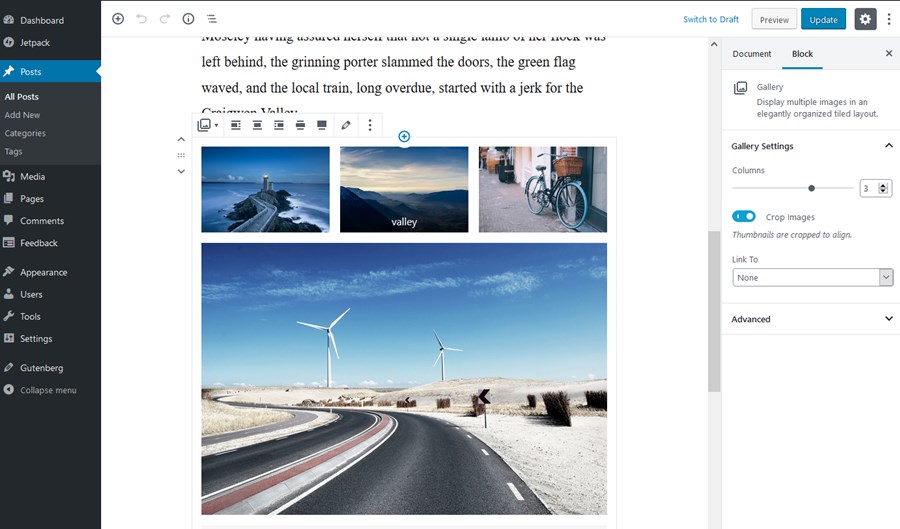 So far, we can see a fancy yet straightforward navigation menu, readable typography, and maximum accurate frontend editing experience thanks to Gutenberg. For some, it may seem too blogging dedicated, but thanks to the layout's flexibility and tools Gutenberg has to offer, you are free to give the theme a more traditional business look. It's worth mentioning that the beta version of the default WordPress theme 2019 comes with customization limitations like color choices, font adjustments, etc.
We welcome you to take a look at the WordPress Twenty Nineteen Demo and share your feedback with the community.
Free WordPress Themes for various purposes (blogging, hotel, business, multipurpose, etc) can be also found on the MotoPress wp.org page. We are also developers of Getwid – a collection of 34 free Gutenberg blocks! We tested how the plugin works with Twenty Nineteen, by the way! There you'll find many WordPress Twenty Nineteen examples.
Interested in creating a WordPress plugin or theme demo with just a plugin? Check out the MotoPress Demo Builder plugin.