MotoPress Extended Support: What's This and whether You Need It
We believe in open source and want to bring more to our customers, that's why mostly each MotoPress product for WordPress comes with a free version with a lot of freedoms for on-budget projects, developers, and everybody.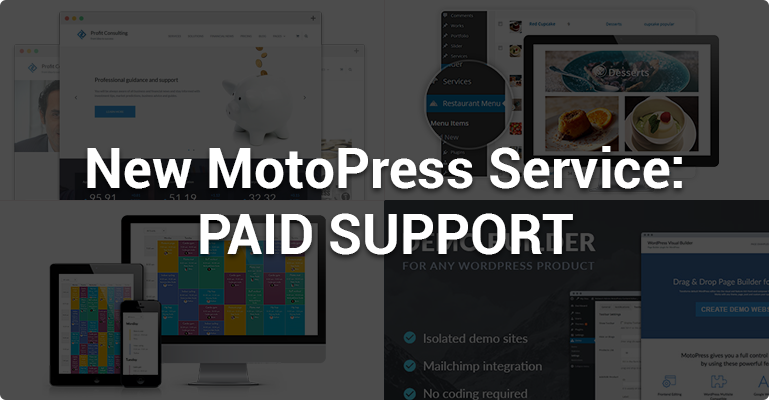 As you could also notice, our collection of WordPress products was extended with many free resources recently: Restaurant Menu plugin, Timetable plugin, and three professional WordPress themes for different purposes. Some of them are completely free at the moment allowing you the usage without limits, plus support from our savvy techs. Taking into account that the number of support requests on different products is increasing and all of them tend to take a huge amount of support time, we decided to a bit change the process of providing support: to charge a small fee for technical help of free products (plugins, themes, addons).
There are commonsense reasons. You know that it takes a lot of time, money, and effort to develop these WordPress products that you get for free. Though we are happy to make them available for everybody, all here still must pay bills, develop new products and support the existed ones, too.
We analyzed all possible support strategies resources to make our own proposition logical and fair, and are ready to announce a new offer: Extended support for all free products by MotoPress. You can get it if you feel a need for constant technical help while working with any free product.
To clarify things:
This offer can be a big need for for users of free (lite) MotoPress products only. Nothing changes for the Pro version owners (they don't need an extra license for Extended support). If the product is 'freemium' (comes with both free and PRO versions), consider that purchasing a Pro version won't only provide you with more exclusive options, but will include this Extended support by default. There won't be a need to buy it additionally.
One package of Extended support ($45) is applied to all MotoPress products you use, namely, one license for Extended support will cover physical support for all free products by MotoPress.
The support period is 1 year (we work every 5 weekdays).
Let's highlight the main rules in short:
With the Extended support you get:
– Help with technical issues related to getting the most of the product functionality and minor adjusting it to your website;
– Assistance with third-party implementations in our products;
– Always up-to-date version of the product.
And what is NOT included into Extended support:
– Customization and design services as well as filling the MotoPress product with your custom content;
– Installation and hosting services;
– Direct help from third-party assets built into our products.
Still confused? Read details of the Extended Support service.