How to obtain MotoPress License Key
This article affects those who bought the MotoPress Content Editor plugin before the 22-d of January 2014.
MotoPress Team has released new License Plans with vast features and extended options for users and developers. This Content Editor update (version 1.3.3) is intended to give you more editing opportunities and transfer your account to the new MotoPress system.
After the release on January 22, 2014 (version 1.3.3 ) to update the plugin you need to specify your License Key in plugin settings.
To obtain your MotoPress License Key follow these steps:
1. Get your password to your MotoPress account.
To receive the password follow the link https://motopress.com/wp-login.php?action=lostpassword and insert the email you've used for the plugin purchase. Then check out your email and find out the link to set the new password for your account.
2. Login to your account https://motopress.com/my-account/ using your email and a new password. There you'll find your product and the License Key.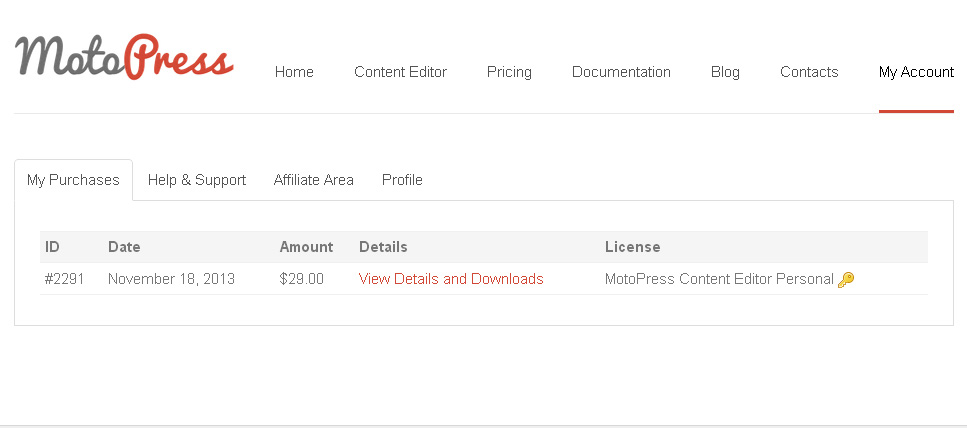 3. Update your plugin to version 1.3.3 (if you haven't done this yet)
You can update it automatically using WordPress or download a new version of the plugin from your account.
4. Copy the License Key and paste it to the key field in the plugin settings, then activate your license.
If you need any help on how to activate it have a look at this video guide.
Important: Adding your License Key is required in order to take advantage of the regular updates and support.
For those who bought the plugin till January 22, 2012, MotoPress License Key will be active for another three years.