MotoPress Plugins Are Not Available on WordPress.org (updated)
Nov 9, 2021
Getwid
,
Stratum
and
Restaurant menu
plugins by MotoPress are also back! You can download them on wp.org. So far we can safely say that almost all of our most popular free plugins are restored, the Hotel Booking Lite plugin is on the way. This news lifts our spirits and we hope you can rejoice with us. We're eternally grateful for your support.
Oct 28, 2021
The MotoPress Timetable plugin has
got back to wp.org
! Slowly but surely all our plugins are being restored.
The plugins can't be reinstated all at once since the wp.org team must carry out an extra review of all of them one by one first, and it takes time. We are happy to share this news with you and thank you all for still sticking to MotoPress.
Stay tuned!
Oct 8, 2021
We're very close to reaching an agreement with wp.org representatives who have been very helpful in dealing with the issues we're facing now. We hope our plugins will get back to the repository soon.
Meanwhile, we've also updated the MotoPress Slider plugin, you can download the latest version here or, if you're on Pro, update it from your account.
WordPress Slider 2.2.1
We saw all your comments on wp.org and here, and can't thank you enough for your support and help!
Oct 1, 2021
We're happy to announce that we've fixed all the plugin vulnerabilities we were notified about after we were banned on wp.org, please feel free to download the latest updated versions on our website:
Getwid 1.7.5
Timetable & Event Schedule 2.4.3
Restaurant Menu 2.4.1
We're also still engaged in negotiations with the wp.org representatives as for the possibility of getting our plugins back to life in the repository. As soon as we're successful, we'll also update the plugins there.
Sep 28, 2021
We're heartbroken to see that despite our complete openness and willingness to help in the investigation, the status of our account and all MotoPress plugins in the wp.org directory has changed to "This closure is permanent" in the middle of the conversation.
But we're not going to give up, we're trying to reach out to the wp.org representatives and see whether there is anything we can do to help people and companies who use MotoPress plugins get rid of this hassle.
Sep 24, 2021
How it started
On September 14, we received a one and only "final notice" from wp.org saying that our account would be blocked if we continue publishing 'fake reviews'.
On September 20, after our support representative had answered a question on the support forum on wp.org, his account, along with all other accounts of our team, and MotoPress plugins, were blocked.
So, the MotoPress account on wp.org was closed because we were accused of creating fake accounts for black activities. We were not provided with details of how many, when, and what fake reviews had been created. We've been on wp.org since 2013 and have never attempted to game our way there; 80% of our plugins are completely free, without paid versions, meaning we don't receive any money from their popularity.
There are only 20 members in our team, and everyone who has an account on wp.org is ready to confirm it at any moment. All in all, it's a very unpleasant experience for us.
About vulnerabilities that were found after our account had been blocked
A few days ago the Plugin Vulnerabilities service helped us discover a few vulnerabilities in our products (thanks for their help) but the former are not critical and we're already working on fixing them. So far, we're unable to provide you with the updated plugin versions via wp.org and, as a temporary solution, plan to release them on github. It's easy to update a plugin from there – just download it as a regular .zip file from github and then upload it to your WordPress as you would normally do with other plugins (or do the same via FTP if you're familiar with it).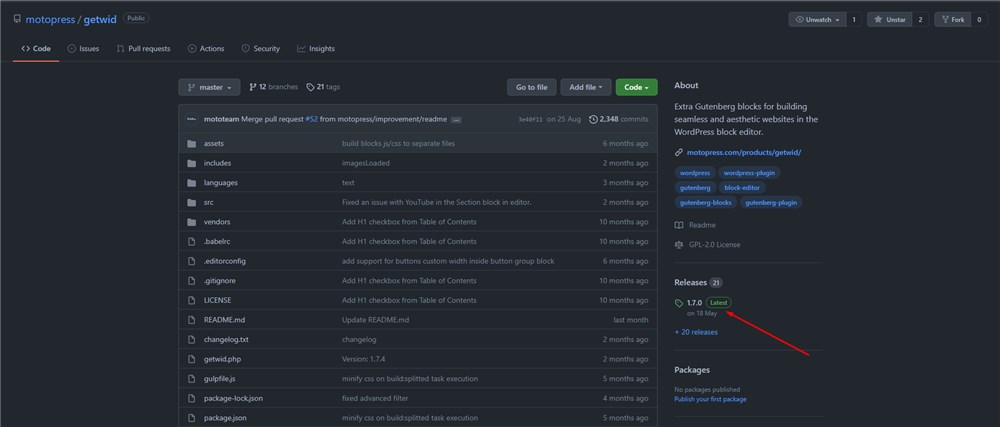 About product updates
We're now most concerned with how to deliver updates to thousands of people who use our free plugins. We also encourage you to refer to wp.org forums to raise a concern and help us move on with restoring the plugins. Also, feel free to update or download plugins from github as we described above.
We're very thankful for all your supportive messages and also hope things will get back to normal as soon as possible!
Sep 23, 2021
Due to temporary issues, all free MotoPress plugins can't be downloaded on the wordpress.org website. We're currently collaborating with the wp.org representatives on restoring the plugins.
Important note: The issue has nothing to do with the plugin vulnerabilities of any sort, the plugins are 100% secure, and you can continue using them on your websites with peace in mind.
If you wanted to download any of the plugins but couldn't do that, remember that many of them are still available for download directly from the MotoPress website: Download Plugins
Since the wp.org accounts of our team were also affected, we are, unfortunately, not able to reply to your questions on wp.org forums.
We're more than sorry for all the troubles you might have encountered during these few days and are very thankful for your support.
There are around 100K users of our plugins so far, and we're hopeful the issue will be resolved as soon as possible.
Contact us if you have any questions or need help in downloading or updating any of the plugins.