MotoPress Acquires Gutenix, a Gutenberg-focused WordPress Multipurpose Theme
We're excited to have Gutenix join MotoPress!
Gutenix is a top-notch multipurpose WordPress theme that was designed as a Gutenberg-first solution. But we prefer to call it a project since it's much more than a mere template.
Here at MotoPress, we are huge Gutenberg enthusiasts. We've been crafting plugins and themes for Gutenberg from the time of its first release, advocating its use on local WordCamps and in interviews.
Acquiring Gutenix, we first and foremost affirm our dedication to invest and contribute to Gutenberg as the WordPress stronghold. We hope you'll join us in this passion!
What Is Gutenix WordPress Multipurpose Theme?
The Gutenix multipurpose WordPress theme was built from the ground up to meet the needs of the Gutenberg era – the modular block-based editing experiences. Despite this fact and 'Guten' in the name, the current version is not a Gutenberg theme to the core.
Under the hood, Gutenix is optimized to work with several popular WordPress page builders – the core Gutenberg block-based editor, Elementor, and Brizy. The theme ships with the dedicated starter template libraries for each of these website builders, giving users the flexibility to choose a design and a customization toolset.
As you might sum up – it's an authentic multipurpose WordPress theme in terms of design and customization features!
We asked Alexander Matienko, the CEO of MotoPress, to give his comment on the Gutenix acquisition:
"Looking back on our dreams and plans… Such a multipurpose theme is something we always wanted to create – but have never had the time resource to invest in such a multidimensional and complex thing.

After a fruitful exchange of experiences and visions with the Gutenix creators,I realized one thing. Not only are our companies aligned in our Gutenberg-driven passion, but we both have realistic views on the current WordPress market demands, where Elementor and other builders have been great value for people.

Our plan to support and improve Gutenix is very simple! We want to give every WordPress user an out-of-the-box solution – with meaningful starter themes and tailor-made content elements, the end goal being the freedom of choice, flexibility, and code quality. We no longer need to hammer out our own solution."
You probably want more details. Don't worry, a detailed Gutenix review is just around the corner! Meanwhile, let's list some essentials.
What Does Gutenix Deliver?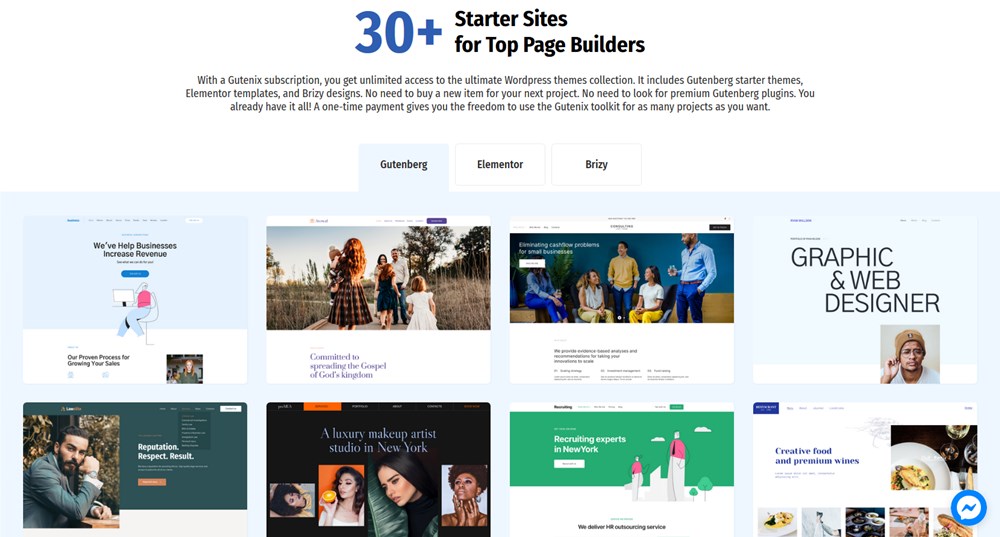 Choose and edit 30+ Gutenberg/Elementor/Brizy sites on the fly.
Many Gutenberg-optimized WordPress themes are crafted and packed with the premium addon.
Get started without hassle with the setup wizard.
It has designs for different realms, including portfolios, restaurants, consultancy, non-profit, etc.
An easy demo data import to make your future site look professional right away.
The built-in themes are lightweight and easy to switch between.
Loads and loads of the blog options.
The ability to deeply customize individual website parts (headers, footers, etc.).
Flexible enough, Gutenix can serve as an Elementor WordPress theme or Gutenberg WordPress theme – depending on which design you choose.
How Does It Work? A Bird's-eye View
Gutenix is a subscription-based service that can be used in a preferable way:
Download it as a free theme and use limited free starter sites: Download Gutenix
Use all features and premium templates for one year: $69
Use all features and premium templates forever: $174
Gutenberg optimized starter sites are designed and pre-built with the dedicated premium Gutenberg addon: ZeGuten. It's a flexible and lightweight collection of blocks with a special focus on marketing-oriented blocks that has been gaining traction so far. All premium designs crafted with ZeGuten are available only in a Pro version of the Gutenix theme.
In Conclusion
Designed as a Gutenberg-first WordPress theme, Gutenix has developed into a more agile solution with support for on-demand WordPress page builders; and we're going to follow this approach.
The theme is – and going to be – sold on its dedicated website, so it's not part of the MotoPress club. We'll do our best to make Gutenix a go-to multipurpose WordPress theme for developers, designers, and WordPress users of all calibers.
Will I get access to Gutenix if I purchase MotoPress Membership?
No, Getenix is part of our company, but it's distributed under a different domain name and subbrand, so you can't get it with the MotoPress Membership. Remember that you can also take a free version of Gutenix for a spin!
Does Gutenix work with the block editor only?
No, although being Gutenberg-focused, Gutenix is a multipurpose WordPress theme designed to work with any modern editor, including Elementor and Brizy. The current version of Gutenix is not a Gutenberg theme to the core – it even shops with turnkey designs to simplify your work in these builders.
What type of site Gutenix is best for?
Gutenix offers WordPress themes for diverse realms, including portfolios, shops, restaurants, consultancy, non-profit, etc. such diversity is actually one of the major benefits of this theme. The theme will work for multipurpose business sites, ranging from a business template to a dedicated cafe design.