AI Marketing Tools for Hospitality: 10 Solutions You Can Use Today
"Businesses should be excited about artificial intelligence", says James Manyika, Google's first-ever SVP of technology and society in his interview with Katie Couriac in May, 2023.
In a while, he explains that the use of AI technologies gives businesses a competitive advantage over their counterparts.
AI is cutting-edge. AI transforms how businesses meet customers. AI is the next big thing after the advent of the internet and mobile computing.
With these types of statements circulating over the internet, it's easy to get into thinking, not to say get anxious or pressed, that you are left behind when not tapped into some sort of omnipresent AI to boost your marketing efforts.
Have you already read enough to get the feeling that the power of AI is undeniable, but actually have no idea how to use its power in your hospitality marketing?
I dare say – no worries. First off, even though it's obviously another culmination point of the AI progress, the buzz mainly revolved around specific generative AI tools, and it was actually fueled by other AI companies themselves. Who'll be the first in the AI 'arms race' to help you start a flying taxicab business or better assist in genome editing?
Secondly, what might seem a turbo-change for society and business now, is a substantial history of maturation and development. I mean, various types of AI-powered algorithms (GAI, DL, ML) have been developing for a few decades. If your hotel or inn survived a year ago, or five years ago, that's definitely not because your efforts were optimized by AI?
Compare with this – educators should be rushed more because students send them essays straight from ChatGPT. But we are convinced that in the hospitality sector, construction partners, refurbishment quality, customer service and many more all-important everyday things will always be prior.
And lastly, not every problem can be solved with AI – it can give you tons and tons of insights, but how to interpret them properly and turn them into actionable tips? Does a tool/data actually work for the context of your business? It's crucial to remember that AI is a sidekick, subordinate to human guidance and decision-making processes.
With all this no-fret-AI-is-not-a-panacea idea in mind, we're on the quest to take a closer look at a few AI marketing tools for hospitality to help you decide if they can deliver value to the context of your business. What's also important, we'll be looking mostly into the AI tools for hotels.
Examples of how AI is used by hotels
In a bird's-eye view, how exactly can AI help a hotel, B&B or vacation rental? Which tasks can it assist you with and which even completely perform on your behalf?
A few examples of AI in hotels:
Today hotels use AI chatbots that are trained to answer customer questions 24/7, and completely or partially replace the support staff.
Another example is using AI for predictions in revenue management, such as pattern analysis in slower and faster seasons.
AI reply assistants help hotels in online reputation management by replying to customer reviews automatically via various platforms. AI can recognize positive and negative reviews and bend accordingly in its answers.
These are examples of rather simple AI tools, which are sharpened to solve very specific tasks, require a steep learning curve, and are user-friendly.
By the way, the simplicity of the interface was one of the key reasons why ChatGPT took the market and society by storm.
There are, however, more general and advanced AI tools, which demand your own solutions and creativity in approaching them for making the most out of them.
If you're itching to kickstart your practice immediately, feel free to jump right to our curated list of AI marketing tools for hospitality.
But since it's hard to be snappy with this topic, we're offering you to start (we'd like you to!) with our small walk-through that sheds light on the crucial dos and don'ts of incorporating AI into your strategies, unveiled right below.
Pros and cons of using AI in hospitality business
As internet users, we are constantly immersed in a world driven by AI-powered algorithms. Take, for instance, the YouTube recommendations or the word suggestions in Gmail, both of which rely on sophisticated AI algorithms.
So, what is the advantage of AI in hospitality industry? Not without gaps to fill, AI in hospitality industry can yield tremendous benefits:
AI is capable of increasing some of the key economical factors, for example, productivity of your staff and innovation in serving your guests.
Automation is one of those fields where AI algorithms have perfected at the time being, and you can discover multiple new ways to boost the productivity of your hotel business.
Increase accuracy levels in multiple areas of your business, where people are more prone to errors.
AI tools for small business can significantly reduce operational costs or solve creative tasks at a low cost.
And here come cons of AI tools for business, too:
It might take a lot of experiments before you find the final range of solutions suitable for your needs.
Sometimes you have to train a lot of skills to start working with AI, hire an expert, or invest into the deployment of custom solutions.
Economic instability worldwide can influence the development and support of AI technologies.
Generative AI solutions (e.g. text generation) are prone to providing false information and biases.
Some tools might not be accessible in certain countries and regions.
Before using AI tools, set yourself in a specific mindset
Before you start excitedly using AI in the hospitality industry, take a moment to build a specific mindset to help your business get benefits yet not get trapped into AI limitations.
To do that, keep in mind the following concepts:
Put human expertise first. In the first place, think how you can bring your creativity to AI – and not vice versa.
AI doesn't exist in isolation, it integrates with your current processes; do you know how it can improve this or that process? Can you measure how AI delivered value to specific processes?
Think about modularity. If you find a working AI tool, how can you scale it to other processes? How can you repurpose it for different aspects of your business? Whether you use simple or complex AI tools, you have to learn to draw connections between multiple ideas.
Be prepared to do a lot of the fact-checking. AI is trained on data created by humans. Humans are prone to errors. This especially applies to generative AI tools, such as those that involve intelligent document processing (i.e. legal papers, invoices) or content creation. Such content requires at least minimal manual revision.
Experiment and measure results. Get prepared to learn and be pragmatic at the same time. Get prepared to say no to tools that don't work for you. Don't give up or get disappointed quickly; try alternatives.
Do your best to interpret the data you get from AI using the context of your business.
AI has strengths and weaknesses, and you need to be aware of both when approaching any tool.
The key takeaway here: you should not rely on AI tools as final decision-makers. The devil is in the detail, as the saying goes, and AI is limited in nuanced decision-making.
Let's sum up with one good point made by Michael Beresin:
"Michael Beresin, chief operating officer of the agency Labelium, notes that the best marketing outcomes result from human-guided AI. Beresin observes that customer behavior can be "an inscrutable mess of tangled spaghetti" that defies efforts to create a cohesive story. AI can help agencies and brands make sense of the jumble."
Let's not move on from philosophy to practice and revise a few established AI marketing tools.
AI marketing tools for hospitality: 10 solutions & use case examples
Let's start by explaining, or rather widening our understanding of the definition of marketing. In practice, marketing doesn't stop with generating leads or posting ads on social networks. It's about improving the experiences of your guests and staff at different touchpoints, and every field of your business can help here.
So, in our round-up, we are trying to feature AI marketing tools for hospitality from different areas!
Performance Max
| Performance Max | Features |
| --- | --- |
| Capabilities | Professional hotel advertisement creation for running it across Google services. |
| Main category | Conversion, Reporting. |
| When to use | Generate a creative advertisement based on the data about your hotel, including text, images, and links for further usage in Google services. Speed up a campaign creation process for a hotel chain. Optimize your direct bookings channels. |
| Difficulty | Low. |
| Pricing | Free. |
Performance Max is an AI-powered ad tool for hoteliers by Google. It's based on the generative artificial intelligence, allowing you to generate a professional and well-structured ad, as well as automatically integrate it across Google Maps, YouTube, Search, Gmail and even Hotel Ads later on.
To give you more control over the ads, you can edit the AI-generated assets or replace them with custom ones. As Google promises, thanks to Performance Max, you'll be able to expand your hotel's reach and drive more direct bookings across Google.
Giorgos Tsiledakis, Sales & Marketing Manager at Corissia Hotels & Resort describes his experience with this tool:
"Performance Max for travel goals is a great opportunity for hotels trying to optimize their direct booking channel. We would have never imagined such strong performance and efficiency."
What's really cool, the service ships with property-level reporting tools allowing you to better analyze ads performance. Thanks to effective learning resources and support by Google, you can accelerate the whole process without much effort.
DialogShift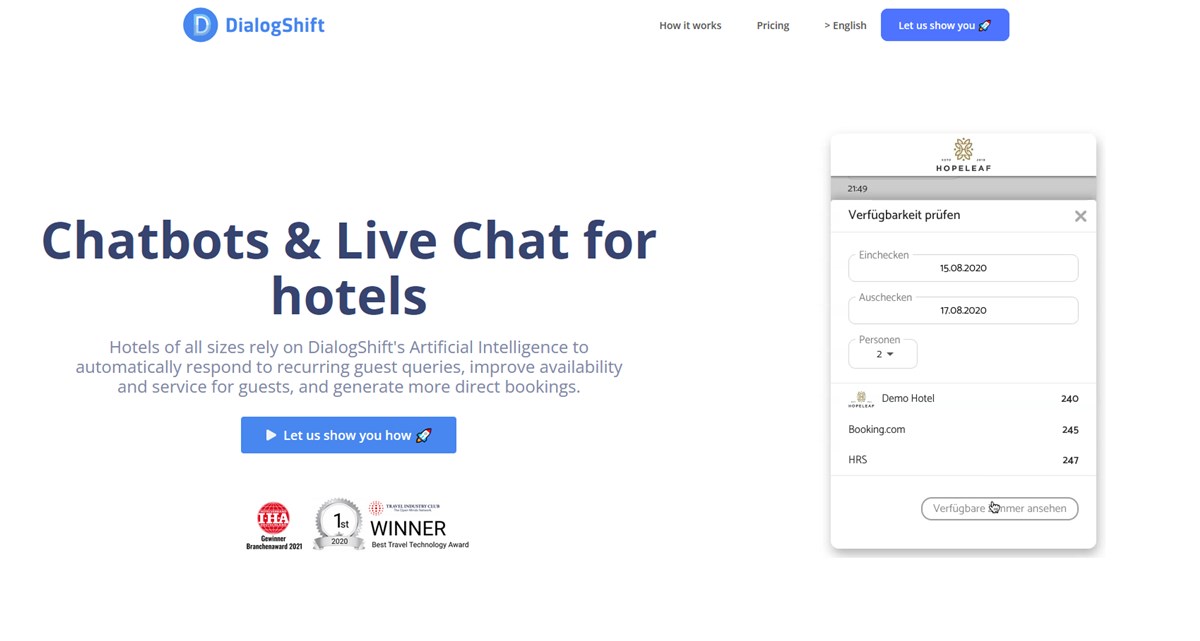 | DialogShift | Features |
| --- | --- |
| Capabilities | Chatbot and live chat for a hotel. |
| Main category | Automation. |
| When to use | To automatically respond to client requests on your website using a chatbot. |
| Difficulty | Middle. |
| Pricing | Monthly cost 120 € + 1 € per room. |
This chatbox for hotels is optimized to help you increase direct bookings and, therefore, decrease operational costs on managing your staff. The chatbot supports 109 languages and is made by the good folks from Germany.
One of the best features of this AI solution is the ability to connect it to Google's Business Messages, WhatsApp, Facebook Messenger and Instagram, which means you can have the same well-trained chatbot (that knows the specifics of your hotel) across channels.
Even though it's hard to predict whether it can be perfectly suitable for your accommodation, if used properly, chatbots are able to increase productivity, bookings rate, and reduce a client's waiting time.
Mara Solutions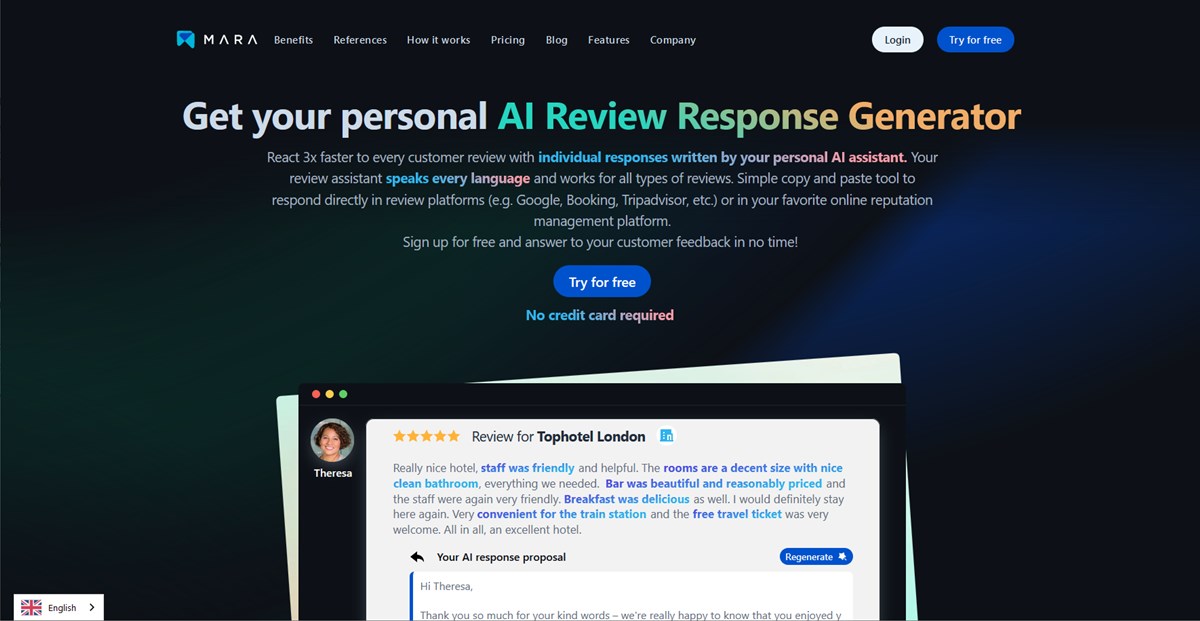 | Mara Solutions | Features |
| --- | --- |
| Capabilities | AI response generator. |
| Main category | Automation. Online Reputation Management. |
| When to use | To generate responses in natural language to customer reviews on different platforms. |
| Difficulty | Low. |
| Pricing | From $0 to $100 per month. |
Hotel and property reviews are an integral part of your day-to-day operation, no doubt. But if you feel sometimes it's getting too much of a monkey job with answering the same questions or posting rather standard replies to reviews, consider Mara.
It's one of those AI content marketing tools that will generate maximum personalized responses to guest reviews on OTAs or any other reviews platforms, such as Google Reviews, Booking.com, etc. A big bonus is that it works in multiple languages. On the cons side, you need to send each review to the response generator interface manually.
Of course, it's capable of significantly reducing times and costs for your business and increasing online reputation.
Gamechanger by Duetto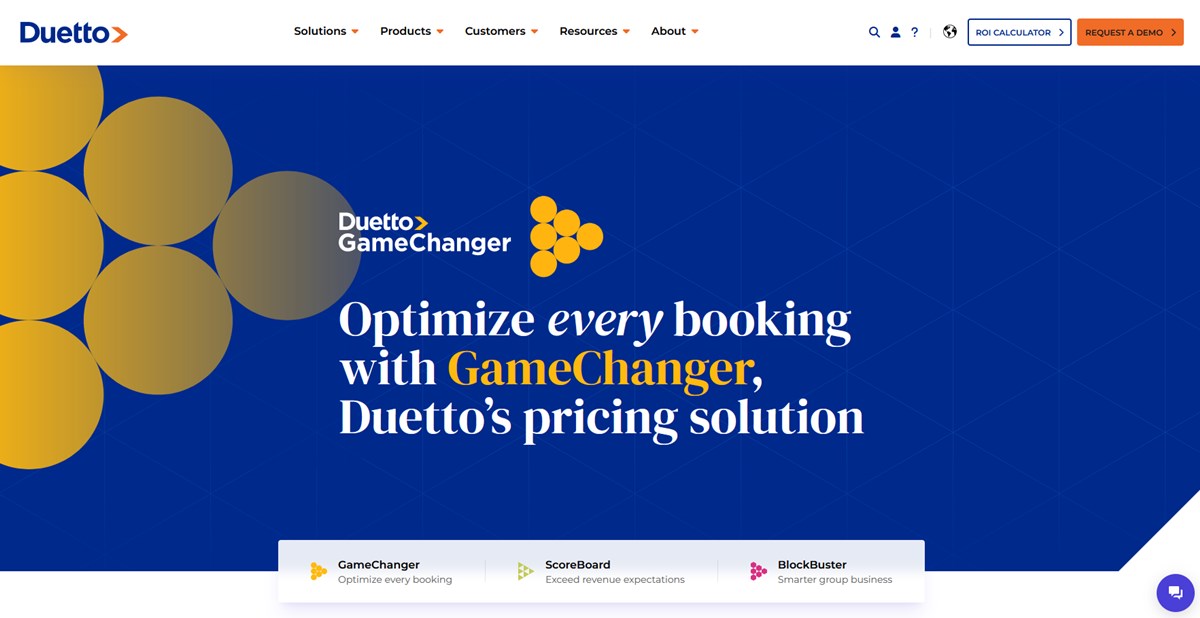 | Gamechanger by Duetto | Features |
| --- | --- |
| Capabilities | Predict hotel profits by utilizing powerful analytics. |
| Main category | Forecasting, Revenue Management. |
| When to use | Predict demand for certain rooms or properties. Create a pricing strategy to incrementally boost revenue with flexing rates. |
| Difficulty | Middle. |
| Pricing | Contact sales. |
Gamechanger by Duetto Is a predictive analytics software for hotels and resorts that helps to optimize every booking. This tool aims to simplify the work for your revenue management team by helping them to create a better pricing strategy for every property.
This solution also helps you to monitor changes in booking curves in different contexts and helps you optimize opportunities when they arrive, even taking the dynamic global market into account.
Lodging businesses that use Duetto AI marketing tools for hospitality often report that they were able to create better short-term forecasting and room type pricing.
Here is what customers say about the Gameshanger by Duetto:
"We had months where we had nothing. We were closed with fixed costs. But year to date we are making up for a lot of lost time and revenue. The room rates we have achieved through automated pricing has made up for that and we have seen record weeks in terms of rates and occupancy."
Full deployment is 30-60 days. You can find many use cases of how hotels and vacation rentals use the software for analyzing and altering pricing.
Hugging Face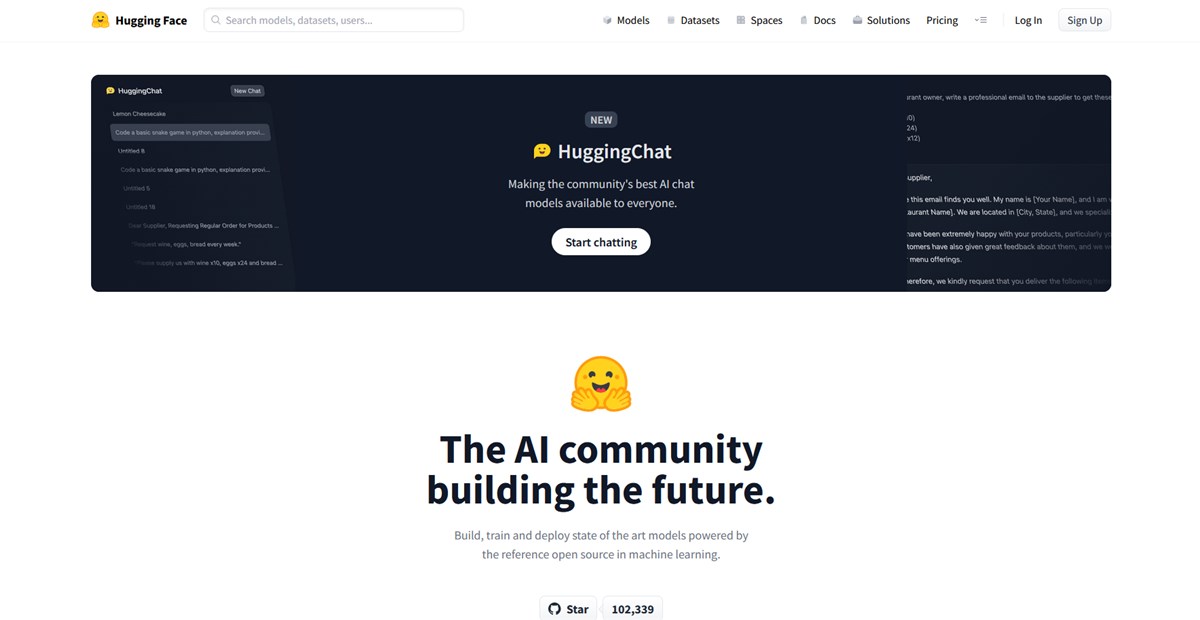 | Hugging Face | Features |
| --- | --- |
| Capabilities | Multiple, including image classification, question answering, and summarization. |
| Main category | Automation. |
| When to use | Analyze customer feedback, generate custom competitor analysis reports, simplify hotel social media monitoring, automate responses to frequently asked questions. |
| Difficulty | Middle. |
| Pricing | Free to $9 per month. |
Big hotels or hotel chains can find the summarization option helpful for analyzing customer feedback across different resources, including from the website and social media.
Even if you are a family or person-operated vacation rental, it can also save you a huge amount of time on analyzing the areas you want to understand or automate FAQs.
Since it's not optimized for any specific business, it might be time-consuming to figure out how to get proper insights and implement them into practice.
PolyAI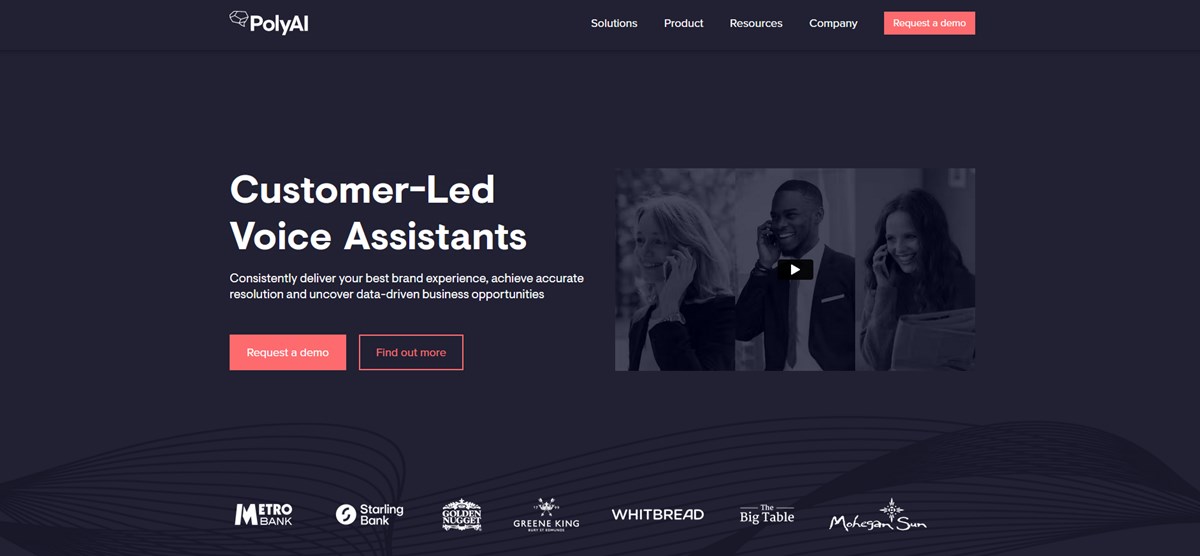 | PolyAI | Features |
| --- | --- |
| Capabilities | AI voice assistant. |
| Main category | Automation. |
| When to use | Allow an AI to accept client calls to solve different issues, including booking a hotel room over the phone. |
| Difficulty | Middle. |
| Pricing | Request a quote. |
PolyAI allows you to implement human-level conversations into your day-to-day communication with clients. Especially if your hotel heavily relies on booking a room for guests over the phone, this might be a huge time saver.
A voice assistant won't just answer calls mimicking a voice of your staff member, but also promises to intelligently upsell your services.
It's also capable of making outbound calls for confirming bookings.
In some use cases covered by the PolyAI company, they say that they were able to deploy a trained voice assistant for a hotel business in just 4 weeks.
Verint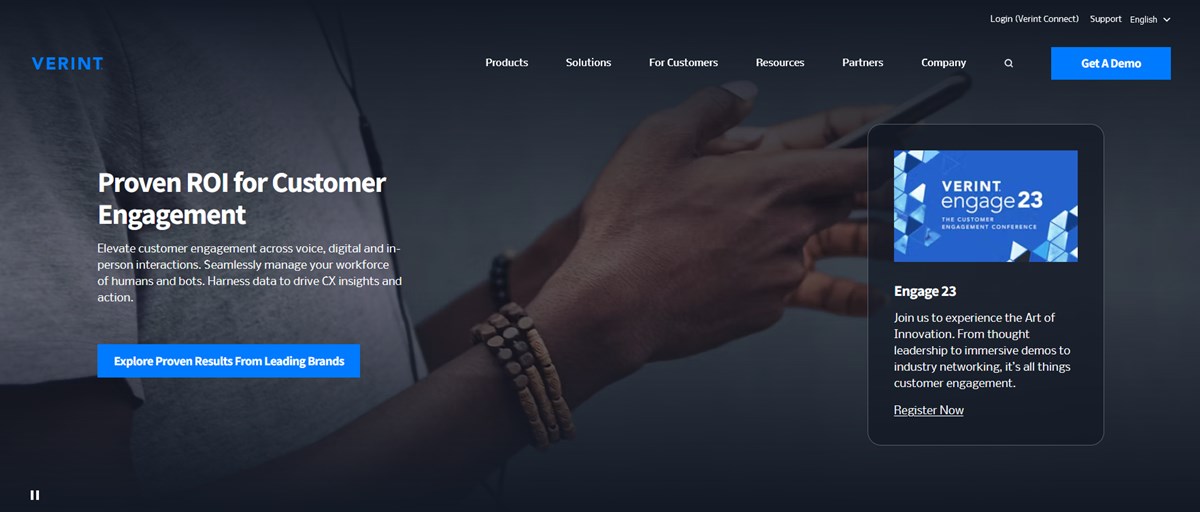 | Verint | Features |
| --- | --- |
| Capabilities | Conversational AI, forecasting and scheduling. |
| Main category | Customer Experience, Analytics, Automation. |
| When to use | Speech analysis in customer calls. |
| Difficulty | Middle. |
| Pricing | Request a quote. |
Verint is not one product, it's a platform where you can choose suitable solutions that solve different needs: improve the service quality, understand your potential ROI, and more.
Among other things, it offers a conversational AI tool that allows you to 'automate actionable expirienes', which means to help your clients make bookings without involving human staff. Answering your FAQs is also included, for sure.
The company behind these AI marketing tools for hospitality promises to deploy such a solution in just a few weeks. Books and webinars by the Verint will help you better embrace artificial intelligence tools for hotels, which is a great bonus compared to other AI marketing tools for hospitality.
Revinate Marketing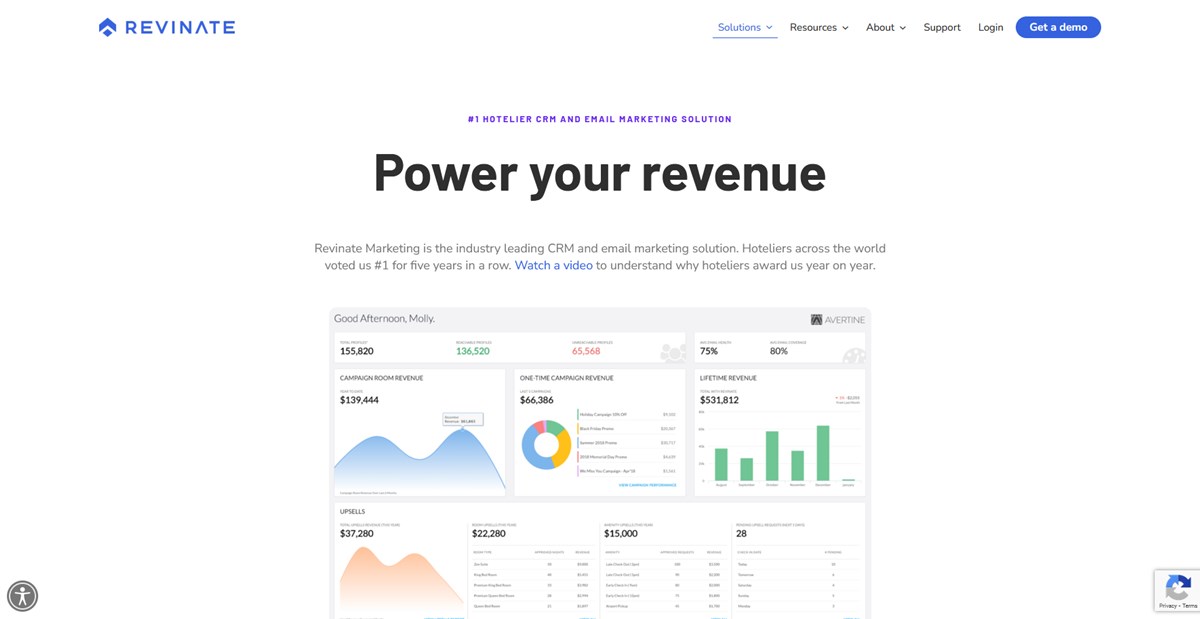 | Revinate Marketing | Features |
| --- | --- |
| Capabilities | Generate and send personalized offers for guests. |
| Main category | Marketing Automation. |
| When to use | Create tailored marketing campaigns and promotions aimed at specific guest segments. |
| Difficulty | Middle. |
| Pricing | Request a quote. |
This is a powerful CRM and email marketing solution for hoteliers that uses AI algorithms to create and upsell personalized hotel amenities, room upgrades and more. Its automated tools help you intelligently segment your guest database to create more tailored offerings and improve the overall email performance.
Here is what the customers say about Revinate Marketing:
"I like how there is structure for our reservations team to work within that creates the opportunity for goal setting, achievement, comparing to years past, and learning."
Even more so, it allows you to get insightful guest profiles along the way, including their loyalty and stay-in data.
Kira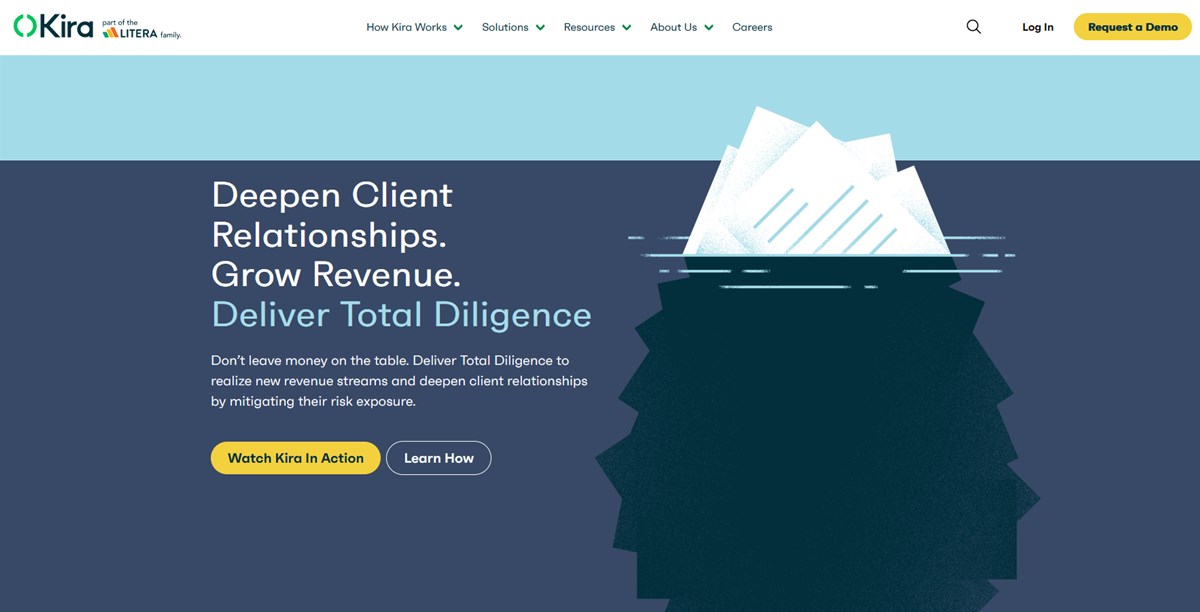 | Kira | Features |
| --- | --- |
| Capabilities | Contract analysis. |
| Main category | Automation. |
| When to use | Analyze the content within your contracts and documents. |
| Difficulty | Middle. |
| Pricing | Request a quote. |
Kira is a machine learning technology that deals with contract analysis, thus, can help you streamline all document-related hotel processes and improve operational efficiency. Among business tools in hospitality industry, this type of automation is probably the most loved, because… who loves legal routines?
This AI-powered solution supports file import in over 60 formats. With simple drag-and-drop tools, feel free to upload entire directories or zip files, import from your desktop or other apps such as Intralinks or HighQ.
The product's interface allows you to collaborate with team members on the same document, get insightful summaries and easily export data to other formats.
ChatGPT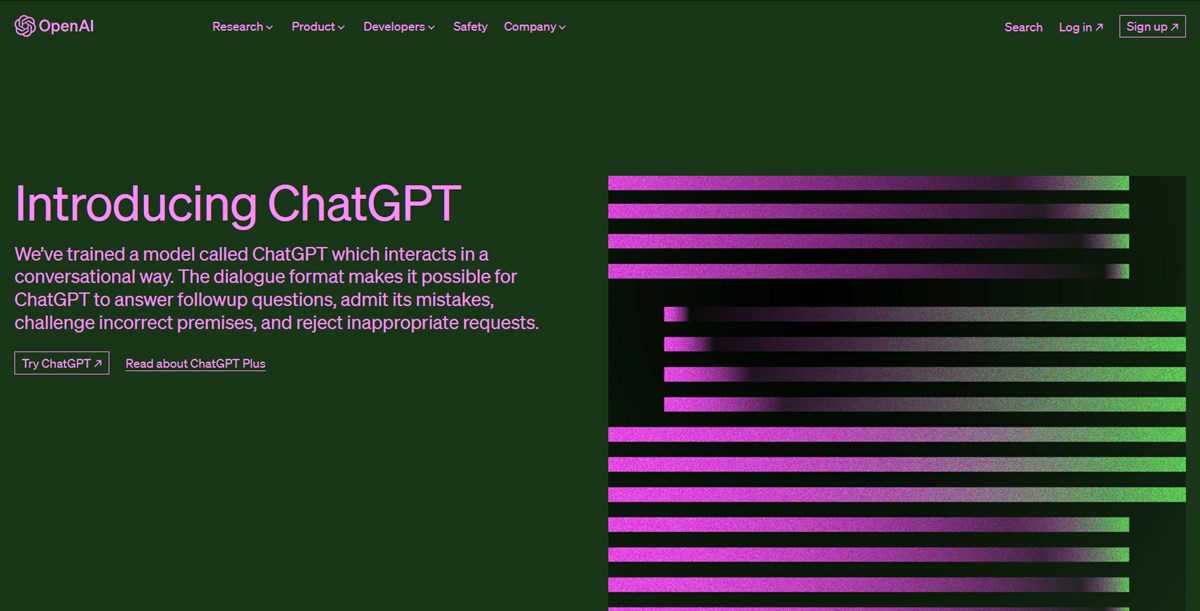 | ChatGPT | Features |
| --- | --- |
| Capabilities | Write/create text and code. |
| Main category | Automation. |
| Where to use | Generate travel-related content for your blog, accommodation description, website pages, OTA listings, or social network ads for hotels, etc. |
| Difficulty | Low. |
| Pricing | The basic version is free. |
We couldn't make this list without mentioning one of the most popular generative AI tools that has swept the market (and society).
If you have a lot of properties and a standard list of amenities, for example, this AI tool can help you create a creative description in natural language for every accommodation. This artificial intelligence marketing tool is also helpful for coming up with creative headlines for social media or blog posts (because we wouldn't recommend posting a fully AI-generated text to your blog, just to be on the safe side).
It has one big disadvantage: you can't fully trust the data generated by this tool. However, when your prompts consist of very specific data and then you manually curate the output response by ChatGPT, in this case everything is pretty much under your control.
Entry levels of this one of the most popular AI content marketing tools require the skill of crafting detailed, logical, and informative 'prompts'.
Here are a few more content generator tools:
Elai: Text-based video editor & creator (and many tools, such as article and video converter).
Midjourney: Image generator tool.
Bonus: Download a tailored AI recommendations report for hotels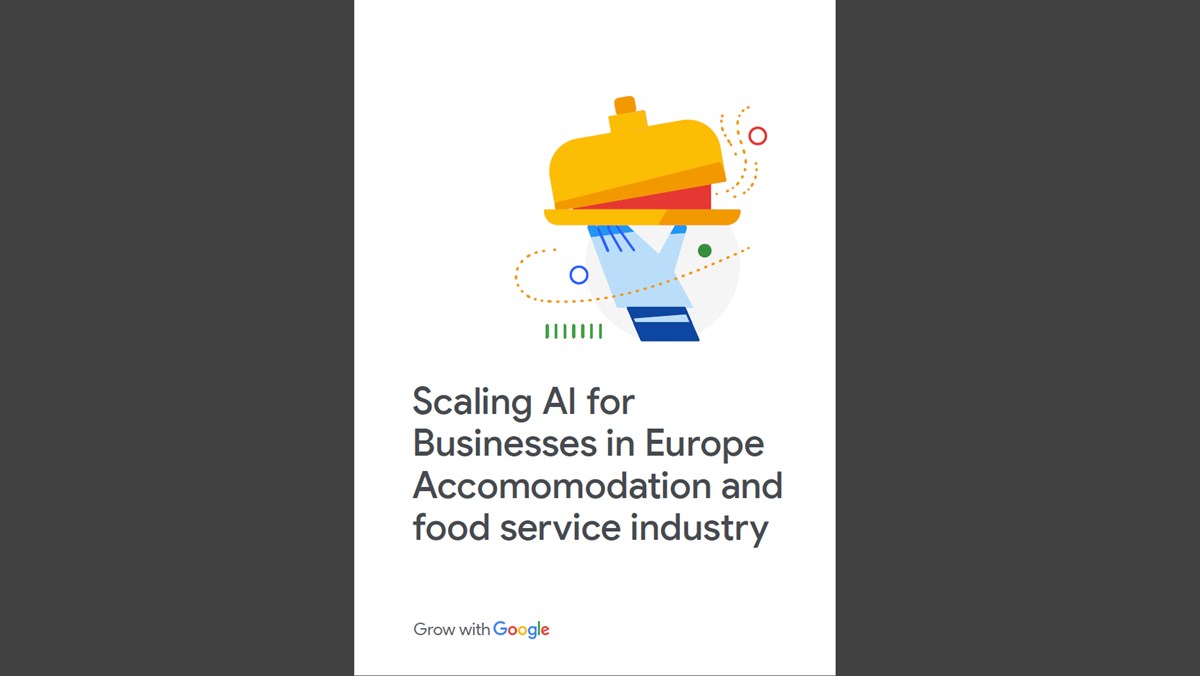 If you are into getting deeper into the topic and want to learn more about off-the-shelf solution recommendations, use cases, and detailed insights, feel free to use AI for Business with Google.
It allows you to generate a detailed AI software recommendations report tailored for your type of business, operations you are looking to optimize, and region. You just have to click the buttons that describe your business to automatically receive your report.
Here are category examples that feature different off-the-shelf solutions in the report:
Preventing phishing attacks by analyzing emails.
Improving customer support and automating customer tickets.
Optimizing payments by analyzing invoices with natural language recognition.
It's also interesting to get into the real case examples highlighted in the report category-wise, like so about Freshdesk:
"Grofers a large Indian food e-retailer, implemented Freshdesk to move from a phone-call based customer support system to email and chats, leveraging the automation capabilities of the suite to achieve a 96 percent drop of the average ticket resolution time (from 24 hours to 1 hour). Additionally, more than 95 percent of the 4,000 daily inbound emails could be deflected."
Final word and key takeaways on AI marketing tools for hospitality
It's time to make a few conclusions about the current state with AI tools for hotels:
The number of AI technologies is increasing almost every day. Even though they are not perfect, artificial intelligence tools can obviously add value to businesses, with automation and delivering personalized experiences being one of their most crucial advantages.
The biggest benefit of AI is the immense possibilities for improving and optimizing different business processes. But the biggest challenge, as you can see, is defining the ways to use that power in your particular case. It requires time-consuming research and experimenting, which, given the nature of AI, can involve conceptual, procedural and cognitive difficulties, let alone the time and financial resources required.
At the same time, there are simple and complex AI tools, which also require some experimenting from your side. To use advanced multipurpose AI tools, as a rule, you need skilled AI and machine learning in-house experts possessing knowledge in various areas of expertise, such as statistics or algebra, or, alternatively, get expert help from the company that provides the software. However, simple tools can be used even by small businesses and solopreneurs without tech skills.
You can base your choice of AI marketing tools for hospitality based on 1) any specific problem you want to solve or 2) any specific case you aim to address.
Get ready to gear up with AI, be excited about AI – to be open to new opportunities. But not overly excited – to keep your head cool, since there is no point in using AI for the sake of using AI. If you find an AI for hotels that are easy to put in your business context, congrats, your journey has begun!
FAQ
How to use artificial intelligence in the hospitality industry?
Here are multiple ways to use artificial intelligence (AI) in the hospitality industry: analyze the changes in pricing, automatically adjust room rates, predict trends, connect an AI voice assistant that integrates with your
site booking system
, generate creative property descriptions, automate creating legal documents, and more.
How can hotels use ChatGPT?
Five major ways to use ChatGPT by hotels include: 1) generating creative property description for the website or OTAs, 2) assisting with creative headlines for blog and social media posts, 3) automating creation of categorized lists, 4) writing personalized answers to property reviews, 5) analyzing big amounts of data (hotel trends, customer information, etc.).

What are examples of artificial intelligence in hotels?
Here are examples of using AI marketing tools for hospitality:
Trained AI chatbots that answer customer questions 24/7.
AI for revenue management that recognizes guest patterns during various seasons and are capable of automatically adjusting room rates.
Answers to property reviews in natural language across platforms.
How to use AI in hotel booking?
Use booking software that includes an integrated CRM and an AI-powered voice assistant or chatbot capable of adding client bookings based on client communication and requests.