25+ Best Bed and Breakfast WordPress Theme & Elementor Templates
Bed and breakfast is a unique type of accommodation business, characterized by a cozy and welcoming atmosphere, a limited number of rooms, and a more personal interaction with guests. The key characteristics of this type of accommodation are individuality, the appealing history behind the place, and an authentic food experience. Continue reading if you want to create a website for this type of business using one of the best bed and breakfast WordPress themes featured in this collection.
To succeed in this competitive niche, it is crucial to present the benefits of your offerings most conveniently. In the subsequent paragraphs, you will be introduced to a collection of templates, designed for showcasing bed-and-breakfast services. Additionally, we will explore themes with a broader application scope, which can also be effectively utilized for presenting accommodations.
We've prepared a detailed overview, so you will learn more about the best design options for your B&B business that are focused on Elementor compatibility, or come with predesigned Elementor templates out of the box. So, without further ado, let's dive into the realm of the best bed-and-breakfast WP designs.
13 Best Bed and Breakfast WordPress Themes
1. Oceanica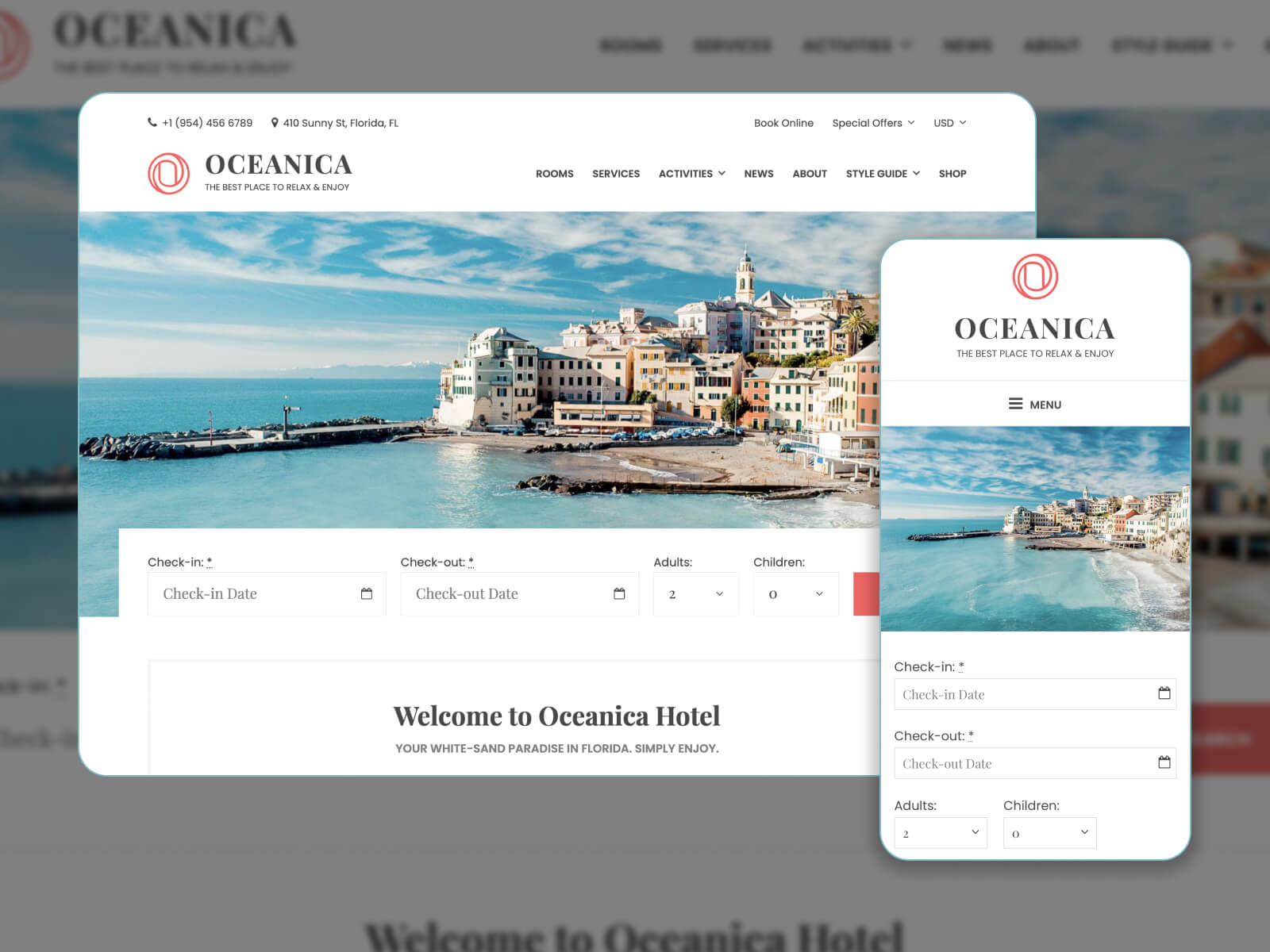 Name
Author
Price
Avg. Demo Speed Score
Oceanica
MotoPress
$79
Mobile 80
Desktop 98
Picture a comprehensive, user-friendly package equipped with all the essentials to successfully run your hotel business. Oceanica is exactly a wonderful example of such a bundle. A custom hotel booking plugin is included, meticulously crafted to simplify your operations. Not only does it facilitate easy listing of your rooms and acceptance of online reservations, but it also seamlessly syncs data with leading platforms such as Airbnb and Booking.com.
Numerous layouts presented by the template make it stand out from the crowd, while stunning image-displaying options illuminate your content in the most favorable manner. Moreover, there are pre-integrated pages like About Us, Services, Rooms, and others, which save time and help to tell more about your business. The stunning combination of a wide collection of functionalities and appealing design makes Oceanica a wise choice for crafting an excellent B&B website.
2. Hotale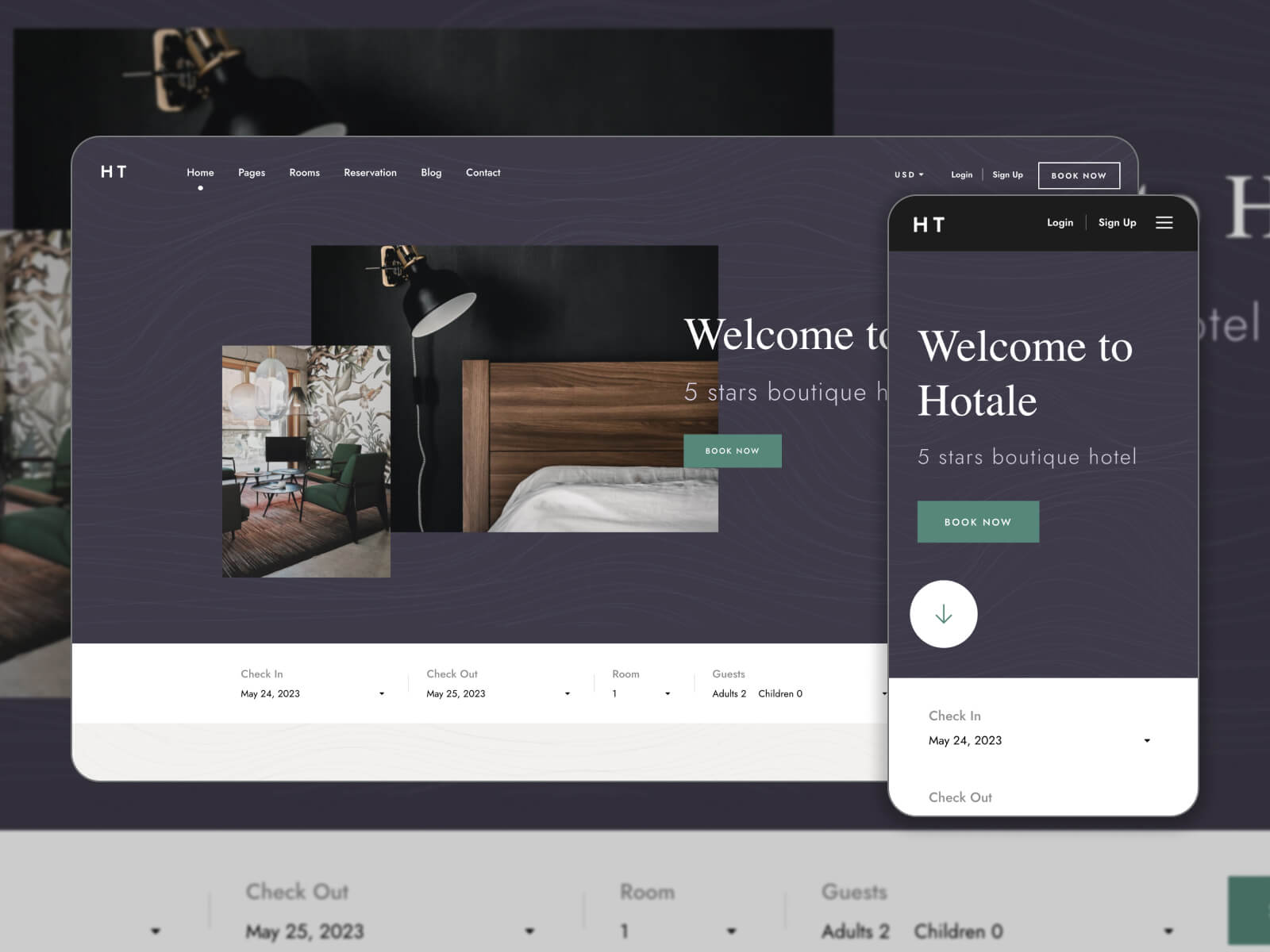 Name
Author
Price
Avg. Demo Speed Score
Hotale
GoodLayers
$69
Mobile 41
Desktop 73
This is one of the best bed and breakfast WordPress themes, catering to various accommodation enterprises. It provides a seamless booking experience resulting in improved conversion rates, which is always a plus. And it comes with an advanced membership system that allows your valuable customers to manage reservations and view invoices.
Multiple payment methods, including PayPal and credit cards, are available. Key features include multi-currency support, online and offline payment options, and the capability to edit order details in the admin backend. Additional services, along with room minimum stay requirements, can also be incorporated into your website.
3. Colina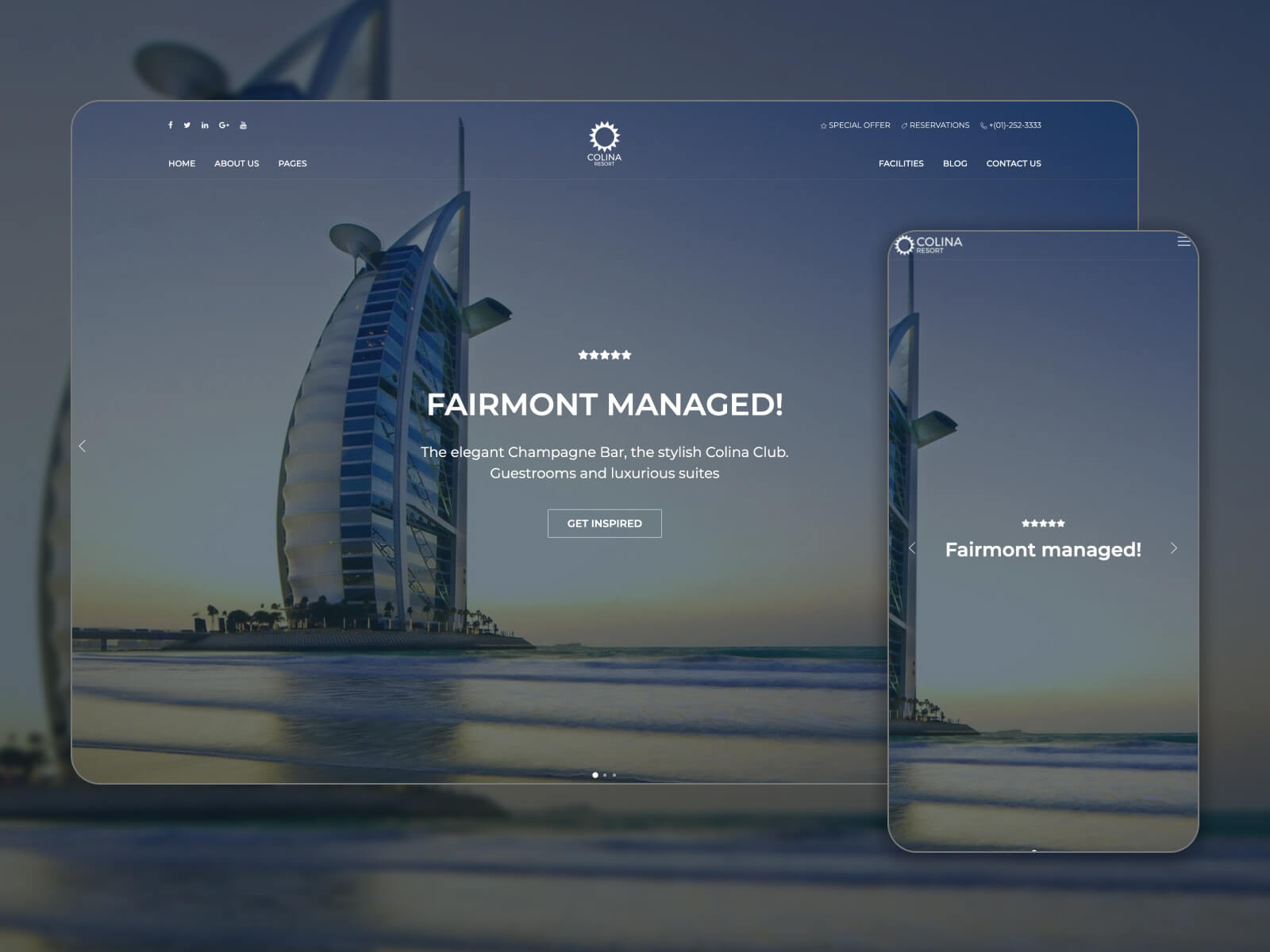 Name
Author
Price
Avg. Demo Speed Score
Colina
Template_Path
$59
Mobile 49
Desktop 72
This is a stunningly crafted design that's perfect for a range of hospitality businesses, from charming bed and breakfasts to luxurious resorts. Here you will find everything you need for a strong online presence, including handy features like a blog, testimonials section, and detailed room descriptions.
Equipped with an instinctive page builder known as the King Composer, and the ever-reliable Slider Revolution, Colina allows for swift and straightforward customization. In addition, it comes preloaded with demo content and a potent one-click installation feature, meaning it's primed and ready for use straight off the bat. This makes it the perfect choice for showcasing your accommodation services in the best possible way.
4. Gast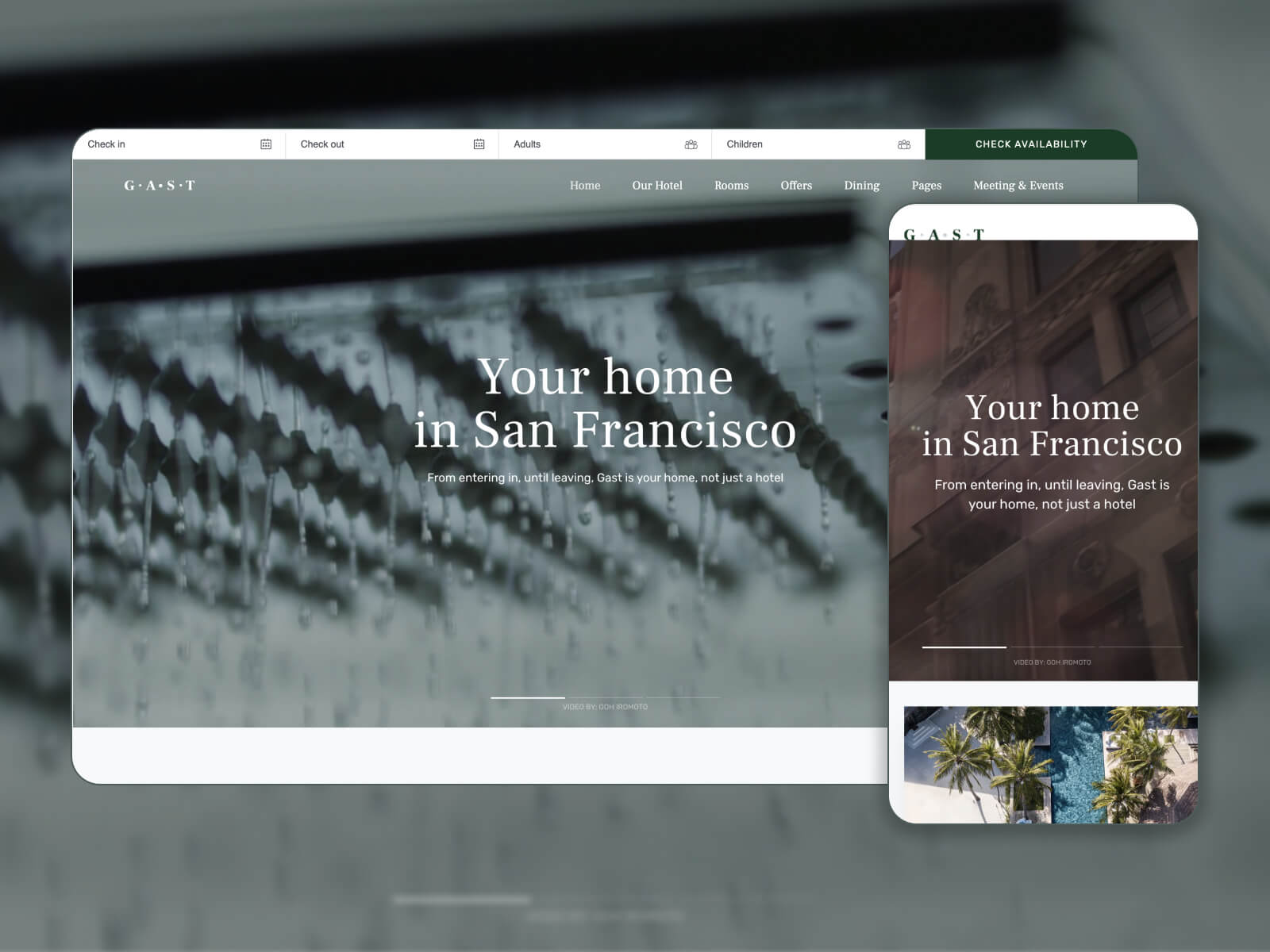 Name
Author
Price
Avg. Demo Speed Score
Gast
Vamtam
$89
Mobile 45
Desktop 82
The template is designed for accommodation businesses of various sizes. It features a full booking system, availability calendar, and requires no coding knowledge, catering to users with zero programming skills. It boasts exceptional page-load performance, mobile-responsive design, and SEO readiness.
You can import the demo content and access a plethora of layouts to create a unique and tailored website. Plus, there are over 500+ fonts, WPML plugin integration, and a child theme available. And if you need assistance, you can rely on the video tutorials and help articles provided.
5. Booklium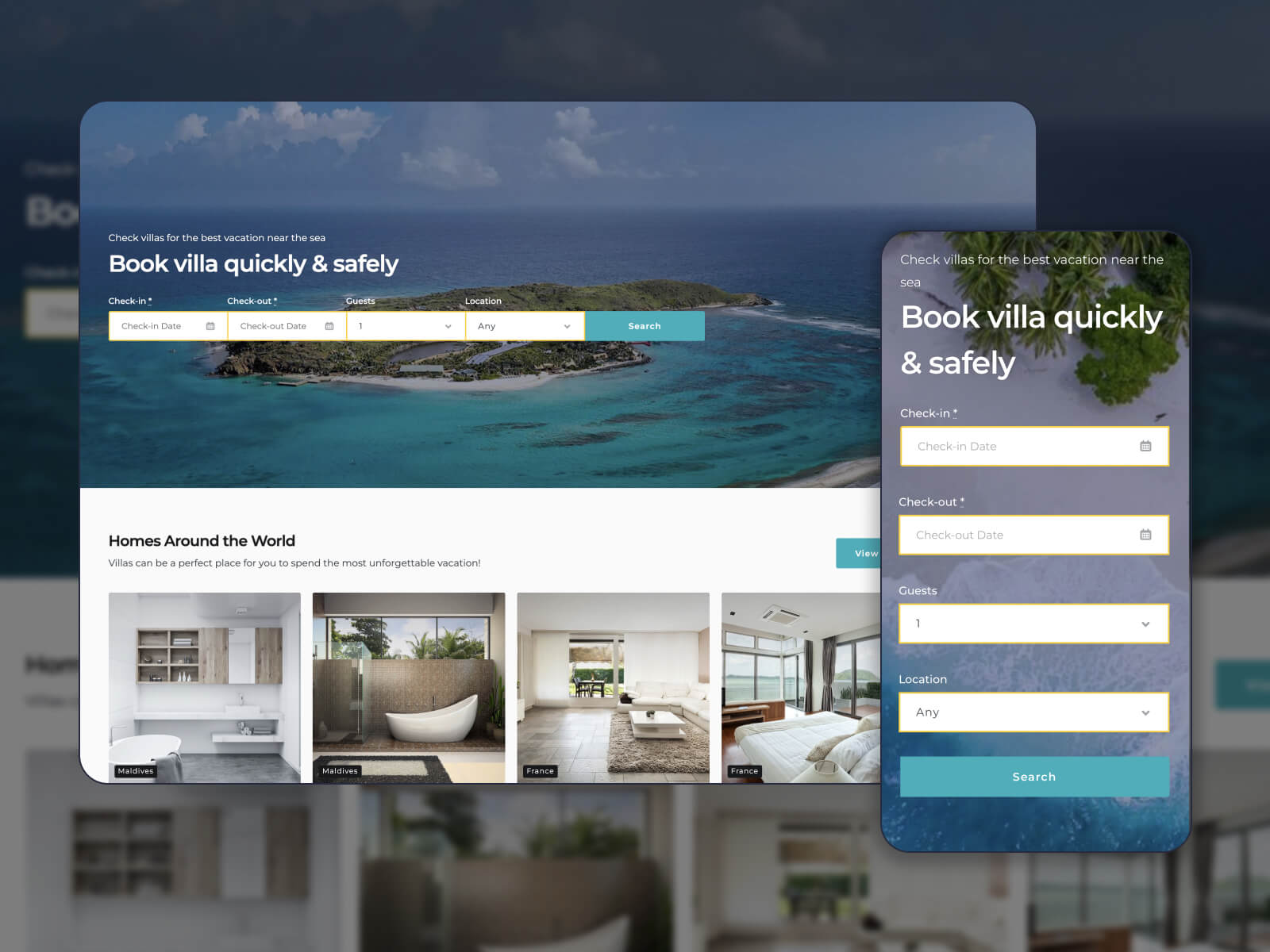 Name
Author
Price
Avg. Demo Speed Score
Booklium
MotoPress
$79
Mobile 78
Desktop 89
Thanks to the special hotel booking plugin that comes pre-packaged, you'll have online reservation and property management functionalities right at your fingertips. This theme boasts 5+ unique demos, allowing you to choose the perfect one for your goals. With 34 custom-made Gutenberg Blocks, you can add various enticing content blocks, enhancing your website's appeal.
Three cutting-edge website header styles are at your disposal, all presenting either nested vertical navigation menus or classic horizontal ones. In addition, there's a choice of over ten versatile page and blog styles, which provides ample room for creativity when crafting your website. Different presentation options are available for displaying accommodations, including a list format, a grid, or a minimalist view, all complemented by tags and images for the ease and convenience of your guests.
With a customizable color scheme at your disposal, your website can be turned into an awe-inspiring work of art. The site's color palette, from the buttons to the availability calendars and accent colors, can be fine-tuned to the tiniest detail. By choosing hues that echo your unique style, your online presence can ultimately stand out from the rest.
6. Villagio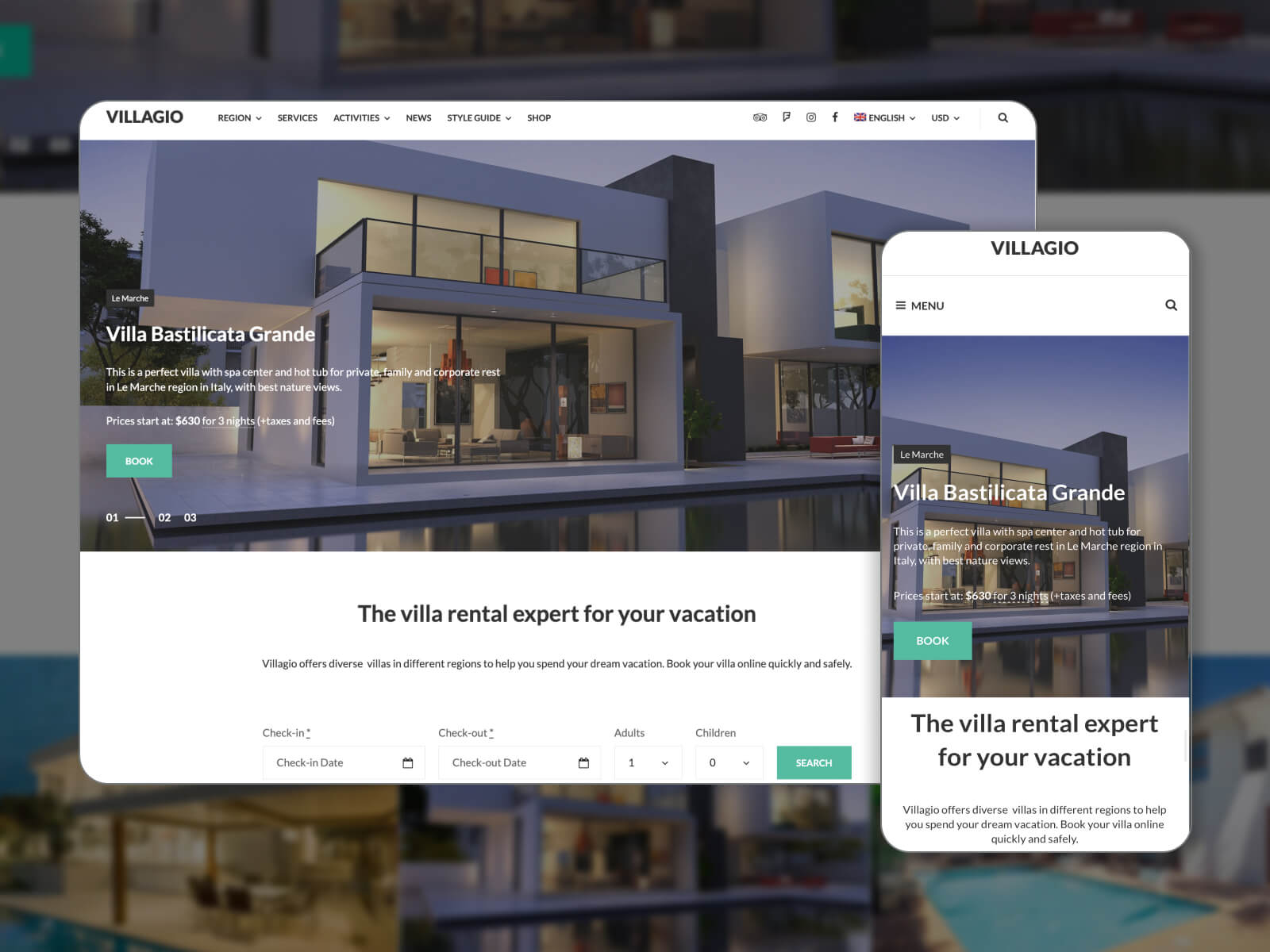 Name
Author
Price
Avg. Demo Speed Score
Villagio
MotoPress
$79
Mobile 64
Desktop 89
Villagio is an excellent choice that suits bed and breakfast sites, particularly those with multiple accommodations for rent. This solution has a special plugin that makes live reservations a breeze, while also providing a straightforward way to highlight what you have on offer. You can add and configure images, descriptions, bed types, and additional services with ease.
This option from our list of the best bed and breakfast WordPress themes provides you with access to a flexible pricing system, which enables property owners to set varying prices according to seasons or specific dates. Additionally, it allows for the application of weekly, monthly, or customizable rates to accommodate different lengths of stay. Moreover, the system is capable of automatically applying discounts according to predefined rules.
Equipped with support for both online and offline payments via a range of methods, including PayPal and 2Checkout, Villagio proves itself to be a versatile choice for B&B websites. Extra services and packages can be pre-ordered, enhancing its appeal. Boasting adaptable booking rules and the choice between manual and automatic reservation confirmations, Villagio is indeed crafted with the user's convenience at the forefront.
7. Kingo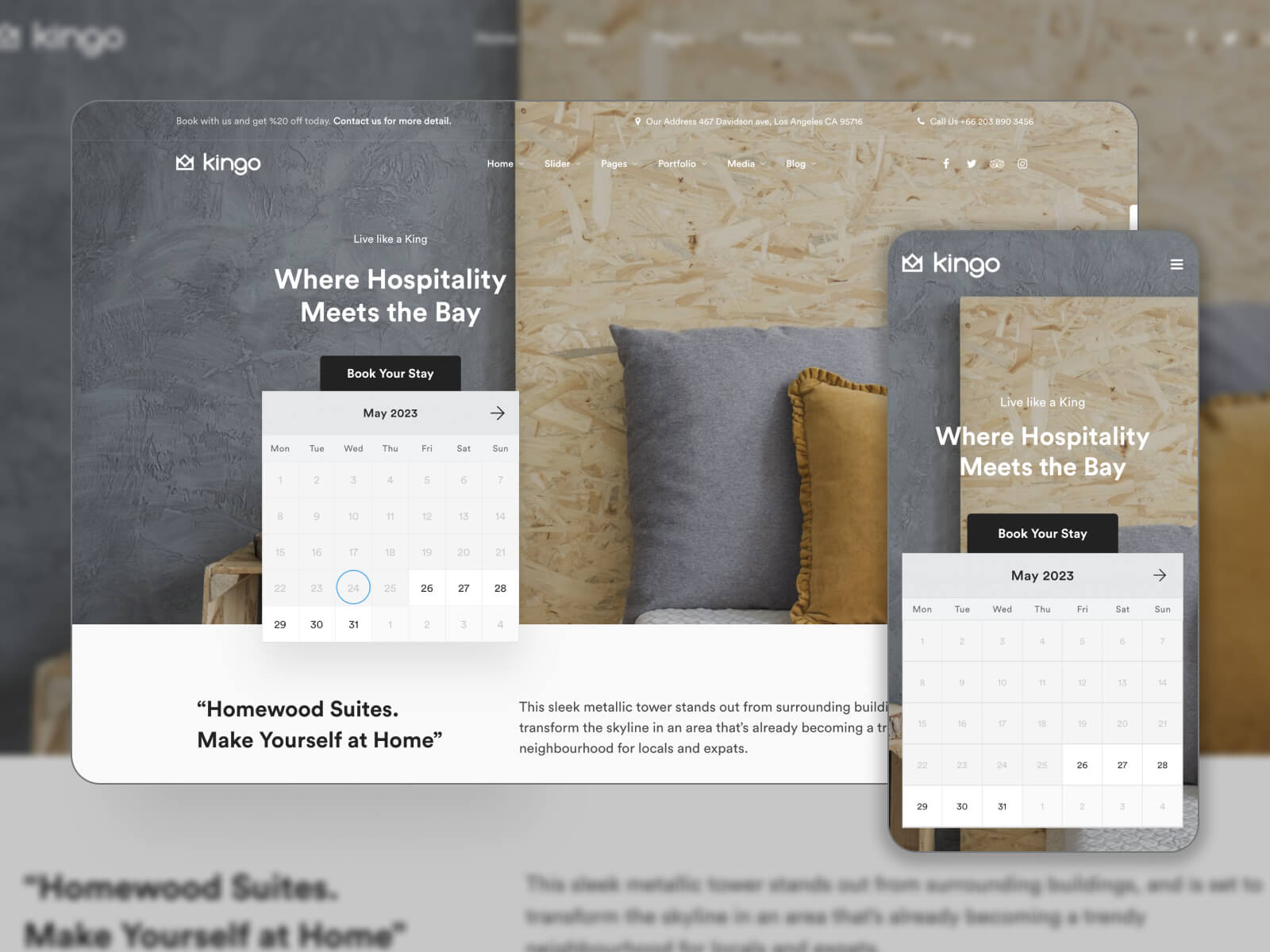 Name
Author
Price
Avg. Demo Speed Score
Kingo
ThemeGoods
$59
Mobile 33
Desktop 58
Ideal for small enterprises within the hospitality sector, this solution concentrates on streamlining the booking procedure for your clientele. Boasting a choice of 15 pre-designed homepages and 20 adaptable layouts, it offers a straightforward way to highlight your one-of-a-kind media content, thereby enticing more reservations.
Featuring options for gallery and image protection, coupled with a variety of menu layouts, Kingo serves as a flexible platform especially beneficial for B&B sites. Its adaptability and pre-constructed layouts contribute to its practicality, making it a perfect selection for small accommodation businesses eager to enhance their online presence.
8. Tejal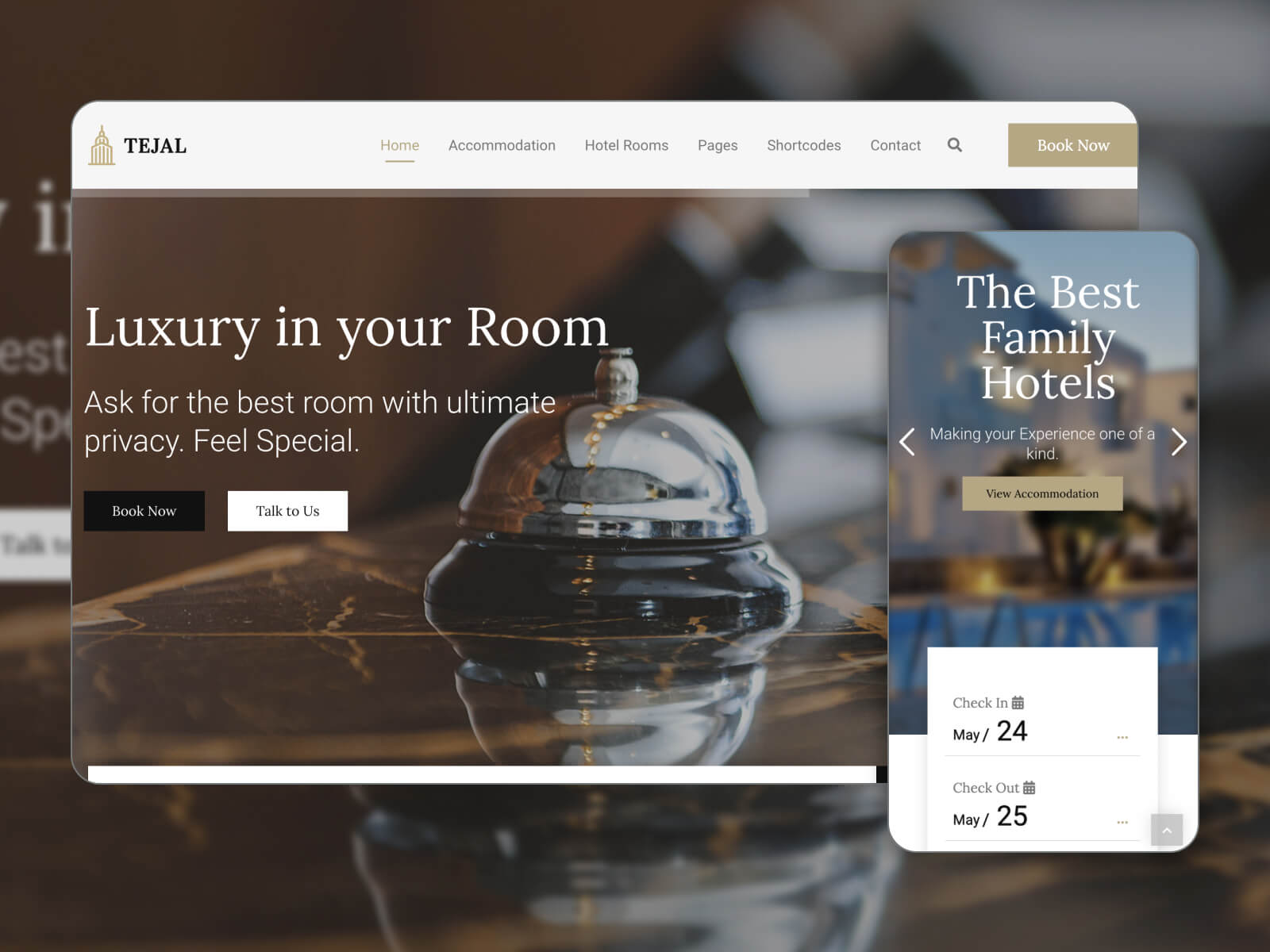 Name
Author
Price
Avg. Demo Speed Score
Tejal
DesignThemes
$59
Mobile 28
Desktop 55
This standout choice empowers you to manage reservations with remarkable ease, eradicating any concerns related to booking management. Crafted with the cutting-edge Visual Composer, its user-friendly interface is tailored to meet the needs of website owners. The system facilitates the rapid and effortless creation of visually appealing pages, destined to hold the interest of your valued customers.
Integrated with Event Calendar and Contact Form 7 plugins, the theme helps manage events and configure contact forms effortlessly. Tejal offers legendary support, extensive documentation, and video tutorials for a seamless user experience. Keep in mind that the images used in the demo are not included in the package but can be purchased separately.
9. Nuss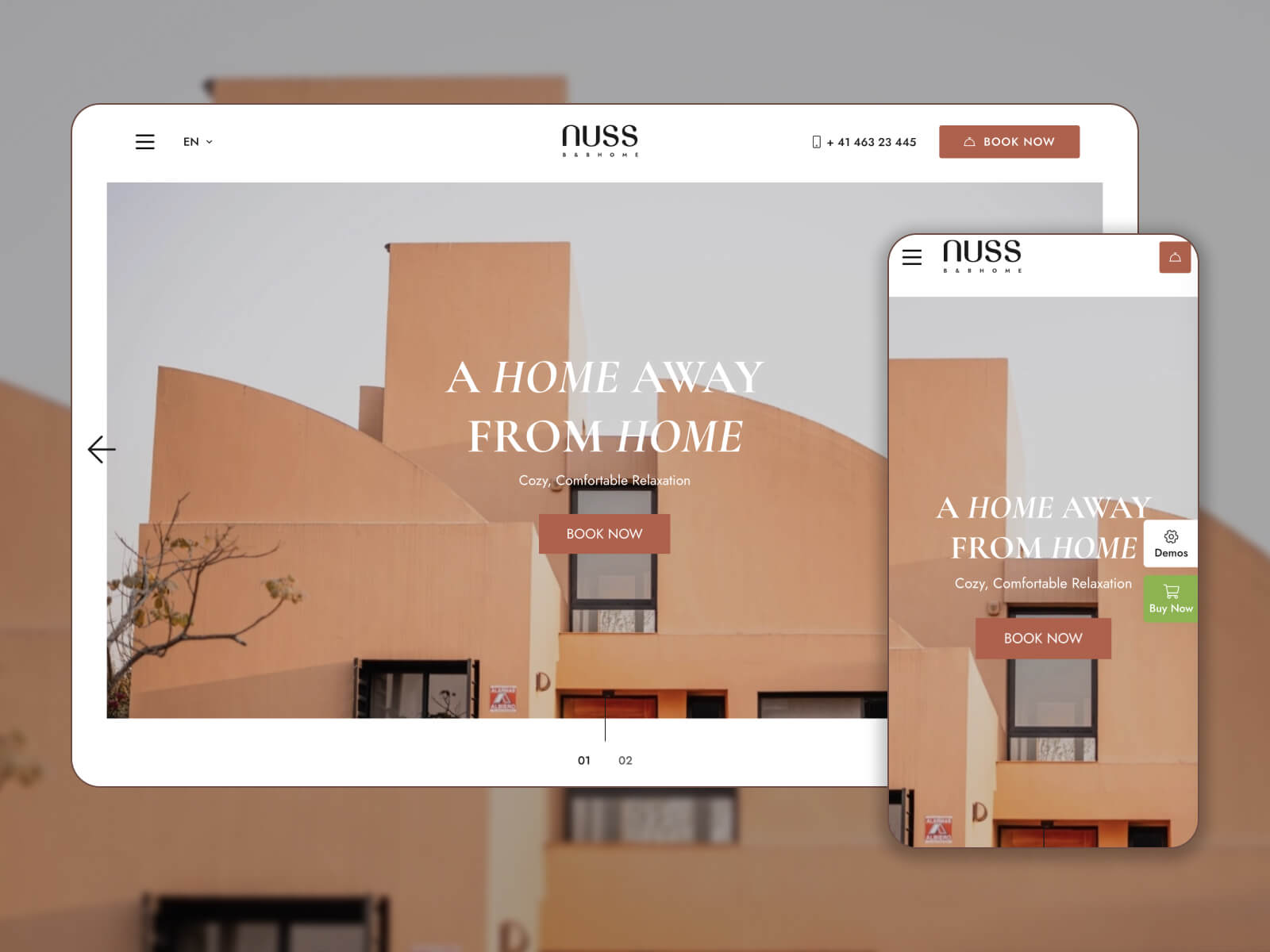 Name
Author
Price
Avg. Demo Speed Score
Nuss
Uxper
$79
Mobile 35
Desktop 60
The contemporary design and seamless booking system presented by this template are just the tip of the iceberg. You can pick a demo that fits your needs from several alternatives, while enjoying numerous other crucial functionalities, such as dynamic pricing and availability calendar. Also, you can implement a discount policy, and adjust email templates.
One of the best bed and breakfast WordPress themes offers six predefined homepage layouts, five header layouts, three footer layouts, and compatibility with Elementor, Contact Form 7, Polylang, and more. One-click import, a huge amount of fonts, and unlimited coloring options make this template a wonderful choice for customizing your website.
10. California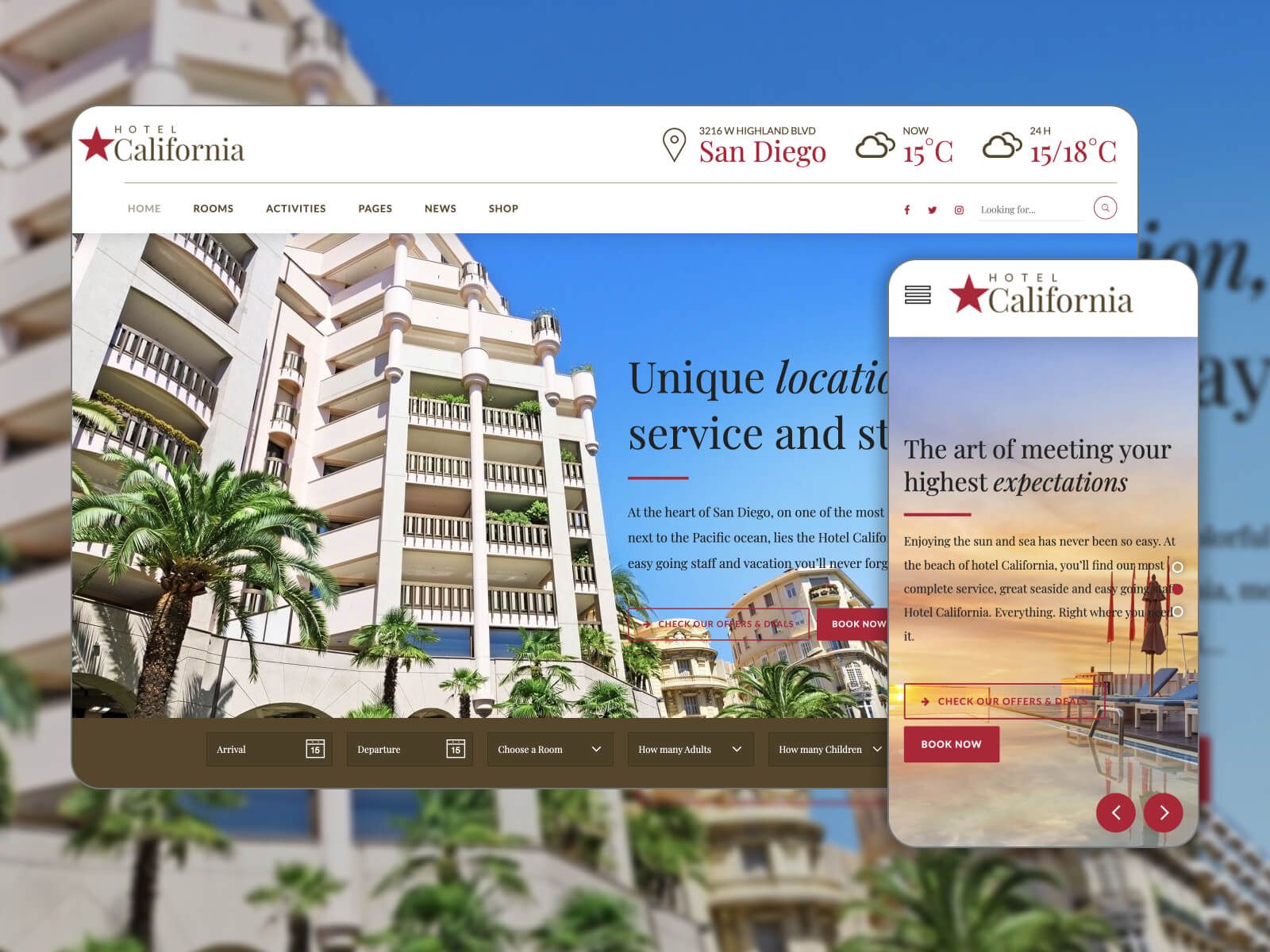 Name
Author
Price
Avg. Demo Speed Score
California
BoldThemes
$69
Mobile 40
Desktop 70
This solution is dedicated to hospitality businesses of all kinds, including bed and breakfasts. It's packed with all the bells and whistles, from a comprehensive options panel to unique page transitions and a customizable quote calculator. You can show off your hospitality facilities in a way that will leave a lasting impression on your guests.
Equipped with a turbo-charged page builder, four header design variations, and multilingual support, this template is a great option for small hotel enterprises. A one-click demo import will get your website up and running in no time. Furthermore, lifetime updates and top-notch support are included to ensure an optimal experience.
11. LeLuxe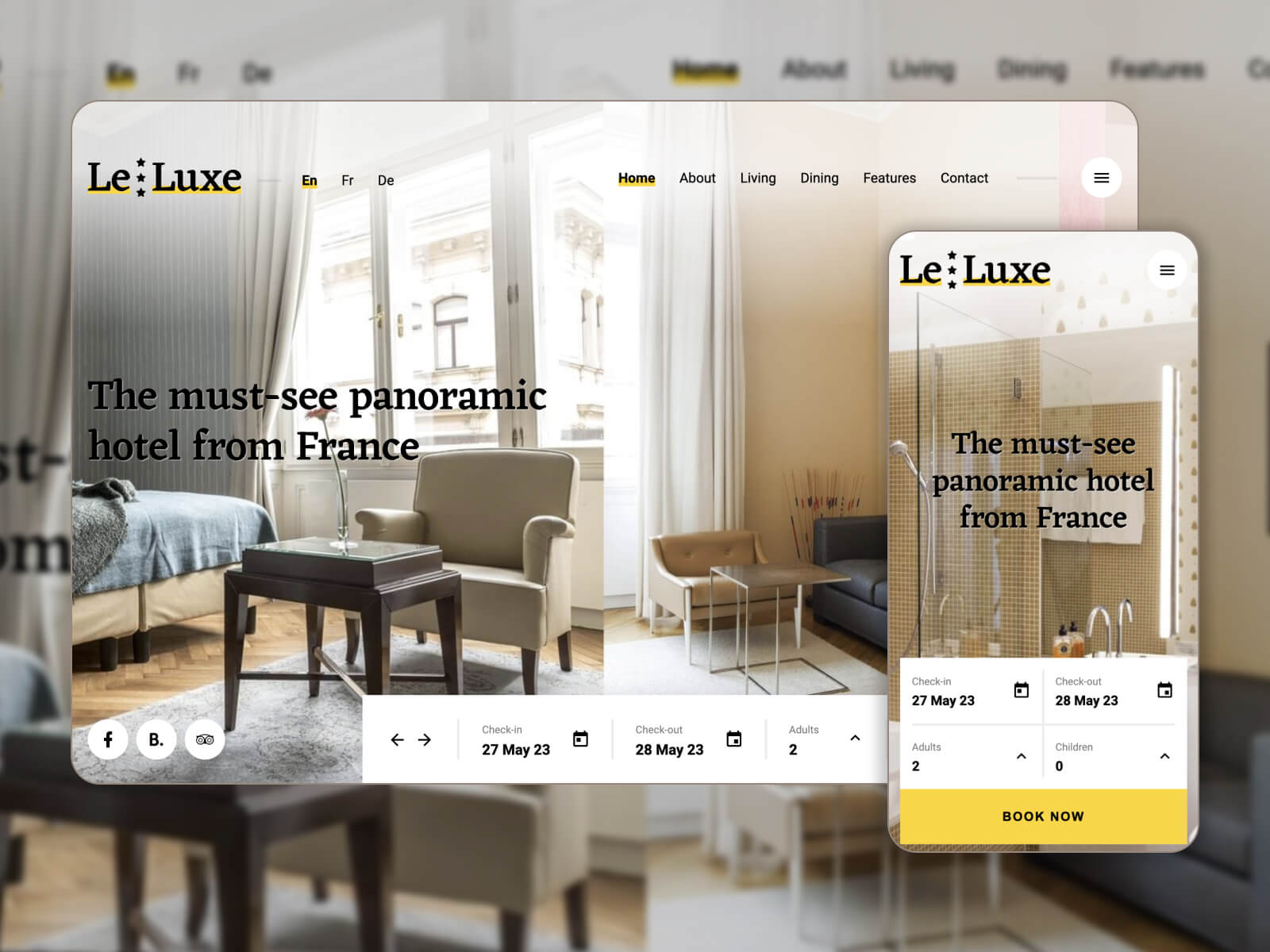 Name
Author
Price
Avg. Demo Speed Score
LeLuxe
Liviu_Cerchez
$45
Mobile 39
Desktop 70
LeLuxe serves as an exceptional choice for promoting B&Bs and similar ventures. Its eye-catching design, coupled with an intuitive reservation request system, simplifies the creation of a booking website, eliminating the need for coding expertise. In addition, this template boasts a distinctive built-in panorama viewer, providing guests with the opportunity to embark on a virtual exploration of your offerings.
This selection from our list of the best bed and breakfast WordPress themes is optimized for speed. It features live preview, custom color options, a reliable 1-Click-Importer, and is ready for translation with WPML or Polylang integration. Its comprehensive range of tutorials, make this template an ideal alternative for B&B businesses, along with its exceptional design, functionality, and highly responsive, 5-star rated support.
12. Aquentro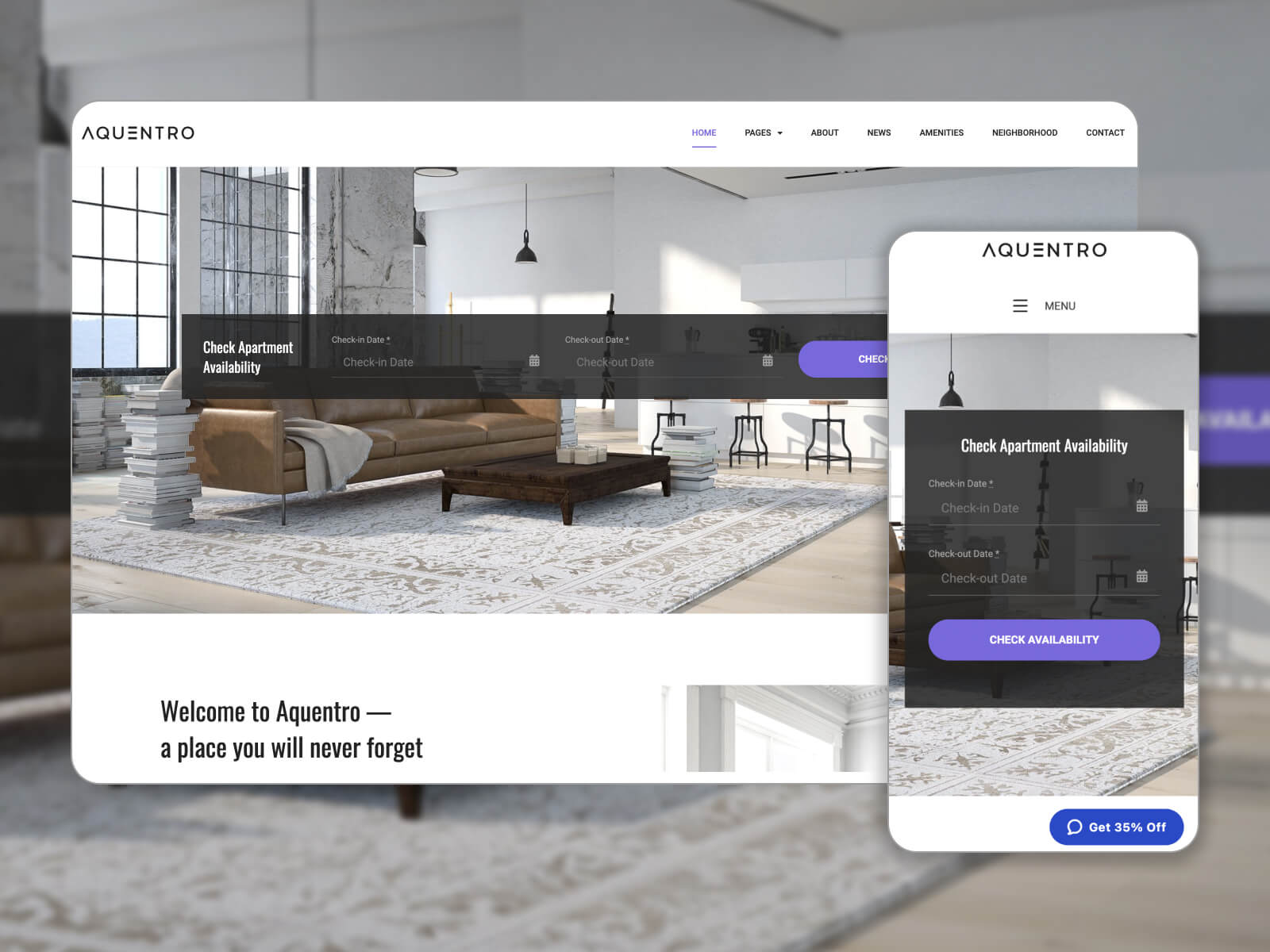 Name
Author
Price
Avg. Demo Speed Score
Aquentro
MotoPress
$79
Mobile 78
Desktop 95
Your properties can be distinguished from the competition with Aquentro. You'll have access to customized galleries and slideshows that will amaze your guests. An accompanying booking plugin is an essential tool for managing reservations seamlessly, efficiently, and without any disruptions. Also, it can sync bookings with third-party services automatically.
The template supports prepaid online bookings or charges upon arrival, flexible reservation rules, weekly and monthly rates, and is suitable for offering free or paid extra services. Lightweight, vibrant, and easily customizable, Aquentro provides a powerful and appealing platform for showcasing and managing accommodation offerings.
13. Holleta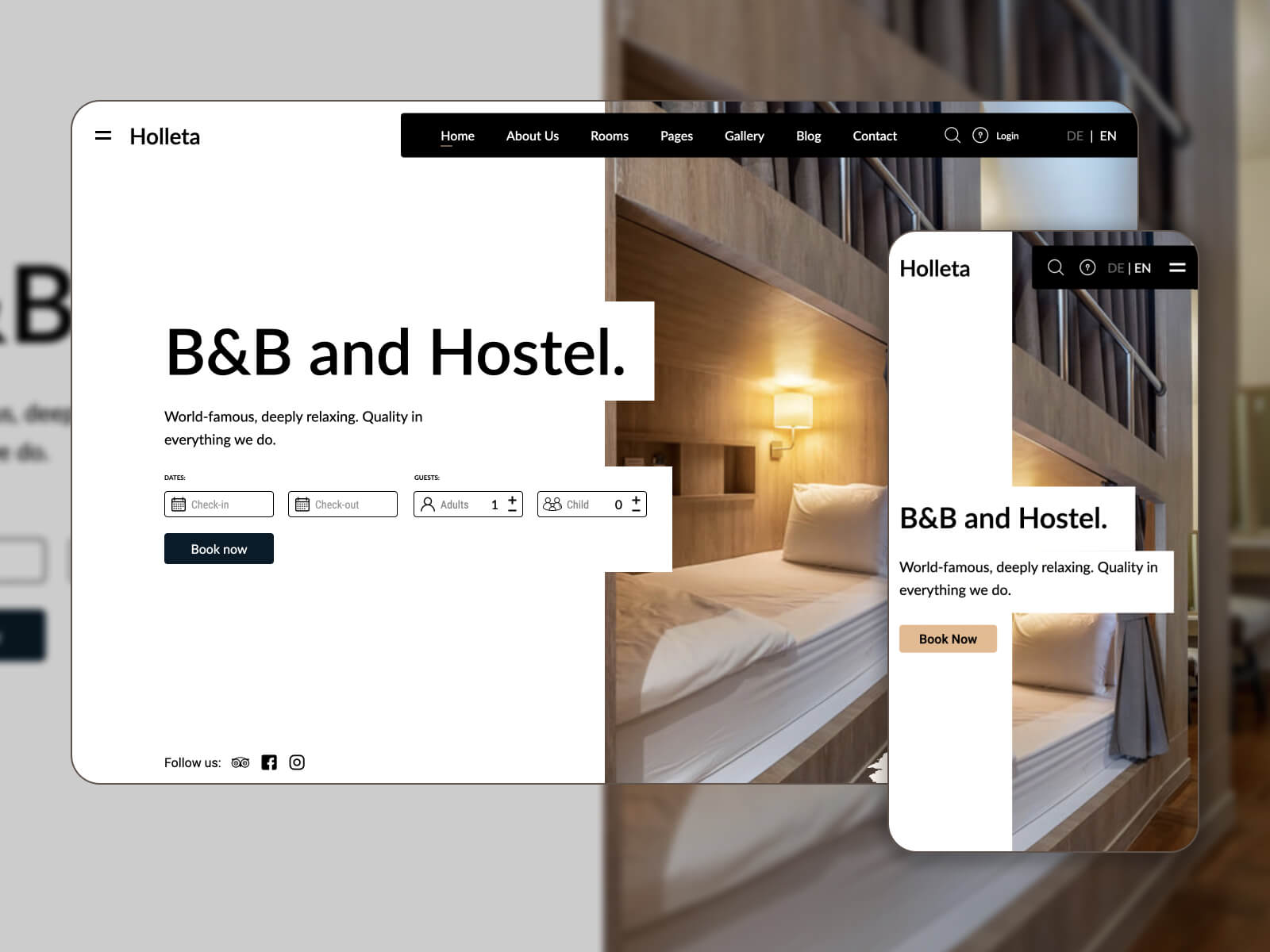 Name
Author
Price
Avg. Demo Speed Score
Holleta
YPromo
$59
Mobile 40
Desktop 71
If you run a bed and breakfast establishment, Holleta could be the wise option. It has a booking system and is wrapped up in a stylish design. Installation is effortlessly swift, and with demo content at your disposal, the path to building your website has never been more straightforward. Holleta's responsive, retina-ready layout, SEO-friendly code, and RTL support give you the tools to take your site to the next level.
The template offers a collection of six unique homepage variations, along with sophisticated side menus, a range of gallery and blog layouts, and a customized 404 page. Compatibility with Contact Form 7 is assured, and extensive documentation is provided, along with complimentary post-purchase support. Be aware, however, that not all demo images are part of the package, and a PHP version of at least 5.6 is necessary for optimal performance.
4 Best Free Bed and Breakfast WordPress Templates
14. Albatross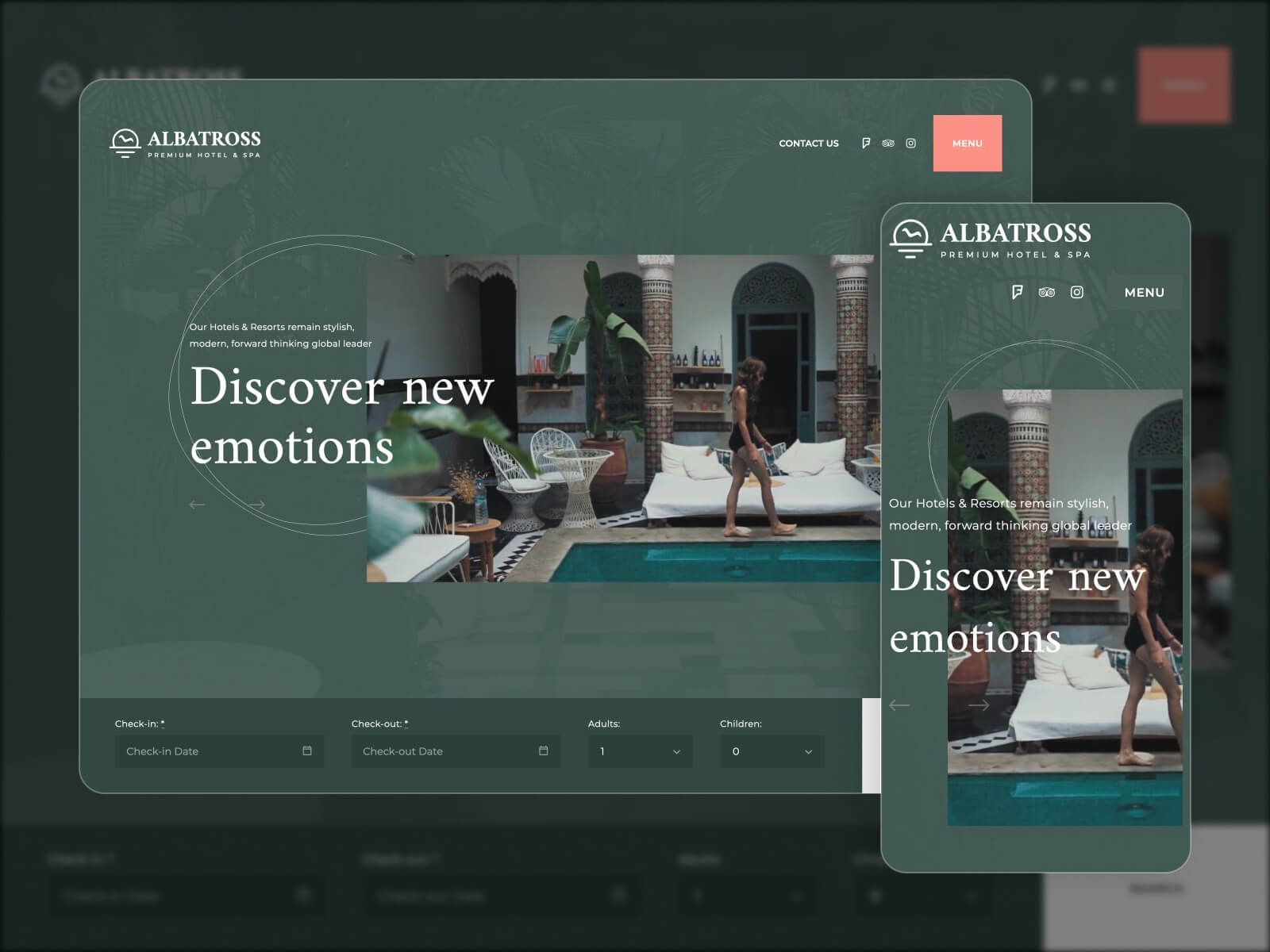 Name
Author
Price
Avg. Demo Speed Score
Albatross
MotoPress
Free
Mobile 40
Desktop 94
Thanks to powerful reservation tools that come out of the box, you can create a professional website with online bookings, availability calendars, and property management. You will get a stunning front page design that highlights your offerings, news, and events, with options for video, slider, or image headers. You can showcase rooms in a compact list view or focus on single accommodation layouts that feature capacity, pricing, virtual tours, and more.
Elementor, a popular and loved site builder, provides pre-built and styled content widgets, such as tabs, sliders, and testimonials. Additionally, Stratum, a hand-crafted collection of extra widgets, adds even more customization opportunities, including animations, maps, image galleries, etc. The Albatross also includes a one-click demo import tool that helps you launch your site and make it look like the demo in minutes.
Taking a prominent position among the best bed and breakfast WordPress themes, Albatross is driven by the complimentary version of the Hotel Booking plugin. This integral feature empowers you with full authority over the reservations management process. It provides flexibility in tailoring your rates according to several factors, such as amenities, calendar periods, discounts, duration of stay, and guest numbers. The free version of the plugin allows you to process PayPal payments, direct bank transfers, or cash on arrival.
15. Hotel Booking Lite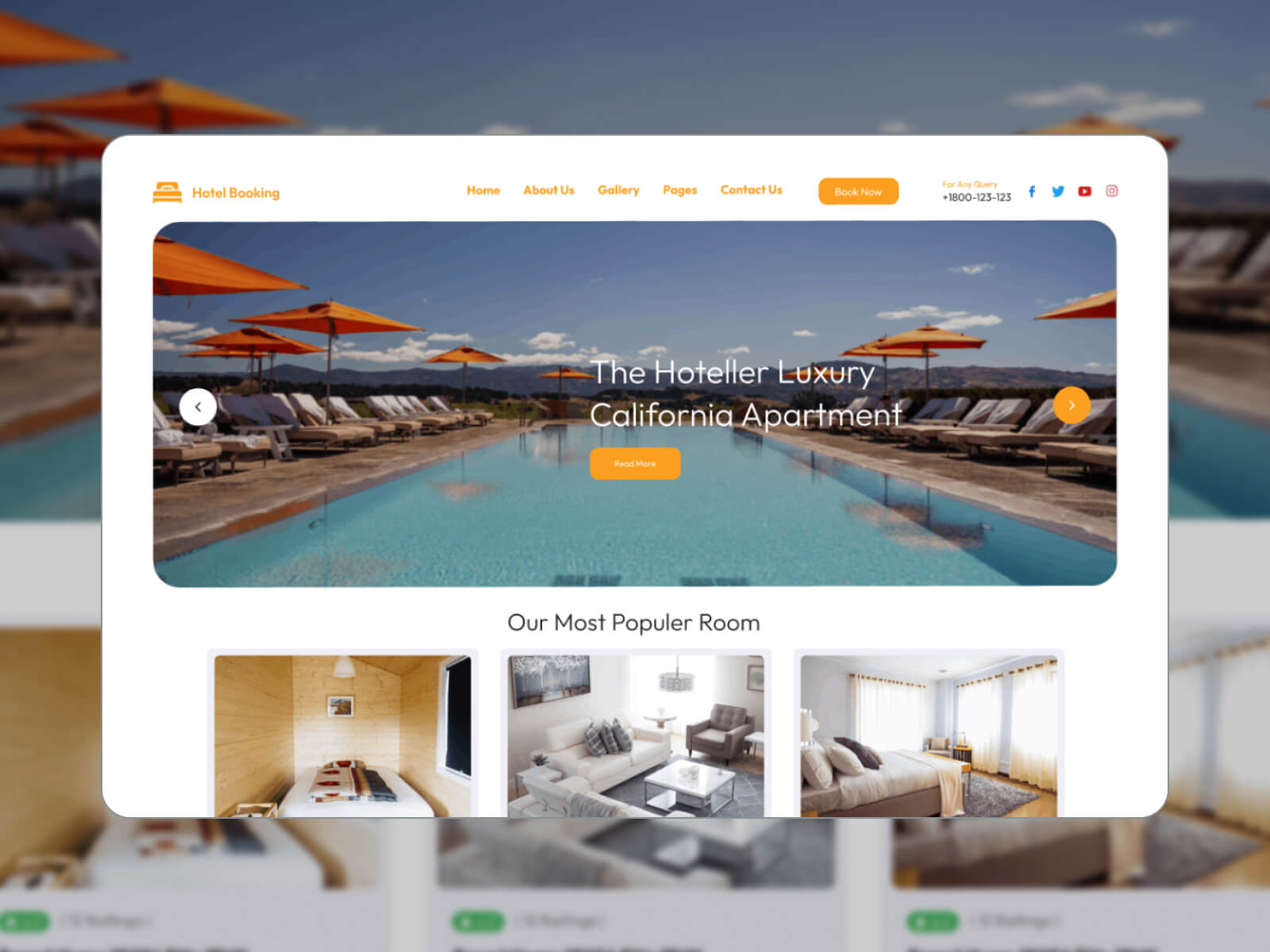 Name
Author
Price
Avg. Demo Speed Score
Hotel Booking Lite
Themagnifico52
Free
Mobile 93
Desktop 99
Designed specifically for guest houses, resorts, and bed and breakfast websites, this free option provides a responsive and retina-ready layout, guaranteeing a sleek design that flawlessly adjusts to any screen size. The theme's contemporary aesthetic, coupled with effective call-to-action buttons and a dedicated testimonials section, ensures a compelling presentation that leaves a lasting impact on your intended audience.
The user-friendly admin interface allows you to modify colors and fonts easily. Built with the Bootstrap framework and having an SEO-friendly design, Hotel Booking ensures optimal performance across various web browsers and better search rankings. Additionally, it offers translation-ready options and includes numerous social media icons.
16. VW Hotel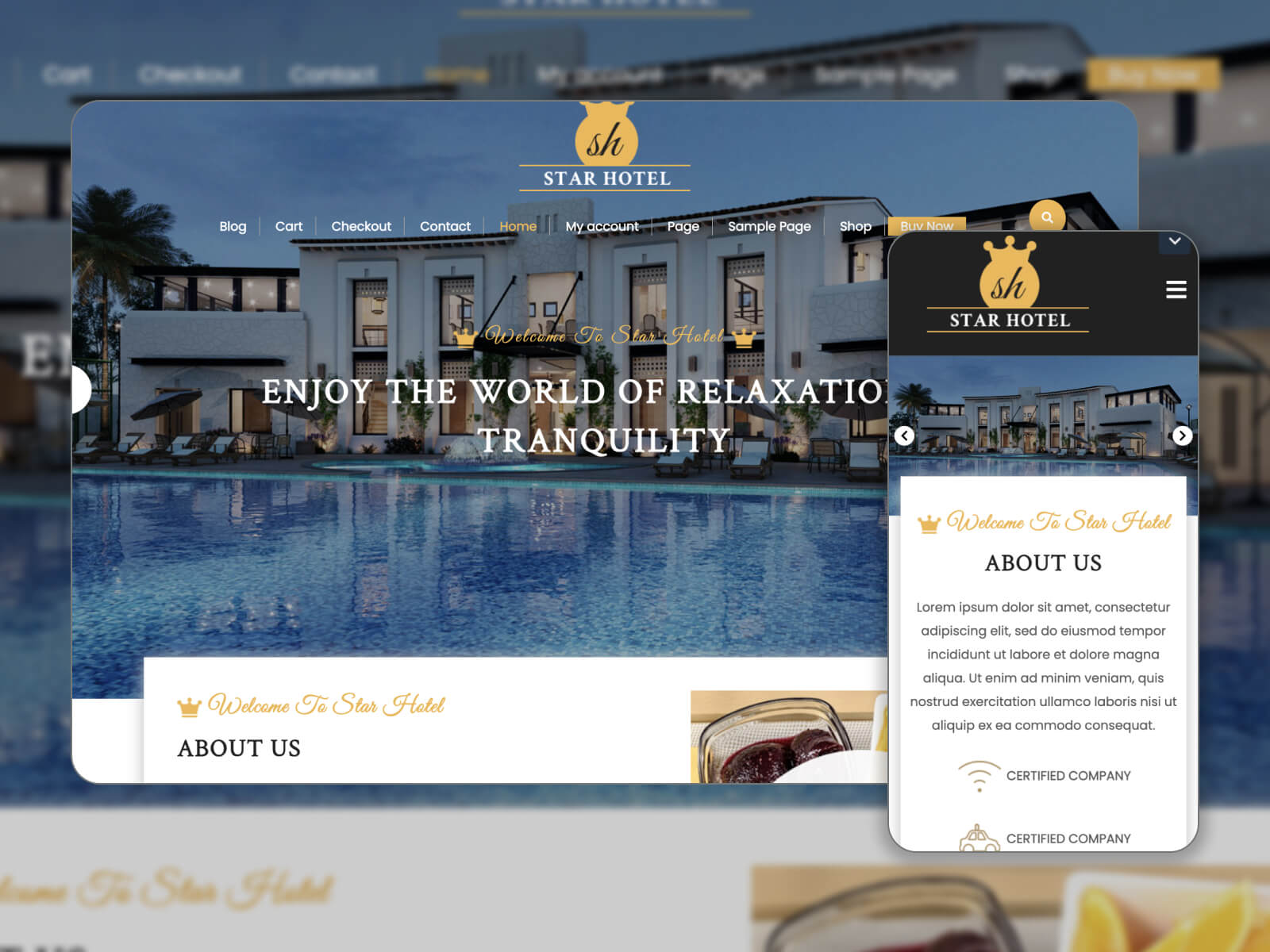 Name
Author
Price
Avg. Demo Speed Score
VW Hotel
VW Themes
Free
Mobile 92
Desktop 99
Perfectly suited for B&B websites, holiday homes, and a wide range of hospitality businesses, VW Hotel offers a design that is responsive and compatible across multiple browsers, guaranteeing a flawless user experience across different devices. With its robust customization features, it empowers you to craft a distinctive and attractive online presence.
This template, recognized as one of the best bed and breakfast WordPress themes, has been built using a widely-used framework, making it both SEO-friendly and easy on system resources, allowing for speedy page loading times. As a bonus, it has been fitted with social media icons, ideal for sharing content, and even boasts galleries for showcasing popular offerings, alongside a section for user feedback.
17. Hotel Resort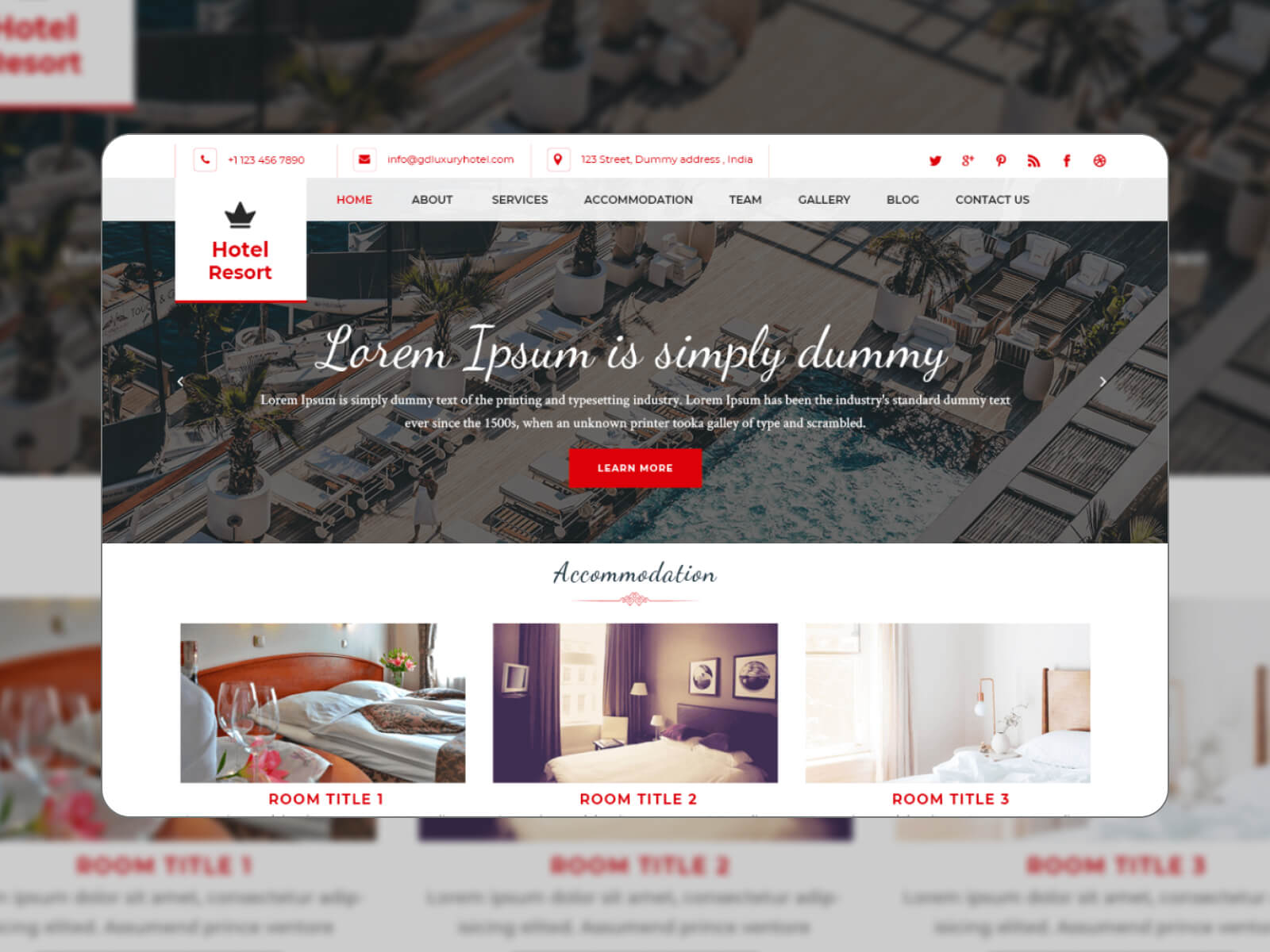 Name
Author
Price
Avg. Demo Speed Score
Hotel Resort
Logical Themes
Free
Mobile 93
Desktop 99
A multipurpose solution, tailor-made for different types of hospitality establishments, created on the Bootstrap foundation, provides an assortment of customization features. The code is not only clean but also secure, ensuring that your business runs smoothly. With an interactive layout, this theme has a testimonials section and a captivating gallery.
Your bed and breakfast business can benefit from this free and flexible template that boosts performance and is SEO-friendly. With lightning-fast load times and social media integration, you can differentiate yourself from rivals and attract potential customers. Overall, this adaptable solution is ideal for creating an eye-catching and operational website.
11 Best Bed and Breakfast Elementor Templates
In this section, we have listed the best bed and breakfast WordPress themes that come with additional features related to Elementor or include pre-designed pages built with this tool. As a friendly reminder, the plugin is a trendy instrument for WP that ensures an easy and convenient process for creating page templates.
18. Luviana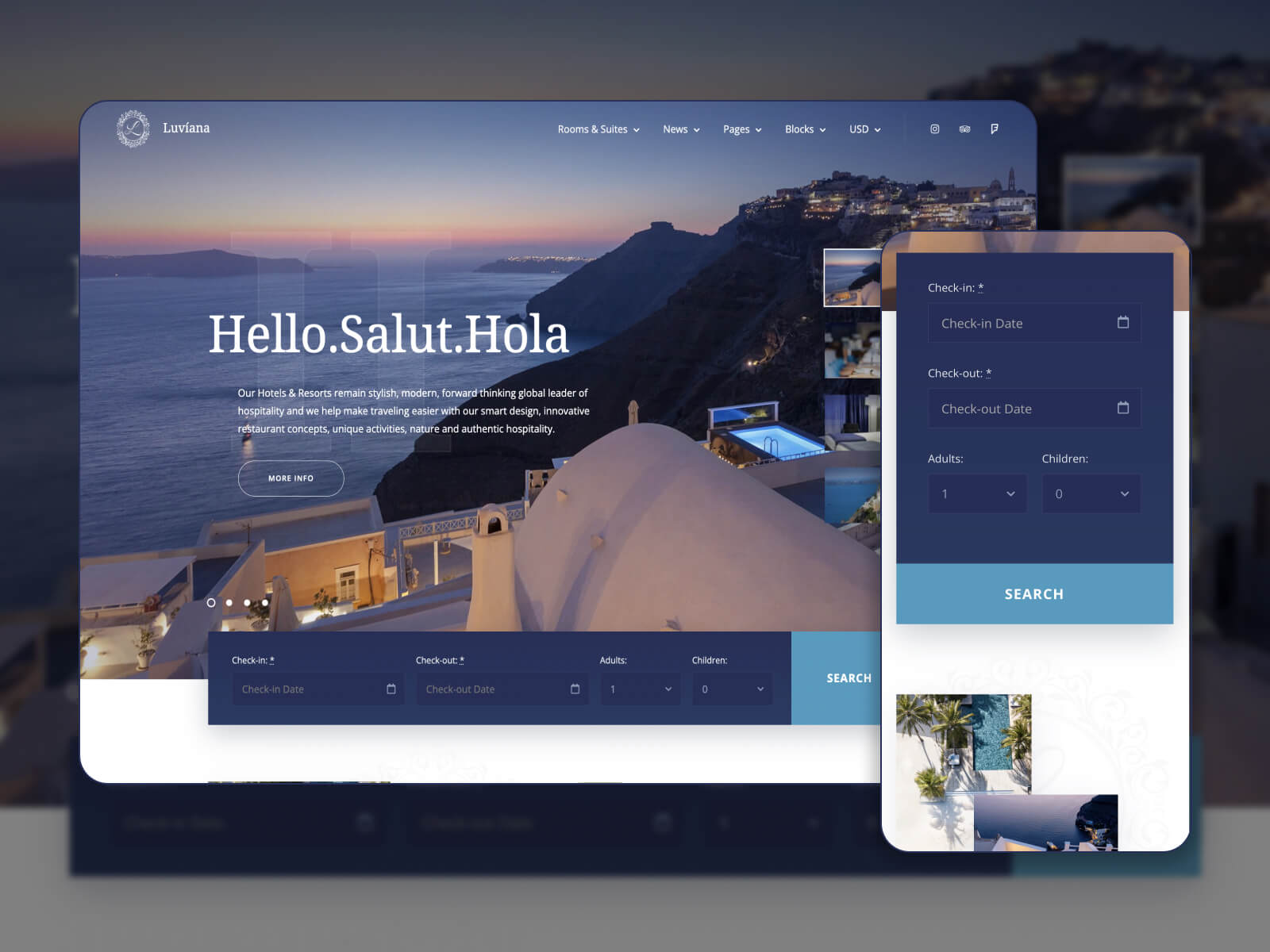 Name
Author
Price
Avg. Demo Speed Score
Luviana
MotoPress
$79
Mobile 61
Desktop 96
This is a property reservation system designed for various hospitality businesses. With Luviana, you can automate your business and accept bookings from clients without any commissions. Among the most notable additions coming with this template are the Getwid, which allows you to build property listing pages with ease, and the Hotel Booking plugin — a comprehensive solution for accommodation booking.
You will get property management features, reservation functionalities, payment processing, and many more essential tools. Luviana also provides the ability to add and categorize various data about your offerings. The built-in iCal sync support allows updating the availability of your rooms across multiple channels, so if your hotel is listed on external booking platforms, you can rest assured that you will be protected from double reservations.
This selection from our list of the best bed and breakfast WordPress themes is built with the Bootstrap framework, which is not only lightning-fast but also highly adaptable. The template can be easily customized using Elementor or the native WP block editor. What's more, it is designed to be search engine optimized, making it easier for people to find your site. Ultimately, Luviana is an excellent choice for people who want a highly functional and visually appealing online resource.
19. Hotera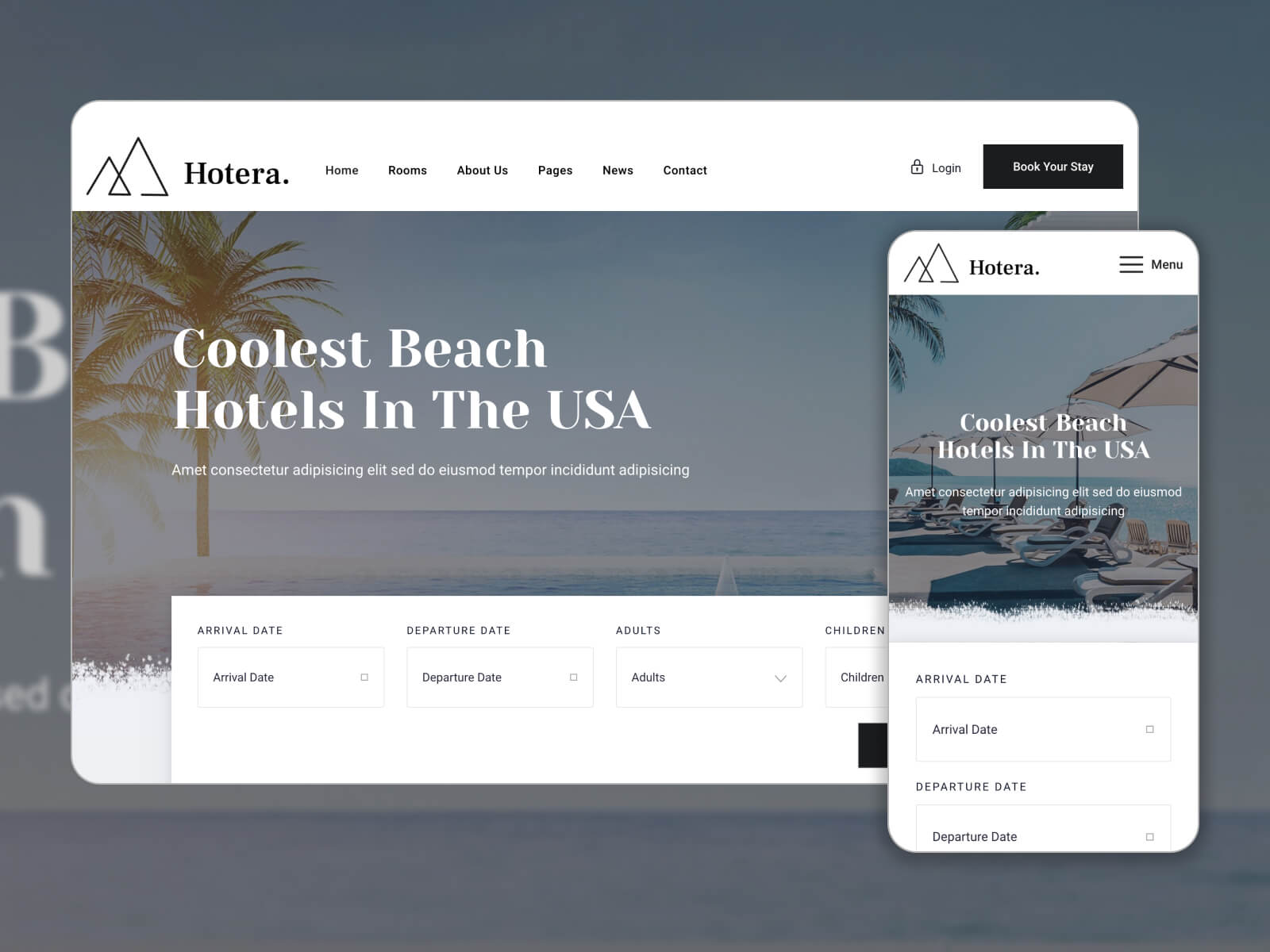 Name
Author
Price
Avg. Demo Speed Score
Hotera
TonaTheme
$39
Mobile 57
Desktop 89
This is the perfect solution for those in the hotel business. Its unique and stunning design is ideal for creating an impressive online presence. With five header styles, unlimited sidebars, and retina optimization, Hotera provides all the necessary features for your site, including testimonials, amenities, and room description pages.
Equipped with Elementor, Hotera is easily customizable, while the one-click installation process ensures a quick and effortless setup. Other features include advanced typography options, compatibility with Contact Form 7, and detailed documentation. This template is also translation ready, and with its child theme compatibility, you can easily override default design settings.
20. Motela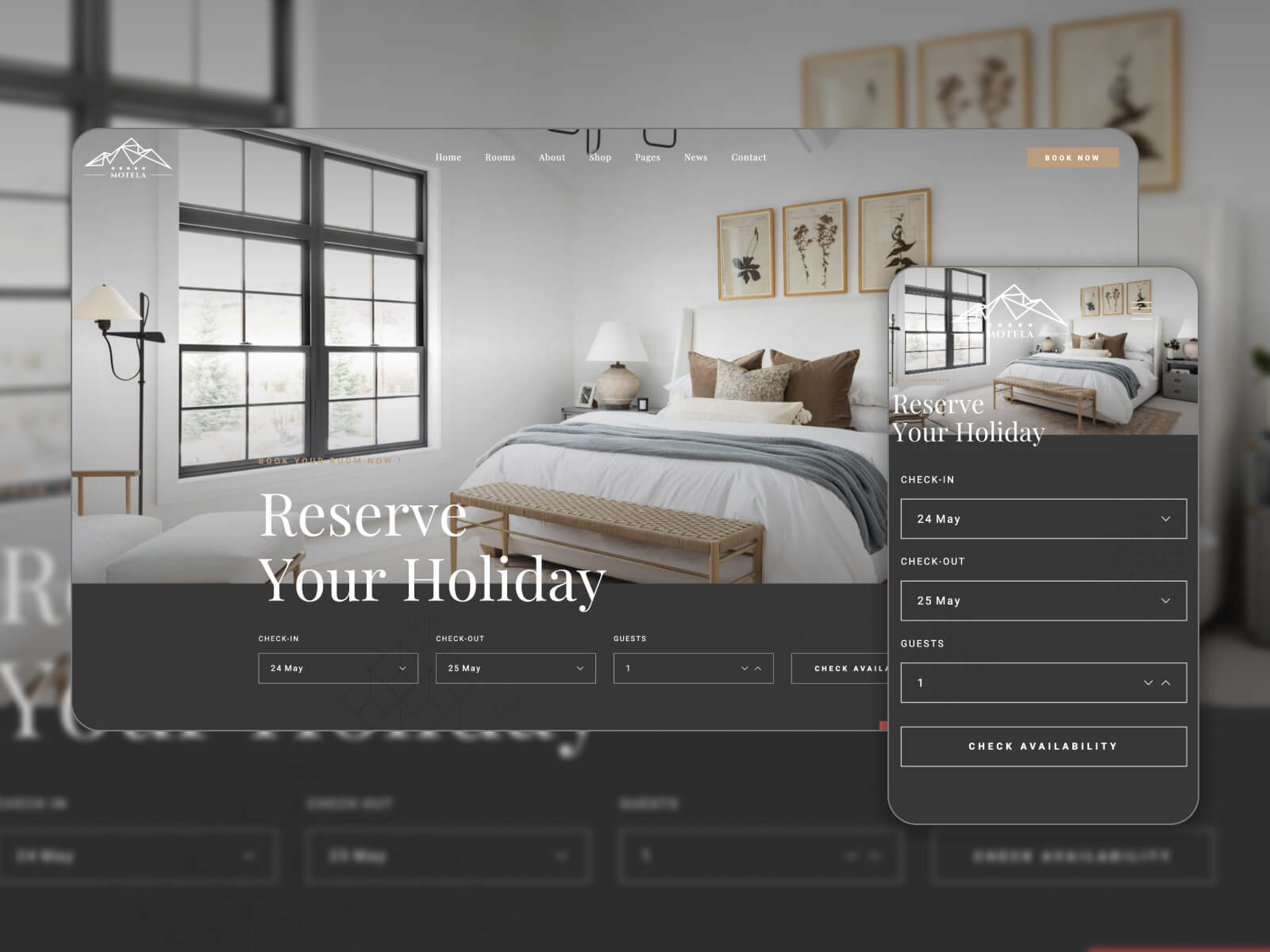 Name
Author
Price
Avg. Demo Speed Score
Motela
NicDark
$54
Mobile 39
Desktop 76
This entry from our list of the best bed and breakfast WordPress themes includes not only the popular Elementor, which allows you to easily add pages and customize them with all the necessary hotel information. It is also equipped with the innovative Revolution Slider, enabling you to create stunning sliders, carousels, and hero scenes to showcase your content.
Additionally, Contact Form 7 is included for easy management of multiple contact forms with Ajax-powered submitting, CAPTCHA, and Akismet spam filtering. An advanced booking system, multiple payment gateways, and iCal export features, also add to the theme's appeal. Overall, Motela is a wise solution for small hotels and B&Bs.
21. Brooklyn Heights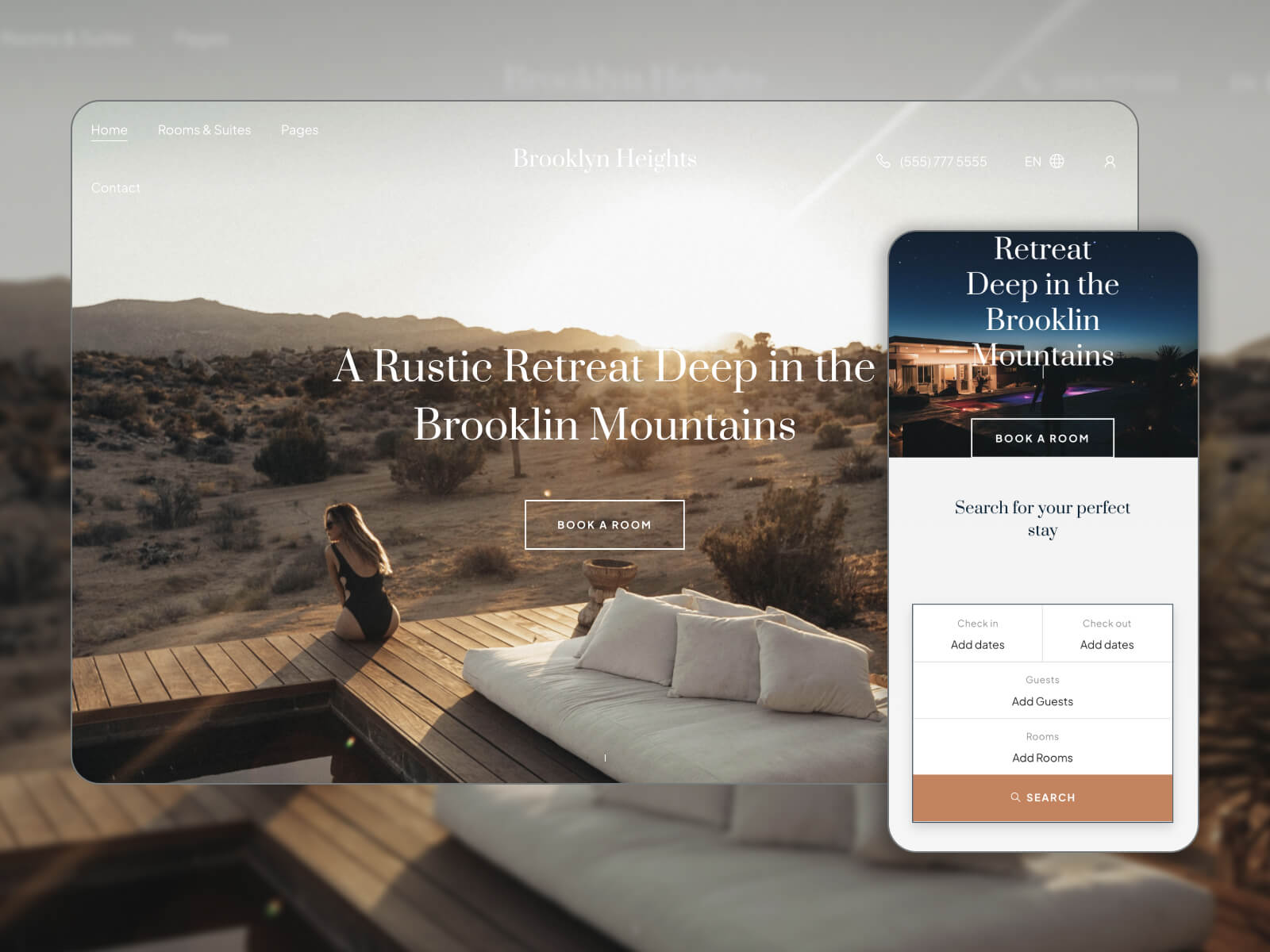 Name
Author
Price
Avg. Demo Speed Score
Brooklyn Heights
ArtstudioWorks
$39
Mobile 51
Desktop 86
Brooklyn Heights is a beginner-friendly option that caters to chalets, hotels, holiday homes, private villas, etc. It offers an end-to-end booking solution and includes all the necessary pages and blocks to make your website beautiful and easy to create. This wonderful template features a grid layout, one-click demo installation, and compatibility with Revolution Slider.
The Elementor, room post type, and three single room layouts, along with a room amenities taxonomy and galleries, make customization a breeze. Additionally, Brooklyn Heights offers several custom Elementor blocks, including contact forms, slide galleries, room search forms, menus, language switchers, calendars, and much more.
22. Ciestra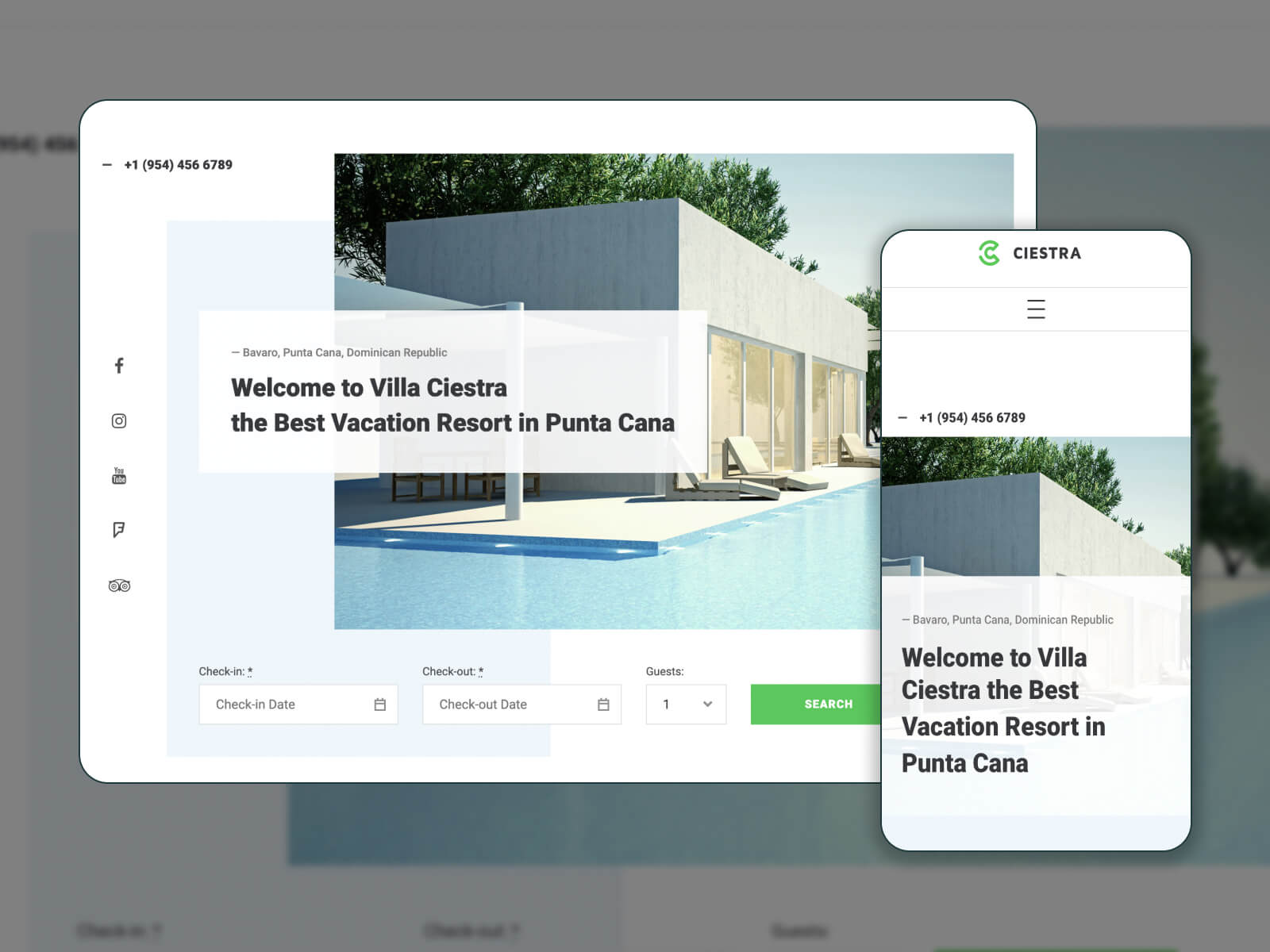 Name
Author
Price
Avg. Demo Speed Score
Ciestra
MotoPress
$79
Mobile 65
Desktop 98
This example from our list of the best bed and breakfast WordPress themes is the ultimate solution for those seeking the best B&B template, providing an intuitive and user-friendly visual editing system for non-technical users. Featuring the top-rated WP booking system, Ciestra offers a flawless mobile booking experience and easy-to-use SEO tools.
The built-in WP reservation system offers an array of tools for managing your properties, seasonal prices, rates, taxes, fees, and real-time search availability. Additionally, Ciestra is equipped with beautiful galleries and slideshows, as well as some unique Elementor content modules.
With prepayment and pay at the property options, and several out-of-the-box payment gateways support, this theme makes reservation and payments seamless. Other features include simple and advanced booking rules, free and paid bookable extras, and an Instagram gallery. Ciestra is fully customizable and has a one-click import feature, which makes it the perfect choice for crafting an easy-to-use and feature-rich site.
23. Kinsley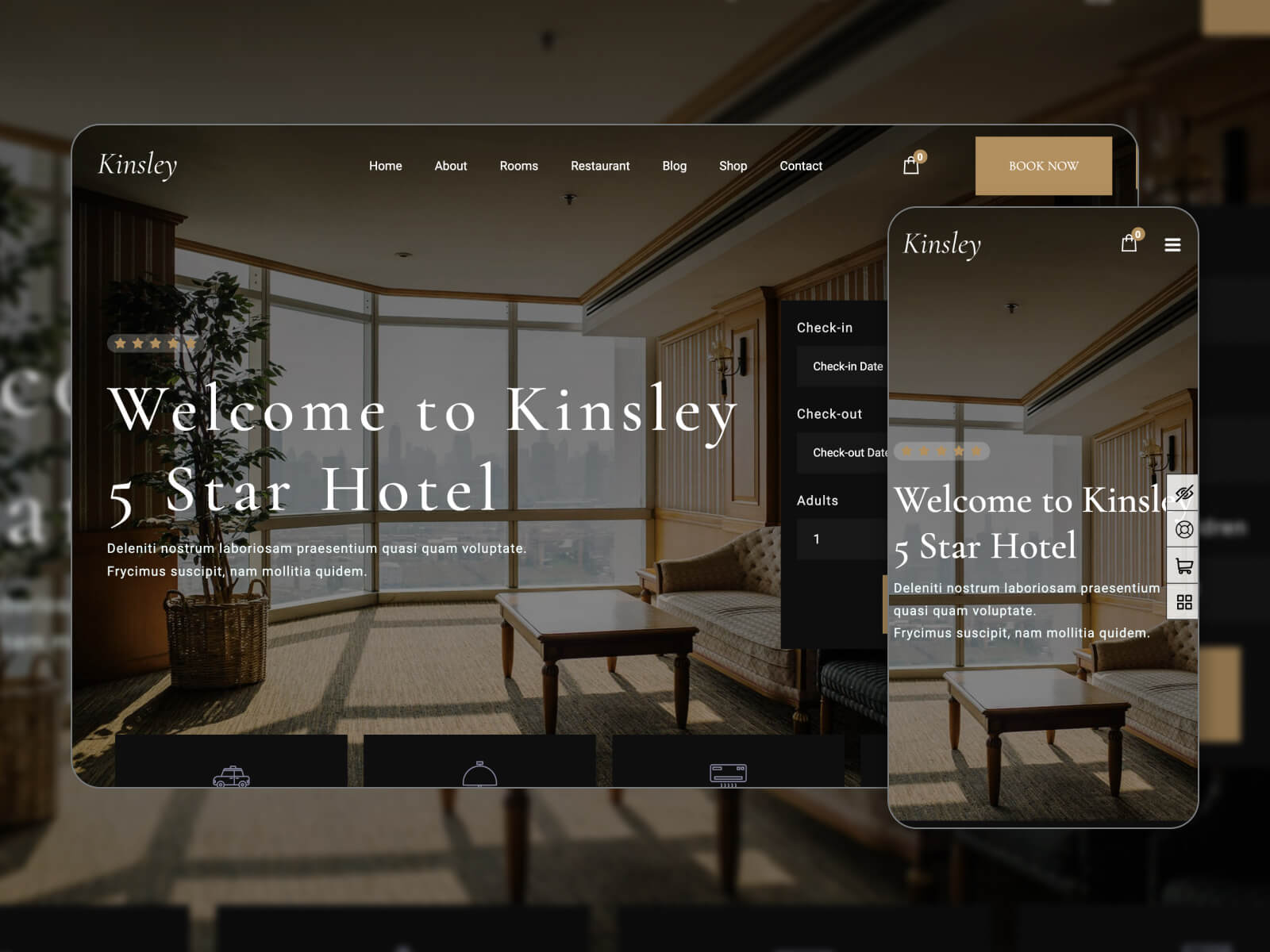 Name
Author
Price
Avg. Demo Speed Score
Kinsley
BslThemes
$49
Mobile 38
Desktop 75
Kinsley is suitable for rental properties, villas, guesthouses, and chalets. Built with Elementor and a powerful hotel booking system, it offers an easy and effective way to promote your business. The full-cycle reservation system includes features such as real-time availability search, automatic sync with online channels, and flexible booking rules.
It also supports multiple payment gateways and allows for the creation of bookable extras and services. The theme includes over 40 custom Elementor widgets and 20+ pre-built demo pages. It is compatible with WooCommerce and WPML. Additional features include a restaurant landing page and menu, blog layouts, and RTL support.
24. Ami Homestay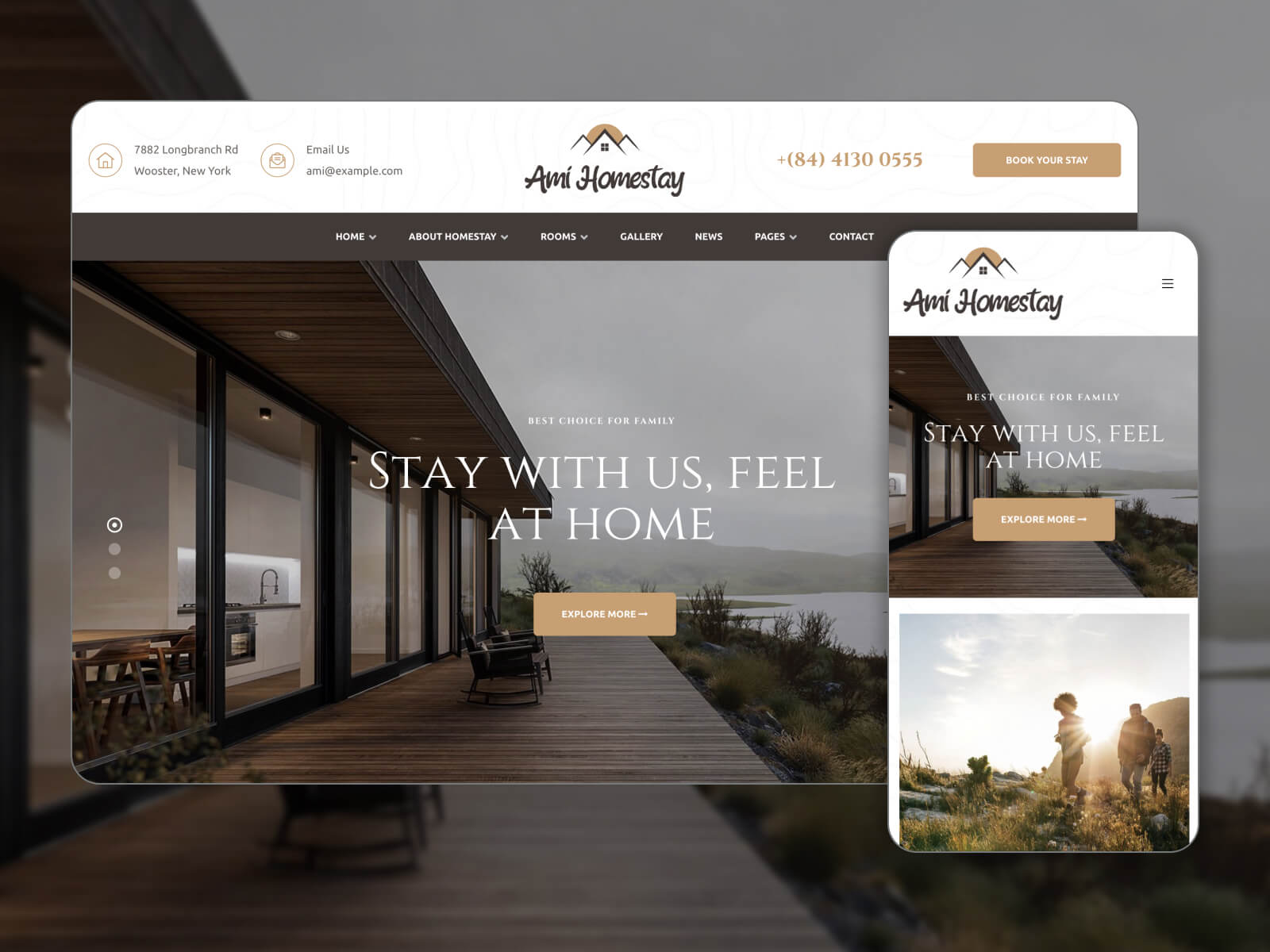 Name
Author
Price
Avg. Demo Speed Score
Ami Homestay
ThemeLexus
$49
Mobile 37
Desktop 70
The Ami Homestay is a versatile solution designed for room reservation websites. It offers a ready-to-use booking system, rich features for rooms such as amenities and services, along with multiple homepage demos. The theme is optimized for SEO and speed, is mobile-friendly, and comes with an Elementor.
Other functionalities include showcasing impressive outdoor activities, a stunning blog, and plugins like Slider Revolution and Yoast SEO. The template is highly responsive and offers advanced customization options through the WP Customizer. Overall, the Ami Homestay is a wise choice for any apartment booking website.
25. Augustine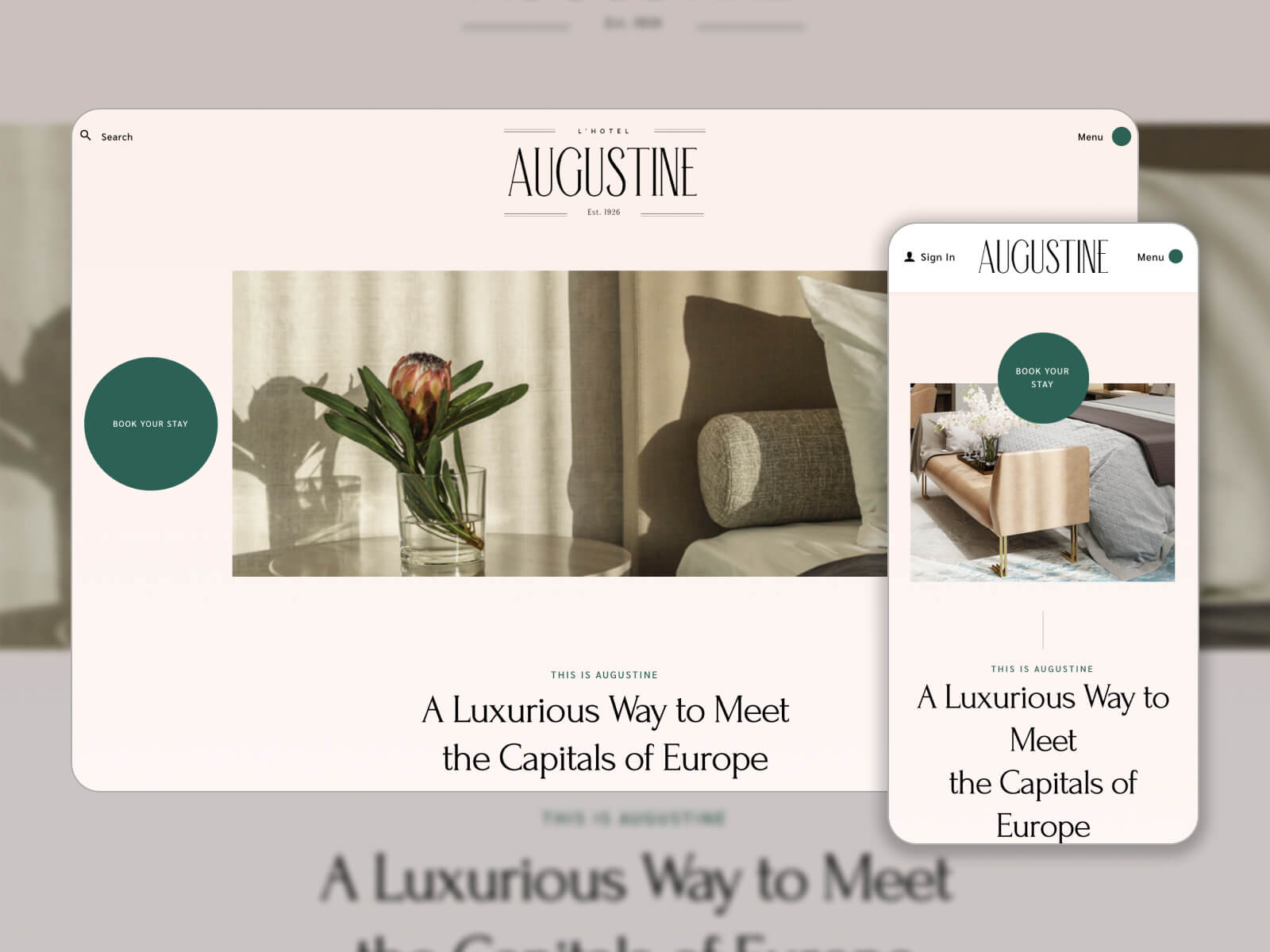 Name
Author
Price
Avg. Demo Speed Score
Augustine
Mikado-Themes
$79
Mobile 33
Desktop 65
Augustine is an elegant and highly customizable theme designed for hotels, spas, and resorts. It offers a practical hotel reservation system, enabling guests to book rooms easily and add extra services. The template also includes numerous features such as weather forecasts, restaurant menus, and Google Maps locations, among others.
The theme offers multiple header and footer widget areas, a customizable mega menu, and various shortcodes. Additionally, it is fully responsive and retina-ready, with almost 1000 Google fonts and a range of icon packs to choose from. Augustine is also SEO-optimized, translation ready, and compatible with WPML and Contact Form 7.
26. Bluebell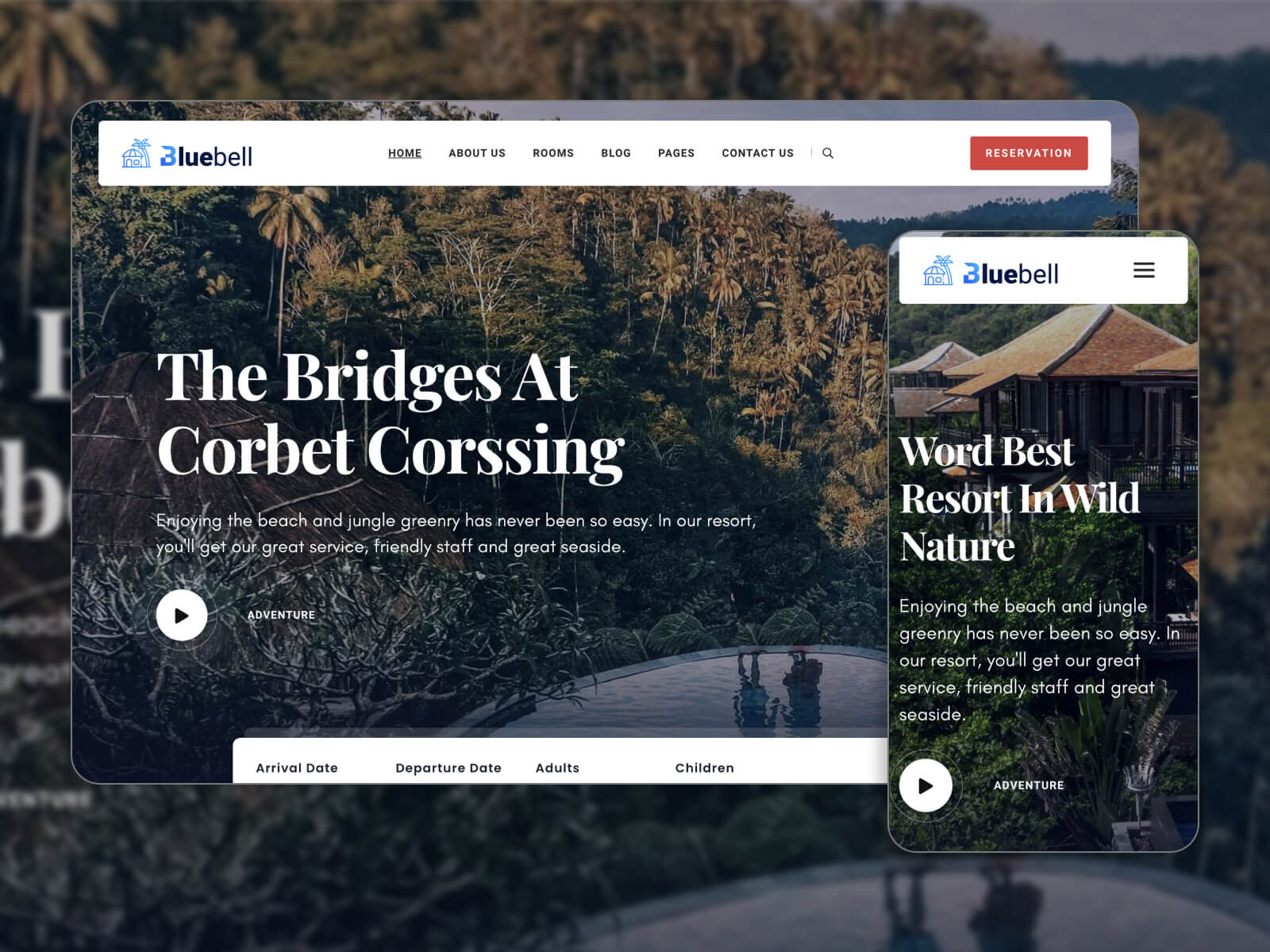 Name
Author
Price
Avg. Demo Speed Score
Bluebell
ThemeArc
$49
Mobile 40
Desktop 49
Bluebell is specifically designed for hotel businesses, offering a range of accommodation-related functionalities. With its responsive and retina-ready design, Bluebell ensures a visually attractive website on all devices, while its compatibility with WPML allows for easy translation to any language.
Say goodbye to tedious customization with features like Elementor integration, pre-loaded demo content, and one-click installation. Your website can benefit tremendously from the advanced typography options, limitless sidebars, and pre-designed page templates that give you the creative freedom to bring your vision to life.
27. Alloggio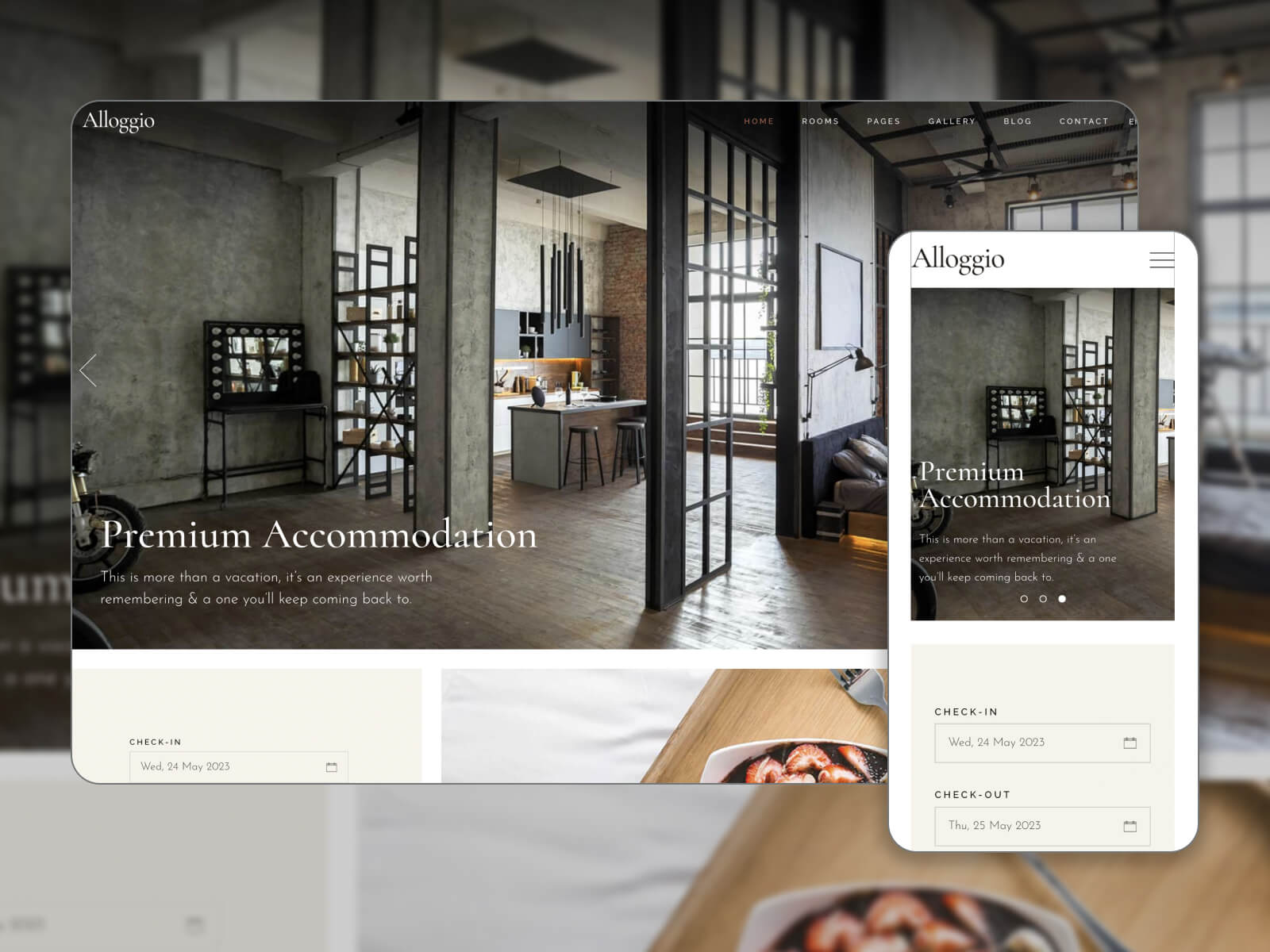 Name
Author
Price
Avg. Demo Speed Score
Allogio
Edge-Themes
$75
Mobile 39
Desktop 65
Alloggio features six homepage layouts, convenient room booking management, and full compatibility with Elementor. Other features include practical inner pages, WooCommerce compatibility, and a large collection of custom shortcodes, such as Room List, Amenity List, Room Gallery List, and more.
One of the best bed and breakfast WordPress themes offers a wide range of features to enhance the look and feel of your B&B website. With four different header styles and the option to use parallax images in various sections, your online resource will exude a unique and immersive vibe. The Mega Menu will provide visitors with a user-friendly browsing experience, while the working hours' widget will inform them about your schedule.
28. Erios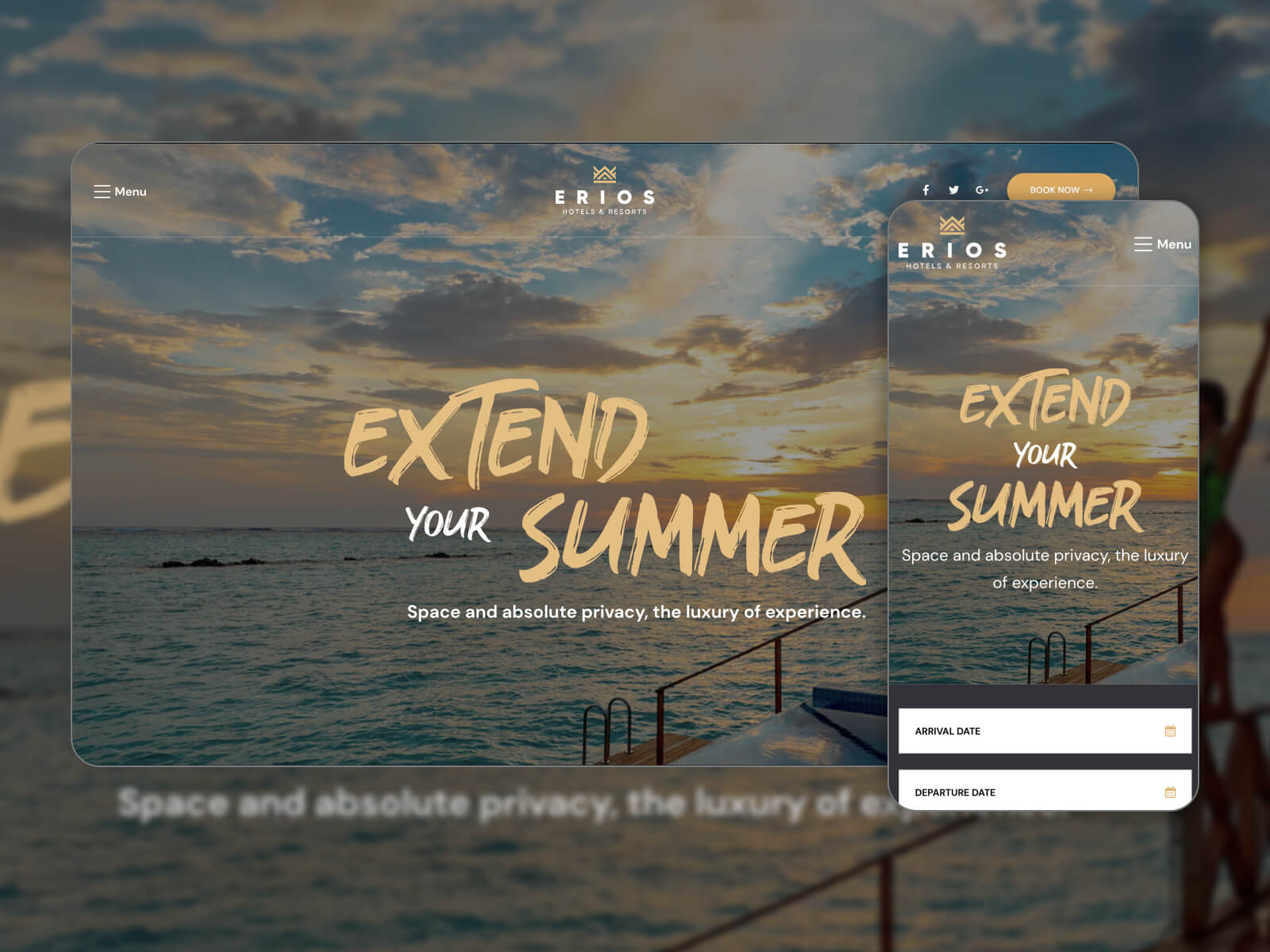 Name
Author
Price
Avg. Demo Speed Score
Erios
ThemeLexus
$49
Mobile 37
Desktop 67
Erios is designed to present a hotel landing page, B&B, nature resort, or any other accommodation. This template offers a user-friendly interface for building a perfect booking website in a short amount of time. It is equipped with a built-in hotel reservation system, offering functionalities that allow the creation and management of rooms, bookings, and payments.
The theme also features various layouts to showcase rooms, special areas for amenities and services, attractive offers and vouchers, and functional pages for hotels. If you're looking for a comprehensive hotel website builder that comes with a robust booking system, and can be tailored to your specific needs and preferences, Erios is the perfect choice.
Concluding Words
Our list of the best B&B WordPress themes has showcased 28 of the possible options catering to small accommodation businesses. All of the presented templates have something in common:
Most of the alternatives not only present themselves in the form of beautiful designs but are also packed with multiple functionalities essential for the smooth and efficient operation of B&B enterprises. For example, booking systems, property management plugins, several payment options support, and much more, are coming out of the box almost with every template.
The variants highlighted here are geared towards optimally showcasing accommodation offerings, thus incorporating valuable tools such as sliders, carousels, panorama viewers, etc. And, it's not surprising, due to the fact, that, as a famous saying declares, a picture is worth a thousand words.
Most of the templates are mobile-friendly, compatible with Contact Form 7 and WPML plugins, and are equipped with the easy-to-use WYSIWYG editors, available from the admin panel, which allows the creation of visually stunning masterpieces from your website pages.
When choosing the best theme for your B&B business, it's better to make a final decision based not on the visual component, but on the pack of functionalities that are vital for your specific case and that come with the particular template. As for appearance, you can create almost anything based on any of the offerings available, thanks to the tremendous capabilities of Elementor and similar page builders.
Out of all the presented variants, there are 5 best options catering to bed and breakfast businesses the most, due to the abundance of valuable functionalities coming out of the box:
FAQ
Which WordPress theme is best?
The perfect WP design for you relies heavily on your specific needs and desires. Lucky for you, there are several great options to choose from, including
Oceanica
,
Aquentro
,
Luviana
, and
Albatross
. Each of these templates boasts unique features and provides ample customization options while remaining easy to use.
Which theme is like Fiverr in WordPress?
Creating a freelance marketplace similar to Fiverr can be a straightforward process by using various WordPress templates. Among the most sought-after choices are Freeio, Prolancer, and Exertio. They are equipped with crucial features, including personalized user profiles, effortless project posting, and seamless payment processing. By employing these templates, you can make your freelance marketplace a reality.

What is the most sold theme WordPress?
Discovering the top-selling WP template amidst the plethora of options available in the market can be a challenging task. However, a few options like
Avada
,
The7
, and
Betheme
are in high demand among users. These choices offer an extensive range of customization options, making them a perfect fit for websites across different industries and niches. The proof of their popularity is in the sheer number of online resources that have chosen to employ these skins, which attests to their efficiency and effectiveness.
What is the top multi-purpose WordPress theme?
The world of WP templates is flooded with multifunctional options. However, only a select few can genuinely be considered top-tier, such as the
Enfold
,
Bridge
, and
Porto
. These options have a wide range of customization possibilities, catering to an extensive array of website categories, from simple blogs to e-commerce giants.
That being said, it's of utmost importance to opt for a template that aligns with your website's objectives and vision. In other words, selecting a theme that is crafted specifically for your niche is often a better option than choosing a multipurpose one. The reason is simple: unlike universal skins, niche-focused templates often come pre-packaged with numerous specialized functionalities that are vital for businesses of that type.