Customer Stories: "Bookings Were Open Online and They Started Pouring in"
Andrew and Dana rent out fabulous vacation accommodations in a beautiful location of one of the Maritime Canadian provinces, Nova Scotia.
They opened up 4-Season, 23′ Geodesic Dome accommodations, featuring all of the amenities of a luxury hotel room.
While relaxing inside, guests have the privilege to take in views of the Annapolis Basin from the comfort of the large panoramic window or stare at the stars while in bed with the stargazer moonroof.

They officially took their first booking on October 23rd, 2021.
Travelers can find their accommodations and book ones on the Port Wade Glamping Domes website.
Their website is powered by the Divi theme and the MotoPress Hotel Booking plugin for all things calendar availability and online reservations.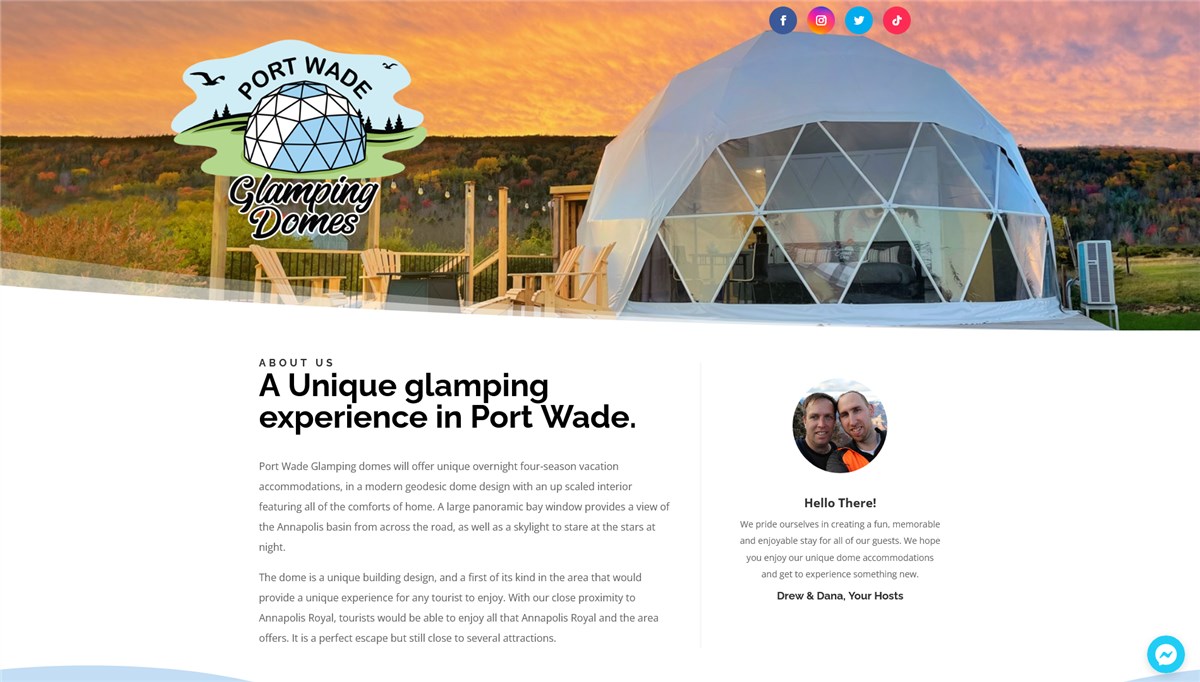 It's so far a one-page website that lists all the needed information, such as the property search form, daily rate, booking rules, a real-time availability calendar, social media links, policy, amenities, locations, an online chat widget, guest reviews and more necessary information.
Read more customer stories from Hotel Booking clients
Using the MotoPress Booking plugin for your vacation rental site, you can accept and approve booking submissions in multiple ways, including automatic paid reservations, wire transfers, confirmations by hand and more.
Andrew shared that they are into different ways, ready to be flexible to meet the needs of different clients:
"Bookings are great, yes we accept auto bookings, and those who are less tech we manually enter those in the system and it's a breeze, very straightforward, easy to send booking confirmations, and such."
According to Andrew, they hadn't had a website before starting one on WordPress, but they knew that they wanted to be listed through their own website to manage bookings but have the ability to link other calendars.
We asked them whether it was a big deal to start a website and accept booking with the MotoPress solution. Andrew told us the following:
"I am a graphic designer and photographer by trade, so building a website for me was easy. Adding the booking plugin and making it match the websites design wasn't too hard either."
We also asked the hosts to share their memories of whether the process of accepting their first bookings was smooth enough and rewarding.
Andrew specified that it was pretty easy, they needn't to wait long for the booking to start pouring in:
"We got our first direct bookings on October 23rd, we opened the flood gates from posting bookings were open online and they started pouring in, we were nervous at first naturally, however seeing how easy it was to manage the bookings, view the calendar, block out dates etc, we love it."
Even more so, if we take a look at their availability calendar now, we'll notice that it's quite booked ahead!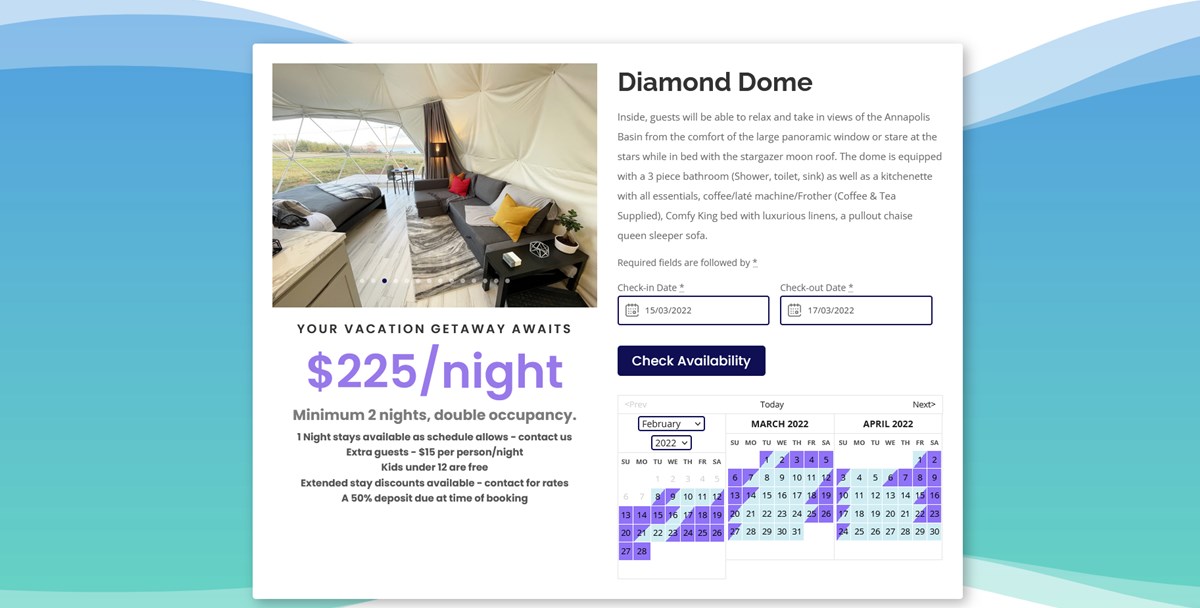 When it comes to bookings, the hosts say they take advantage of different booking sources, including those from external platforms.
That's pretty doable thanks to the iCal file format support, by both the Hotel Booking plugin and third-party platforms.
"Yes we are listed on Airbnb, and Glamping Hub so far, the calendars are connected to and from those sites to ensure a booking is added to the calendar promptly to ensure it's always up to date."
He also adds that the ability to connect OTAs to their independent site was a great point of attraction and motivation for them to not postpone the start of their own website:
"We had no idea how we wanted to govern the bookings, and only being listed on Airbnb, someway etc, didn't seem appealing to us. That's when I discovered this plugin and gave us the ability to run the bookings through our own site which was great, the fact that it integrates with those other sites is just the cherry on top."
Speaking about other most useful instruments, Andrew mentioned automation tools as his favorite feature of the Hotel Booking plugin.
"The fact that the auto booking sends confirmations, adds our check-in rules into the email, and easy lets us see the information for each booking."
With the plugin, you can completely brand email templates, personalize stay-in information, and automatically send event-driven emails. That really sets communication with your guests on autopilot.
It seems now pretty clear how their business operates, with a simple-looking website being a very informative thing at the same time.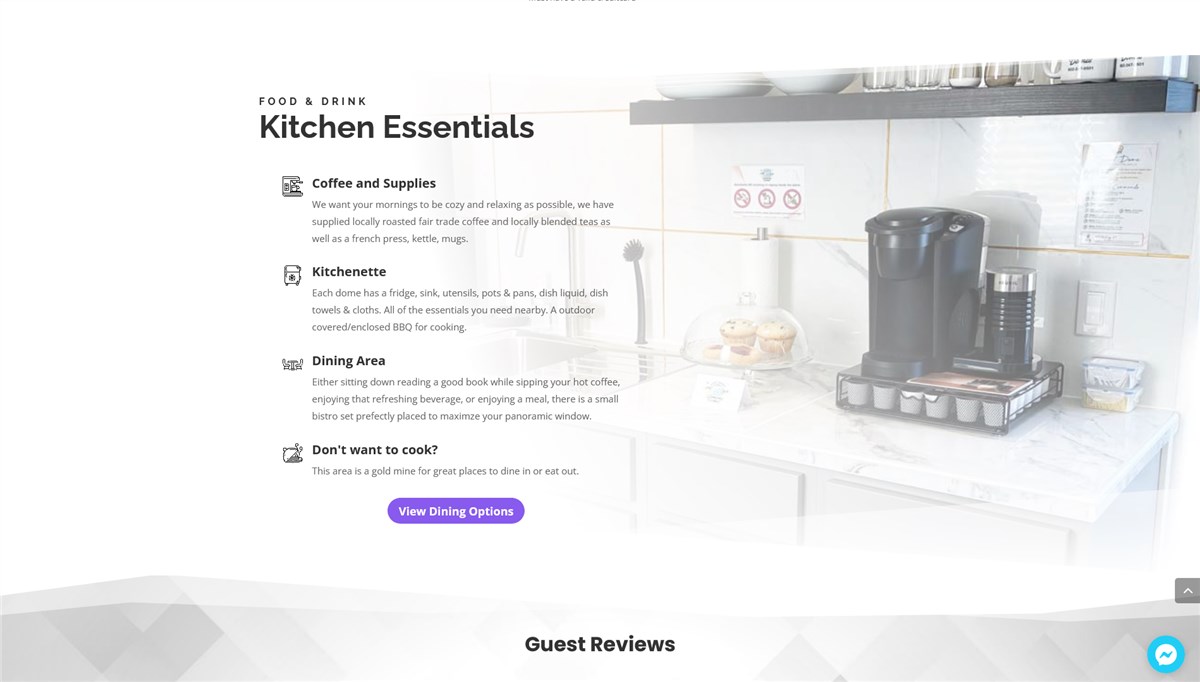 But we also didn't want to miss on receiving a few good lessons from the vacation rental owners.
Andrew provides a few helpful tips on how to maximize profits of your site stressing the importance of selling extras:
"We have several add-on services that guests can add while making their booking that other than a simple radio toggle are a little bit underwhelming. If there was a way to cause more emphasis on those services, like make them appeal more for purchasing."
On the checkout page of their website, you can notice that guests can additionally book a fire table or order a pet cleaning service.

As for the experience sharing tip for others, Andrew advised to take good care of the preparations stages and invest your time in thinking out your website:
"Make the investment, it is easy to adapt to your site, easy to navigate and learn, you won't regret the decision. Have a clear and precise idea of how you want the bookings to work, rates, add-on services, amenities, etc. That helps pave the route of execution."
We're thankful to Drew for this awesome conversation and hope you can also get some insights from their business story.