Coachzee Instructor: Driving School WordPress Theme Review
Want to build an online presence for your driving school on WordPress? Thinking of integrating payment options for online courses?
The CoachZee coach WordPress theme is a perfect solution that comes with a modern driving school demo design, among others.
The included CoachZee WordPress driving school theme is perfect for drivers education and traffic schools, both traditional and online.
What purposes can you use this theme for, by the way? We made it to be the best fit for:
Online driver education courses (those that include virtual meetings and appointments via video conference apps, for example)
Services that allow renewing driver licenses
Appointment scheduling services of any kind
Any sort of driver consultation appointments
Traditional traffic schools
Practice permit test preparations
Driving and traffic education
Instructor or driving school portfolio
Traffic education for teen drivers.
This theme is free for all MotoPress Club members.
Since the theme is packed with the MotoPress Appointment Booking plugin for automating appointment scheduling, you can choose to use the booking widget to accept online reservations or use this theme purely for driving school presentation purposes.
That means you are free to use it with or without that built-in booking functionality.
Let me stress it once more that by getting the CoachZee coach WordPress theme, you don't just get the driving school demo theme, you also become an owner of the entire package of coach templates (five in total, including life coach, teacher and more demos).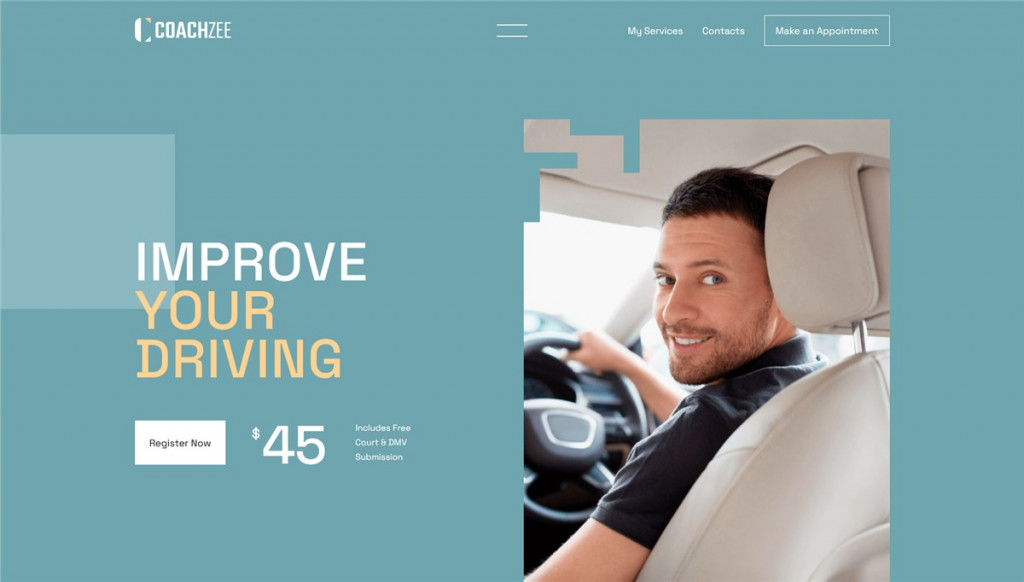 All these demos might be useful if you build sites for clients or at least give you a choice of designs and color schemes for your driving school, too. I mean, if you happen to have eyes for any other CoachZee demo, why not, you can turn any other thematic design into your driving school presence!
Here are the key tools that come packaged with CoachZee:
The Getwid addon to advance your customization experience in the WordPress block editor. It brings 40+ extra content blocks and designs to the editor you can fine-tune without tech skills.
The MotoPress Appointment Scheduling plugin delivers a pre-styled booking widget to help you accept consultation submissions online.
A few utilities aimed at quicker content import, icons display and more.
All in all, your future site performance is taken care of since we don't overload the template with unnecessary things, which adds a lot to the look and functioning of your future site on the internet.
Let's now take a closer look at what's under the hood!
How to work with this driving school WordPress theme
To be able to use the driving school WordPress theme demo, you need to choose this demo when installing the CoachZee demo on your WordPress.
That is very easy. After you've installed the core CoachZee theme in a regular way, just click on the driver instructor template click "Import Demo".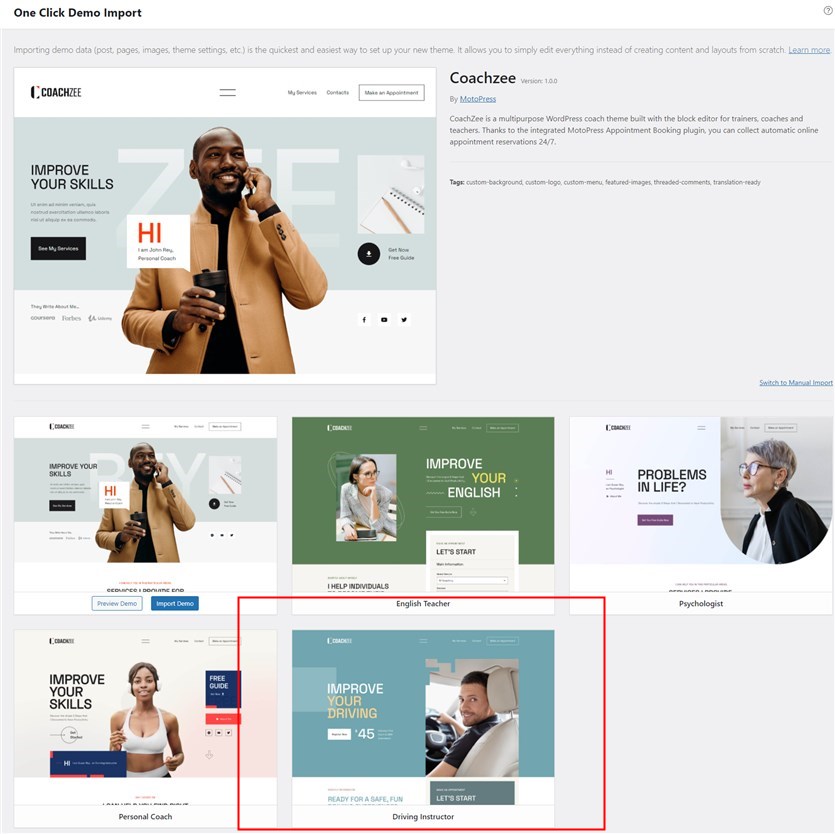 Check the docs to see that it's super easy to install and customize the theme.
The theme is built in the native WordPress editing environments, the block editor powered up by the specialist Getwid addon.
The driving school WordPress template provided by CoachZee comes with many blocks that are styled for the block editor in a unique way, that is, specifically for the theme. For example, you'll see a custom header designed with tons of interesting nuances, bold fonts and creative layouts.
Let's take you through the home page to show a few examples.
Header
The header is made of a few section blocks that are a breeze to customize. You can edit background colors (or add an image), buttons, prices and more parts you can see.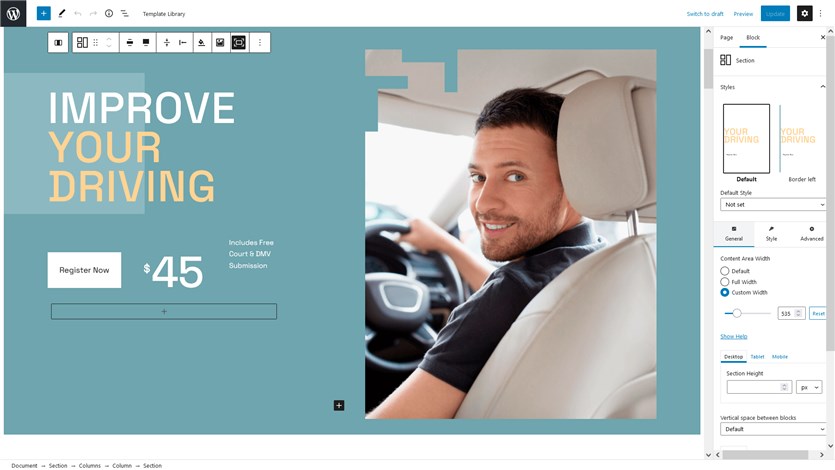 Each part of the section is a separate block, for example, the heading (fonts, sizes, colors are fully editable), button, image and other ones.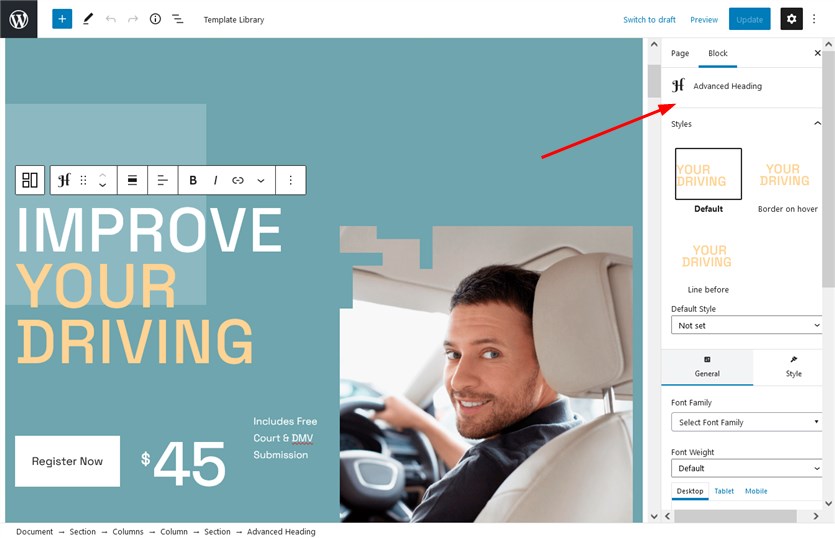 All in all, you can apply great fine-tuning to each block.
Appointment scheduling section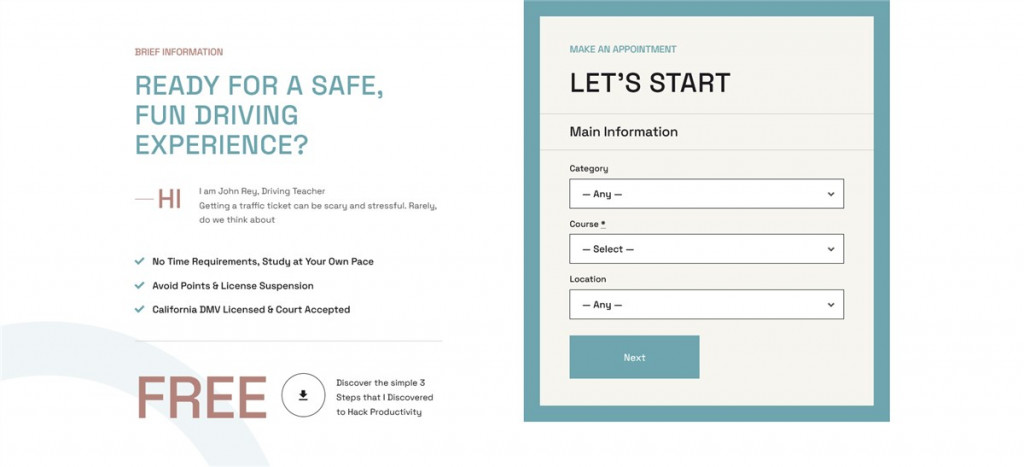 Here you can notice a booking widget that allows your customers to book a slot online, check available dates and time, and optionally (if you enable it in the plugin) pay online to secure themselves an appointment with you.
This widget is powered by our Appointment Scheduling plugin that makes it easy to add unlimited instructors, locations and services you provide.
As you can see, it's an ideal match for driving schools or private instructors as well. The plugin enables you to accept automated hourly bookings with ease.
FYI: MotoPress provides a collection of WordPress appointment themes bundled with this plugin for free: Edme, Touriny, Restline, and more.
Right in the block editor, you can edit the field labels or hide unneeded ones, it's done in clicks.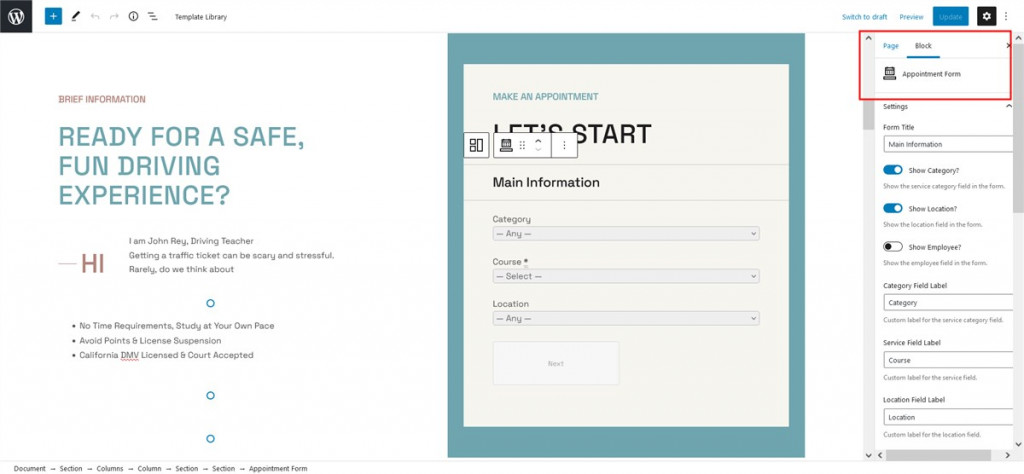 All the details and data for this widget are fetched automatically from your Appointment Booking plugin settings, including the database of employees, services, instructor schedules, etc.
Here are a few key configurations you can set up using this plugin:
Create instructor profiles with their individual working schedules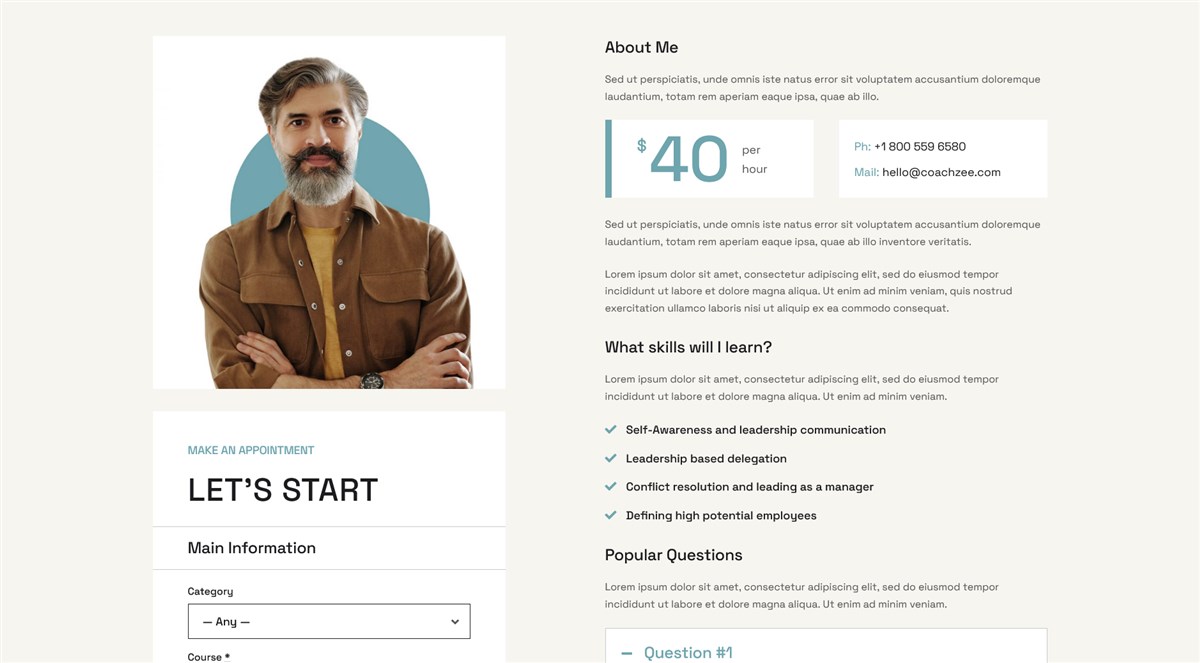 Edit schedules using variations of regular working hours, days off, breaks and vacations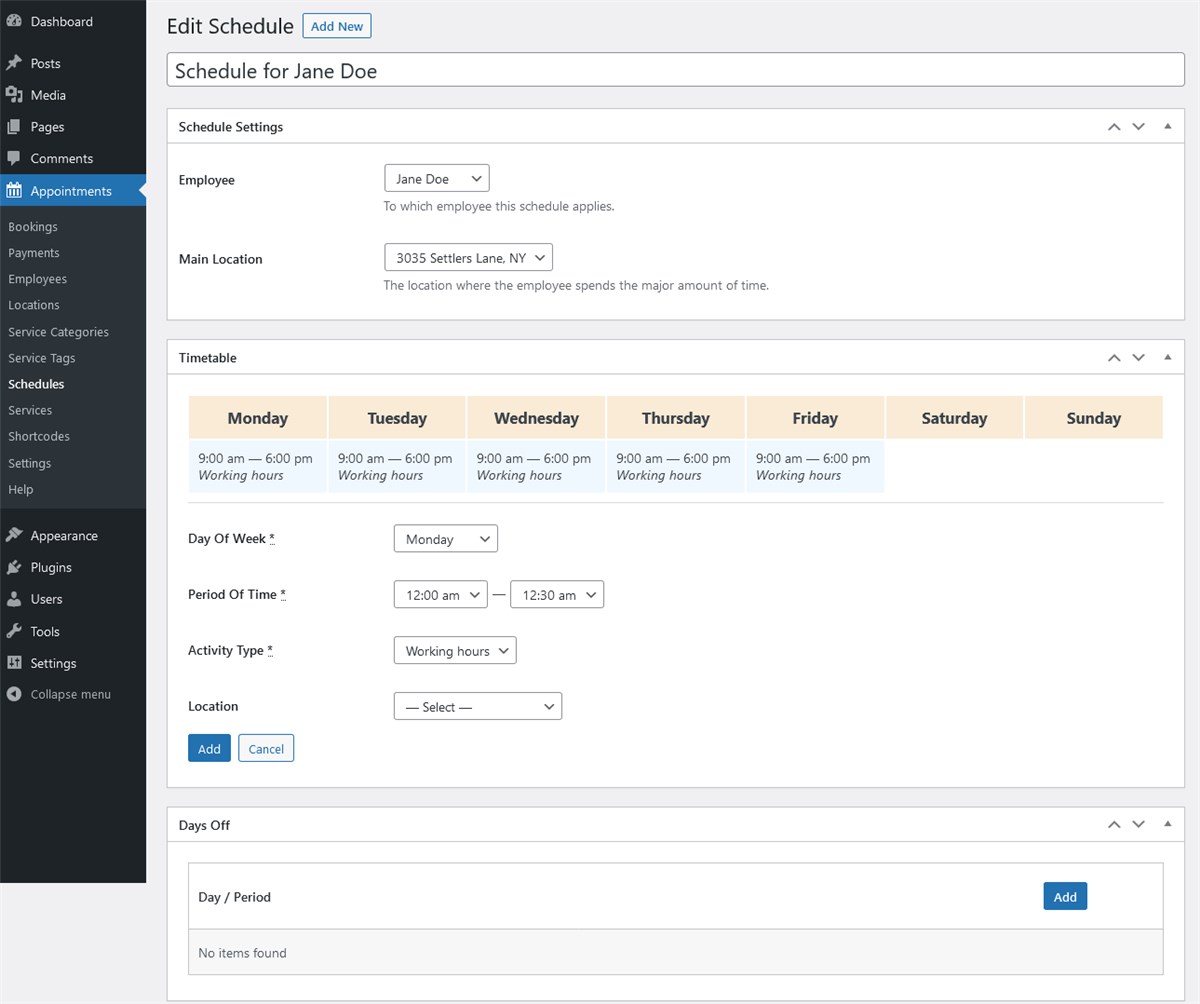 Add services of any duration, capacity and price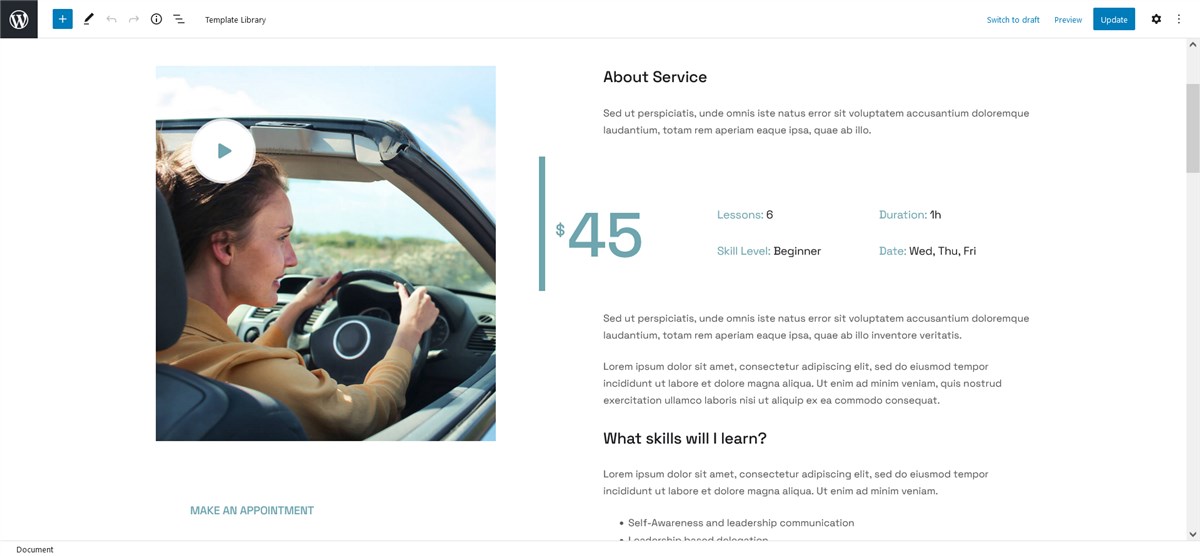 Set one-to-one or group bookings (note that independent people can't book the same lesson)

Brand emails that will be sent automatically based on the booking actions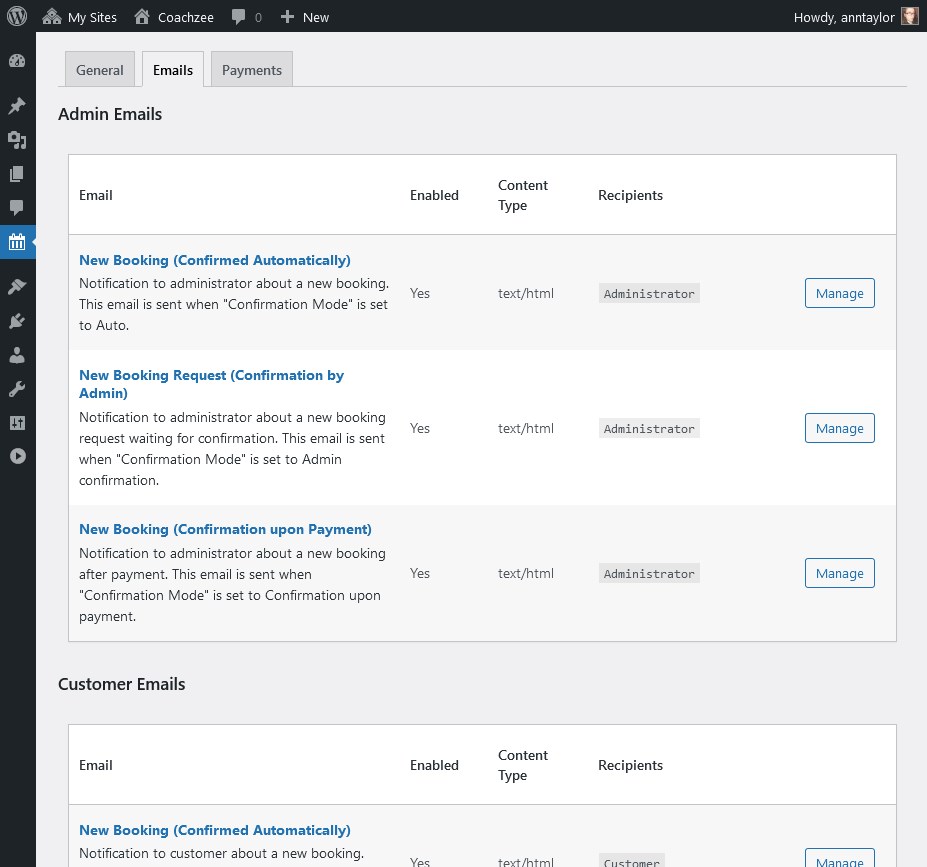 Set the plugin to approved incoming reservations right away or check them all manually
Optionally allow your students to book several services or courses at one go
If you want bookings to get paid in advance, get use of Stripe, PayPal, wire transfer or pay on arrival methods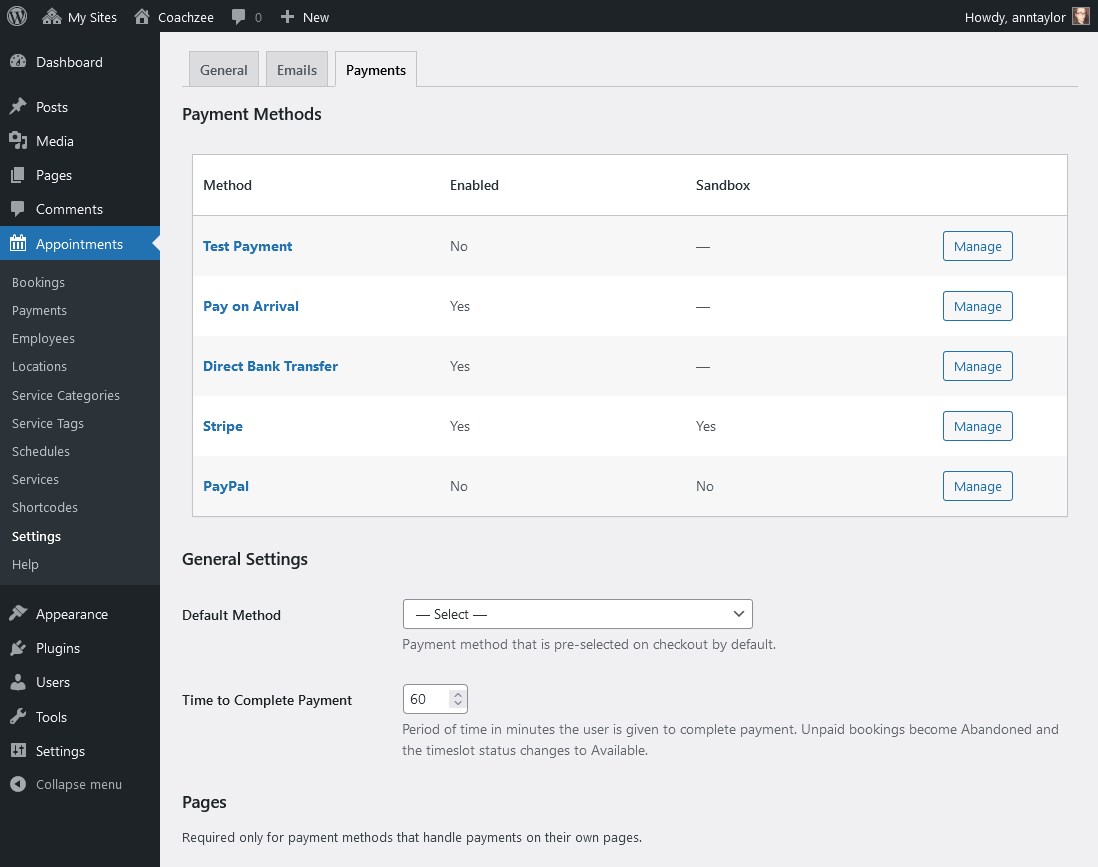 Manage bookings, payments and customers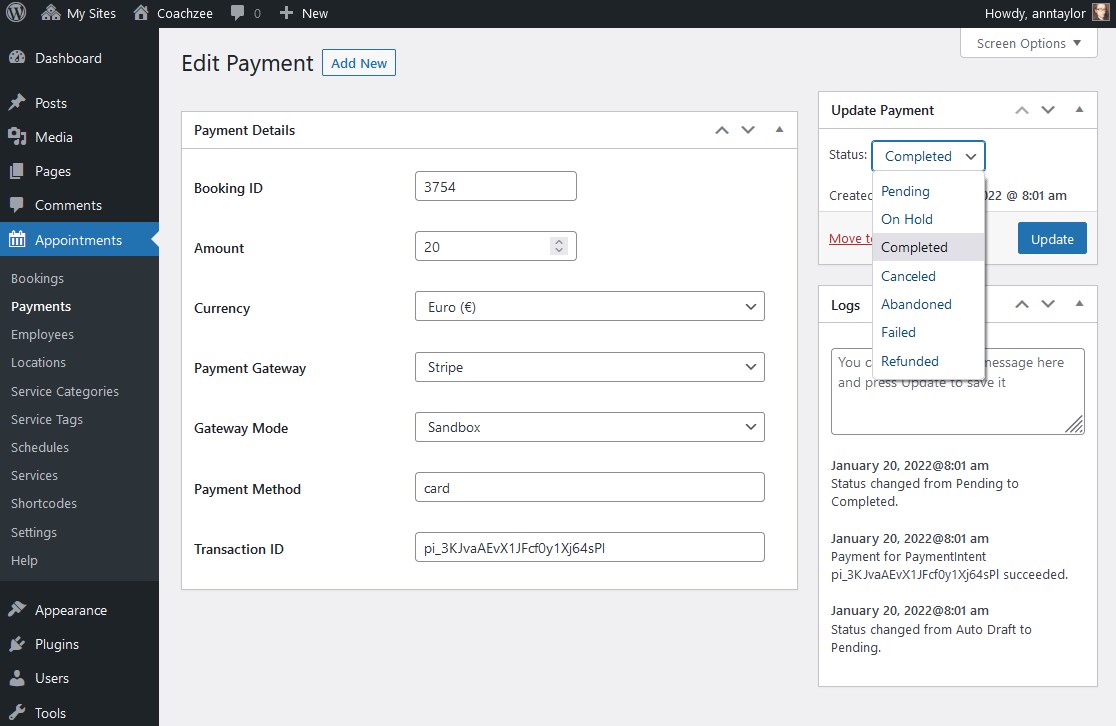 To sum up, the booking plugin will give you complete control over the bookings, clients, availability of your business, and payment options.
Again, if you want to steer clear of booking opportunities, you may just remove the widget and simply use this design as a launchpad WordPress driving school template.
Animated services section
It's a very clean-looking columnized section that allows you to structurally feature any services or peculiarities of your driving school or practice.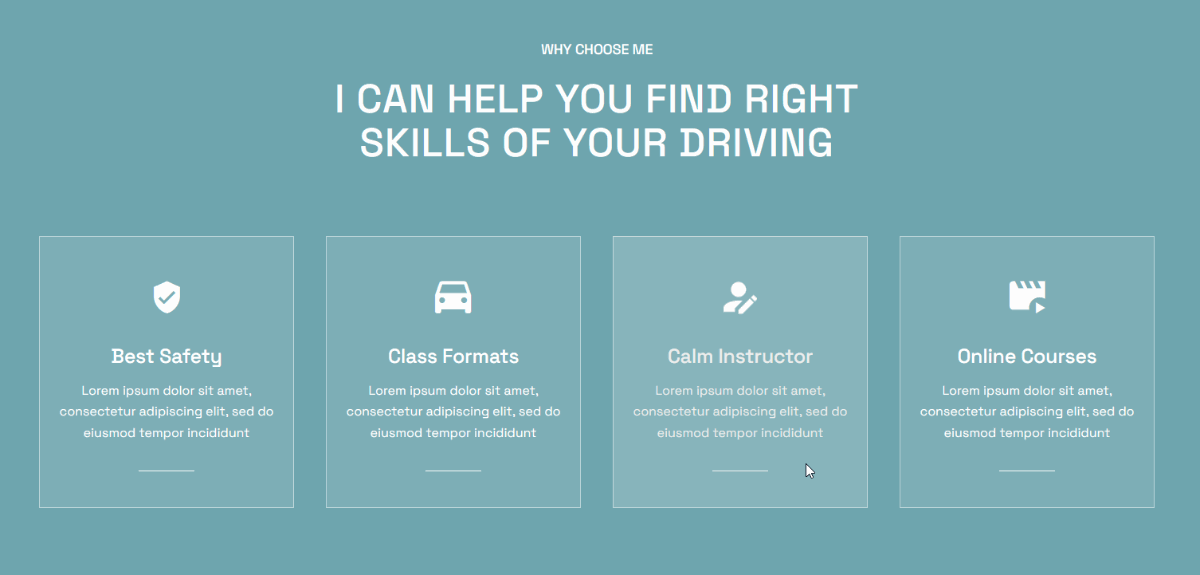 Featured courses
This section is built exclusively for featuring your latest services you add via the MotoPress Appointment Booking plugin. They are automatically organized in a cool list.
Clients can click on each to see details of individual services: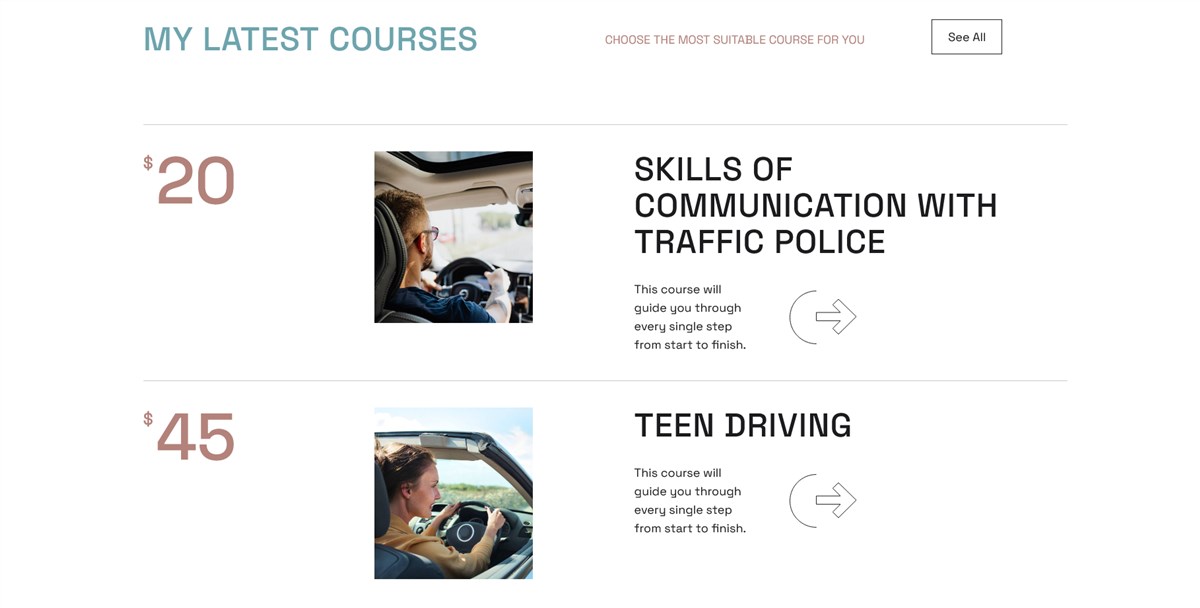 An individual service page, in addition to the general duration and skills details, comes with optional testimonials and the appointment scheduling widget.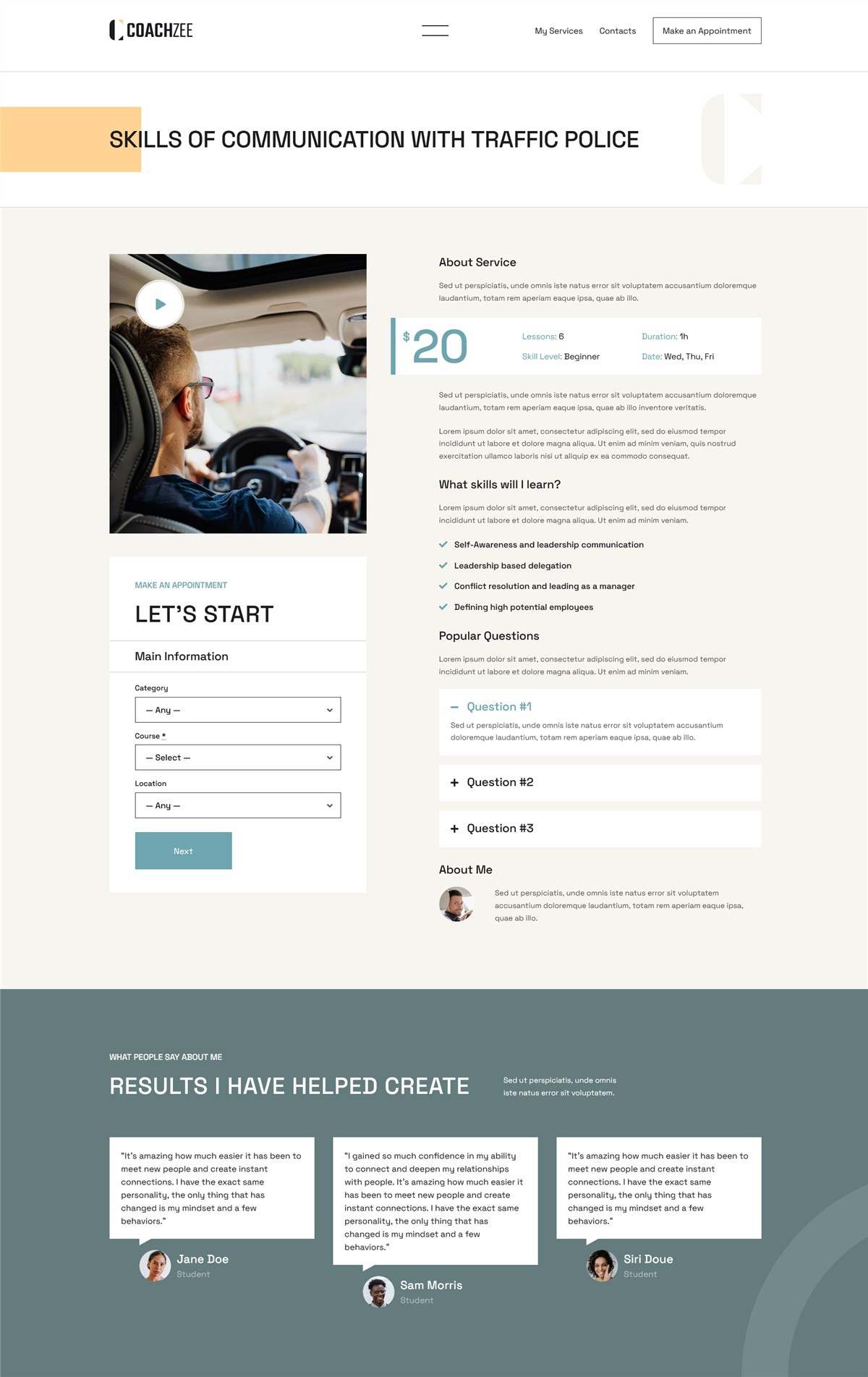 FAQ & pricing plans
Another informative section that allows you to visually structure data about your pricing packages and give more detailed answers in FAQ sections if needed.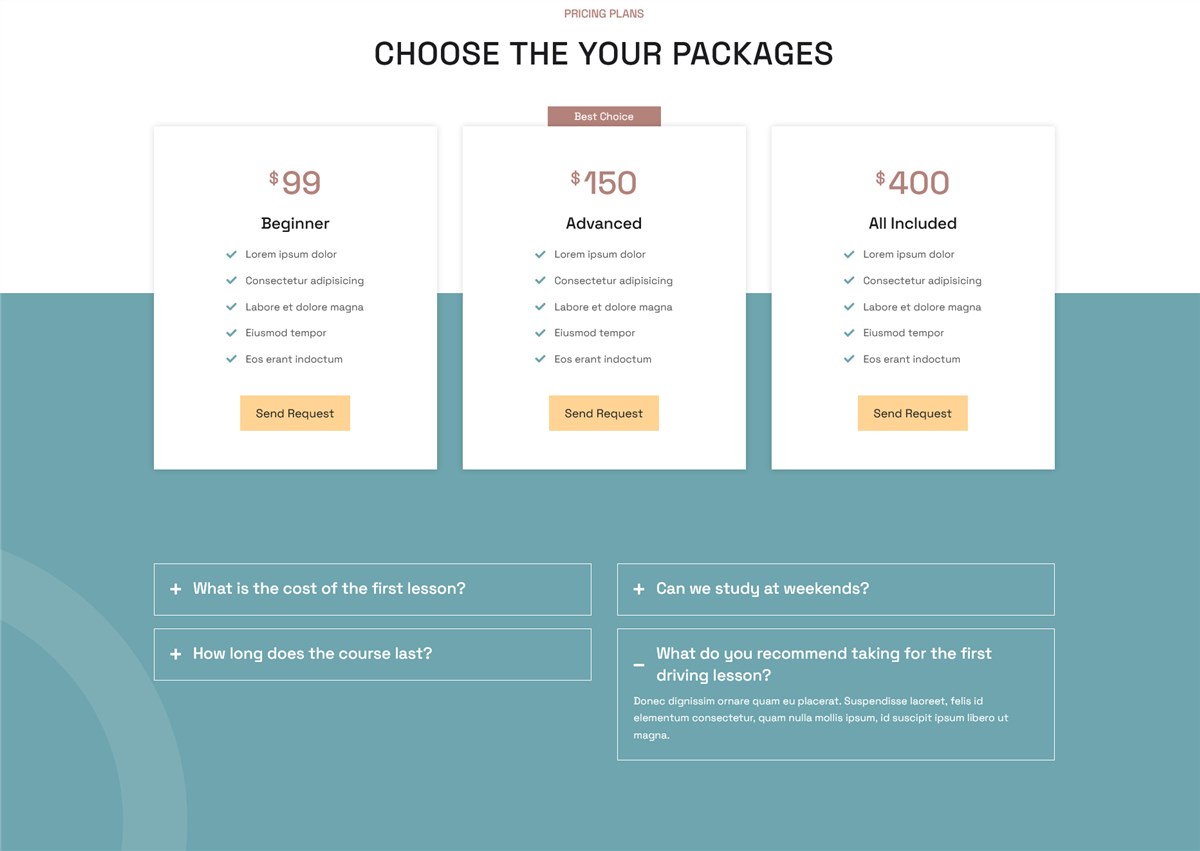 Blog & news
This driving school website template can boast of a great blog section that allows you to focus on the news, ideas and announcements in a beautiful, clear way. Thanks to the blog posts slider, you can feature the latest news easily.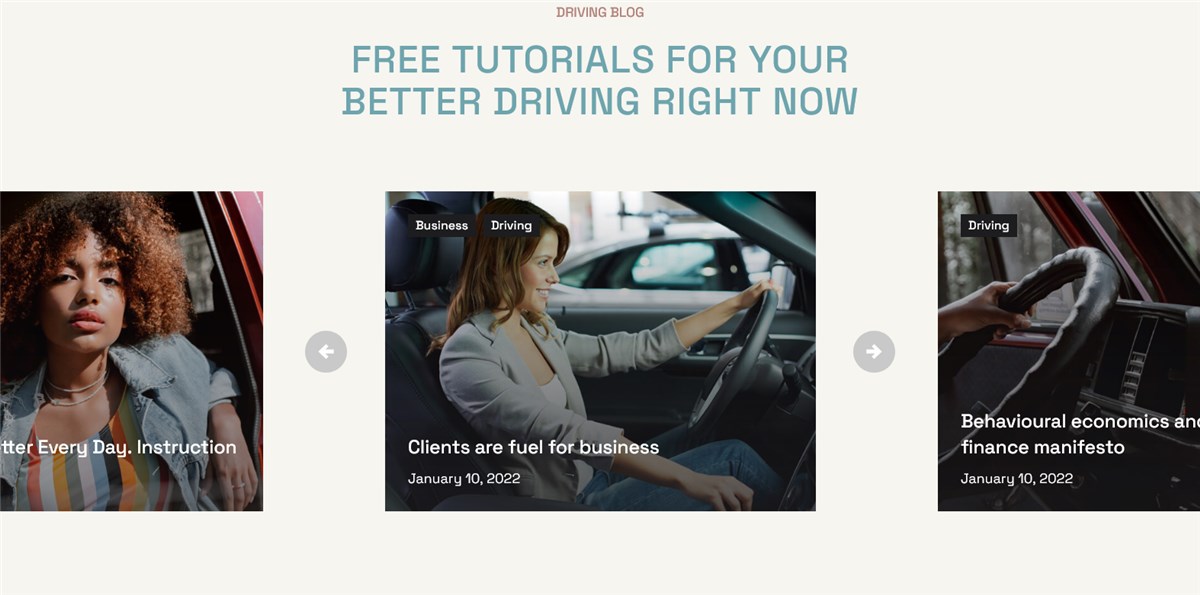 These are key frontpage sections that can be easily customized with other blocks or the block editor panel tools.
So that you can stick to the default theme design or change colors, typography and the rest of the fundamental things.
Services, Contacts & other driving school WordPress theme pages
So what are the other theme pages that might come in handy for your driving school?
Those include a dedicated Services page, which allows you to give more details on whatever aspect of your business.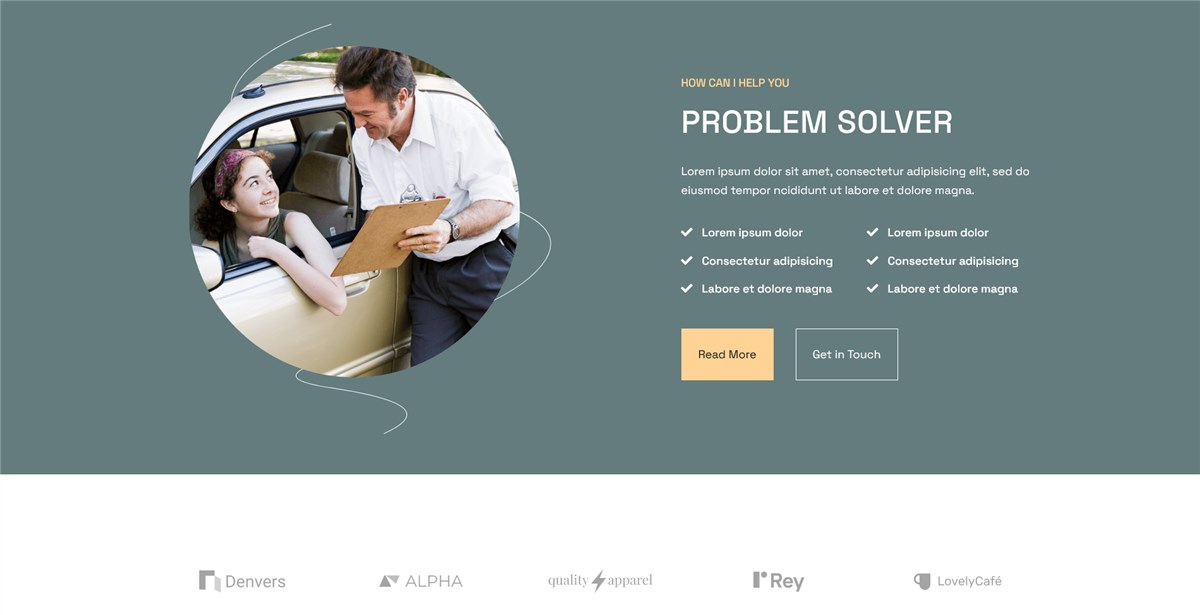 It contains several pre-made sections for announcements, FAQ, call-to-actions, certificates and more fabulous design patterns.
The contacts page is on the contrary rather simplistic. Just a map, contact info and the traditional contact form; what else do you need to not get your clients distracted?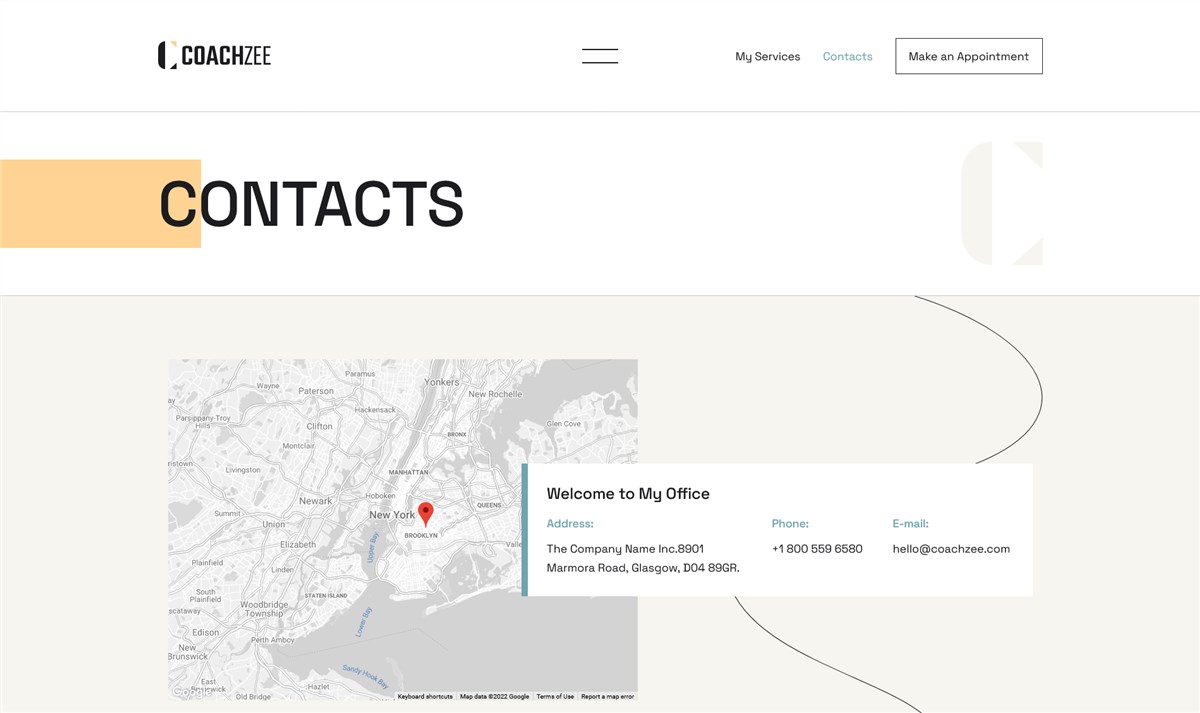 In case you need a team page, to show all or chosen instructors, there is a dedicated Team page.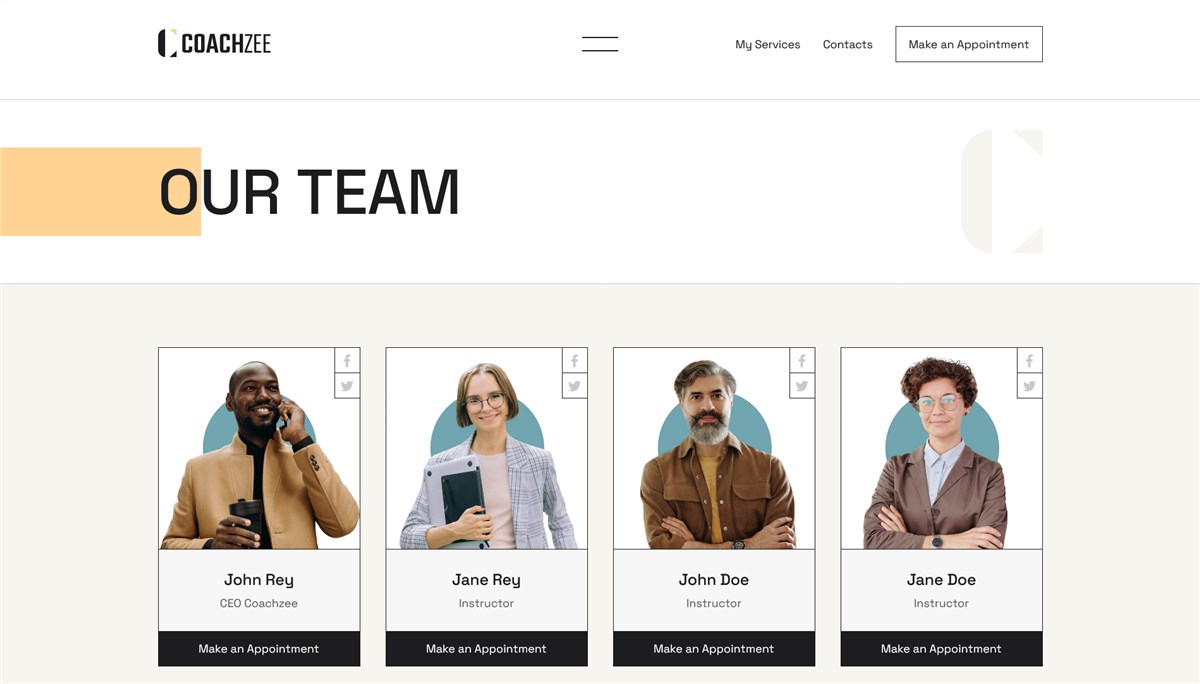 There are a few more inner pages, for instance, About me (if you teach solo), FAQ, My courses and many 'blocks' that show you the possibilities of the Getwid addon.
Theme menus and navigation
It's easy to notice in the theme demo that the navigation areas are pretty rich; you've got several widget areas to make important information and blocks always invisible, e.g. an email subscription box, social media buttons, copyright, contact info and more.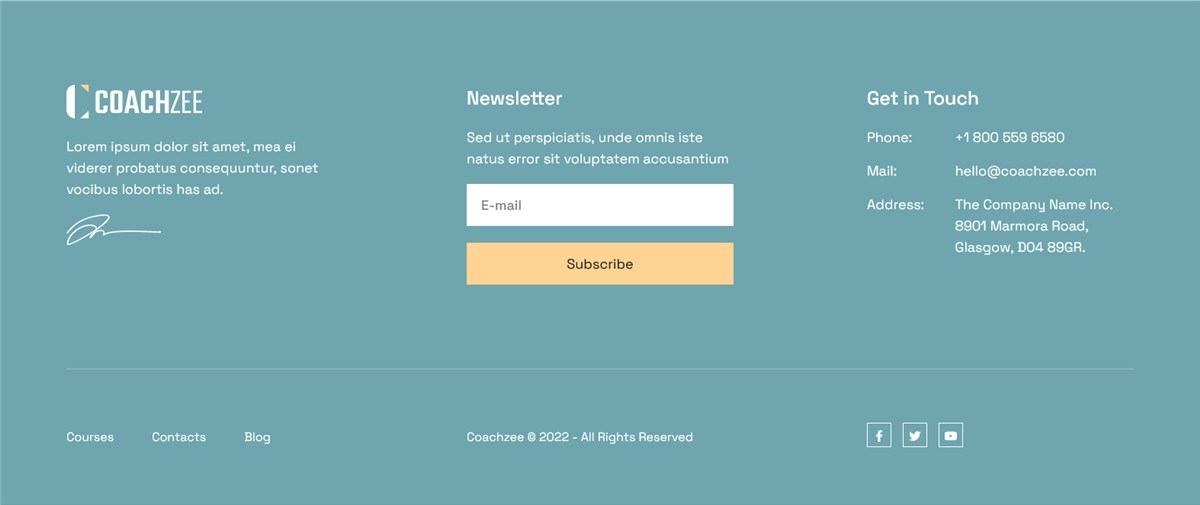 The full header navigation menu opens when the burger menu button is clicked: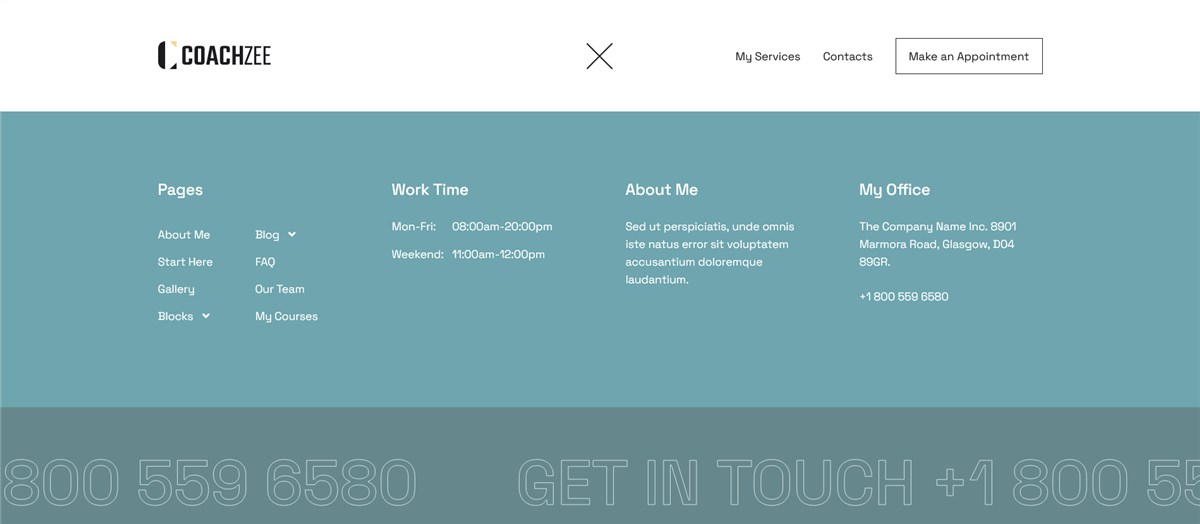 Final word
You can get this turnkey WordPress driving school theme for a moderate price, with all the premium tools included and, what's important, styled up for the theme for your driving schools. The latter adds a lot to make your process of working with the theme plain sailing.
No need to search high and low across the net, you can get a modern, functional and overall professional presence for your driving school with CoachZee.
This theme is free for all MotoPress Club members.