Customer Stories: "The First Year We Already Had Regular Bookings & Payments"
René Withofs, France, shares his story on how they operate their privately-owned property with the help of the Chateau Marcel website, created with MotoPress Hotel Booking solutions for WordPress.
The property they rent out is a 19th-century mansion in the medieval wine-producing village of Cesseras in the Minervois in the Hérault Departement of Occitania.
There is a great history of the mansion and the region worth taking a look at!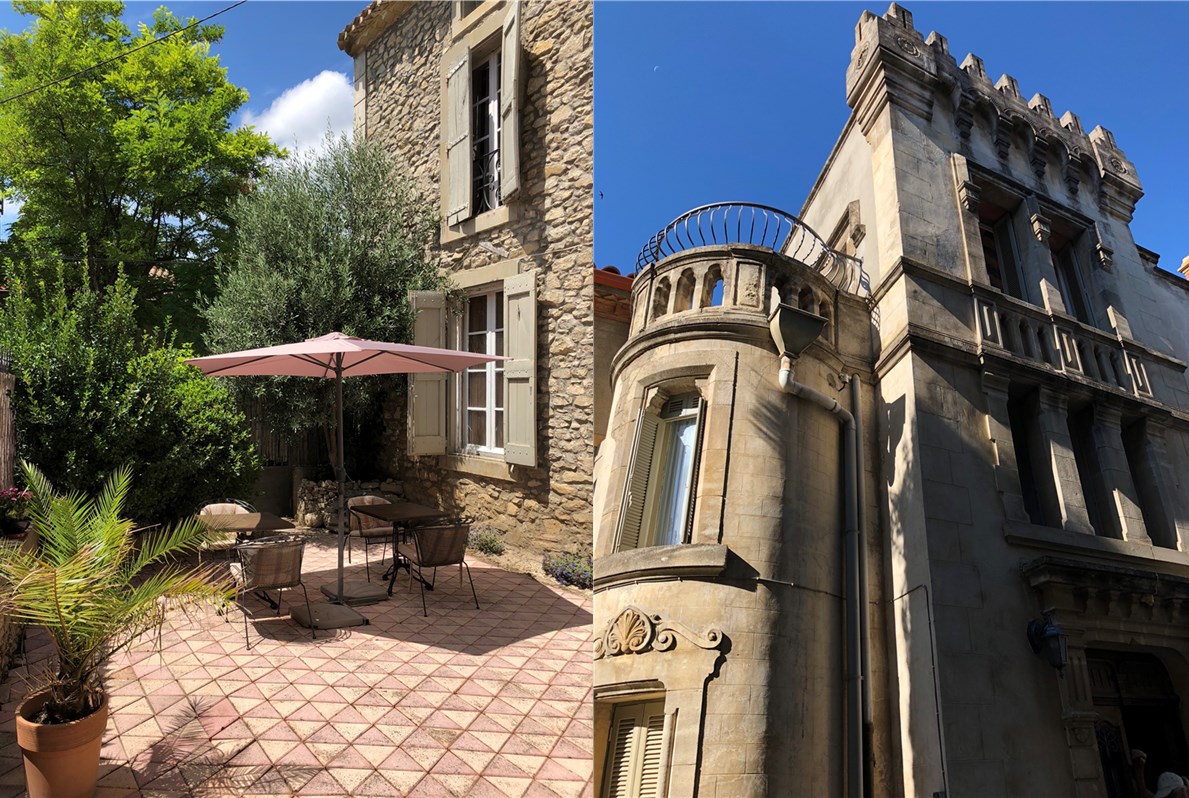 It's an entity that rents out various studios and rooms as individual items that can be reserved and paid in advance on the site.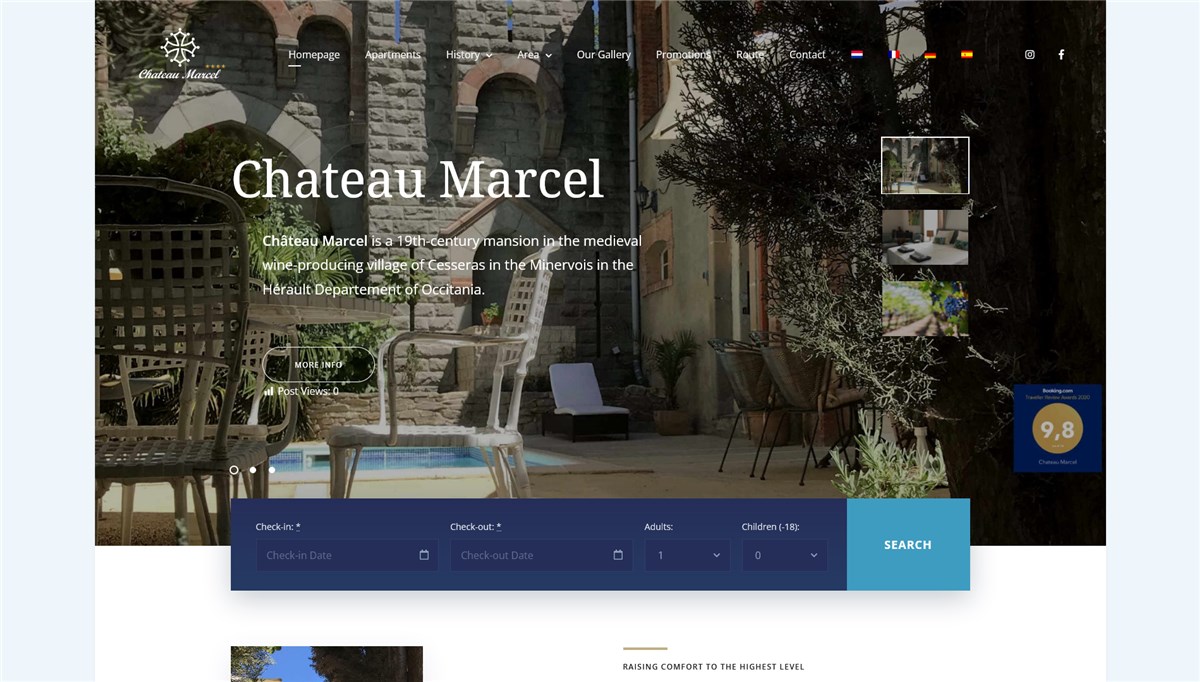 The business also accepts bookings on external platforms, thus diversifying booking sources. The site is available in several languages, sells extras, and features various activities, promotion and image galleries.
Conny and René managed to set up and manage a WordPress website on their own, with a little help from the MotoPress team, although they state their complete initial inexperience in both business things and even more so technical skills.
Background: "We had no experience at all in renting business"
They started renting out holiday apartments in April 2018.
First they looked around at what templates existed, especially in terms of compatibility of calendars with other platforms, payment options, even thought of starting from scratch and building a custom website.
René made it clear that before they started the renting business, they had no experience in it at all, nor in the development of a website with booking, calenders, payments etc.
They gave a try to the Luviana theme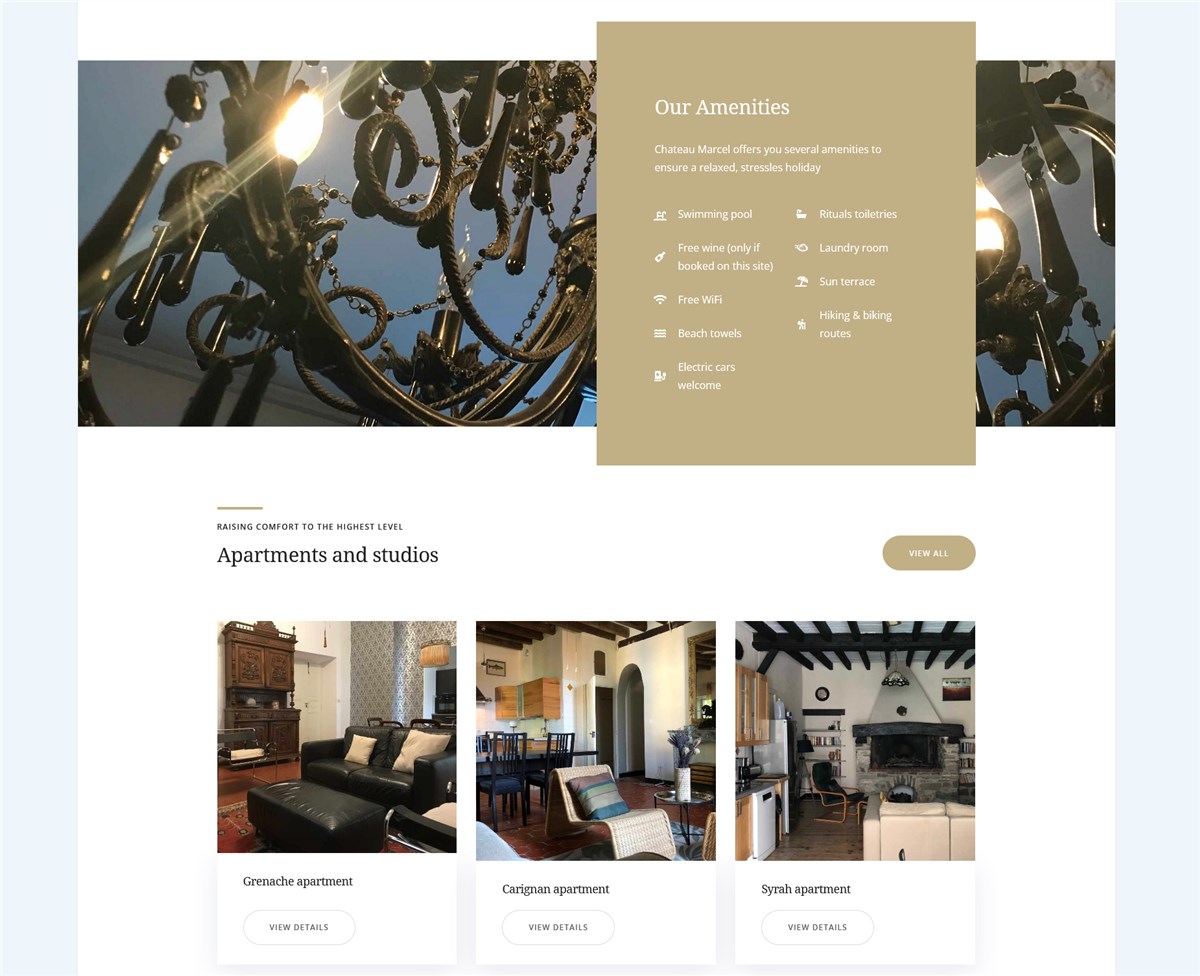 Conny and René chose the Luviana theme as a suitable starting point for presenting their property.
Here is what René has to share on how they managed to set up their website:
"When we saw the themes and plugins from MotoPress, we got the courage to install the Luviana theme, inexperienced as we were, and set it up completely according to our preferences. Not everything went smoothly, especially technical matters such as APIs etc. were unknown territory for us. But fortunately, our colleagues from Motopress, John, Valerie, Jane, Eugene and Andre (I hope I don't forget someone) were there to support us and guide us through all the questions we had."
Some things might sound really techy for inexperienced people, but usually it's rather a matter of a learning curve, since, in plain terms, you'll unlikely need to manipulate code or that sort of thing when working with the Hotel Booking plugin or its addons.
"We wanted to collaborate with other platforms, but also manage our own bookings."
"Synchronization was extremely important"
We also asked René about their main ways to work with bookings and what preferences they had about direct bookings as well as getting more ones from external online travel agencies.
René, just like many other property owners, stated they wanted to diversify booking sources and get them all in sync.
René talks about iCal and the related things:
"We wanted to collaborate with other platforms, such as tripadvisor, booking.com, gites.nl and others, but also manage our own bookings. So synchronisation was extremely important. In itself, it works well, but occasionally there are still some problems with synchronisation. It's a pity, but iCal in itself is not perfect. If there are features that you would like to see implemented, you can report it. It is not a guarantee, but your question is kept for possible later integration. In itself, it is great!"
The MotoPress Hotel Booking supports the iCal file format that allows you to sync bookings across different platforms at the same time, with the near real-time frequency.
We can also confirm that the iCal file format that allows for syncing is not perfect but in most cases it delivers the needed syncing facility.
"For example, we would have liked there to be an option to enter the guest's language when making a booking. This language choice could then be used to automatically send e-mails to guests in 'their' language, or to generate an invoice in the guest's language. Such small things make management very easy and we hope, of course, that this will be implemented soon. But every update always has some small changes for the better. So one keeps renewing and updating the theme regularly, which cannot always be said of themes here and there at 'colleagues'."
"The first year we already had regular bookings and even the payments via Stripe, PayPal, and bank transfer"
Among the favorite features of the MotoPress Hotel Booking solutions, René named the automatic generation of invoices, the emails to guests, and the synchronization of your calendar with other platforms.
"There are functions that make the management of your rental activities very easy."
We were also curious how the things were going in reality, with real clients and bookings.
As you can see, the website supports various online payment methods (you can check that in the footer menu even), so how are modern travelers prone to book on independent (from OTAs) websites of property owners?
René gave us a reason to rejoice:
"The first year we already had regular bookings and even the payments via Stripe, PayPal, and bank transfer went smoothly. There is no way we could have done this so quickly if we had started from scratch."
It's worth mentioning that the website of Conny and René adheres to some best practices of building trust and earning loyalty from travelers.
In particular, their website has many signs of trust: a real photo of property owners, a detailed history of the mansion, social media icons linked to real accounts, Booking.com widget with an average rating, multilinguality, secure checkout flow and a few others.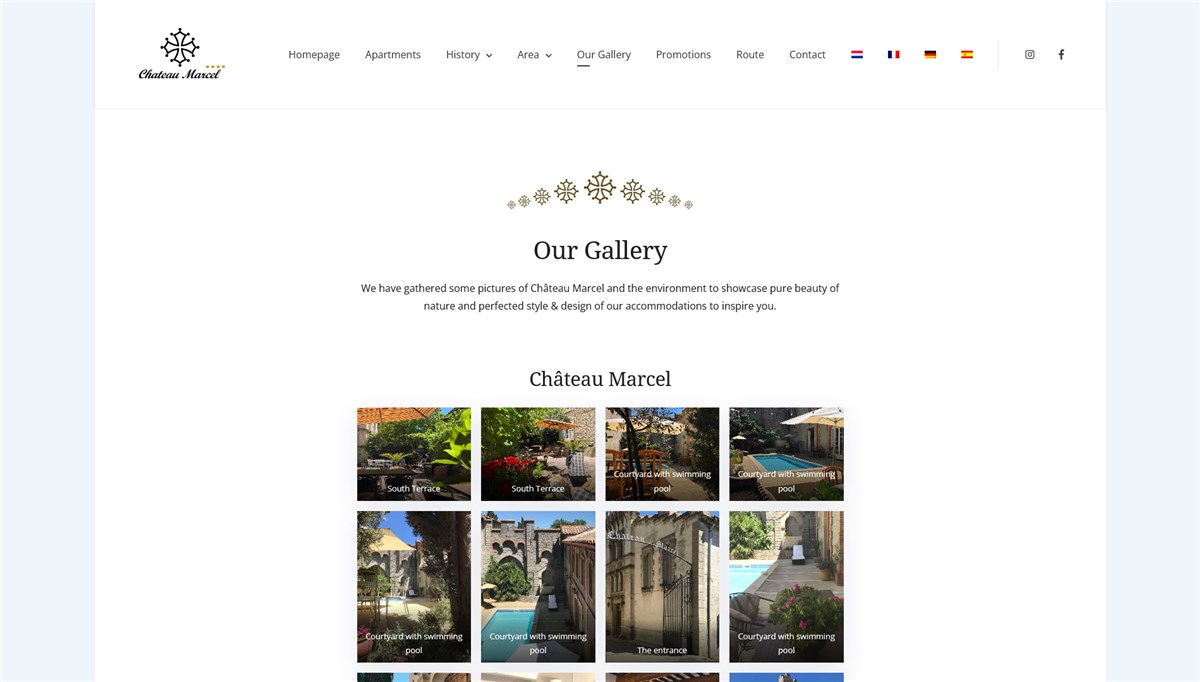 Such things are very important to win the trust of your prospect and make them book with you instead of the external platforms that charge you extra for their services.
"MotoPress would regularly log in themselves to solve the problem for me."
René was very kind talking about our folks here:
"If I have to be honest, it is actually thanks to the wonderful support of MotoPress that our website has become as it is today. Sometimes you are searching and searching for something and you can't find it. The people from MotoPress would regularly log in themselves to solve the problem for me. What more can you expect? OK, it sounds a bit too promotional talk, but it's just like that."
We also couldn't skip this question and asked where René had any recommendations for anyone starting out in the vacation rental industry.
We hope his answer would be inspiring for you just as it was for us:
"If there is one thing you should not be afraid of, it is that when you take a step into the unknown, as we did, and something does not work out, you are left to your own devices! And this support has lasted for years now, because I still regularly have questions, especially with a site in 5 languages. It is not easy!"
Want more stories from our customers? Read about Bright Property Management.