Customer Stories: "We Have Grown Both the Top and Bottom Line Business Quickly Over the Past Year"
On the CaboCondoVacations.com website, powered by the MotoPress Hotel Booking plugin and the Booklium theme, you can see a whole directory of astonishing vacation rentals offered in Cabo San Lucas, Mexico.
David Sliter, the owner, who agreed to share this story about their business on our MotoPress blog, says they started with 2 penthouse condos in 2018.
In this article, you'll find some great information about how they use OTAs, how the automated bookings allow them to improve guest experiences, and will have a chance to be fascinated by the images of their vacation rental properties and location.
"We started with 2 penthouse condos in 2018 which we purchased pre-construction which allowed us to create a connecting door so we can open or lock off and rent as two separate 2 bedroom penthouse units or a combined 4 bedroom unit."
David has been a client of MotoPress since 2019. Thanks to a close and fruitful collaboration with him, we even managed to release a few Hotel Booking updates that also come in handy for other clients.
Owning a lifetime membership with the MotoPress Club member, David has the benefits of using any Hotel Booking add-on or theme for free, connecting any needed functionality, including customer reviews or extra payment gateways.
Let's now jump right to the story.
Even the pandemic year didn't slow them down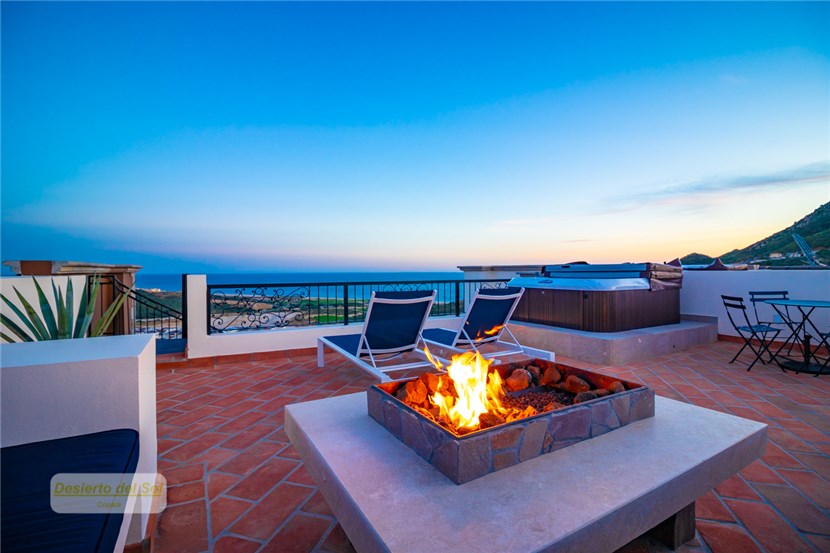 David explains that even "the horrible pandemic year", luckily, didn't have so much of a bad effect on their business.
"With great ongoing support from the MotoPress team, especially John Davis, we have grown both the top and bottom line business quickly over the past year."
They took advantage of the downtime and price uncertainty to expand together with numerous partners and investors.
"We now own 5 units (3 condos and 2 houses) and manage over 25. We are adding new units almost weekly as partner owner/investors purchase units which they wish to use at their convenience and have us manage their short term rental business the remaining times.

We offer positive cash flow after expenses + appreciating real full ownership (not time-share or fractional) real estate asset + use of a vacation unit in paradise when they choose. The detailed business analytics we can provide + the day to day management facilitate a risk-free investment."
Property owners who use different cloud-based booking engines as a rule are charged extra fees for the number of bookings they operate or the number of reservations they receive via their website.
It's quite the opposite with WordPress and MotoPress in particular. Just like David, you can grow your directory of listings and scale your business at any pace, this will never change the price you pay for using the MotoPress services.
They started a direct booking site to complement OTAs
While for some vacation rental owners it might sound pretty much a dilemma, whether to use popular OTAs or prioritize direct bookings, David doesn't look confused at all.
He considers all channels beneficial and, even more so, explains that they started an independent website as a complementary solution to travel platforms.
"We list our units on multiple commercial platforms – Airbnb, VRBO, etc. as they have the marketing reach and many guests are comfortable with a known platform. We added our direct booking site to complement these other platforms."
Online travel platforms are popular with travelers and continue to grow in popularity at a rapid rate, but reality proves that it's too soon to write off direct website bookings.
"We use multiple commercial platforms (Airbnb, VRBO, etc) and the sync process works well. We had a few hiccups but MotoPress was able to fix a few bugs and even add some small features to optimize our business."
Listing your properties on both, your own website and external OTAs, will only multiply your bookings. And the software like MotoPress Hotel Booking will help you get them all synced.
Why they ended up with WordPress (and MotoPress)
On their website, you can notice a three-column grid that forms a directory of properties, with all the details visible, but at the same time remaining clean-looking and readable. It's super handy for guests to browse through all properties.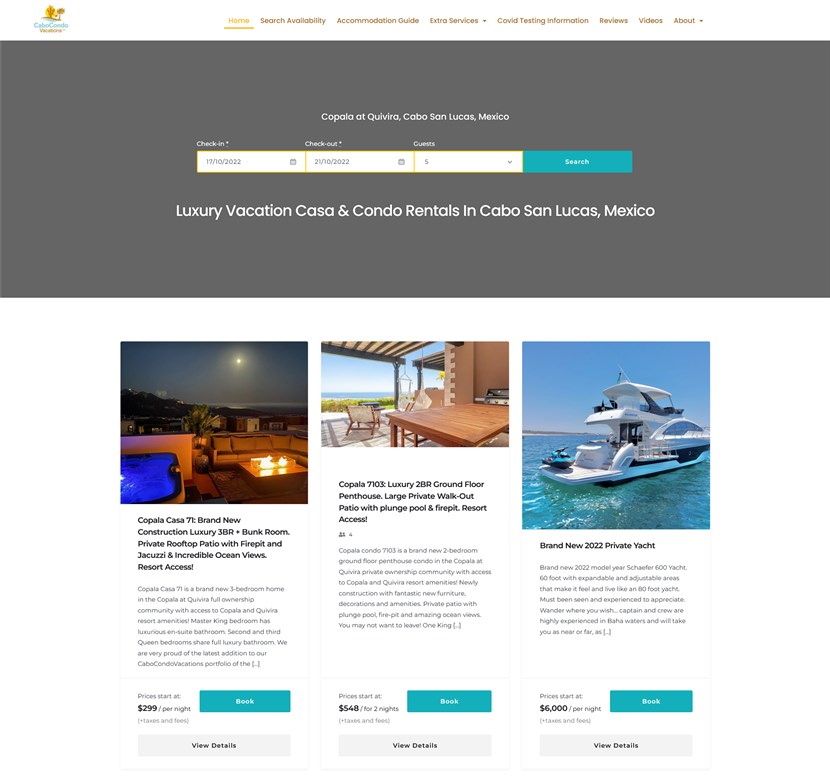 David explains that even though they could consider creating an in-house solution for running a direct booking website, they ended up with WordPress and MotoPress as reliable solutions that have already solved many important tasks for their business.
"We tried writing our platform from scratch as I have a 35 year experience as a software and consulting executive. We quickly found that a WordPress site with MotoPress Hotel Booking plugin suite was a better option."
When the crucial tasks are solved by the software, you can have other business tasks at the front of your mind.
"MotoPress had already solved the difficult aspects – reliable & secure bi-directional calendar syncing to airbnb, vrbo, etc, payment management, automated customer notifications from initial enquiry through post-stay reviews, onboarding new unit listings, local tax and fee management, and many more. It is easier to use their software than create our own – and they keep it updated. They have even added several features we requested."
Direct bookings are automated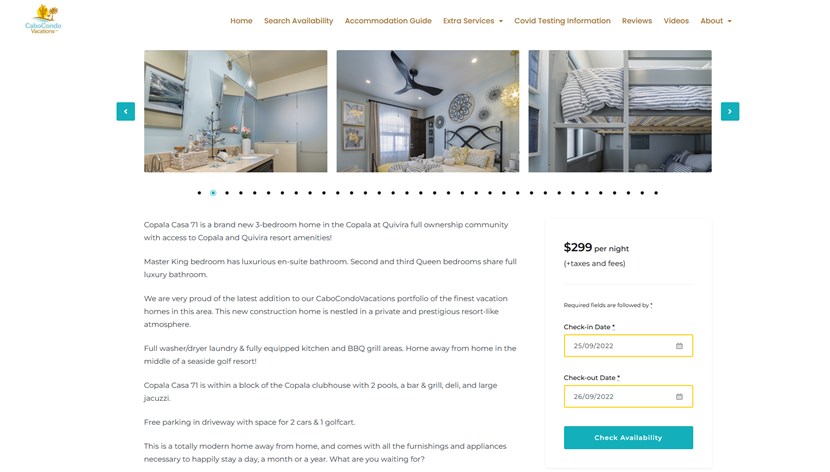 On the CaboCondoVacations.com website, they accept automated bookings by payment.
As payment options, they offer the ability to pay with an international credit card (a non-US credit card) or via PayPal and a US credit card (via Braintree).
"Things are going very well. We accept automatic bookings on all sites and the calendars are instantly synced."
As for their first bookings they got via the website, David shares his excitement.
"The first few were really cool. My online retirement business was real. Greeting the guests was exciting! Equally, seeing the end to end business process flow work flawlessly made the geek in me smile."

David also thinks that the most important thing for maximizing profits of their vacation rental website is providing best in class top-quality experience for guests.
"By having the back-end optimized we can focus on the guests' experience."
And he also adds that automated online bookings are crucial for optimizing and improving guest experiences and services.
"If you wish to scale into a true business, then automation and online business processes are critical. You will not have time to deal with inefficient or ineffective procedures."
Read more stories from Hotel Booking users.