WooCommerce Booking Calendars and Appointment Plugins for Small Business
In this post, we're trying to cover some key features and the principles of functioning of the plugins for WooCommerce bookings and appointments.
They will work just great for a multitude of service industries, ranging from clinics to schools and solo coaches.
If you have a website that still lacks the book button and an awesome handy appointment reservation widget, it's a good time to add it.
You can gain new ground for your service business and get a chance to transform it today!
MotoPress Appointment Booking Plugin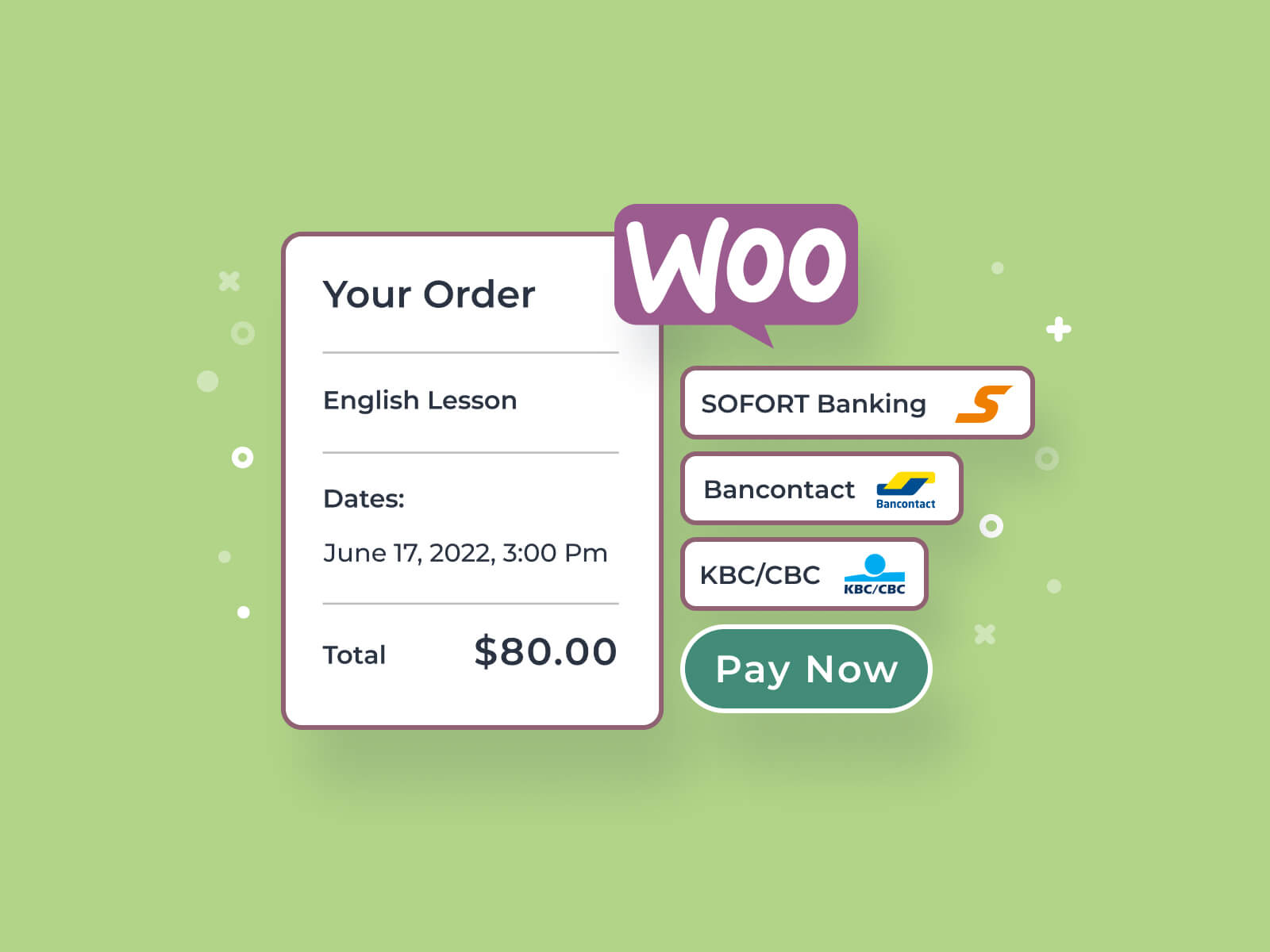 The WordPress appointment scheduler plugin by MotoPress is built for the modern appointment booking experience.
It's made as a handy wizard that guides a client step by step to placing their appointment reservation, and optionally paying for it online. All actions are easily performed from any device, including mobile phones.
Without any extra charges or hidden fees, this plugin deals with unlimited bookings, staff members, schedules, services, and coupons. In a nutshell, the plugin has it all to run an automated and profitable service booking business on your independent website on WordPress.
As for the WooCommerce ties, this booking plugin can be connected to it via the dedicated Appointment Booking WooCommerce Payments addon.
On the blog, they also share strategies capturing clients' attention better if your small business is related to appointments.
Key highlights
Works for solo institutions as well as chains (supports multiple locations and assigning an employee to the location).
Unlimited services of any durations with flexible settings (e.g. service price variations based on the employee).
Employee's Google Calendar sync to website bookings.
Optionally accept payments for bookings via built-in PayPal, Stripe, Direct Bank Transfer, or Upon Arrival. Stripe additionally connects Bancontact, iDEAL, Giropay, SEPA Direct Debit, and SOFORT.
Has a dedicated widget for major page builders (the block editor, Elemenetor and Divi).
Buffer times and flexible schedule settings.
Has versions in English, Italian, French, German and Spanish.
Growth tips on the blog.
A collection of WordPress appointments themes with this plugin integrated.
Free demo of the premium appointment plugin.
WooCommerce Bookings & Appointments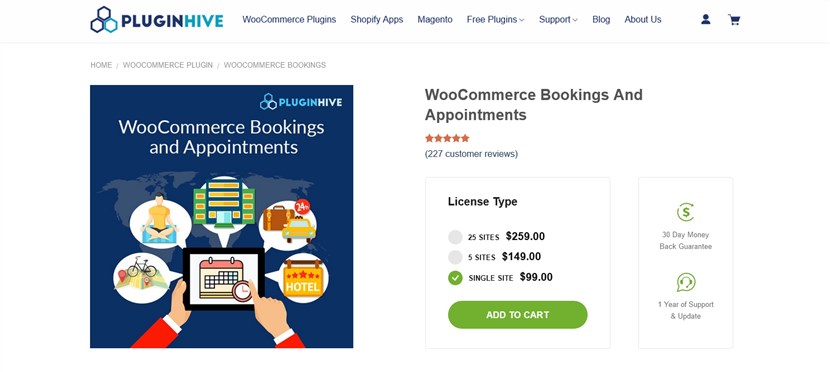 The WooCommerce Bookings & Appointments plugin by PluginHive is an affordable and feature-rich WooCommerce booking calendar plugin that provides a rather classic calendar with color-coded available and unavailable days that you can place anywhere on your website.
Since it's not just for hourly bookings but for days and months, too, you can rent out accommodation and equipment using this appointment plugin as well.
To use WooCommerce payment gateways for bookings via this plugin, you additionally need the core WooCommerce plugin to be installed and activated.
The calendar is dynamic, meaning, clients see what they choose, how the prices and availability change based on what they select.
On the admin's side, the plugin is very flexible for setting up tiered prices, blocking chosen dates (disable booking), etc. There are tons of tools for managing booking slots, seasonal prices, the number of people, etc.
Key highlights
Support for one-to-one and group bookings for WordPress calendar appointment plugin.
Email notifications and reminders.
Synchronization with Google Calendar.
Support for partial payments and deposits.
Buffer times between bookings.
The ability to create custom fields for the WooCommerce booking calendars.
Booking search widget and a calendar design that you can tailor.
WooCommerce Bookings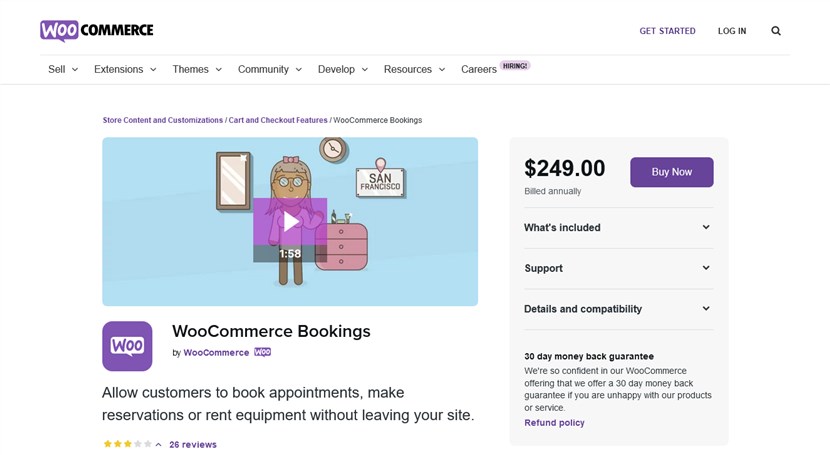 The WooCommerce Bookings plugin is one of the most popular WooCommerce booking calendars that has a wide range of settings for running a flexible booking system and using the power of WooCommerce for accepting online payments.
It's suitable for classes, appointments, equipment and more industries, both face-to-face or group. The services/appointment prices and availability can be easily adjusted with the powerful admin settings of this WooCommerce booking plugin.
This WooCommerce bookings and appointments plugin has numerous addons to connect if you need functionality boosters, such as Deposits, Follow-ups, Product vendors and more.
Key highlights
WooCommerce is the plugin that defines this booking solution for WordPress since this is a native WooCommerce plugin.
Suitable for one-to-one or multi-person appointments.
Auto match of a user's time zone.
Email notifications and reminders to reduce no-shows.
Customize the pricing based on the number of people, season, etc.
Syncing plugin calendars with Google Calendar.
Support for buffer times and agile blocking rules.
You can try the demo before paying.
Read also: How to use WooCommerce for clothing stores.
Bookly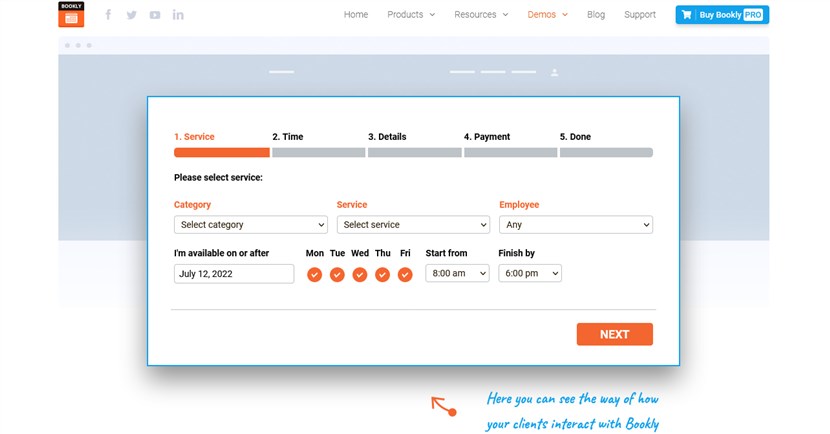 The Bookly appointment booking plugin is the most chosen plugin when it comes to premium booking calendar plugins for WordPress, although not specifically for WooCommerce. It has been around for 8+ years on the market so it's a trusted, long-time player.
Bookly delivers a polished, professional wizard-like design for a booking widget, all the pack of customization tools, and loads of power tools.
The plugin supports email and SMS notifications, Google Calendar sync, and more. You can also measure the income and performance of your bookings business with the built-in analytics with booking statistics.
The booking calendar supports WooCommerce integration and you can connect more payment gateways without any hassle.
Key highlights
Unlimited staff profiles and bookings.
Optimized for online appointments via video conferencing apps thanks to the smooth integration with Zoom and Google Meet.
Easy integration with Zapier for connecting a dozen more apps.
All staff members have individual flexible schedules.
A personal sandbox to try out all features.
10 payment gateways supported, plus coupons.
Locations, ratings and other marketing and functionality tools can be connected to Bookly via extra premium addons.
RnB WooCommerce Booking & Rental Plugin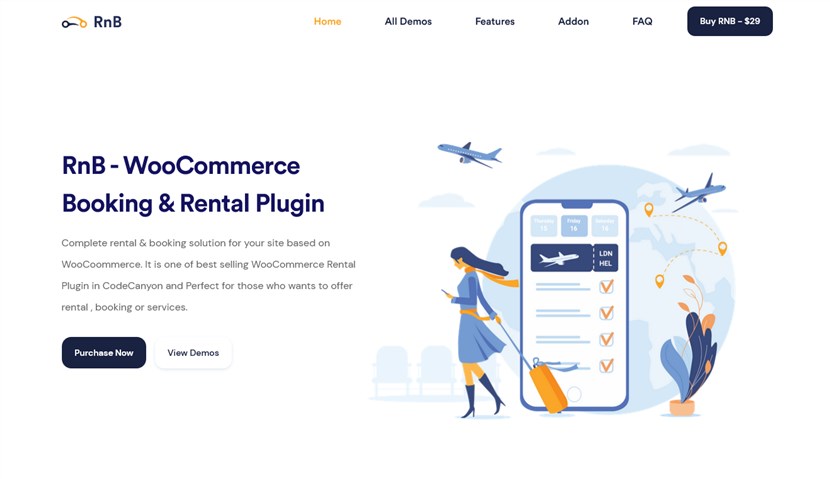 The RnB WooCommerce Booking & Rental plugin is a great WooCommerce bookings calendar plugin for appointments and equipment rental (cars, bikes, boats, gadgets, and more).
This WooCommerce rental plugin is well compatible with WooCommerce and provides a smooth connection of the wider variety of gateways.
As for the ability to set up the system to any need (availability, pricing and more), this WooCommerce booking calendar plugin is probably the most powerful, offering loads of settings you won't find in many other premium plugins.
Compared to other WooCommerce booking calendars in the list, this plugin is affordable. On the cons side, the addons for rather basic needs can get quite pricey (e.g. the seasonal pricing add-on is $95 at the time of writing this).
Key highlights
Supports unlimited rental units.
Flexible inventory and availability management.
Instant booking notifications.
The ability to set a custom pricing per person for the service, including monthly and daily price configurations, support for adult and child pricing.
Block booking options for rental days and hours, designate min and max booking days, single day booking, maximum booking period, etc.
Support for various date formats.
Local and global product settings.
Request a quote feature for your clients.
Appointments for WooCommerce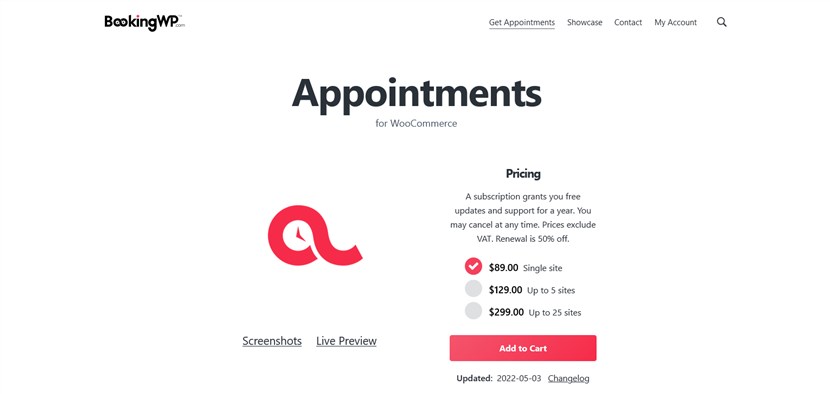 The Appointments for WooCommerce plugin is advertised as a fully-featured plugin for the appointment business, built on top of WooCommerce.
It allows you to create an availability and bookings calendar and place it anywhere on your website. The plugin allows you to assign different employees to appointments, as well as allow employees to manage their availability, etc. In a nutshell, the plugin supports all the key industry features.
Key highlights
Fully integrated with WooCommerce, WordPress and Google Calendar.
Create any type of custom fields and add them to your booking widget.
Support for padding and buffer times.
2-way Google Calendar sync.
Flexible pricing rules.
Automatic time-zone conversion to match those of your customer.
The ability to set extra pricing for service delivery.
Offers white label and developer-friendly tools.
Booked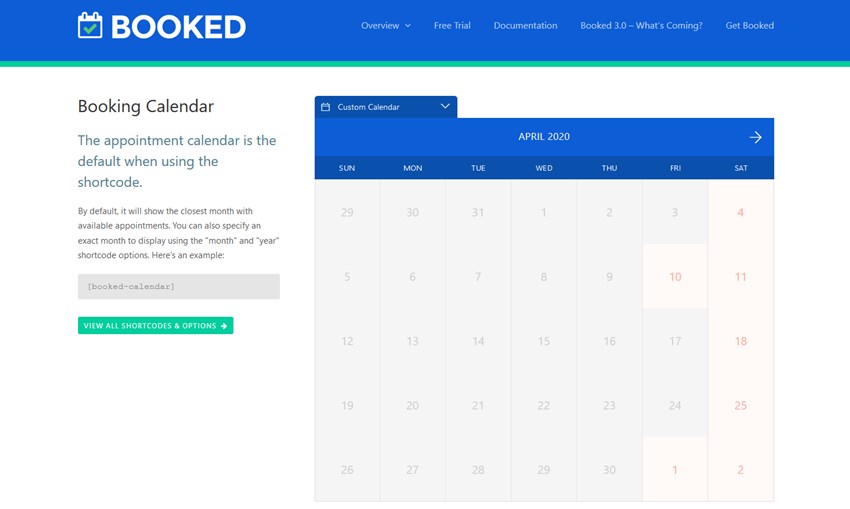 The Booked plugin is a popular WordPress solution for smart and quick appointments that supports WooCommerce for bridging extra payment gateways. The WooCommerce addon is included with your purchase of the Booked plugin.
The plugin allows you to build a handy and good-looking booking calendar that makes it easy for clients to place a booking.
Key highlights
Supports multiple bookings and staff members.
Allows for creating custom fields.
Individual customer profiles for viewing and managing bookings, including an option to add bookings to Google Calendar.
Clients can pay for their bookings as guests or registered users.
Multiple color schemes to match your site's design.
LatePoint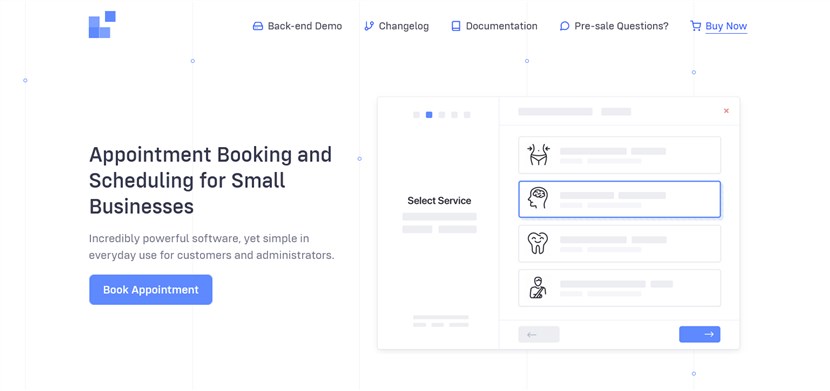 The LatePoint booking plugin is a great booking plugin for appointments with tons of integrations but instead of WooCommerce, they offer native payment gateway integrations via Stripe, PayPal, Braintree and more.
The plugin can handle multiple locations, clients and bookings – and can also boast of numerous customization options, design skins and templates (e.g. for building a listing of staff members on your live website).
It's super customizable and feature-rich. For example, you can create custom working schedules for chosen days, set timely reminders before the appointments, etc.
This appointment plugin for WordPress offers a visual drag-and-drop interface that will help you among other things add and tailor custom fields.
Key highlights
Personal dashboards for your staff members (including the ability to connect Google Calendar and more).
Zoom integration with support for automatically created Zoom meeting links.
Instant SMS and email notifications to the staff members and clients.
Support for social login and coupon codes.
Customer accounts.
Integrated chat widget.
Customizable working schedule for every staff person, including flexibility for days off, holidays and more.
Multiple addons.
Calendarista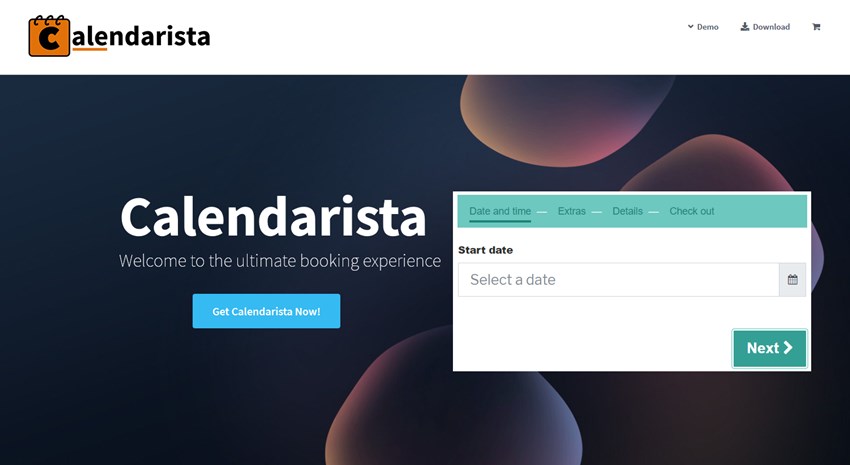 Calendarista is an awesome appointment booking plugin for WordPress that supports payments with WooCommerce.
Working with Calendarisata, you'll discover tons of well organized tools for tailoring your schedule (or of your service providers), setting up service prices and options, etc. A handy appointment management dashboard is also offered. It's a great solution for coaches, teachers and other soloprenerurs.
Calendarista makes it really easy to get started since you can choose from a few pre-set booking modes you can choose based on your business type.
Key highlights
Built -in payments Stripe and Paypal payment gateways.
Support for the iCal file format, which means you can connect Apple Calendar, Google Calendar, Outlook and other calendar applications to sync bookings.
To translate the plugin to your needs, it's optimized to work with WPML and Polylang support.
Discount coupons.
Custom form builder for adding more fields.
Support for Google Maps.
gAppointments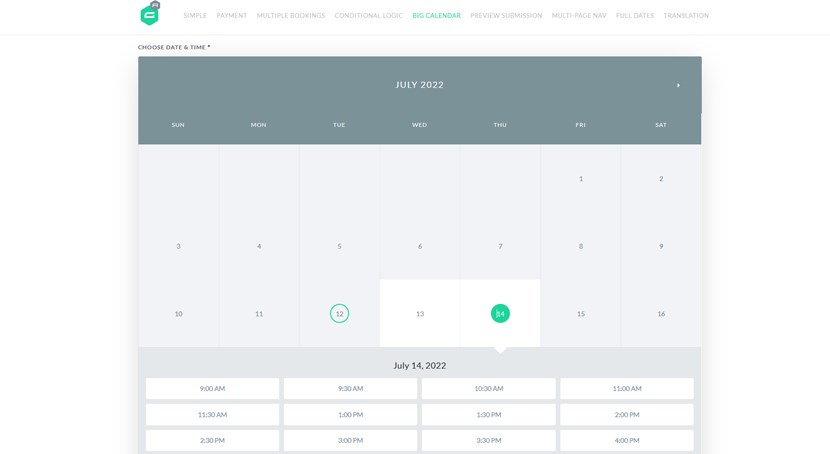 The gAppointments plugin is made specifically for the Gravity Forms users – and since there are really many of them, we decided this plugin will be a good fit for this post.
If you are on Gravity Forms, this extension will function in the most native way and will give you the ability to accept appointments online. This addon will give you all the power and features of Gravity Forms.
It delivers an awesome booking calendar, where the clients can easily place a booking using a handy wizard. The most essential features of a booking plugin are packed!
Key highlights
Any service durations, including custom time slots.
It supports multiple payment gateways (any offered via GravityForms).
Multiple slots selection & maximum bookings per date.
Handy backend for appointments management.
Custom email notifications.
Conclusion: WooCommerce Booking Calendars and Appointment Plugins for Small Business
We can conclude that many of the fundamentals remain the same in all these WooCommerce booking calendars and appointment plugins for small business, whether they give more or less connection to WooCommerce. Partner with your audience more deeply by providing an easy way to book the next appointment without a headache.