10 Things Only WordPress Booking Plugin by MotoPress Can Do
A family of WordPress booking plugins by MotoPress includes two dedicated solutions: WordPress Booking for property bookings and the WordPress appointment booking plugin for appointment scheduling.
In today's article, we'd like to share a few superpowers of the WordPress hotel booking plugin. As a user of this plugin, what can you do beyond creating a perfect hotel directory and automating bookings?
You can hardly find some of these features in the other hotel WordPress counterparts, so let's get going.

So what are 10 things only the WordPress Booking plugin by MotoPress can do?
Helps you create a truly flexible search form that 100% aligns with your rental business needs.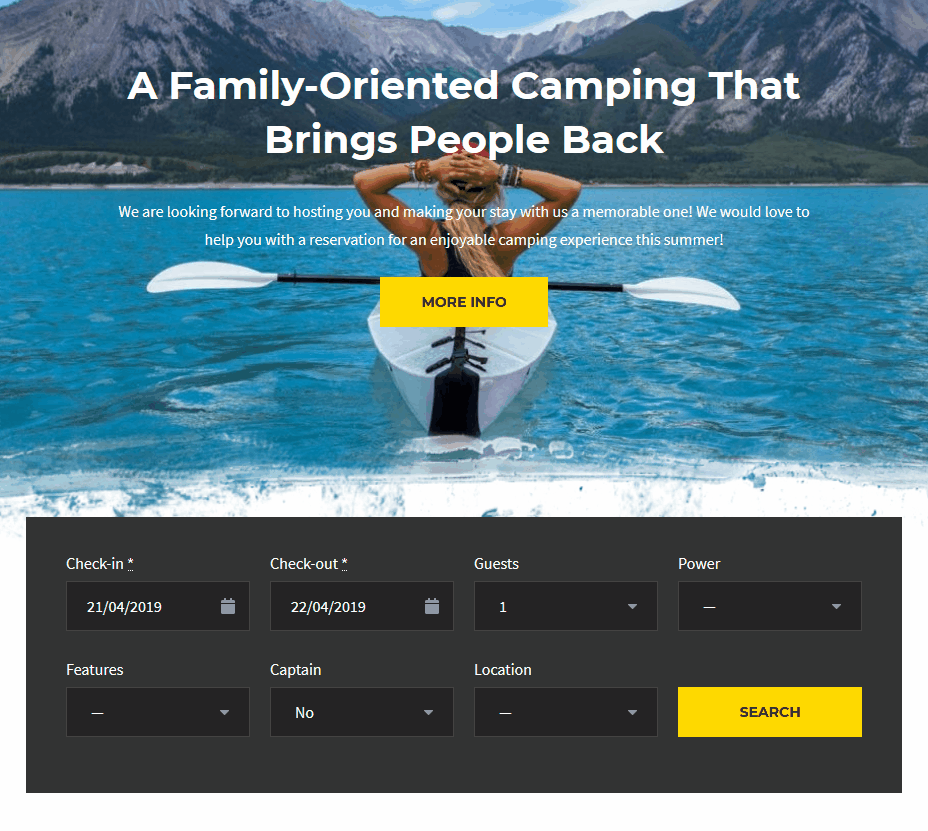 Hotel Booking sets itself apart from other similar booking plugins for WordPress by giving you complete control over the appearance and functionality of your rental search form.
With the ability to add multiple filters, it's incredibly easy to tailor the search form to any type of rental business, including pet boarding services or boat rentals, among others. That means it's not just limited to hotels or vacation rentals!
While the 'arrival' and 'departure' fields are essential and remain unchanged, the rest of the fields can be easily optimized to suit your business needs. For example, you can delete fields related to the number of adults and children, or merge them into one field titled 'Guests'.
By adding more filters to the search form of the WordPress hotel booking, not only do you make it a perfect fit for your business type, but you also streamline and speed up the search process for your clients.
Allows you to deeply customize a property presentation.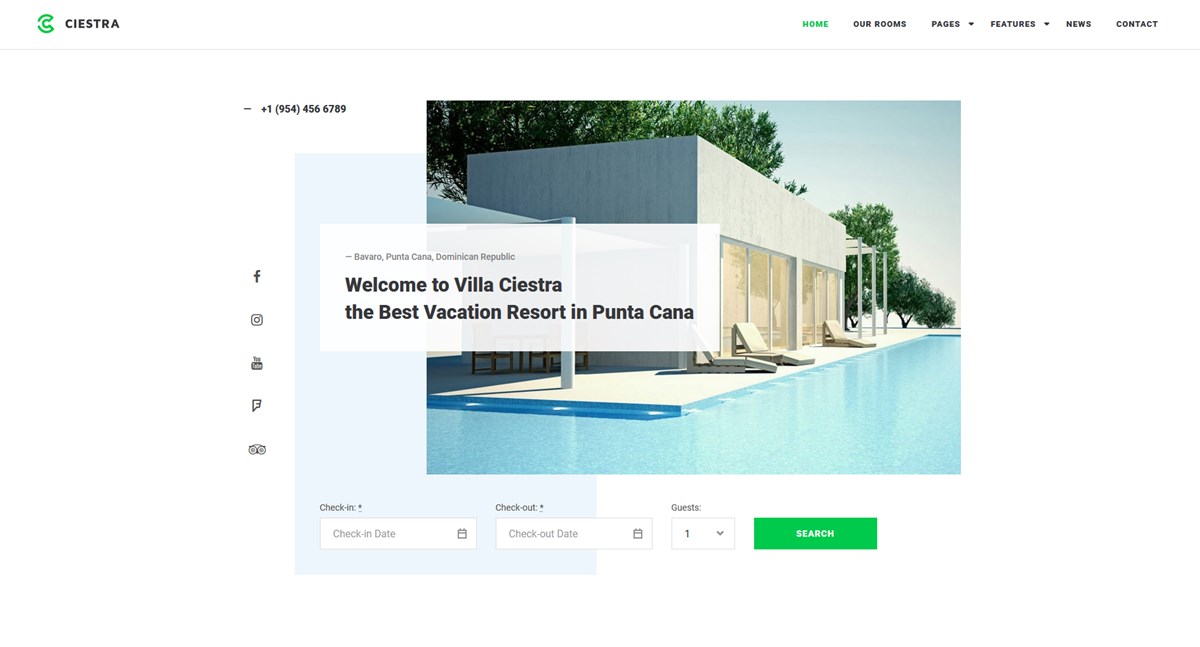 By using marketing language, we can infer that your holiday home, hotel, or other rental type is likely your unique selling proposition.
With the MotoPress WordPress booking plugin, we want to ensure that you have the utmost flexibility in presenting and showcasing your rental units, so that you can effectively highlight their unique features and drive more bookings.
With Hotel Booking, we offer you a free different approaches in this regard:
Opting for a ready-made theme with a professional design.
Using a free extension of the Hotel Booking Styles addon to customize the presentation of individual items the way you want, including design and content elements.
Create the visual vibe you need, apply your brand colors and more. You get all the tools for that.
Enables you to access a rich ecosystem of hotel WordPress themes.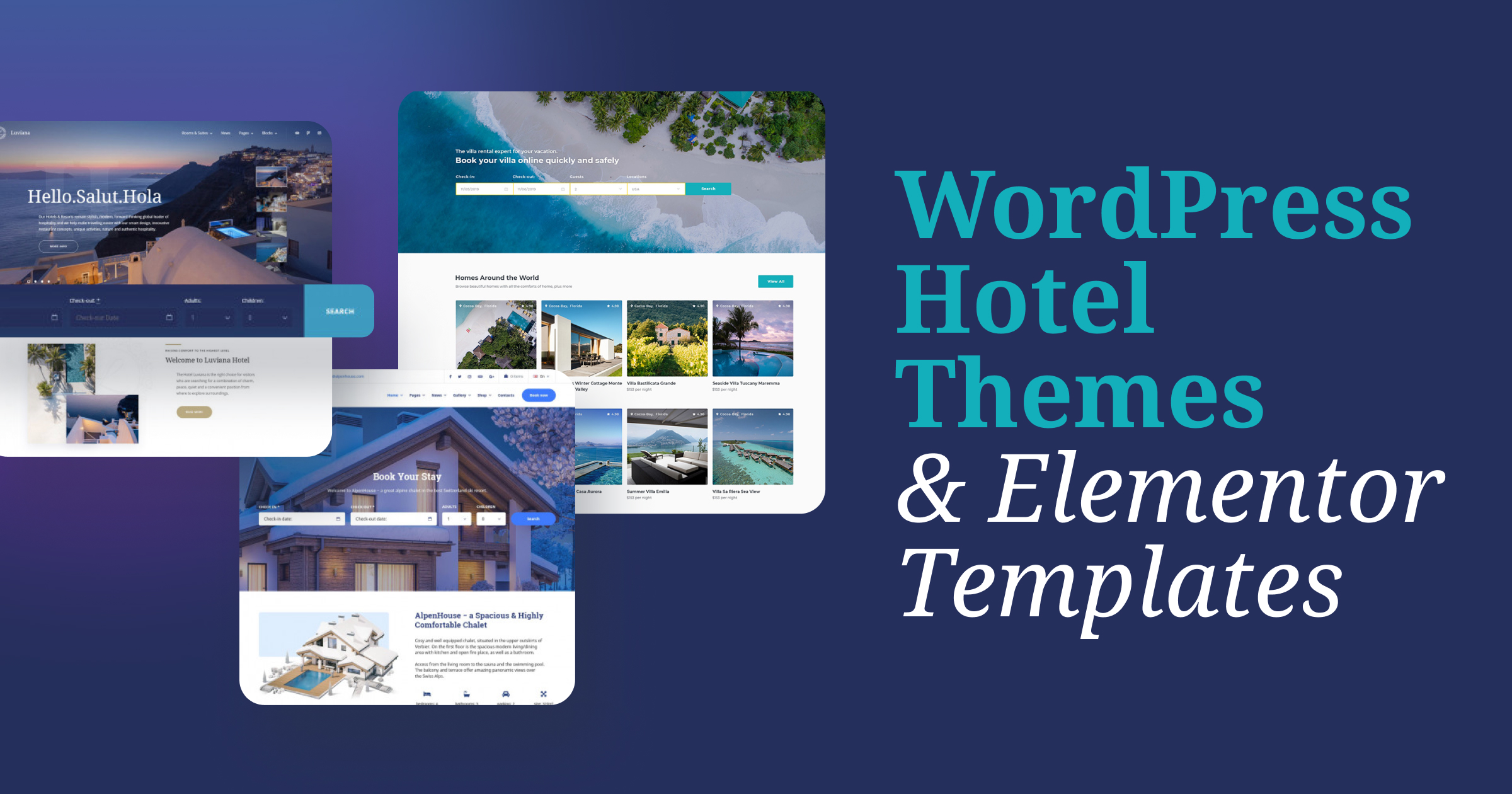 The MotoPress Hotel Booking plugin integrates easily with any WordPress theme you might be using.
However, if you are just starting out, you don't have to worry about finding the perfect theme to match your business. Our team of experts has hand-crafted a stunning collection of WordPress themes specifically designed to complement any rental business – from hotels and vacation rentals to pet hotels and camping/RV rentals.
They work smoothly with the MotoPress WordPress Hotel Booking plugin and you can optionally pick a theme for a plain sailing start.
Allows you to create a dynamic pricing system that works for you.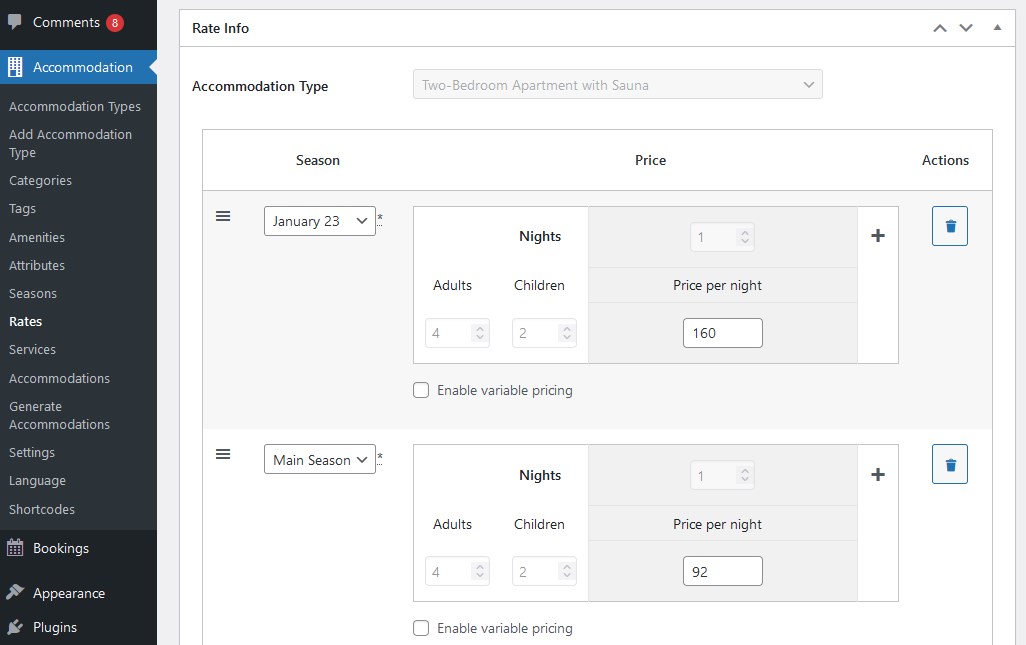 Boost your revenue with a flexible and powerful pricing system that you can apply to your property. The real highlight of the rate settings in Hotel WordPress booking plugin is that you can set multiple tiers for the property cost that will be automatically applied when the right conditions are met.
For instance, you can differentiate prices based on the number of people staying, the length of their stay, availability of facilities, or even create coupon codes that will work only when travelers book a certain number of days before arrival.
You can create multiple rules, combine and use them for maximum effectiveness for your hotel or vacation rental.
Simplifies bookings management with a mobile app for Android and iOS.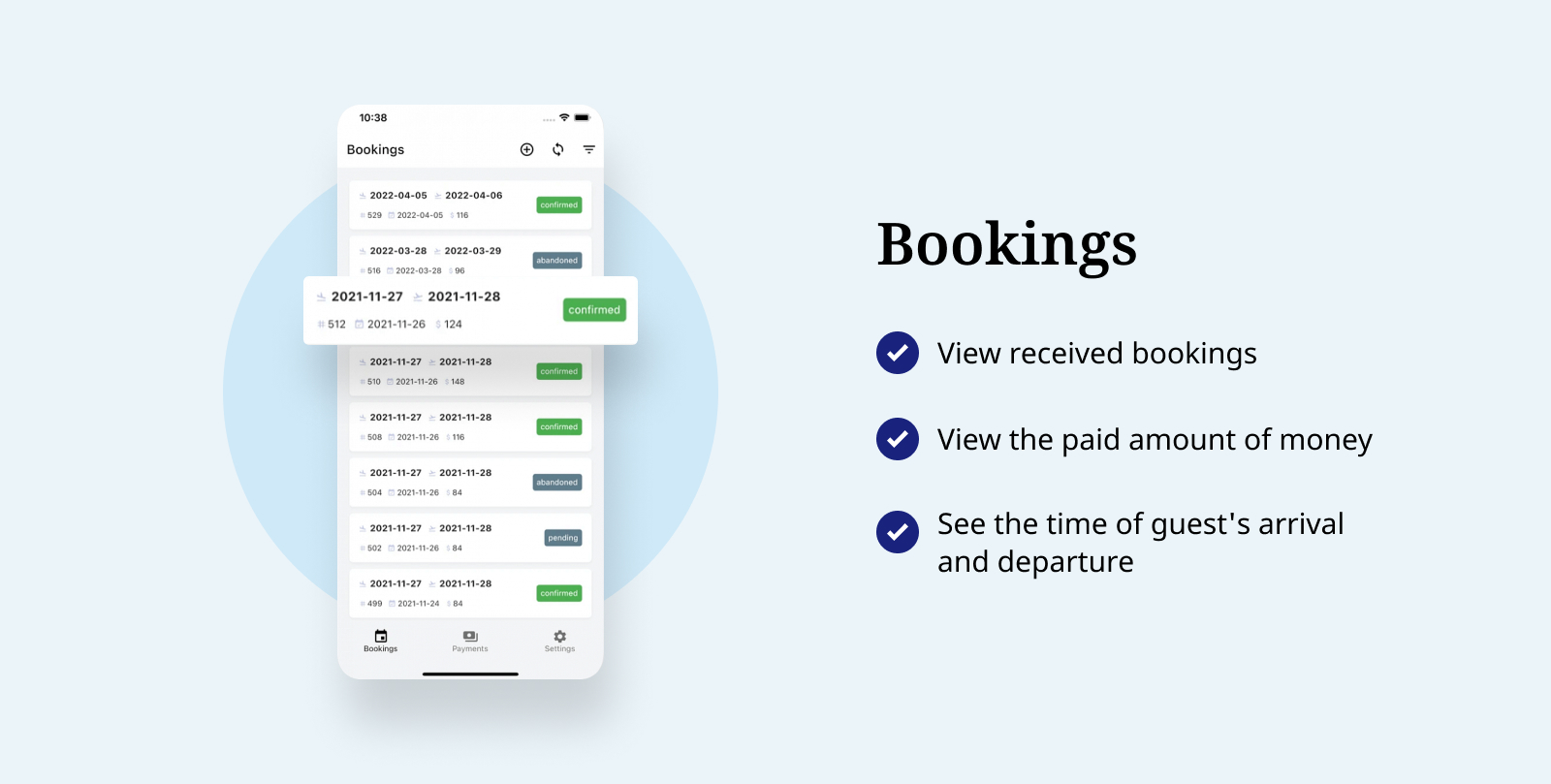 Take control of your bookings anytime and anywhere with a mobile app for Android and iOS that we've crafted for the Hotel Booking plugin users.
The app makes it possible to perform some most common booking and client management tasks without logging to your WordPress.
For example, the app allows you to effortlessly check availability for selected dates, add new bookings, view incoming reservations from your website or external OTAs like Airbnb, and even access detailed client and payment information – all without ever leaving the app.
But that's not all. Our app also comes equipped with powerful search filters and keyword functionality, allowing you to quickly find and engage with the information you need.
Whether you're on the go or just looking for a more streamlined booking process, our WordPress booking app has got you covered.
Empowers guests with personal accounts for viewing their booking information.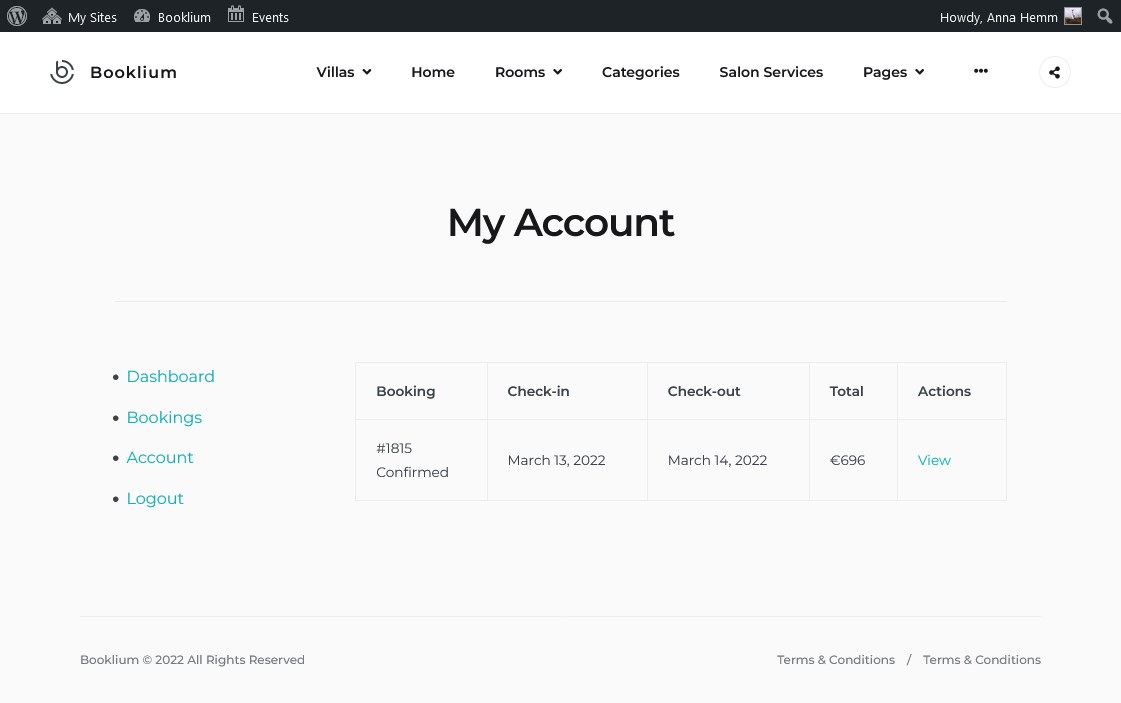 The MotoPress Hotel Booking plugin is designed to simplify the entire booking process for everyone involved, including hotel owners, staff, and, of course, customers.
To enhance the customer experience, we've included a convenient feature that allows customers to easily register an account when booking on your website. This is especially helpful for returning guests who want to expedite the booking process.
Once registered, customers can log in to their account to view current and past bookings, check-in and check-out dates, total amount paid, and more. This provides a seamless and personalized experience for your guests, making them more likely to return to your establishment in the future.
As an added bonus of WordPress Hotel Booking, there is a dedicated section for admins. Along with the standard Payments and Bookings menus, the dashboard also includes an individual 'Customers' database that lists all customers who have registered an account with your website.
Offers Rest API for smooth integration with other platforms.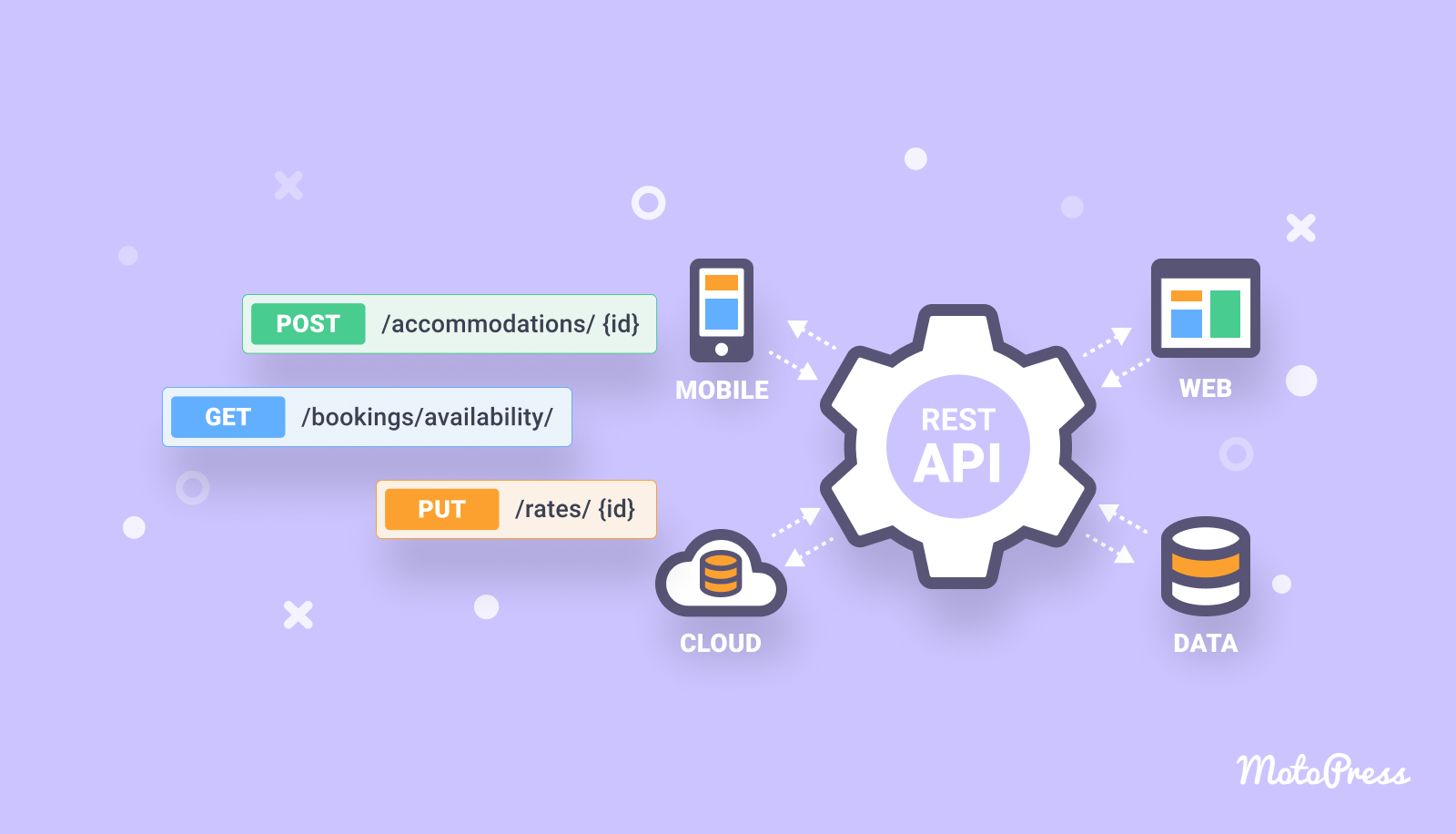 An API is a code that bridges independent systems and interfaces.
The Hotel Booking plugin offers a powerful REST API, which presents developers with an exceptional opportunity to extend its functionality and interact with various external platforms.
With this API, you can solve a myriad of tasks that your clients require, making the plugin even more valuable to them and easy to use for you.
Using JavaScript, you can easily build interactive websites and apps, leveraging the Hotel Booking API. As a seasoned developer, you're probably familiar with using APIs from various popular tools and platforms, including international payment methods and Google services, to enhance your WordPress booking website's functionality.
The Hotel Booking API can be used in several ways, such as creating dedicated mobile apps, integrating it with external services and platforms, and using it as a headless CMS, among other possibilities.
Hotel Booking REST API Documentation
Flawlessly works with all popular WordPress builders.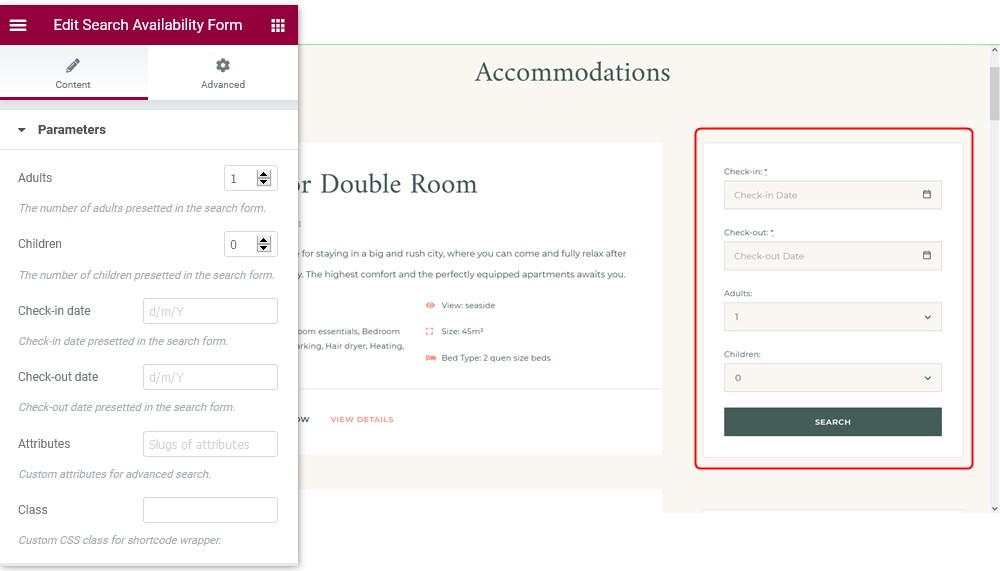 MotoPress Hotel Booking is designed to enhance your website customization experience, regardless of which WordPress builder you use, such as Elementor, the block editor, or Divi.
First of all, we ensure that shortcodes work smoothly within the editing interfaces of these builders. Furthermore, we have created dedicated widgets and blocks for each builder, offering a widget for each standard functionality, such as a search form, availability calendar, or property listing.
This means that you can build property website pages visually, using the drag-and-drop feature and the powerful capabilities of your preferred builder together with the WordPress hotel booking plugin.
Integrates any payment methods in clicks.

The Hotel Booking plugin is generous in terms of the payment gateways that come with the core plugin with no extra cost. In button clicks, you can enable PayPal, 2Checkout, Braintree, Stripe, or Beanstream/Bambora gateways. Direct bank transfer and after arrival ones are also included.
Even though the WooCommerce addon for Hotel Booking is a paid extension, it's a perfect way to connect any other region-specific gateway you might need to use.

WordPress booking plugin that provides data on the number of bookings via graphs and charts.
It's great to have a powerful booking solution at hand but it's equally important to get data-driven insights from your hotel booking software.
The Hotel Booking ships you with a nice analytics dashboard that provides filterable information on the number of bookings made, clients, revenue (with and without taxes) and more.
Not only do you get these unique features with the Hotel Booking plugin for creating your custom booking engine, they all come at an affordable cost. Moreover, without any extra fees for bookings or rental units, you get everything arranged under one centralized dashboard.