WordPress Website for a Hotel with Astra Theme & MotoPress Booking Plugin
I can see why you settled on the Astra theme for your future WordPress website for hotels. It deals perfectly with design, performance, and customization. Moreover, you can use it as a multidimensional solution for any type of business. Call it the Astra WooCommerce theme or the Astra blog template – does not matter.
Astra theme is very easy to work with, the settings are super intuitive even for WordPress novices and it can surely serve as a performance-first base theme for any sort of website.
Click for a more detailed Astra WordPress theme review.
But for the purpose of this post, we are particularly interested in how this theme can be used for creating a fully functional hotel or rental property website (with the help of the  MotoPress Hotel Booking plugin).
Testing Hotel Booking Integration with Astra Theme
To test this integration, we took a default free Astra WordPress theme (it can be also PRO in your case – it doesn't make any significant difference in our context) and the premium version of the MotoPress Hotel Booking plugin. If you are new to both or at least the plugin, you'll find something new to learn.
If you are using Astra Pro, there is a great bunch of Astra demos for any business case, including for a hotel and B&B. Despite visual awesomeness, those are still mere designs and the decent booking options are not integrated. Got access to them? Then it definitely makes sense to use these dedicated designs instead of a default one.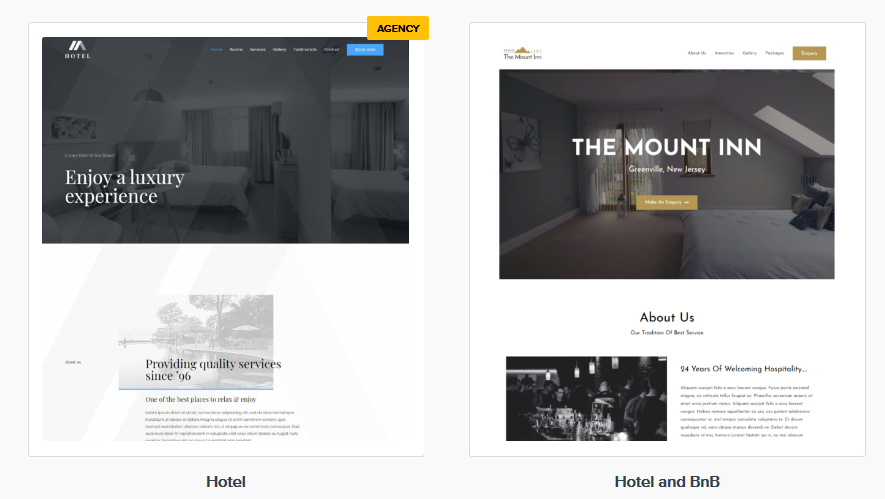 For the sake of a specific point of this post, we'll skip on a detailed walkthrough of the Astra theme customization since there are numerous decent tutorials.
To make this guide simple and easy to follow, let's stop at the booking functionality and its interplay with Astra's design. Let's look into the major "components" of a hotel booking website, how the MotoPress WordPress Booking system deals with them.

Since the booking plugin and the Astra theme both work well in Gutenberg, we'll bring the Hotel Booking-related blocks into the spotlight as well.
The MotoPress Booking plugin for hotels at a glance
The MotoPress Hotel Booking WordPress plugin is optimized for online bookings of any rental types, including hotel rooms, villas, campsites, etc., the 24-hour period being the minimum interval (that is, hourly bookings are not available at the moment).
That means if you are a rental property owner and need to build a website for your accommodation, where you can at the same time work on the property presentation, enable live bookings via the popular payment methods, automatically record the complete booking history, etc., this plugin is for you.
Not everyone knows that with WordPress, it's an absolutely different approach compared to proprietary booking engines: you are not charged per-booking or per-property commissions on your hotel booking website on WordPress
This blog can boast of numerous posts dedicated to Hotel Booking and rental property themes. The latter include themes for a rental property of any type and size: for example, Booklium, Luviana, Aquentro, etc. So before we go any further with this WordPress Astra theme for hotels review, let's make sure this is the exact guide you need right now by referring to some other important texts:
If you are short of time, don't forget to bookmark those pages for your future reference.
As for Astra, it's very flexible in terms of layout customization – so you can start with any website width and look: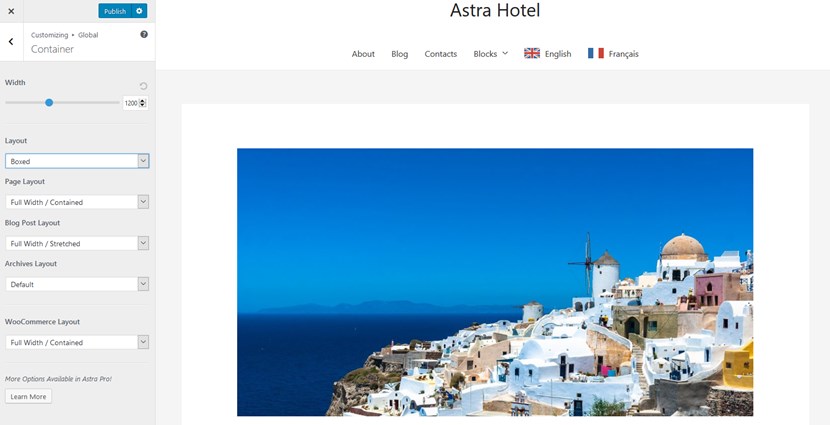 As well as customize the header of your website: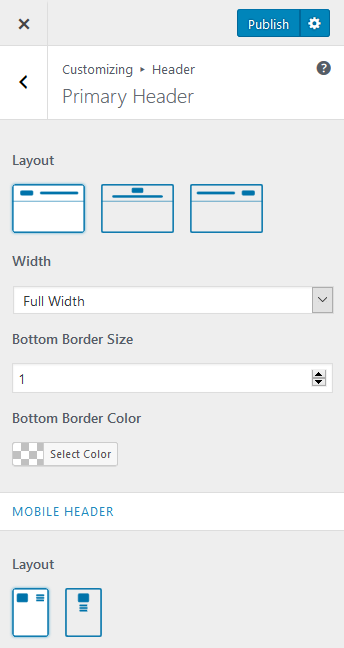 Depending on the width of a chosen container, you can pick the most suitable layout to list properties as well (e.g., one column or multicolumn). For example, for a full-width container, you can go with a grid to list properties: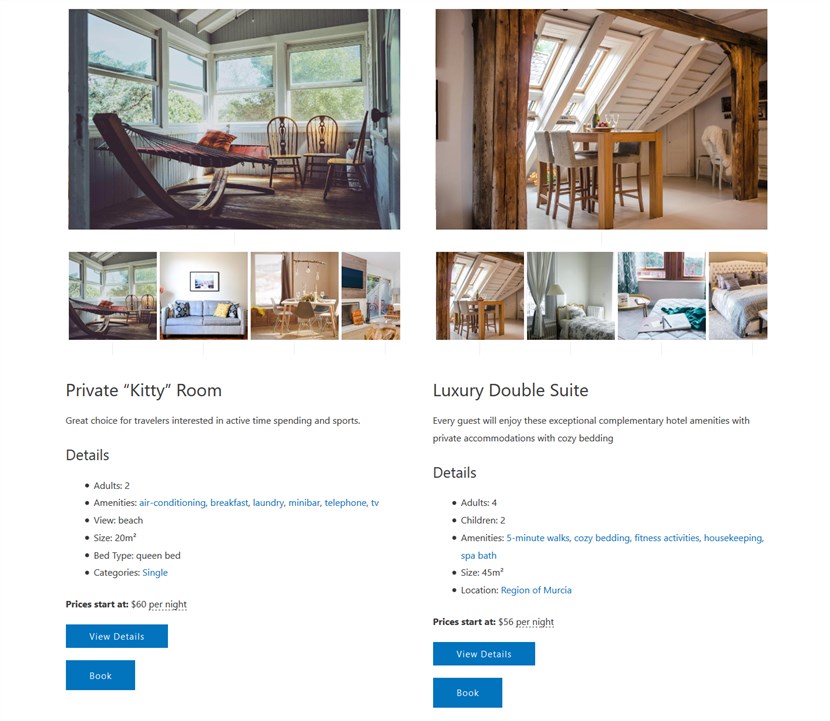 For a default layout, a one-column list might be more appropriate. Overall, even the free WordPress Astra theme is very flexible in terms of customization. Furthermore, we created a dedicated Hotel Booking Astra Theme Integration addon that will help you better manage the visual styling of the plugin's content in Astra: Download Astra Integration Addon.
But let's get back to the plugin.
Adding rental units to a website for hotel
The Hotel Booking plugin makes it easy to add, categorize and customize your rental properties.
You can display descriptions, list amenities, capacity, bed types, view, the number of guests, per-night rates, etc. You can even add and then hide any non-essential information.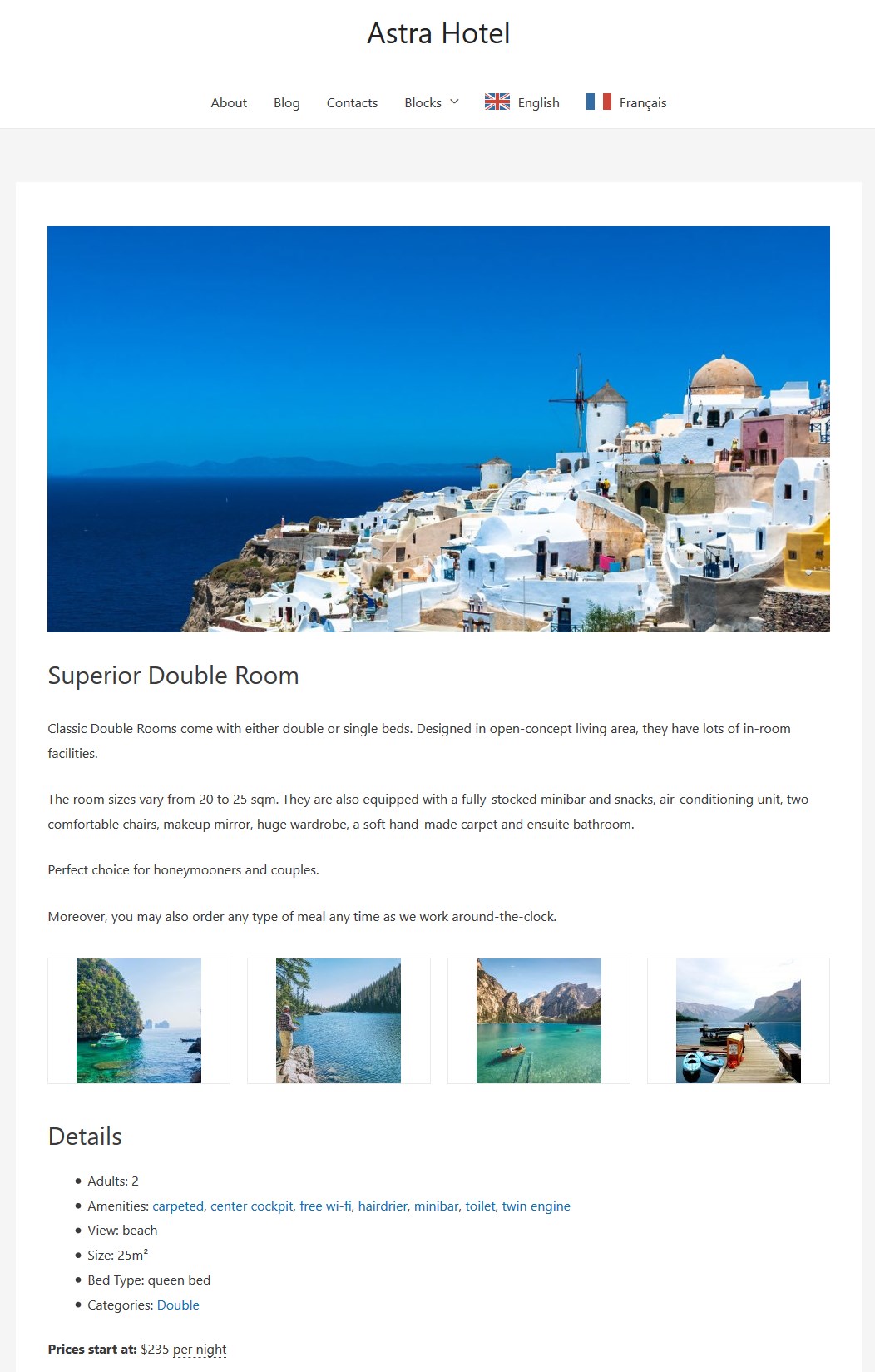 How did I create a language switcher? Check out this article to find out. By the way, the plugin is by default available in multiple languages that surely adds to its awesomeness.
By default, the plugin allows you to customize rental units in either the Classic Editor or as a Gutenberg block: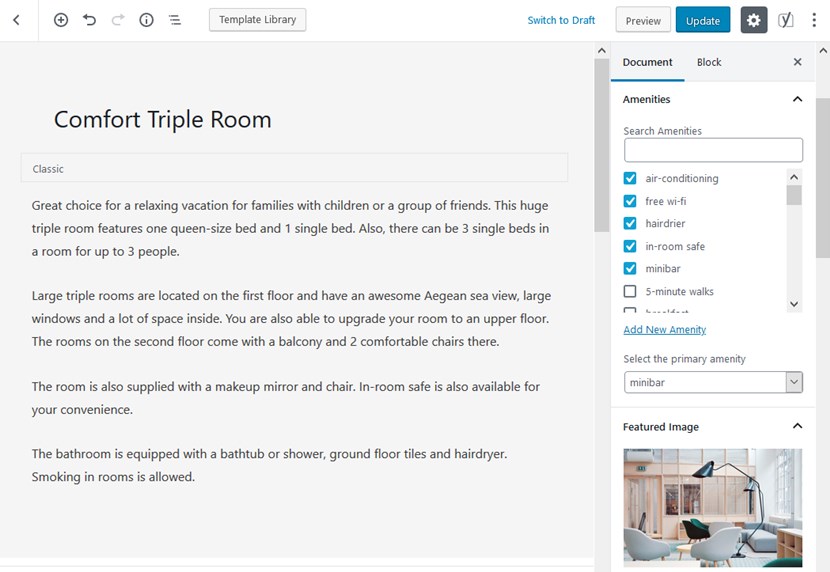 Apart from some standard fields, the plugin allows you to add and display custom information which can be also later used as search parameters/filters for advanced search:
A booking form and a real-time availability calendar can be featured on a dedicated WordPress accommodation booking page: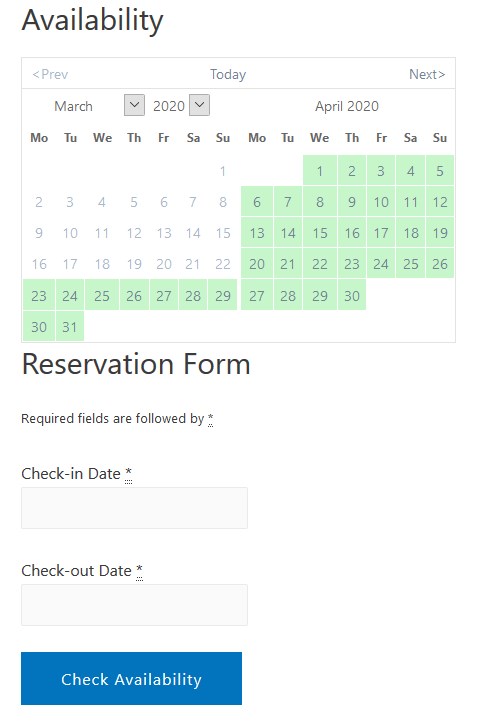 There can also be some extras to offer for free or pre-purchase (chargeable per day/per stay or per guest/once).
If you are not satisfied with the typography or the color scheme, you can always customize it with the Astra's customization panel available via the WordPress Customizer (the background image is added with the Section block by Getwid):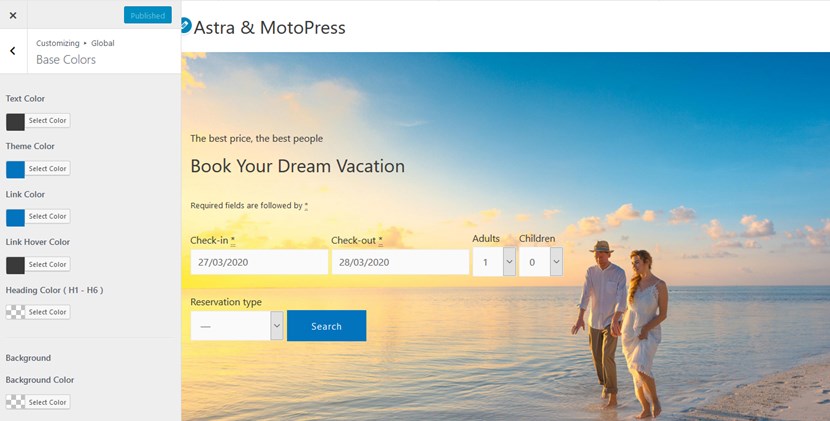 It's super handy and gives you control over the header, website width, buttons, layouts, etc. Individual settings for header and base typography are also offered.
For each property, you can configure applicable check-in and check-out days, minimum and maximum days to stay, and even take properties out of booking when needed.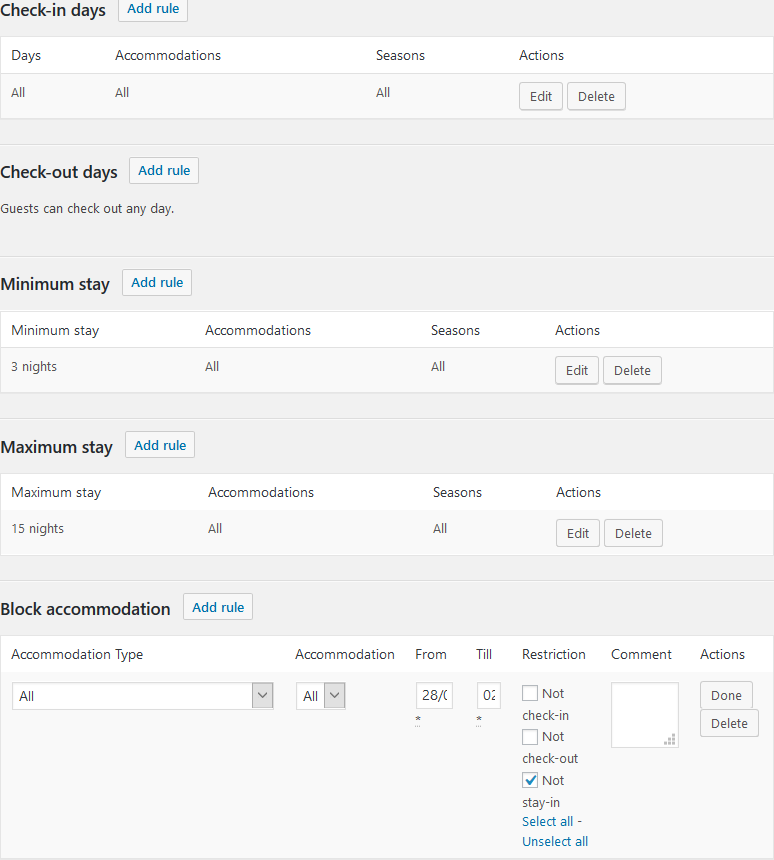 Enable property search in real time
You can optionally display a property finder form consistent with your business. In particular:
For single accommodation websites, you can display only the departure and arrival fields.
When the number of adults and/children fields are used, you can state the eligible age of children.
A common "Guests" value can be used as a search parameter
Any custom filters can be included (for example, a reservation type, location, pet-friendliness, etc.)
To suit the vast majority of modern devices better, the default property finder form is vertical. That's right, you are prepared for the mobile-first indexing that Google has just recently announced!
But you can change this with a custom class if needed. Moreover, there is a dedicated free Hotel Booking Styles addon that contains a few ready-made CSS styles to apply to the forms and widgets (works with any MotoPress hotel theme). It's really easy to work with it since you just need to copy and paste the needed class into a block or shortcode.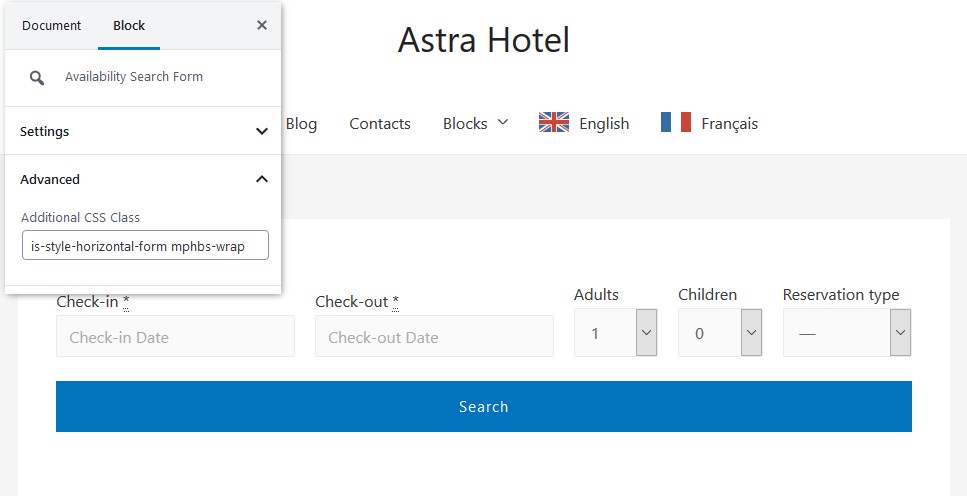 Among other things, this plugin allows you to make the property search form horizontal, remove spaces between the form fields, adjust the form to the website width, etc. Even if there is a long-form with multiple fields, you can break it into several lines.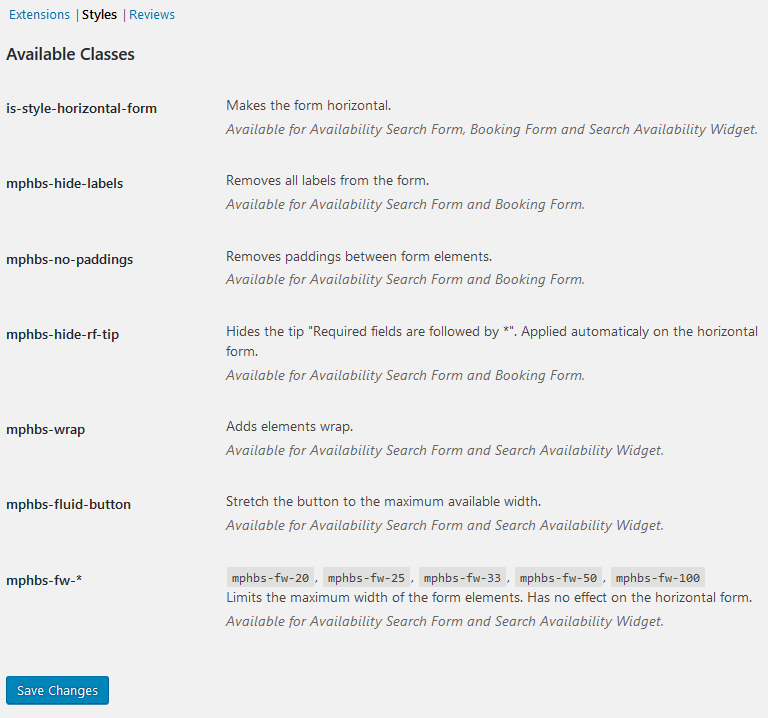 Astra can help you tailor the style of the form a bit: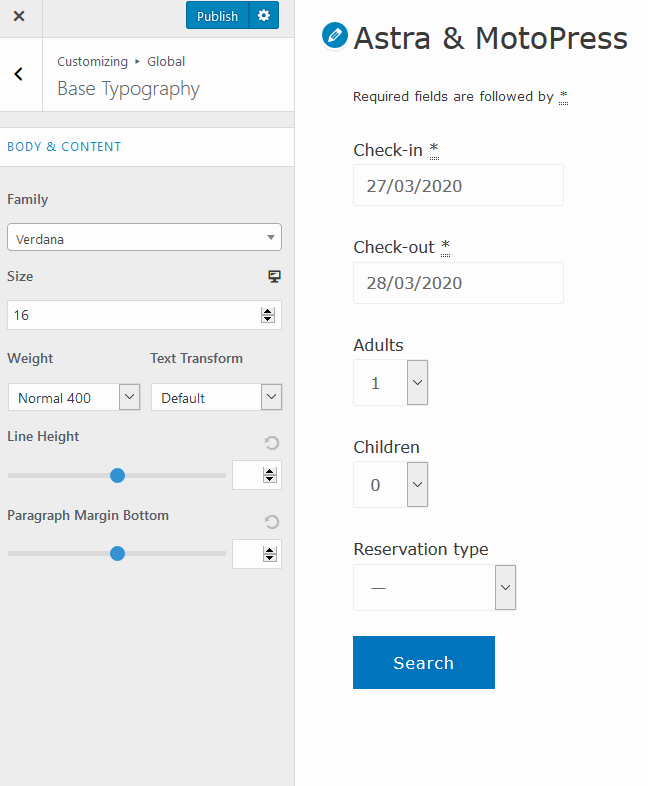 It's worth mentioning that one guest can search for and book multiple accommodations for different people (and names) at a time – and all within one transaction.
Change a calendar style in a website for hotel
An availability calendar in MotoPress is used in the search form (when guests select their check-in and check-out dates), and as static ones on the dedicated property pages (they show available and unavailable dates in real-time for individual properties – you may opt-out of displaying such calendars).
To suit default WordPress Astra theme styling (we didn't do any tweaking), you can choose such themes as: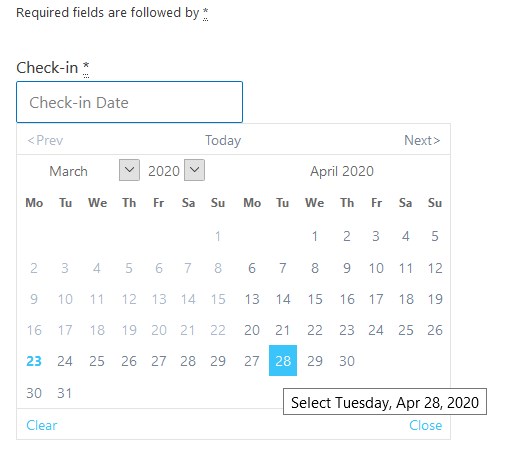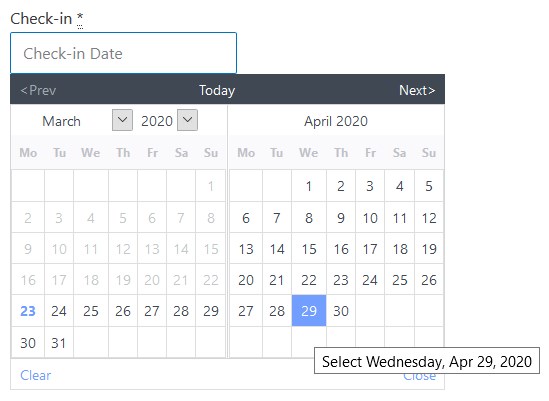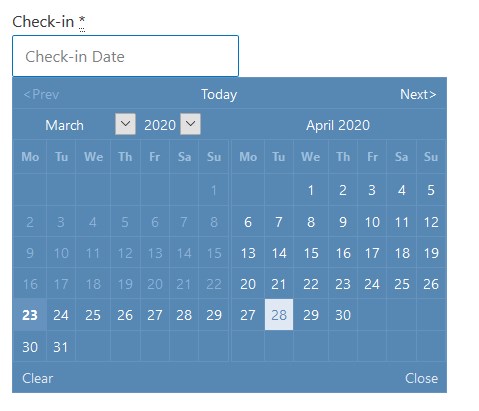 You can change a calendar color scheme via Settings > Calendar theme. If you choose an absolutely different color scheme for your website for hotel booking with Astra, no doubt you'll find the most appropriate solution.
So after you've added properties, you should take care of the pricing.
Set up flexible property rates
All your properties can be priced differently based on any custom period (a season), availability of specific amenities, the length of stay, and the number of guests staying.
Thanks to tiered rates, you can offer automatic discounts for a longer stay or charge less when one person books a multi-room apartment, for example.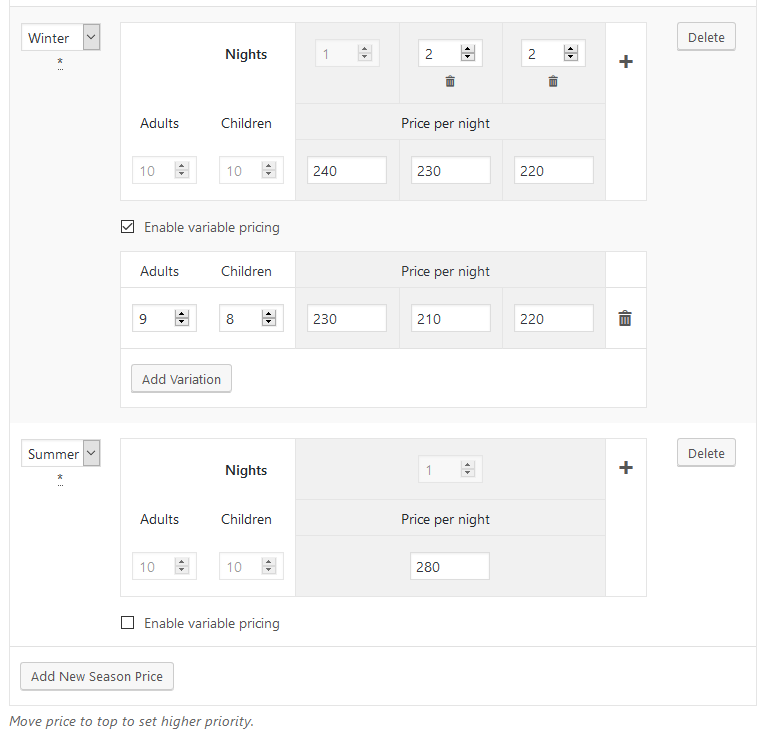 Custom coupons for holiday seasons or VIP customers are also a great marketing tool to cheer up your guests!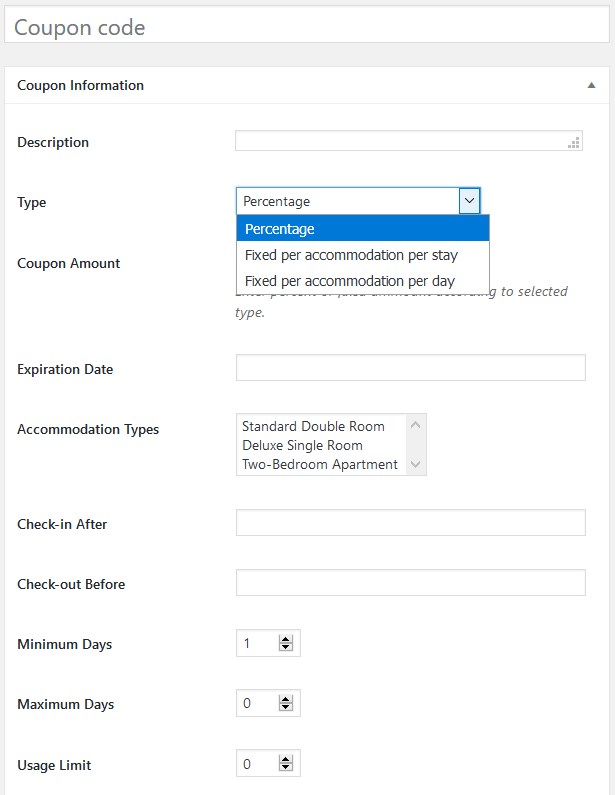 The prices on the website are updated automatically to meet the search needs of your guests: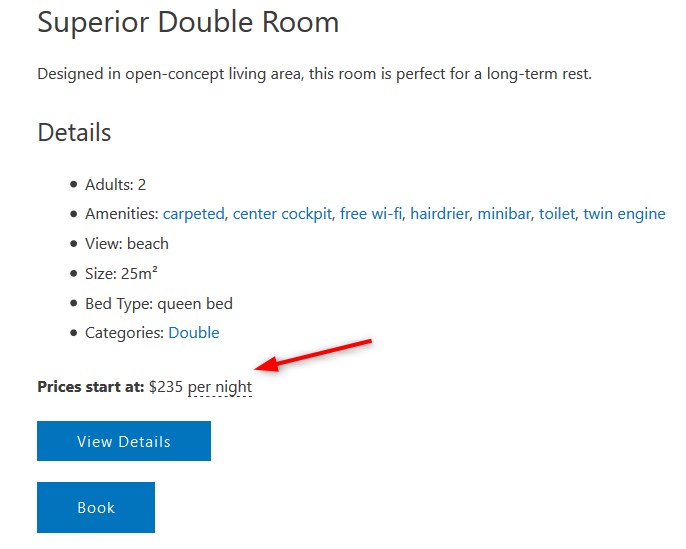 How does the Hotel Booking plugin work with payments?
First of all, if you don't need online bookings, you may not enable this functionality. Or, you can allow guests to pay after arrival – that means you can set bookings on autopilot, but don't charge people online (or request a wire transfer).
However, if you are looking for a fully automated system, the plugin is ready to handle that on the most intelligent level. For example, without any extra cost, you can enable PayPal, 2Checkout, Braintree, Stripe, and Bambora (formerly Beanstream) to process payments online. To integrate more gateways without a headache, consider Hotel Booking WooCommerce Payments add-on.
You can also include taxes and fees into the accommodation price and display them at checkout: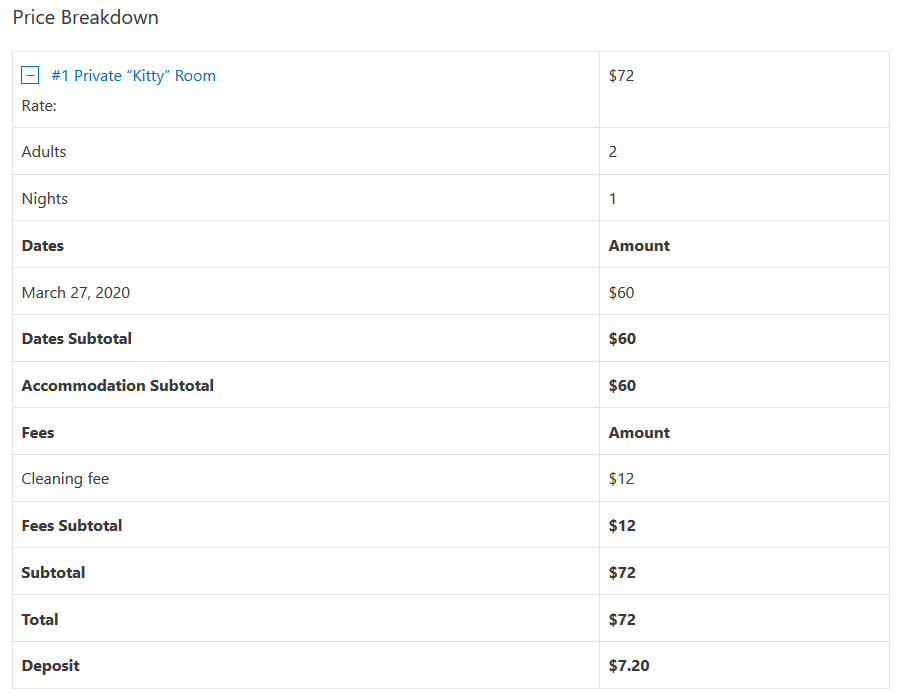 How to handle bookings
You can leave it up to the plugin (so that all confirmed via email or paid bookings are filed) or choose to manually check and confirm all bookings.
There is complete payment history and a color-coded admin calendar of booked and available properties.
Sync bookings to online travel agents
That's possible to avoid pricey middleman channels and still have your bookings in sync with third-party OTAs like Airbnb (if you use them). See how to set up this connection via iCal.
Property reviews and other tools
The WordPress Hotel Booking plugin by MotoPress is not alone, it comes with an array of useful addons that might come in handy in certain cases.
For example, if you are looking to integrate unbiased accommodation reviews, there is a dedicated Hotel Booking Reviews add-on that will make the process of integration super easy: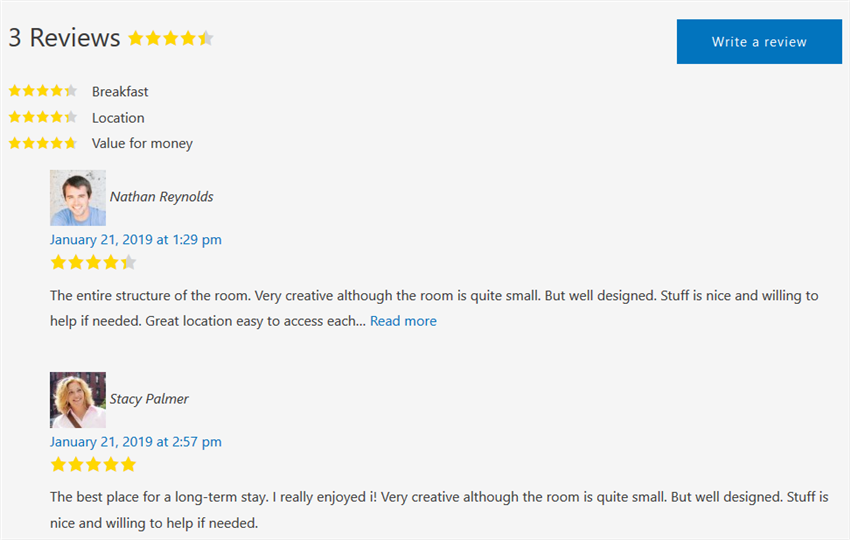 What I love about this add-on is that it's developed through the medium of default WordPress comments, which means reviews will look as good as default comments in Astra.
What's more? You might also want to save some time and integrate scheduled automatic outstanding balance requests with the dedicated Payment Request add-on (very useful when you charge deposits).
If you have any page builder preferences, the Hotel Booking plugin, as well Astra, works great with Divi and Elementor. To learn in advance whether it supports the needed functionality, check out the full list of integrations and tools.
How to reduce introductory costs for a WP-website for hotel
Both MotoPress Hotel Booking and the Astra WordPress theme are freemium solutions, that is, available as paid or free.
We used free Astra – and the bare minimum available in a free version might suffice for a starting-point website for the hotel (note that a free version does not offer Astra theme support). As for the MotoPress booking plugin, we used Pro to show you its full potential.
However, it also has a free version with the minimum tools so if you are on a tight budget, this can be a cost-effective solution. Check out the difference between the Hotel Booking Lite & Pro to understand where it's suitable for your needs.
Conclusion: Build a better WordPress website for hotel with the Astra WP themes
The Astra WordPress theme is in charge of the visual appearance, and, in some aspects, performance (the speed and usability) of your site. The Hotel Booking plugin is doing all the technical job related to bookings and property management.
Let's summarise some reasons why Astra and Hotel Booking can be a great combo for a website for hotel.
Astra is a trusted theme which means you can rely on it in the long run for your hotel business.
Astra works with all most popular page builders, so does Hotel Booking (if you are on Elementor, Divi or even default Gutenberg editor, you'll face no problems).
The minimal look of the default Astra styles is great for Hotel Booking blocks.
There are a few Astra hotel designs that lack functional booking integrations, so if you are a lucky user of Astra Pro, you can have better integration with the Hotel Booking plugin.
Hotel Booking covers all the needed modern tools for running a rental property booking website on WordPress.
Ready to start?
What builder do I need to use Astra with Hotel Booking?
You don't need any specific builders to customize Astra with Hotel Booking. With Astra, you can choose any to your liking. As for the shortcode customization, Hotel Booking supports the block editor and Elementor widgets – they will allow you to add booking forms, property search widgets, and more.
What Astra themes can I use for a hotel?
Astra offers a few dedicated Astra theme demos for hotel needs: Hotel and Hotel & BNB templates. They come with pre-made property layouts, etc. The Hotel Booking plugin perfectly integrates with these templates.

How to customize typography for the Hotel Booking forms?
All the styling settings are done via the WordPress Customizer, where Astra gives you tons of settings as for the colors, typography (text size, fonts) and more.