How to Create a Multilingual Hotel WordPress Site with Weglot Website Translator
As an accommodation business, you are most likely right now losing clients if you do not use any intelligent website translator and your website doesn't speak their languages.
Translating your website into several WordPress languages, however, can attract a wider audience of international travelers within a short period. This is the recommendation #2 in the list of effective methods of improving your vacation rental or hotel website traffic.
If you run a non-English site that doesn't have a version translated into this "lingua franca", you don't even need to research to conclude that you are missing out on a huge market of travelers not only from the English-speaking countries.
If you run a website in English, though, remember that Spanish and Chinese native speakers still make the top in the "List of languages by several native speakers". Food for thought.
So…how do you serve a page with content in multiple languages? Whether you want it to be a multilingual WooCommerce website or a small blog with an international audience, the next tutorial will be of great help.
How Do You Translate Your WordPress Website into Other Languages?
To be frank, here at MotoPress, we widely recommended WPML. The integration with this language translator plugin in WordPress was thoroughly tested on both ends (the WMPL team confirmed proper integration and we've got a certificate for that), but we're aware that MotoPress clients use different solutions to go multilingual.
That's only natural – if one plugin works for one type of business and needs, it doesn't automatically apply to another.
So we start reviewing other nice WordPress multilingual plugins popular with users of all calibers, including MotoPress clients.
If you are looking for another effective WordPress multilingual plugin to employ on your lodging business website created with MotoPress, we're going to tell you about one more decent option: Weglot Translate.
This is a nice WordPress language plugin that allows for translating your website content right on the front end of your website so you never lose the context of what you translate or edit.
In this particular article, we'll be chiefly looking into a free version of Weglot Translate to help you understand how far you can go with a free solution and will have a look at elite features from premium versions as well.
Let's walk you through step by step.
Weglot's major benefits and limitations
Let's start with some pros and cons of the Weglot website translator so you know what to expect from this WordPress translator plugin.
Here are some important benefits we've managed to define:
A free version of Weglot is quite limited, but it still gives you a chance to get started for free with a good bunch of options.
Very quick and simple setup.
Super user-friendly translation editing experiences.
Although both machine and automatic translations are possible, the main focus is on the latter to help you launch website design in other languages much faster (depending on your aims, it can be either an advantage or disadvantage). So if you need to instantly translate a website with Google Translate, Weglot is the best match.
In addition to regular WordPress posts and pages, Weglot has no problem translating custom post types, widgets, taxonomies, custom fields and more pieces of content that are generated by third-party plugins like Hotel Booking.
By using a cloud Weglot website translator account, you get everything related to translations consolidated in one place.
It makes sure that the translated content is SEO-friendly (not each WP translation plugin can do that well).
Consider the following limitations of Weglot:
You can translate only 2000 words within a free version.
Since Weglot runs on the SaaS model, you need to register an account with them and add your translations via the Weglot cloud interface. I don't know for sure whether it's good or bad, but the tech world is moving in this direction. Overall, the workflow is very easygoing in that interface.
The cheapest Pro version is € 99 per year.
Now, let's get deeper into the settings of this WordPress language switcher plugin.
To illustrate the process with examples, we'll be using:
Palmeria – our free WordPress hotel booking theme that is bundled with the MotoPress Hotel Booking Lite (a free version of the premium plugin). Check out the difference between the two. However, feel free to use any theme and plugin version.
A free version of Weglot Translate (you can use any, though).
Set up the plugin and create a Weglot Website Translator account
After the plugin is installed and activated, you need to go through the basic configuration under "Weglot" menu.
For things to work, you need to obtain your API key by registering a free account with Weglot (takes a minute).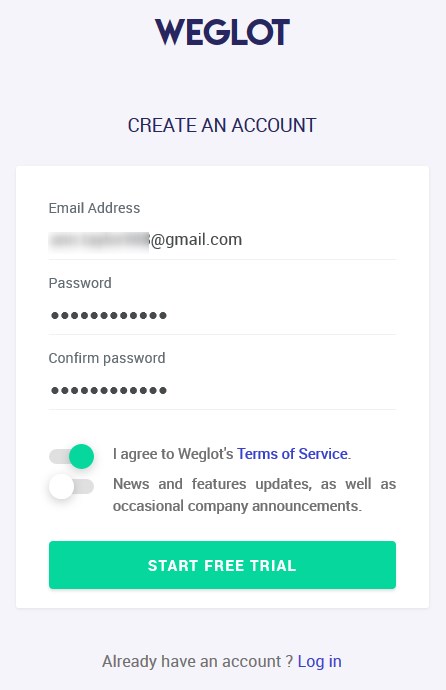 Then validate your email address and an API key will be automatically generated; then you need to place it into the respective field in the plugin settings.
To finalize the procedure, designate the original and destination languages. In this menu, you couldn't help but notice that "On the free plan, you can choose one language and use a maximum of 2000 words." If you need more, consider the cost of upgrading right away.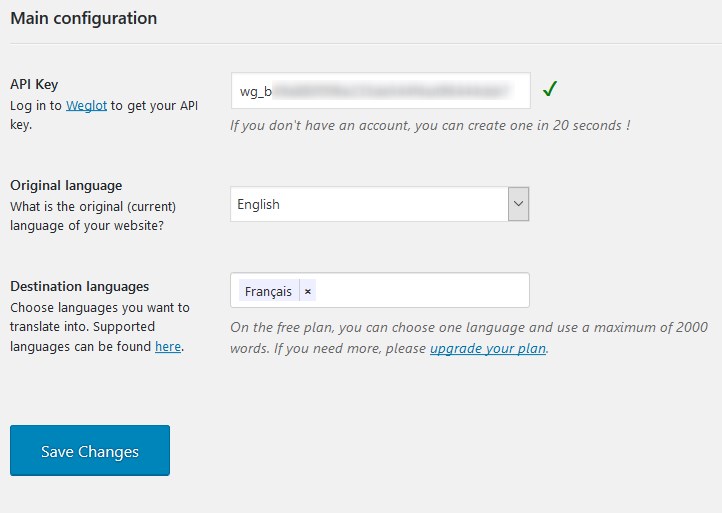 That's it!

And it doesn't just mean a language switcher, your website is already automatically translated into the target language (machine translation by Google Translate, which is not a commodity in other free WordPress translation plugins).
You'll be able to test that if you go to the front page.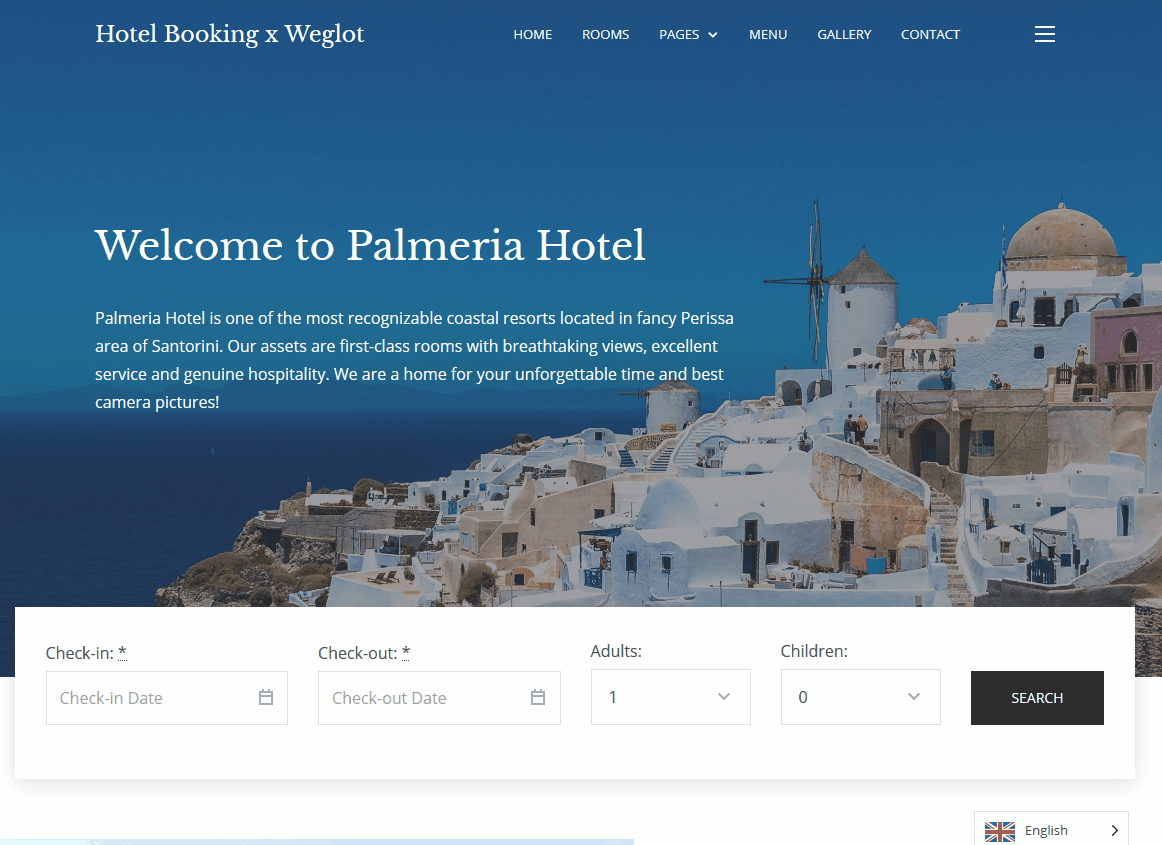 All your translations are accessible via the Weglot website translator interface in your account.

After this step is complete, you'll be presented with many more settings in the dashboard.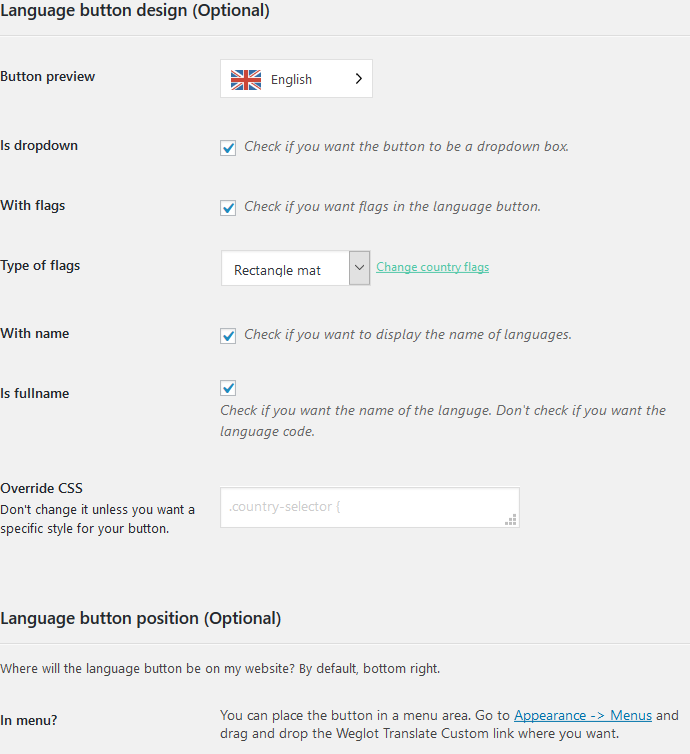 For example, you'll be able to change a default language button design and apply more general settings:
Opt for a drop-down menu format for a language switcher or place languages in a row.
Remove flags (kudos for this option!).
Change shape of a button.
Add custom CSS and more.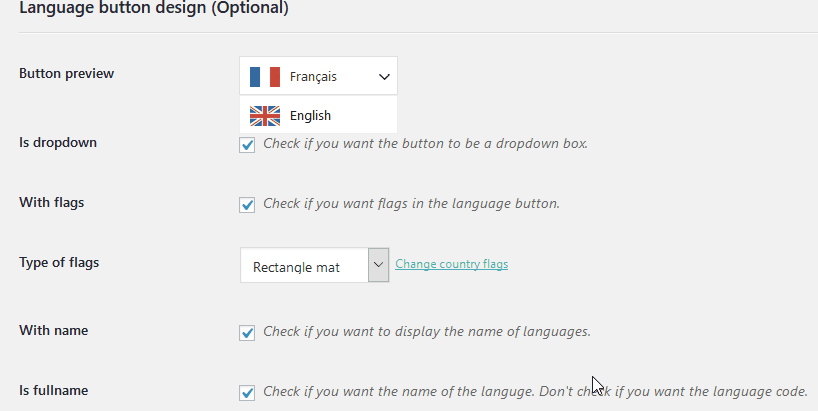 Select multi lanuage website areas where the language switcher must be displayed (a menu, widget, shortcode). They also provide direct links to where you can apply your preferred settings, so I can sum up that they take good care of the user experiences.
For example, in Palmeria it looks really cool in a widget area, which is accessible from the front page hamburger menu.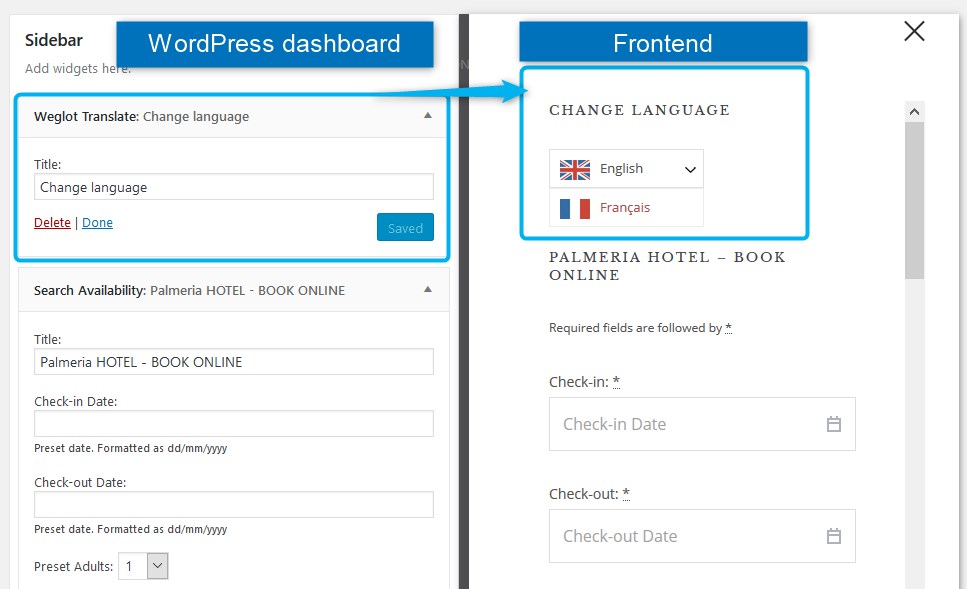 Exclude pages or parts of pages from being translated.
Set extra translation settings for better usability and SEO parameters. You can even optionally translate AMP versions of your website (if you still don't use WordPress AMP, you lose mobile visitors.)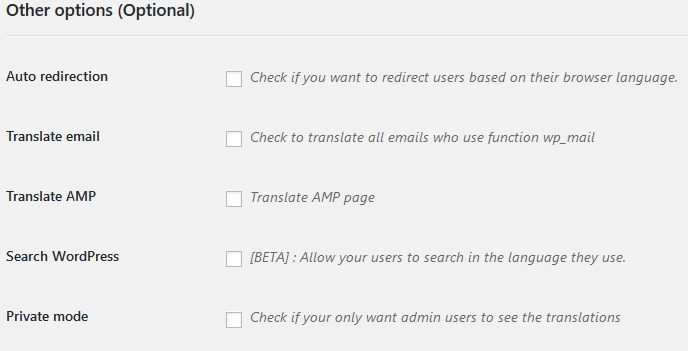 Add translations or edit automatic ones
As you already know, to edit automatically generated machine translation, you need to log into your Weglot website translator account – all texts are stored there.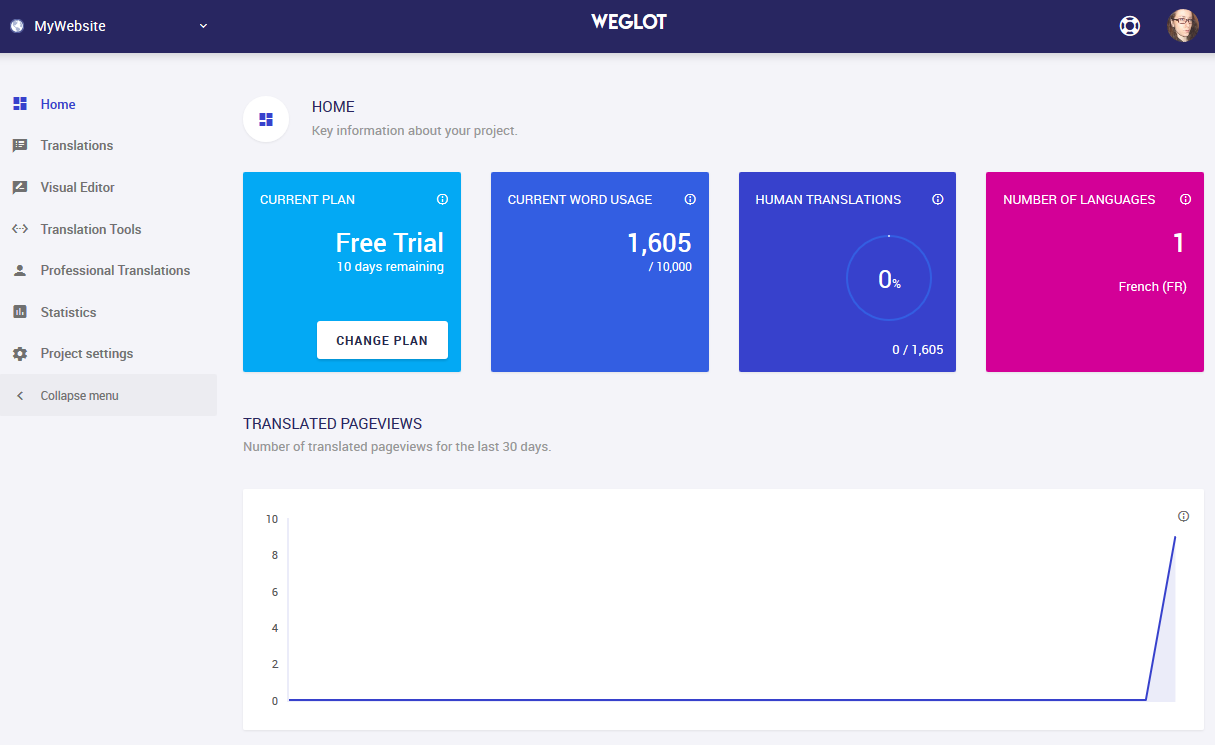 As for some SEO parameters like URLs, they can be translated right into the WordPress dashboard.
Here is how you'll be able to add and edit translations:
Use a handy visual frontend editor, which gives you access to different pages, posts, custom post types and taxonomies. Even when an automatic translation is satisfiable, you can localize it to make your text appeal more naturally to a target audience.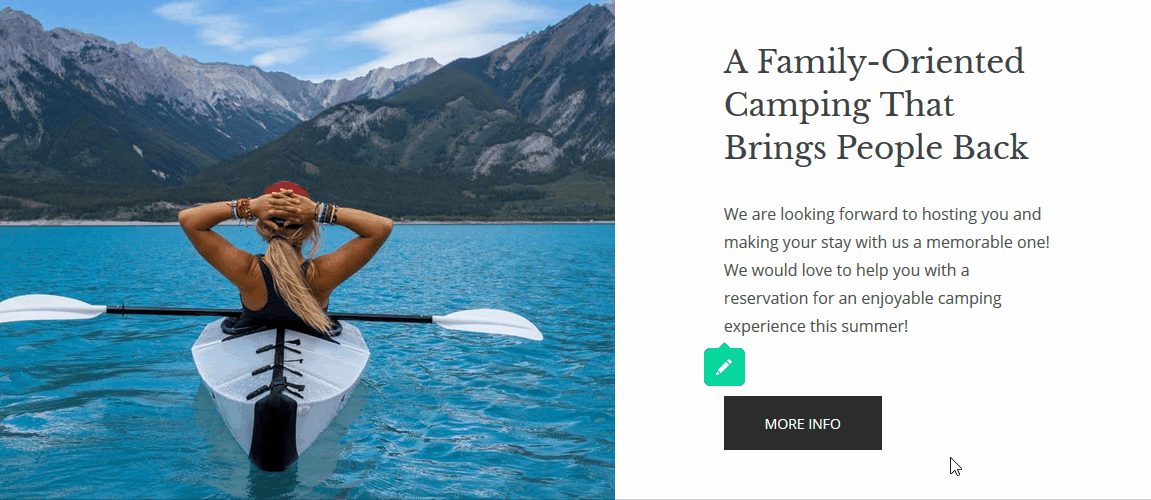 Content added via Hotel Booking is also translatable on the frontend: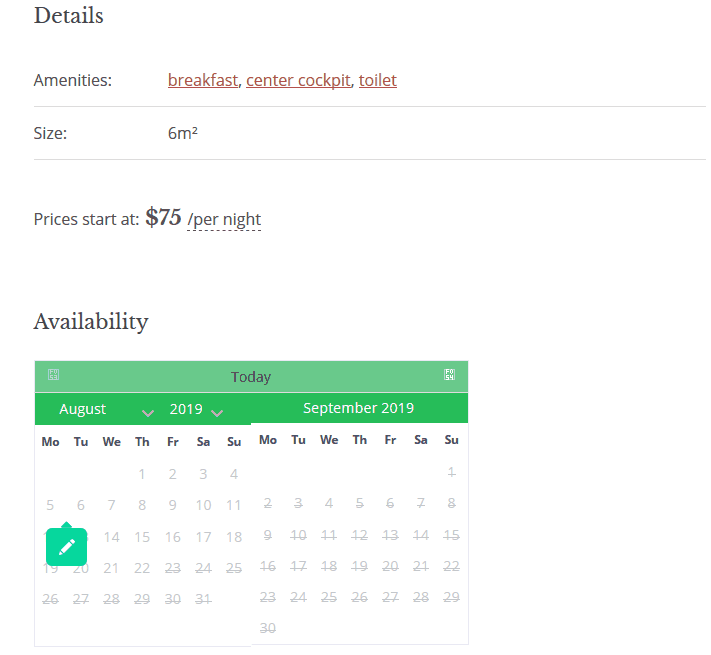 So you can literally "hack into" any part of your language select website, including menus, header, and footer widgets.

Or you can optionally check the machine translations for accuracy right in the Weglot website translator dashboard interface (pretty much a traditional Poedit catalog editor) bit by bit.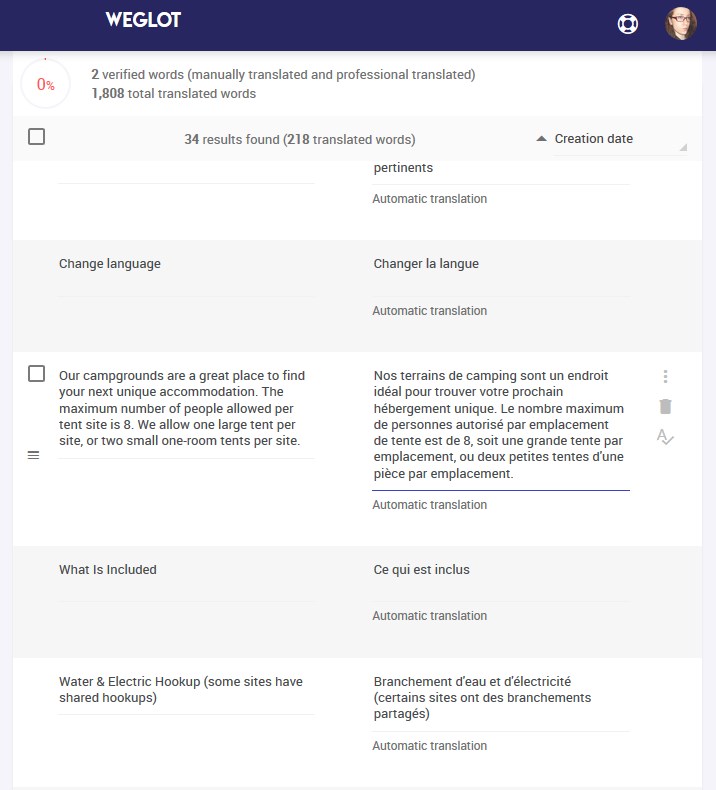 So it's up to you how to make the whole procedure more suitable for your particular needs.
Under the Translation Tools, you can create your own glossary of "exception rules" containing terms that must be always translated in a specific way or never translated at all. This will help you accelerate and automate the process of manual translations and editing.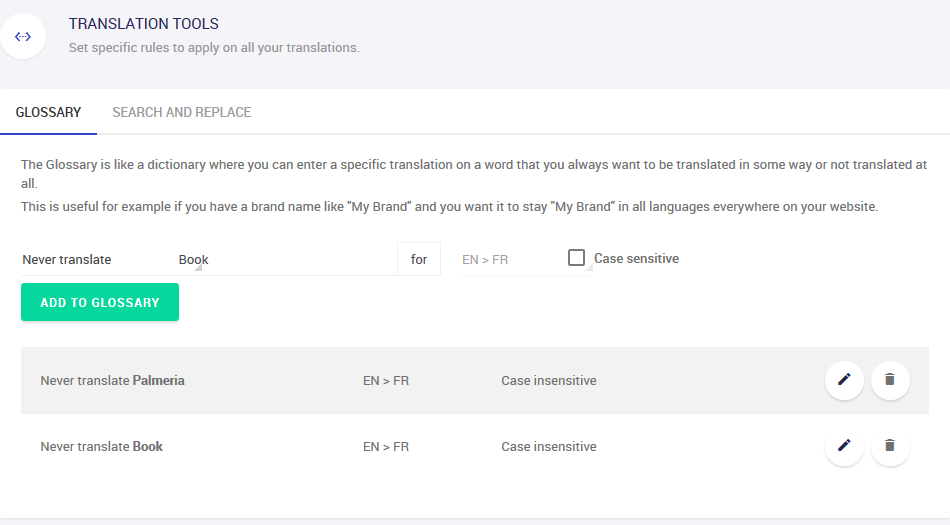 If you want to hand this hard and time-consuming work of human translations to experts, there is a chance to outsource it without leaving your Weglot dashboard. This is an extra premium service, of course, where you'll be charged per word.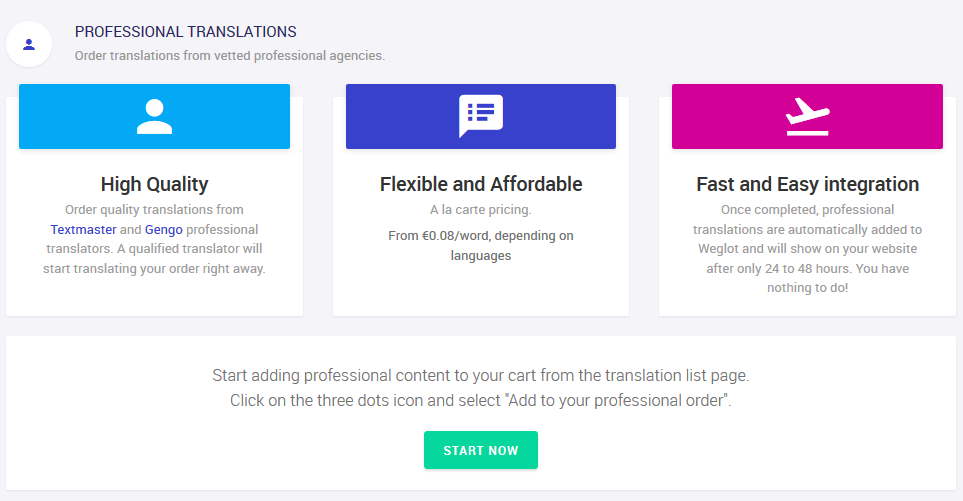 There is also a dedicated Project Settings menu, where you can enable more helpful tools like automatic language switch (based on the user's browser language), translation for media files, etc.
Quick overview of the premium features of the Weglot WordPress website translator plugin
If your hotel booking website is content-rich and you use all range of the tools offered by the MotoPress PMS and property reservation system, these are enough reasons to consider a Premium plan. Why?
First, because a content-rich website most likely means you have a lot of text strings to translate and, secondly, an online booking website, which is accessible and understandable to modern travelers, obviously makes sense.
Now when you are familiar with how things work in general with Weglot, let's have a look at Premium plans.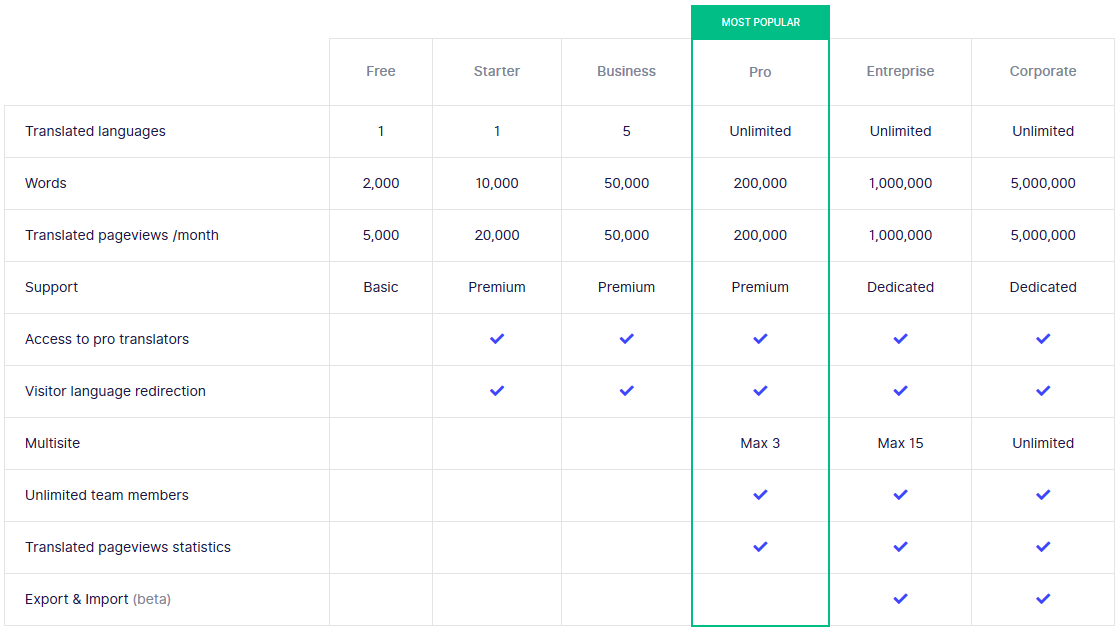 As you can see, their major benefits are more flexibility and freedom: the price varies depending on the number of translated words and monthly translated pageviews. And here are some more features:
The Corporate plan can be used for multiple multi language website examples.
Since the Weglot website translator runs on the SaaS model, your translations work while you pay for your subscription (but if you decide to stop using the service, they can export your translations).
All Pro plans cover support from the Weglot team.
Starting from the Pro plan and higher, you can add unlimited team members to help you manage a project and see the translated pageview statistics.
Wrapping up on the Weglot WordPress website translation plugin
Now, you no longer need to ask yourself the question "How do you serve a page with content in multiple languages?" because you've got a solution.
The WPML WordPress multi language plugin provides a splendid user experience in terms of translation interfaces, very soft launch and setup, out-of-the-box machine translation, proper documentation, SEO-friendly tools and settings, and a good bunch of other helpful features. It's ready to translate website design into different languages with minimum effort.
On the cons side, if you need the all-inclusive toolkit from Weglot Translate, it has a cost, as usual with quality services. So if you find premium solutions more suitable, we believe you'll have all you need. The plugin will help you speak the language of your guests and increase direct website bookings by international travelers.
If you have any questions or ideas, don't hesitate to share them in the comments, hit the Chatbox, or shoot us an email – we love to talk!

Can Weglot help me add automatic Google Translate translations to the site?
Yes, if you are looking to instantly translate a website with Google Translate, Weglot has been doing a lot of improvements in this direction, so feel free to give it a try.

What WordPress translation plugins can I use with Hotel Booking?
You can use any translation and multilingual plugin, free and premium. On our end, we tested Hotel Booking with WPML, Weglot, and Loco Translate. All these WordPress translate plugins work quite smoothly with Hotel Booking.
I installed Weglot, where do I access my translations?
All your translations are accessible via the Weglot website translator interface in your account. Just click on the "Edit my translations" button" and that's it.