11+ Best Grocery Store WordPress Themes (2023)
Food delivery apps are on the rise, so you can catch up by building your own website and selling food online. A wide selection of the best grocery store WordPress themes will assist you with this task. In our article, we introduce Frutta Verde — a Grocery Store website template, specifically optimized for delivery and takeout services.
This grocery WordPress theme serves as an excellent example of the best templates available in this niche. It possesses all the features needed to attract modern shoppers, boasting an appealing design and fully meeting their needs.
Also, we have added a second and a third part to our overview, where we will showcase additional examples of the best grocery store WordPress themes. Here is the corresponding table for immediate reference, should you wish to familiarize yourself with the top selection from our list right away:
In WordPress, online grocery shopping and delivery options can be quickly established through WooCommerce — the most popular e-commerce solution used by over 1.5 million websites. This is exactly the solution Frutta Verde is powered by.
Reminder: Besides Frutta Verde, MotoPress offers templates for multiple eCommerce businesses:
So which food delivery business model does the theme suit best?
Part 1. Frutta Verde — One of The Best Grocery Store WordPress themes for food markets and caterers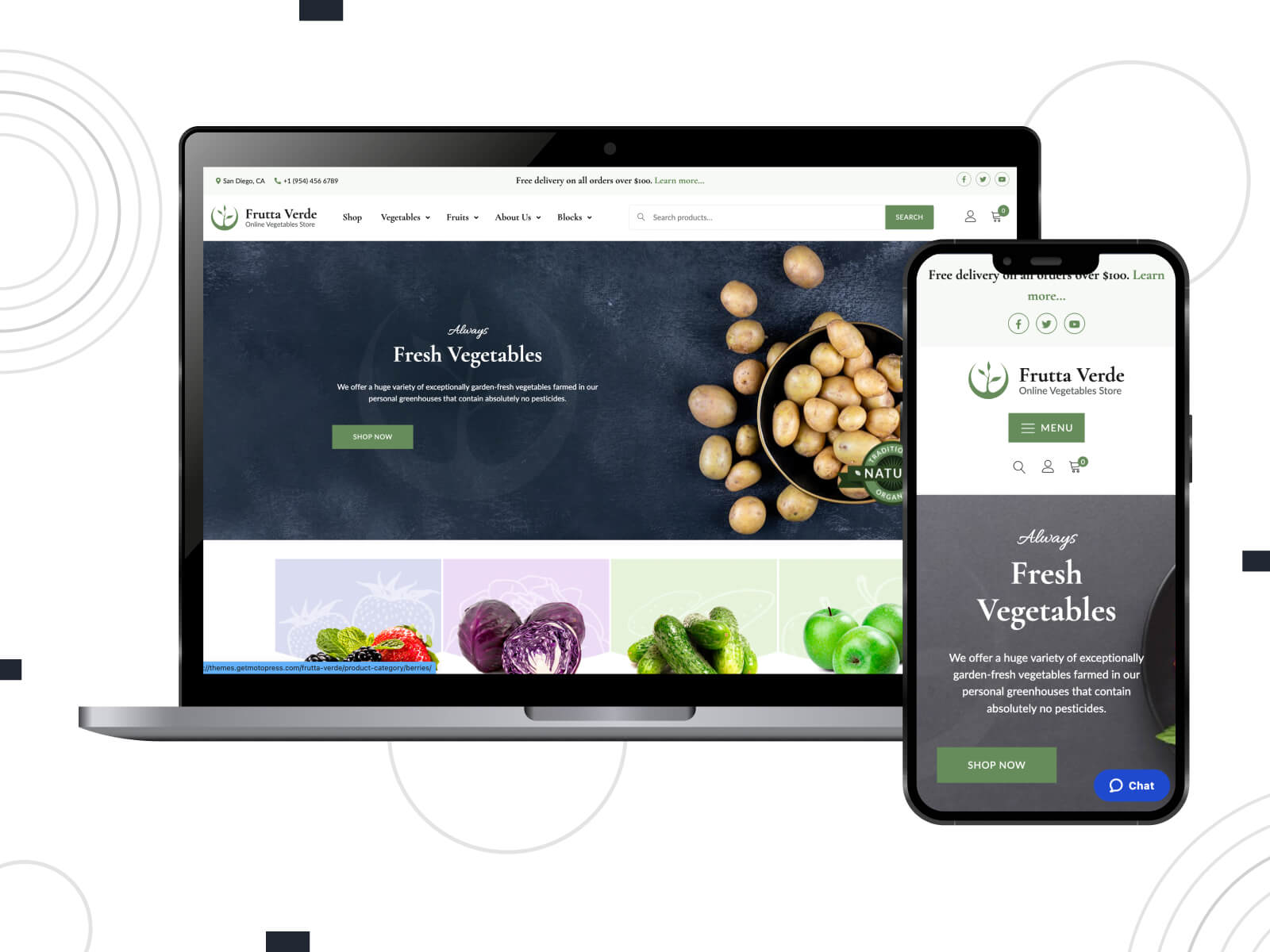 Despite quite a precise name, the Frutta Verde WordPress grocery theme is a perfect solution for a broader range of businesses, from grocery markets to caterers. In particular, this skin will help build a profitable website for the following enterprises:
Fruit and vegetable shops
Organic food markets
Food catering companies
Farmer's markets
Greengrocers.
This grocery theme WordPress allows you to manage online orders, ship fruit, and vegetables to different delivery zones, enable customers to pay online via popular payment gateways, see the total turnover, and do even more from a single dashboard.
Let's briefly outline what this WordPress theme can help you achieve out of the box:
Fully customize the look of your website.
Add and manage the shop items along with their names, images, quantity, and prices.
Manage shop categories, subcategories, brands, and coupons.
Enable secure payment gateways.
Maintain inventory and view sales reports.
Deliver directly to customers throughout different delivery zones and states.
Extend the theme with any WordPress food delivery plugins.
It works pretty similarly to the standard eCommerce WordPress templates. Let's dig into details to see whether this WordPress theme for grocery stores is suitable for your needs.
How To Make A Grocery Website in WordPress
WooCommerce for beginners: video tutorial
What WordPress plugins will you get with this WooCommerce template?
Frutta Verde grocery theme WordPress is not a melting pot of suspicious plugins, it comes with a dedicated pack of tools to help you build a scalable website:
WooCommerce for all things eCommerce (plus, a few supporting WooCommerce add-ons).
Getwid for flawless customization in the WordPress block editor.
One Click Demo Data Import to make your website as gorgeous as a demo in a few clicks.
Get ready to see all of them in action!
Design and customization that won't get on your nerves
As one of the best grocery store WordPress themes, Frutta Verde offers a fresh, lightweight design optimized for performance. The template is jam-packed with features that will help you personalize it completely or stay with a more or less default design (up to you!).
In terms of the overall structure of our themes, we consistently avoid using overloaded customization tools. While we want you to have control over every visual detail, we strive to ensure that it doesn't become an overwhelming task, requiring you to constantly struggle with editing.
The Frutta Verde grocery theme WordPress relies on two key WP-native ways to build a site: WP Customizer for global settings and the core block editor (Gutenberg) accompanied by Getwid Blocks to do the rest. Both are visual customization experiences.
And that also means another massive deal: you are safe in the long term since we don't lock you down with any non-native third-party customization builders.
One step at a time, you'll figure out how it works and will be able to create all the essential pages with a feeling of being fully guided through the process.
Global design settings (WordPress Customizer)
It's common for a WP theme (at least for now, while Gutenberg is an ongoing project) to provide the Customizer environment for editing some key aspects of the website, such as colors, design identity, logos, etc.
Frutta Verde WordPress grocery theme gives you the ability to modify the following things via the WP Customizer:
The logo and colors
4 navigation menus (fully customizable)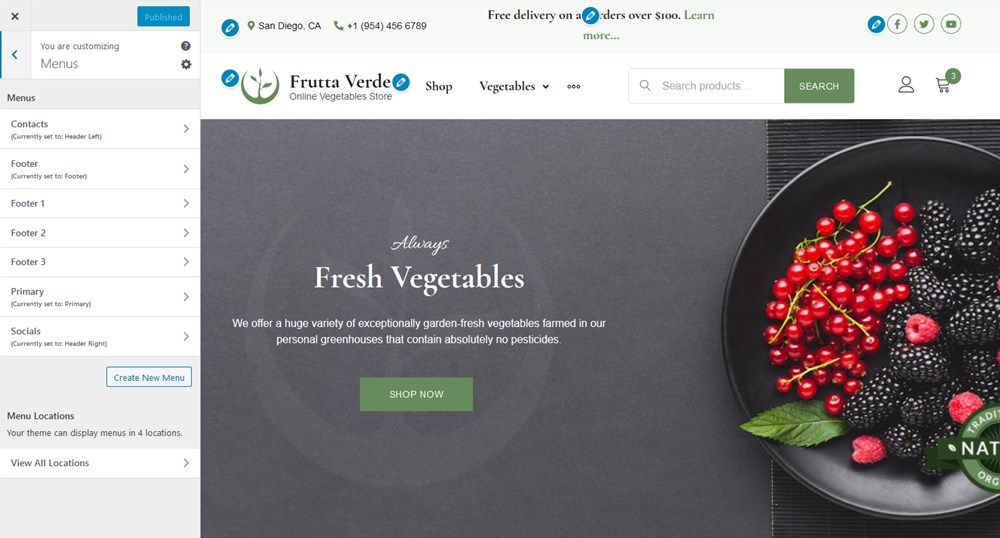 7 widget zones (header and footer); here are the footer zones: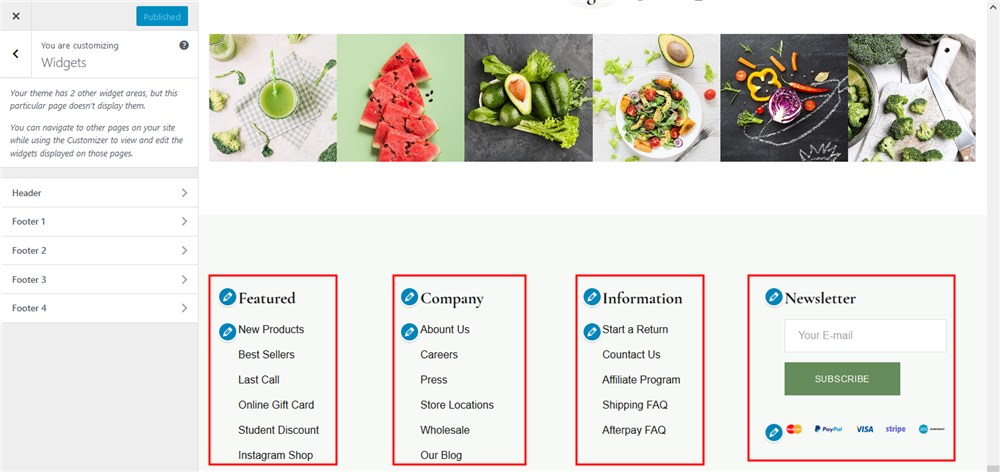 WooCommerce-specific settings (more on this later).
The eCommerce-oriented front page
You can notice right away how structured, clean-looking and fast the front page is. Let's stop on a few defaults, but keep in mind that you can customize it your way.
The front page of this fruits and vegetables WordPress theme welcomes customers with a full-width hero slider (can be changed to anything – an image, video, etc.).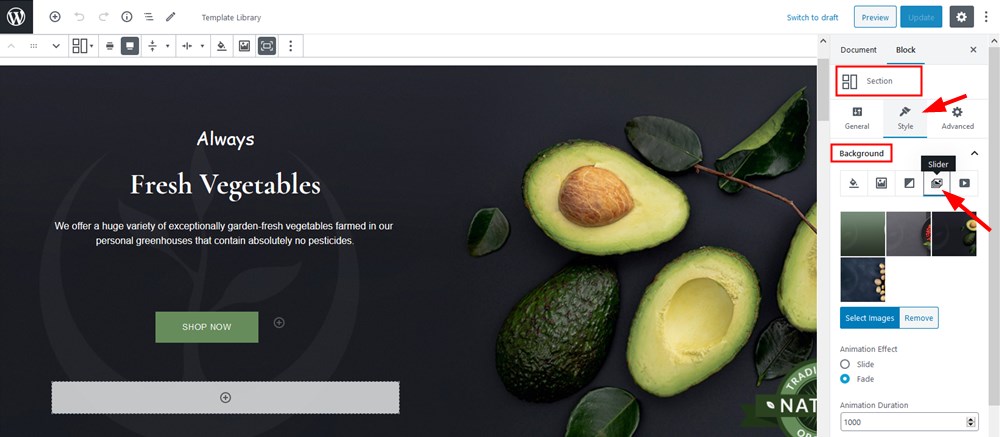 To quickly jump to a specific category, there is the showcase of shop categories (a WooCommerce shortcode) –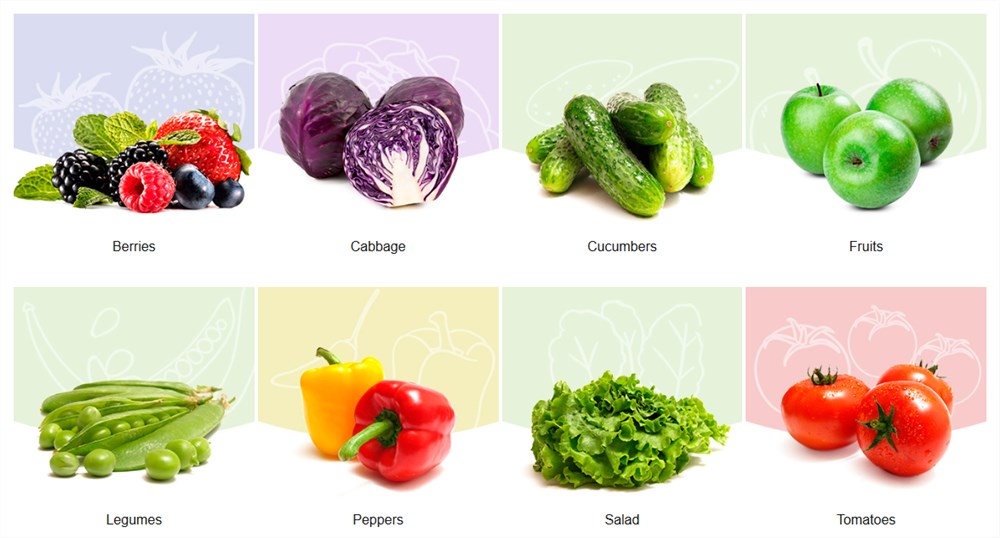 Another conversion-boosting element is a list of the best-selling products automatically sourced via the Products Carousel: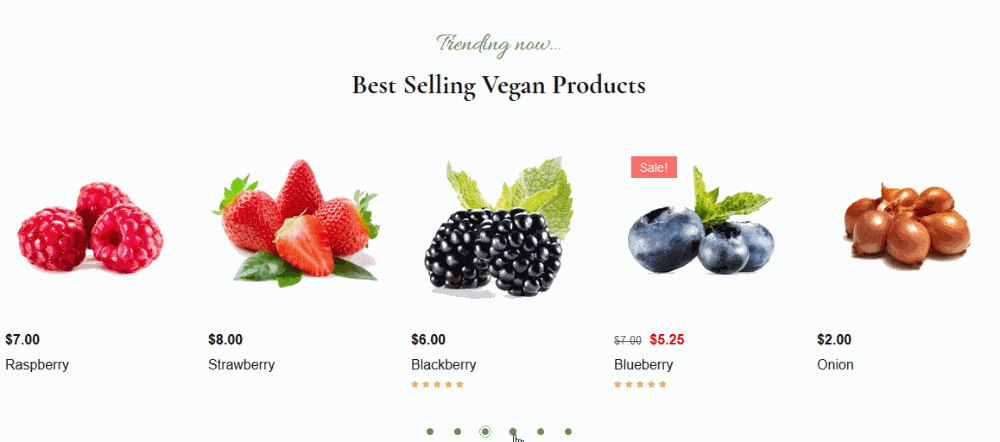 This block has multiple settings, including the ability to show products only form a specific category or by tags, include or exclude the needed ones:

The key store highlights section, which you can use for pretty much anything from stories to services, is built with the Image Box Getwid block. It also allows you to link the section to any page: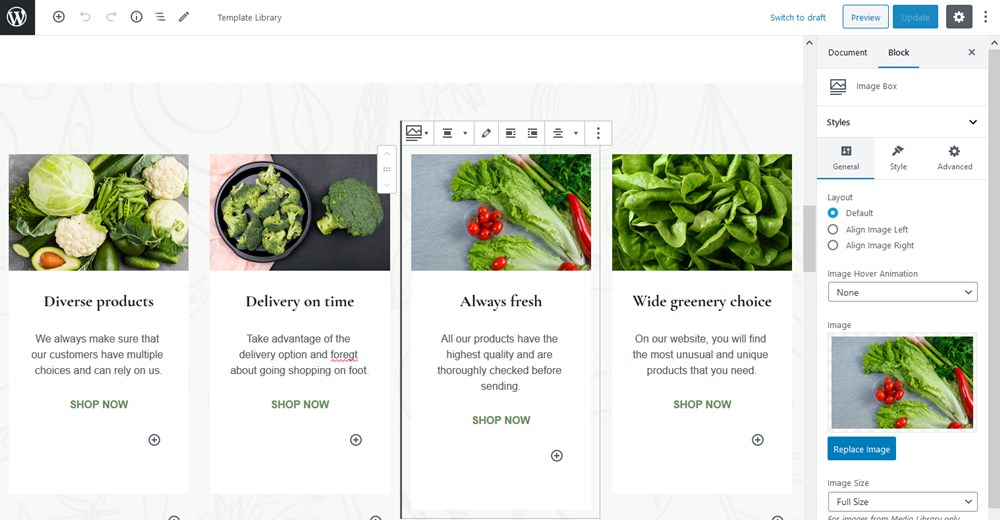 In the shop FAQ section, built with the Getwid Accordion block, you can easily update icons and headings: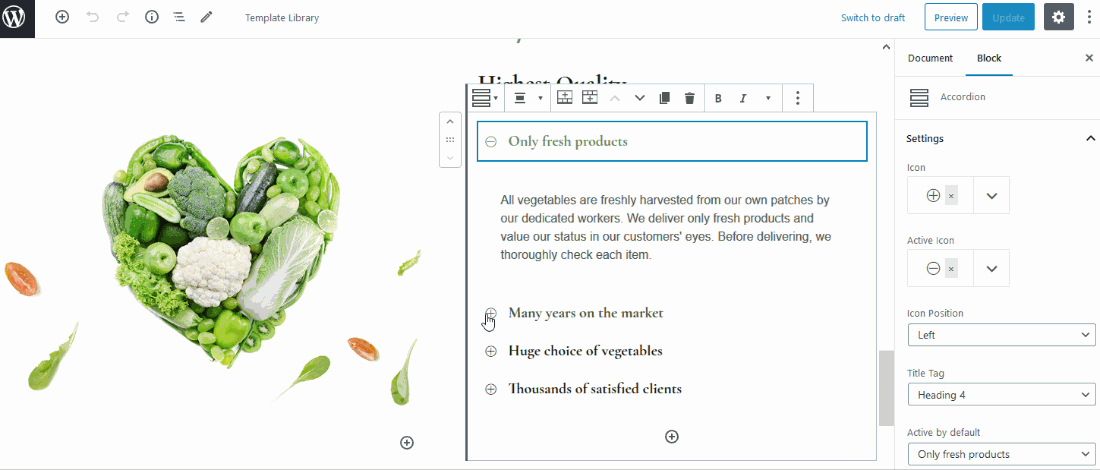 Content marketing is king of promotion, so if you want to showcase some of the latest posts, there is a great Recent Posts block for this purpose: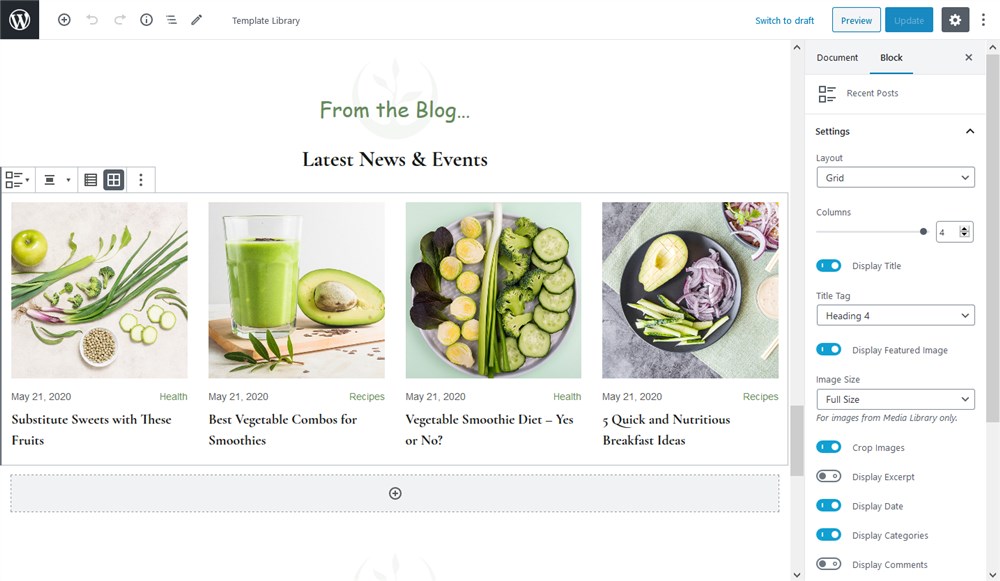 Have you noticed that you can transform the default grid into a list layout or change the number of columns, decide on which post details to show, settle on the sorting options, etc.?
One of the coolest things of the Getwid plugin is the ability to integrate your Instagram with WordPress with just one block, which outputs your Instagram images in a live feed gallery: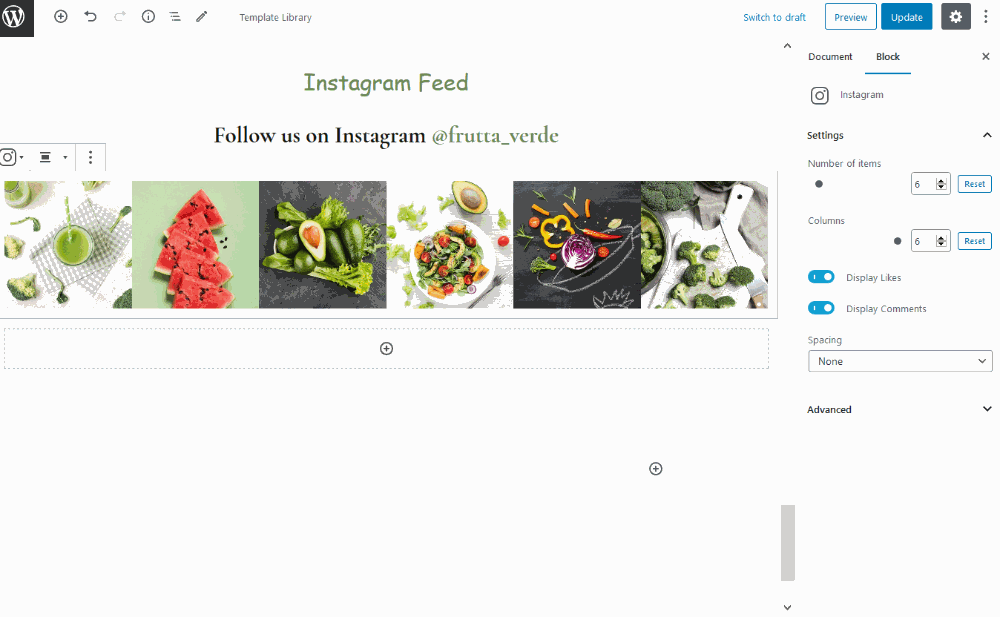 Getwid for custom pages, without getting your hands dirty
The Gutenberg editor has offered the block-based website building approach, which is smooth and handy. With the Frutta Verde WordPress food delivery theme, you are getting even more blocks via Getwid WordPress blocks.
Powering 20+ thousands of WordPress websites so far, Getwid has become one of the most loved Gutenberg addons. It ships with a vast collection of 40+ multipurpose content blocks to significantly extend the Gutenberg customization possibilities for your WordPress food delivery website.
There are many blocks you can use to promote specific products / run promo campaigns and create essential pages.
For example:
Banners with zooming animation effects and text containers (those can be videos and images).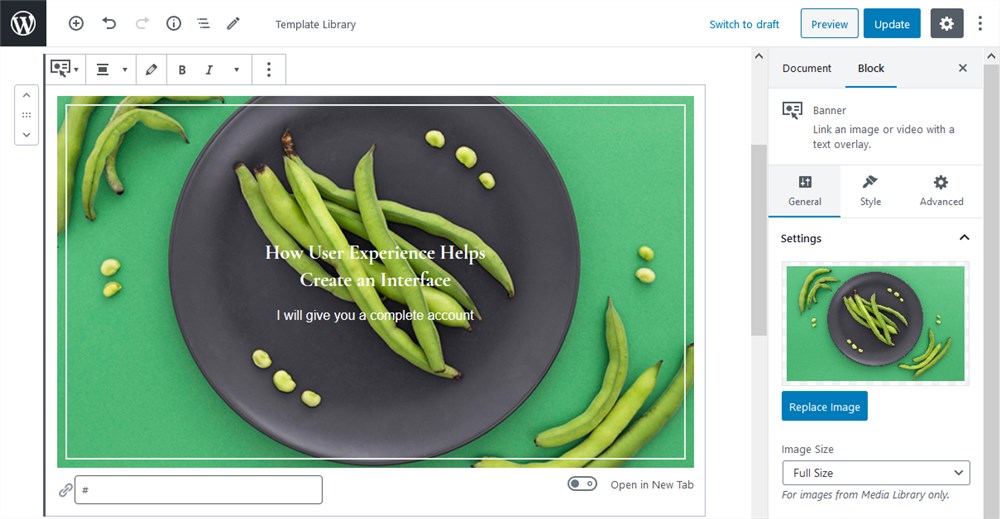 You can create absolutely diverse looks!

Outstanding sliders with buttons, media, text and fully customizable animation: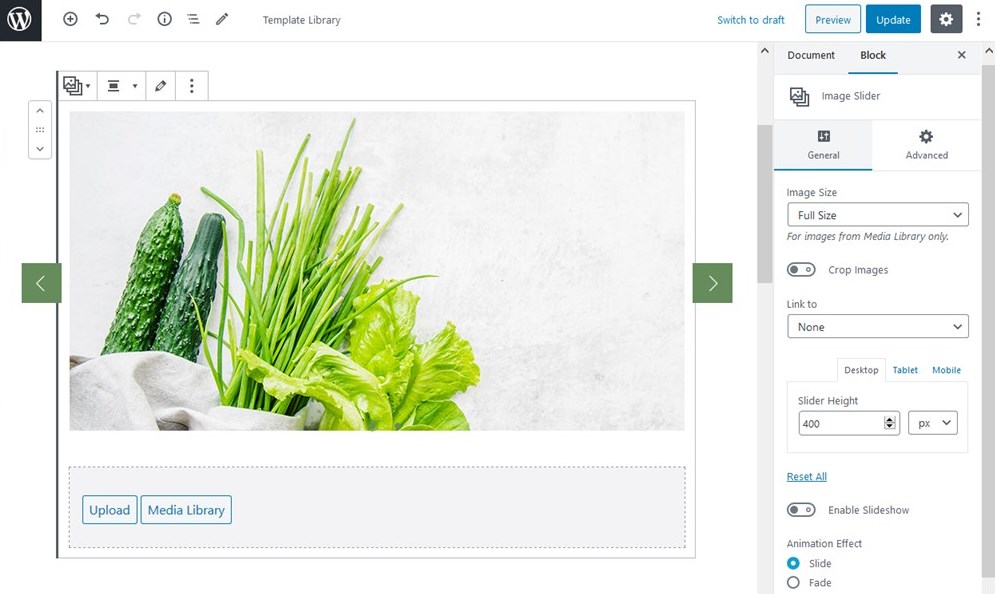 Add countdown timers to create a sense of urgency: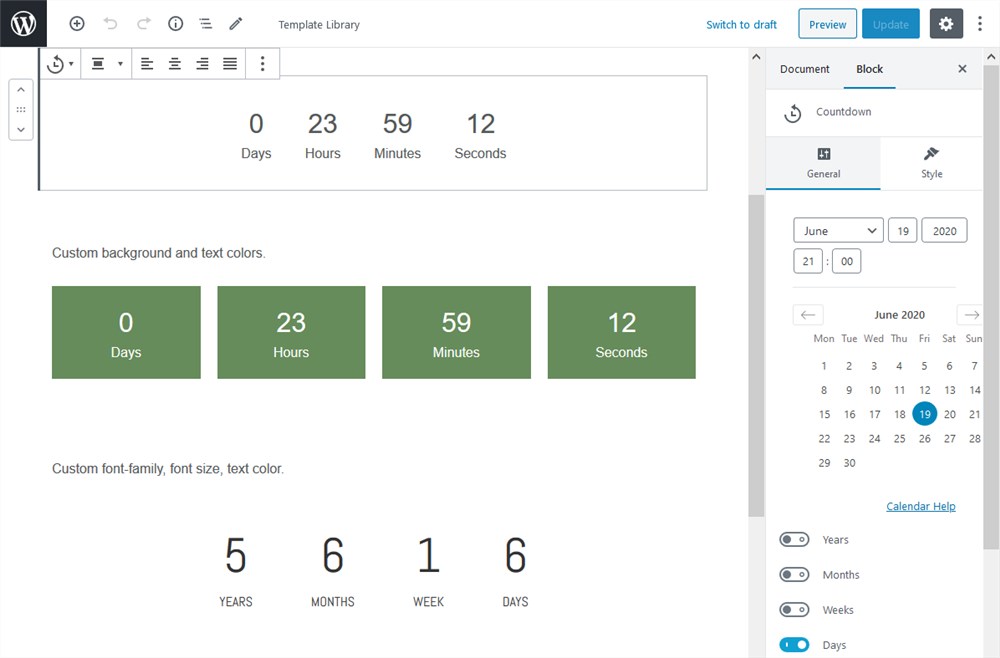 Showcase recent posts on any page in a grid or list layout: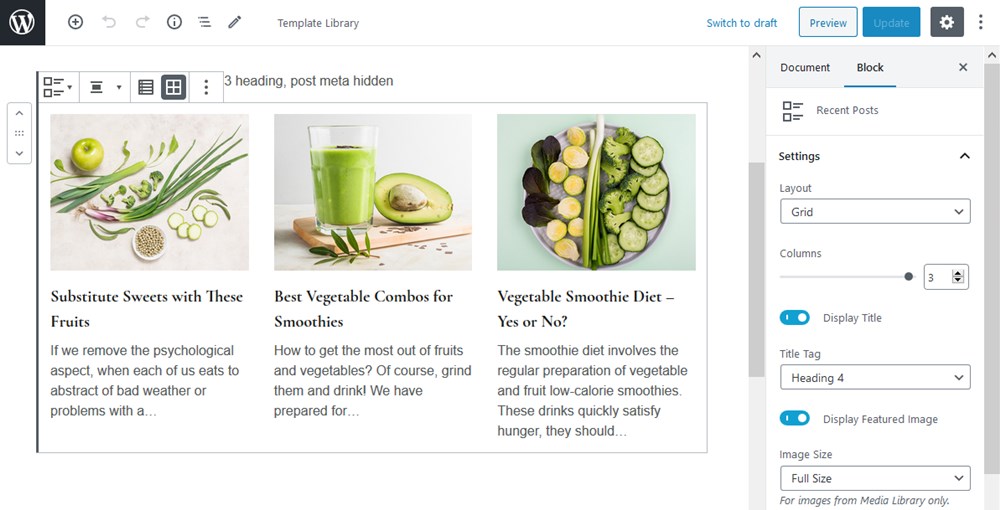 Build the full-fledged Contacts pages using Google Maps, Contact Form and other blocks by Getwid: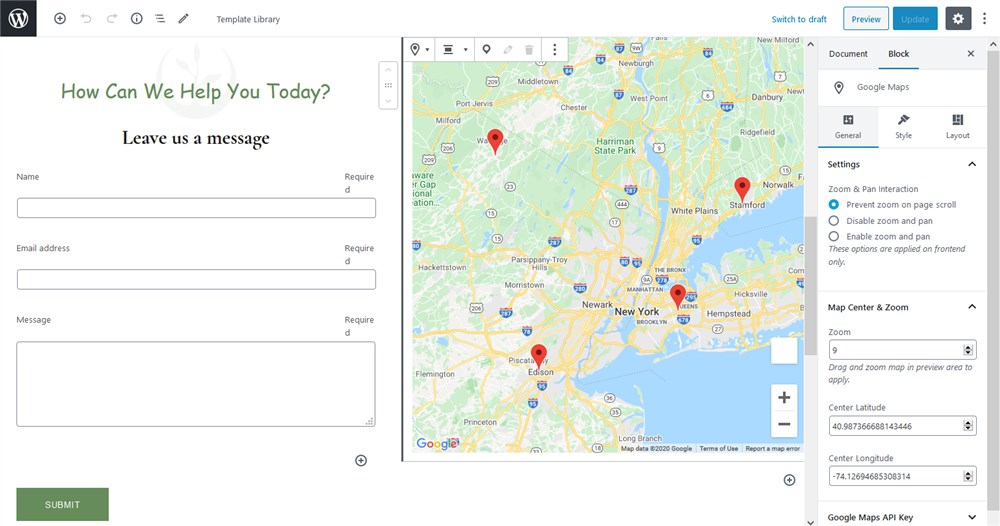 Furthermore, the in-built tools of some Getwid blocks allow you to change such crucial things as typography, colors, social media buttons, backgrounds, and more. A pretty decent toolchain!
eCommerce tools by WooCommerce
The WooCommerce functionality helps you offer customers the convenience of having all types of food and meals delivered right to their doorstep.
So what are the specifics of the Frutta Verde shop design and online food delivery options?
WooCommerce shop design
Via the visual WordPress Customizer, you can configure the following things of the shop layout: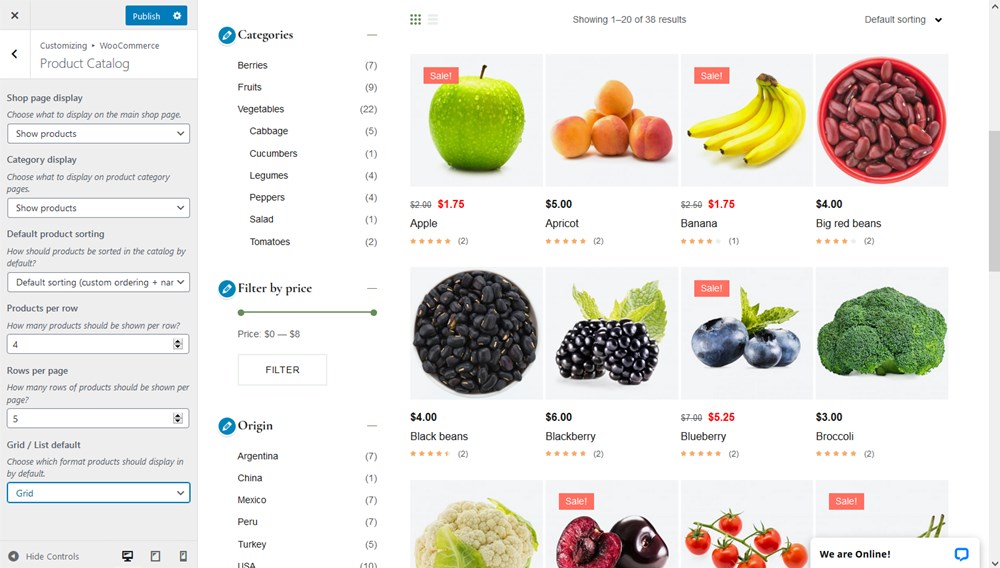 Show products, categories or both
For the category page, choose whether to display subcategories or shop items
Set the default sorting (by price, popularity, etc.)
Select the number of products per row to show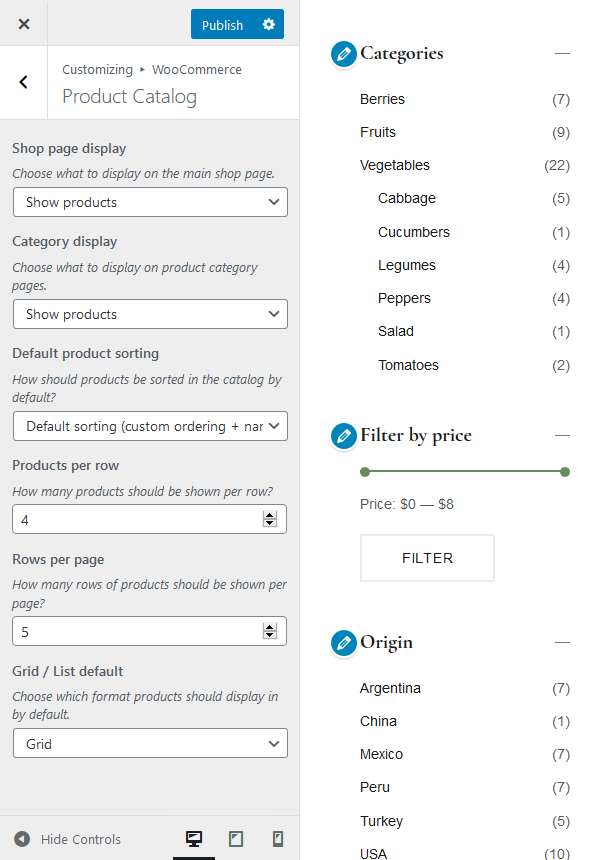 Select the number of columns for your shop
Go with a grid or list layout: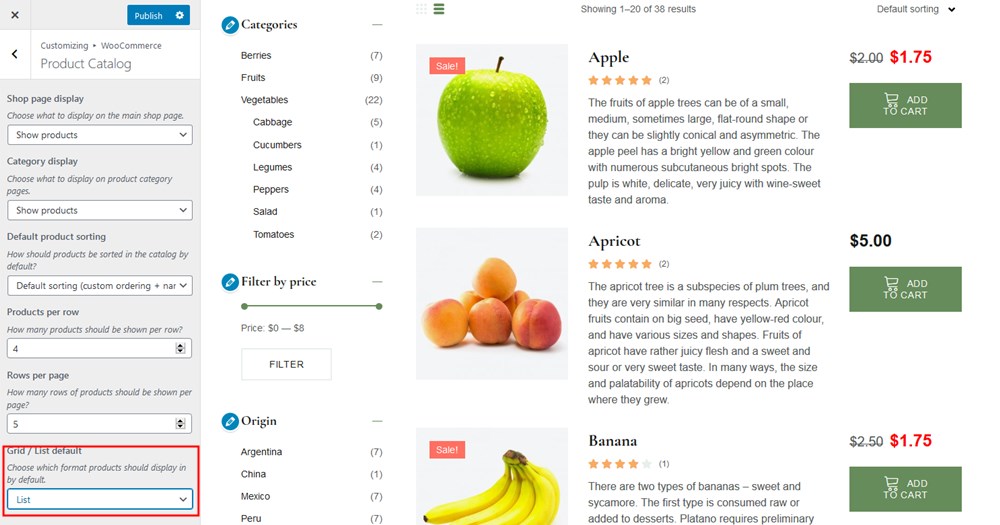 For the product images, you can also define sizes so that each shop item is presented in style with others.
Major shop checkout settings can also be configure from the Customizer, in particular:
Show or hide a company name
State required fields
Select the Privacy policy and Terms and conditions pages.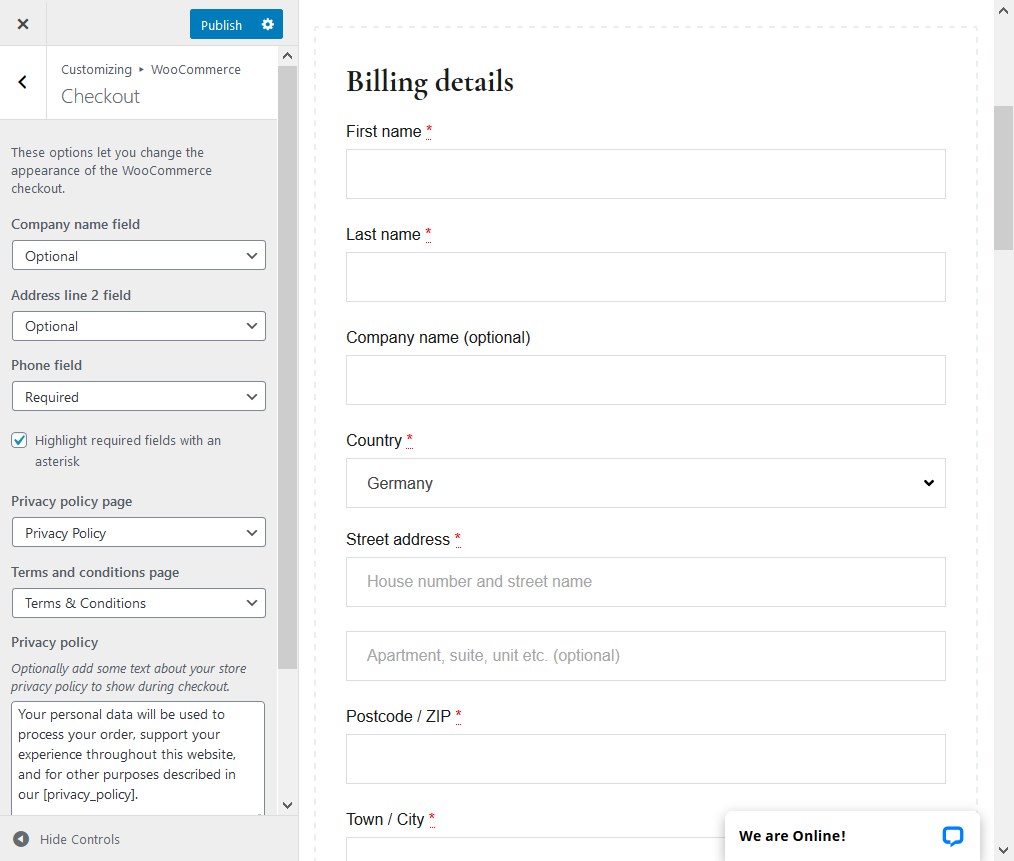 As I've already mentioned, Frutta Verde is packed with two extra free plugins:
The WooCommerce Grid / List Toggle plugin to allow shoppers toggle between a grid and list shop layout for easier shop navigation: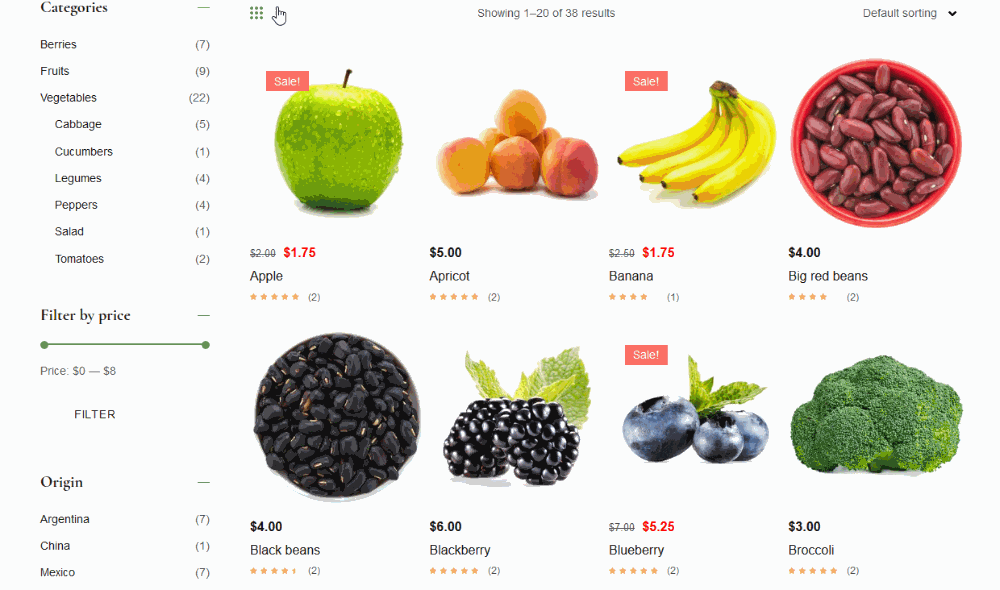 The Categories Images plugin to set a featured image for each category: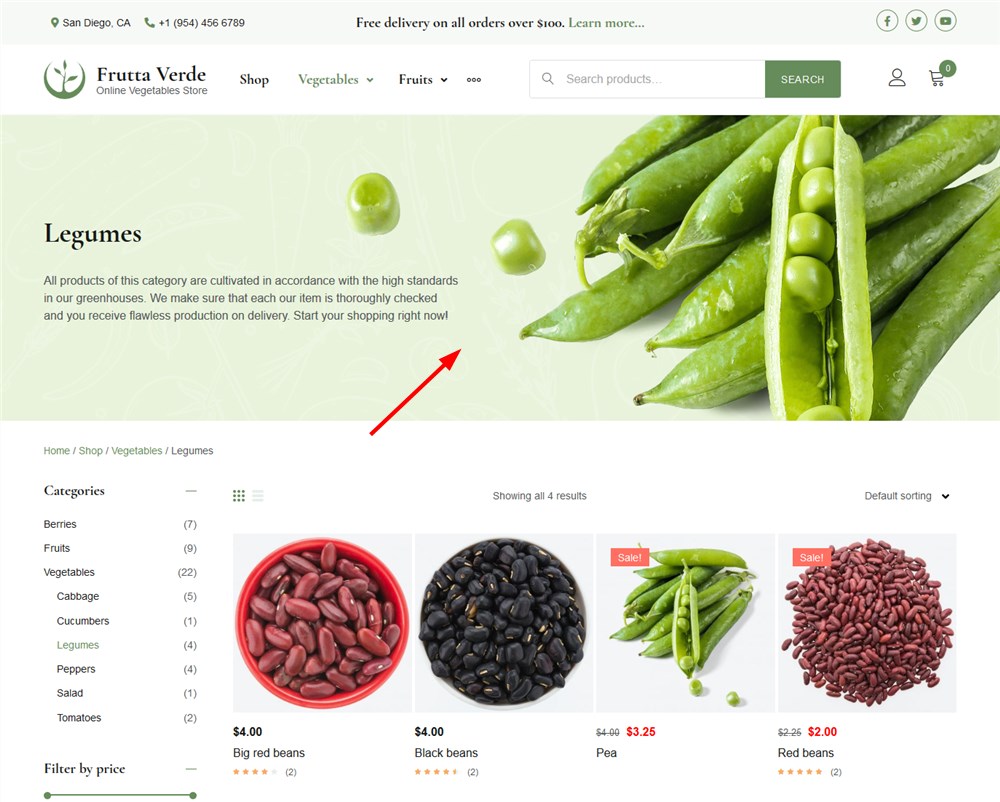 Default WooCommerce capabilities
If you are familiar with the WooCommerce setup process, you know that you'll be fully guided on where to start, how to select payment gateways, how to set up taxes and fees, how to choose delivery zones, etc.
You are probably curious to know what you get out of the box with one of the best grocery store WordPress themes, specifically the default shopping features. Let's list them exactly:
Payment gateways you can enable without paid extensions: PayPal, cash on delivery, direct bank transfer, and check payments.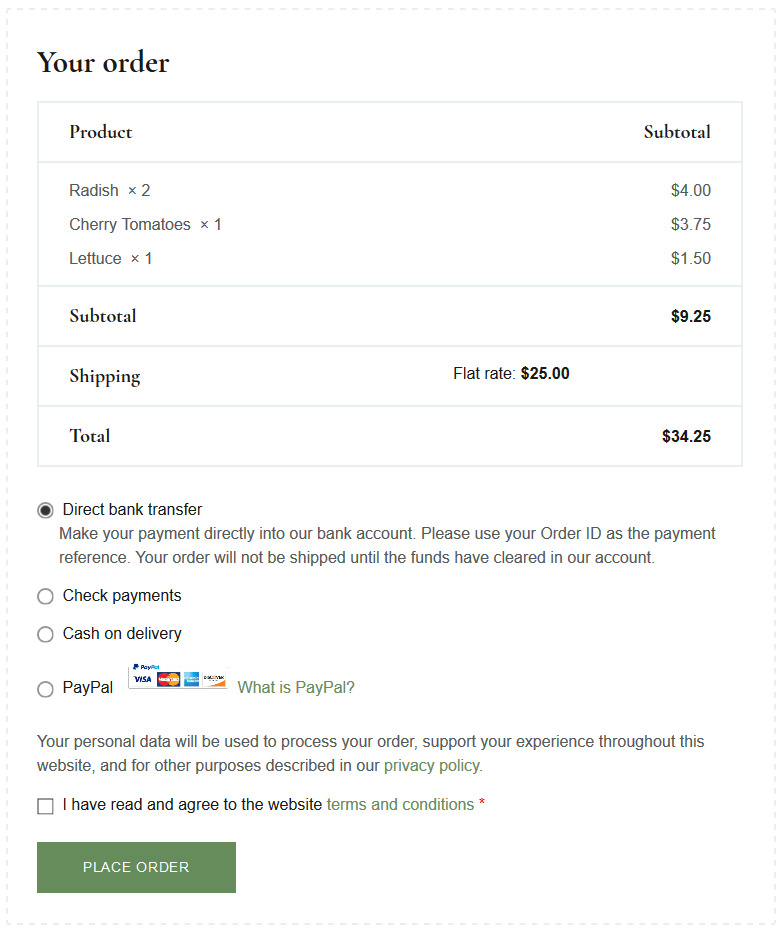 Delivery options: deliver locally and abroad; flat rate, free shipping, and local pick-up delivery methods. Additionally, you can set free delivery for a specific order amount.

Thanks to great categorization, filtering, sorting and breadcrumb options, the shopping process will be fully streamlined for your customers! The Add to cart functionality is Ajax-based, so the products will be added to cart without page refreshing.
As you see, the theme can also be used as the WooCommerce food ordering system for a catering business.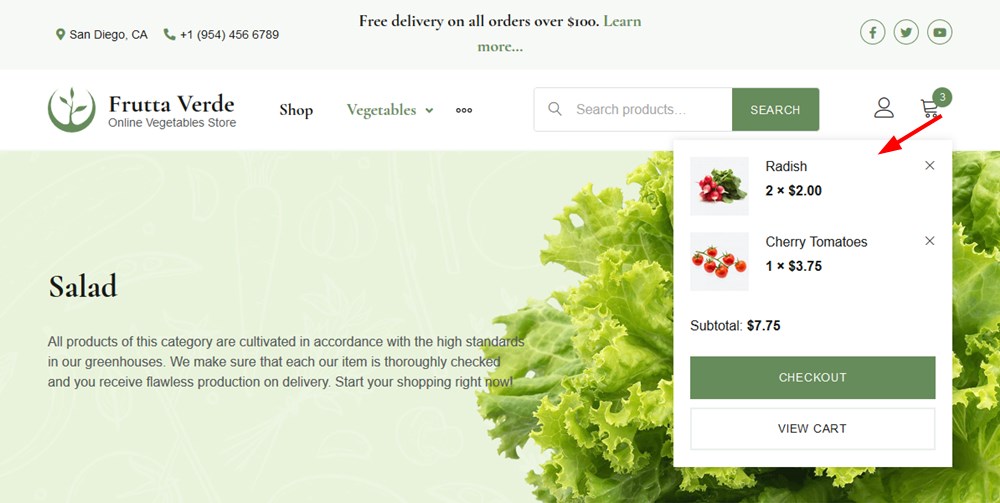 Product reviews are also offered as a default feature so you have a splendid chance to boost engagement and build trust with customers by displaying real reviews: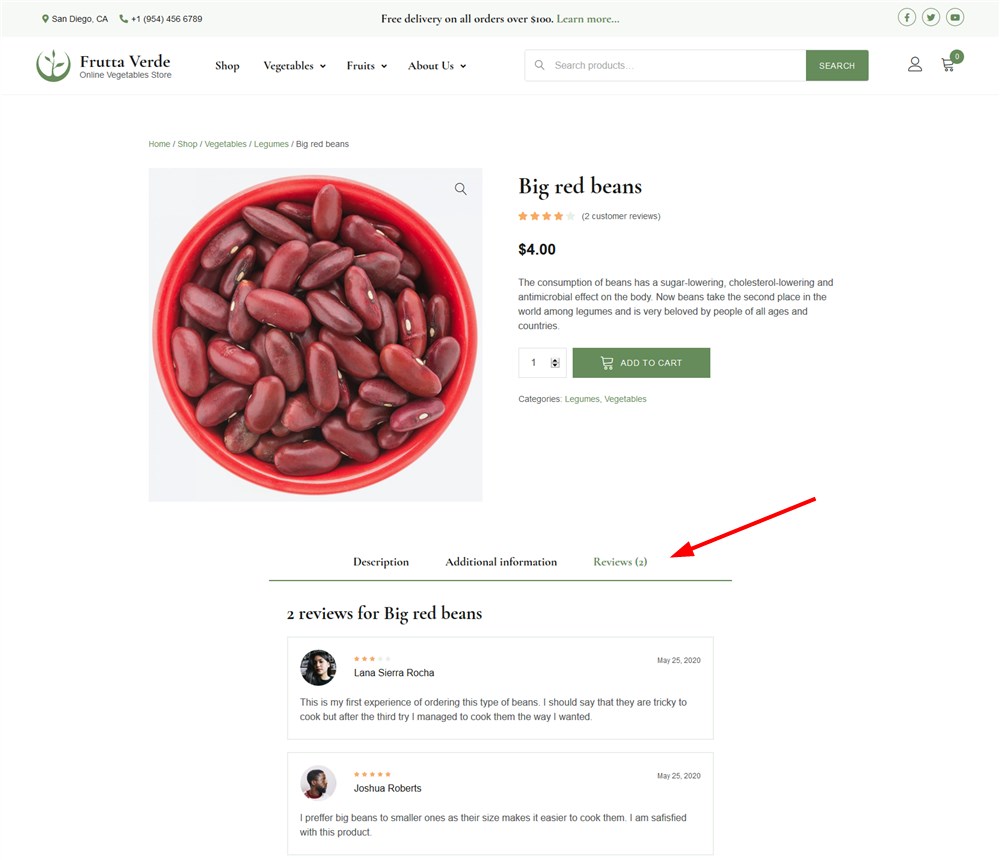 You might want to explore WooCommerce to learn all the details and how to employ more tools on your online storefront template!
The Frutta Verde Grocery Store Website Template is Made to Maximize Online Sales
Frutta Verde is one of the greatest examples of the best grocery store WordPress themes thanks to its modern premium design and dedicated functionality. It's made for food stores and supermarkets that need an eCommerce WP template focusing specifically on delivery services. It's one of the most comprehensive and newest solutions among the fruits and vegetables WordPress templates.
Key Highlights of Frutta Verde:
Designed for grocery stores and supermarkets with a delivery service;
Optimized for the Gutenberg editor;
Integrated WooCommerce – offers shipping functionality and supports a lot more other advanced functionality (available as extra addons) to help you adapt any website to your shop needs;
Performance-optimized & eco-friendly design (suitable for various shop types);
40+ extra Gutenberg blocks by Getwid.
WooCommerce integrates the shipping functionality by default, but if you want to take it even further and adapt to your shop needs, there is an ecosystem of WooCommerce add-ons.
Frutta Verde Grocery Store Website Template
Last but not least, a performance-optimized, eco-friendly design will help you represent your food delivery store in the best manner, attaining the reputation of a local grocery expert.
*This grocery theme WordPress is free for unlimited usage for all MotoPress Club members.
Part 2. Free Grocery Store WordPress Themes
Introducing our additional selection of the best grocery store WordPress themes, available for free. Rest assured that your online shop, whether it emphasizes fresh produce, pantry necessities, or specializes in organic and health-conscious items, will be fully supported. These customizable templates possess the versatility and flexibility required to accommodate a wide range of needs, ensuring visually appealing store layouts that will captivate and engage your intended customer base.
1. Ecommerce Hub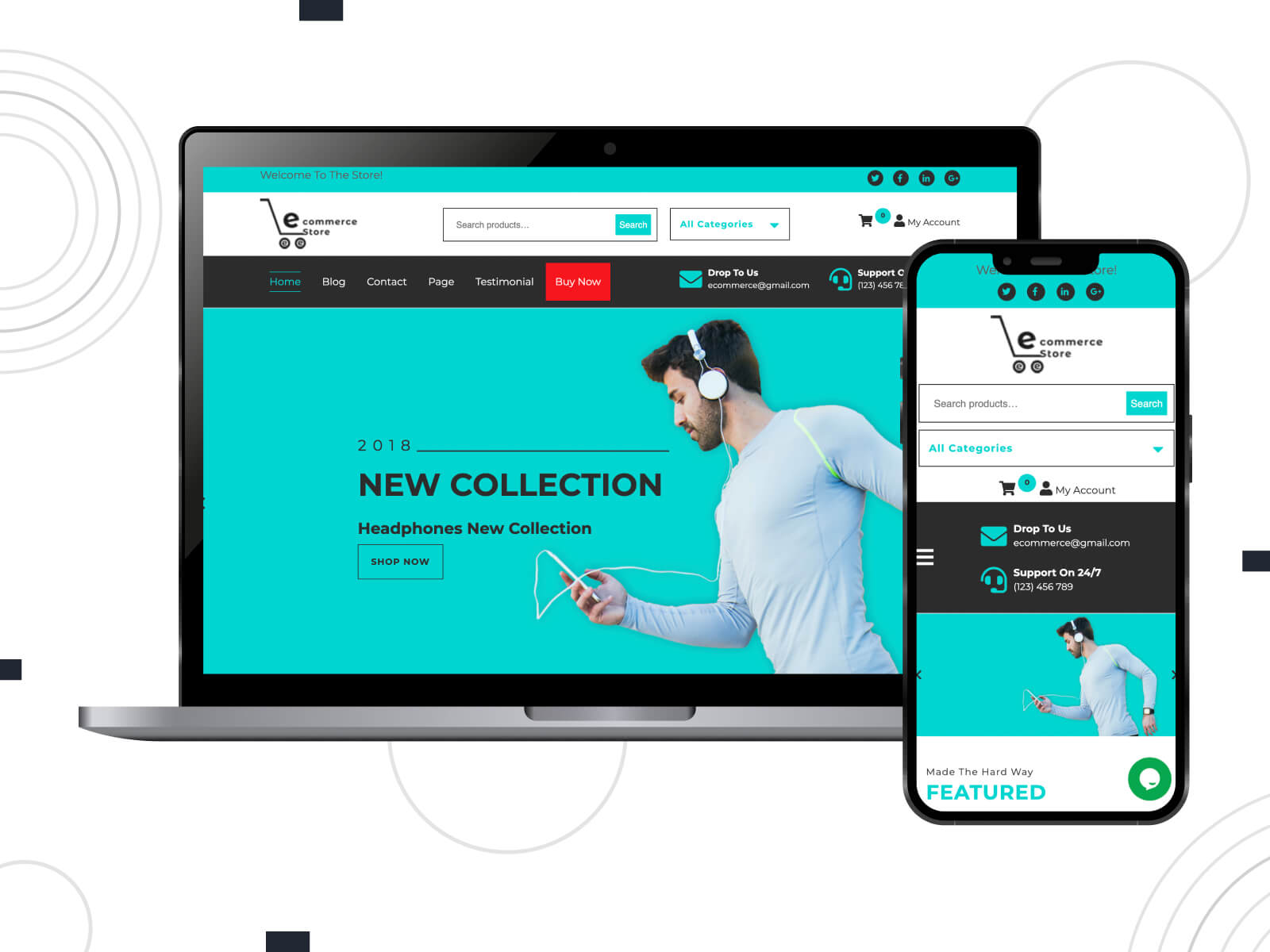 Name
Author
Price
Avg. Demo Speed Score
Ecommerce Hub
Themesglance
Free
Mobile 97
Desktop 100
Among the best grocery store WordPress themes, this alternative represents a contemporary and adaptable template specifically crafted for a wide range of internet retail establishments. Its trendy and captivating design accommodates diverse sectors such as clothing, beauty products, athletic gear, accessories, playthings, and numerous others. The theme is compatible with WooCommerce, enabling the creation of attractive store arrangements with dependable payment options.
Various functionalities are incorporated into this template, such as support for multiple languages, preparedness for search engine optimization (SEO), social media icons for boosting site visibility across diverse platforms, and flawless performance devoid of glitches. Through the theme customizer, personalization can be effortlessly achieved, eliminating the need for coding expertise. Despite its abundance of features, a nimble loading speed is maintained by Ecommerce Hub, ensuring a swift user experience.
2. Ecommerce Mega Store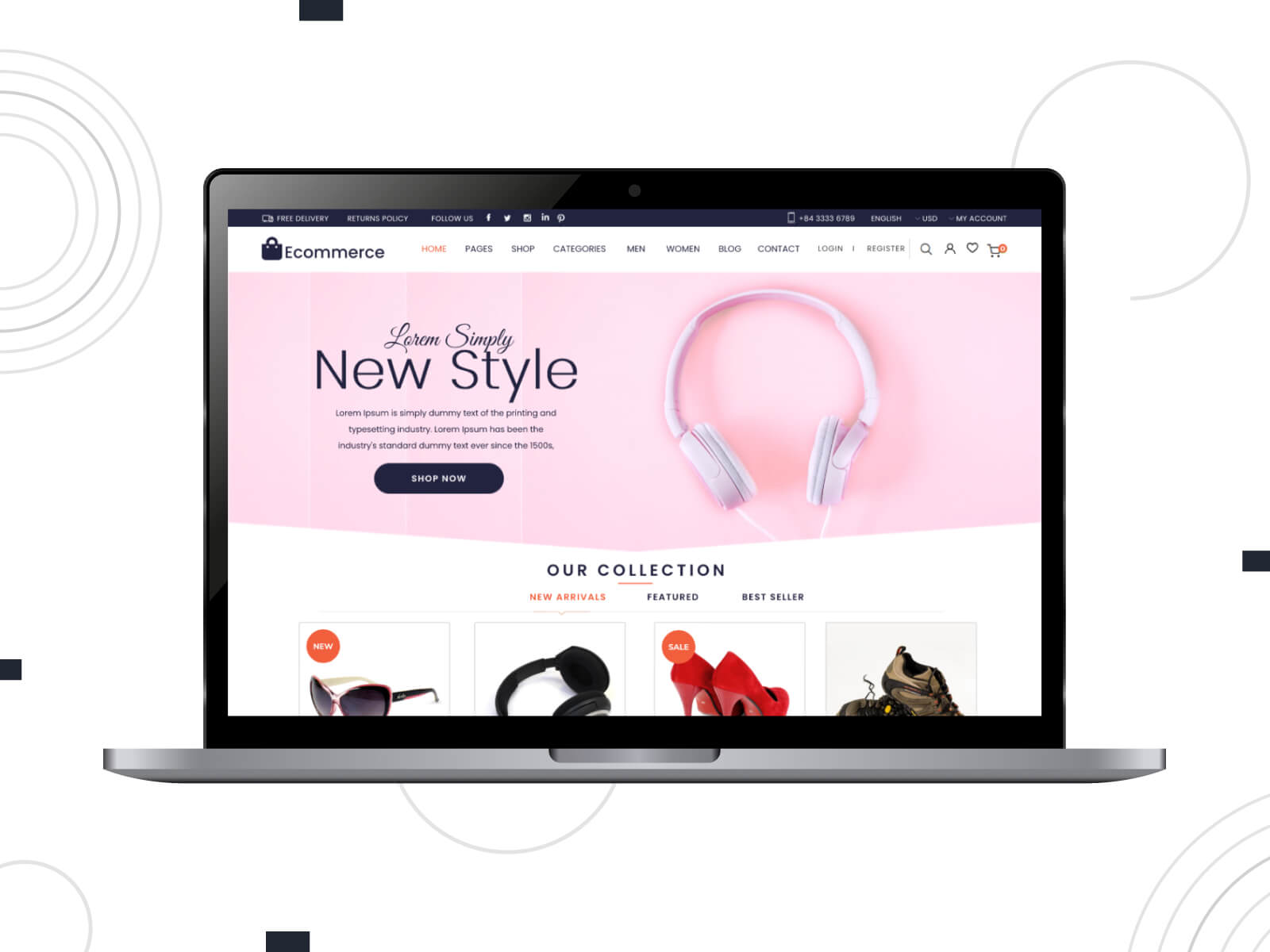 Name
Author
Price
Avg. Demo Speed Score
Ecommerce Mega Store
Misbah Wp
Free
Mobile 94
Desktop 99
The creation of diverse online stores, ranging from clothing and electronics to groceries, gadgets, baby products, books, jewelry, and photography, is made possible with the versatile and modern grocery WordPress theme. This template, which can be fully customized and seamlessly integrates with WooCommerce, facilitates the straightforward establishment of your online store. Utilizing the bootstrap framework and featuring a responsive design, it effortlessly adjusts to fit any screen size.
With its drag-and-drop page builder feature, you can create your online resource quickly by customizing the header and footer sections. The clean code ensures optimal speed and cross-browser compatibility across all popular browsers. Additionally, this translation-ready theme supports multiple languages, while also being SEO-friendly for improved search engine rankings. Its user-friendly interface facilitates extensive customization options so that you can showcase your products effortlessly.
3. Food Grocery Store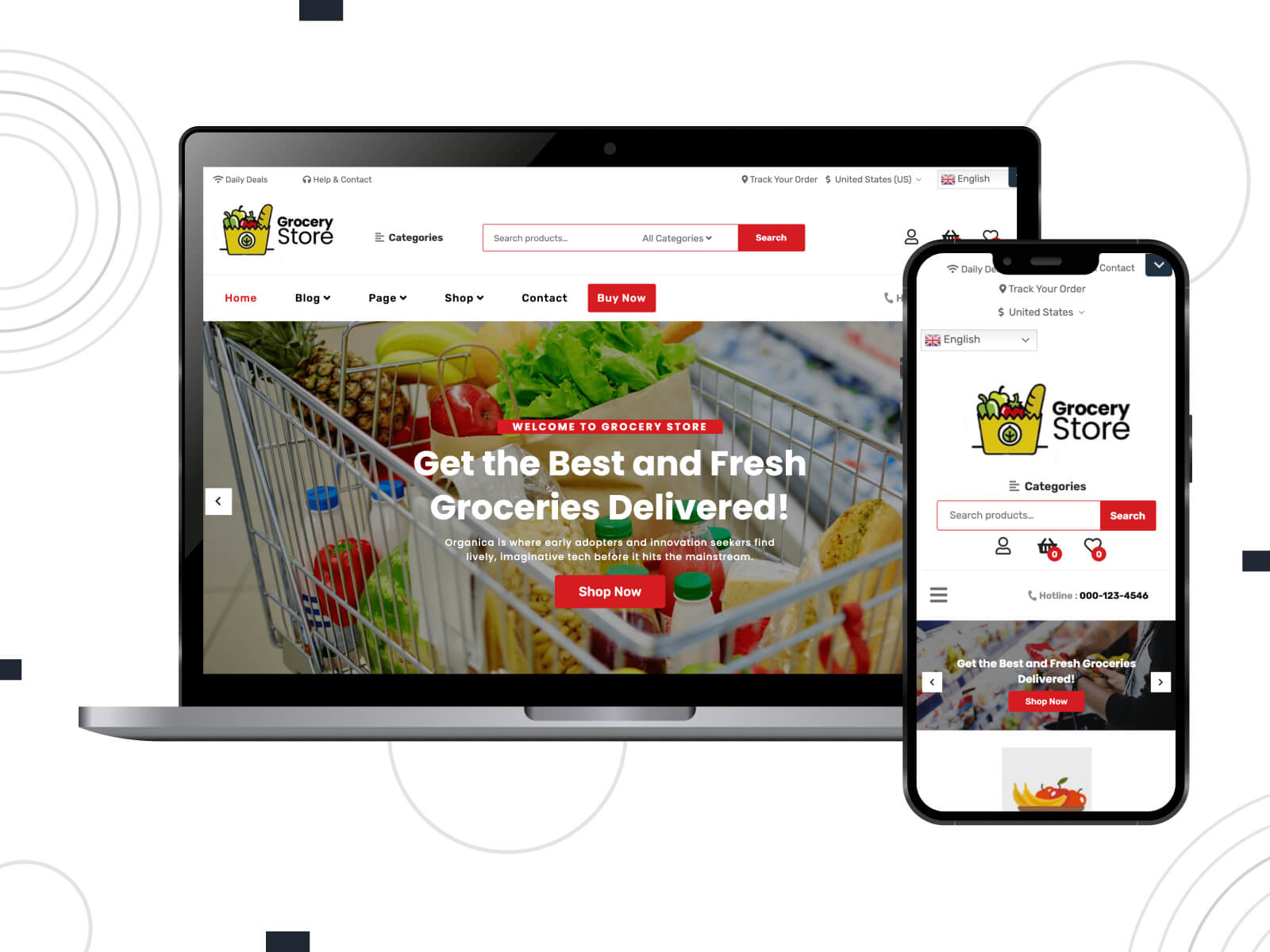 Name
Author
Price
Avg. Demo Speed Score
Food Grocery Store
VW Themes
Free
Mobile 95
Desktop 99
Adaptable design and responsiveness allow you to customize the layout effortlessly, enabling the creation of a website specifically tailored for food delivery services. By utilizing the template's refined appearance, you can enhance your business operations, optimize resources, and ultimately boost profitability. Being one of the best grocery store WordPress themes, it provides a well-structured presentation of products through high-resolution images and effective categorization.
With a sturdy structure constructed on the Bootstrap framework, this alternative possesses the ability to manage substantial visitor influx effortlessly. Its interface, designed to be user-friendly, incorporates search engine optimization (SEO) features that effectively draw in a larger audience to your website. Additionally, the theme's compatibility with WPML and RTL simplifies the process of making your online resource popular on a global scale.
4. Grocery Store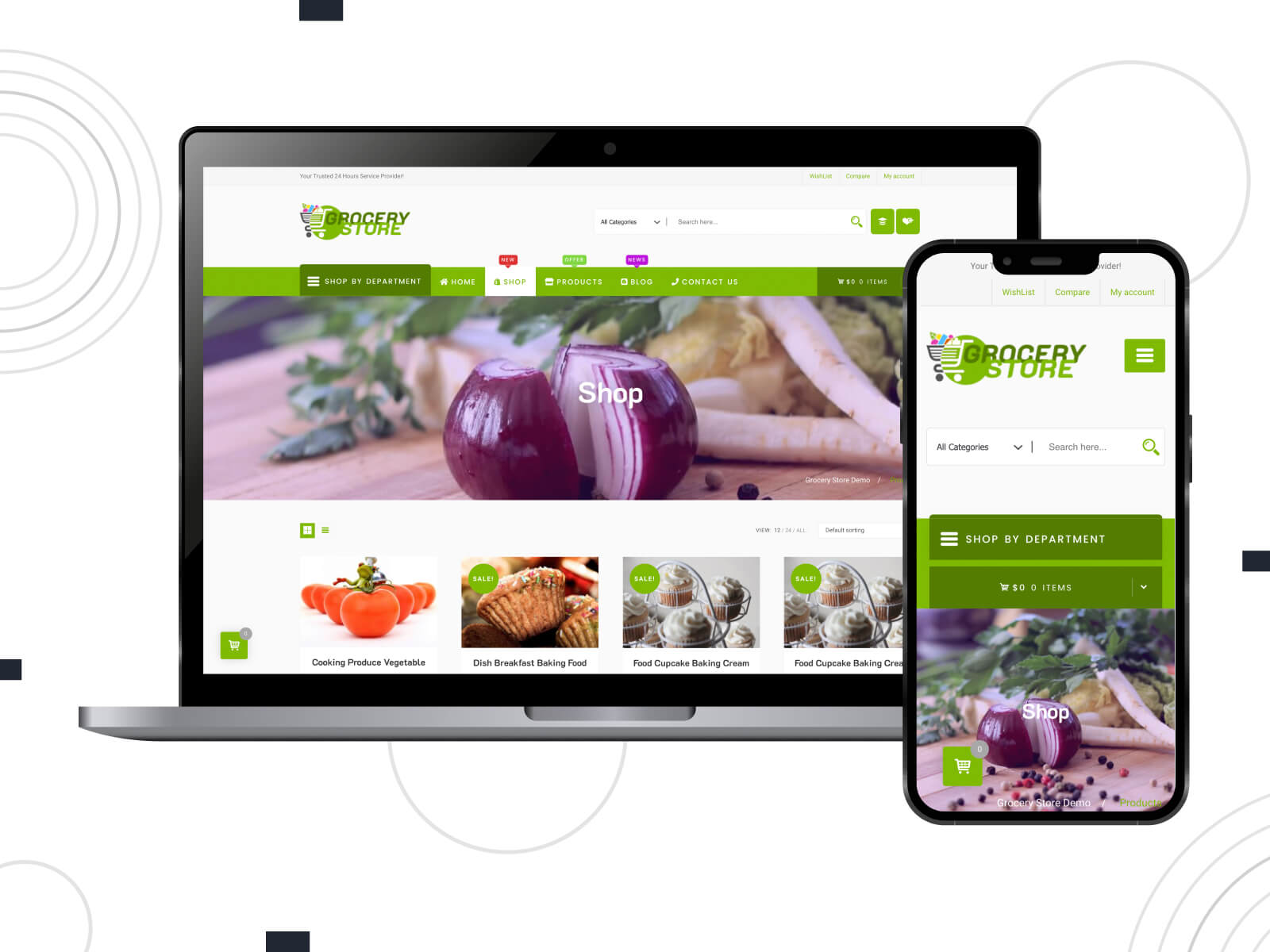 Name
Author
Price
Avg. Demo Speed Score
Grocery Store
Athemeart
Free
Mobile 77
Desktop 99
This entry in our list of the best grocery store WordPress themes presents a range of possibilities for different online shops, such as those specializing in groceries, beauty, and clothing. It provides a variety of front page designs, allowing you to adjust the number of product columns and apply filters to improve the shopping process for your customers. Attractive typography and well-formed color combinations enhance the appeal of your merchandise, ensuring they catch the eye of website visitors.
The template customizer simplifies management tasks by allowing you to easily modify settings for tablets and mobile devices. The functionalities of this alternative are seamlessly integrated with popular page builders such as Elementor, Beaver Builder, and Divi, enabling business owners to easily enhance the capabilities of their online shop. If you're in need of a complete WooCommerce template that fulfills all your requirements, the impressive demos provided by Grocery Store are the perfect choice.
5. Online Grocery Mart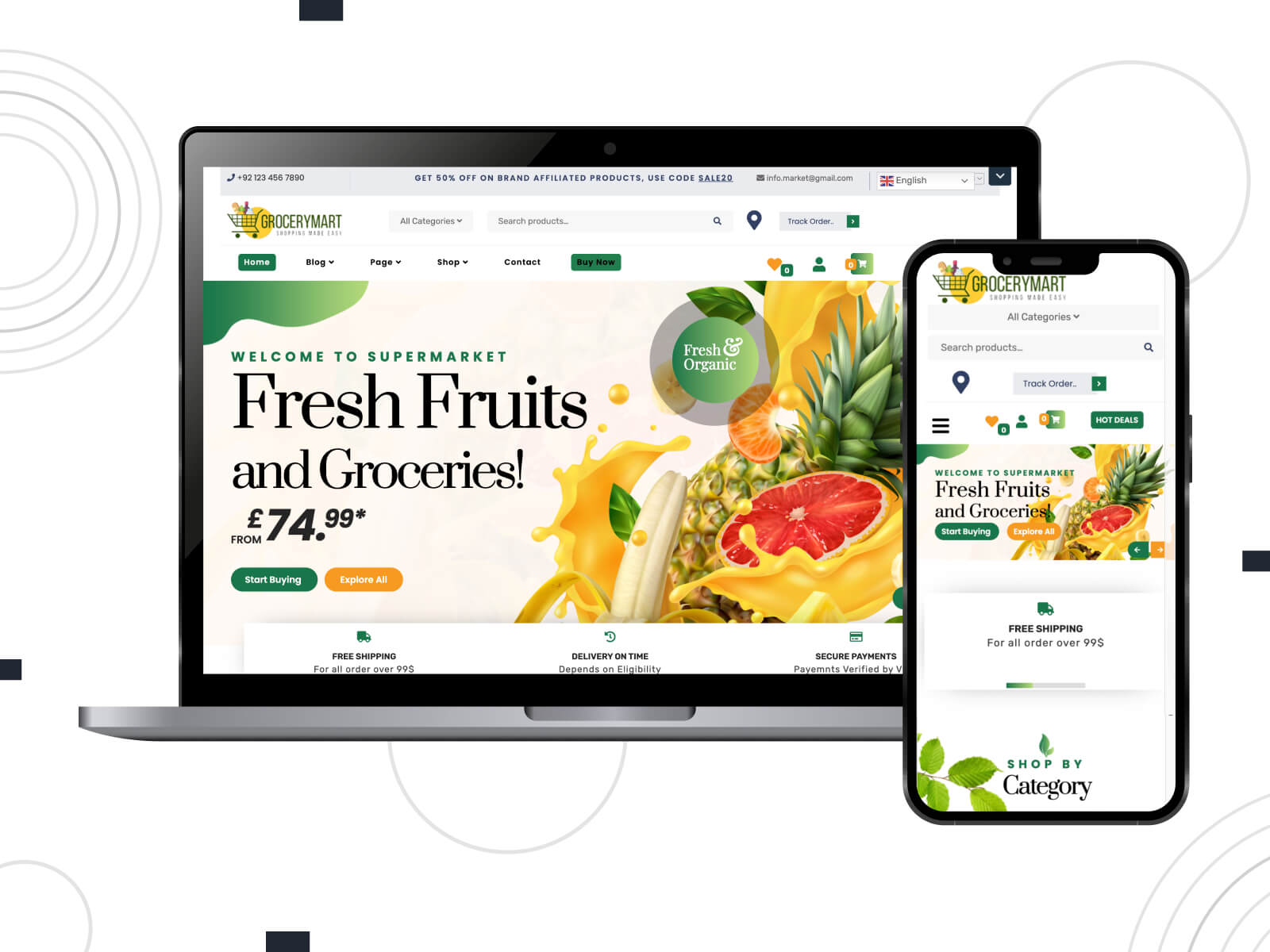 Name
Author
Price
Avg. Demo Speed Score
Online Grocery Mart
VW Themes
Free
Mobile 92
Desktop 99
A versatile solution for selling organic groceries, fruits, bakery items, and more is provided by Online Grocery Mart. With this template, you can establish an online grocery store or expand your current food stall effortlessly. The modern layout of the theme beautifully presents all your products, while the header and banner can be customized effortlessly with your logo and images. Your business is introduced effectively through expertly designed sections and CSS animations.
Multilingual support is ensured by this example of the best grocery store WordPress themes, as it is translation-ready. It also guarantees optimal display on any device through its responsive design. By utilizing WooCommerce compatibility, you have the ability to establish an online store equipped with secure payment options. Furthermore, performance is enhanced by the clean code of the template, while visibility is increased through the integration of social media.
6. VW Storefront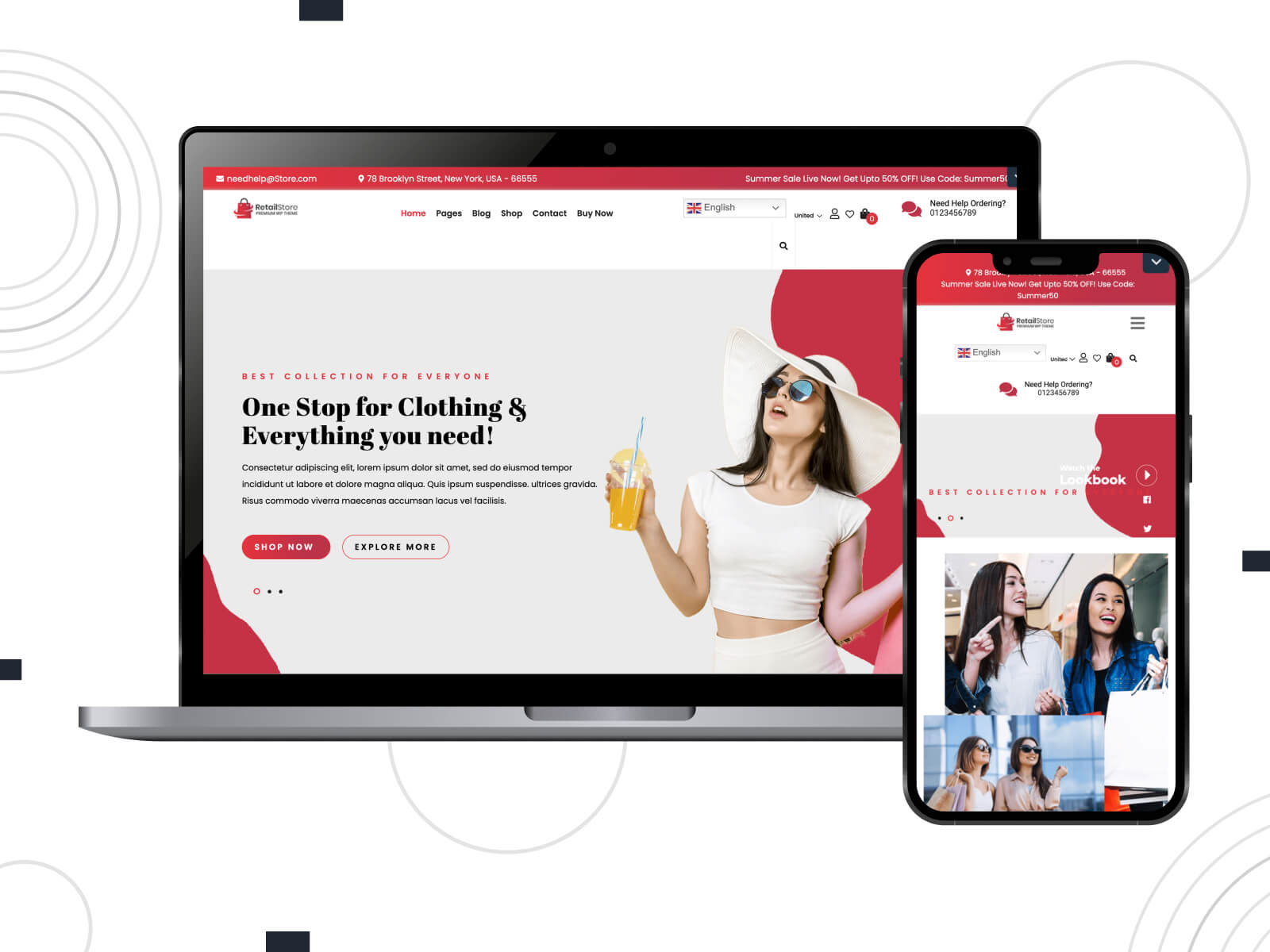 Name
Author
Price
Avg. Demo Speed Score
VW Storefront
VW Themes
Free
Mobile 92
Desktop 98
Another great example of the best grocery store WordPress themes offers an extensive range of features suitable for various types of e-commerce businesses, such as interior design, books, electronics, fashion, and more. With seamless integration with WooCommerce, setting up your online store and selling products becomes hassle-free. The template boasts an elegant layout that captures the attention of your target audience while ensuring pixel-perfect content and design on all devices.
Every aspect of your website's appearance can be personalized to align perfectly with your brand identity, thanks to the customizable options provided by VW Storefront. SEO performance is prioritized, as the code is optimized to ensure optimal search engine visibility. Essential elements such as shortcodes, product sliders, custom widgets, and page-building tools are also included, enhancing the overall functionality. Additionally, social sharing options and seamless plugin integration contribute to the creation of an engaging site.
Part 3. Premium Grocery Store WordPress Themes
Step into a collection of premium templates, masterfully designed to enhance online visibility, nurture customer interaction, and escalate sales. Whether you're an emerging entrepreneur eager to carve out a digital presence, or an established enterprise seeking a website revamp, these resources are at your service. This selection presents themes with user-friendly interfaces, intuitive design layouts, robust functionalities, and optimal performance, all tailored to craft a successful online grocery store.
7. BoroBazar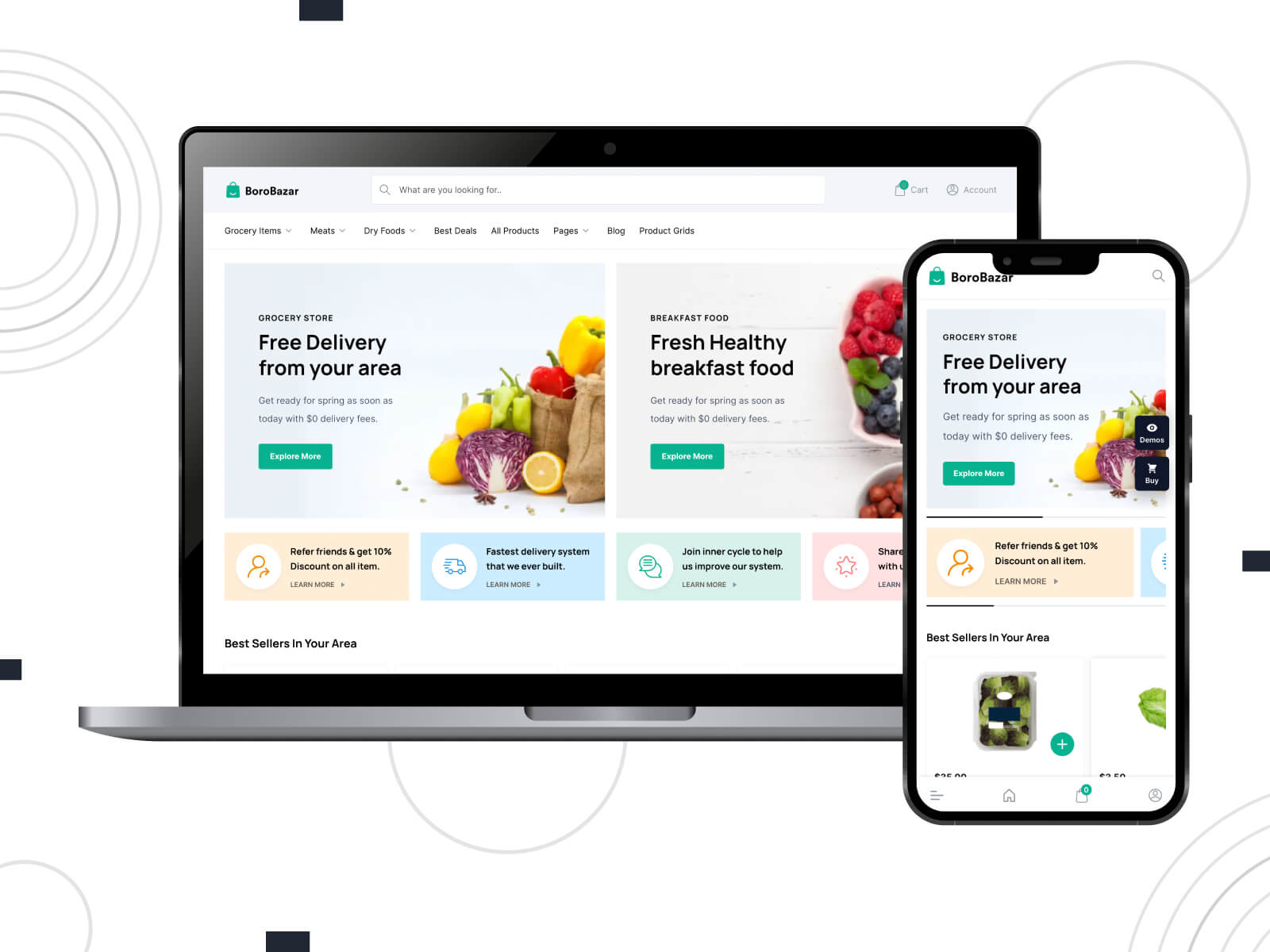 Name
Author
Price
Avg. Demo Speed Score
BoroBazar
Redqteam
$49
Mobile 31
Desktop 74
Introducing BoroBazar, a cutting-edge WordPress theme designed for modern grocery stores and online shopping. This sleek and modern design provides a seamless shopping experience, making it perfect for entrepreneurs and startup businesses. With its focus on organic grocery stores and food delivery services, this user-friendly template allows customers to browse through a wide range of products quickly and easily. It is fully compatible with Gutenberg, offering enhanced customization options and flexibility.
Take your business to new heights with this entry from our list of the best grocery store WordPress themes. Key features include: SEO optimization, speed optimization, advanced button control, typography control, popup/video backgrounds for products, lazy load feature for faster loading times, all-in-one WooCommerce widgets, easy setup wizard, lookbook/portfolio pages support, autocomplete search functionality, social login integration using Nextend plugin, etc. The template also supports unlimited layout options along with one-click blocks that enhance the website-building process.
8. Freshio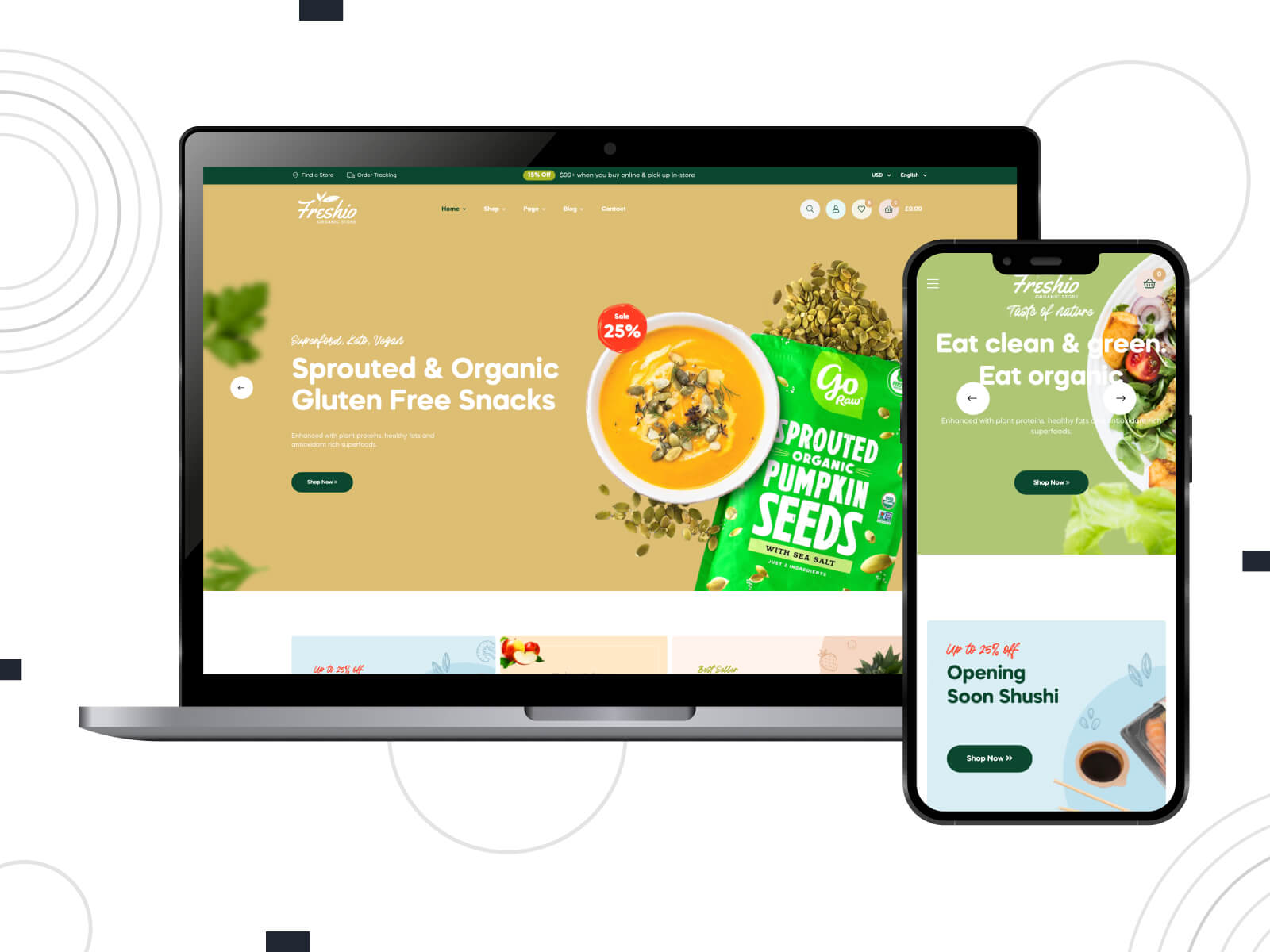 Name
Author
Price
Avg. Demo Speed Score
Freshio
Pavothemes
$59
Mobile 54
Desktop 74
Being one of the best grocery store WordPress themes, this alternative caters to a range of natural food-oriented websites, encompassing e-commerce platforms, and pastry boutiques, among others. Boasting an exquisite aesthetic and an intuitive user interface, this template will effortlessly set your food store apart in the face of rivals. It presents over eight distinct homepage demos at your disposal, each readily importable with a single click. Moreover, Freshio has been fine-tuned for optimal search engine optimization and swift page loading, bolstering the conversion rate of your site.
One of the main advantages of this theme is its mobile-first design, making it perfect for customers who shop on their mobile devices. The template also includes an intuitive drag-and-drop page builder plugin called Elementor, which allows you to create custom pages without the need to write any code. Importing demo homepages takes only seconds, thanks to the One Click Demo Import plugin provided by default. This saves you time and makes it easy to get started with your website quickly. Moreover, Freshio ensures high page loading speed and performance across a wide range of devices.
9. Bacola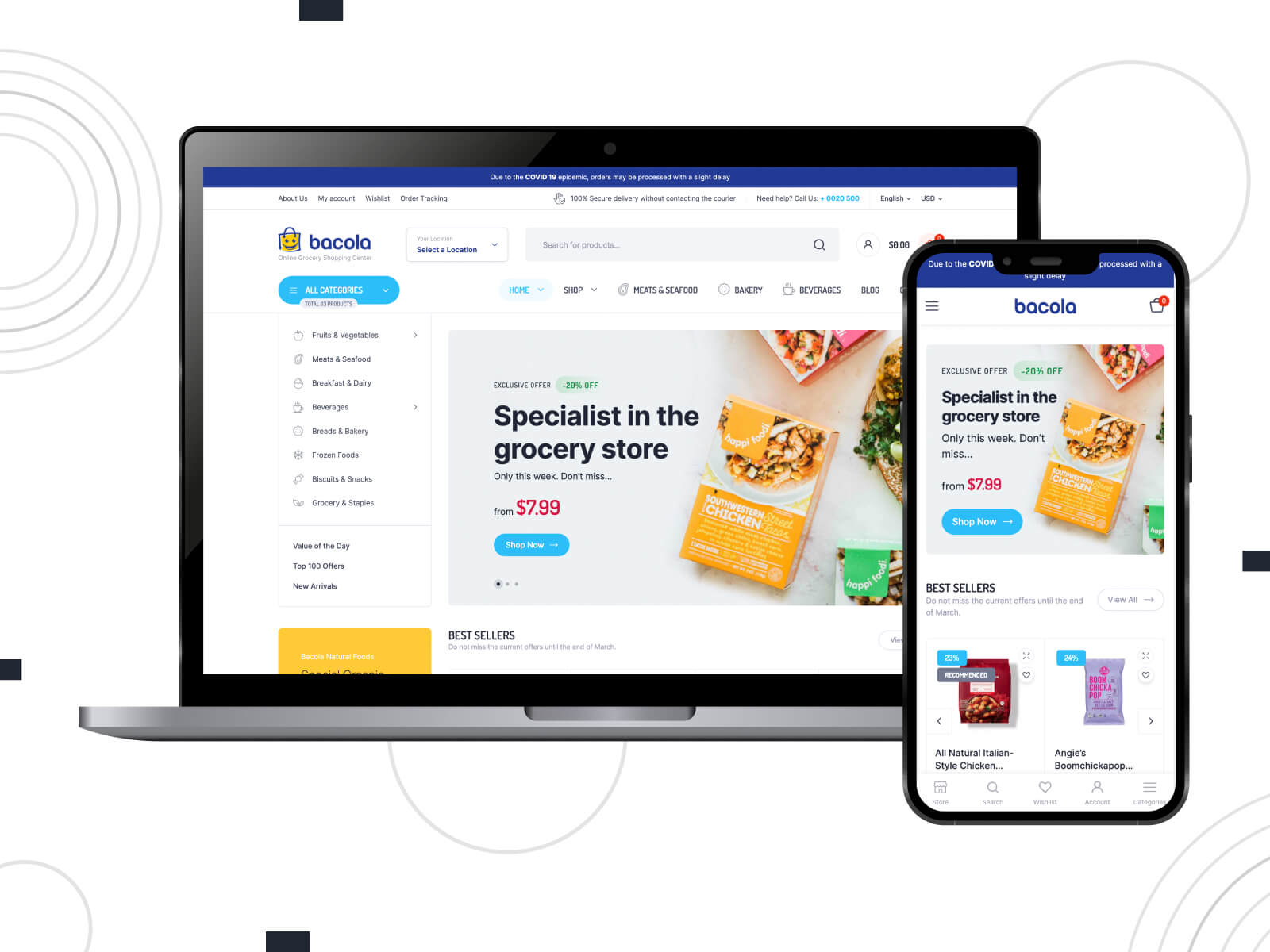 Name
Author
Price
Avg. Demo Speed Score
Bacola
Klbtheme
$47
Mobile 44
Desktop 60
Discover Bacola, an extraordinary WordPress theme tailored with utmost care for grocery stores and organic food shops. With its intuitive interface and state-of-the-art features, even those new to website creation can effortlessly bring their vision to life within hours. Whether your niche lies in vegetables, electronics, fashion, or toys, this alternative is designed to cater to your diverse range of needs. Unleash the full potential of your product offerings to captivate a vast online audience, all without the need for any coding expertise.
This entry from our list of the best grocery store WordPress themes transcends beyond being merely a grocery store eCommerce template; it serves as an ideal platform for promoting organic foods on a global scale. You can showcase an extensive range of products across different categories and craft compelling landing pages to amplify your marketing endeavors. With the support of Elementor, designers and website owners can effortlessly employ drag-and-drop page-building features, opening up a plethora of options. This premium theme paves the way for building online supermarkets or organic food shops that are both cost-effective and user-friendly.
10. Cartzilla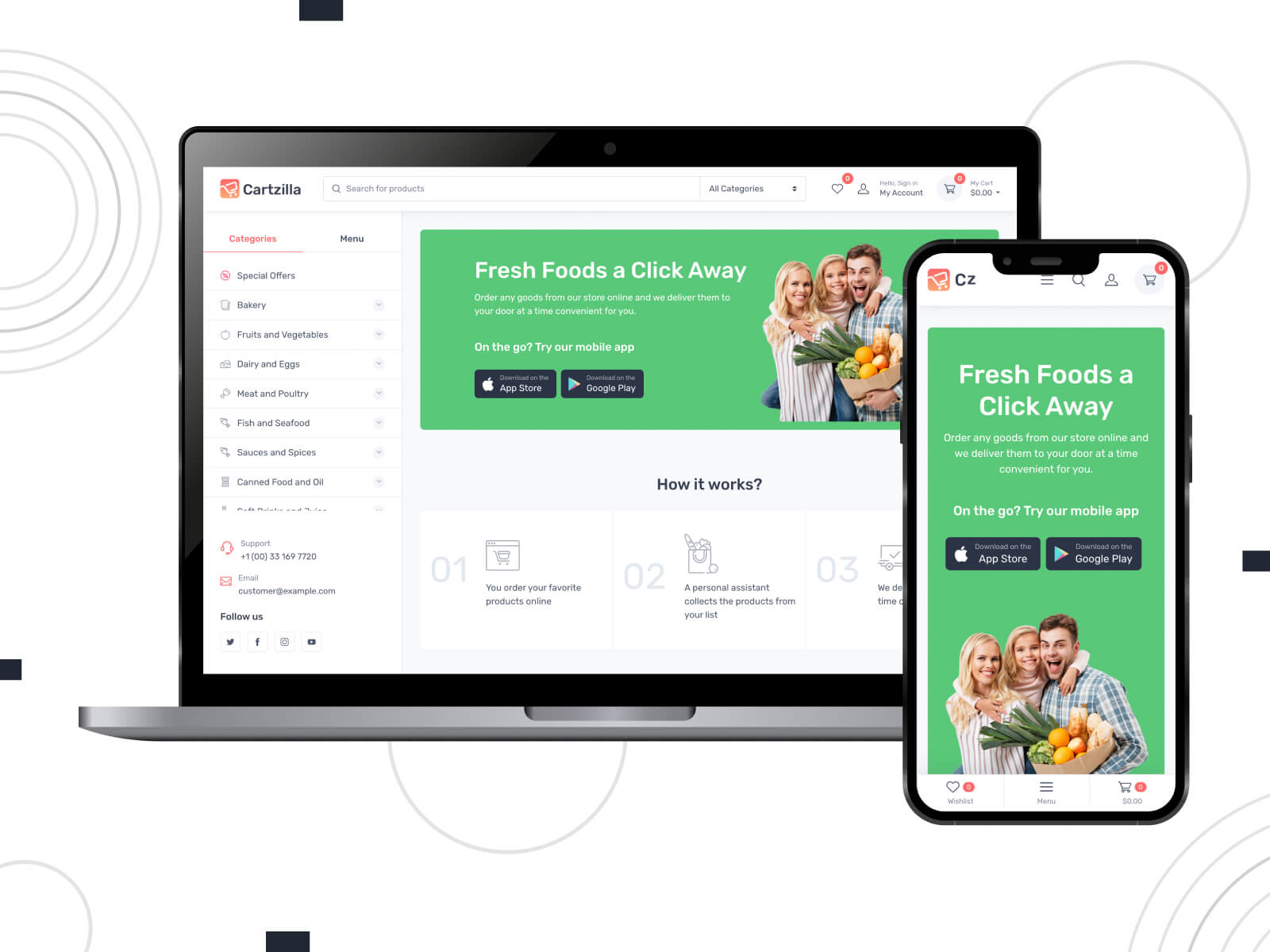 Name
Author
Price
Avg. Demo Speed Score
Cartzilla
Madrasthemes
$59
Mobile 50
Desktop 87
Cartzilla, an exemplary WordPress template, caters impeccably to your Digital Marketplace and Grocery Store needs. It presents an array of demos, encompassing a fashion store and electronics store, with seamless integration of the Dokan plugin for the facilitation of multi-vendor capabilities. Cartzilla guarantees a user experience that is both seamless and captivating. The home pages, meticulously constructed using Gutenberg Blocks, guarantee lightning-fast loading times of less than 1 second.
Not only does this example of the best grocery store WordPress themes boasts remarkable speed, but it also showcases an array of breathtaking attributes, including customizable Gutenberg Blocks and visually captivating vendor dashboard pages. The template is optimized for mobile devices and exhibits retina-ready visuals, ensuring a seamless interface on handheld gadgets. To assist you in the website setup process, comprehensive documentation that covers every detail is provided by the theme authors.
11. GreenGrocery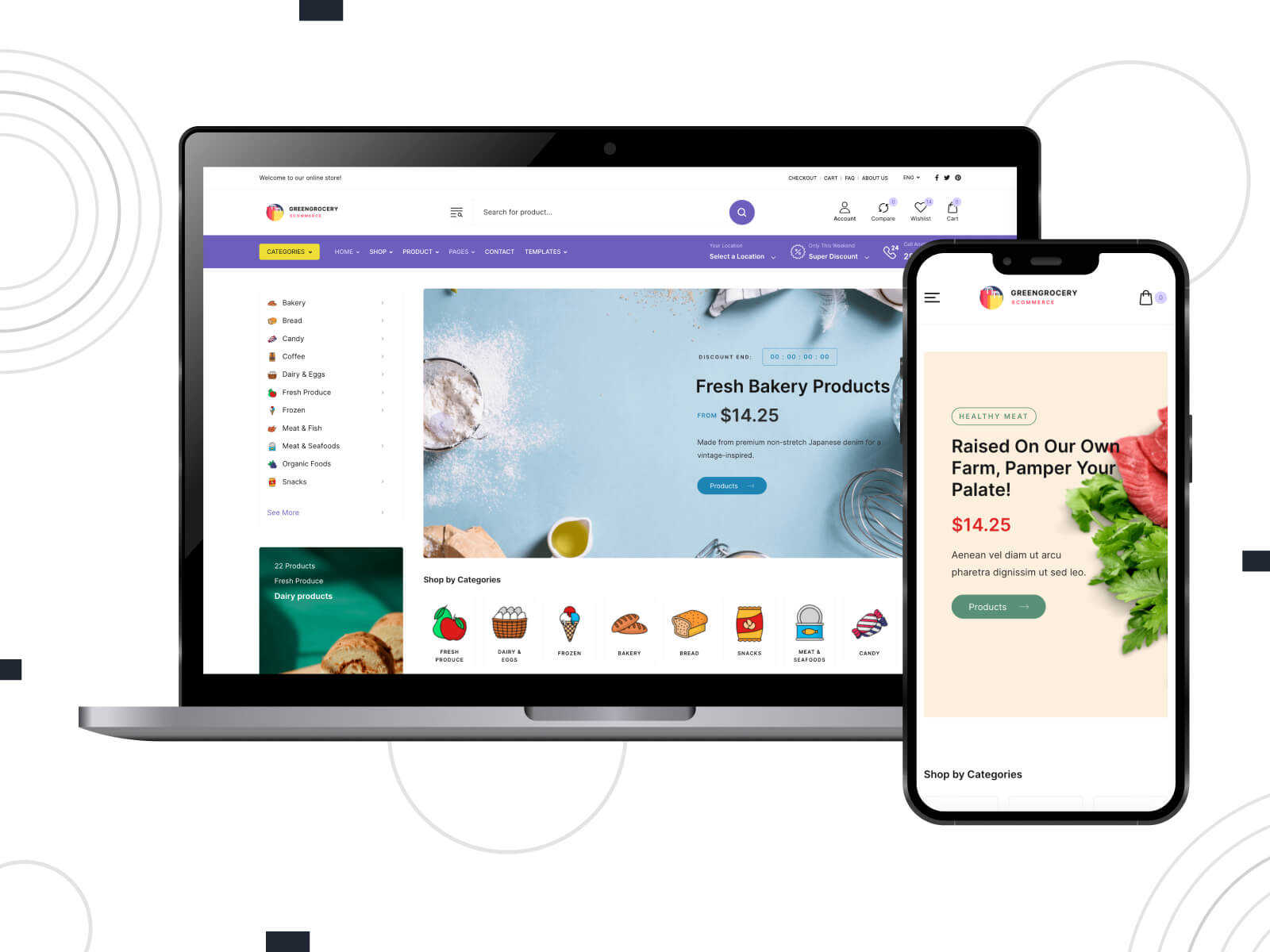 Name
Author
Price
Avg. Demo Speed Score
Green Grocery
Ninetheme
$24
Mobile 74
Desktop 94
This item from our collection of the best grocery store WordPress themes caters to virtual supermarkets and eco-friendly provisions outlets. Its functionalities are tailored to ensure swift browsing and secure transactions, rendering it ideal for diverse enterprises like large-scale retailers, food delivery enterprises, health stores, and others. Additional expenses and the use of premium plugins are unnecessary with this template, and perpetual updates will be provided free of charge. The theme incorporates contemporary strategies such as AJAX Quantity, Addtocart, Compare, Wishlist, and Popup Checkout, leveraging them to amplify your sales figures.
The colors and typography can be effortlessly modified to align with the precise requirements of your industry. Whether your business revolves around apparel, furniture, beauty products, or mobile accessories, GreenGrocery's sleek design methodology and robust coding framework guarantee a harmonious arrangement that will enhance your customers' shopping journey. A distinctive user interface has been meticulously crafted, prioritizing swiftness in purchasing and ensuring customer contentment, drawing upon insights from seasoned e-commerce professionals with extensive expertise.
12. Crisop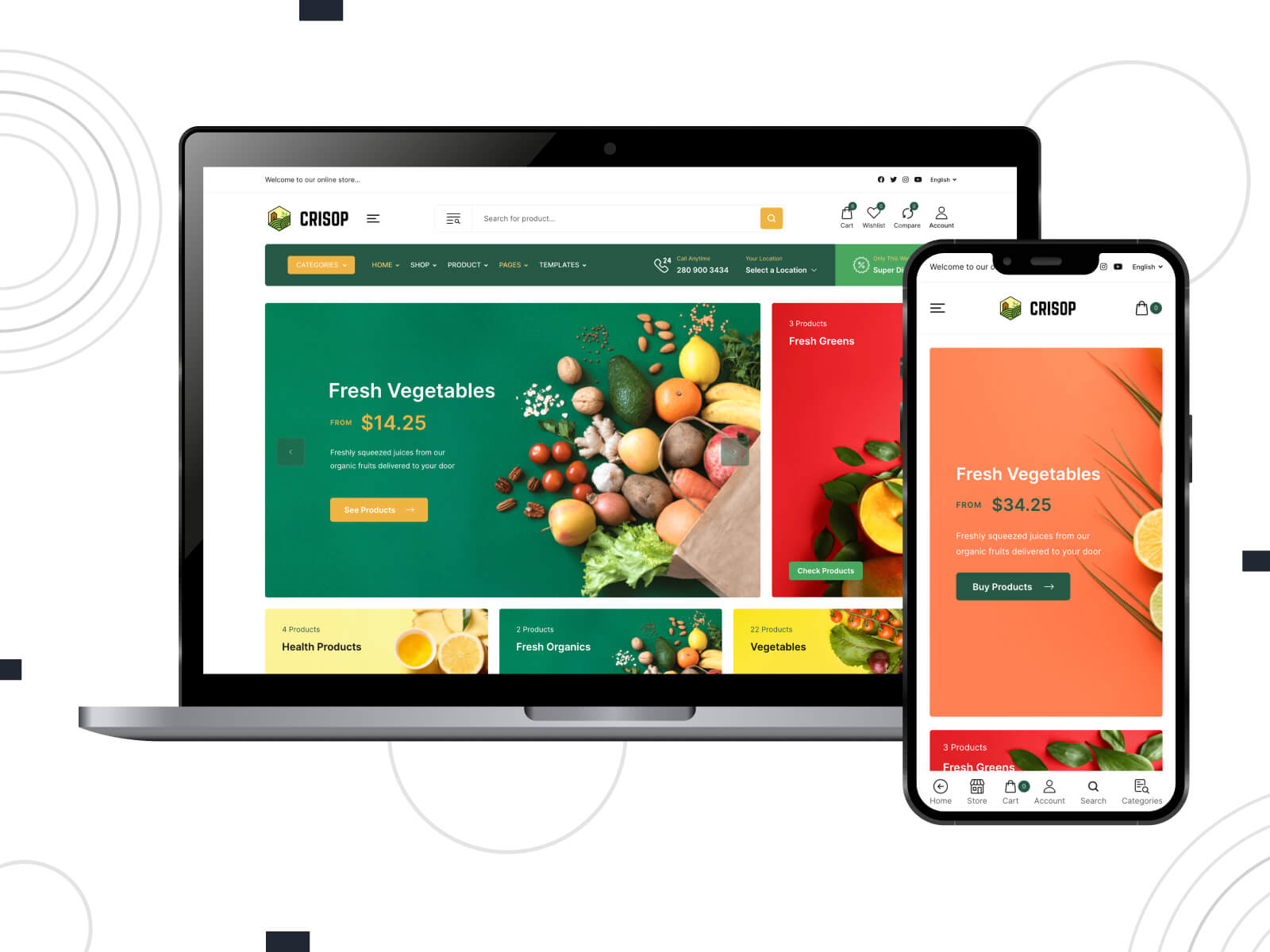 Name
Author
Price
Avg. Demo Speed Score
Crisop
Ninetheme
$19
Mobile 62
Desktop 95
Crisop presents itself as a dynamic and robust WordPress template that empowers you to establish a virtual shop of any kind. Leveraging its AJAX technology and compatibility with Elementor, you can effortlessly personalize your website and launch product sales campaigns within a matter of minutes. Crisop brings forth exclusive benefits, including location widgets, campaign creation functionalities, and popup features. Moreover, it incorporates a comprehensive array of tools indispensable for amplifying sales in an online store.
Regardless of whether your focus lies in the sale of organic food, agricultural products, jewelry, clothing, or electronics, this example of the best grocery store WordPress themes has you well-equipped. Its pristine design and cutting-edge methodologies are poised to optimize your sales figures and bolster your brand reputation. Furthermore, with its RTL support and responsive capabilities, this template proves to be versatile across various industries and types of shops. Make sure to explore this remarkable option to discover further tailored functionalities that meet your specific requirements.
Concluding Words
Having a well-designed and easy-to-use website is critical in the fast-growing online grocery industry. This selection of free and premium grocery store WordPress themes ensures that any business, regardless of its size, product range, or customer base, can find a suitable solution. These alternatives offer a range of features such as responsive design, WooCommerce compatibility, SEO readiness, and multi-language support, ensuring your online store provides an excellent user experience while also boosting visibility and profitability.
Key takeaways from this comprehensive exploration of the best grocery store WordPress themes include:
Versatility: These alternatives cater to a wide range of sectors and product types. From fresh produce to clothing, electronics, and more, these themes support a myriad of online retail establishments. Each template offers the flexibility to adjust and customize according to specific business needs, ensuring the creation of engaging, visually appealing online stores.
Performance: User experience is at the forefront of all the skins mentioned, with a strong emphasis on fast loading times, smooth performance, and designs tailored for mobile devices. The coding behind these templates is clean and efficient, guaranteeing optimal speed for the website and creating a seamless shopping experience that is both swift and hassle-free for customers.
Optimized for Success: Every theme has been developed to possess SEO optimization and seamless integration with social media, resulting in enhanced visibility on multiple platforms. As a result, your online grocery store becomes easily accessible, drawing in a broader audience and expanding your potential customer base.
Ease of Use: Even for those without any coding knowledge, these templates offer an effortless website-building experience. The intuitive design layouts, user-friendly interfaces, and robust functionalities help in crafting a successful online grocery store. Their compatibility with popular plugins and page builders further simplifies the process, enabling you to enhance the capabilities of your online shop with ease.
FAQ
What is the best free grocery WordPress theme?
A range of complimentary grocery WordPress themes can be found, with the optimal choice contingent upon individual requirements and preferences. Yet, there are popular alternatives worth considering, such as Ecommerce Mega Store, Food Grocery Store, and Online Grocery Mart. It is advisable to examine these templates thoroughly and select the most fitting one that aligns with personal needs.

Which theme is best for an eCommerce store?
Various factors come into play when determining the optimal template for an eCommerce store, including the type of products, preferred aesthetics, available features, and customization capabilities. However, there are esteemed options available for eCommerce stores, such as
Frutta Verde
, BoroBazar, and Freshio. These alternatives boast strong functionality, flexibility, and outstanding support, providing the necessary foundation for crafting a prosperous online store.
What is the best WordPress theme for eCommerce?
The choice of the ideal WordPress template for eCommerce mostly relies on your particular needs and objectives. Nevertheless, several well-known and highly functional alternatives for eCommerce are available, such as
Laveri
, Cartzilla, GreenGrocery, and Crisop. These themes provide ample opportunities for customization, seamless integration with popular eCommerce plugins, and exceptional performance, rendering them favored selections for constructing successful online shops.