How to Create a Salon Booking System with WordPress
How to create a salon booking system with WordPress?
In this post, we'll cover details of creating a salon booking website on WordPress with the dedicated, business-fueled Lotus Spa WordPress theme.
It's made specifically for beauty and hair salons, massage parlors, wellness studios and spa centers.
If you use any other appointment theme, this guide is still relevant since you are free to choose any WordPress design from any provider.
Remember, however, that building an online salon booking system on WordPress is in the first place a matter of using a booking plugin.
The Lotus Spa theme is pre-packed with the MotoPress schedule salon booking system for WordPress that will take care of any service-based business that wants to offer appointment booking, online payments, and the ability to give feedback to customers.
That is, you can easily optimize the salon online booking system by MotoPress for any wellness and spa management software.
Also read about the Yogamo yoga studio WordPress theme with the class booking plugin integrated.  
What is Lotus Spa?
We'll exemplify the guide with screenshots from the Lotus Spa theme, which is a high-converting, professionally designed template that comes with a pre-designed booking widget and many needed site pages, such as About us, Contacts, etc.
Here are a few more essential content elements underlying this WordPress theme that are made to accelerate the theme customization process (since you'll just need to replace demo content with yours).
Featured sections where you can place the Book button and key messages.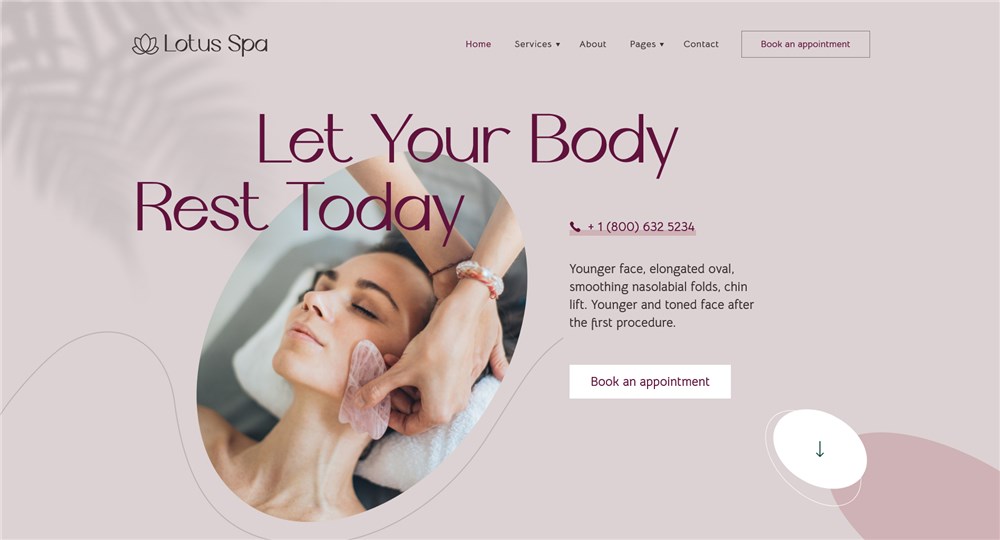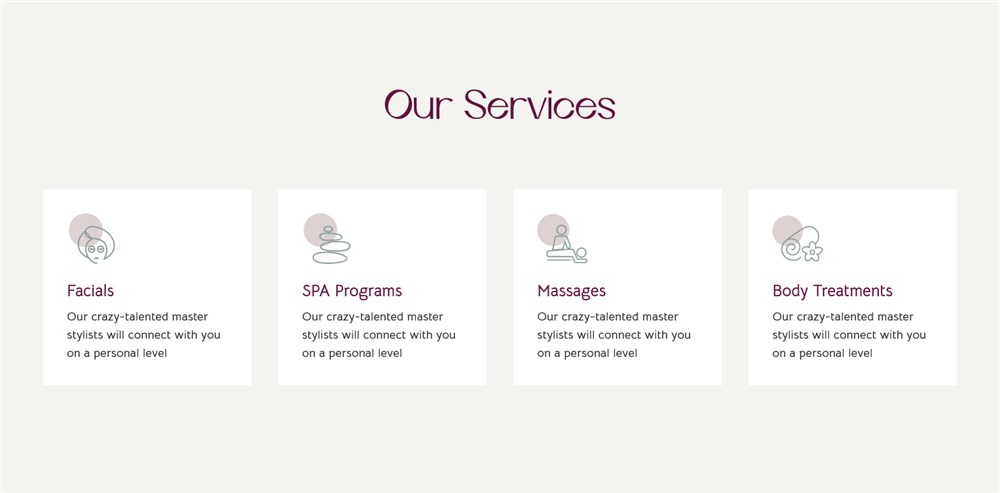 Your salon team, you can optionally add more bio details for every person, including a photo, certificates, expertise, contacts and even social media links.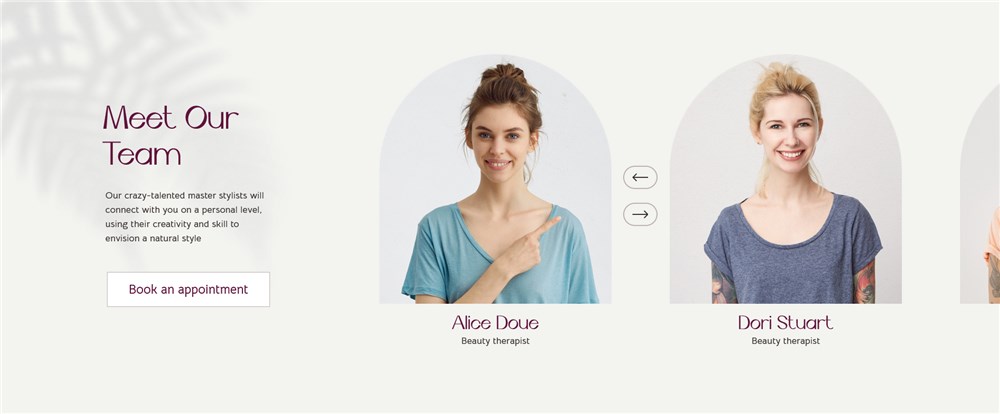 Gift cards, bonus programs or certificates.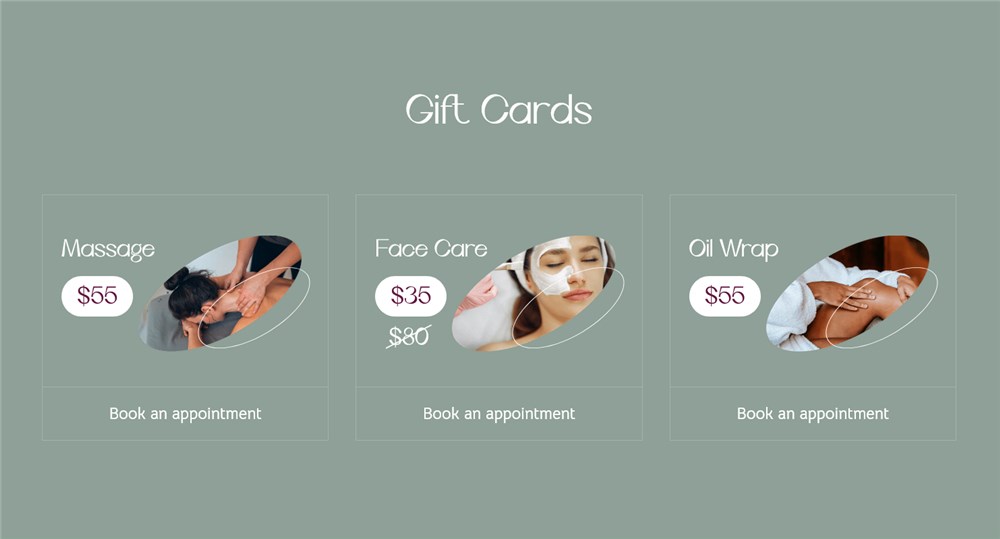 Various pricing lists for instant comparisons.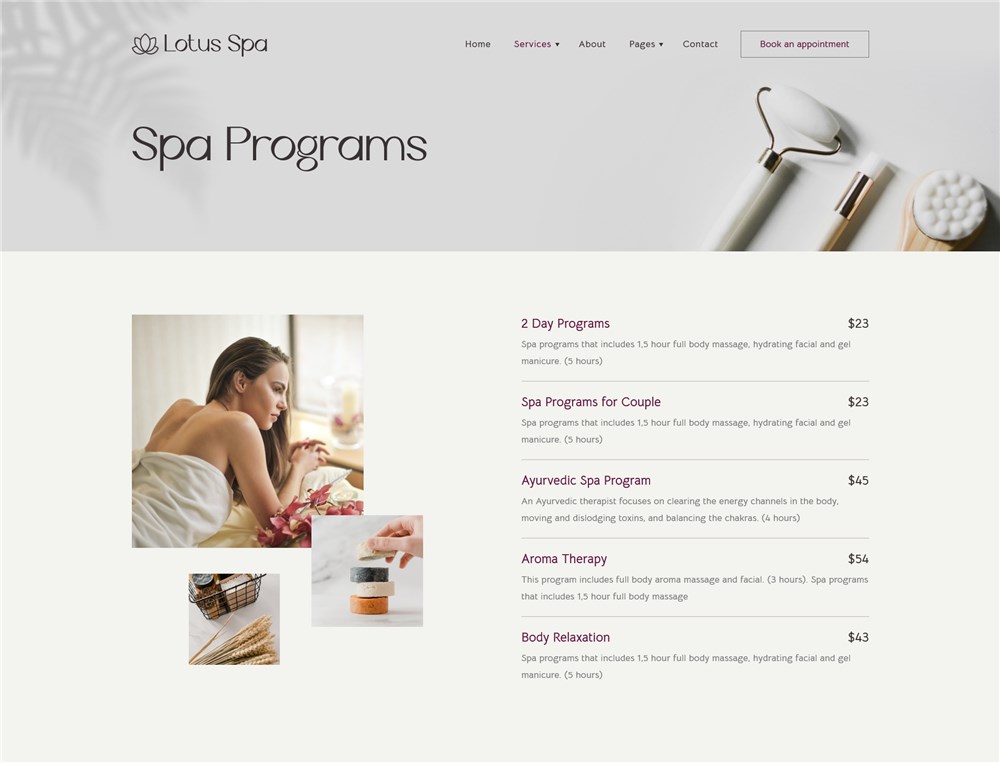 It's also easily editable in the native WordPress block editor backed up by the Elementor builder, with the help of the pre-packed with the Stratum plugin for free.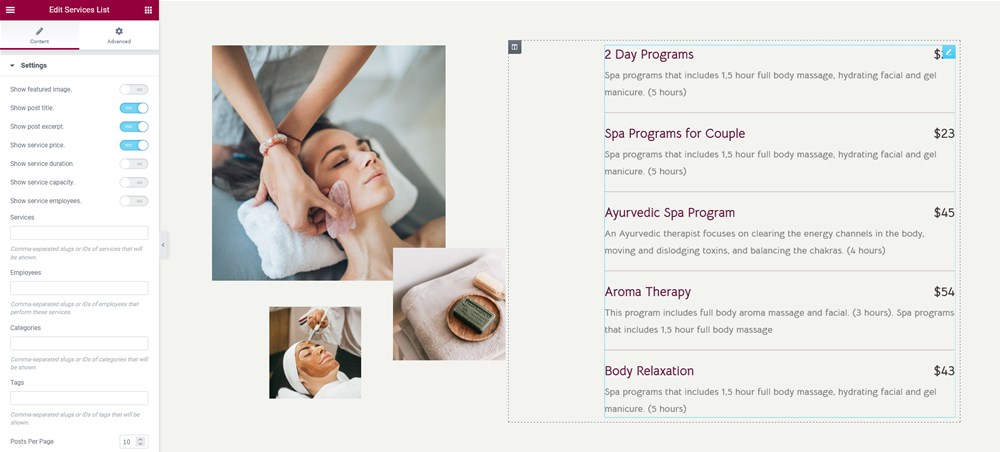 There are plenty of details that can help you feature even more of your business specifics, including the ability to place the Book button on multiple places, to multiple spots so that your clients will have a chance to make a booking quickly and easily.
Again, you can have any design, but the salon booking system by MotoPress will work just the same, although it'll probably look different since it's always up to the default WordPress theme styling.
Let's now take a closer look at how the system works for you and your clients.
Create a salon booking system with the MotoPress schedule salon booking system
The MotoPress appointment booking plugin adds a mobile-friendly appointment reservation widget to your site, which is a two-in-one thing – an online booking calendar and a salon booking widget.
For clients, it's a booking wizard that guides them step-by-step, from choosing the needed service and available dates to paying online.
On the first step, a client specifies a service, location and service provider. Remember that you can rename or hide the needed booking form fields in the settings.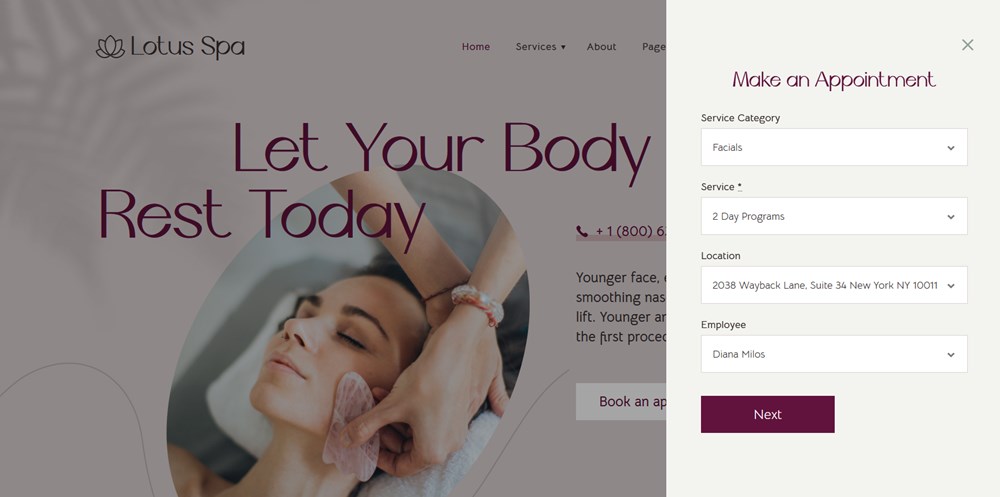 After that, the WordPress salon booking system offers them to choose a date and time from the available ones.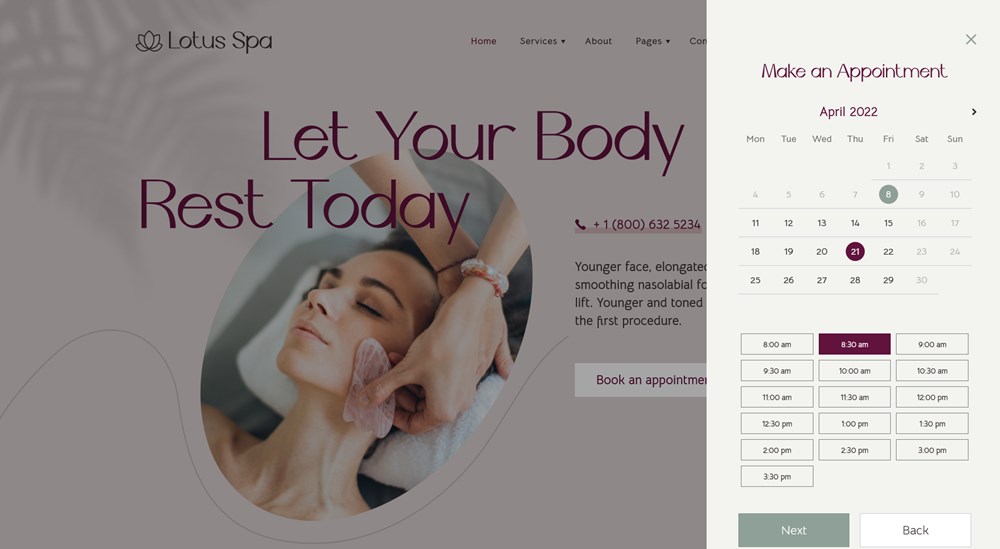 Then follows the shopping cart customization step, when people can add extra services. If groups are allowed, a client can select the number of people for the appointment. It's also possible to add several services to cart.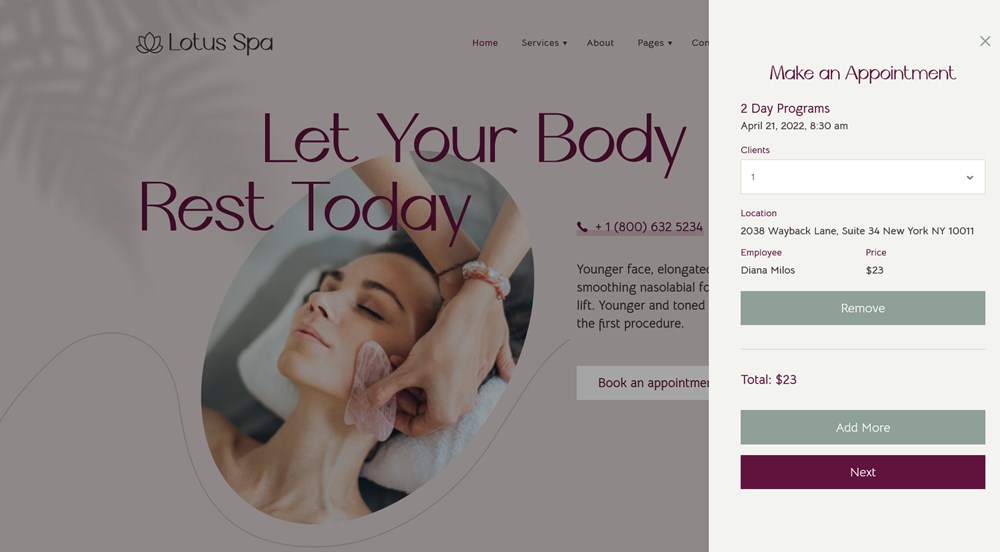 Clients must also provide their contact details, such as a phone number and email address.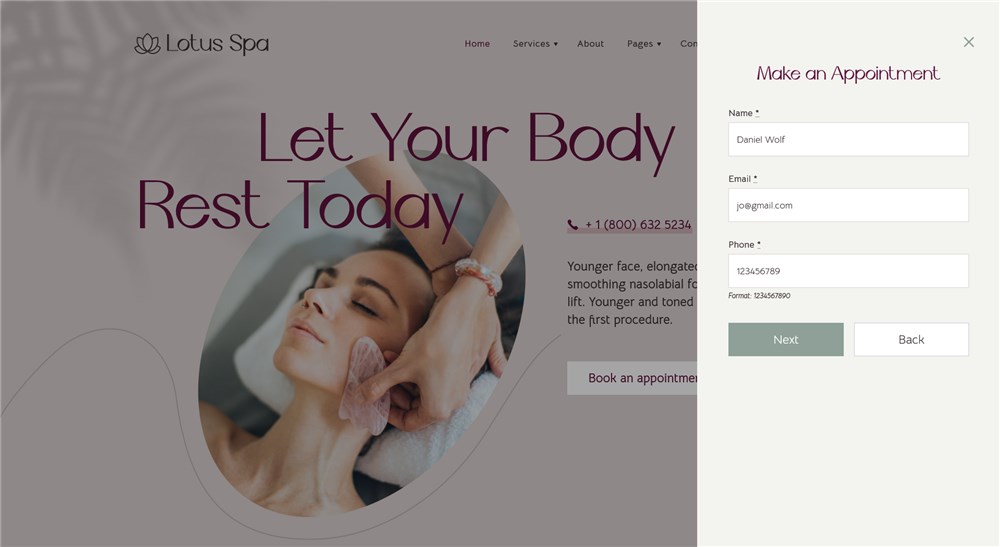 On the final step, they choose the payment methods among those ones you enabled and either pay online or choose to pay later after arrival.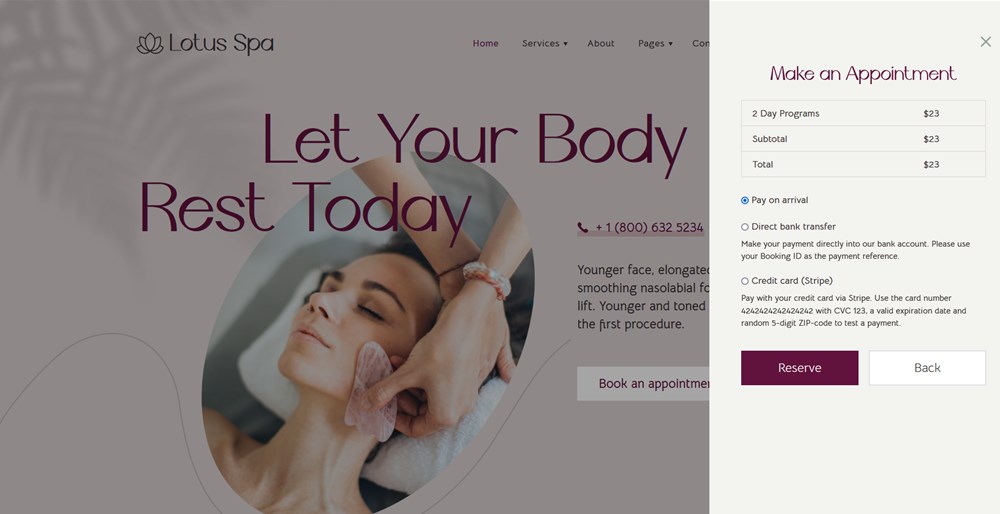 If the process is successful, clients and admins receive a respective email, the booking statuses change automatically.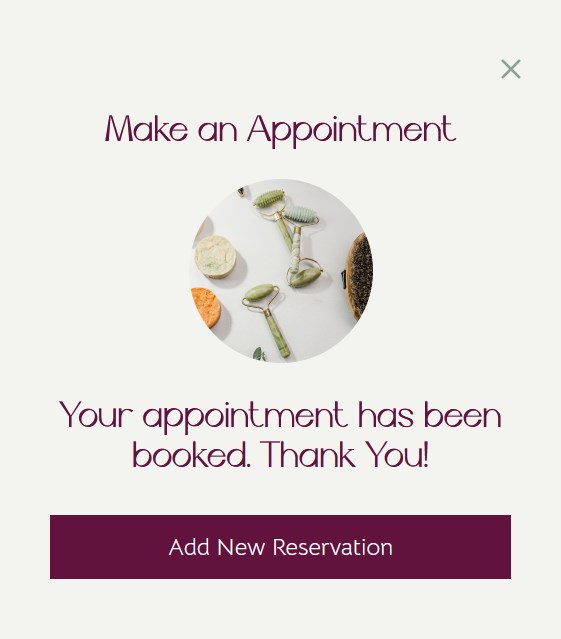 But before you can display this on the website, you need to configure your preferences on the dashboard.
As a rule, the process of using the MotoPress WordPress salon booking system plugin is as follows.
Step 1. Set up general settings, including currency and booking confirmation modes
To tailor the durations of your salon appointments, you can set up the minimum appointment time, default booking statuses and more.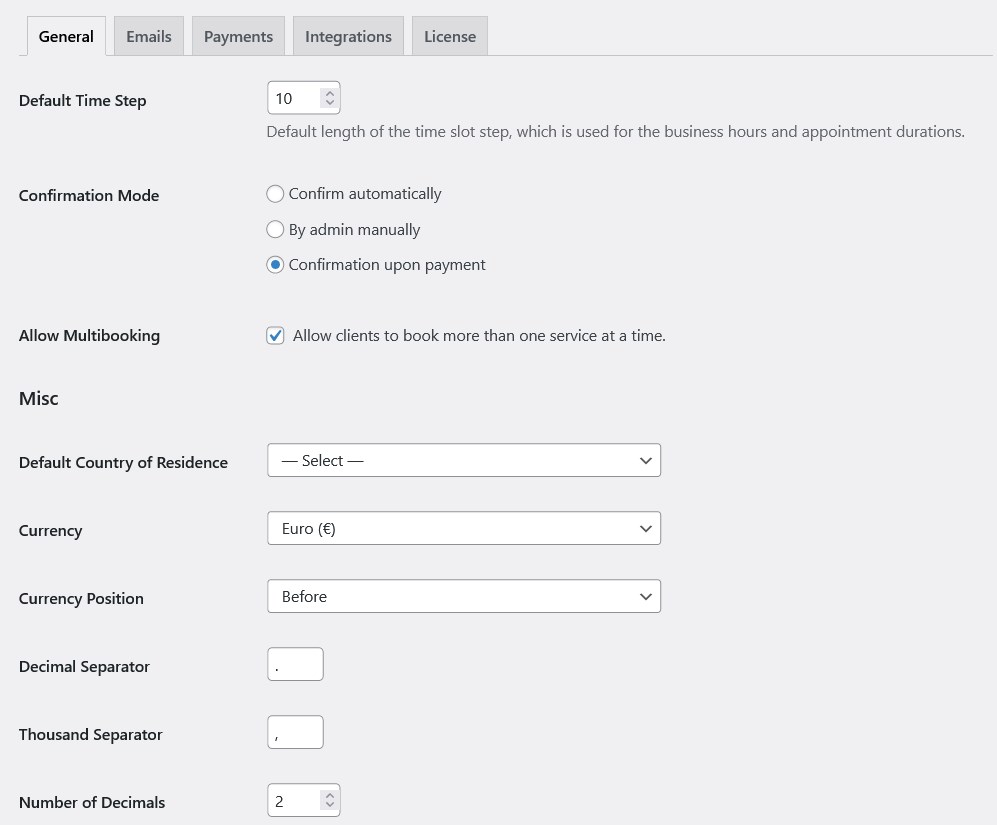 As for the default booking confirmation modes, you are free to choose among:
Confirm automatically
By admin manually
Confirmation upon payment
Step 2. Add service providers
If there are many team members, you'll need to create a profile for everyone, with their individual working schedule and other details. It's also okay if you are a solopreneur, simply build one profile.
You can use any builder to customize those profiles; with Lotus Spa, there are tons of customization options provided by Elementor.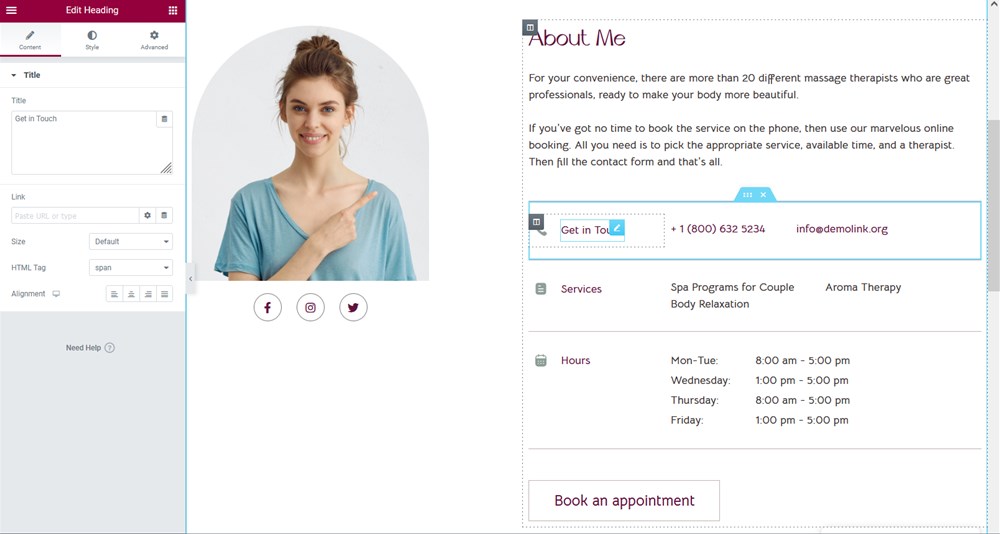 Step 3. Add one or multiple salons, in different locations
You can optimize the MotoPress Booking plugin for the enterprise-grade businesses as well thanks to the ability to add numerous salons and locations where you operate.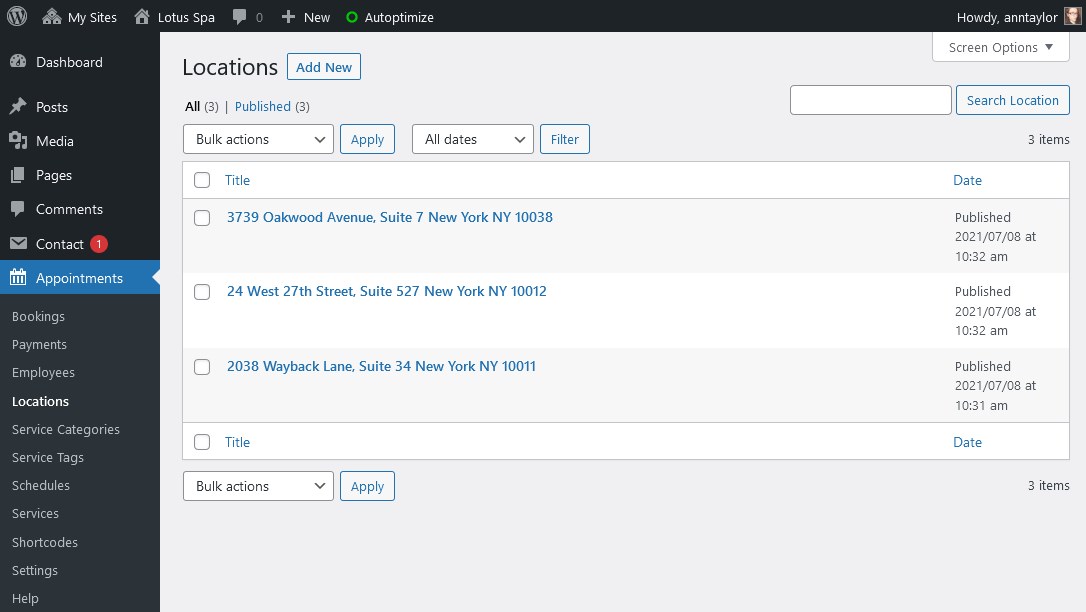 Step 4. Customize a working schedule for every employee
It's easy to optimize a schedule for every employee with differences in lunchtimes, breaks, days off, and locations. You can also add holidays and other breaks to the schedule.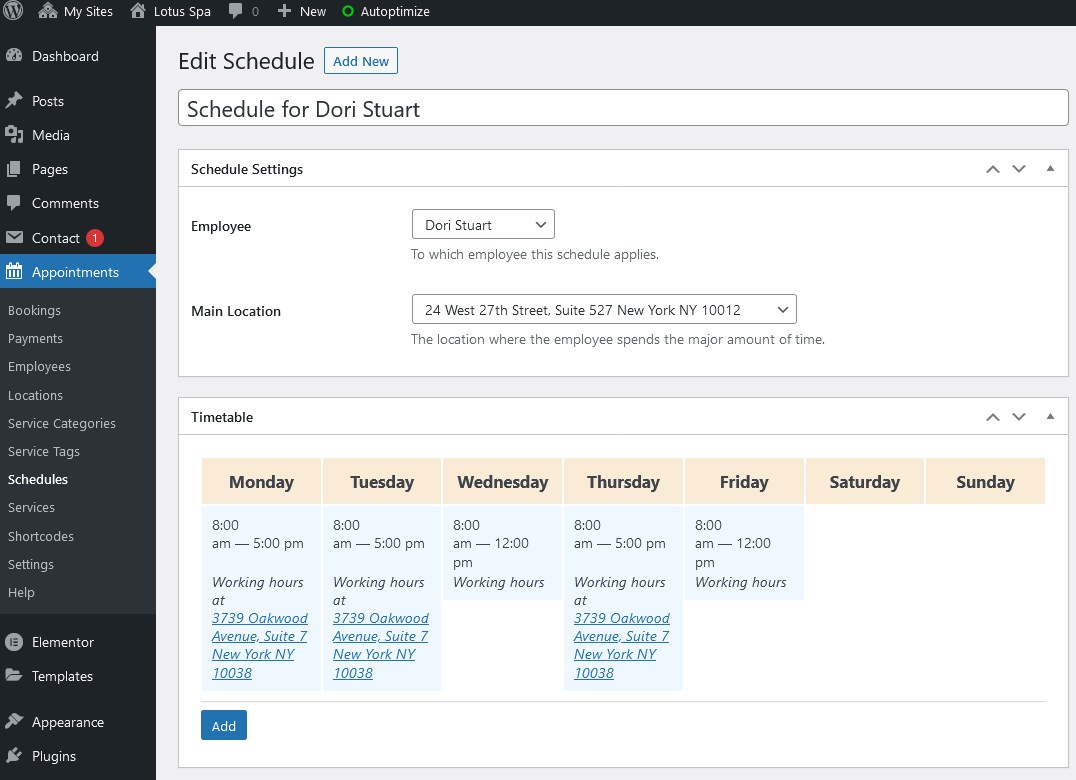 Employees can log into their own profiles to view their bookings and view/edit their schedule. The MotoPress Booking plugin allows for defining access to the plugin so that you can give different admin privileges to the website.
Among other settings, employees can sync their schedules to their Google calendars and always get their availability up to date, with instant notifications.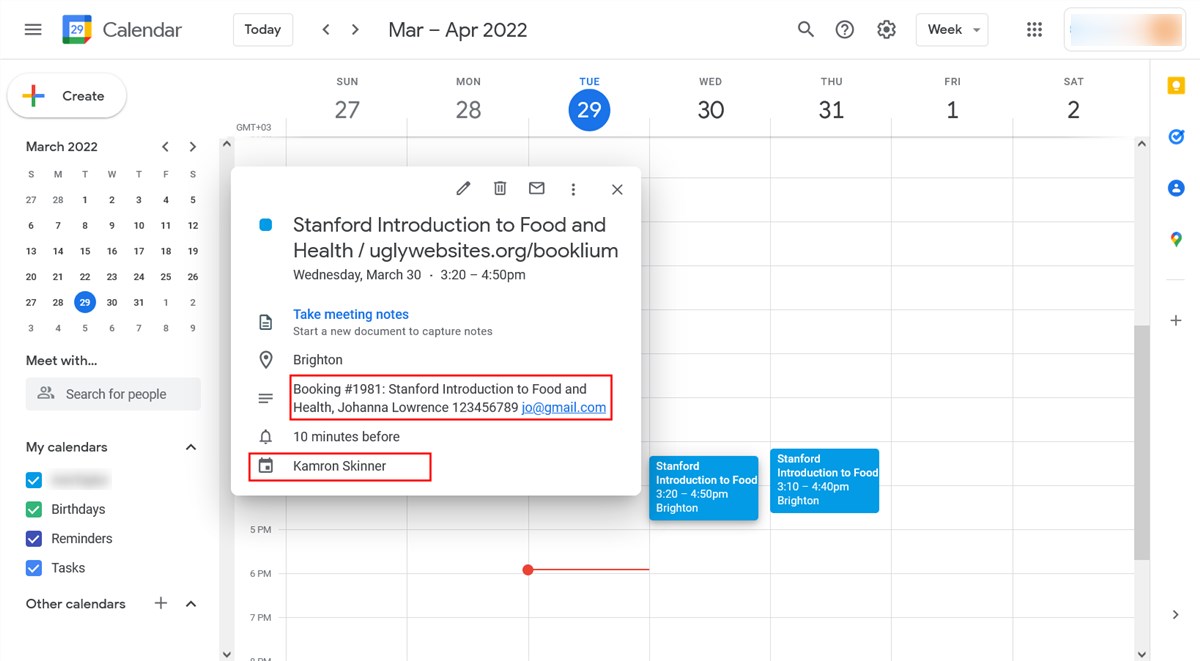 Step 5. Customize the services you provide in your salon
Customize all the services you provide, in particular, you can set the price, appointment duration, add extra buffer times if needed, group capacity if needed, and choose service providers who can do the service. You can add unlimited services.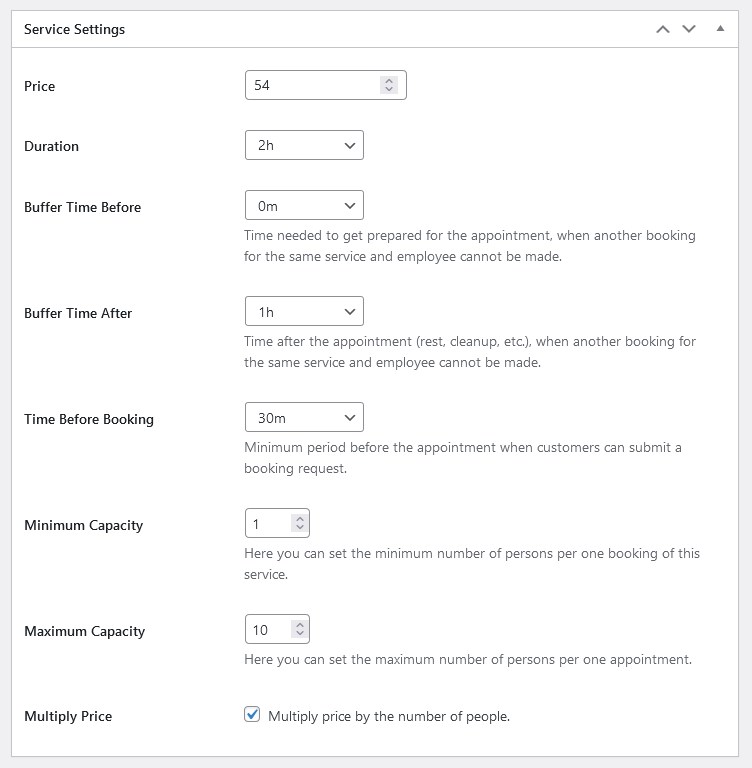 Step 6. Set up email notifications
You can customize and brand emails that are sent to you and your customers. There are a few tags that you can paste and that will automatically replace data in emails, e.g. insert a booking status or customer details.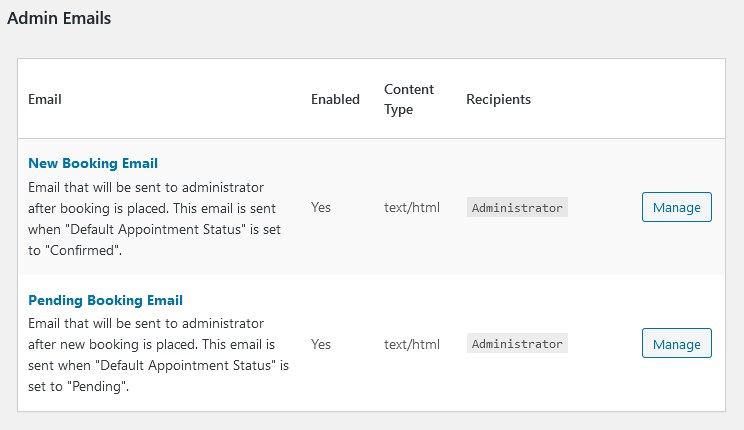 Step 7. Enable payment methods
The booking plugin allows you to set various payment methods. You can collect payments on your site via PayPal, Stripe, Direct Bank Transfer, or pay upon arrival. Stripe additionally supports Bancontact, iDEAL, Giropay, SEPA Direct Debit, and SOFORT.
At this aspect, the booking plugin by MotoPress is probably the best salon booking system you can find on the WordPress market; it doesn't charge you for any price addons.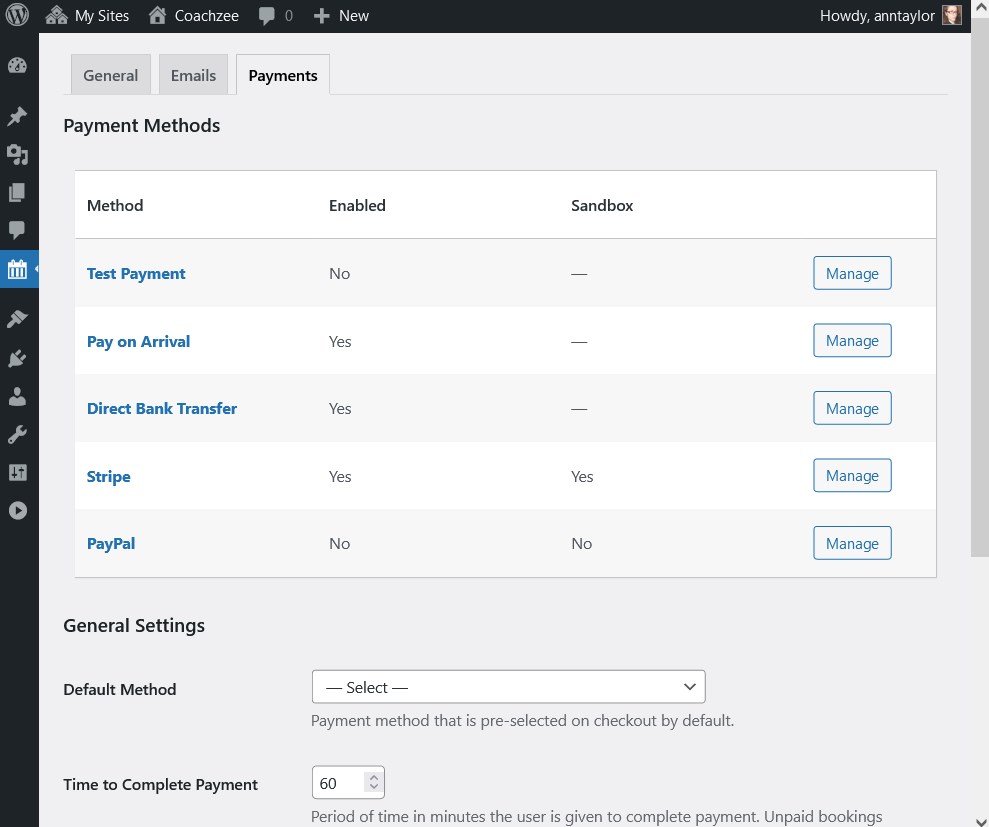 Step 8. Add and customize a booking widget
The booking widget and wizard is editable – you can rename or hide the form fields, etc.
You can change the booking widget via any website builder, including Elementor or the WordPress block editor.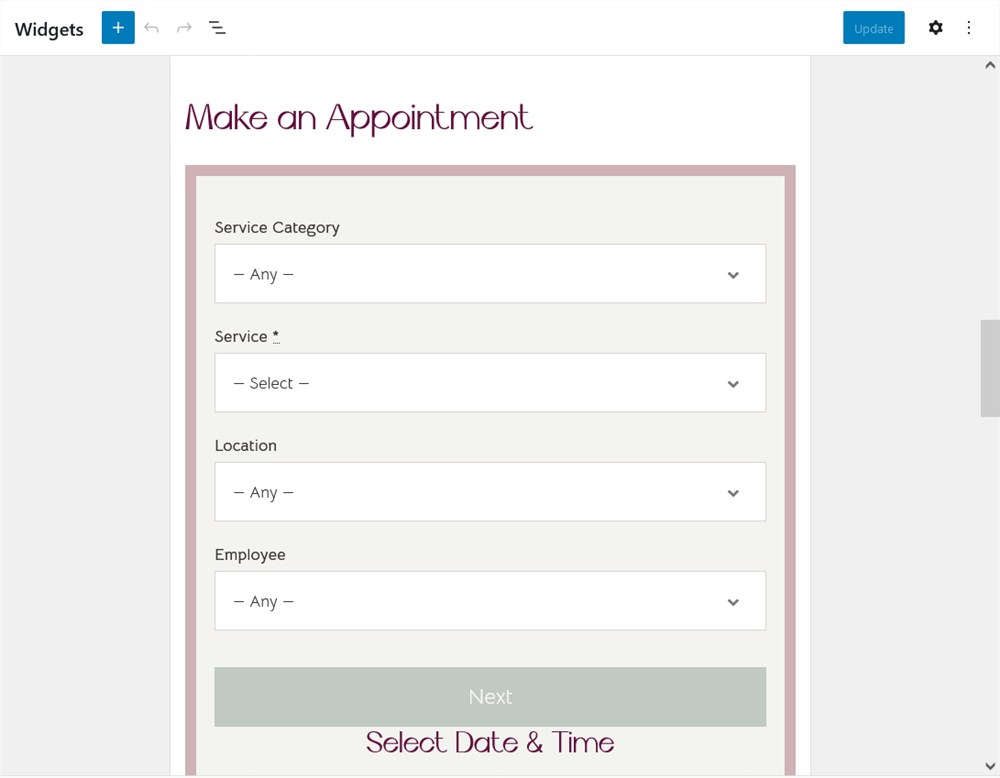 It won't be a hassle to adjust the functionality, the color scheme and layout will be applied accordingly to your site design.
You can add it as a shortcode/widget to any specific website part or to the widget zones of your WordPress theme, which are known for their global across-the-site visibility.
Step 9. Manage reservations
A few menu sections of the plugin that you can use as online booking system for beauty salon are devoted to managing and controlling bookings:
View payment history and payment transactions
View bookings in a calendar mode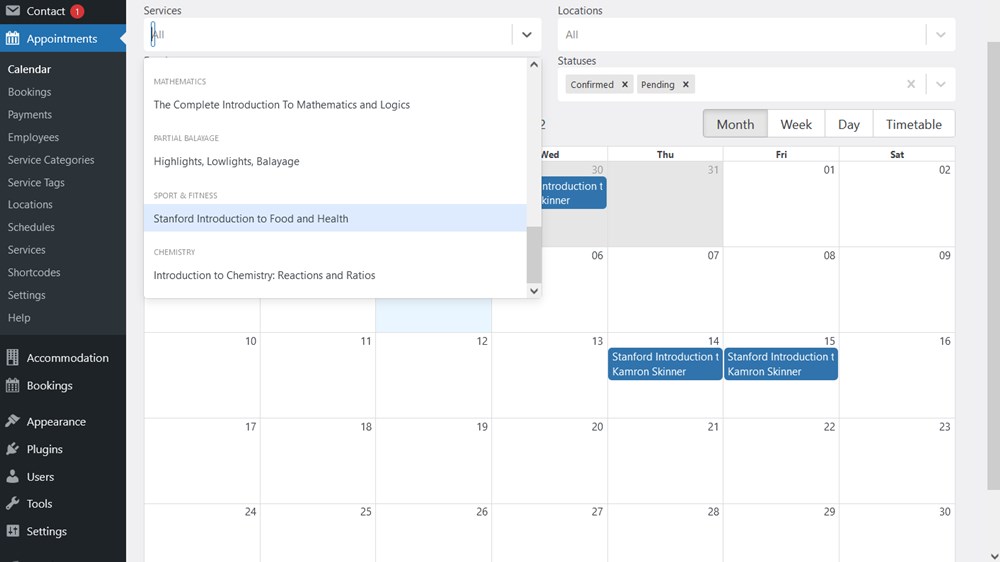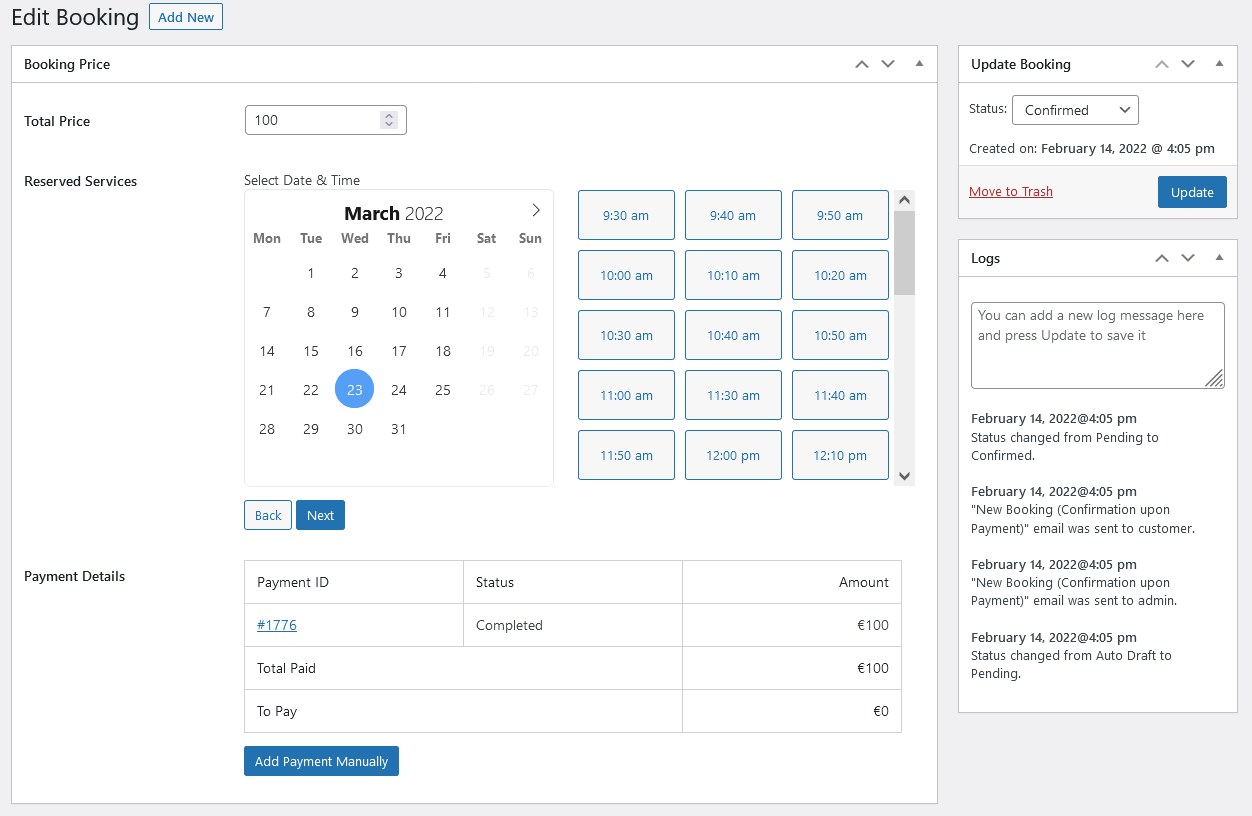 Add bookings to the admin dashboard by hand.
You can still do a lot of customization tweaks as to your bookings, work with statuses, add payments by hand to keep them on file in the cloud, etc. Not that much work to do!

Conclusion: How to Create a Salon Booking System with WordPress
To sum up on creating a salon booking system with WordPress – you won't need any extra tools if you're on the Lotus Spa since it comes with the WordPress scheduler plugin packed. Using a dedicated Lotus Spa theme will help you avoid haphazard, unprofessional website looks.
With the booking engine, you get everything from the calendar to payment processing, no need for third-party integration tools. You can create unlimited salons, add unlimited team members and accept as many bookings as your business is able to generate, without a need to pay any extra commissions.