Getwid 2.0: Support for WordPress Full Site Editing
Since version 2.0 of Getwid, our super popular free WordPress blocks plugin, you can use it with any FSE-enabled WordPress themes.
In simple words, every WordPress block theme that supports FSE features, can be easily edited (read: extended!) with custom Getwid blocks. The best thing about it is that you can use Getwid blocks in any part of your website, including headers, footers, and even navigation.

What is FSE?
But what exactly is behind the WordPress FSE term, if you are new to it?
FSE has introduced the utmost flexibility for the entire WordPress site, allowing you to edit website parts that were previously editable mainly with code. Now you can create custom headers and footers just by using blocks. This feature is supported by the purposely-made block themes with full site editing functionalities, such as Prime FSE.
It can clearly benefit those who want to unlock maximum editing capabilities in WordPress by employing blocks to the fullest. On the other hand, it might seem regular users without a designer's eye risk to spoil everything, right? Not exactly.
WordPress doesn't leave you alone but enables theme creators to build patterns, pre-designed page sections you can insert in clicks and use just as blocks. You have an option to use pre-made patterns sourced by the theme or build your own using core WordPress patterns or designs from the Getwid Library. Watch how the latter works in the video below.
If you are into learning details of the new designing approach in WordPress, we're explaining how it all works in the Twenty Twenty-Three theme review, the official block-enabled FSE WordPress theme.
Getting back to the Getwid update, in practice, this means you can even seamlessly feature your recent posts using the posts slider in the FSE-enabled header part, create a content slider using any pre-made pattern or regular block inside, and experiment with your WordPress block theme the way that works for you.
This update is really good news if you are on Getwid and are going to switch from a classic theme to full site editing WordPress themes; of course, you want to make sure that all your plugins are compatible. Have no doubts, you can use Getwid content blocks without limits in any template or template part.
How to access the full site editor in WordPress?
Update to at least WordPress 5.9 or higher and install a block theme.
There are hundreds of block themes on wp.org listed under the FSE category and their number is growing. Popular ones include Ollie and Starter FSE, but if you need a dedicated solution instead of a multipurpose theme, there are multiple business topics covered as well.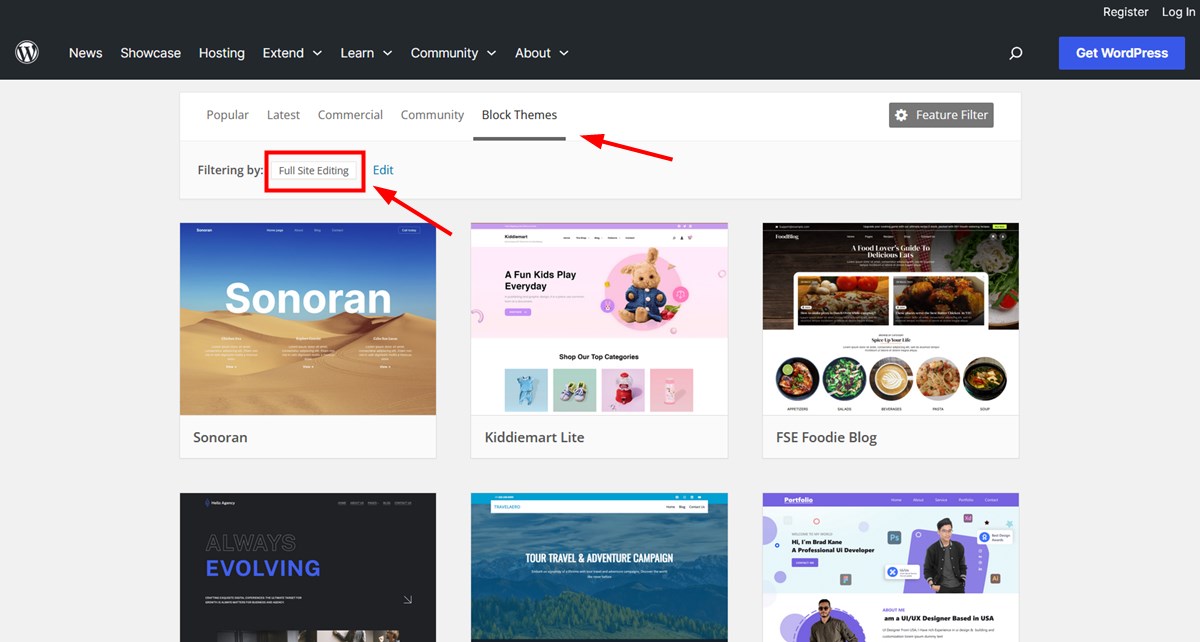 The challenge with such themes is that you can't change the template with traditional theme settings and sometimes you need to do a lot of work manipulating blocks to create or edit a template. You might need to test many themes before you find one that gives you more options than hassle – but the result is going to be rewarding!
Create your own design patterns with Getwid blocks
There are numerous ways you can play with Getwid and your FSE theme, it will pretty much depend on the theme framework you use.
In the video below, you can watch Valerie building a custom header with Getwid blocks using the 2023 default theme.
Here are a few examples.
Content slider – add any type of content, including default WordPress patterns, to create a slider and insert it into the most visited part of your website.

Add a posts slider that features chosen posts dynamically.

Create an image stack gallery to show your image gallery in style.
Once created, you can save these patterns and reuse them in any other website part.
Final word: Use Getwid with FSE themes
All eyes on FSE – when anything can be edited using blocks. And we are making Getwid fit into the new WordPress features of the full site editing paradigm, the new native way to build websites in WordPress. Of course, Getwid still works with classic WordPress themes as before, but with the recent update, it has also tapped into the new FSE technology to help you explore the new opportunities without a need to part with your favorite plugins.