Three Ways to Add an Online Booking Calendar to WordPress
In this post, we're reviewing three ways to add an online booking calendar to your WordPress website.
We'll use different WordPress calendar plugins depending on the purpose of your business, whether you sell appointments, events or rent out accommodations. There is a difference in how they function and what client needs meet.
Of course, there are many alternatives to these online booking calendar plugins we'll use; the point of this post is to show you a few examples of how some popular WordPress scheduling plugins work and what level of automation you can expect from them.
And for this purpose, we'll use a few best online booking calendar plugins for WordPress that have gained a decent reputation and are just really easy to work with even for people with little WordPress experience.
Actually, we already have a lot of tutorials on this blog that might assist you in different tasks:
Let's now get down to details of particular scenarios and introduce you to a few robust and mature scheduling WordPress plugins.
Online Booking Calendar for Appointments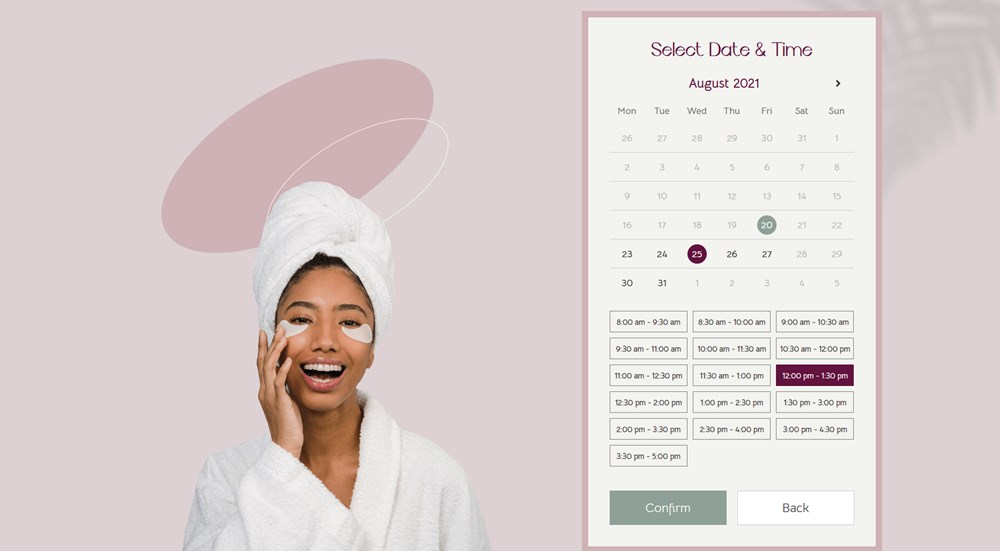 So how does it work when you need to accept online appointments for your service or time-specific business, e.g. a gym, clinic, school, etc.?
With our favorite MotoPress Appointment Booking plugin, the process boils down to setting up a system of interconnected elements – adding services, employees, schedules, etc., in other words, trying to translate your business reality into a digital format.
FEATURES AND OVERVIEW
This online calendar booking system delivers some industry-standard features in a WordPress-native way and allows you to process reservation inquiries hands-off. You are free to create any custom appointment duration, not necessarily hours.
In particular, this WordPress calendar plugin takes care of the following things:
You can add unlimited locations, employees and services
Accept unlimited bookings without any price rise for the software
Accept online payments via PayPal, Stripe, wire transfer, or pay on arrival
Adjust time slots for appointments in any suitable way
Build a multi-shop chain or run a solopreneur business
If you are starting from scratch, you can pick a starter appointment design with this plugin pre-built
Flexible employee schedules
You can customize the booking form fields and labels
Customizable service capacity settings
The system of two-way automatic notifications
Clients can add multiple services to cart at one go
Available in English, Italian, French, German and Spanish
Has native widgets for the WordPress block editor, Elementor and Divi
In addition to service businesses, comes with a dedicated rental equipment design
This is a premium-only plugin you can get at $49.
HOW TO ADD AN ONLINE BOOKING CALENDAR
Online bookings happen via the dedicated mobile-friendly widget, which is a two-in-one thing – an online booking calendar and a reservation widget.
Once you've added all the needed elements for the system to run (services, employees and their timetables, etc.), you simply need to output a dedicated appointment form widget to the site page.
Since this online calendar for booking appointments supports major page builders, you can do that by adding a widget visually via the builder: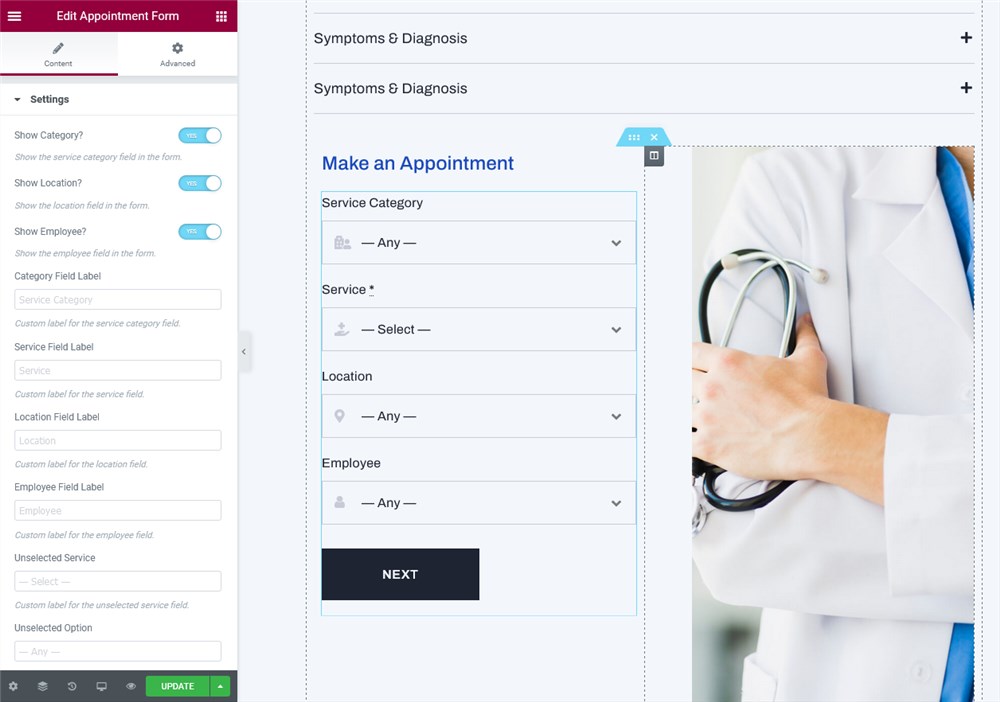 The widget will "inherit" visual styling from your active WordPress theme: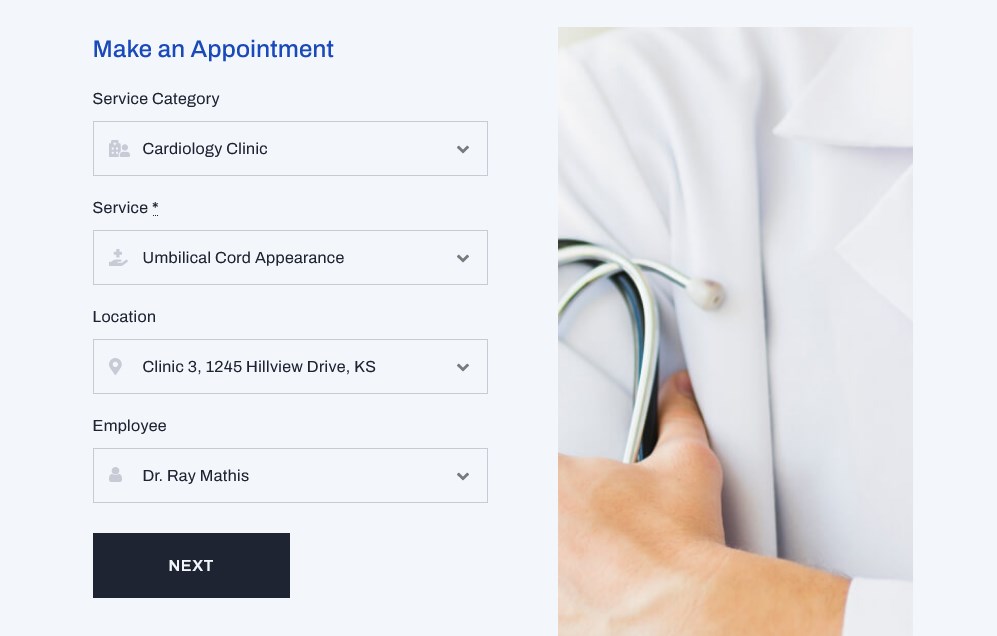 And here is an online booking calendar for appointments it provides: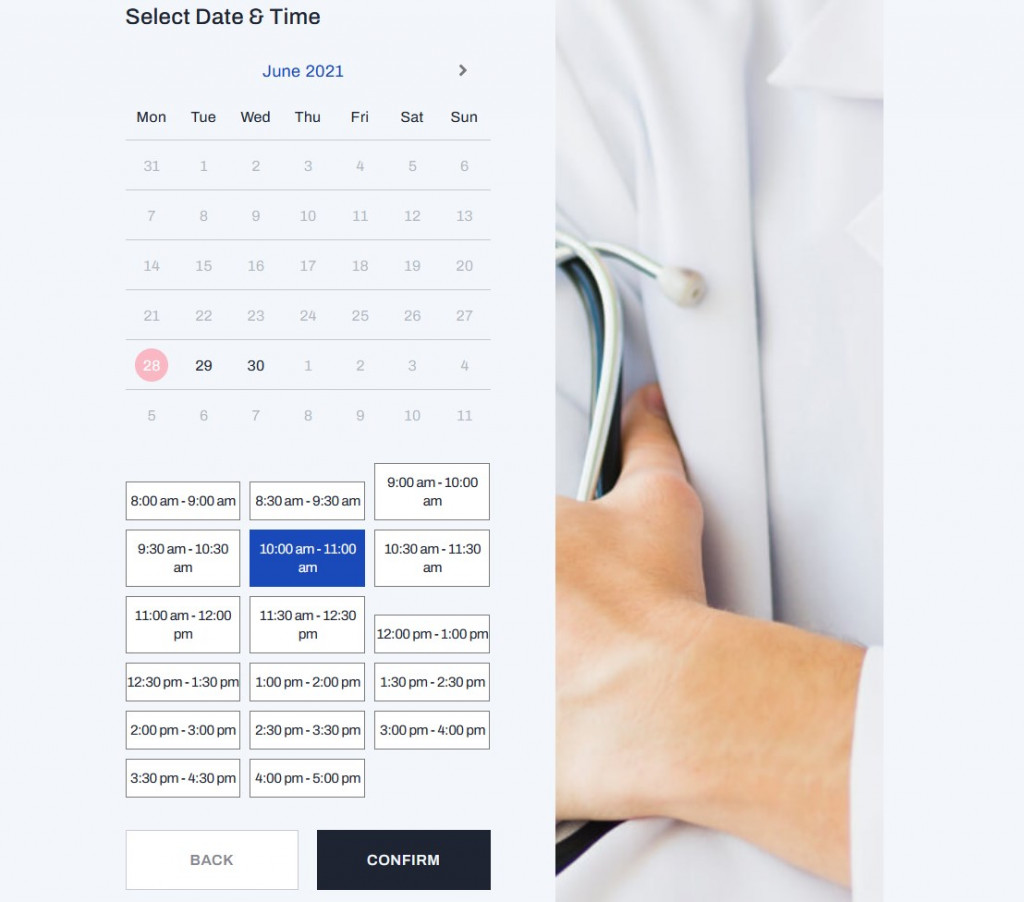 Clients need to pick free slots, choose available time and submit their reservations.
Best suited to: an affordable, powerful and slick WordPress online booking calendar for appointments businesses, such as beauty salons, educational institutions and more niches.
Alternatives:
Online Booking Calendar for Events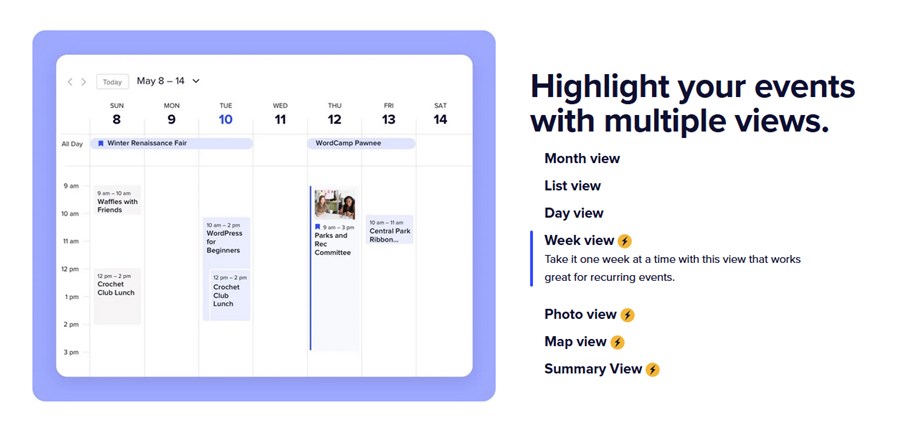 If you want to sell events and tickets, I can't think of any event business the modern Events Calendar plugin can't cover. What's more, this online booking calendar for website will catch your eye instantly with fabulous designs and slick, creative timetables.
This calendar for scheduling in WordPress is popular with people, serves tons of needs and is optimized for multiple business scenarios already serving numerous companies, universities, and government institutions.
FEATURES AND OVERVIEW
The Events Calendar plugin is available in a free and PRO versions, the latter comes with more options for enterprise-grade businesses, more diverse calendar customization options, better online payment features, and wider event categorizing modes; also, there is a library of extensions to help you integrate only those extra tools you really need.
Let's list some of the most prominent features:
Flexible event customization settings, including various event templates
Beautiful featured events and event calendar designs
Google Maps, Google Calendar and iCal exporting supported
List, month and day event views
The ability to import events in CSV
Saved venues & organizers
Different date formats supported
Support for the WordPress block editor (native WP editing experiences), plus tested integration with popular frameworks, including Avada, Divi, Enfold, Genesis, and many more
Rest API for developers.
HOW TO ADD AN ONLINE BOOKING CALENDAR

It's quite easy to add an online booking calendar. After you created and categorized events, go through the key settings to finish the setup.
When adding an event, you need to specify time and date, location, organizers, event websites, even cost and more.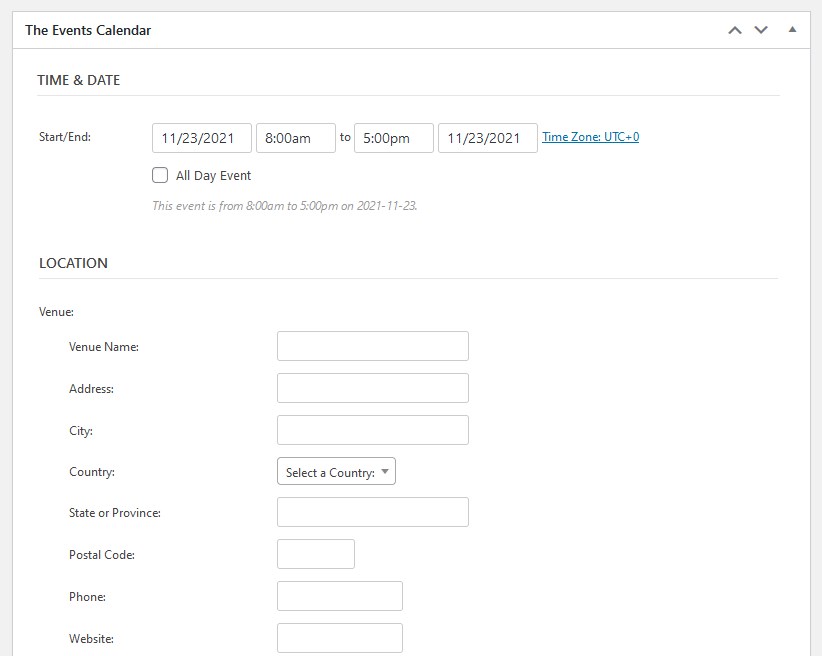 On your site, you can feature a booking calendar or individual events as well: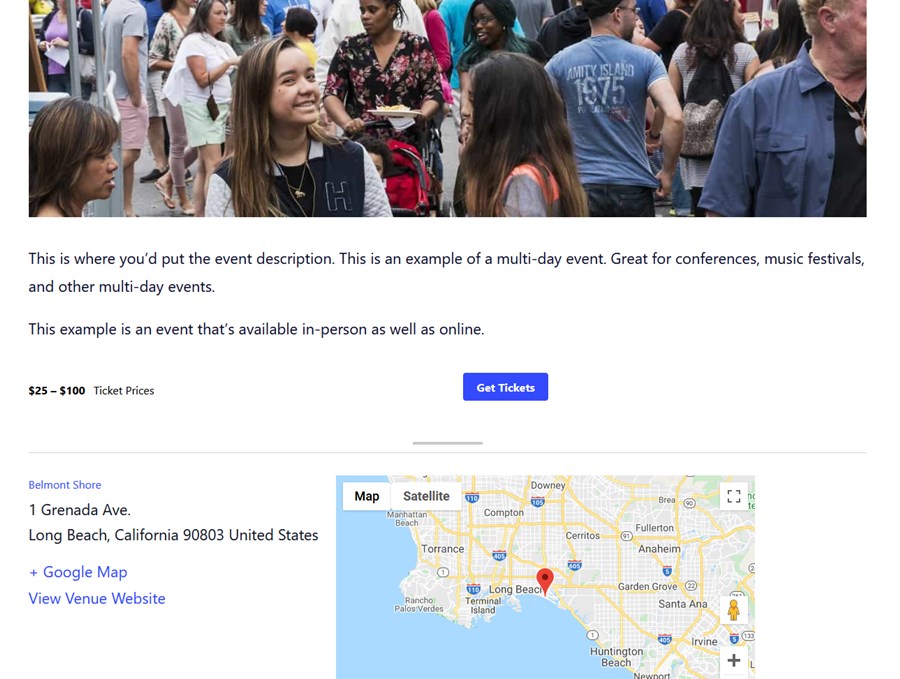 After that, with this WordPress event calendar, you can add your calendar into a preferable place – in the website menu (choose the Event Categories in the WP Appearance > Menus) or on an individual website page with a shortcode.
Since the plugin version 4.3, use the [tribe_events] shortcode to insert the entire calendar anywhere on your site. A calendar view according to your preferences is generated where you placed the shortcode.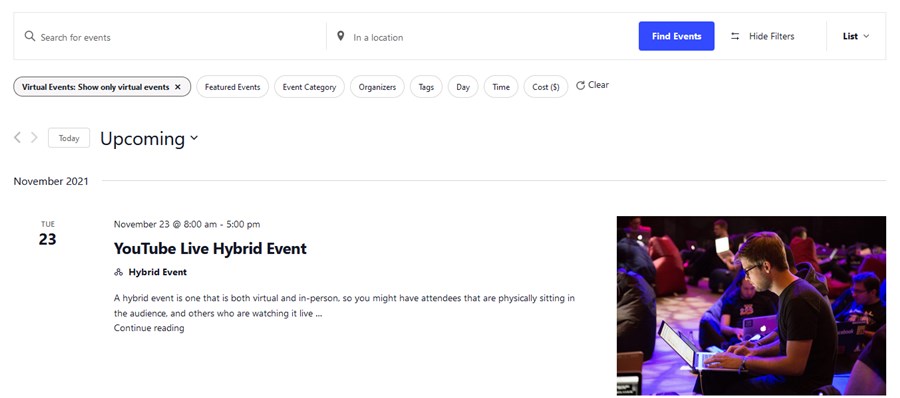 Best suited to: event and venue organizers of any type.
Alternatives:
Modern event calendar WordPress calendar plugin │MotoPress Timetable & Events Schedule │All-in-one Events Calendar
Online Booking Calendar for Hotels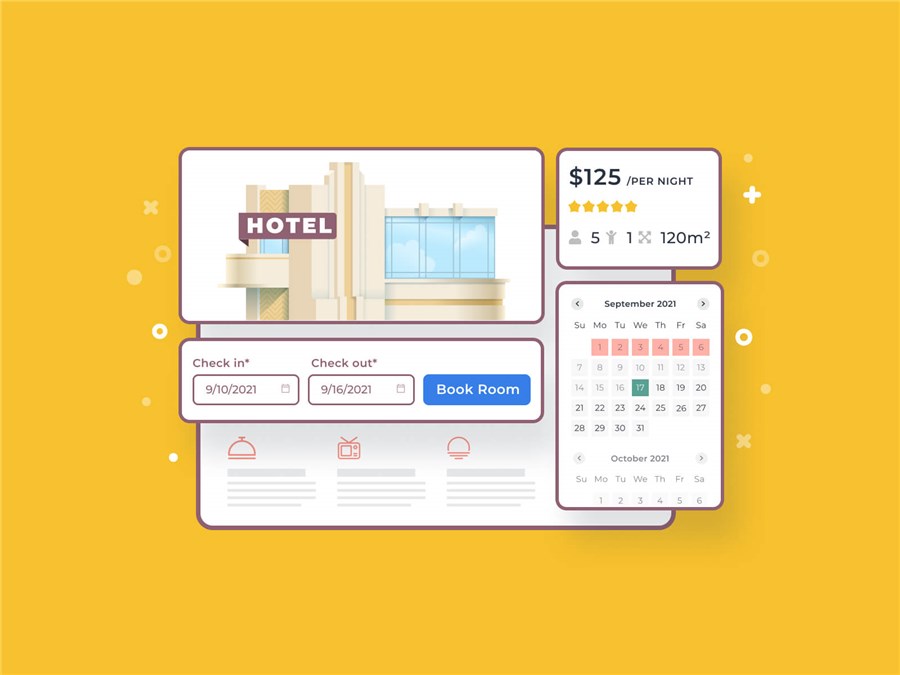 An online booking calendar for a hotel or a holiday rental is usually an availability calendar, with or without an ability to book a room directly from the calendar. The MotoPress Hotel Booking plugin we'll use in this guide offers the booking widget with separate availability calendars for each room or property.
Thus, the property search form includes standard fields, such as the arrival and departure dates and the number of people. This WordPress calendar plugin is one of the most specifically sharpened plugins for the rental property businesses on the WordPress market delivering all the range of functionalities and designs for the industry. If you are curious how it works for real business, read a customer interview.
FEATURES AND OVERVIEW
It's a three-in-one WordPress online booking calendar: a booking engine, property management dashboard, and the channel manager. Here are some paramount tools this plugin has to offer:
Smooth iCal channel connection for syncing bookings you get on your site with those from the external platforms, such as Airbnb and Booking; WordPress Google calendar scheduling is also supported thanks to this feature
Detailed presentation of properties with all the amenities, bed types, sleeps, capacity and more
A mobile-friendly property search form
Real-time availability calendars
Rates and seasons to integrate tiered pricing range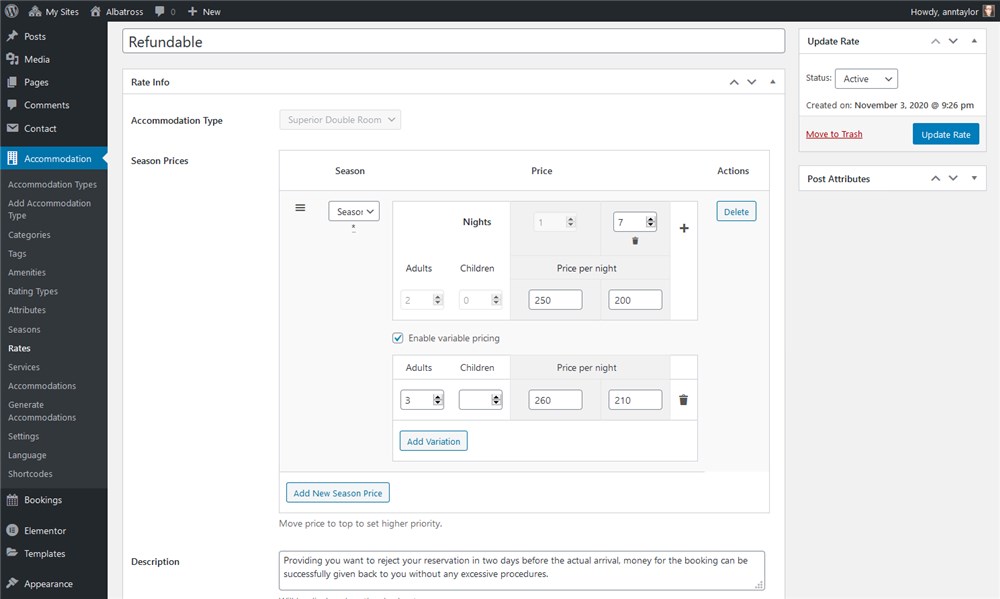 Discount coupons, and taxes and fees
Extras to upsell at checkout
PayPal, 2Checkout, Braintree, Stripe, or Beanstream/Bambora; wire transfer or pay after arrival methods for clients
Instant or manual payment confirmation by the admin, client, or upon a payment
Booking rules with min and max stay-in rules, specific times for arrival and departure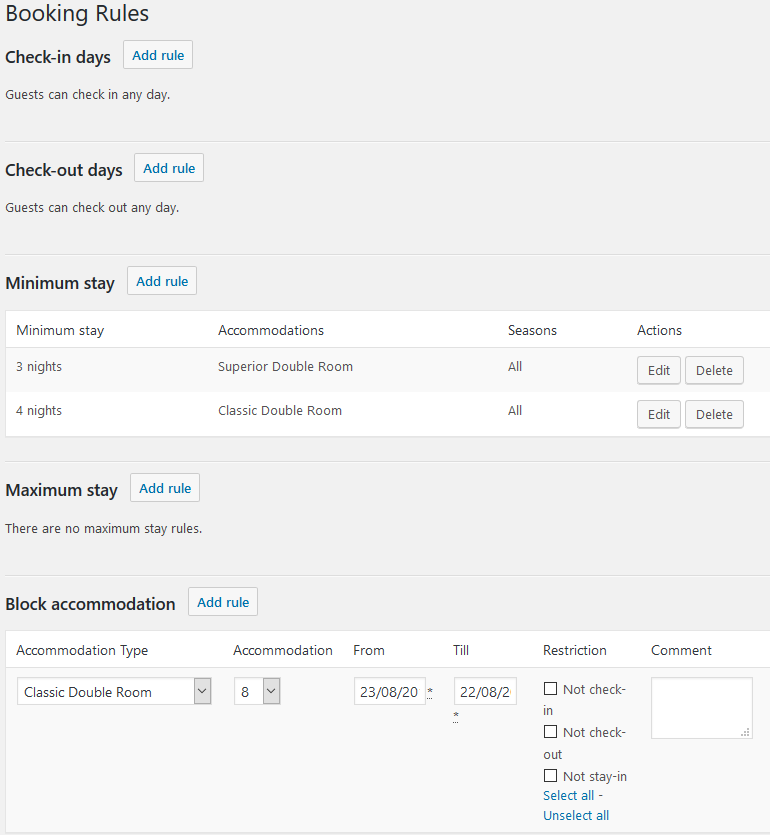 Automated email notifications
Stats and revenue charts
Many tools for developers
Pre-made designs for a bed and breakfast, villa, hotel, and more.
Hotel Booking mobile application that can downloaded on App Store or Google Play for free
HOW TO ADD AN ONLINE BOOKING CALENDAR
After you've added all the properties and configured the key settings, you actually don't need to do anything special or difficult, all the primary pages will be installed by default.
In any case, there are standard shortcodes and widgets for Elementor, the block editor and Divi that will allow you to embed and customize individual Hotel Booking plugin elements, such as the property search form, availability calendars, property directory, etc.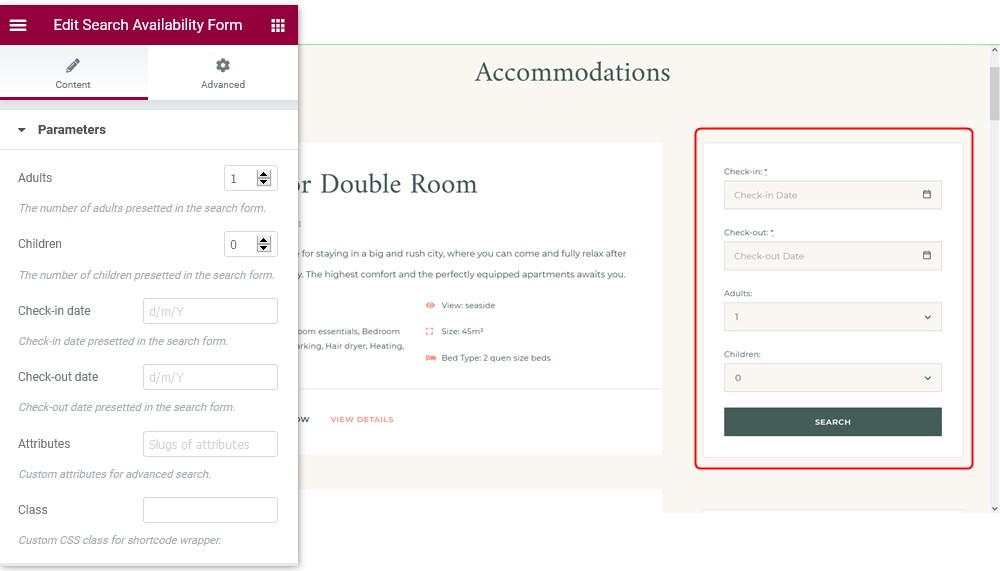 There are multiple plays on the site where you can place a search form or a calendar.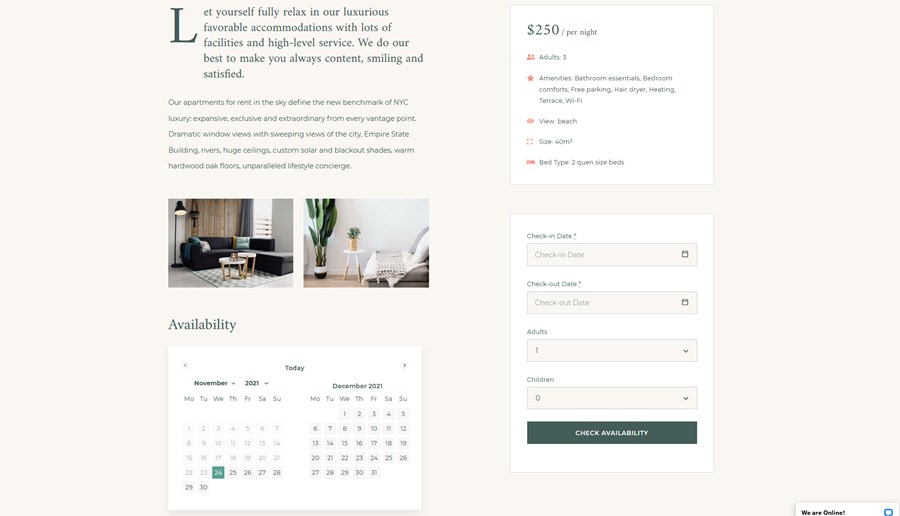 Best suited to: businesses that want to rent out short-term accommodations.
Alternatives:
Conclusion: How the best WordPress calendar scheduling plugins work
Hopefully, you enjoyed the list. Last but not least, when choosing the online booking calendar for your business site on WordPress, consider the following things:
Plugin reputation and reviews
Specific integrations and specialist addons
Ready-made designs and overall visual approach
Support for modern popular page builders, including the native WordPress block editor, Elementor and Divi
A broad spectrum of standard features
Extra metrics and stats for your business.
So did we manage to direct at some decent booking calendar solutions? Let us know in the comments.